Following last year's latest record breaking campaign and somewhat comfortably negotiating that 'tough second season' thing you always read about, we had to wonder what was coming next in 2018/19. Would we be even better? Would we suddenly find ourselves, absurdly, a Football League club come May? Or would it all be a proper fucking disaster and end with ignominious failure and a return to the National South? Ha! Like we're going to tell you that in the first para of a three part season review. Suckers!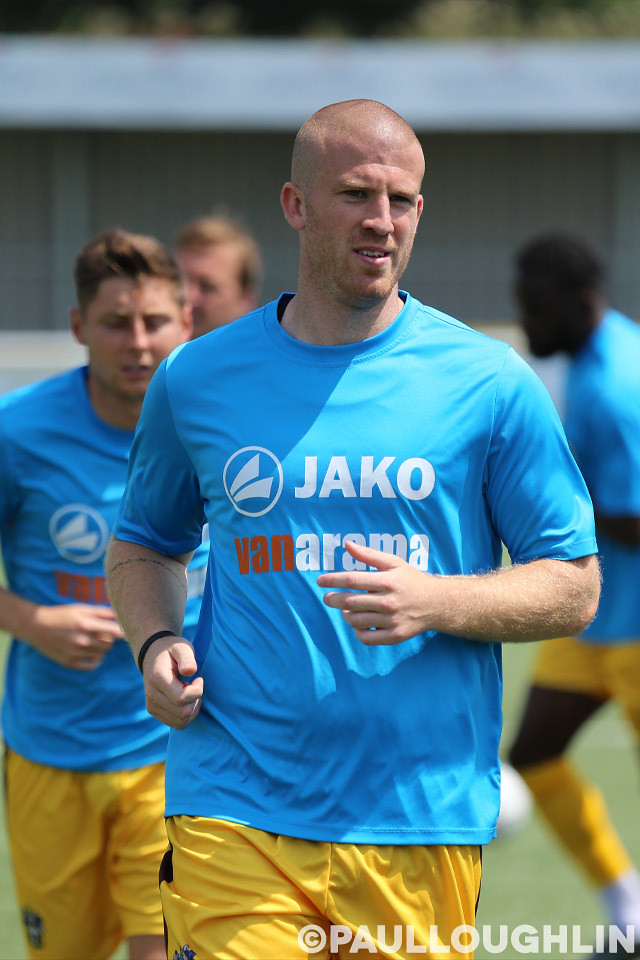 Cloughie's back!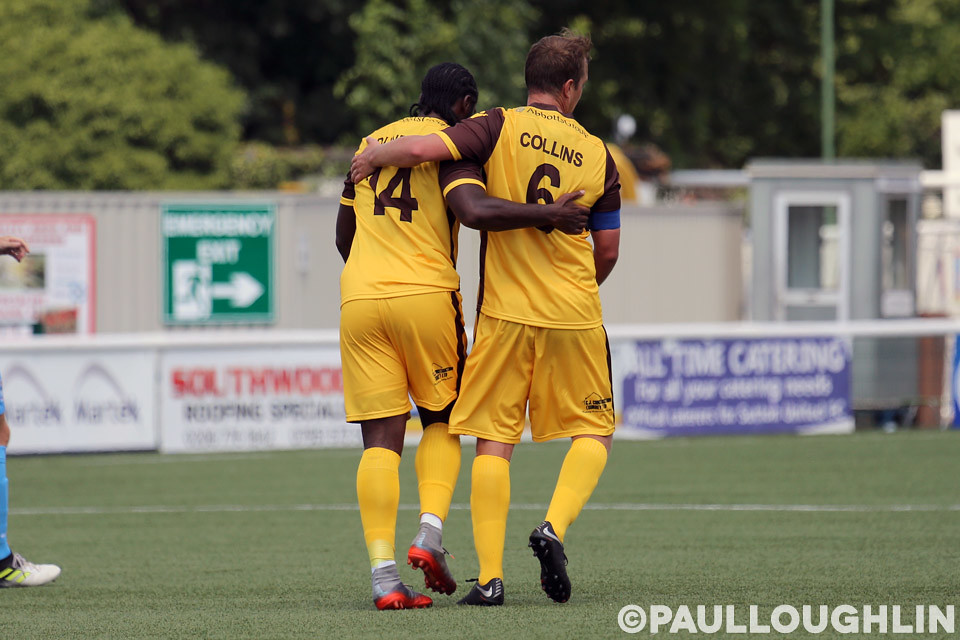 Dundo hits the mark against Cov
PROLOGUE


Unusually for Dos, the immediate post-season period is a little on the quiet side down the Lane. Normally the gaffer would be dashing about like a blue arsed fly around this time getting his recruitment done sharpish and new faces tied up for the next campaign. But this season, there's not much really going on to be honest, although given how the last campaign ended and that poxy play off defeat to Boreham Wood, it's probably not that surprising to be honest. We'd certainly have given it bollocks for a couple of weeks and gone off somewhere sunny to get drunk. Oh wait, we did! Craig Eastmond deservedly makes the National League team of the year, but him being the only Sutton face is a little surprising given our efforts and it's announced that GGL will host 6 games in the Paddy Power CONIFA World Cup over the summer which is being hosted in and around London. Naturally, we'll be having some of that! Our first PSF's are announced as well, with the almost annual trip to Winchester City and a home game against some lower level regional league crap called 'Woking'. Nope, we've never heard of 'em either. In fact the only player movement in May is of the outbound variety with Louis John getting a move into the FL with Cambridge United and Ross Stearn unsurprisingly returning to the South West to rejoin Bath after his loan spell there last season. We'll miss the lil' fella.
June rolls around and the first week is a little bit more busy. We announce friendlies with Coventry and Norwich at GGL for the start and end of July respectively before things get a touch weird. There's rumours about that the Scottish FA will be inviting 2 English clubs to take part in their 'Challenge Cup' sponsored by Irn Bru. This is because they already let Welsh, Irish and Northern Irish clubs take part as well. And even weirder, they're apparently going to ask us and Boreham Wood. Fuck off! April Fools is months away lads. Our attention from this nonsense is distracted when we make our first new signing with full back Dale Bennett coming in from Forest Green and….eh? What's that? The Irn Bru Cup thing wasn't actually a joke? Fuck a duck!! We could be playing in Scotland! Or Ireland! Or even Northern Ireland. Wow. It's like we've qualified for Europe. Oh wait, it's a UEFA sanctioned competition, we have qualified for Europe!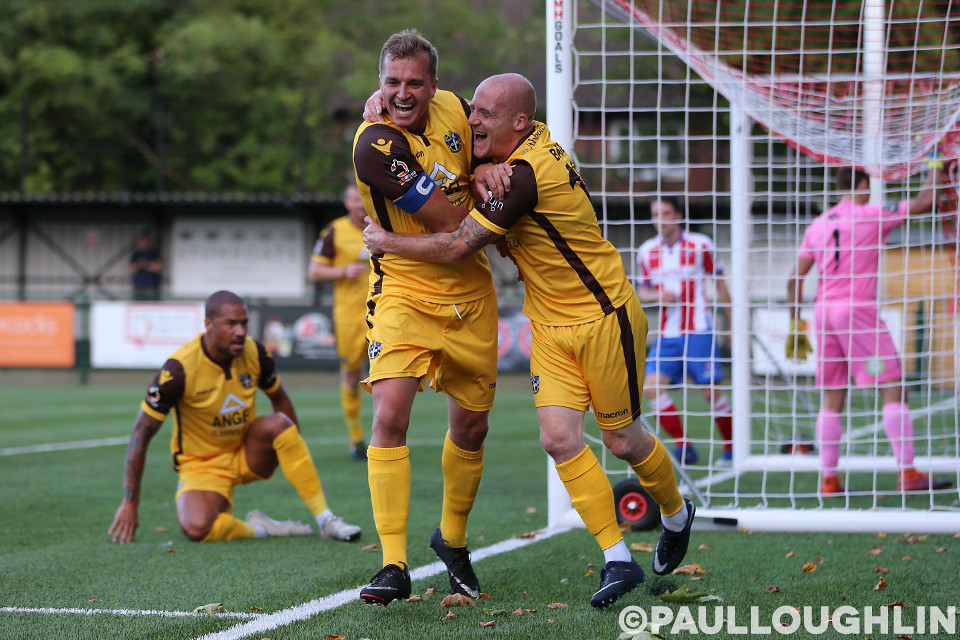 JC puts us ahead @ Dorking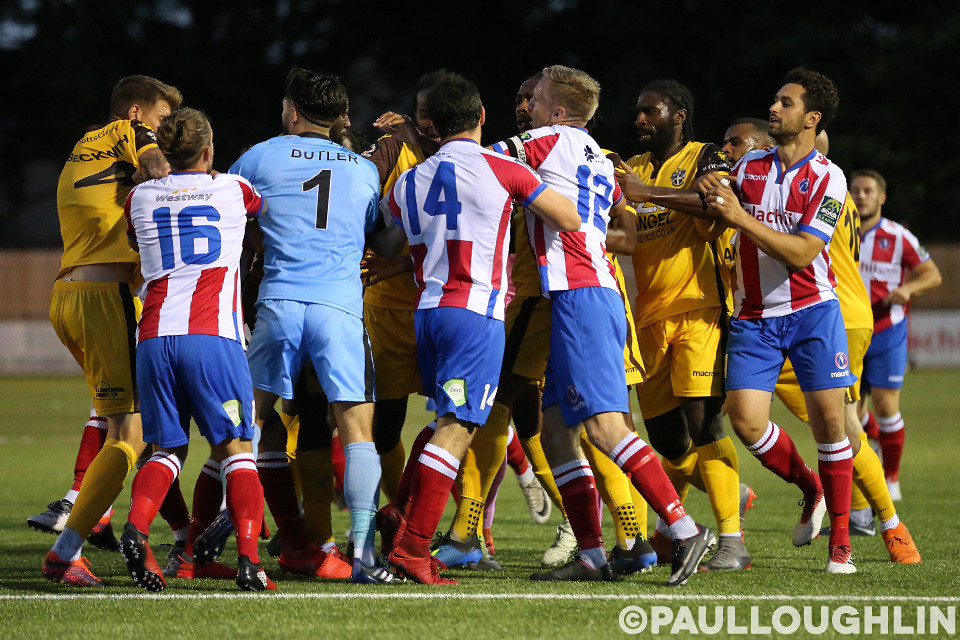 "No, our 3G is the best!!" – Kicking off @ Dorking
Back in the real world, Ross Worner joins Chelmsford on a seasons loan, Simon Walton goes for the cash at Billericay, where his tan should make him some sort of god amongst the denizens of Essex. He's closely followed up the A12 by Moses Emmanuel, who is unsurprisingly released along with Anthony Jeffrey (Dover) after less than stellar turns last season. It's not all outgoing though as pre-season looms a couple of familiar faces roll back into town with midfielder Dan Wishart rejoining from Forest Green and defender Charlie Clough (Barnet) returning after a spell in the FL. Seems Dos is putting the band back together!
PRE-SEASON
With recruitment so far at a minimum, the lads return to training with a few unfamiliar faces around trialling for spots. The fixtures emerge on the 4th July and we're given a tough opening day hike to newly promoted Harrogate. They've got an unfair advantage cancer carpet like us, so we should feel right at home. With the World Cup still raging in Russia, we kick off the dull summer kick abouts with a visit to the newly refurbed bars and the visit of Coventry City (2-0). Last season, they won here in a tight game and went on to get promoted via the play offs with ex-Sutton man Max Biamou playing a leading role. This year, they're not so good and after a hilarious OG, Dundo, who else, marks his 499th Sutton appearance by wrapping up the win in the 2nd half. Afterwards, promising looking young forward Jonah Ayunga is tied up for the season to help boost the squad and hopefully our goals tally.
The Winchester game goes for a burton, so we're next in action with a lunchtime (really?) visit of Woking to GGL. What ensues is a properly dull load of old bollocks that finishes predictably goalless (0-0). Given the scoreline, we think it would be remiss not to mention the fact of one Nick Bignall turning out for the visitors. This is also the game Dundo makes his 500th appearance for Sutton. To be fair, we think the big man deserved better than a summer borefest in front of less than 300 people, but hey, what do we know? We follow up this damp squib with a midweek trip to Dorking Wanderers to officially open their new ground that's been rebuilt by Surrey FA on the site of Dorking's old Meadowbank home. A tasty encounter ensues, the U's run out comfortable 4-0 winners but some naughty 2nd half tackling from an oppo that doesn't seem to like getting spanked leads to Tom Bolawinra getting a late red card after a proper 22 man bundle. Later in the week, new boys Salford state their intent for the season by signing SPL forward Adam Rooney from Aberdeen for 250 grand and are apparently laying out four and a half a week for his services. Fuck a duck! Next up are Chelsea U23's at the Lane and we compete well with the blues youngsters, but scoring goals is looking to be an issue this season and we don't take our chances whilst they do take theirs (0-2). We then round up the dull stuff with a home game against Norwich's kids (again another lunchtime KO!) that's settled (1-0) by an early goal from Josh Taylor.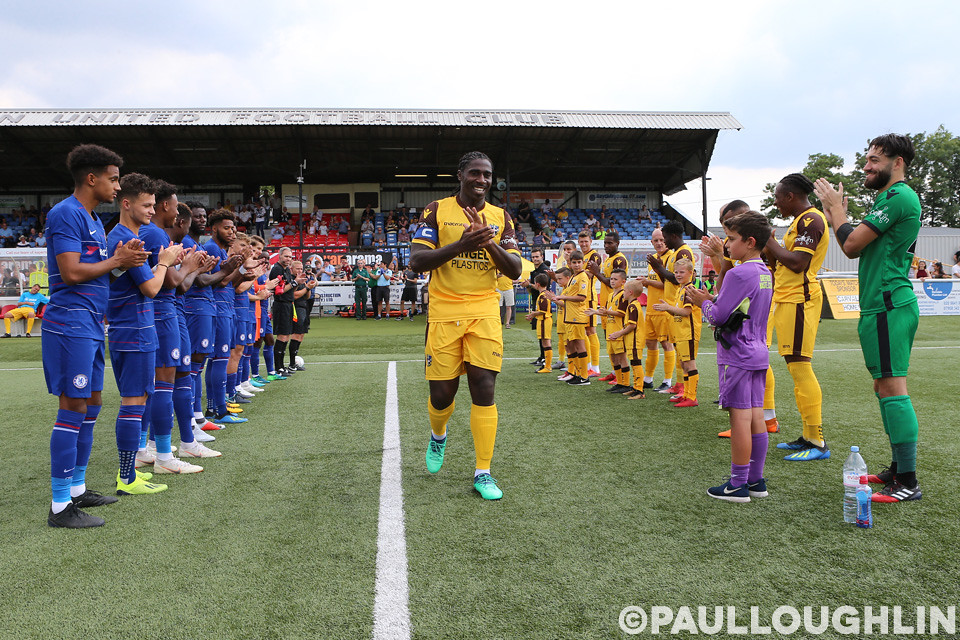 Guard of honour for Dundo's 500th appearance. Before his 501st!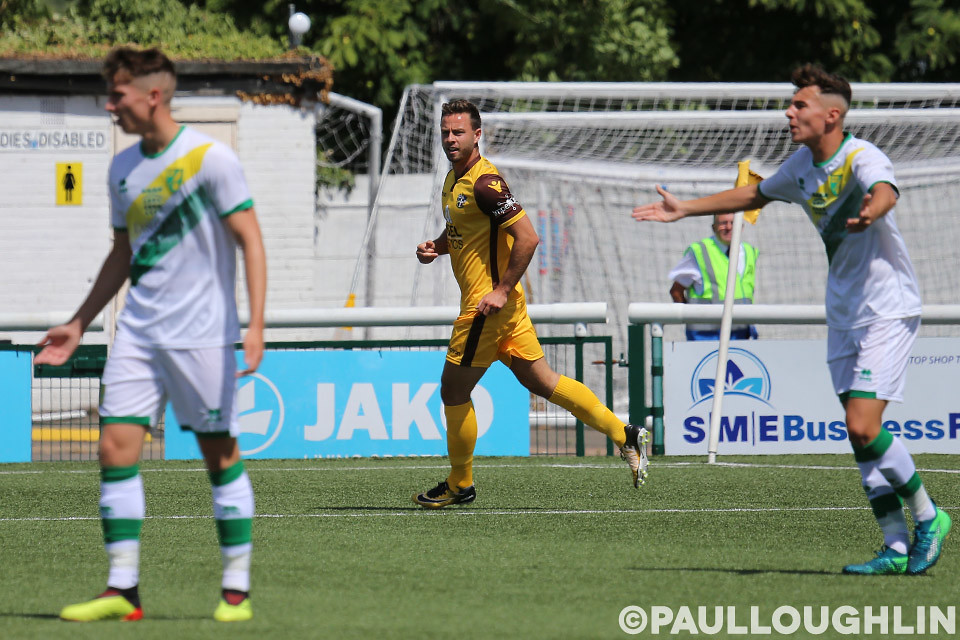 Josh with the early strike against Norwich
AUGUST
With the season looming and the squad looking a little light, Dos moves to bolster the midfield by signing local lad Wayne Brown who has returned from playing with Newcastle Jets in Oz and young Irish striker Aaron Drinan on loan from Ipswich Town. On the way out though are stalwarts Craig Dundas and Simon Downer, both heading to Hampton & Richmond as it would seem their opportunities will be limited with us this season as we try to go with a slightly younger squad. Dundo will be staying on as our fitness coach however.
The season opener at Harrogate provides a scoreline that'll become rather familiar to all over the season. Cloughie nods us ahead, but then 2 quickfire goals from nowhere give the new boys the lead. And as time runs out, a daft handball gives JC the chance to slot from the spot and claim a point (2-2). One highlight of a somewhat savage weekend away is Dukey getting on the wrong train at Leeds and ending up in Garforth. Nope, we've no idea either. Our first midweeker at GGL follows with everyones favourites Eastleigh in town. A comfortable, if largely uneventful 1-0 win is bagged thanks to another JC peno although it takes a last ditch block from Bennett to preserve the 3 points right at the death. Another home game is up next and it's the Class of 92's vanity project gracing the West Sutton rug. Thankfully, despite having 2 lads on well over 4 bags a week in their side, we catch Salford City cold and even after having lost Aswad Thomas to a silly 2nd half red card, we come strong (2-1) thanks to goals from Easty and Lafayette to record an impressive and very satisfying win.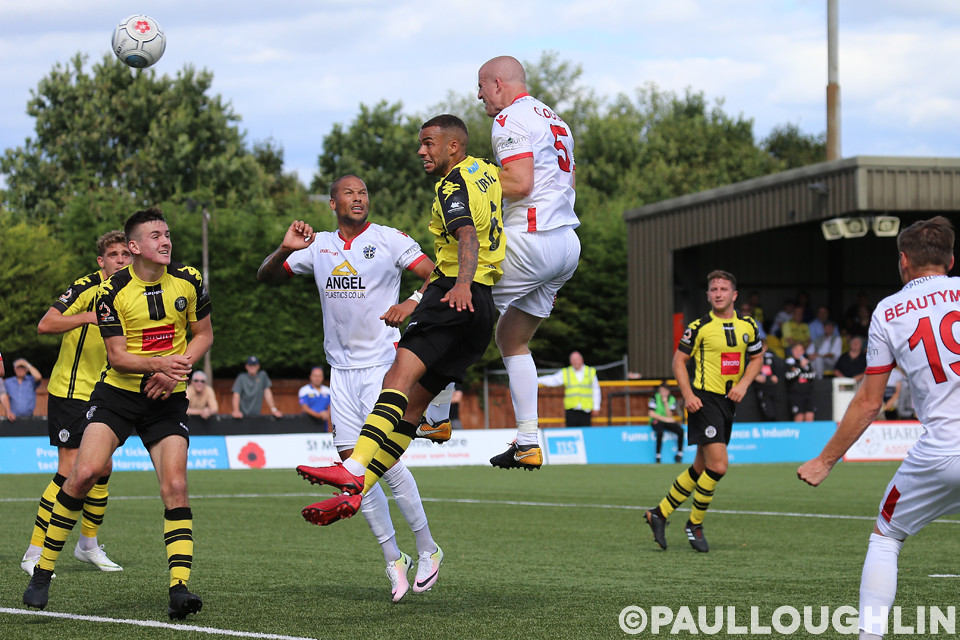 Charlie gets us underway @ Harrogate.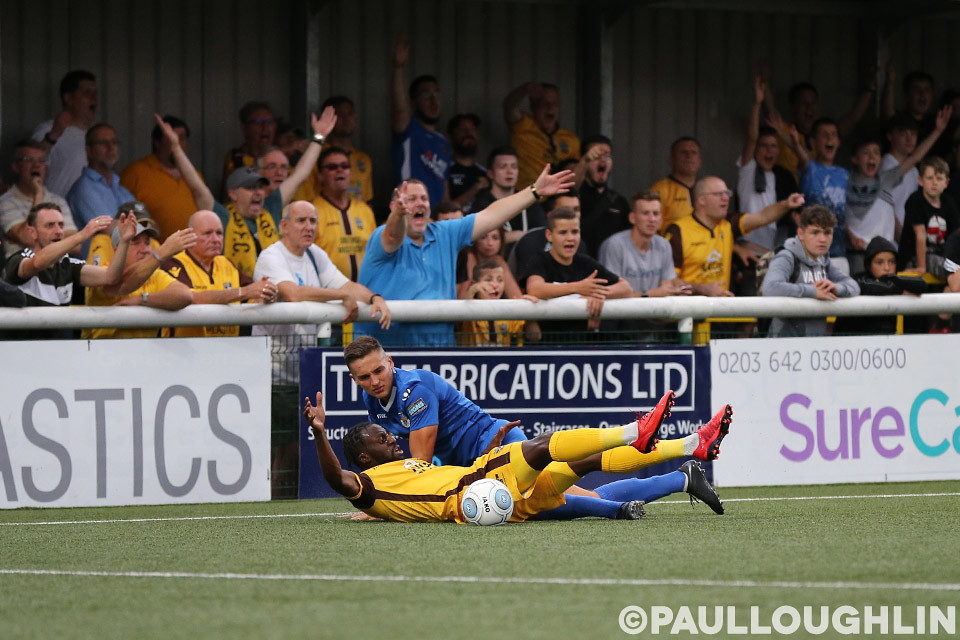 Pentalty ref!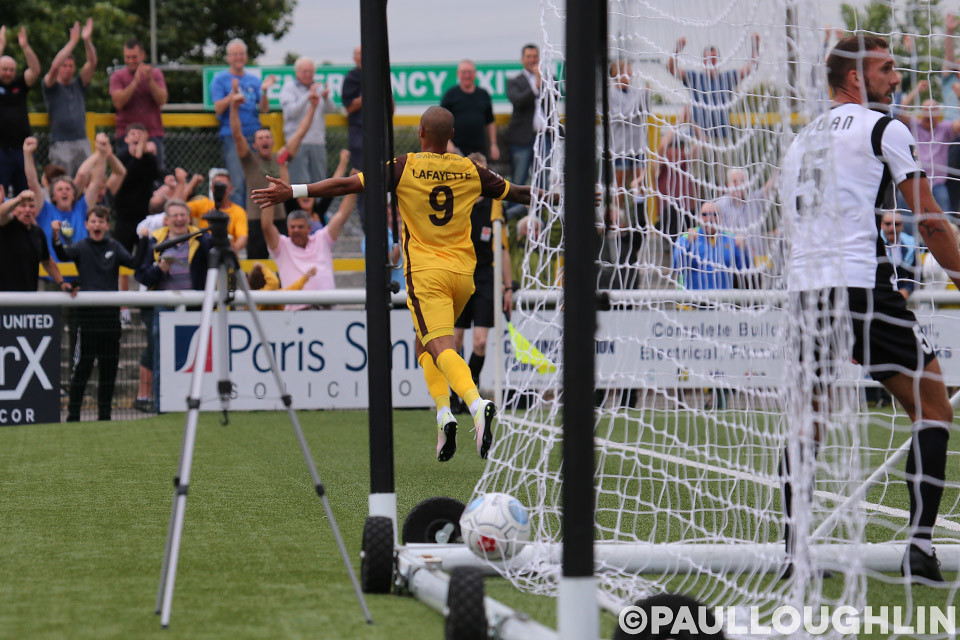 Laffs does for Salford
Another tough contest follows with a midweek trip to Ebbsfleet. It's a place, that until Tombo's mazy run and goal last season, we'd never won at before. And after this one, it's back to back victories as Easty seizes on a poor back pass and lifts it past Northmore. Wishart should seal it late with a free-kick that thumps back off the bar, but the 1-0 will do and we're up to third! The ridiculously busy opening month continues, but there's a nice diversion on the Thursday when the Irn Bru Cup finally comes to life with the second Round draw and we're paired with Airdrieonans of Scottish League 1. We're off to fucking Glasgow baby! We're still beaming come Saturday when we're back on the road to Solihull who've also started strongly under Tim Flowers. We lead twice thanks to goals from Lafayette and Tommy Wright, but we can't see out the win and have to settle for a second desmond of the season (2-2).
A rather dull 0-0 follows with AFC Fylde at GGL in which super hot shot Danny Rowe barely gets a sniff. The main talking point of the day is the re-appearance of Ross Worner in the pre-match warm up, as he was supposed to be on season long loan with Chelmsford. We then see out the first month of the season with our seventh fixture, down at Aldershot. A decent start is undone after 30 mins or so by card happy prick Carl Brook who shows JC a straight red for the sort of tackle you see every week in this division. They take advantage and lead 2-0 until very late on when Lafayette pops in a penalty on the 90th min (2-1) which lessens the damage, but leaves him to rue the absolute sitter he'd blazed into orbit not a couple of minutes before. Still, it's been a bloody packed opening month and it's our first defeat of the campaign, so we'll roll into September with a reasonable start under our belts and in 9th place. Not bad considering we've not really got going as yet.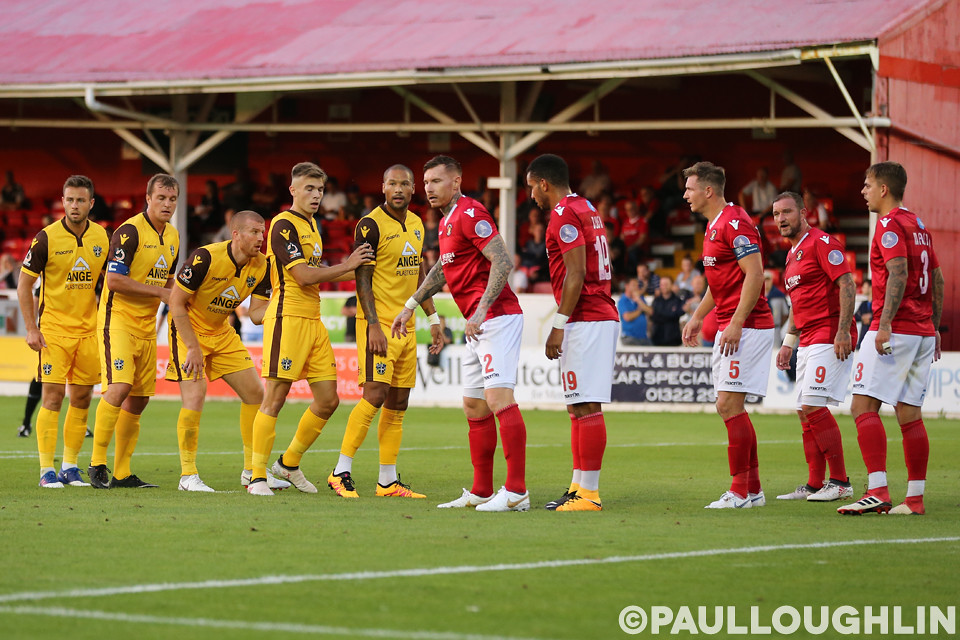 The world famous 'Love train' corner routine in action @ Ebbsfleet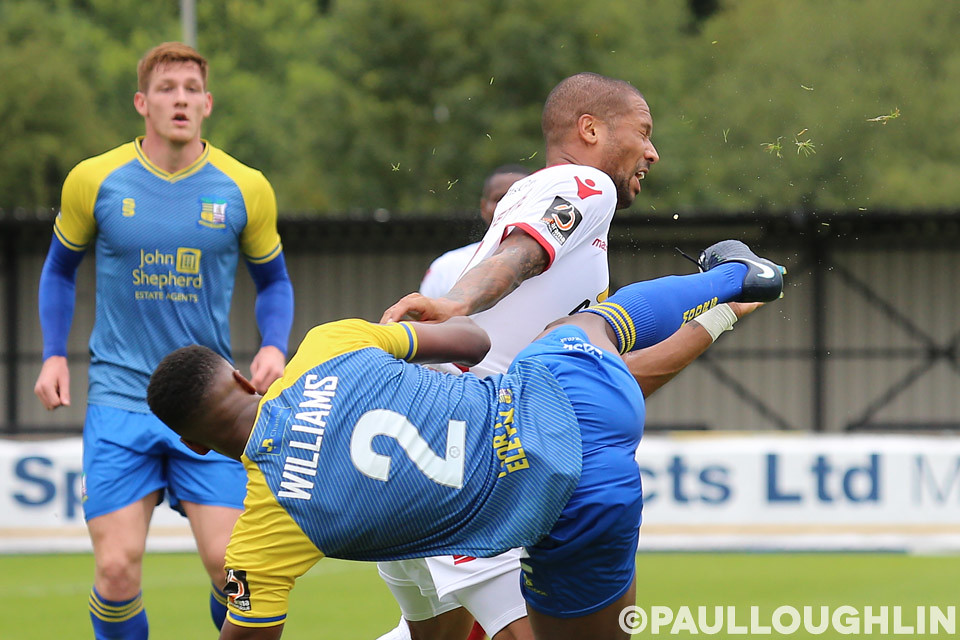 Ross getting some impromptu dental work @ Solihull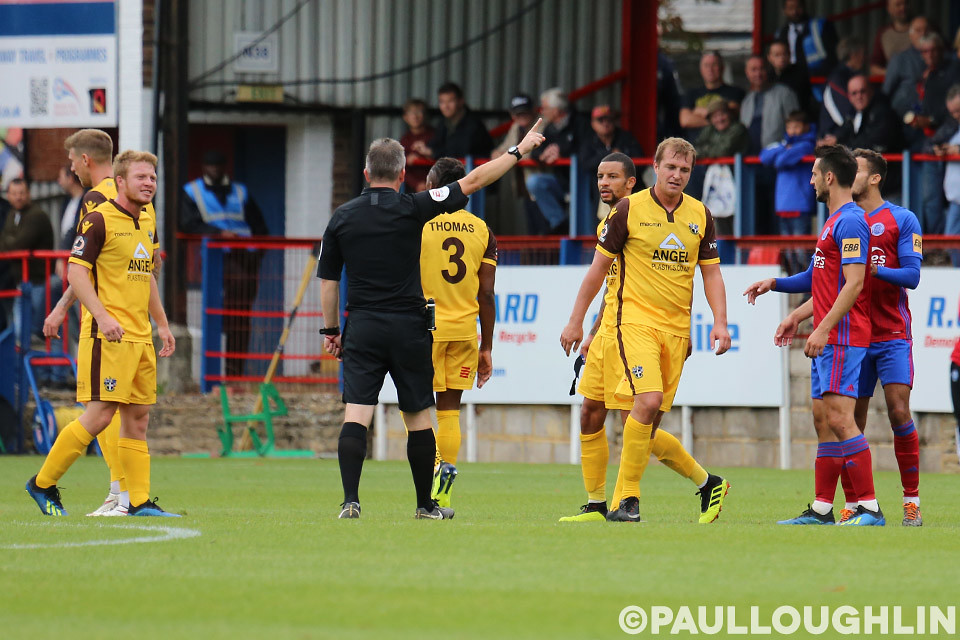 Some wanker ruining a perfectly good game of football…
SEPTEMBER
The second month of the season kicks off with the visit of Halifax, who like our meeting at GGL early last season come to us sat at the summit of the table. That didn't pan out too well as they ended up just about staying up by the end of the season. A dull game ends 1-1 with Kenny Davis whipping in a surprise free-kick before we gift the oppo a leveller just as we think we've done enough to nick the points. The Tuesday sees us make the short rumble down to Maidstone, where last years performance was one of the worst in living memory. This is better as an early Lafayette goal settles the tie (1-0) despite a strong second half burst from the struggling hosts.
Three more hard earned points on the board and sitting in the last play off place, our attentions can now turn to the exotic surrounds of Airdrie, near Glasgow. It's time to get the Irn Bru Cup on the go! A savage weekender follows and a slightly makeshift side delights over 100 travelling U's with Tommy Wright bagging the only goal (1-0) in the first half against Airdrieonians. Whilst the game is far from a classic, there aren't many there that'll forget it in a hurry. Fuck me lads, we're on a run in Europe! Having fallen head over heels in love with this fucking stupid comp, we're of course eagerly awaiting the draw the following Monday like our lives depend on it. Surely we can't top Glasgow. "Hold our orange coloured pop made from girders" say the SFL and promptly give us Bohemians. Away. As in Bohemians of Dublin. In fucking Ireland. Madness.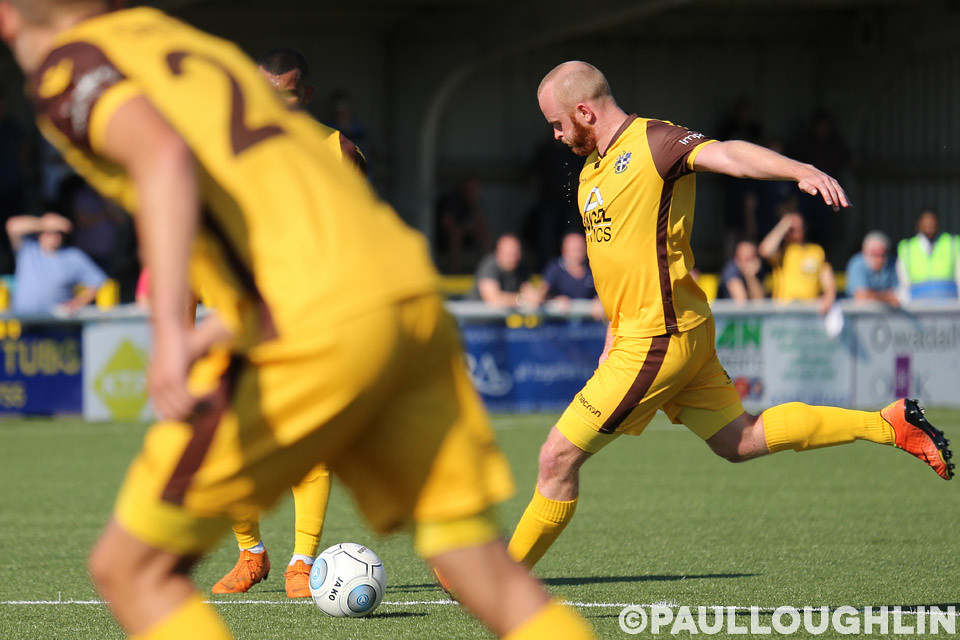 Kenny swings against Halifax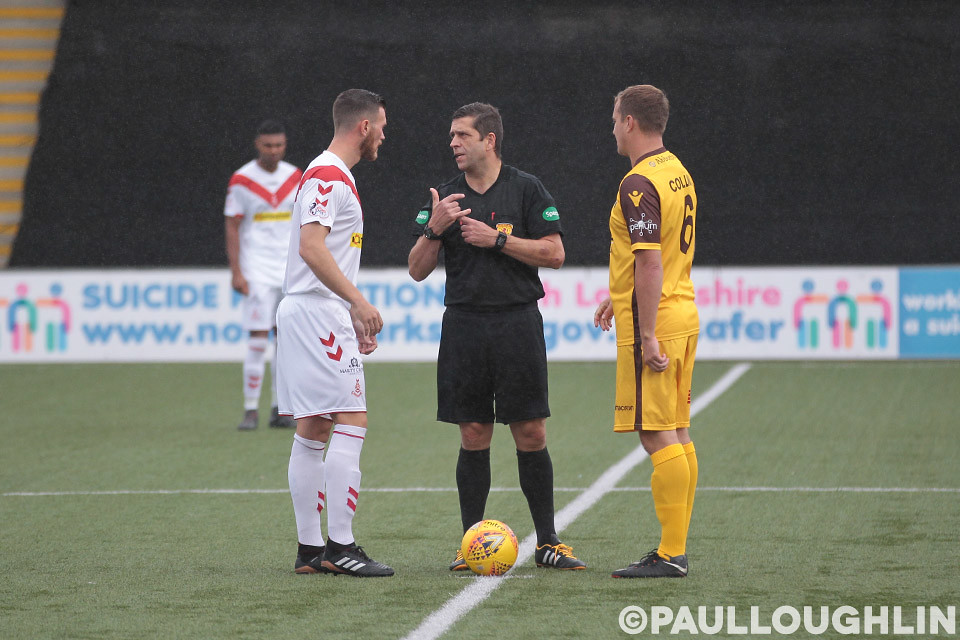 Ready for the off in Europe. Airdrie away.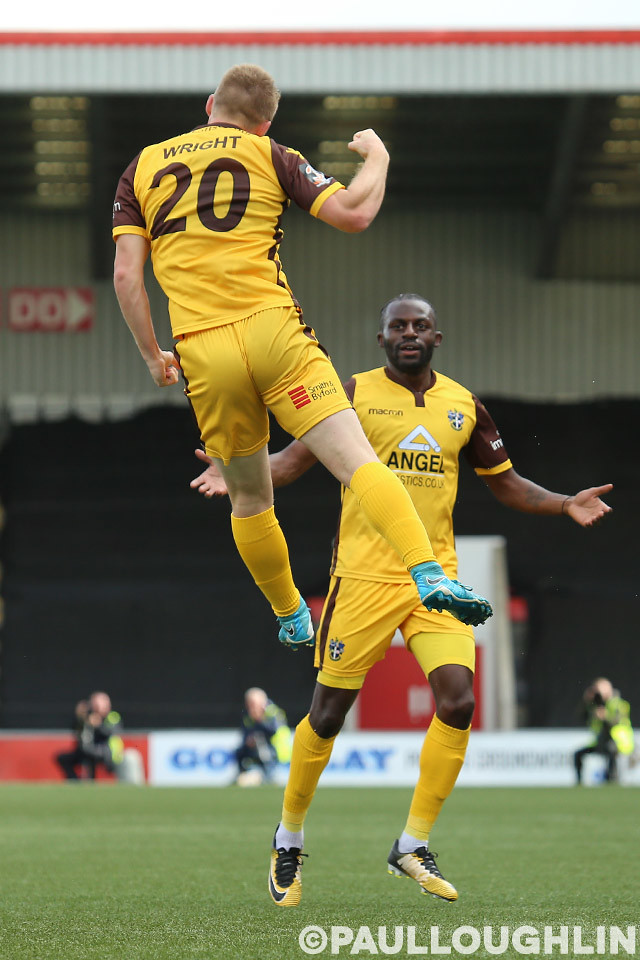 Tommy jumping for joy @ Airdrie
The following Saturday we're back to the rough & tumble of the National League at old Conf South foes Havant & Waterlooville. They've started slowly in their first visit to Non-League's top table and despite scoring a good few, they're letting in even more. A solid showing and an equally solid 2-1 win thanks to Wright and Beautyman cancelling out their hugely deflected 1st half effort. There's signs that we might be finally getting up a bit of momentu….oh for crying out loud.


Boreham Wood are in town midweek and to be fair, we couldn't have made a bigger fucking pigs ear of the defending in this one if we'd actually tried. 3 down in 20 mins we're eventually well beaten 4-0 and let's never speak of this again. Naturally, having had a catastrophic spanking to a middling side, the last thing you need is a big club and defensively tight front runner visiting, you know, like Wrexham. An easy win is expected and that's exactly what we get. 3-0. To us! What. The. Fuck? A brilliant performance puts the title chasers to the sword and it really should be 5 or 6 by the end. Anyone get the feeling it's going to be one of those seasons?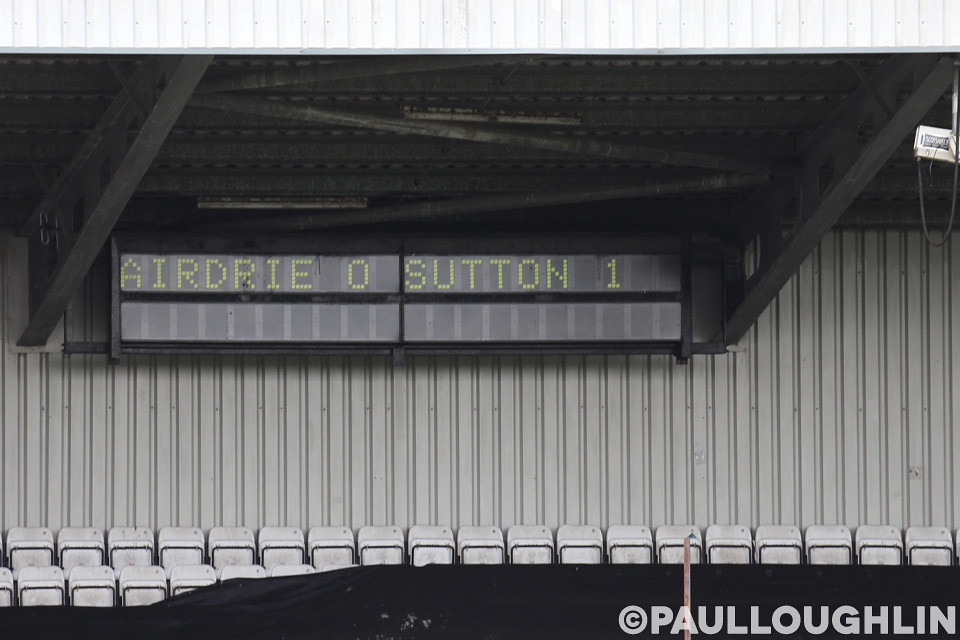 Won't forget that in a hurry!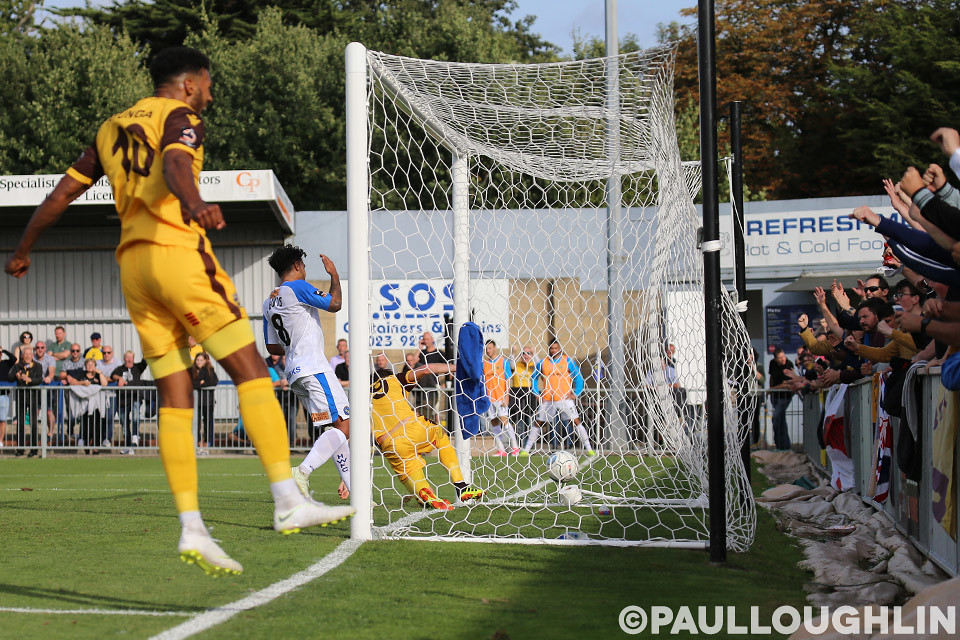 Jonah & Harry combine to turn it around @ Havant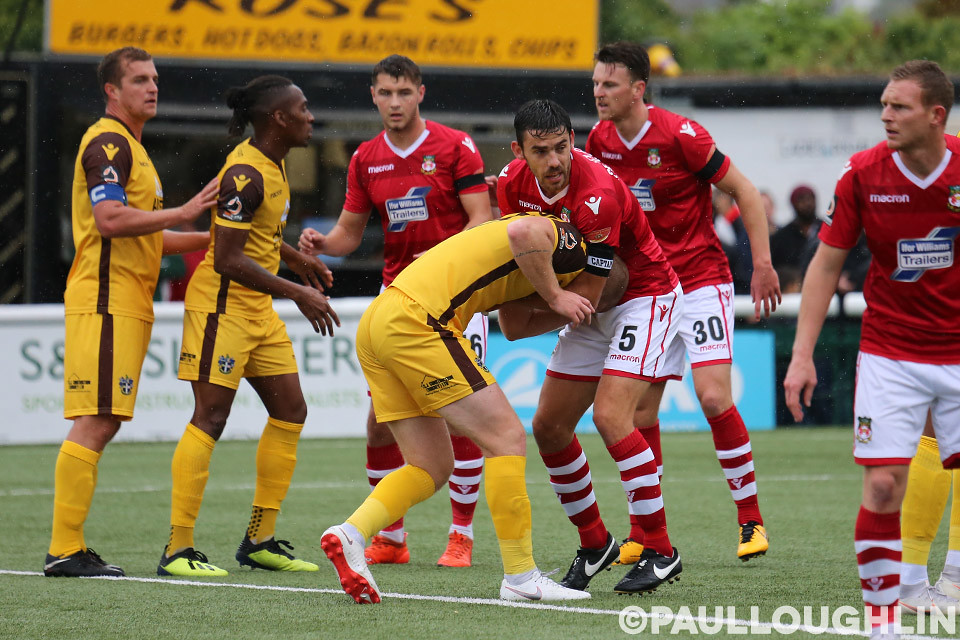 "Er, ref? You might want to keep an eye on that yeah?"
Of course, having absolutely mothered the big boys, we go full on Sutton for the visit of badly struggling Dover who've barely managed any goals let alone points. 2 up in 15 we look like we're going to get a hatful. Er, not quite. A peno pegs us back and then a wonderfully awful bundler in the dying seconds gives them a point (2-2). Sake. And how many fucking Desmonds is that now?? Later in the week, Josh Taylor and Tommy Wright bag themselves a further call up to the England C squad which is pleasing given we've not quite hit the heights yet. Next up and completing September is a trip to Leyton Orient, unbeaten league leaders and whose highlight of the season we provided last year just before Xmas. Still, it's another chance to show just how much we love the big occasions. A sterling performance from all the lads in amber sees us inflict the O's first defeat of the season thanks to Ayunga's 2nd half strike (1-0) from range.
We ride out luck a little and despite the usual shocking efforts of that card happy knob Carl Brook to book every single person in an amber shirt, we see out the win. Naturally, given they're a former FL side and unbeaten before today, they take the loss exactly as you'd expect. A bottle is lobbed at the away dugout at the end, we get all the 'pub team' stuff outside and some prick lobs a drink over Nicky Bailey in the bar after. Fucking Essex eh, no manners. Still it provides probably our true highlight of the season with THIS social media moment.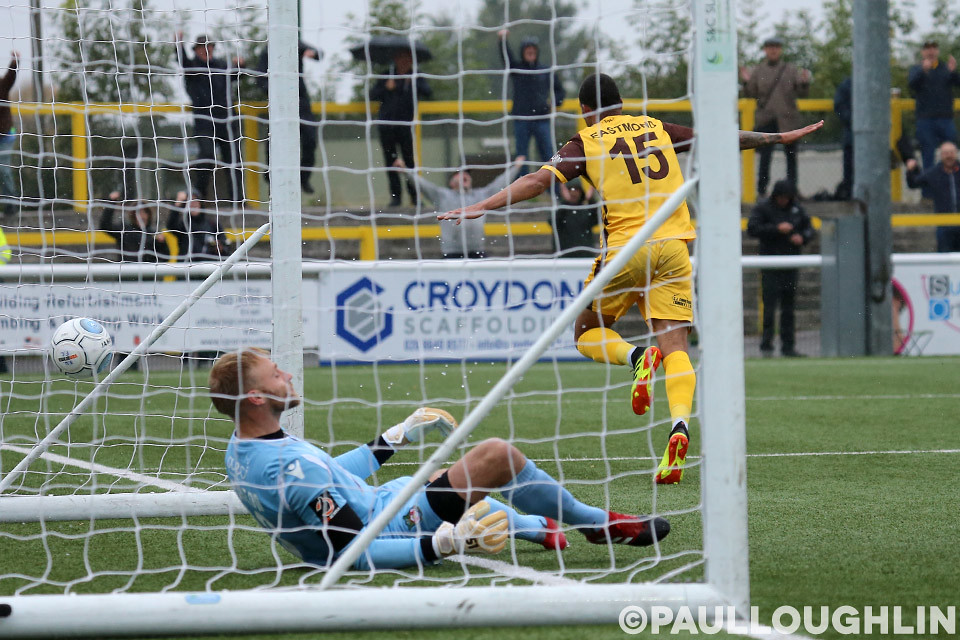 Neeeeow! Easty nuts number 3 against Wrexham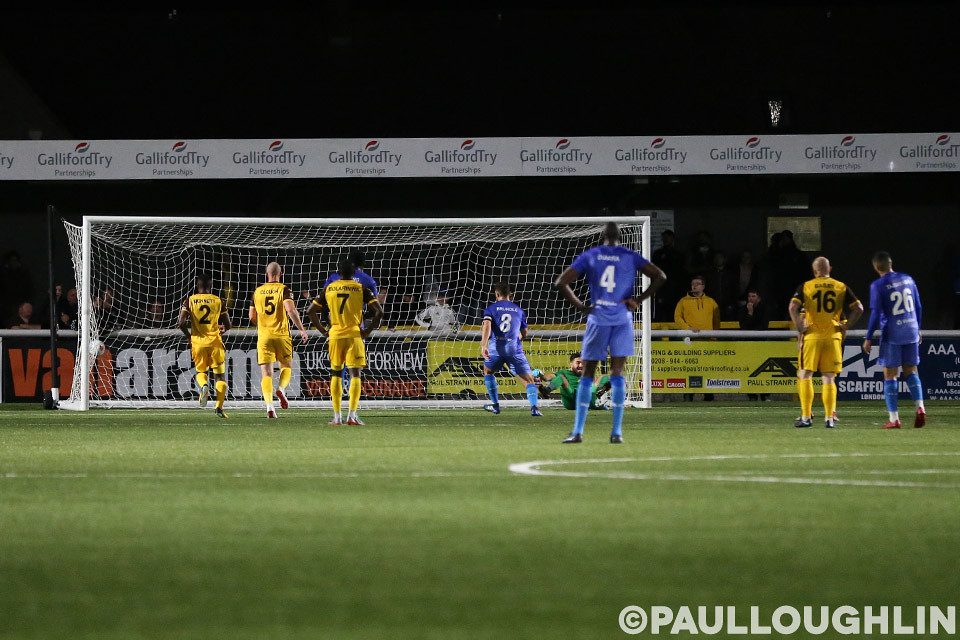 Dover's comback begins @ GGL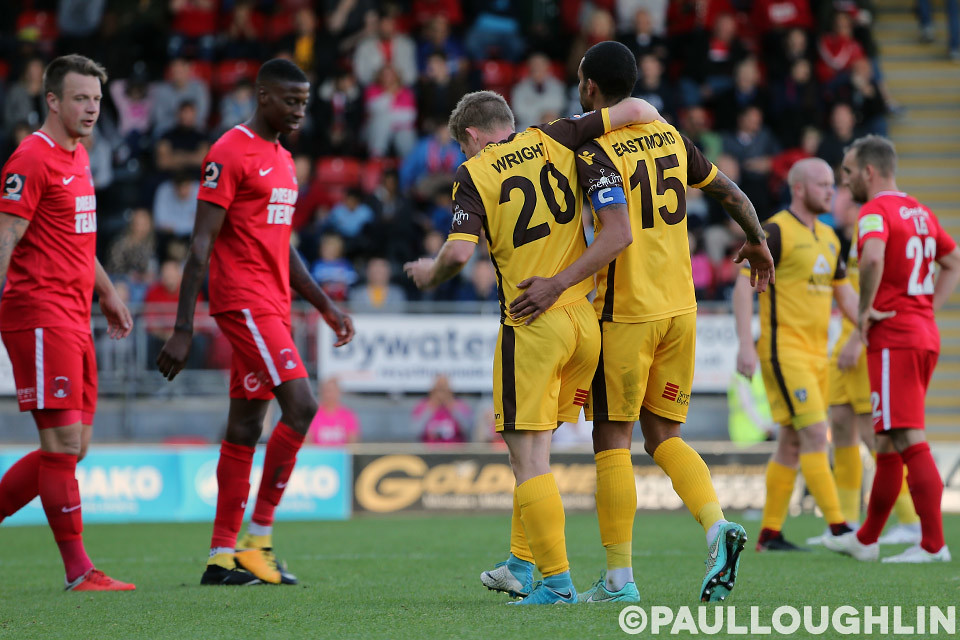 Tommy Wright's season ends at Orient
The O's win takes us to 26pts and leaves us 6th with 14 gone. Not bad, we're halfway towards safety already and it's only October! There is bad news however and this is that Tommy Wright is ruled out for the rest of the season with a ruptured ACL after a pointless shove by an Orient defender in the second half at Brisbane Road. It's a bit of a blow really as he's about the only forward looking likely to score at the moment.
OCTOBER
Having done one of the shortest trips available to us in the National League, we boot off October with one of the longest and the schlep up to Barrow. They're doing better than last season, sitting nicely in mid-table. Another rejigged U's side puts in a decent shift but trails 2-0 in the 2nd half. We have not one, but two goals controversially ruled out by some abysmal National League officiating before Aswad finally forces one in at the death, but it's too little too late (2-1). Still it's a chance for the lads to catch up with former midfielder Tony Quinton who now lives up that way and for Crockett to decorate the bogs at the ground with a liberal coating of spew. On the Monday, the FA Cup reappears on the radar and the FA give us a trip out to Ruislip, pairing us with the familiar face of Wealdstone.
Josh Taylor makes an appearance for England C at Orient, ironic given that Tommy Wright should also have been there before his injury at the same venue. The cup draw and the frustrating nature of the Barrow defeat are soon forgotten though because DUBLIN! Yes, the Irn Bru Cup is back and a good 350 U's fans are all off to the home of Guinness, Father Ted and Leprechauns to get shitfaced and watch some football. The wonderfully crumbling Dalymount Park is the venue and after a keenly fought 0-0 draw with League of Ireland side Bohemians, the game goes straight to penalties. Worner saves two and we're 2 up in the shoot out. Surely even we can't fuck this up!!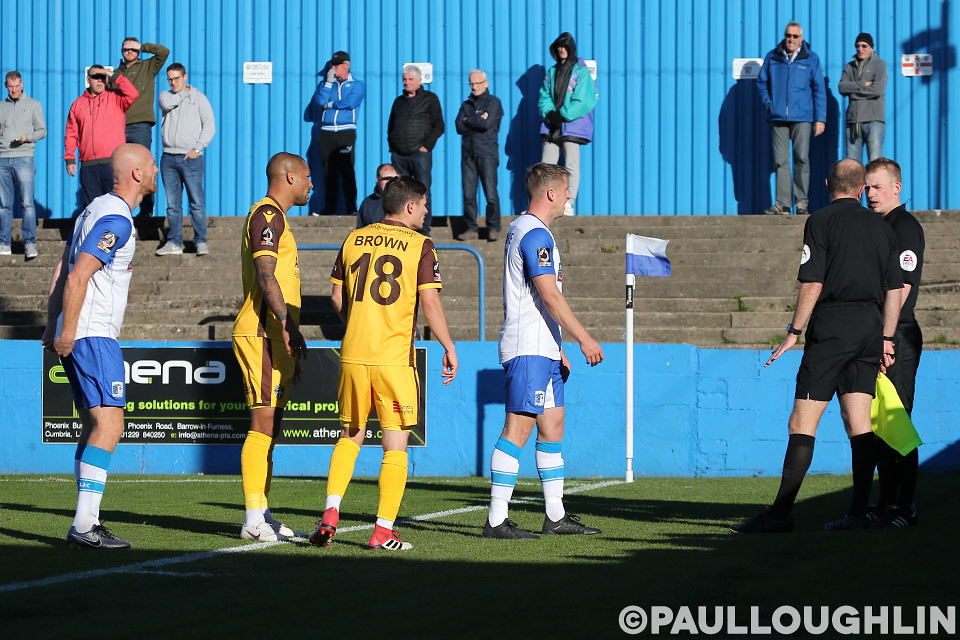 Nothing to see here, just some idiots making a hash of stuff…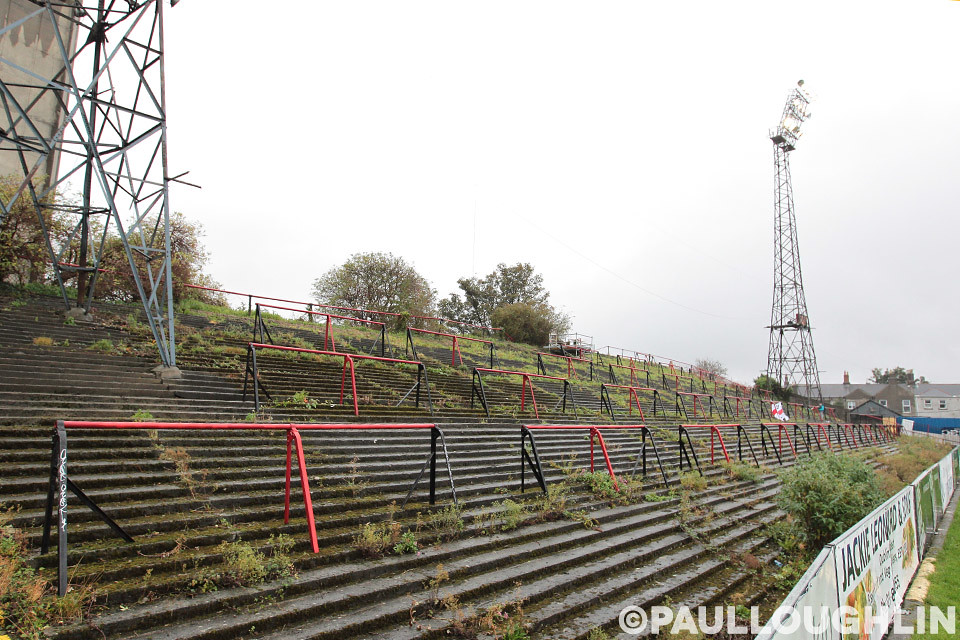 Terrace porn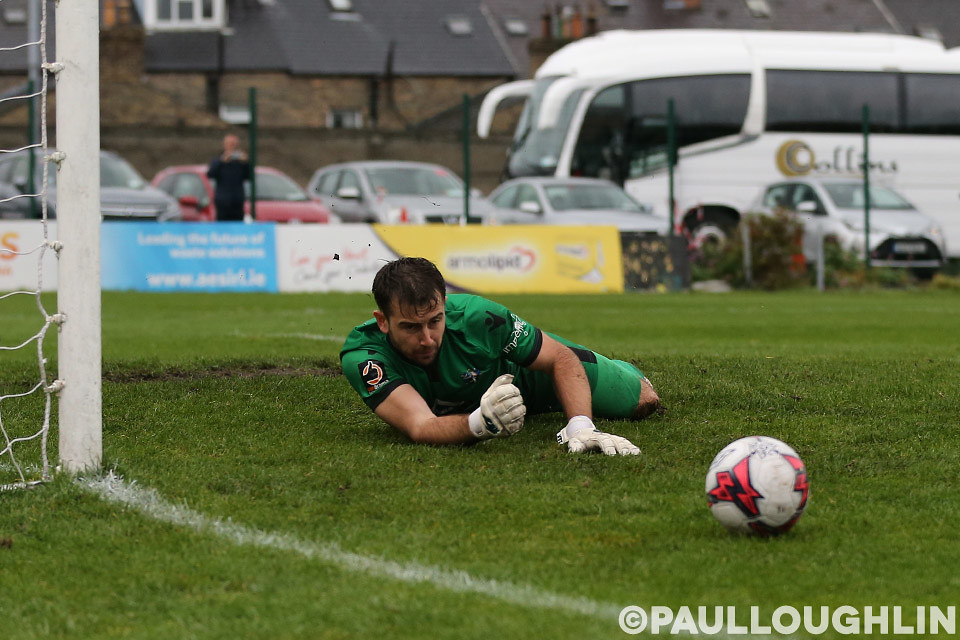 Worns gets busy in the shoot out @ Bohs
Ah yeah, Sutton United. Right. Our next two miss, they score and it's all square again. Thomas rattles the bar with our 6th kick and suddenly, almost as soon as it's begun, the adventure is over. Our European adventure is finished and it's back to boring old real life. Sickener. There's no time for a cup hangover though as we're right back into knockout action with the FA Cup tie away to our old friends Wealdstone the following Saturday. We'll be doing it without Ross Lafayette though as he makes a move to the circus up at Billericay Town.
It's an interesting tie and by interesting we mean refereed by a fucking knob. They lead through a pen, we level with a softy of our own 2nd half and with a replay looming, the ref gives his third of the day in the 90th minute to set the hosts up with a 1st round tie and a nice cheque for 25 grand. That is until the geezer blats it weakly at Butler. A minute later, Ayunga sends Drinan clear to slot his first senior goal and 400 Sutton fans go absolutely fucking mental (2-1). There's even pyro from the Yoof!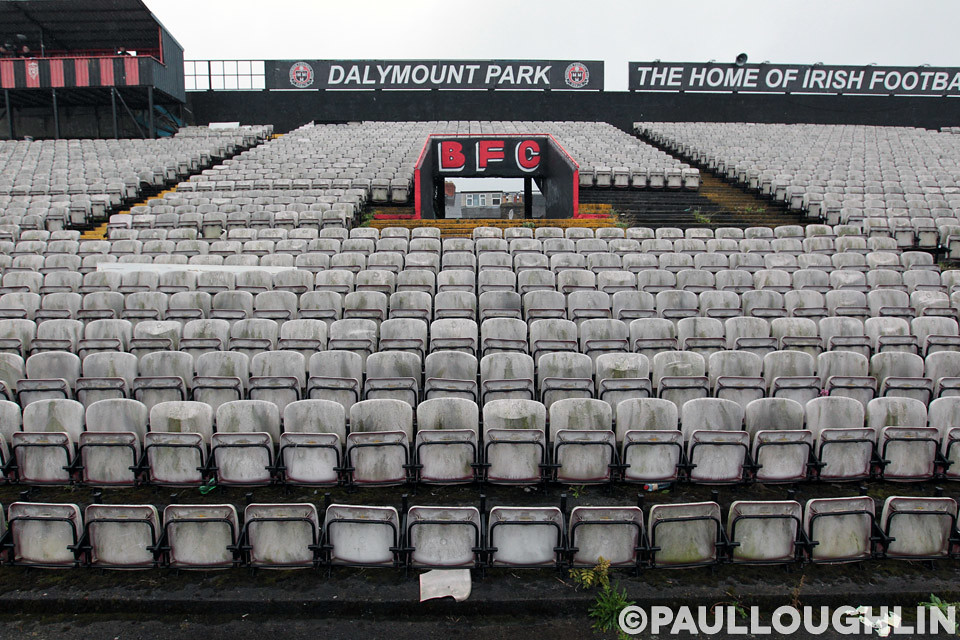 More ground porn…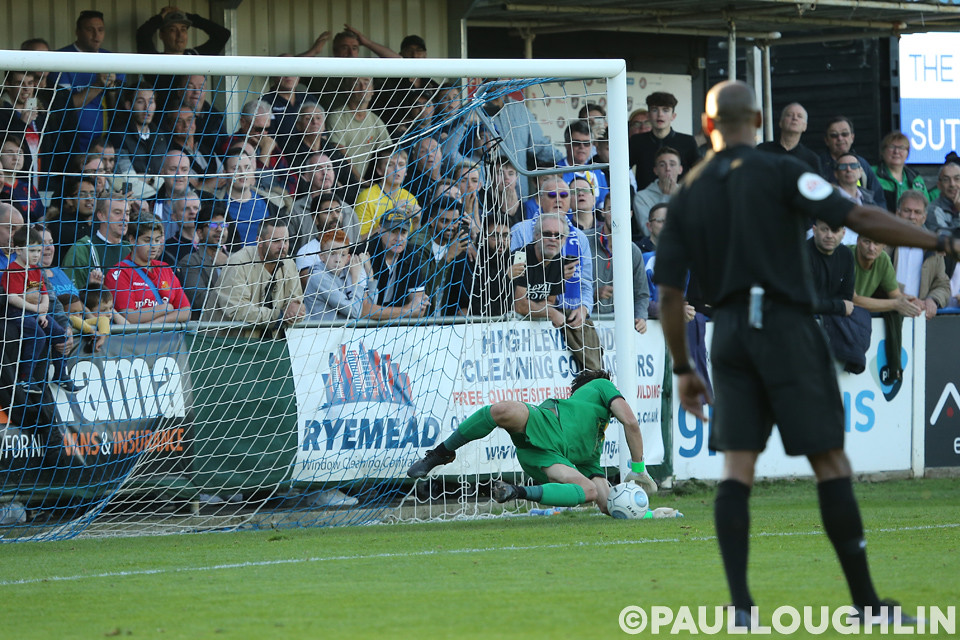 Last minute peno save from Butts…..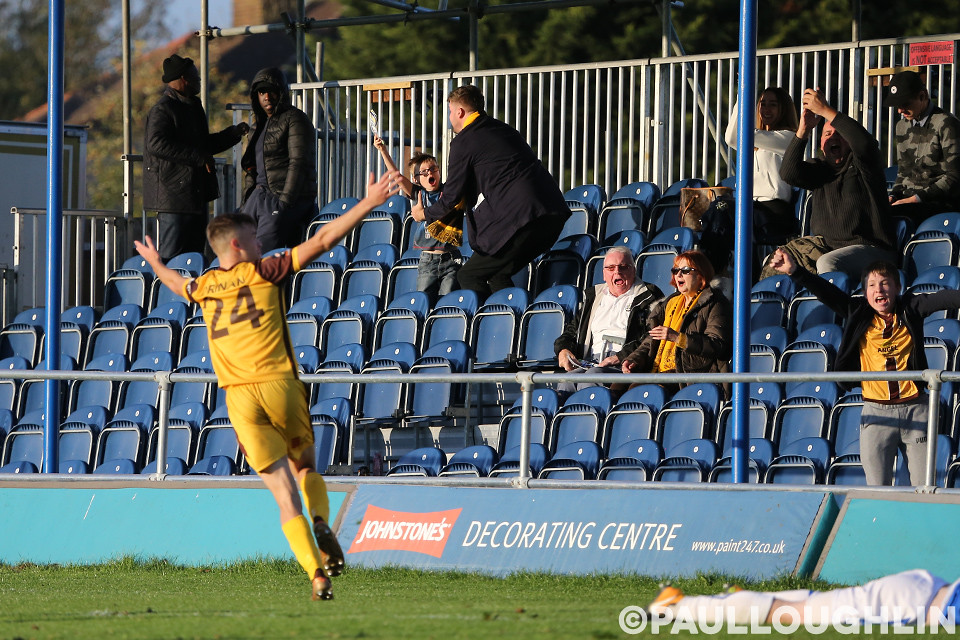 ….and an even more last minute winner from Drinan @ Wealstone
Monday's FA Cup draw pairs us with Slough at home in the 1st round before a first ever 'El Prowsico' derby meeting with tenants Sutton Common Rovers in the SSC. Well, it's their 'home' tie actually, but you get the picture. A competitive game is won 2-1 thanks to a relatively strong U's line up. Dukey is of course happy with the progression. Our first BT Sport appearance of the season is announced later in the week (Bromley away on New Years Day) before we take another long journey North to Hartlepool where a rather topsy turvy game sees the U's lead early, then behind very early in the 2nd half before then coming back to win it 3-2 with a cracking winner from Easty.
The long train journey home is of course thoroughly enjoyed by one and all! October closes with the visit of struggling Chesterfield. Since three opening wins, they've not won since under Martin Allen and are dangerously close to the drop zone. The U's perform well and should be ahead by more than Ayunga's first half strike, but again missed chances prove costly and 2 more points go begging when the visitors nick a draw (1-1) in the 90th minute with their only effort on target all night. Bollocks.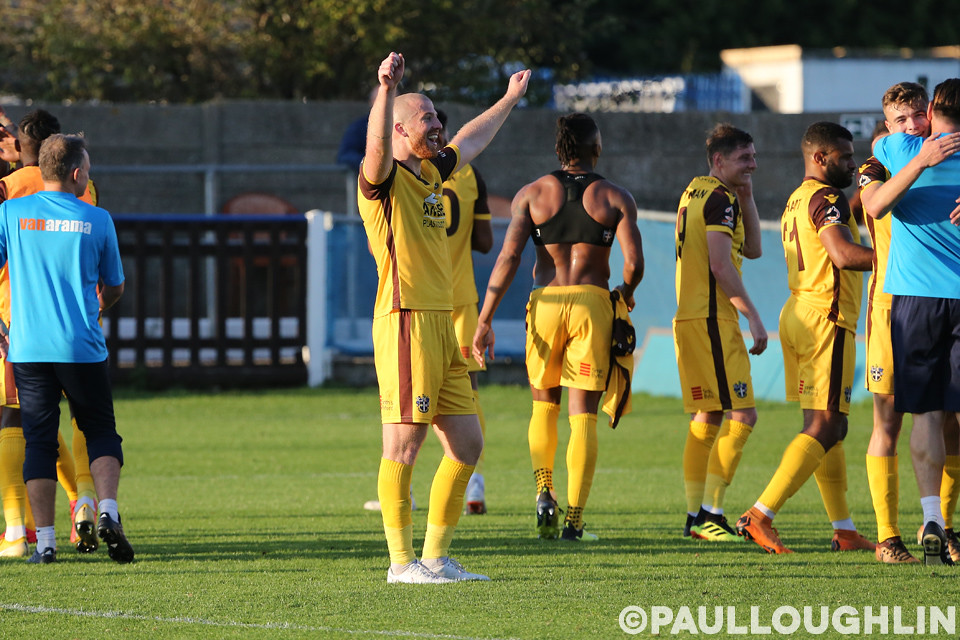 "Yeah, I thought we were fucked too!" All smiles @ Wealdstone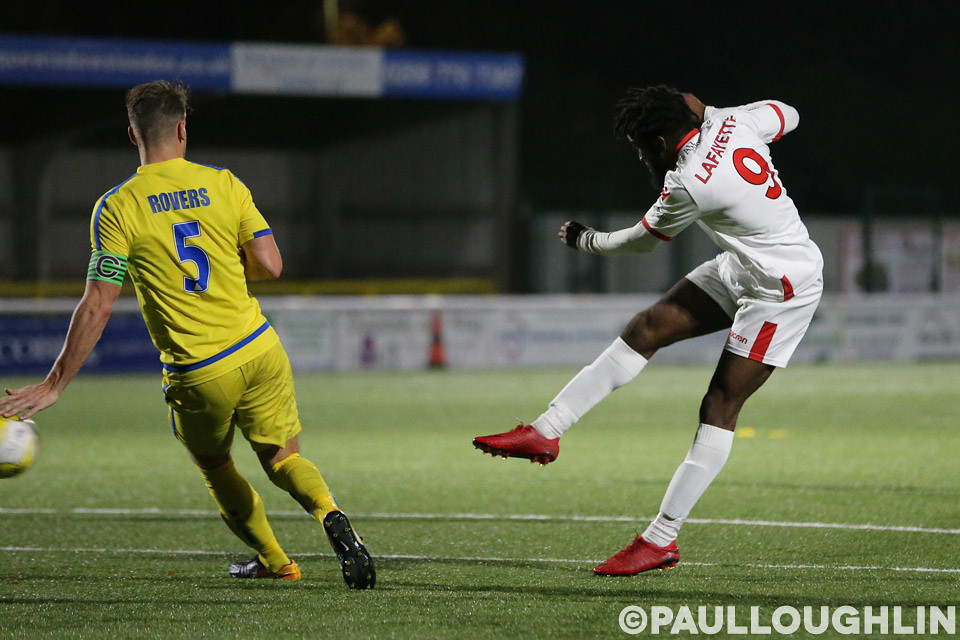 Bosh! The first El Prowsico is settled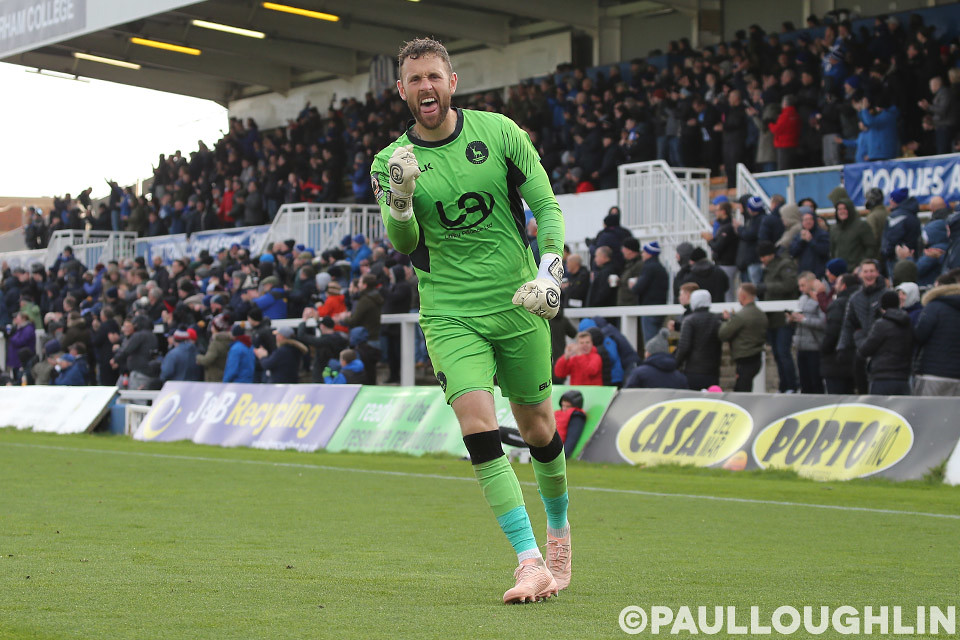 Alright sweetheart, wind your neck in. Plenty of time left yet….
So an up and down month (which with all the travelling was re-christened 'Bankruptober' by members of the collective) brings the first third of the season to a close. Europe's gone for a burton, but we're still in the FA Cup and sitting one place outside the playoffs with 30 points on the board. So safety is within reach now and if we could just score more bloody goals a play off place is easily achievable. As a bonus, Orient fans are still whinging about our win there a month ago. And they're top. Clearly we've struck a nerve there. Brilliant.
And that's Part One of the Gandermonium Season Review sorted. So, can we keep up the steady trickle of points and stay up again? Will we find that goalscorer we so badly need? Will we make the play offs again? How many more 2-2 draws will we have? Are the Orient lot ever going to stop fucking moaning about that game in September? Tune into Part Two to find out!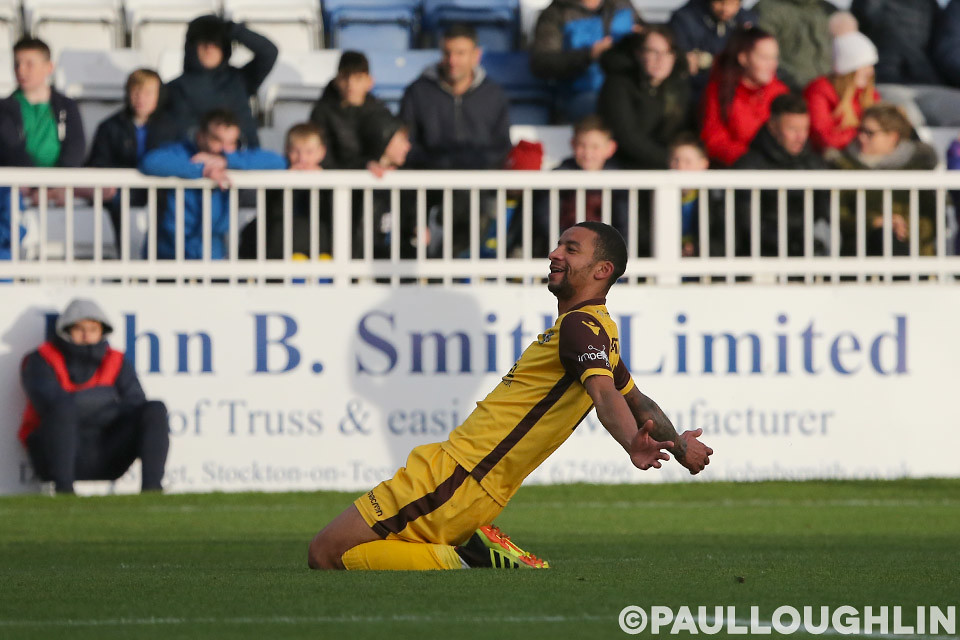 "Their keeper got this close to that one!"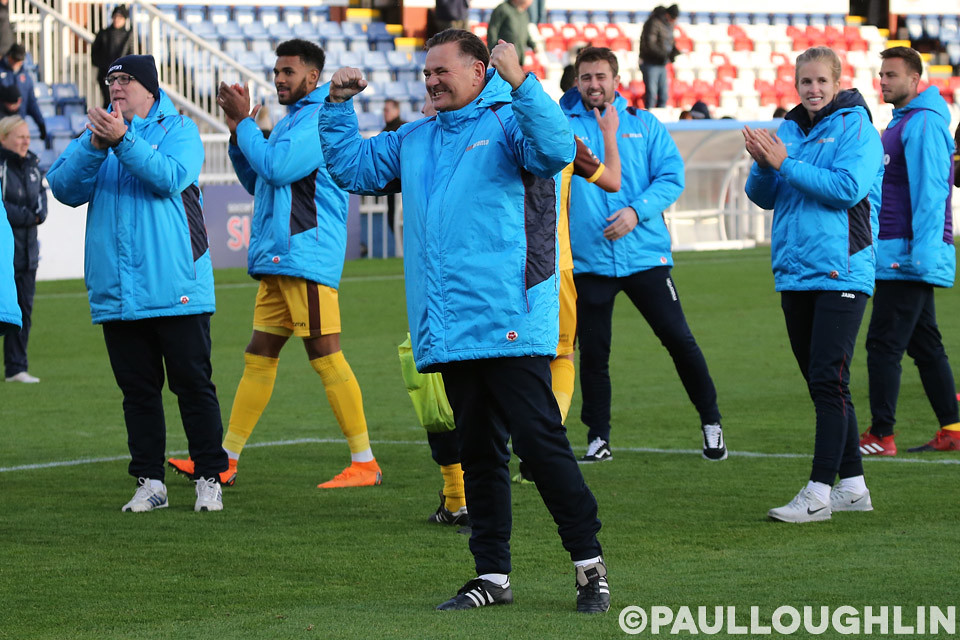 Big win on the road @ Hartlepool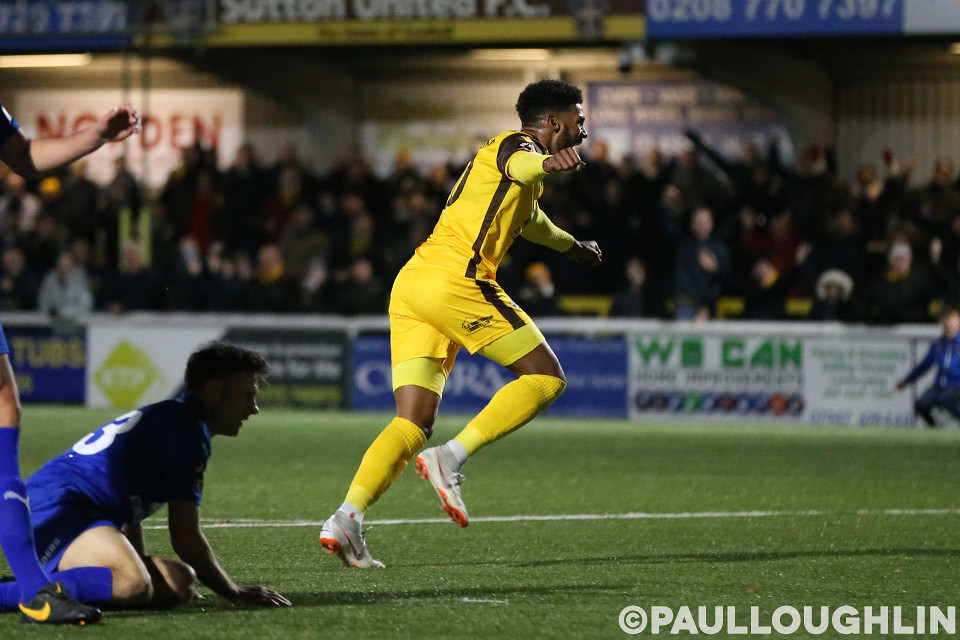 Jonah with the opener against Chesterfield
Click HERE for Part 2 of the Season Review!
As always we'd like to thank the jolly good sport and rather good snapper of images that is Paul Loughlin for once more allowing us to rob from his impressive library of pictures for this rubbish & to help make this here review look far more professional than we could ever hope to with our own images. Check out the full sets of his stuff on Flickr HERE. They're dead good and have been in the NLP and everything.