Welcome to Part Two of our annual Season Review! We're guessing the first bit was alright if you've come back for another helping. Still, s'pose you need something else to follow devotedly now that Game of Thrones thing is pretty much done and dusted eh? So, in Part One we made a decent start, got more than half our required survival total on the board, played in Europe, exited Europe, majorly upset part of East London and scraped into the First Round of the FA Cup. So pretty quiet really all told.
Well, what are you waiting for? Part Two's thataway. Over there. No, not there, there. To your left. No, your other left. Oh for god's sake…
NOVEMBER
We enter the middle portion of the campaign with a visit from struggling Dagenham. Their money issues at the end of last season and over the summer has left them with a few gaps to cover and they've not started that well although they've shown a bit of life lately, which is worrying. Naturally, it's not an easy day at the office. Cadogan's 2nd half goal is all that separates the sides (1-0) and we have to withstand some late pressure from the visitors to ensure we keep all the points, something that's becoming something of a habit lately at GGL. Next we're back into the cup and Conf South Slough Town come calling. A rather lacklustre game finishes goalless as we show all the cutting edge of a scaffold board (0-0) and them little more, so we'll of course have to do it all again next week at their gaff. So lame are our attempts at scoring that Dos lobs Charlie Clough up top in a throwback to his last spell here, where he ended his time at the lane with a little glut of goals. It doesn't work, obviously.
The draw the following Monday provides some incentive to improve with a home tie against Gillingham awaiting the winners. It's a busy week as first Isthmian League chairman Alan Turvey sadly kicks the bucket and then Dos moves to bolster our attacking options with the signing of promising forward Craig Dundas from Hampton. We're not sure why, but he seems oddly familiar to us. The lucky bastard rejoins just in time for the hike up to Gateshead, which like the Slough game is a festival of attacking football (not) and thus also, to everyone's eternal surprise, finishes 0-0. Still, it's a point on the board and a day on the piss in Newcastle if nothing else. Could be worse.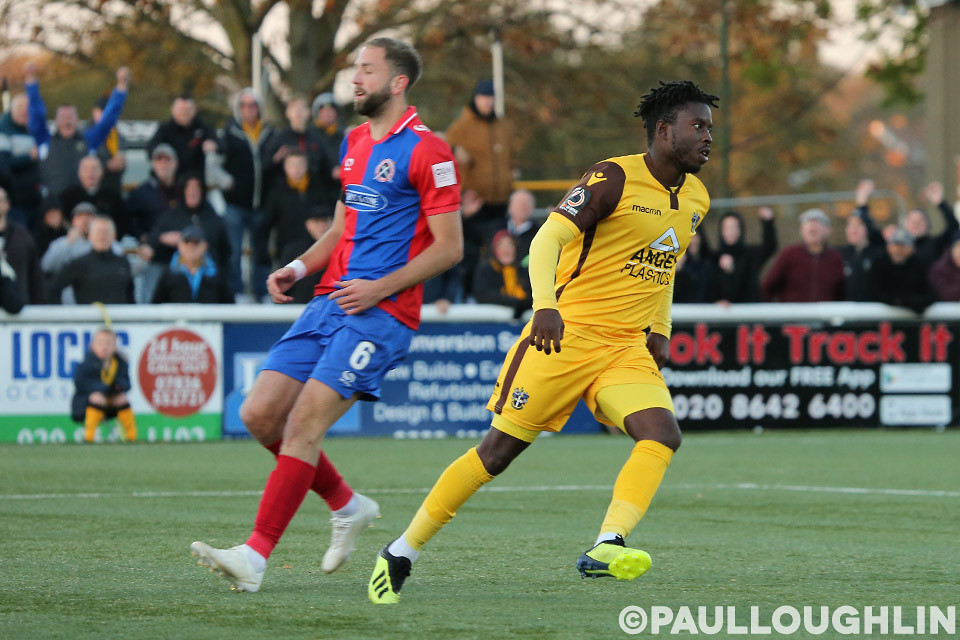 Cadogan sees off Dagenham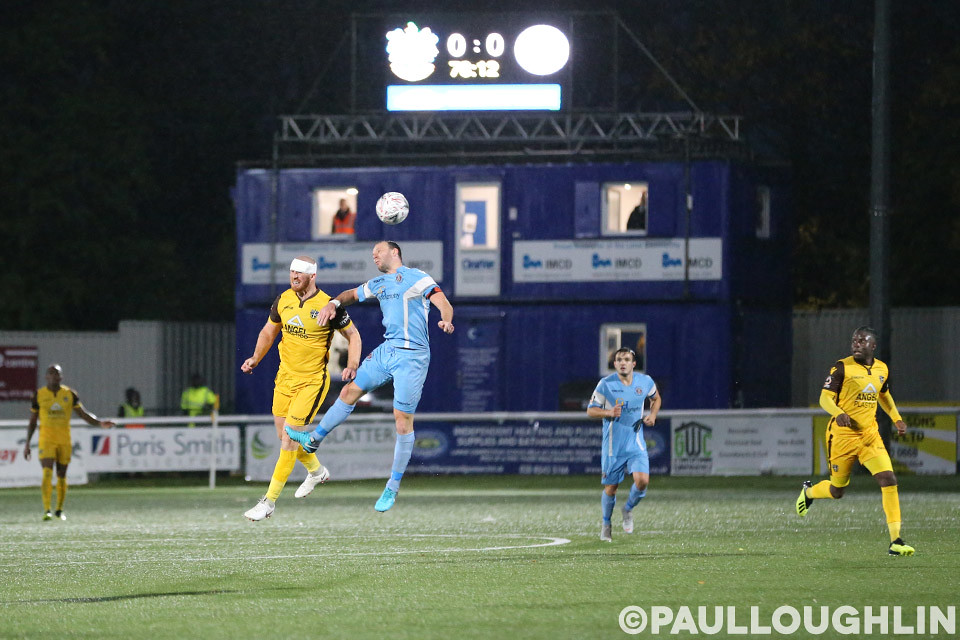 Slough in the Cup. Fucking dull.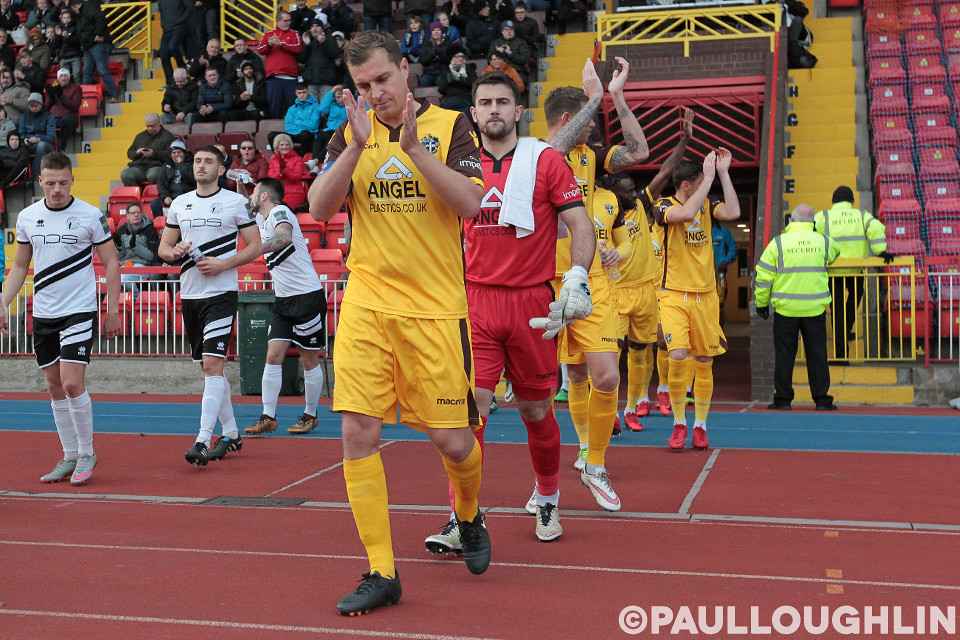 You know it's been boring when we use pictures like this. Gateshead away.
Whilst all this excitement is getting to us, the Youth Team are kicking up a fuss in the FA Youth cup, heading down to heavily fancied Clevedon and coming away with a huge win that sets them up with a home tie against no less than Manchester City at GGL. It looks like a bit of the Premier League is coming to West Sutton again! The following night, we head round the M25 to Slough (1-1) for our own bit of cup action and despite playing ok (still with a centre back as a forward) and leading early thanks to Beautyman, we again fold under late pressure and the tie goes to extra time. The further 30 mins can't settle it and it's off to pens we go. In the end, Dean Beckwith is the man to miss and we lose 8-7 in the shootout. Suddenly, after a promising first couple of months, this season is starting to show signs of petering out somewhat.
Dos is clearly unimpressed by our almost total lack of goals lately and brings in Darren McQueen from Ebbsfleet and Brandon Thomas-Asante in on loan from MK Dons. With the cup exit still fresh, we face Maidenhead at GGL back in the league. They're having a properly rubbish time of it and have been conceding almost for fun lately, making them one of the current favourites for the drop. Yeah, you guessed it. We barely manage a fucking shot on target against a side that's let in almost 30 in their last several matches and lose 1-0 to a late header. Seems things are going to get a bit worse before they get a bit better? One player not featuring in this one is Jonah Ayunga, who's been shipped out on loan to Havant for a month. Naturally he goes and bags a fucking brace for them on his debut against Aldershot. Jesus wept.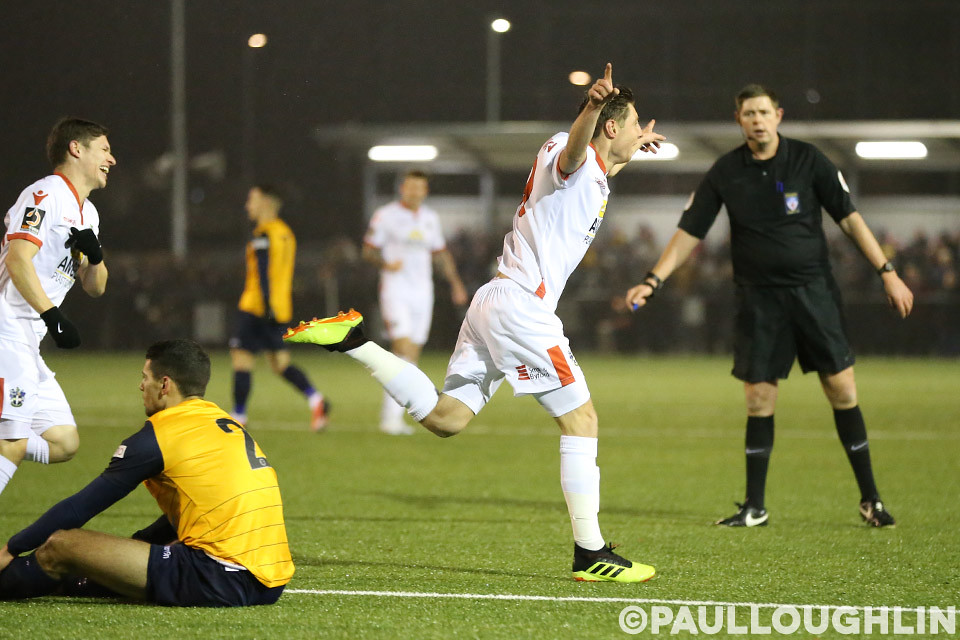 Beauts with the opener @ Slough in the Cup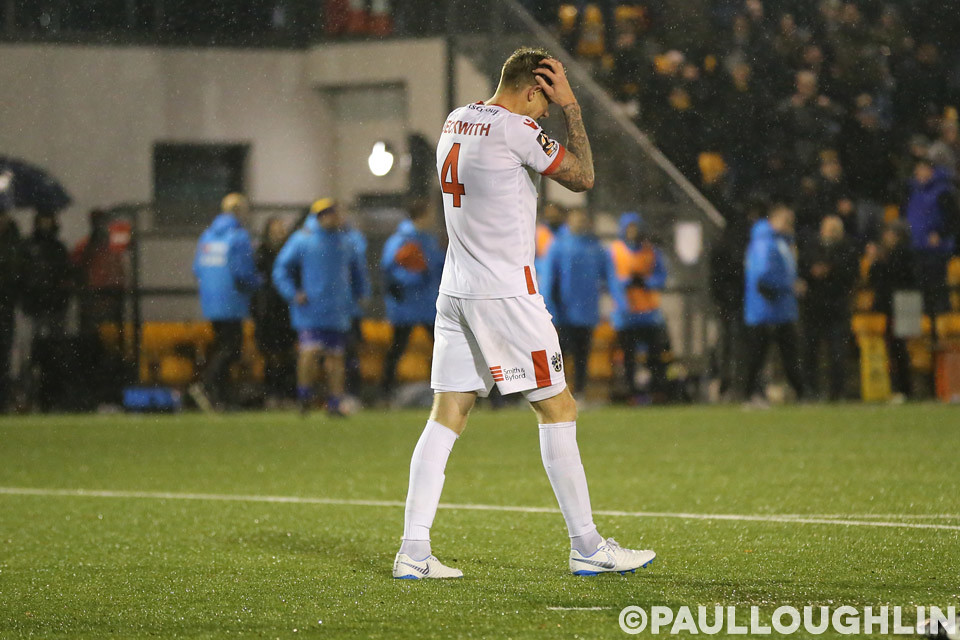 Becks post-blazing over in the shootout @ Slough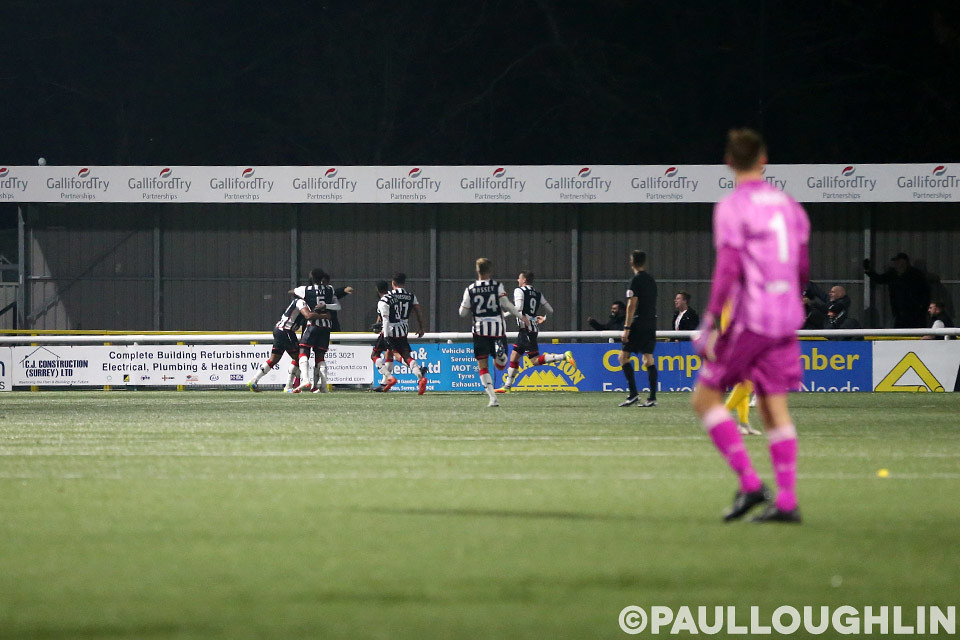 Fucking up at home against an awful Maidenhead side
The FA Trophy draw provides no comfort, with an away draw at fucking Bromley leaving us all yawning away like we're listening to one of Chalmer's anecdotes, mainly as it means we'll be playing them three times in as many weeks. Dos further shakes things up during the week by letting Dan Wishart go and he soon joins Maidstone. He's just not been at the races at all since he rejoined and has been a pale shadow of the charging danger man from our Conf South title winning season. Another struggling side is next up, with a midweek bob up to Essex and rock bottom Braintree Town the hosts. The good news is, we managed to score twice! The bad news is, so do they (2-2) and both of them before either of ours. However, the lads at least show some of the old fighting spirit to come from 2 down to earn a deserved point, so it's not a total disaster.
What has proven to be a rather downbeat month finally draws to a close with another bit of shitty news. The Youth Team's big date with destiny at the Lane against Man City goes down the khazi when it's discovered that we've played an ineligible player. Apparently, it's a proper fuck up of a situation and one that only came to light when some geezer at Chippenham has tipped off our oppo from the previous round. It's a sickener, both for the club and the lads who'd worked so hard to earn the tie.
Still, despite the trials and tribulations, we're sat just outside the play offs in 8th and whilst we've only managed to scrape up another 5 points to add to the tally this month, it leaves us with a grand total of 35 just before the halfway point of the campaign. Hopefully Christmas will provide a bit more to cheer about and not just because we'll have drunk our own bodyweight in gin. So, goodbye to you November, you've been a right twat and no mistake. Now shoo. Go on, fuck off.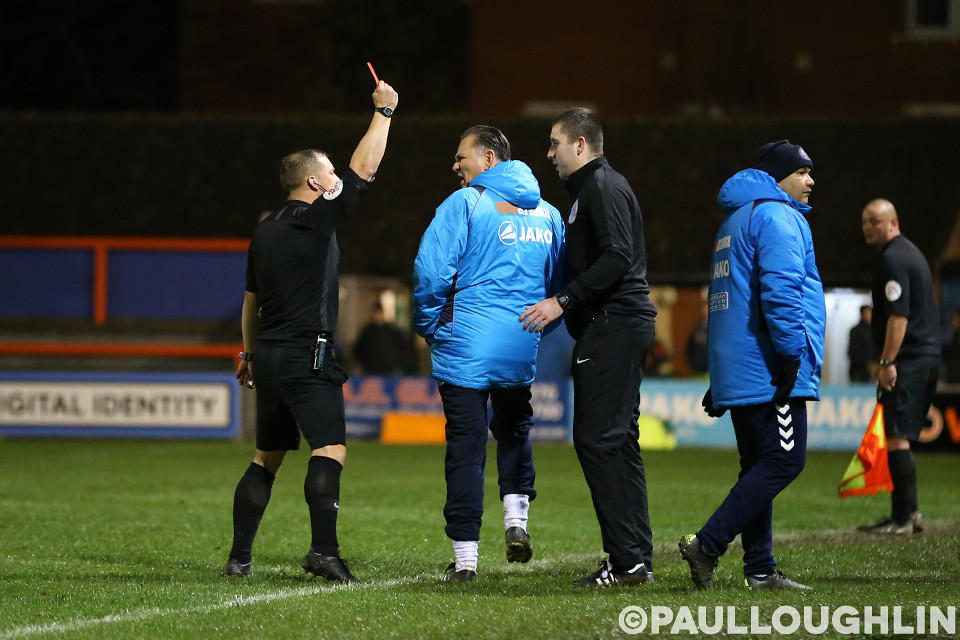 "I was only calling you what the fans have all night mate"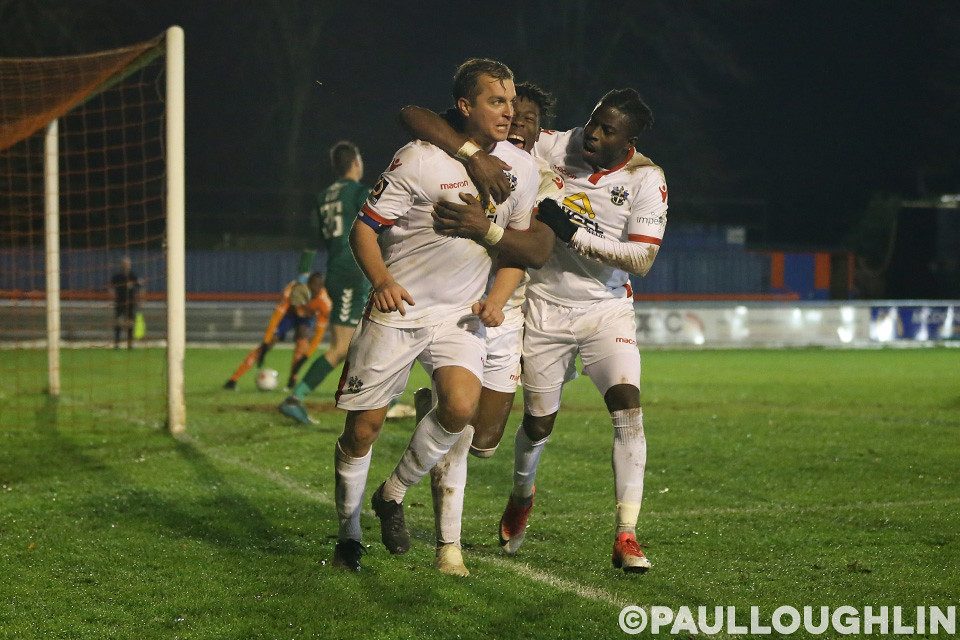 Another late JC peno. Braintree away.
DECEMBER
Tis the season to be jolly and all that apparently. Yeah right. Injuries are hampering us again and for the game at fellow play off chasers AFC Fylde and we're forced to chuck Academy centre back Brad Pearce into the fray. On a very wet day, we trail twice, but nab a point thanks to goals from the aforementioned Mr Pearce on debut and a late Cadogan leveller to give us yet another 2-2 draw. That's more like it. The result was so unexpected that some of our number get a bit carried away and declare with great certainty that "We're back!". Hmmm. Still, whilst we might not be getting the wins, the character and effort of the lads can't be argued so that's something to keep the old spirits up.
Ross Worner goes out on loan to Maidstone in the week, as Dos seems to prefer Jamie Butler despite Worns decent form and a good few clean sheets whilst JB was injured. Solihull then come calling and yes, it's another 2-2 fucking draw. Again they lead twice, but again we show some grit and dig in with Kenny Davis once more showing off his Messi like free-kick skills from the Halifax game here to grab a point deep into the 2nd half. There's more player movement during the week with Dundo again departing and heading back to Hampton, with no one really quite sure why he came back in the first place and Bradley Pearce's performances since his debut earns him a 1st team contract. Well done lad!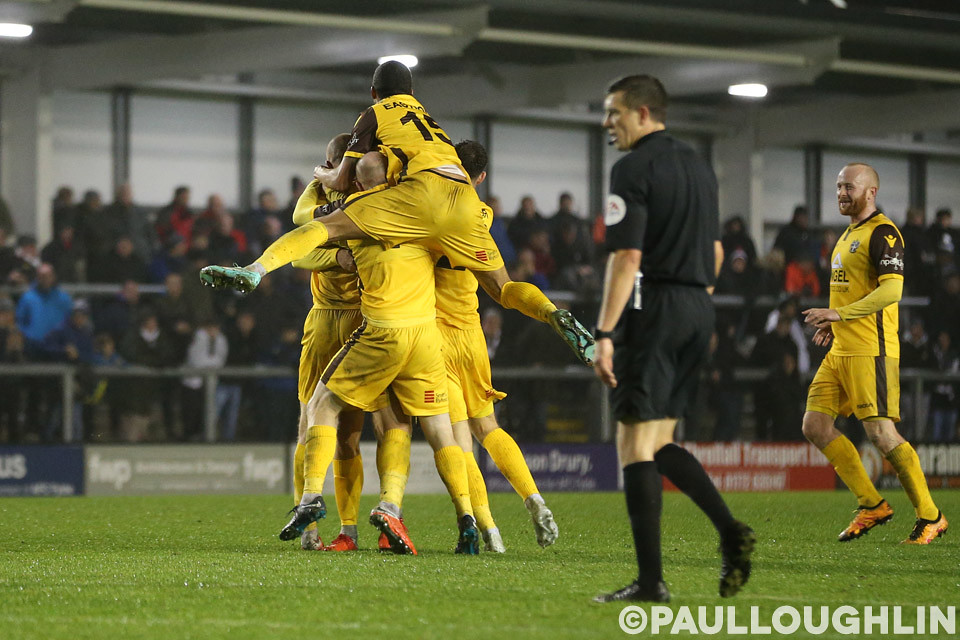 The boys seem happy with Brad Pearce's debut goal @ Fylde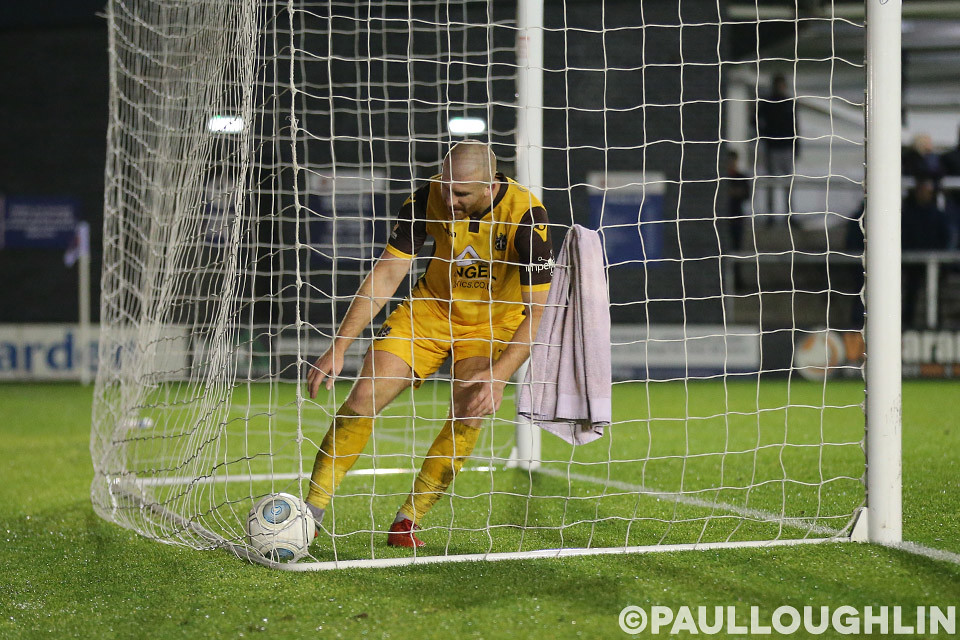 Cadogan's leveller being fished out @ Fylde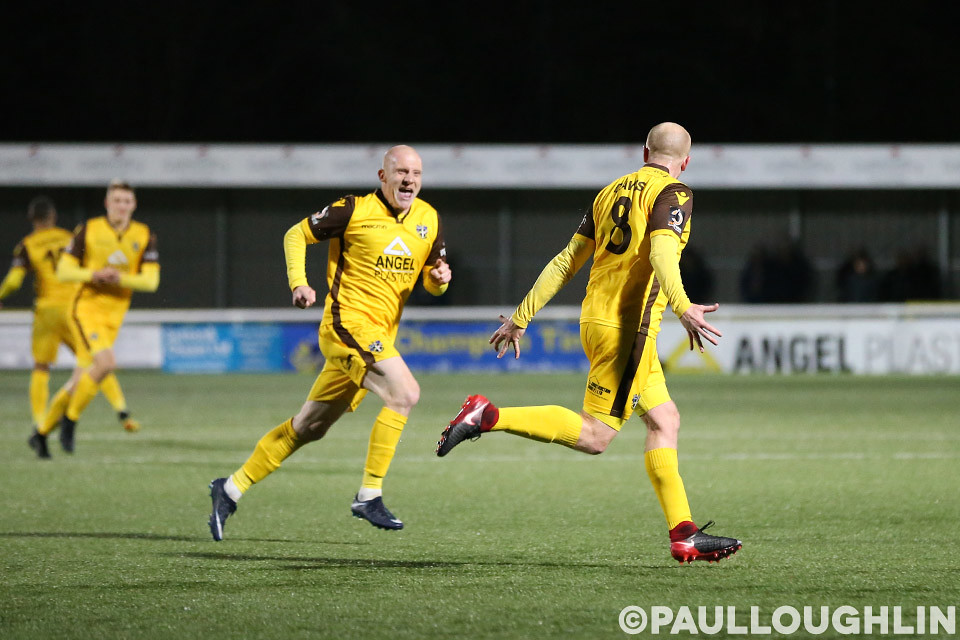 The Mitchell brothers reunion was an emotional one…
We move back into knockout comp action next, with the eagerly awaited (not really) trip to Bromley in the FA Trophy. There's a decent start from the lads and Thomas-Asante absolutely lashes one in to give us the lead. But we lose Pearce to a knock and it all sort of slips away from there. 2 set pieces, 2 goals and we're behind (2-1). Still, we should get a second bite of the cherry when JC is clearly wiped out in the box in the last minute, but the ref staggeringly gives nothing. It's such a nailed on spotto that the culprit apparently buys JC a beer to apologise for it in the bar afterwards. So, just the SSC for silverware then this year yeah? At least Dukey will be happy I guess.
Dos still doesn't seem that impressed with our attacking efforts and recalls Jonah from his month's exile at Havant, where he's actually bagged several goals as well as picking up veteran striker Brett Williams from Torquay on loan. We also put further Academy lads on contract with full backs Jude Mason and Crossley Lema being the latest to put pen to paper and to boosting the squad numbers. Little birdies are also chirping during this week and we start hearing all sorts of whispers about the Trophy game and most of them relate to Bromley having played a ringer. Could it be true? If so, we're surely back in? Over to you FA blazers. We're fully expecting either frigging replay or just a slap on the wrist however and all decided after a hearing sometime in late May.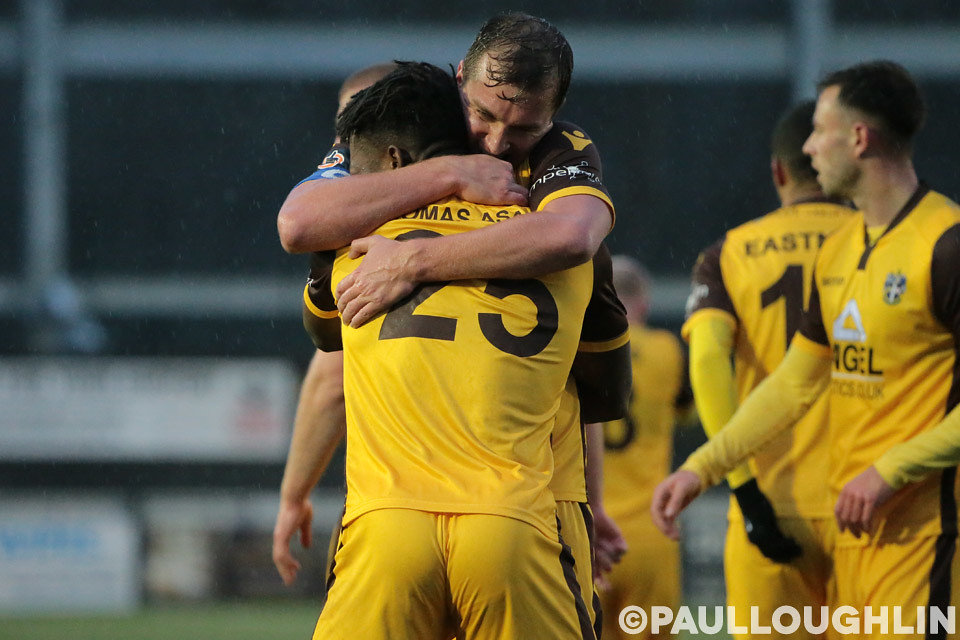 "I love you maaan!"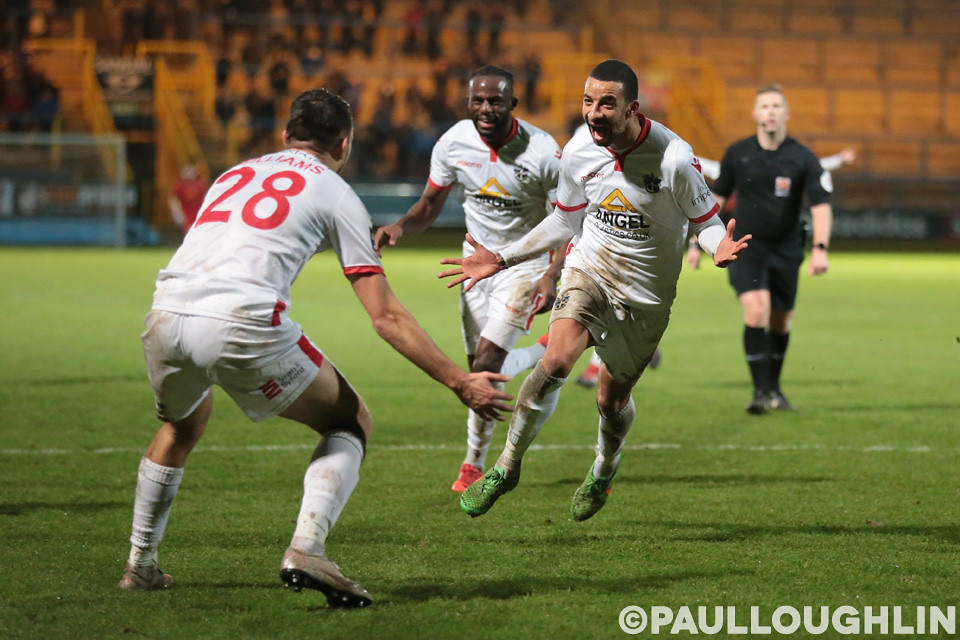 Easty in the 93rd minute @ Halifax. Er, yeah. Sorry about that.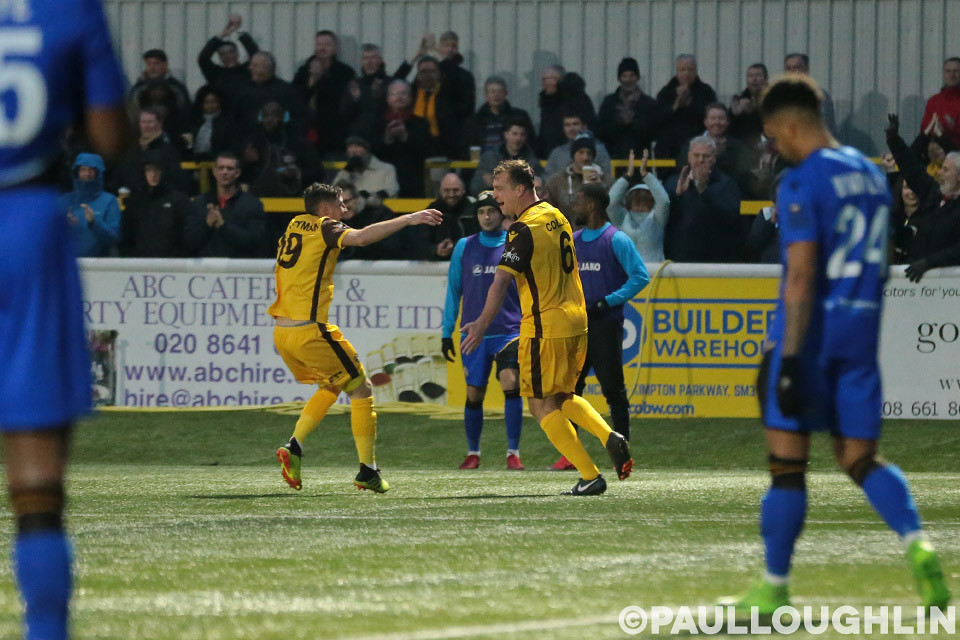 Bromley beaten on Boxing Day
Our recent defensive signings are made a little more vital on the day we travel to Halifax as news breaks that Charlie Clough has departed for a full time deal in Brunei with a team owned by one of their many obscenely rich princes and who have a spot playing in the Singapore Premier League. We do get a fee for him and it's a great opportunity for the lad, but it leaves us a bit thin on the ground again at the back. Oh well. Naturally he's signed as a defender, not a forward. The game at the Shay is a largely dour clash, somewhat spoilt by another desperately poor official. But then in the 93rd minute, Craig Eastmond makes the most of one of our few decent forays forward and sweeps in a winner (1-0). Absolute scenes, as the Yoof might say. It's a welcome win and even a bitty train journey home thanks to Northern Rail strike action can't dampen our celebratory mood. In the dugout that afternoon is also one Matt Gray (no, not that one), who has joined the coaching staff at the behest of Dos and Bairdy. We're guessing they feel a fresh pair of eyes might help? Our thinking is "Only if he's a striker who can score". The following morning sees many hangovers in the Gandermonium camp and the Bromley ringer story confirmed, as the FA charges them with fielding an ineligible player. Another little gift drops on Xmas Eve with Dos bringing in yet another forward in Gime Toure, joining from AFC Fylde for who he'd scored their 2nd goal against us just a couple of weeks back.
Up next is the traditional Boxing Day football which is given a bit more spice by being a home game with renowned FA Trophy cheats, Bromley. And in a tight contest we make it 2 wins on the spin thanks to a towering JC header not long into the 2nd half (1-0). Of course, there's the usual late pressure which is now common with home games, but we cling on and a couple of days later, it's back down the Lane for the visit of Aldershot. After making the Play Offs last season, they're a bit less of a force this season and are finding life hard whilst scuffing about dangerously close to the National League plughole. We start like a train and goals from Beauts and Williams (against his old side) make it 2-0 after 6 mins. But much like Dover, we don't press on and they pull one back before HT with a huge deflection. Thankfully there's no repeat of Dover and we see the 90 out to record a 2-1 win.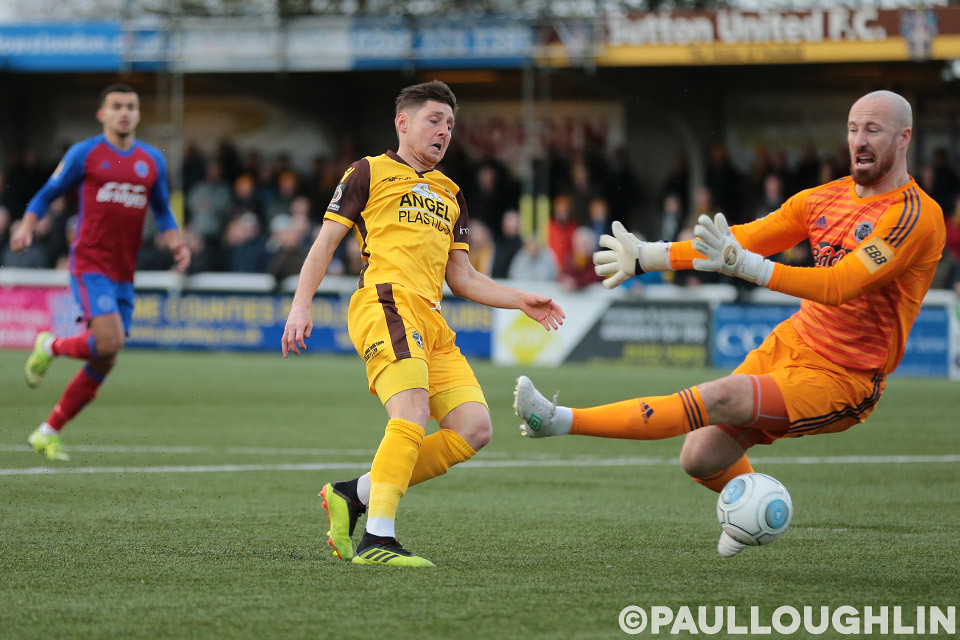 H gets the Aldershot keeper to pull a funny face as he makes it 1-0.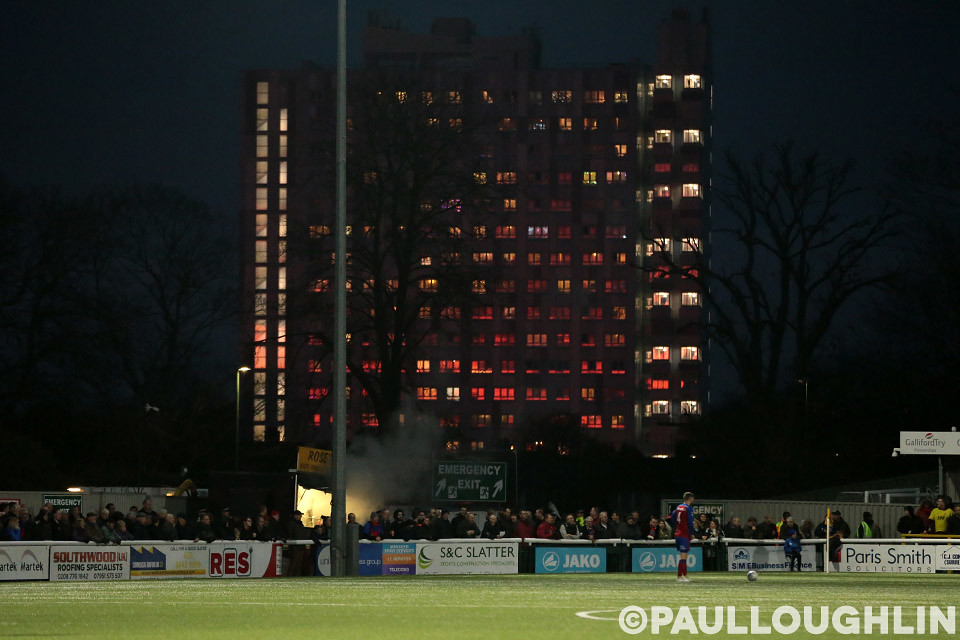 The beautiful West Sutton skyline…
This means that whilst we complete December and 2018 still sat in 8th spot, a decent return from the league games means we now have a very healthy 46 points to our name after 26 games. We're basically 2 wins from retaining our status for next season and sat just on the fringe of the play off race. See, we knew December would be better than that November bollocks! The year has one last twist to it though with Keiron Cadogan being released from his contract on New Year's Eve and promptly joining god knows how many ex-U's up at Billericay (who else!). We're guessing they have some sort of referral bonus system up there or something. Right, let's see what 2019 has to offer shall we?
JANUARY
We start the year with an immediate return tie with Bromley and our third meeting in about a month, which is broadcast live on BT Sport. Sadly, as befits a lot of our recent showings on the box and despite our little purple patch at the arse end of 2018, we're a bit shit. Sorry about that subscribers! Kenny Davis puts us in front, but another crap set piece goal has them level before we throw away a point in the last minute thanks to another bloody header (2-1). Still, the game is at least notable for the fact it's officiated by one Carl Brook who breaks the habit of a lifetime by not only not being an utter shitcunt, but actually largely keeping his cards in his pocket. Bet that fucked up his averages a bit.
A small measure of revenge for this defeat is extracted a couple of days later when the FA upholds the charge against Bromley and boots them out of the FA Trophy, a decision the expelled party accepts with good grace and doesn't try to blame their fuck up on the opposing club at all. Oh wait. So, we're back in! Erm, so who are we playing now? Spennymoor? In Couny Durham? Oh for fucking fucks sake. Ah well, at least it's a new ground for most of us so there'll be Groundhopper app check-ins all over the shop.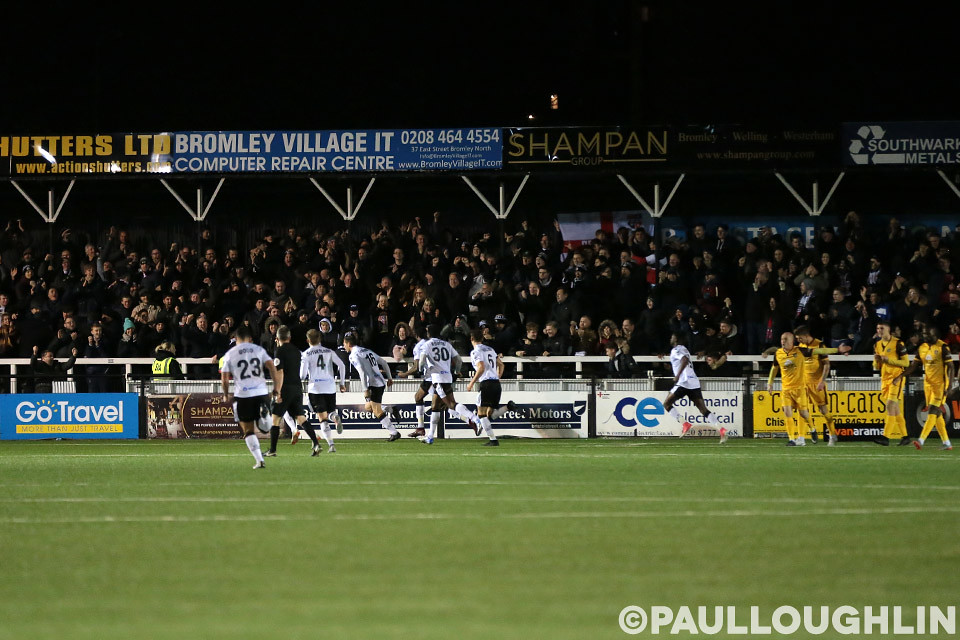 More points going down the khazi late on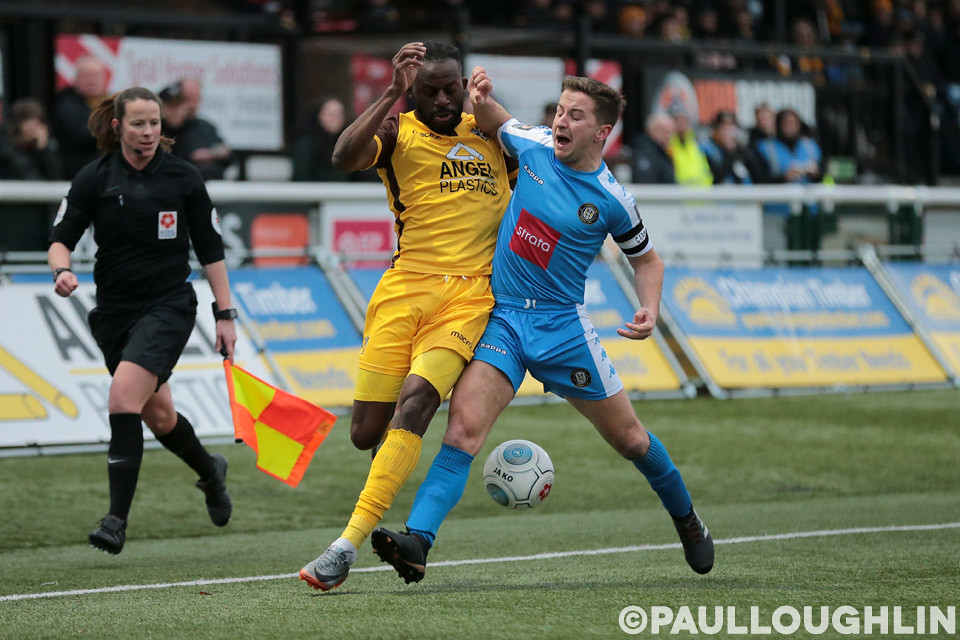 Jarzy little prick about to concede a free-kick and a goal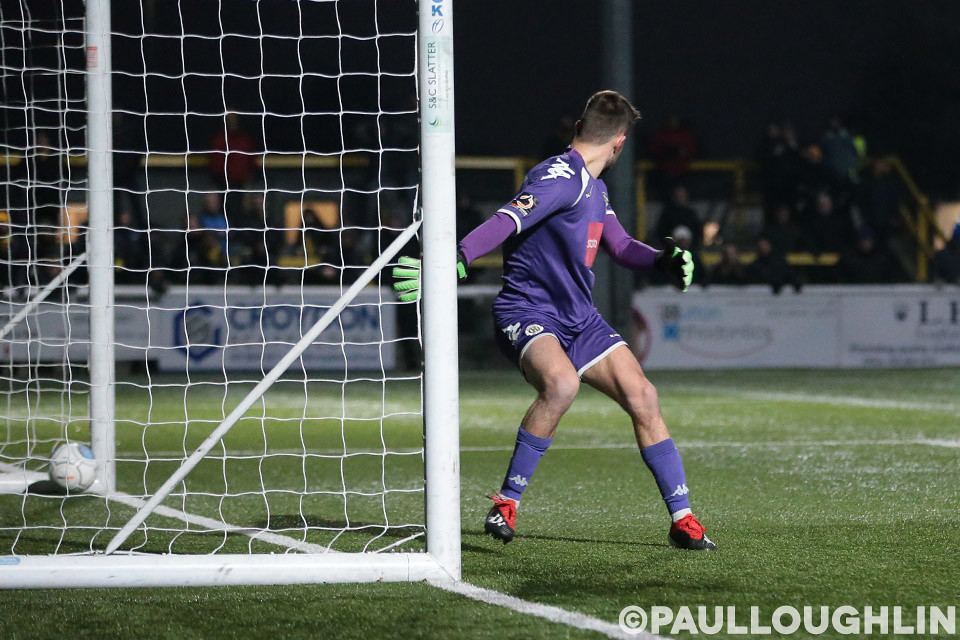 "It's behind yooou!"
The Trophy development comes at a slight cost however as Jamie Butler has picked up a groin injury during the New Years Day clash. This itself isn't as problem as we can of course recall Ross from Maidstone. Although some bright spark has also let him play for them in the Trophy and thus he's now cup tied, which means we don't actually have a keeper for the Spennymoor tie. And Vaggy doesn't fancy it! This season really is starting to get a bit tiresome if we're honest. Worns is back in goal against Harrogate though who are having a decent 1st season in the National and are chasing hard for a play off spot themselves. It's a decent game for a change and not just because we come out on top! Ayunga nuts us in front early after their shithouse little skipper gives away a pointless free-kick, they level on the hour and then as yet another draw looms, Beauts stabs in a winner with 10 to go and the 2-1 win gives us another 3 lovely points which means one more win needed to secure National League football again next season and we're also back into the play off spots!
Dos makes yet more attacking changes in the week, this time picking up wide man James Dobson from Slough for a fee after he'd impressed against us in the FA Cup, we also sort out the Trophy goalkeeping conundrum with Croatian Chelsea youth stopper Karlo Ziger joining on a months loan. Very cosmopolitan I think you'll agree. I'm guessing he heard all about our European exploits before Xmas and leapt at the chance. We then travel to Chertsey, featuring one Dale Binns in their line up, for the eagerly awaited (by Dukey at least) Surrey Senior Cup tie. Given we're a bit light on bodies and the sudden appearance of a trip to the North East, it's unsurprisingly a mostly Academy based line up. And just like the seniors, they play quite well, miss shitloads of chances and crash out 1-0 to the Combined Counties League leaders. And yes, Dukey is not impressed as you can probably imagine. Elsewhere, Orient fans are still banging on about us being thugs and that defeat in September. They must be an absolute riot on a night out that lot.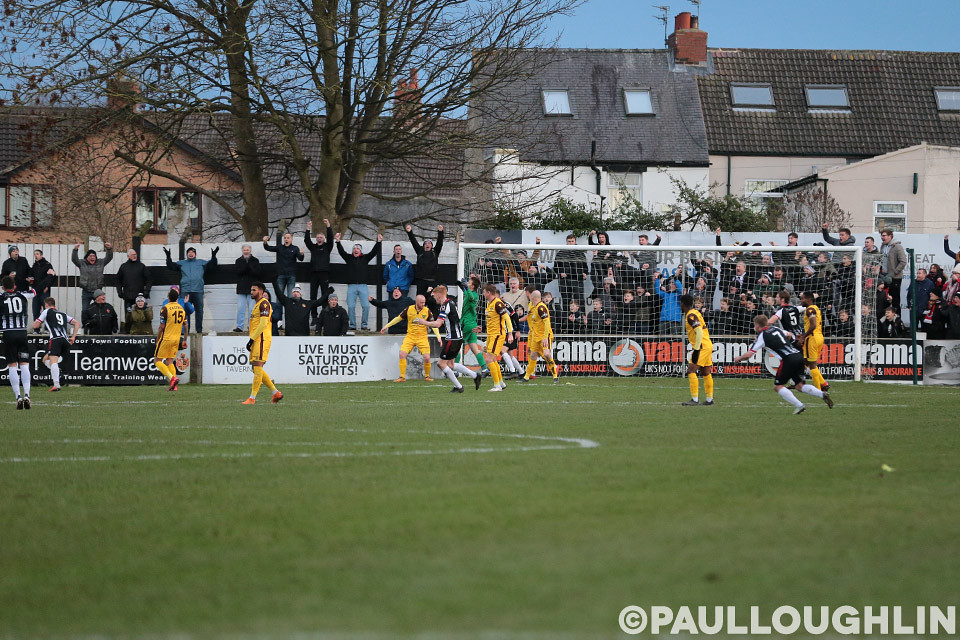 Spennymoor leading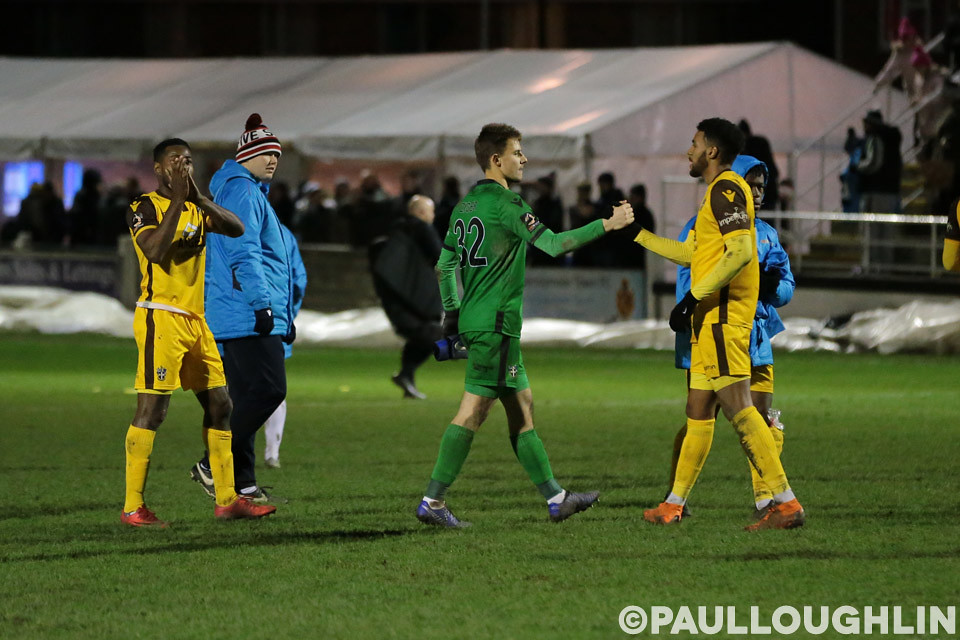 Cheers Karlo!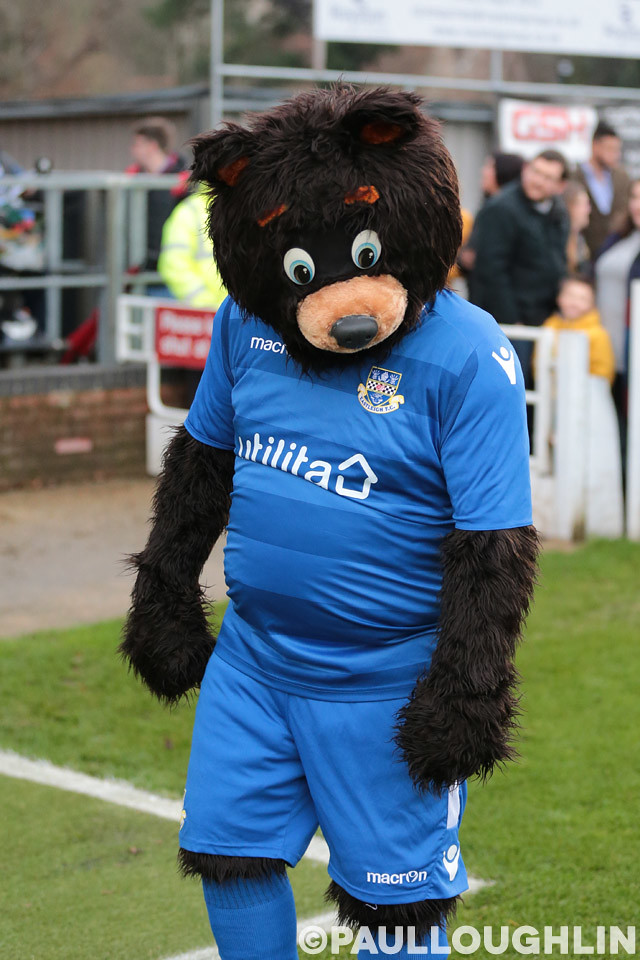 Everyone in Eastleigh looks like this
With the late notice of the Spennymoor tie, trains are a no go with them costing more than Adam Rooney earns in a week. So it's an en masse invasion by car for the crew and an overnighter in Durham. Sadly, with the team being a somewhat depleted by injuries and a lot of players now cup tied thanks to loan spells etc, it's not entirely surprising when we get dicked 3-0. Still it could have been worse but for a fantastic display by young Ziger who makes at least 3 worldy stops and of the 3 he doesn't manage to keep out, two are from the other side of that same worldy coin. However, a great time is had by all thanks to the warm welcome of the locals and the mutal pisstaking at Bromley's demise. It seems our friends from Kent hadn't exactly made themselves many friends up here last season! Dos then adds Brett Williams permanently until the end of the season as his loan expires.
Having had a lovely time in County Durham, it's the slightly less pleasing surroundings of Eastleigh next. Naturally, as is always the case here, we play fairly well, but still fucking lose 3-2. Williams celebrates his deal with a goal and Gime Toure scores his first in Sutton colours. It's then back to GGL the following weekend to face old foes Ebbsfleet who are having a funny old season. They're just outside the play offs just like us, but their decent form is somewhat at odds with the fact that their squad have been paid on time just once the whole season. Their first half showing is much what you'd expect from a side who have worries about how they're going to pay the mortgage this month, however we again fail to take chances and in the 2nd half, we get absolutely battered by a rejuvenated 'fleet. Maybe their cheques cleared? Sadly for them though, they fail to take chances themselves and in the 94th minute, Toure flicks in Beautyman's header off the underside of the bar and GGL goes mad. Shithouse 1-0 deep into stoppage time? Oooh. Suits you.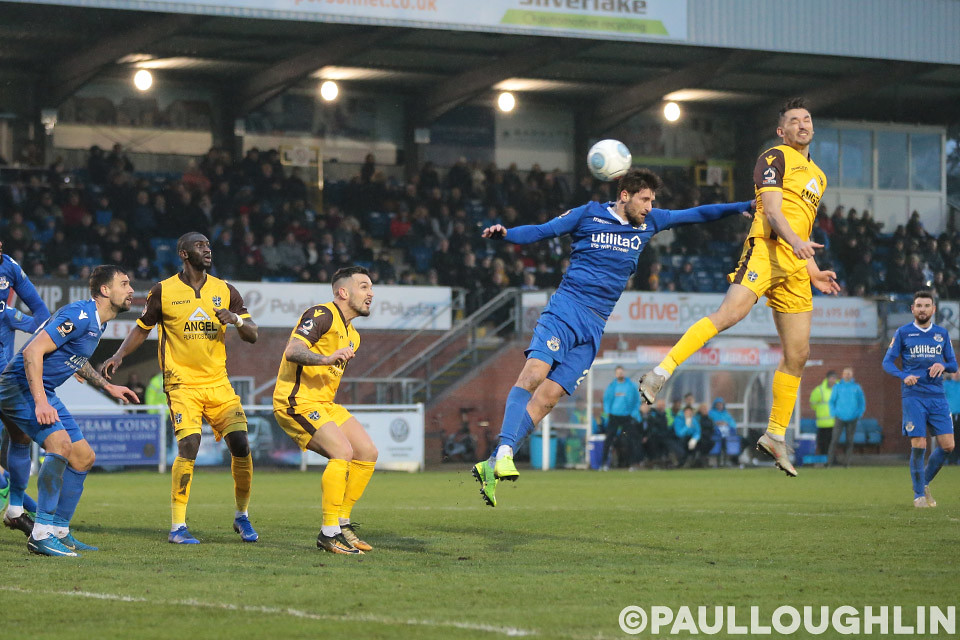 Williams flicks in @ Eastleigh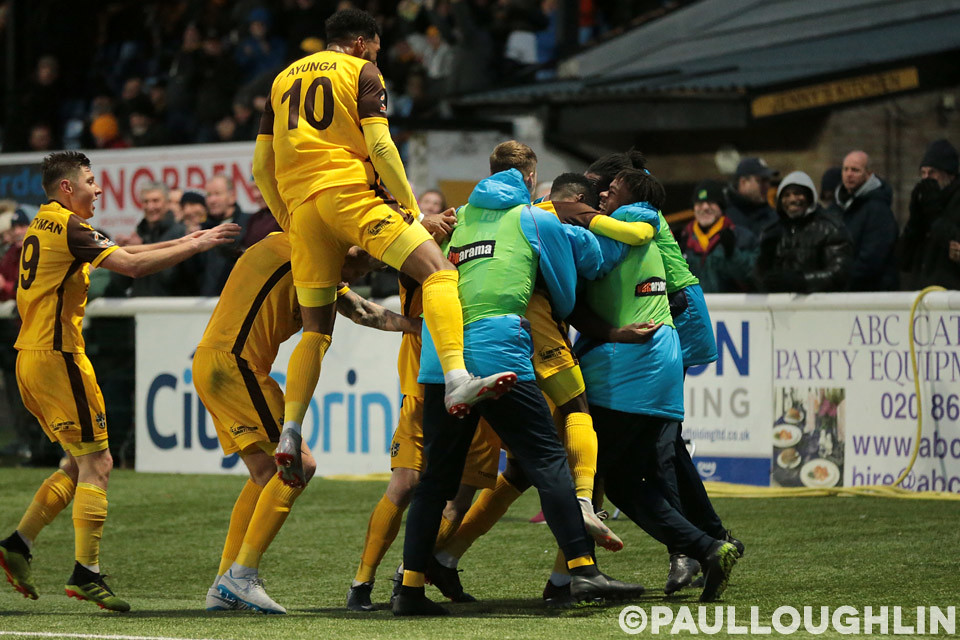 Absolute daylight fucking robbery against Ebbsfleet
The win takes us to the magic 52 points mark and we close out another slightly up and down month with our spot in the division all but secured for next season. We're also sitting in 6th and a play off place. Christ, if only we could score goals regularly, we'd be well in amongst it at the sharp end! With our Trophy involvement done and dusted, this means that our trip to Salford at the start of Feb is off. However, they want us to travel up on the 12th, which is odd give you get 42 days to rearrange games and will also cost the club and us fans a fucking fortune. Cheers lads, we're not all made of fucking money you know. We also hear that Brandon Thomas-Asante has joined Oxford City on loan, which we guess means his spell with us has ended? In other player news, one Mr R. Deacon departs struggling SPL side Dundee. Nah, couldn't be…
So that's it for Part 2 of the Season Review! In the third and final instalment, do we really re-sign Roarie? Do we make the play-offs? Does Dukey get over the Surrey Cup exit? Will we ever score more than 2 in a game again and just how many more bloody 2-2 draws will there be this season? Well you'll have to read it to find out won't you! Well, unless you were actually there this season, then it's probably be all old news to you.
Click HERE for Part 3. Or HERE to relive the good bit of Part 1.
As always we'd like to thank the jolly good sport and rather good snapper of images that is Paul Loughlin for once more allowing us to rob from his impressive library of pictures for this rubbish & to help make this here review look far more professional than we could ever hope to with our own images. Check out the full sets of his stuff on Flickr HERE. They're dead good and have been in the NLP and everything.