With the season burning down rapidly to the dog end of the Summer, we don't mind admitting a few of us are looking froward to the break. This season has been testing for many reasons, mostly financial and alcoholic in our case admittedly, but still it's been a tough 9 months for all concerned, not least our squad which is showing attrition levels somewhere on a par with Blackadder Goes Forth's 'Twenty Minuters'.
With an injury list so long it would actually be quicker to name the players we do have available, we're limping slowly towards the finish line in Dover and throwing out whatever available bodies we have to get the games done so we can just finish this shit and get on the beach.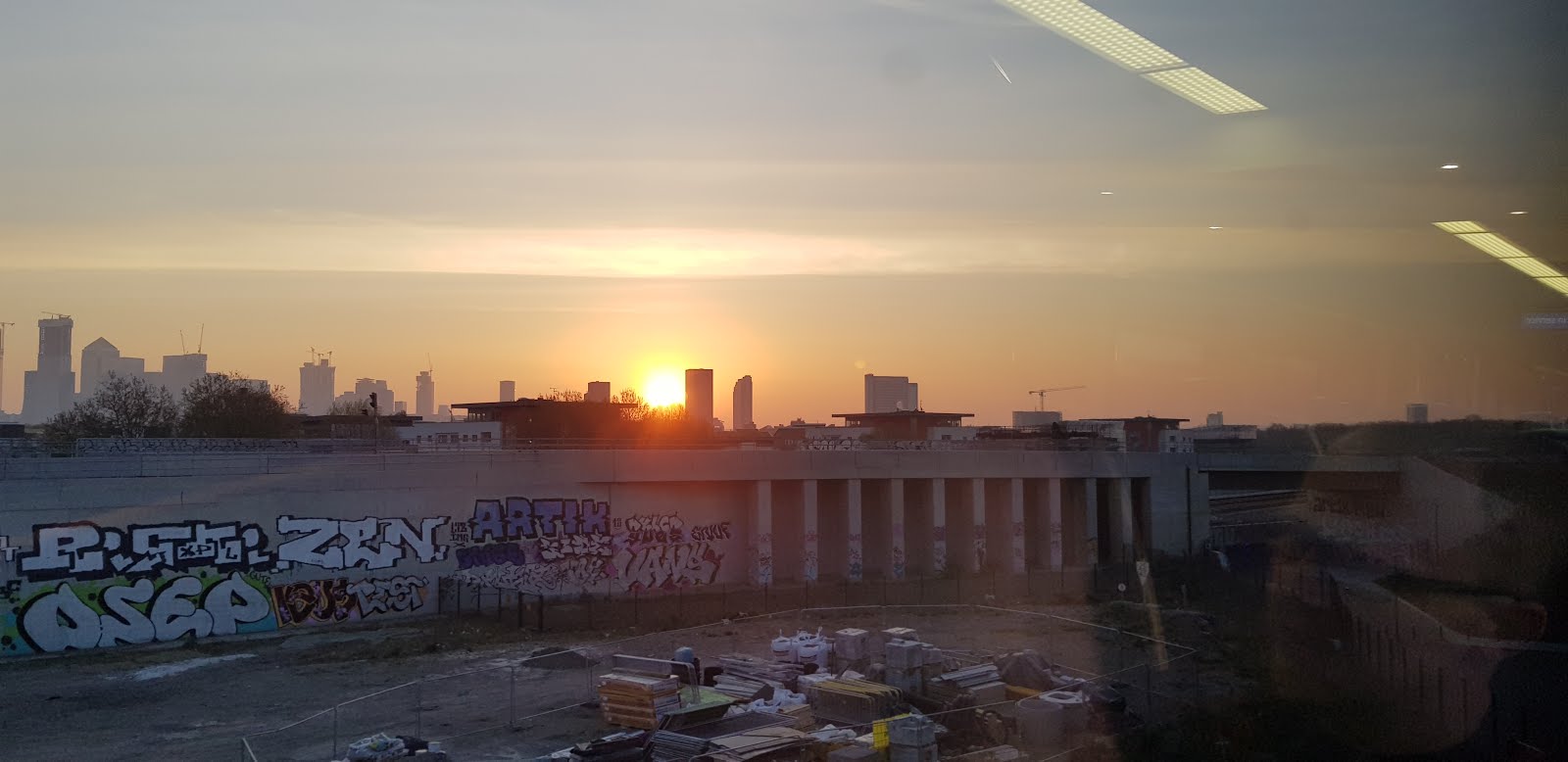 Early morning in gritty South London
In our case, that beach will be in Alicante in a couple of weeks as we're off to Tott's manor en Espanol to get as much cheap beer, tapas and of course football into our fat little faces as possible over a long weekend. So far, we've got a Sunday appointment at the Rico Perez for Hercules last game of the season, but we're hoping to find something else futbol related for the Saturday. Rest assured that all that fucking nonsense will of course be appearing here as soon as is reasonably possible or when we've sobered up. Whichever is soonest.
So, to the latest leg of the 2018/19 'when will it end?' tour and what will be my last effort on here this season. This week we're making the trip to Wrexham, an awayday we quite like as it involves a relatively old school ground, floodlight porn and sub-2 quid pints. Except on this occasion, the train gods are once more looking to rub salt into the wound that is this seemingly never ending season by closing Euston for the whole of the Easter weekend. This in itself is bad enough, but when they think using Harrow and fucking Wealdstone is an adequate replacement and then still have the front to charge premium holiday weekend prices for the service, that just adds insult to injury.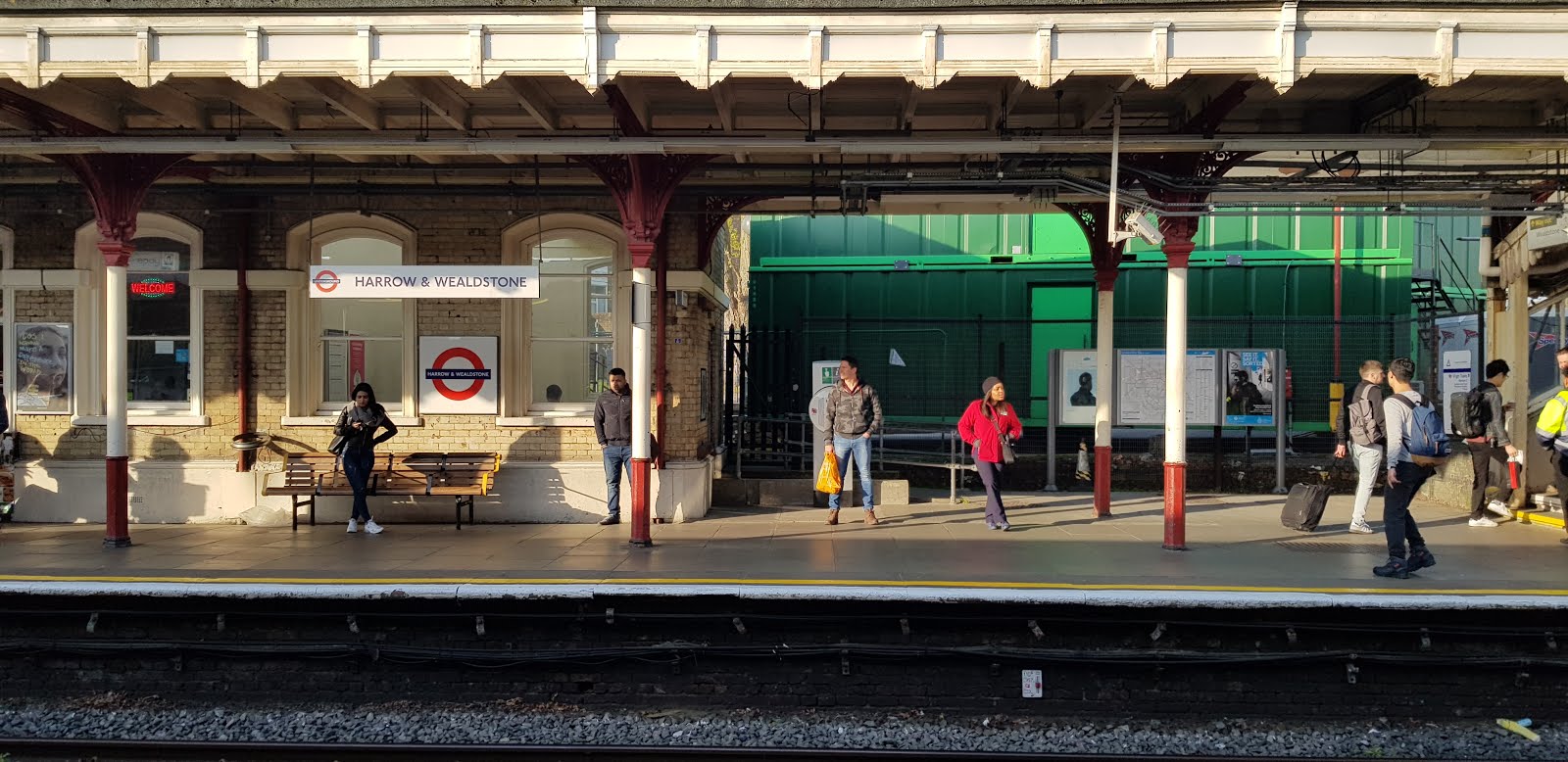 "And today Matthew, I'm going to be Euston station!"
Of course, our usual practice of ensuring we're local by 11am means that our train will be departing the arse end of North West London at five to eight in the morning. And with the far end of the Bakerloo line not being the most accessible spot in the world at the best of times, this means a start time from home that would usually be associated with getting to somewhere like fucking Truro or Glasgow. So, it's because of this that at 5am Good Friday my alarm sings it's mocking little song instructing me to get my arse out of my pit. Almost on autopilot, I get showered and dressed inside 30 mins and give Magnum PI a text instructing him to stand by for pickup. You see, I've had enough of fucking buses this season. Loads of aways have been far more stressful than they've needed to be this year because of fucking buses not showing up and subsequently making stuff a huge rush. Today, they can do one. I'm cabbing it to East Croydon.
An Uber via Magnum's top secret base of operations later and we're soon in Croydon for the 6.03 train to London Bridge. Alan's on the concourse already and after a short wait and no sign of Steve who we're expecting to be joining us, we invoke the motto and hit the platform. There's still no sign of him as we board, finding Chalmers already on after joining the train from his new country pile near Redhill. Somewhat concerned that he may have overslept, I give the Southampton man a call. He answers, sounds in a bit of a hurry and says he'll send me a message shortly. Erm, ok!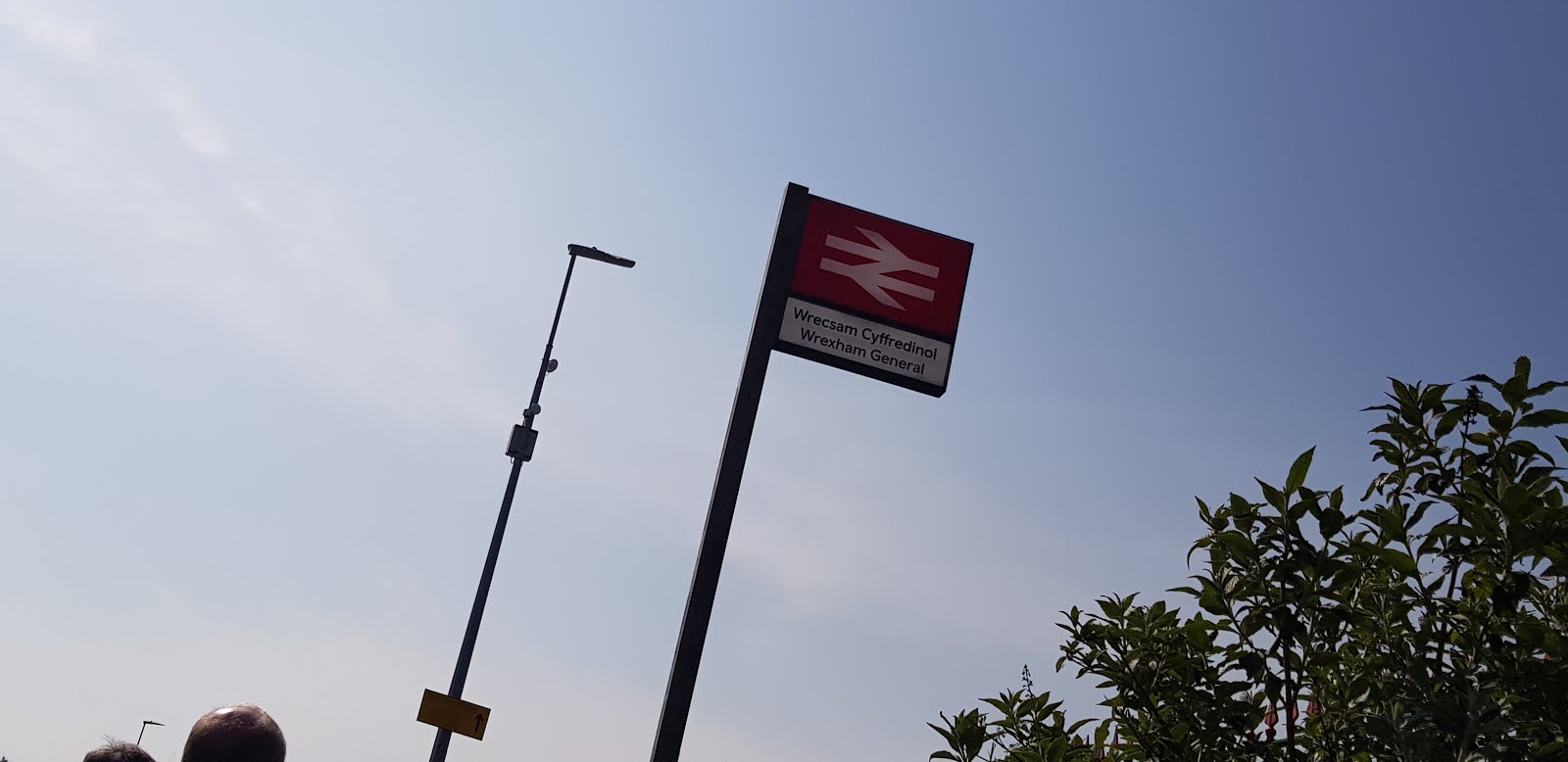 Arrived
Thankfully, the journey up is uneventful and a good half hour before our train leaves, we step out into the early morning spring sunshine at Harrow and Wealdstone station. Right, I'm utterly starving, where can I get some nosh from? A helpful lady from Virgin Trains informs us there's a cafe out the back of the station, so we set out to grab a cup of splosh and something involving bacon. As we tuck in, the rest of the gang appears. They'd arrived a few mins before us having started out at Morden, but were behind us getting breakfast as Mr X has forgotten his vape and had to find a shop that would sell him a new one. We chuckle through our bacon sarnies as he tears at the packaging like a proper addict gasping for his fix. He then realises he has no idea how this new device actually works and having now chucked away the packaging and instructions, he has to go bin dipping to retrieve them, much to the further amusement of the rest of us.
Eventually Steve appears, it seems he'd overslept a tad and ended up getting the tram to Wimbledon, only to find the Waterloo train he needed to make it on time was cancelled. So he just gave up on public transport altogether and Ubered it all the way here instead for thirty quid. The Extinction Rebellion lot would love you mate. Better be careful in case someone Superglue's themselves to you in protest at your carbon footprint you polar bear murdering bastard. With everyone finally sploshed up and fed, we head for the train, which of course having slogged up here to get, it leaves a good 10 minutes late. Despite this giving us some concern we might miss our change at Crewe, we make up the time and the only other worrying element of the trip is how bloody late Virgin open up the buffet car. If you've ever seen Mr X at this time of a morning only having one cup of tea inside him, you'll know he was sweating as much over this as he was at having no vape! There's no other issues on the journey up and we stumble out of Wrexham station on time and make tracks for spoons.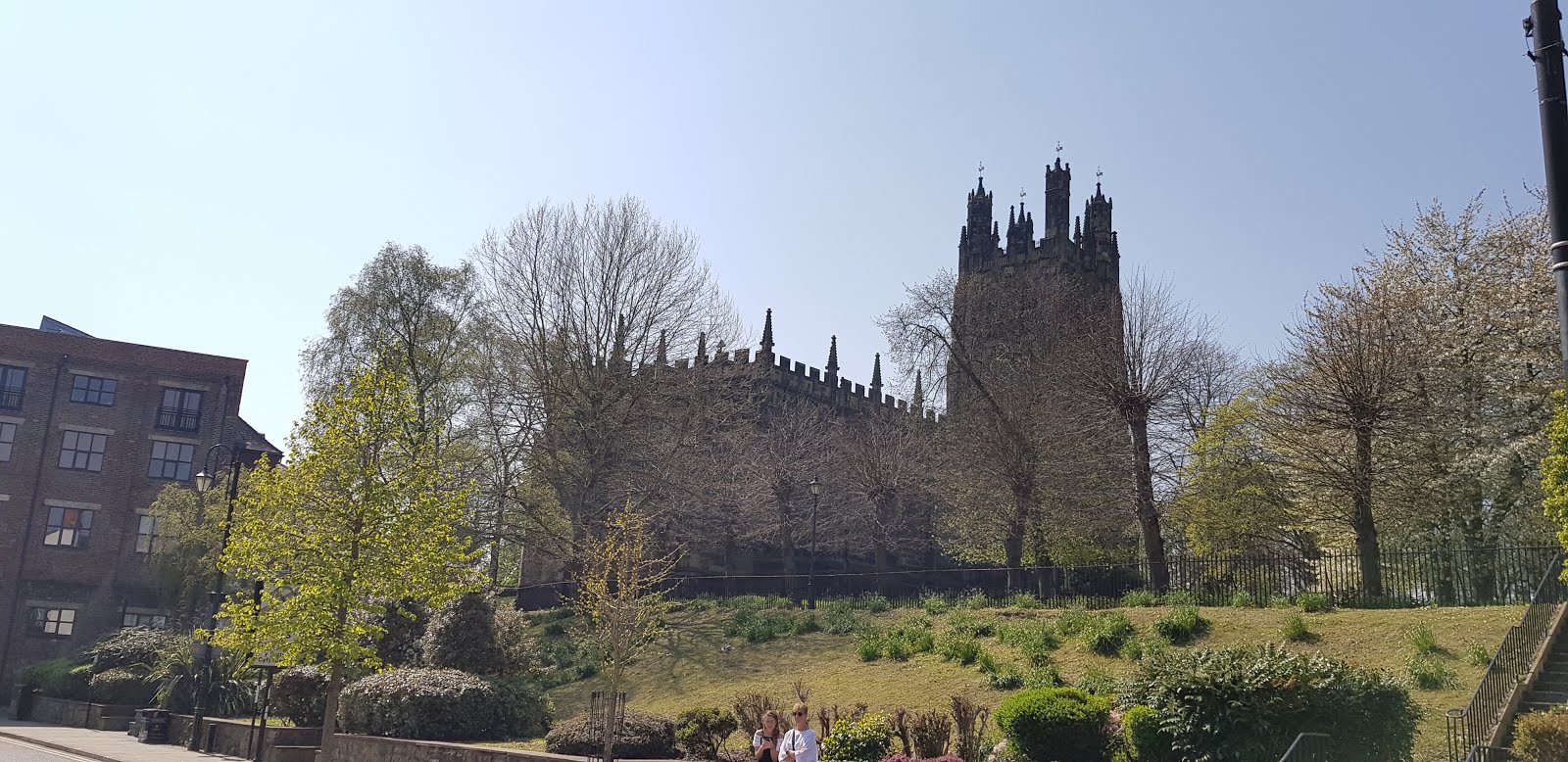 Sights of Wrexham
Finally with a beer in hand, we turn to discussing important topics such as how to make a living off Youtube and what the new name is for the capital of Kazakhstan. Given that his atlas at home dates from the mid-30's, Dukey of course goes for Almaty. Sadly for him, it's not been that since '97. No one gets it. It is of course Nur-Sultan! Another geography based question is "What is the capital of Belize?". Why are these asked? Fucked if I know, helps pass the time whilst you sup however. Greek finally joins us here, he came up yesterday for a night on the tiles with a mate who lives round here and he's definitely damaged goods. And so would you be with double vodka lemonade and lime at £4 a go. After a couple in here takes us past 12, we move down to the Horse and Jockey, but it's sadly a little quieter than usual with none of the old boys in attendance who usually provide some decent natter. So we make it a quick one and then dart round to the Cross Foxes, that of the 'cheaper than spoons' fame. It still is cheaper than spoons, with the lager lads staggered by the £1.75 a pint price, but it's miles quieter than normal and we're practically the only people in there so we again only stop for the one and for the first time venture deeper into Wrexham itself to the Fat Boar on 4Days recommendation.
The walk down surprises most of us as it reveals that Wrexham is actually quite a nice looking town in places! Who knew! We find the Boar and having bought comfortably the most expensive round of the day (much to Dukey's disgust) we find some familiar faces out on the sunny sun deck out back and this at least keeps the smokers quiet as they can have a puff with the pints. Across the road, we also spot a local adult emporium and immediately let Dirty Barry know for his UK directory. With time pressing on, we make a plan of necking these, hitting the second spoons just over the road and them legging it to the ground for kick off. As Mr X and Dukey are done with their beers first, they are sent ahead to get the beers in. "Get me a golden beer" I ask as I hand over some of the whip. A few minutes later, I stroll into the pub to be presented with some near porter type stuff. "Belly said you'd like it!" mutters Mr X by way of an excuse. Bunch of fucking idiots. Final pint down, it's time to skedaddle for the 90mins break from the beers at the football. We've left it tight, but after a brisk stroll from town we amble in through the turnstiles as the teams come out of the tunnel. Timing. As we get in, Dr Bell asks if there's any programmes left, but a steward tells him they've just sold the last one. But he'll see if he can sort him one out.
Worner, Bennett, Deacon, Bolarinwa, Eastmond, Barden, Dobson, Williams, Toure, Ayunga, Beautyman SUBS: Thomas, Kearney, Lema, Mason, Bellikli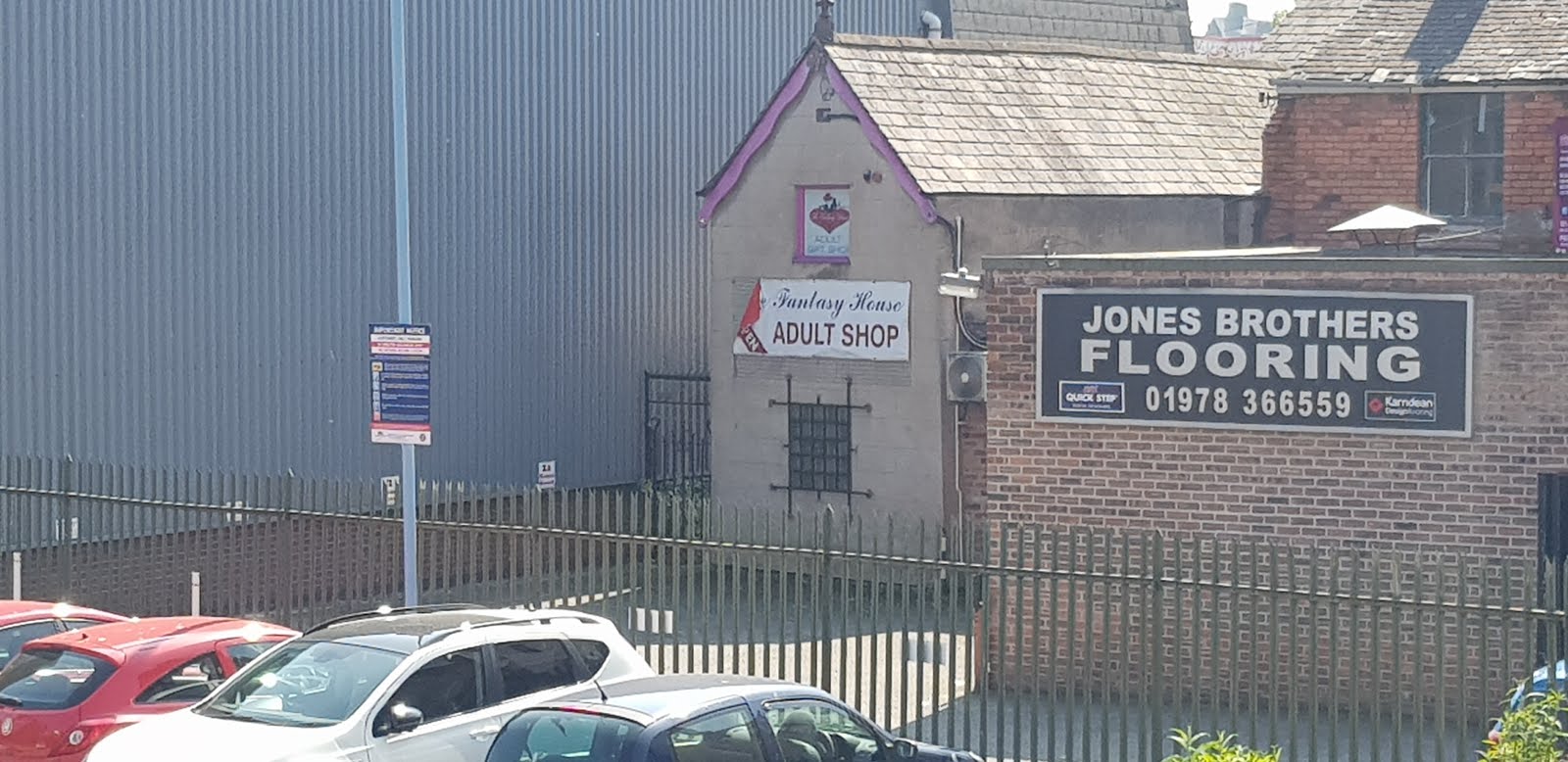 Filth from the beer garden. Barry would love it here…
As with last week, we're still down to one defender. It seems Becks isn't fit and for some reason Aswad's on the bench despite being available after his suspension. Like a lot of games since the turn of the year, the first half is pretty tight and short on chances and entertainment. They have most of the ball and always, we put in most of the hard graft with our makeshift back four again putting in a shift to keep a highly placed oppo quiet. They mostly have long rangers which cause Worns no concern, although their man up top should probably do better with a header when very well placed. Our own attacking forays are minimal and Gime's shot that dips just over from 20 yards is the best I can recall from the half. The ref is standard National League stock, so just above biased and or bent. Gives us nothing in their half and lets a couple of ridiculously obvious fouls go. The lino down beneath us isn't great either.
So, goalless at the break and I head downstairs for a pie, which isn't bad value for three and a half quid. There's at least some filling to go with the pasty and gravy and it helps a little with soaking up the beers from earlier. The second 45 is little different to the first, with the hosts desperately looking for a goal that'll keep them in the thick of the playoffs chase and having most of the ball. We keep working though and keep frustrating their efforts. But as time wears on, we just look wearier and wearier. Clearances don't go as far and the ball keeps coming back. You just get that feeling that it's coming. Just as the home fans start to get frustrated and think they're not going to manage it, they get the breakthrough with 10 to go. A corner is swung in and headed on goal, Easty nods off the line but it drops on the edge and as we get out to compress the space, a big lad hooks it back in and it carries over everyone into the corner of the onion bag. It's a typically shit goal of the sort that we've conceded far too many the last few months. Shortly after the goal, the steward from earlier appears and sorts out Belly with his programme. Top fella. Makes a nice change to deal with crowd staff who aren't bell ends. Fair play.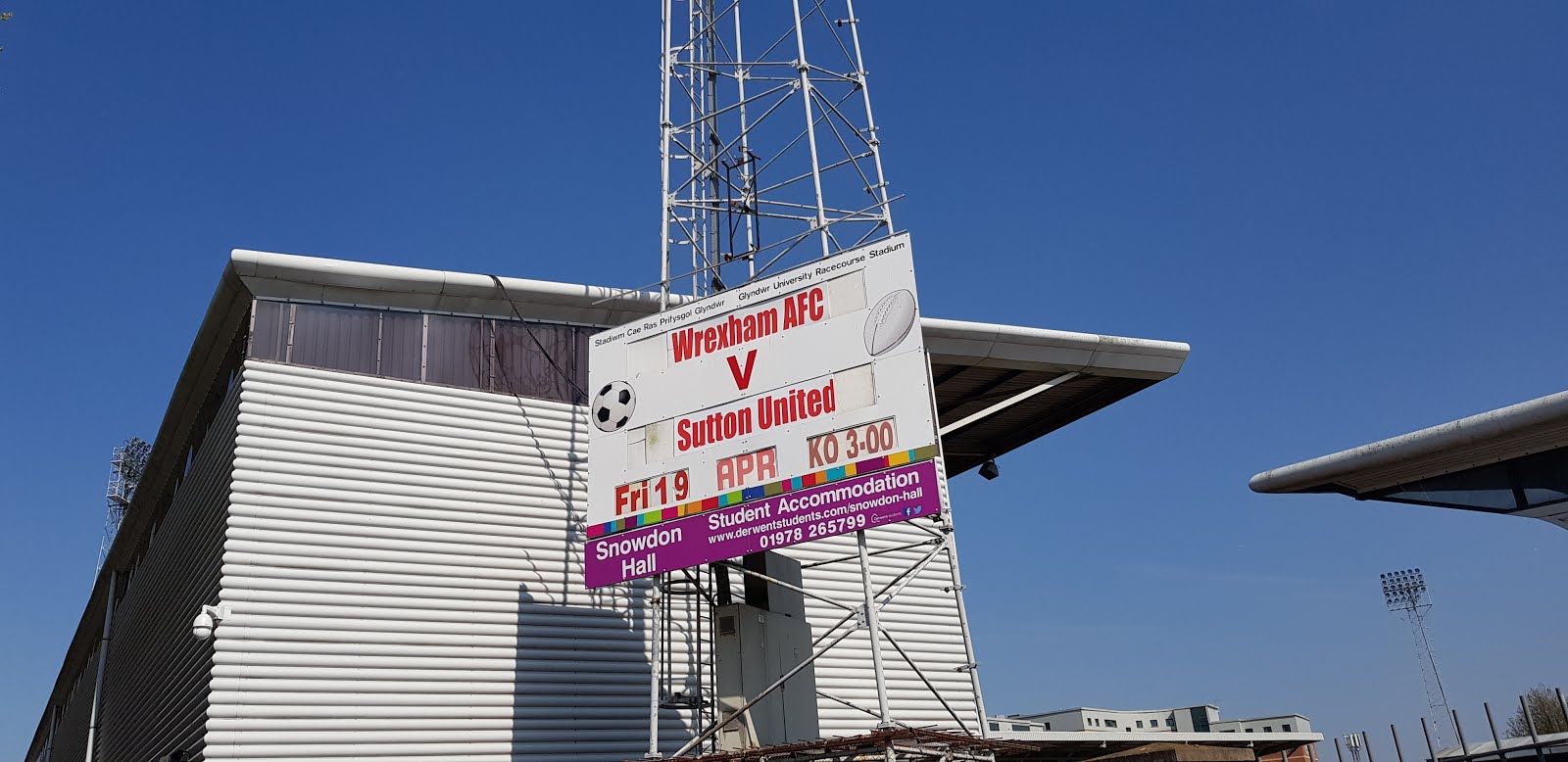 That'll be us then…
We immediately throw on Kearney and for the last few actually look a bit more lively, but Williams directs a header off target when well placed and should do much better with a Beauts cross, but completely miscues his touch and the chance is gone. In the end, it's another brave effort full of graft, but with nothing to show for our efforts. I pack the flag and head outside, calling Dukey to find out where everyone's gone to. "Wagwaaaan!" he informs me. What? "Wagwaaaaan maaan!" he repeats. Dick. "D'you mean the big gaff on the corner?" I ask, trying to get some sort of information I can work with. "Wagwaaaaan!" is once again all I get back. That'll be a yes then? Quite where he's got the name from, I don't know. As the boozer I'm thinking of is called the Maesgwyn. Either that or I've mis-dialled and got a very wrong number.
A tired crew slumps in the corner and gets into some refreshments to raise the spirits. We decide to go for a train just before 7 and spend a little while supping and chatting to some locals, who as always are good value. Whilst we might not get the points our efforts have probably deserved up here, it's always a good trip out. Here the only event of note is Pete full on stacking it down the stairs to the gents. When I arrive on scene it looks like he's stumbled and gone a bit off course, but Chalmers confirms he'd gone properly sprawling arse over tit. "There's only two steps as well!" moans Pete. I look back to find a set of five steps. Suddenly things all make sense! Eventually though, we have to make tracks for the choo choo and bidding out hosts farewell and good luck in the play offs, we head for the station.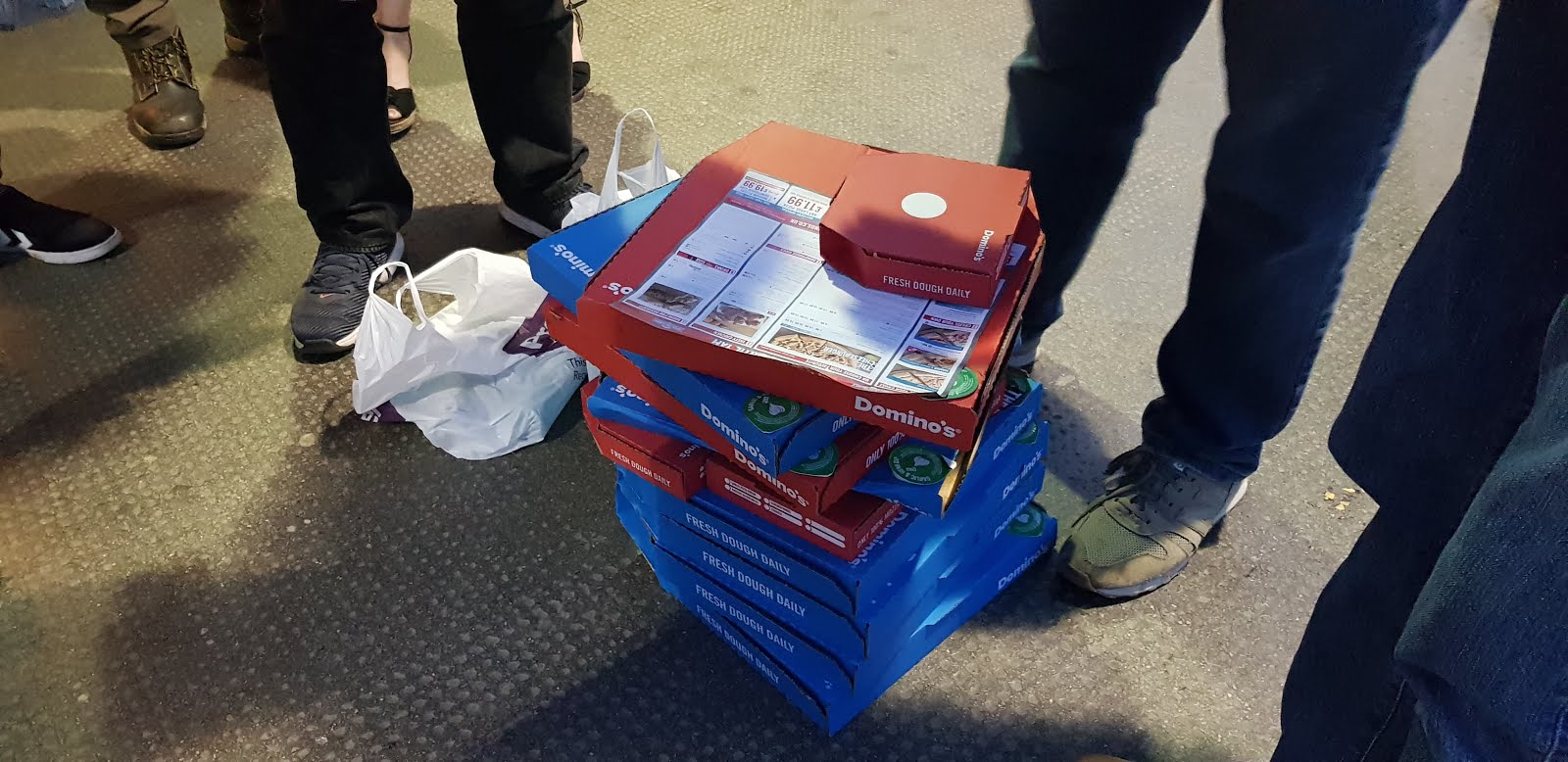 Train snacks
With half hour to kill in Chester before we head onto Crewe, we put our now well oiled Operation Return-from-Wrexham into place. First off, a swift half in the Deva Tap pub. I get in first and despite having agreed a strict 'shorts only' orders policy, the others are lagging so far behind, I have time to get a pint in and neck almost half before they catch up. Drinks necked, our next stop is the little offy on the way back to the station. Everyone piles in and stocks up, although Magnum gets in first for the G&Ts, so I have to settle for 2 WKD blue instead, reasoning I'll need the sugar later! Alan is also in getting supplies, but Magnum & I leave him to it and head for the station. We then find Mr X behind us shouting, despite him having left the boozer a good couple of minutes ahead of us. Oh whatever, he has to be on the same train as us, so we ignore him and head for the train. Once on board, we find most of the mob waiting, but no Alan and no X. The latter should be with us in a sec we reason as he was just behind us. A couple of minutes pass and no sign so hurried calls are made to the missing parties. Alan has gone completely the wrong way out of the offy and is somewhere up the road. Chalmers talks him back and it then turns out Mr X is on Platform 7. Which is a bit of a pain as our train to Crewe leaves from Platform 1. Eventually though, both just make the train and we're once more reunited for phase two of Operation Return-from-Wrexham, which is 'Get the pizzas in Crewe'.
Alighting from the rattler, I hand Chalmers my bag and I and Mr X set off to Dominos to collect the order he'd called ahead from Chester for. A couple of others head for Tescos for more beers the opposite way. Soon we're in the pizza place and of course impressing the minimum wage ladies behind the counter with our utterly charming drunken chatter and demands for "All of the garlic bread" when asked what sides we want. With pizzas sorted, we head back, although this takes a little time as first Mr X can't control his stack of the pizzas and then has to stop to pull up his jeans after a minor belt malfunction leaves them sliding halfway down his arse like a gangster rapper. Eventually though, we make it back in plenty of time and re-assemble on the platform. The train back to Harrow and wotsit is surprisingly empty when we board, so there's not the usual ritual of hoofing some other fans out of our reserved seats. Although some people do move when we get settled, clearly they're jealous of our big bags of cans and our stack of Dominos. Yeah, bet you wish you'd thought of it eh?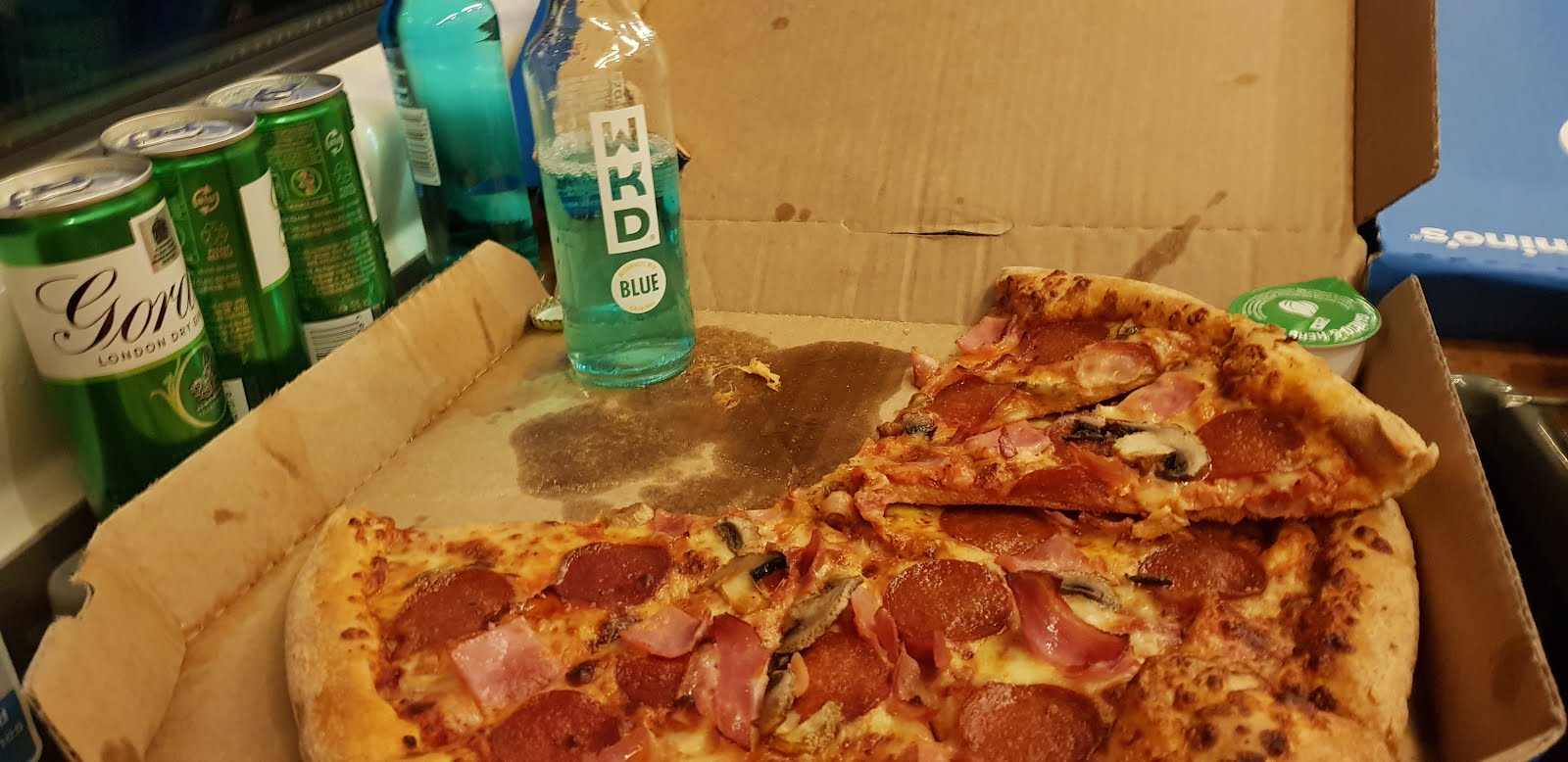 "I'm eating a mostly plant based diet these days…."
The journey back is relatively quiet once the food is gone with a couple of folks taking the opportunity to take a power nap, with Mr X ending up cuddling an empty garlic bread box. Dukey also reveals that his missus has dreams about killing him . They've only been going out a few months, so I think that says more about him than anything I could ever come up with. "I think she has possession issues" he shrugs. Finally, with the journey now starting to really wear everyone down we finally get back to the arse end of North London and set about the arduous task of trundling back to somewhere useful in town to get home.
With Victoria closed as well today (thanks lads!) Magnum, Chalmers, Alan and I head back to London Bridge, bidding the Morden Massive farewell at Baker Street. Fortunately we time our arrival perfectly and a couple of minutes after hitting the platform at the Bridge, we're heading south out of town towards Croydon. With a bus back towards HQ due imminently on arrival there, Alan and I ditch Magnum to race off for that and 10 minutes later, I'm outside my gaff about ready to pass out. The fact it's taken me 30 mins to get from London Bridge to my front door somewhat making a mockery of the rest of today's travel bollocks.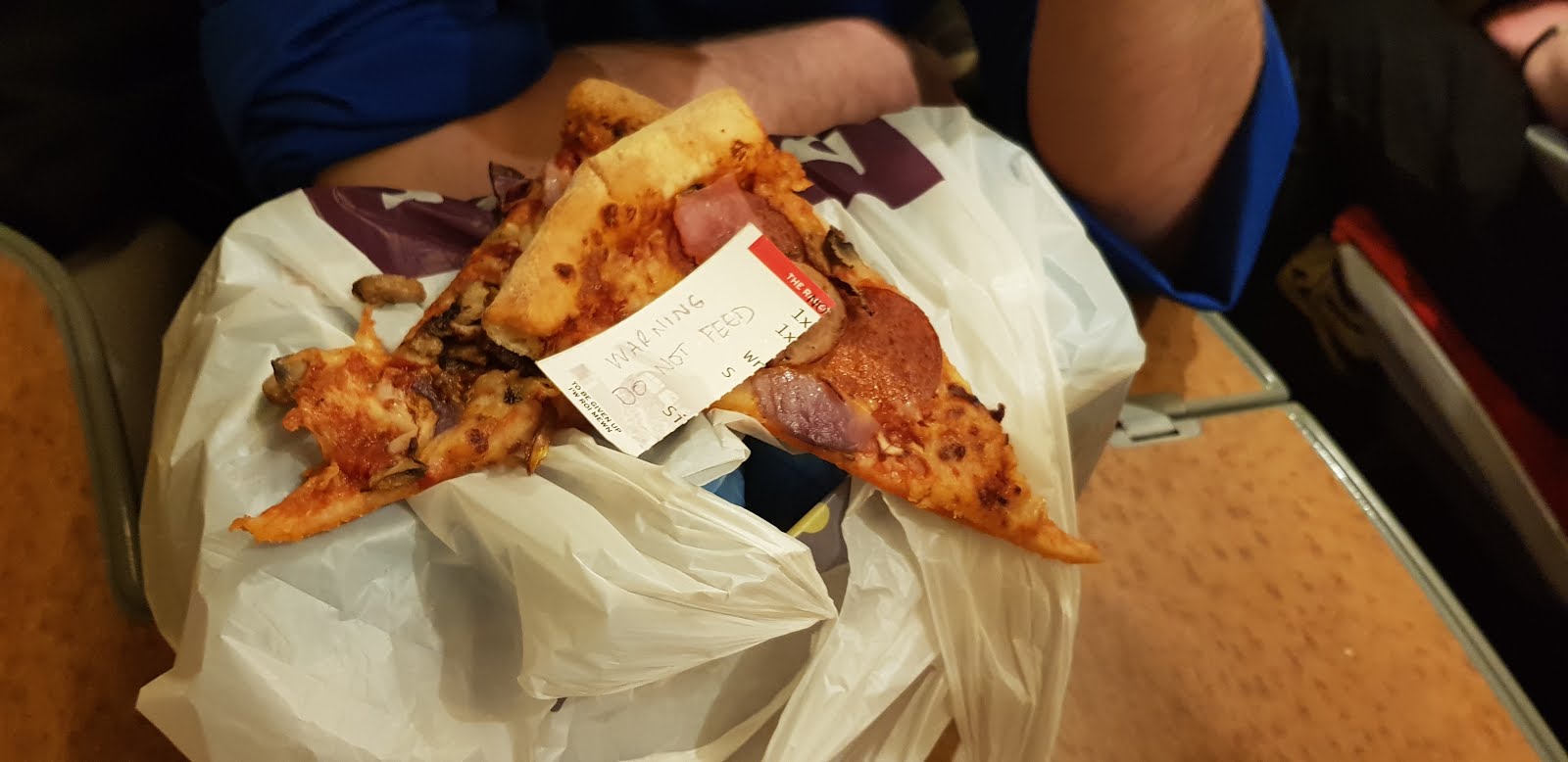 Leftovers….
Still, that was another 18 hours well spent. At least if nothing else it meant we completed what has to be a pretty unique set of competitive games in England, Ireland, Scotland and Wales in a single season. Has that been done before? Answers on a postcard to the usual address.
Taz