Hello readers, welcome to another blog in the history of Gandermonium, and let us hope that this one reads more positively to recent events. Mostly those being the form of the team which has been poor to put it politely. If you did not already know by now but on Tuesday saw the embarrassment of losing 3-0 at home to bottom of the league Braintree who are surely destined for the National League South.
Still as Yazz once upon a time sang "The Only Way Is Up", so sort of like when you get a computer failure you press ctrl, alt and delete to exit a programme or reboot, let's hope Dos and the team do the same very soon. But I do not want to bleat on any further so let us just fast forward to Saturday's game against Gateshead.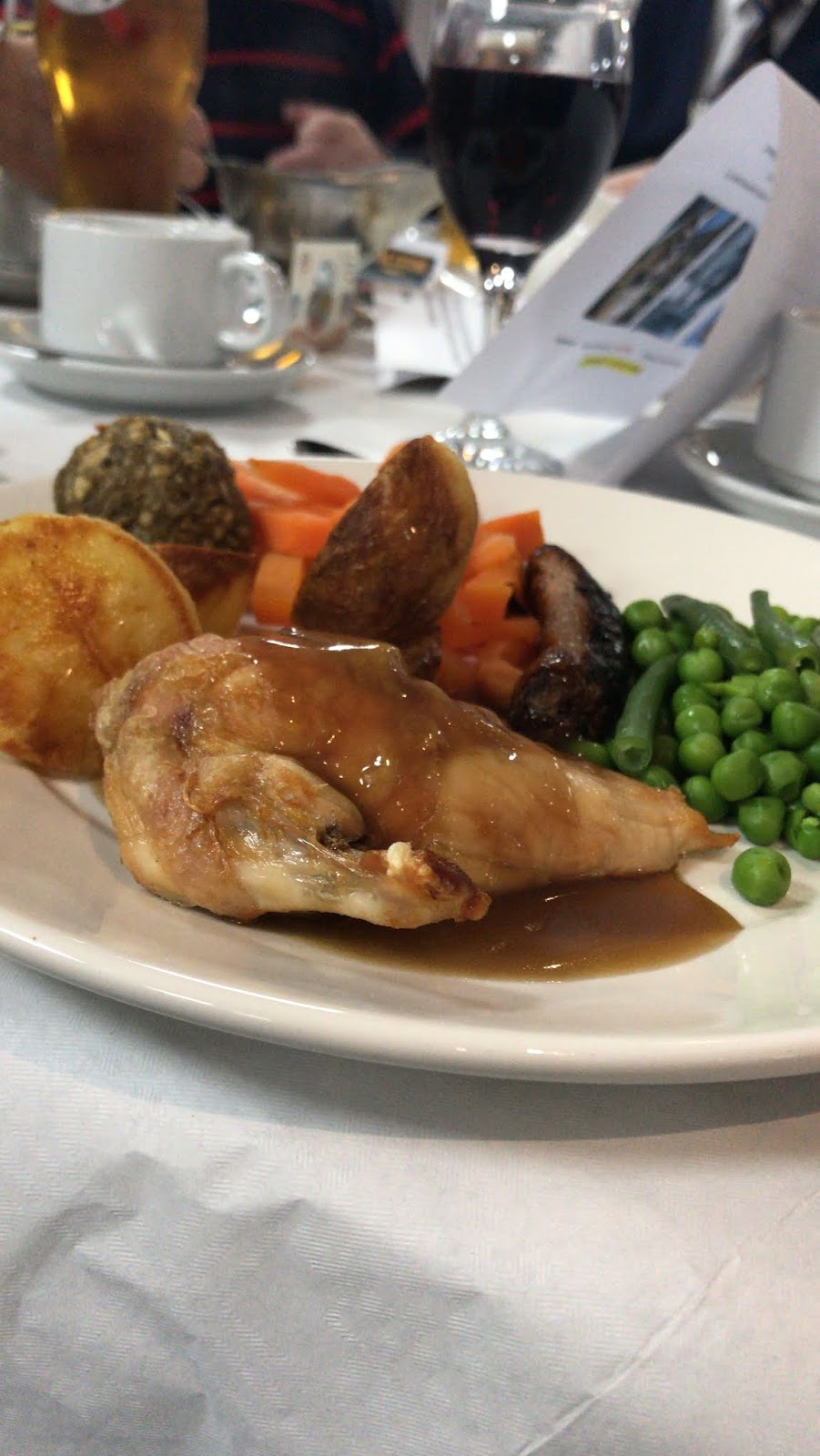 Luncheon
Gateshead are doing well for a club by their means, under a transfer embargo for most of the season and currently up for sale for the sum of £1 (which evokes memory of a Mr Ken Bates who bought Chelsea Football Club for the exact same price in the 1980s, although we do not want to see the return of electric fences) they sit just above us chasing a play off place. You have to admire the Gateshead fans who have travelled down and brought a banner with them asking for the club to be saved.
Saturday morning approaches and all I can hear outside is massive gusts of wind, Storm Hannah is the name I hear on the news and immediately I think we'll need to keep the ball on the floor in order to get something or it's gonna be a 0-0. I have again been invited to the pre-match lunch at the club and take advantage of using actual public transport for a change to get to Gander Green Lane except there are no trains again this weekend, not just Thameslink but Southern as well – although the latter are extremely poor even when they do bother, so it is the 413 for me. Along the way, a text from JR asks what I would like for a pre-meal drink – a glass of red wine please kid sir!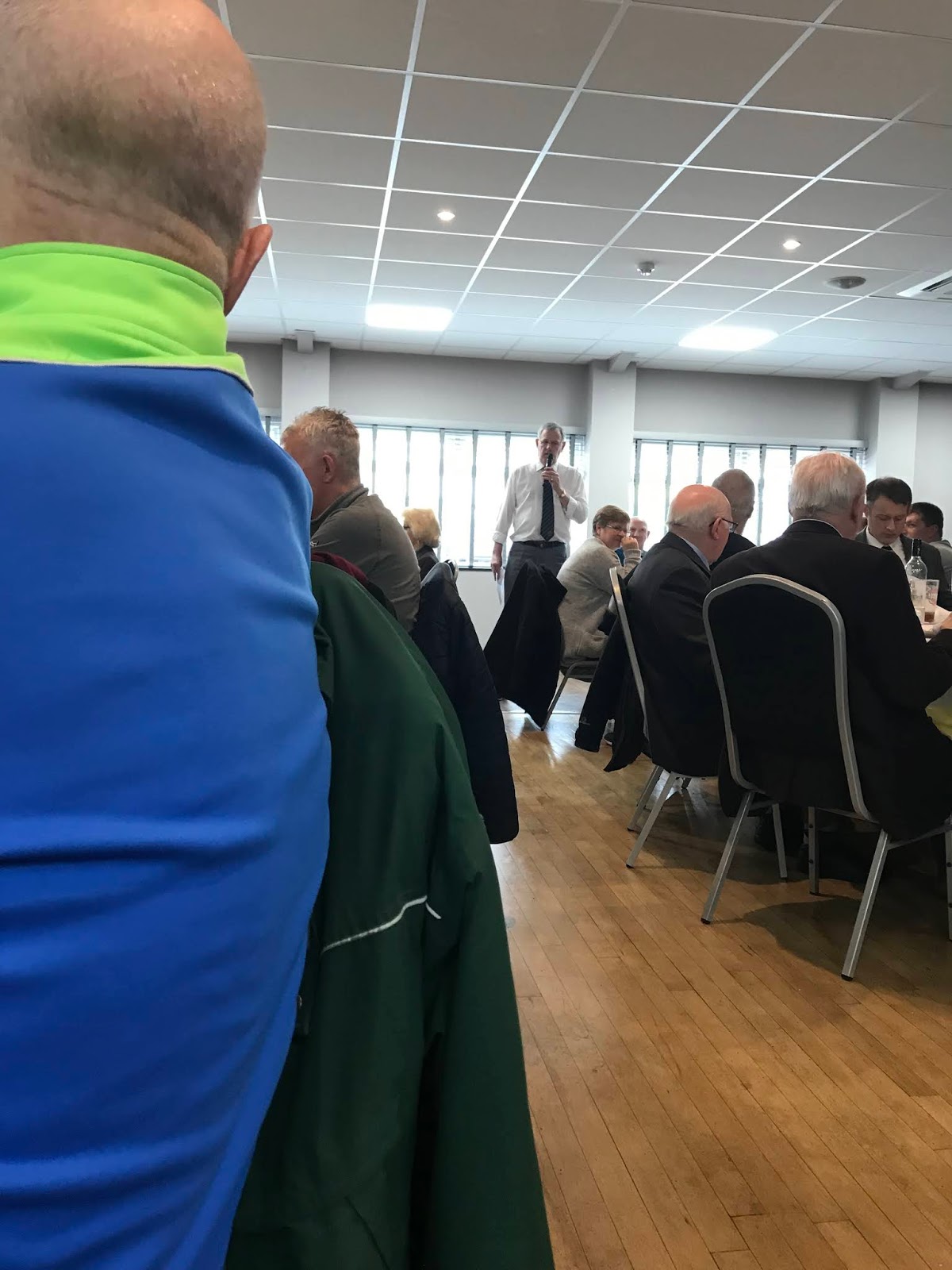 Don't think much of the comedian….
The lunch is in full flow and today's offering is roast chicken with all the trimmings. Joycey is ridiculed by our Bruce as one of Joyce's questions in his quiz clearly gives away the answer of Terry Savalas aka Kojak. Our Bruce also disputes the two volunteers of the raffle which I point out "you can't get the staff" so I am of course asked to pick the first ticket out of the raffle. Thus follows dessert of apple pie with custard followed by tea and mints to finish off. With a somewhat bloated feeling, I head outside and the wind is just as bad as what I heard from my bed this morning, and I don't mean from my stomach.
The team line up for today is:-
1. Worner, 2. Bennett, 3. Aswad, 4. Becks [skipper], 19. Beautyman, 21. Roarie, 7. Tombo, 8. Davis, 28. Williams, 33. Dobbo, 11. Kearney
I have to say that the kit of Gateshead looks very interesting; something like a cigarette packet that contains the sort of cheap duty free smokes you'd find hanging out of Dukey's mouth or mint choc chip ice cream as made famous by Gino Ginelli's early 1990s TV adverts. It was the visitors who had the first chance in the first minute with excellent goal keeping from Worner. Then on the 16th minute a horrid sound of a clash of heads led to a lengthy injury break for Kenny Davis, who subsequently was substituted for the long awaited debut of Jonathan Barden. As I stand with Oakesy, a counting of how many balls are having to be sent on and retrieved tots up – that blasted wind again. HTS arrives on the scene in the 30th minute mark and we promptly make our way to the bar. On the way, I give kudos to Dancing Marcus for being brave in wearing shorts in this weather. He must be well ventilated today.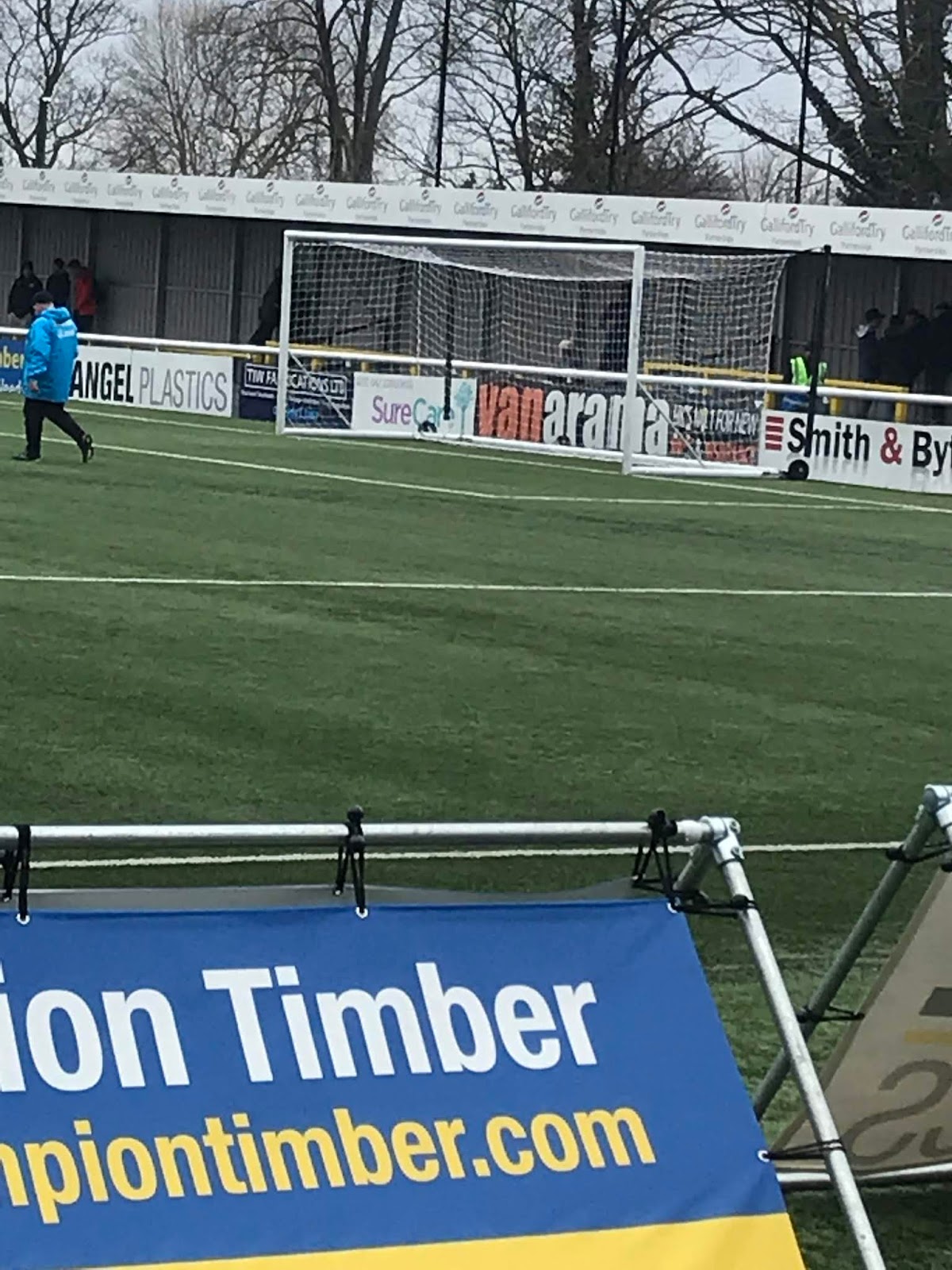 Something we've not bothered in a while…
I am sat in the bar with Leanne and Jensen, who again has chips, this time I am offered however I am still bloated from the lunch so can only decline. It was only a quick check of the phone to see that Gateshead had taken the lead just before half time – here we go again! No doubt the editor will be pleased that I've managed to miss a goal! As we walk out for the second half, a neat decent build up by Gateshead leads to them making it 2-0. It can only get worse from here, or can it?
I walk round with Leanne to find Albie playing football with his mates behind the GGL end and here we witness an actual Sutton goal, a diving header by the impressive Dylan Kearney after Dobbo's little cross restores some hope for U's fans on 51 minutes. In the words of AB "come on"! The fightback continues and 10 minutes on as a handball from Gateshead after Roarie's shot led to a penalty and up stepped Dobbo to slot the ball into the bottom right of the net, 2-2!!!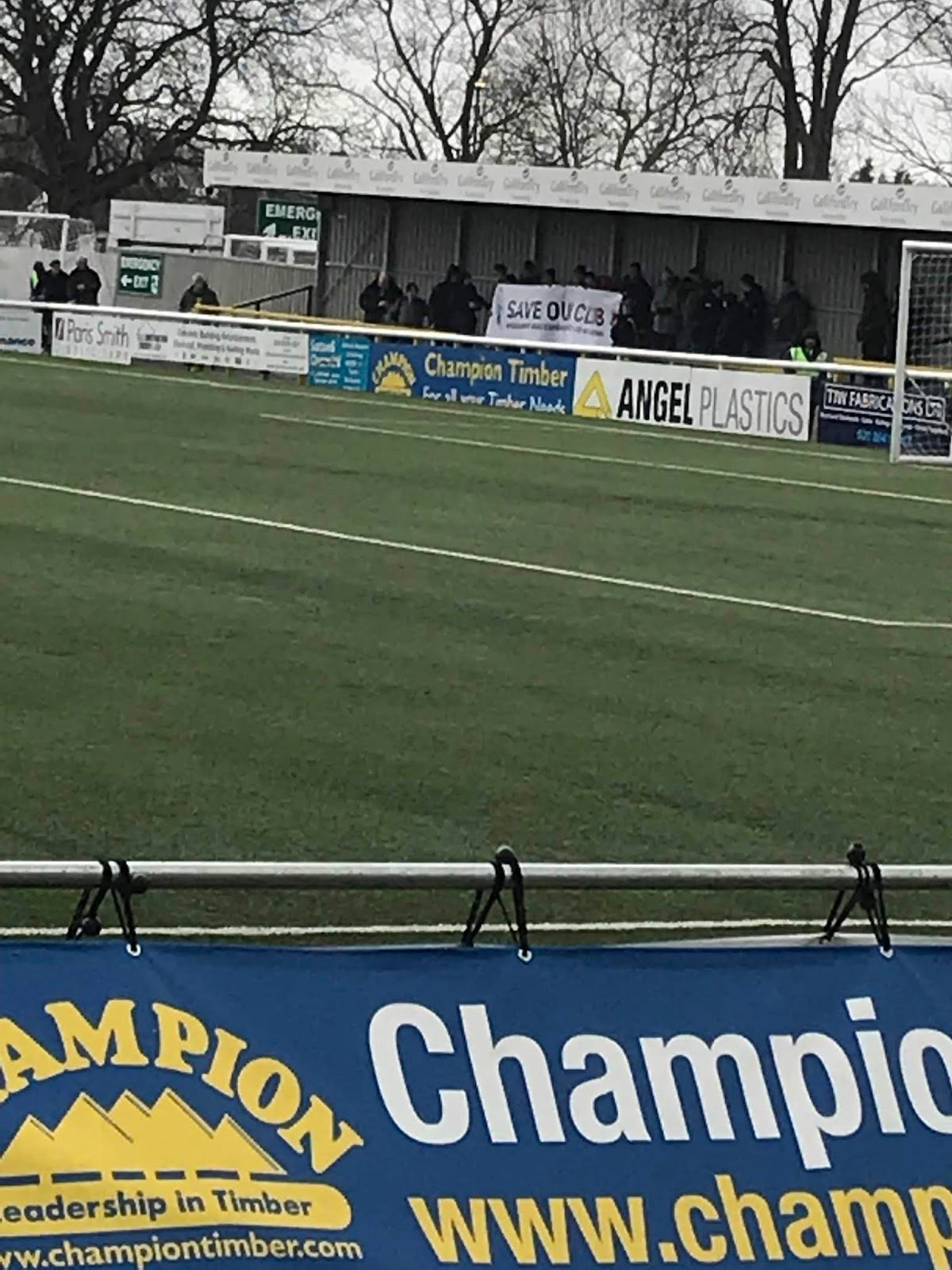 Yours for a quid…
As I stand on the Shoebox rejoicing that I may be writing a blog on one of the comebacks of this season, more chips are bought by Natalie and Paul Kenny (Mr Cat Chambers) and offered. Seriously I am still bloated, stop offering me food!! With 10 minutes to go I walk back round towards the tunnel to spend the last moments with Leanne and as we watch, the comeback is completed via an unlikely source – we have Strikers Are Key but perhaps we need Defenders Are Key too, as stand in skipper Becks, not David but Dean, pops up with two headed goals from corners in the 86th and 89th minutes – that will not only please the 1720 (ok maybe not all) but adding to that 1720 the pairing of Beckwith, Mark and Chip – attendance was 1722. Six minutes of stoppage time are displayed and it's a good control to end the game and at last a win is achieved – reminds me of another 2-0 down, 4-2 comeback win alas Chelsea beating Liverpool in the FA Cup season of 1996/1997. In addition, I was to read that a class from my old primary school Robin Hood Juniors was in attendance. Social media will also show an unsporting remark by a Gateshead player – sorry pal but you let a lead go!
Statisticians' updates include yellow cards for Dobbo and Kearney, and the other substitutions being Toure for Williams on 52 minutes and Ayunga on for Roarie on 86 minutes. Dylan Kearney was rightfully given the man of the match for his efforts and his goal.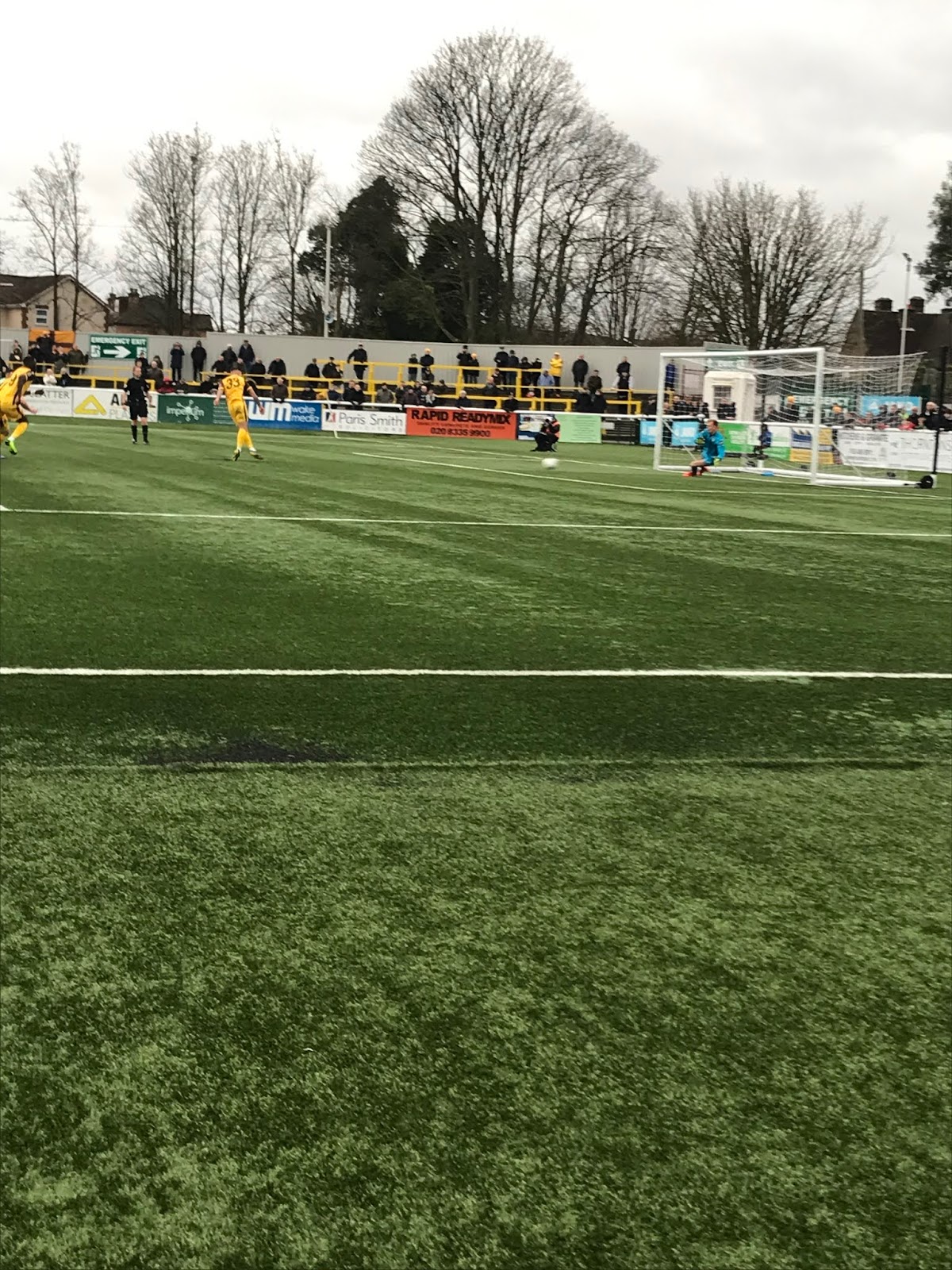 Dobbo!
What has become a customary trait after games now is not only the SAK but shirt auctions, the first being the shirt worn by Chelsea loanee Karlo Ziger who put in a wonderful display at Spennymoor, though we lost 3-0 (it could have been double that if not for him). That shirt goes for £120 – the guy pays out in readies almost the moment AB has declared it sold. Clearly he came prepared! The second shirt is a rarity, an erroneously numbered 1 shirt for Jamie Butler, eyes turn to Jane who has gone as red as the shirt displayed by AB in his fetching gold jacket. This shirt also goes for £120 to a chap who has a youngster with him wearing his own SUFC keepers top and seems very excited with his dad's outlay.
A rather emotional speech is then given by Dave Smart who has been raising money for the Missing Persons charity, in particular the local lad Lee Boxall. My Mum has spoken before with Lee Boxall's mother so I know of the case. Dave makes the two SAK draws and the second is more of a laugh for us at Gandermonium as our own Mr X saw his ball drawn but failed to open the safe.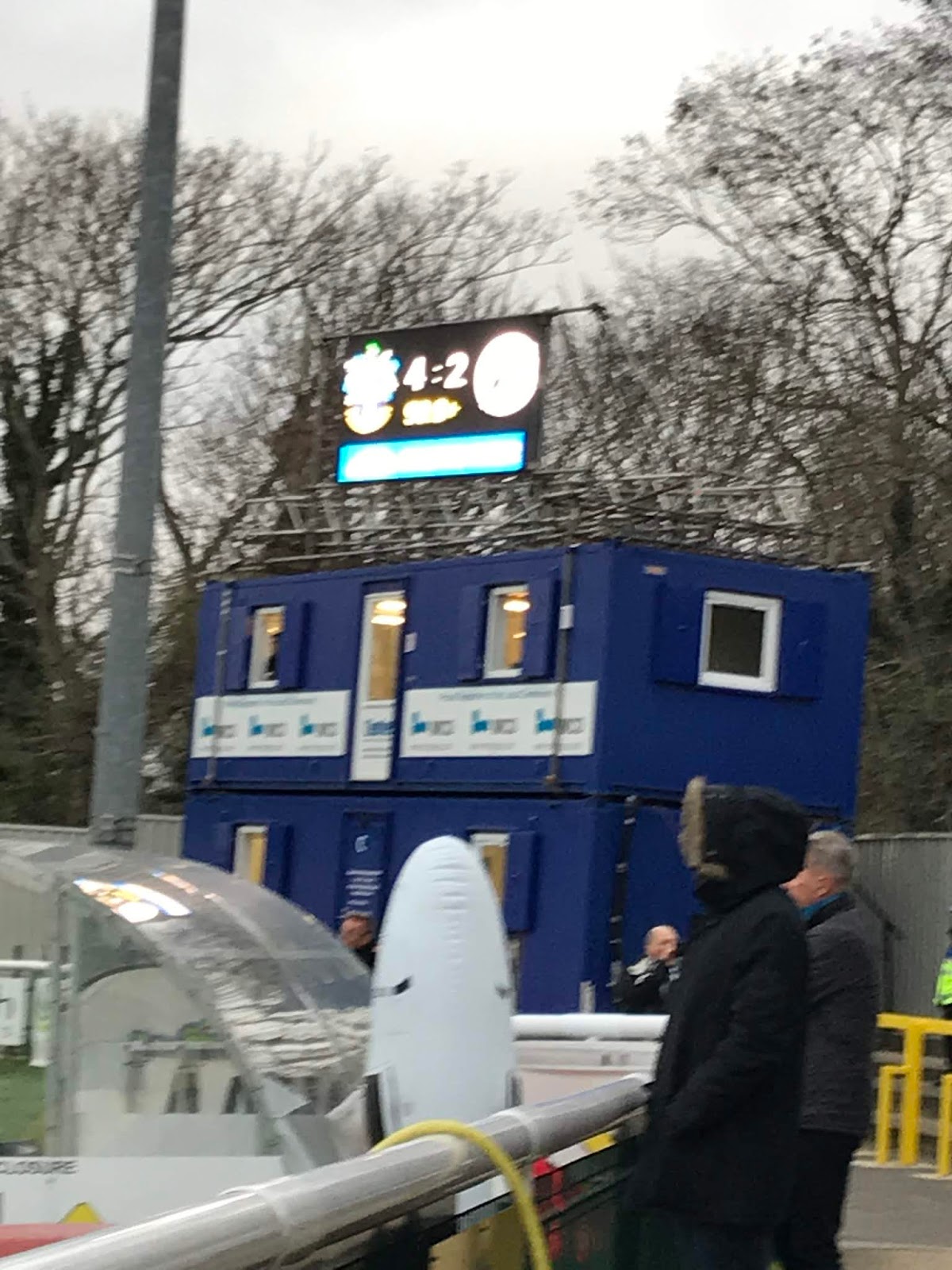 Blimey!
As we watch another comeback on TV, this time courtesy of Manchester City at Swansea in the FA Cup, and Scotland at Twickenham against England (PS. rugby is boring!) I am sat with Cat and Paul Kenny, and we decide to go for a curry. More food! Still it's A very pleasant end to the day with great company – thank you to you both.
Next time Sutton are in action will be at Chesterfield which will be live on BT Sport, I do not think we have had their cameras at GGL this season? The next likely chance of that will be against (with baited breath) Leyton Orient! By the way, has anyone ever noticed on the National League highlights show, at the very end, our own blog is given advertisement. The amount of times I had to quickly pause the Sky Q box to get this screen grab and proof!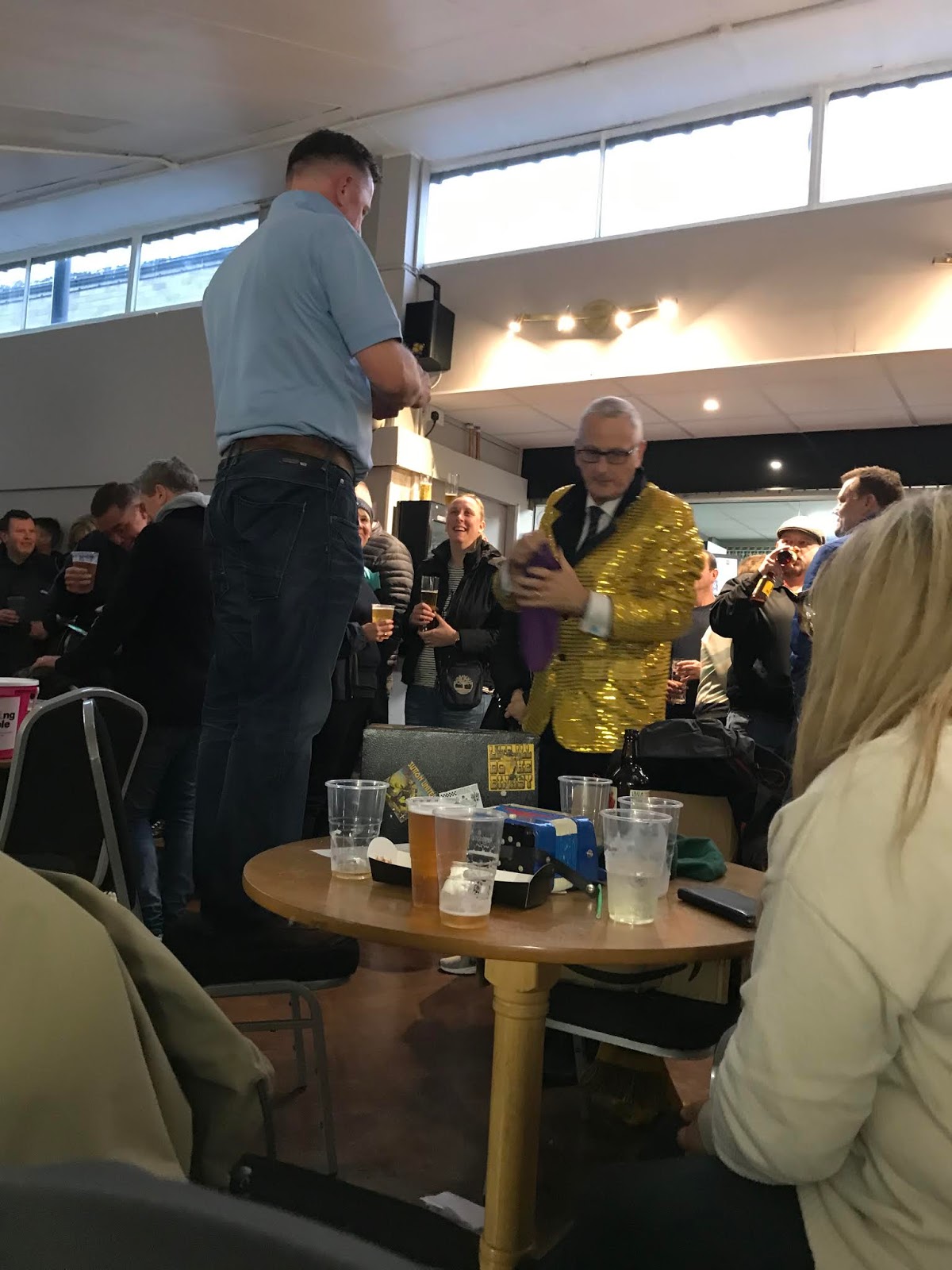 That jacket….
I would also like to take this opportunity to end my blog by wishing Greek a very Happy Birthday, hope you have a good day, and we'll all have a great time in Chesterfield/Sheffield to celebrate.
I now leave you in the capable hands of Totts who I believe is on duty for the Chesterfield blog this weekend.
Wise men say…
Robbo
By the way, don't forget the blogging awards. Vote HERE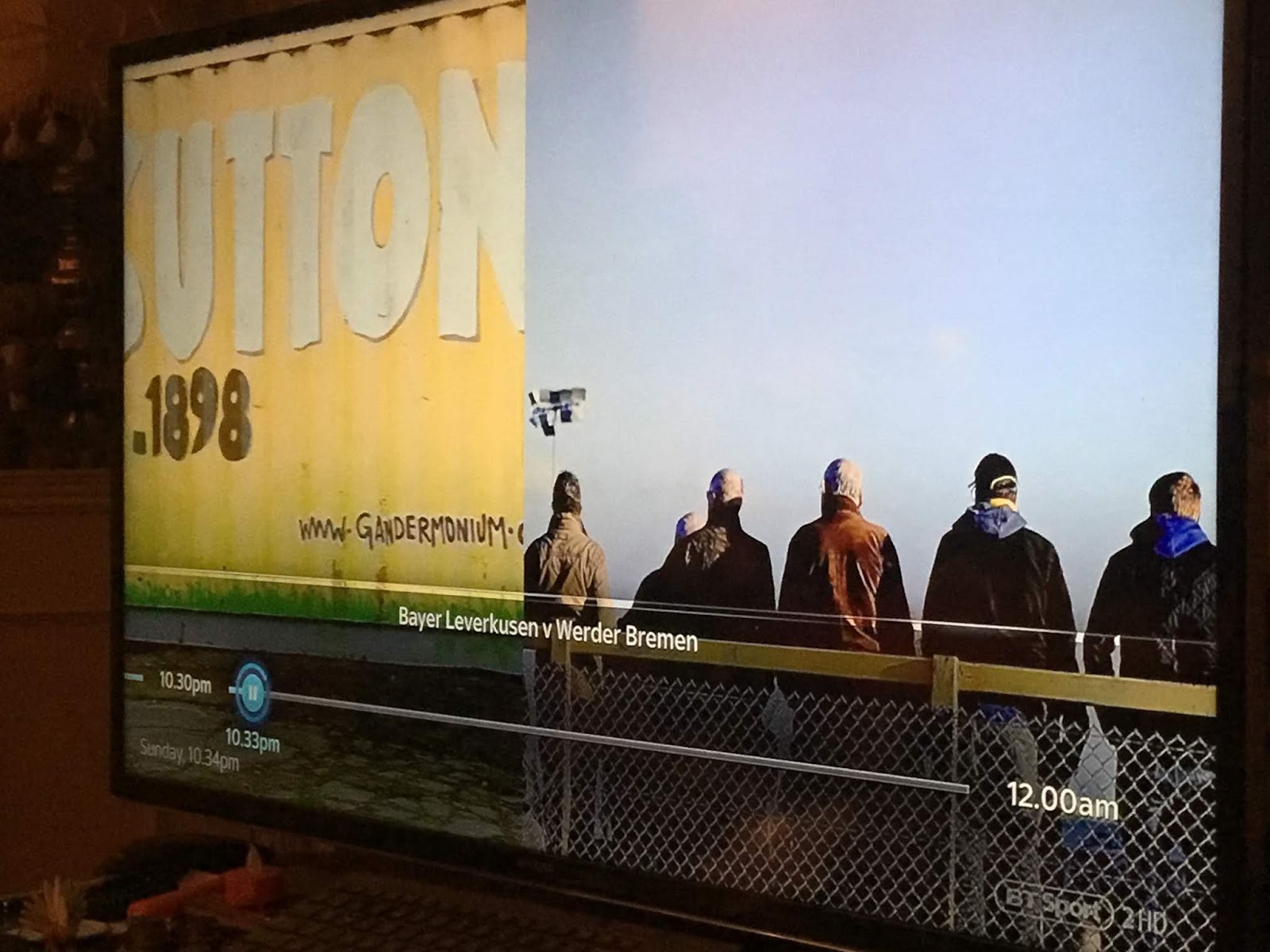 Advertising!