What's the best invention ever?
It's subjective isn't it? Some would go with the wheel, others lager and many wouldn't give a shit as long as it doesn't involve a Brexit panel discussion involving the usual parade of know-nothing politicians and fuckwit commentators grifting a living out of something they understand less than my cat. You will get my point and if you think this missive has started off a trifle larey you wait till I get onto BT Sport and East Midlands Trains. I don't want to loose off all my bile in one heave.
But you see, for me, the best invention ever by an absolute length is the Goblin Teasmade. Back in the golden era of the seventies a teasmade was as pure a mark of the aspirational as a two week package holiday in Torremolinos and a Hillman Hunter on the driveway. Such was the magic of the Goblin it would regularly feature on the conveyor belt with Brucie on the Generation Game as he hammed it up with Brenda from Brentford and was as nailed on a starter for ten as the cuddly toy and the canteen of cutlery.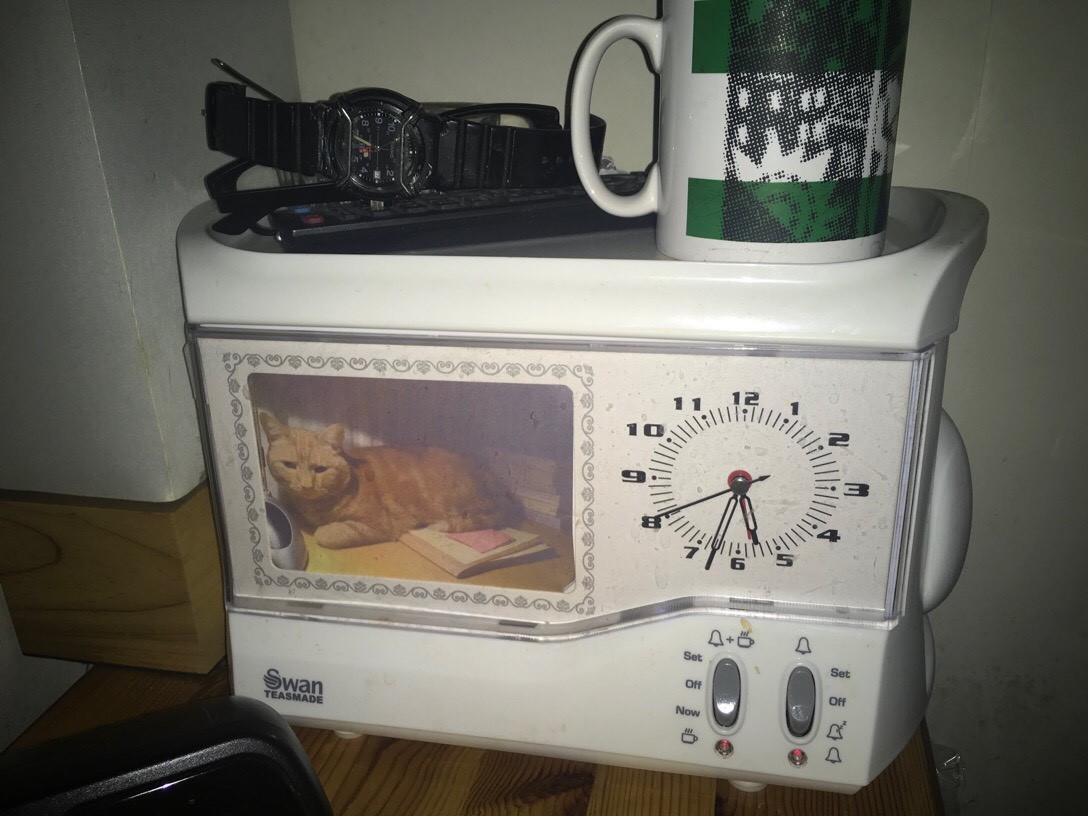 Cuddly toy just out of shot….
But like so many good things the teasmade fell out of fashion, a victim of political correctness and the coffee-drinking hipster knobs with their capsules and endless stream of bullshit. So imagine my absolute delight when the ever-fabulous and understanding Mrs Totts presented me one Valentine's Day with a teasmade, photo-frame combo that even included an incorporated picture of Sid The Cat! And it's been used every morning since for a nice strong cup of splosh without moving from under the duvet and the warm tones of the wireless.
And generally it's wheezing internal boiler and magic siphoning system would be pressed into service on a Saturday morning throughout the football season as I log in under the covers to social media and the trials and tribulations of my travelling supporter mates from across the country with their bags of cans in the dark at half six in the morning in the freezing cold of January. You see, I don't do a lot of the Northern games – don't tell me Chesterfield isn't "Up North" you geography bothering wanker – and I like to pick and choose the old forays beyond Watford Junction where the Prisoner meets the Muppet Hi Fi in the words of old Joe.*
So we had it in mind that Chesterfield ticked all the boxes for a nice little awayday for the DBDC – a new ground, former league side in a spot of bother, first weekend of spring, easy jaunt out of The Smoke and rumours of cheap piss in the local hostelries. Bang on mate. Anyway, we waited until they got dumped out of the FAT so there was no prospect of the game being off and booked the train tickets to arrive in town nice and refreshed around noon only to pick up a rumour from the COC's a few hours later that the game might be brought forward to suit BT Sport, blowing the schedule to bits and taking my Saturday lie-in with the teasmade, Sid and My Old Dutch right down the shitter with it.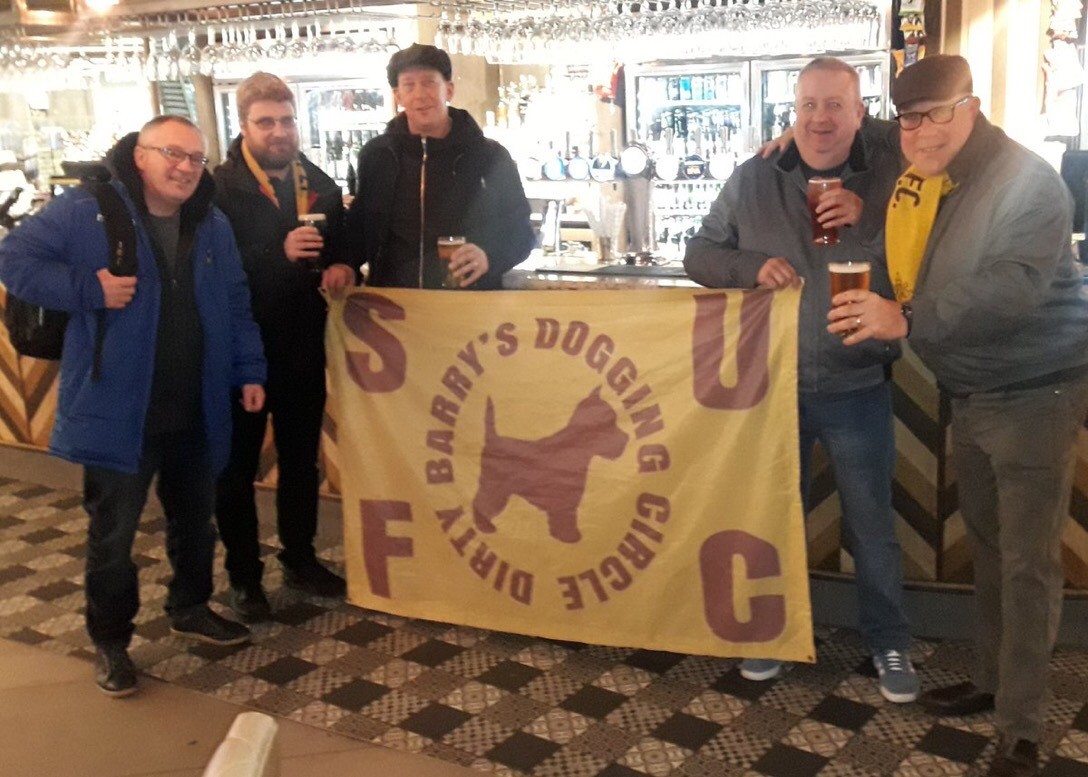 "Brexit march? Fuck off. It's a lifestyle thing!"
Don't give me any bollocks about games being moved to accommodate the broadcasters being the price of success. I'm not interested. As well as the lie-in being binned off, our booked ticket times were also now about as much use as a salad in the Kedwell fridge, and I had to think fast. I know, I will play to the better nature of East Midlands Trains and ask them publicly through the modern format of Twitter if they could help a few old fellas out and alter our docket as an act of goodwill. Ha, goodwill, that's a fucking laugh. This is Britain's privatised railways and only after mugging us off for an extra score each were they even interested in talking turkey. If the Krays were around now they wouldn't be bothering with long-firm frauds and protection rackets around Bethnal Green, they'd be running a train company and would probably have been elevated to the House of Lords.
Anyway, so it's thanks to BT Sport that I find myself marching in to West Sutton International at 6.30 on a Saturday morning with nothing more than a can of stout, a lah dee for later and all the pent-up, punk rock anger that a man of nearly sixty can muster.
At least the sun is already up and as I wheel into the station I find Dirty Barry already on the platform, he's walked from Ewell, taking advantage of the early dawn opportunities in Cheam Park for the opportunist dogger and seems well pleased with himself. Just before the train pulls in we are joined by a surprise guest for the trip up to St Pancras, refereeing outreach worker Frakey with his flask of tea and his plastic toy cigarette and one stop up the line Keepo and Mark H from the COCS join us in the First Class compartment and South London spins past as we have a good old chinwag about the meet the manager summit on Monday evening.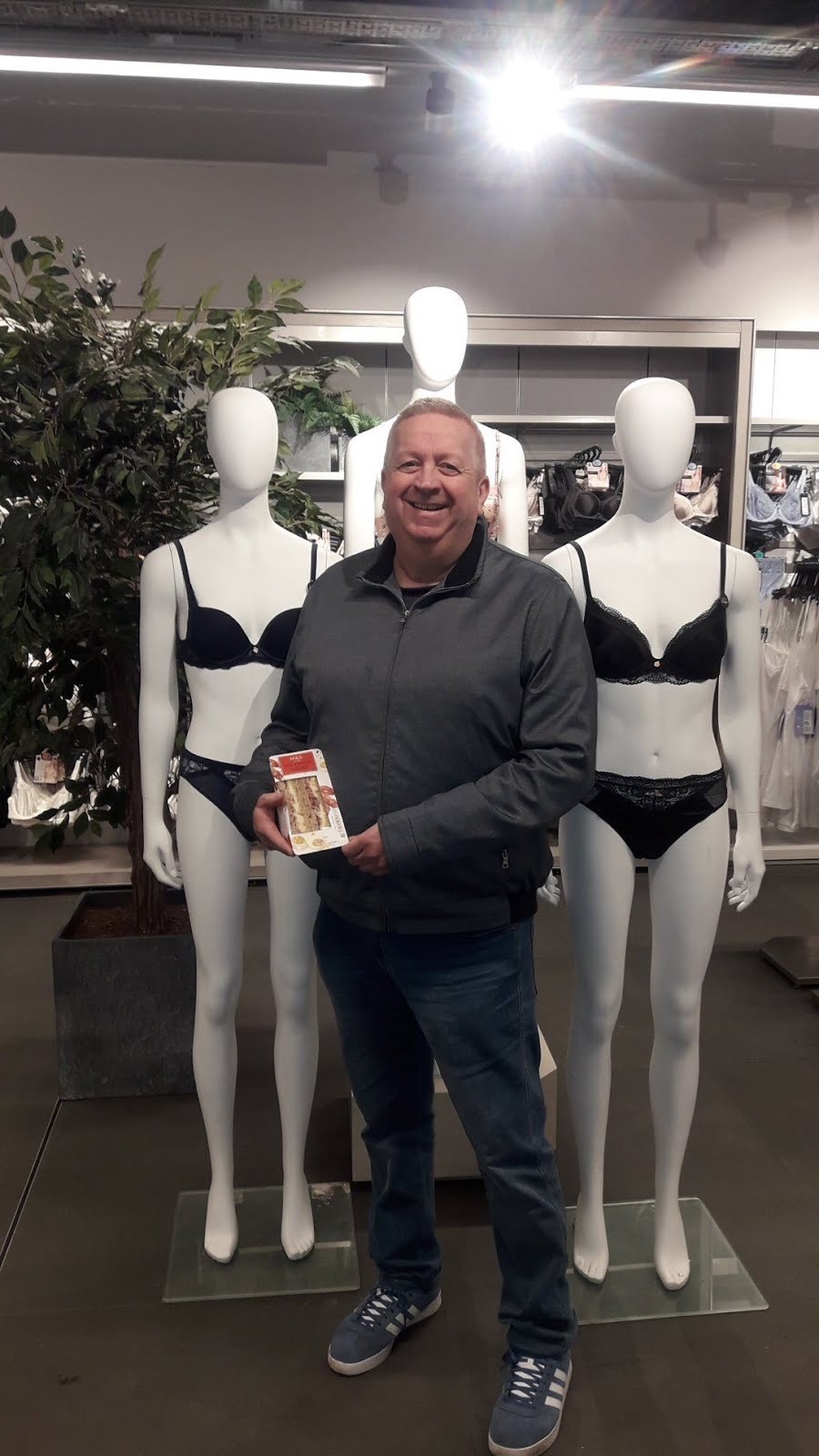 Dirty Barry, in the lingerie dept, modelling a sandwich.
I have to say I didn't make it through to the end of the big meeting but Mark has me in stitches, recounting how a Stella-fuelled Smarty engaged in some persistent questioning of Chairman Bruce over why there was no steward on the bar door to apprehend interlopers on segregation days….."Yeah. But what are we going to do when Orient come down?" What indeed. Time flies by and we are soon jumping out at St Pancras and heading straight for Spoons as the clock reaches 7.30am. Well, it's like going on holiday innit?
It's quiet, but there are a few Sutton boats milling around looking furtive including Magnum PI who has brought an airline wheely case with him whose contents will remain a state secret. Probably come straight from a stake out. Say no more about it. Alright? No surprises at our table when we learn that one-man Eurozone Nick The Greek and Sutton's Celebrity Dustman missed the train from Carshalton as they were outside smoking fags as the Thameslink service rolled in and out of the Occupied Territories.
Anyway, enough of that nonsense. Me and DB head into Marksy's to grab some food and a couple of cans for the journey north although yanking Barry out of the surprisingly well-stocked lingerie department proves a challenge. All aboard the EMT 8.31 up to Sheffield and we are off and running. Have to say, lovely comfortable seats on these trains and turns up the COCS have dropped a bollock upgrading to a packed First Class compartment on a service with no buffet and after an indulgent breakfast combo of Mackeson, Gamma Ray and bacon sandwich, and a bit of a snooze, Chesterfields bent spire is soon looming into view. Good stuff. Bang on time and plenty of VDT in the bank.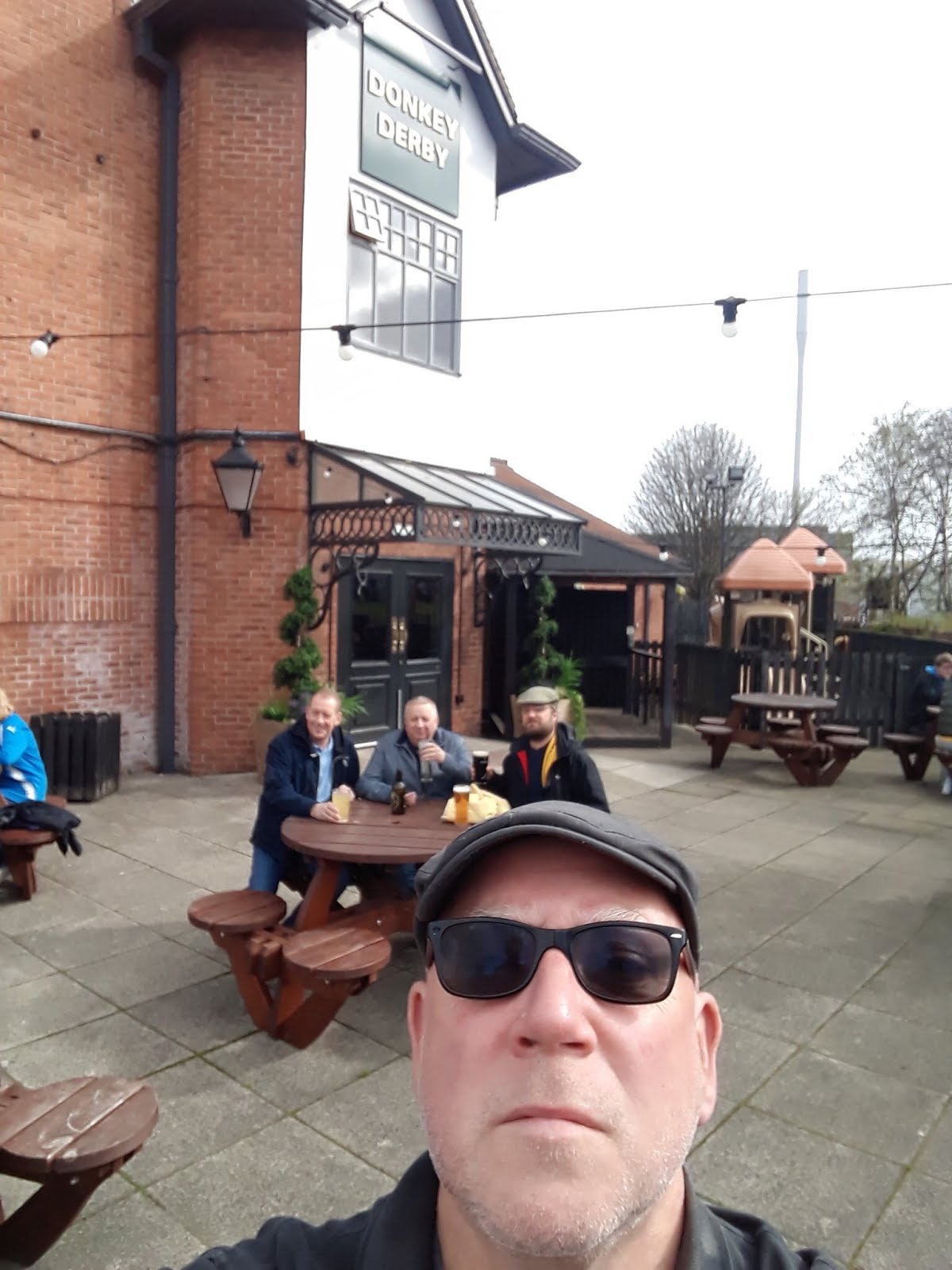 What you looking at?
As the train disgorges at the station we can get a decent assessment of the travelling amber army for this first ever away game with the old Spireites. Bleary eyed, kicking up, but determined to sniff out a livener we drop in behind Taz, Mr X and real-ale nutter Amber Aleman who appear to have a plan. Which, of course, turns out to be bollocks and we are locked into yet another episode of the blind leading the fucking blind. Who would have thought? We walk what feels like bloody miles, passing closed pub after closed pub, before we clock the floodlights of the spanking new Chesterfield Stadium.
Now then. It's time to discuss Barry's Bladder. Let's just say the train cans have put some strain on his capacity and to avoid an unsavoury incident the DBDC and COCS hardcore peel away to the first boozer we can smell is open, the Donkey Derby on the big roundabout while the others march on towards the Glasshouse. The Donkey is a decent gaff as it happens and we rip up plans to join the rest of the groovy gang and settle in to a few nice pints in the beer garden and, with confirmation that the ground is a smoke free zone, I grab the chance to spark up a bit of Cuban army surplus and top up the old sun tan. Very pleasant and the Chesterfield fans we meet seem like a decent bunch albeit shocked that they have ended up playing the likes of us. We advise them to get used to it. No, seriously mate, get used to it. Neither of us are going anywhere soon.
Right then. Off to the ground and my word what an impressive drum this is. Whitehawk it ain't that's for sure. After a bit of palava locating the away entrance, and bit of old banter with a female steward who ain't mad keen on the allegedly lewd messaging of the DBDC banner, we are in and soon having a pint and very good steak pie in the bowels of the stadium. Sorry to say that I missed the pre-match DJ playing Janie Jones (note to my own club, that's a proper punk tune not that Jimmy Pursey bollocks) and we emerge into the North Derbyshire sunshine just in time for the off. Precision timing from the well drilled and well oiled outfit you all know and love.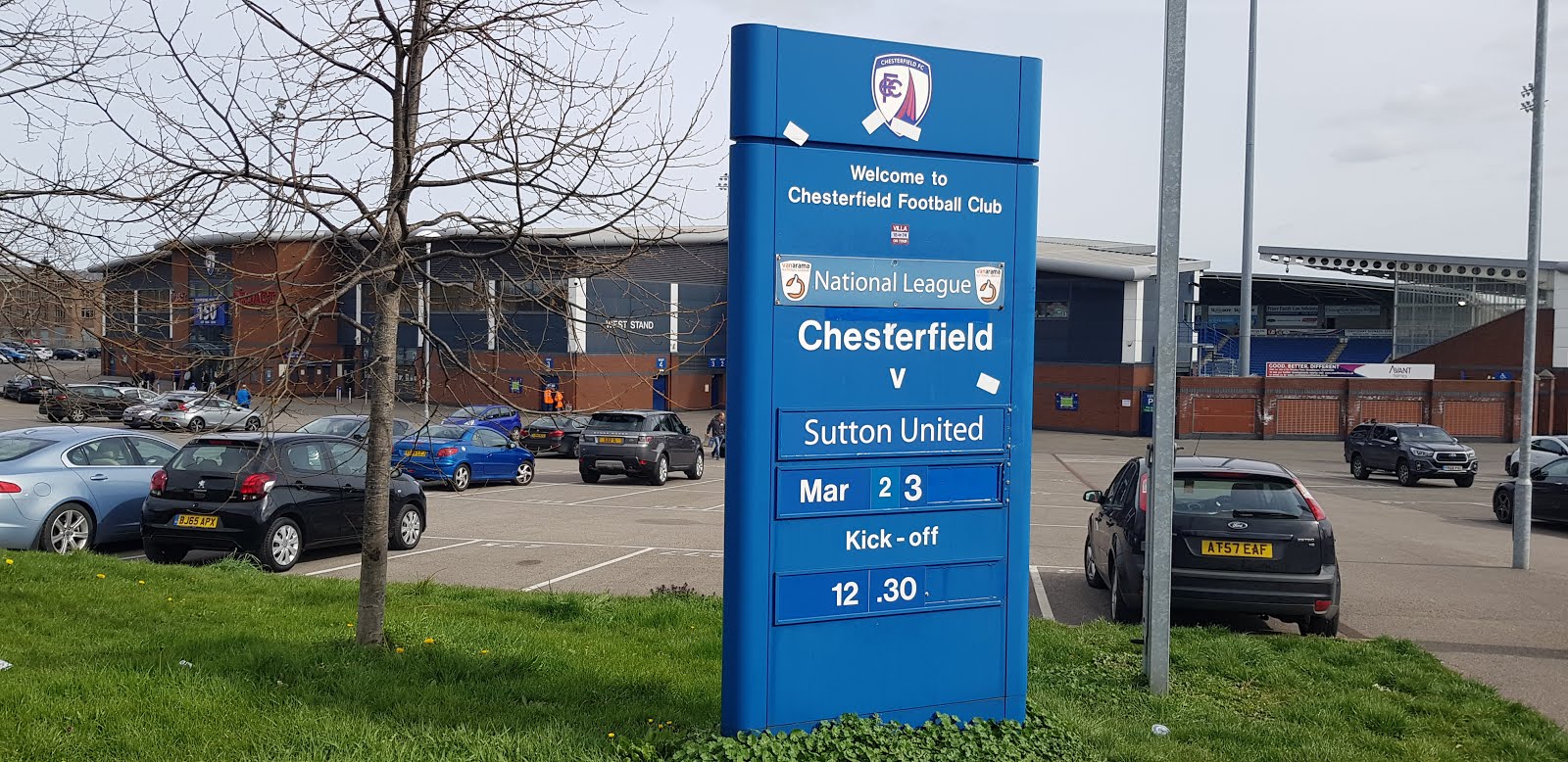 That'll be us then….
We start brightly enough although the makeshift back four is a worry, particularly without JC holding the line, but we are playing some really decent stuff, bossing possession but it's the same old story. We can't manage a shot on target let alone the opening goal we badly need. Dylan has a rasping effort I thought for a moment had gone but it bounced back off the outside of the stanchion. Chesterfield aren't showing a lot but we know better than to be fooled by that and so it proves when Denton is left unmarked, fucks up any kind of clean contact but somehow contrives to head the ball into the ground sending it looping over Ross and into the net. Was there an offside? Don't ask me, others seem convinced there was but all I know is that the giant scoreboard is showing us one down and sending the locals into half time with a spring in their step after being a bit lethargic for most of the half. My one treat of the first 45 was Dukey buying me a cup of splosh, misunderstanding a bit of banter for an official instruction. Cheers son.
Time for a pint and a slash and then it's back out to bask again in the sunshine, appear as objectified sexual eye-candy for the BT Sport cameras, and hope that we can pull this back with a early strike second half. Like fuck. A huge defensive cock-up – no names, it's not important – and we are two down and have it all to do. Now, I have this theory that if you can't halt the advances of a big, bald immobile bloke then you have a serious problem. Yep, Denton again. A lump so large that light bends around him. Unmarked and off his nut into the roof of the net with a gift that even DB sitting on my shoulders with my shot knees could have put away. And that's that. We are in danger of folding like a pack of cards on live national telly but Chesterfield seem content to sit on the spoils and although we make a few changes they are irrelevant and alter nothing. We are pure out of gas and limping towards the end of the season and that's not a criticism it's an incontrovertible fact.
At the end the players and staff all come over and salute the excellent travelling support. We all know where we are at and the challenges we face. The COCS give Dylan some words of encouragement. He worked his nuts off and would be my man of the match for us on a tough day. I'd like to see him and Jonah given a starting run up front to try and liven things up now we know the play offs are slipping out of sight. Fuck all to lose now so let's try something different and give youth a chance.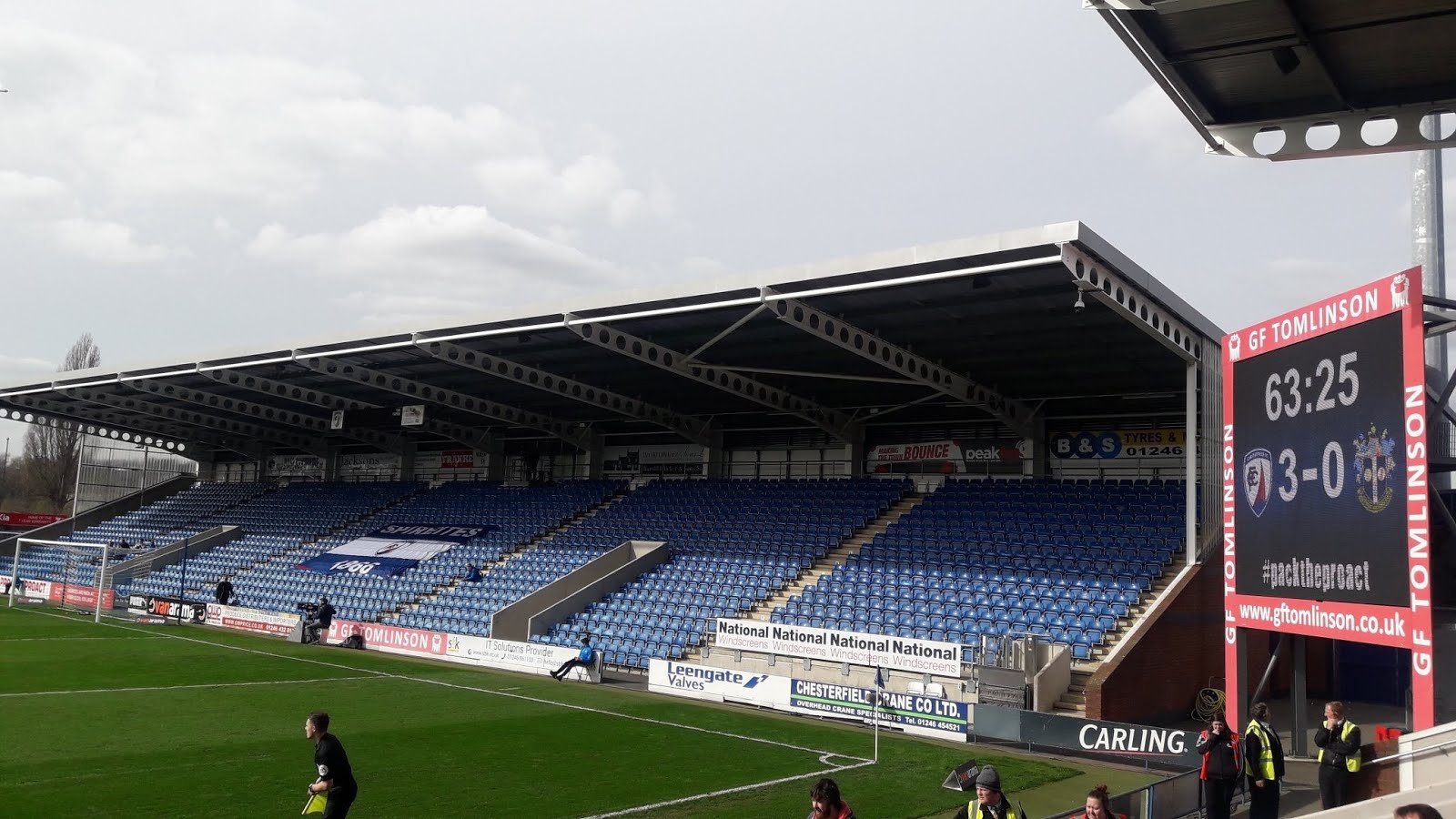 Still, at least it wasn't live on the box, eh?
Right, let's get back into town for a pint or two before the COCS have to get the earlier train back to the smoke. Coming out the ground we get a pat on the back from a couple of the older Chesterfield fans who compliment our efforts to play some football in the first half. Decent fellas. Not so much the little twat who fronts up Johnnie on the concourse shouting some nonsense about sucking his Cheezy balls and trying to get a fight going. He's dragged away by the stewards. Fucking idiot.
It's a long stroll back towards the station and we find a nice gaff called Einstein's which has the bonus ball of Estrella on draft. That's a touch. Keepo and Mark are soon off home and me and Bal have a spare hour to while away. Kiddo and Joycey pop in to grab some bottles for the train and we have a nice old natter about the future. Clubs in good hands with lads like them and AB steering us ahead. And that's it for us in Chesterfield and with a drop of original Guinness on board it's time to say goodbye and get our arses back down south.
Three hours and one change later I'm in the Chinese up on the by pass picking up a bit of grub but frankly I'm knackered as I roll through the front door. Early start and a long old day but despite the result hugely enjoyable.
Next Saturday I've been invited for the pre match lunch before the Havant game. Well, when I say "been invited" what I mean is I will be paying for myself and will traipse along on the basis of the winning line "everyone else is going, even the Cocktail Crew." When you realise that these lads aren't used to eating sitting down, never mind using a knife and fork, you will understand that this is a breakthrough moment in evolution that you would be a fool not to witness.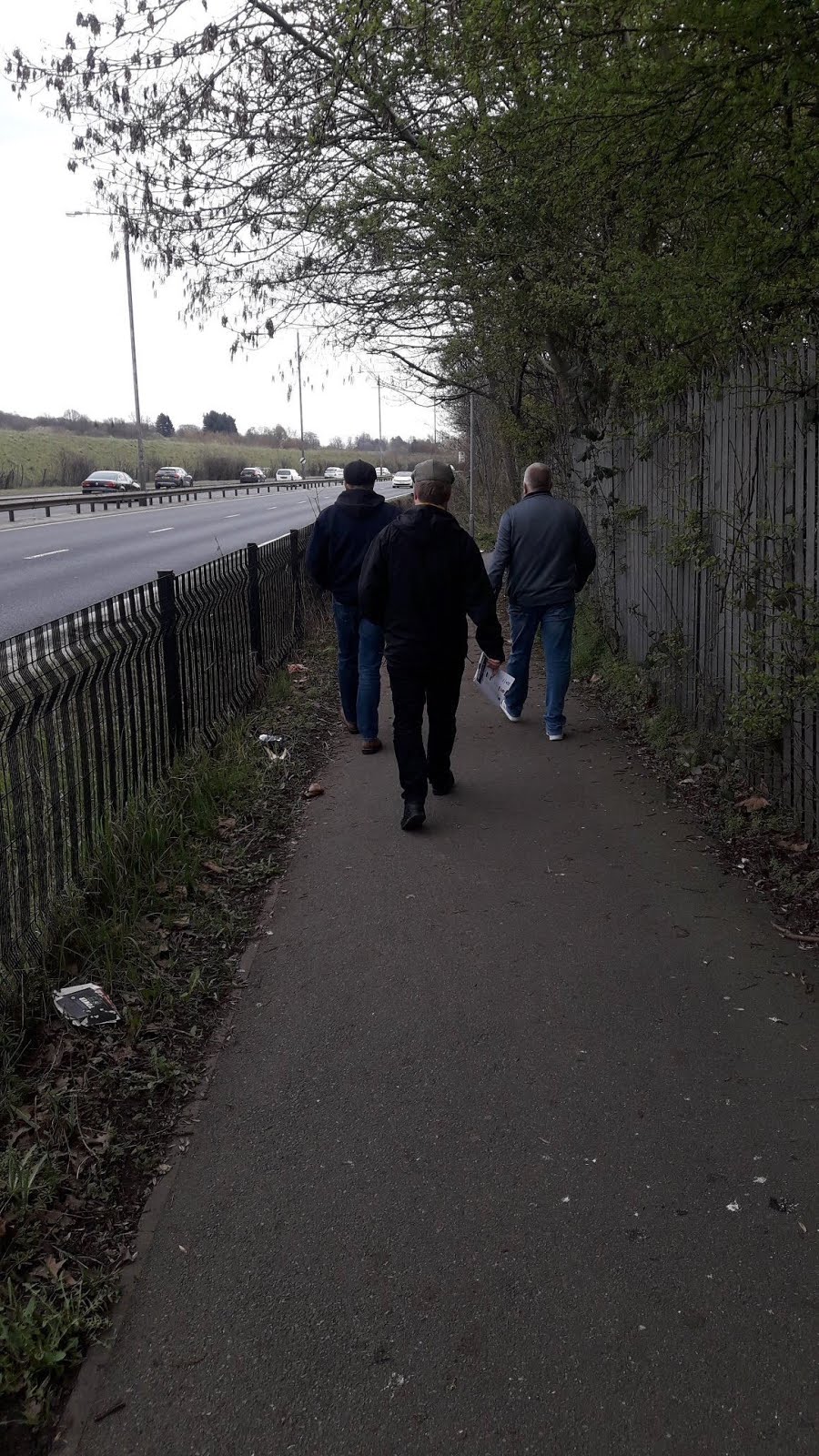 Back alley action
More importantly I've managed to fix two trips down to Alicante before the season ends to see just how close Hercules can get to the Segunda B play offs before the inevitable fuck up kicks in. DB himself is on board for a bit of football, tinto and Playa Nudista early April and the 17th of May we have something of a crew making the flight down south for the final scheduled fixture of the season at the Rico Perez. I will be doing a bit of a Civil War tour around the city on the Saturday morning and if you fancy it there's plenty of cheap flights and digs. Just DM me and I will enter you on the old clip board.
See you on the Shoebox and the Grada Animacion.
Totts.
*Obligatory Clash reference