There's only six games of what is turning into a bastard slog of a season to go and the play-offs might be only four points away but they could be twenty points for all it matters. The way the results have been coming in recently, we'd be going down if we hadn't already acquired enough points. Ever want to depress yourself, then just have a butchers at our current form. Very uninspiring.
But shall we crack on with this shit then? Of course. Last week saw once more the old saying of "A good days drinking spoilt by 90 mins of football" come into force. But for a few of us, this lead to a night out into the fleshpots of Sheffield. The match may have been quickly forgotten, except for some of the travelling faithful being moved away from a couple of the BT microphones at the back of the stand in the second half, the night out would take a little longer.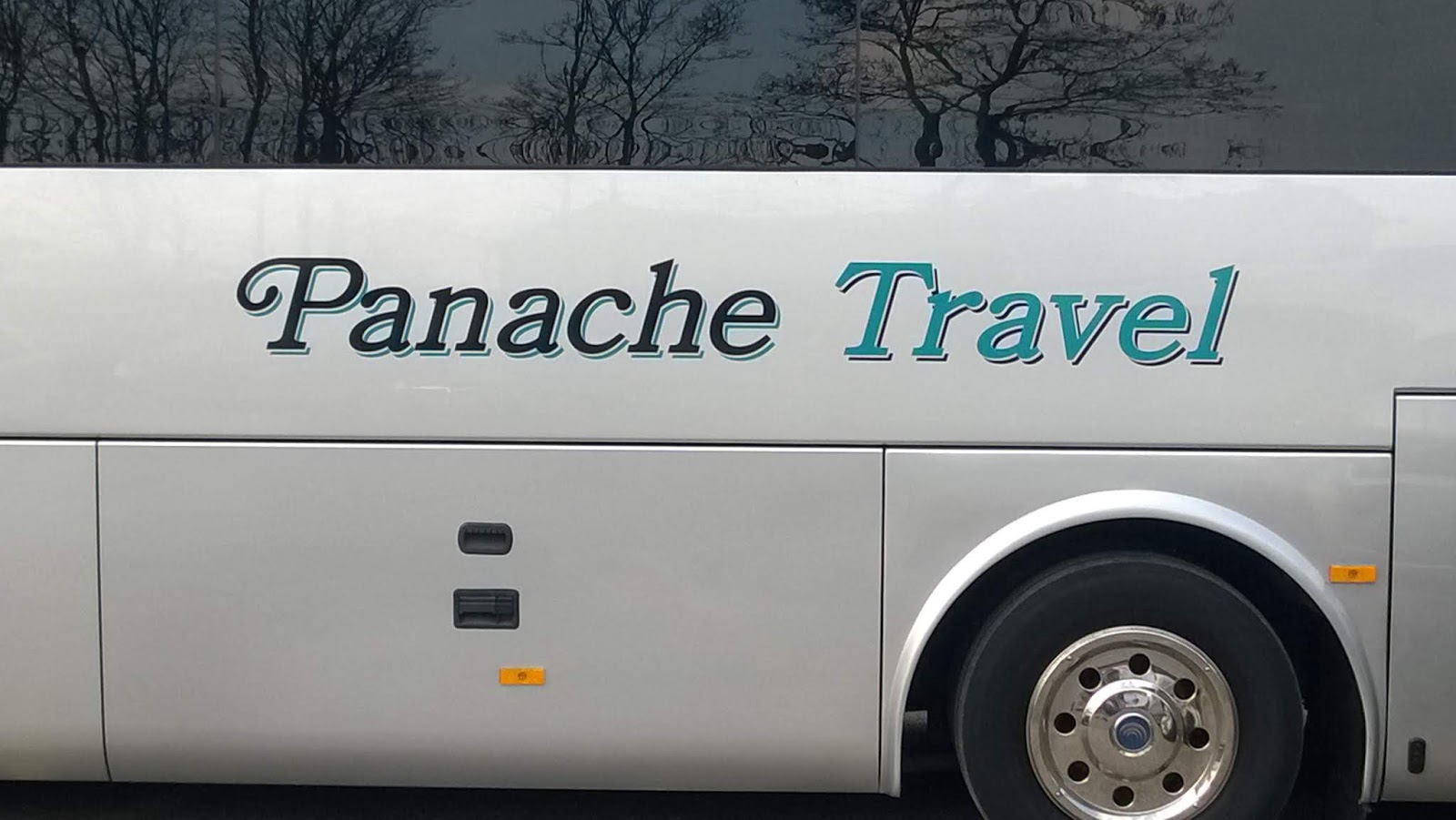 The only way to travel but with…
And a thoroughly good night it was to turn out to be. Times are getting hard these days as plenty of us cannot last as long as we used to do, but we always give it a good go. The trick might be to give up on the pints and head to the top shelf a little earlier than when you're in the last place of the night and heading into the early hours of Sunday morning.
But of course you would still have the usual fun drinking escapades that come with every Gandermonium trip. From a drunk Firm Leader ordering up some Brut for yours truly, through to a worry that we wouldn't get home after reports of no trains heading into St Pancras, past someone getting a tattoo and onto a rather worrying stain found in the room of Mr X & Robbo…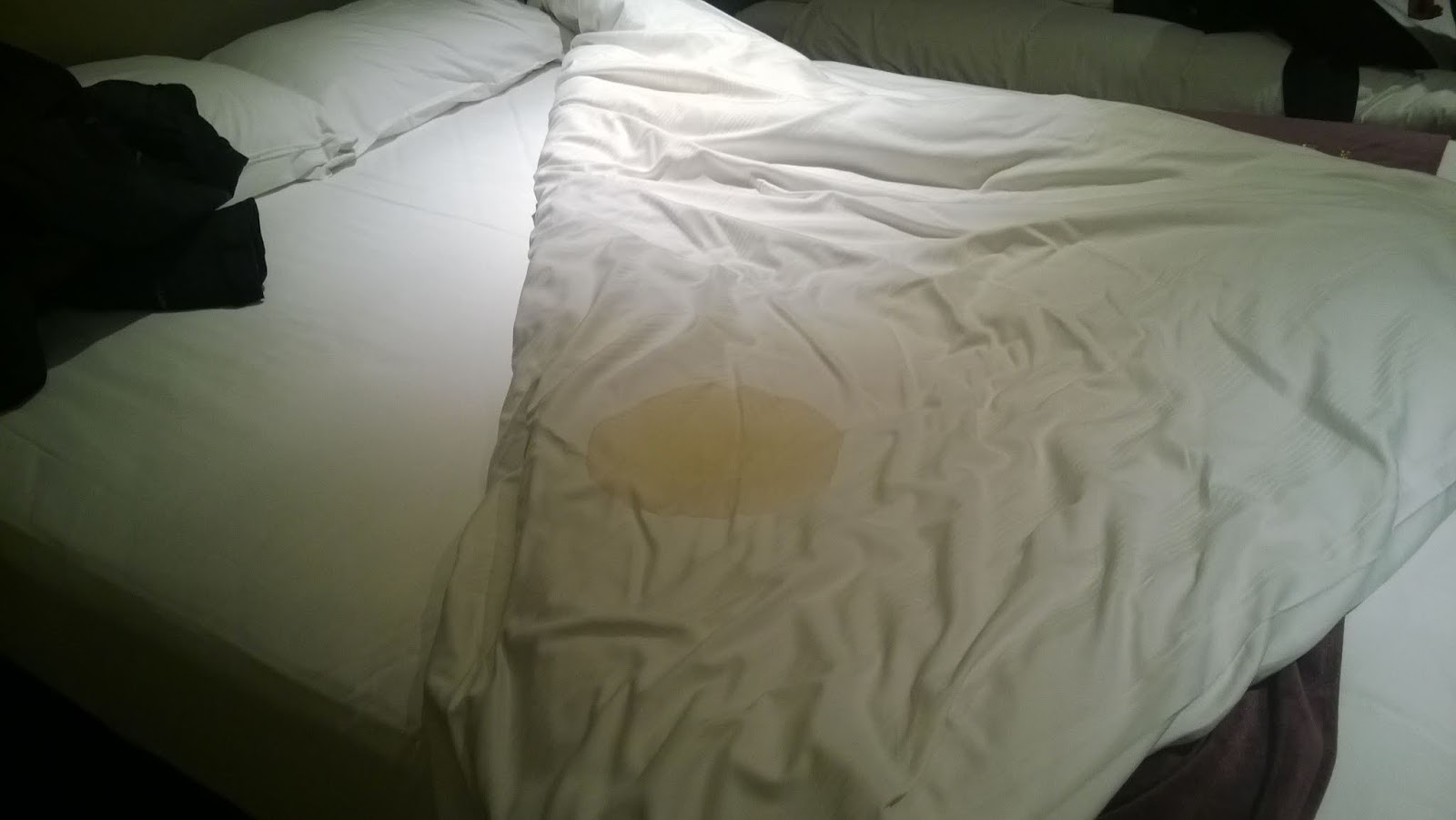 Looks pissy to us!
Saturday saw us once more facing a team seriously struggling at the bottom of the table. This time it was Havant & Waterlooville, who were currently occupying the final relegation spot. Badly needing to pick to some points on Boring Wood above them to stay in touch, you'd think that they will come to Gander Green Lane with more of an attack plan than usual.
We were also once again asked by Magnum P.I to partake in the pre-match lunch. So picking up The Firm Leader on the way, we're whisked towards the ground in the back of an convertible Audi. With a start time of half twelve, it's no surprise that it doesn't start at that time. It's straight to bar to begin the usual assault on the cheap bottles of out of date Bulmer's.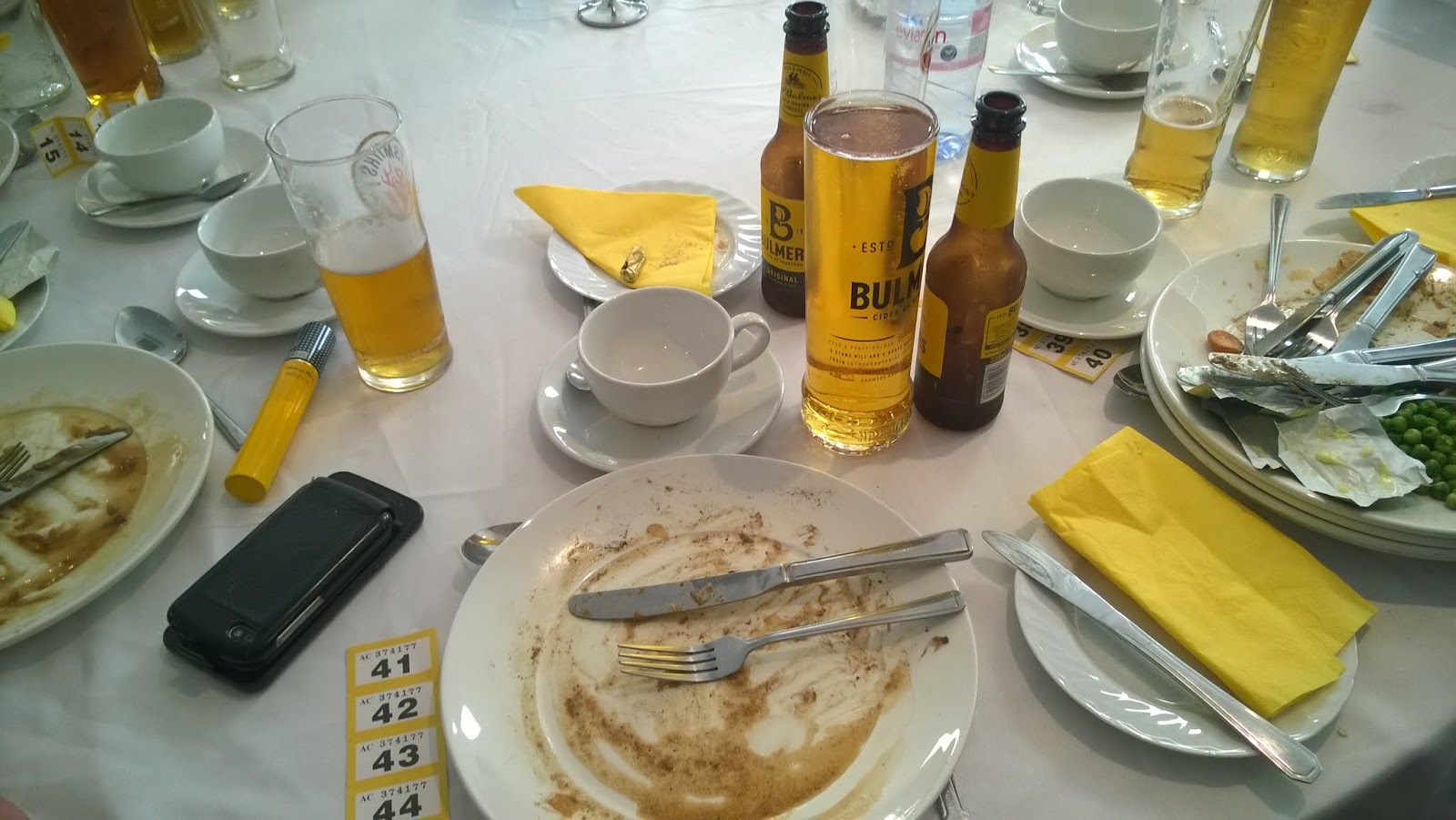 At least I ate my greens…
Sitting down with the rest of the rabble, we are given a two course meal for twelve and a half quid. The main meal was a steak pie, I would've preferred steak & kidney myself, one roast potato cut into smaller section, and some peas & carrots. You'd also be surprised how many people don't like peas though judging by the amount left on various plates across the room.
There was a also a raffle that seemed to have nearly every prize won by the COCs on the table next to us. We did eventually win one. With only a packet of teabags, a cheap bottle of white wine and some Bicardi Ginger Rum it was down to Magnum P.I to pick one. And despite the protests of The Firm Leader, he plumps for the cheap-arsed wine. Ten minutes later of moaning and arguing, The Firm Leader gets his way when a swap is arranged by Magnum between himself and the winner of the rum. Greek would obviously later on forget to take it home with him, but not before it's been cracked open at the table over dessert. Purely in the interests of savouring it's spiced bouquet of course.
After lunch, the football on the telly was such a bore that you'd be forgiven to think that Aldershot have already given up on the Vauxhall Conference. Team news had also been released by this point and apparently there was going to be a few changes as Kearney & Dobson were going to be late as they were stuck in traffic. Not what you want to hear when you're facing bottom feeders at home with form like ours.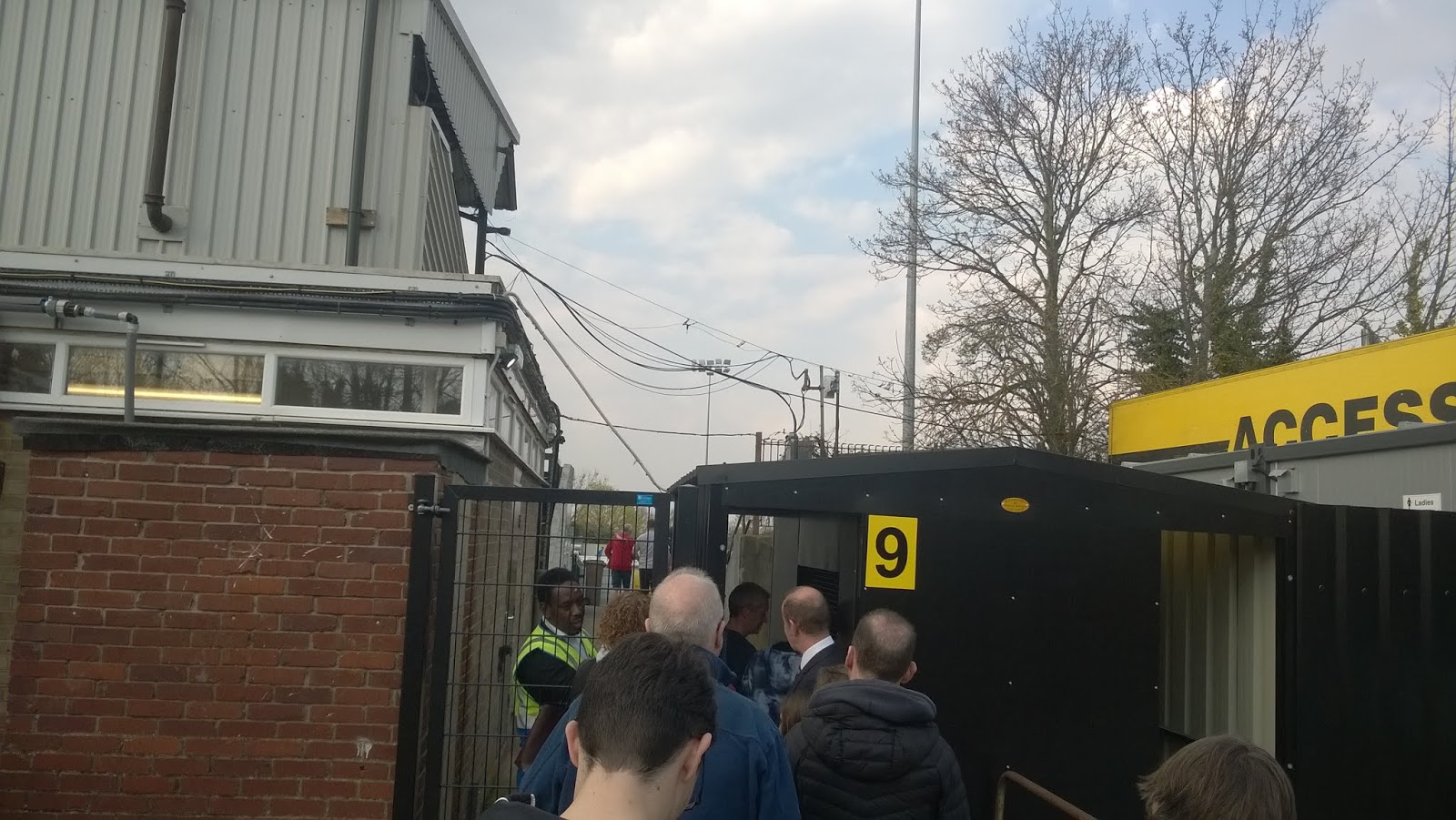 Crowds…
Butler, Bennett, Thomas, Beckwith, Collins, Eastmond, Barden, Beautyman, Ayunga, Toure, Williams. Bench Warmers: Worner, Bolarinwa, Deacon, Dobson, Kearney.
Havant kicked the match off as Sutton attacked the Rec End. A mere few minutes into the game, and Sutton are given a penalty. The ball was initially crossed in and Williams is dragged down as he attempted to go for it. The man in the middle waves away the protests. The game carries on and the ball is once again played into the box.
This time it looks like it's going to fall to a Havant player to clear. Except Williams is still lurking inside the box and runs the player down. Not knowing that he is there, he goes to clear the ball only to see Williams nick it off him and clips him instead. Nothing you can do about it, but it's a penalty nailed on.
Collins steps up once again and leathers it home. 1-0! Five minutes into the match and we're already in the lead. Well that wasn't expected. Minutes later and Barden was lucky to not be given his marching orders after first picking up a yellow and moments after getting away with chopping a player down. And ten minutes had only gone.
It was my turn to do the honours for the halftime round. But just as I was about to make my move I casually look up to see a Havant free kick (another booking for Eastmond) fly into box. Beckwith is beaten to the ball and the fella heads it past Butler. Just another simple goal conceded by us once again. At that point, I think it's best I head for the bar.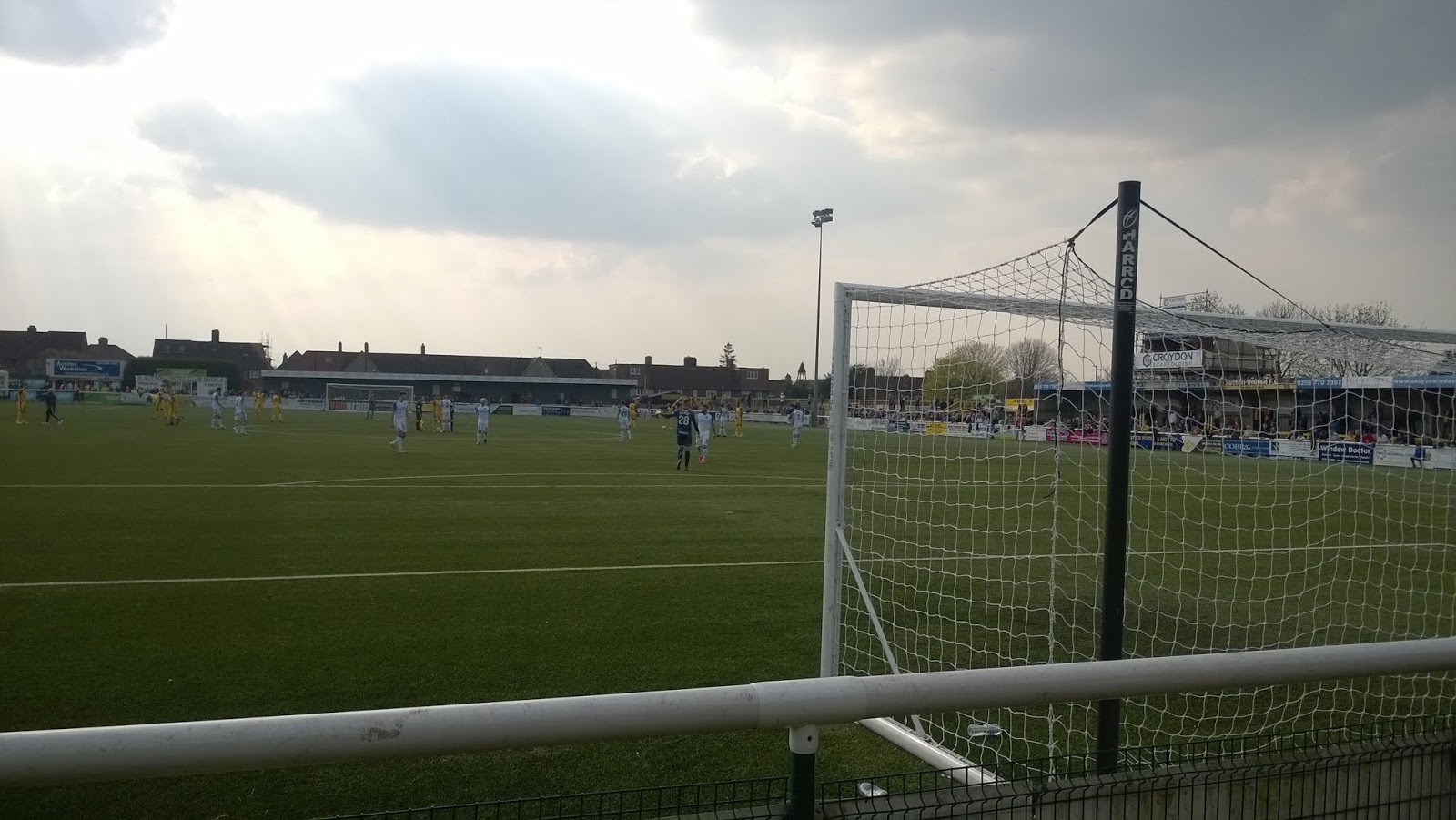 Green plastic fields…
Second half and Sutton kick it all off. Nothing to report from the first quarter of an hour as both teams cancelled each other out. But that was to all change when Thomas was unlucky to have been judged to handle the ball. I don't think that he did, it looked more like chest to me and the resulting yellow was unfortunate. The resulting free-kick manages to beat the wall though and sail into the bottom corner though. Changes were made immediately as Dobson & Kearney were brought on for Barden & Williams.
Not long after, the Havant skipper went down holding his head and tried to get the game stopped, unable to do so he's quick to rise to his feet as soon as the ref calls on the trainer. But he's too late and is told to leave the field for his 'treatment'. So instead he goes to the floor once again. What a palaver! Having been finally turfed off the carpet and whilst he is still receiving 'treatment', Sutton end up with a corner. Beautyman is one to take it and for once it's right into the pickle barrel. Collins rises like a salmon and head it from the back post. The ball looks to have gone enough over the line but there starts to be scramble. Some players stop, others carry on, and somehow Beckwith ends up being the one who gives it a cheeky back-heel it over the line. 2-2! I bet that player wasn't too happy about leaving his team in the lurch. Of course, those on the Shoebox are fully sympathetic to the geezer's plight as he plods back to the middle for the restart.
The final moments of the match were to also create a few talking points. Near the end of time, Collins would go up for a ball into the box. He would be beaten at the far post as it was headed out for a corner. Unfortunately for him, he had the fella land on him as they both crashed to the floor. It didn't look good as he remained on the ground as not only Booby but the club doctor would attend to him. Eventually he would be lead down the tunnel with what looked like either a shoulder or a wrist issue and yet another entry on the long term injury list no doubt. Ayunga would then shortly after miss a sitter from a few yards out as he manages to knock the ball wide.
With Sutton now reduced to ten men for the final minutes with all our subs used, Havant would try to pile on the pressure. And been given at least five minutes injury time helped their cause. It was to be backs against the job as they pressed up the park. One attack had them attack down the Sutton left. Thomas was caught out of position and as he tried to get back into play, he arrived too late and caught the Havant fella. The referee played the advantage. But when it broke down, he quickly returned and gave him his marching orders. Luckily for Sutton wasn't enough time for Havant to capitalise and the match would end the standard Desmond. How many of those have we had this season now?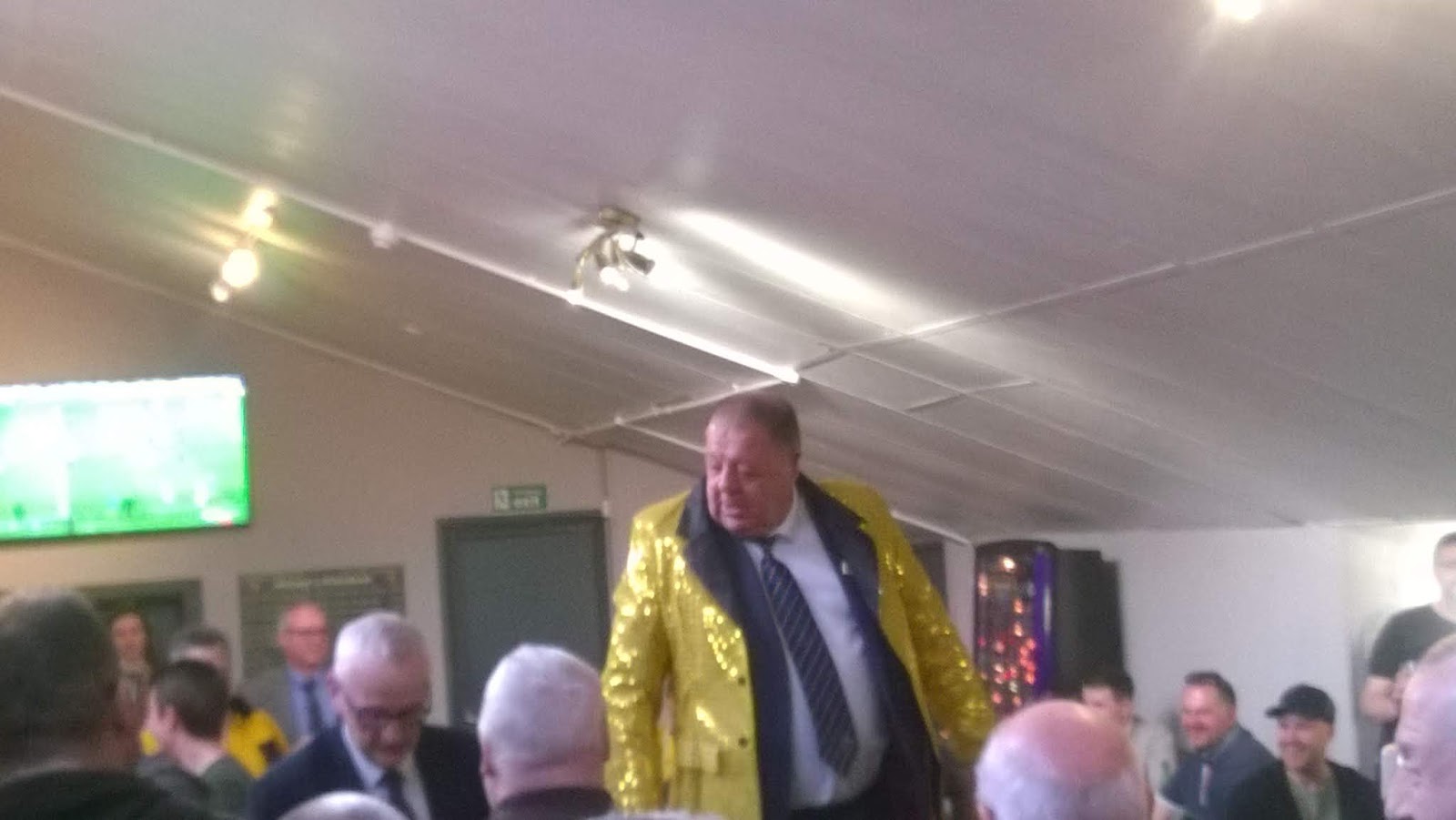 The new signing…
After the match and it's a few much needed libations in the bar as we all mull over the results that are coming in. And despite winning today, Braintree are the first team to be sent down. But we reckon the four teams down there are going to be the ones going falling through the old trapdoor now as Borign Wood managed to nick a win today leaving them a few points above the scrap. Further down the tree, and the Scum have had their play-off chances dented by the Casuals. K's as well seem to be just about safe and that's despite them being now without a win in the league since early January.
Next up was "Strikers are Key" where Autotech Phil was about as successful as our strikers are as he failed to open the safe and had to make do with the bullseye consolation prize. I must also mention (because The Firm Leader insisted I did) one of our volunteer stewards. Take a bow Chris as he's not only the twelve year old looking bearded man seen around the tunnel during the match, but also apparently he's closer to 40 than anyone ever thought. Plus he got a signed match ball as one of the sponsors today. Personally, the most I've ever got was a nod once from Gary Speed after a Leeds – Chelsea match once in the mid-90's. True story.
With people coming and going we eventually ended up next door for the players reunion. There seems to be a good turn out from the various side except for the 1999 league winners, I don't recall seeing anyone apart from the legend that is Tony Rains. Shame really as some of us would've liked to worship at the temple of Ugbah once again. Someone at this point did mage to slip on a chip and hit the deck. Not sure about the alcohol levels involved, but as a few of us have stacked it whilst under the influence of alcohol we were a touch more sympathetic here than with the Havant skipper's tumble earlier on.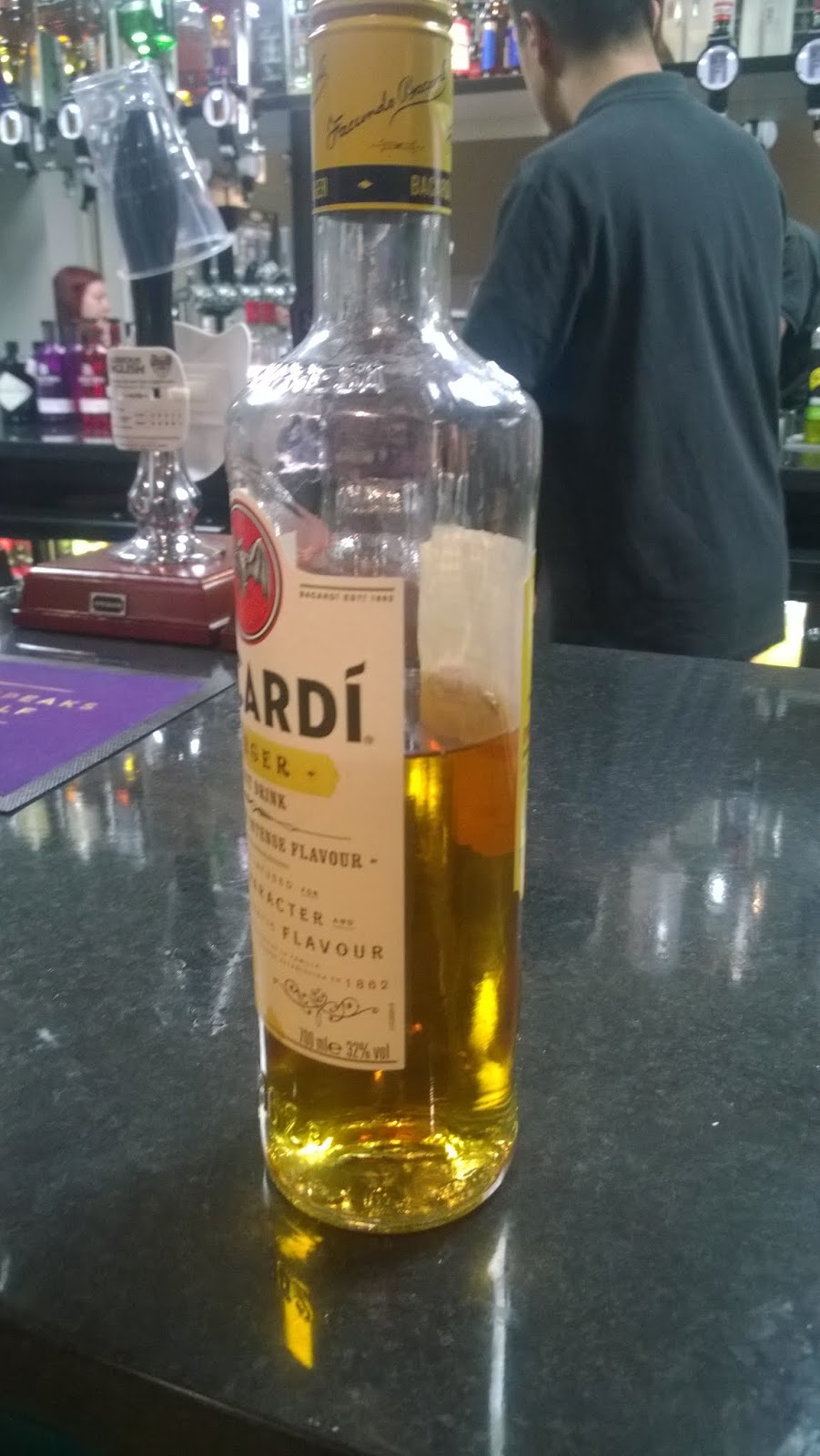 There's a little bit left…
We most definitely must also make a very special shout out to the one an only Jody Scheckter Arjan Van Sliedregt. Not only did he have some great stories to chew the fat over, but his Scottish to Dutch accent was amazing. The stunned silence from Mr X when our man said "Fort William in 1982" was worth the entrance fee alone.
But he did pick up a few bad habits from us though, as the moment from when he originally said that he was going to leave, to the time he did actually leave were quite far apart. There was also a moment when he asked for a couple of Sutton tops. Obviously he used a couple of Scottish notes to get his own back. Although his son-in-law was shocked that he could only squeezed into a XL size. But more shocked to find out that I was a medium! True story.
Eventually it was time to say our goodbyes, although it wasn't the case for everyone. And the whole bisexual/pansexual' debate after "What shit TV has The Duke has been forced to watch this week" lasted longer than it probably should have. As always I played chauffeur to Dr Bell & Magnum PI at kicking out time (clearly these geezers have never heard of fuckin' Uber!) and apparently Mr X would end up having a very 'private' party with a member of the COCs. Not sure how that happened, but fair enough, each to their own. At least there was no shouting at parked cars this time though.
We now move onto one of the shittest away trips of the season as we head to North London and Boring Wood. A lot of The Firm are considering this a free week off and giving it the swerve. Which considering our form at the moment (as well as the fact this lot charge a score on the door), you can't really blame them I suppose. But for the few dedicated idiots non-shirkers that are going to make the trip, we might have a cheeky little difference in store. So you better keep your eyes peeled. Enjoy!
Duke
Att. 1816