So the magic of the cup has once again graced us with her presence back down the Lane. And it's always nice once in a while to get away from the weekly grime & grind of standard league football. But with our recent spate of somewhat iffy-like performances of late, this might not have been the best time to play a team from the division below you. Not that Sutton fans are the ultimate when it comes to fatalists, oh no no no, we're always positive…
The team that stands in our way with a date in the second round (and a midweek trip to Blackpool for our troubles) is none other than former 1973 FA Amateur Cup finalists & home of the KP Nut, the Rebels of Sluff Slough Town. And it's been a while since they were last here. So much so that I haven't a scooby when it was. I'll ask Dr Bell on that, he's old enough to remember. Plying their trade these days in the Conference South, they appear to be doing rather well this season and are only a couple of points outside the play-offs.
Once again, there were no British Rail services going through the Badlands of Carshalton so it's a bus ride to Sutton for the Duke. The 151 is a simple enough route, except every time it seems that I'm on the bleedin' bugger, there is a driver change outside Burger King Blockbusters The Cricketers The Firkin some non-descript block of flats at the bottom of Sutton. So I decide that it's quicker to jump off and make the rest of the journey on foot.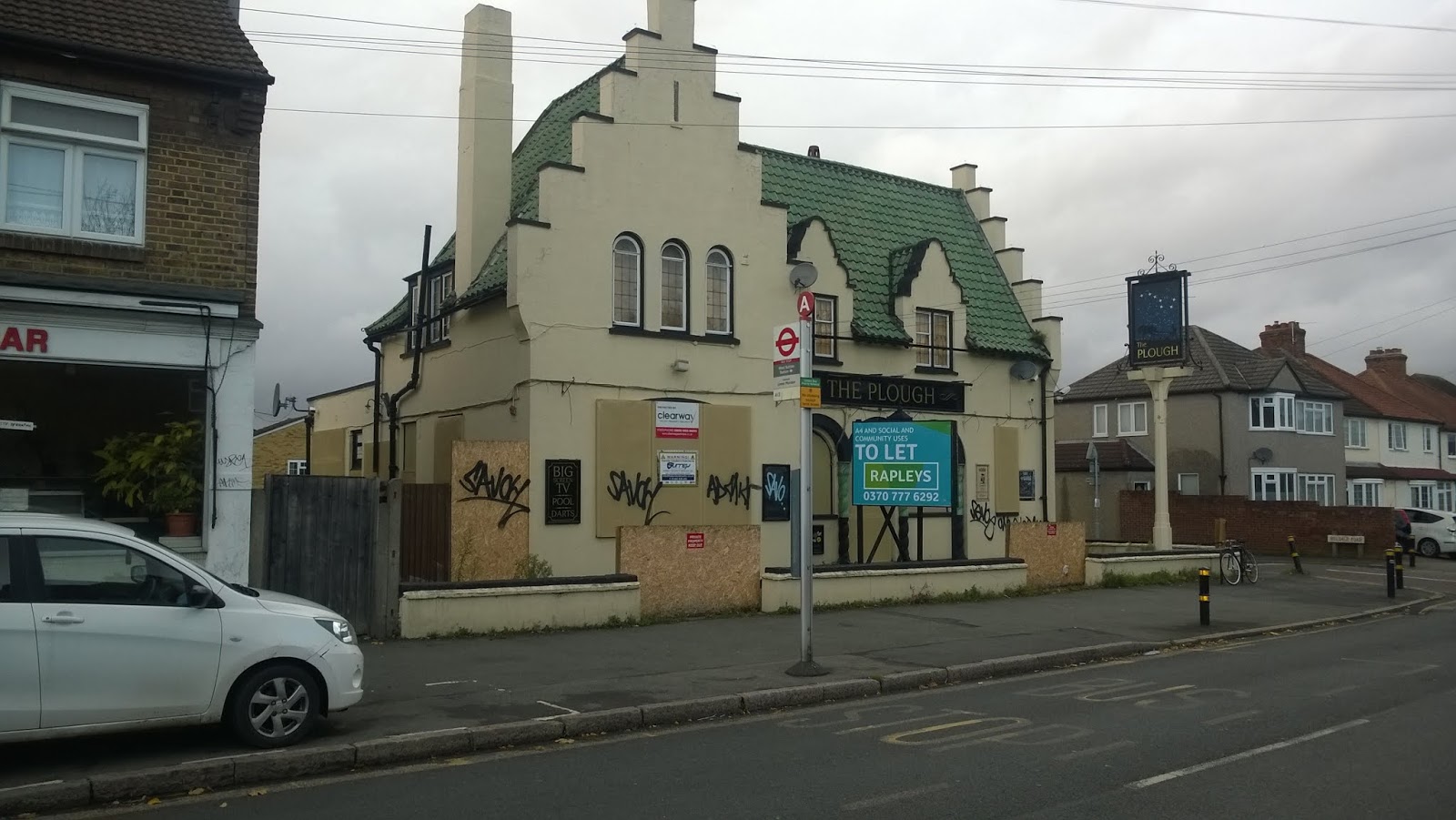 Sign of the times…
Fuck me! The trip up Sutton High Street can be a tad depressing. Not only does it seem that every time I walk up here another shop has shut it's doors for the final time, but I also get approached by every man and his dog trying to sell me some nonsense. If it's not an old gypsy lady calling me "sexy" and trying to palm me off with some sort of decaying foliage in return for some coinage, it's a fella tying to press upon me the virtues of a fake religion. And the whole V for Vendetta display of four blokes masked up in across with iPads? Very very strange…
Into the 'Spoons and it's a much need pint of £2.59 cider. BT Pete isn't far behind and manages to squeeze in on my purchase. £1.99 for a pint of whatever it was. Ok, fair enough, I'll get you one then. Here we discuss the fortunes of the local sides. We even come across the previous nights performance of AFC Wimbledon, who by all accounts were not at their best, but squeezed through against pluck y Haringey none the less. Lucky bastards!
A few pints down and it's finally time to head towards the ground. The dark clouds in the sky seem to be all converging above GGL, but are yet to unleash the coming reckoning. It's all pay today and it's a little surprising to see so few people making their way towards the turnstiles. But that's the way it is sometimes.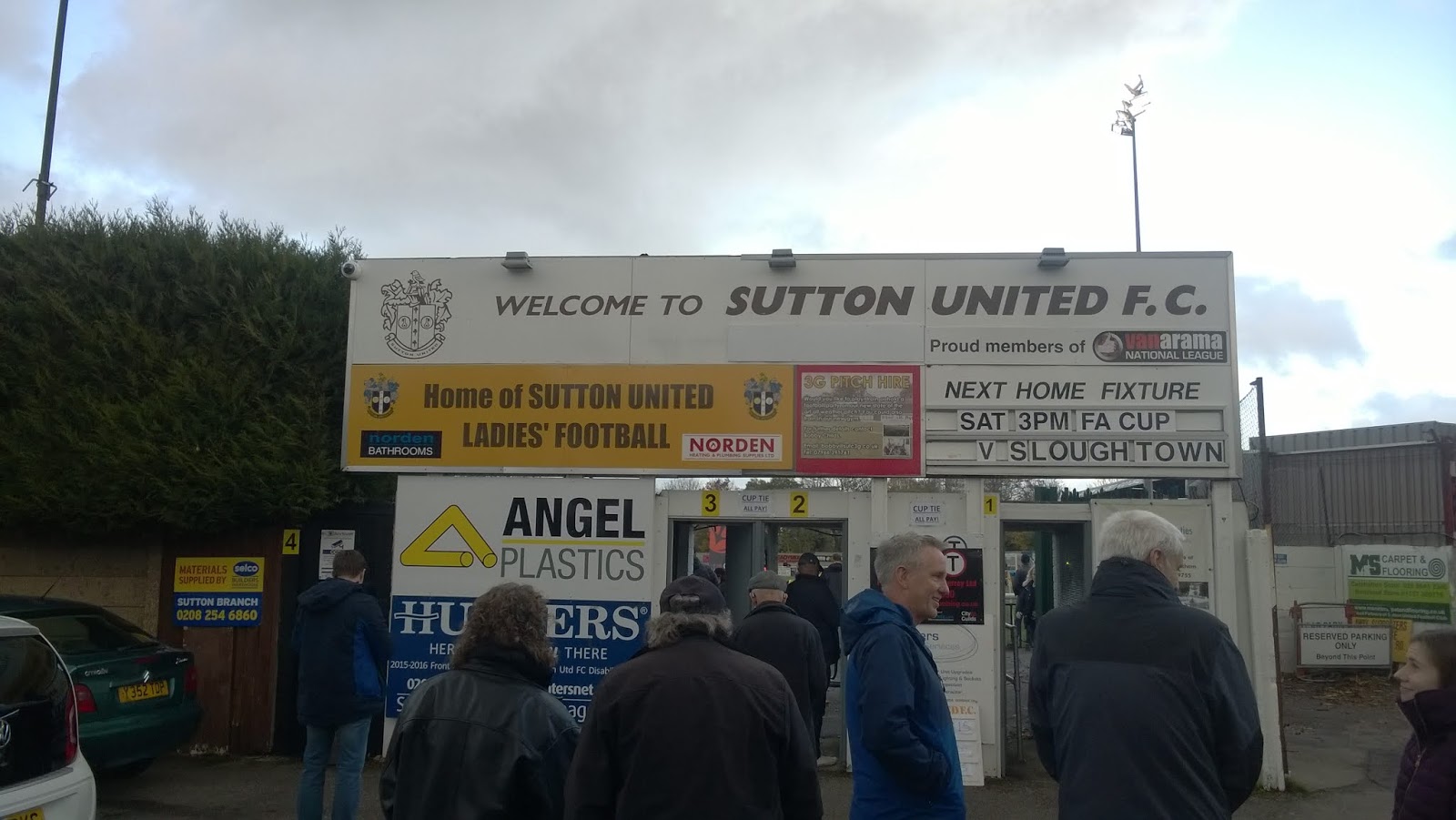 Crowds…
Butler, Bennett, Thomas, Clough, Collins, Bolarinwa, Davis, Ayunga, Cadogan, Eastmond, Drinan. Bench Warmers: Worner, Beckwith, Bailey, Brown, Beautyman, Wishart, Taylor.
It's not long after kick off before the heavens open up and the Shoebox is drenched. Luckily some of the more 'intelligent' members came with umbrellas. But not me, as you'd probabyl already guessed. A scrappy game from the off, both teams failed to produce any sort of magic. Sutton were playing in the unusual formation of the classic 4-4-2. Butler was the busier of the two keepers and no thanks to some of his decision making. A couple of times he came for crosses and opted to punch instead of catching the ball, which looked easier.
Drinan had a great chance to put us one up but his free header not only failed to hit the target, it didn't even go off the field of play! Slough's best chance really should've had them take the lead. Butler does well to save the initial shot but it lands to a Slough player in the box. But he, luckily for us, fucks his shot up and it hits the ground and bounces over the bar. Lucky escape boys!
Just before the half is over, Bennett tries to get his head to a high punt from Butler. Leaping like a salmon, he gets as high as he can, but yet fails to reach the ball. Unluckily for him, the opposition didn't follow him up in challenging for the ball and remained on the ground. Next thing you know, he's colliding with the hard surface having gone over the geezer's shoulders and there is a sign of worry from the bench. With the help of both physios and the club doctor he's eventually brought to his feet looking a bit groggy, but he can't continue and has to be replaced with Bailey.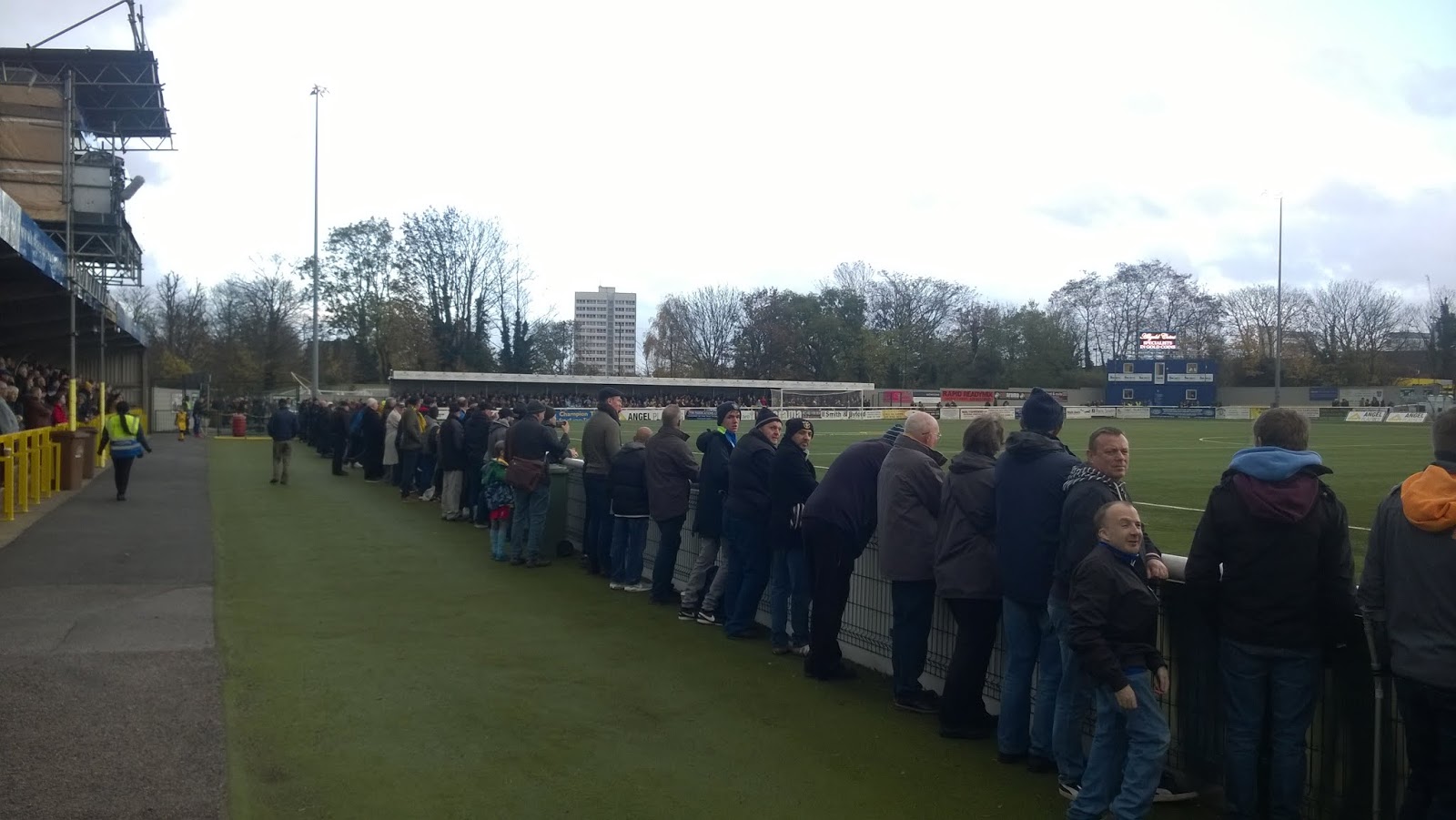 More crowds…
Second half and it's more of the same once again. The rain is still coming down and both teams fail to really find their rhythm. Because of this the game begins to open up. Despite some blatant dubious actions from certain Slough players, they managed to match Sutton over the park. And by getting wetter than a Prom date, it was not fun for the paying public.
After an hour, and we have a double substitution. Strangely enough, both forwards Ayunga & Drinan are replaced with Beckwith & Brown. So that's two forwards replaced with a defender and a midfielder. Clough is then put forward in an attempt to give us some height in attack. And to be fair to the fella it's Clough who has the best attempts to win the game for Sutton. Collins was also called on to clear the ball off the line as Slough increased the pressure.
A final little flurry from us near the end see's us finish stronger, one chance was a header from just outside the six yard box that was easier to hit the target then miss. Of course it missed. The other opportunity was after some well worked play from the otherwise very quiet Bolarinwa, but again it came to nothing. Slough also had a big late penalty shout but from our view over on the Shoebox, you couldn't really see it it. A special mention must also go to the idiot oxygen thief that ran the line in front of us. Another example of poor officiating once again.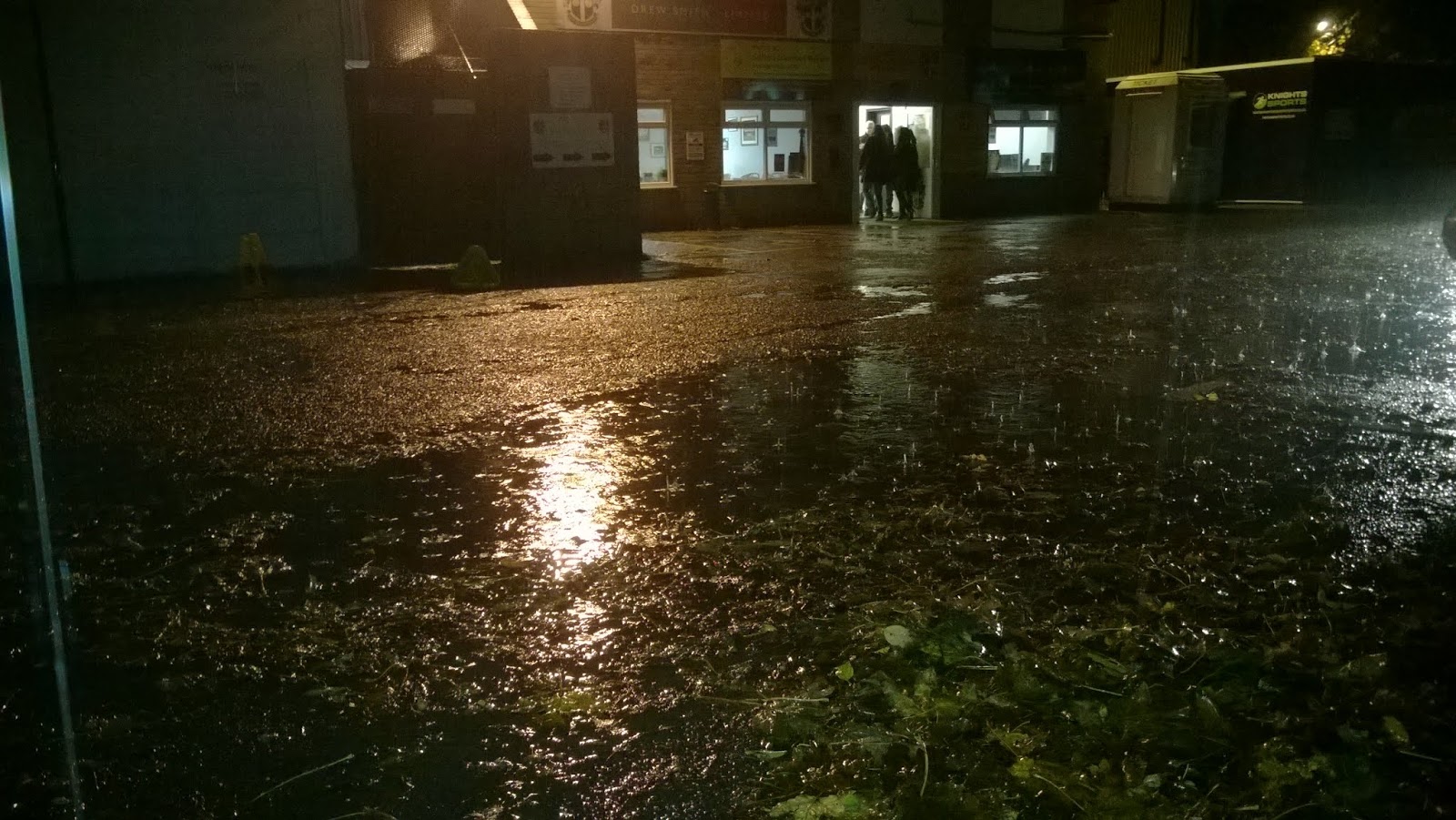 Pissin' rain…
After the usual club duties on the pitch, it's into the bar for the debrief. And the final conclusion? Shit! Disappointing! We've put in some ropey performances over the years, but it appears this season has produced a few of its own. And yet, we're still doing better than where we were last year and we're still in the cup. That's of course the most important thing but something is just not quite clicking at the moment.
Plenty of other post-match shithousery is on show. From the usual suspects putting on some dreadful songs on the juke box, we also had a debate about a gay bar in Littlehampton and Angela bleddin' Lansbury who not only is still alive kickin' & screamin' (as well as Dame Vera Lynn & Olivia De Haviland may I add), but is apparently a cousin of none other than Noggin the Nog and Bagpuss main man, Oliver Postgate. See, you learn something every day with Gandermonium. Educational and informative us.
We were also trying to work out how it is that Butler, who picked up his second yellow in the competition, is now suspended for the replay. But Bailey, who was sent off, served his suspension with a league match. Great work boys of the FA. They've even made disciplinary stuff fuckin' confusing. Several beers later and it's time to call it a night and head off to our respective 'other activities'.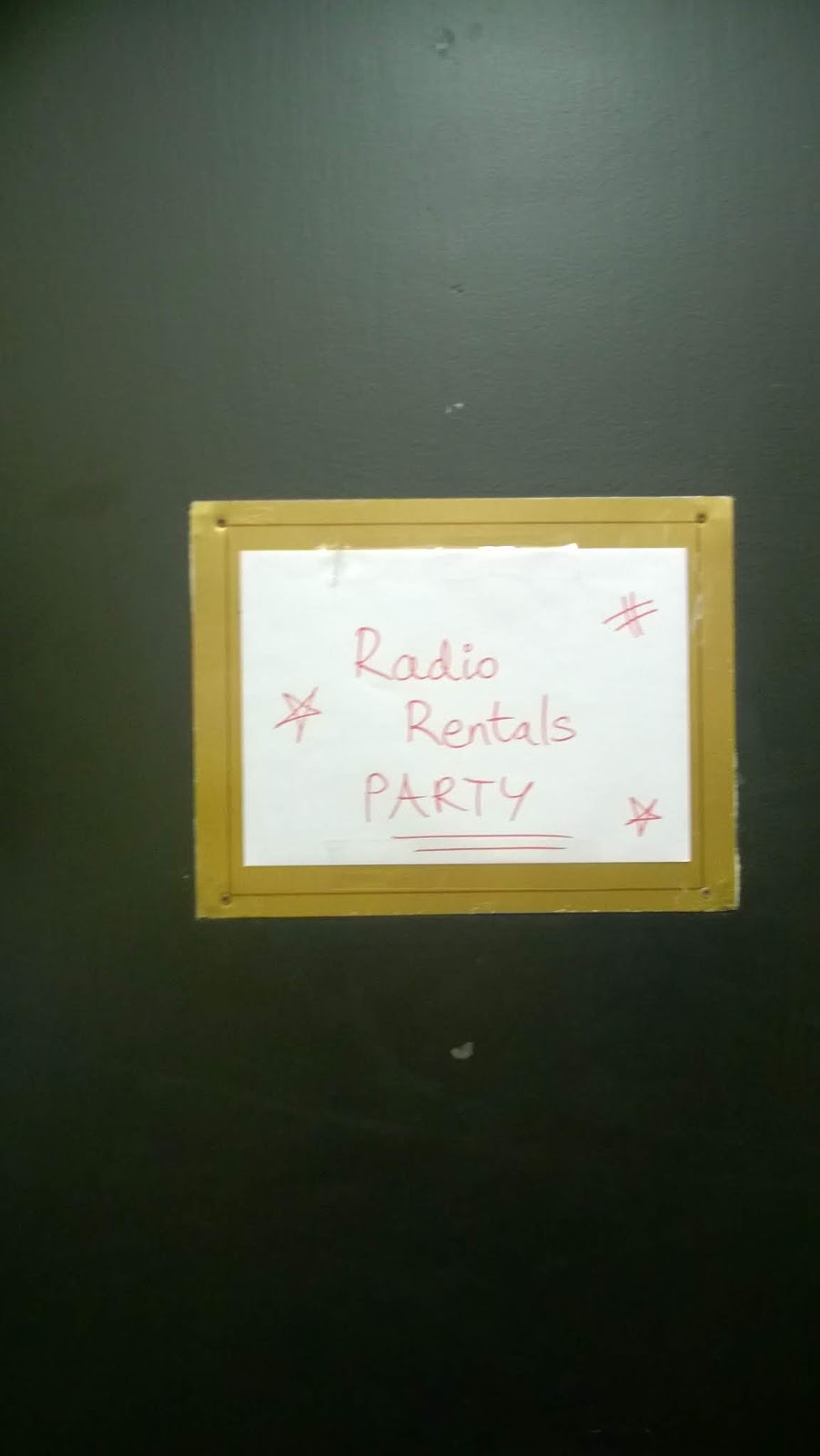 Enough said…
Now it's time move onto another trip "Oop North". Newcastle is our destination and Gateshead is the team. And unfortunately. it's me in the driving seat once again as only a skeleton crew is making the journey. So you're all lumbered. Enjoy!
Duke
Att. 1830