Apologies for this blog being a late one as due to personal issues I was a bit behind in getting this one written and to the editor for publishing. But, before moving onto the game, let us recap back to the midweek action against Chesterfield.  It was a long drawn out game where everyone and his wife could see we were going to concede a last minute equaliser and it of course happened. Cue nonsense from the Chesterfield boss – Mad Dog Martin Allen and his comments about our club, well it was him and his team's coach which kept traffic to a standstill on GGL when leaving the club and held up my Uber driver too.
This entry sees my first hat trick in terms of Gandermonium entries as this is my third so far against today's opposition Dagenham and Redbridge.  I would rather them than their near neighbours Leyton Orient who may I state are still bitter as anything after our win against them. That was like over a month ago now chaps, you should probably move on. Speaking of which, let's move on to today's events and I decide to take the public transport route this afternoon and this includes getting the 413 bus. On said bus some woman overhears me talking to a married couple who had once owned the fish and chip shop on GGL and says to me "I will just follow you when I get off then". In fact she made it into the bar before I did! But that's because I had a number of chats en route, once more engaging again in some 'stakeholder engagement'. (Do what? – Ed)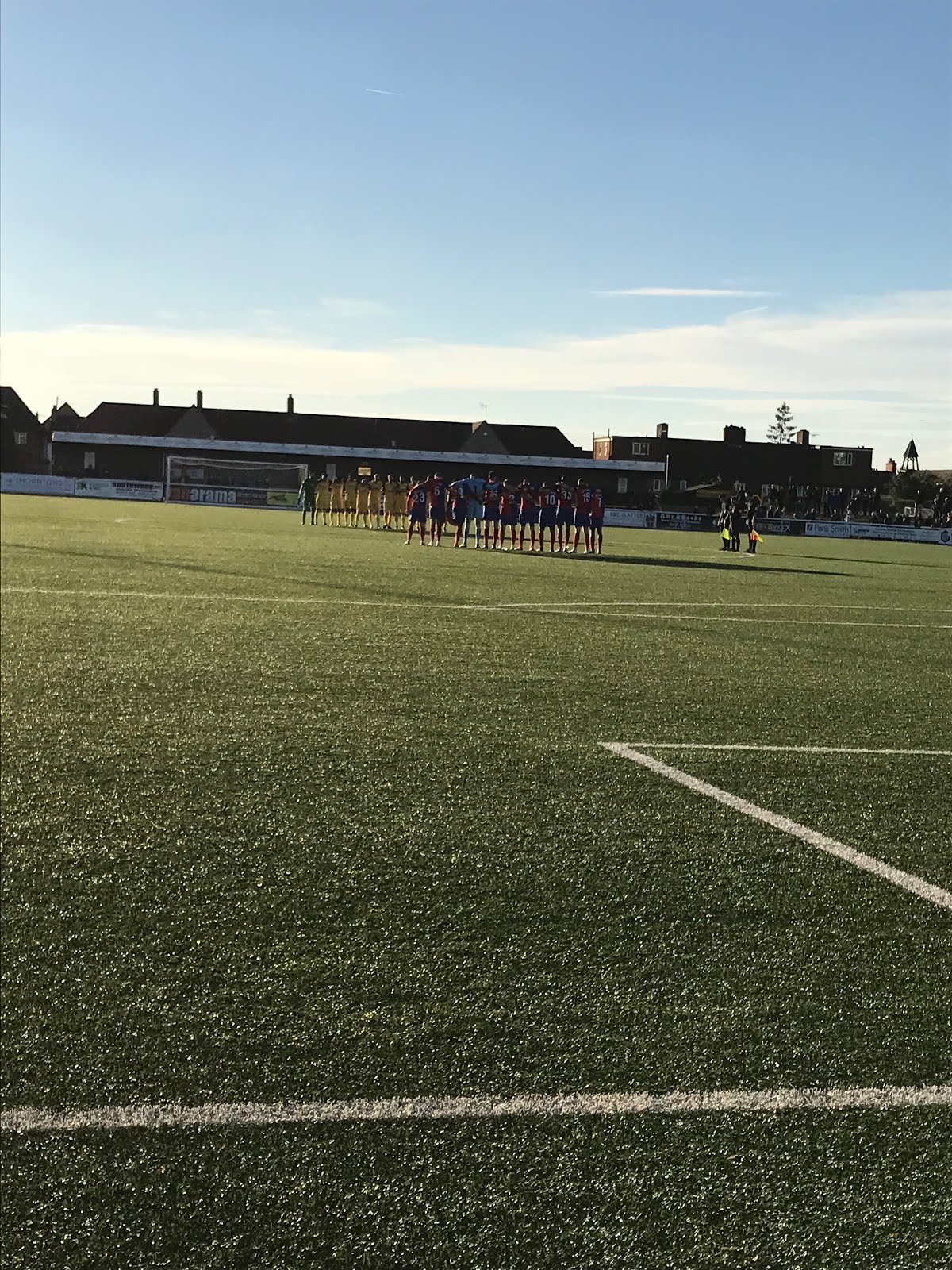 Silence
And it is one of my engagements which upsets someone as I declare that Queen's "Bohemian Rhapsody" is one of the most overrated songs of all time.  Ok it's good but it is not as good as everyone makes it out to be, unlike Guns n Roses' "November Rain" which I would say is a much better tune. As today was unsegregated I decided it might be best to take a position behind the goal and to avoid being spoken to about where I stand – plus it actually is a lovely day and it's one of those days where in the first half you need to shade your eyes from the sun.  As some of the Dagenham fans pass me one says to their friend "you see him [him being me], he's one of the firm here" – did not realise we would be classed as a firm. Idiots yes, but not a firm!
The team line up for today is as follows:-
26. Butler (GK), 2. Bennett, 3. Thomas, 5. Clough, 6. JC [skip], 16. Bailey, 15. Eastie, 11. Cadogan, 7. Tombo, 24. Drinan, 10. Ayunga
The teams lined up for a minute's silence before kick off in respect for Dagenham and Redbridge's President who had sadly passed away during the week and was well observed by all present. As the first half is taking place further evidence of Sutton United's growing global dominance is displayed further, as standing behind me are a group of Dutch fans (whom sound Welsh to me). I do not know what they thought of the game as all the ball seems to do is be in the air constantly and it is not until the 32nd minute where the first shot on goal occurs and it was not even on target. That sort of game I'm afraid! It was at this point that Half Time Steve (HTS) walks by and yes it is that time to head to the bar, wondering if goal missed number five will happen.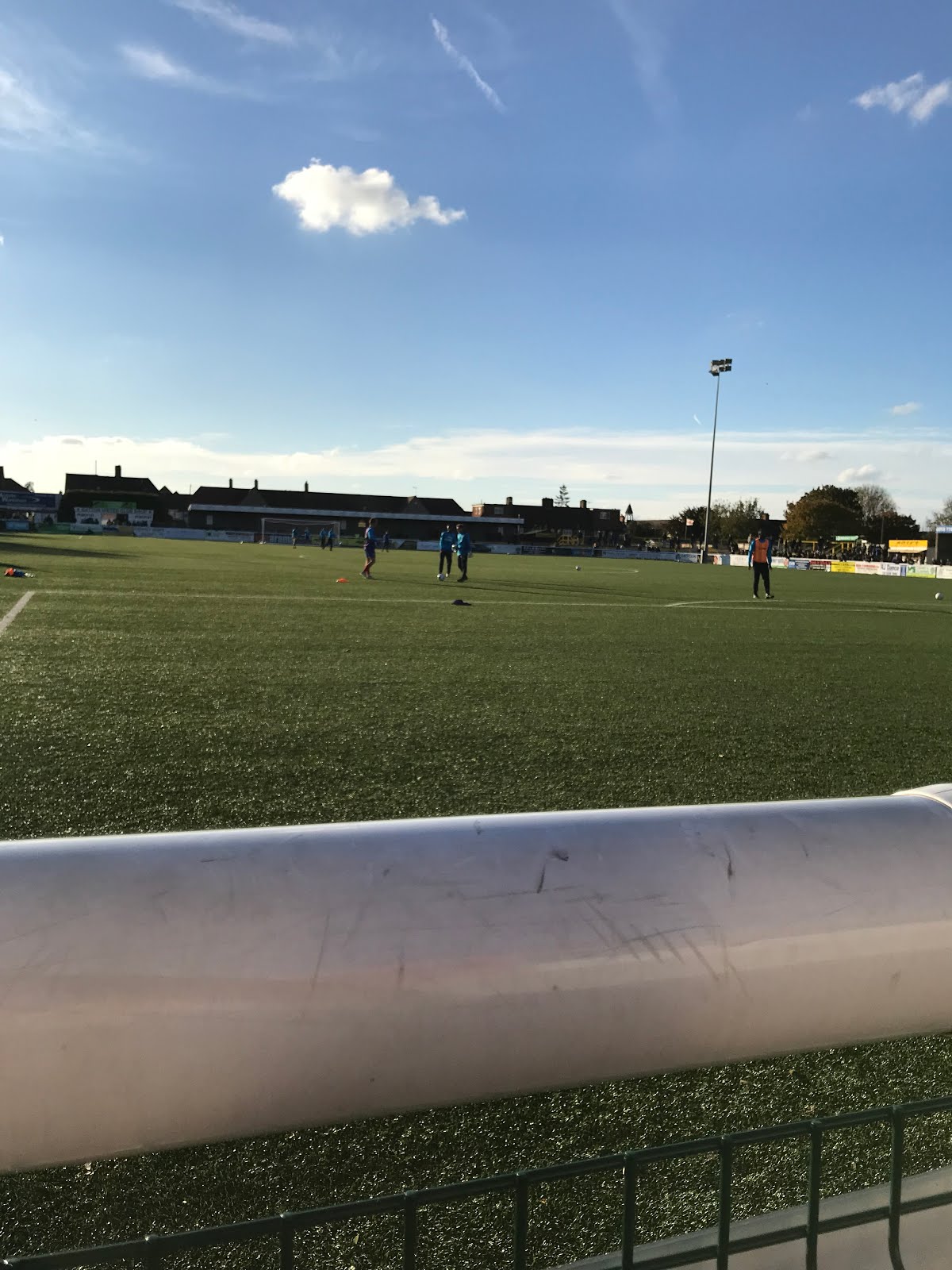 Milling about
Going into the bar I check on the scores and see that Marco Arnautovic has scored for West Ham United. Yes! I only put in into my Fantasy Premier League team late last night. Yes dear fellow readers this is a highlight from today's game….thus far! In addition, it seems we're not the only ones being 'entertained' as there seems to be a huge number of 0-0's all over the divisions, including even Real Madrid. The match was so interesting that I even took a picture of an airplane flying above us – wonder where that is heading to? America? Barbados? Stansted?
From what can only be described as a good talking to by our Dos to the players the second half starts off brighter. A free kick inside the first couple of minutes see a Charlie Clough header tipped over the bar by poor Tesco's sandwich Justham (remember, I do not swear so I cannot repeat the more common usage of that particular joke). Then on 56 minutes the deadlock was finally broken when a 25 yard shot from Nicky Bailey was parried by the Tesco sandwich towards the direction of Cadogan who reacted quickest and slotted into the bottom left for 1-0. As for Sutton this was it, as it soon seemed to be another repeat of the Chesterfield game, with us sitting back and allowing Dagenham to come at us. However, I realised during this spell when looking at the Dagenham number 23 that even I must be taller than him!!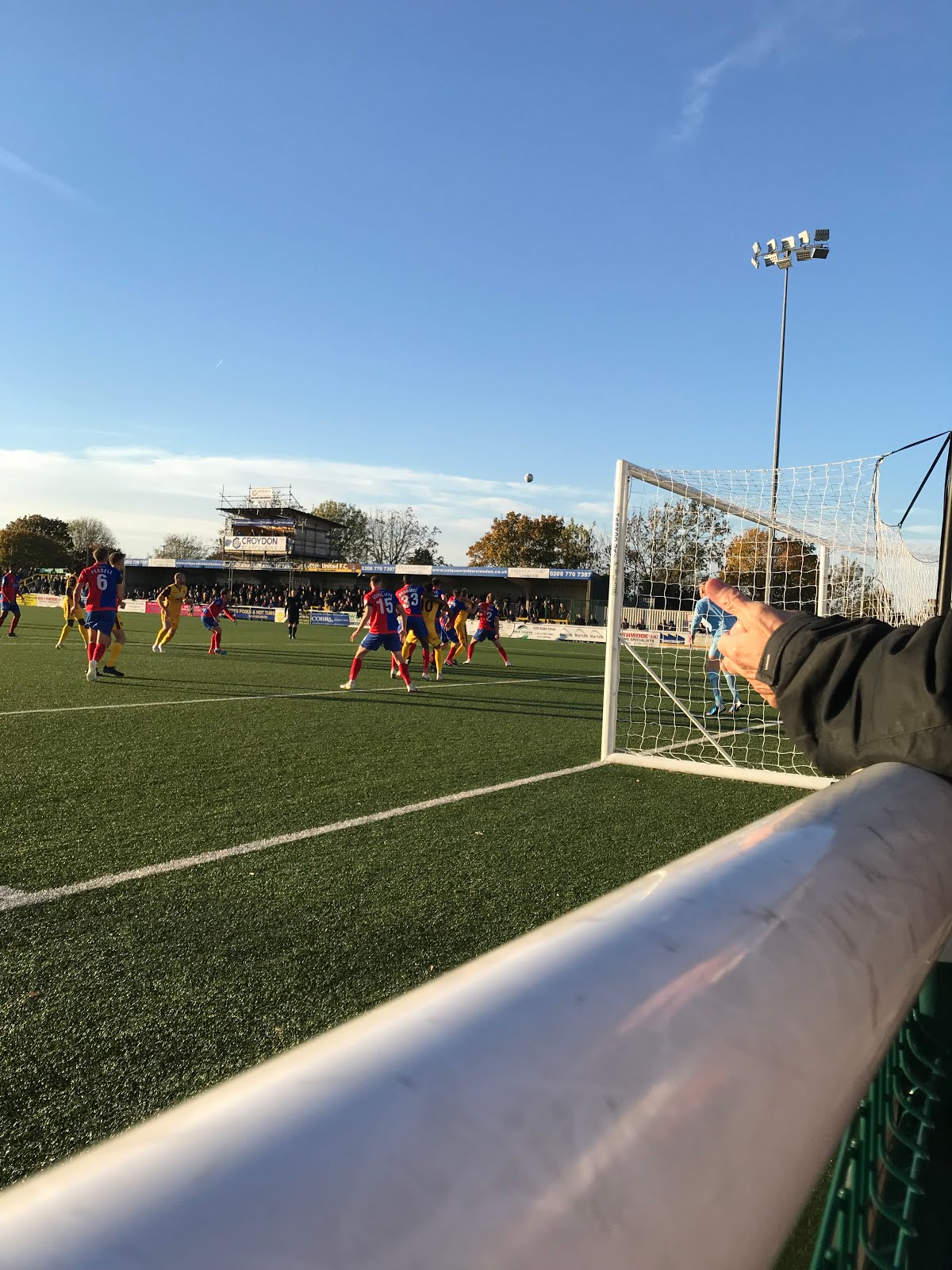 Action….sort of.
Charlie Clough went off with 20 minutes to go with Dean Beckwith coming on due to a head injury. If you have seen the photo circulating on social media then you will see how nasty of an injury that was and brought up the usual "But Halloween was last week" quotes. Dagenham did start creating chances and Jamie Butler was on hand to save us from throwing away another two points. He even has his own fan club now, set up by Ozzie, there's even badges available! Although I hope they've cleared that with Taz first, not sure he'd be too happy about others muscling in on his 'tat' empire!
For what seemed an eternity the game finally petered out and three valuable points where picked up ahead of next week's FA Cup tie against Slough. An attendance of 1909 were on hand, substitutions included Wayne Brown on for Tombo on 74 minutes and Wish on for Ayunga in injury time which sparked a bit of handbags at dawn from the Dagenham players. Surprisingly there was no bookings for Sutton players.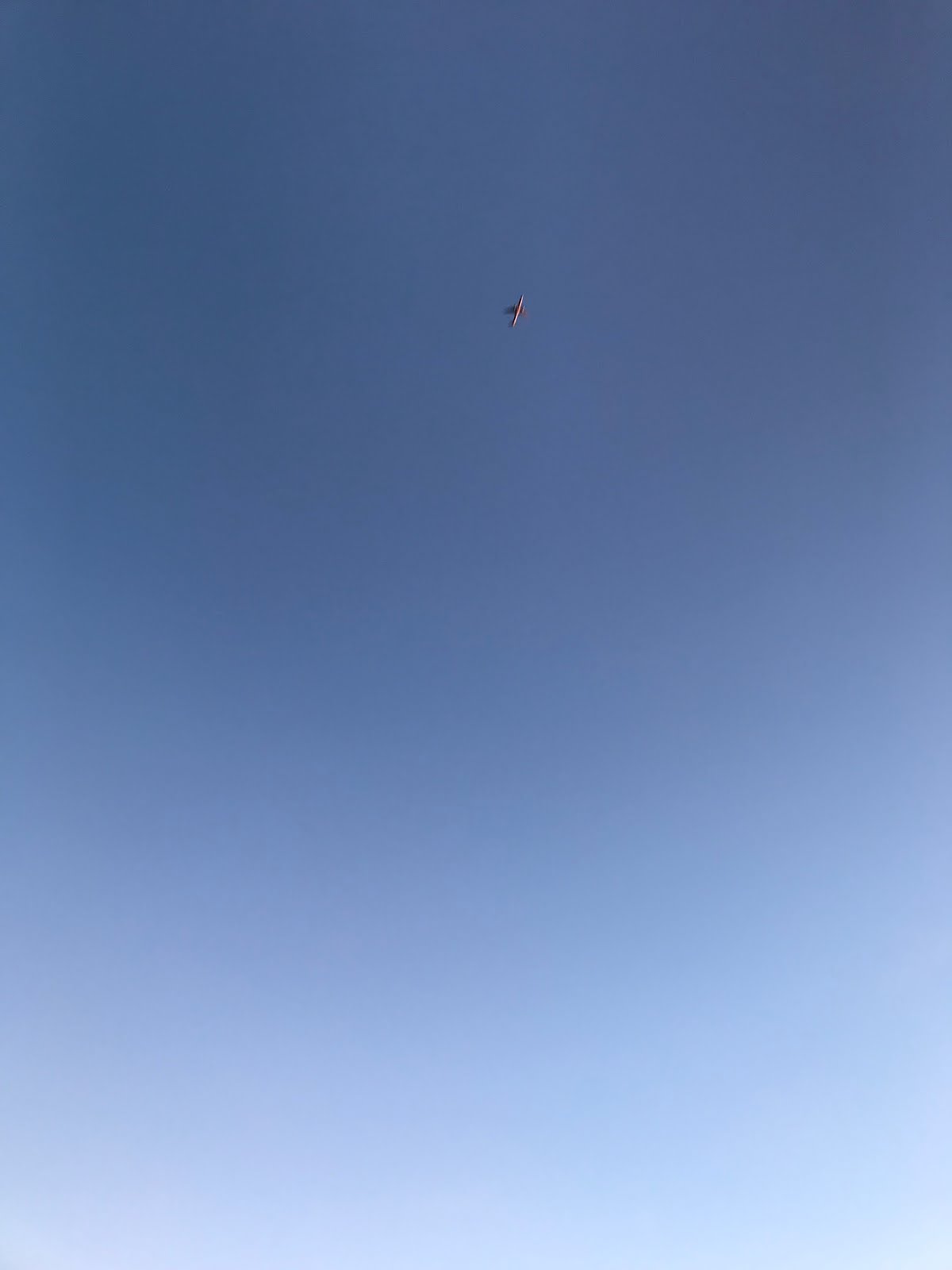 Plane
Back to the bar and post-match it is, in the (very loud) words of AB, time for not one, not two, but THREE Strikers are Key draws…..come onnnnnnnnnnnnn!!! And to keep with the global continental flavour of the club the first draw is done by one of those Dutch (Welsh?) chaps, a Greek national and finall an Irish national. The second draw seeing the safe opened and the contents won, which normally would be cause for celebration. But on this occasion, the person opening the safe is one Mr P. Doswell. Still, he says he's going to be giving his winnings to charity, so that's ok. However some of the rabble I think would rather it went to another more liquid orientated cause.
Taz then demonstrates on a visual scale with his hand how low my musical tastes apparently are, which ends with him sitting on the floor and stating "You're lucky we don't have a basement". Like I say fella I bring the different element to proceedings, and if we all liked the same things the world would be boring. I was also outed on Twitter for saying the 'Saturdays' version of "Just Can't Get Enough" is better than Depeche Mode's. (It bloody well isn't! – The rest of the World). Hey it has a bit more excitement to it, if you know what I mean haha!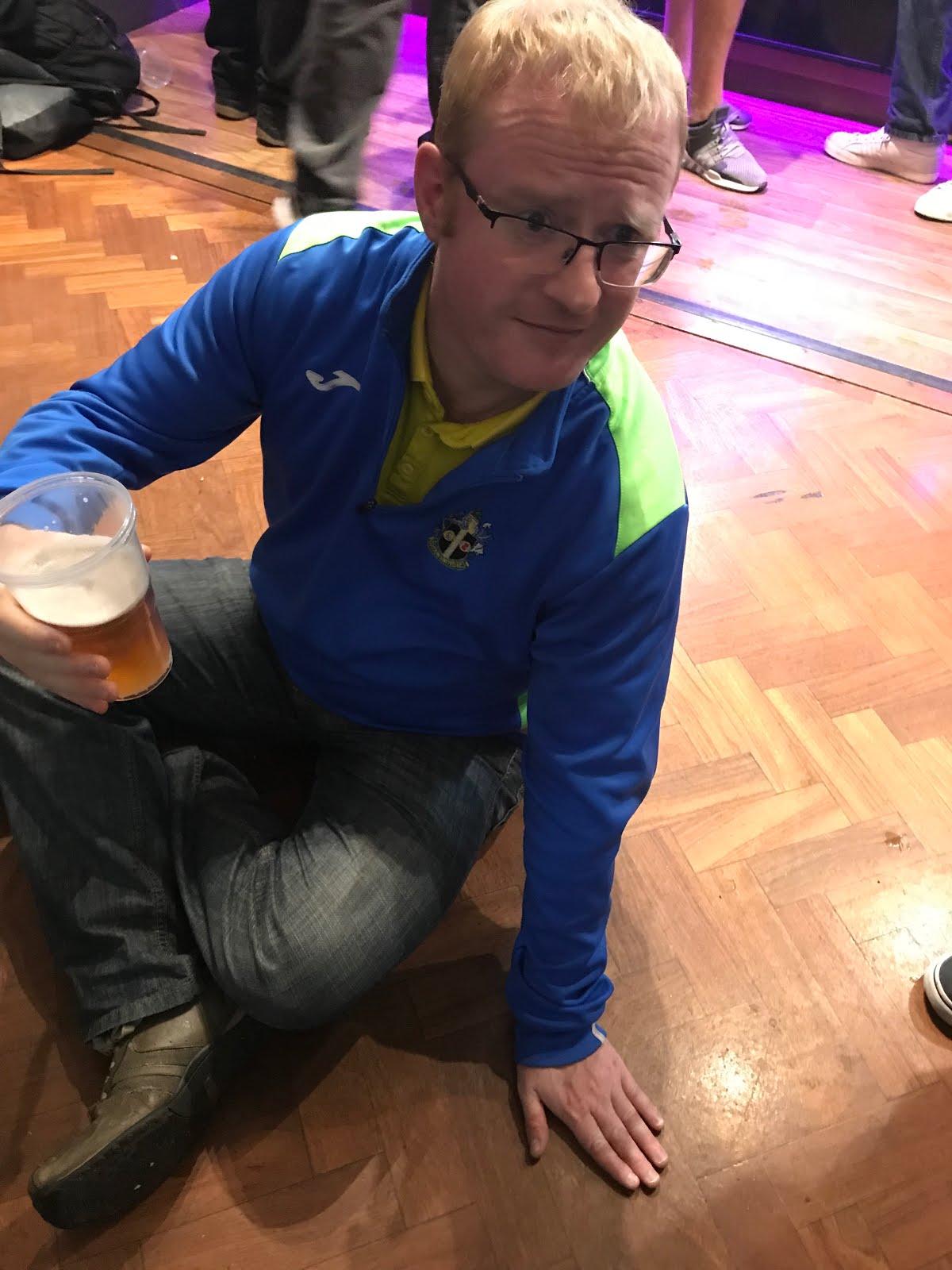 "That's your music taste that is…"
To sign off, we now look forward to the first round proper of the FA Cup against David Brent's Slough Town and as November approaches we see the influx of Christmas adverts on telly. Why oh why so early? My complaints about such matters end with the following picture being sent via the WhatsApp group chat which I am sure is what may be the first picture we've ever published of Mr X.
Hopefully the next blog you read will be about us reaching the second round of the FA Cup.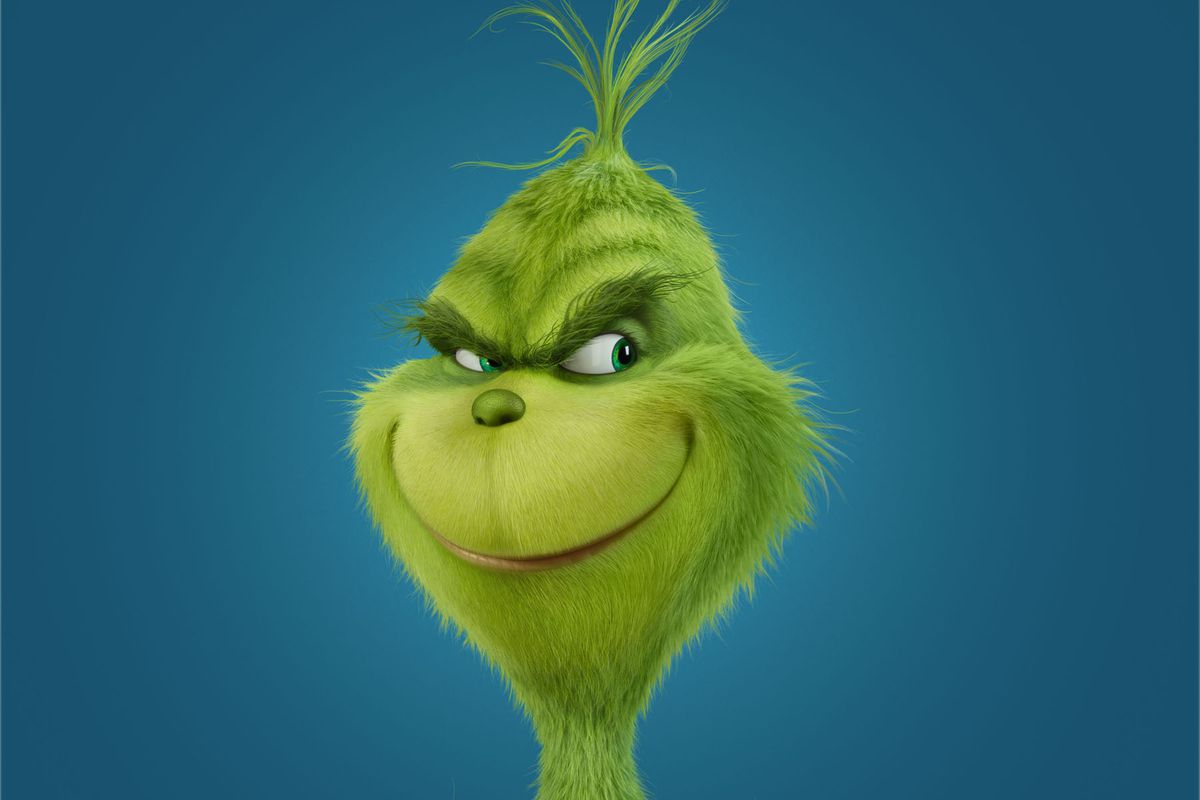 Mr X?
Wise men say…
Robbo