Aah, Chesterfield, the latest in the parade of Football League stalwarts who sink to a shocker of a season in the fourth tier and suddenly find themselves plunged bollock-naked into the choppy and icy waters of the wacky world we like to call the "National League".
I'm not a smug man as you know but even I couldn't help having a knowing little chortle to myself when we saw the usual close season comments about how this club was too big for non-league, how it would be one season on the fifth-tier trampoline before bouncing back, refreshed and renewed, to their rightful place amongst the big boys in the Carabou Cup. You won't be the first to tread that well-worn path of entitlement my old darlings and you sure as fuck won't be the last. Embrace our world of part-timers and Fred G'ers and the new horizons it opens up for you with the same good grace as some others have in the past, like, I don't know, Tranmere?, and enjoy your stay before you either scrape your way out on the bones of yer arse through the play offs or really fuck it up and crash through the trap door into the regional divisions. Whichever way, keep a smile on your face and a pint in your hand and you'll be grand.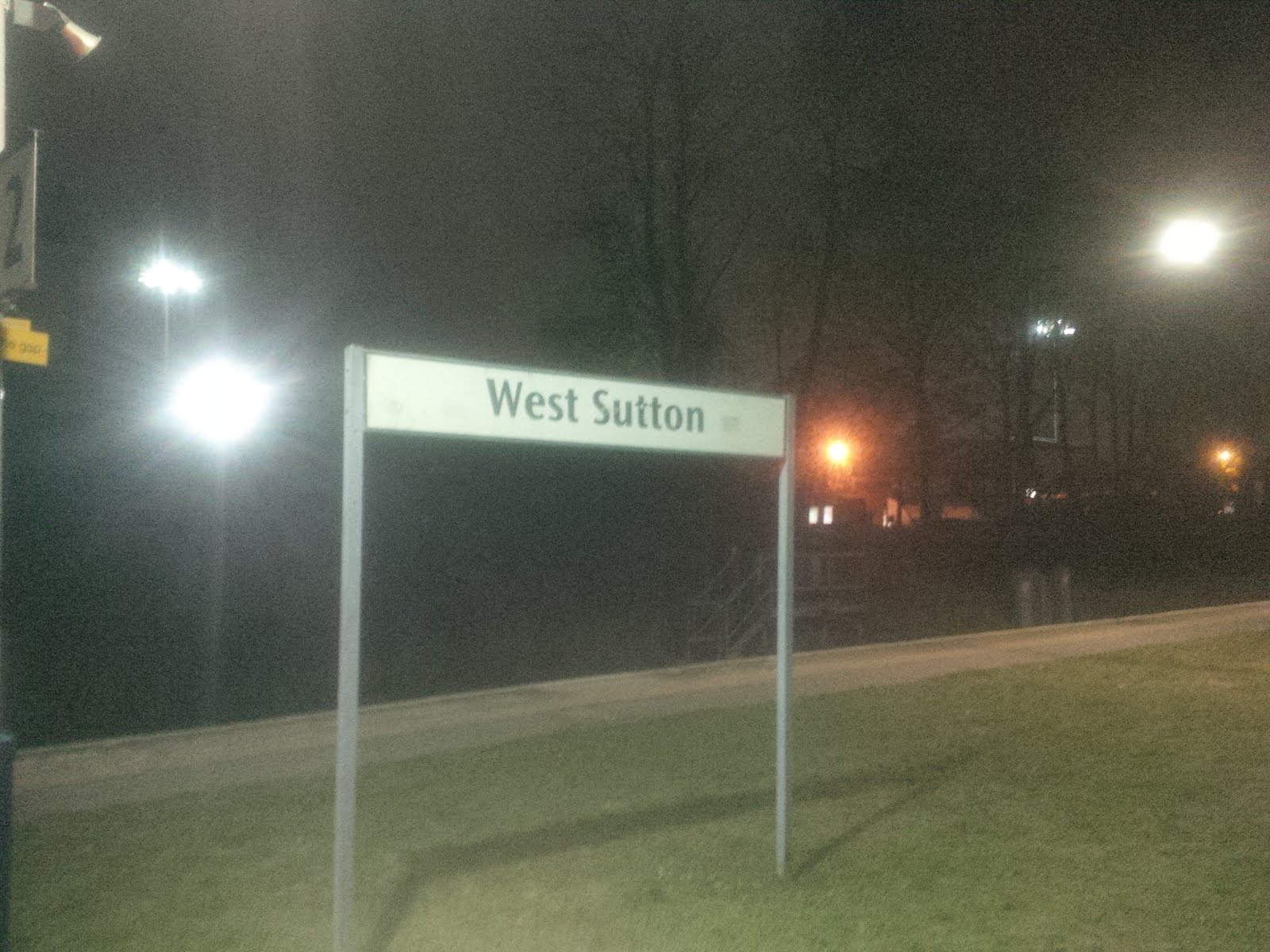 Guess where this was taken?!
Anyway, 'Dave' The Editor had been on at me to volunteer to toss off one of these match-day epistles for a while now as I'd been basking in the reflected glory of the Mitcham Stadium Mystery blog for far too long with its SIX THOUSAND FUCKING HITS and popular acclaim all the way from BBC London to the Leyton Orient fanzine, and, bizarrely, the Wealdstone programme. You want filler? Just bring us the trowel and we will slap it all over, no problem chief.
But what do I know of Chesterfield? Not enough it seems; the bent spire, former MP Tony Benn and a fairly ropey start to life amongst the movers and shakers in the league from hell under the stewardship of journeyman gaffer "Mad Dog" Martin Allen. When in need of information and intelligence I do what I normally do, issue an appeal to you, the readers, and you never let me down. It all comes tumbling out like a pair of loosened thrupennies. Philthy Animal from Motorhead and nineties lad mag lingerie model Jo Guest were both born there, it has a huge outdoor market along with loads of history dating back to the Romans and, of course, that bent spire which has given the football team, the Spireites, it's nickname! Makes our local claim to fame, Harry Secombe, look a bit shabby to be honest, unless you are massive fan of old episodes of Songs of Praise, in which case knock yerself out. Mind you I was pissed off to find out that the Chesterfield fag brand is some sort of American confection, once promoted by Ronnie "Raygun" Reagan himself before he downgraded from acting to politician, and has absolutely nothing to do with the town itself. That disappointment was mitigated when I also discovered that lorry loads of snide Chesterfields are smuggled in from Eastern Europe on a daily basis and are exactly the kind of dirt cheap horse-shit and sawdust snouts beloved of the Duke of Sutton and his entourage.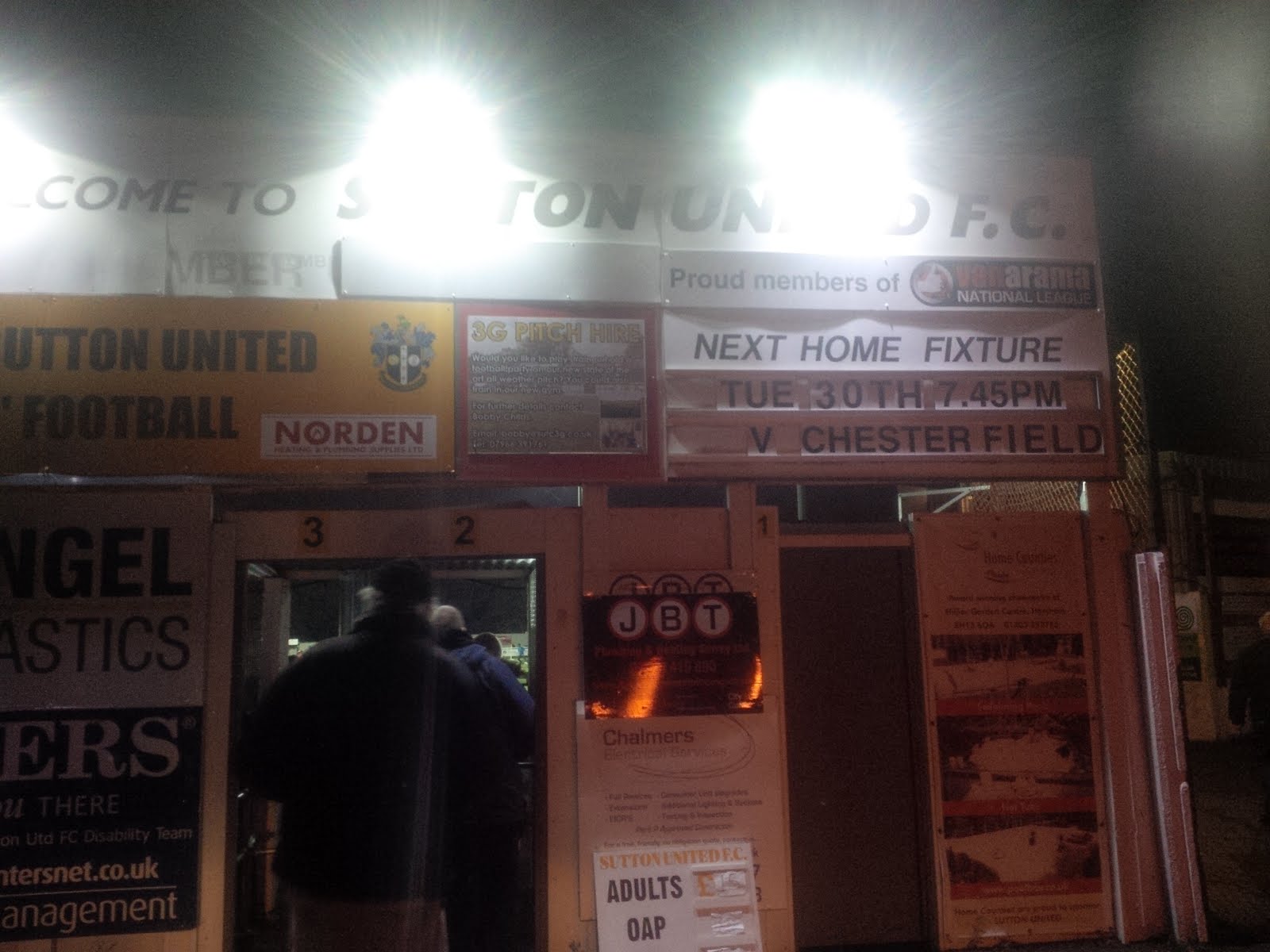 Spoooooky!
The real technical problem with doing up a Tuesday night homer is that there is no real warm up, no fucked up train connections, no seven am carrier bag of cans and no new scenery to get all expansive and artistic about. It's a bastard of a thing and just means that you have to get deep down and creative and, if in doubt, just make a load of stuff up. So here we go.
Wheeling in to West Sutton on the rattler I jump in the van and head up to the gym for a quick pre-match work out and after buffing up the pecs, a sixty second spray tan and a wax of the back, sack and crack I nip back home for a discussion with Mrs Totts about the macro-economic impact on West Sutton of Hammond's budget while wolfing down the sumptuous five course gourmet meal she's lovingly spent all day preparing for me.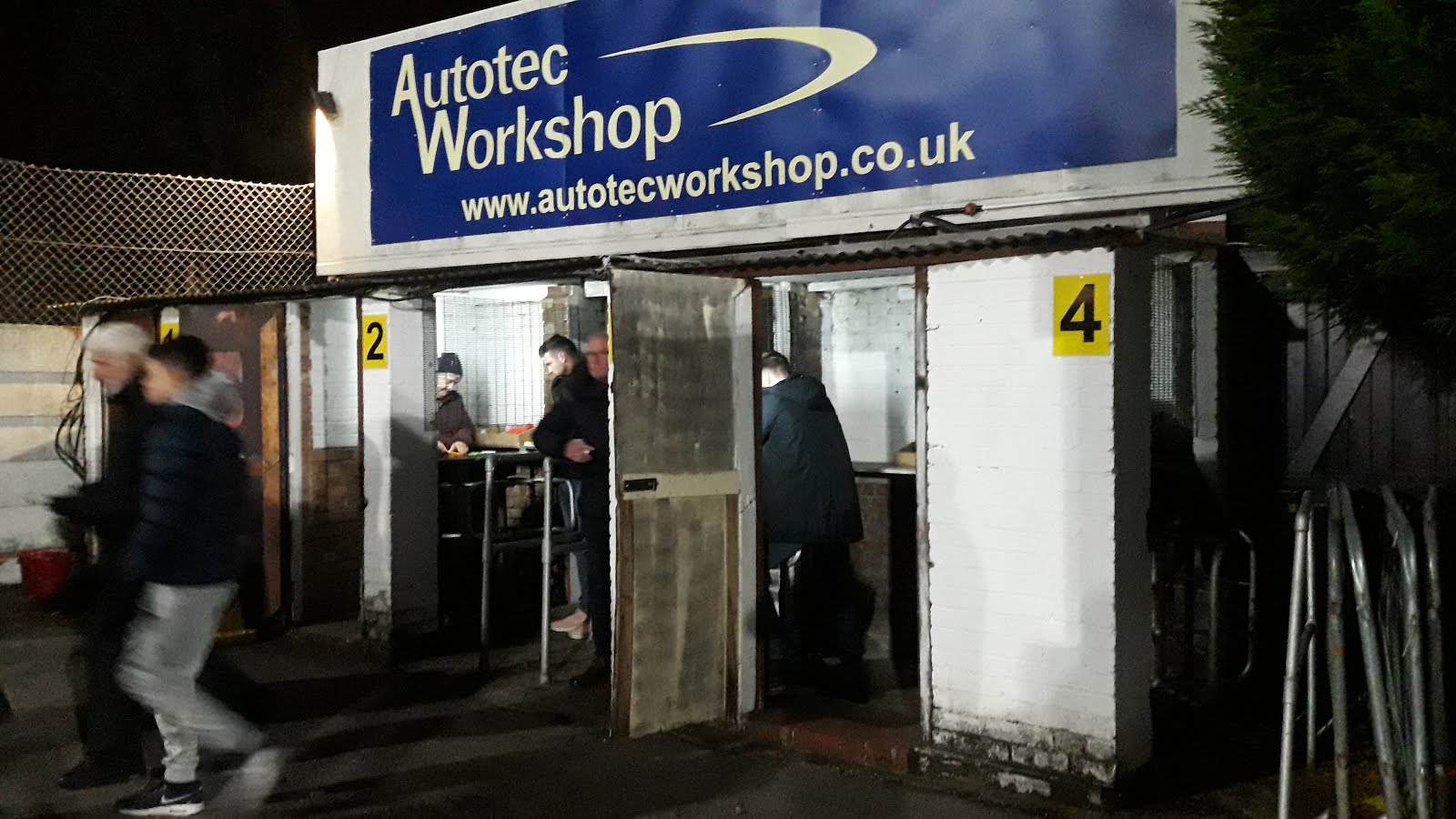 A veritable torrent of humanity
Bowling out of the door and onto the Lane of Lust I remember that the Spireites manager has a penchant for a local pre-match dip so I take a quick detour through Kimpton Park to check whether "Mad Dog", laughing in the face of almost certain Weils Disease, is ragged off and having a bob up in amongst the Tesco trolleys and god knows what else in Pyle Brook. Nope, apparently not. There's a decent buzz around the gaff when I finally arrive, we all love a night game as it starts to get decidedly nippy, and I dive into the lounge for a livener. I'm chuffed to find our own Modfather, former turnstile operator and Desert Boot oficianado Marky N is making a too rare visit to GLL but I soon get bored with him banging on about some fey, floppy fringed, jangly, indie band called 'the Chesterfields' he used to follow back when he actually had hair and used to spend his days staring at his shoes. I'm desperate for copy mate, but not that fucking desperate.
Southampton Steve collars me and asks if I'd like to enter the quiz on Friday evening. No idea who "The Quiz" is and frankly I'm not interested in that sort of malarkey and anyway SCR are at home in the FA Vase and I will be down for a few scoops and to give Darren's lads a bit of support. You might want to give it a bash yourself as it goes. Ordering a pint I peer through the hatch and see that the COC's are in the VP's avoiding the hoi polloi and availing themselves of the real glasses, formica tables and cheesy nibbles that their elevated status affords them. They can't even be arsed to come round and sway hello. I make a mental note to put that on the agenda for Saturday. I don't mind a bit of attitude but I won't tolerate blatant rudeness.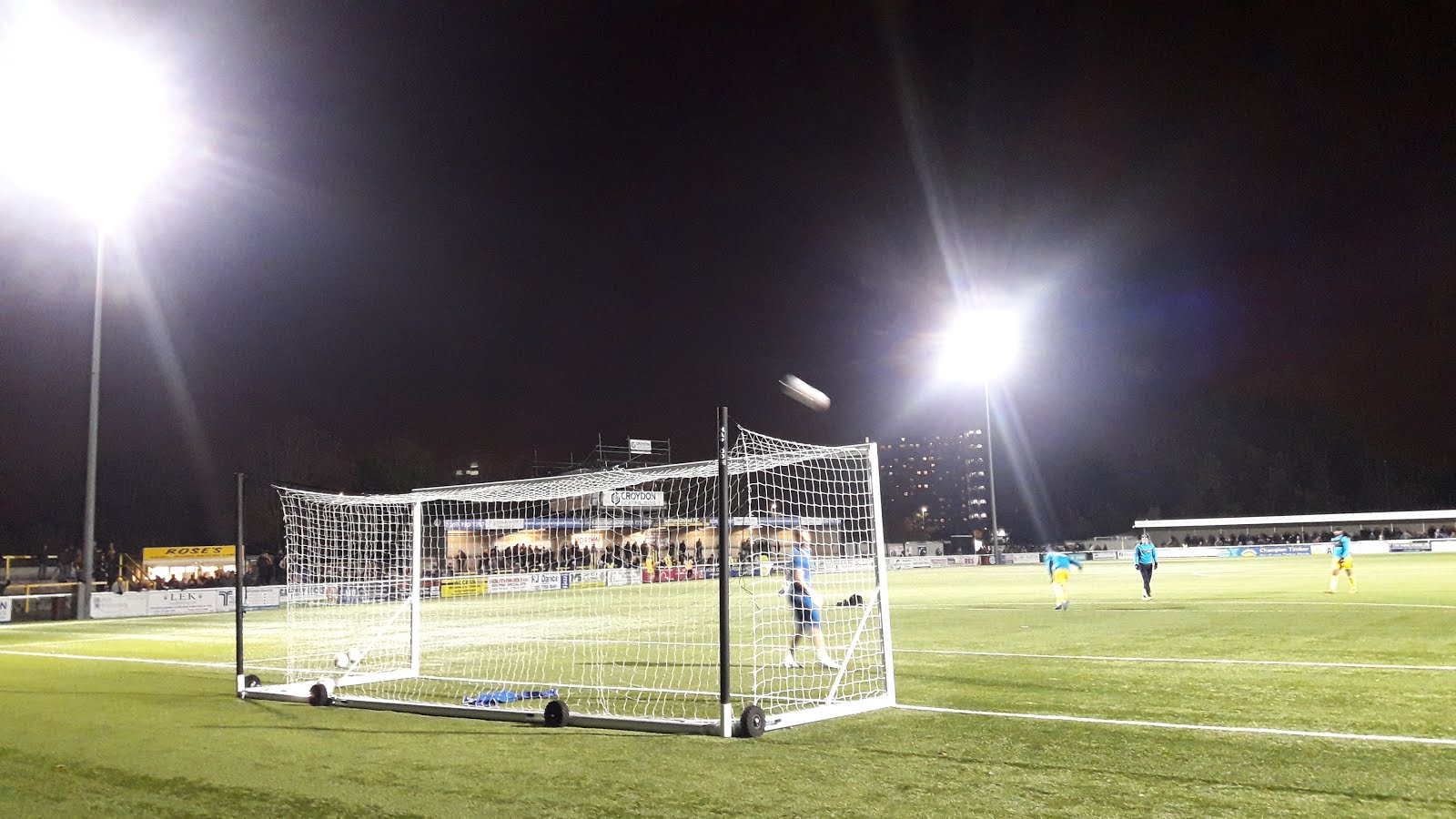 Back under lights!
The witching hour approaches and it's good to see a healthy queue at the turnstiles. Been a month since a home league game and it's good to be back at HQ for the next couple of weeks. Torchy is selling his badges and One Eyed Jason is keeping him under observation with his one good mincer and all seems well with the world in the workers' paradise we have carved out against all the odds down here in West Sutton. I'm puffed up with pride as I arrive on a well-packed Shoebox as the strains of our own anthem cut through the cold night air. Even Bob Budd is having a bit of a pogo about, good lad. After a shocking recent attendance record nearly all the DILF's are present, we must be on a good run, and with a full pack of Bacon's, and Ipswich Lee recently being promoted to the top step of the Shoebox , we are looking good on the most famous terrace in world football. Now then, I've won the complicated playing card racket on the first scorer known as "DILF Bingo" twice on the bounce and I'm looking forward to ramming home the hat trick tonight. Shocker, Ces hasn't bought the fucking playing cards! This is blatant match fixing on an epic scale and serves to confirm Frakey's theory that the whole enterprise is bent from top to bottom and run by low rent fraudsters. Disgusting. I'm a shareholder at this club and I intend to raise this with the board.
Butler, Bennett, Thomas, Clough, Collins, Bolarinwa, Davis, Ayunga, Cadogan, Eastmond, Drinan SUBS: Beckwith, Bailey, Brown, Beautyman, Wishart
The lads are out and there's a respectful minutes silence for the terrible tragedy at Leicester City at the weekend and then we are off and running. But who's that diminuitive, puffed up figure in black with the whistle at his lips? Ahh, fuck it, it's Rock. In the Carnival of Clowns that is National League officialdom Rocky has a very special place right at the pinnacle. Will he disappoint tonight? Of course he won't. We get going on the front foot and are pinging around some decent passing and the movement looks good and sharp to me whereas Chesterfield are all about Route One and whacking it up to a familiar, lanky figure up top. We know Denton of old. He's a big man and looks like he might be quite handy on the pavement but unfortunately he carries himself with all the petulant grace of a teenage boy whose mum has just confiscated his Lonsdale wank sock.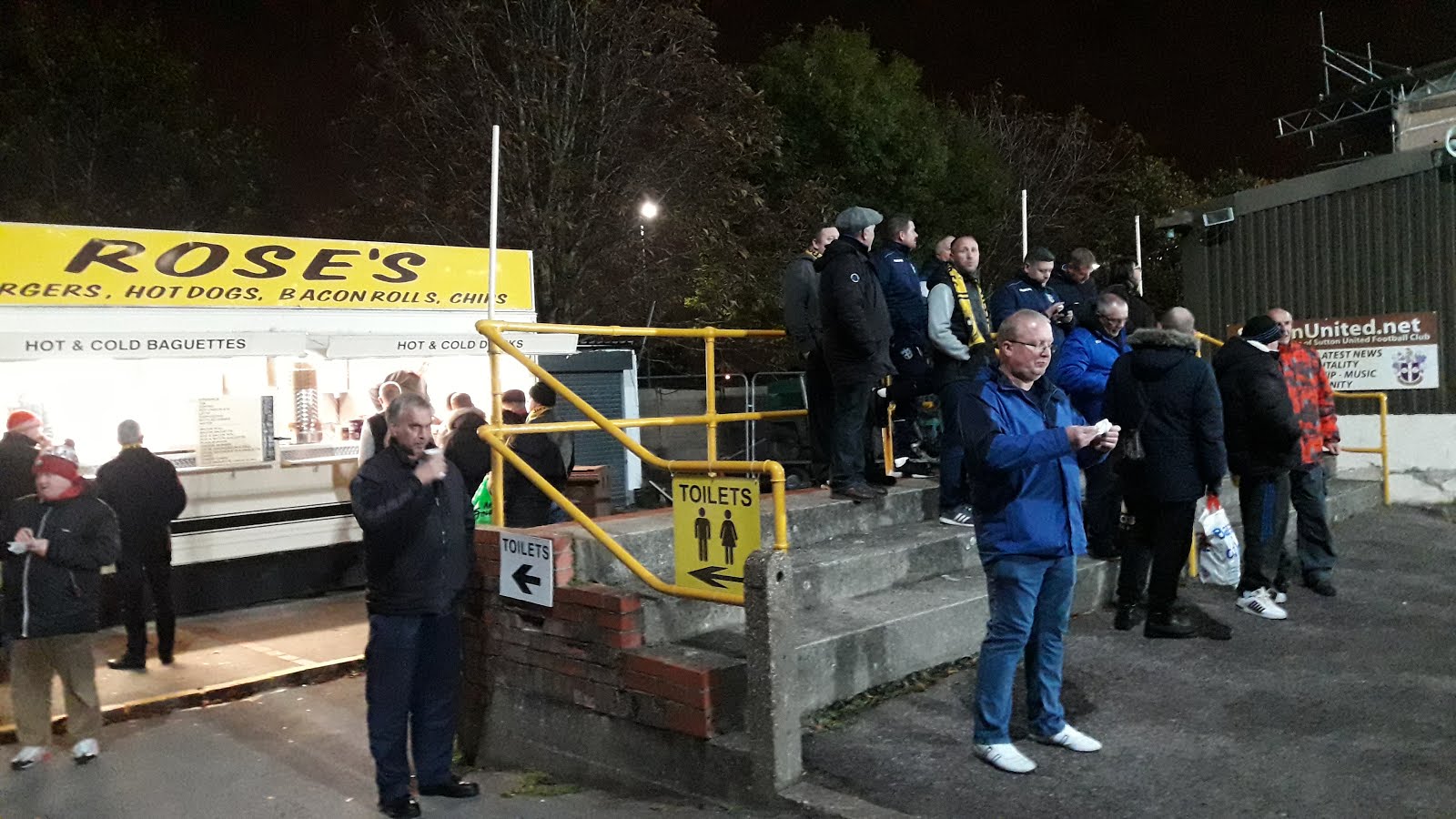 The essence of Non-League
Sutton's goal is a corker. We've seen some fine young talented players at GGL in recent years but I'm starting to think that Jonah Ayunga may prove to be the best of the lot. You could argue that the keeper may have done better with his shot but he's deserved that goal and with his pace, strength and movement he's right in the groove now and is a nightmare for defenders. I hope he's with us for a good old while and you just know he's only going to get better. Rock is flapping around with his cards and his nonsense and one perfectly legit Kenny Davis challenge sparks a chorus from the decent away support of "you dirty southern bastards". I glance across to Barry who is positively beaming that his whole life's work is now being recognised as far away as Derbyshire. It's a fitting tribute to the fella after all he's done over the years to break down the barriers of discrimination erected in front of the dogging community.
Half time. Greek has given me some lah dee's that "came out of a house clearance." It's soon pretty clear what killed the inhabitants but I'm not an ungrateful sort of bloke and I puff on regardless as a large space clears around me. Second 45 and Denton is off. Fish The Cabbie later tells me that before the break Martin Allen had mouthed to one of his assistants "we're fucking shit". He's obviously laid that same message onto his players, along with the threat of midnight skinny-dipping in the Wandle, and with a bit more pace injected they come out with a lot more purpose. However, it's Sutton who go closest to scoring with Doug curling in an absolute belter which comes back off the bar and Jonah can't quite make it to the rebound. There's all sorts of bollocks going on with the ref now with Harry Maguire's lesser talented brother working overtime to get our lads booked by the easily-led Rock who's sitting in judgement like the guvnor of a kangaroo court in a disused warehouse. It's the roughest of one-sided rough justice and he fucking loves it.
Watching on
The Chesterfield one trick pony who just happens to be very fucking good at throwing a football a very fucking long way is also coming more into the game and is hurling various low-trajectory missiles deep into our box from various angles and ludicrous distances but we are defending well and look well on course to seeing the game out and securing the three points we rightly deserve on the balance of play…
Except that would be too simple and just as I'm starting to look forward to a nice mug of hot chocolate with a slug of brandy in it we start making some subs that change the shape of the game. As we prepare to bring on Becks, and go to five at the back for no apparent reason, one young fella on the Shoebox , wise beyond his years, turns round and says "we all know what happens now don't we?" We certainly do mate, we are inviting pressure on and with no out ball it keeps coming back. The Chesterfield goal doesn't come from one of the barrage of long balls or throws it comes from us sitting deep, allowing their lad all the space and time in the world to line up a shot from outside the box that beats Jamie on his near post. Chesterfield celebrate like they've won the league which is a measure of how far we have come as a club in itself but it doesn't stop us being hacked off that we sent them a gilt edged invitation to level it up.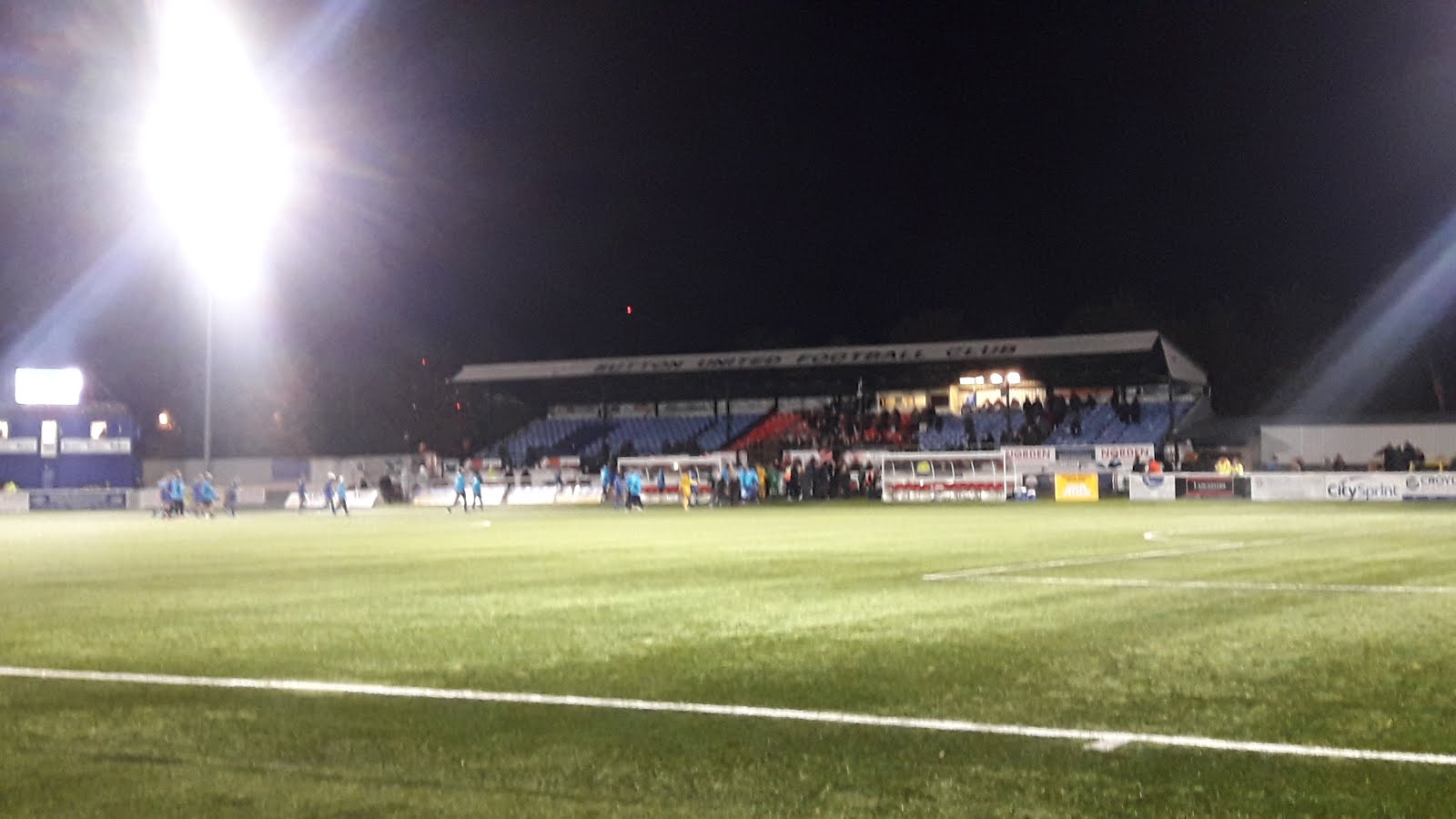 Done and dusted
The last few minutes are frantic with us resorting to sticking one of our three centre backs, Cloughie, up front to try and chase a winner after removing the best striker on the pitch. It comes to nowt and we have to settle for a point. Disappointing to say the least. Yes we are still in a great position and the club is moving forwards in fine shape but a couple of points dropped is a couple of points dropped. But of course we put all that aside now and move on to the next big game on Saturday and the welcome return of the North Korean Daggers and their mad collection of flags. Bring it on.
See you on the Shoebox
Totts