Oh great, it's another Gandermonium Firm away trip 'Oop North'. And it's a return to the North-East for this episode. Needless to say, the financial expenses that come with supporting a national non-league team are never ending these days. But would we like to revert the clock back a few years where the highlight would be an occasional over-nighter on the South Coast? Well sometimes maybe, but then again…
A problem that has arisen this particular season has been some of our other 'extra-curricular activities', namely our little European excursion. Not that we're moaning, well except that we're not getting any more of it! But after trips to Airdrie & Bohemians, it's not only the bank manager that's on my case, but others as well.
Thanks to the Cup made from Girders meant not knowing exactly where we were going to be this weekend. This in turn meant that no advanced train tickets to Newcastle could be snapped up, dirt cheap, months ago. But as soon as the little republican terrors had invaded the pitch at Daily Mail Dalymount, plans were put into the action like a well oiled machine. Not. Needless to say, we came home from the Irish Free State with no plans whatsoever. Guess it was the wrong sort of oiling that got done on that wet Saturday night?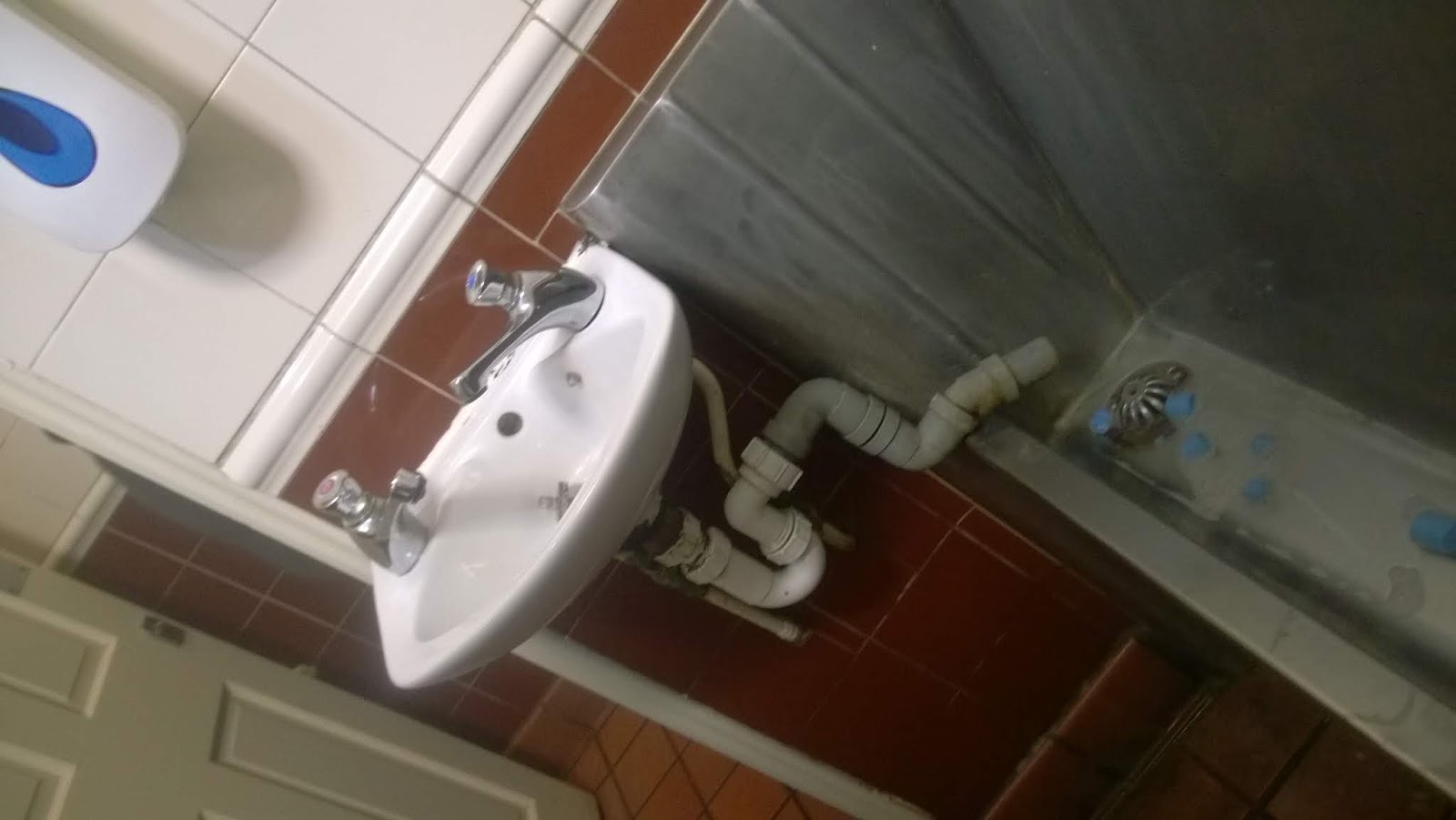 One way to drain a sink I spose…
With less than four weeks to sort out Gateshead, the prices for train tickets had now reached another eye stinging level. £91 return no less. Some of the more immature mature members of The Firm immediately gave up all interest in the trip. But there were still a few idiots amongst us. And yes, I was most definitely one of those fuckin' idiots, but you'd probably already guessed that seeing as I'm writing this shit. We can also add another £54 for a room onto the total cost as well..
It would turn out that only four of us were going to go up for it. On the train that is. There was me & Mr X, still doggedly carrying on our record of not missing a match since we returned back to the big time. The Infirm Leader was always wanting to return to Newcastle and Magnum P.I, had also declared his keen interest. A special mention to also Ozzie, who was doing two nights on the sauce and 4 Days. This man was not only dong Gateshead, but this was wedged in between a trip to Cardiff, with a flight up to Newcastle and then off to Albania. He's clearly sane that boy, clearly sane.
There was also some news to report coming through this week. And I not just talking about the draw for the Second Round of the FA Cup, because on our current playing performances it seemed like a long shot. The real news was that the ever young 37 year old Craig Dundas was returning to the Republic. Technically he'd never left, as he was still working at GGL during the week as our fitness coach, but he was asked to play for us once again as our striking crisis seemed to be a far shout away from ending. Rumours that Paul McKinnon & Lenny Dennis were returning were unfortunately not true.
Far too early…
Naturally, as it's fuckin' miles away, it's another extremely early rise on Saturday morning as the alarm goes off at quarter to five once again. With a kick-off at Kings Cross from around seven o'clock, the plan is limited to only a couple of possible routes. For Me & The Infirm Leader, it's a lift from his better half and we're at a deserted Carshalton train station waiting for the first choo-choo out. It's ten to Six and we're heading North. Playing the old 'are they going out or coming home?' game to pass the time it's not long before we arrive at St Pancras.
Passing some fella completely comatose on the platform (definitely a 'going home' I reckon), it's off across the road to King's Cross. Clocking Magnum P.I., his first remark on meeting him is "Is the bloke still passed out on the platform?", we also see Mr X finishing off what resembled a bacon sandwich. Turning down his generous offer of a sachet of brown sauce, he asks "Why do we bother?". Well, there might be one or to reason found right Here mate. but getting up at some gawd forsaken hour of the weekend for a 500 miles round-trip is probably not on there. Yet. (It probably is, fucking everything else is! – Ed).
The train leaves on time and after the customary removal of those that thought our seats were theirs, we settle down for a journey made longer because of the never ending pain in the arse that are engineering works. The conversations were quite civilised for us, or as The Infirm Leader would call it 'suicidal'. Don't know what he was moaning about really. But when you've heavyweight moments like "Did you Know the river Trent flows into the river Humber?", "Is that London Sheffield/Doncaster airport over there?" & "Is the Isle of Wight a county in it's own right?" you know you're having an epic time of it! I'm also ribbed about how it takes four extra minutes for my great Windows Phone to receive the same group message. Bloody bastards!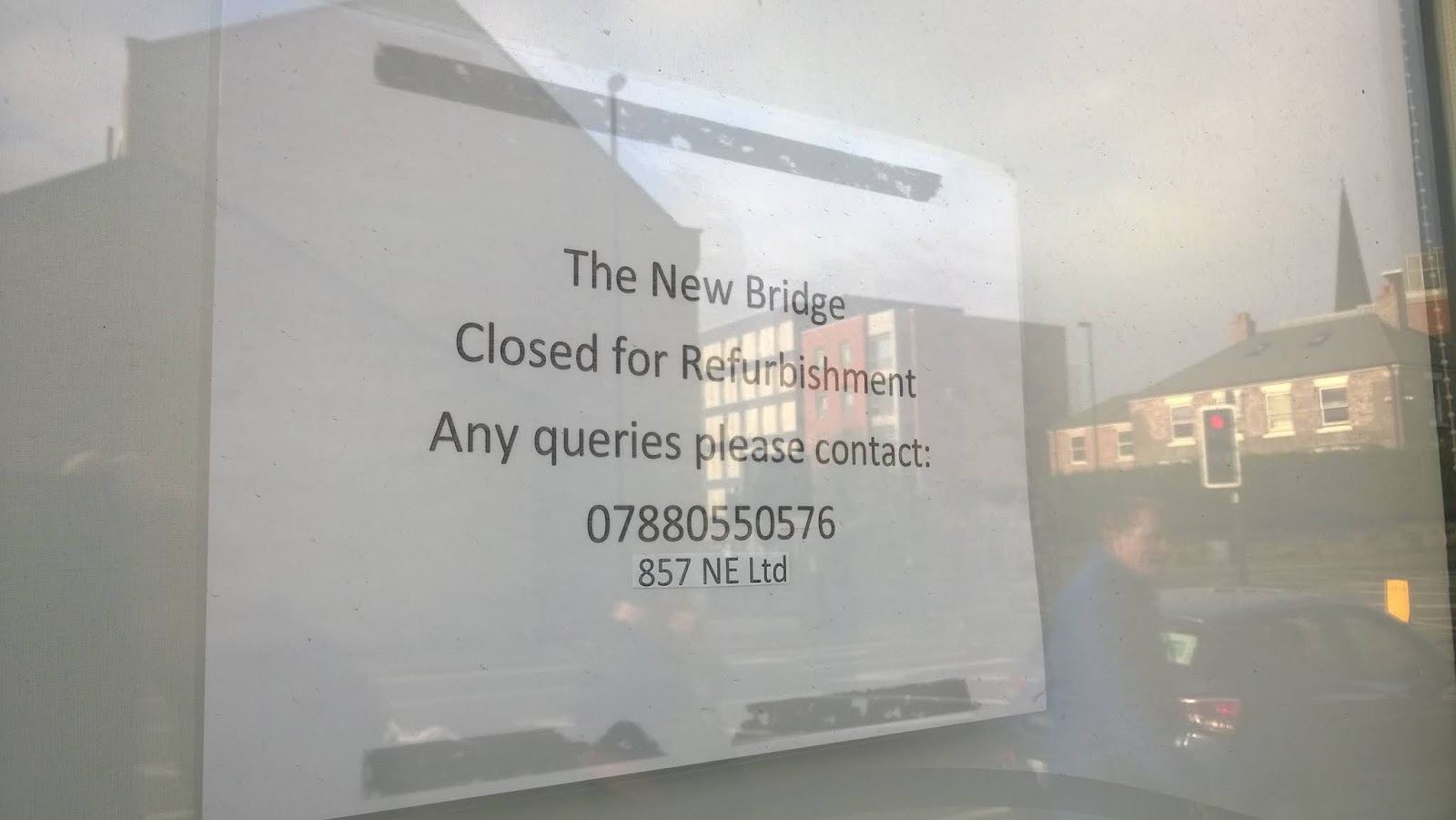 Denied. Verboten.Shut. Closed!
Eventually after an hour longer than it normally takes, the train arrives into Newcastle. And it's ten to eleven. One day someone will explain why we have to do this, but not today. Locating our hotel to drop our bags off, The Infirm Leader takes control of the group and selects the first pub of the day. And what does he want? Remember that time when Sean Connery's Stuntman went missing? Yep, it's back to "The New Bridge" which acted as our crisis centre for most of that night. It's a bit of a slog over that way, but we eventually come across it. One problem though….
…It's fuckin' closed! Refurbishment! Forty minutes into Newcastle and we haven't even had a bloody beer yet! So we move further on in search of a pub. Over the bridge and down the wobbly stairs, especially wobbly when someone is jumping up & down on them as we descend and we come across Newcastle's answer to Croydon Box Park. "The Shack". It's also fuckin' Box Park prices because it's £5 a pint! With 4 Days flying into Newcastle Airport, he eventually joins us here just as we're about to head off.
Next, we stop off at "Lady Grey's" to remind us of our last pub on the first trip to Newcastle. Ozzie has finally arrived and begun to regale us about last night's events. Pints drunk, and next we come across "The Market Lane" and some other Sutton fans. Take a bow the COCs because they were also making the trip North for the match.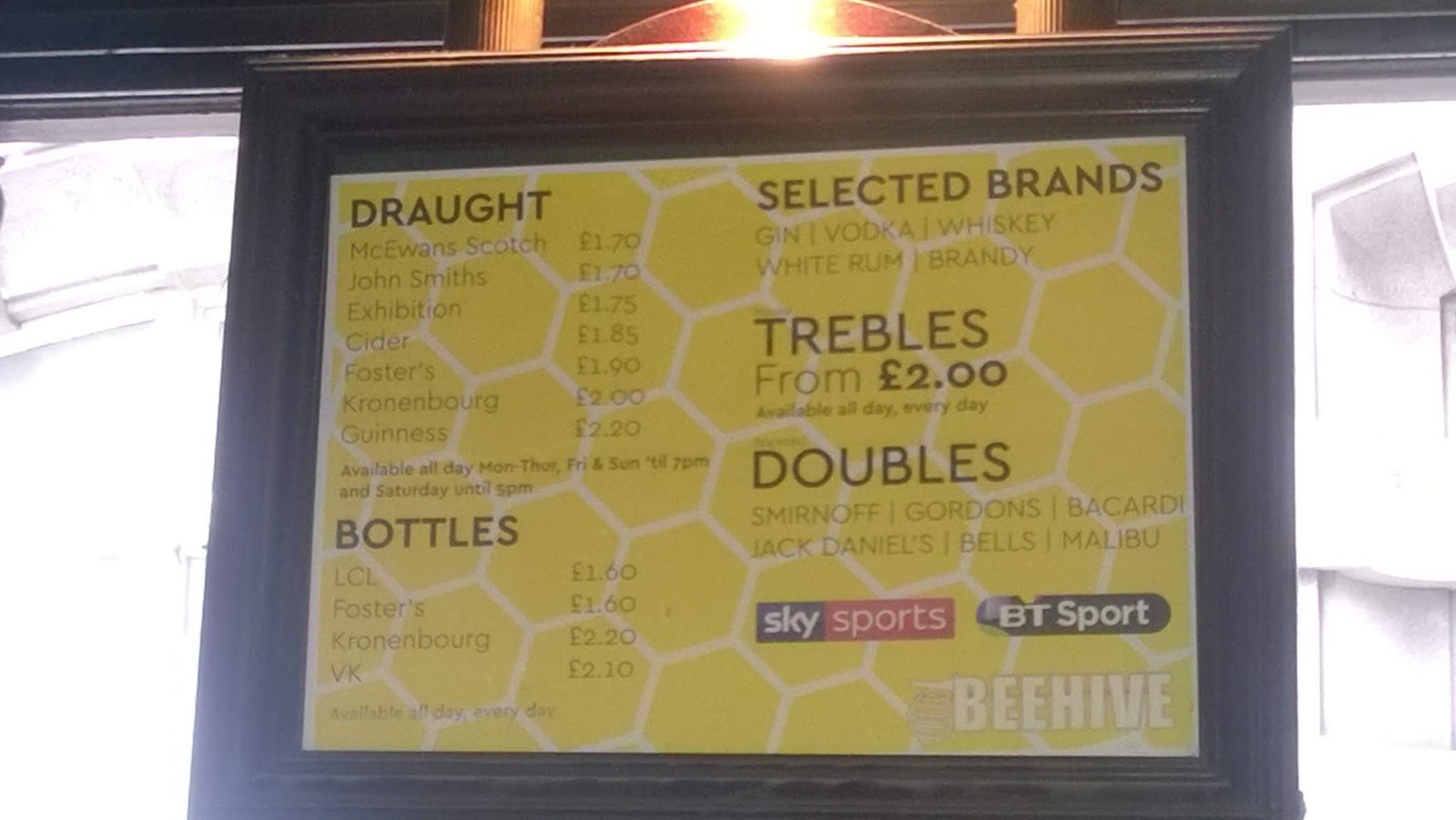 Now those are Northern prices…
The next pub should get a special mention. "The Beehive" has to be up there as one of the cheapest pubs on our travels. £1.85 for a pint of Woodpecker cider or £1,90 for a Fosters is a winner in our eyes! Here we also witnessed Dr Bell use an Emoji for the first fuckin' time! What on earth is the world coming to? There was still time to squeeze two more pubs before the match. First it was "The Duke of Wellington" and its quirky sink and Old Mout on tap. Then literally next door to "The Old George" that was a lot bigger inside then from what it appeared outside.
Sherbets were soon ordered, except we couldn't quite work out where he was going to pick us up from and ended up having to chase him around a few streets before finally catching him up. It was a tight squeeze, but not like Dublin, and we're soon heading over the Tyne toward the International Stadium and the sole reason why we we're all here.
Ah yes, the International Stadium, possibly one of the worst places to watch football. Not only do they stick everyone in one big stand, but the atmosphere is terrible and the place is so depressing that Goth's come here for their holidays. We also had the delight of several Sutton fans apparently being 'offered out' by some local youths as they headed towards the ground.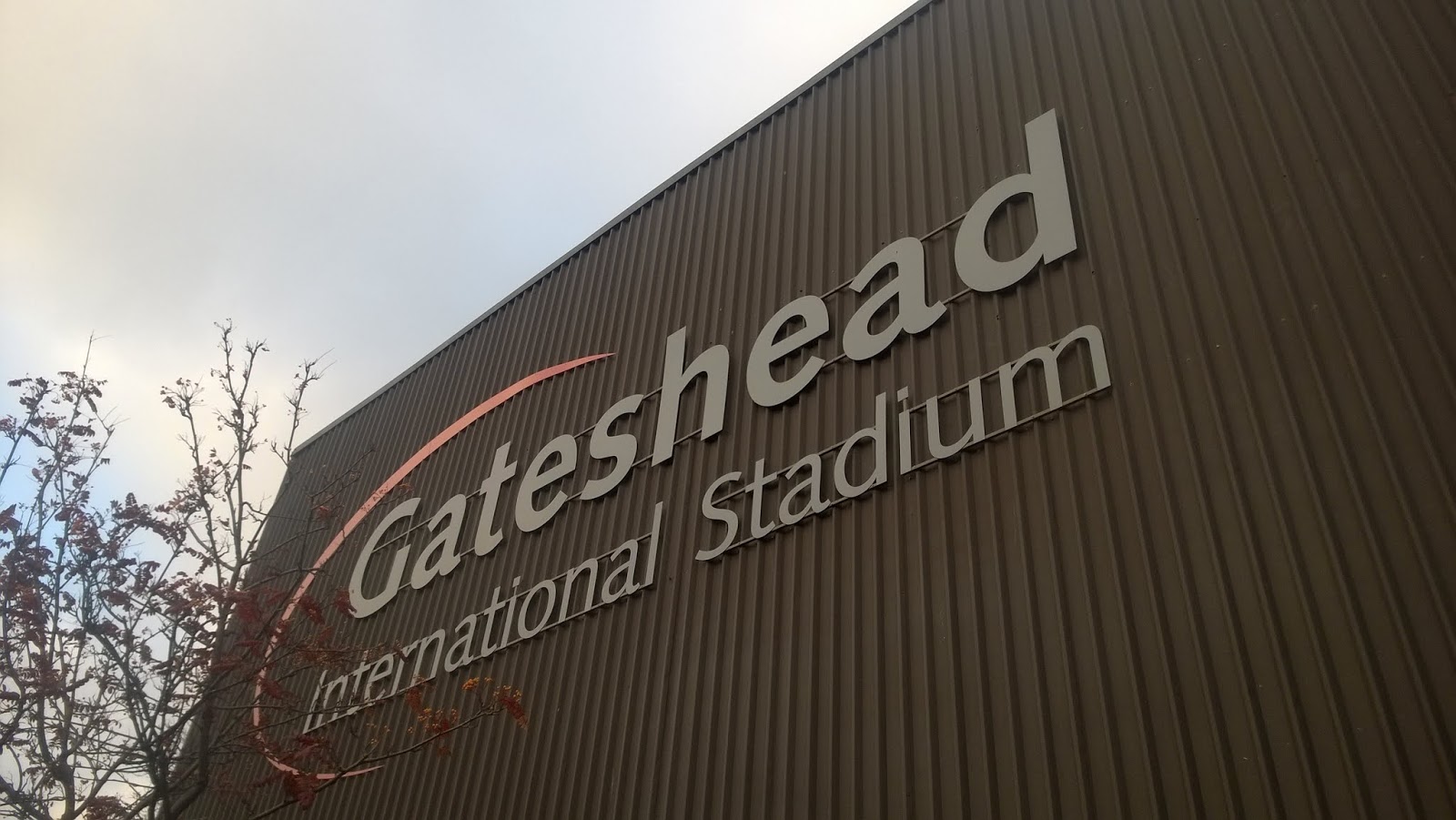 The Great 'Gate experience…
Worner, Bennett, Thomas, Beckwith, Clough, Collins, Bolarinwa, Brown, Beautyman, Wishart, Taylor. Bench Warmers: Davis, Ayunga, Cadogan, Dundas, Drinan.
So, onto to the boring part. The match was very much a drab affair. Both teams seemed to cancel each other out overall. It was probably made worse with Sutton having no strikers on the pitch and instead playing Clough in the solitary forwards position. The wingers failed to give him much support and both keepers were kept very bored with inactivity.
The match was that forgetful that I fail to remember what happened on the pitch at all. Instead we have other things to mention like those bloody local 'Yoofs' I mentioned earlier. After failing to create anything they then moved to the other side of the the ground behind the stand and just outside of reach of the stewards. Bloody yokels!
Behind the travelling support we also saw several other people being moved towards the away end. Clearly they'd come in at the wrong end of the ground. And who would be leading this rabble towards us? No mentions, 'cos I'm not a grass of course, but *cough* cough* Chairman's Son *cough* cough*. And where was I? Oh yeah the match.
Another issue was the announced head count. With so few people in attendance, I casually glanced over the number. I reckoned just over 50. Over the PA we get 'thanks to the 37 travelling Sutton Supporters'. Hmmm, so that's at least 10 supporters light? £15 per supporter and it adds up. Half time round duties fell to me sadly, but still, I was glad to miss a few minutes of the half.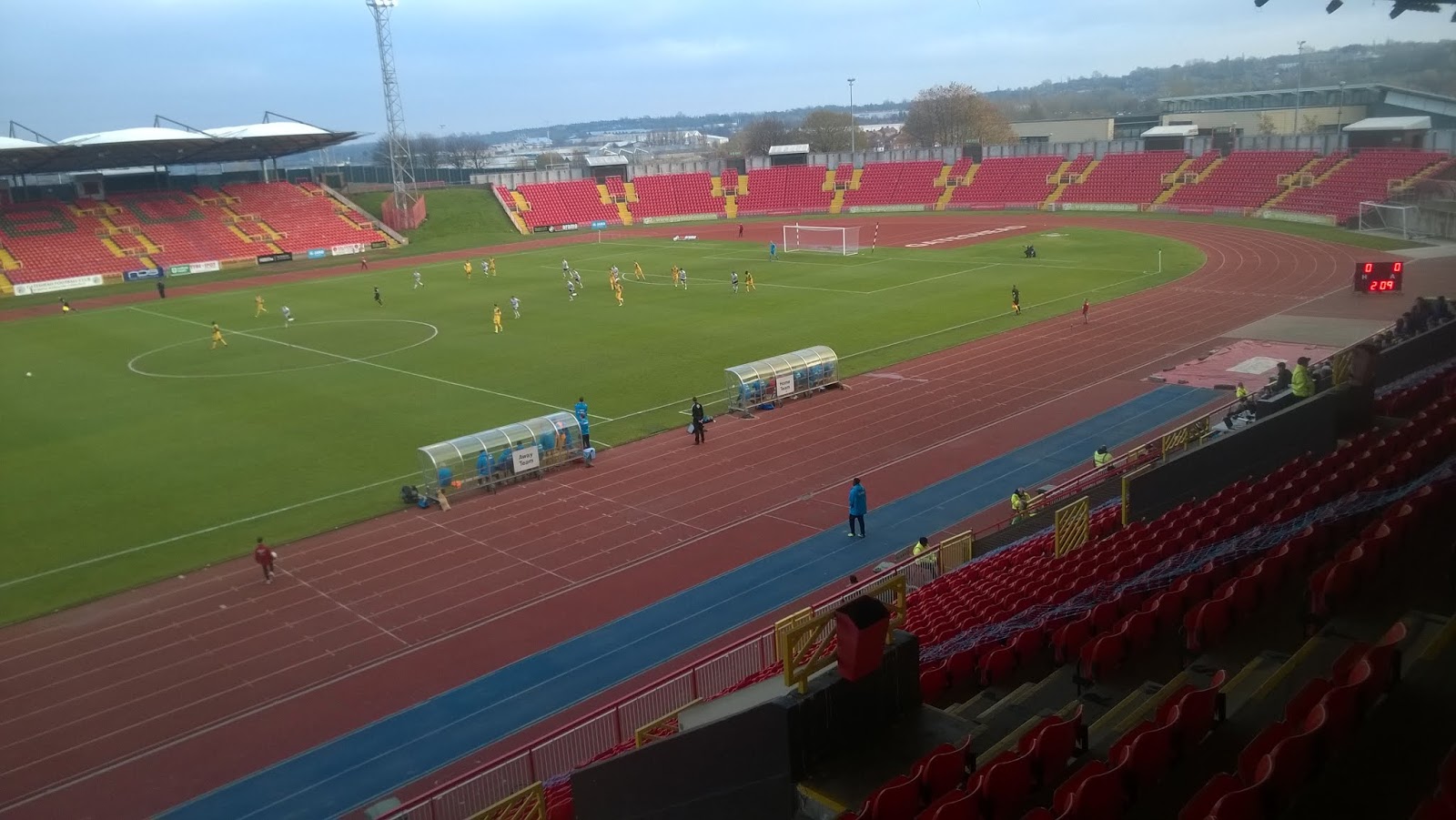 The view…
Second half begins and I'm surprised to see that the underage teeny-boppers from earlier are gone. To where though? According to the Sutton Yoof, they'd been dispersed by the local plod no less. who apparently turned up in a golf buggy! You never get to see that on them Channel 5 shows do you? A rumour doing the rounds later on is that a couple of them ended up down the local station for their troubles.
Footballing wise, and there still isn't much Sutton action to report. At least this half had Sutton trying to play some football. To try and change the tempo, Sutton make a double sub. Bolarinwa & Wishart are dragged off for Ayunga & Drinan. Surprisingly though, Clough is kept up front and they move to a 4-3-3 formation. I think.
With less than a quarter of an hour to go The Legend that is Dundo is finally introduced to the action when he replaces Beautyman. In midfield. So that was now our third striker brought onto the pitch but yet the attack was still lead by Clough up front on his jack. The final few minutes saw some action of the cad carrying kind. First a Gateshead player smashed a ball from the middle of the park that came off the crossbar. Unfortunately for him, the ref had already blown for a Sutton free-kick and he got himself in the book for his troubles.
Moments later and there is a fine flurry of action as Clough attempts to chase a ball down in the box. The keeper gets there first but drops the ball to the floor. Clough is the wrong side of him but still attempts to go for the ball. Of course in this day and age you're not supposed to do that and several home players objected to it. Three of them managed to have a push at Clough before his partner in crime, Beckwith, catches up with play to help his team mate out. Both players are given yellows but only one Gateshead player receives a caution. Go figure. After that it's not long before the ref calls time on another lacklustre point for the boys from South London.
At night…
After the match and we make a move to the local pub down by the river we discovered last season. "The Schooner" is marketed as 'the second best bar in Gateshead', and no, we never found out what was the best. Here is were we also break form and finally have two pints in one establishment, but to compensate for this violation, we decide it's Gordon Brown 'Prudent' to eat something.
Now it's time to head back to the hotel to change into something a little less 'Football fan at a match' and more 'Football fan changed after a match'. The re-meet was decided to be "The Dog & Parrot" and the first Jager-bomb of the evening. Damn I hate the vile stuff, but when in Rome or Newcastle to be accurate. and apparently "The Dog & Parrot" is on the corner of the 'Gay Triangle'. Yet no-one noticed this last year as our hotel was round the corner!
The next pub we try is once again shut (Nicholson's) and instead we find a 'Spoons to feed my habit. Except this one is a Lloyds and seems to be a tad different as its filled with the youth of today and they're all dancing and singing. Ironic when you think about it as last time around this was the place where several Luton fans were kicked out for doing that very same thing.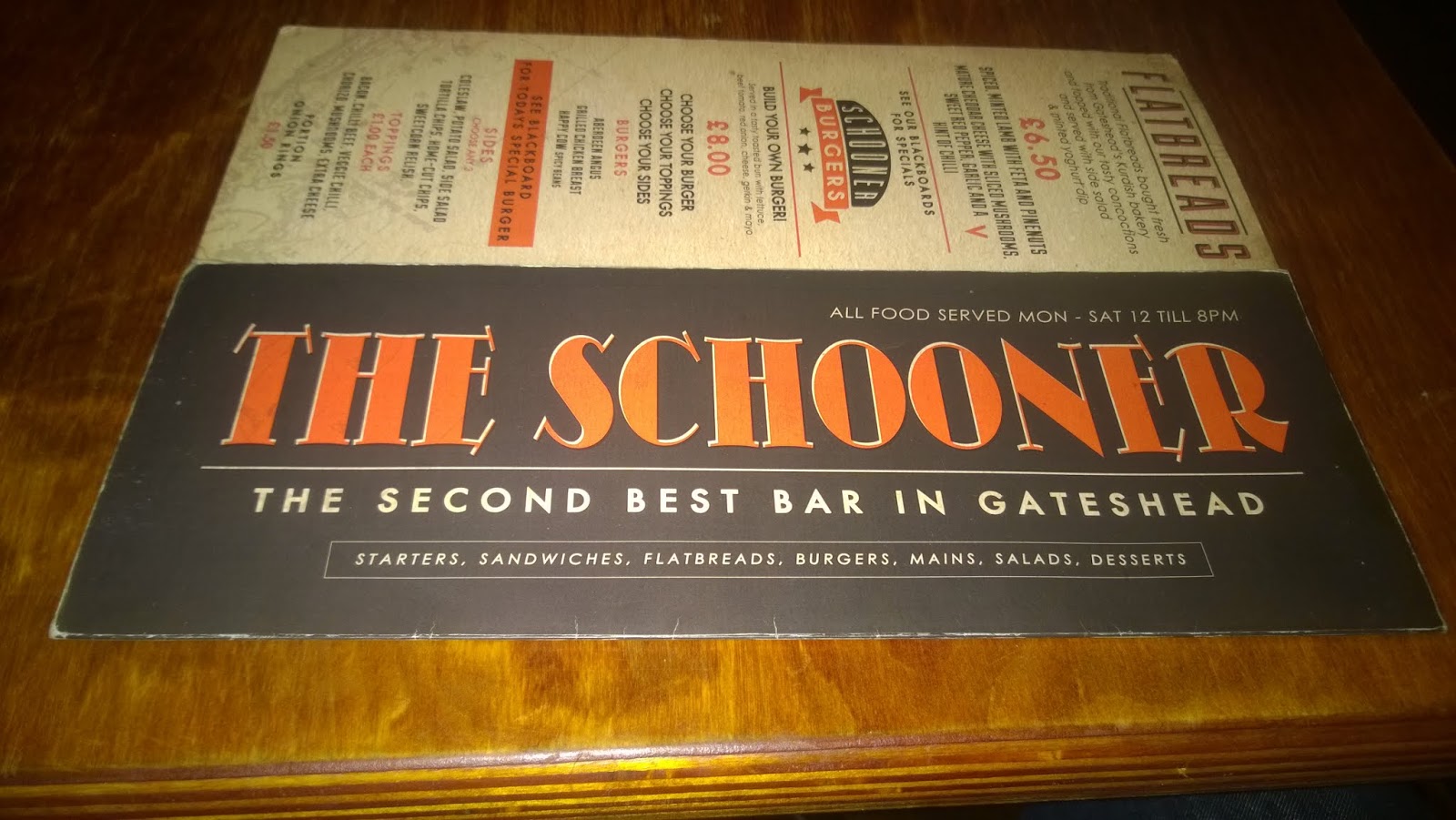 What's the first then?
"Rose & Crown" was next and was home to some actually surprisingly good karaoke. Over the road was "Retro" but it wasn't retro music being played sadly. After a couple more drinks a few of us decided that as we're getting old, Father Time was catching up with us and now would be a good time as any to call it a night as the clocks struck twelve. The Infirm Leader & Ozzie would end up in Popworld, but you'll have to ask him if anything interesting happened (It didn't).
The morning came quicker than expected, but at least I didn't fall out of bed. And after some much needed hearty breakfast we're soon heading towards the station. Grabbing a paper, it's back on a train returning South. The anticipated quicker train ride home was then delayed in the middle of nowhere after it was announced "This train will be delayed as there is a plastic sheeting on the adjacent line". The delay was that long that we ended up missing our connecting train at St Pancras! Fuckin' plastic sheeting. Eventually though, we make it back to Sutton without being delayed further by any tarps or curtains on the line and eventually home.
We now move onto a little match in the FA Cup. And after our last performance I'm not too hopeful. But then again you never know about this team one moment they're playing brilliant and the next they're moaning, bickering & blaming each other for their own actions. But more importantly for you, it's not me covering it! Enjoy!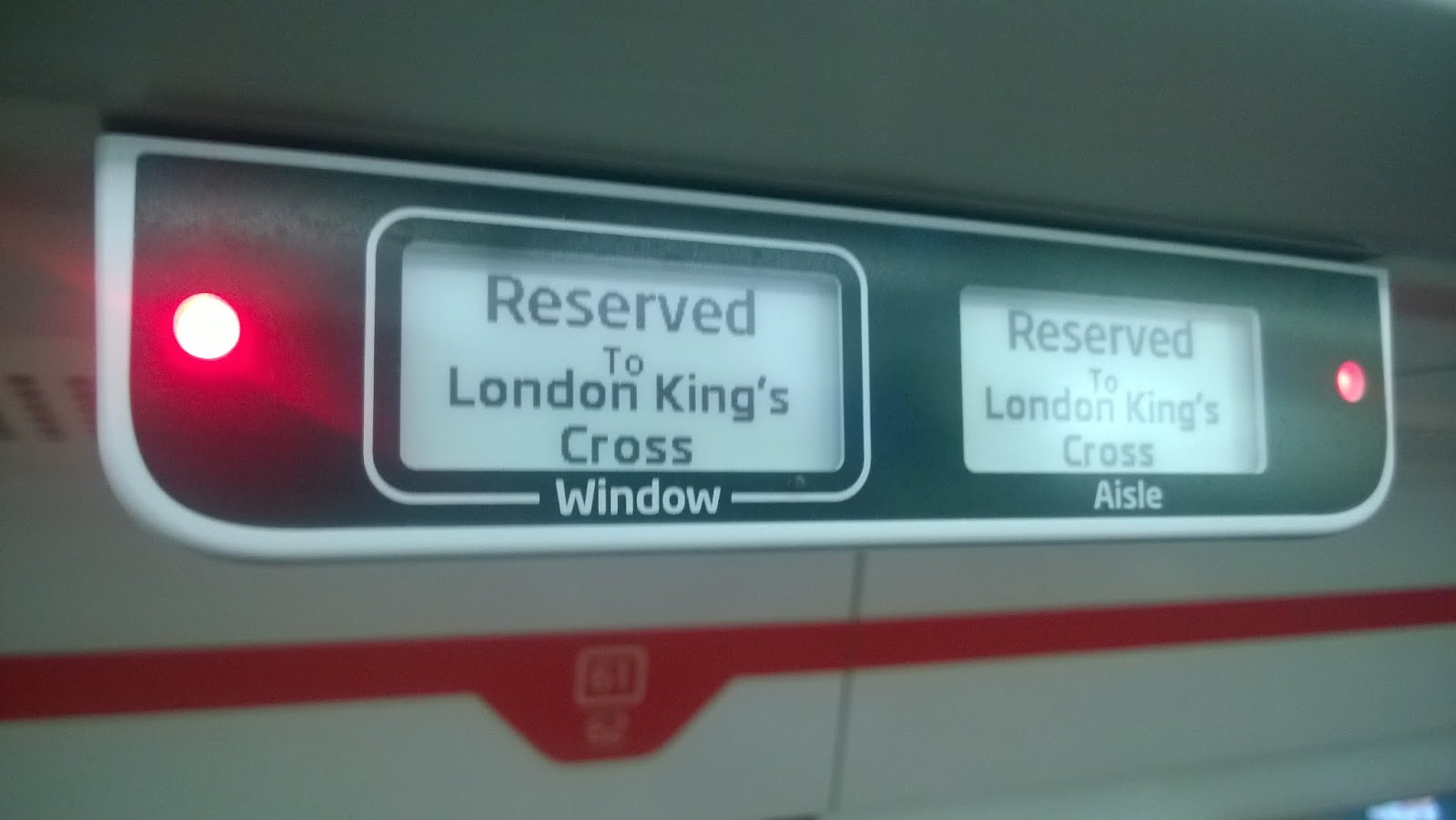 Fuck off & find another seat. These are ours.
Duke
Att. 794