Standing on Gander Green Lane at 4.30am on a late November Sunday morning in the biting cold and pissing rain you cannot but help wondering what the fuck it is that you are actually doing with your life. I'm tired, hungry, a bit hungover and waiting for Tony Bacon to bowl up from the Park Farm Estate in his nice warm motor.
I see some flashing lights, check one more time that I've got my passport, phone and wallet and bundle into the passenger seat for the short pre-dawn run down the A217 to Reigate Hill and onto Gatwick North Terminal. For today we are off to Alicante, the sunshine and a chance to check out the early season form of the mighty, mighty Hercules.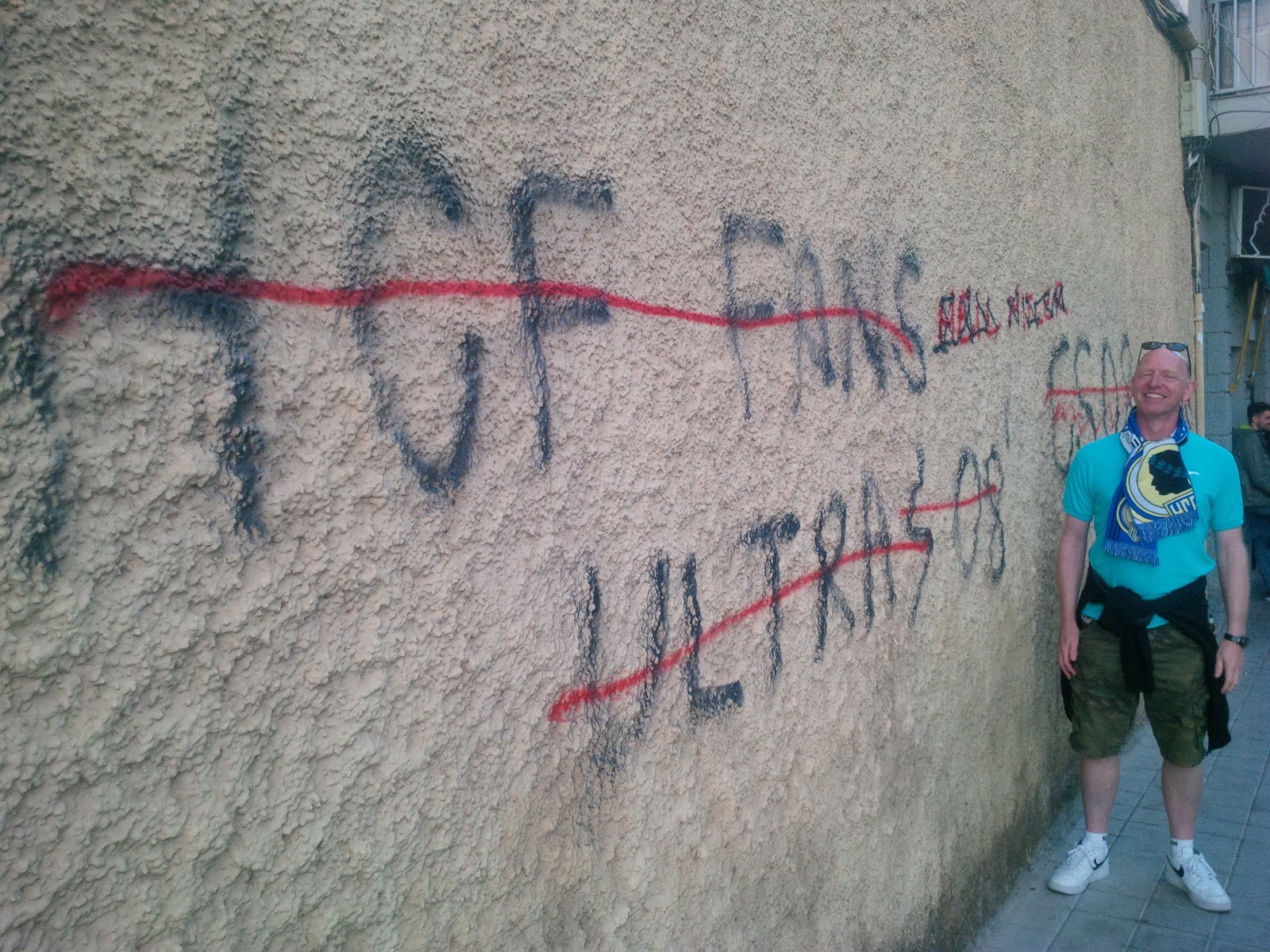 Oi! Did you do that??
This will be the first Herculano game for Tony, a fellow resident of the top-step of the Shoebox Terrace, although I did take him up the Rico Perez (Oi! Steady on! – Ed) for a quick poke around close season a couple of years back when he was in Benidorm with the family. He must have liked it for here he is complaining about the state of his back, the Sutton performance against Slough in the FA Cup the day before and the general state of the nation as he guns it along past Banstead Downs and towards the airport.
Bacon tells me he's organised offsite parking, but he didn't tell me how far off site and as we head out into the countryside in the gloom and drizzle somewhere the other side of Three Bridges my craving for a hot cup of tea and some pork products ratchets up several notches, but as it goes we drop the motor off at some dodgy looking gaff behind a petrol station, give the keys to a fella who will probably just stick it in the Homebase car park for the week and are soon trundling back on a bus towards the terminal building.
I'm shot, can't even face a pre-departure pint and once on board the first EasyJet heading south I tip back into the long snooze I've been missing and before we know it we are into the descent and bouncing onto the tarmac of the Costa Blanca. As the plane door opens and the warm air hits me it feels good to be back and my mood is lifted by about ten degrees. Grabbing a sherbet up to the digs at Gran Alacant it's not long before we are in the bar in Sierra Mar square sinking a pint of Mahou and checking the bus timetable into the City.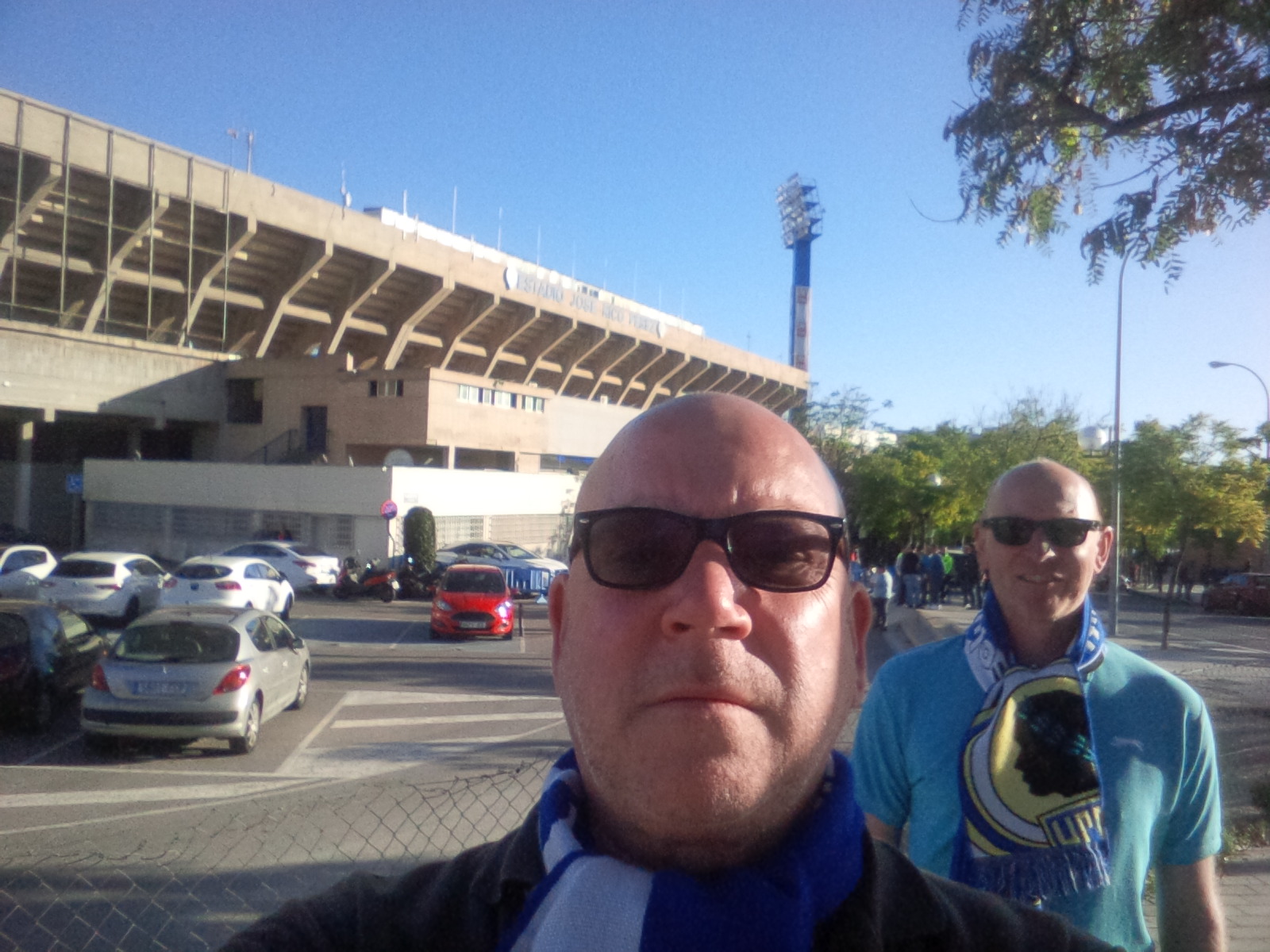 Mobbed up
If you've never been to Alicante you should make amends. It's a beautiful city, compact, welcoming and with tons of history and beautiful buildings and it was also the last part of Spain to fall to Franco in the days of '39, as I touched on a bit more in my last dispatch from these parts back in September. Much of its brutal past lays buried but I'm one of the amateur historians and bloggers peeling away the layers and if you missed it, you can check a bit of that out HERE
It is also the home of my Spanish team – Hercules – a club for whom the title "Sleeping Giant" is a fucking understatement on a truly, if you pardon the pun, Herculean scale. The club boasts a hundred years of history and is the main team in Alicante and always has been. Its heyday was the mid seventies when Hercules were a real force in La Liga – finishing in the top six and battling on a weekly basis with the Spanish big boys. Then the rot set in, and barring one season back in the top flight in 2010, when they somehow contrived to do the double over Barca and still get fucking relegated, they are currently languishing in the notorious bastard zone of the Spanish third tier with its numerous divisions and a play off route out that's so complex it is probably best not to even bother trying to explain it here.
Every new season is our season and we started with a bit of a flyer this term and were topping the table as we rocked up at the stadium to collect our ten euro tickets in the Fonde Nord. Aah, the stadium. The mighty Rico Perez, a whacking great concrete bowl of a place that holds 40,000 plus and was used as both a World Cup venue and hosted the Spain England friendly a few years back. It has floodlights to die for and rises above the city as a solid reminder of the glory days gone by. It's a twenty minute walk up from the main railway station where our bus dropped us off.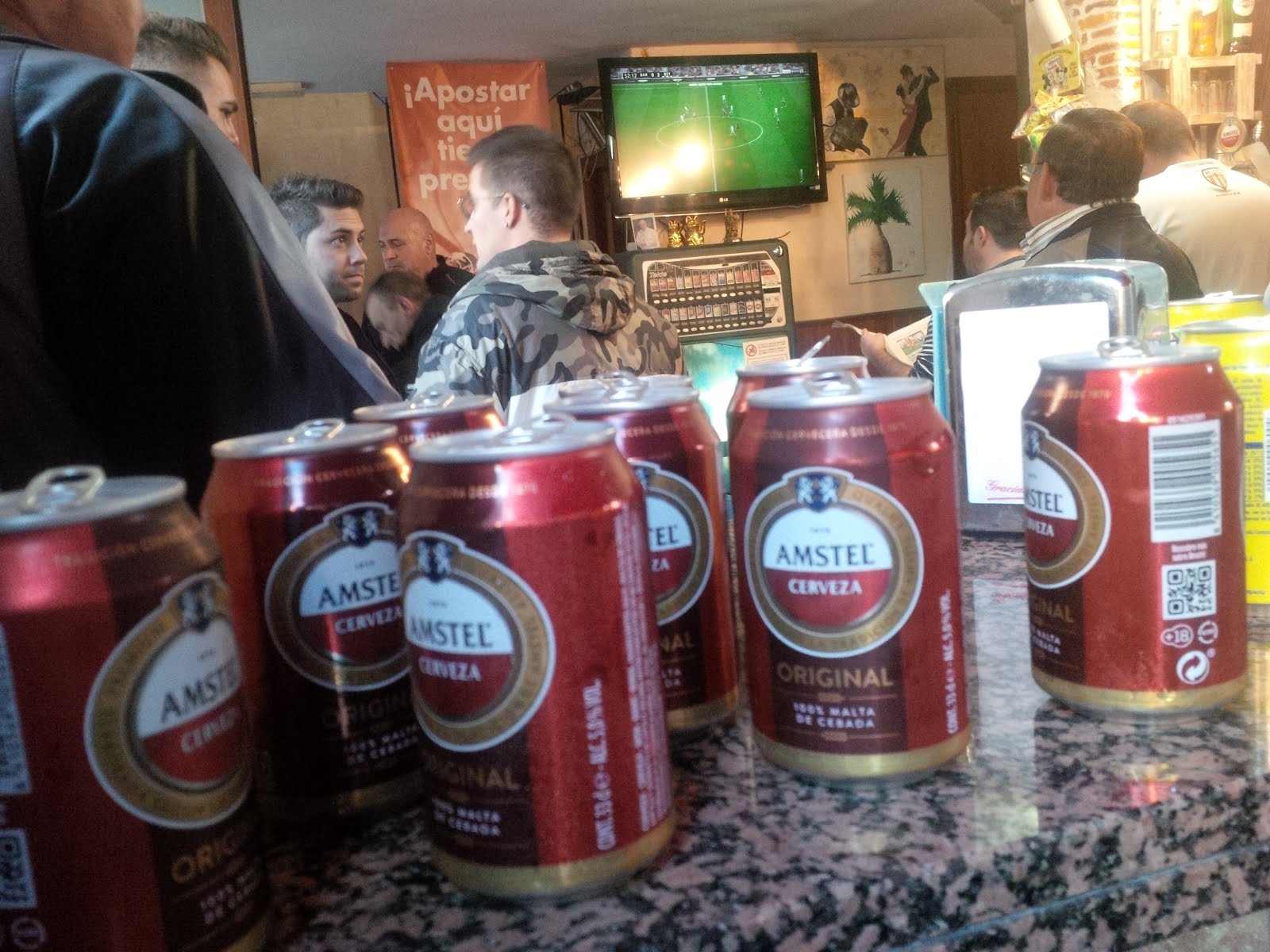 Cans
There's already a buzz two hours before kick-off as we grab our paperwork and stroll up past the main entrance to the ground and round the corner to the tiny bar used by the Herculano ultras, where last season I nearly had a heart attack after some wanker from Elche slung a giant fire cracker through the door before the big Copa Del Rey derby clash. The Spanish lads just laughed, started singing and ran out throwing bottles at the oppo mob. Culturally, it was a lesson learnt for yours truly.
Anyway, this evening the place is screaming with plod again but then there always seems to be loads of cops of various stripes mooching about when you are in Spain but as we approach the bar there is a squad of Guarda Civil, in their full paramilitary, Franco-era get up, and they have a bunch of lads sitting cross-legged on the pavement with their backs to the wall and their hands on their heads. It looks frankly hilarious and as we've had a few liveners I consider whipping out the phone and grabbing a picture. Until one particularly hard looking woman Guarda glares at me with a level of cold, dead-eyed intimidation even Mrs Totts couldn't manage when she's on top of her game and I think better of it. Still, we stroll no molesta through the mayhem and make it to the jump for a bundle of one euro cans of Amstel while the Barca – Betis game blares out from the big screen.
It's not until the next day that we realise we had wandered unknowingly into the aftermath of a fairly serious tear up between some of the Hercules and Castellon fans that had made it into the news bulletins. Oh well, never mind all that. We grab some selfies with the Herculanos who I've always found very welcoming, hammer down a few more cervezas and line up at the gate to do battle with the hopeless automated turnstiles and their bar code readers that don't read bar codes, the usual modern shit and like everyone else we just end up jumping over.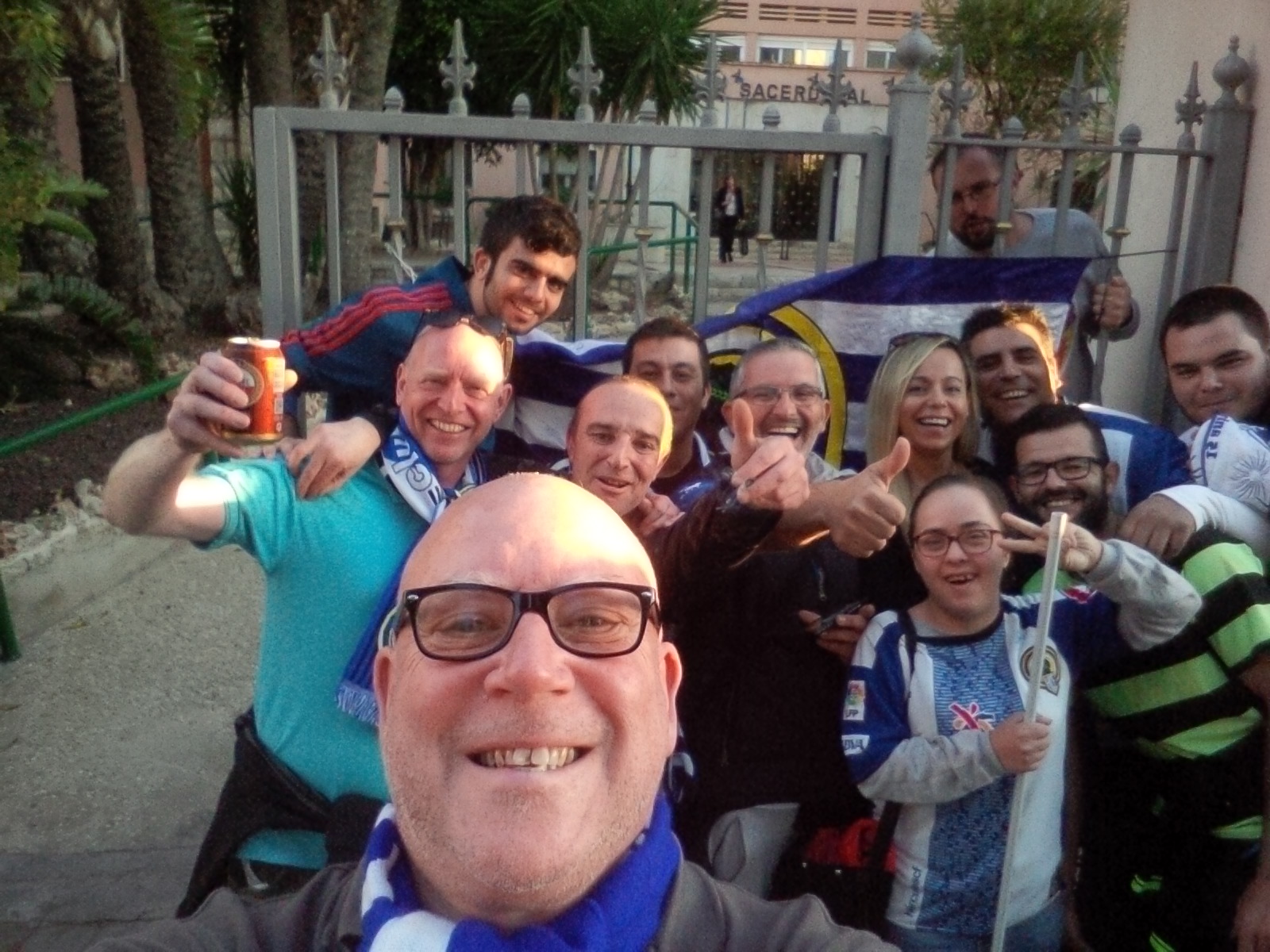 Making friends
Up on the big banks of sun- bleached plastic bucket seating behind the goal we grab a decent vantage point and settle down for kick off and inevitably find out that the fella sitting next to us speaks perfect English and used to live in bloody Tooting! We have a natter with him while down to our left the Castellon are penned into an enclosure by the old bill and are giving it the big one tit for tat with the Hercules at the opposite end on the Grada Animacion. Love the atmosphere at a Spanish game and there's a decent crowd in for this one which is good to see with the ground maybe half full – not bad for us these days.
I'm not used to watching football from so far away and it always takes me a while to tune in but this game starts at a cracking pace with Hercules in the ascendancy but they are struggling to convert the possession and chances into goals with the woodwork and some iffy officialdom doing their bit to deny us as well. On the quarter hour we get a well deserved penalty and Carlos Martinez blasts us in front and it looks like the floodgates might open but Castellon are riding their luck and it seems they are on course to go in at half time just one goal down. But against the the run of play they pump a free kick into the box and their lad rises unchallenged to head home a leveller.
We take a breather and scour the concrete underbelly of the stadium for beer but it seems like the Rico Perez is the only place in Spain you can't readily score alcohol. I'm not kidding. There are even bars in the cemeteries, and, get this, in the prison waiting rooms! So we head back up the steps empty handed and settle in for the second half and within just a couple of minutes Castellon are down to ten men with a straight red and surely this is our chance to boss the game and put them out of sight? Loads of huffing and puffing and we hit the woodwork again before bringing impact striker Emana on at 65 minutes. Hardly worth him getting warmed up mind as he is sent off with a straight red just three minutes later as the ref goes all National League and the crowd go fucking mental.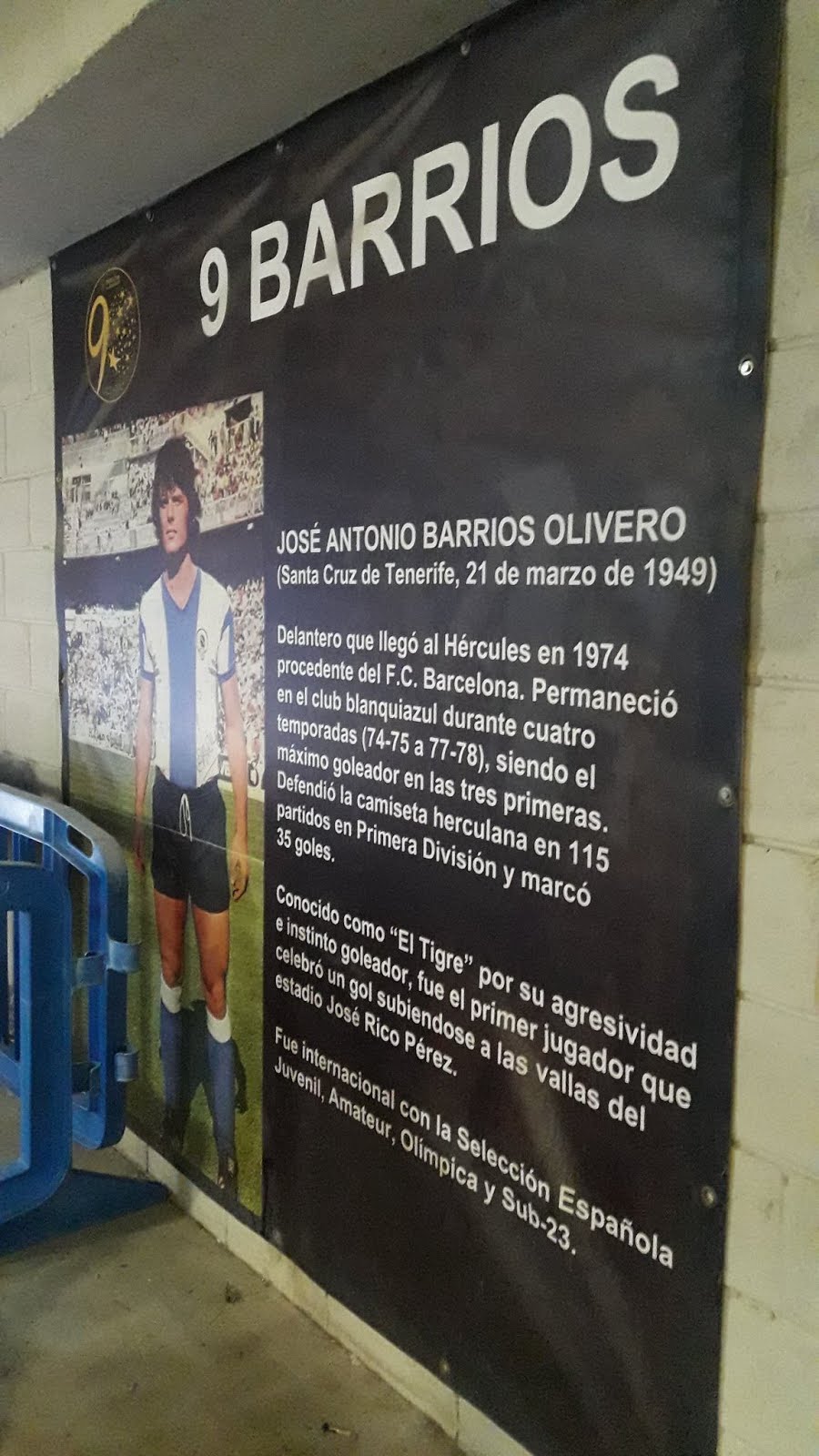 Barrios
That evens up the numbers but not for long as five minutes later Zarsoso for Hercules is the next to see red and we are reduced to nine men with twenty minutes left and a massive pitch to cover. We go to two banks of four with no one up top and somehow manage to cling on for a point. Tony loves a red card and is absolutely delighted with the nights entertainment from start to finish as we wander back down to the station to grab a piss and a taxi back up into the Sierra.
It's been a long old day but the tapas gaff back at base is still open and they knock us up some beers and tortilla con patatas for a late supper for the lads and we plot up a couple of days exploring local Civil War sites before Bacon has to get off home and back to work. We also start making plans for another trip to the Rico Perez in the spring when hopefully Hercules will still be play off contenders.
Unless of course we have already peaked too early and cruise the next few months through to mid-table oblivion. I don't want to call that one but whatever way you should come and join us. You would love it.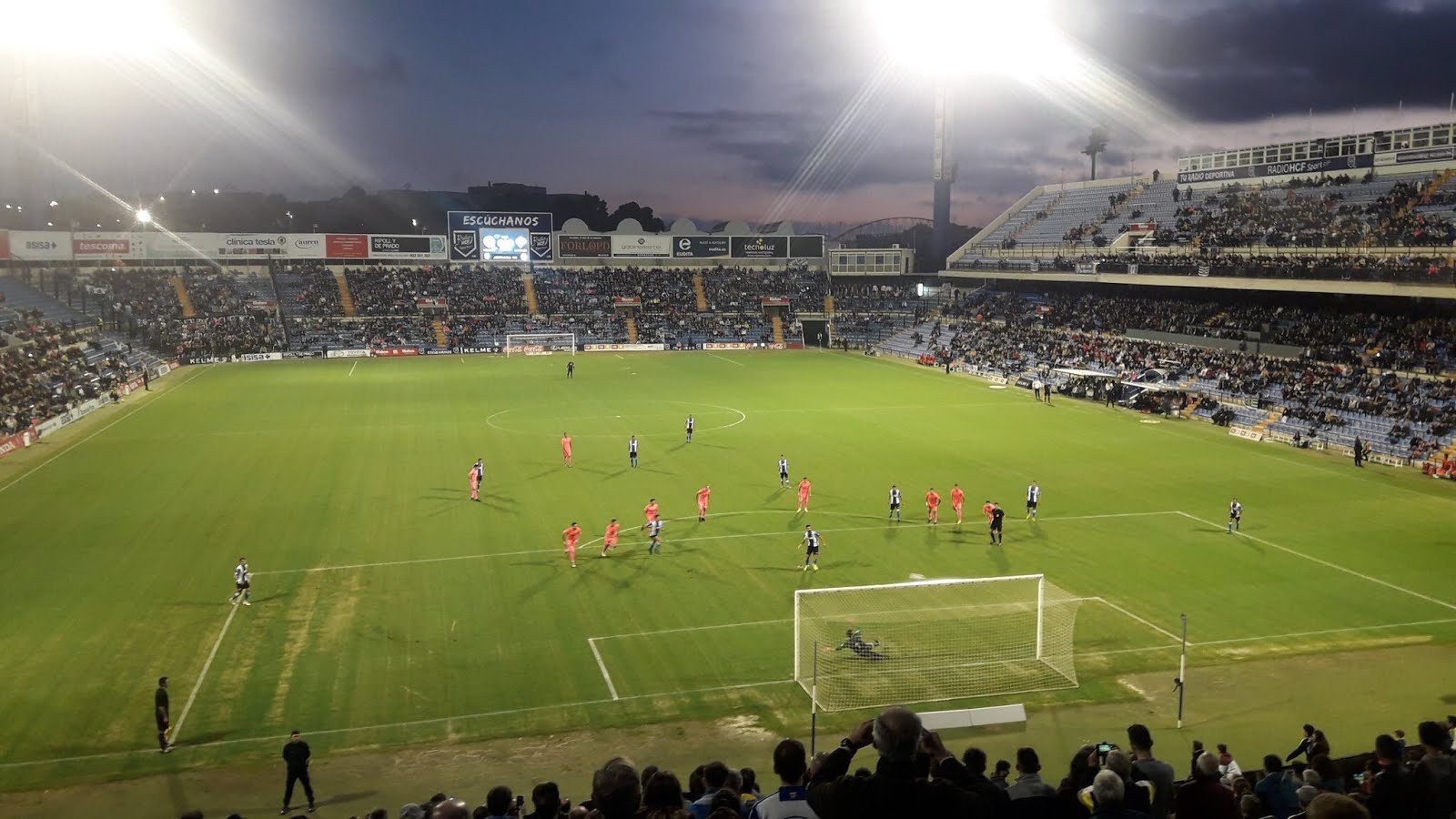 Match
Totts