Welcome dear readers to another pointless and mildly absurd episode of your favourite Non-League football drinking blog. We hope you enjoyed our recent little European interlude as well as Totts special on the old Mitcham Stadium, which has proved to be somewhat popular and may indeed spawn a semi-regular feature on these here pages. However, if you're expecting it to trigger a sea change in style round here with heavily researched, thoughtfully written material laden with facts, you'd be sadly fucking mistaken. This is Gandermonium and it'll remain largely complete bollocks thank you very much.
After last week's peno heartbreak at Dalymount where we ended our European adventure by not so much snatching defeat from the jaws of victory as reaching right on down victory's gullet and into it's lower intestine to dig out that big ol' half digested bit of defeat, we're right back on the cup trail with a somewhat shorter trip this time out to Ruislip to take on old friends Wealdstone. Ok, so it's not exactly the most interesting tie and nor has it got the glamour of Dublin, or playing in the former national stadium of Ireland for that matter, but it is mercifully local and can be done on a travelcard meaning there's no need to interact with fucking Ryan Air at any point. Every cloud I suppose.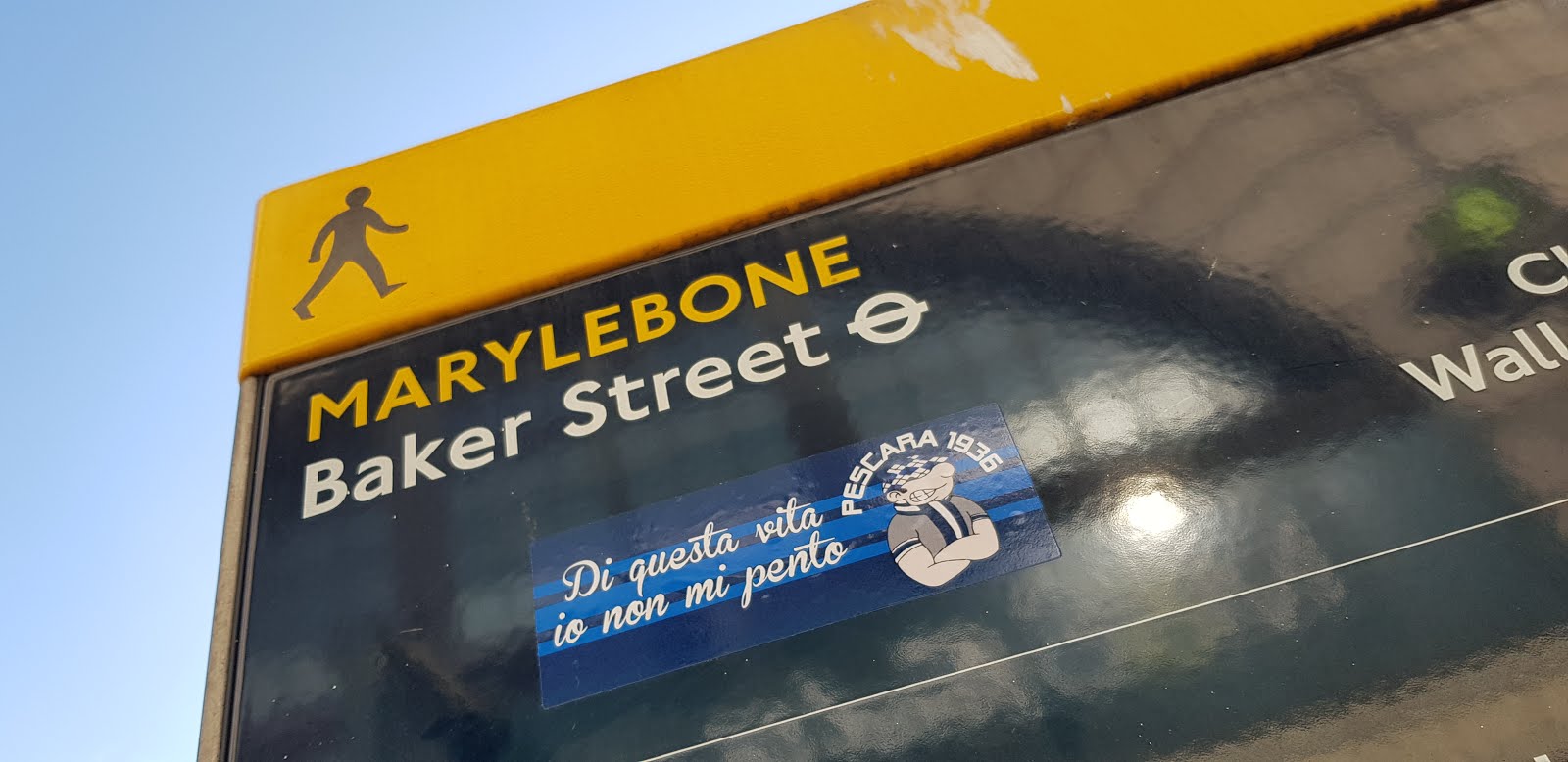 Mmmm. Stickers…
Of course, having a game somewhere inside the M25 means that I'm allowed to remain slumbering until the wonderfully late hour of 9am. Joy. Still, with the alarm off I spring into action and once ready a short while later, I'm off out the door bound for the gritty city wannabe of Croydon for a fast train into London and the 11am meet at Baker Street spoons. Well, that's the plan anyway. At East Croydon shortly after 10, I find the first Victoria train somewhat busy. So much so, I decide not to go full on commuter and cram myself into the sort of space that would make a battery hen claustrophobic. It's a main line, there'll be loads more!
Er, yeah. The next two are short formed of 4 carriages and I can't get anywhere fucking near those either. What the fuck is going on today? Where are all these people coming from and going to? On closer inspection, I think I have an answer. There's a few home made signs about and a fair few 'bollocks to Brexit' stickers on display. Fucks sake. It looks like today is that people's vote march thingummy up in town. Now please don't misunderstand me, I'm all for the legal right of assembly and protest and all that democratic shizzle, but it wears a bit fucking thin when it starts impinging on my match day VDT. It's almost enough to make you wish for hard Brexit.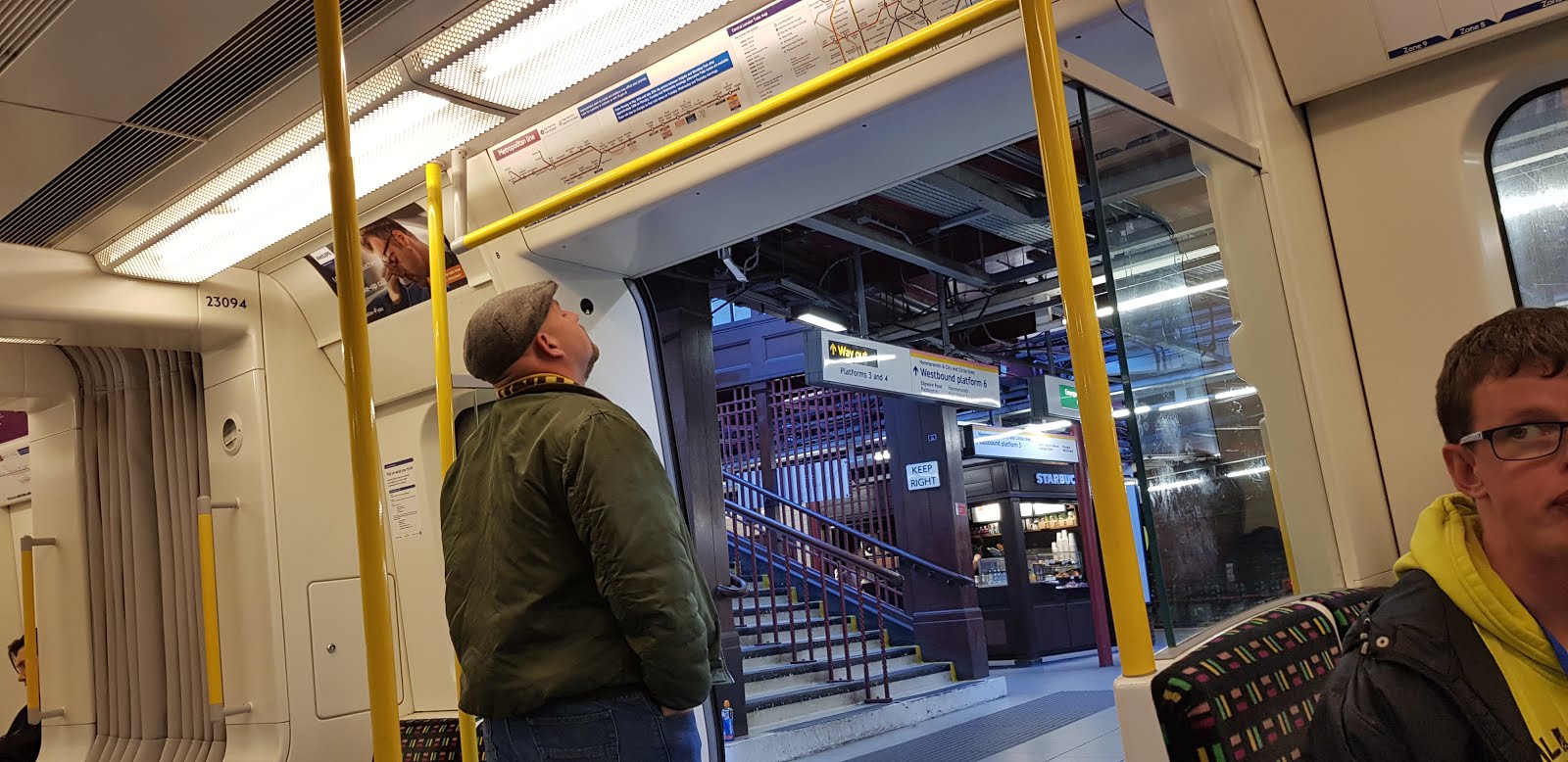 Oooh. Squiggly line mean sumfink!
A fourth train is denied to me and in the end having spent almost half an hour going nowhere and getting pissed off, I hop on a service to London bridge instead which of course is completely fucking empty. Don't these people realise that's in central London too? 20 mins later, I'm plodding along and trying to navigate the somewhat confusing maze underneath London Bridge station to locate the underground. Fucking hundreds of millions we've spent to 'improve' this gaff and they've managed to change the transfer to the underground from what literally used to be one set of stairsescalators into some sort of navigational exercise via about 2 shopping malls. Seamless it is fucking not.
Eventually, I make it to Baker Street and emerge into the sunlight to turn right and immediately back into the dingy environs of the pub half an hour after I'd hoped to have done. What? I'm ginger, the sun can get to fuck. Darkness is what I seek. And beer. Definitely some beer.
The mob are waiting up the back and after some minor and utterly predictable piss taking for my tardiness, I get a pint in and settle in for the usual bollocks such gatherings trigger. It's fairly low key for us to be honest, but the main thread seems to be that everyone's suffering from a post-Irn Bru Cup traumatic stress disorder. Or PIBCTSD if you like. Dukey is also concerned that his recently reinvigorated love life may soon pass it's 'honeymoon' period and he'll start coming under pressure not to fuck off to football and get pissed up every Saturday, endangering his 6 and a half year unbroken run of not missing a game. Dr Bell and I chuckle. With a few years under our belts now with our corresponding other halves, we're both well past that stage. Just got to hold your nose and push on through fella until you emerge on the other side. Just don't forget a birthday or something though, because then you'll be royally fucked. And not in the good way either.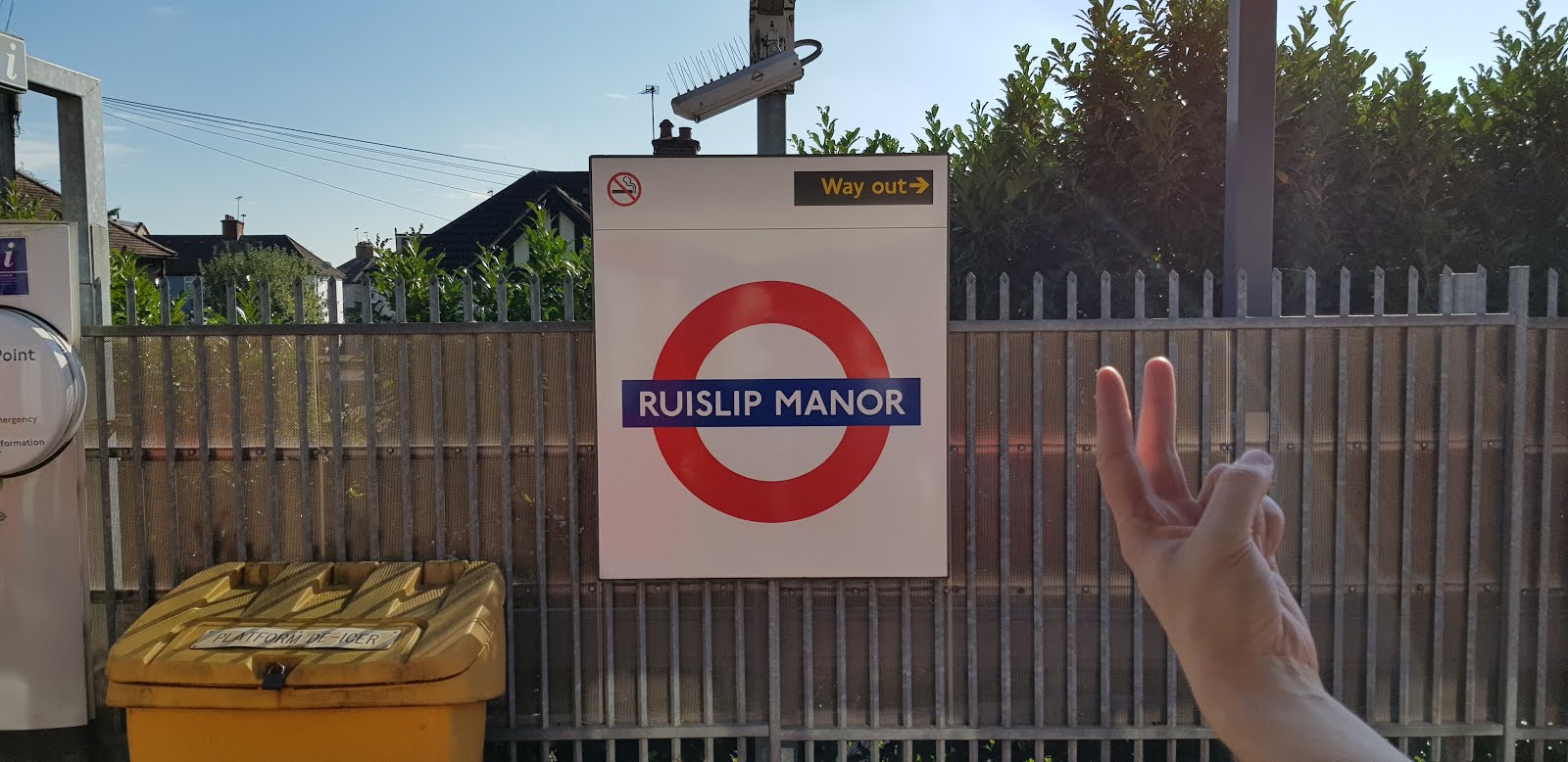 Well that's not very nice is it?
We head off for the quarter to 1 tube and on board we find Pete the Perv. Then it's an uneventful 30 minute trundle out in the suburbs with the only moment of note being Mr X enquiring why Dr Bell isn't at the bar yet. His excuse of "We're only at Wembley Park!" being immediately rebuked for the weak, lame effort it is. Finally off at Ruislip Manor Pete comments "Glad I bumped into you lot, I was gonna get off at Ruislip instead!". Happy to help Peter, happy to help. We are always here to assist and guide those souls which are lost. And besides, we think it's probably your round mate? We head for yet another Spoons and find Greek with Nat & Ozzie sat up at the back. There's a few other faces in as well, with sightings of various COCs and DBDC members. I catch up with Totts at the bar and he seems most chuffed with the success of his Mitcham Stadium piece, which the oppo have decided to lift for today's match day programme. All killer, no filler here on Gandermonium folks! Well, unless you're a hard pressed Non-League prog editor that is, then yeah, it's most definitely filler.
Pints down and in my case some scoff quickly necked, kick off is fast approaching so we set off in the lovely autumn sunshine towards Grosvenor Vale and a 25 grand shoot out. Oh and a place in the first round as well. Thankfully despite our 'timely' arrival at the turnstiles, all are open and we're swiftly inside awaiting the action to get underway. Here I take a moment to bag my promised free copy of the programme, mainly as Gandermonium has provided not one, but two pieces. Today's lineup sees both JC and Bailey restored to the line up, although we're a little surprised to see Ayunga only on the bench. Still, we've gone with Cadogan and Tombo wide so hopefully that'll give us some impetus going forwards.
Butler, Bennett, Thomas, Clough, Collins, Bolawinra, Cadogan, Eastmond, Bailey, Taylor, Drinan SUBS: Worner, Davis, Ayunga, Beautyman, Wishart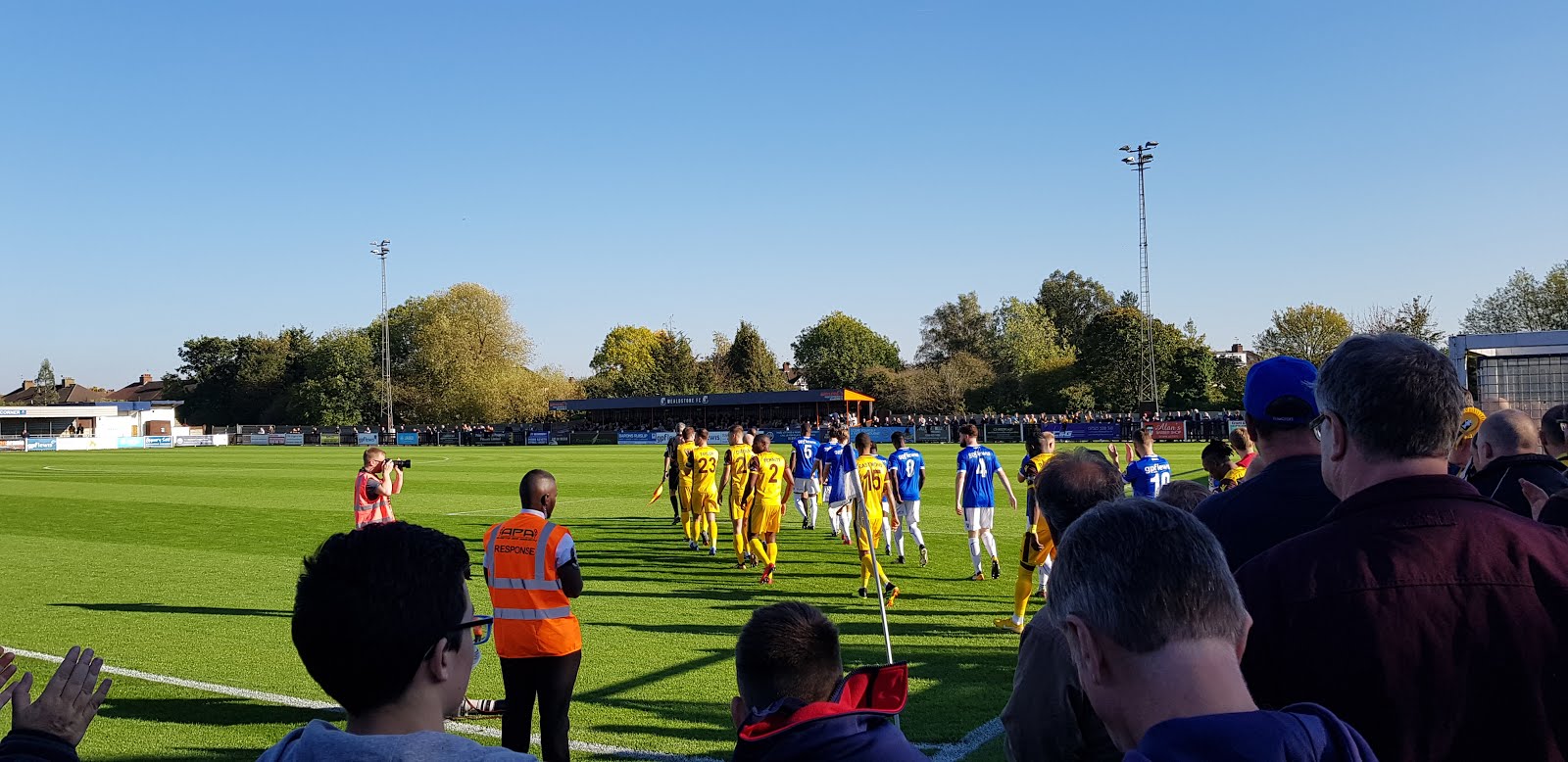 Ready for battle!
The first half is a bitty, scrappy affair. With the U's playing down the slope, they have the better of things but without really creating too many problems for the Stones defence. With space and gaps to play in at a premium, both sides are a bit too direct and the game suffers as a spectacle. The best we can manage are a close range header at the near post from Cadogan directed straight at the keeper after some good work down the right gets Tombo in to swing one over. Dougs also rattles the crossbar midway through when he finds some rare room just inside the 18 yard box out wide and crashes a shot back off the face. JC also has a decent header blocked in the 6 yard box just in front of the keeper. Meanwhile, the hosts work hard but the most Butler has to do is to collect numerous over hit long balls forwards. The real talking point of an otherwise dour first half comes shortly before the break when Sutton pressure forces an error at the back and the ball breaks to Cadogan off a defender in the box. As he goes to shoot he's clearly pulled back by the defender and can only toe his shot wide with the keeper scrambling. Capping an odd half, the ref awards a corner after a long chat with his lino over the mic, rather than the nailed on peno it should be. Twat. Naturally, he's soon over having a chat with Dos following the incident as the gaffer once more finds himself confronted with incompetence.
So, unsurprisingly, 0-0 at the break and we shuffle round to the far end to await hopefully something a little more exciting. Yeah, about that….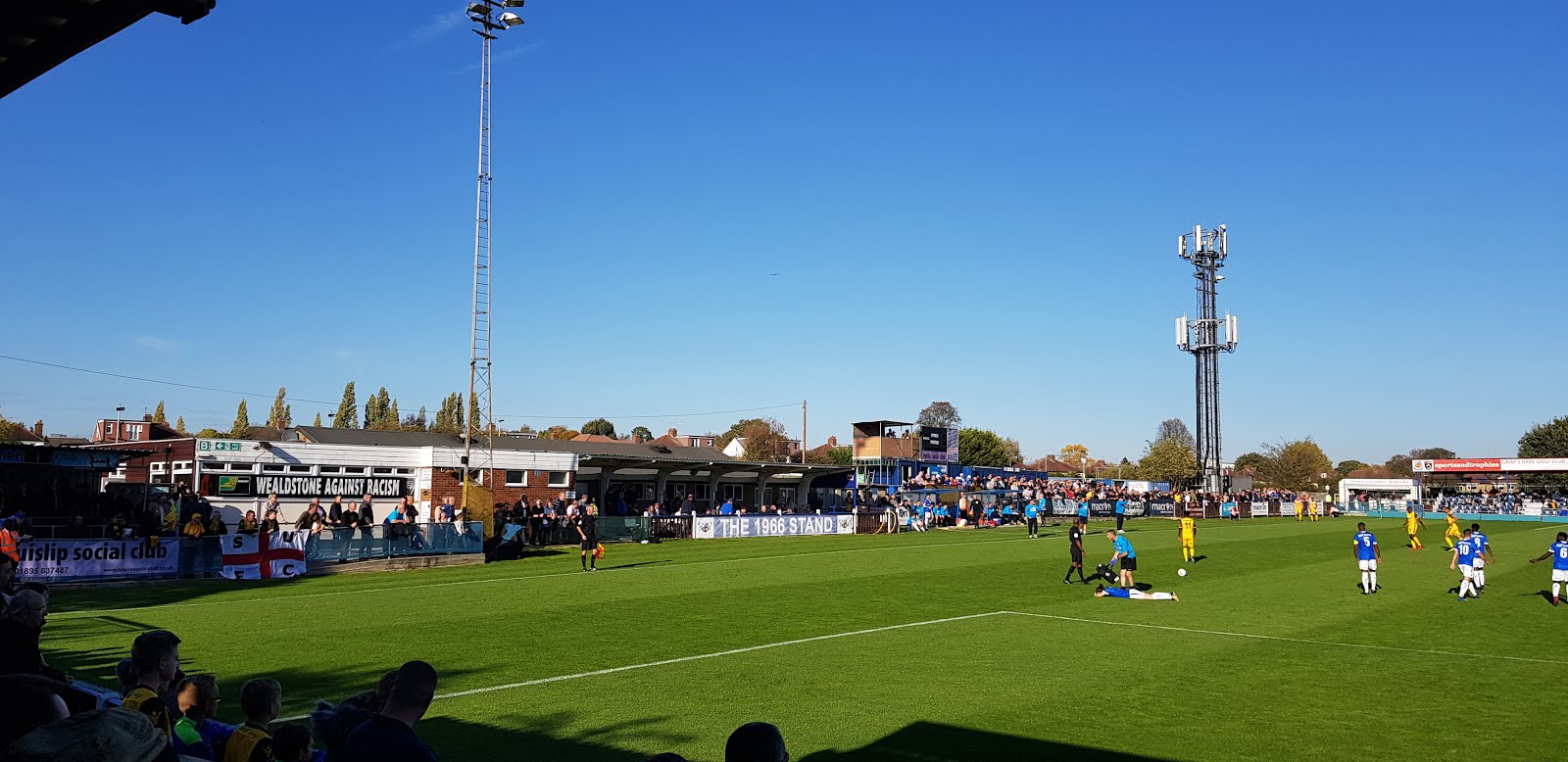 "Look mate, you can't sunbathe there…."
Having largely done nowt but punt the ball to Butler all first half, now going down the slope the hosts come out and are a bit more adventurous after the restart. 5 mins after the restart they're pressuring around our box and when we can't clear one ball in, Josh dives into a tackle and before you can say "Fucks sake, that's a penalty" the ref's blown up and pointed to the spot. Cock it. Up steps an old foe in Bradley Bubb and he doesn't miss, thumping the spot kick down the middle for what I think is their first shot on target of the day. This is a scenario we've seen before I think.
We get back at the Stones almost immediately, with Bailey powering a free header over the bar from about 6 yards out from a Dougs corner. The hosts should soon be 2 up however, with a shot from wide only being parried by Butler. The ball runs to the edge of the box and a following up attacker mishits his shot back towards goal. It's just creeping inside the post before JC arrives and despite the attentions of another Stones player, somehow manages to not only smuggle it away but earn us a goal kick! A few minutes later, there's suddenly a way back into the tie. Bennett puts the ball in, the skipper nods down and it comes to Aswad. He takes a touch and with an arm in his back he stumbles. This is all the ref needs and before you can say "Blimey, that's soft!", he's pointed to the spot and we have another penalty. But this time it's one for the good guys. JC steps up and does the biz despite the keeper guessing right and just getting a touch as the ball finds the bottom corner. 1-1. Game on!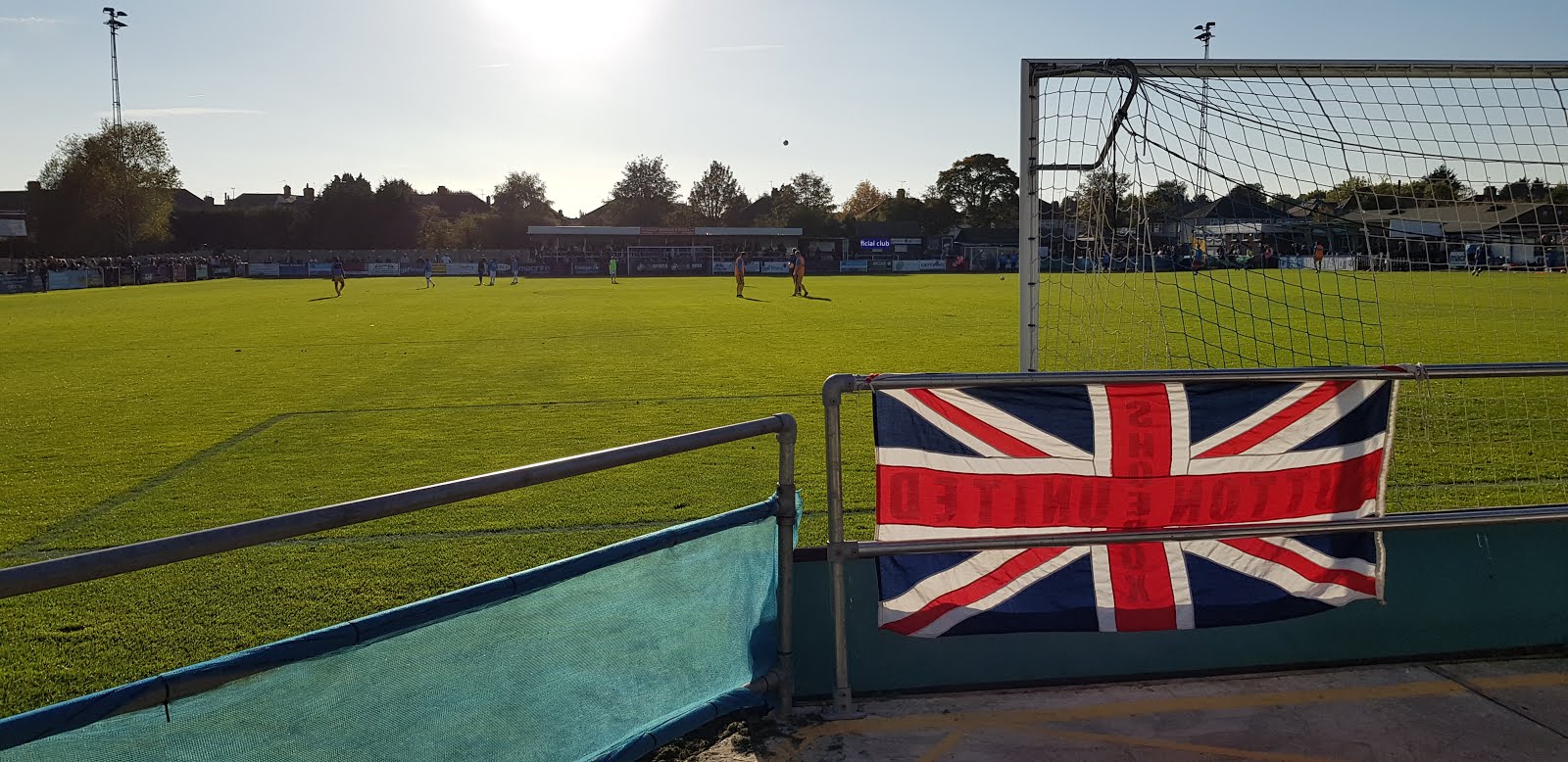 Arrrgh! Bright light!
The game opens up a little from here and whilst we probably have the better of things with Drinan heading over when well placed and Ayunga nutting wide thanks to Beautyman getting in his way, the Stones have a decent sighter too with former Bath man Pratt heading a ball to the back stick back across Butler, but the keeper flings himself down low to make a great one handed stop. Still, a replay looks nailed on as we head into the last minute or so. Then a rubbish Wealdstone free kick is launched into the box straight to Butler. Unfortunately, about 10 yards away, Aswad and a home player have tangled and both go down. Whistle. Spot kick. Jesus fucking wept mate. There's more to come though as our lot remonstrate with the ref, Bailey does so a little too forcefully and having been booked already cops a second yellow and is sent off. Well, this is it I guess, we're done.
As the scoreboard ticks over to show 90 minutes played, Bubb again steps up. But having dispatched the first peno with such confidence, his next effort is, well, shit. He's made to wait a while as the fussy as fuck ref makes sure no one has more than a toe over the 18 yard line, so I'm not sure if that inserts some doubt in his mind, either way he dollies up an absolute stinker down to Butler's left. To be honest, JB simply has to guess correctly and fall on the ball to stop it as its a good 3 feet inside the post. If he'd been wearing a hat, he'd have been able to have dropped that on it with similar effect. Naturally, we take this unexpected lifeline well at the other end. So, replay it is then lads, shame about El PROWSico getting canned on Monday. Oh well.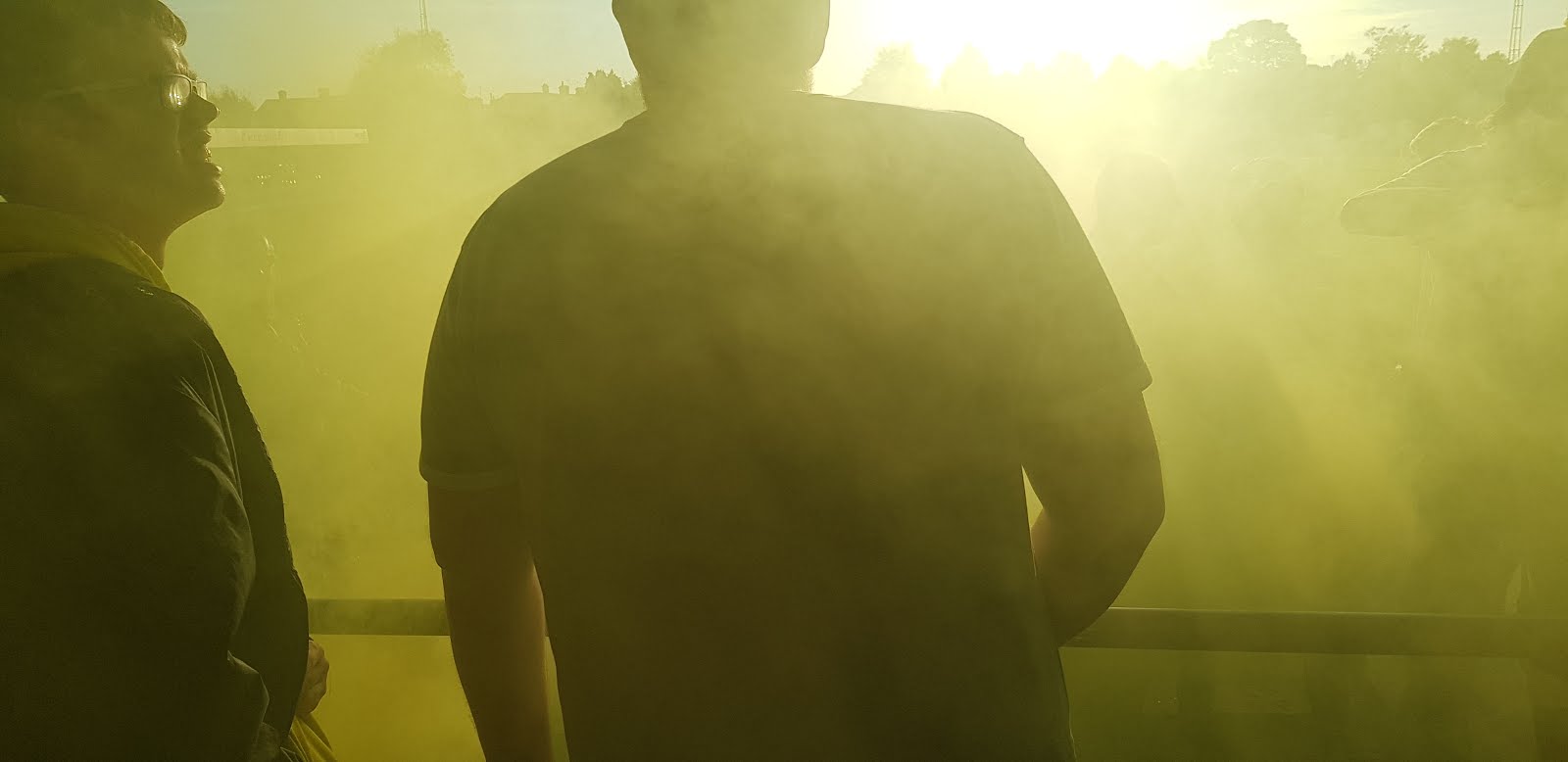 #NoPyroNoParty
Well, not quite. With the game deep into added time, a hook forwards finds Ayunga central and about 30-35 yards out. He gets it under, controls and with 3 blue shirts around him he turns, leaving them trailing and darts for goal. But rather than unleash the shot we're all expecting, he toes the ball to his left for Aaron Drinan sprinting past him on the overlap. The young Irishman controls, holds off the chasing defender and slips the ball under the sprawling keeper and into the net. All over the park, blue shirts slump to the ground in despair, Aaron wheels away towards the corner flag in delight and we all engage in a bit of what I believe the youngsters these days call 'limbs'. Fucking hell, I'm going to need a sit down after this. As the final few seconds tick away, some reprobate sets off a smoke bomb in our end and we have to take a step forward to see what the hell is going on out on the pitch following the restart. There's time for the hosts to throw the ball forward a couple more times, but the U's defence holds firm and as one last attempt is slashed clear, the ref blows for time and we celebrate again. Bloody cup football, it's never ever dull.
With the lads applauded off, we head out and start the trudge back to the pub. As we pass the bar, the yoof foolishly make a bit of a racket that upsets the locals a touch and a couple head out to meet this deadly challenge. To be honest, it's a fucking silly thing to do really, but then again, so is a bloke clearly older than even me offering out 17 year olds. Go back to your pint squire, it's really not that important. Back in the pub, everyone gets refreshments and slumps, exhausted and exhilarated, to start savouring an unlikely win. Here we enjoy a few and chat to some slightly more balanced locals who whilst understandably disappointed, are gracious in defeat and complement us on our support. Outside, there's rumblings of the local yoof forces having been dispatched to deal with our own and that they're waiting at the station. Good luck with that lads. It's in this period I'm introduced to 'the cunt patrol' by some members of the Dogging Club. Now this isn't some sort of offshoot of Barry's setup, but rather relates to the stewarding today where we were being policed by all yellow jacketed members of the hosts staff. But as soon as someone piped up with a C-Bomb, specialist teams in orange jackets appeared to no doubt try and trace the offenders. Like they need a higher grade of training to deal with the really potty mouthed amongst us. Modern football eh, ain't it wonderful?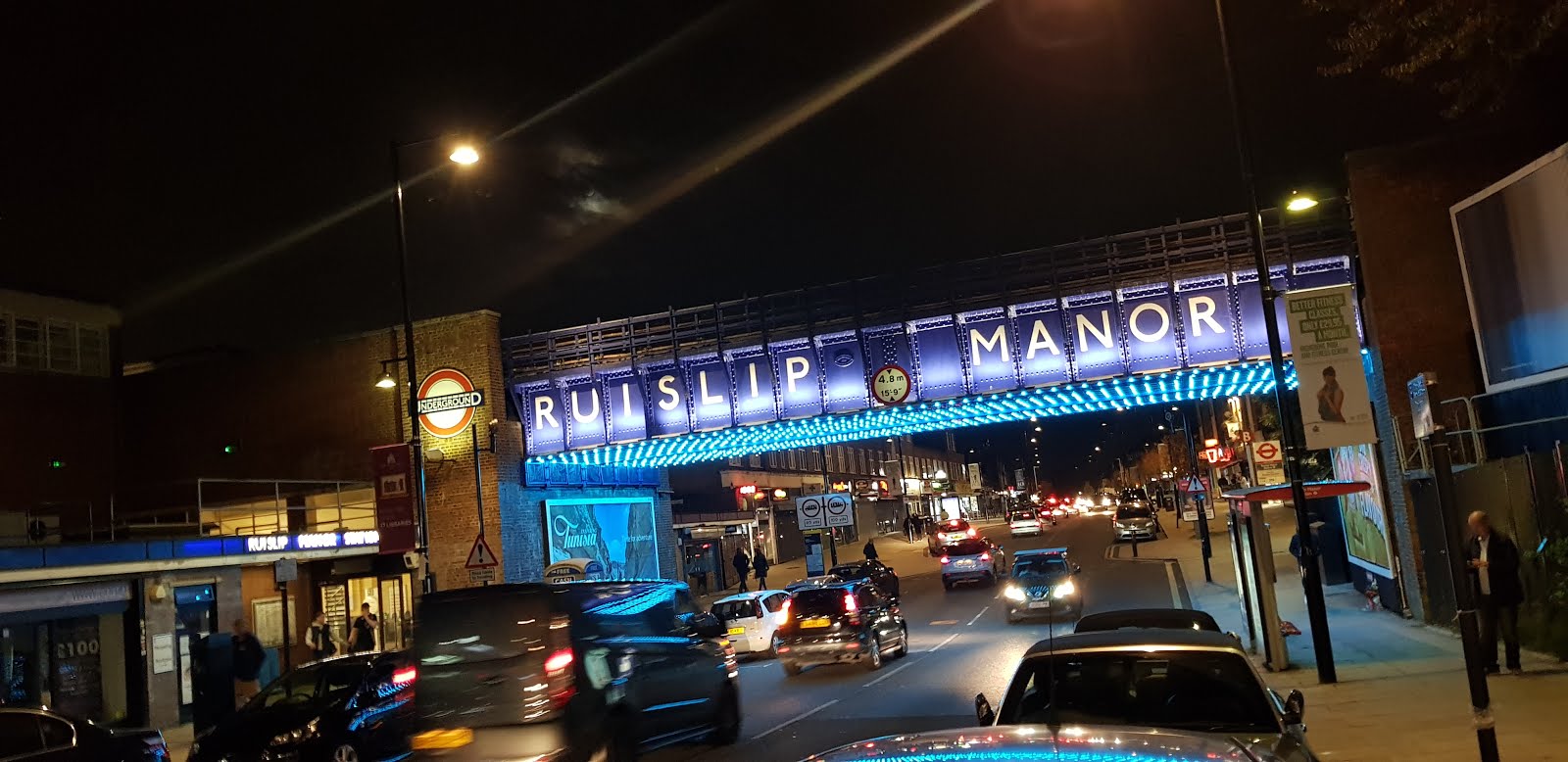 About as pretty as it gets round here…
Most of the away support drifts away over time and eventually we decide to make a move ourselves. JR has shot off, reducing our numbers, but Sleepy Joe is now on as a late sub instead. We hop on a tube back to the bright lights and undecided on how to progress from here, we decide to let our bladders decide. If they're needing emptying by Baker Street, we'll hop off there. If not, we'll go to Farringdon for a pint instead. On the trip back, I come in for some rather unfair stick based on my 'away fan' interviewarticle in the proggy. First my picture is criticised "How fucking old is that?" mutters Mr X. My claim that I think I've got better looking with age are of course shouted down by other jealous individuals. Another crack comes from an editorial mistake where the headline declares my name as 'Dave', yeah cheers for that Mr Editor. And finally, my declared age comes into question. "44? Fuck off, you're miles older than that!" scoffs Dukey, which is a bit rich coming from him considering he's been claiming to be 27 since about 2010. I tell you, it's all dirty lies and slander on a day out with this bunch of wankers.
Our bladders hold out and we alight at Farringdon, heading to our third Spoons of the day. It seems everyone's watching the pennies after our European adventures. Here over a couple of pints we discuss such subjects as Mr X getting fired from 'working' at Sunhill Police station and wanking over June Ackland. Although these two events are apparently (and rather unbelievably) in no way connected. Go figure. We eventually decide to call it a night ridiculously early though and head for the 9pm train back towards the Republic, but on the platform we lose a member as Joe spots an old mate on the other side and on a spur of the moment decision, heads back upstairs for a couple more beers and a catch up. Still, we're sure he'll be fine, even if unsupervised. On the train home, more shit is discussed, with school reunions being one subject after I enquire of Dukey about Robbo's unfortunate stumble into unconsciousness recently. I and Dukey declare that we're never likely to ever have reunions at our schools as they're far too council. "And Belly won't either" I add "after his was bombed in the war". "Yeah, by a fuckin' Zeppelin" snorts Dukey. Well quite, it goes without saying really.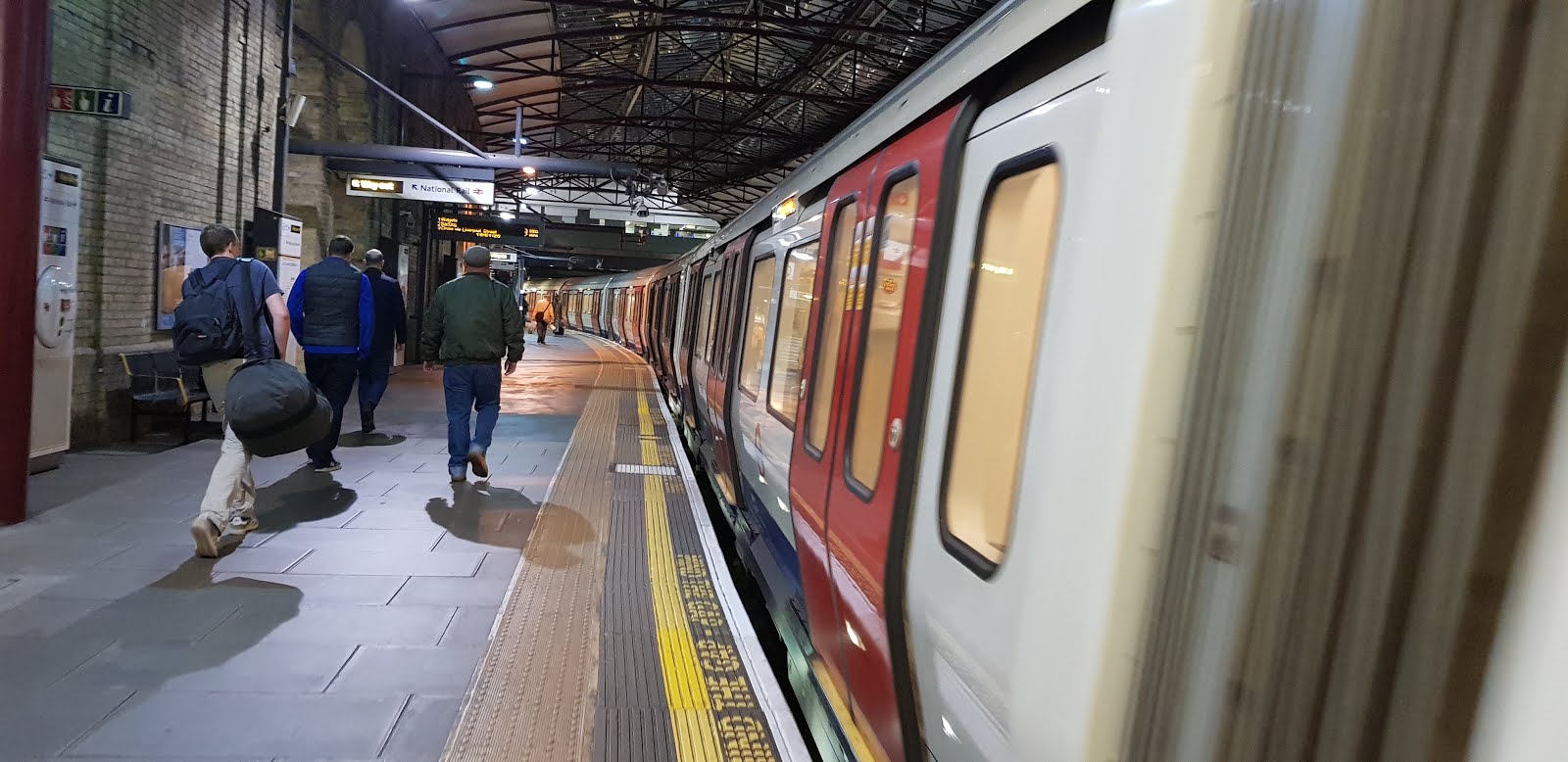 Going Underground.
There's talk of going to O'Niells for one as we head south back into our own version of boring suburbia, but I and the flat capped one politely decline and alight at Carshalton as per usual. I because I'm knackered and have exactly a tenner left in my wallet. Him because his new squeeze is waiting for him in the car park albeit not in the way Dirty Barry would advocate, at least I don't think so anyway. Regardless, I turn down the offer of a lift home just to be on the safe side and head for the high street to grab something to eat as I'm now feeling rather peckish. All the way there I'm dead set on a little pizza from GoGo's, but then I realise it's not even 10 pm yet and Saino's is still open, so instead I go for the far healthier option of a sandwich and a bottle of Ribena for the smug 1st round of the FA Cup stroll back to HQ.
Rock n' fucking roll baby.
Taz Dave