For the third match in a row, Sutton are once again involved in a little wet spot of cup action. From the lows of seeing the boys being one penalty away from an Irn Bru Quarter-final match against East Fife, to the wonder that is football, with a crackin' topsy-turvy FA Cup victory against the former non-league ultimate double winners of Wealdstone. But this game waits for no man, and we're back down the Lane for the really really proper, real cup action.
And as many of you know, I for some silly reason, still hold the Surrey Senior Cup in the highest of regards whilst everyone abandons it. Respect and all that jizz. I think I've actually forgotten why I still defend it to the end, but it's worth it. To me and a hardy bunch at least. Another reason might be that I like the annual moan that I like to have about it when we fail to win it. So let's get on with that shall we…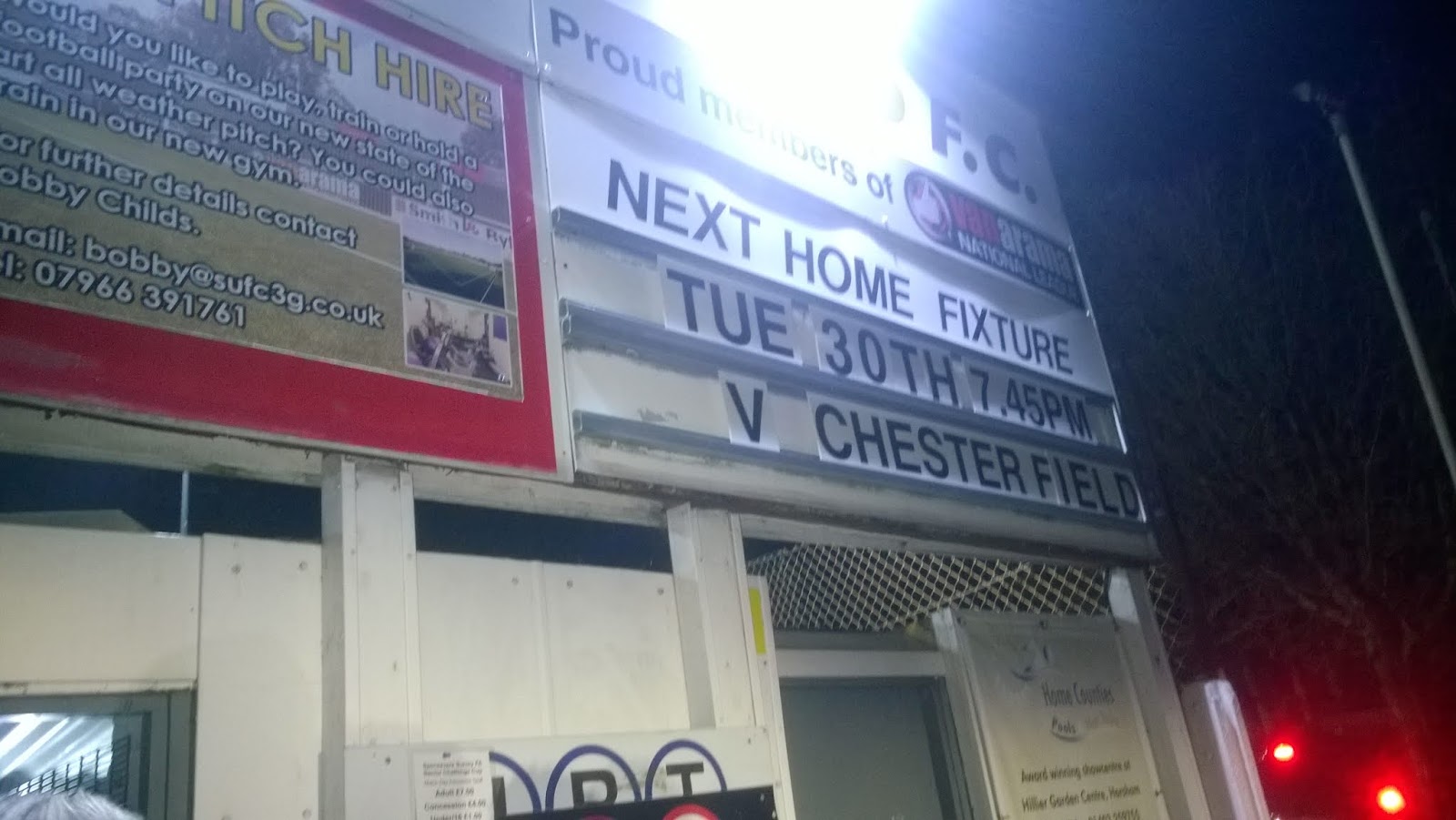 Up to date fixtures…
Moan moan moan moan moan moan moan moan. moan moan moan moan moan moan Surrey Senior Cup moan moan, moan moan moan moan moan. moan moan moan moan moan History to the Club moan moan moan moan. Moan moan moan moan moan moan moan moan 15 wins moan moan moan. One less than Dulwich. Moan moan moan less than five minutes moan moan moan moan. Moan moan moan moan moan moan moan moan anal phlegm.
The opponents for tonight were none other than our very own tenants. No, not Wimbledon Ladies, we got rid of them. Take a bow Sutton Common Rovers. Currently plying their trade these days in the old Combined Counties League and up to a respectable 3rd in the table to boot. And on the back of a four win streak, you'd think that they might fancy their chances of taking the old landlords. Especially against what will probably be a weakened side. The only question that remains is, how weakened?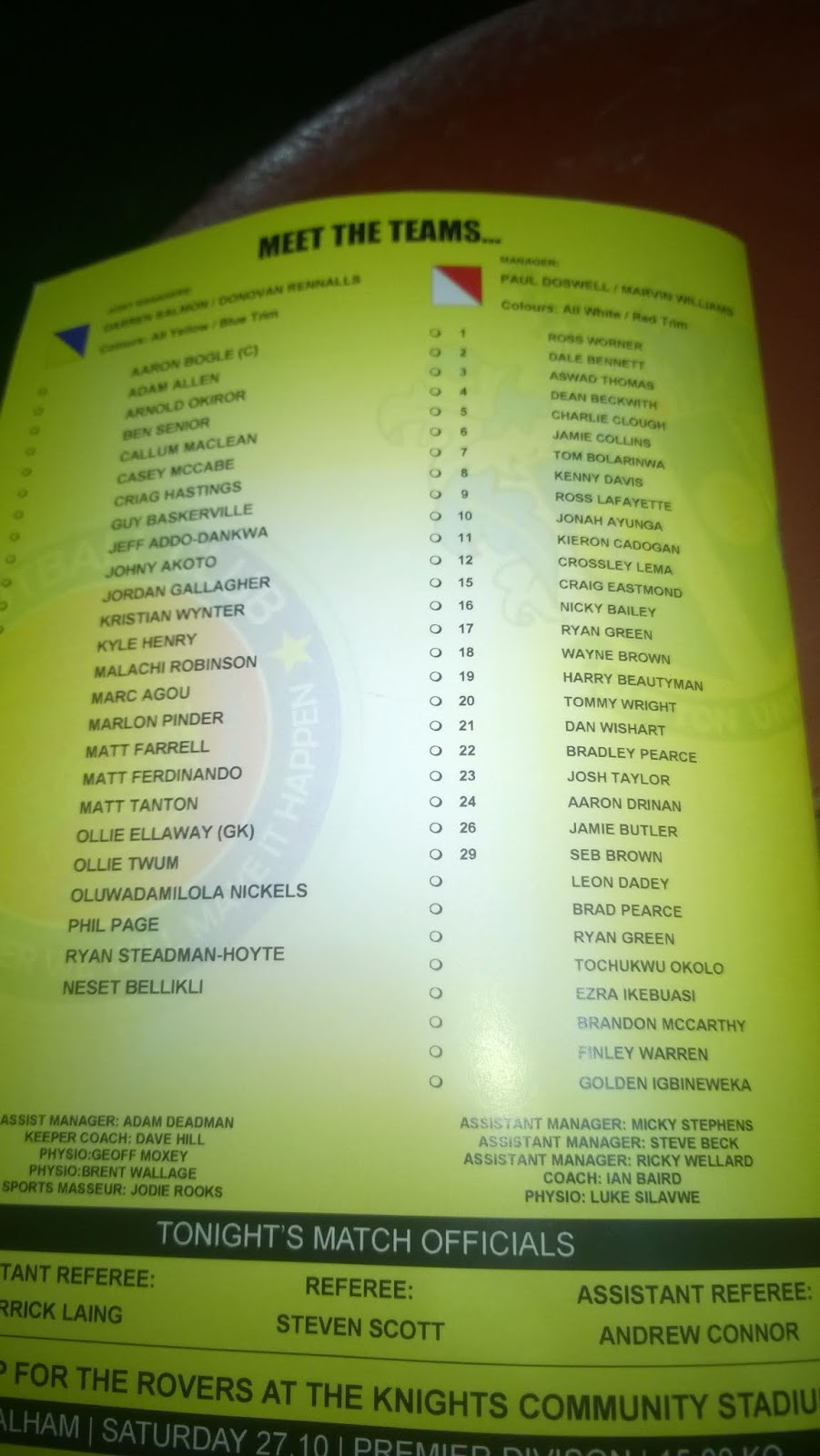 Who said we have a small squad?
The Firm Leader had offered his transport services for tonight's match. Although it did seem that he was more interested in another cups upcoming draw rather than the big one out on the pitch. Because after Saturday's win, we're of course in the FA Cup First Round draw. And as luck would have it, it's on the box at seven o'clock down the club. So it's in the Juke and after a quick pick-up of 'Dorch' we are soon spinning around in the car park looking for a spot to dump the motor.
In the club and there are a fair amount of people mooching about waiting for the draw. And don't I fuckin' hate these types of draw. From the off and we have some sort of nouvelle audience participation. With Sutton being ball 75, every single time any ball in the seventies was drawn you'd get a "ooooh" from the assembled crowd. Jesus, even ball 57 got a shout of "It's like our number but back to front". Modern football really is not for me. This sort of shit should be done in a smoky room by two senile old blazers, a bottle of scotch and a velvet bag, not by fucking Dennis Wise on early evening TV.
Back to the real reason some of us are here tonight and we get word of the team line-up (but nothing from our own Twatter account). And surprisingly it's a lot stronger than any of us had thought. Seven first teamers? That's either a god send or a face slapping in the making. And it's usually the second one. Outside and we have to head back towards the front to pay our £7 entrance fee. No ticket but we're give a stamp on the hand instead, like a dodgy Glasgow night club. Except here, the drinks definitely ain't fuckin £1.80 a go.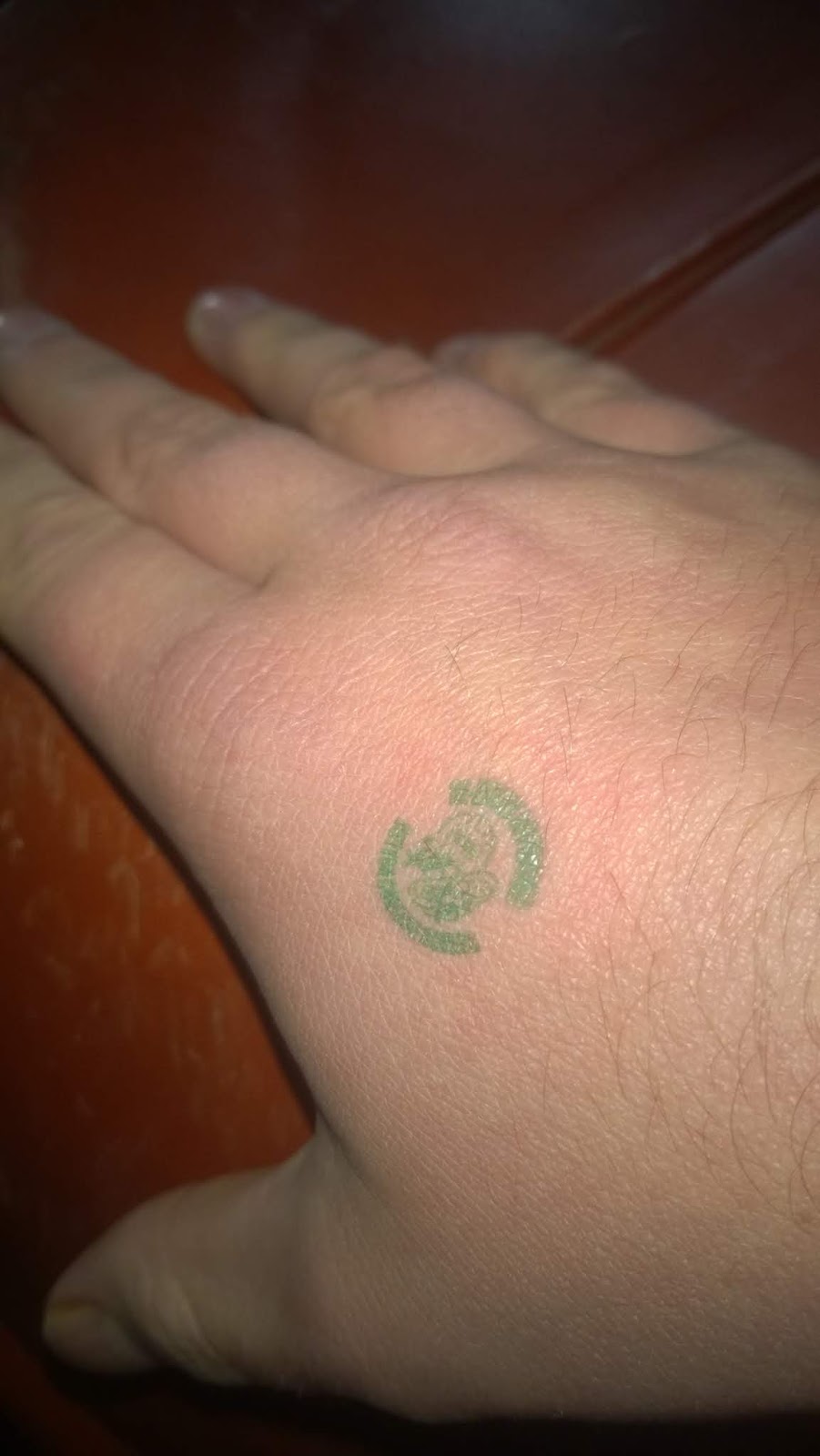 Been clubbin'?
Worner, Okolu, Bolarinwa, Ikebuasi, Ayunga, Bailey, Green, Beautyman, Wishart, Pearce, Taylor. Bench Warmers: McCarthy, McGee, Ferrari, Silano.


Shooting towards the Rec End, and with the sort of team that Sutton have put out, it's no surprise we started the stronger. Taylor was very much in a commanding presence early on and could've had a brace if he'd had his shooting boots on. Sadly he had shit ones on and a poor misplaced shot & the keeper saving with his legs were the only things in his way.
Twenty minutes gone, and Sutton finally got their goal. Chasing onto a through ball from Ayunga, Bolarinwa found himself in front of the oppo keeper. Instead of slotting it past him, he decided to try and take it round him. Under pressure from a home defender and with the angle getting tighter by the second, he managed to negotiate both and knock it home. 1-0!


For long periods of the first half, Sutton tried to apply more pressure. At one point, we saw Beautyman see his shot clip off the bar. Sutton Common Rovers for their benefit didn't appear to play like a team several divisions below Sutton. No real rough stuff and no basic pump it football style either. Because that's what I would've done. Hit them hard over the park, let 'em know they're in a game. But I'm old fashioned like that. Then again, I'd never played in a game where the other mob could double the rent if you turned 'em over or gave 'em a kicking, so what do I know?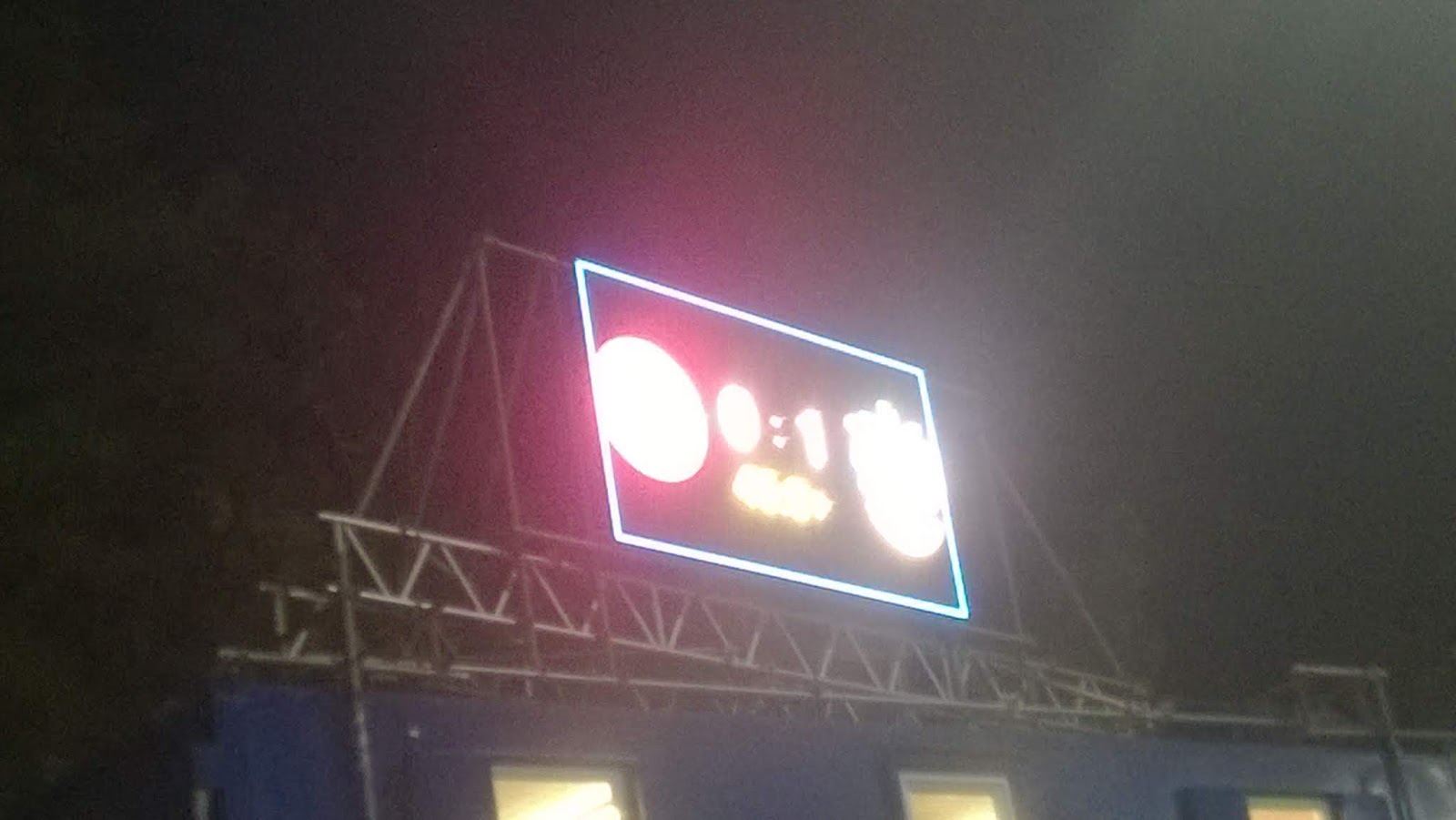 Shitty half-time picture…
Second half and we take our traditional spots on The Shoebox. Plenty of non-match conversations around as per usual. With the temperature dropping, there is not much action to speak of. Instead, let's discuss the FA Cup draw. Slough at home then? Winnable? Or would you rather another bleedin' away match? My first thought after the draw is "Blackpool away possibly on a Tuesday night?". Doesn't bear thinking about.
Midway through the half and Sutton make their first sub. Ayunga is replaced with academy fella Linda McCarthy. The game begins to open up a touch as both teams go for goals. Sutton had several chances to finish it off, but it was once again the final ball that let the side down. At the other end SCR manged to get into some dangerous positions against the young back line but I don't recall Worner making any real saves from any of this.
With five minutes to go, and Sutton finally break down the SCR resistance. Wishart laid the ball into Linda McCarthy. He turned away from his marker on the edge of the box and let off a hard and low shot that beat the keeper. 2-0! That should do it. Taylor is soon after replaced with McGee and Sutton manage to see the game off for another cup victory. Two out of three ain't bad.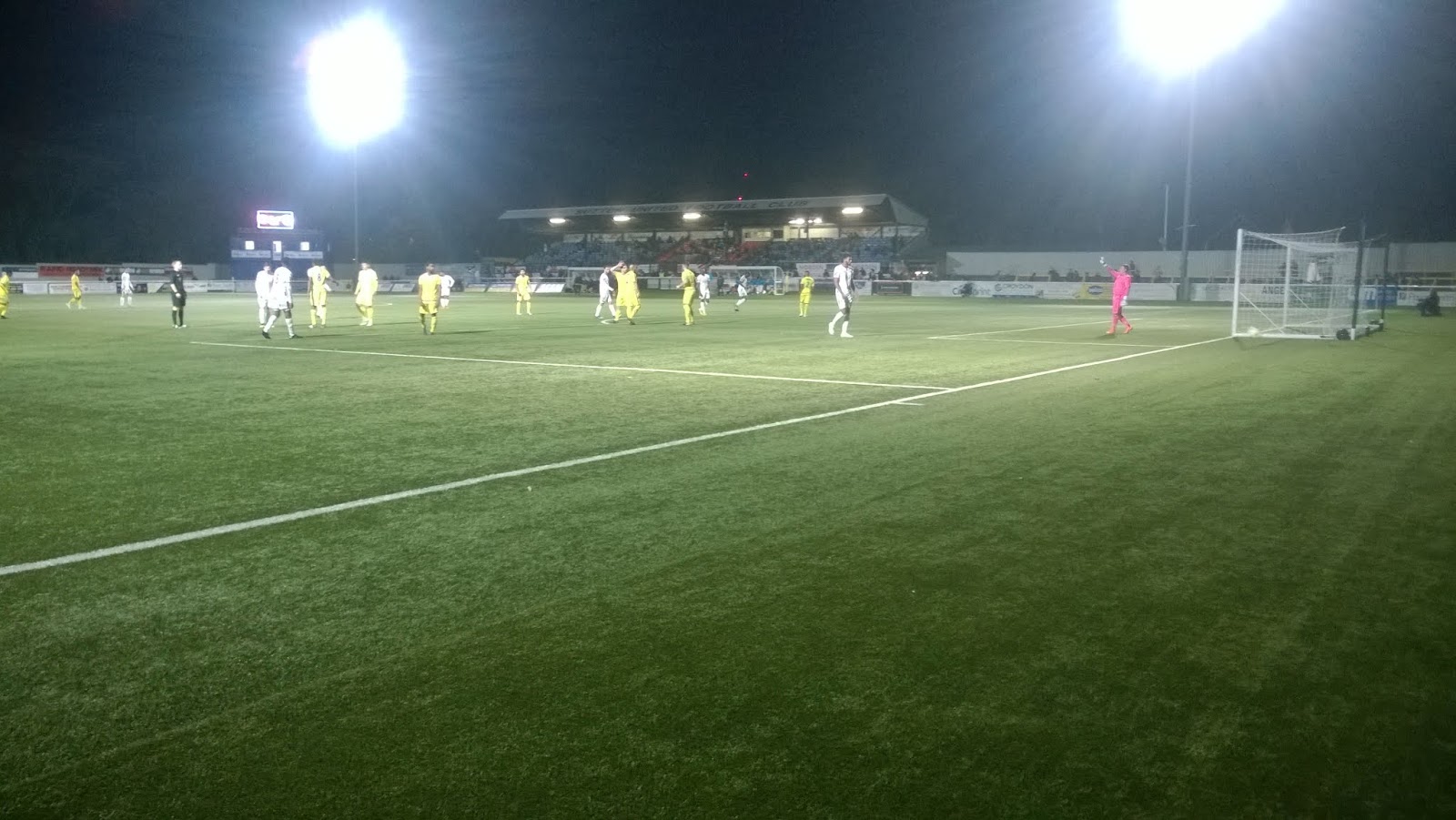 Action…
After the match and it's straight into the bar for a celebratory drink and a warm up. And yes, before you ask, as it's technically an 'away' match. So there is no need for me & 4 Days to do our usual post-match duties. Union rules and all that. Over all the excitement there is also discussion about other trip that we need to do shortly. Saturday's match? Yet another early start as we're making the long-arsed trip to Hartlepool. Wonder if the Airdrie lot will show up?
So there we have it, our cup run(s) continues and more importantly, I, the Duke does not have to observe the usual three day mourning period that an SSC exit demands. No, instead it's waiting for yet another draw and the next round of the mighty Surrey Cup. And this is despite the fact that not only is there still Preliminary Round matches to be completed, but most of the rest of this round isn't going to be played until the end of November. So it'll be a long wait for us proper County Cup fans once again. Enjoy.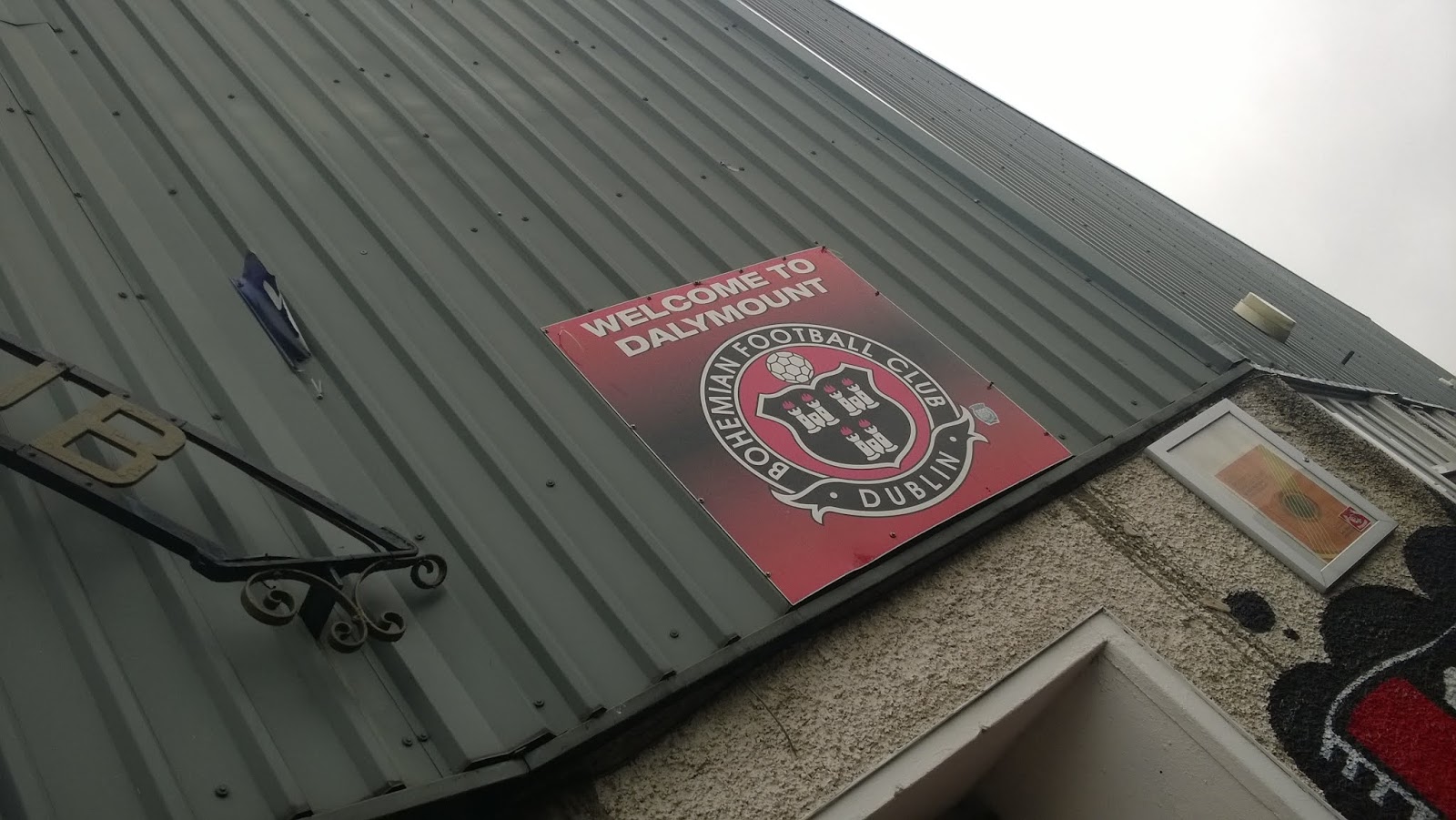 Ahh, memories…
Duke
Att. 263