Damn the bloody penalty shoot-out! It can be such a cruel way to decide a football match. They really should just bring back the old school skool way of drawing lots or even just replay the match until there is a winner. That would be easier to stomach instead of watching your team go out in the fashion we did. Then again, at least it wasn't all that confusing ABBA routine bollocks! So every cloud…
It's Friday afternoon and I've just finished work in and around the slums that are Tolworth. Even better for me, it's freakin' payday. So this means that I can finally sort out my foreign currency for the forthcoming trip. Stopping off in New Malden and with the folding sorted, I head back to the car to find that some arsehole has tried to box me in with their stupid grey little Mini. It's fag-paper thin, but I manage to get the old girl out. What a cunt! Now if only I parked on a road that I actually have to work on during my route to get back at them. Oh wait…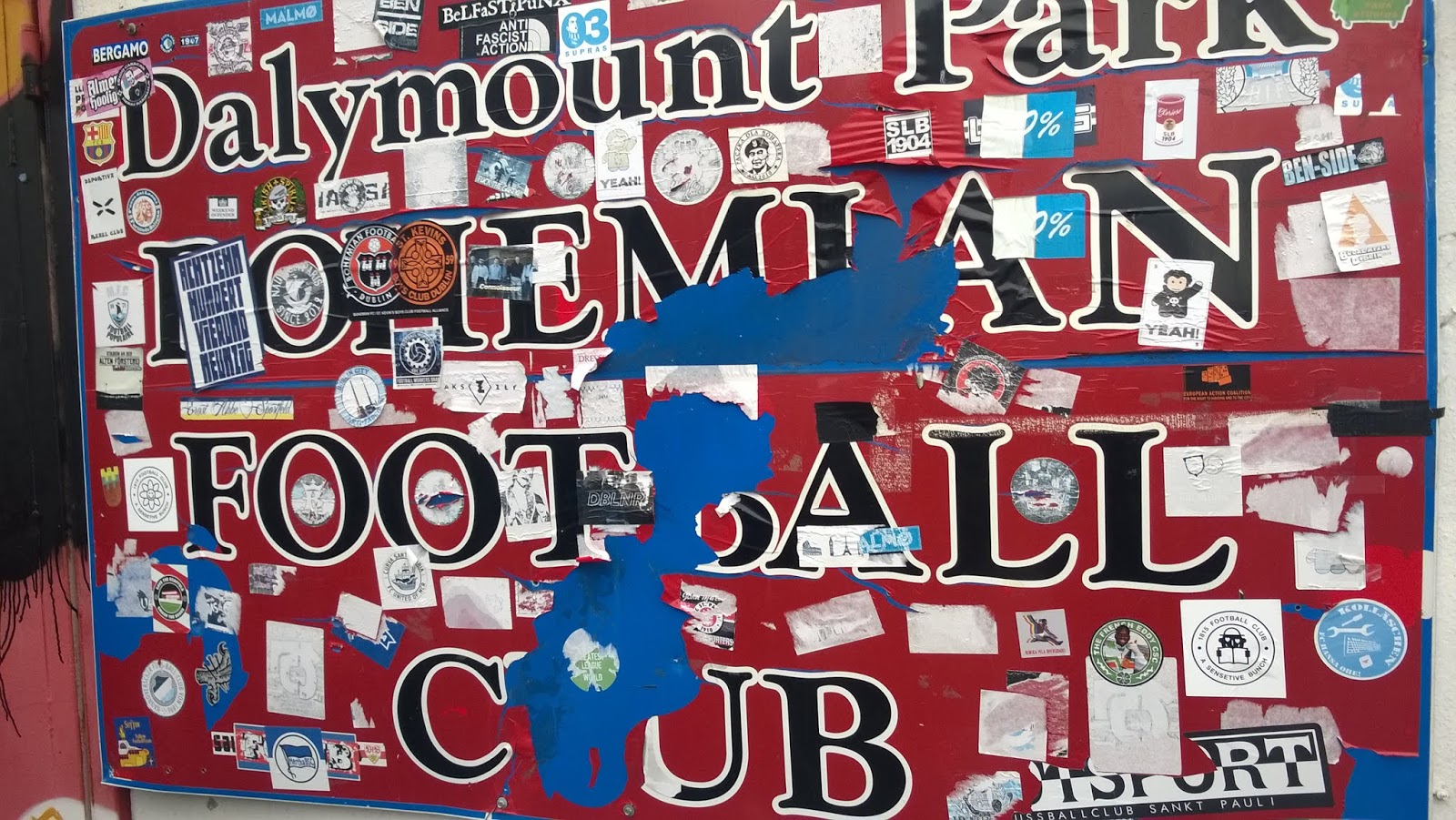 One or two stickers…
I'm home in double quick time and it's not before long that I'm back out of the door and heading in the direction of Sutton. Sporting my work backpack, because Ryanair can fuck right off with their whole list of itemised prices and pay extra for luggage bollocks, my destination is the command centre of Dr Bell. This is where our driver, Tatey, is picking us up from to whisk us down in the direction of Gatwick. Straight onto the A217 and we're right into the middle of a bloody average speed camera zone. Oh great Balls of Fire. Onto the M25 for one junction and we ride inside some traffic that keeps us from making up time. And as some of you know, the M23 is ballsed up until whenever it is with more average speed cameras. And even as you come off the motorway and head towards the airport you have more average speed cameras. Fuckin' Ada! Give it a rest eh fellas?
Finally arriving at the airport and it's time to find a parking space. luckily for us, Tatey had already sorted all this shit out in advance. Except the bit about where to actually park. First attempt finds us trying to enter a Valet car parking area. Backing out of that, we head off to another multi storey. Eventually finding somewhere to park. We then head outside for a cheeky last snout before heading on through. Around this time, Tatey waonders aloud "Did I lock the car?". Well you'd better check then fella. He heads off back to the car park to find he had forgot to lock his motor. Talk about having faith in this fair society of ours! Breezing through security, we're even surprised that Dr Bell manages to keep up. Although why he needed to take his shoes off because he'd had a hip replacement is beyond me. We also receive word that Southampton Steve has already touched base and is waiting for us upstairs at the 'Spoons. Well, we need to get a couple of cheap pints in before the expensive stuff starts.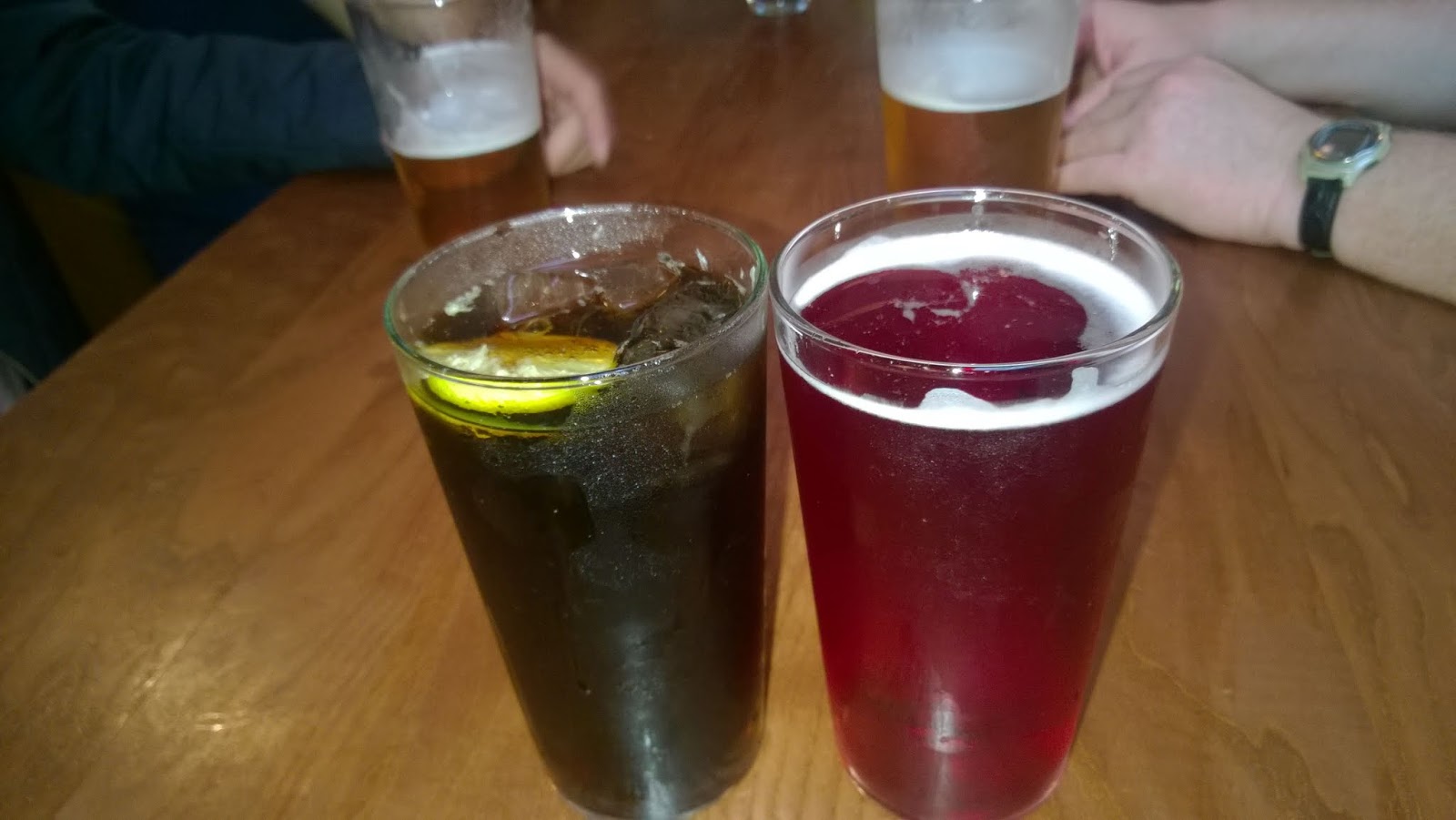 First drink of the trip…
We settle down for a couple and await news of our flight. With other members of The Firm already departed, we know that most of the flights today are delayed by various times. The ray of light is, Taz, who is at Luton and appears to not be delayed at all. Pete the Perv on the other hand is coming from Stansted and already knows he's going to be well late arriving. Our seven o'clock flight appears fine until around six o'clock comes and we're informed that there is a forty minutes delay. Not too bad we think. Besides, it's an excuse to have several more pints. Winning. But then the forty minutes delay becomes and hour, and then an hour and a half before we finally get a gate number. Finishing pint number seven, we head off only to end up in a long queue just to enter the bloody departure lounge itself.
Spotting one or two other Sutton fans in the crowd. we still have to wait until after nine for anything to happen. The plane arrives and we finally board the fucker. Can't remember the flight itself as I'm asleep before take off and am only awoken when we land on a wet and windy Emerald Isle. And it's never good to sleep during a drinking session. Be warned. By the time we've landed and locate some transport, it's already gone eleven. The question is, Should we stay or should we go? Meeting Taz in the lobby of the hotel, pint of Guinness in hand, we eventually decide that we'd better be polite and meet up with everyone else. Ordering a sherbet, as after all we're in a cheap hotel near the airport and miles away from the city centre, we wait outside for it to arrive. One does turn up, but it's a normal sized motor and there is five of us. Fair enough. Taz, Dr Bell & Southampton Steve jump in the cab and me & Tatey order up another one.
Shouldn't delay the fuckin' flight then!
For most of their journey into town, the other lads are informed by the cabbie that the chances of getting a seven-seater at this time of night and was willing to go from the airport back into town were so slim that there was more chance of a Yugoslav Rugby League team entering the Challenge cup next season. Oh and the sherbet that picked just me and Tatey up a few minutes later? A seven bloody seater of course! The "William Searson" on Faggot Baggot Street is our destination. And the first taste of what beer prices are going to be like. Fuck me! Over £6 for a pint of cider! Gonna be an expensive weekend. Plenty of familiar faces are in attendance including several members of our illustrious board including Bruce "Give me jut a little more time" Elliott. And not to mention a very "happy" Adrian Barry all enjoying themselves.
There were some of our very own who appeared to have enjoyed the festivities earlier too. Didn't we Ozzie? Not like you to fall asleep in the chair is it? Anyway, a few of the boys of course sample a pint or six of the black stuff, but you can be assured that for the like of me & Mr X, that stuff is not to our likeing. Conversations are of course beyond what can be wrote down here but needless to say, Tatey seemed to nearly piss his pants at the whole thing. Eventually with the time gone two o'clock it's time to call it a night. But not before a quick stop off at some local specialist late night eatery called "Burger King". Ever heard of it? Taz was delighted. Something about the food actually being hot? Then it's back to the hotel, with one sherbet coming in at around just over €25 the other nearly €40. That appears to be the difference from one going thorough all the red lights and the other through the tunnel and about 3 tolls. Still it's gone three o'clock and I'm tired….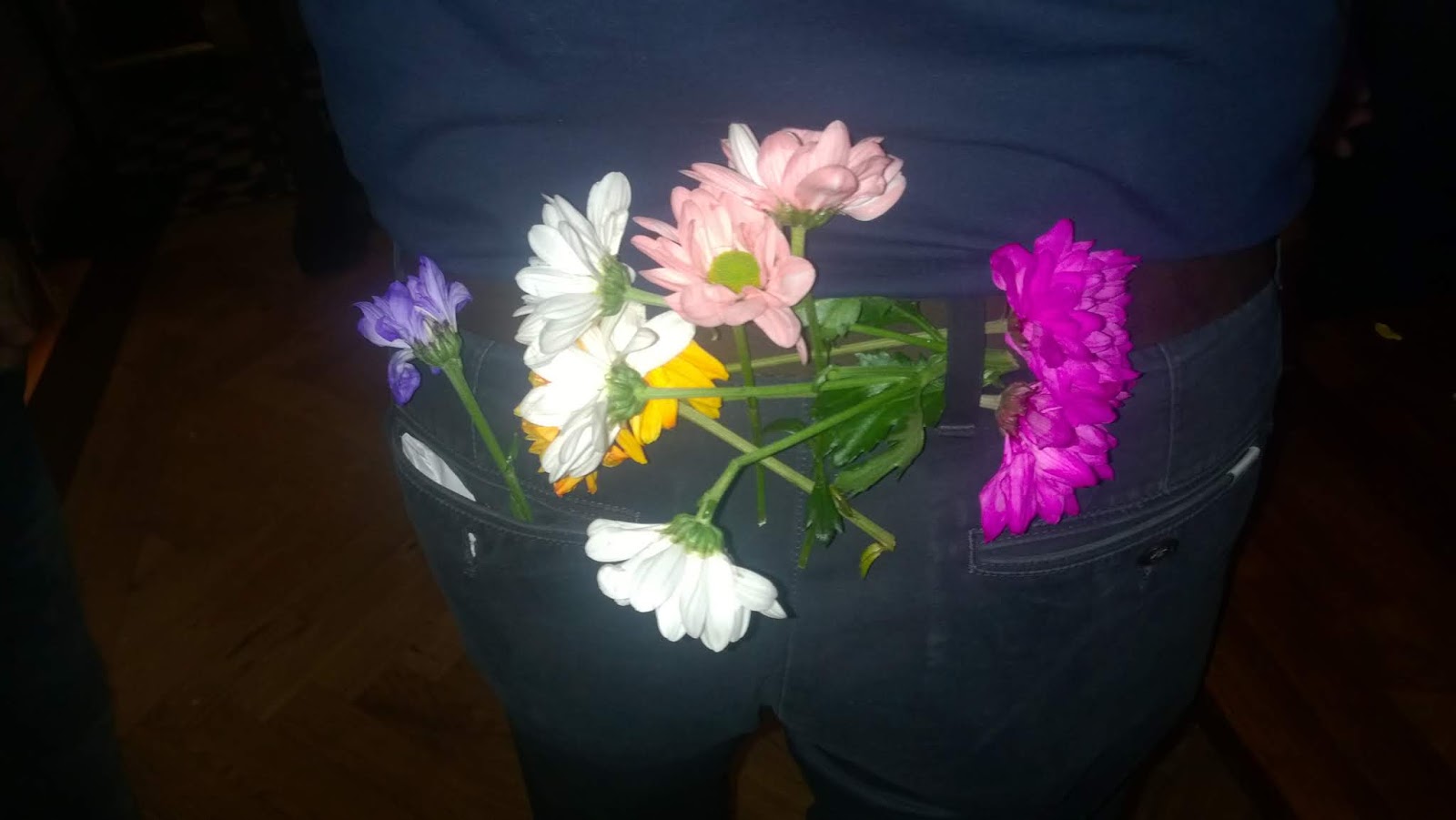 Lover, not a fighter…
The alarm goes of at some gawd awful fuckin' hour Saturday morning. Showered and changed and we're down for a standard Premier Inn breakfast of anything and everything that's about. So the plan of action for today? Standard Gandermonium fare of hitting up a boozer at eleven o'clock of course. There were plenty of others arriving throughout the day so we needed to be on our toes. The weather for the day? Pissing it down as always. A seven-seater is ordered and arrives to take us to the first boozer of the day. With Irish Pete making a day-trip, he's already been designated the local knowledge/travel guide. Well he is a Paddy from Dublin after all. Although, this doesn't stop him from giving us the name of the pub for the sherbet to drop us off to, that when we arrive has a fella outside sweeping up and saying that he doesn't open until twelve. And furthermore, most pubs around that area don't either. WTF?
With Irish Pete finally contacted and located, he welcomes us over to another pub back over the river. A simple journey, only made shit by the constant falling rain. "The Flowing Tide" is the first pub and we settle down for a a quick pint or two to rally the troops. Irish Neil (no relation to Scouse Neil), a friend of Irish Pete and sometime GGL visitor makes an appearance. We also receive word from the one-day wonders that there are plenty of Sutton fans on the plane from Gatwick heading over. Next on the recommendation list is "The Confession Box". Here we're joined once again by Ozzie and the rest of the gang making the trip: The Firm Leader, Crockett, Magnum P.I. & Ipswich Lee. It's also here that a joke running between me & Irish Pete for what seems like forever comes to fruition. I won't bore you with all the details, but he plonks right in front of me a neat Bushmill's Whiskey. None of your papist muck here! But even at midday, not exactly my drink of choice.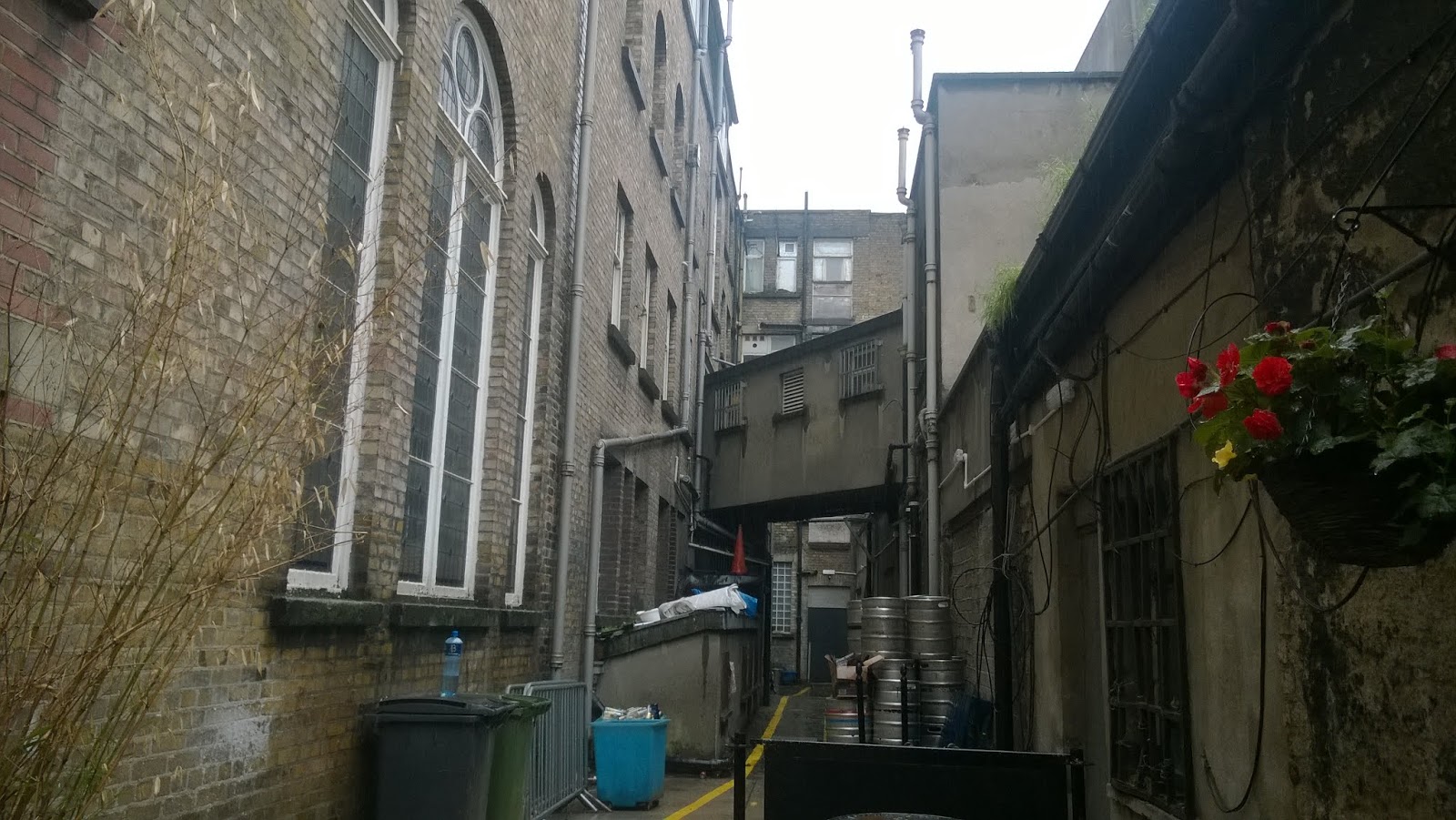 Reminds me of Torquay strangely…
It's now off to "Lannigan's" were there are even more Sutton fans hanging around. Arriving we find a fella trying to fix the door that seemed to been damaged the night before. Inside we come across some members of the new Sutton Cocktail Crew. Enjoy you executive upgrade at your hotel did you lads? With a cab rank right outside the pub, it's a god send and eventually after a couple more beers its time to jump into any available motors. The sherbet I was in with Crockett & Ipswich Lee had a driver who was so talkative, I'm surprised we got a word in edge ways. But fair play to the fella as he was very knowledgeable in what he knew. And it's not before long and we see the floodlights of Daily Mail Dalymount appear on the horizon.
Walking down a narrow alley in between two houses, we come across the entrance to the ground. Plenty of stickers for Taz to get all giddy about too. It's €15 for the privilege and after waiting patiently to receive my fiver change it's all into the bar for more beer. A small and quaint place that wouldn't go amiss back home, mainly as it seems the whole place is occupied with Sutton supporters. There seems to be plenty of boat races I've never come across before and even some that I would never imagine would ever set foot away from a Sutton match except down Gander Green Lane. It seems this Scottish Cup stuff has caught the imagination!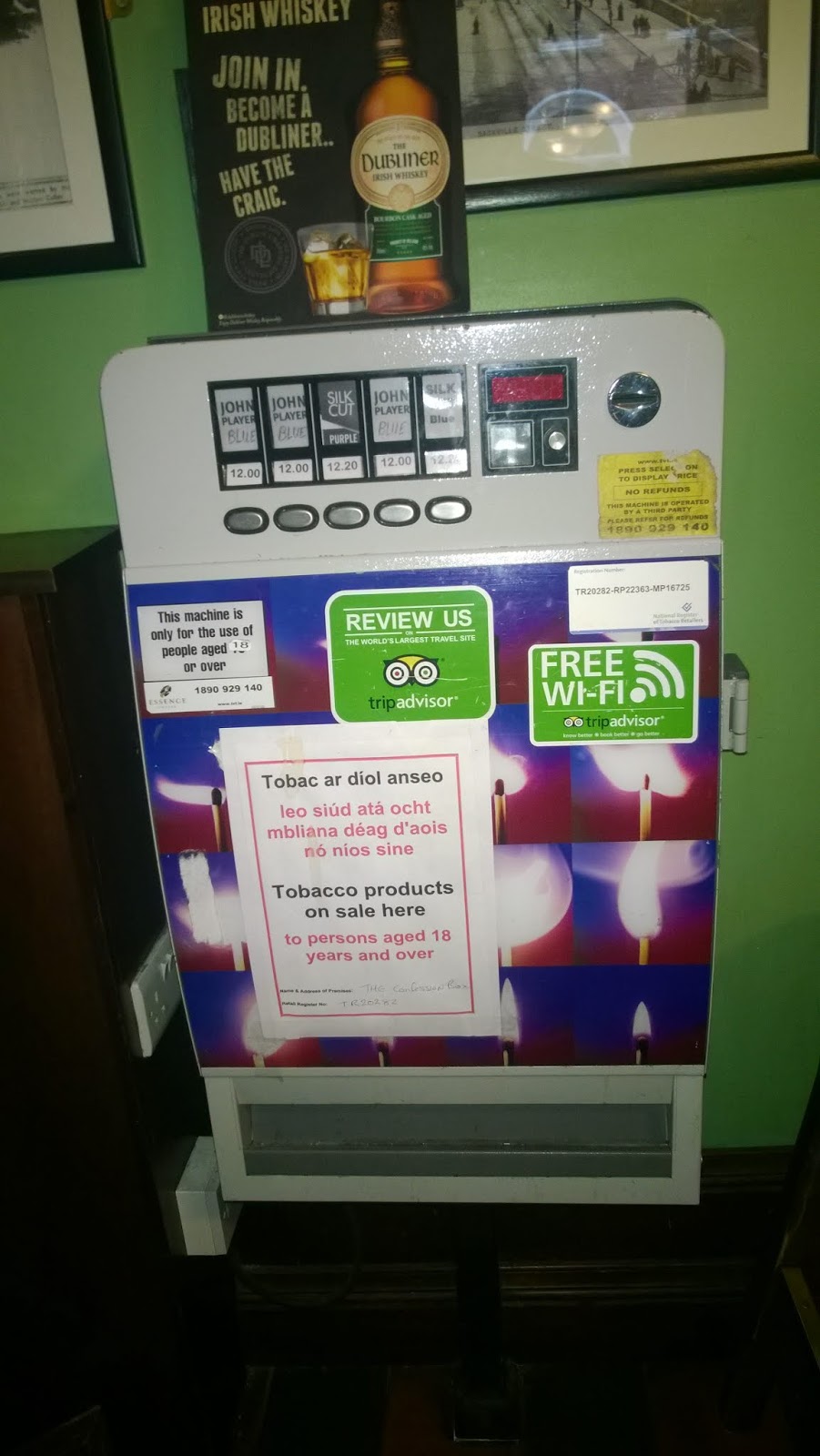 Wow, a cigarette machine…
Taking a quick butchers at the former 'Home of Irish Football', you can see why as the place was very much in a state of disrepair. It's always a bit sad to see stadiums like this when they're past their former glory, but still an impressive old heap. With everyone in one stand, although I was told later that sometimes they open the end to our left, the rest of the place was like a ghost town with only a smattering of flags at the far end.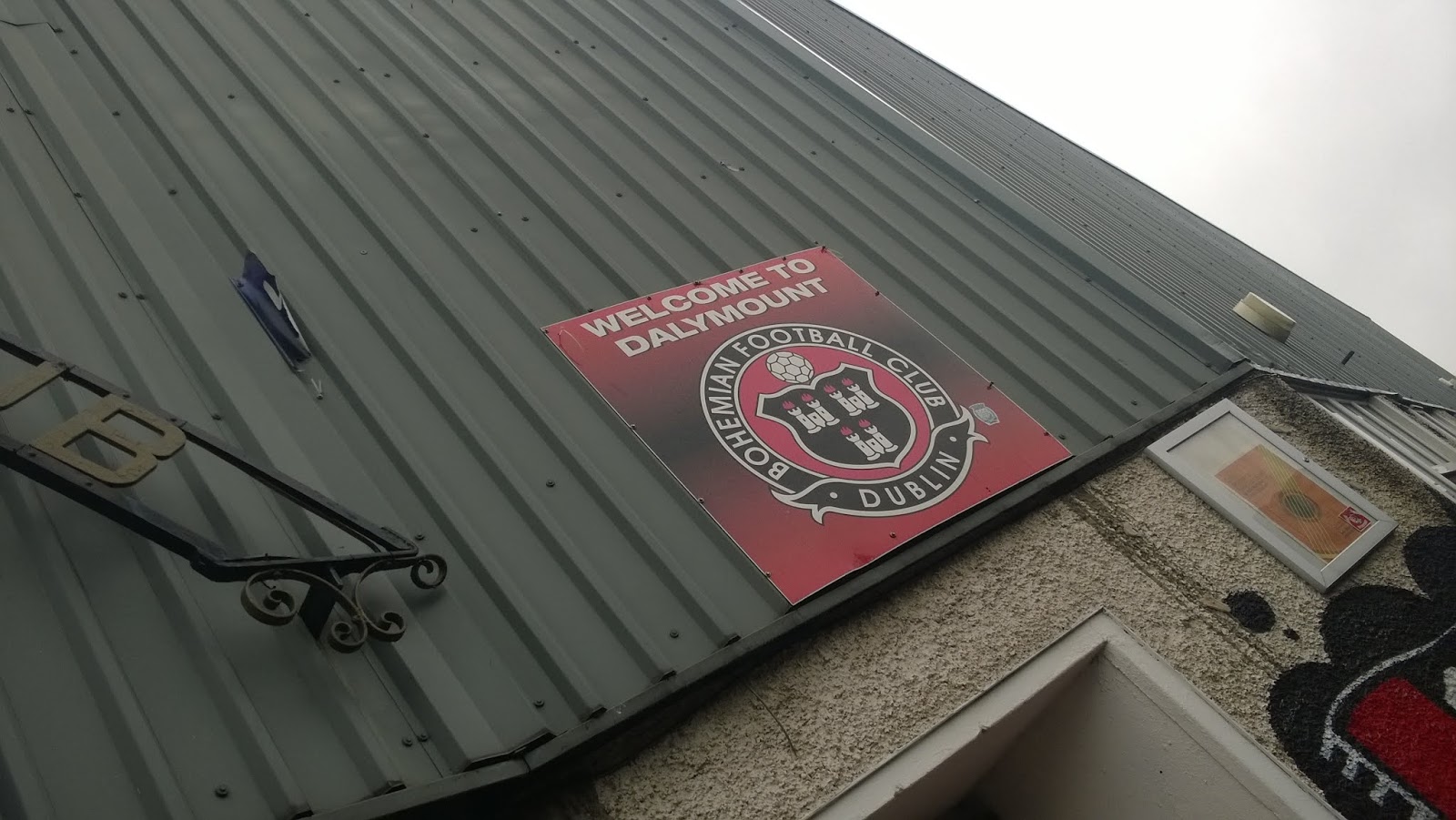 Glad to be here Daily Mail Dalymount…
Worner, Bennett, Thomas, Clough, Bolarinwa, Ayunga, Eastmond, Brown, Wishart, Taylor, Drinan. Bench Warmers: Davis, Beautyman, Cadogan, Beautyman, Butler.
The rain is still coming down as the game kicks off. As expected, Bohemian come out of the gate fast with a game plan that seems to involve them scoring early. Another thing that was quite expected, but hoped not to be the case, was the state of refereeing. And once again it was as bad as listening to modern 'music'. I don't mind if the ref decides he's gonna either lay down the letter of the law (anal) or try and let the game run (lazy). But fella, what ever it is, you really need to do it for both teams.
The home side had the better of the early exchanges. Several crosses weren't dealt with and Worner was called into action more times than he was for the whole of the previous round's match. Sutton's first corner did result in a goal but it was clear that Bolarinwa was in an offside position when he tucked it home. Sutton's other best chance fell to Tombo as well, his rising shot into the top corner of the goal was well tipped over by the home keeper.
A great example of really shit officiating was when in the middle of the park, Tombo gets scythed down. The ref obviously needs to give the free-kick but doesn't produce a card? Wow! Compared to our soft ones, a remarkable bit of one eyed fuckwittery. Faced with his third arsehole ref in as many weeks our Lord Dos is not happy with this and may/may not have called into question the refs objectivity as well as his parentage. Either way, he's sent into the stands for the duration.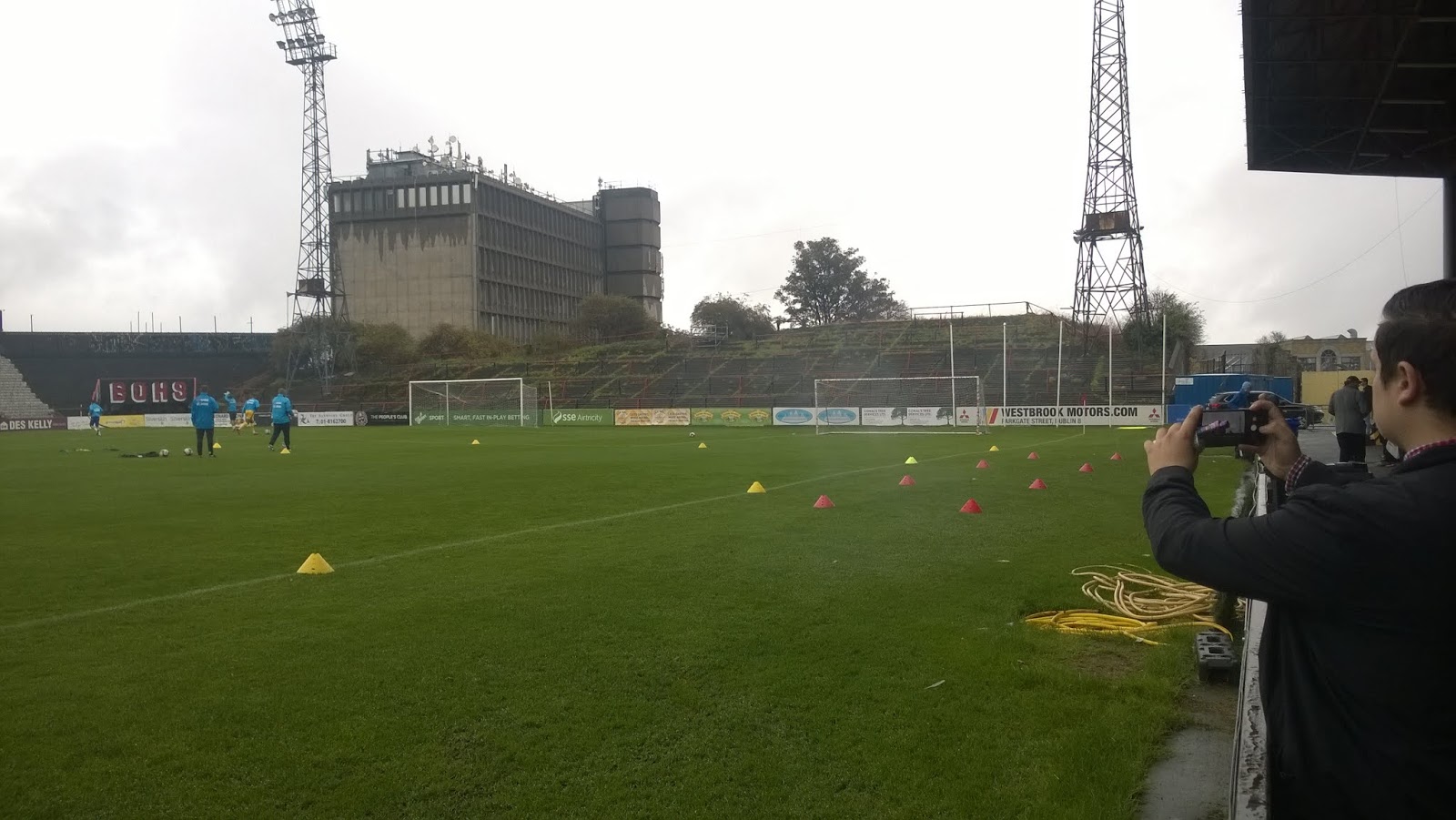 Classic Irish Architecture…
Within ten of the restart, Sutton make their first change. Davis comes on for Brown. Clough takes a yellow for the team with our only 'real' booking of the arvo and both teams settle down as players begin to tire. The entertainment factor is reduced that much that a highlight would be when a rogue clearance from Bohemians, somehow ends up trapped in the netting above the travelling support. Speaking of which, how many made the trip? I've heard several estimates range between 200 to 300.
Both teams had danger men with Sutton's being Ayunga. A right handful attacking down the left as he would cut in and cause plenty of problems for the home defence. Some were a bit surprised to see him leave the pitch when Sutton pulled a double substitution with ten minutes to go. But I guess you have to look at the whole bigger picture thing and think a little long term into the season. FA Cup next week innit.
Cadogan & Lafayette were brought on for Bolarinwa & Ayunga, and from here Sutton really went for it. Clough probably had the best of the chances as we had to watch as his diving header from close range fails to make it on to target. With time fast running out it appeared that we were going to be a few minutes short of grabbing a historical win.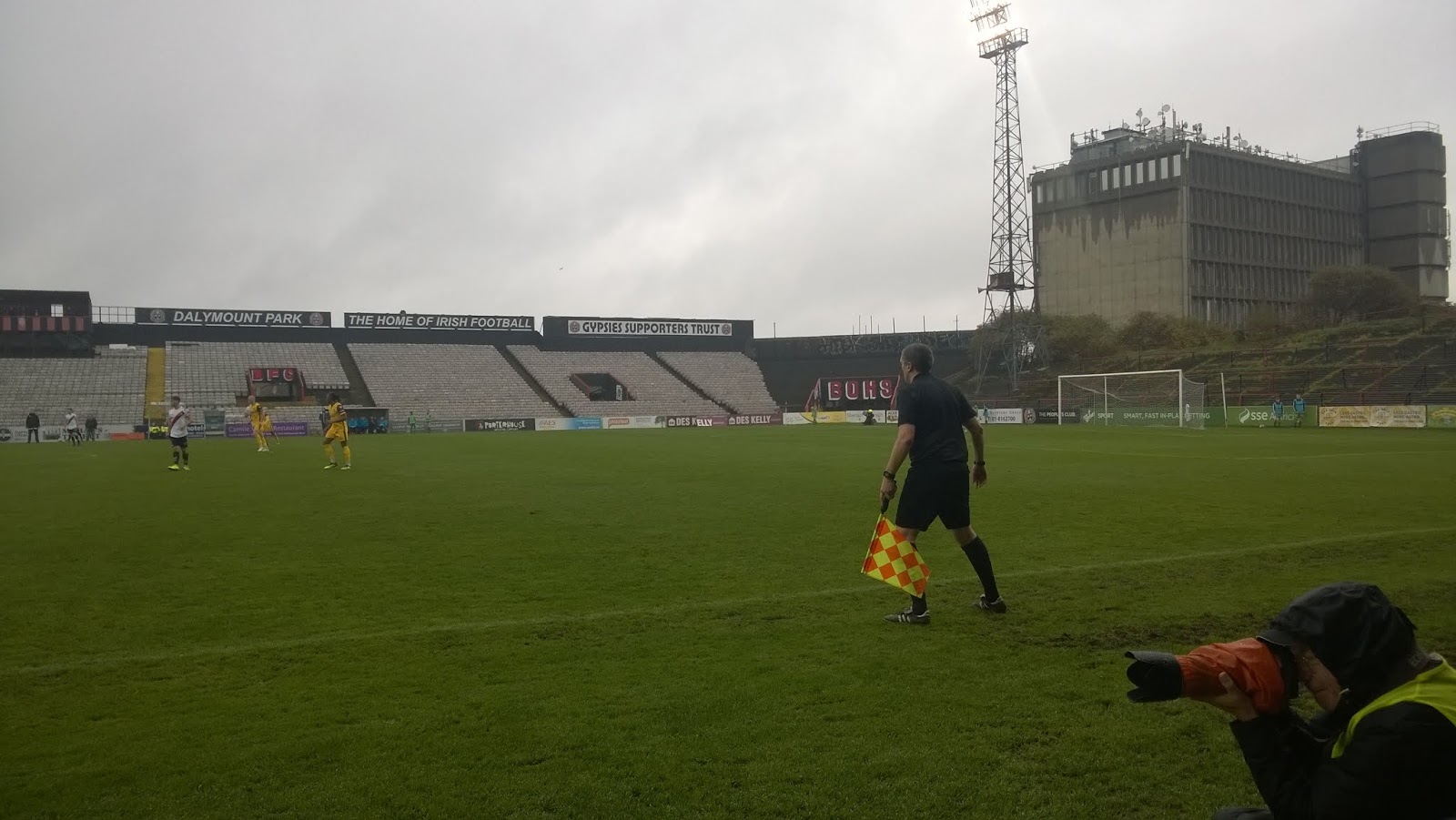 An idiot official…
So, we head towards penalties and not surprisingly, it's all done at the other end with some of the home support now allowed to head behind the goal without any interference from the stewards. It's a very Sutton penalty shoot out and at one point we're 3-2 up with two chances to win the tie thanks to two great stops from Worner. Needless to say we fuck it up, with Cadogan and Eastmond both missing before we get to see Thomas miss the final spot kick, crashing it off the underside of the bar and out. There is a minor pitch invasion by the latest casting audition for a new Boyzone or Westlife group, but the away support are silenced. Been a while since we've seen a penalty shoot-out defeat. I reckon it's probably going to be something like Raynes Park away in that other big cup competition, the Surrey Senior Cup a few years back.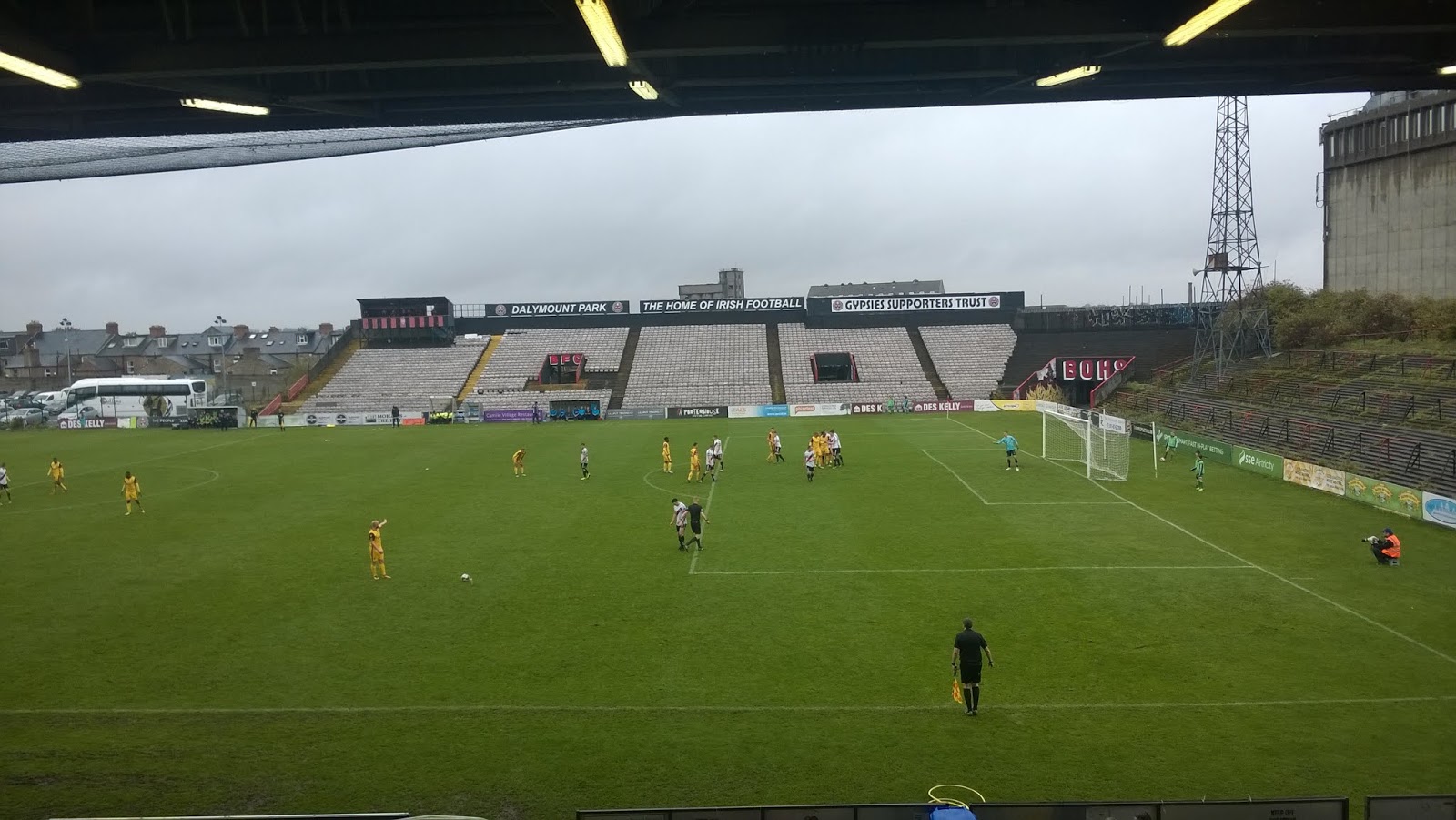 View from the Gods…
After the match, and we head back to the bar for a couple of jars. No matter who it's against, I hate losing. No, I really hate losing. Losing against Arsenal in the FA Cup depressed me about as much as the defeat to Guiseley the Tuesday before it, despite going all the way up there knowing full well we would be sacking it off. So yeah I hate losing. But to lose at penalties, especially from the position we were in, is a bitter pill to swallow. Drowning our sorrows, rumours begin to filter through (from not only Sutton fans, but Bohemian supporters as well) that Thomas' shot may have actually crossed the line. Damn! Even more gutting if that turns out to be the case and properly sums up that fuckin' ref. Full credit to the boys though as they gave it go. Makes you wonder what could've been if we were at full strength. It also makes you wonder what level of football the Scottish & Irish are at.
Crockett & Ipswich Lee leave us here, with a few extra free tickets to hand, for the International match down the road. That turned out well didn't it lads?! The rest of us meanwhile decide to try more local drinking establishments. All except Irish Pete who left us as well as he was due to fly back to Blighty. But judging by the state he was in, he might not have made it as he staggered back down the alleyway! Halfway to a boozer called the Gravediggers we stop off at a place called "The Whitworth". The place seemed more like a T.G.I's than a boozer with it's neon signs. Topping the whip up for the third time today, we settle down waiting for everyone else to arrive. Even Amber Aleman got in on the action by contributing to the collection. Taz & Southampton Steve also snuck in a cheeky stop off at a chippy on route. Millsy was even to appear for a few jars and do what he normally does.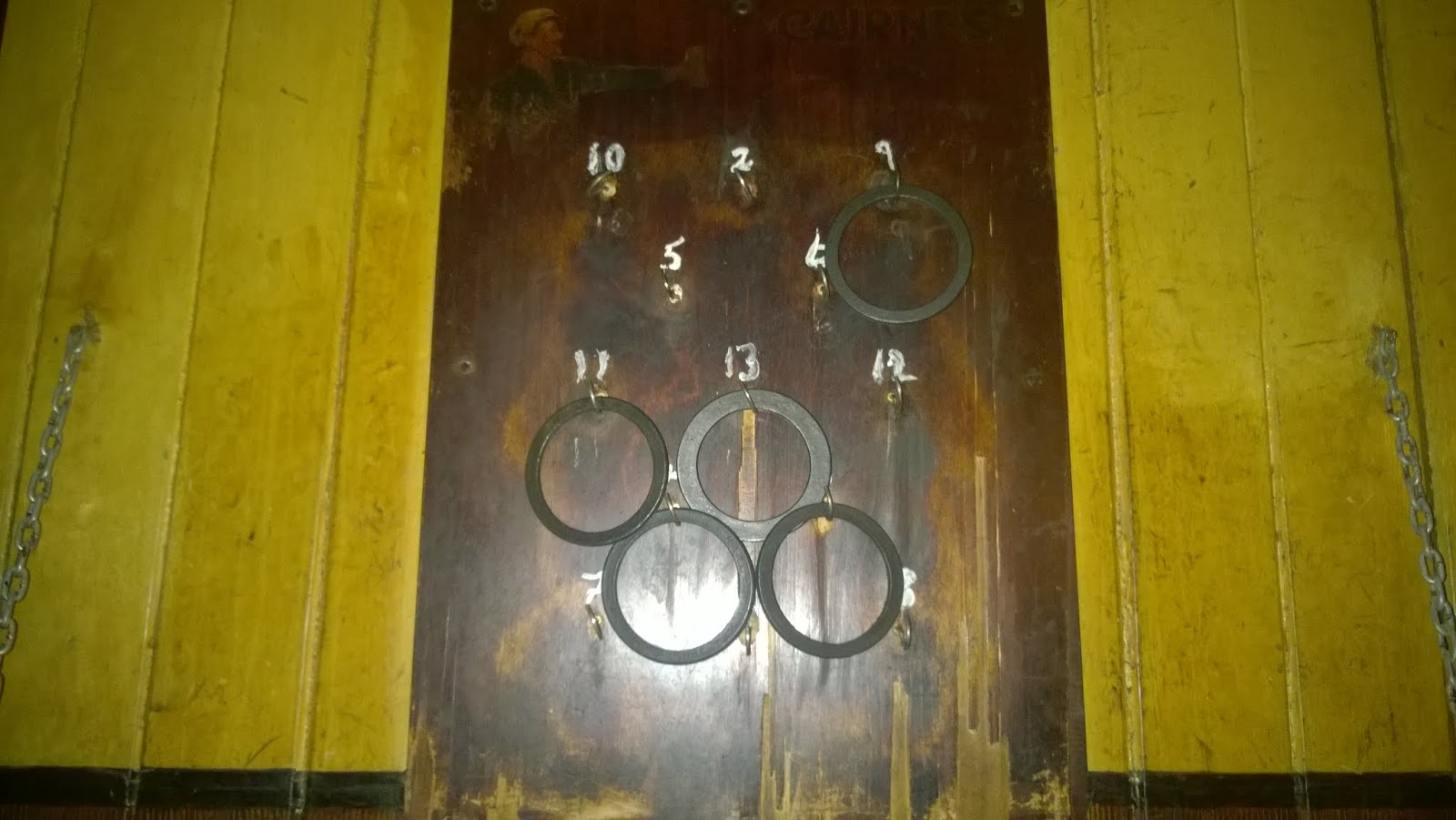 Five Rings…
Further on down the line we finally arrive a the Gravediggers, which was actually named "John Kavanagh". A proper old school skool boozer that backs onto a cemetery. The traditional Saloon and Public bar, with even old fogey half-sized internal doors between seats. Stone floor and wooden benches that impressed all the elder drinkers in the group. Finding a place in the corner, next to a fake fire, we spot what seems to be a game on the wall that has several hooks with numbers above them. Underneath is a basket. Asking "John" behind the jump, he informs us this is a pub game called "Rings". Simply enough you throw six rubber rings at the board and tally up your score. Turns out that apparently you're meant to work yourself around the board, a bit like in darts, but we're nowhere near good enough for that sort of shit.
With most people having a go there were various levels of competence on show. Dr Bell was the first to reach over 100pts, I was the only one to have five out of six rings hook onto points and Southampton Steve had the most memorable career as a rings player. How he managed to achieve what he achieved, will stick with us that witnessed it. Legend! I can see why he went home after that. And not because he was flying to Spain in the morning. Eventually it's time to catch up with the others and we order up some cabs. Failing to get hold of any local sherbets, we rely on Uber to come to our rescue. Needless to say, in true Gandermonium fashion, all cabs are secured. Except the last one. Me, Pete & Tatey fail miserably. And this is despite that two of us have the app on their phones. Should've used my Windows Phone then! Well, if Windows phones had the Uber app that is…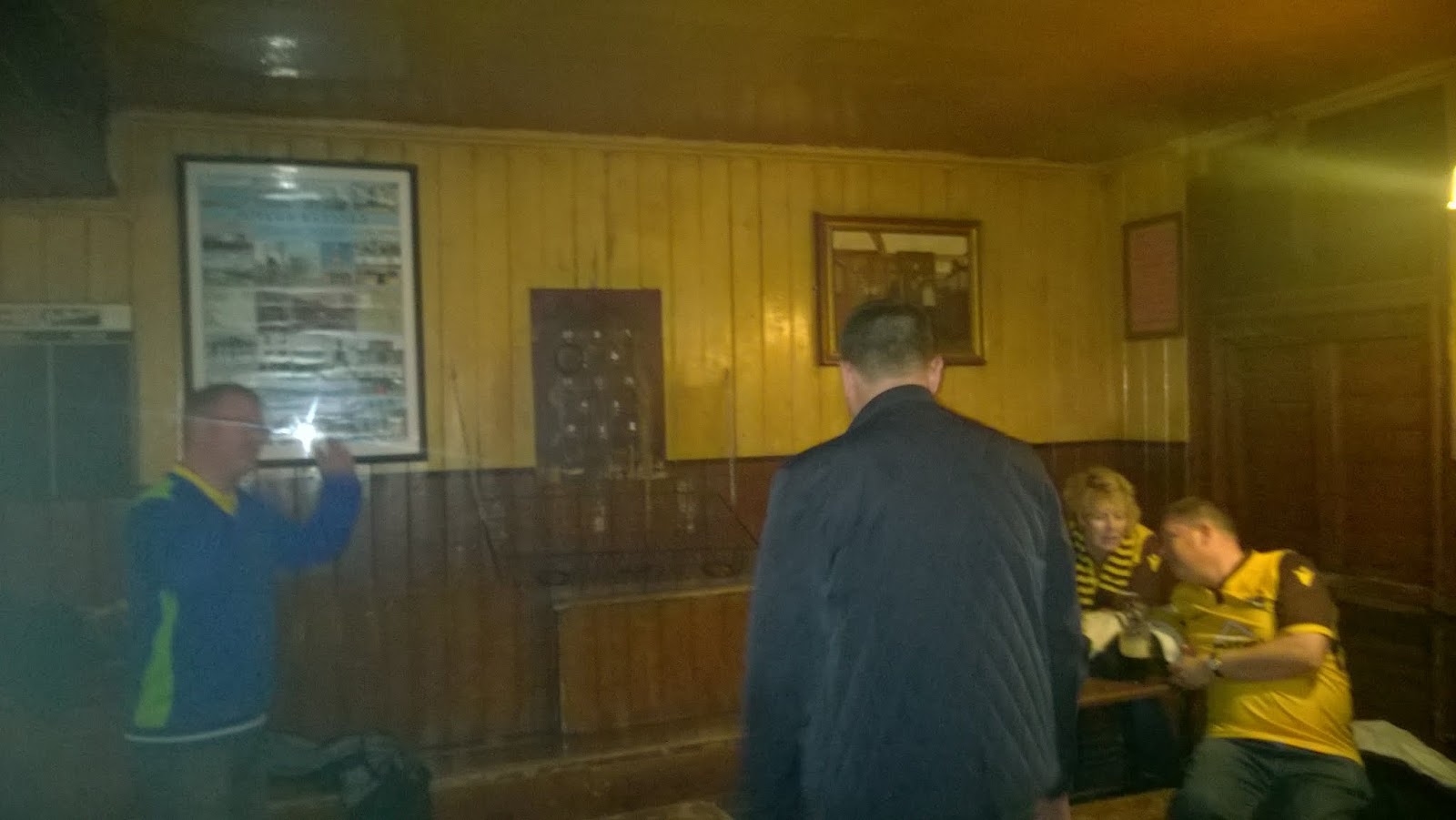 Another 'ring' failure…
Using various different options, we eventually somehow get hold of transport and when it finally turns up (no thanks to some sort of graveyard tour bus that blocked the route), we head back into town. Lannigan's is the meet up point again and here we come across some of the worst singing we've seen since my Skin & Blister tried the Japanese art of karaoke once. It's so bad that we can't stand it for it long and head off to find some other place to carry on drinking.
Don't know where we ended up. but this place had the most inquisitive bouncer ever. Whilst speaking to him outside, every person that tried to gain entry was given the simple question of "Have you been drinking?" Anyone that said yes was refused entry. Wow, in the land of heavy drinking as well. And no one was safe from this refusal. A couple of Swiss fellas were denied access despite the fact that they couldn't understand the question and probably thought they were being asked "Would you like a drink?". Even some local youngster, who claimed that he was driving and not drinking tonight, was also given the old heave-ho!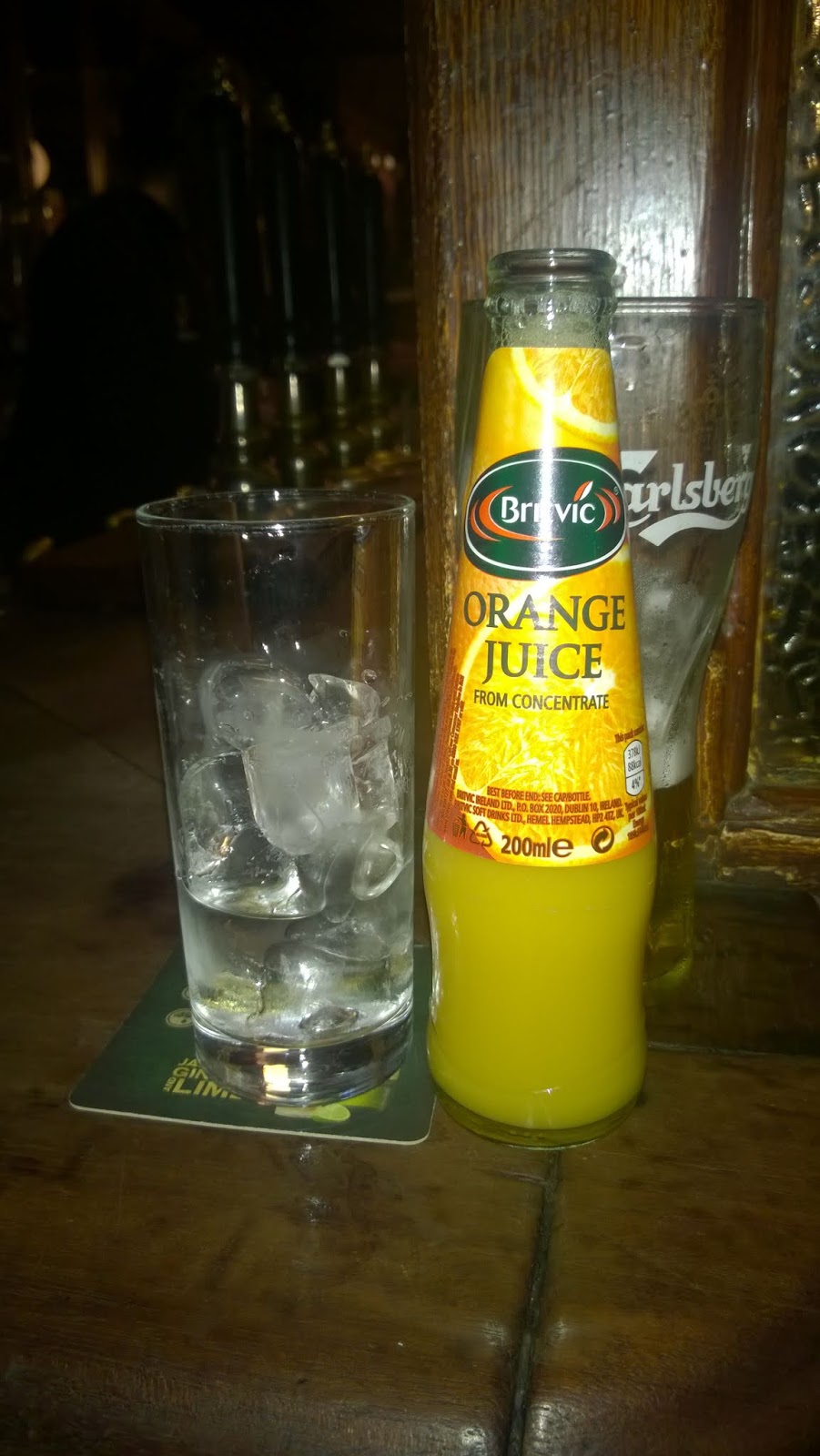 First Vodka with 'actual' orange…
Inside and we sink several more beers. We meet up with Harry Potter and even bump into some girls that not only came from Epsom but one that worked at St Helier. Time was marching on and with an early rise in the morning a few of us decide to call it a day. Things would've been so different if we'd won the match though I reckon. Hailing a cab and you have Mr X in the front and the back consisting of The Firm Leader, me & Ozzie. Another unique experience I can say. Arriving back into the hotel room and Mr X is dead to the world as soon as his head hits the pillow. With a quick phone call to make, I decided it's best to head outside. Forgetting the jacket is not the best idea as it's a touch brass monkeys outside. I spot a McDonald's in the distance and head over to see if it's still open. It is! Result! I head in and look to curb a Vanilla Milkshake habit I have, but the buggers don't sell it. Oh well. Several Double Cheeseburgers it is instead. Whilst waiting, I get to bear witness to a rather random request.
Next to me is a rather 'tired & emotional' woman who appears to have come from the local discotheque across the way. For some reason, known only to this young lady, all she wanted to do was buy a burger bun with salad. No meat whatsoever. But the effort of trying to order it was a tad excessive. Seriously, who orders a burger without the burger? Fuckin' weird that was. Eventually I finish my phone call and head back to the hotel and bed. Others seem to have had a good time with reports that Crockett & Ipswich Lee, who'd booked a double room, had to do a bit of spoonin' and this was with a fully clothed Crockett as well!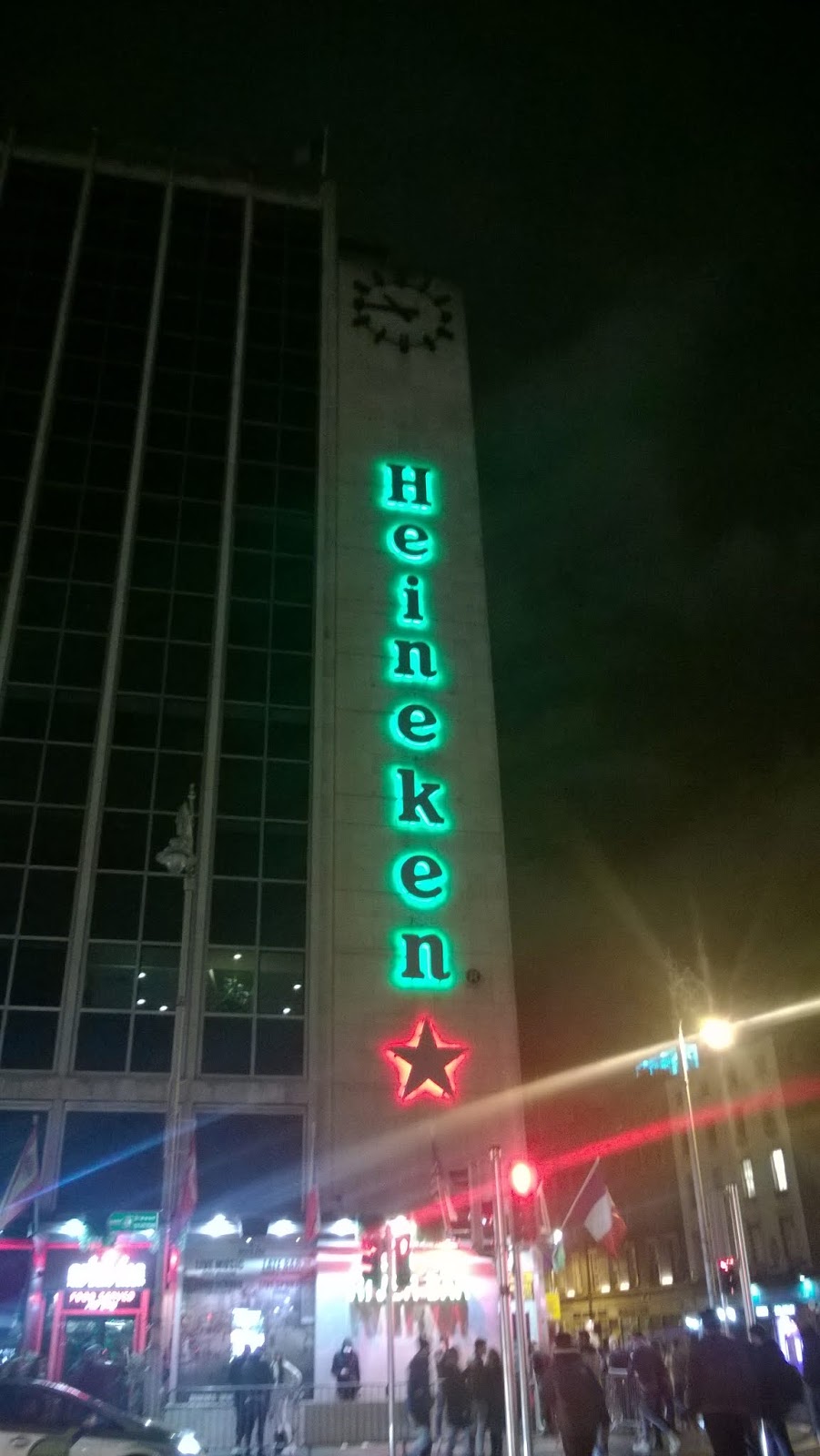 Beer
Sunday's alarm goes off at around eight o'clock and just before I roll back over to continue my wander into dreamland, I'm reminded by the ever alert Mr X, that it's an alarm just solely for me. Damn him and his later bloody flight! I very slowly get ready as I consider my options. The quarter to nine or quarter past nine shuttle bus to the airport? At this point I'm definitely leaning leaning towards the latter. Expect there is one major obstacle in this plan. And that is that there is no quarter past nine shuttle bus. A standard case of 'shithousery' there it seems as it appears except for a quarter past nine departure, there is a shuttle bus every half hour. Why? Fucked if I know! Anyway, I'm downstairs getting some breakfast as some of the others begin to appear.
Well, everyone except Taz & Dr Bell who are dead set on getting the non-existent quarter past nine it seems. Dr Bell appears as he wanders towards to restaurant for breakfast. Being advised of his only option and he's soon heading back upstairs to get his bag. He arrives back just as the shuttle does, but Taz fails to appear. Guess he'll be getting a sherbet then! The ride towards the Airport is filled with the usual debriefing of what happened the previous night. As always there is some discrepancies between events. Did some of the others head off after us? Did they visit one or two other places? No one can be sure so we can only assume as to what actually happened.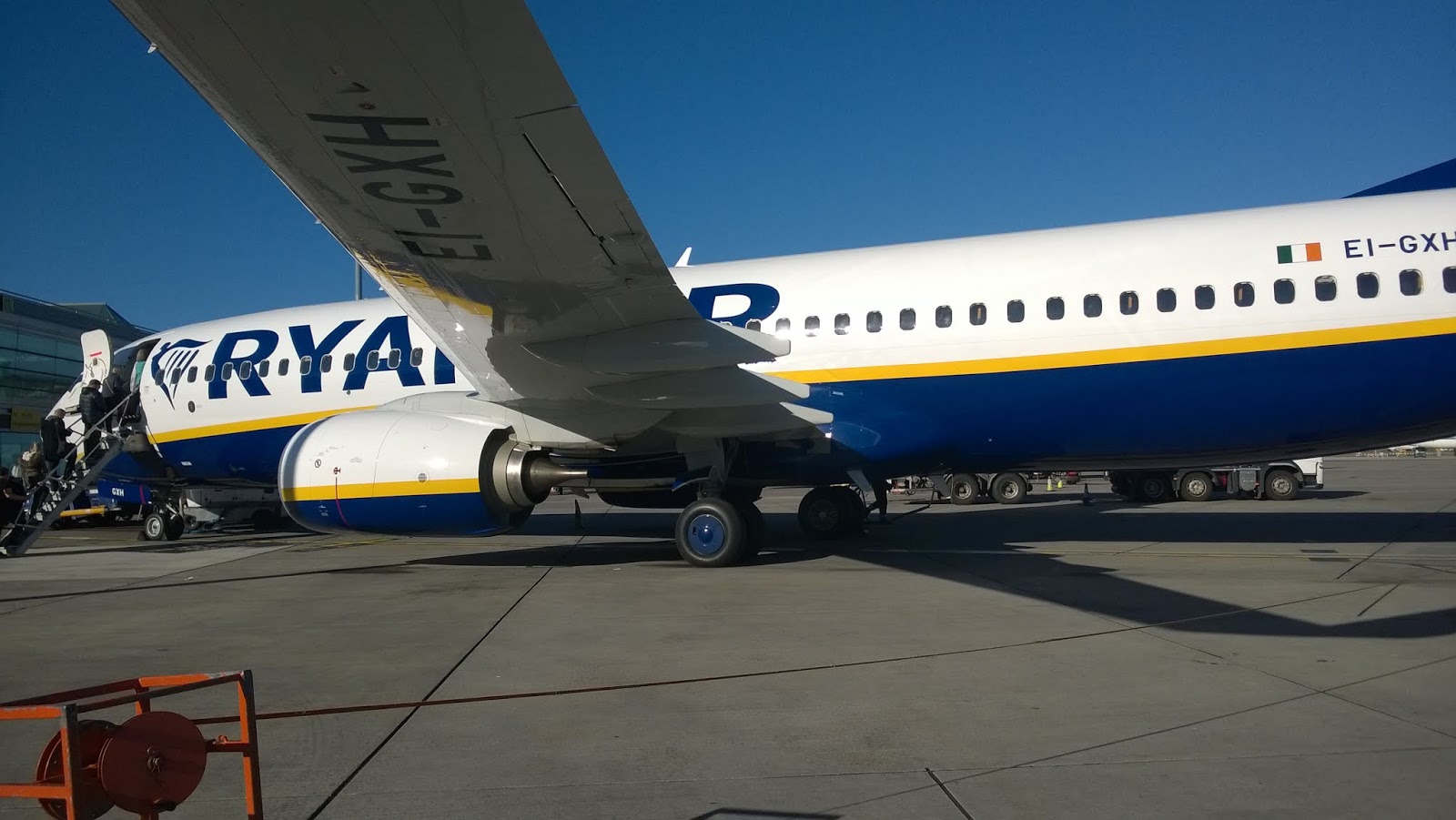 Fuck off Ryanair…
Arriving at the airport and after a cheeky snout we head inside to find a bloody whopping queue of people trying to get through security. Good job there was no 9:15 bus! It's not moving that fast as the non-smokers are spotted not too far away. Taz even eventually makes an appearance at the back and manages to catch up with us. Somehow I'm in a different queue to everyone else but sail towards the scanners. Surprisingly through with no bother (except once again, my chain wasn't considered real enough to set the scanners off it seems) I'm then greeted with plenty of people getting their bags searched. So much so that the trays are now getting backed up to the point that none are coming down the rollers any more. Eventually my stuff arrives and despite the delay, I'm ready to go before the others stumble through.
Watching all these people getting their stuff searched does bring up some question; "Don't these people understand what to pack?" The amount of people that have liquids in their luggage is so surprising. But the ultimate award for "Smuggler of the year" goes to the bird that was trying to get several jars of Jam through. Yes Jam. Glass jars of various flavours. Don't think our offer to help eat them went down too well either, mainly because they didn't have any bread I guess. Meeting up with the rest of the Firm we hang around until we get our gate number, joining several other Sutton supporters in waiting, we see as our plane finally arrives. During this time, the staff at Ryanair are looking for any bags that they could put in the hold. Fuck knows why. And despite getting away with it for so long, Taz gets caught is is given the dreaded yellow tag. "Fuck that!" he declares and on route to the plane he removes the tag with the grace and skill you'd expect of a ginger ninja. The fact that Tatey who was giving him a lift home would have had the right fuckin' hump had he been made to wait in baggage reclaim clearly had nothing to do with it.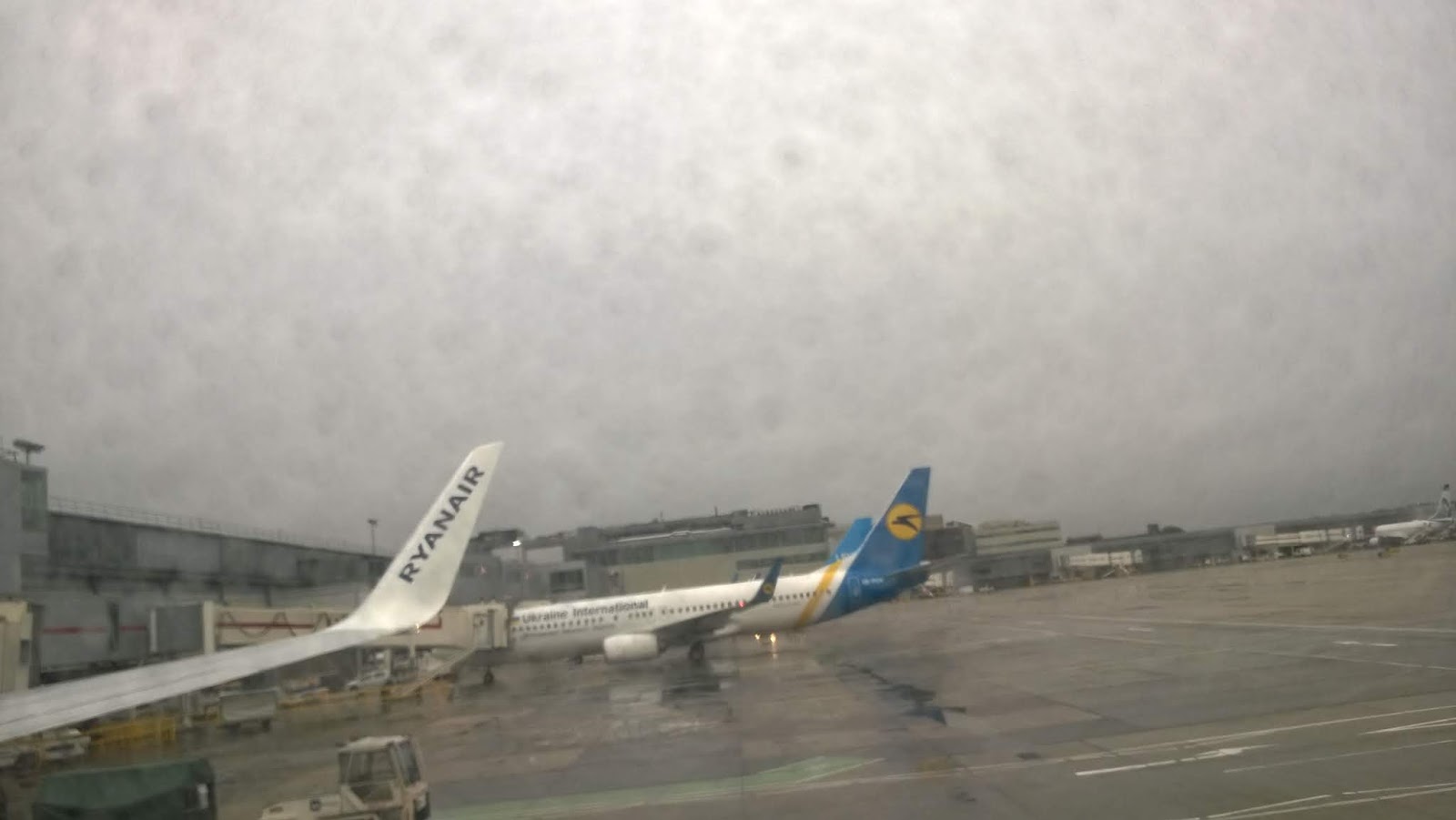 Welcome to England.
To be fair I missed the flight home as I settled down to get a spot of the old forty winks. And this is despite the fact that there was the trademark screaming child balling their eyes out all the way home. I'm only awoken when the plane touches down back in Blighty. And oh look, it's raining! Just what I wanted after this weekend. Having made alternative arrangements, and not needing a lift now from Tatey I get picked up bang on time and am whisked home to spend the rest of the day in bed. The ten hours of sleep over the weekend appeared to be catching up[ with me. At least I wasn't Crockett, who was planning on having to make a roast for his nearest and dearest. So special that it involved the use of corn Quorn. Weirdo! Seems he burnt it as well if whatsapp later on was anything to go by.
So our Scottish cup adventure has ended already. Got to say that I'm pretty disappointed it has to be fair. But then again my bank manager isn't! Jesus we've spunked some money recently. Still, the positive to take out of this is that Gateshead away is still due to be on a Saturday. Fuck doing that on a Tuesday! We now move on to yet more cup action as we enter the FA Cup with a little trip to somewhere called Wealdstone. Never heard of it. And with the prize money these days being double of what it used to be, getting a win is more important than ever. That also reminds me, Halifax away train tickets are on sale now too. Jesus this whole football supporting lark is getting fuckin' expensive. Enjoy!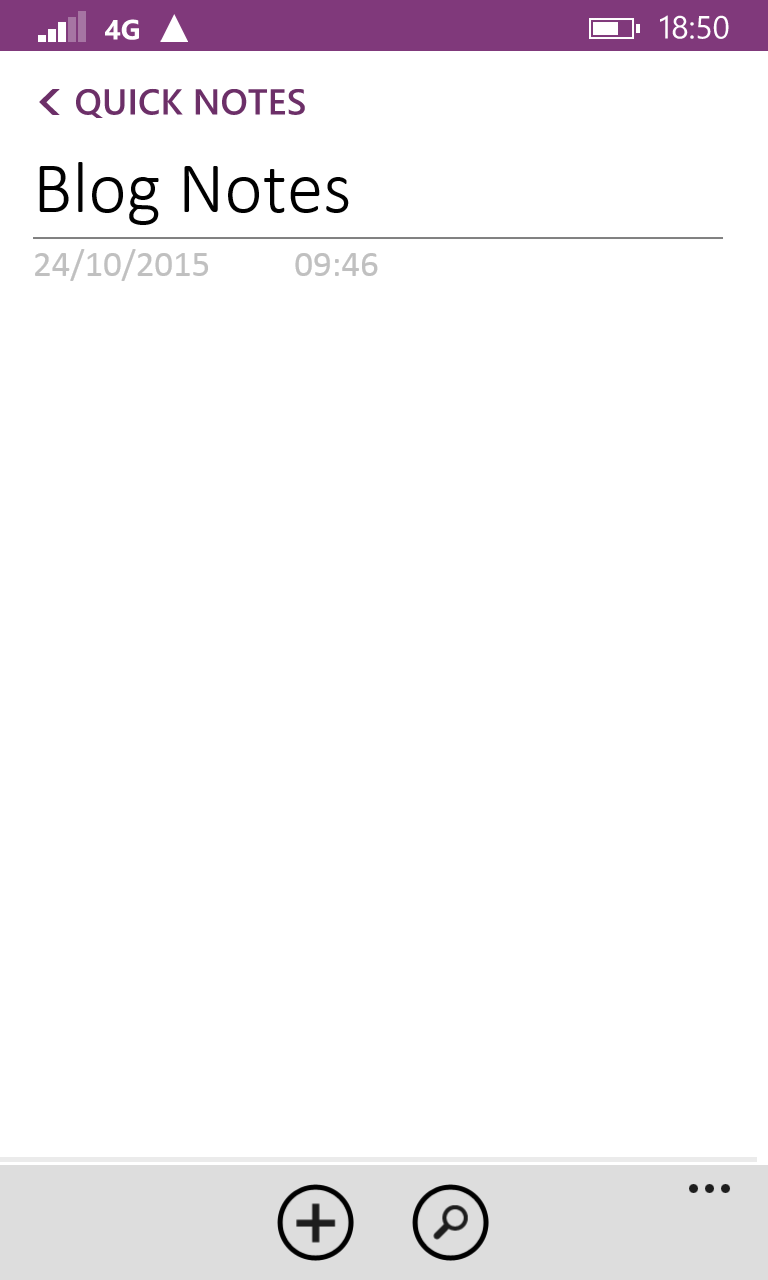 The Duke's extensive blog notes for trip
Duke
Att. 1,130