There is a little saying in football often referred to by us old timers that goes along the lines of "a good days drinking is usually spoilt by the ninety minutes of football". Well, once again, and not for the first bloody time, this was very true as the boys of the Firm made the long-arsed trip to the very, very, very northern county of Cumbria.
The over the top expenses of following a modern day Vauxhall Conference side are coming around thick and fast at this moment in time. Not only do we have the little mentioned trip to the Irish Free State or whatever it's called these days (which I'm covering for some bloody reason) to deal with, we've also got trips to Barrow & Hartlepool as well this month. And that's not before the cup draw (which was the thankfully cheap Wealdstone away) that no doubt will give us another away day. Never before have I seen grown men praying for a home game like I have recently. You would think that Leyton Orient away was good enough. But you'd be all wrong.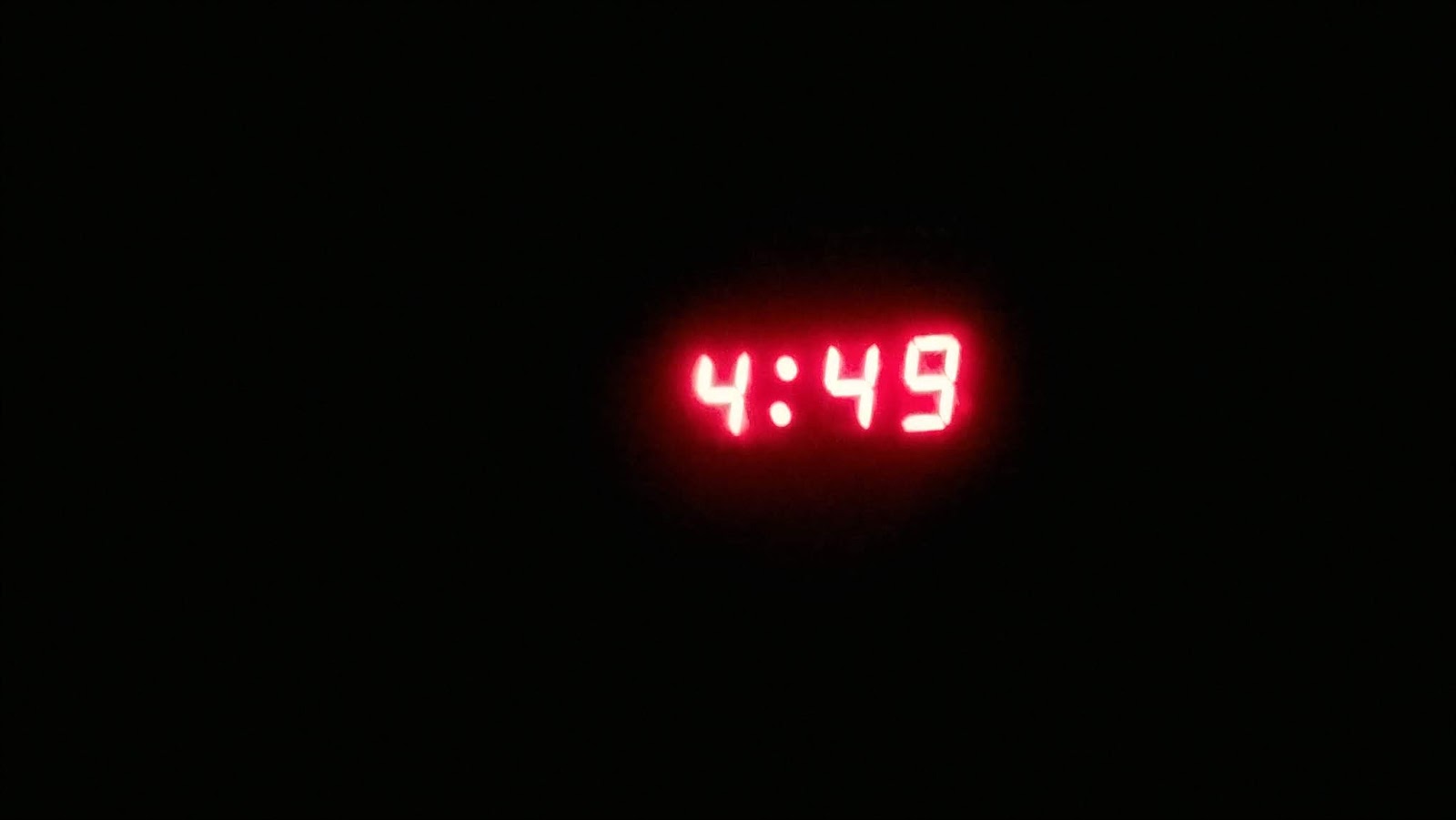 Fuckin' early…
We must also mention that whilst some of us were enjoying our trip (and, according to some, a classic "shithousery" win) to the East End of London, others were not so fortunate. Especially when it involves a drunken tale. Take a bow please Robbo, because this'll be the only mention you'll get in the fuckin' blog! Sacking off football for a high school reunion is something no one has considered. Ever. Well, certainly not us!
But Robbo did it in style. And luckily for us, and all of you, he managed to make a right pigs ear of it. And then stupidly told us all about it! He made the reunion and everything is going swimmingly. Meeting old school friends and former teachers. He even ended up in Sutton with some of them afterwards. The fun only started when he went home following all the festivities. Trust him to not only be a little worse for wear, but somehow he managed to fall over and knock himself spark out. What a right wally!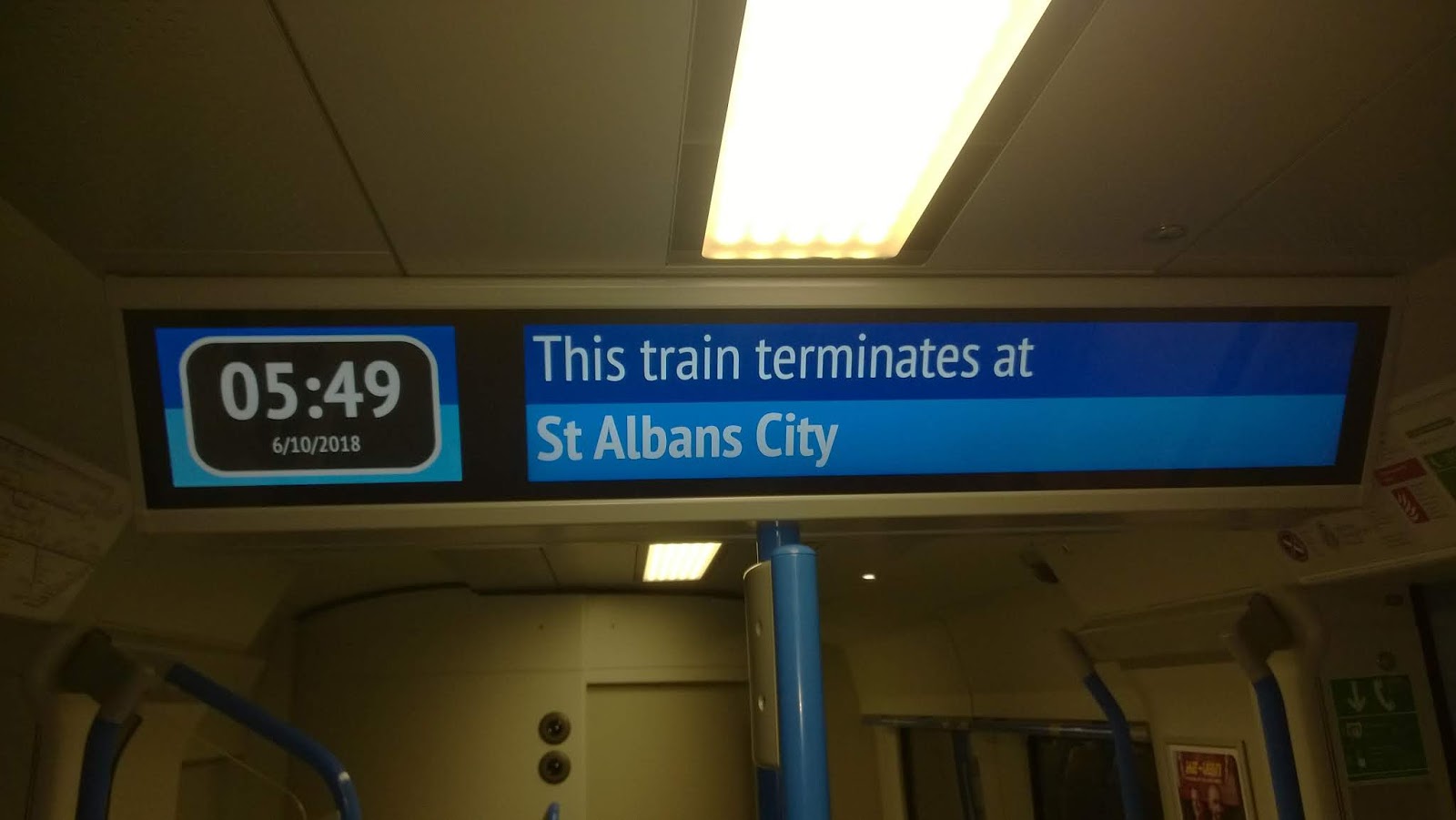 Still too fuckin' early…
Quarter to five the alarm was set for. And bang on four-forty-fuckin'-five it went off on the Saturday morning. What is this? A weekday day or somethin'? Dragging myself out of bed and it's in the shower, a large dose of Gods Own Brut later and I'm leaving the house. Passing a couple of drunks falling out of a sherbet after their Friday night out, you begin to think to yourself "Why Do We Bother". Well, there might be one or two reasons there…
The train was due in at Carshalton at 0549hrs. Arriving at the station to find the barriers open was a surprise, but I decided to tap-in anyways. I'm an honest fella. The train arrives and in one of the carriages I find a sombre looking Dr Bell & 4 Days. Crockett & Mr X were also due to be making the trip. So it was the five idiots silly enough to be doing this shit today. The hardcore. The chosen few if you will.
Arriving at St Pancras, no barriers once again, so I'm now a bit pissed I'd bothered back at Carshalton and it's a slow saunter in the direction of Euston. With a train at 0730hrs we have plenty of time to kill so we go looking for some breakfast, and with the time still before seven, our options are very limited. So much so that 4 Days has to use the wonder of modern technology to find a little cafe not too far away. And a little gem of a find it was to be. A bacon sandwich with a cup of tea for £3.50 is a n absolute fuckin' steal these days in the centre of the Big Smoke.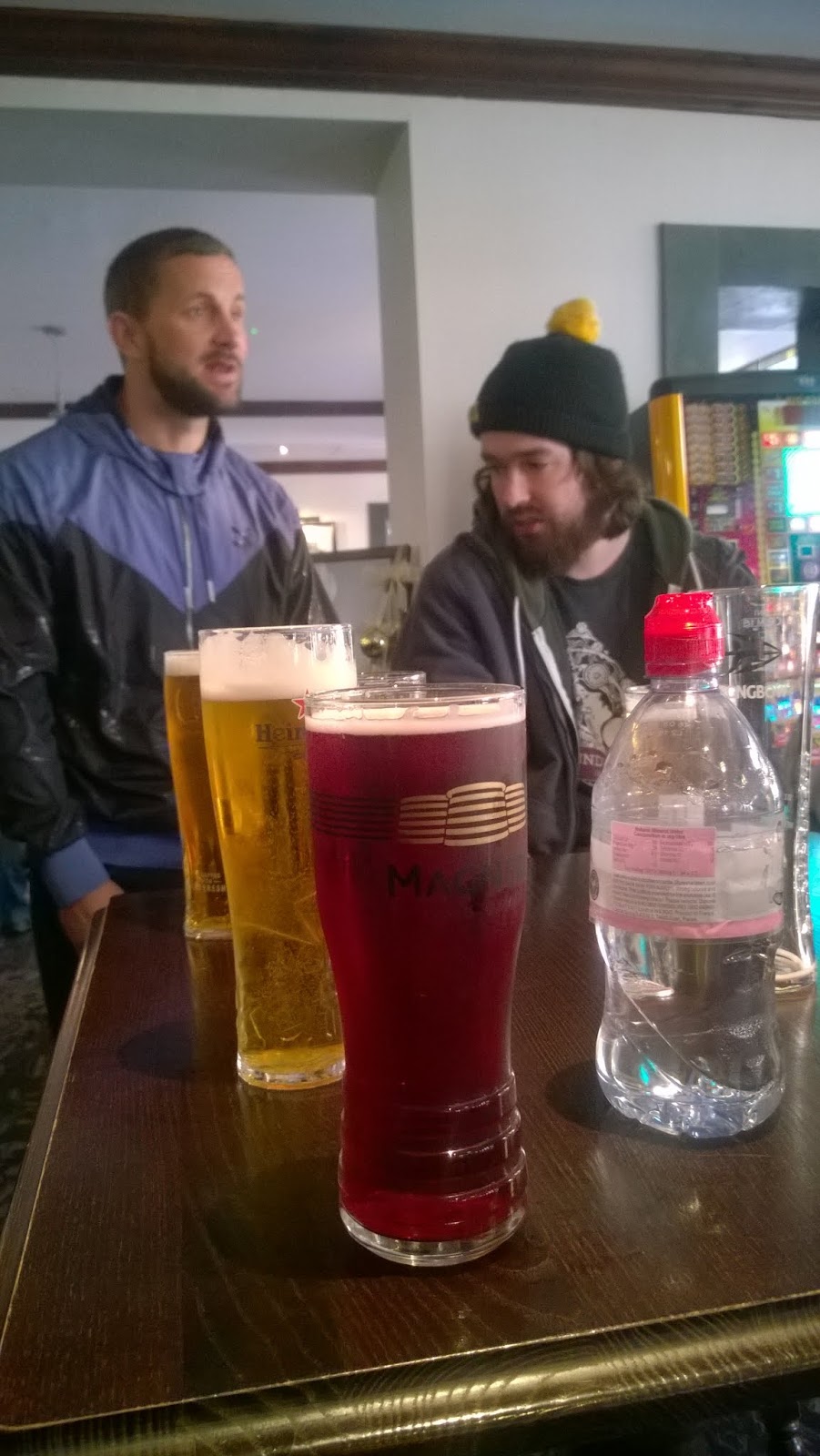 Quinno!
Heading back to the station and we find the other two reprobates and make hay towards the train. SHOCK! HORROR! It seemed that Mr X had also actually managed to book a table! Yeah, I know, a fuckin' miracle for once. Crockett also managed to reserve a couple of seats right next to us. How did he do that I wonder? Does he work for British Rail or something?
The trip up was a quick (0730hrs to 0954hrs) dash to Lancaster. Nothing much to report as it was a very sober affair. Well, for everyone except Crockett, who managed to have several bottles of Bud on the way. Would they affect him later I wondered? Being a train spotter employee he also managed to get himself some cheap rail fares. For example the Lancaster to Barrow return part of the journey worked out at £12.30 for us. For this git, a measly £3.65! That's a days drinking up in these parts.
Plenty of the usual shit is spoken between grown men that would disgust most people. We also had Crockett show us a video of what was found in a work toilet at some gawd forsaken railway station somewhere. No, it's not what you think, but in fact it was some sort of tapeworm strawberry lace swimming around. Mr X also did his best to stand in for Taz on the trip with enough gas emanating from his backside that it even had several strangers commenting that the bog at the end of the carriage appeared to be backed up. But the less said about what he done to that poor banana he brought along, the better.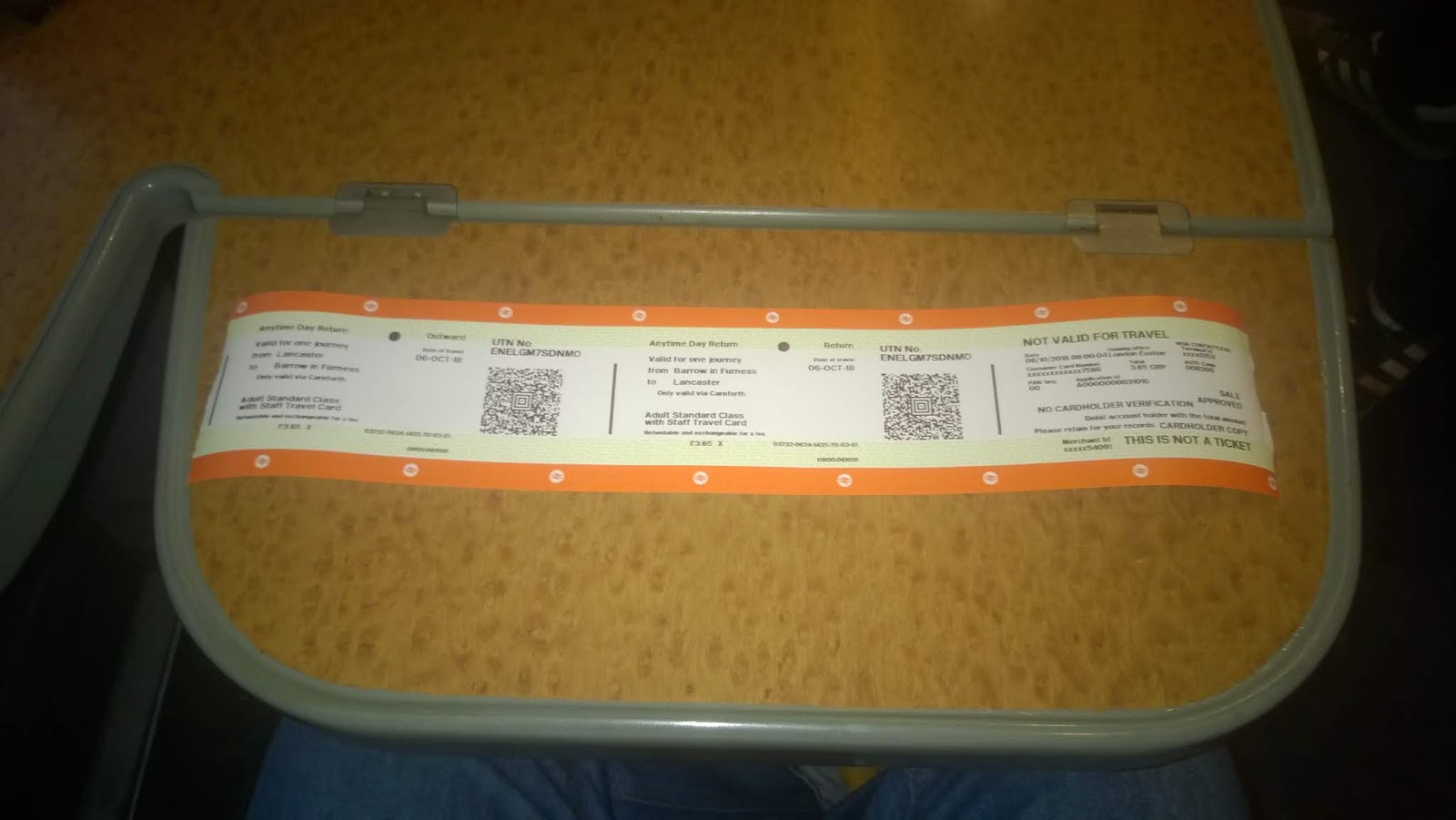 British Rail saving paper right there…
With yet again more strike action going on within the world of trains, our options were somewhat limited once we got to Lancaster. Basically we had the option of a train at ten o'clock or at one PM. So obviously arriving on a train five minutes to ten appeared to be the perfect timing. That is until a certain someone turned up with a carrier bag of beer. Well three bottles of Coors Light at least…
Take a bow former Sutton United defender Tony "get your cock out in a Carshalton team photo and also end up on the front page of the non-league paper after a Hat-trick against Basingstoke" Quinton. What a plonker legend! And despite the fact that he only had a couple couple of beers with him, they were soon drunk as he gave us a run down of the highs & lows of life 'Oop North' since we'd last seen him. Crockett also showed a few of us another video, this one called "The Blow Off". 'Interesting…' was the only response to this little showing from an experienced Dr Bell.
We arrive in Barrow just after eleven and are a bit surprised to see Indy & Sean Connery's Stuntman get off our very own train, we thought they were staying in Barrow. We were also graced by the presence of the legend that is Dirty Barry representing the DBDC. And he decided that he'd better hang around with us for the duration considering no-one else from the circle was making the trip up. First words from him were "I sat on the train next to a rather attractive young women and…". Which is how it always starts for him.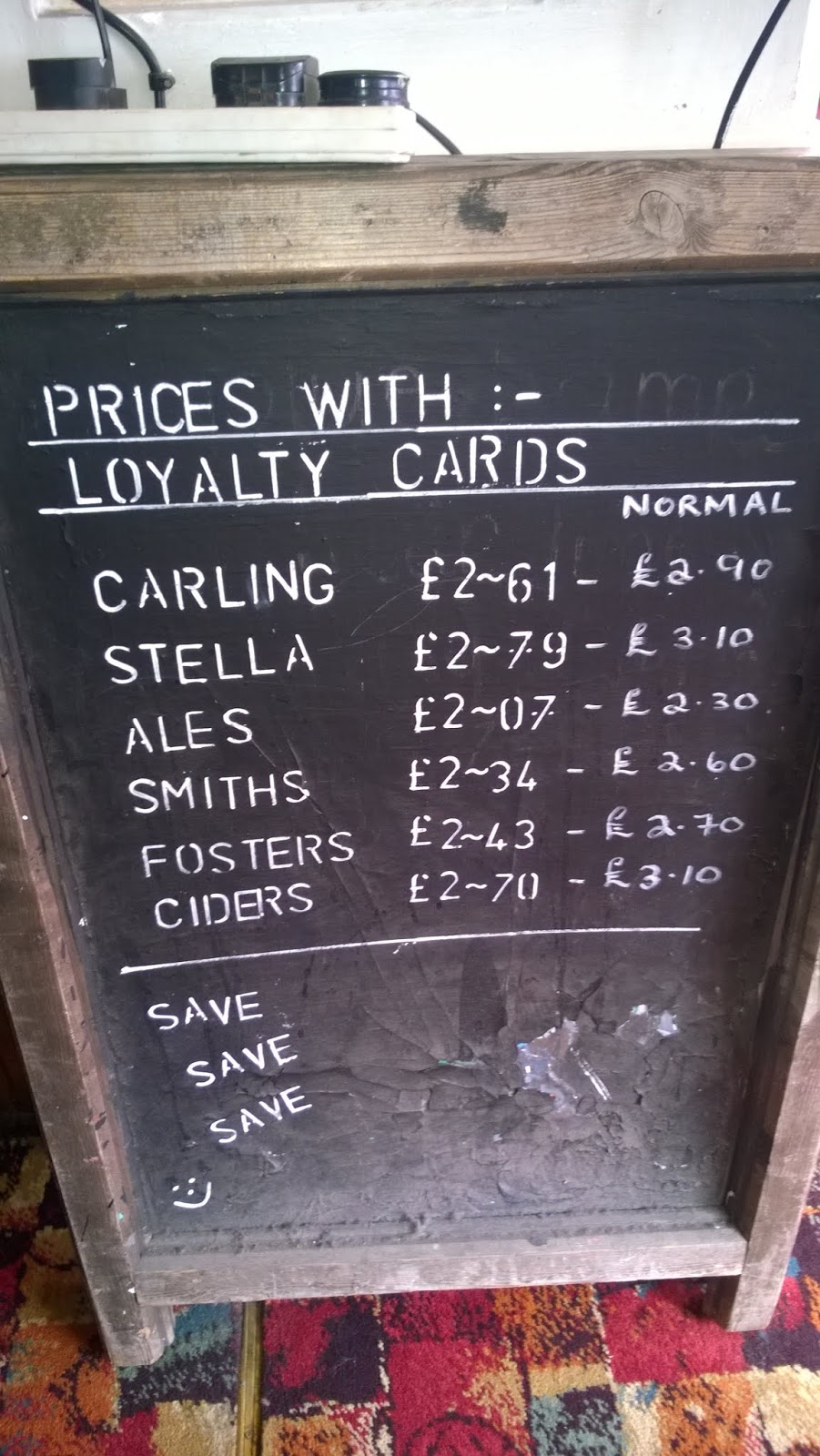 Northern prices…
First port of call is of course the 'Spoons. Well it's before twelve after all. "The Furness Railway" was the name. Six pints of various alcoholic drinks in a cool £14.01 round. Happy days! It appeared that Quino had been given a free pass from his missus as he quickly upped the pace. So much so that before midday we'd already sunk three pints. This was going to get messy real fast.
Giving "The Derby" a swerve, as it was as dead as a nun's sex life, we head further up the high street. Quinno did try to tell us of a place called "The Nines" where you have to enter via the backdoor, naturally. But we couldn't find it. Instead it was the "Robin Hood" next (or "The place where that fella got picked up by the police and also had pictures of Kevin Costner on the wall" as it's known to the Firm). Few beers in and we're finally joined by Ozzie who was making a weekend of it up here apparently.
Next on the list was "The Blue Lamp" but not before a few went into a place called 'Delish' that according to Mr X had a lovely Black Pudding Scotch Egg on sale. Even 4 Days commented positively on some form of Breakfast pastie/pie concoction that he wolfed down in seconds. Also, after last weeks winning streak, Crockett thought his luck was still in so he headed off to the bookies to put some money on a Super U's win.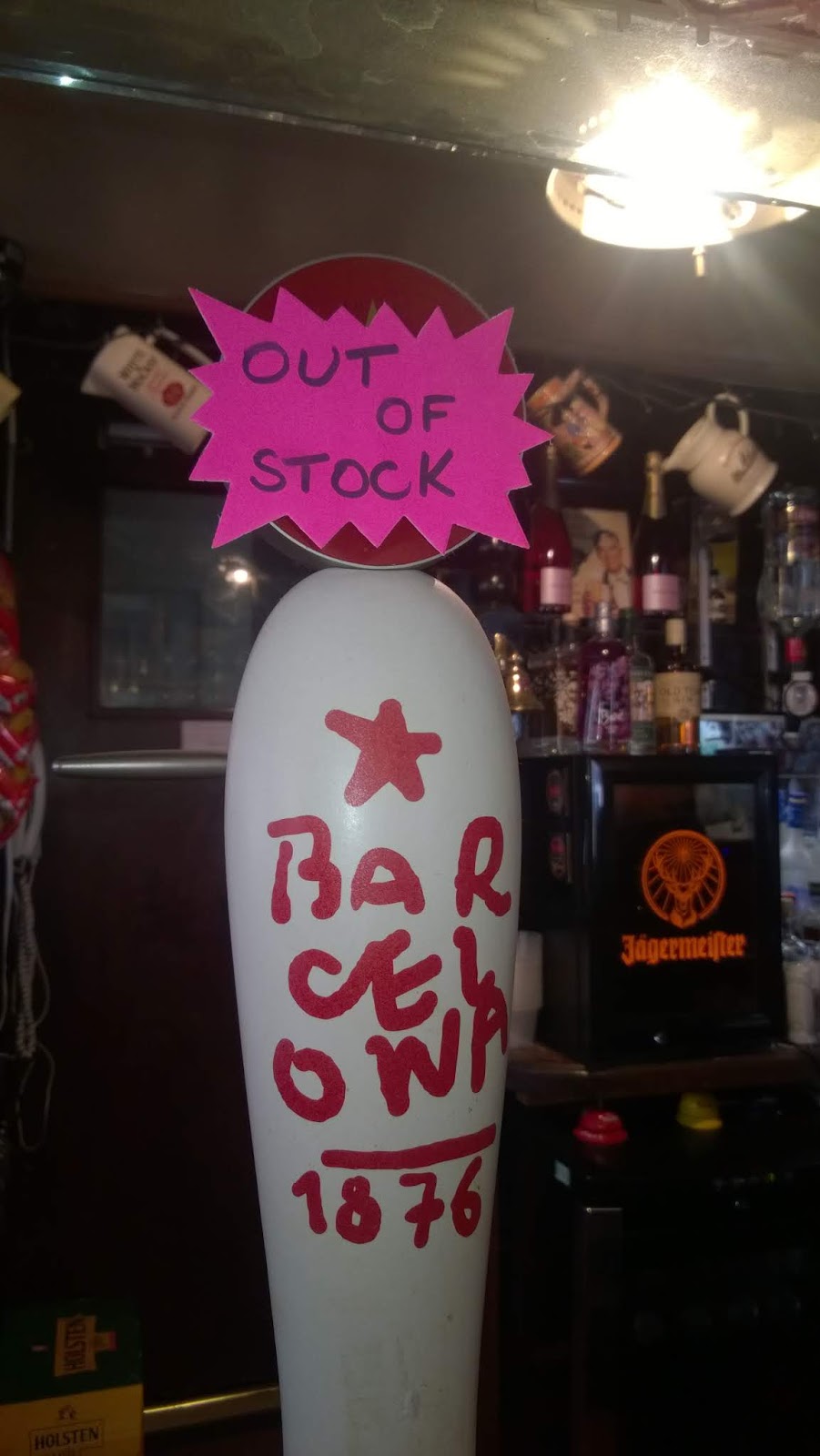 Nooooooo…
Inside the Lamp we were shocked to see that the famed £1.85 Estrella from a couple of seasons ago was strangely out of stock. Still, we soon forgot about it as we consumed several more pints of other stuff. In fact, according to my new social secretary, Beer number seven of the day was consumed in here. Talking to a few of the local supporters and their feelings were that it was going to be another draw. Walking towards the ground we received the news that our team was going to be a bit on the light side. It says it all when Worner is named as one of only four subs on the bench.
And despite it being announced somewhere that it was going to be £18 on the door, the fella charges only £15. Not bad really considering that it's an open end. And segregation? Apparently so, except those home supporters in the stand were allowed to use our toilets. But that was to change around half time for one particular reason. Special shout out to 'Casual' as he was also present for another Northern trip.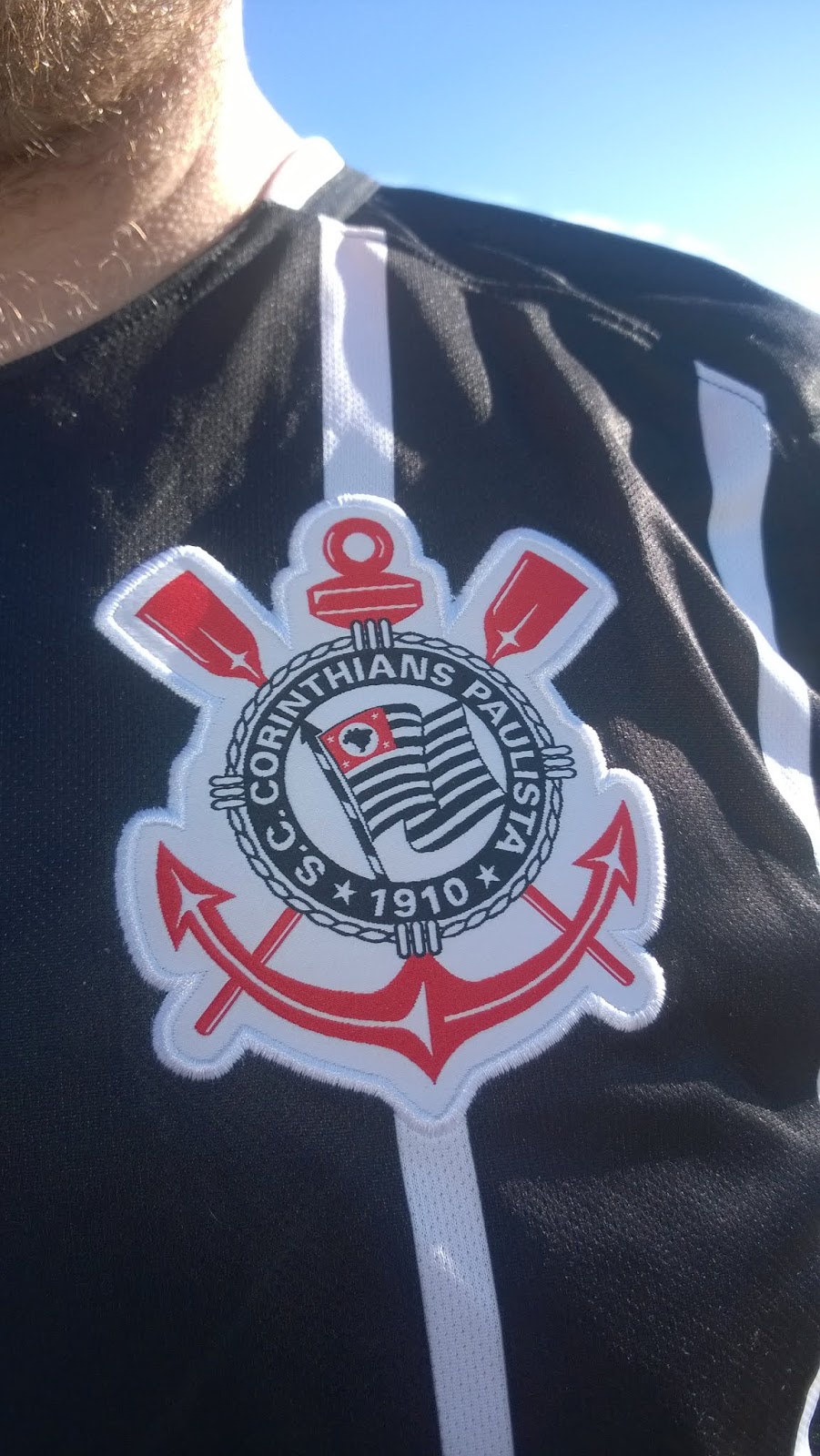 Casual-Style…
Butler, Bennett, Thomas, Clough, Davis, Lafayette, Ayunga, Brown, Beautyman, Wishart, Drinan. Bench Warmers: Bolarinwa, Cadogan, Lema, Worner.


On a hard pitch, and with swirly wind to deal with, it was the home team that started the stronger of the two. And it wasn't long before we were a goal down. Wow, 640+ Mile round trip to be losing inside three minutes. Fuckin' great! The goal itself was so simple. The fella received the ball down the left hand side. He cut in and took it away from Bennett and then left Davis for dead before curling the ball around Butler.
Barrow continued with the pressure and Butler was called upon to palm over a shot that came from just outside the box. Sutton tried their best to work the ball but playing against the wind, but caused few problems for the defence.. Around this point a member of the party decided to go to toilet. Never to return.
Shortly before half time and Sutton were trying to hold out as best they could. Obviously this was not going to happen. Failure to pick up players in the box was our fault here once again as a simple ball across the six yard line was met by an unmarked Barrow-man for an easy tap-in. Two-nil down and not looking like scoring once again it seemed. Roll on half-time please.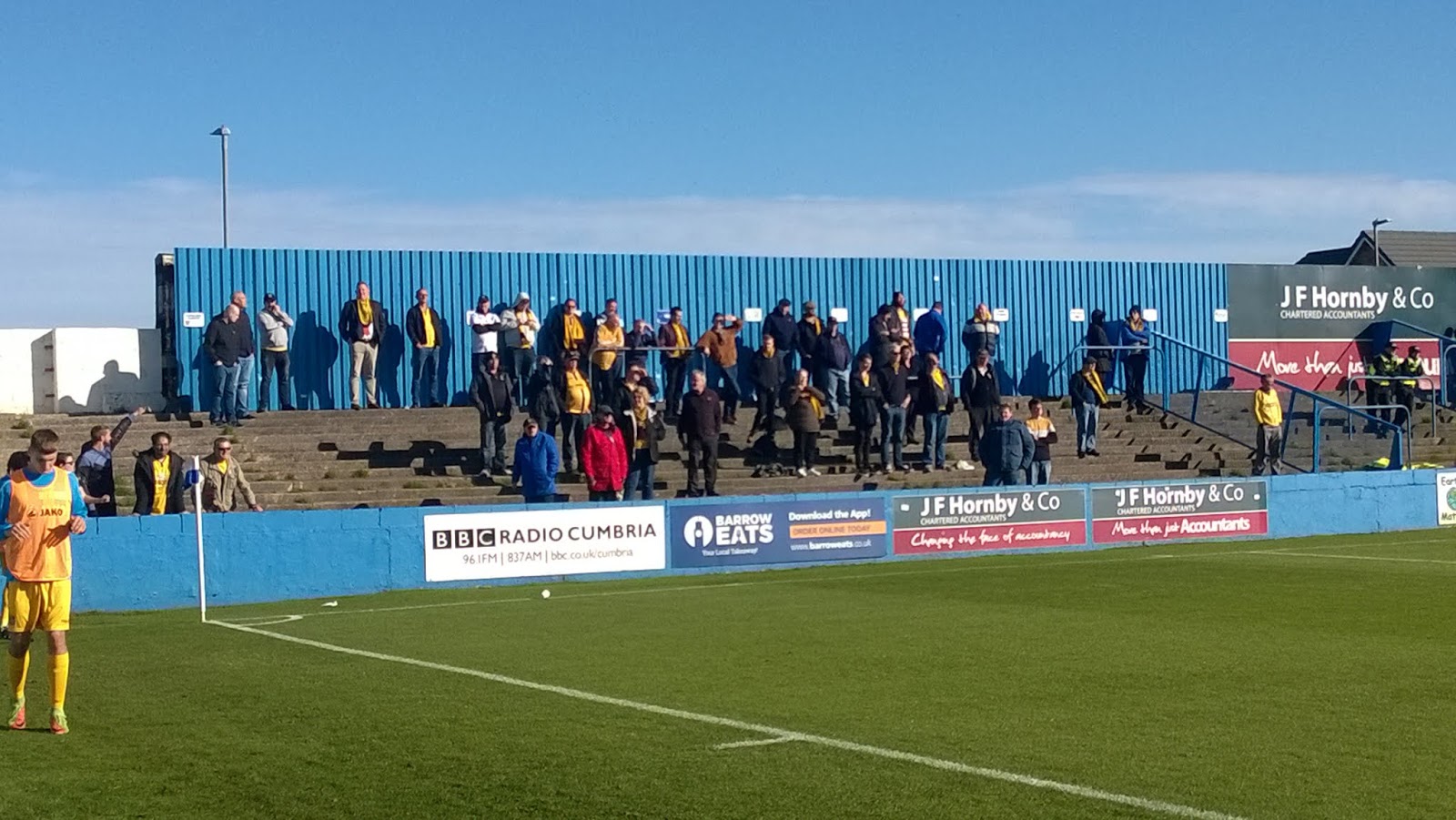 Travelling faithful…
Second half and Sutton came out with guns a-blazin'. It's not long before we're back in the game, or so we thought. A Drinan header comes off the bar and is bundled in by Clough I think. The keeper is on the floor after being shot, but there is no flag from the linesman and the ref doesn't seem interested by these antics. Then for some reason, only known to himself , he wanders over the to the side for a 'little chat'. Almost a couple of minutes later and the linesman flags for offside? Wait, Offside? Fucked if I know. And the keeper? Another Lazarus it seems.
Subs are made and Sutton try to keep up the pressure. This time, it's another corner coming in that is met by Thomas at the far post. His first touch isn't the best, but with no marker, uses his second touch to head it past the keeper. GOAL! Wait…FUCK! That fuckin' linesman's flag is once again up for offside. And I'll say it again, Fucked if I know. Even Our Lord Dos isn't happy with that one and ends up in the stand before being given a yellow by the ref.
With the match stretching out, both teams have chances and should've both got a goal each as poor shots came off the posts. Right at the death and Sutton got a life-line consolation. Thomas once again receives the ball and on his second touch forces it into the net. 2-1! Unfortunately there isn't enough time as the ref blew his whistle shortly after. At which point the Barrow keeper shows his sportsmanship by remonstrating with the 52 away fans. How to antagonise the supporters in one easy step. There must've been something also unsavoury said to Bennett at the final whistle as he went Radio Rental at someone. He even took off his top and stood there in this bra going berserk. Fun times!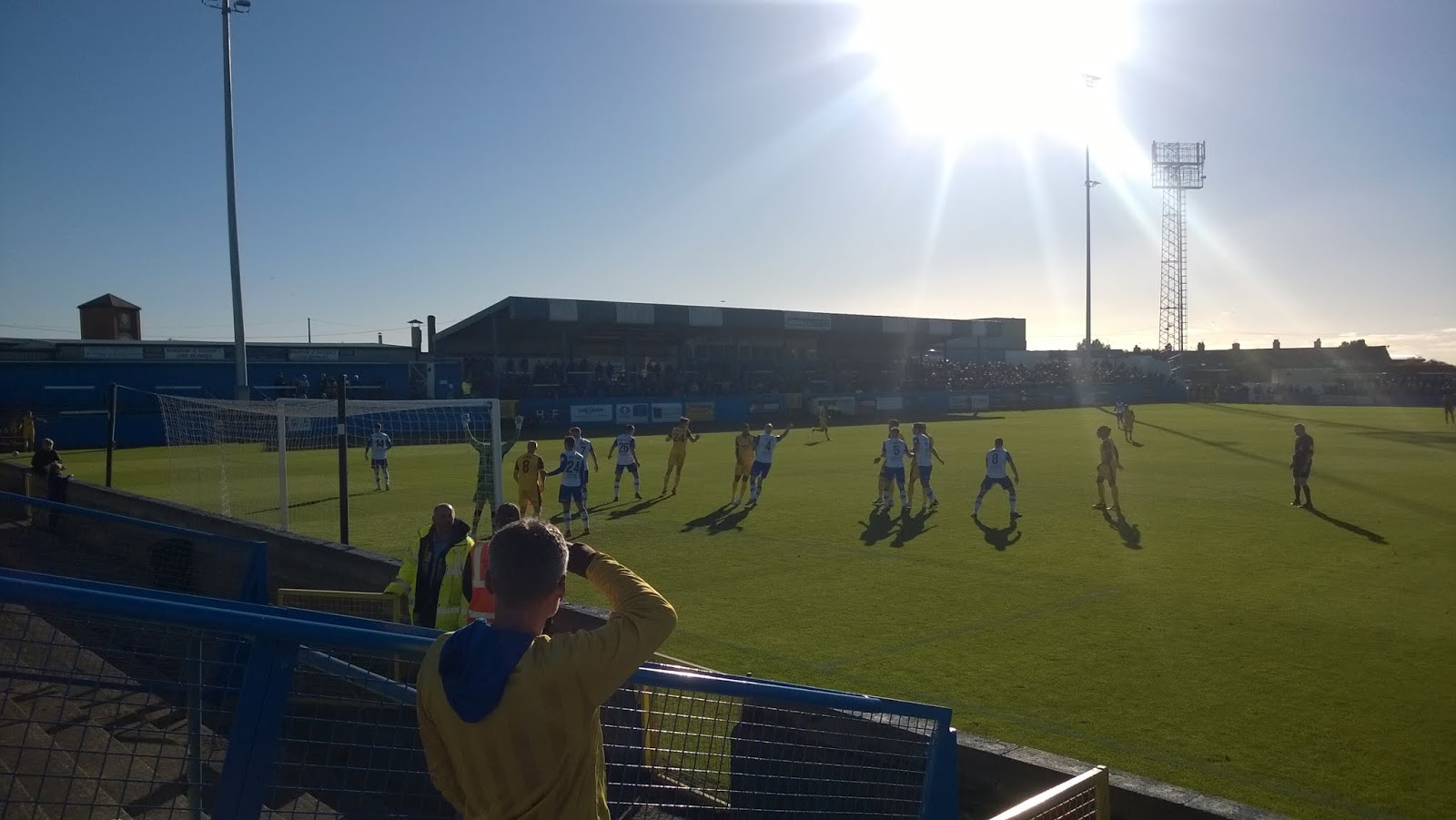 There's a Manfred Mann quote in there somewhere…
After the match and it's goodbye to Barrow as we make a quick move for the 1720hrs train back to Lancaster Some of the boys managed to nab a lift with Ozzie, with the rest of the walking able had to pound the pavement back down Holker Street. Sending Dr Bell ahead to buy some "light" refreshments, he failed miserably and it's down to Quinno to do the duty and save the day. Watch and learn old fella!
The train is already on the platform and we all take a pew as we wait for everyone to arrive. Well apart from Indy & Sean Connery's Stuntman who were completely forgotten about until half way to Lancaster. Fortunately, after a phone call from Mr X they appeared to have made the only train out of Barrow. With Bob & Cath also, the classic "how much stuff can you stick on top of someone who is asleep" (Crockett, who'd finally emerged from his hour long toilet visit) kept most of us entertained on the journey.
Arriving in Lancaster and we head straight for the closest pub to the station "The Merchants". It's one that we've all been to before and as the boys are waiting to be served, Me & Dirty Barry head upstairs to 'siphon the python'. Minutes later, and we're back downstairs at the bar. Not being part of the round, Dirty Barry sidesteps the group in order to get to the bar.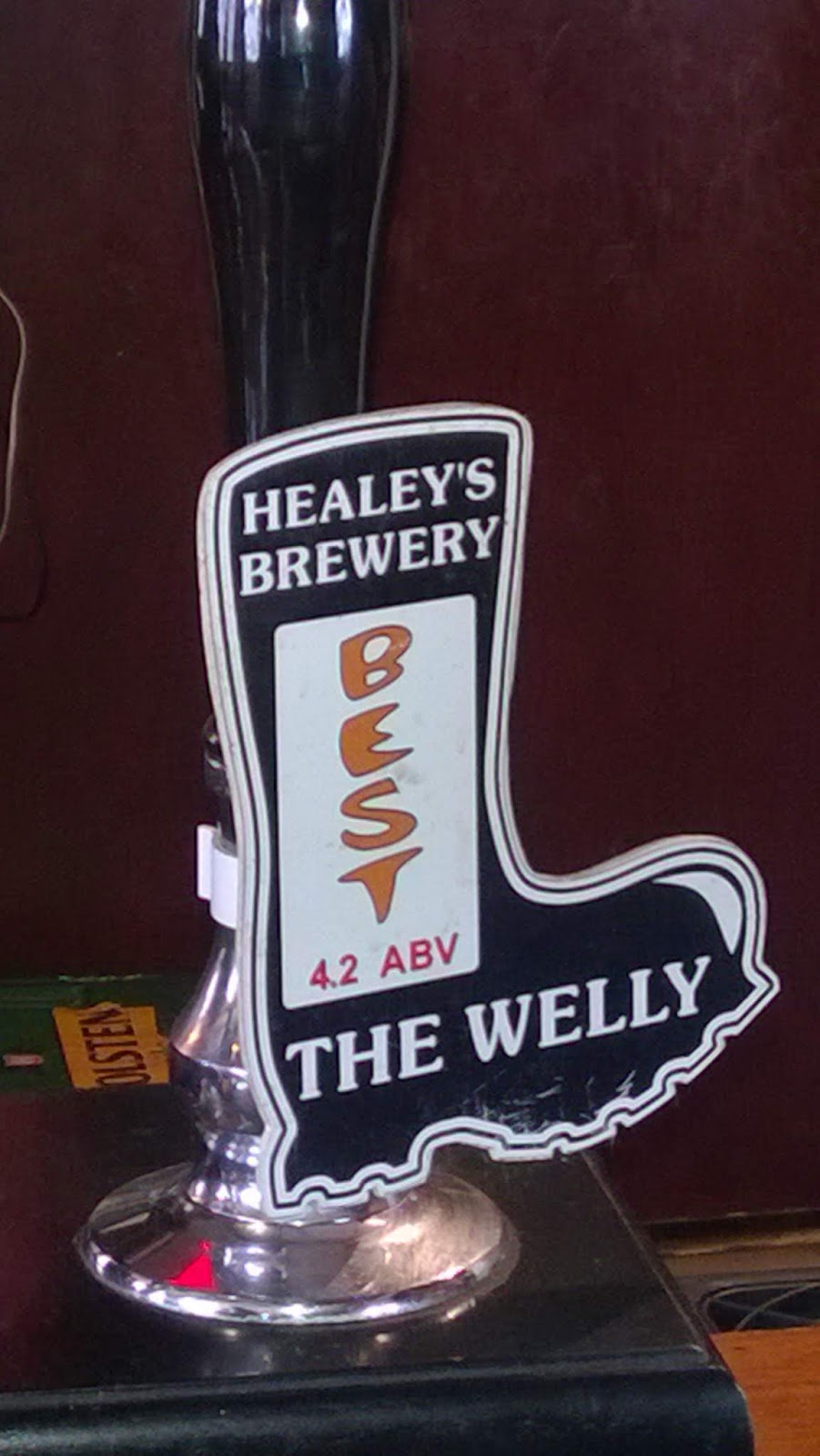 Ha! Ha! Wellie…
But just as he asks the barmaid for a beer, she comments "I'm not going to serve you as it's clear some members of your group have clearly had too much already". I wonder who she was to referring to? Ok, one of us was definitely very loud (but he's now practically a local) and another was about to pass out once again, but the rest of us were fine! Surely not madam! Still, being the gentlemen we are, we don't go causing any scenes and we move onto pastures new.
Except 4 Days that is, who'd already somehow been served! With only time for a couple of pints before we headed back South, we discuss our options for food. Someone eventually finds a pizza place round the corner and Mr X offers to head off in order to sort out some stodge. £10 for a chicken & mushroom pizza it seems. Around this point, Quinno decides that enough is enough for today and stumbles off into the night. Nice to see you again fella. Despite being a fuckin' jinx!
We walk back to the station, after waking up someone who'd passed out again in the pub and we locate our train. And surprise surprise we also have a table again! Which is fuckin' handy for the food. So settled down with a few cans of driving beer (Foster's) and it's time to consume our food with exceptional pace. A simple enough journey is disrupted by the arrival of a good few Wigan supporters who'd seen their team take a royal spanking at the hands of local rivals Preston.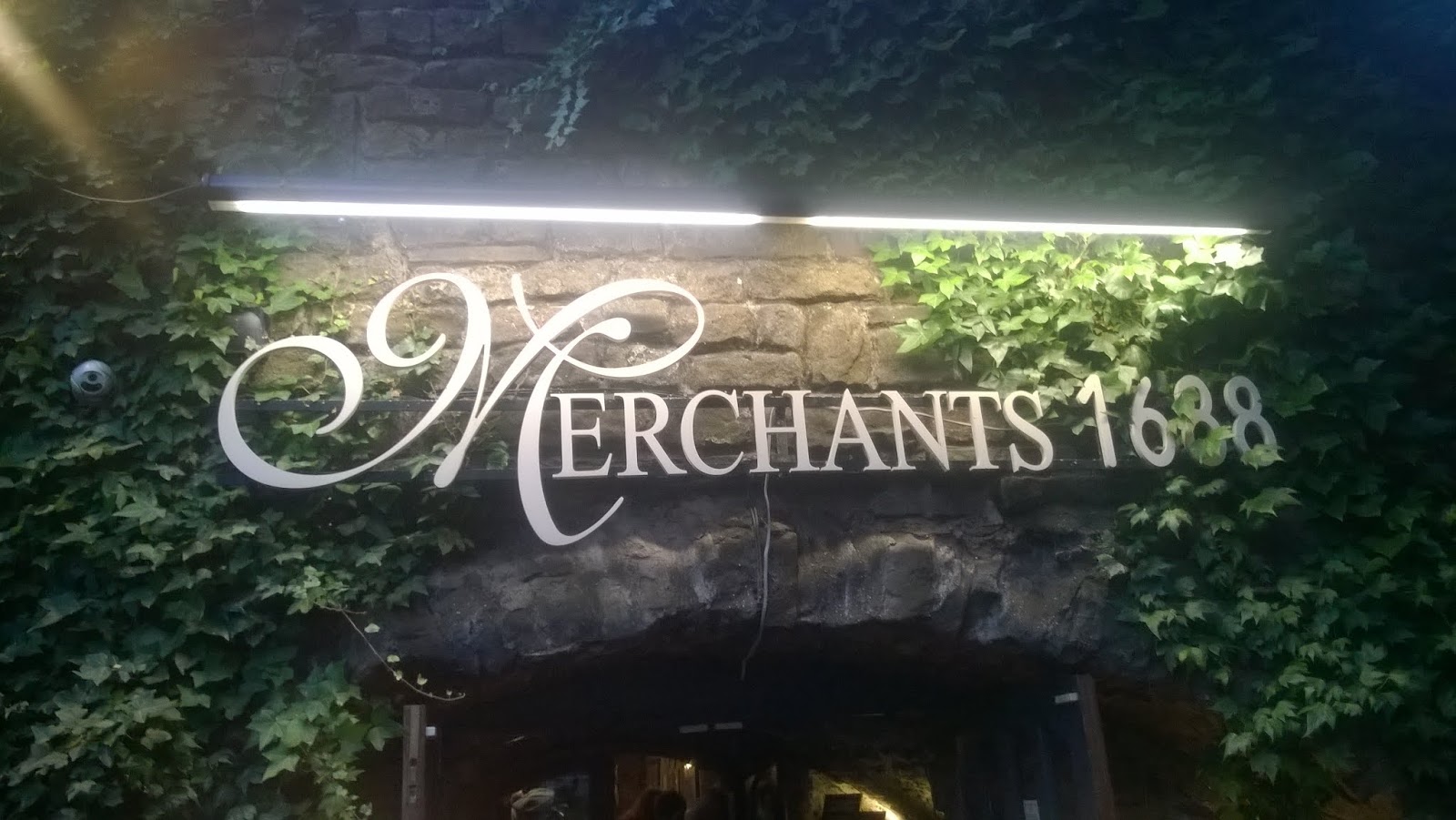 "Not tonight lads…"
Trying to be a bit tidy, I stacked all the pizza boxes up in front of me on the table, when a random fella approached us and comments on the amount of boxes on the table. "Sorry fella, they're all empty" replied Mr X, followed by "He sounds rather European". Personally I thought he spoke with more of a fuckin' South African twang myself, but there you go.
Next thing we know is this fella has returned to show his dismay about being accused of being European. You not South African then mate? We apologise and he wanders back off down the carriage. Mr X is not having any of this though, and seeks this fella out further down the line. A while later he returns with this chap now in tow. New friend then? And using the age honour tradition of sorting out any mild misunderstanding. He hands him a now warm beer.
Turns out his name is Jakub. Or Jacob. Or something. And he is indeed South African Polish. So Mr X was totally right then. For once. The rest of the journey is then filled with various shit. Like the fact he was returning from seeing his mum, who lives in bloody Airdrie! And that he had a Spanish bird. And I doubt it'll ever be topped, but to see him and Dr Bell argue over the future of Strawberry pickers post-Brexit after fifteen beers was something else. Oh, and he thought Dirty Barry was his lover and Crockett was his son! Come to think of it, I think he may have also been drinking beforehand as well.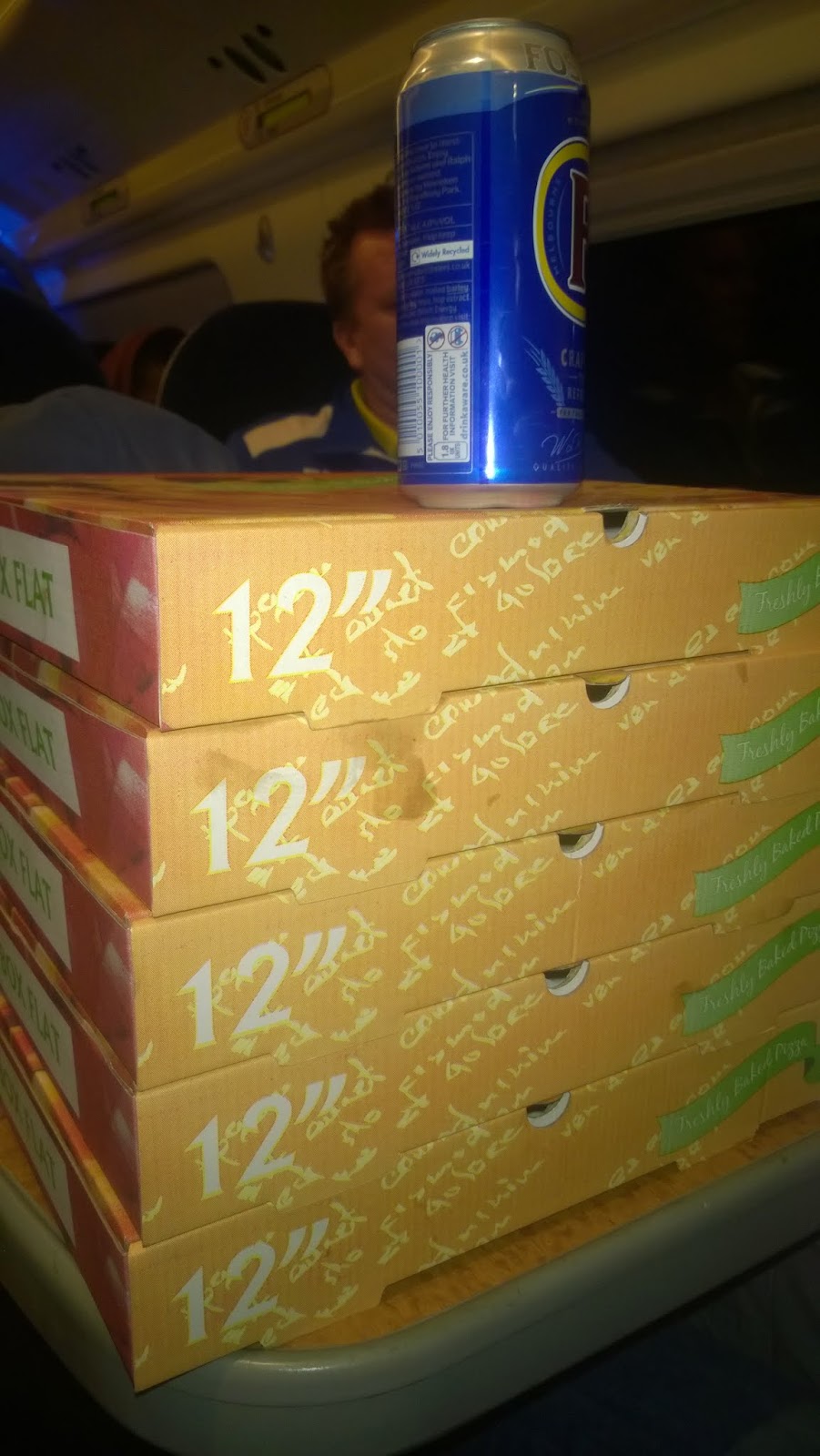 Insert cock joke
The whole night became even more surreal when he put some music on his phone. Not some sort of modern euro-techno babble bullshit, but Kate Bush. Yeah, Kate bloody Bush. 'Wuthering Heights' no less. Only made funny as we tried to work out how to say 'Dirty Barry' in Polish. "We have many words for dirty in my country.." was how that all started. Can't remember now what the Polish actually was for 'Dirty Barry' though. You're welcome.
And yet, all I could think of at that point was, Gandermonium in-joke here, "Why do they call him Dirty Barry? Doesn't he wash? I don't like people who don't wash". Arriving back in Euston and it was time to say goodbye to our mate Jakub/Jacob (think he lived in Limehouse somewhere) and head on towards the tube to Victoria and a train back home. It's back to the Badlands for me personally as I have an important engagement to attend to.
So that's the warm up done. A cheap day if you forget about the £67 on train fares. Next week. it's another excursion into a another countrie's local cup competition. Against a bleedin' another different countries team no less. And judging by the weather, there might be a few squeaky bums around, both for the trip over and the game itself. But needless to say that Gandemonium will find a way. Enjoy!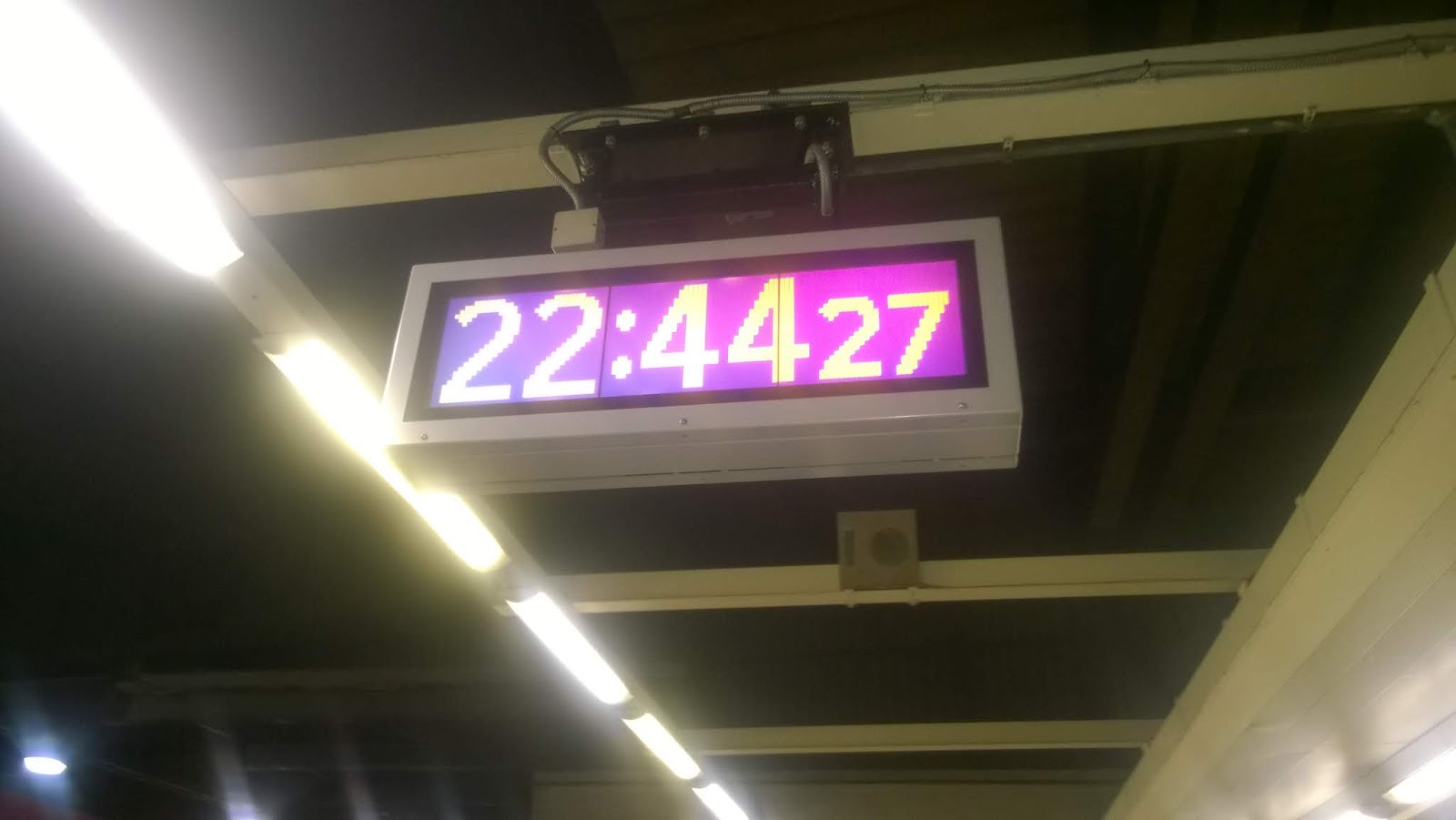 Back at Euston…
Duke
Att. 1,203