I love old stuff. You know that. I also love a bit of local history and have always been fascinated by long-lost sporting venues so when all that comes together into something extraordinary just a few short miles the other side of Rose Hill I'm going to be salivating like Dirty Barry in Bentall's lingerie department.
This one-off Gandermonium blog post started after I pinged up a snap of the Sutton fans larging it up in the Orient East Stand during Saturdays epic victory and casually mentioned that it had been lifted back in the fifties from South West London and shipped girder by girder way out East. Some just assumed I had overdone the stout in The Technical before the match and was spouting off random bollocks – hence why I thought it necessary to sit down and knock out this bit of historical reportage.
Us in the 'stolen' stand on Saturday
The story of Mitcham Stadium begins with an entrepreneur called Sydney Parkes. Parkes, a housing developer, believed that there was a market for professional Rugby League in London and decided to prove it by building a whacking great stadium opposite Tooting and Mitcham's then Sandy Lane ground at a cost of sixty grand – loads of dough in those days. His plans fitted in with the fast growth of the south London suburban sprawl around this time, it was all those new streets of semi-detached houses built by speculators like Parkes that provided the pound notes to finance his lofty sporting ambitions.
When it came to the Mitcham Stadium development this really was "build it and they will come" on a hell of a scale. Estimates of the grounds capacity vary from 30,000 to a frankly hard to believe 60,000 but we can guess it was somewhere in between. The early picture with the ground from the air doesn't show the big banks of terracing that were added at each end later.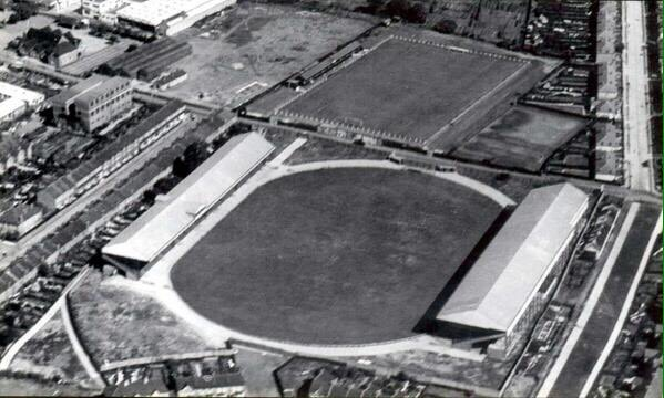 Mitcham Stadium from the air. Orient's stand to the left.

Tooting & Mitcham's old Sandy Lane at the top
But it turns out Parkes wasn't far off the money. Streatham and Mitcham Rugby League club moved in to the newly completed stadium for the 1935 season and they were soon turning out against the likes of Rochdale Hornets – with their celebrity fan and top entertainer of the day Gracie Fields showing up to add some glamour – and Hull Kingston Rovers and the club clocked up a record home attendance of over 24,000 for their first game against Oldham in September 1935 and they went on to average over 15,000 for their opening five games – more than nearby Crystal Palace FC!
In an audacious move Parkes had signed George Nepia, an All Black and one of the finest rugby players of his generation, and installed him as player manager alongside another rugby legend of that era Charlie Smith. Parkes was so pleased with his marquee signing that he demanded 25% of the gate from away games to guarantee that Nepia would play. And his quest for his pound of flesh didn't stop there. Chasing his bangs for the buck Parkes also set up Streatham and Mitcham Giants baseball team in the summer of 1936 and got Nepia, and presumably some of the other Rugby League lads, to play for them in the close season.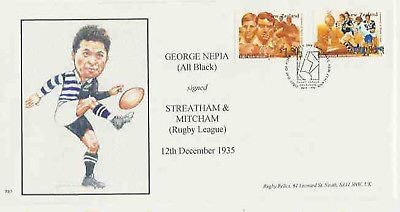 George Nepia. The All Blacks RL Legend who played in Mitcham
Predictably it was a disaster and the Giants played just five games, lost all five, including a hammering from West Ham who were associated with the football club, and promptly folded. Inter-war, and afterwards for a while as well, there was a serious attempt to get baseball established as a rival summer game to cricket in England. Luckily for us, but not for Parkes and some of his associates who chucked money at the game, the plans failed.
But Parkes wasn't all about the Rugby League – he had a finger in the Greyhound Racing pie as well and in 1936 he put down a track and opened up Mitcham Stadium for the dogs. With competition from nearby Wimbledon (more on that later) the project fell on its arse and within a year the dogs were gone. And the Rugby League wasn't going much better either and into their second season Streatham and Mitcham collapsed without fulfilling their fixtures – despite doing reasonably well on the pitch the crowds had tailed off and the costs of running a pro side playing away fixtures up north did for them. Competition for punters during the tough economic times of the thirties from other sports was also thought to be a decisive factor. Nepia and Smith were both sold off to Northern clubs in an attempt to offset the substantial losses.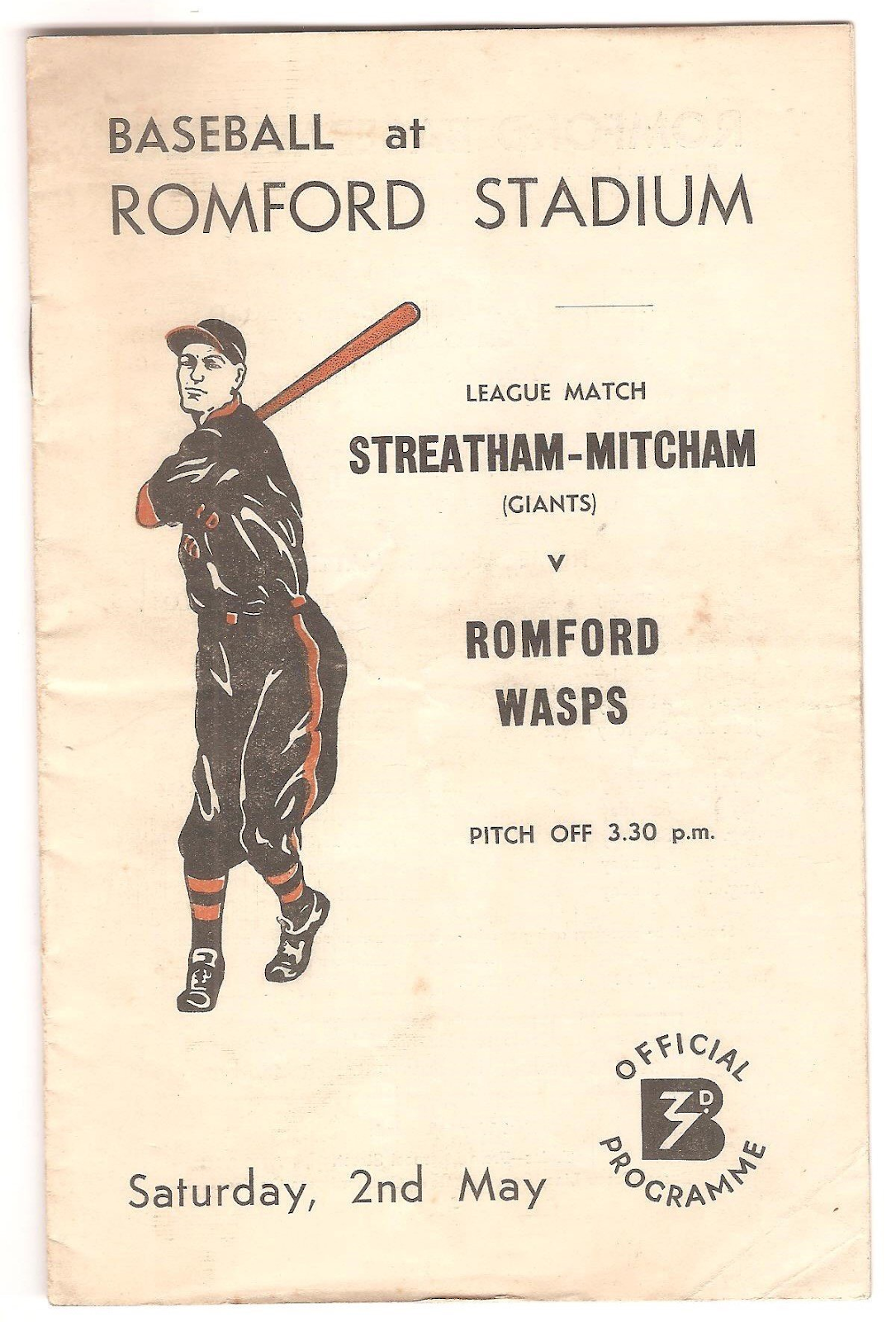 Mitcham's short lived pro Baseball team!
But it turns out Parks empire also extended to ownership of London's other Rugby League club at the time, Acton and Willesden, who went pop even quicker that Streatham and Mitcham nailing his grand plan to establish six teams within the London as a step to creating a whole Southern division. London wouldn't see a pro league team again until the 1980's when Fulham got in on the act. Parkes, flush from building loads of the suburban sprawl of houses around Motspur Park, Worcester Park and New Malden, also owned the long-gone Wandsworth Stadium and was reported as being the biggest owner of sporting real estate in Europe.
However, this wasn't to be the end of Mitcham Stadium quite yet, it's reported that Parkes was close to securing a deal with Clapton Orient to move in but their directors threw out the plan in 1937. There was also a similar approach to Fulham. In March 1938 The London Evening News reported that the then Fulham owner, John Dean, confirmed that he was considering an offer to buy Craven Cottage – presumably for housing. Parkes was quick out the blocks and told reporters that he had "telephonic communication with Mr Dean on the matter." The paper also confirmed that the Mitcham Stadium held 60,000 and suggested that there were other possible suitors.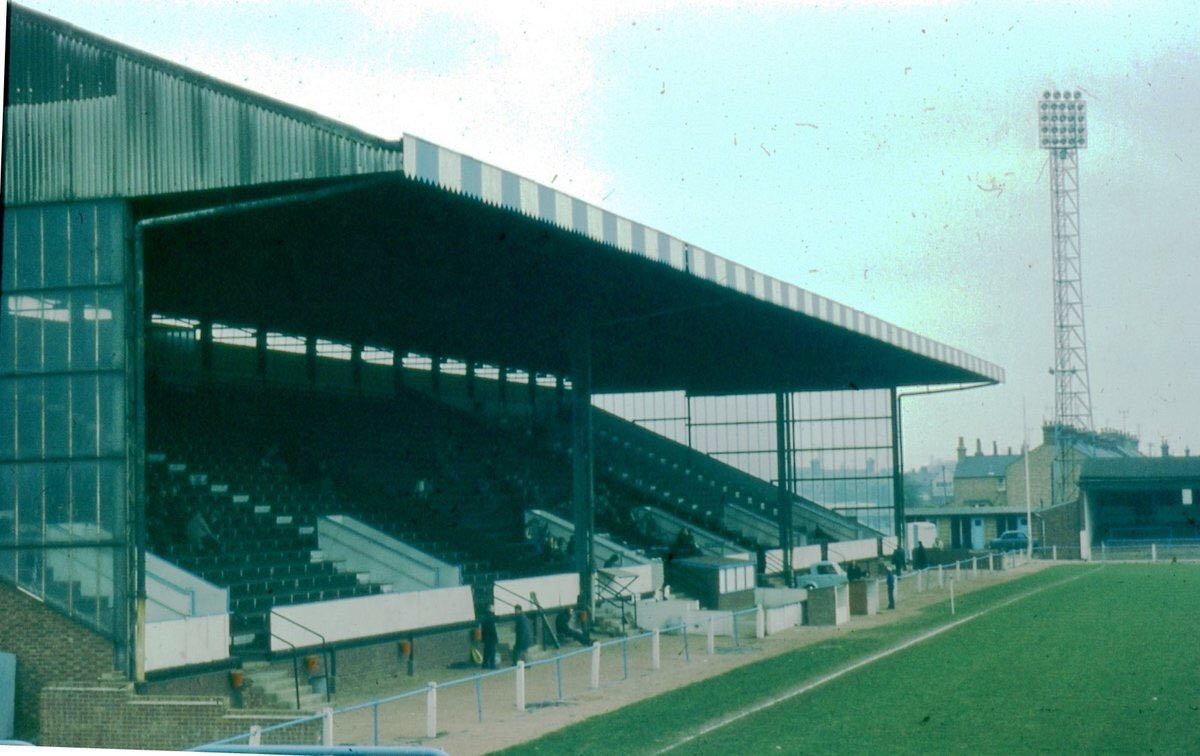 Stand that went to Bedford
None of these possible tenants came to anything and as war loomed the stadium looked more than a bit bolloxed . I would love to know what the stadium was used for during the war years – hard to believe it wouldn't have fulfilled some military function. I need to dig into that. After the war, and with the boom in spectator sports, Parkes had another spin of the wheel and tried to get a licence for speedway but Wimbledon were having none of that, being only a short bus ride away and in 1947 that plan was knocked back sharpish.
Never apparently daunted, Parkes then turned his attention to South West London's large and growing Irish community and brought in both hurling and Gaelic football. The GAA hosted exhibition matches featuring county champions and All-Ireland finalists bringing in crowds of up to 30,000 people but the GAA had eyes on a bigger prize and in the mid-fifties shifted these money-spinners to the much larger Wembley stadium dealing Mitcham yet another fatal blow. Reports from the time showed that many in the GAA orbit were furious as Mitcham was by now woven into the fabric of the south London Irish community and was regarded by travelling teams as one of their favourite venues.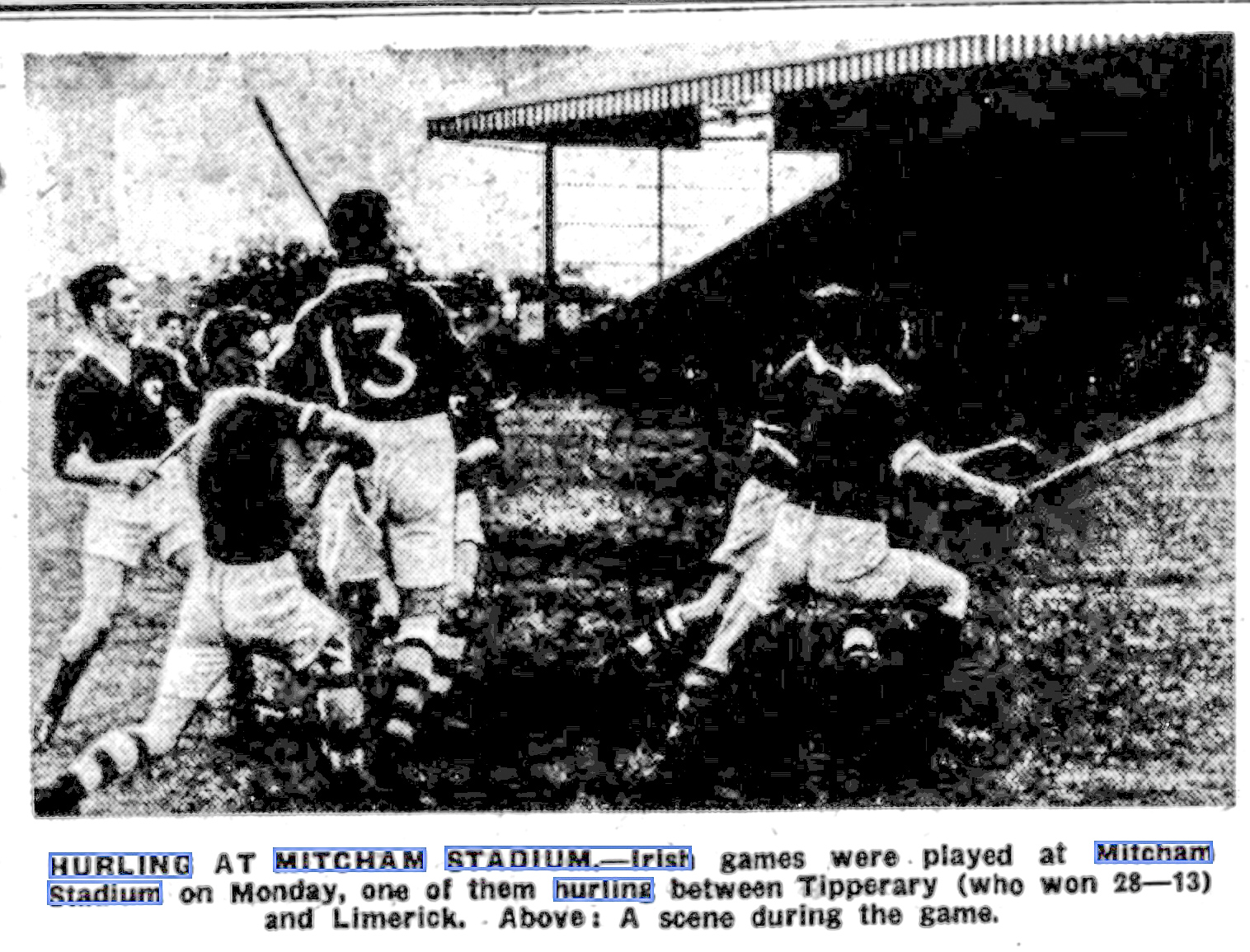 Hurling action
Parkes had one final go at football, offering Croydon Rovers the chance to use his impressive facilities and they played one Metropolitan League season there in 1950/51. The Bantams only existed for one year and actually had a successful first season, finishing third and for a while topping the league and giving it the big one that they were about to be propelled on through the Southern League and into the old Third Division South. The Rovers also played Kidderminster in a friendly at Mitcham Stadum in a very early live televised game – how extraordinary is that fact alone? In December 1950 Croydon Rovers applied to the Surrey FA for a name change to Mitcham and Croydon Rovers to broaden their appeal to the local population – safe to assume that the proposal was knocked back and I guess that Mitcham Wanderers, who had merged with Tooting and played across the road at Sandy Lane, would have kicked up a stink for sure.
At the same time as the name change was being considered Croydon Rovers had also made an audacious bid to sign Alan Brown, a Scottish International and East Fife star, as player manager but there was clearly some shenanigans going on with the Dundee Telegraph reporting that Croydon "had representatives at the main London road and rail terminals hoping the player would arrive." He never did. A month earlier Croydon Rovers had offered Bobby Ancell of Dundee United the same position but it appears that he declined as well.
One season wonders, Croydon Rovers
How and why Croydon Rovers folded after just one relatively successful season remains a mystery but if they were trying to sign established international pros to play at Metropolitan League level it suggests that they were early fore-runners of the Billy Big Bollocks/ buying success nonsense that has cooked the goose of so many non-league sides in the many years since.
Among the final references I can find to the stadium before it closed in 1955 is the hosting of Coronation celebrations in 1953 and I believe it was regularly used for local Mitcham civic and school sports events. There was a huge co-operative festival at the ground shortly before it shut its doors for good and it seems that the co-operative movement used it as a regular venue for gala events. The picture of the Coronation celebrations gives an idea of the scale of the stadium.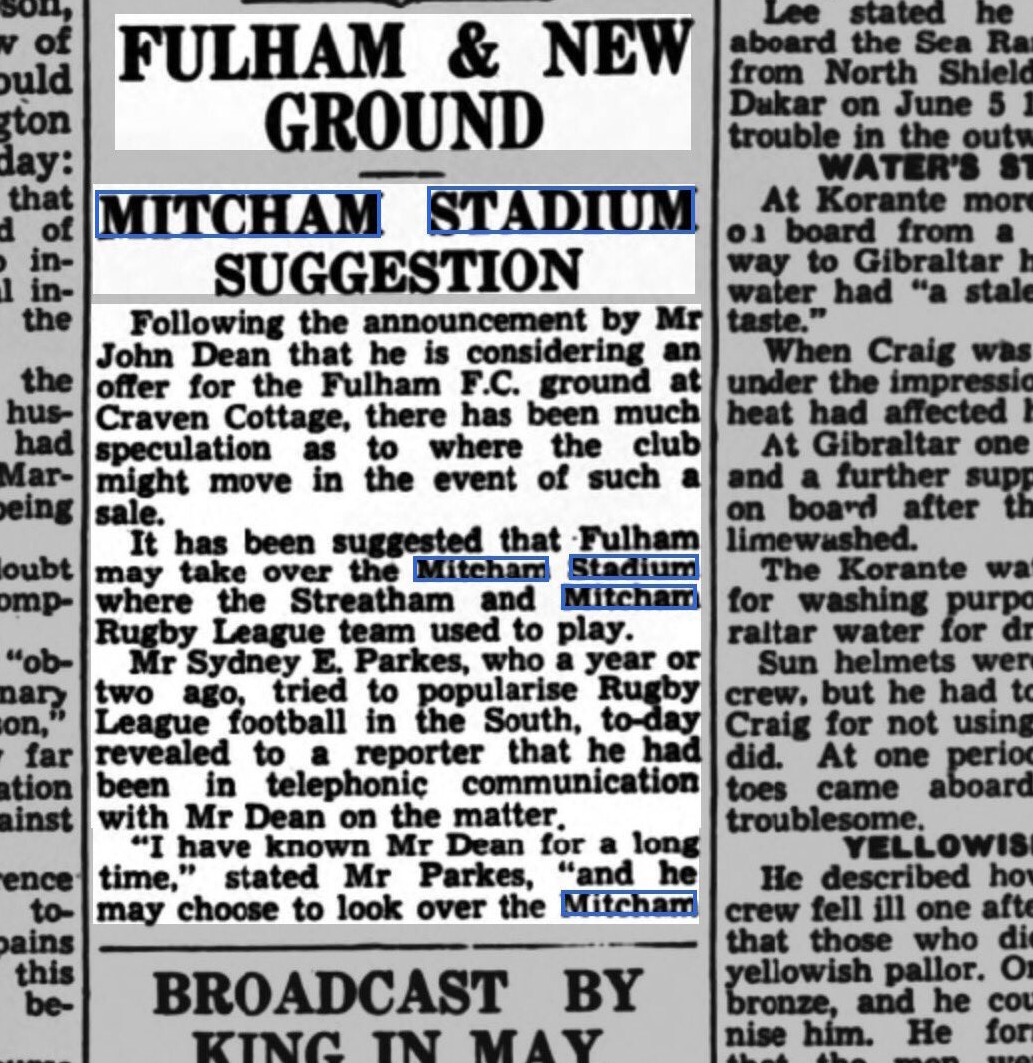 Fulham in Mitcham?
Oh yes, I almost forgot, Mitcham Stadium also briefly hosted athletics and, proving that there was no new game or gimmick that Parkes wouldn't embrace if he thought it might turn a shilling, he also had a dabble with the short-lived sport of bicycle polo!
But just two decades after this leviathan arose out of the Mitcham mud it was done. On closing the two covered stands were sold off, one to then Southern League big boys Bedford Town and the other shipped off to Orient, which is where we started this tale. There must have been turnstiles up for grabs as well, did one or two of them find their way into the vintage collection that graces nearby Gander Green Lane? Has to be possible as no one seems to know the provinence of our random but beautiful battery of units.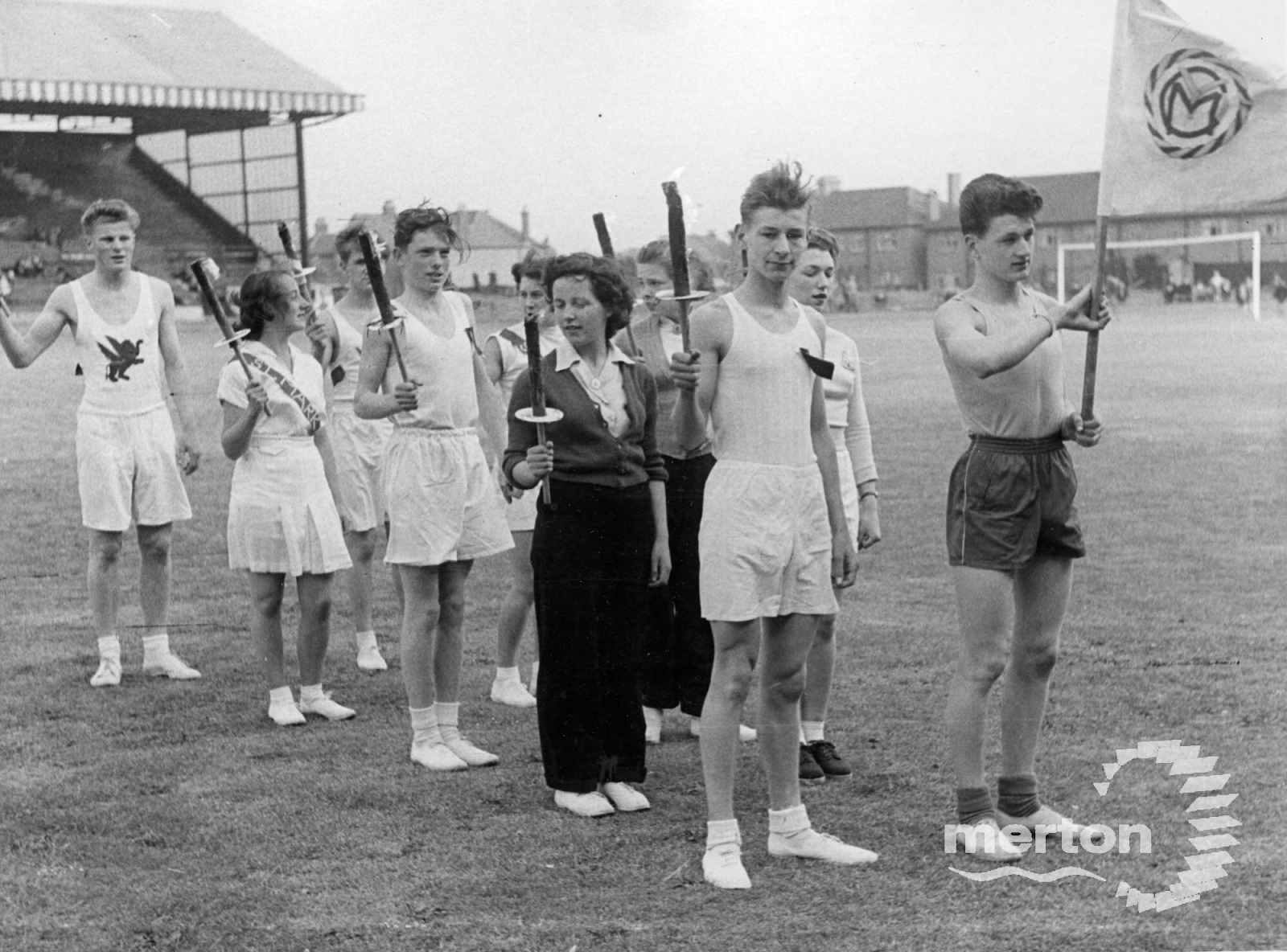 Coronation Celebrations @ Mitcham Stadium
But just think about what might have been? Say Fulham had moved in or say Parkes had been able to mould one of his other projects (Croydon Rovers?) into lasting contenders? We could have had a Premier League football outfit right on our doorstep. One final note, I'm told that you can still see a part of the original foundations in either Ormerod Gardens or Fowley Road where the new housing was built over the stadium in the 1960's. I'm going down to take a butchers at that.
Totts
With huge thanks to @groundtastic, the brilliant "Rugby Leagues Lost Heartland", LB Merton's archive, the British Library, the GAA, the GRA and my fellow history enthusiast Michael Walker.