It's fair to say the recent form of Sutton United FC has been a little up and down. A 4-0 Tuesday night humping by Boredom Wood, a 3-0 win over Wrexham and then a 2-2 draw against 10 man bottom side Dover having been 2-0 up early on is the sort of run that has your average fan scratching their heads and making their brain ache trying to work out what it all means. Not us, oh no. We've long since given up with that old lark and simply go to the bar and order another round. The only thing that makes our brain ache is beer. And maybe a touch of early onset Alzheimer's.
The other affect of this is that when people ask in passing conversation "How do you reckon you'll get on this weekend?", you can do no more than shrug your Noddy Holders and offer "Fucked if I know!" as a response. Take this weeks trundle out to East London to meet the mighty Orient for example. On the one hand they're top of the table, are the only unbeaten side remaining in the division and saw off their own struggling oppo midweek 5-1, but on the other, we love a big scalp and usually turn up more often than not for the bigger opponents. So we could as easily battle out a narrow win as get handed our arses in this one. Still, at least it's never dull. Anyway, if we're going to put some thought into this, despite of course saying we never do that just barely a paragraph back, we did come here last season top and got turned over, so given that they're top going into this one, we could argue it's our turn to enjoy the 3 points today.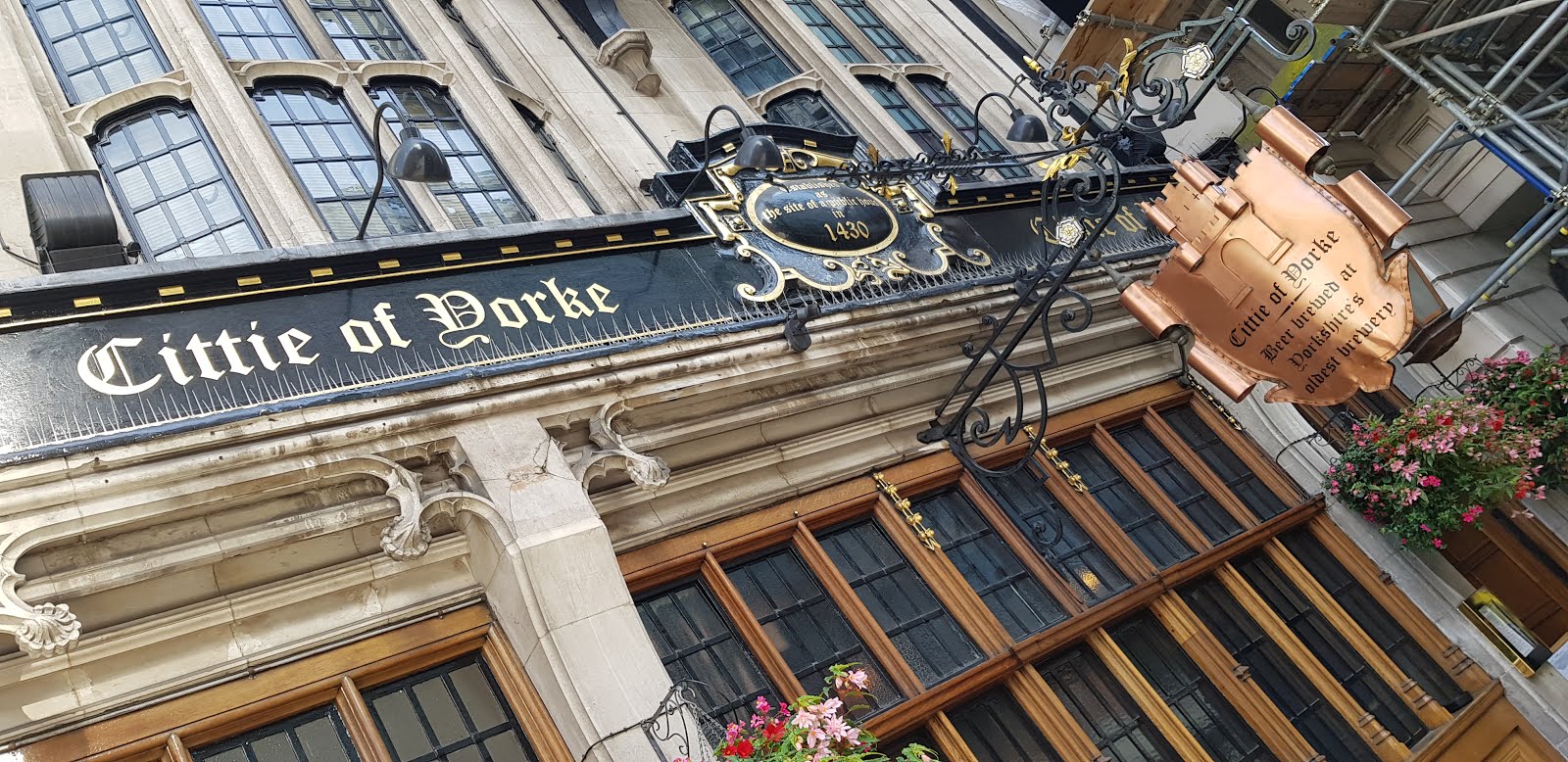 Old boozer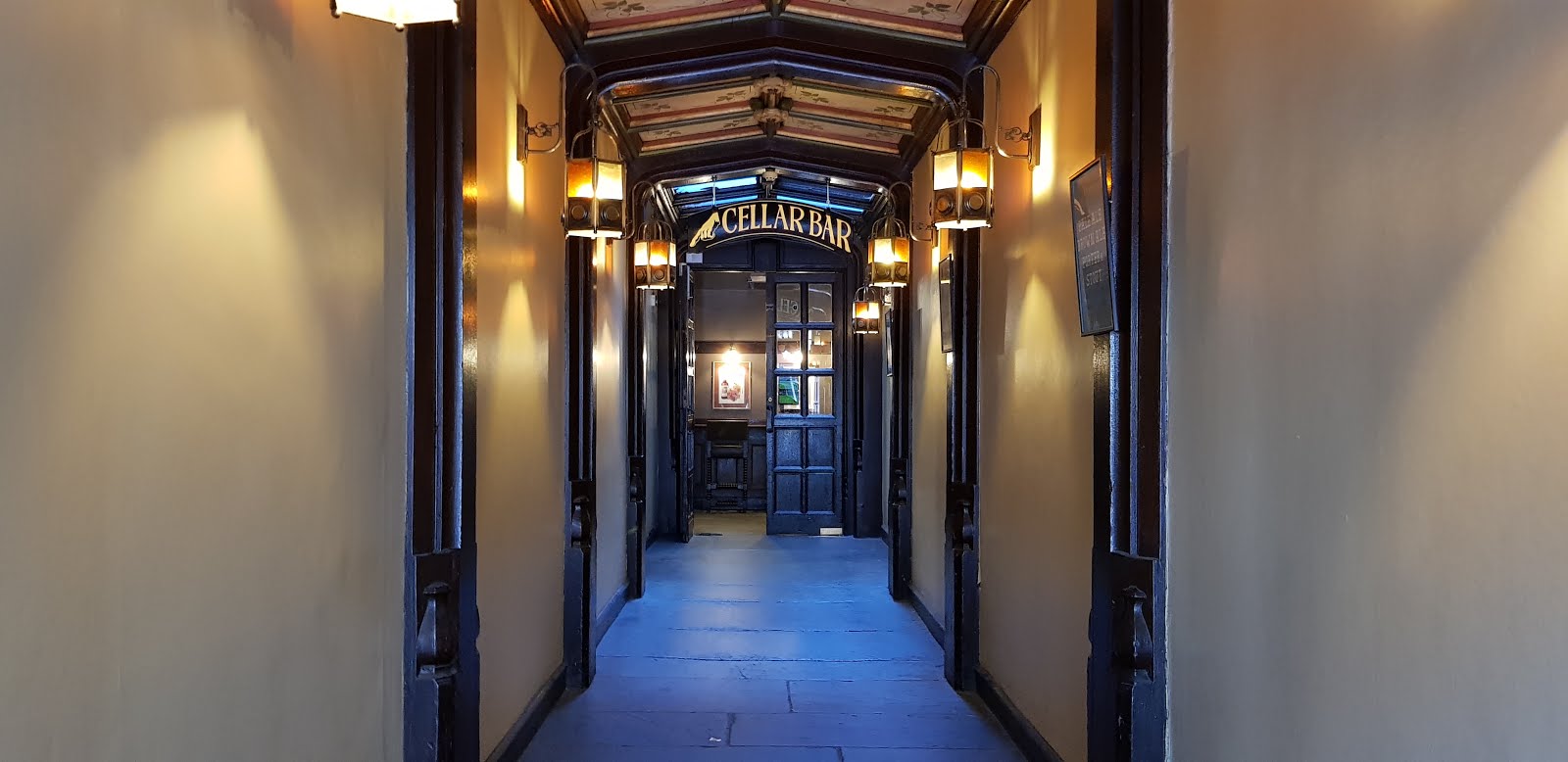 Corridor
Having slaved away at work this week, I was quite pleased to have a relatively short trip to make today and it meant I could first enjoy a couple of pints post-place of employ on Friday night and also occupy Bedfordshire until the delightfully late hour of almost 9am on the Saturday morning. Having risen from the dead and whilst undertaking the usual morning rituals of a shower and a poo, I receive a text message from Clive on the B-Team Crew "Seen who's reffing today?". Of course I haven't as I try not to think about National League officials outside of questioning their parentage over the allotted 90 minutes plus stoppages of a match of Association Football as to do so invites only madness. But still, I suppose I'd better reply. It's only polite. I know, I 'll go with something light and snappy.
"Nope. Some cunt though no doubt".
Seems I'm not that far off the mark as it goes as today we're once more being graced with the presence of Carl Brook, the fuckwit who ruined the game at Aldershot a couple of weeks back with that moody red card for JC and numerous other baffling yellows for some of the other lads whilst the oppo largely got fuck all in response. Oh joy. Putting this out of my mind, I get my arse into gear and head out for the station, where I soon discover I've once again misjudged the weather. Assuming it was going to be a bit nippy out, I've gone full 'wrap up warm' and it's therefore not long before I'm sweating like Brett Kavanaugh in front of a Senate Committee hearing. Thankfully though, halfway to my destination a bus appears and I hop on for the last leg into the Badlands to save me getting any stickier before I've even left my home borough. It also aids in dodging agents of the state who'd like nothing better than to capture an agent of the PROWS foremost propaganda free speech outlet.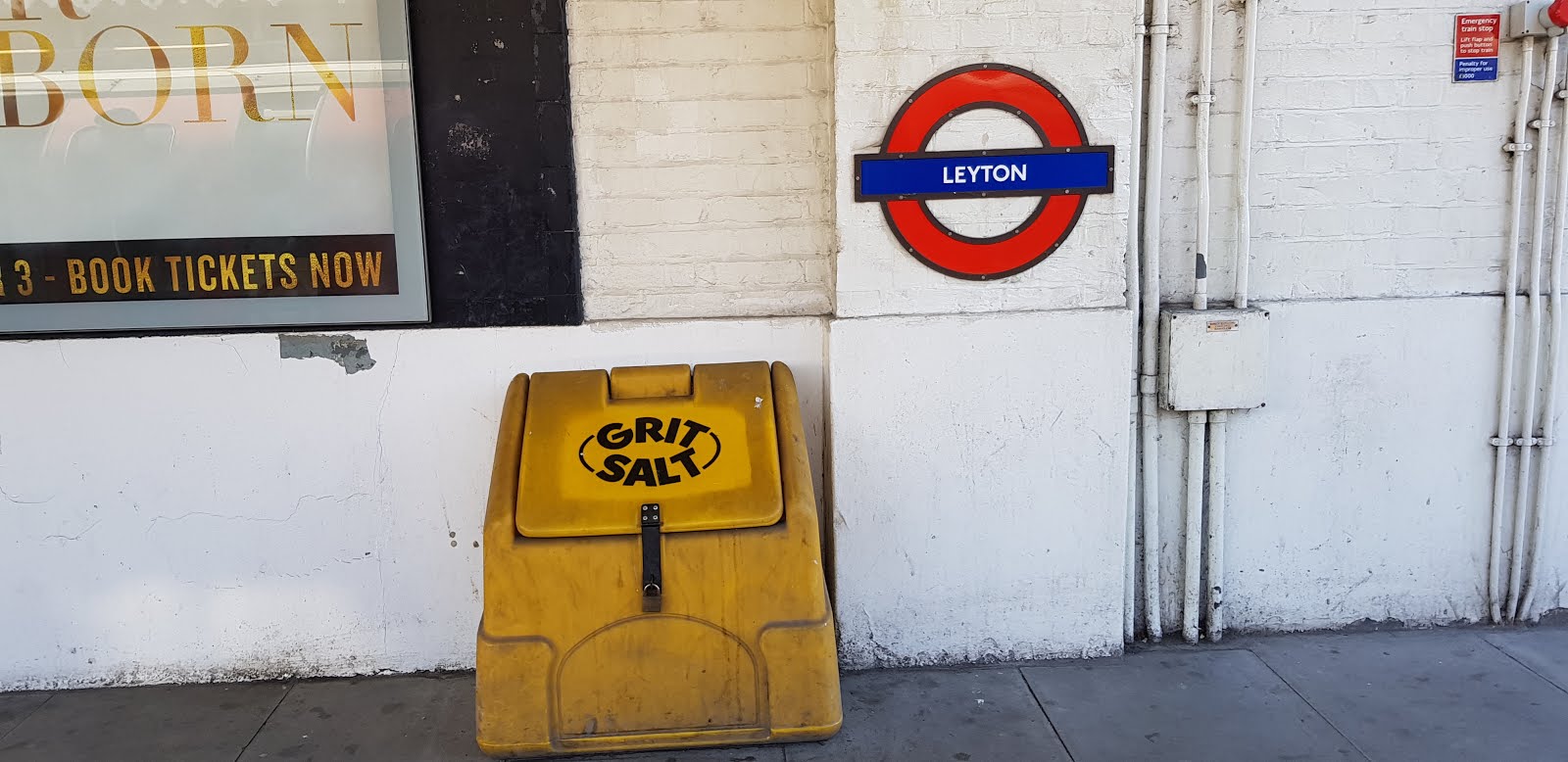 We're here!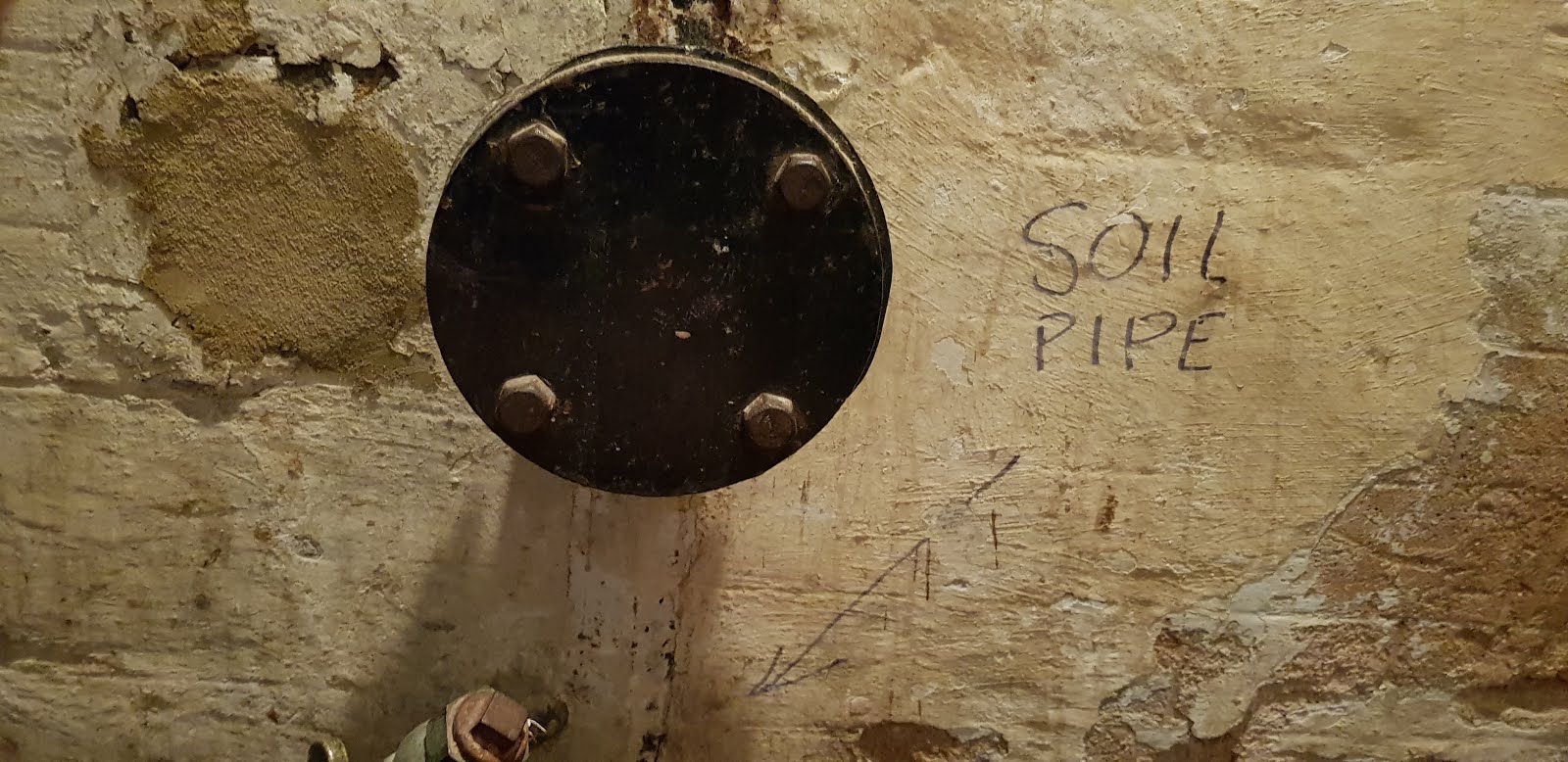 Soil pipe
Finally arriving at Carshalton station, I find Dukey just having bought his travel card and helping some old duffer behind him use the machine before we head for the platform. He too it seems has misjudged the weather and expected a chilly late September day rather than the bright Autumn sunshine we actually have. "Fuckin' hell I'm hot" he moans. The train somewhat surprisingly arrives on time and we board, but there's no sign of Dr Bell, who it seems was due to get this train as well this morning. Applying the logic of the needs of the many outweigh those of the few (hey, there's 2 of us and 1 of him. Democracy innit!), we take a seat. If he's aboard, he can come and find us!
As we head into town, we amuse ourselves with different small talk and other bollocks, which mainly involves discussing the 1985 Arnold Schwarzenegger masterpiece 'Commando' that was on Film 4 the previous evening. Then as we reach Streatham we discover via the top secret, members only, VIP Gandermonium whatsapp thingy that Dr Bell is indeed aboard our service, along with 4 Days and Mr X. But having made ourselves comfortable, we elect not to go in search of them. I also take the opportunity to remind Mr X that for some strange reason, I have his programme from the Scotland Belgium game he'd attended on the Airdrie weekender in my bag. I've no idea how or why it's come into my possession, but I'd like him to reclaim it as the stench of failure seeping from it's glossy pages is starting to make me feel a little queasy.
On the platform at Farringdon, we quickly locate the others and head up into the sunshine for the short hop to the Spoons on the corner and having pulled some readies from the ATM, we're soon at the bar ordering refreshments. Already here and polishing off large breakfasts are Crockett and Pete the Perv. As we catch up over pints, we hear of a couple of late fallers from the rest of the firm. It seems Rax has been lumbered with child birthday party escort duties at the last minute and Magnum PI has had a rather rough morning as some ne'er do well he was tracking down hasn't taken well to being served his papers and has got a little physical! He's ok, but it seems he'll be somewhat busy dealing with the old bill for a while, no doubt because he's used his PI licensed-to-kill ninja skills to properly fuck up his assailant. I bet that involves a lot of paperwork…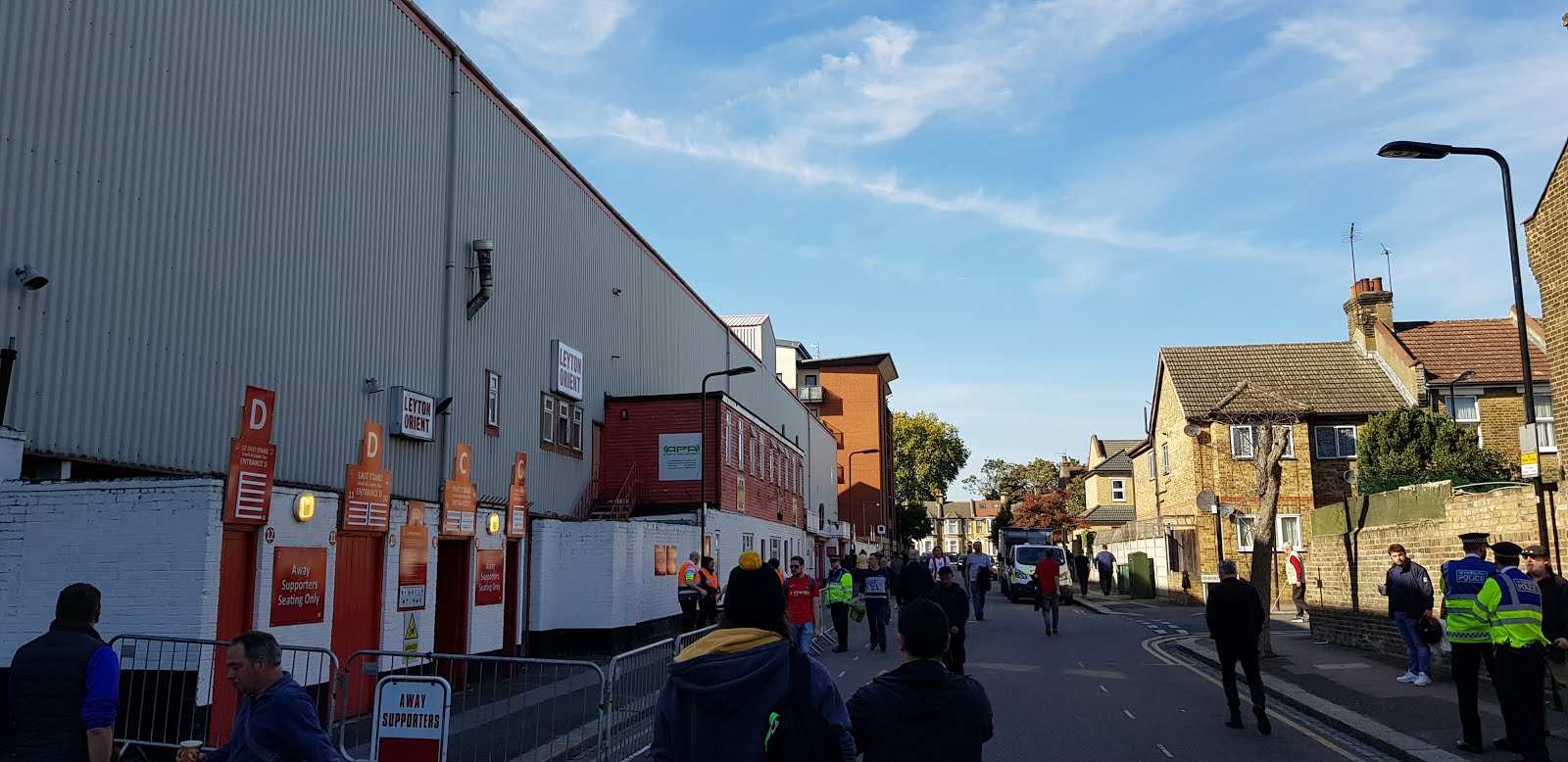 Walking down whatever road this is…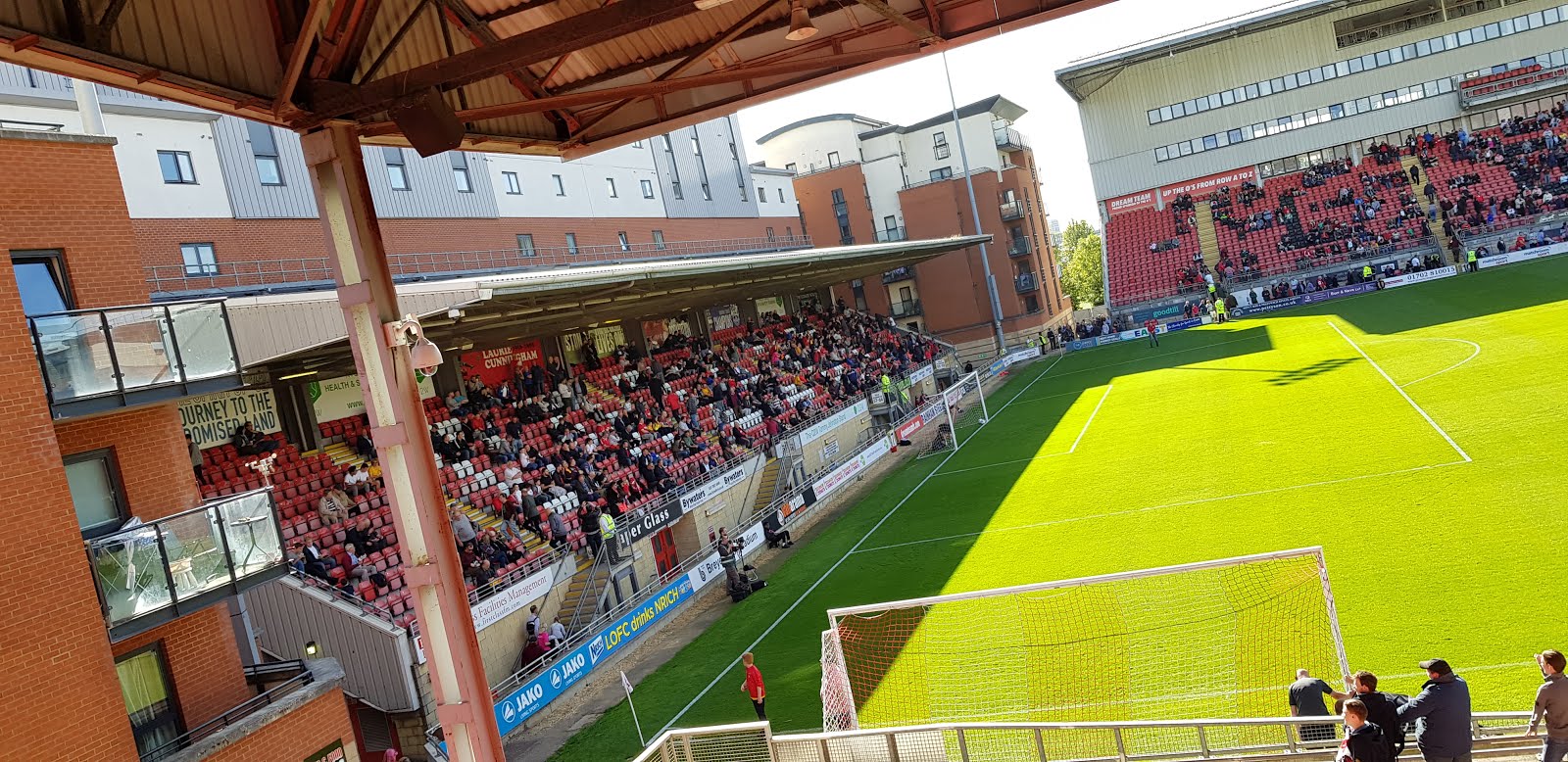 "Shit league with Sutton, you're in a shit league with Sutton…."
After a couple of beers at the spoons, we head down towards Chancery Lane so as to get on the Central Line for Leyton. But before we do, we hit up the Cittie of Yorke, a Sam Smiths boozer for some cheaper-than-spoons beverages. Amazingly, despite it's relative proximity to where I work, it's the first time I've been in this old pub and it's an impressive space. As we partake in a couple more pints in these exclusive surroundings, Crockett is crowing about his big weekend bet he's got on the go, a double on Hertha Berlin to beat Bayern (which they did Friday night, 2-0) and West Ham to do Man Utd in today's early KO. And it's going well as the Hammers are two goals to the good already. If it stays that way, it'll drop 350 bar into his bin. With a quick pop into Greggs to sort some nosebag, we hop onto the tube and rattle our way eastwards to Leyton and a couple of quick Pre-match liveners in the Technical on the high road. The best thing is, this has been designated as the 'away' pub by the local plod, which we think is a first for us on the road. It's a decent boozer with a good beer selection, so it suits us perfectly.
Further refreshed, it's time to head for Brisbane Road. At the turnstiles, there's the usual security and bag checks you'd expect from the bigger clubs, but it's the big Shoebox flag causing the most concern. "It's big!" I warn the lady steward as she starts yanking it out of the bag "How big exactly?" she enquires. "Erm, about 18 feet across if I remember correctly". She stops pulling and looks at me. "Are you having a laugh?". Nope! A head steward is called in over the radio and a moment later he's on scene. Thankfully, he's the same geezer I'd dealt with last season and thankfully it seems he remembers us. A quick chat later and and an agreement that we'll bang it up at the back of the stand out of the way and I've handed in my ticket and we're up into the seats. There's a decent following assembling again from South West London and with the flag up, we settle in for the off. But not before Totts has reminded me the stand we're in was 'nicked' from Mitcham. Something pinched from Mitcham? That makes a change.
Butler, Bennett, Thomas, Beckwith, Clough, Davis, Ayunga, Eastmond, Bailey, Wright, Drinan. SUBS: Bolawinra, Lafayette, Brown, Beautyman, Wishart.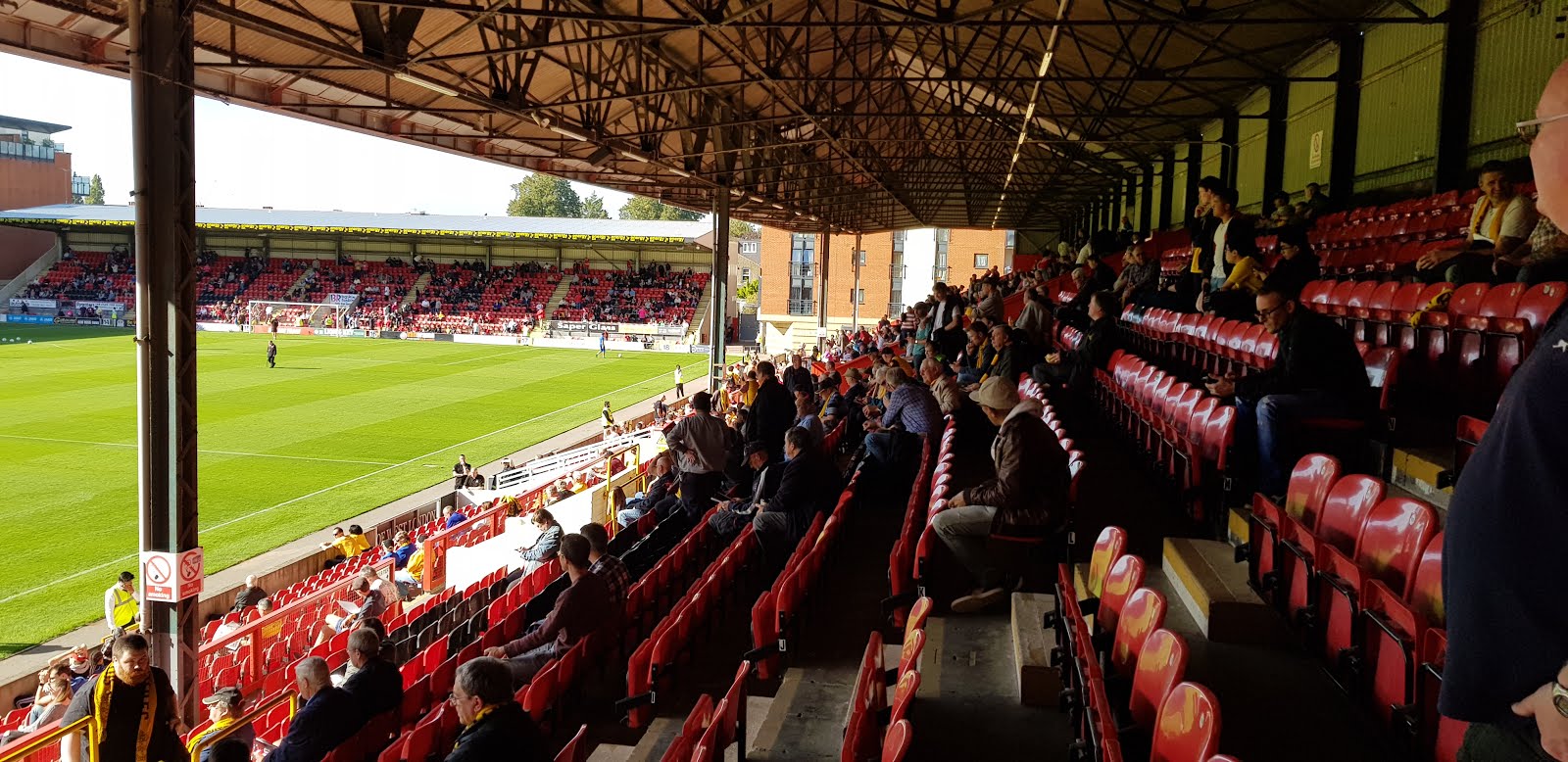 People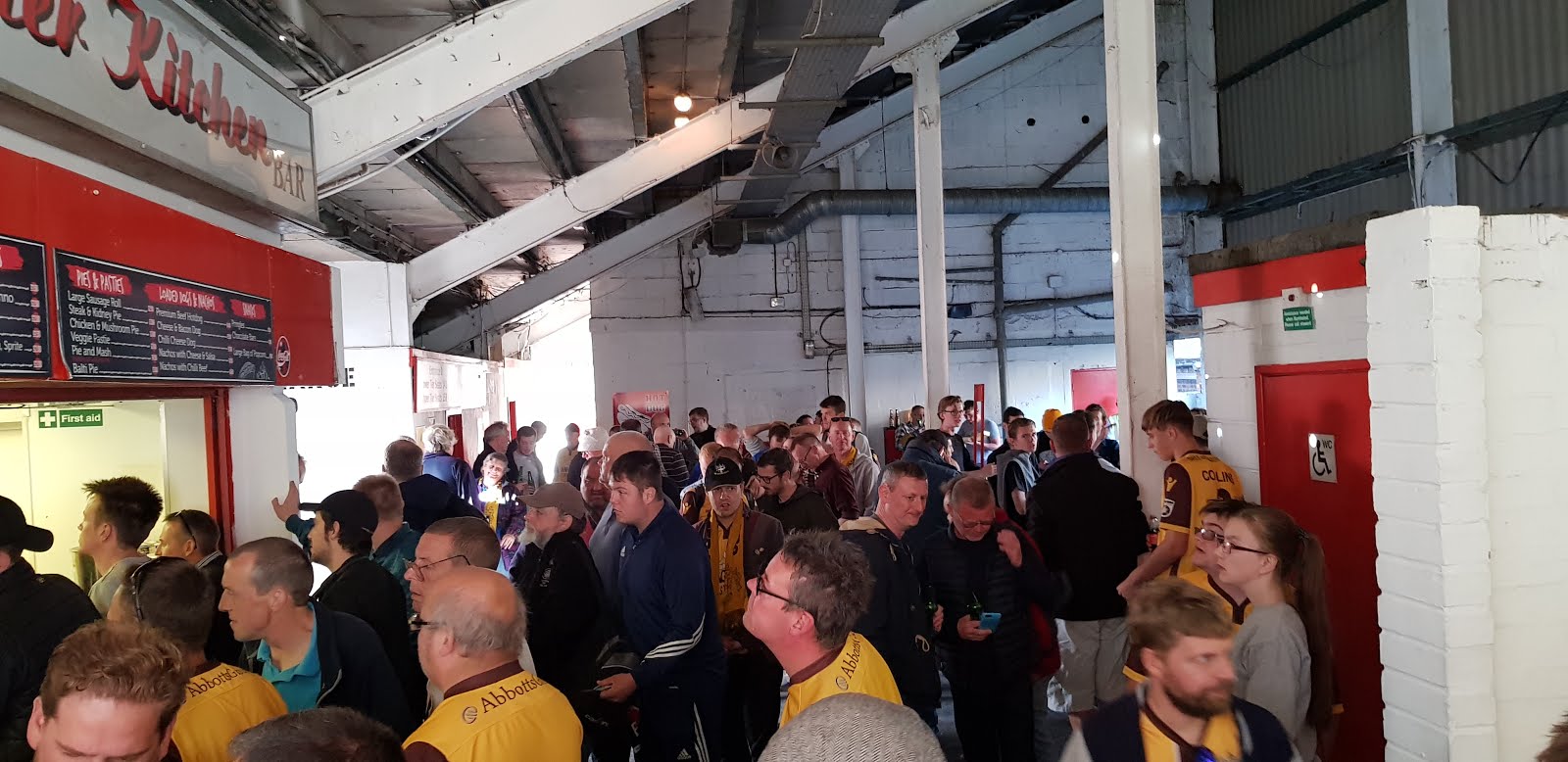 Packed concourse
Despite Orient's strong start to the season, the opening exchanges give no real indication of why. Whilst they do look more competent than last season, they're not quite as at it as we'd have expected for a home side defending a club record unbeaten run. Both sides play it cagey and this means that neither really creates much of note. In fact, the first couple of moments come quite close together, with the U's putting a free-kick wide from Kenny Davis after Ayunga was somewhat crudely stopped in his tracks on the 18 yard box and the hosts respond almost immediately with a header from a corner that Aswad not only blocks on the line, but manages to also clear it over the bar too boot! After this, there's not much to write home about really, as both sides make inroads into the oppo half, but just lack that final ball to cause either keeper any concern. The main bit of fun comes from the yoof coming up with a new song about Nicky Bailey and a magic hat, that and letting Mr Brook know what our feelings are on him and his abilities. Of course, we've picked up a couple of yellows for next to fuck all, with the oppo largely ignored for doing the same stuff.
At the break, with everyone else heading down to the concourse for a bottle of overpriced lager, I decide to join them so U]I'm not billy no mates left in the stand staring at this phone. Down here, the yoot are enjoying a few more choruses of the Nicky Bailey Magic Hat song and everyone's having a drink and wondering what the 2nd half holds. Delightfully, I manage to ponce a half time cider off Sleepy Joe. It seems my big hearted charitable donation of a pint to him after the Boreham Wood game intended for Mr X who'd instead sloped off home to sulk is paying dividends. Thank you sir!
The second 45 however, kicks off with a bit of bang. An Orient attack breaks down in our half and a quick switch of the play finds Ayunga out wide, down in front of us. He advances, cuts inside the fullback and from 20 yards, has a pop. I'll be honest, the keeper doesn't exactly cover himself in glory at this point as he goes down like a sack of spuds and the ball squeezes in at his near post. It's such a surprise, that a lot of us take a moment to register it's actually in the back of the onion bag and we're in front. Go mental? Go mental.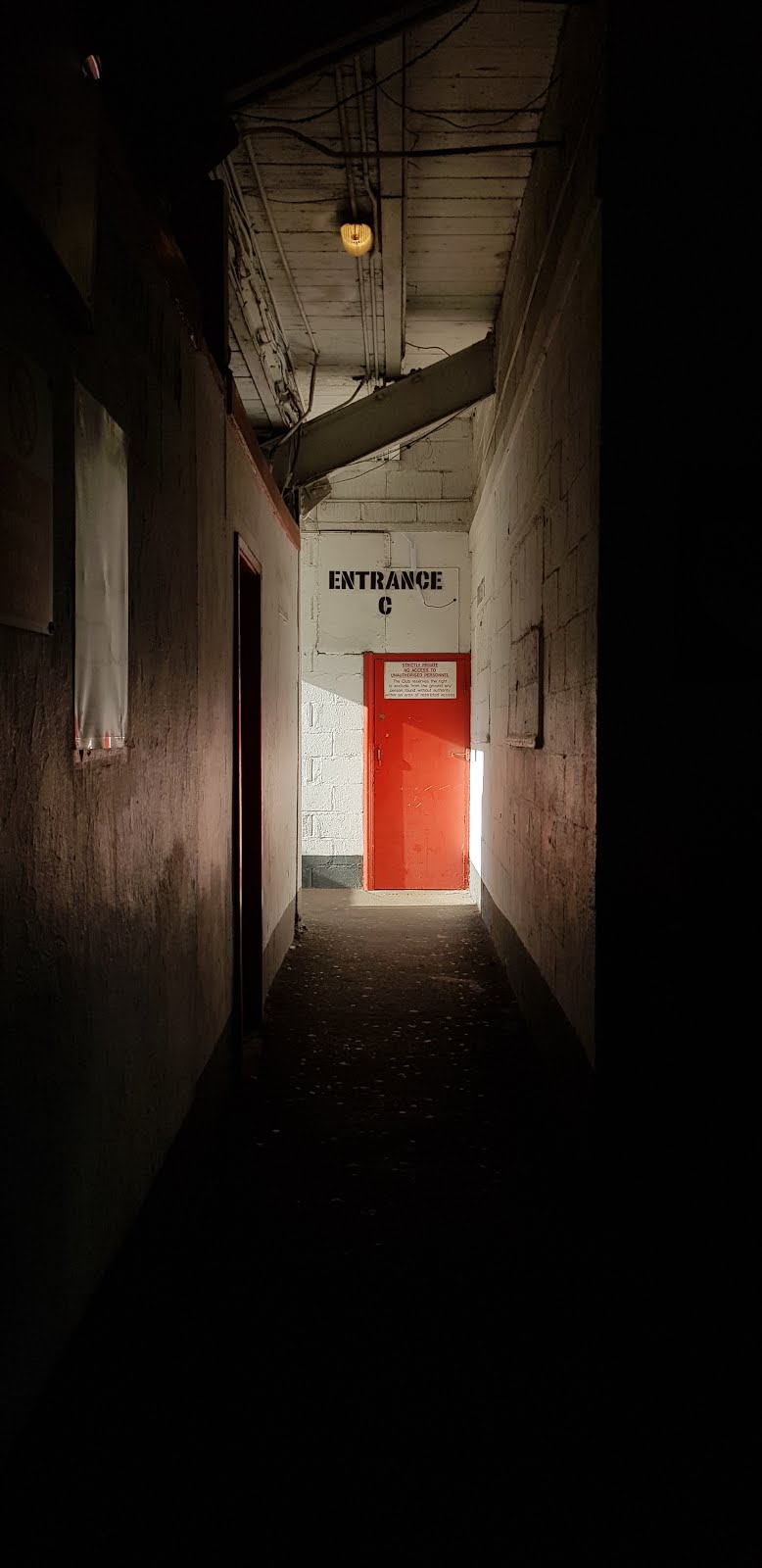 Another corridor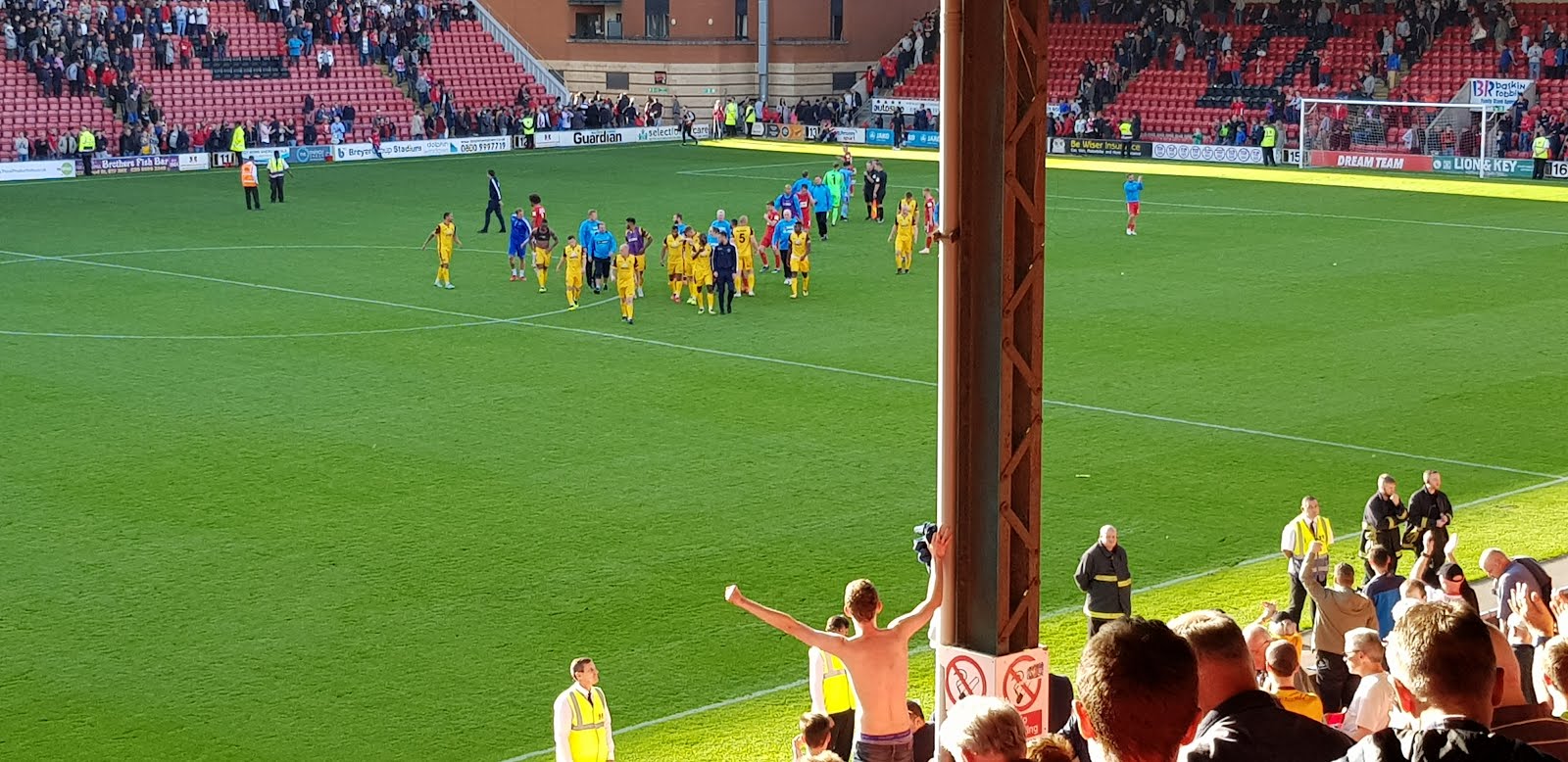 Celebrations
With a goal to give us something to hold onto, we now start Non-Leaguing the shit out of these Football League wannabe's. That means we employ a little game management and wind the clock down. Of course, the locals fucking love a bit of this. Having said this, their team don't really do a great deal to take the game to us either and the main challenge we face is that fucking bent arsehole reffing the contest. As the half wears on, Brook seems to be on a mission to award yellows to Sutton players for as pointless offences as he can, whilst the hosts remain completely un-cautioned despite a number of fouls that quite frankly are easily as serious as anything we manage to muster. The worst one though sees the end of Tommy Wright's afternoon. Chasing a ball over the top, he gets goal side of the defender and has time it right to be on the run of the ball, but before he can take it in his stride, he gets an obvious two handed shove in the back which causes him to fall awkwardly. Nothing doing. No free kick nothing. Cunto the clown then really rubs our noses in it by telling Tommy to get up and leave the field rather than receive treatment from Bobby where he sits. You're an absolute fucking prick mate. I hope someone shat in your shoes.
Changes are made by both sides, the absurd yellow card count mounts and as we go into the last few mins, we start to tire a little after putting in a solid shift. This coupled with our usual "We're winning 1-0 so lets drop practically back to our own goal line to really put the shits up our support" tactic means the home side finally start to look more threatening. We do deal with most of it fairly comfortably until pretty much the 90th minute when a bloke is given too much room 18 yards out and clips a shot off Butler's crossbar. Then after 5 minutes of added time, even Brook gets bored and blows the final whistle. Unbeaten run kyboshed, 3 points in the bag, job. fucking. done. Right, can we pack up and get drunk now please?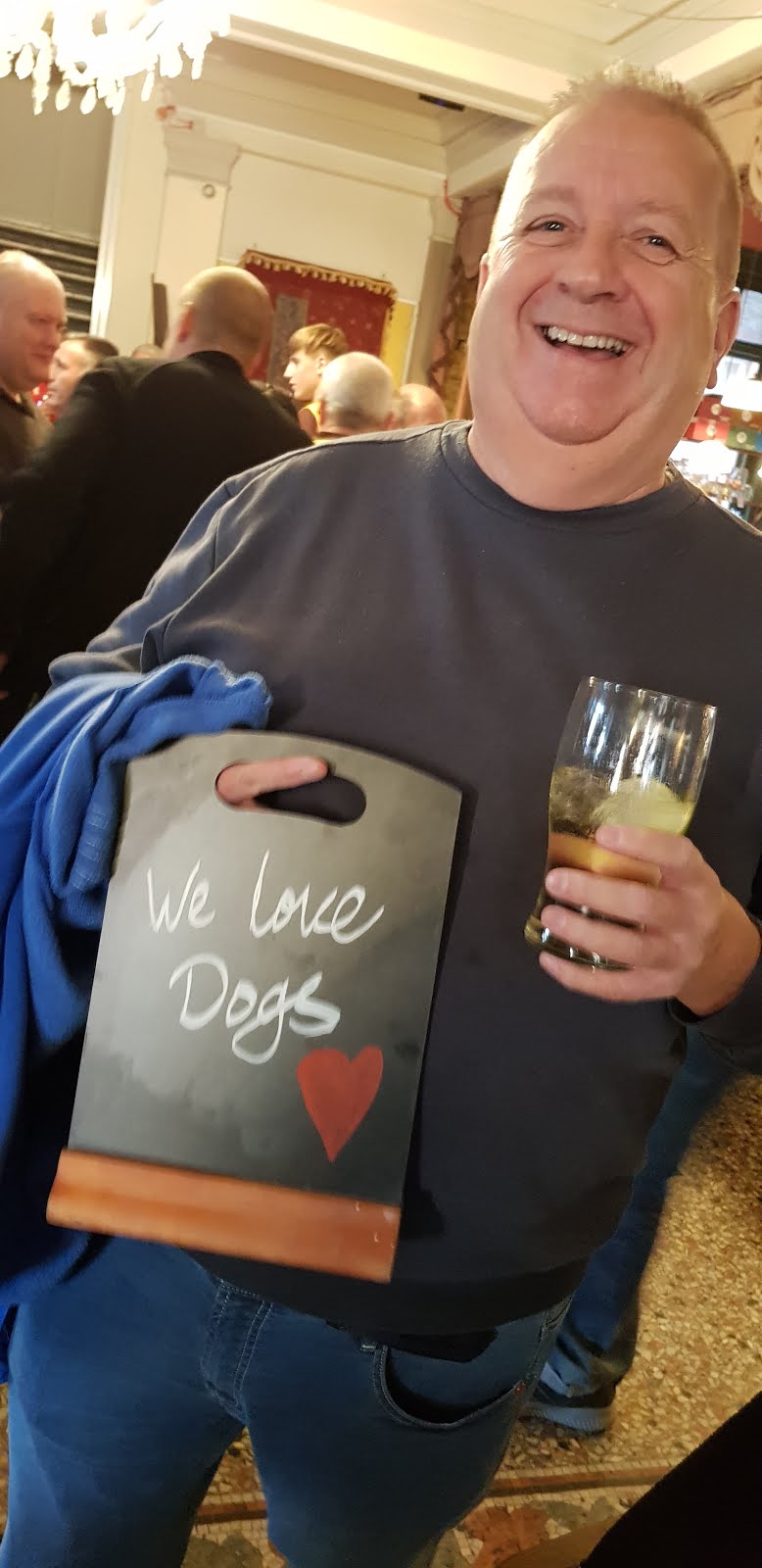 We know Barry, we know…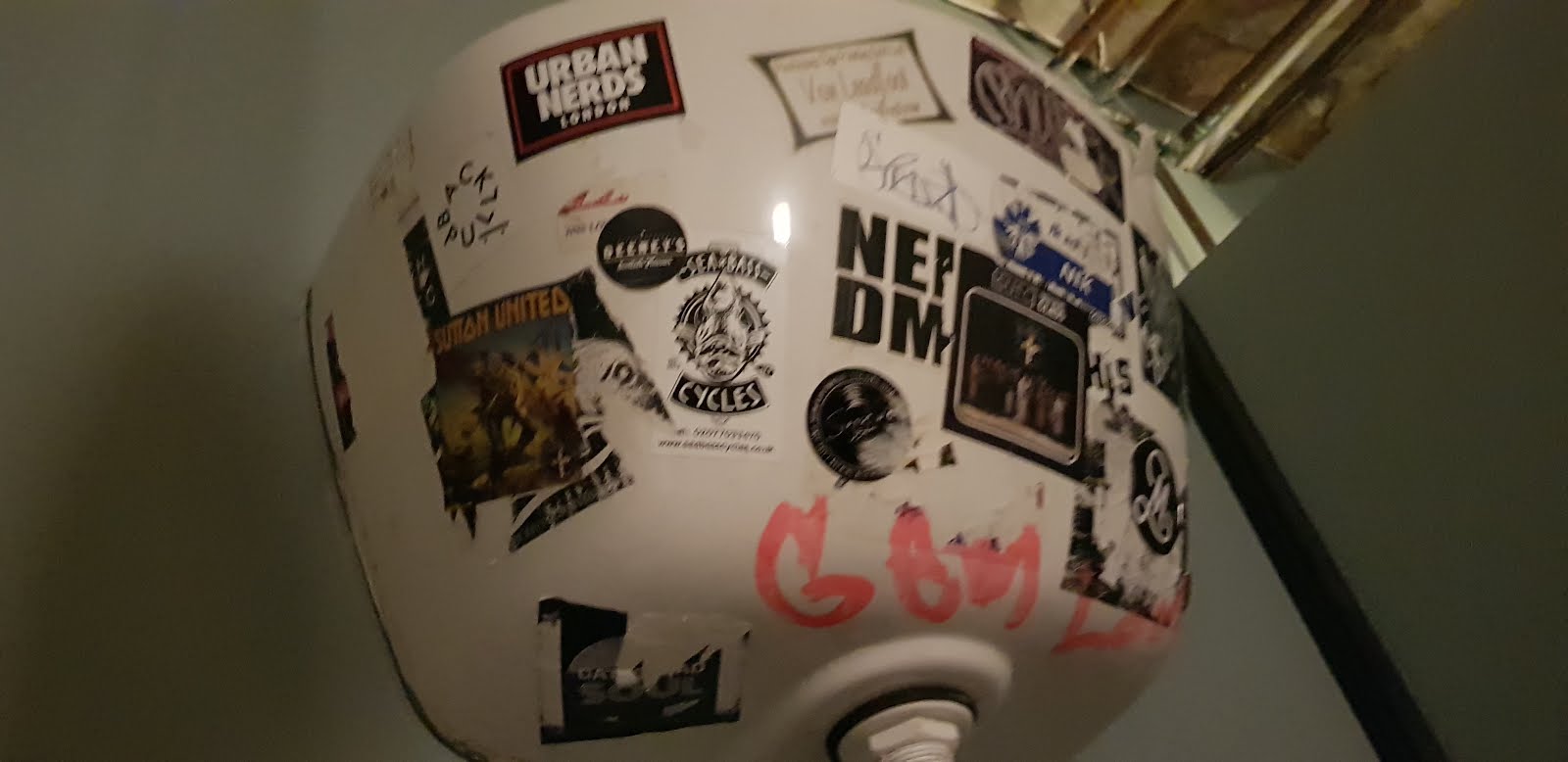 Vandalism
With the lads applauded from the pitch, we grab our goods and chattels and hit the pavement back to the Technical for a couple of celebratory scoops. Along the way, a couple of locals make loud & obviously-aimed-at-us "Pub team" comments that has I and 4 Days chuckling. Well gents, if you don't want to play pub teams, then don't be shit and wind up in a pub league maybe? Just a fucking idea. To be honest, there's a few sound O's around as well, including one old boy who slips between I and the Welshman for a chat on the way back to the pub who felt they maybe needed the kick up the arse to remind them of the job at hand. Getting out of the National and not having to play pub sides like us! Fair play. Back in the boozer, it's mainly away fans again and we get stuck into the pints, some more than others as Dukey has a proper moment pouring his first bottle of fizzy cider into his pint glass, managing to dump a load of it all down my side. In retaliation I use his trademark flat cap to dry myself off, it's only fair. Once done, I make a quick check to make sure he wasn't having a stroke or anything. All clear, back to the beer.
We while away some time here over a couple of pints and there's a bit of boisterous singing. Crockett also keeps trying to get the Nicky Bailey song going, but his efforts are hampered by the fact he only actually knows the first line of the fucking thing. So he kicks off, then bails out leaving others to do the heavy lifting. Still, at least he gets a round in from his days gambling monies before he sods off to meet his missus for a night out in Reigate. We also meet Derby fan Sean who's come along for the day with his missus. On their anniversary! Who said romance was dead eh? Take notes Dukey!
After some beers, we decide to get back into town and for some reason decide to alight at Bank, you know, the bit in the City of London where pretty much all the pubs are closed at weekends. So we end up in the Cross Keys spoons and get stuck into a few more pints to while away the time until Steve rejoins us after a magical day out at Wolves where Southampton have fallen to a 2-0 defeat. Naturally, he's delighted with this outcome. Naturally, being in a beer desert, the pub is pretty busy. Which is odd as there really is fuck all else around here! What's even odder is the parade of Love Island and TOWIE sorts who start wandering in just after 8. Seems a spoons in the heart of London that's otherwise mostly shut is the place to be seen these days. Fuck knows why.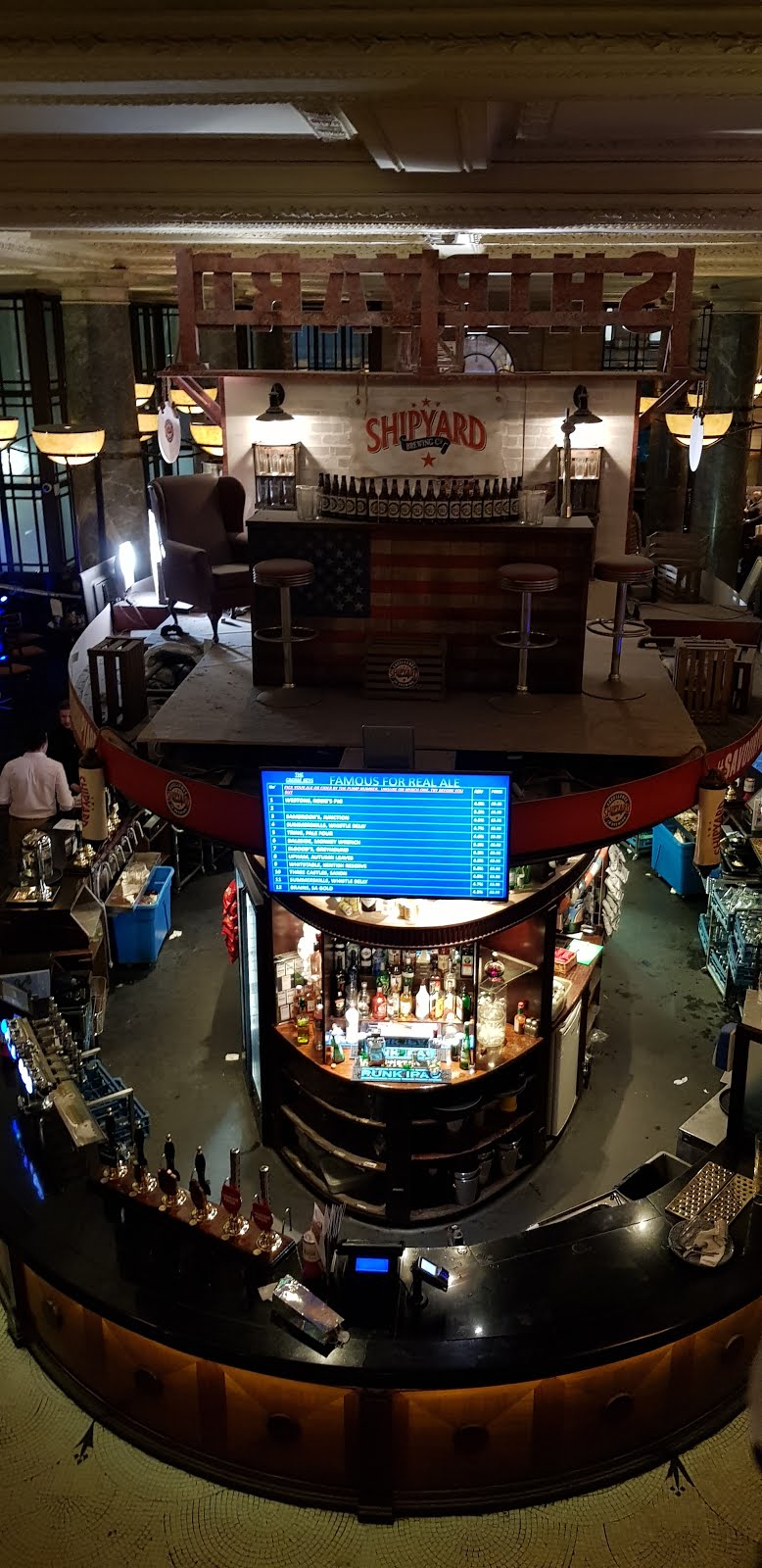 Pub view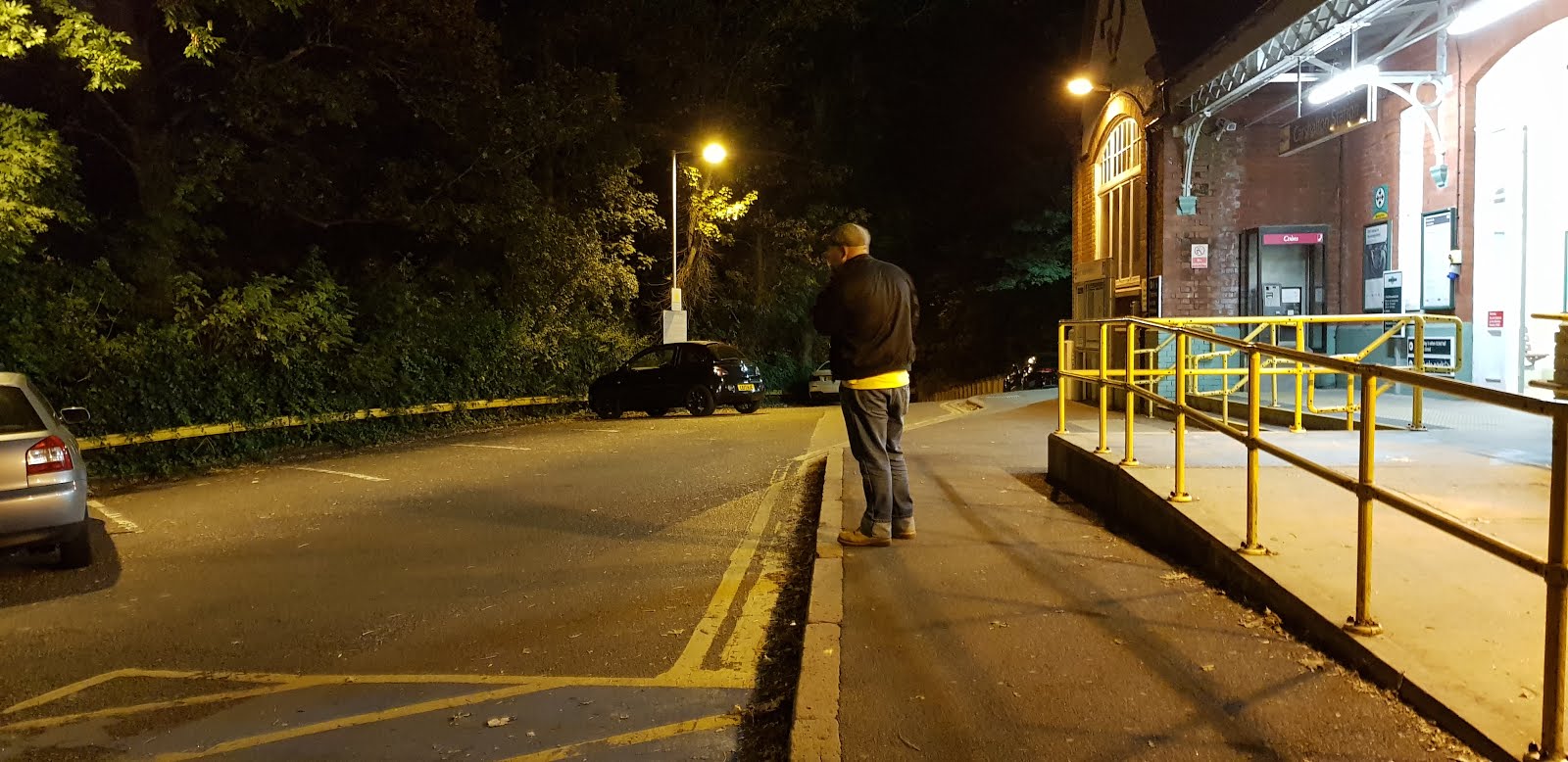 "Where's that fucking cab?"
Before long, we're staring at trains home and rather than head for London Bridge which is closer, the majority elect for Blackfriars as it entails services directly back to the Republic. After a quick walk down, we make the train with a couple of minutes to spare and after an uneventful journey, Dukey and I are alighting back where we started about 12 hours ago. He calls up his new Duchess to come give his drunken arse a lift home and I leave him to negotiate his love based Uber, heading off back to HQ. Sadly, my plans to get some greasy food are denied by the kebab being shut at the Green, so I stumble into home having had almost bugger all grub today. A quick sandwich just ain't going to cut it where a Saturday away day intake is concerned. Tomorrow may be something of a struggle.
Still, at least I'd managed to ditch Mr X's Scotland programme somewhere along the way, although fuck knows where.
A successful day all round then!
Taz
Totts subsequently did a little piece on the old Mitcham Stadium story HERE