Bloody Boreham Wood. What is it about those fellas from Hertfordshire that causes grown, supposedly semi-professional footballers to revert to a type of teenage mentality compromising about as much use as an Iranian gin salesman. Plus it's also not the first time that Sutton have put up about as much fight as a French Army Division. Oh no…
I can't remember why I did it, just simple exuberance of youth maybe? A deep-seated desire to tackle any challenge large or small? Or just simple bloody mindlessness? But yes, I actually volunteered to write this bleedin' blog. What a fuckin' plonker! So let's cast our minds back, to Saturday. And as Chairman Totts was speeding down the A3 in Dirty Barry's Shaggin' Wagon, the Gandermonium boys were taking the ever unreliable choo-choo down South.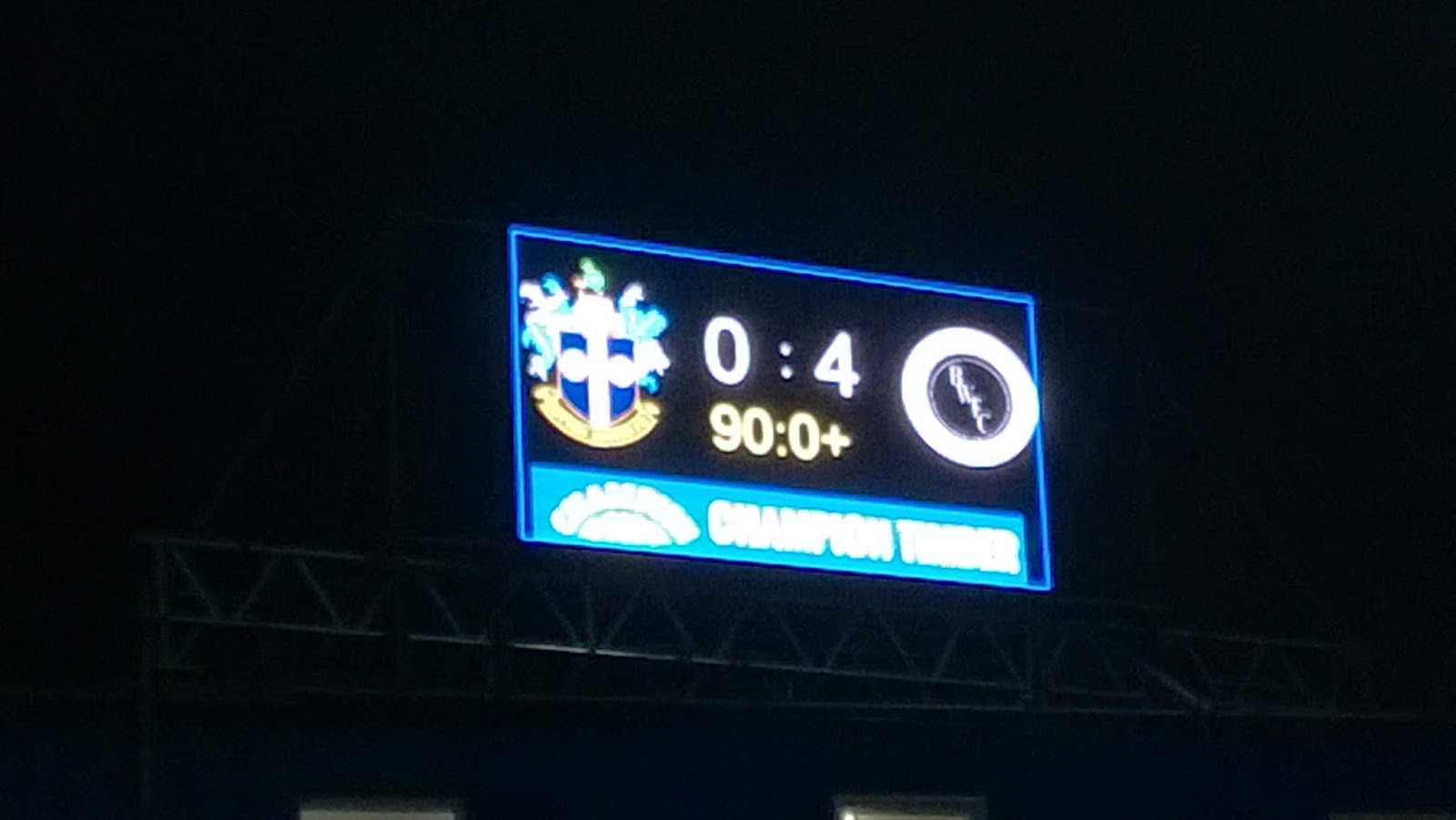 Enough said…
Like a episode from the Twilight Zone and despite the best efforts of a train strike, the train is actually running and is on bleedin' time! The fucked up thing of it was, with the reduced service, the train would stop randomly in-between stations for a few minutes to make sure that the service stayed on time & didn't run early. We've certainly never had that experience before!
Less than an hour into the journey, and I make a simple enquiry of the EIC about the current blog rota and knowing that Boring Wood was yet to be decided, I offered my services. Well, I'm due to be on point for Wrexham on Saturday, so it could be a bit of a warm up. "I'll probably just do a Airdrie part 2, the match won't be nothing to write home about." Gandermonium Precognition Services right there. We're always right, until we're wrong obviously.
You'll have to look at Taz's effort as he pulled rank and brought you the full story on our little trip to Airdrie. Or so you'd think, but there was one or two little bits of juicy information that he missed out on. Saturday night being one of them, mainly as he went back to the hotel to drink M&S gin and tonics with Keepo. The young & trendy, plus Pete, meanwhile headed off in the direction of Popworld. But you'll have to ask those there if there was any gossip 'goss' to be had. There might not be, but then again, there might! Wink wink. See, building the tension & suspense already.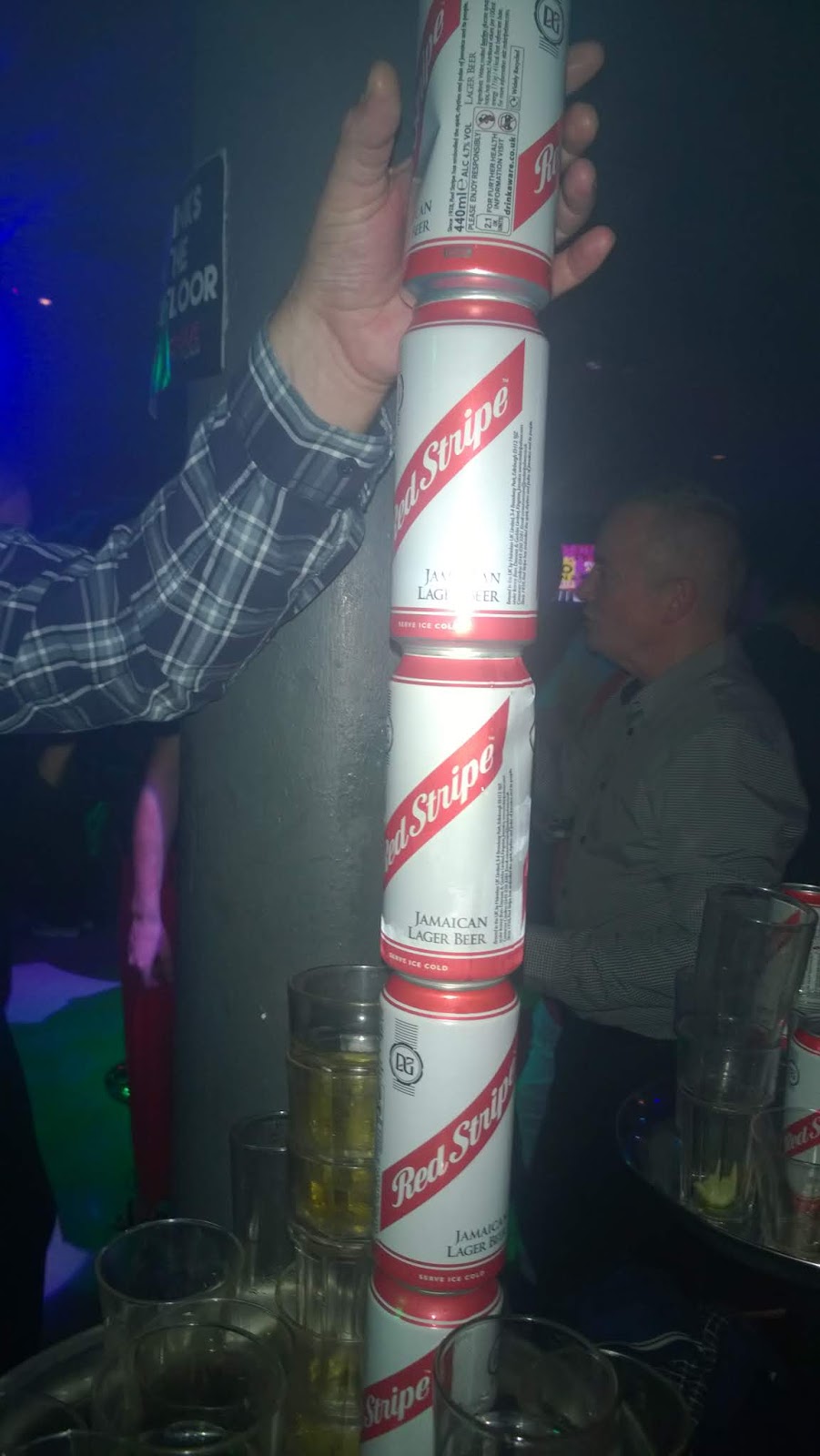 Beer Tower…
Over to the hardcore, namely me, Dr Bell & Mr X. And could we find Popworld? Like fuck we could. Walking up one road, then back down the bloody thing, it's not long before we decided to just admit defeat and use Google to find it. Success. Just as we're on the right path, we spot several people outside a sign with title, "Club Tropicana". And who is outside feeding the habit whilst simultaneously trying his luck with the ladies? None other than Baby "feed the Yak" Beckett. "Come on in lads!" Shouts the big man, "Popworld is shite, you wanna be in here". Yeah, it didn't take much persuasion for us to then head down a set of stairs towards the sounds coming from depths underground. £8 was the entrance fee, but this does include not one but two stamps of ink on the hand. I really should've just told the girl to use another pad.
Club Tropicana is a place that is separated into two different rooms. On the left was the 90s room and to the right was 80s. Needless to say we went right. What? We're fuckin' old! Straight to the bar, as is always the case and Dr Bell is already tapping his feet to a tune from Miami Sound Machine. With a pretty limited choice of beverages and the problems of communication between me and anyone that speaks both because of the volume and of course the language barrier, we eventually plump for three cans of Red Stripe. "£12" was the reply; sorry what? I asked for only three. But yes, in the land of supposedly cheap drinking. we find a place charging £4 for a fuckin' can. I could see Chairman Totts turn on his mattress in the back of an Escort Van at that very moment.
Eventually over the shock and handing over the money, we survey the crowd and find right in front of us several other members of the B-Team. They were clearly enjoying themselves, one or two more than the others it seems. She looked alright from the back didn't she Baby Beckett? Clive appeared to be waiter for the night as every time we saw him he was carrying Vodka Red Bulls back from the bar.
Happier times…
At some point in the early hours we decided it was time to head back to the hotel, especially considering Mr X had an earlier flight than the rest of us. So we say our goodbyes and hunt out some local cuisine. Kebab wraps all round! We're still not too sure what one Mr X actually had, but if it was the advertised 'Beef' then it was epic. Much like the B-Team showing us a photo of their not-quite-5-star-on-Trip-Advisor digs for the night. Gotta give credit to who ever decided that ten blokes could all sleep in the same room with several mattresses on the floor for beds. And we won't even go down the road of the story of the 'Wanking Chair'.
Now I know I've been putting it off for as long as I can but I suppose I better say a few things about the football from Tuesday night. So what happened with Spurs then? After heading to the bar, as Ipswich 'Supergrass' Lee had offered to buy us a drink (he didn't), we got to see The Firm Leader turn on a sixpence as Inter knock in two goals right at the death. "Don't worry fella, the Sutton match is about to start. Can't be any worse!" are the words I console him with as we head for the turnstiles.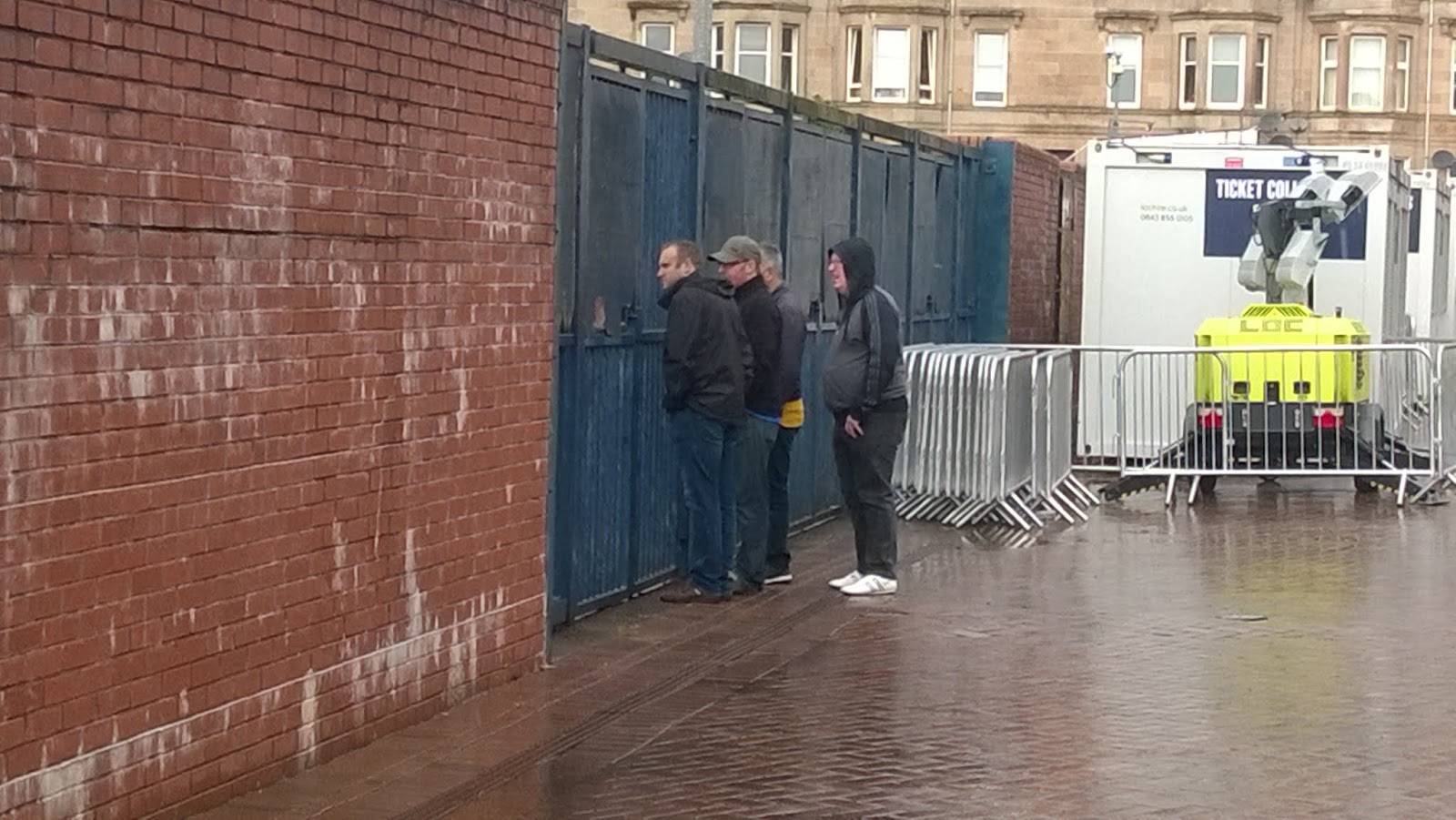 Watching kids in Glasgow. And who's the monk?
Yeah, we got bummed. Really bummed. From the moment that Balanta had slotted the ball home after a couple of minutes, we were in trouble. Let's face it, Boring Wood were more hungry, had more pace, used more strength and just generally embarrassed us in the first 20. Our worry seems to be that we're not scoring enough goals. But maybe a kick in the teeth might be the thing the boys need to wake up.
The funny things is that, we actually created one or two decent chances ourselves. Clough saw a header fly past the wrong side of the post. Lafayette had an open goal, but a tight angle, to aim at and saw it hit the woodwork. And in the final moments of the match Eastmond rushed into the box and thumped his shot against the bar.
We move on continuously though, and onto the visit of the Welsh lot. Trust us to come up against one of the in-form sides at the moment right after we've had our pants pulled down. Dread to think how many they're be bringing down with them. But the real worry for us will be that, knowing how Sutton are, we'll get a result against Wrexham and then fuck it up against Dover on the Tuesday. Oh well, onward & upwards and all that shit.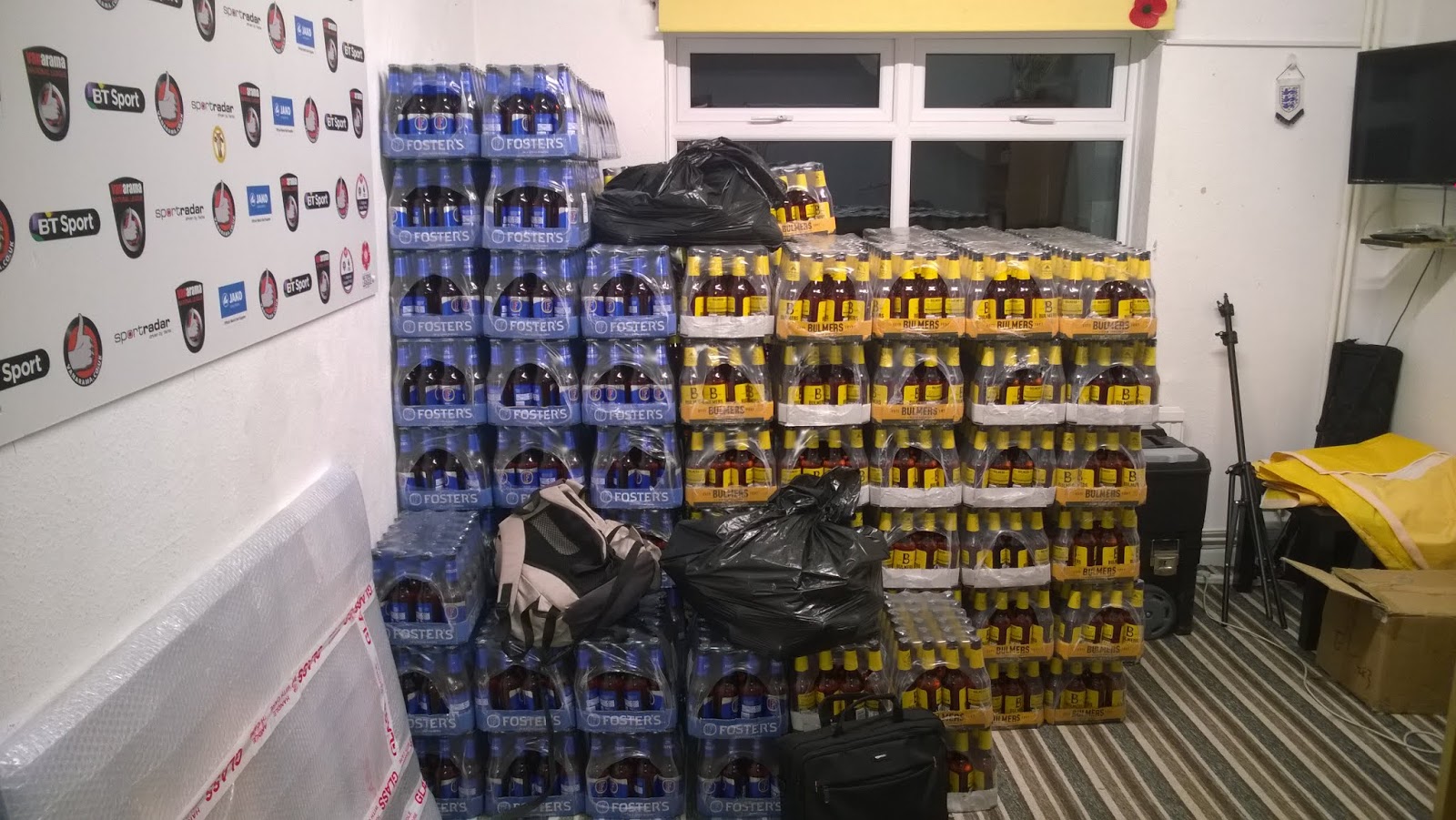 Ease the pain lads…
Enjoy!
Duke
Att. 1677