The history of football in Alicante is bound up with the legacy of the Spanish Civil War. This was the last city to fall to Franco and the walls and unmarked graves are pocked with the bullet holes and full of the corpses of the tens of thousands tortured, starved and killed as Falangist reprisals let rip in the days and years after 1939.
Much of that history remains hidden as part of the compact struck on the return to democracy after the Generalissimo's death in 1975. The first time I ever came to Spain on a Pontinental package holiday, Franco was still in power and the fact that fascist dictatorship still held sway on the Iberian Peninsula within my own living memory leaves me feeling cold.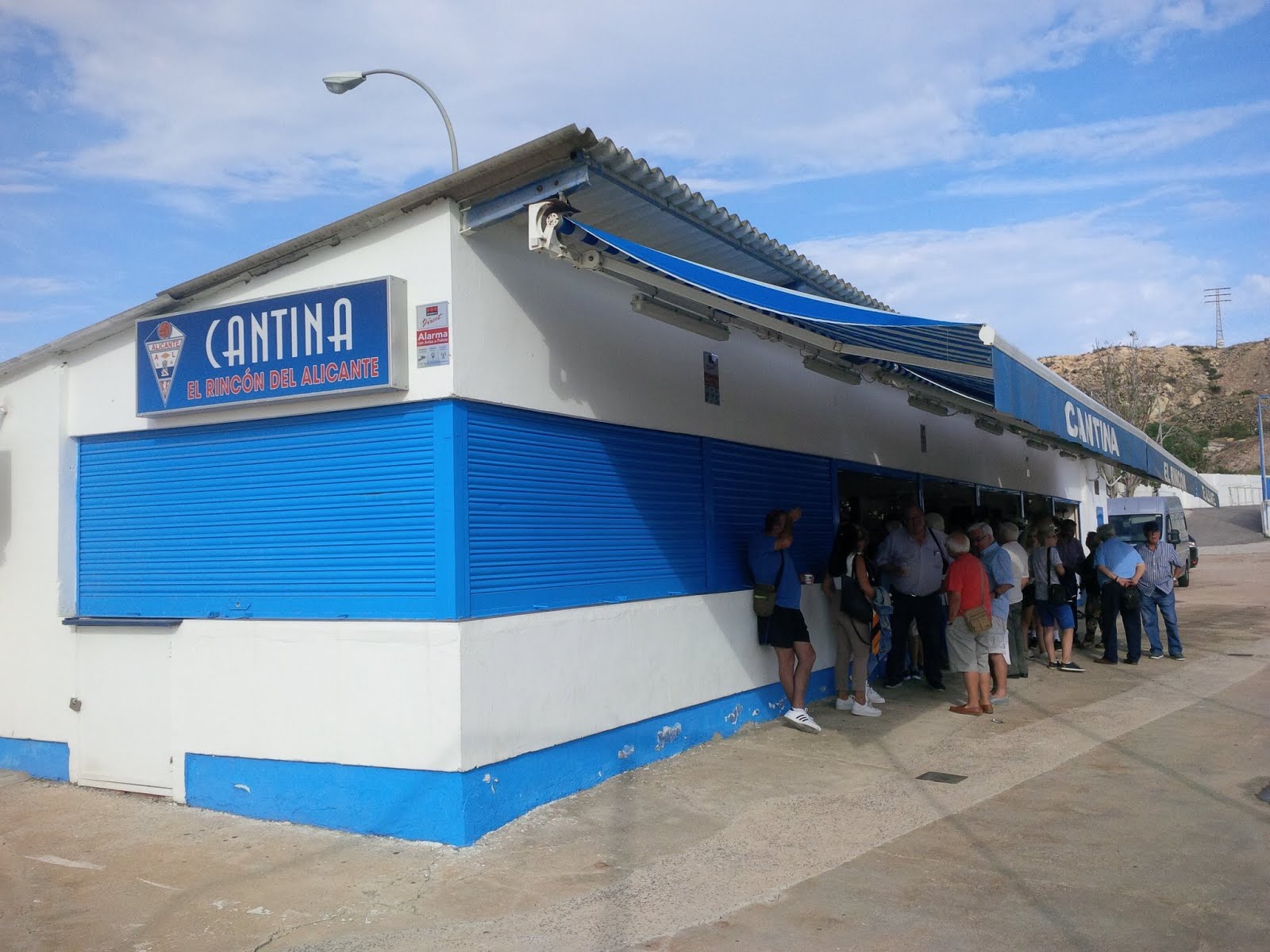 'La Cantina'. Spanish for 'Roses Tea Hut'. Honest.
I fell in love with this part of the Costa Blanca around twenty years ago and I'm lucky enough to spend about five weeks of the year out here. In a few years time I hope it will be a lot more. The culture, climate and cuisine suit me down to the ground and I'm proud to be one of a group of amateur historians documenting the Civil War history of the area and I run a blog that I plan to turn into a book at some point in the future.
I'm also a proud Herculano- a long suffering fan of the main Alicante team, Hercules, who despite their mighty Rico Perez stadium, where England played a friendly against Spain just a few years ago, have been scuffing around the complex third tier of the Spanish game for too long. It's a bastard of a thing clawing your way back out of Segunda B and into La Liga 2 but we've had a good start and this may be our year. Just like every year is our fucking year. Supporting Hercules is like supporting Tooting and Mitcham with knobs on.
Franco hated Alicante, and with his mate Santiago Bernabeu, who had a holiday gaff just down the road from here in Santa Pola, and where a street is still named after the old bastard, he did all he could to fuck over football in the area. Before the game was stopped during La Guerra, Hercules had on its books one of the finest players of his generation, Manolo Macia, also from Santa Pola. This being a republican stronghold Manolo opposed the Nationalists and managed to escape to France where he played for Nice.
But the Guarda Civil kept him on their radar and when he eventually returned to Spain they framed him up on a charge of burning down a church. On his release from prison he went on to coach his local Santa Pola team where the stadium is today named after him in tribute. They play in the Regional Preferente and it's a great place to watch a game.
I've managed to watch non-league football at a number of grounds around Alicante over the years. In addition to Santa Pola, CD Altet, Torrelano and Villajoyosa are all worth a look. I've got plenty more to knock off in years to come as well as spending more time on the mighty concrete banks of the Rico Perez with a Monte Cristo and a Mahou.
But if Hercules have had a tough time, it's nothing compared to the rocky road travelled by this magnificent city's second string outfit, CFI Alicante. I hadn't managed to clock a game at their gaff, the lovely Antonio Solana Stadium, as yet but landing in Alicante airport last Sunday lunchtime I was in good time to drop my gear off, have a quick bob up and head into town for their early evening kick off against CD Illicitana, nearby Elche's B team.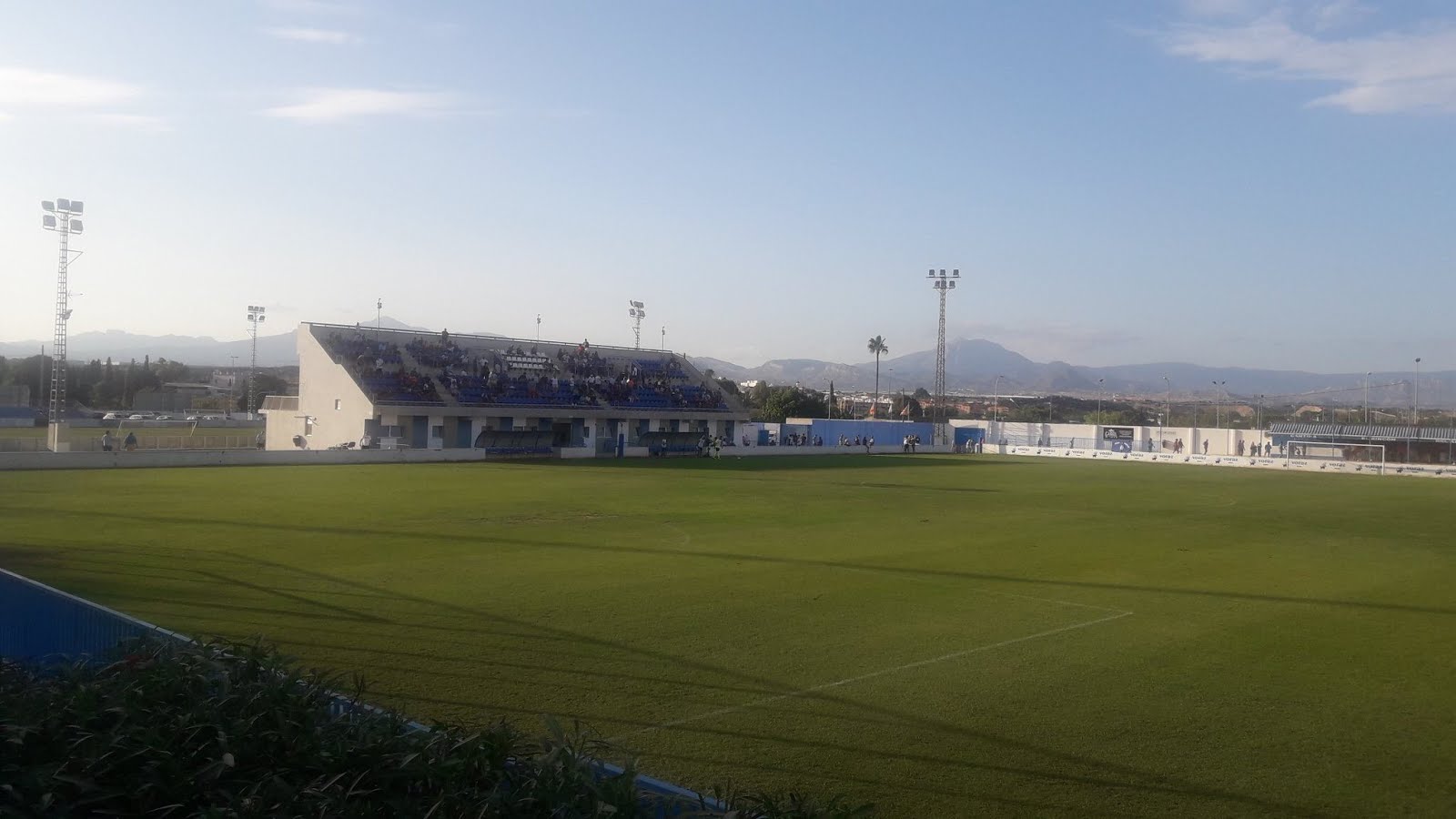 When it's sunny all the time, you don't need a roof…
If you are on the Costa Blanca during the football season I would obviously advise a trip to see Hercules, or one of the many Football Modesto sides dotted along the coast plying their trade in the Regional Preferente leagues, but if I'm being brutally honest, and you are a neutral, a trip to CFI Alicante will blow you away. You can reach the ground by tram on Line 2 out of the main terminal, Lucheros, and the Red Corner Sports Bar next to the station is worth dropping into for a quick livener en route.
The sweeping, pale blue front entrance to the stadium looks fantastic and after paying up your eight euros you will find the brilliant La Cantina to your left hand side where you can lean on the bar with the locals and get some strong coffee, brandy or Alhambra beer and tapas down your neck. It's also got a built in restaurant come trophy room if you want to push the boat out. I loved it and could imagine whiling many a late afternoon away up here with a decent cigar and a few glasses of something convivial. A slipper and a cup of splosh from Roses Tea hut it ain't.
The ground holds about four thousand and most of the locals head for the excellent open-topped grandstand which has a superb view. The hardcore remain at La Cantina which stretches along most of one end and you can carry on drinking and eating to your hearts content as the game cracks on. Why wouldn't you? One side has some rows of seats picking out the old club name and the other end has a bit of a wacky, steep terrace arrangement and a classic score board that does just the job.
No turnstiles? Decepcionado!
CFI is the latest incarnation of this club, with the I for independente being added when the old CF Alicante went bust back in 2014, but other than that small change they have retained the original club badge and are proud of a hundred years of footballing history in this, their centenary year. And they are flying, top of the league, and on this occasion they absolutely spanked the Elche lads five nil and played some great football, on grass as it goes which is very unusual for football at this level in Spain.
It's many years since CFI Alicante's forebears, CD Alicante, who Manolo Macia also turned out for for a season back in 1940, were doing their stuff in the second tier of the Spanish game but they are a fabulous and hospitable club and it's great to see them on the up after some tough times. Their set up, which incorporates a number of training pitches within the stadium area, is clearly a community based model that is working for 'em.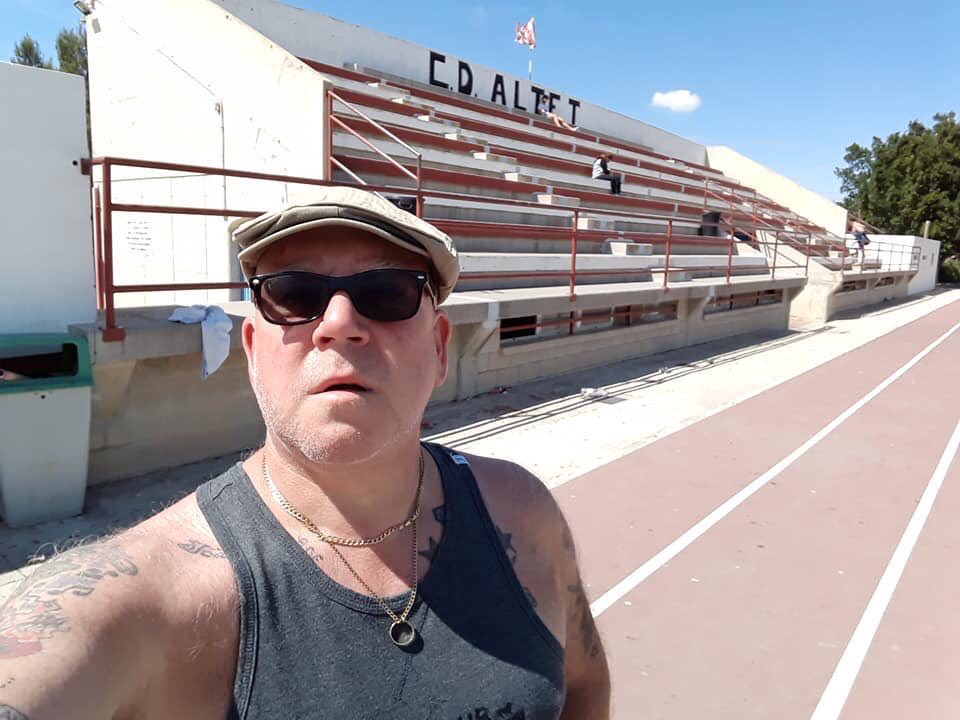 "Hello? Is this thing on??"
Adelante!
See you at La Cantina
Totts
For more of Totts Costa Blanca Spanish Civil War stuff, click HERE!