I'm not a fan of clubs merging. It all started going wrong when Corinthians merged with The Casuals for me and it's been down hill ever since. I mean, even that bird on Countdown who does all the really hard sums hasn't got a clue how many thousands of Essex clubs eventually ended up in the Dagenham and Redbridge melting pot and don't even get me started on all that fucking nonsense at Gravesend. What goes on down there doesn't concern me at all.
If you're thinking that this opening gambit is all some convoluted way of levering in a seventies reference then you are a deeply cynical little fucker and guess what? You are absolutely right.
All the essentials
I've taken you through 'Starting Handle 74' at Plough Lane, the path from Glam Rock to Punk Rock, power cuts, Double Diamond, On The Buses and the Dirty Barry "Knock Three Times" singalong as you've joined me in this merry cultural march of the more mature yobbo through the pages of Gandermonium, but let's not end our love affair with the Only Decade That Matters just yet kids. Because now 1975 is calling us loud and clear as we rev up the engine of the Mark 3 Cortina for a trip to Havant and WATERLOOVILLE.
Back in the Rothmans Isthmian League days, when fags were cool and the very idea of grown men puffing on fucking test tubes of strawberries and cream flavoured steam would have rightly got you a punch up the bracket, the opportunity to play a side from outside of your natural orbit was one to be relished and that meant the cups. In those heady days Waterlooville were in the second tier of the once mighty Southern League and some old drunk in a blazer pulling them out the velvet bag for an FA Cup fourth qualifier at GGL, one step from a possible league draw, was a proper top up for the old teenage testosterone and definitely cause enough to head to the khazi to knock one out.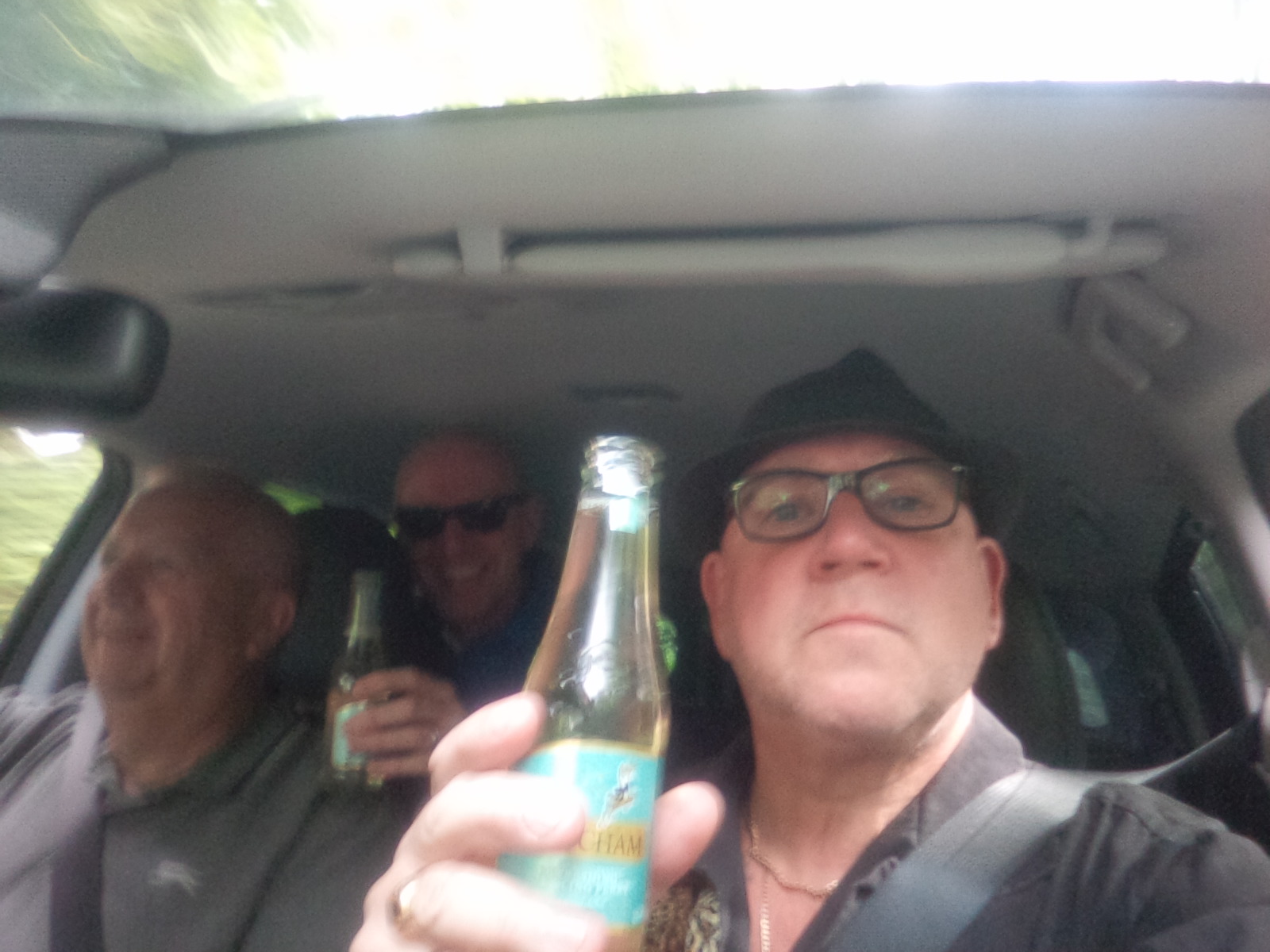 Don't envy Bacon in the back there!
My memory is bolloxed and I'm indebted to the Eternal Ray Of Sunshine (EROS) aka Frakey for sending me the match reports and programmes from the Waterlooville home draw, when we thought we'd ballsed it up, and the replay which we won comfortably taking us through to a first round home draw with Bournemouth which was tasty and also ended all square before they narrowly took us out at their place in the replay. My first taste of Sutton in the proper rounds of the old FA Cup and also an early taste of Players No 6 (purloined from my Nan) and Ind Coope light ale (purloined from the offy). Drinking and smoking at 13 was actually legal back then my mates. I think.
For all you music buffs out there, twinkle eyed David Essex was topping the hit parade at this point in time with his cheeky sex-fuelled ballad 'Hold Me Tight' – a tune which contains one of my personal favourites euphemisms for a lob on "love light shining". Mind you, punk rock couldn't come soon enough as this was the era of the so-called "novelty record" with the likes of the Goodies, Una Paloma Blanca and them fucking Wombles all tasting chart success. Telly Savalas spoken word version of "If" gets a pass as I loved Kojak and he pioneered a hair style that remains a classic to this day with the cool lads. And Dukey.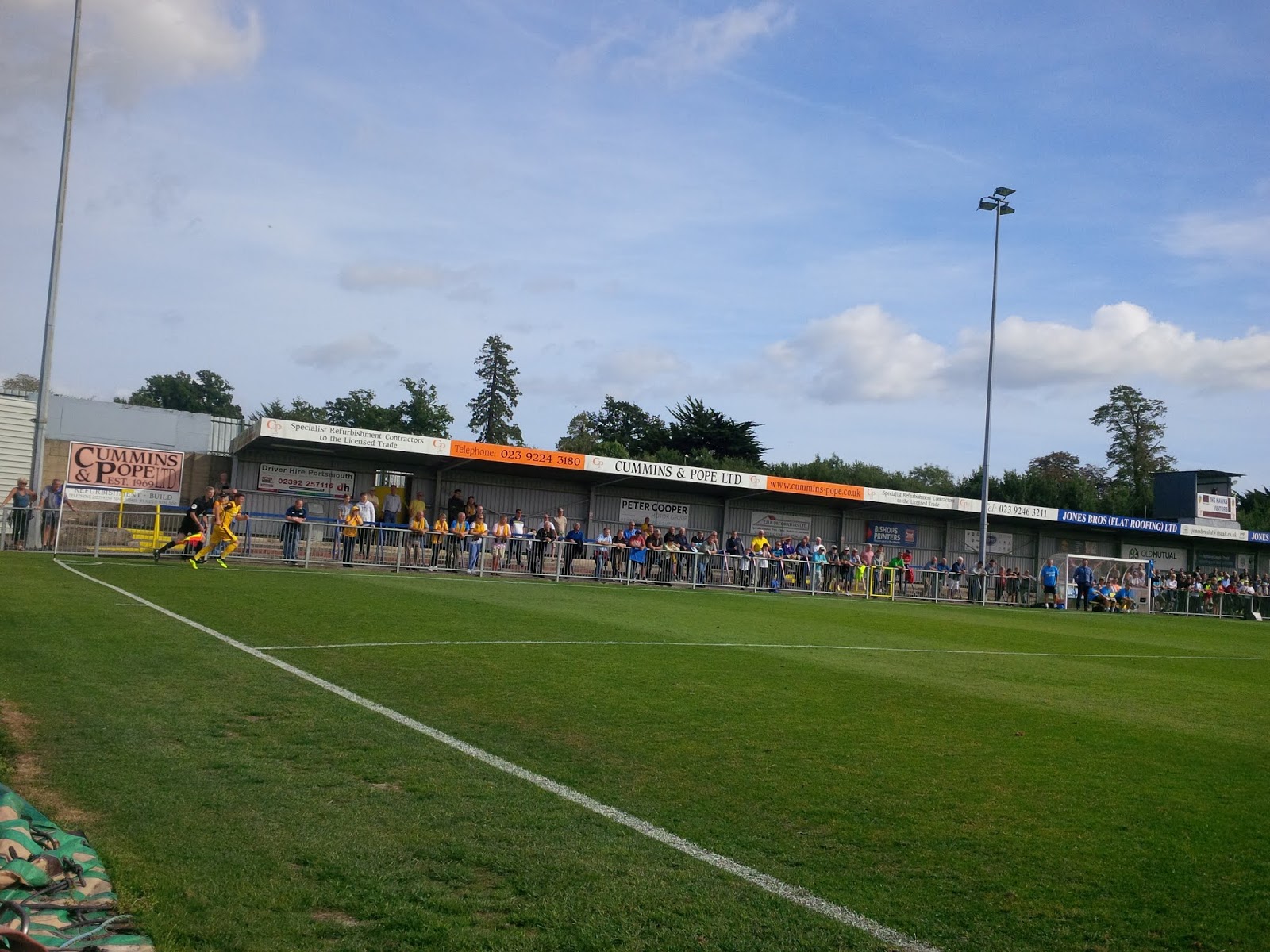 Action!
Anyway, what's the point I'm trying to make here about football club mergers? I'm buggered if I know but it's given me the opportunity to toss off a few sexy opening pars about the seventies and get me in the swing for what is officially known as my birthday weekend as I crash in to the late fifties with the prospect of a run down to Hampshire with Dirty Barry in the Shaggin Wagon through some of the South's most prime dogging real estate.
I'm up early with all the excitement of the pre-senile birthday boy, looking out for the postie and that external possibility of a card with a postal order or a ten bob note tucked away within its secretive folds. Even the long-suffering and ever-stoical Mrs Totts is vaguely civilised towards me and I remind her that after all these years I love her like I love my turnstiles – vintage, well oiled and still up for a twist with a bit of a shove. She gives me a playful kick in the bollocks. I reckon I'm well in there later, she's a lucky lady and she knows it.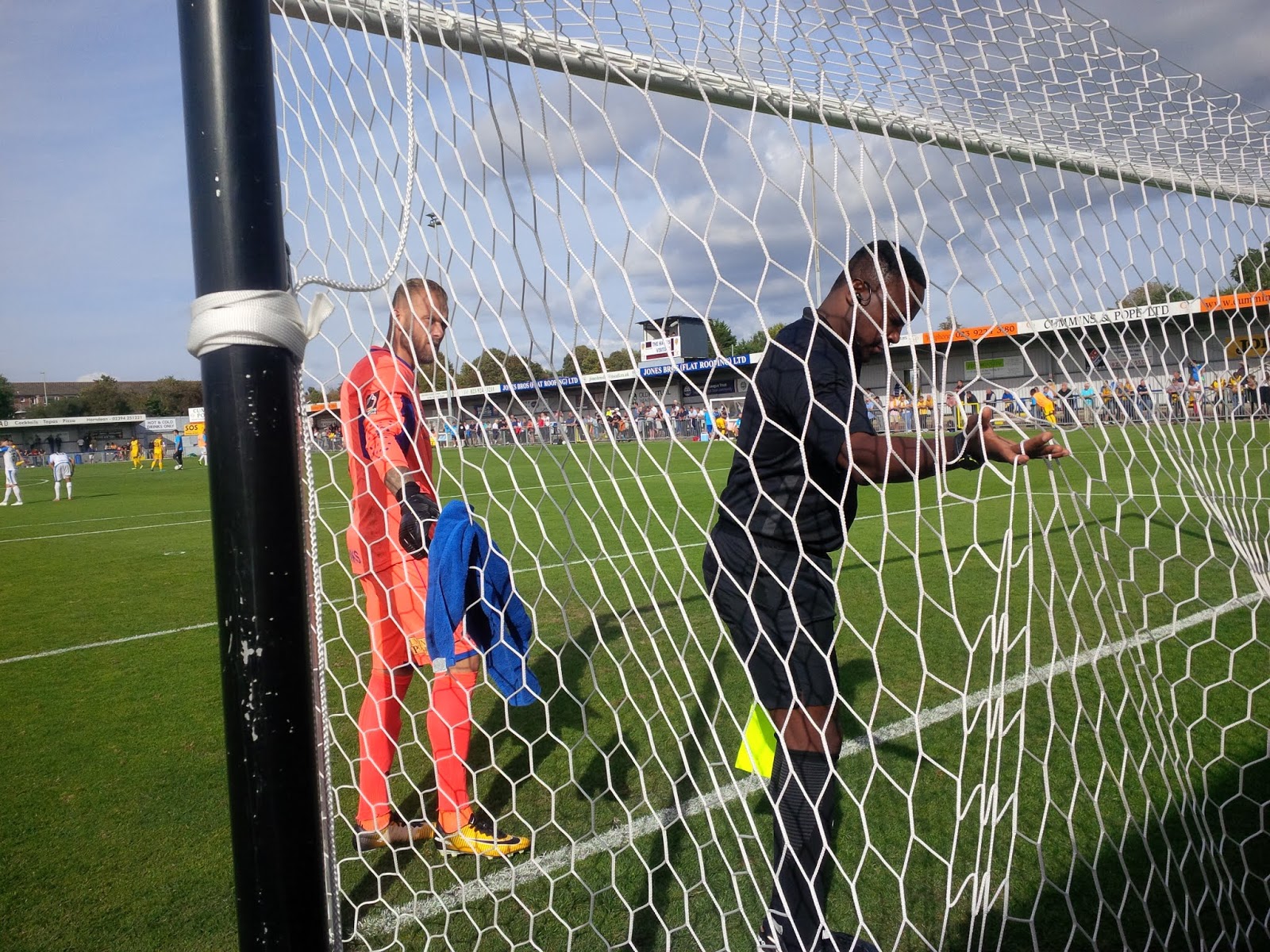 "I think it's got a hole in it mate…."
Anyway, it turns up that DB has made it back from his warden-assisted SAGA sex soujorn in the Canaries although not without incident, which included someone shitting in the swimming pool, a TWO DAY delay to his flight out and some tea leaf breaking into the Shaggin Waggin at Gatwick Long Stay clearly failing to read the big sign in the back window saying "No Sex Toys Stored In This Vehicle Overnight". Wankers. Anyway, he texts to say it's a twelve thirty pick up from The Lane Of Lust for me and Bacon which gives me plenty of time to rinse the under-carriage and get in the mood.
It's a special day for everyone involved so I dig out a leopard skin print shirt to add a bit of bling to the occasion. "Why are you going to football dressed like a fucking ten bob pimp?" enquires Mrs T but I know she's only messing about. The banter in our gaff is fucking comedy gold – larey but never overstepping the mark. Bacon pops round and I can see he's alsosimpressed with the threads and we have a natter about vintage bulkhead lighting before heading out to meet DB who is bang on time.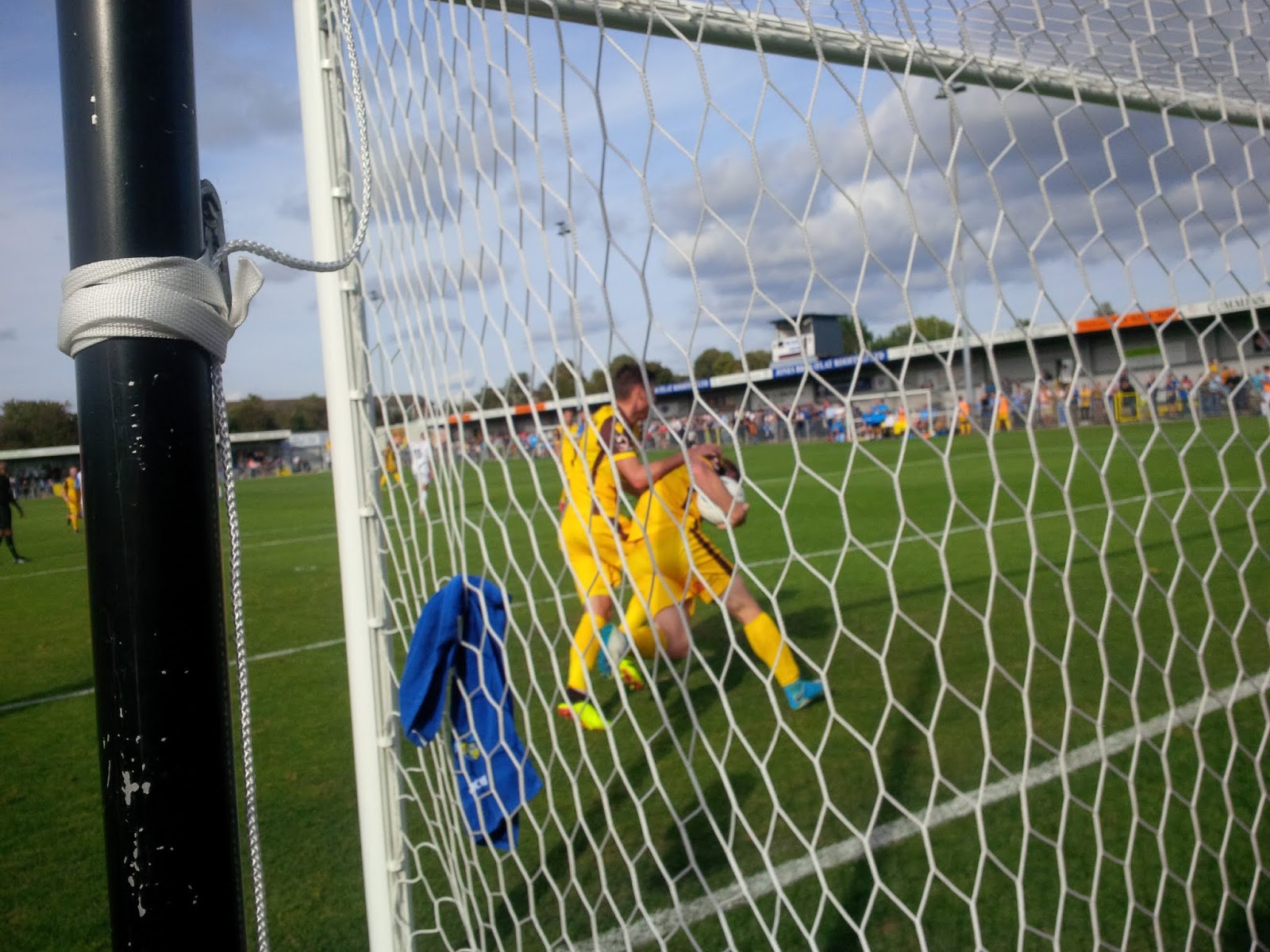 "It's my ball…."
We are off to the A3 but somehow DB manages to set the SatNav to take in some of Surrey's finest Dogging Hot Spots en route to the almost South Coast, including Stew Ponds in Epsom and Oxshot Woods. He's got em all nailed down on Trip Advisor, don't you worry about that. Check em out if you don't believe me. I've bought along a chilled four pack of Babychams and me and Tone crack into em as the discussion veers around your worst ever holiday shits, to our various fucked bodily parts and the collapsing flank wall at the Spoons in North Cheam. Riveting stuff.
An hour or so in we are pulling off the main drag and heading into Havant and a nice convenient parking space for the Wagon on the grass verge outside the ground. Say what you like about the Hawks gaff but it is fucking convenient if you are being chauffeured with a pub built into the ground including an outside bar and various fast food outlets. Carl has a pop at my gear, the aforementioned leopard skin slashed open to the waste with the gold nestling in the exposed chest hair – belying my advancing years in a cloud of Old Spice and pheromones. If you've got it, flaunt it mate.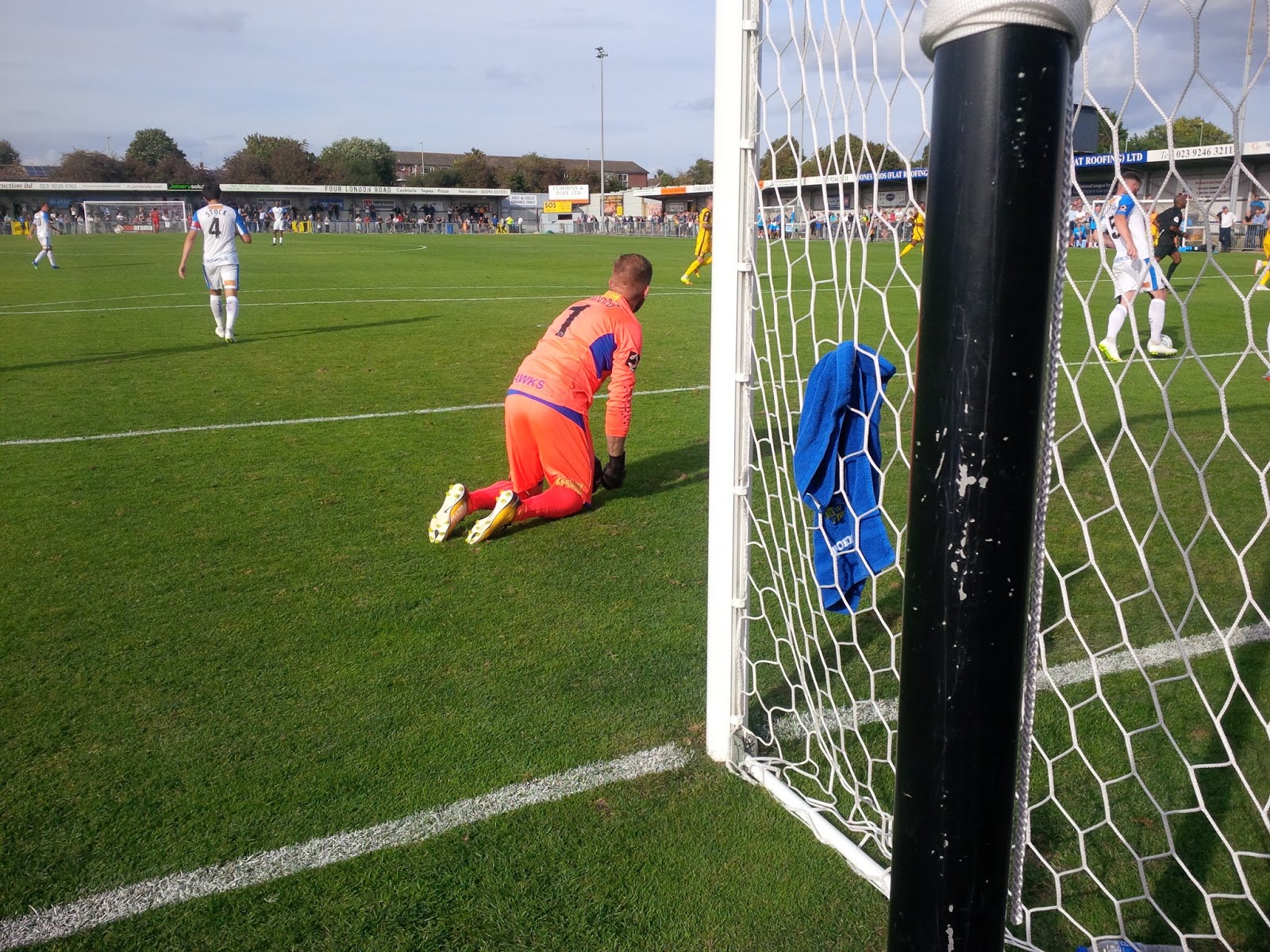 Dejection
Beers are procured and we mob up with a couple of the COCs in the sunshine although their numbers are seriously depleted and it later turns up that only Ces has rocked up from the DILF's – poor show all round from two of the PROW's leading firms. I have a natter with Gaz Fear and his little gang and just before kick off the rest of the Gandermonium mob turn up after their regular stop off at Royston Vaisey or some other one horse village out in the sticks that serves flowery cider and undrinkable craft ale and where bestiality is still all the rage. I don't judge no one mate, you know that.
Although there's no segregation we have to enter through an away fans turnstile so that some Nigel can count our numbers and inside I'm pleased to see that One Eyed Jason has made the trip although waving a Peckham Town scarf about. Nope, no idea what that's about. I grab a slipper to soak up the Babychams and we head off to hook up the DBDC banner in a prime branding location adjacent to the goal. Pleased to see that the Cocktail Crew have bought their tidy flag along as well, it all adds to the carnival atmosphere in the Hampshire sunshine.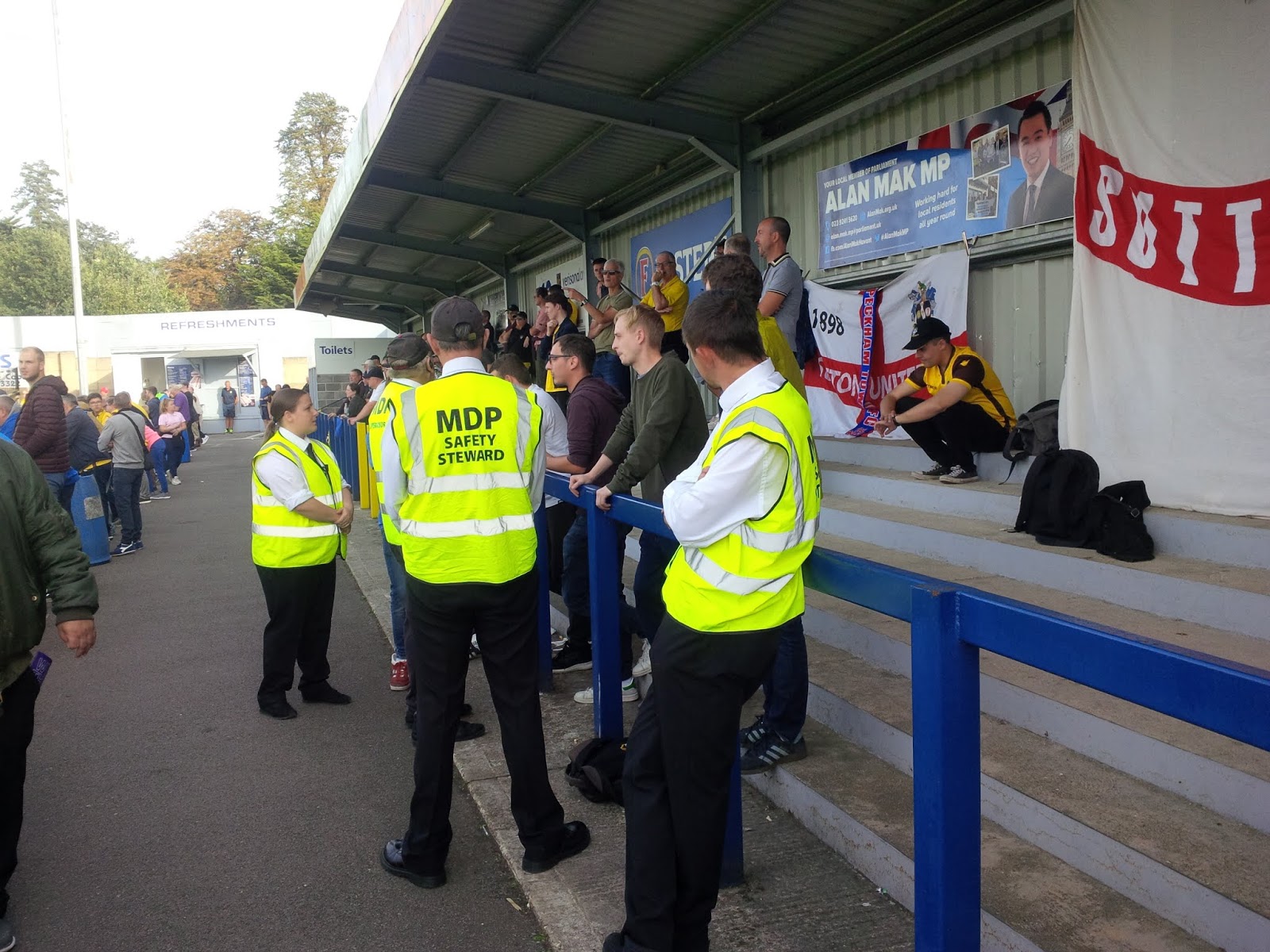 Security mobbing up
Aah the football. This was a cracker of a game my mates. Like Maidstone we start on the front foot and take the game to the home side just the way we like it. H is denied a penalty by a ref whose performance I'm sorry to say shifts quickly through the gears from erratic to pathetic as the game marches on. Easty is denied by a sharp covering block after being beautifully set up and when it looked like a goal was nailed on. As ever, I worry when we have so much possession and so much good movement that we are not making it stick and that we can get caught out. And so we do. What looked like a worldly strike from their lad from where we are in fact takes a wicked deflection that loops it past Jamie and after a prolonged break for a concussed lino, Christ knows how they noticed, we go in at half time one down.
We stroll back round and generally are pretty relaxed that we can pull this round if we up the game in front of goal. We were going to put the DBDC banner back up but have failed to bring more than a few inches of electrical tape to hang it so that fucks that idea (We should have bought you some laces for your birthday mate! – Ed). We keep our game going, moving if about nicely and As is delivering some good balls in from the left. Just need to hold our nerve, this is coming. And who does the biz? Tommy Wright, slotting home an exquisite finish. Hold on, who did I pull out in the DILF DRAW OF DEATH? Tommy Wright! First time I've ever won this racket and I collect my quids from all but one of the syndicate. More of that in a bit.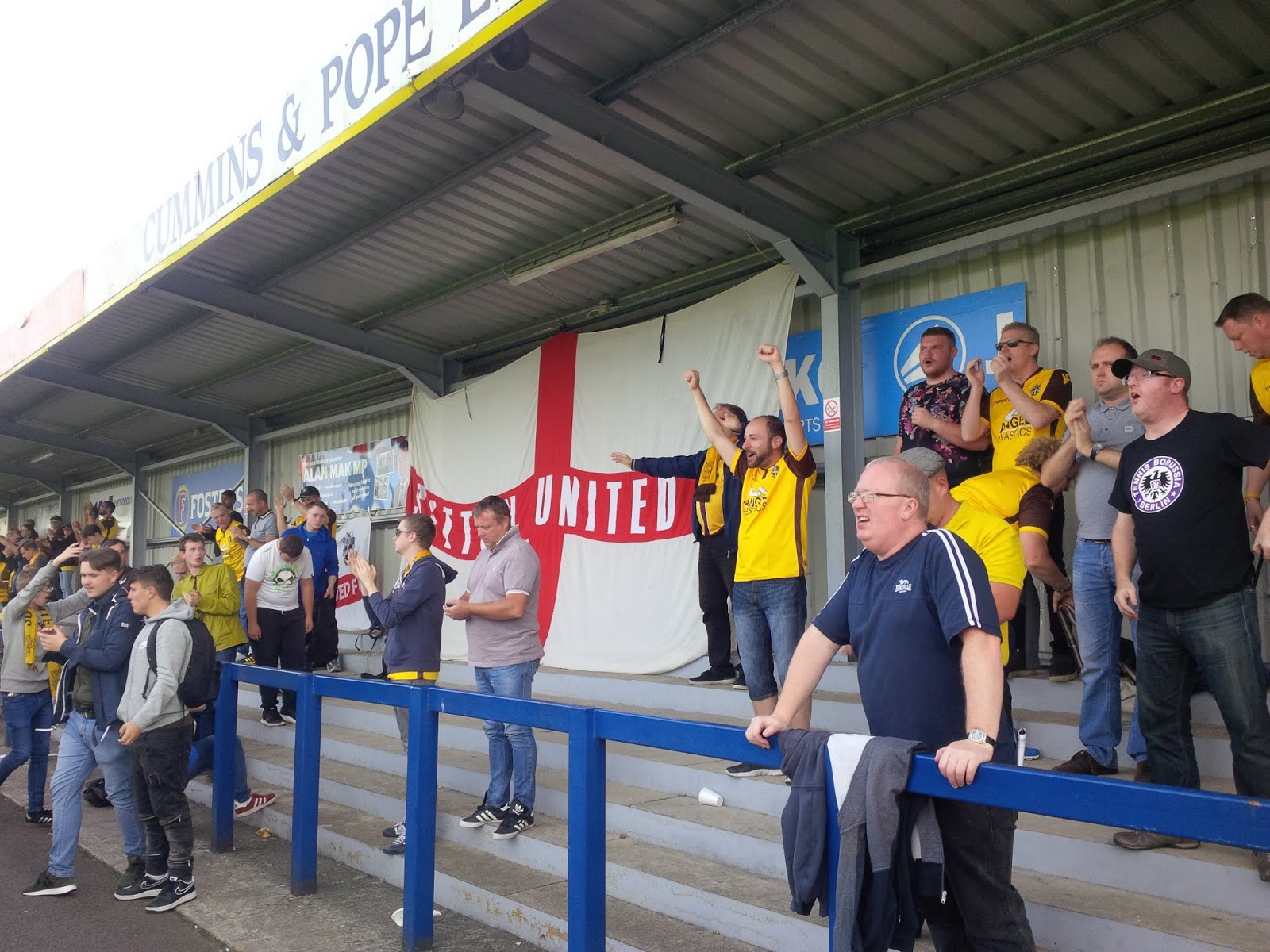 The masses
It's all us now with Havant under the cosh. Kenny D goes off and Jonah comes on as Dos shuffles the pack. What a player Jonah is, a rare talent, he immediately gets busy bullying the home team defence and it's a brilliant piece of work from the lad, steaming through the back four and pulling back a perfect ball on a plate for H to finish sending us into a frenzy. Few things better than turning round a deficit and we are loving it.
Doug comes on and we also see the welcome return of Nicky Bailey to the ranks but the game ain't 'arf dragging on now as the ref appears to be pulling added minutes out of his arse at random. It encourages the home team to have a bit of a go and Jamie is forced to bring out a corking save from a cracking long ranger. But that really is about that and with the clock hitting five o'clock eventually the ref has seen enough and we celebrate another fine away win.
I look round for Frakey but he appears to have legged it without weighing in his stake money for the DILF spieler. The purse has remained firmly snapped shut and Ces, the croupier in this bent racket, is not happy in what has now been branded by the tabloids as PurseGate. We've not heard the end of this one I wager.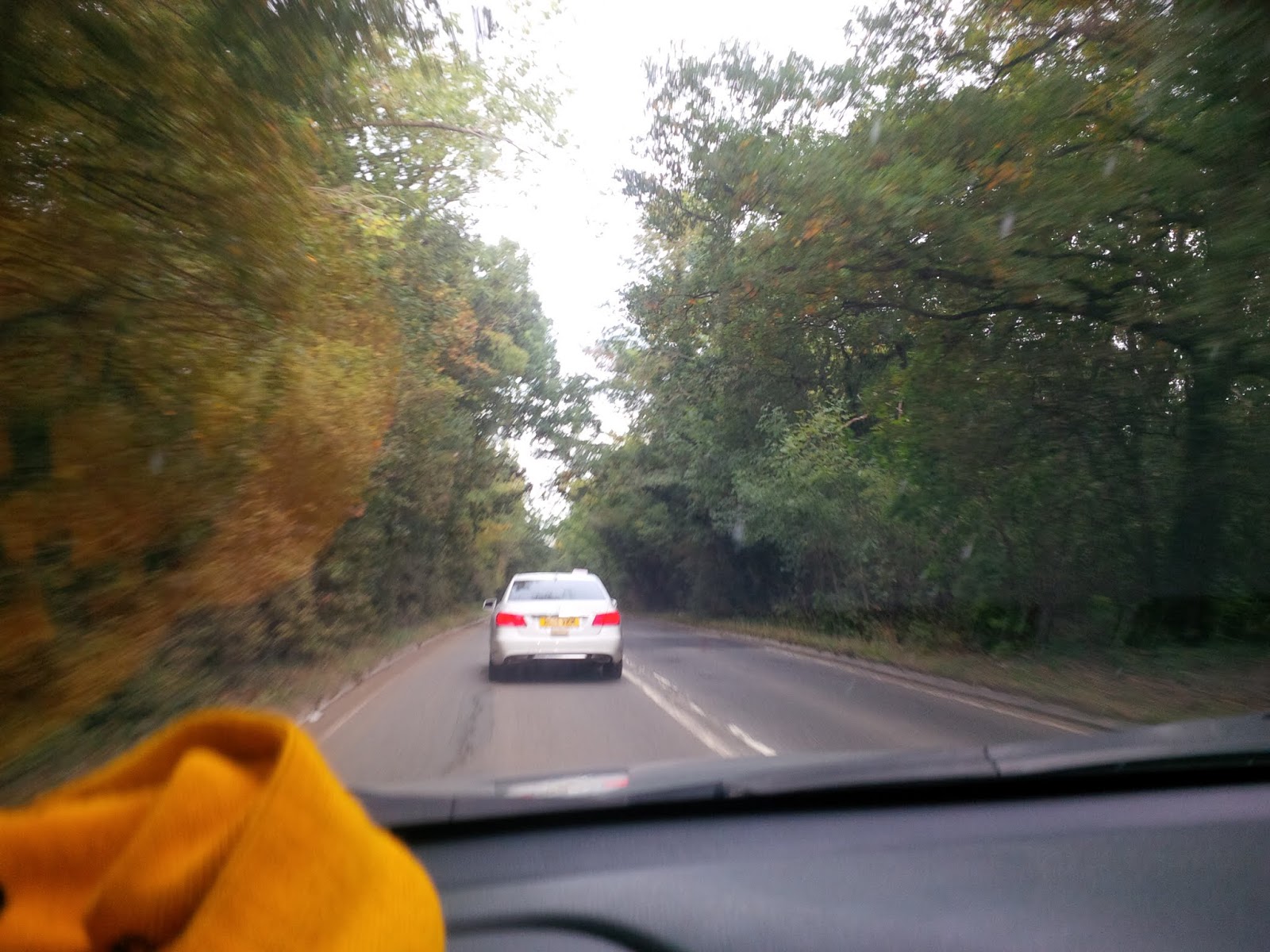 Dogging
Even that can't put a dampener on a cracking day though and we climb back aboard the wagon for the trip back to the PROWS chuffed to bits with a fine Sutton showing both on and off the pitch. DB drops me off and I fire up the laptop to toss off this old pony before packing my bag for an early flight out to the Costa in the morning. Won't be at Boredom Wood Tuesday but should be reporting from a CFI Alicante game instead. Which would you prefer?
See you on the Shoebox for Wrexham on Saturday.
Totts