A week might be a long time in football, but four days is just as bad. After the bumming we received from Boring Wood on Tuesday night, it was our turn to take on the Wrexham. And they for once were actually riding high at the moment. Could this be the year they finally break their ten years plus of wandering the wastelands of non-league?
It was also a shame to hear the news that Chas of "Chas n' Dave" fame, had finally gone to the great old boozer in the sky. You could never go wrong with a bit of a cockney knee's up. Can you John? Well there ain't no pleasing you is there! I'll just have to stop all this rabbit and take the old dog and me down the massage parlour for a bit of strummin' and beer belly banjos. OK, I'll stop now, gertcha! No, I really will now…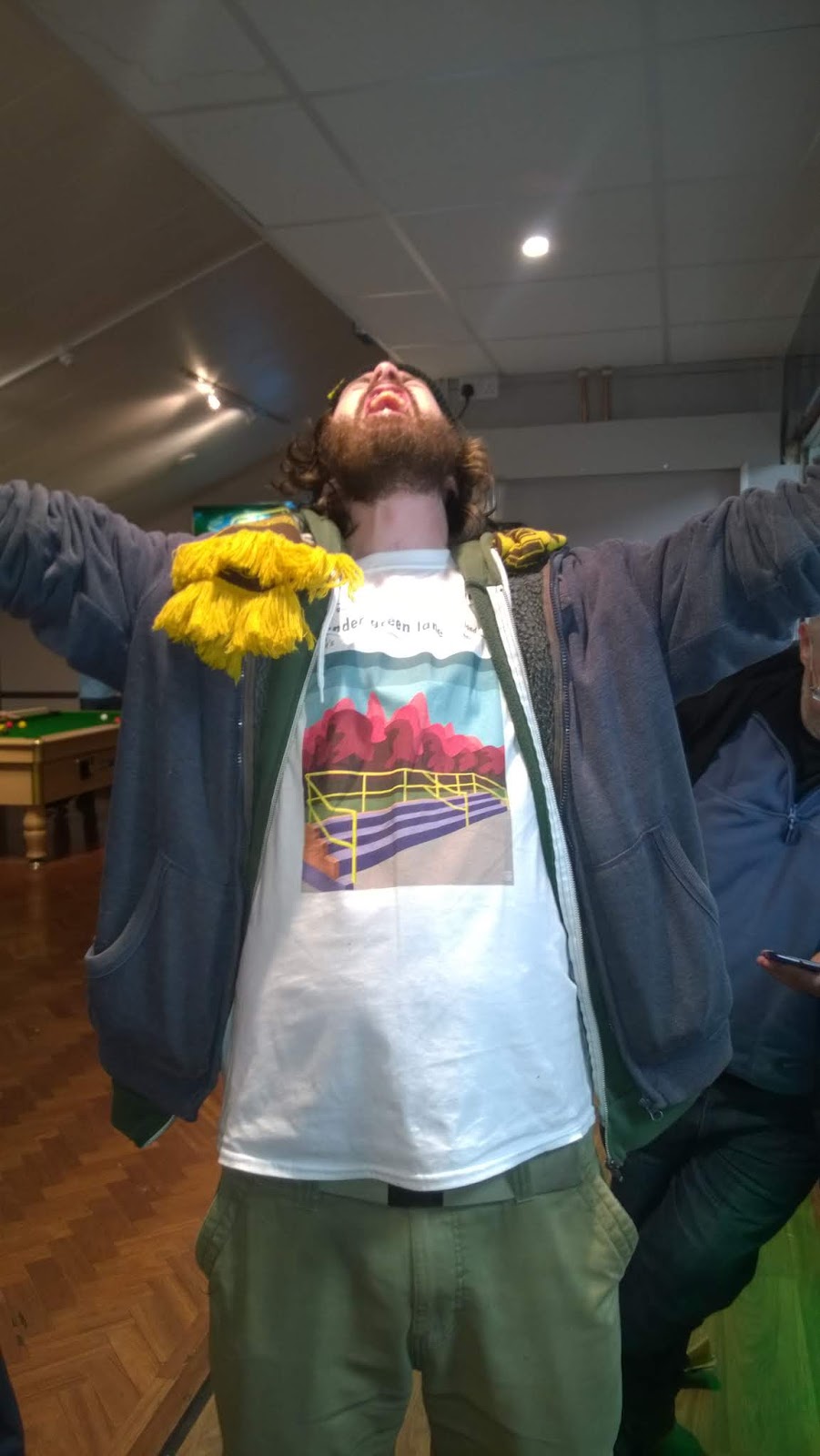 Wales!
I really can't believe that we careering towards the end of September already. Talk about time flying and all that bollocks. Eleven league games we're already into this season. And the cups haven't even started yet (Except the Irn Bru you div? – Ed). But we're still in the mix of things at the moment, so no one can complain. But we'll try to anyway about something or other. Give us a minute.
After a previous engagement the night before, I arose a little later than expected on the Saturday morning. And what a shitty morning it was, the rain was coming down heavy enough that I even thought that it was time to bust out a piece of old club merchandise. Namely an umbrella I brought a few years back and never used before today. And considering that we were to be segregated and we'd be on the Shoebox all afternoon this would be an inspirational idea. Especially when I could block the view of others behind me into the bargain! What a bastard I am…
Walking to the station, I take out some necessary funds. The train drops me off in Sutton, so it's off to 'Spoons for a livener. Surprisingly there appears to be more coppers (two of them) then away supporters in here. Rax was to even make an appearance and after another cheeky pint we find out from the wonder of the twitter that there have been plenty of changes to the team from Tuesday. Beckwith, Davis, Beautyman, Wishart, Taylor & Laffayette have made way for Collins, Thomas, Ayunga, Cadogan, Brown & Bailey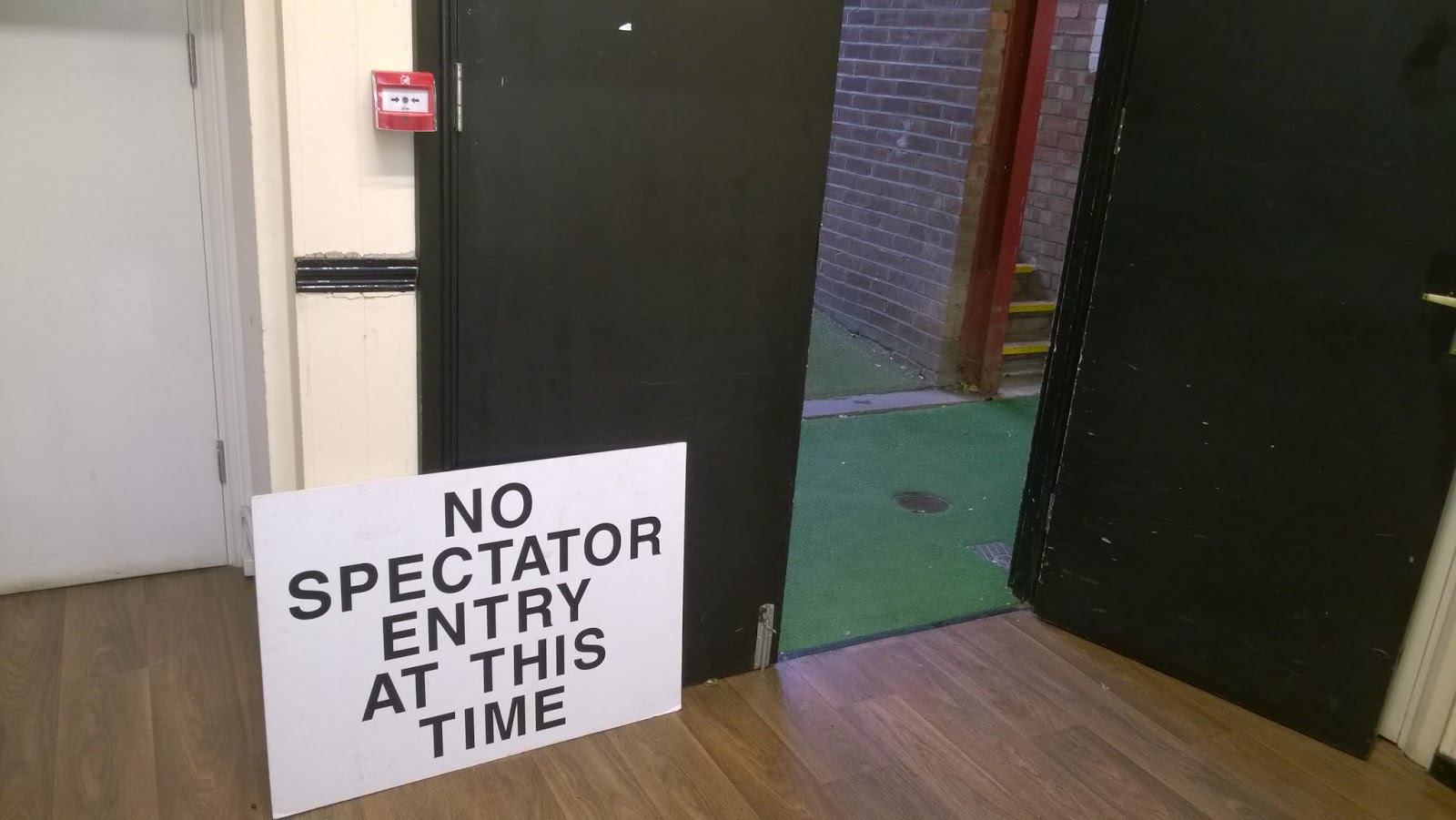 But it's eight o'clock?
Butler, Bennett, Thomas, Clough, Collins, Ayunga, Cadogan, Eastmond, Bailey, Brown, Wright. Bench Warmers: Beckwith, Bolarinwa, Beautyman, Taylor, Drinan.


On a very wet day, Wrexham started the stronger and showed why there were second in the table. And although Butler was not tested, the possession that Wrexham had gave Sutton a couple of problems at the back. Slowly getting themselves into the game, Sutton started to carve out some pressure with the speed & strength of Ayunga.
On the quarter of an hour mark, Sutton were awarded a corner. But before it could be taken, the man in the middle (who was somewhat inconsistent today) holds up play to talk to Clough and his marker. Lecture over, the ball is whipped in, but the ref blows up again and points to the spot. Clearly the warning had fallen upon deaf ears. Collins steps up to the plate and calmly slots the ball home once again. 1-0! And we won't mention the second penalty appeal either…


Now in the lead, Sutton begun to turn the screw. Clough had the ball in the back of the net from a cross but it was given offside. From our point of view on the Shoebox though, we couldn't see how he was off. The respite was only temporary as Sutton did eventually get a second. This time it was a cross from the left from Thomas that Wrexham were unfortunate not o clear and it fell to Cadogan in the six yard bx and his poke knocked it into the corner of the onion bag. 2-0!


Wrexham's misery was soon to get worse before the half was over. The ball was bouncing around in the centre of the park when Ayunga tried to get the it down. Next thing you know he's down on the floor after a heavy challenge. The ref blows and thinking it'll be a yellow, I'm not alone in being surprised that it's a red. Looking later at the highlights, it appears to be heavier then at first viewing, but I'm still not sure.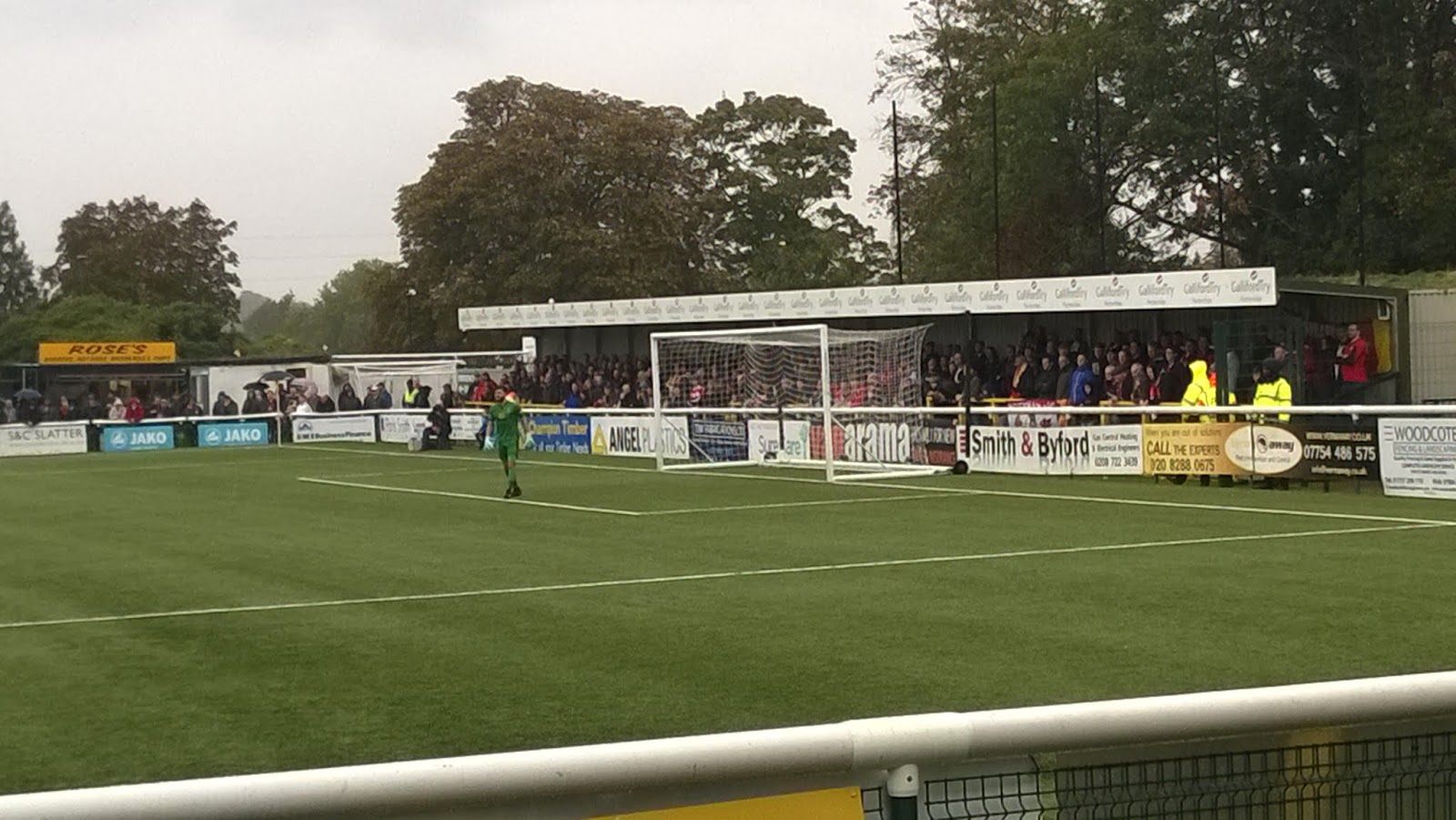 The travelling contingent…
After sending in Dr Bell for his halftime round (meaning he missed the red card), we take a look at the other scores from the division. Once again it appears that this could be an open season with a few results going our way. The only problem with sending the Doctor to the bar meant that he came back with the "two bottles for £4" offer. And try drinking that in ten minutes. Still, as the old saying goes; "At least none of us are on a Polish football vlog". Well….not all of us anyway.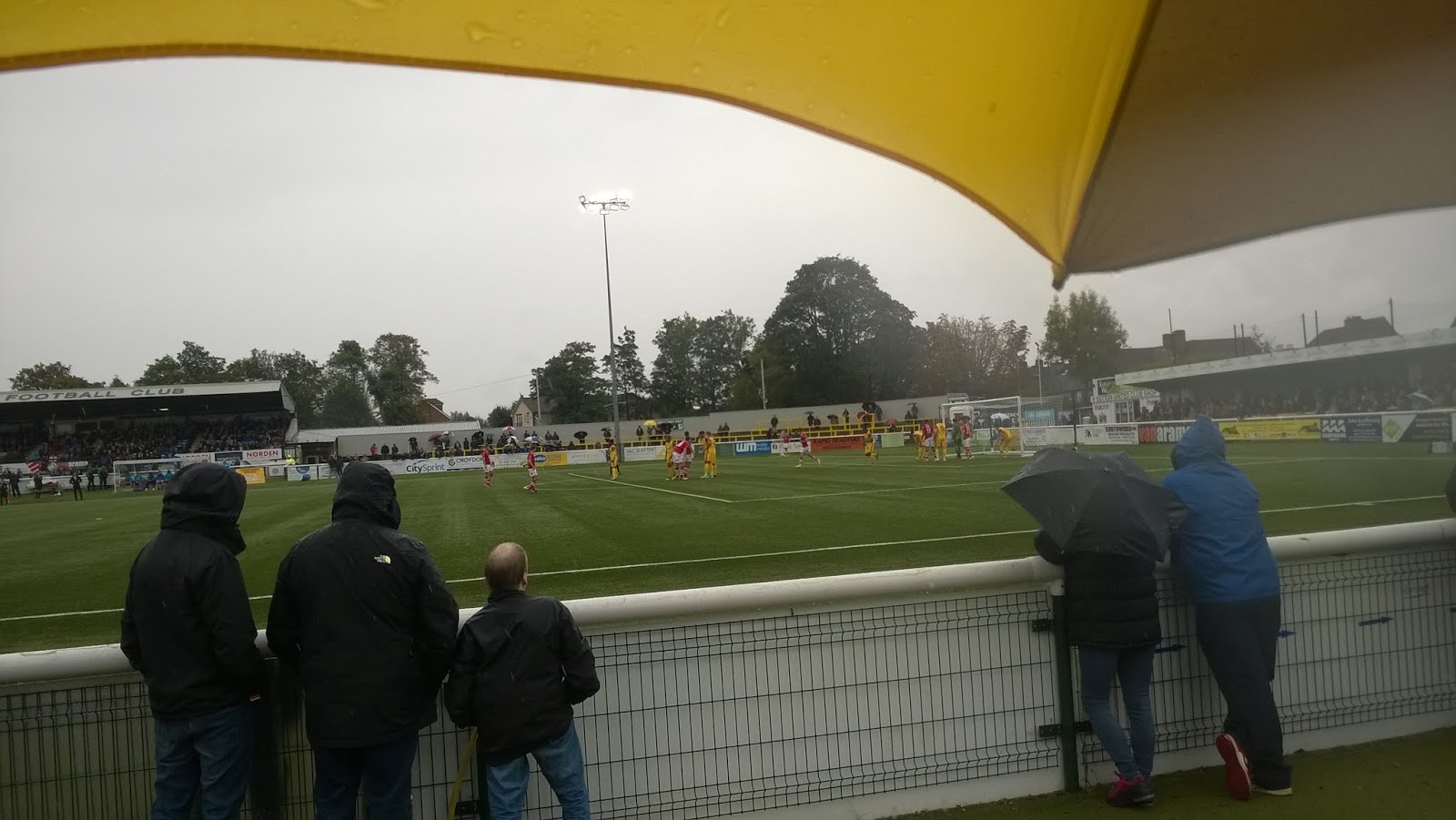 Wally underneath a brolly…
Second half and I'm just walking round towards the Shoebox from the bar when Sutton grab another goal. This time it was Bennett who crossed the ball dangerously into the box whilst everyone was shouting at him to shoot. Eastmond was the quickest ti react and nutted the ball into the corner. 3-0! Fuckin' 'ell! three goals to the good against a team that have only conceded five in eleven this season.
Just after the hour mark, Ayunga is withdrawn, to a well deserved applause, to be replaced with Bolarinwa. Bailey, who was superb at times with his distribution, tried to get in on the action and was unfortunate enough to see his shot from outside of the box be palmed away by the travelling keeper. If only it was aimed more into the top corner and not hit with his left foot.
Wright would come off for Drinan. Butler at the other end seemed to have a rather quiet afternoon. Anything that was aimed at the goal, and there wasn't much, was right at him. He also was allowed to collect anything in the air that came into the box. A very different approach from Wrexham compared to Boring Wood.
Ten minutes to go and Captain Collins is substituted with Beckwith. Sutton kept up the pressure though and once again, this time it's Drinan with a golden opportunity to add insult to injury but the keeper made a save that probably owed more to luck than judgement. Bailey had the final chance as he was involved in a short corner that gifted him a clear run at goal. Unfortunately, Bailey still hadn't got a left foot and managed to hit the ball high and wide.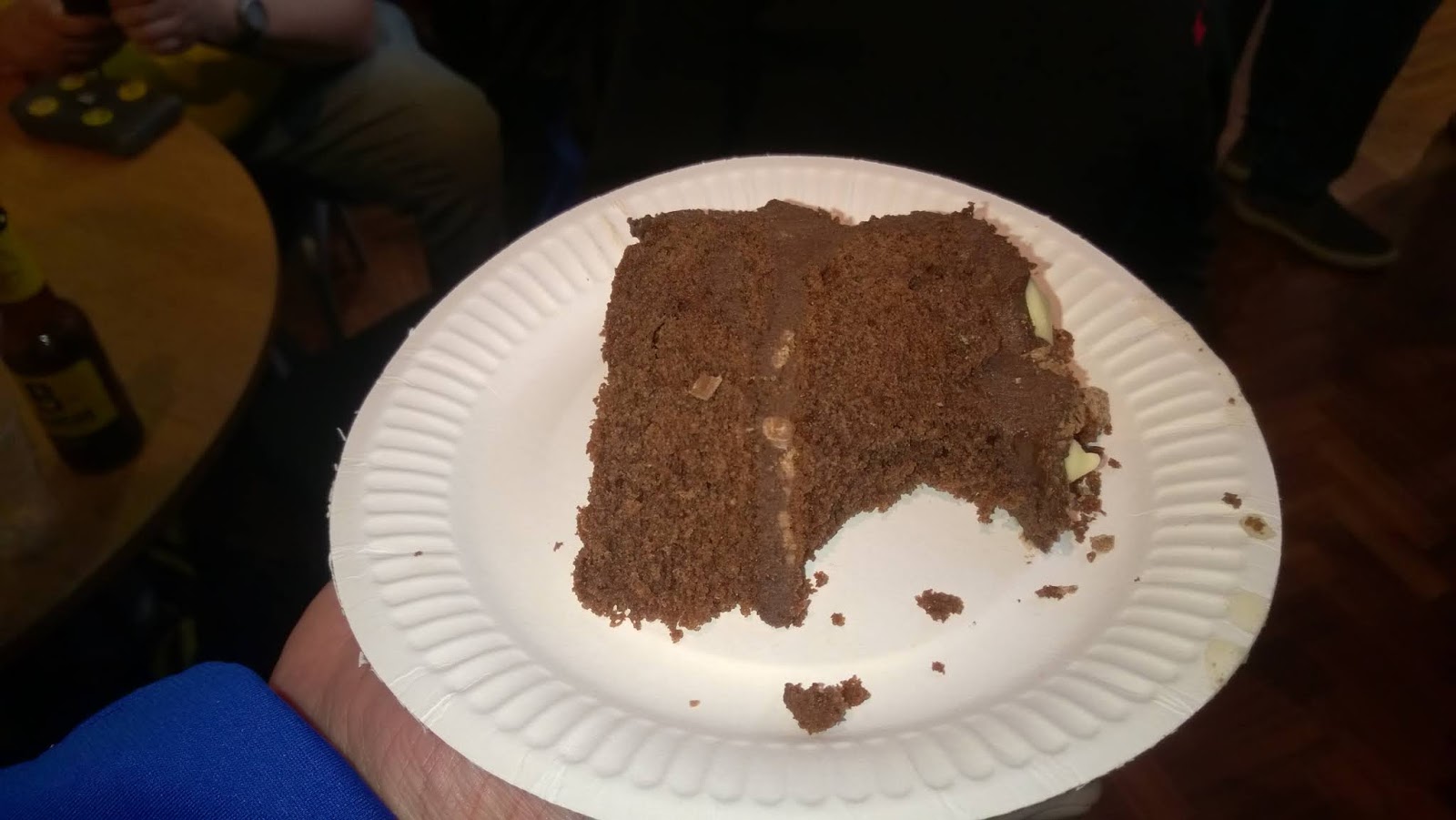 Caaaake!
After the usual match duties it's into the bar for refreshments. But not until some of the boys do their bit and buy our tickets for the forthcoming away trip to Leyton Orient. I was even pissed charitable enough to buy Taz his ticket for him as he's skint until pay day. Well, gotta help the club haven't we. That's at least two times 90p winging its way into the coffers.
Also there was a birthday in the house. father Beckett was celebrating his 59th, which soon became his 57th, and ended up as his 55th birthday as the night progressed. Still, there was cake, so no one really gave a monkeys. With October looking to be a really fuckin' expensive month for Banco di Dukey, I decided to bring the Saturday festivities to an early end. Nabbing a ride, I'm back home sharpish, even before the clock has struck ten o'clock. But not before a certain anonymous club official had spread inhuman and down right disgusting rumours concerning my beloved Surrey Senior Cup! What a Bastard!
We now move onto Dover at home on Tuesday. they might be bottom of the league, but I do seem to remember a midweek match against them down the Lane not so long ago that ended in a right old bumming. Plus we met a crap Torquay about this time last season at the Lane and got done in that one as well. So hopefully there will be no repeats this time, but it's a match against a team in the bottom four and, well Sutton are known for their performances against teams in the shit. Enjoy!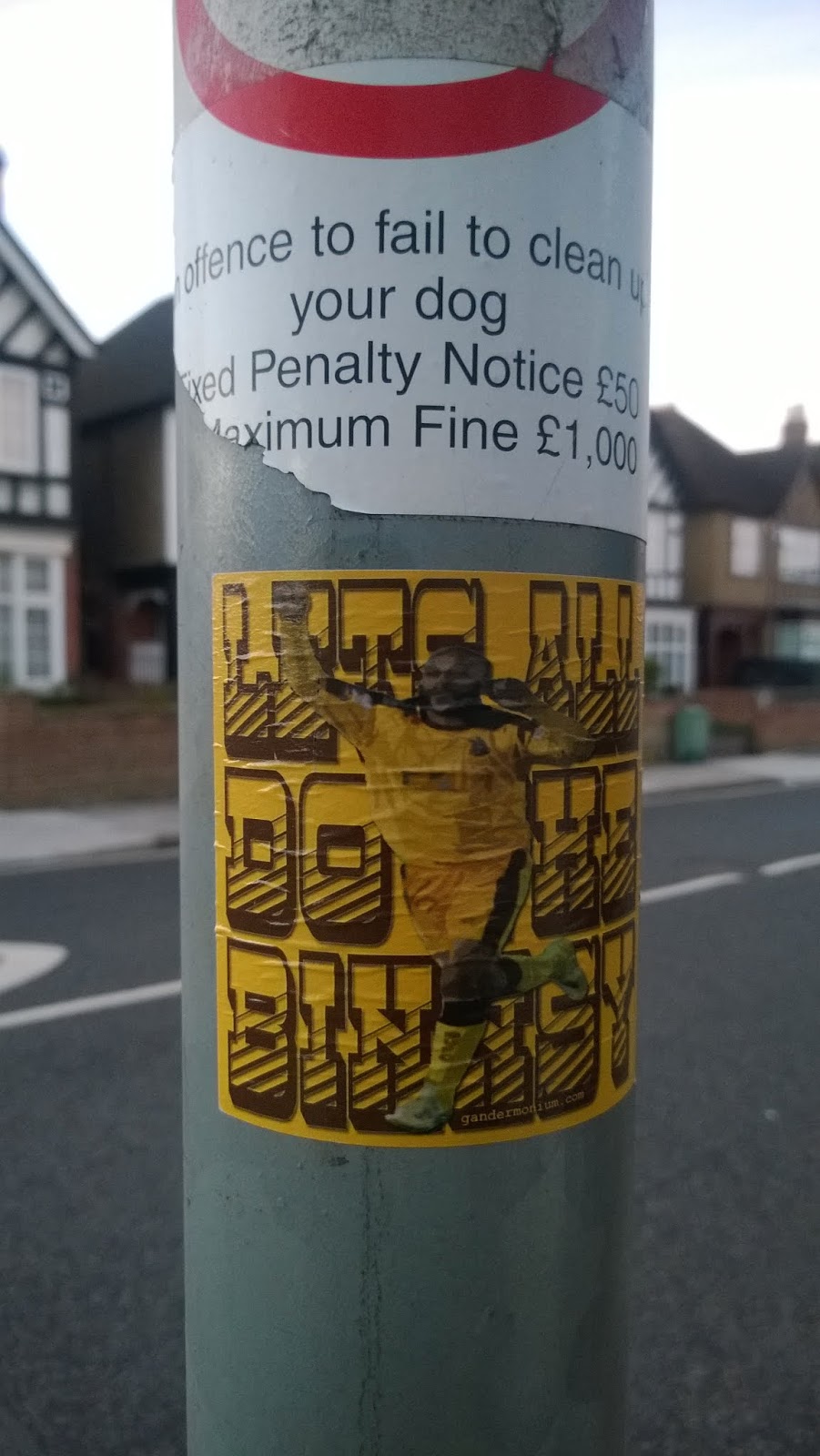 Ah, Binnsy…I knew him well.
Duke
Att. 2050