Now, normally for these things we'd fill in this part with some sort of pre-amble bollocks that has a vague connection to what then follows. Well, sometimes at least. It's mostly just rambling rubbish designed to pad the piece out and make us look like we've put some thought or genuine effort into it all. Well, this week, I have confession to make. I got nothing. Zero. Nada. Not a Sausage. Yeah, sorry about that.
There's a couple of little reasons for this, but the main one though is that I pretty much forgot I was on duty for today and after a busy week, by the time Dukey half reminded me on the Friday evening the grey matter had long since clocked off and I was left with no lead in, no filler, nothing. Well, except this bullshit I've just made you plough through for a couple of paragraphs. Now usually in these cases you'd hope for a real humdinger of a match, especially as we're welcoming the current league leaders, to give you some nice material to paper over the cracks. Yeah, chance would be a fine fucking thing. But more (or less) of that later.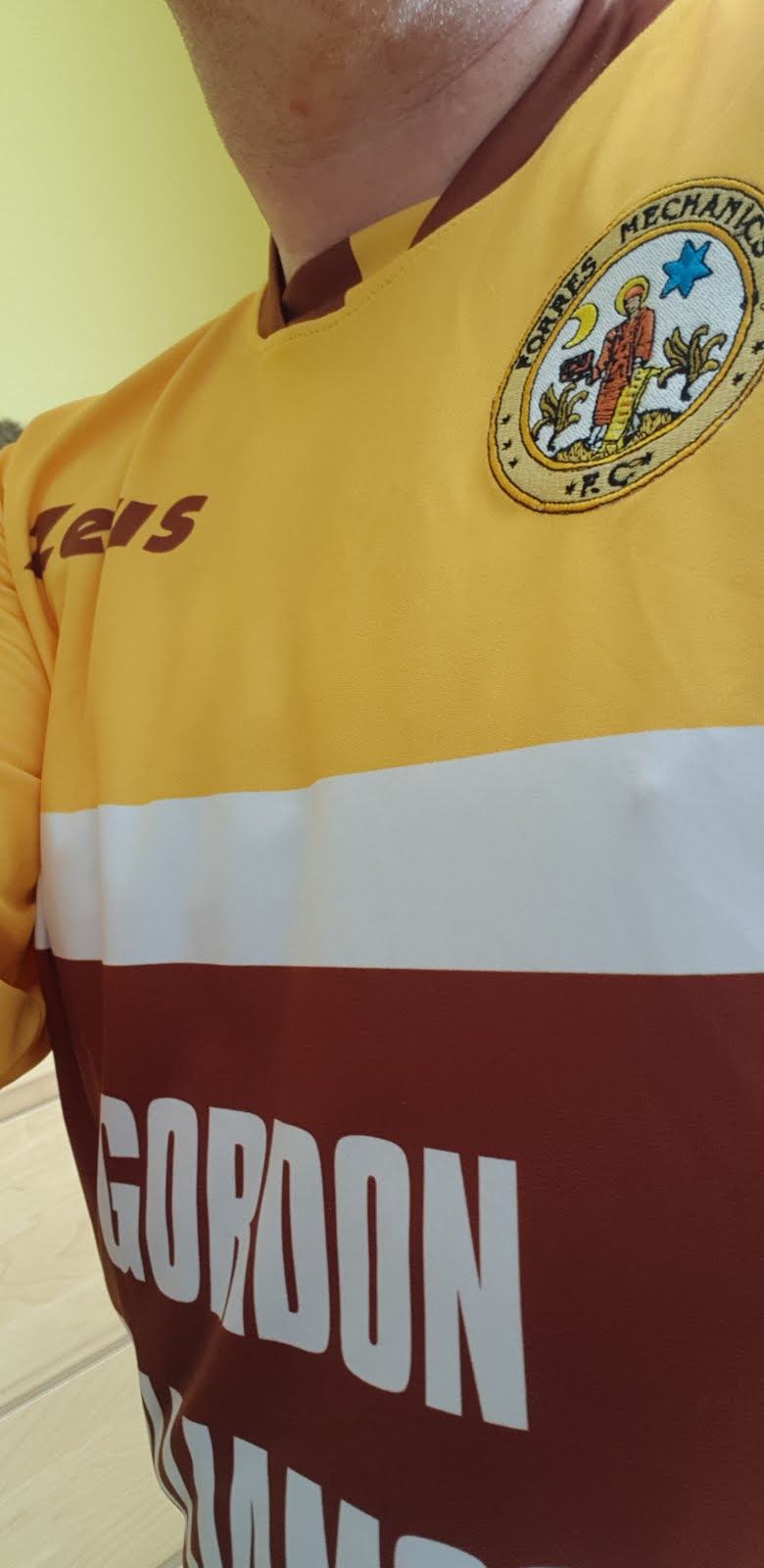 Still lucky! Sort of….
With no chores or errands required on the Saturday morning, I did what I always do for a home game and simply stayed stinking in my pit until well gone 10. No whilst this meant I was at least well rested for what remained of the day ahead, I also meant that my descision on what attire to venture out in was based purely on a quick look out the window. Big mistake. Whilst it looked sunny, I let the last few days influence my choice and I stuck on some jeans and a training top over the lucky Forres Mechanics shirt. Bad move. As I go for the bus, I'm quickly sweating my cods off. The walk to GGL from Sutton in a while will be a treat!
On arrival in Sutton, it's the usual two step of draw money and head for Greggs to get a nibble for the walk down to the Republic. Here I encounter my second fail of the day. They have no baguette sandwiches that don't contain foodstuffs likely to end up all down the front of me whilst being eaten on the move, so I instead aim for a sausage roll. There's 4 left so I'm sorted. Er, no. Somehow, having been at the head of the queue and ordering first, all 4 tasty pastry treats are somehow snapped up by the lass behind me. Fucks sake. No mate, it's fine, I'll just take the bottle of Ribena cheers.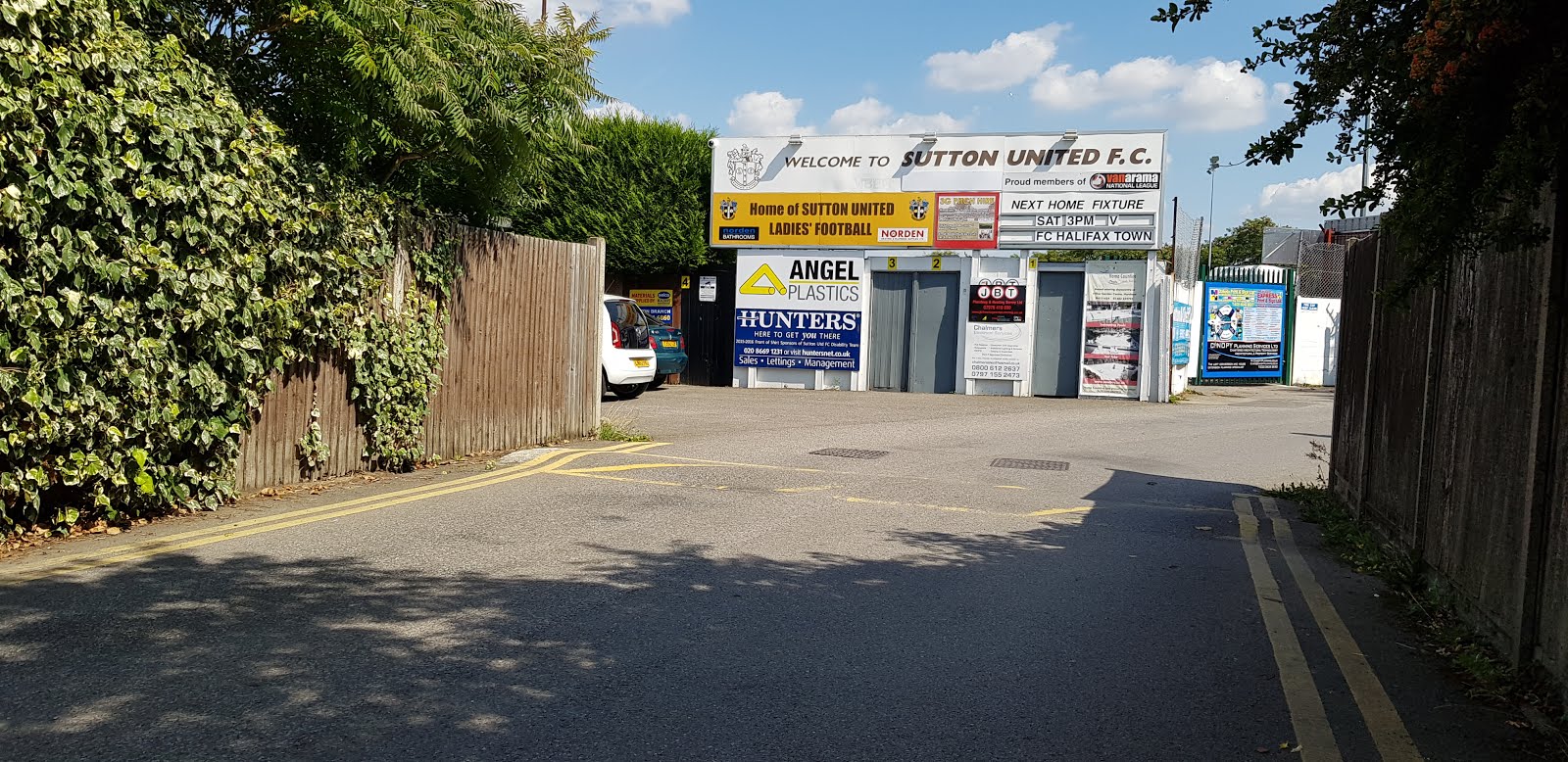 Approaching paradise
I walk into the bar suitably sweaty and take a moment to enjoy the air con in the back bar, then I wander into the back and find Mr X already present and nursing what looks suspiciously like a J20. It would seem that his works leaving do the previous night was suitably refreshing. So much so that he takes a good 45 minutes to clear 1/3 of his first pint. A few other faces wander in, including Irish Pete who we've not seen in these parts for a while since he made the step into fatherhood. This and the arrival of Greek leads us to get a further story from last Saturday's session in O'Niells where one of Pete's colleagues he was out for a pint with guessed that Greek was 45 years of age! Combined with one of the COC's missus asking him earlier that day if he was gay, it's safe to say this Saturday can only get better for the Mediterranean chap. Well, if we don't spend it taking the piss out of him that is.
Elsewhere, Mr X's bad day gets worse as he gives 4 Days 2 quid to load up the jukebox only to realise after that the batteries in the remote are flat and we can't turn the fecker up above "Bloke sitting next to you on the train's headphones" volume. Sweet.
Butler, Beckwith, Bennett, Clough, Bolawinra, Davis, Lafayette, Eastmond, Brown, Wishart, Drinan SUBS: Thomas, Cadogan, Beautyman, Wright, Taylor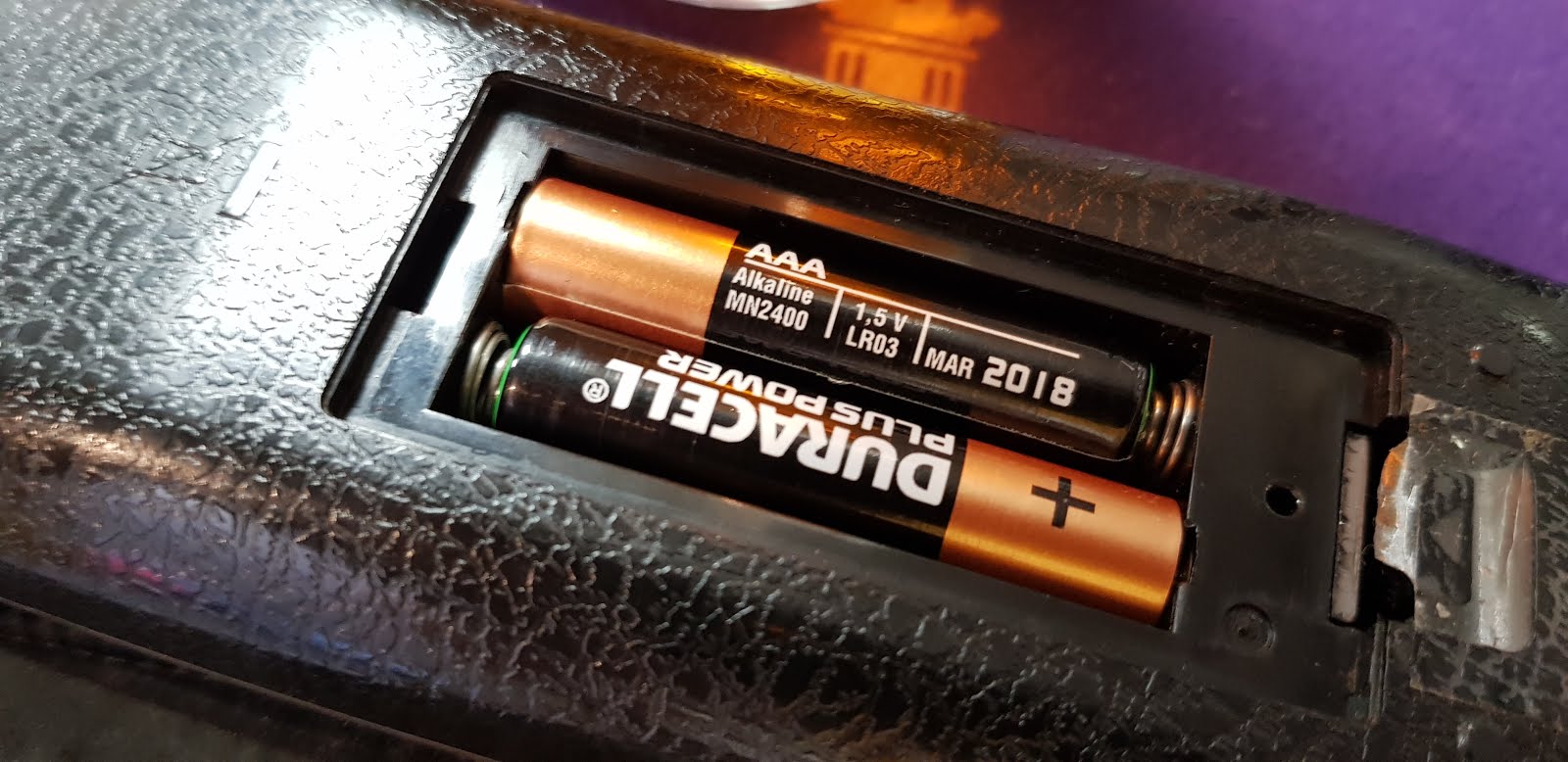 As much life as a Carshalton home game…
Ah yes. The football. Remember what I said earlier about having a cracking game to write about to make up for my lack of imagination? That'll be a no. The first half is pretty dour stuff. They're marginally on top and cause us a couple of problems. Their best effort being a cracking first time lamp from a dropping ball that pings back off the post with Butler beaten. Ours? A Charlie Clough effort curled a yard wide from about 20 yards, mainly as it's our only shot. The front 3 just doesn't work with Tombo getting no ball, Drinan largely isolated out left and Lafayette not winning much in the air or holding the ball up. And it's not like he doesn't have plenty of opportunity as we spend the first 45 minutes largely bashing it from back to front. Their 14 proves to be a bit of a prick during the half, as when directed to give the ball back to us from a stoppage, he petulantly lamps it into touch a few yards up the line. Cheers fella.
Once again, the real highlights of the half comes from the terrace chatter, this time Dukey informing us that whilst enjoying a pre-match livener in the Spoons, the local Plod came in and enquired if "Any Halifax fans had been in". "Nope" says the barman "They're all down at the Grapes", an establishment which if you know your Sutton public houses, you'd know has been shut now for nearly a month. It seems the local five-oh don't however and they toddled off without protest.
The other big incident is Robbo discussing the 'no standing at the barrier' rule for the Rec End with the steward on duty for most of the half. He later put it to me as "I fought the law and I won!". Bless. And yes, the football really was that dull.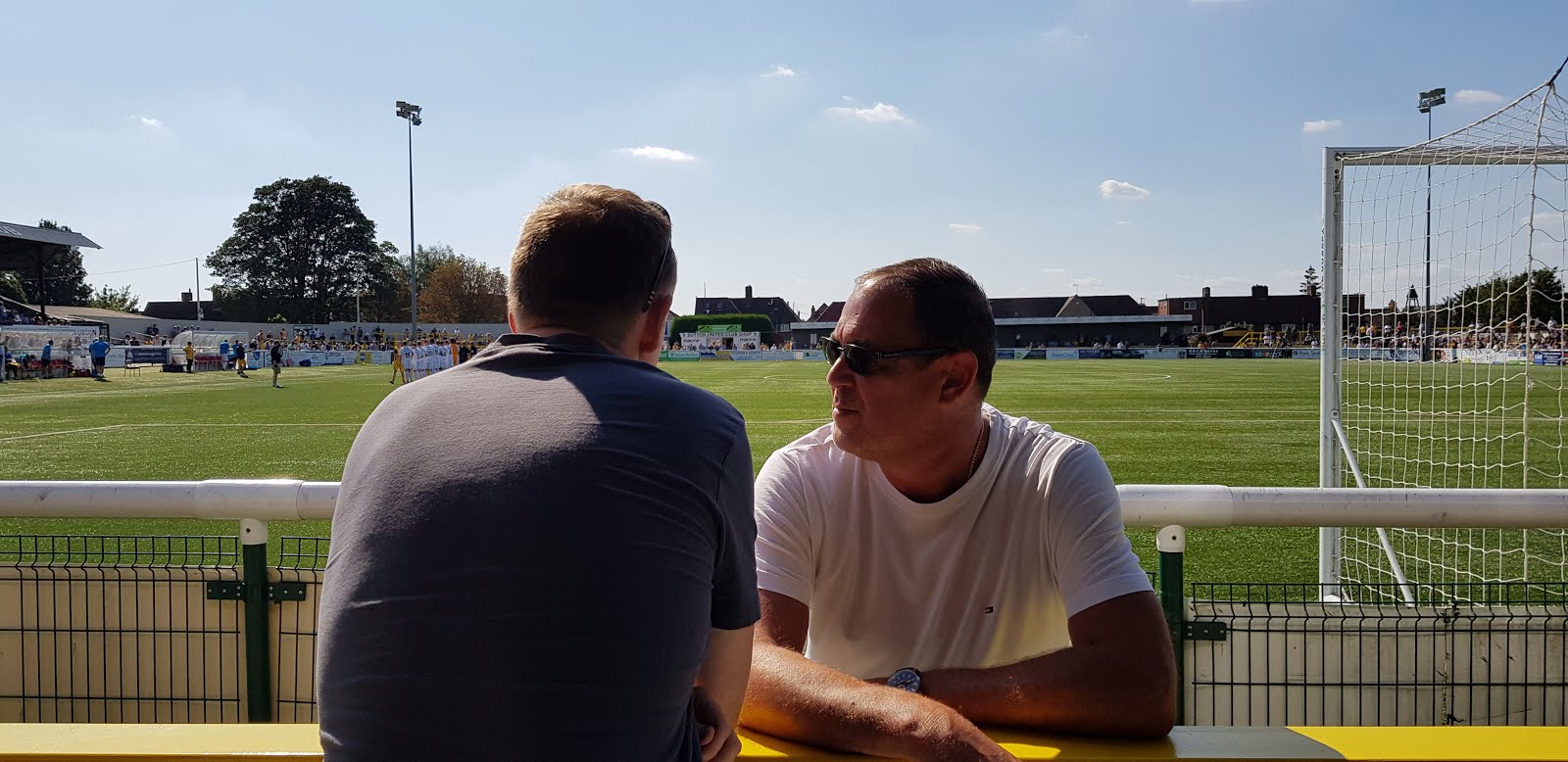 Conversing
Second half, there's a bit more structure and we're certainly involved a little more constructively. But there's still far too much aimless lump for my taste. Still, with the visitors looking unlikely to break the deadlock and us not exactly setting the world alight either, my money would have been on a 2nd straight 0-0. However, around the hour mark, Easty busrsts from midfield and is hauled down just before the 18 yard line. Kenny Davis steps up for the free-kick and it takes a nick off a defender on it's way in which beats the keeper. 1-0! Blimey, we're winning! Not for long though. Several minutes later, we lose the ball from a throw in, they break and we allow their man far too much time on the edge of the box to collect, turn and compose himself for the shot which seems to catch Butler by surprise and beats him down to his right.
Dos brings on Wright, Taylor and Cadogan to try & inject a bit of life into proceedings, but despite finishing brightly, we have to settle for another home point in the end. Right, back to the bar. We've wasted enough VDT with this tosh as it is!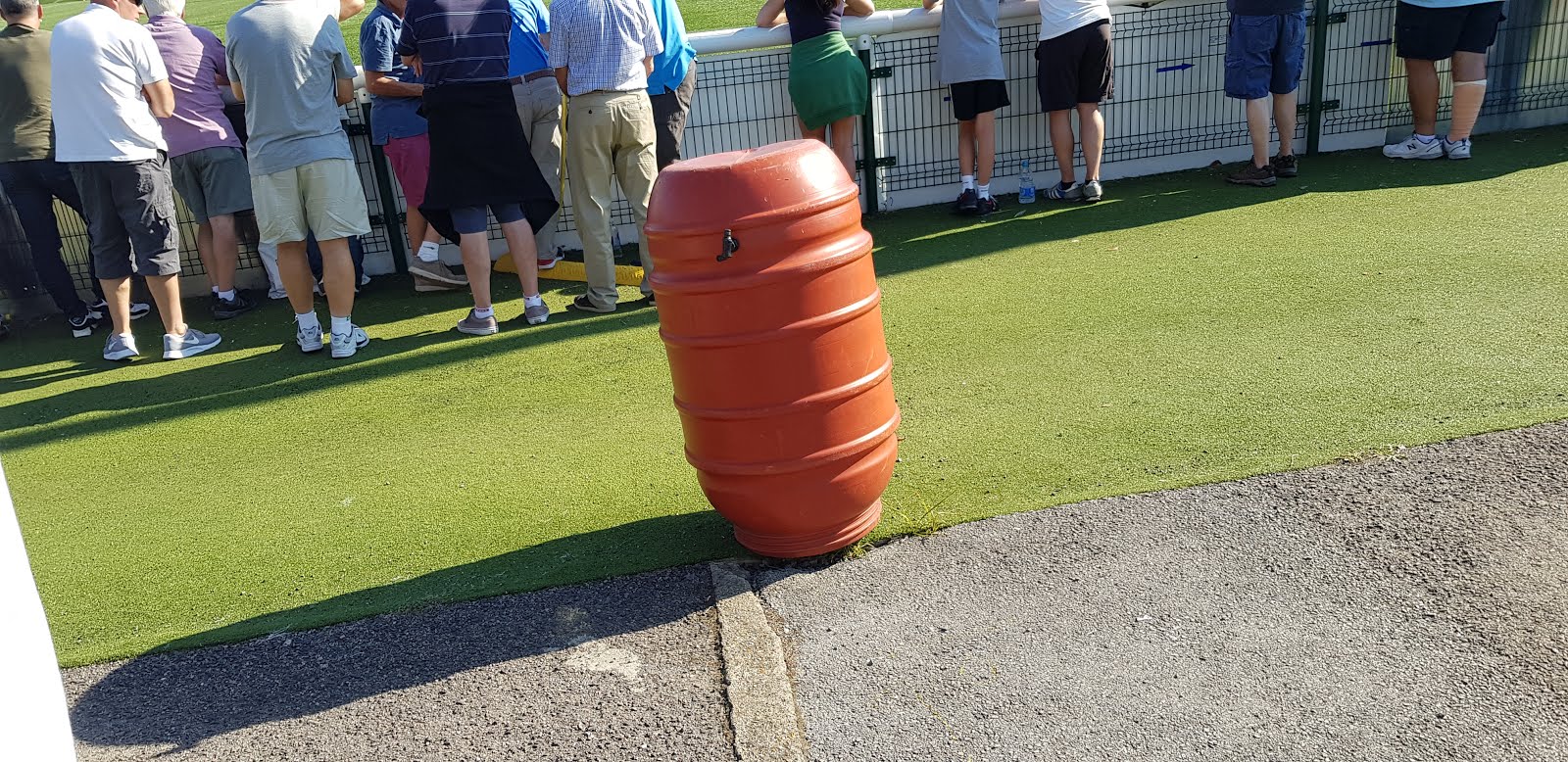 Look, it's this or more pics of the game. We're doing you a favour…
Post match, it's my round and this is now a complicated affair by the fact that we've got some people wanting beverages from the traditional outlet as well as some cheap bottles from what has been nicknamed 'the pool bar', which is basically Kiddo knocking out Fosters and Bulmers at 2 bottles for £4 from atop the pool table. Pain in the arse and no mistake. With plenty of beverages in place however, we settle in for the usual Saturday evening bout of piss taking and abuse. The freshly shaven head of Greek comes in for stick as first Totts accuses him of 'copying my look' and then both suffer as they're referred to as 'knock off Harry Hill tribute acts'. We also catch up with Ipswich Lee and his eldest and we compare Albufeira notes as he's off there next week on a lads weekend. Apparently it's largely so he can try to have some recall from his stag do there back in March, which ended in disgrace after one too many shots (so much so, the last 2 days were merely downgraded to 'a do'). His boy takes great delight in showing us a picture of an unfortunate bed vomiting incident. We did try to secure said picture for publication here, but sadly Lee got his legal team on the case first thing this morning and it's been embargoed. Sorry! We also compare drinking venues from our own little jaunt over there a couple of years back for the Gibraltar game. Although we severely doubt the Lithuanian stripper that Dukey ponced some fags off is still working in Voyeurs.
I also take time to chat with Nat about next weekend's trip to Glasgow, in which she'll be making a late dash for our flight up there as she has a training course to attend at work that she can't get out of. I implore her not to be late and to miss it, simply as it would mean us having to convene a committee meeting to change the Gandermonium motto, which of course currently reads as "Leave no man behind, unless mutually inconvenient to the rest of the group". Just trying to persuade Dukey alone to accept bringing it into the 21st century would be a fucking nightmare I'm not willing to confront.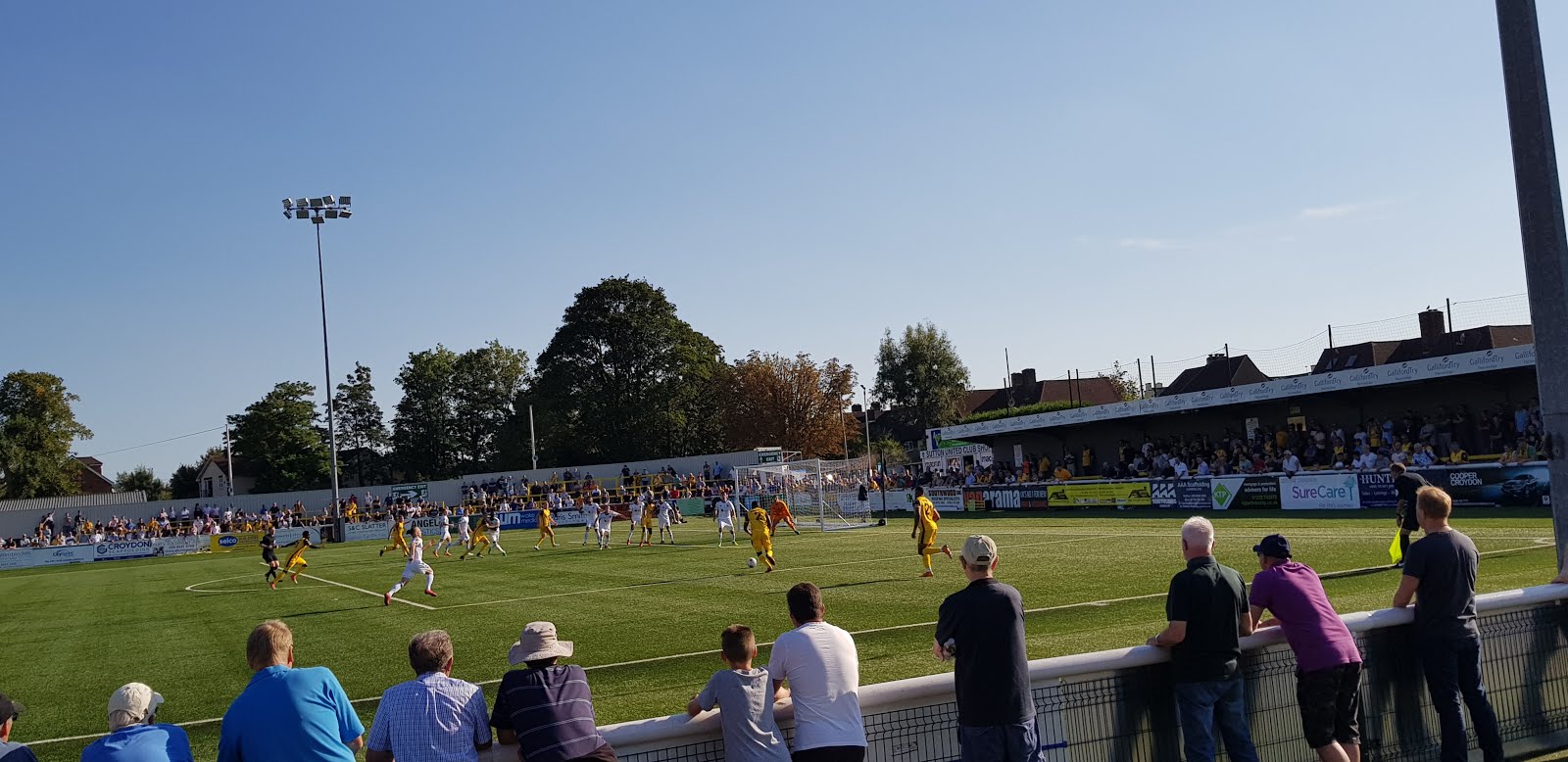 Stock action shot.
As I'm winding down my involvement in the Saturday evening and preparing to head home for dinner duties, the missus informs me by text that she's heading out to meet some friends before they head back to Sweden tomorrow. Touch! That means I can stay out and get leathered instead. Right, who's bloody round is it? I'm thirsty. Joe then takes time to protest his 'Sleepy' nickname earned after his nodding dog act in Blackpool last season. "I've only ever fallen asleep in a pub toilet twice!" he pleads "Ok, they were both Litten Tree's, but…." The prosecution rests m'lud. The earlier 'flat battery' scandal with the jukebox has thankfully been resolved and we can now able to turn it up to hear what is being played. The bad news is, Robbo is holding onto the remote. And by 'holding onto' I mean 'has it stuffed down the front of his keks'. With no one wishing to handle something that's been as close to his junk as that, let alone fish it out in the first place, we simply let him get on with his odd behaviour.
After a few more pints, we all hop in some Ubers and head for the high street, mainly to show Lee what the O'Niells experience is all about. We'd made a few attempts at this previously, but the gang had always stopped off in the Crown at the bottom for a 'quick one' and ended stumbling out of there shitfaced at closing time instead and had never made it this far up! On arrival, Mr X's bad day deteriorates further when he realises he's left his phone in the cab. And it turns out dealing with Uber's customer service leaves a lot to be desired. In the end, we give up and he skulks off home to try & use his 'locate my phone' thing on his laptop.
We have a couple more in here, but before long I'm feeling the effects of a long day's intake and needing sustenance to soak up the beer & gin now sloshing around my Newingtons. So I bid Lee and Dukey farewell, although the latter appears to be too busy fending off the attentions of a rather amourous lass who likes a shaved head on a man to notice and I head out into the night air. Sadly, with only 10 minutes to grab food and head for my bus back to HQ, my only real choice is Subway. Which I don't particularly like. Still, any port in a storm and all that so I grab some overpriced nosebag and make my transport with moments to spare.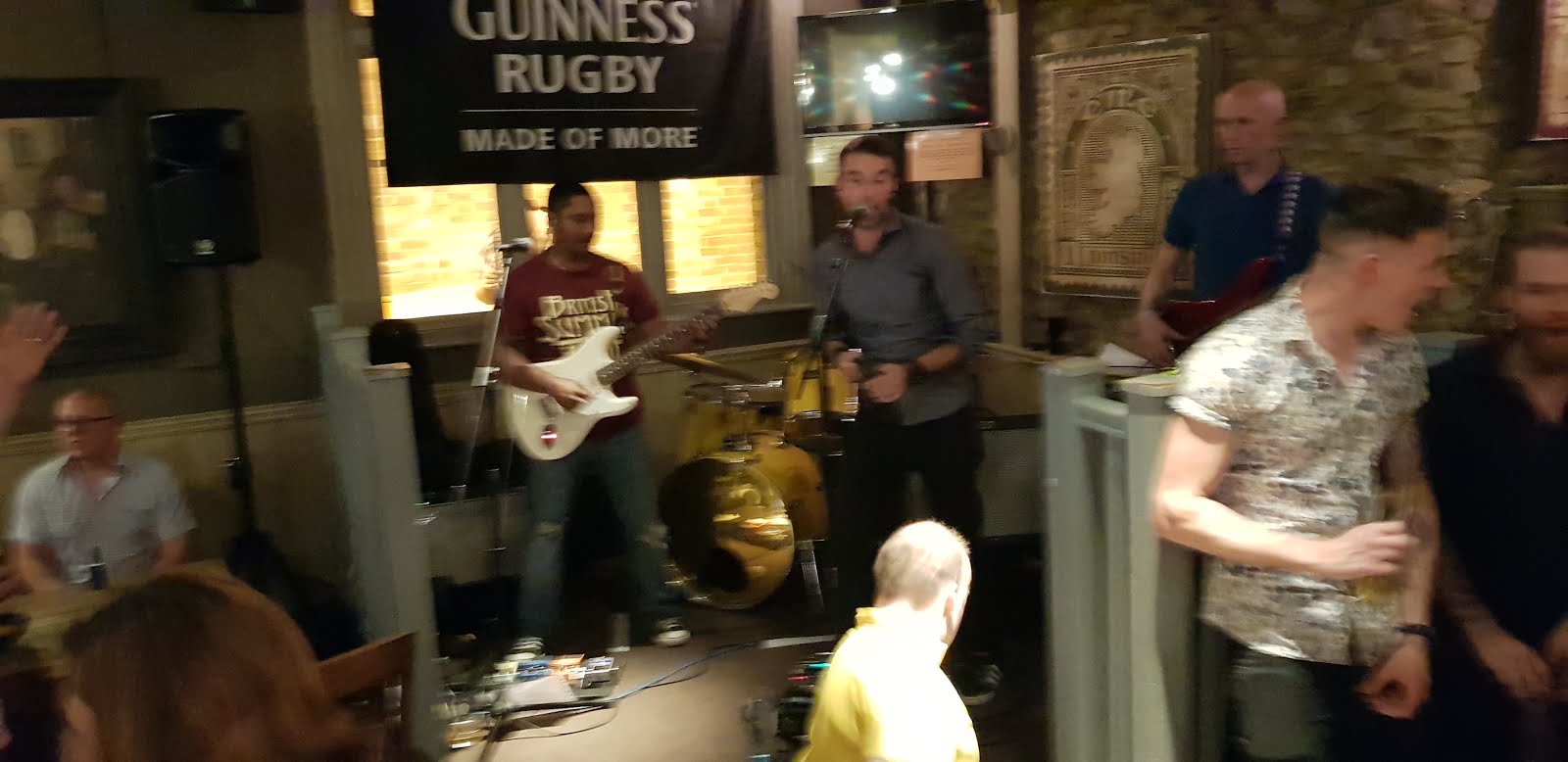 Pub entertainment
So, we're off to Maidstone this week and I'll be attempting to try & not get stuck at fucking Bromley South again like I did a couple of seasons back and actually make the game. It was also the scene of one of the worst performances of last season, so after today I'm also hoping it's a bit more Conf South title run in than that to give us a little morale boost before we head over Hadrians Wall next weekend. I'm not entirely holding my breath though.
Man, why do they always skimp on the lettuce at Subway? I asked for 'a load', not 'a light sprinkle'. Tight bastards.
Taz