This is a bit suss ain't it? Playing a third re-formed, ex-league club in a row? And yes, before you all start writing in with your letters, telegrams or Carrier Pigeons, I know that Airdrie is also a re-formed club as well. But still, is there a connection really, or am I just trying to create some sort of nonsensical story arc in order to flesh out the blog a bit? Hmmm…
Wasn't it nice of Taz to cover all of Saturday's actions on and off the pitch? Not even a crumb of anything that I could use and elaborate on. The git probably had time to get himself on a foreign podcast as well. Except there was one thing he missed, I have a tiny small confession to make. Yes I did end up watching Celebrity Big Brother at five o'clock in the morning. I couldn't recognise any of the bleedin' buggers mind you. I blame Ipswich Lee, the other grass. But yes, I have a problem and I will seeking solace and help in a far off place for a couple of days. Glasgow perhaps.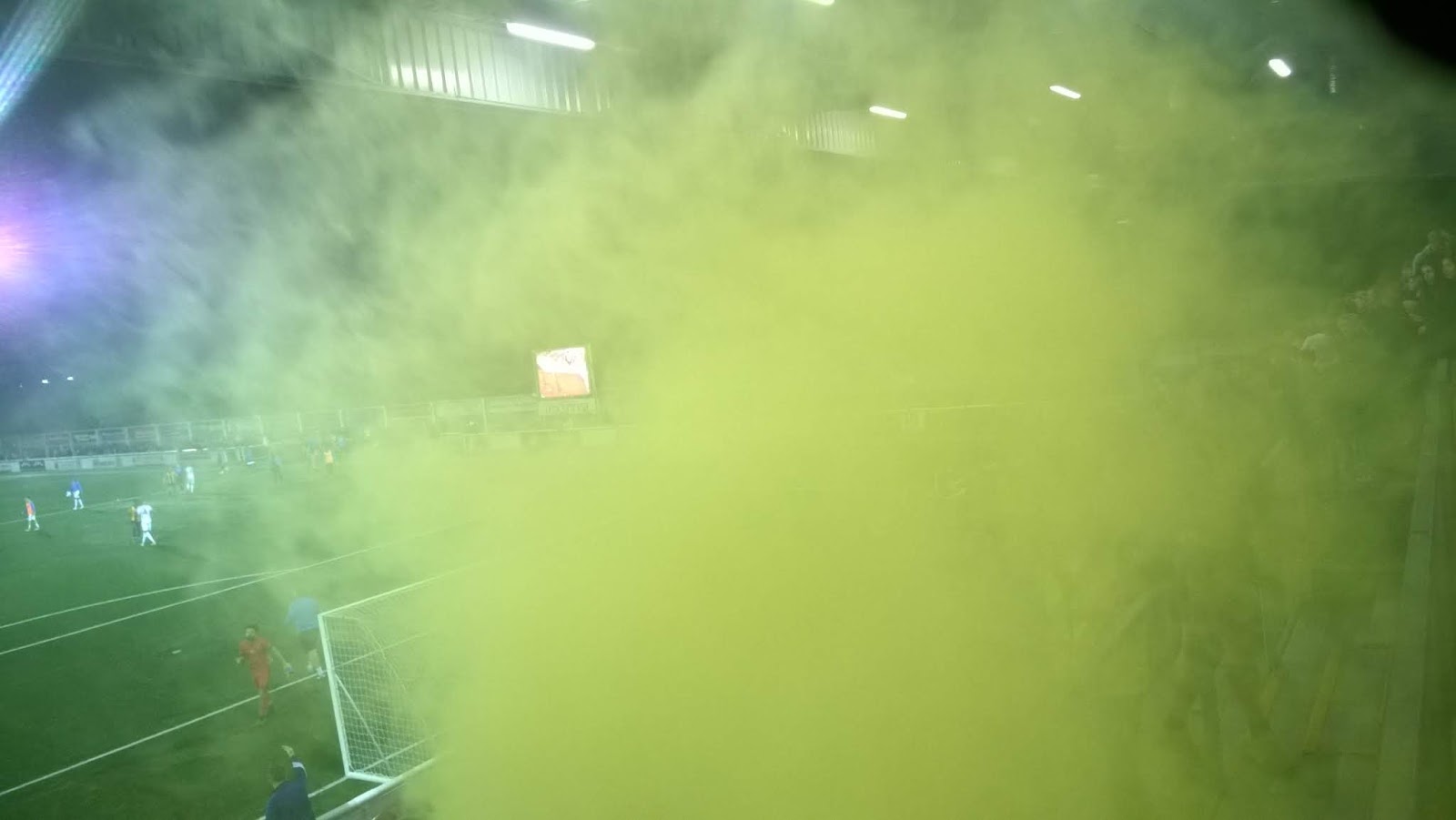 The eyesight of Dr Bell these days…
So let's face it, the only disappointment on Saturday, other than what dropped out of Mr X's arse, and that was a proper smoke bomb I can tell you, was the football once again. But we dust ourselves off, try to find our shorts and crack on because we have another game to get along with. So it's back to the Gallagher and our fellow Conference South boys, Maidstone no less.
As is always the case with these little midweek trips, Mr X volunteered to take us in the "Unity Mitford". Even The Firm Leader was getting in on the action and it was eventually arranged for me to be picked up at home at five o'clock. Obviously they were bloody late, but it's a lift, so one can't complain in these matters. Well I do all the time to be honest, but no one listens.
A simple journey soon follows. Work your way to the M25, either via the A217 or A23. You can then laugh at all the people that are held up by the traffic going south towards Gatwick, before praying that it doesn't happen to you also. Hop onto the M26 and before you know it, you're on the M20 and on the outskirts of Maidstone. Simples! Or you could just get the train down from town with a few cans like a few of the Firm.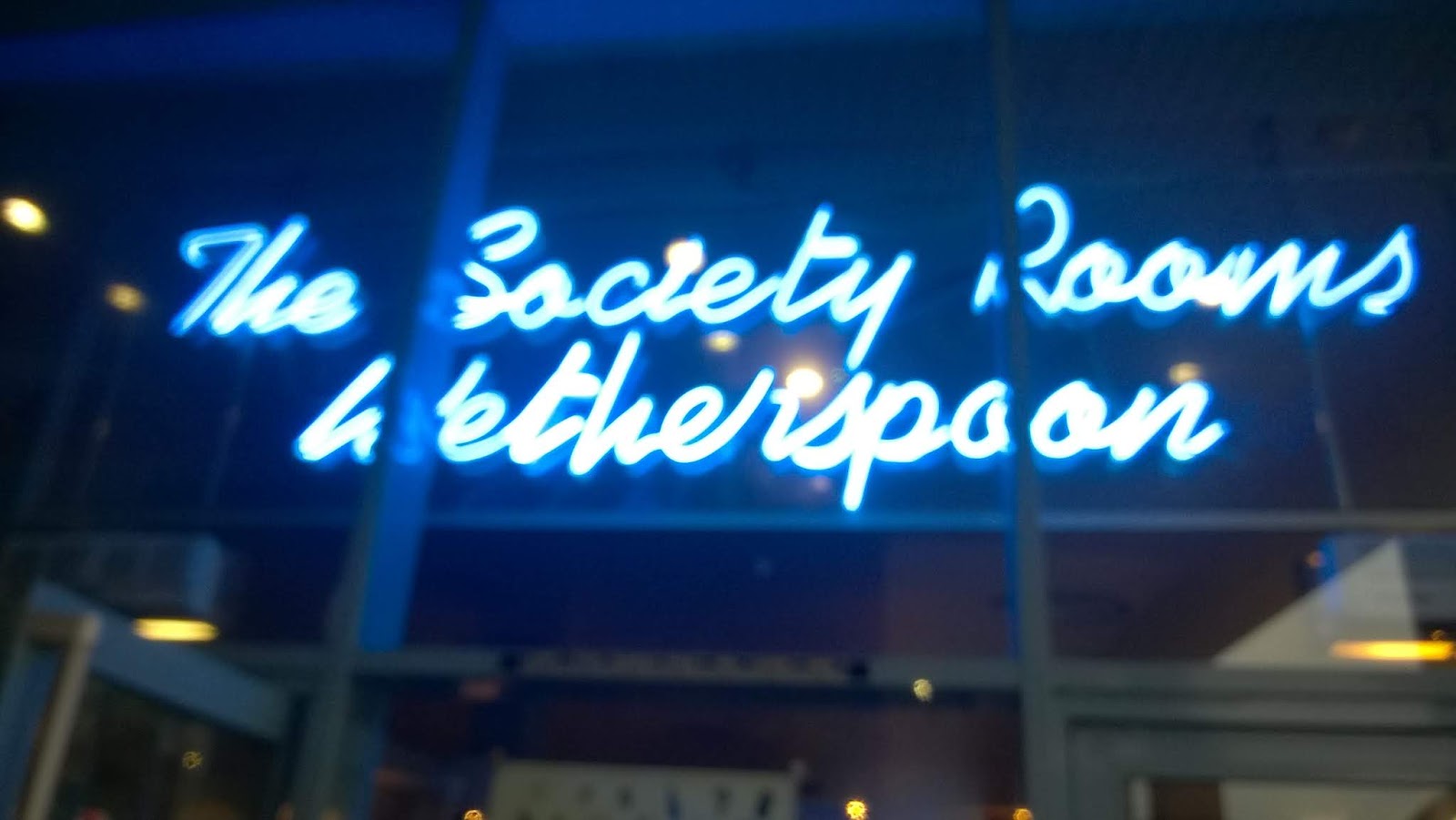 Rooms of Society, got it…
Arriving at Maidstone East Station, we elect to head straight to the 'Spoons. Well, it is the closest pub to us on the way to the ground after all. And what is it they say? So The Duke can't moan about the prices either! There are plenty of known boats all over the joint already when we arrive and we settle down for a cheeky few. While nursing a orange & lemonade, Mr X decides to have a spot food. "I'm not going to have a burger, Definitely not will I be having a burger, no way am I going to have a burger…". He had a burger.
A few more faces turn up and we manage to squeeze in another pint as The Firm Leader heads for a cheeky MacDonald's. Which according to him, was in no way over-seasoned. You hear that Taz? Not over-seasoned! With the time quickly past seven and we're still waiting to find out what the actual team was going to be for the night. Absolutely nothing coming through from Twatter. Ten minutes before kick-off we finally get the team line-up after Taz nicks a picture of someone's team sheet.
Drinan, Bolarinwa & Davis have been dropped and they've been replaced with Ayunga, Beautyman & Taylor. Outside just before the entrance, we finish of our cigarettes (more no smoking ground bollocks) before being felt up searched by the stewards. People had their bags searched and everything. Blimey lads, you afraid someone might smuggle in a smoke bomb or something? A nice £15 entrance fee and we find our spot on the end of big stand. And they had separate sex bogs. It was also nice to see that maybe all the kids that were baiting us last time were not going to be around. Guess they were having an early night as they were just back at school.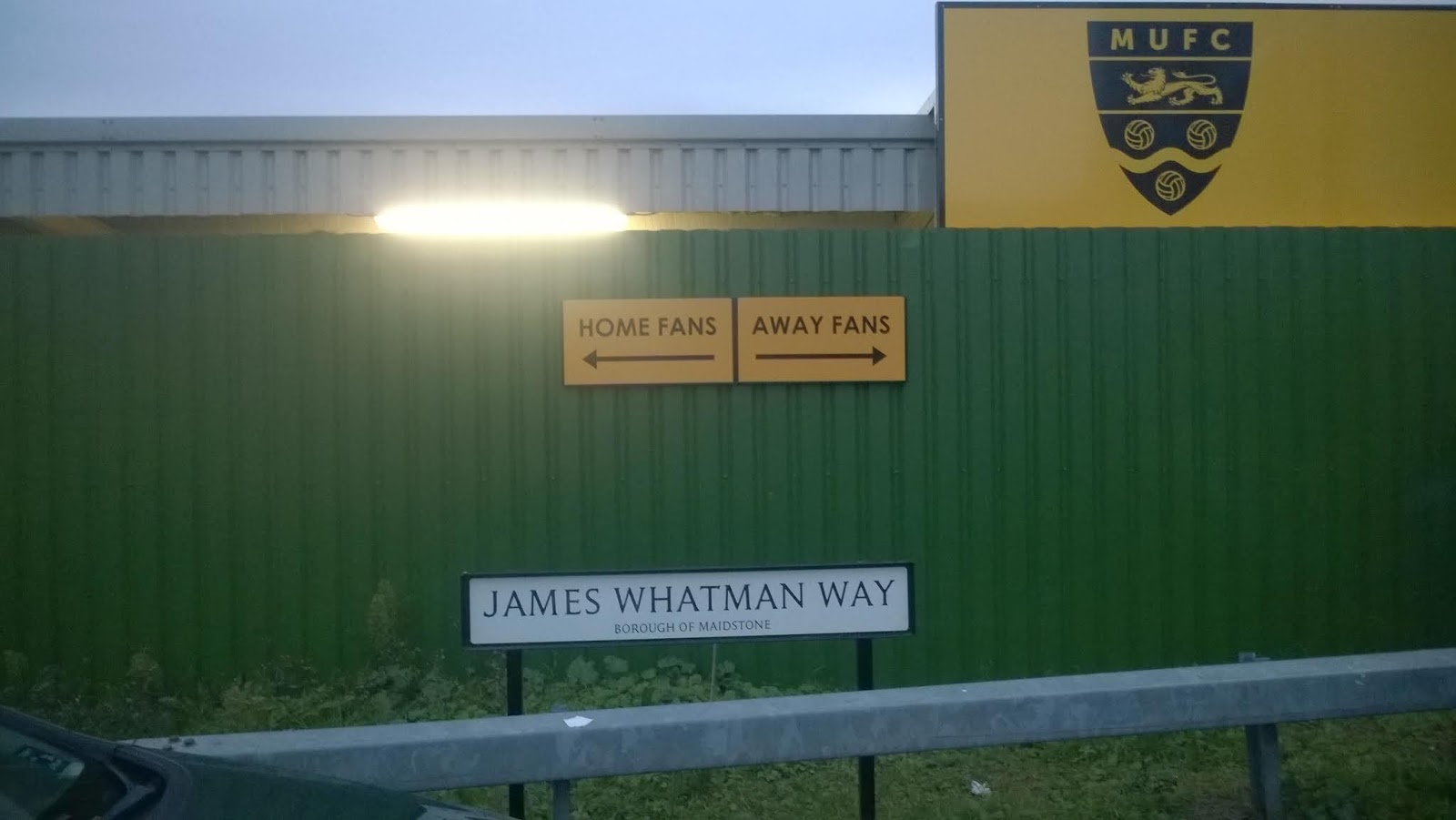 Hey James! Yeah What Man?
Butler, Bennett, Beckwith, Clough, Lafayette, Ayunga, Eastmond, Brown, Beautyman, Wishart, Taylor. Bench Warmers: Thomas, Bolarinwa, Davis, Wright, Drinan.


Compared to Saturday, Sutton started so much more brightly. Eastmond had our first chance of the night after picking the ball up from a wayward Maidstone header and tested Lee "it wasn't my fault" Worgan with a dipping effort outside of the box. Soon after, a shout of "Go on Jonah!" was heard. And for a second I thought that they were referring to that fella out of that book that was left by a bloke called Gideon in my last hotel room.
Ten minutes in and Sutton take the lead. It's Wishart who lays the ball out wide to Ayunga. He crosses the ball deep into the six yard box. Lafayette is the first to reach it and knocks the ball past Worgan at the near post. 1-0! From my view at the back of the terrace, I think its gone wide but thankfully I was wrong. By this point Maidstone are struggling like a team that have recently seen their manager, Colonel Saunders, depart recently.
Maidstone's best spell of the half came in the closing stages. First it was a lofted free kick that seemed to evade everyone as it bounced out for a goal kick just past the far post. Minutes later, and it was none other that Loser Loza who cut in on Bennett, after he'd already been booked for a take down, and then skipped past Beckwith, but luckily his shot was weak and didn't particularly bother Butler.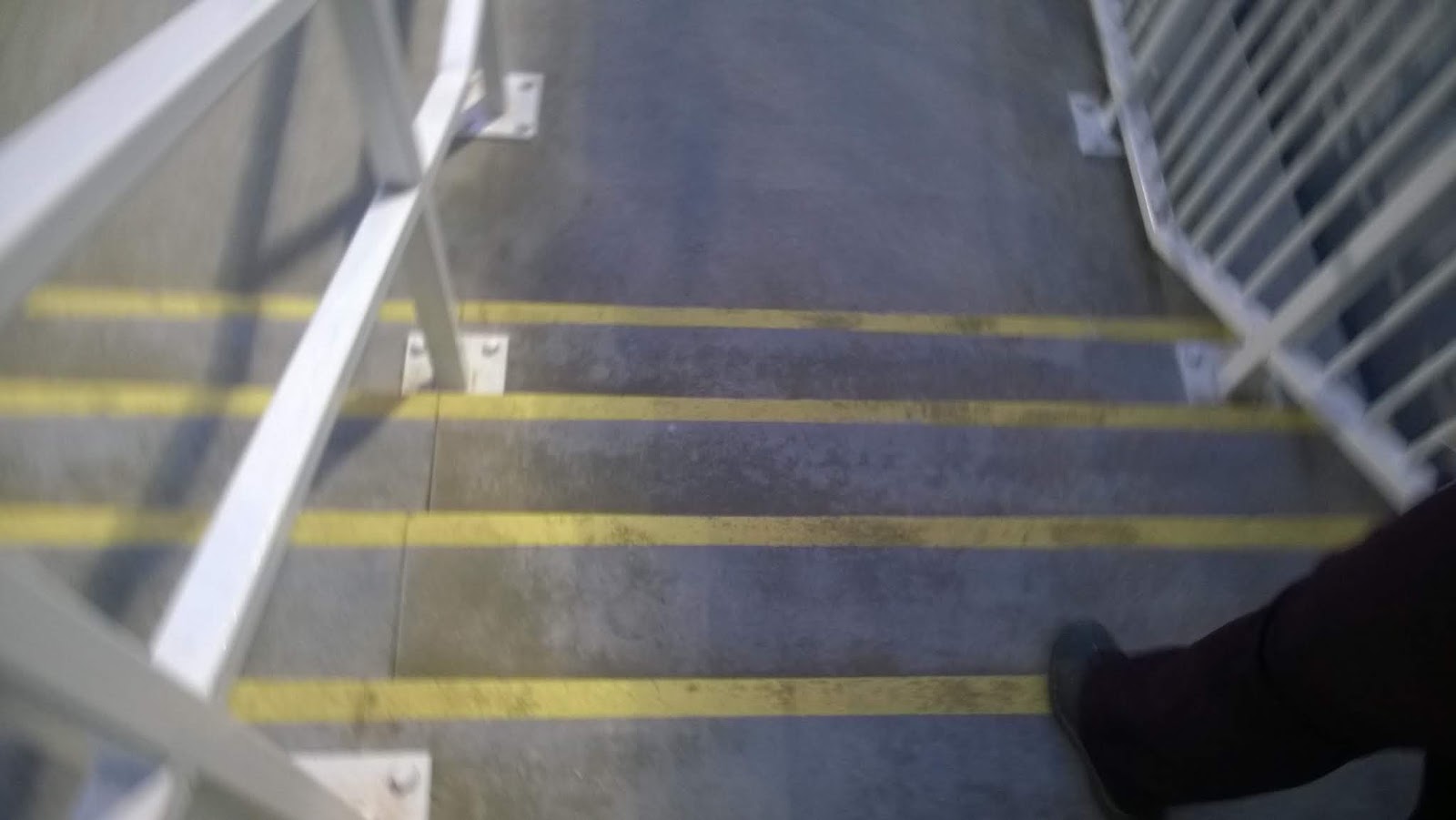 The "I don't know why I took that" photo…
At the break and I'm collared into the half time round. Well you can't leave the ground to even smoke. Luckily though, it's just me and The Firm Leader as Mr X is chauffeur for the night. And thank fuck for that, because two pints of bog-standard cider were £8! I think this year Maidstone might take our crown as the most expensive pint in the division.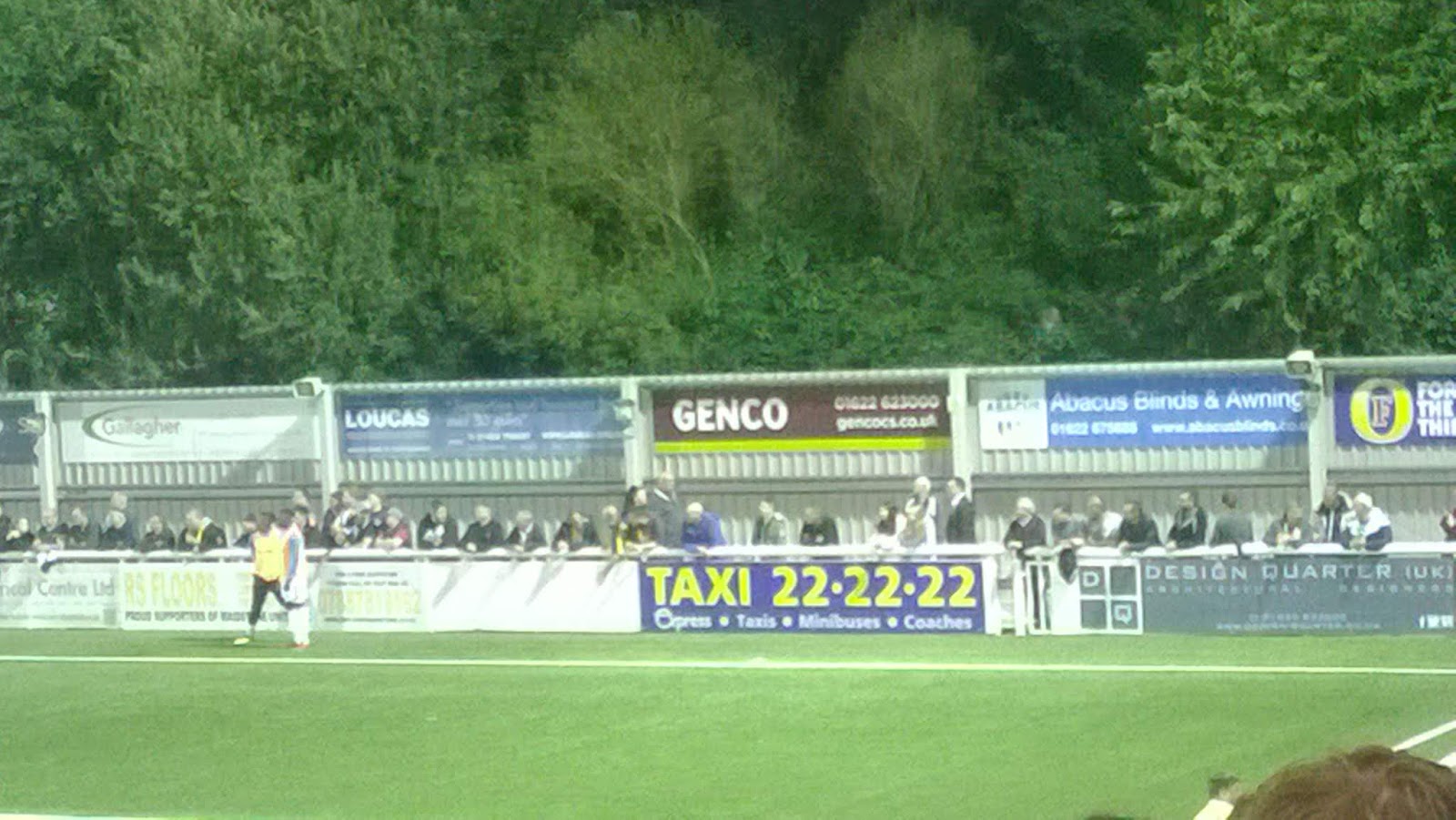 Genco? As in a front for the Corleone family?
Second half and Maidstone start the brighter. A bit more possession, but Butler is rarely troubled. Nearly ten minutes in, Maidstone rock the woodwork. The fella must've been twenty-five yards out and his shot rooted Butler to the floor as it ricochets off the bar. In the aftermath of players trying to get the ball, the Maidstone captain is penalised for a foul. And bearing in mind he's already been in the book and had a final-final warning he gets..another final waning! Fuck sake, these refs.
Substitutions are made with Davis & Wright coming on for Brown & Ayunga. Soon after Drinan is the final throw of the dice as he replaces Lafayette. A surprise sub for some as it appeared that Eastmond was properly blowing out of his arse at this point. But Maidstone already appeared to have run out of ideas and the fresh legs for the Sutton boys helps us largely see things out.
Last few minutes and Drinan is given a opportunity to kill the match we he receives an unexpected clearance inside the Maidstone box. Unfortunately his shot is aimed right at Worgan and he manages to save with his legs. Soon after the ref finally blows his whistle. The Sutton fans celebrate, some a little too much it seems, as a smoke bomb is let off just behind us. Yes a smoke bomb and not a flare as one man claimed as he accused some of us more mature supporters of having sparked it.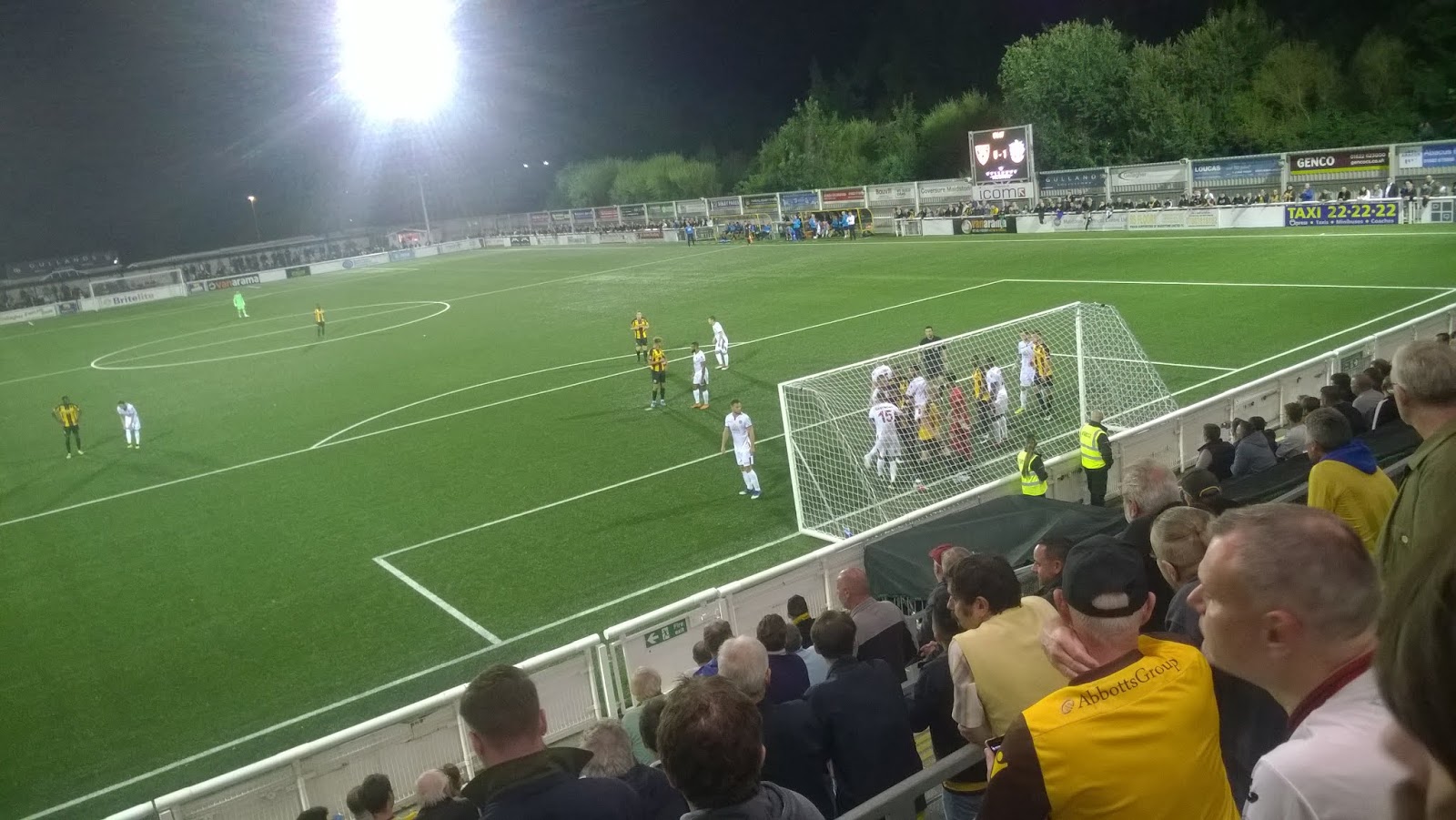 The Maidstone love train…
After the match and seeing the irate steward being told to "calm down!" by the local plod on the way out, it's the short walk back to the cars at station. With everyone sorted we're back on the road. Checking the other scores and it seems that we've moved back into the play-offs. And more surprising is that we're only three points off the top! That'll change come Saturday though.
In about the space of an hour we've gone from Maidstone East Station to a drop off near the infamous Butterchurn, and past the only supposedly known location of an attempted car jacking (according to Mr X that is) to arriving back at Chateaux Duke. You gotta love getting in before the clock strikes twelve from a midweek away game.
We now move onto another international adventure for Gandermonium. Obviously, someone else has straight away claimed blogging rights for that one. Anyone would think he runs the fuckin' gaff. Still, it leaves me to do what we do best. Drink, drink and more drink. As I write, some of the Firm are even already there as part of an 'advanced party'. But you'll just have to wait to find out what happened. I imagine three days on the piss road won't take long to write up at all….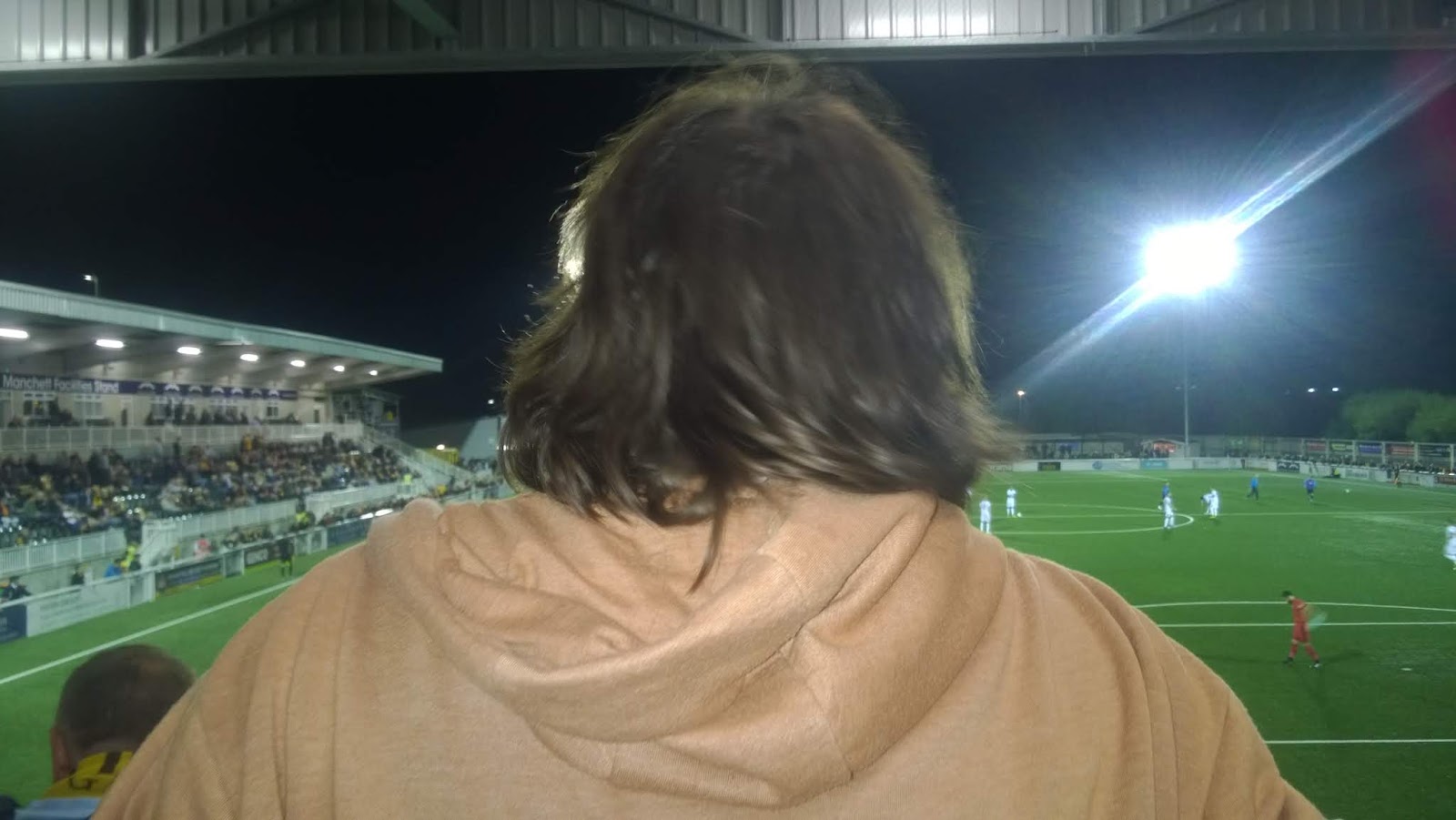 Another great Maidstone view…
Duke
Att. 1838