Oh the August Bank Holiday weekend. A good old excuse for non-league football to squeeze in two games in close proximity. And after a goalless draw against 'Flid' plus a heavy Saturday night to follow, it was time to head down to the Wilds of Hampshire take on another phoenix of a former league team in Aldershot. Or Aldershot Town as they're called these days.
And another thing, I didn't realise but, there were FA Cup matches as well on Saturday. Can't ever seem to recall any of that sort of action mixed with league football for us back in the day. A stinging away defeat at Tooting instead comes to mind. Or even a defeat down on the South Coast against Whitehawk. Wwhat about Chester away maybe? Not that I'm concerned with a poor record away from home on a August Bank Holiday at all…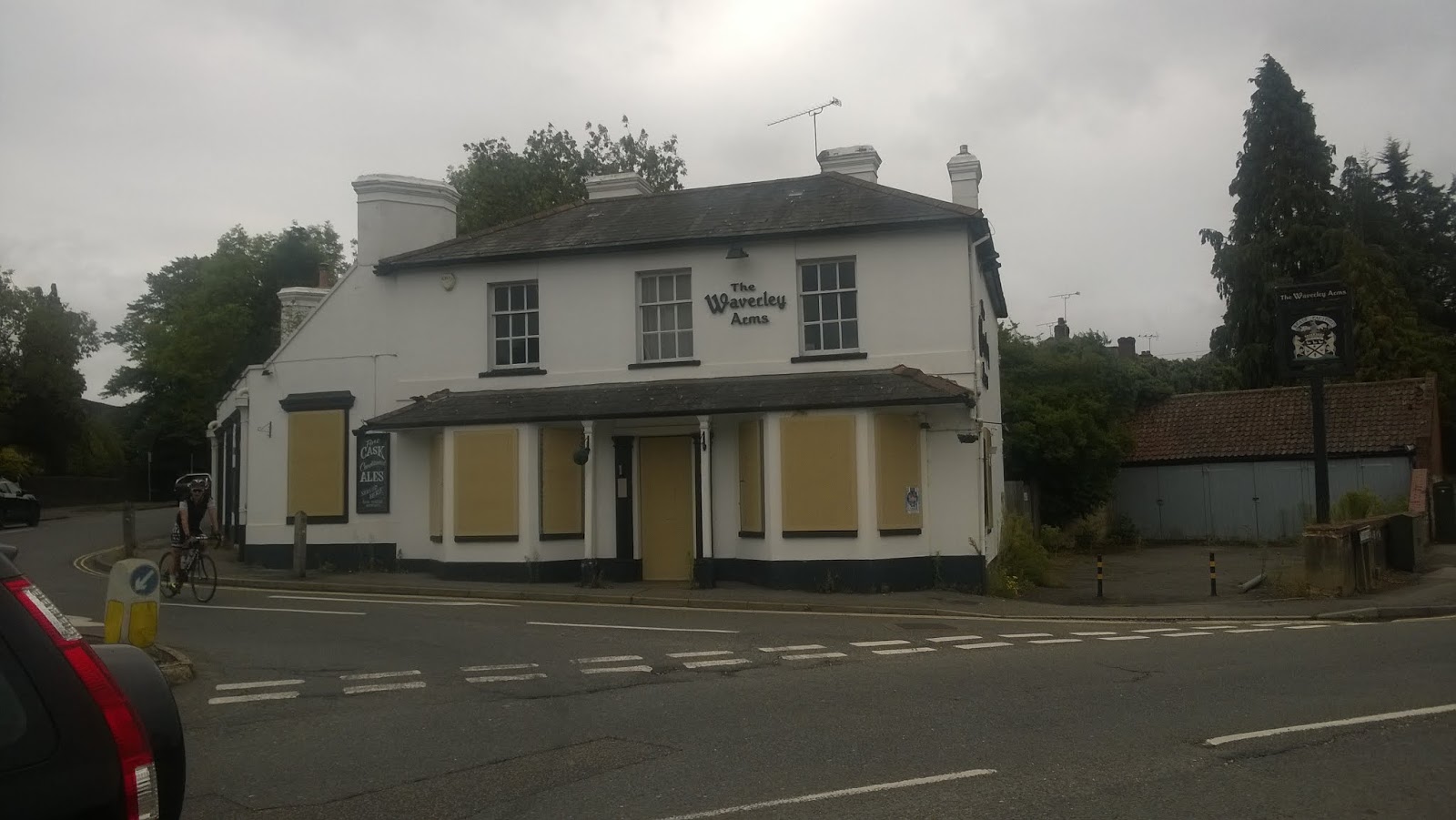 It's a sign!
With Aldershot away, we've got our usual plan of action to rely on, and plainly speaking that's "Drink beer in Farnham". So if you need a little re-cap of what could happen, just look at last time. So it was easily arranged that we would be needing to get the 11 o'clock from that little known train station called Clapham Junction.
I arranged with Dr Bell to get the early 0905hrs from the Badlands of Carshalton up to Clapham. Well, you never can trust Thameslink these days. As it's a Southern train, it arrives vaguely on time and I find the Doctor nursing a cup of Rosie in one of the carriages. With the recent fuck up of train times, one positive to come out of it was that the fast train to Clapham from Sutton now stops at Carshalton as well before bombing its way through in about twenty minutes.
4 Days (and 3 flushes) & Lil' Chris are running a little bit late, but still think they'll make the train at Clapham, just about. Southampton Steve on the other hand has overslept and will be meeting us in Farnham. Another recent recruit 'Sleepy' Joe is also making an appearance, but will also be meeting up with us later on. One thing that me & Dr Bell needed to do when we reach Clapham, is to tap out the old Oystercard. As last time we came this way I completely forgot and got done with the full amount.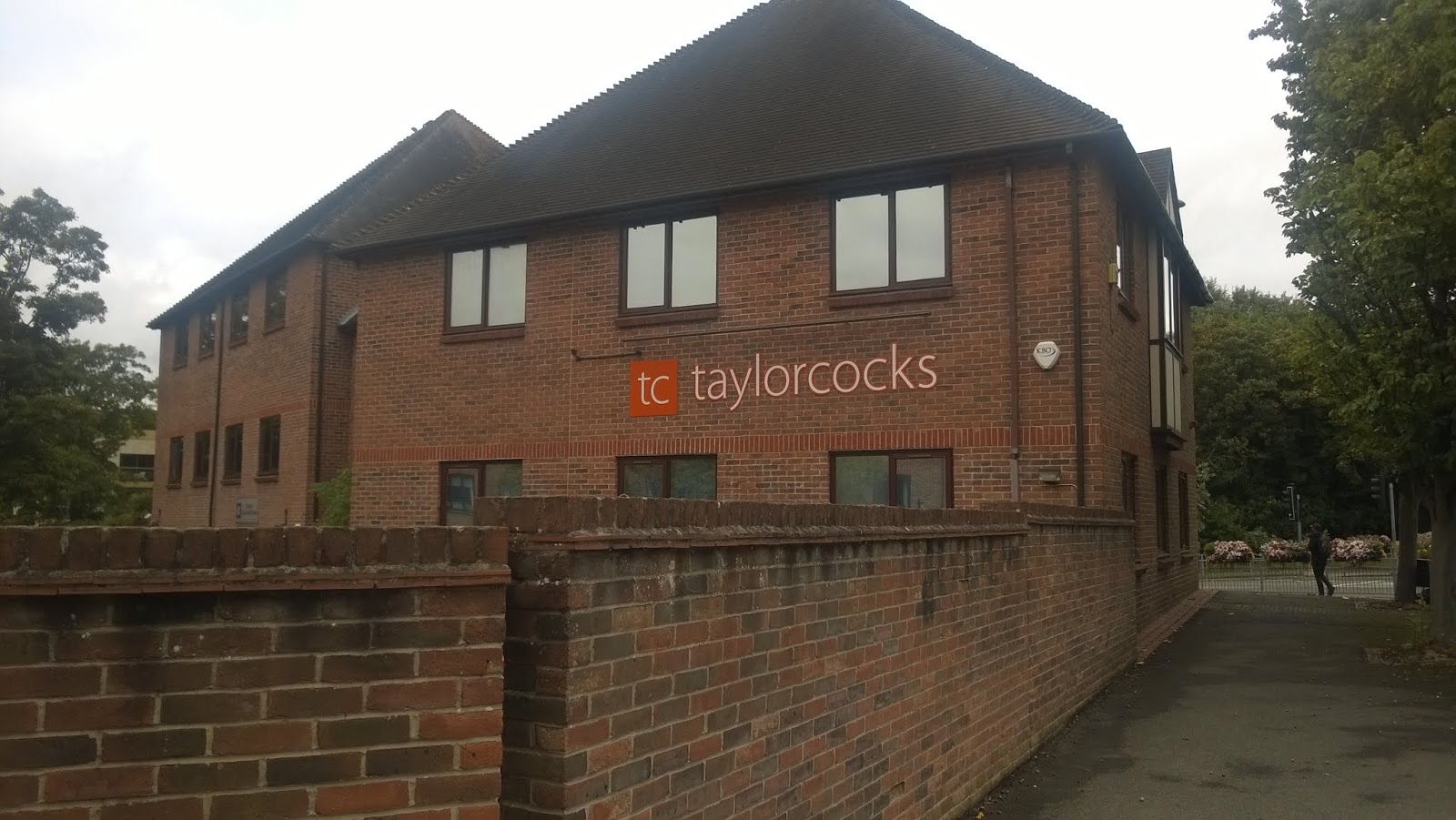 Wow, he had two…
Whilst looking for a tapping out machine, we find Taz, who is already on the hunt for a bacon roll & cuppa. Mr X soon appears, he was already on the platform, and dishes out the golden tickets. £10.25 return, not bad with a network card. Even better when you may have or may not have renewed said ticket for only a tenner! Winning at life, for once.
Making sure I don't get on the wrong train, we're soon joined by 4 Days & Lil' Chris, and not far behind is Indy & Sean Connery's Stuntman. It's also a surprise that the Alton-bound train we're due to be on isn't filled to the rafters like previous endeavours and we actually find some seats to sit down on and relax for the journey. Most of the conversations are either about our forthcoming trip North of Hadrian's Wall or a possible CONIFA adventure next summer.
Finally in Farnham, the first traditional pub of the day is "The Lamb", except that it's shut. Despite being the one that is always open for 11. So we move round the corner to the "William Cobbett" instead. And guess what? Yep, it's shut as well! Heading further into town we spot "The Lost Boy" but like a lost boy, no one can be found to open the bugger either. Next on list is "The Queens Head", which is actually open. Hurrah! Beer!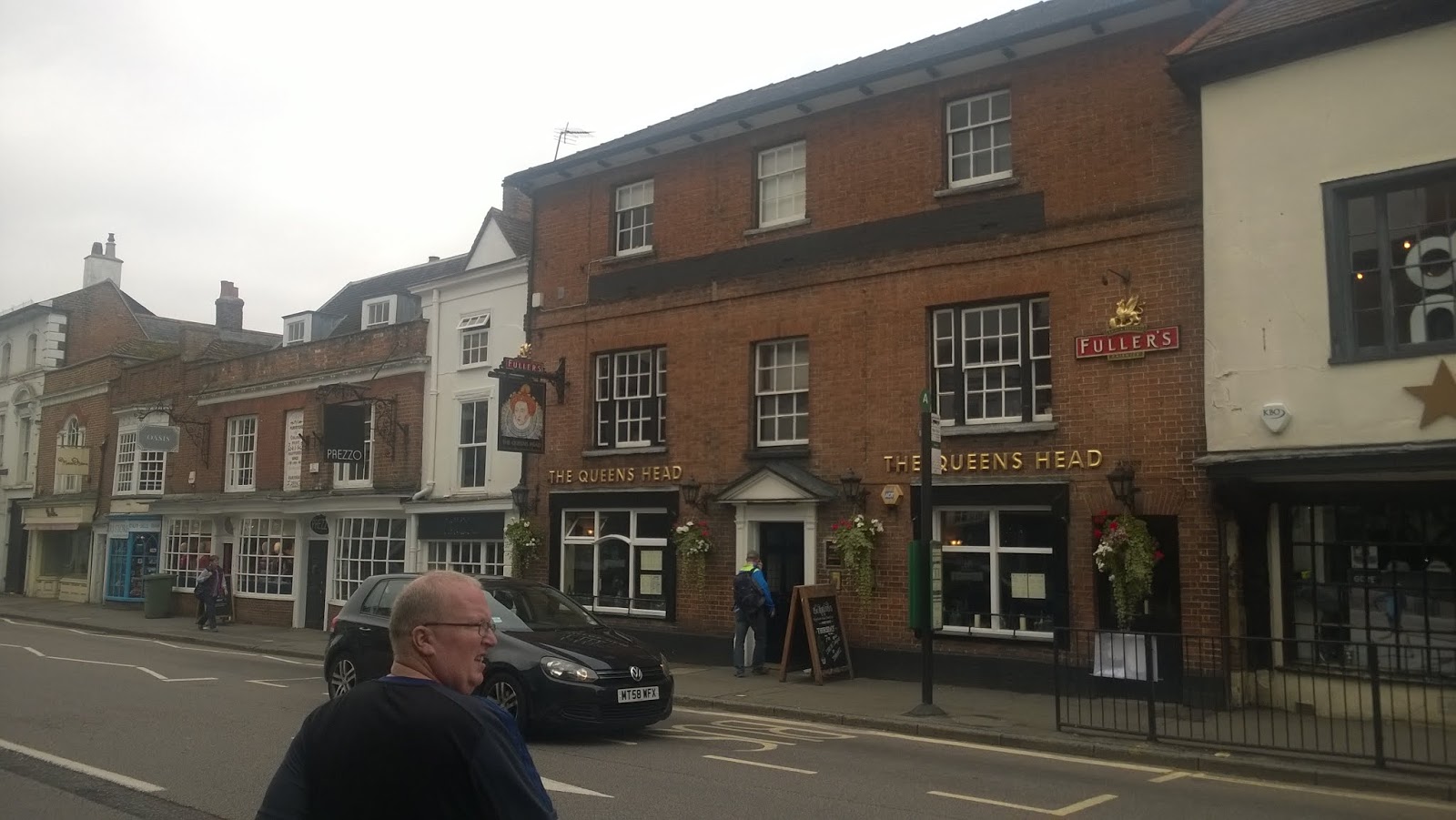 Actually open…
Being a bit on the pricey side, we only stay for one. Which obviously leads to two. When me & Mr X were out the back in the smoking area, a random fella approached Mr X, looking confused at his badge. Turned out it was some fella who's last match watching down The Rec, was actually Sutton last year. He even mentioned a story where he lost his wallet before the game in a local pub for it only to be handed in behind the bar. After claiming that the £300 in readies that we left in there, were still there, he was told that it was handed in by a Sutton fan no less. Mr X's reply: "Can't have been real Sutton fans then…".
The clock hits twelve, so we head off back towards the Cobbett, where Southampton Steve & Sleepy Joe are awaiting our arrival. A right kooky place the Cobbett is and I saw that they were still serving food on wooden boards. Shame the juke box was out of action. Still, we managed to entertain ourselves with various conversational topics. Some of which I'm not allowed to mention. Isn't that right Dr Bell?
At one point, things started to get a little bit fucked up. Well, at least from me that is. When Taz was trying to explain the current situation with his 'delay repay' request from out trip up to Guiseley at the end of November last year, I asked the simple question "Is the cheque iniment?". Much piss taking later I try to change the subject onto a possible dream trip to Ireland for the third round of the Irn-Bru Cup. "Will we wear orange chassis?" What was up with me to day? Further mickey taking and I try to once again change tack and enquire about the song being played through the sound system. "Is this song by that fella Setanta?". Yeah, the Irish broadcaster obviously. Fuckin' bellend.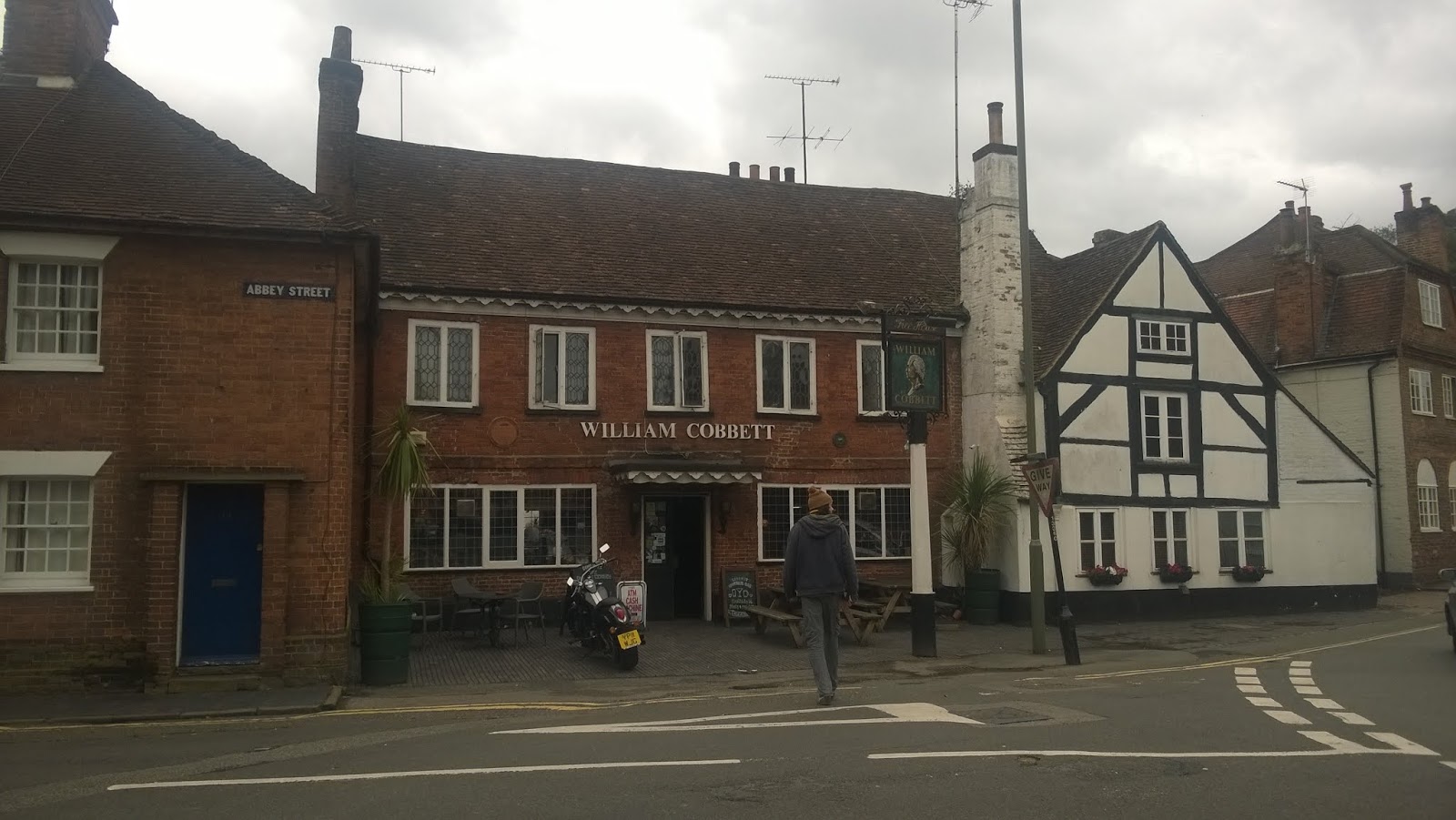 MP for Oldham, apparently…
Not to be outdone, Mr X regresses back to the ticket fiasco and asks "Do we need to ride Northern Whale again this season?" Shakey-Wakey perhaps? Taz and his 'Straight-Jacket' was next. On the advice that "The Lamb" was still shut, we sank several more pints here before it was time to head back to the station. Walking past the now open Lamb we are near the station where Southampton Steve was looking to get some grub from the chippy. Except it was of course shut. 1130-1415 was scrawled on the door. And the time was currently 1416hrs! Unlucky mate.
Mr X trails off to buy what appears to be a pitta roll from the local petrol station except it seemed to miss most of whatever filling was meant to be in it. And they didn't even sell any beer! The train arrives and we're soon in Aldershot and passing the now overgrown artillery piece that stands pride of place on the outside roundabout. If you've ever done the walk to the ground from the station, you know what it's like. If not, give it a go, 'culturally inspiring' I believe someone once commented. I'm sure they weren't being sarcastic.
On our way, we received several messages that for the first time, we wouldn't be using the usual turnstiles on the main road. Always a marvel they were as you had several for home supporters and a couple next to them for away fans. And through you went to see that everyone ended up in exactly the same spot. Weird, very weird. Especially when the game is supposed to be segregated.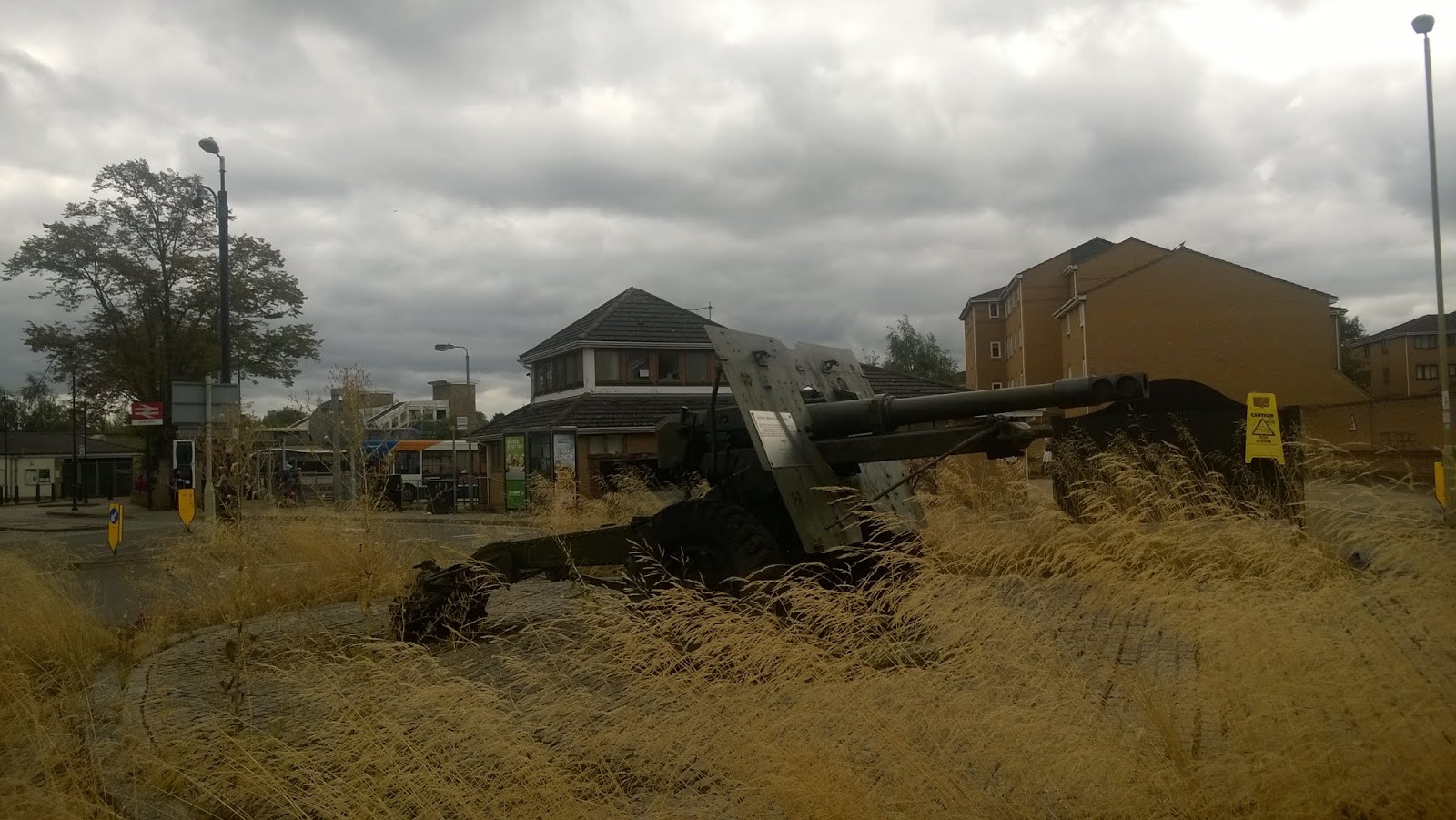 Gun!
This time we had to trek around to the far end. And a trek it was. Past what appeared to be a disused pub, through some jungle and then down the other side of a mountain to end up in a queue as they had only one turnstile open. £18 later and we're at the back of the East Stand to be greeted with port-a-loos and a snack wagon that's about as big. Except, the snack wagon done burgers and not much else, and no chips! The toilets on the other hand were surprising for everyone, and no male/female separations. Very modern that.
A quick smoke (as the bar was not accessible either) and we discuss the team line-up. One point that did come up was the man that was going to be the man in black for today's match. None other than a certain Mr Carl Brook. Now I know there are those that still believe that referees are impartial, neutral & fine human beings, but there are certain names that when mentioned will give many a veteran Sutton fans a feeling of dread. Brook, Coggins, Rock, Ross, Dengarian & Kaye to name but a few. And he's one of 'them'.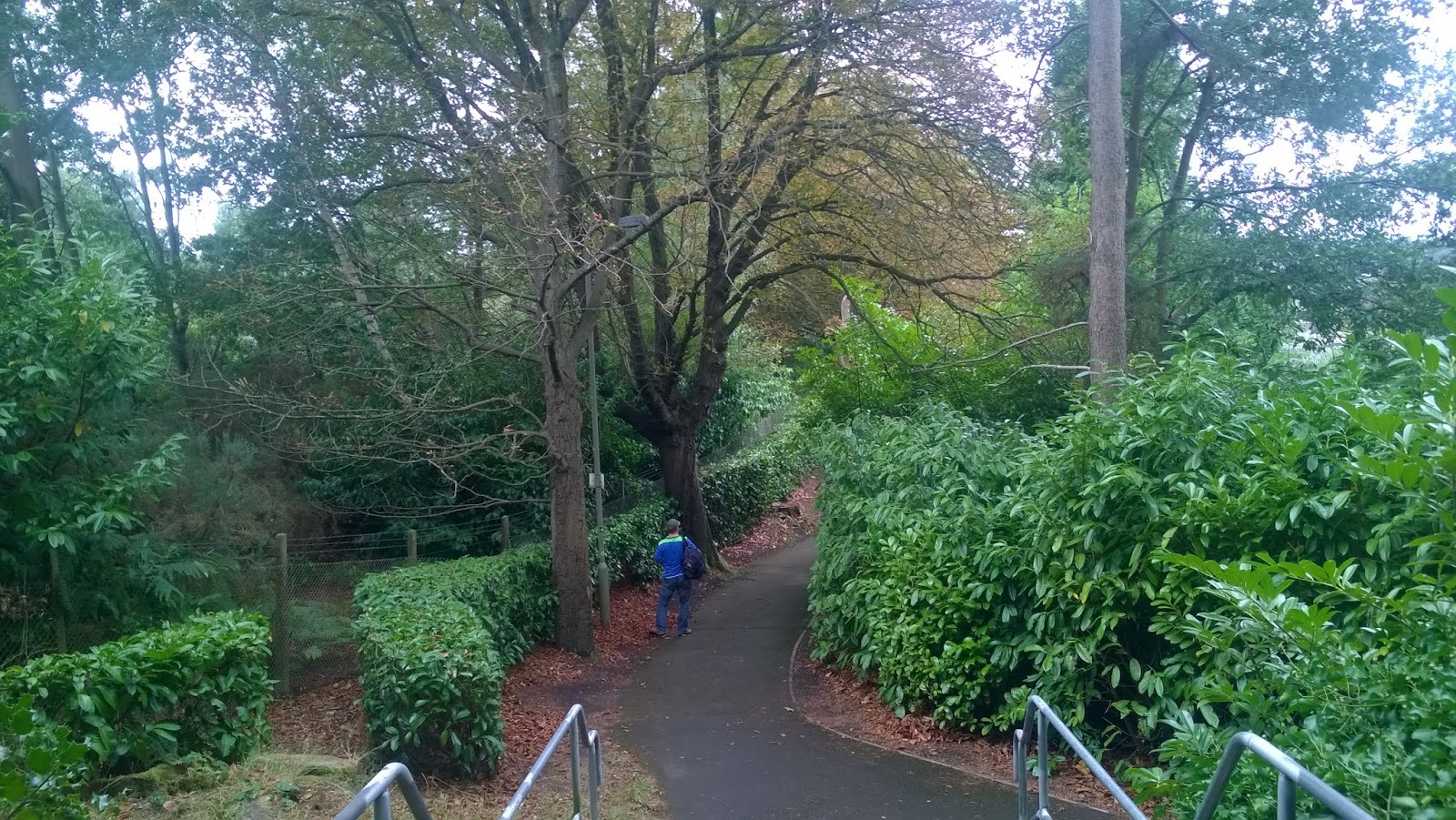 The long walk…
Butler, Thomas, Beckwith, Clough, Collins, Davis, Eastmond, Beautyman, Wright, Taylor, Drinan. Bench Warmers: Bolarinwa, Lafayette, Cadogan, Brown, Wishart.


Sutton kicked off and the ball is knocked straight back to Butler. From this, he pumps it forward towards the wings, despite the fact that we'd seemed to have set ourselves up very narrow. Wright is quick to take it right towards the corner and even gets a free-kick out of it, thanks to the linesman. And fair play to the fella, because several times he was called into action with similar decisions right in front of him. What is this, a decent linesman? Like fuck! As soon as he was overruled on one of these decisions after a few minutes, he's soon back in his box and returns to the usual bollocks of not keeping up with play and letting players take too much length down the pitch whilst taking a throw in.
Opening half hour and it's and open enough match. Clough missed a guilt-edged chance when he received the ball on the six yard line. With no one around him, he managed to lift the ball over the bar. A much harder trick than he made it out to be. Soon after Collins tries to reach a long ball in the box and has his shirt pulled by his marker (look at the highlights and the always excellent photos from Paul our photographer for proof). How the ref and lino see nothing is daft.
Moments later and Mr Brook does what he's known for. Collins mistimes his challenge and cleans out a little fella on the half way line. A cast iron yellow as not only there was plenty of cover behind him, but he was at least making an attempt to get the ball, except he's a lot older than he used to be. Not giving it much thought, the away support groans as Brook produces a straight red! Jesus, Mary & Joseph! Well that's killed it for us. Trying to hold out until half-time, Sutton nearly mange this before Aldershot take the lead right on the break. A well placed cross into the box is met by the foot of Rendell and sails into the goal from close range.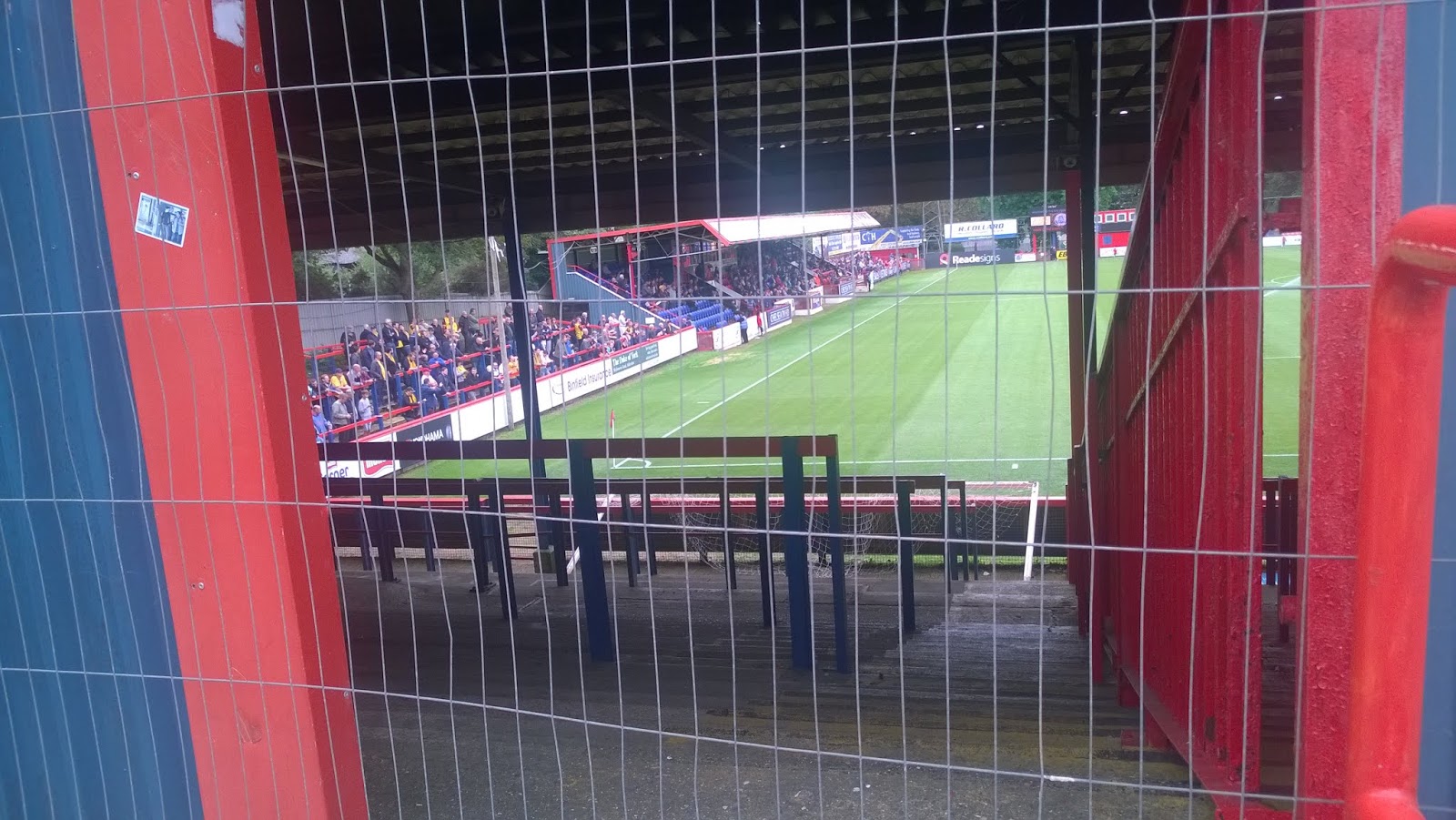 No entry…
Second half and Sutton show their intentions. A triple sub is made with Bolarwinra, Lafayette & Cadogan brought on for Taylor, Drinan & Wright. Not the first time Our Lord Dos has done it but it always reminds me at the start of his time with us that he once remarked "He will always go for it". The first time we heard this? After a 4-0 away drubbing at Wealdstone when he'd lobbed on all the subs at 2-0 down!
Unfortunately the triple sub fails to have any real effect as Cadogan & Bolarinwa fail to get themselves into the match. Things get worse when a poor Thomas headed clearance goes as far as the closest Aldershot player whose then plays around with others before it arrives in the Sutton box and is confidently slotted home. 2-0 down and with ten men, things are not looking good. It only begins to liven up as the time drags on, with the Shots looking a bit nervours. Lafayette, not for the first time, misses another peach when he ends up lashing out at a loose ball inside the six yard box, his effort, I believe, is still in orbit.
With time fast running out, Sutton are given a free leg-up. Trying to attack the ball in the box, the ball runs to the keeper. He throws it out to the right-back, who begins to charge down the wing with it. In the corner of my eye, I see Clough trying to remonstrate with the ref, whilst pulling his shirt roughly. On the floor is Thomas, who I assume was victim of the shirt pulling. Out of nowhere, Mr Brook blows up and then consults his linesman on the far side, no doubt having had a peep in his shell like from his lino.
The result? PENALTY! What? Something for Sutton, blimey! A yellow card is produced and with Collins obviously having an early shower, it's down to Lafayette to take penalty duties. He then calmly slots the ball home. 2-1! From my angle it looked liked he scuffed it a bit, but that was not the case. And after looking at the highlights, I was wrong about the shirt-pulling. Totally wrong. The Aldershot player blatantly gives Thomas a two hand shove to the floor instead! So how's that only a yellow then??
Now deep into stoppage time, Sutton usually get one more chance. Lafayette gets a rare free-kick awarded to him as he tried to challenge for an aerial ball. A free-kick deep into Aldershot territory is his reward and bodies pile forward. Could this be the one chance? Like fuck! The resulting kick sails over everyone and goes out for a goal kick. Not long after, Mr Brook blows the whistle on our first defeat of the season.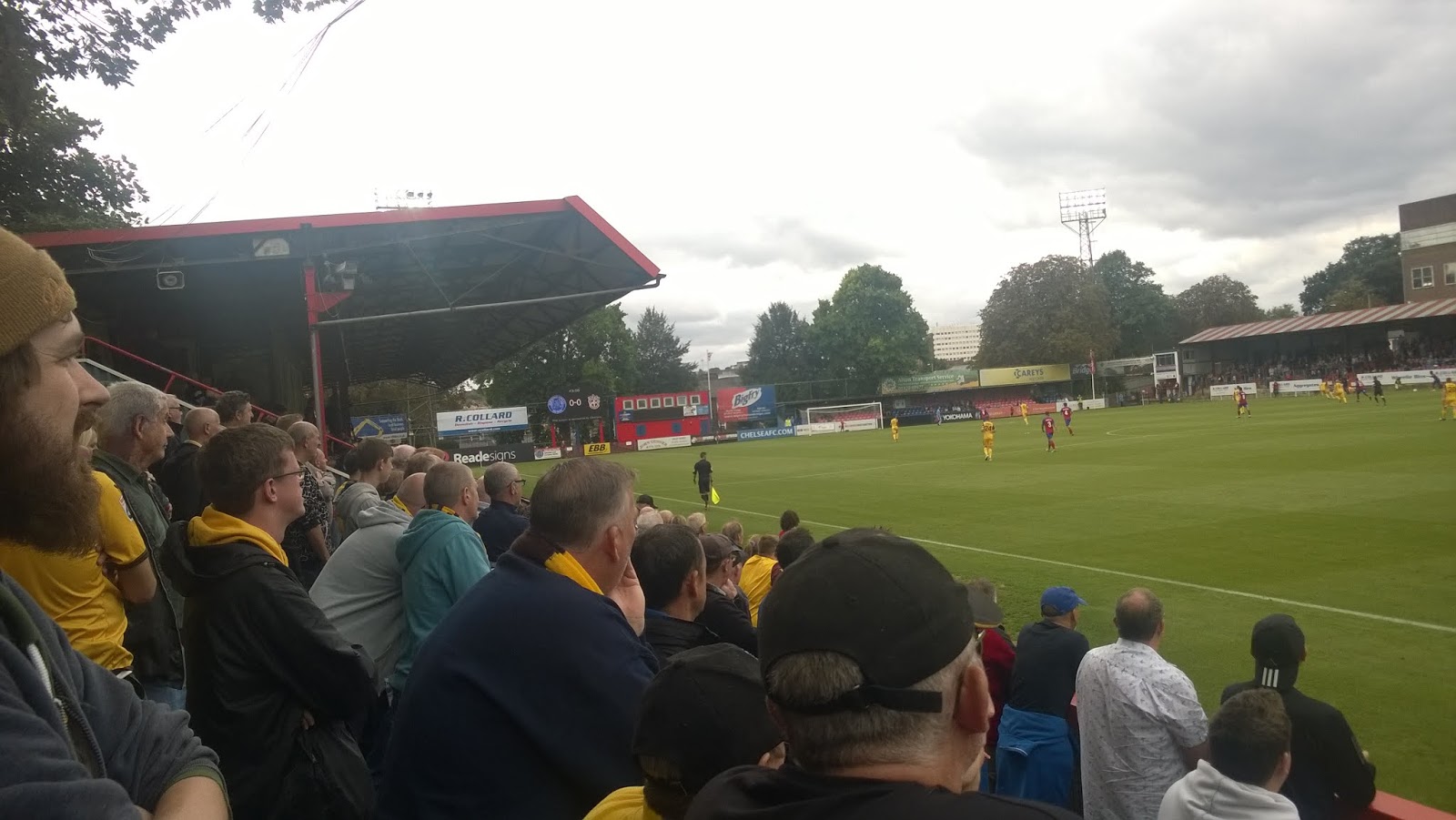 251 away supporters, apparently…
After the match and it's time for us to leave the wilds of Surrey Hampshire. First we must make it back to the station past what appears to be a showcase for pre-teen Stone Island. Waiting for a train, we fail to grab any beer from the offy. The plan is to head to Guildford and have a cheeky pint or two in the 'Spoons before heading back homewards.
At 'Spoons and some of us show our age by talking about pensions. yes, bloody pensions. Ain't going to get one so it doesn't bother me. We also discuss family trees, another weird subject. But at least we finally found out that Mr X's Granddad was a window cleaner. Possibly a Window Cleaner with a fear of heights. Must've specialised in Bungalows then.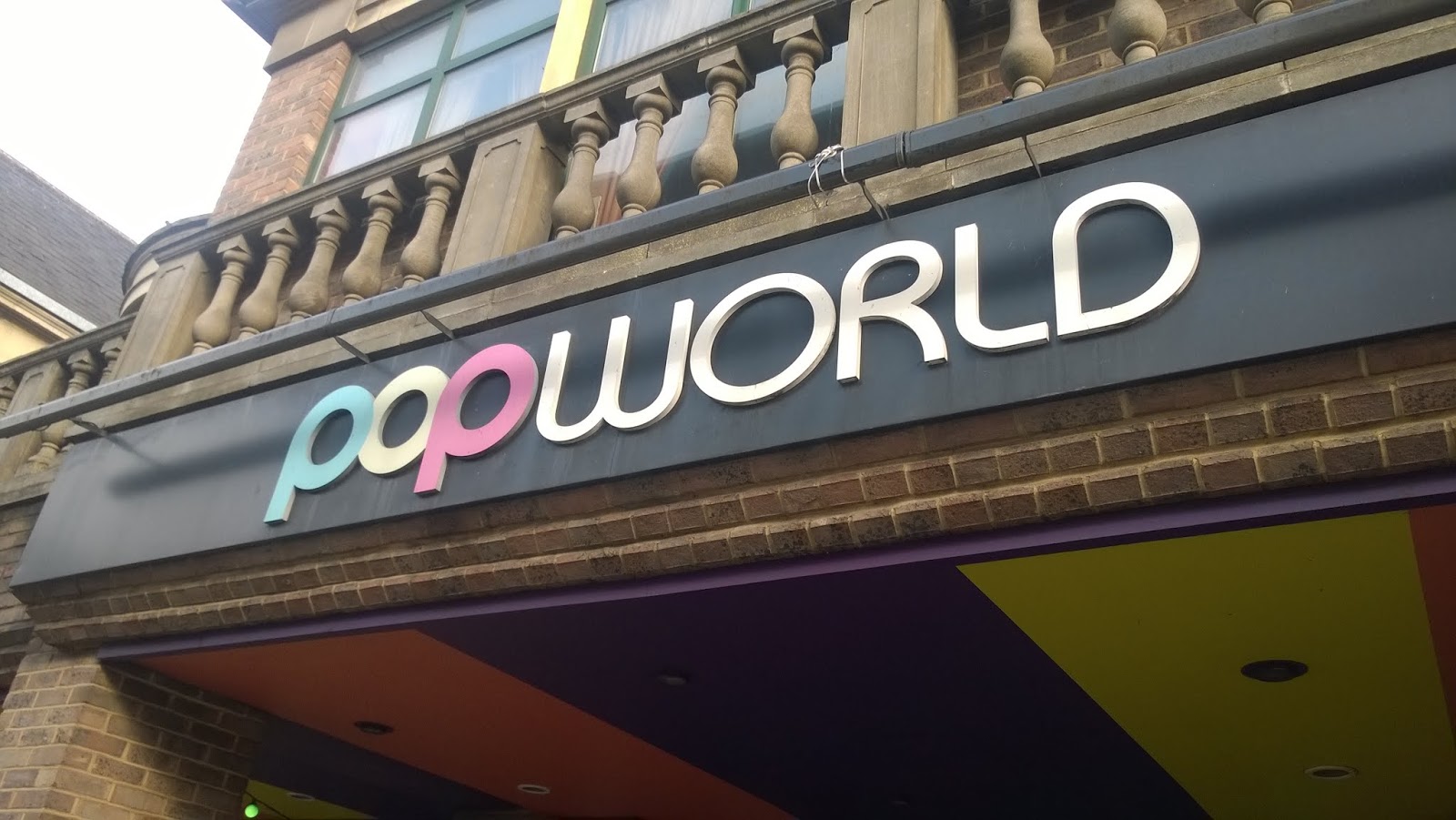 Possible future destination…
Back at the station and we decided to try ye olde Dorking route for once. We also spot a train that is about to arrive from Aberdeen. Bloody Aberdeen, terminating in Guildford. That must be a bleedin' long arsed journey that one. Another reason for the Dorking route is that the Croydon boys cane go all the way to Gatwick before turning North. From Deepdene to Dorking Main and we're all sailing home. No post match drinking this time. Well it is a school night after all and we're sometimes a bit sensible. Eventually I arrive back home.
We now move onto this weekend, were we take on early and surprise leaders Halifax. I wonder if they're just going to kick us all over the park like they did last time? After that it's another midweek trip to Maidstone for the latest instalment of 'El Plastico' and then we have a little trip to Scotland. Not that we're excited about that. Are we Ozzie? So until then, Enjoy!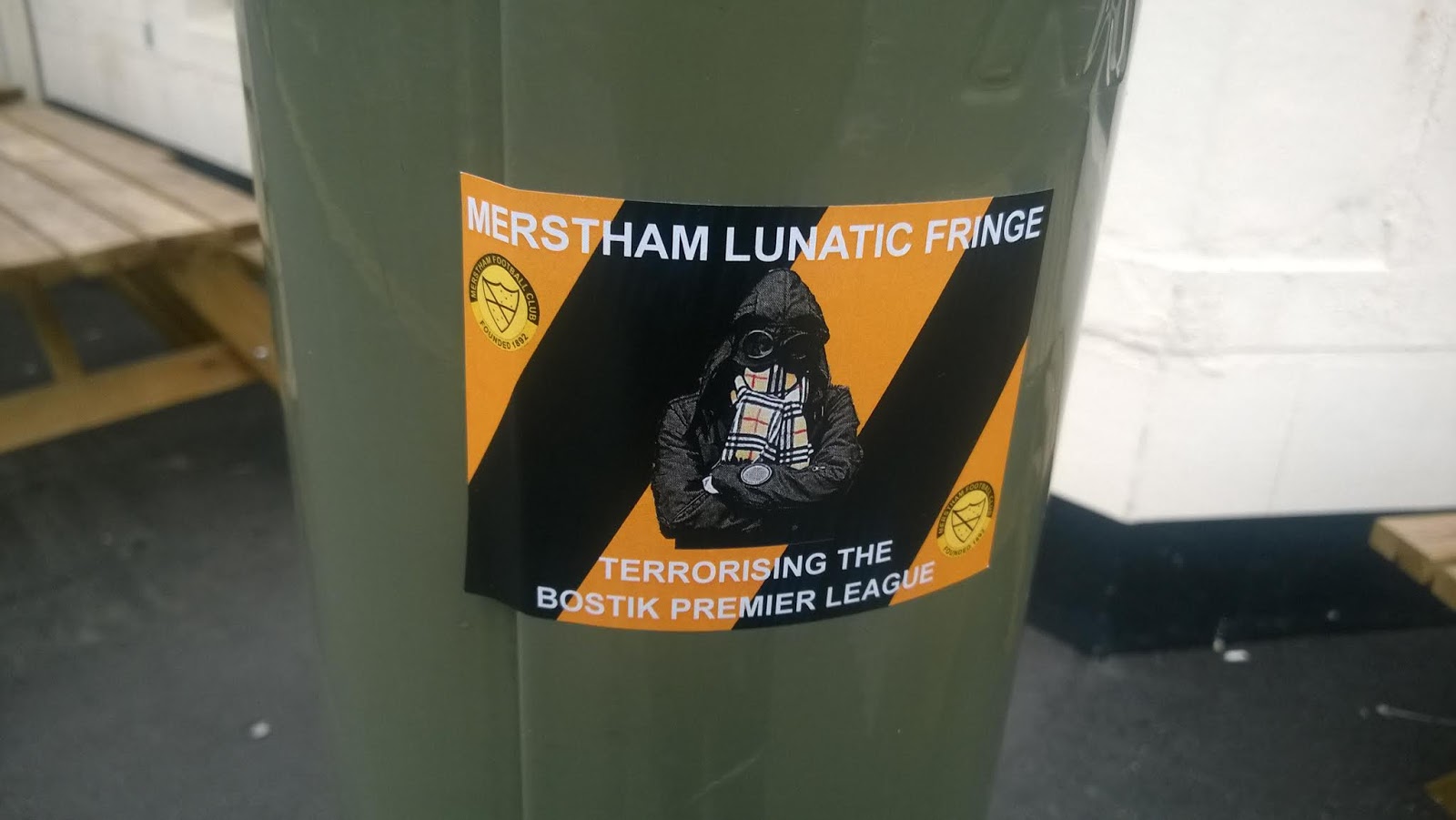 Dorking has changed…
Duke
Att. 1904