I am sure many (or at least some of) our readers will know that it's just the two weeks before the mighty Sutton United and its many splinter fan groups will be travelling north to Scotland for the Irn Bru Cup tie against Airdrie via whatever means of transport they can find. It has also been discovered Premier Inn's finest in Argyle Street, Glasgow will also be housing a number of the invading U's. Party in the lobby anyone with haggis and Tennents Special Brew with some Buckfast chasers anyone?
I must confess, I have though recently developed an obsession with the drink Irn Bru, courtesy of my line manager at work – us Civil Servants (more to come later). By the way, if the rumour is true and they do indeed hand out free cans of said drink at the Airdrie game and no one wants theirs – then can I have it please? Discussions are also being had on who will be roomies for the trip – Taz for one lays down the law to recent invalided Belly for the return of the Ginger Suite! Apparently he draws the line at tying the old boy's shoelaces, as well as a few other things which I can't bring myself to mention.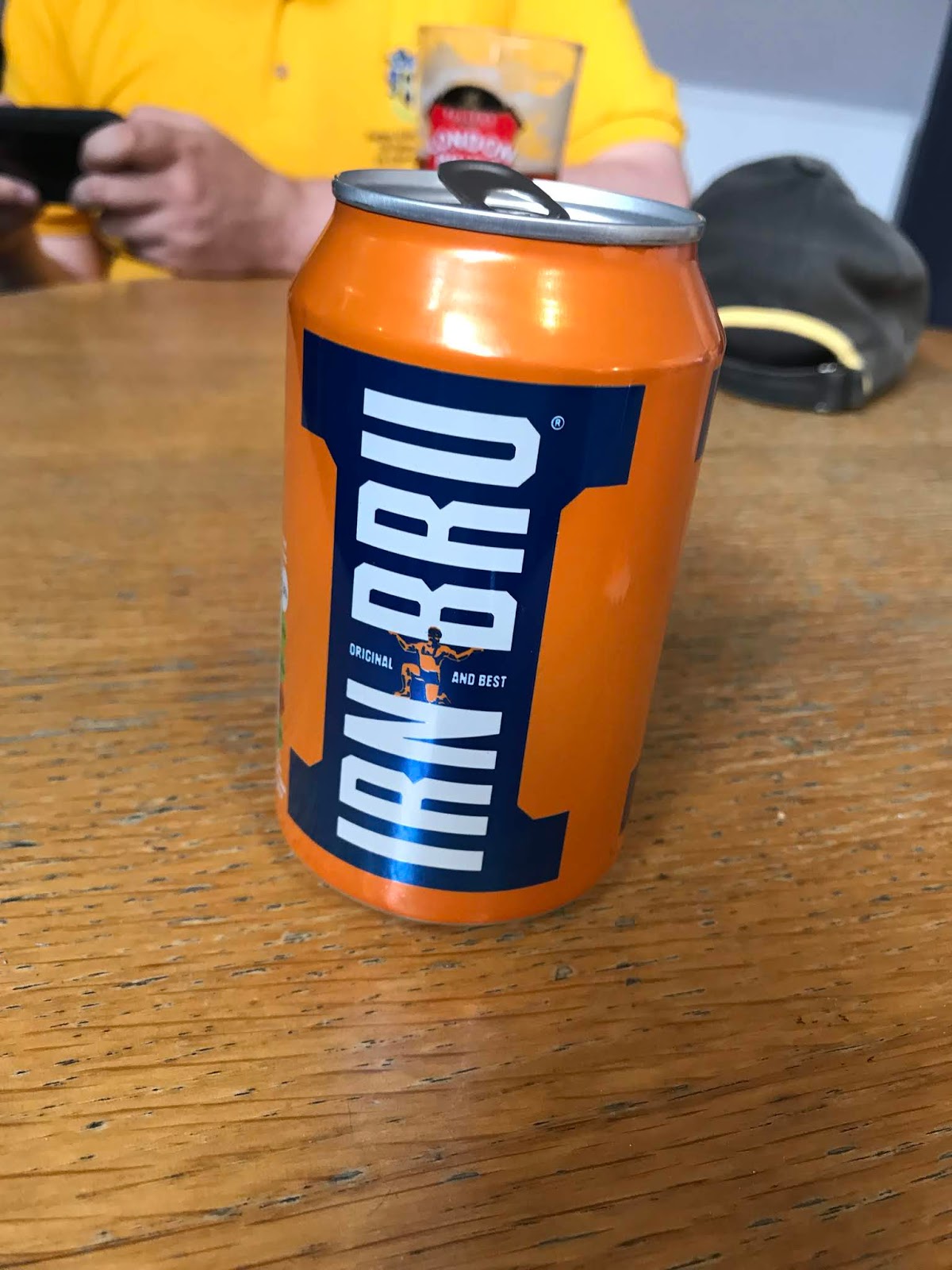 Blatant product placement….
Turning now to matters in hand – the game against Fylde at GGL, third versus fourth. A polite notice went out from the club's Twitter account that none of the cash machines would be working today so it's strictly cash only, which I'm sure Dukey will love. This means rather than by going my usual route via Uber limosine to the ground, I'm having to slum it on public transport instead. Approaching Sutton Station I draw out the all important cash, and to my horror I am charged £1.99 for the privilege. Listen folks, take this tip to not use the cash machines by Sutton Station, the robbing so and so's. I then take myself to the 413 bus stop by the post office and when getting on I hear familiar voices, its Cameraman Paul Loughlin, 4 Days and Lil Chris.
Upon reaching GGL I am proudly sporting a can of Irn Bru and I catch the second half of the Maidenhead versus Maidstone game with the few faces who are there present. If you want to see comical defending then this was the one, culminating in a comically horrific last minute own goal, 3-2 to Maidenhead and their first win of the season, unlucky Worgan!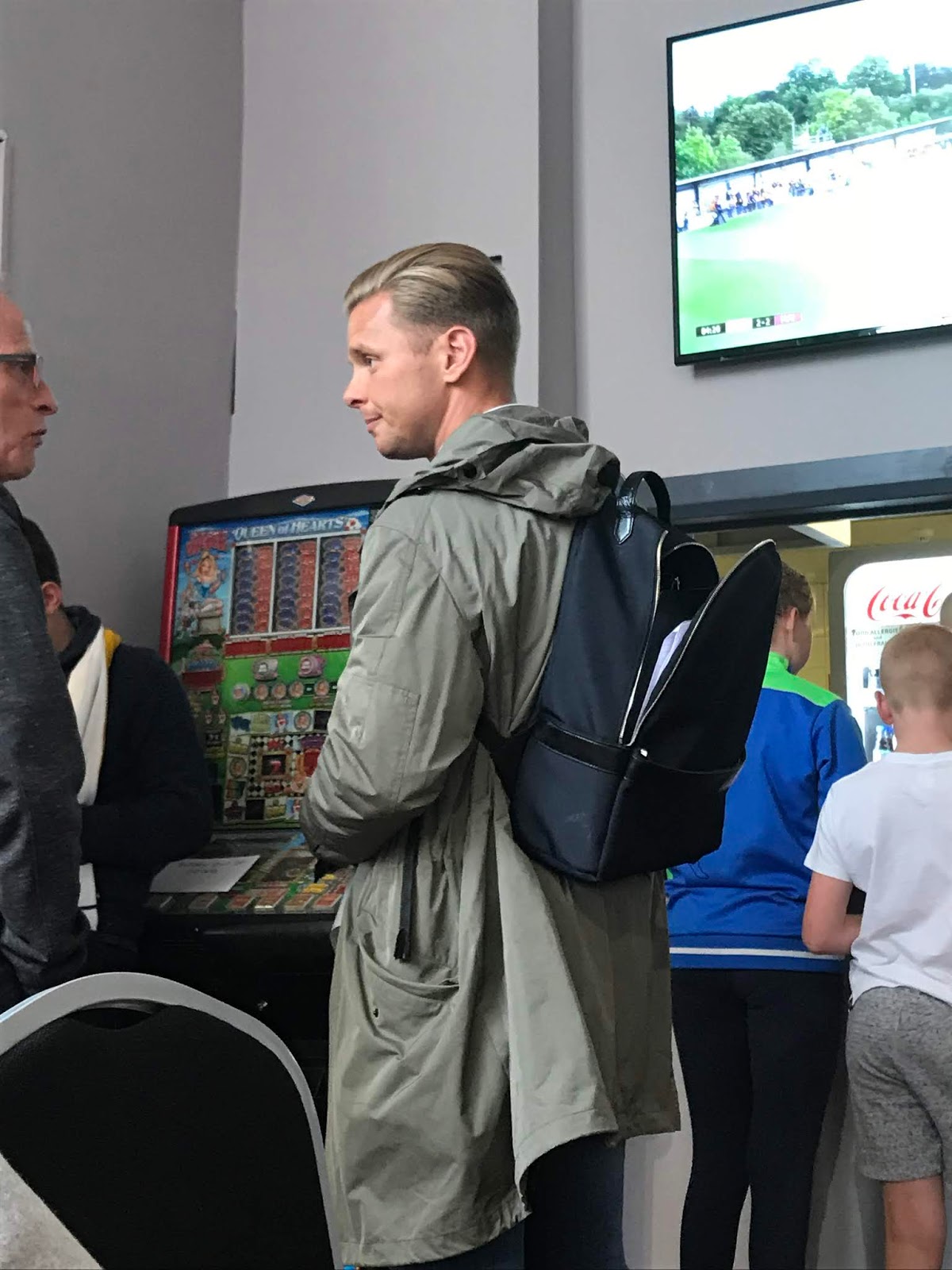 "Er, Jeff, your bag's open!"
The list of celebrities to visit GGL also continues today with the visit of BT Sport's Jeff Brazier. Yes the Jeff Brazier of reality TV fame and those postcode lottery adverts – you know the one "someone's knocking at the door, someone's ringing the bell". Although, my learned friends of Gandermonium will tell that Mr Brazier was once also footballer playing for the likes of Canvey Island and Billericay. However, Mr Brazier is here today on duty for the aforementioned TV channel. I would assume this is due to them showing Fylde's game live on Bank Holiday Monday.
Thoughts turn to the game, Fylde who for me have one of the best strikers in our league in Danny Rowe, however their fanbase has a bit to be desired – I am sure they bought less than 50 fans with them and that's me being kind. Still it means there will be no need for segregation today at least. The team line-up for today is as follows:
26. Butler, 2. Bennett, 21. Wish, 5. Clough, 6. The JC (skipper), 8. Davis, 15. Eastie, 11. Cadogan, 7, Tombo, 23. Josh Taylor 9. Laffayette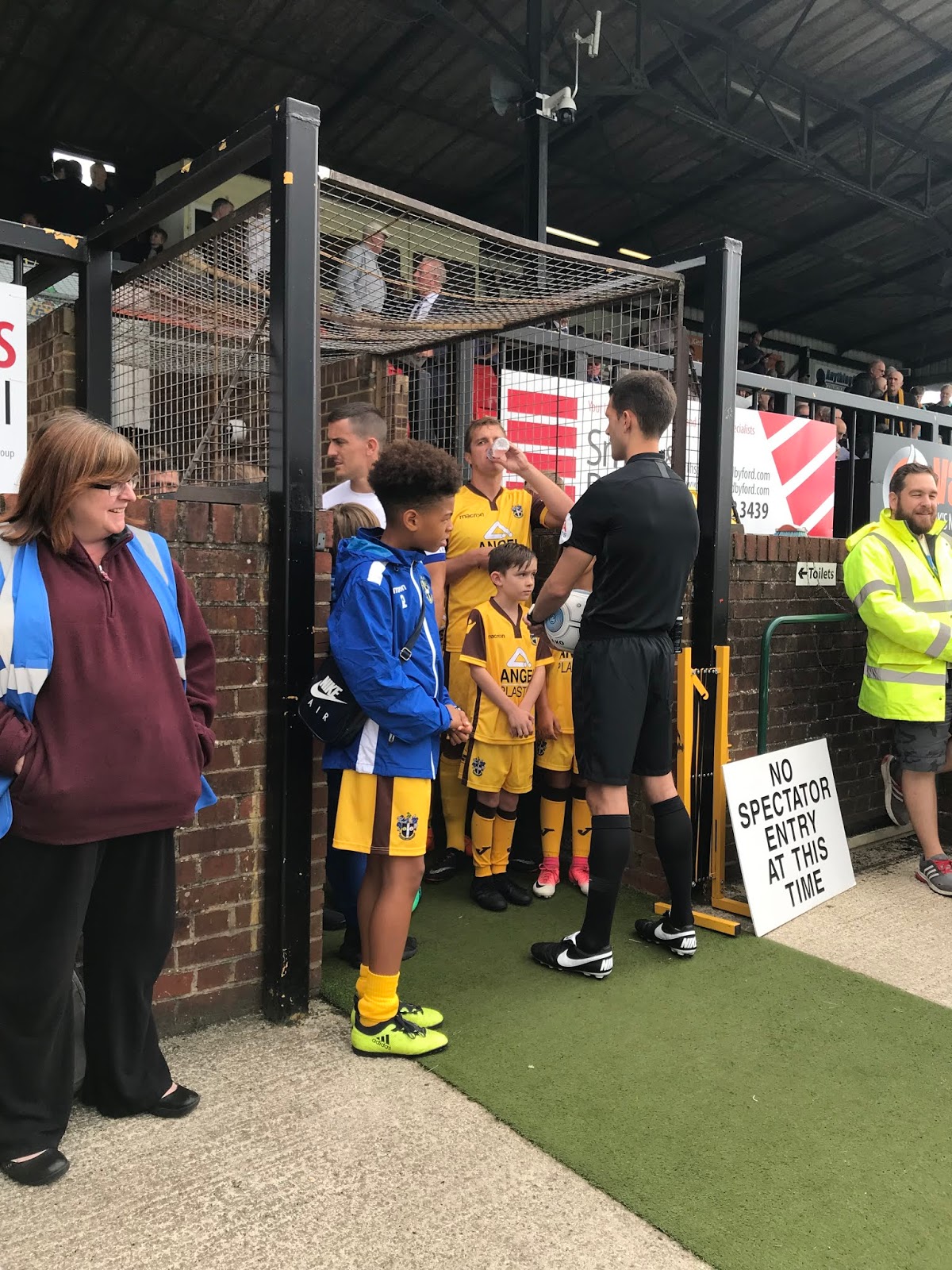 Queueing
In a rarity we thought we'd get to stand at the Rec End for the first half, but in an even rarer event, we then had to change ends as for the first half we were shooting towards the GGL end anyway! As we all take our places on The Shoebox I notice that the linesman on our side is a fellow Civil Servant. And to think I saw him just the day before whilst walking to my car to take part in my commute home. We Civil Servants are professionals, and for this I will not be coating the linesman for a change out of respect for a colleague, but of course this will not stop the others as they unfurl the usual colourful range of comments to berate his every misdemeanour during the first half.
Half Time Steve (HTS) leaves for the bar bang on 30 minutes as usual and asks me if I want a beer, yes please mate! But I hold back and only follow him down on 40 minutes. Fortunately we both missed nothing of any note as the half time score is 0-0. The real highlight from a Sutton perspective is a shot by Cadogan inside the box bringing out a good save from the Fylde keeper. Please note that due to my early departure for the bar, I missed the two saves by Jamie Butler at the end of the first half. My thanks to the editor for filling me in on these key details!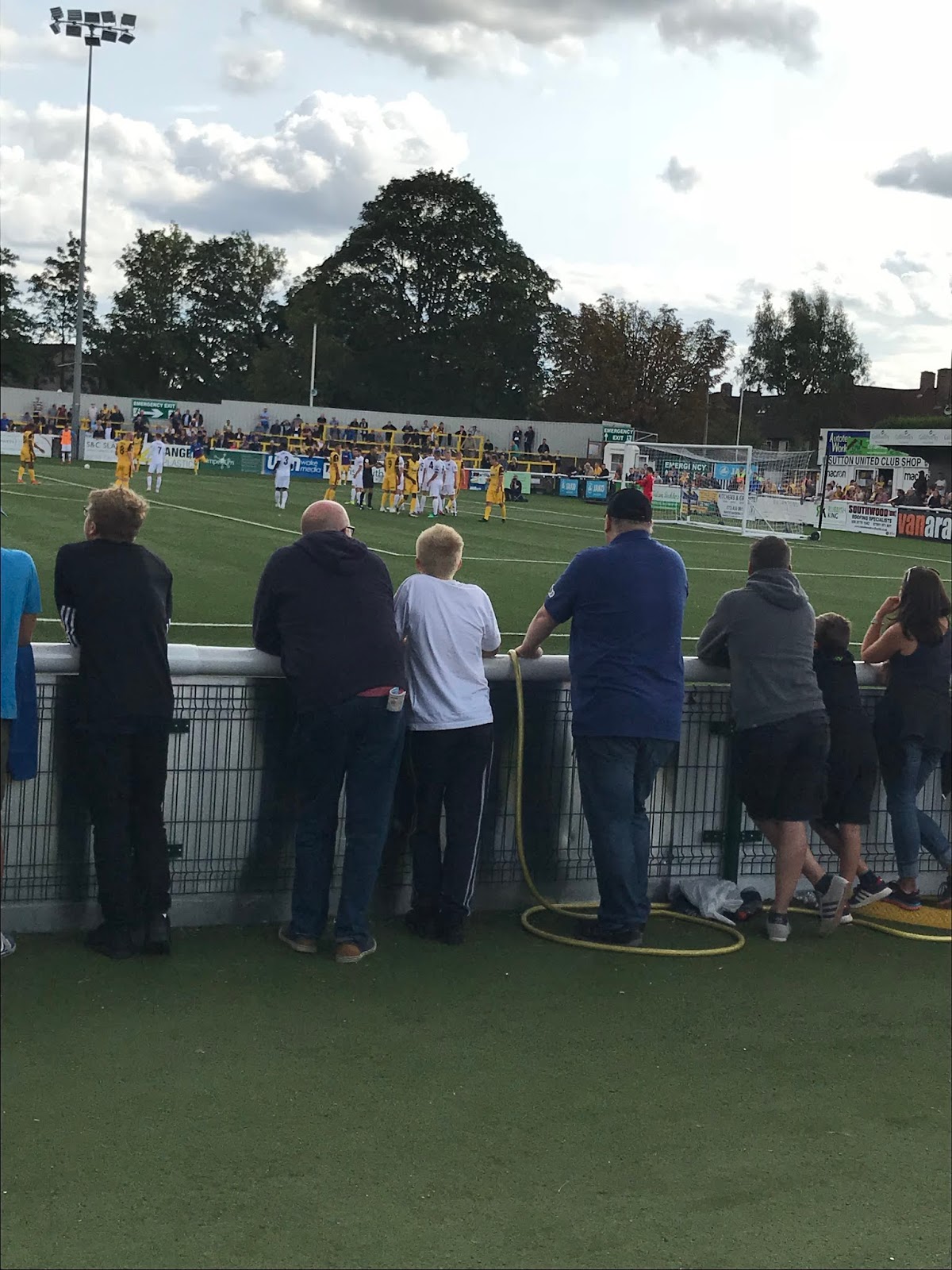 Oi! Get away from that fence!
Second half time and it's a walk to the Collingwood end, where again there was a ban in force on standing by the fence – however I have to applaud the steward as not only did he allow me to stand there to get a better view, he was also very apologetic to others he made move away from the fence. Notable chances in this half from Fylde in the opening minutes resulting in yet another Butler save with his feet. Second half substitute Tommy Wright produced a save from the Fylde keeper and a rebound attempt by Aaron Drinan also saved – however, he when he finally slotted the ball into the net celebrations were cut short due to the offside flag being raised. With three minutes left, Cloughie was the hero at the other end, making a last ditch tackle to block Fylde scoring a winner. The U's could have snatched it even later however, with the Fylde goalkeeper making an excellent save from the Captain's header deep into stoppage time. So the final score being 0-0, The U's still remain unbeaten and Kenny Davis rightfully winning the man of the match award. For the statisticians, we had the one yellow for Dan Wishart, and the substitutions being Drinan and Tommy Wright on for Lafayette and Cadogan on 71 minutes followed by Harry Beautyman (whose kit I sponsor, had I mentioned that?) on for Wishart on 79 minutes. An attendance figure of 1770.
After the game I decide to go to the Vice Presidents' lounge and have a beer with the COCs. Mainly as it means I get a glass for my beverage and not one of those plastic things the masses have to suffer next door. Discussions were had about the trip to Scotland, and the COCs inviting me to join them. Sorry lads I am faithful to Gandermonium however I do like engaging in stakeholder engagement and networking (You what? – Ed). This also leads to the basis of my title, Cretins to Cribbins – well a conversation was had about Bernard Cribbins and is he alive or dead? Malcolm seems to think he is no longer with us, whereas Keepo believes he is very much still drawing breath. Of course, we settle this like all gentlemen do and we consult Wikipedia for a second and it is immediately discovered Bernard Cribbins is still alive. Keepo was right! Now if this had been the Gandermonium lot, there would no doubt have been 5 pence riding on the answer! This then leads on to discussing further actors and actresses of the Carry On films fame – Jim Dale, Kenneth Connor and Charles Hawtrey. Cue AB next door and his famous accordion, which almost drowned out Salford's manager and his interview the other week.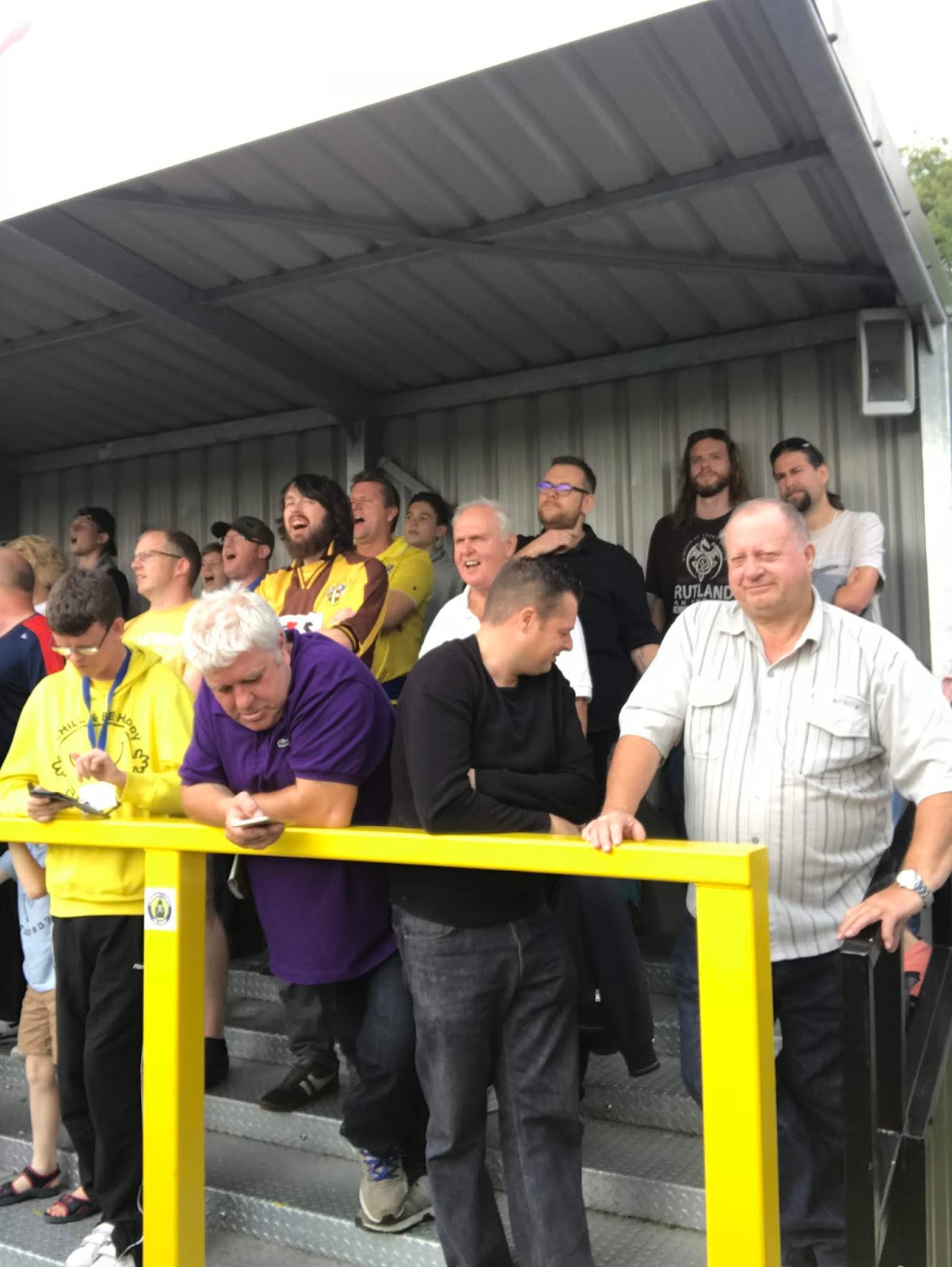 Crowd
Strikers are Key time and it is ball number 28 that is pulled out – that of Carl. Sadly for Mr Moynehan and hooray for the rest of us, he does not find the right key and thus the money rolls over to the next home game against Halifax with AB sending him on his way with the traditional £50 consolation prize. Video evidence then emerges of Marcus from the COCs famous dancing episode from the last home game, which has now gone global and has even been commented upon by Jeff Brazier, who I'd also advised via Twitter that I would mention him in my blog and recommended our material for him to read, so if you are indeed reading this Mr Brazier, hello! It also seems Jeff is a fan of Millzy's dog Tizer – and yours truly takes a liking for said pooch too.
People start to drift away, including Taz who goes home for his dinner. The pool table, now in a new location of the bar, is then uncovered and killer pool starts. Mr X is referee and unkindly knocks me off a life for my struggles to pot a ball – that is heightism Mr X! Although, it turns out to be the longest game of killer pool in history and eventually ends up with Youth Firm Leader Johnnie winning. Plus it's also good to see Belly back and on the booze too. Blimey is that the time – 10pm, time to order an Uber to visit a favourite Gandermonium haunt of O'Neills. It turns out my driver will be Ayesha, I think that's the first female Uber driver I have had and she even compliments me on my 4.86 Uber rating (She'd have loved me with my perfect 5.0 then! – Ed) – hey I do say I am the nicest person you will ever wish to meet. Well, maybe apart from Twitter users who think it's a good idea to criticise my blogs!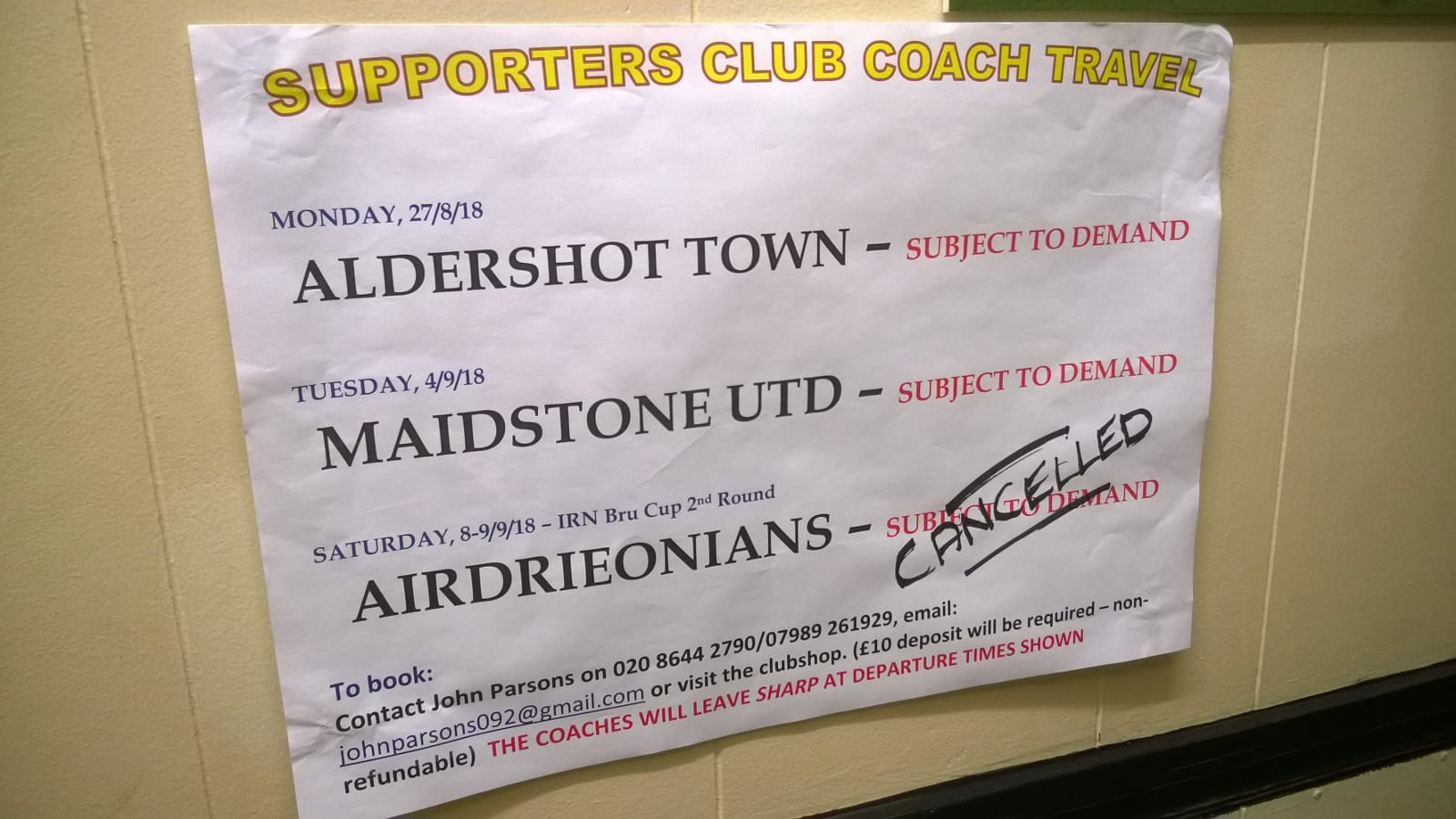 Surprising that!
Upon arriving to Sutton High Street, Greek and I stop for a pit-stop in Subway. We are both served by Lucky – what a cool name. Once our subs have been demolished it's time to enter O'Neills and the remaining peeps left are Greek, Dukey, Belly, Wreck-it-Beckett and I; but also present in O'Neills is Irish Pete. Greek and Wreck-it-Beckett take to the dance floor where Greek has taken Dukey's cap. Eventually I decide to call it a night and hail yet another cab – although this driver is not quite so friendly, still he gets the full five stars though. I have an average to maintain!
I must thank our editor and chief Taz for a tip he has given me with blog writing. The tip is to take notes during the day to make sure you do not forget certain events/incidents. It actually works! Thoughts now turn to Monday's Bank Holiday game away to Aldershot Town, a place where we are overdue a win. The capped "wonder" known as Dukey will be your host for that one.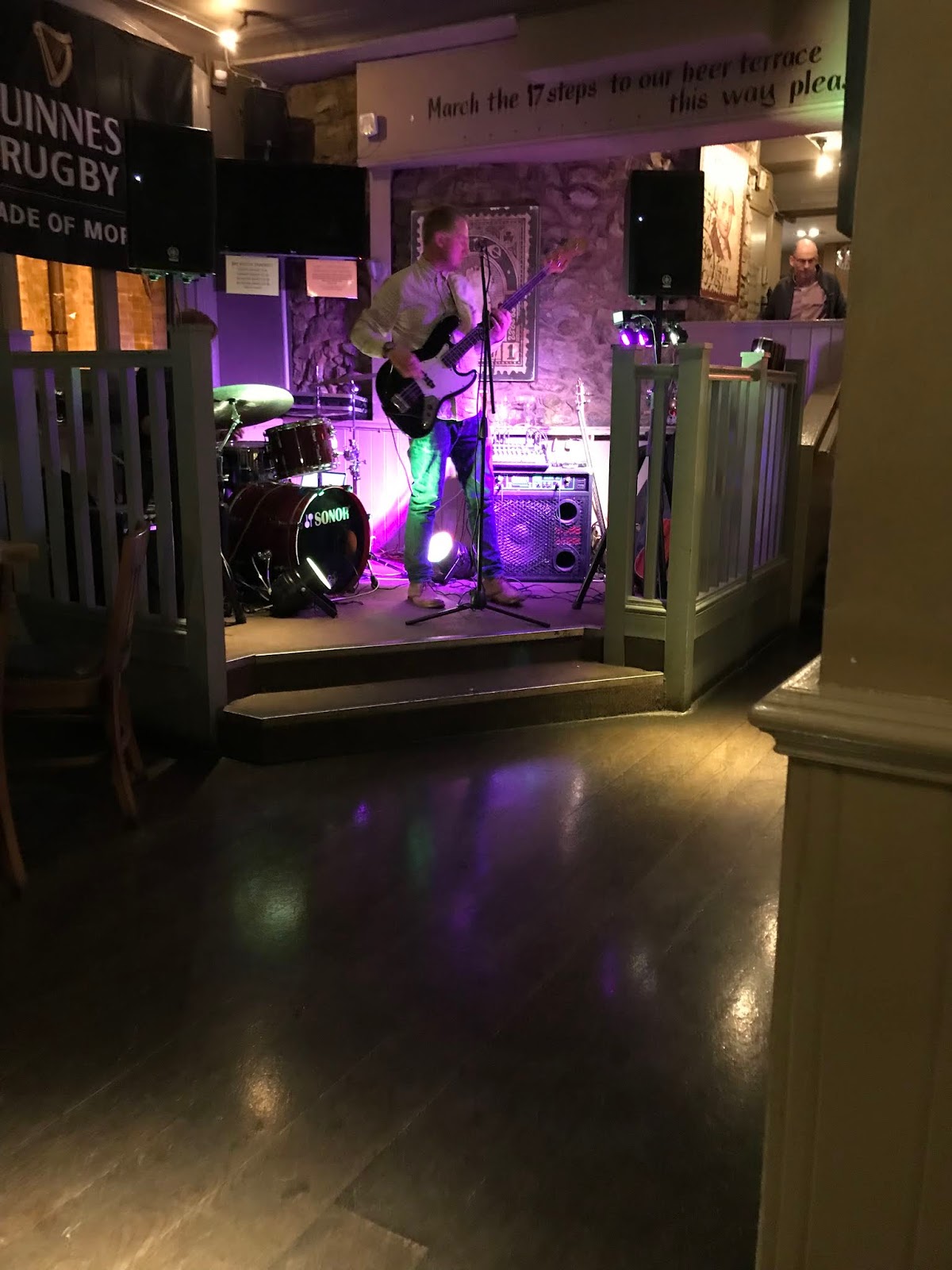 Packed dancefloor
Wise men say…
Robbo