It's been an eventful week at Gandermonium Towers. No sooner had we returned from the wastelands of Gravesend & Northfleet Ebbsfleet with three hard-earned points, attention turned to the start of our forthcoming European tour. Yes, this is still a thing, the Scottish FA haven't recovered their senses and backed out of the whole shebang, Sutton United are still participating in this year's Scottish Challenge Cup (which we are contractually obliged to call the Irn-Bru Cup), and Thursday saw the draw take place live on the SPFL's Facebook page. Modern life, eh?
With Stuart McCall doing the honours and drawing out our ginger ball (calm down, Taz) it meant we were off to Airdrie, just east of Glasgow, to face Airdrieonians. As the newly-appointed Gandermonium Overseas Travel Secretary, it was left to me to arrange flights and hotels, and by Friday afternoon we had placed more than two grand into the pockets of EasyJet and Premier Inn. Efficient.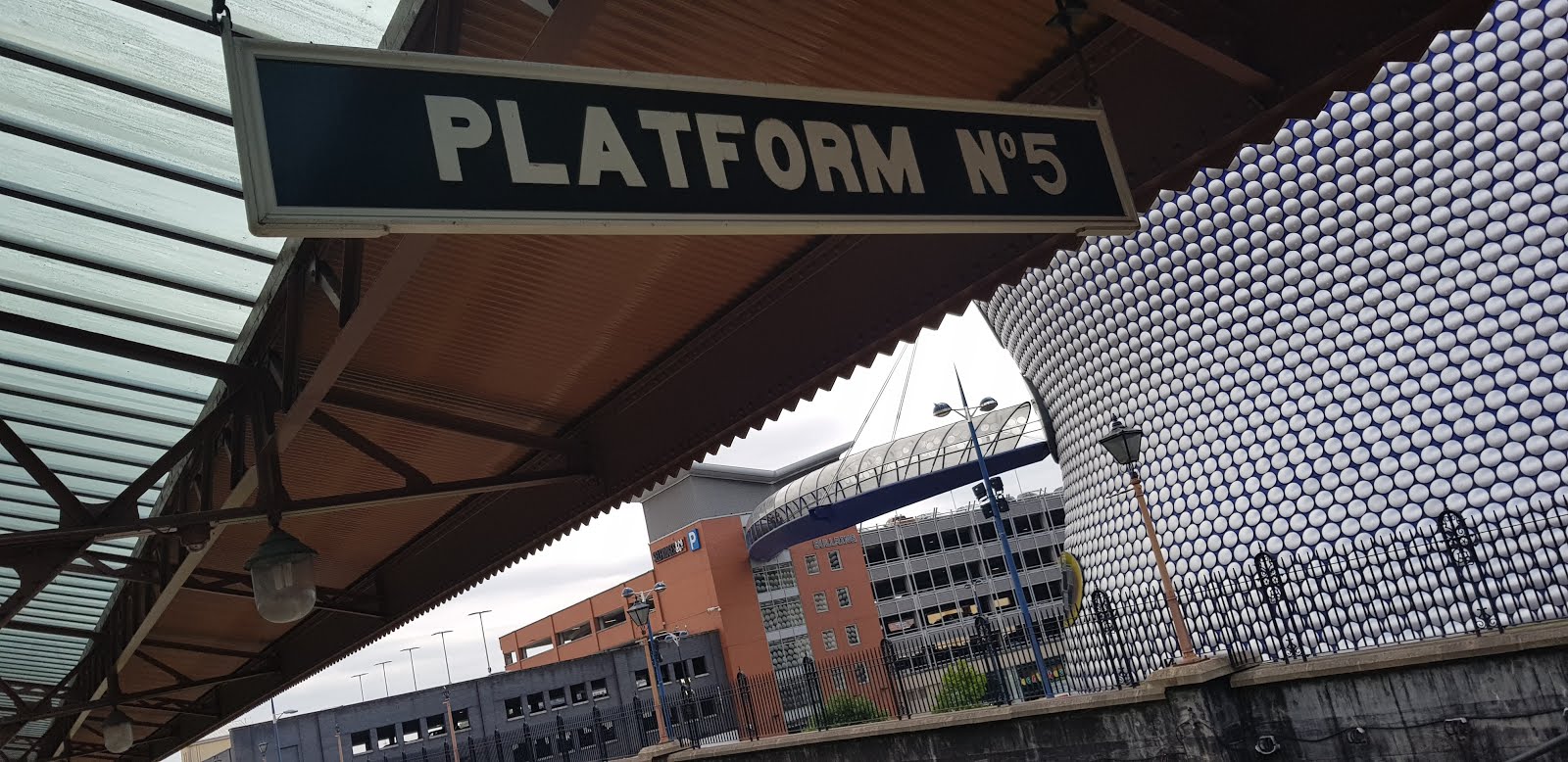 Trainspotting
Much less efficient are our old friends Network Rail and TfL, who decided they'd both like to dig up various pieces of track this weekend for a change, so our usual route to Birmingham for our game at Solihull was turned into a right pain in the arse. No trains out of Euston, meaning we'd have to take the slower route via Marylebone, and no Bakerloo line so actually getting to Marylebone involved either a walk or a bus as well.
I opted to be a bus wanker for this one, getting the number 2 (wonder if I can squeeze out any other toilet-based puns?) from Victoria, but it meant I was the last to arrive. Mr X had kindly already bought the tickets, but it turned out that the lovely wankers folks at Chiltern Railway had decided that they weren't offering any Group Save or Railcard discounts this weekend so they could shamefully cash in because it was going to be busy, so everyone would have to pay full price. Pricks. Thirty quid a pop for a trip that cost a tenner last year. Cheers, lads.
Having got insider information on which platform we were leaving from, we managed to get the jump on everyone else and secured seats for the near-two hour journey. Magnum PI did what now appears to be customary for him, and produced the most middle-class "breakfast" known to mankind – some smelly pasta concoction that had us begging for someone else to board with a bag full of McDonalds to make it feel more pleasant. Apparently we were lucky he made the train as he had managed to complete some top-secret business last night rather than this morning, at which point Dukey made his regular enquiry as to whether JR had charged VAT for his services – yes, came the reply, but the rate was only half as the job came through an agent. Welcome to the Layer Cake, son!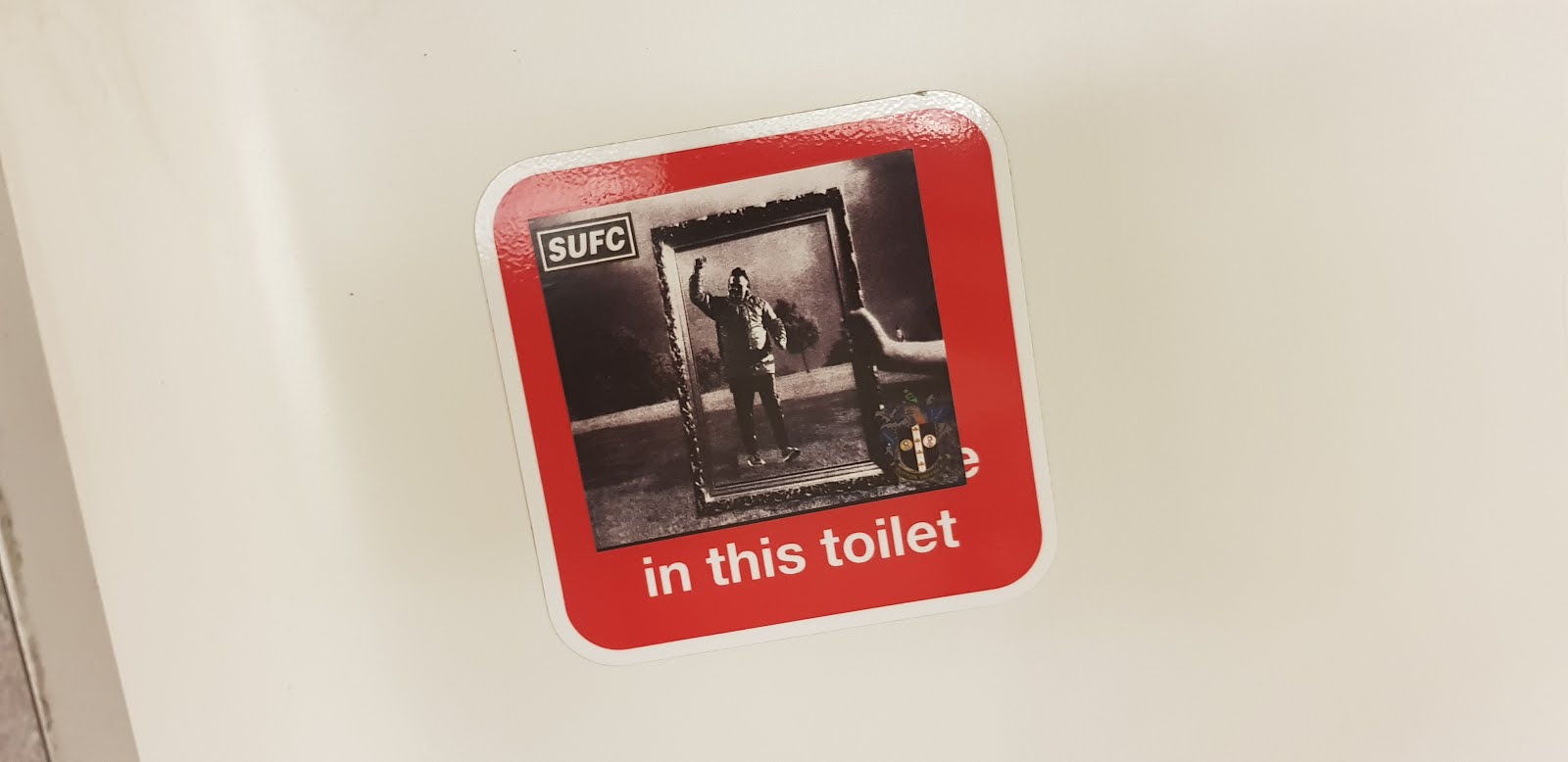 Yes, we are as it happens!
On arrival into Birmingham Moor Street, we eventually got through the barriers after a family featuring a dad sporting what can politely be termed Small Man Syndrome got arsey with yours truly for the heinous crime of letting his wife with pushchair cut across me to get to the wide gate. Fuckwit.
Anyway, we quickly got our bearings and made our way through the precinct to one of our favourite away day pubs, the Post Office Vaults. The scene was almost set for the annual Gandermonium Bar Billiards Open. Mr X handed over the tenner deposit for the paraphernalia and started to set up the table, but we noticed something different. Regular readers may be familiar with our previous trips where the "highlight" (yes, we're that childish) of playing here was the Pop-up Pirate that had acted as a substitute mushroom in previous editions. Shock was the overriding emotion when it turned out they'd actually replaced it with a proper new piece. So obviously we went back to the bar and demanded that the Pirate be reinstated.
An even contest between a load of idiots who frequently forget the rules ensued, with game victories for me, Magnum PI, Mr X and even Taz, who must have been practicing as I don't think he scored more than about 50 points in the whole time we were there last year.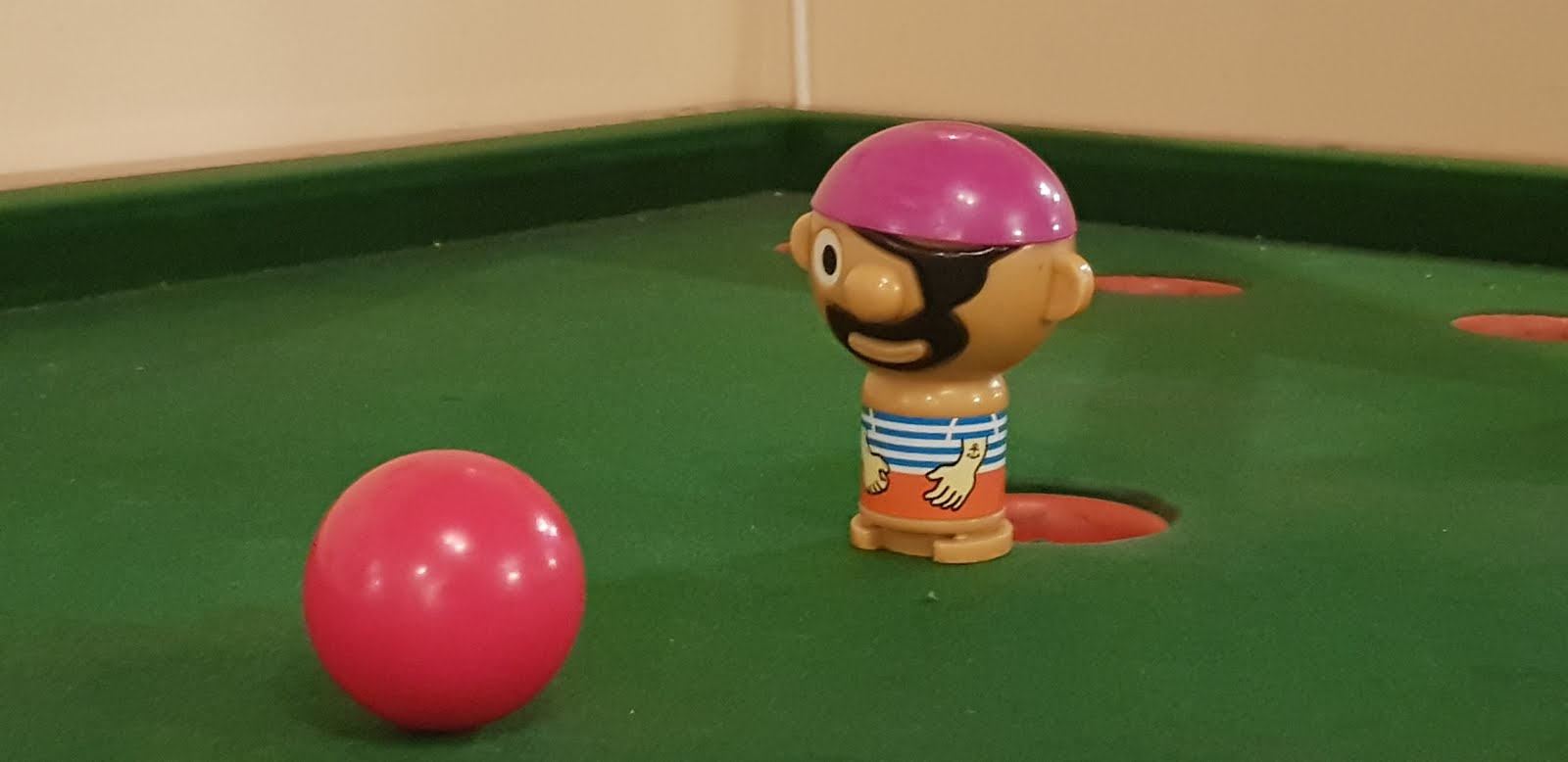 Always watching…
While all this was going on, 4 Days randomly bumped into an old friend at the bar. We shall return to this subject shortly.
One of the things with boozing in cities you don't really know very well is that you'll often take recommendations from locals. One such local, who had been sitting in the corner watching our rubbish billiards efforts for a while, suggested we try 'Tilt'. He helpfully gave us directions, which of course we forgot within 5 minutes. After a quick Google, we found the place and entered, already feeling trepidation having looked in from the outside. This felt like the birthplace of the word "hipster". 4 Days and Taz were slightly in their element, being of the poncy ale-drinking persuasion. Mr X was most displeased with the range of lager on offer, while Dukey turned up a couple of minutes later, took one look at the prices and started ranting about something or other. I didn't hear much of it, but I'm sure the word "communism" was mentioned. As a vodka drinker, I was well into "lucky dip" territory – the vodka wasn't a known brand, and the can of coke on offer was, er, weird. Made in Australia, Karma Cola had a strange cinnamon kick to it. Nope.
Once Dukey had calmed down, 4 Days enquired as to why he was so far behind us. Turned out he'd gone back into the Vaults to speak to someone, who turned out to be the same friend of 4 Days mentioned above. As they used to say on the news before revealing the scores ahead of Match of the Day, for those who don't want to know the score, look away now. It turns out that Dukey also knew this old friend, that during one boozy night, he and her – for she is a female – had shared the night, but that he had failed his duty because of the 18 pints he had drunk that night. To cut a far-too-long story short, he ended up with tongue cramp to make up for the lack of prowess down below – you're now trying to scratch that thought from the back of your retinas, aren't you? – and woke up with a dead arm after she fell asleep on him, leaving him unable (or unwilling, as is probably more likely) to escape. Funny how life throws up such little coincidences, isn't it?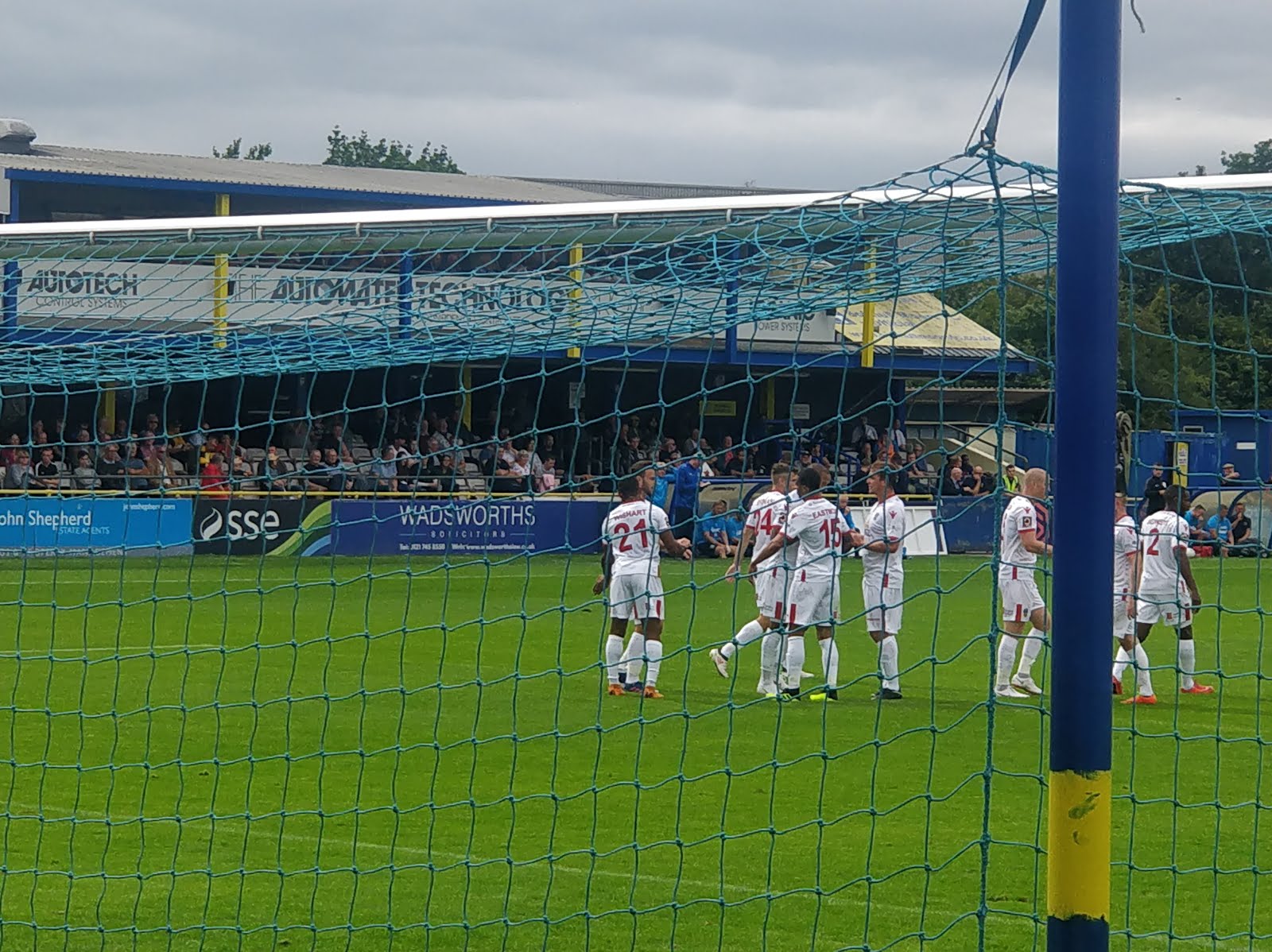 Taking the lead
Aaaaanyway… next boozer, back to the Windsor, where they were showing the Cardiff v Newcastle snoozefest, where we could regroup and sort how we were getting to Solihull. Easy to forget that was vaguely why we were here, after all… the less mobile members of the group opted for a taxi all the way, while the rest of us headed back to Moor Street to get the train, and then an Uber from Solihull station to the ground.
A quick one in the club bar, and it was time for the game. £15 to get in this year, which I'm sure is a £2 increase from last time – Brexit hyperinflation already in evidence, I see.
Butler, Bennett, Clough, Collins, Wishart, Cadogan, Eastmond, Davis, Cadogan, Drinan, Lafayette; Subs: Beckwith, Bolarinwa, Ayunga, Brown, Wright
The game started in pretty open fashion, we were allowing them to run at us a little bit too much for my liking, and we were fortunate that their radar was miles off as I don't think Butler actually had a shot to save despite the home side getting themselves into some pretty good shooting positions. Their 9 in particular had a great chance when he mugged JC off on the touchline but his curling effort went inches past the far post.
At the other end, we were putting some good moves together without forcing the keeper into anything meaningful. Josh Taylor and Aaron Drinan continued their excellent work from Tuesday night and caused their right side all kinds of problems, while Ross Lafayette was busy receiving his weekly dose of GBH from their centre halves. Still, he was the one who reacted fastest after a big handball shout for a penalty was turned down, the ball fell by the penalty spot and he swivelled and lashed it into the corner. 1-0!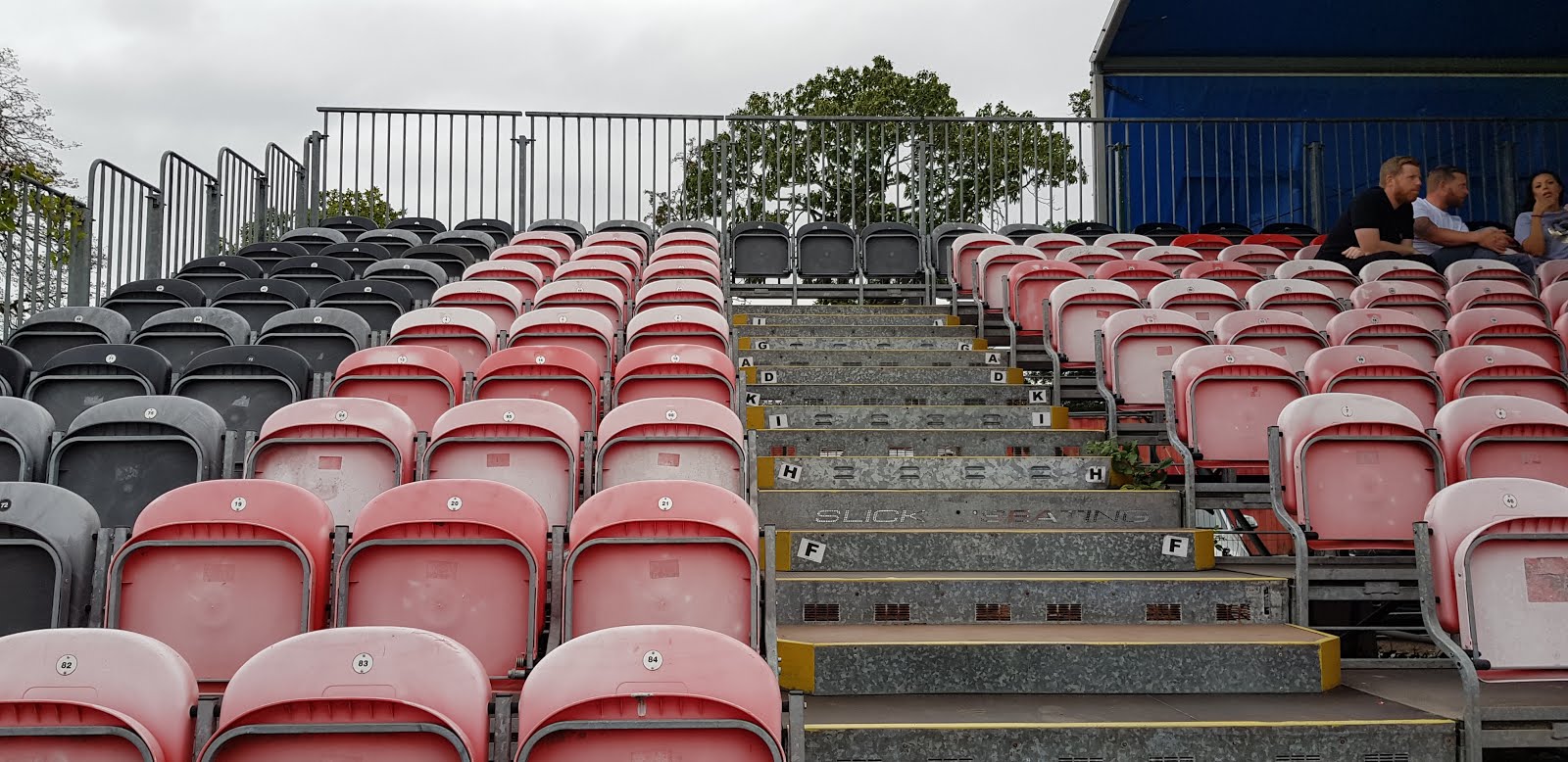 Seating
Half-time came and, for all that Solihull were getting a lot of space between the lines, it never felt as though we were in much danger – even though if any of their shots had been on target, we'd have been in a whole world of trouble.
It seemed as though their new gaffer Tim Flowers had given their lot a bit of a rollocking at the break, as, even though they'd not been that bad, they were much more at it at the start of the second half. Again, shots were raining in, but mostly from distance, and all off target. It felt like we'd weathered the storm, and then the ref stepped in. He'd been giving them a load of soft decisions all afternoon, while allowing them to smash Lafayette's front tooth out without so much as a talking to, and one such soft decision gave them a free kick out wide. It was swung in deep, looked like it was overhit, but their big lad managed to nod it back across goal right under the bar where Danny Wright headed in from about a yard for what was probably a deserved equaliser.
Things were getting a bit scrappy, and a rare moment of entertainment saw one of the rent-a-steward mob completely mugged off by Ryan from the yoof who showed some surprisingly decent footwoork for a big lad by nutmegging the steward with the ball that had flown into the stand with us. The steward didn't take kindly to this, so Ryan then dropped the shoulder in a manner Peter Beardsley would be proud of, and knocked the ball past him again. Great stuff, sign him up!
Tommy Wright came on for Drinan, and was quickly into the action. Lafayette won a great flick-on to put Wright into the clear, and although he ran a bit wide, his low shot somehow crept under the keeper's body and into the back of the net for 2-1! Limbs in the away end, and plenty of laughter at the home keeper for a proper schoolboy error.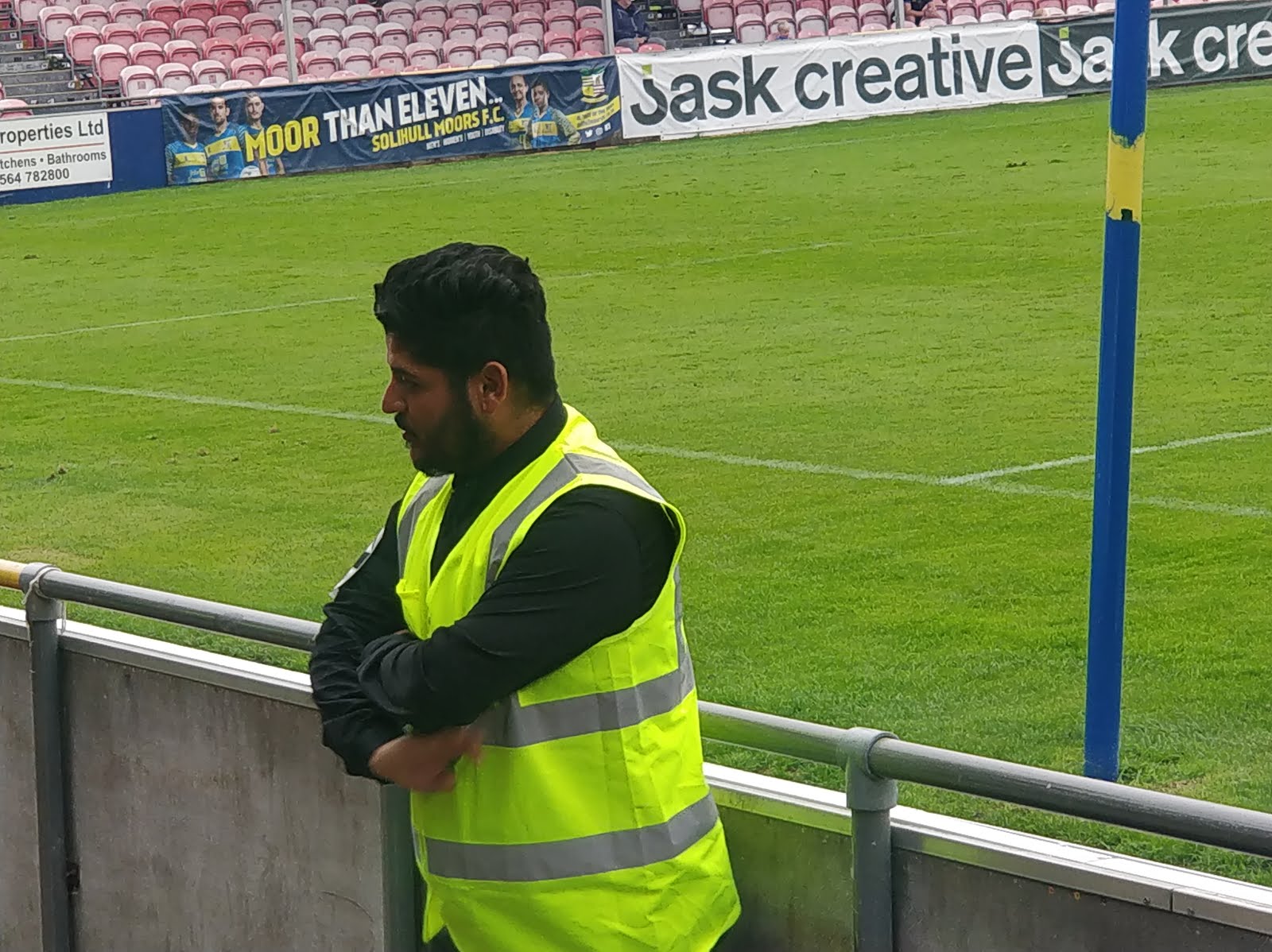 Mugged. Off.
Having regained the lead with little more than ten minutes remaining, it felt like we'd got a second wind and that we'd see the game out comfortably. And then we realised which team we're following, and that we very rarely do things the easy way, so of course we sat back and invited them onto us. The lead only lasted just over five minutes, as another set piece caused chaos in our box, it looked from the other end as though we had a few opportunities to clear it but they just about kept the ball alive each time, and it ended up with Kyle Storer stabbing it into the corner for 2-2. Fucks sake.
At this point we're now worried that we won't even hold on for a point, such has been the direction of traffic for most of this second half, but then suddenly Eastmond finds himself almost in the clear, but presumably blowing out of his arse by this point in the game he opts for a shot from 20 yards out rather than taking it on another 10, and his shot is comfortably saved by the keeper. After 5 minutes of injury time, we clear yet another Solihull corner and the ref calls time on the Desmond.
Frustrating to not win after leading twice, especially having gone back in front with barely 15 minutes left, but Solihull are no mugs as their run in the last few months of last season proved, and they've carried that on into this season. You'd expect their resources to limit what they can do, but we said that about us last season and that didn't go too badly in the end…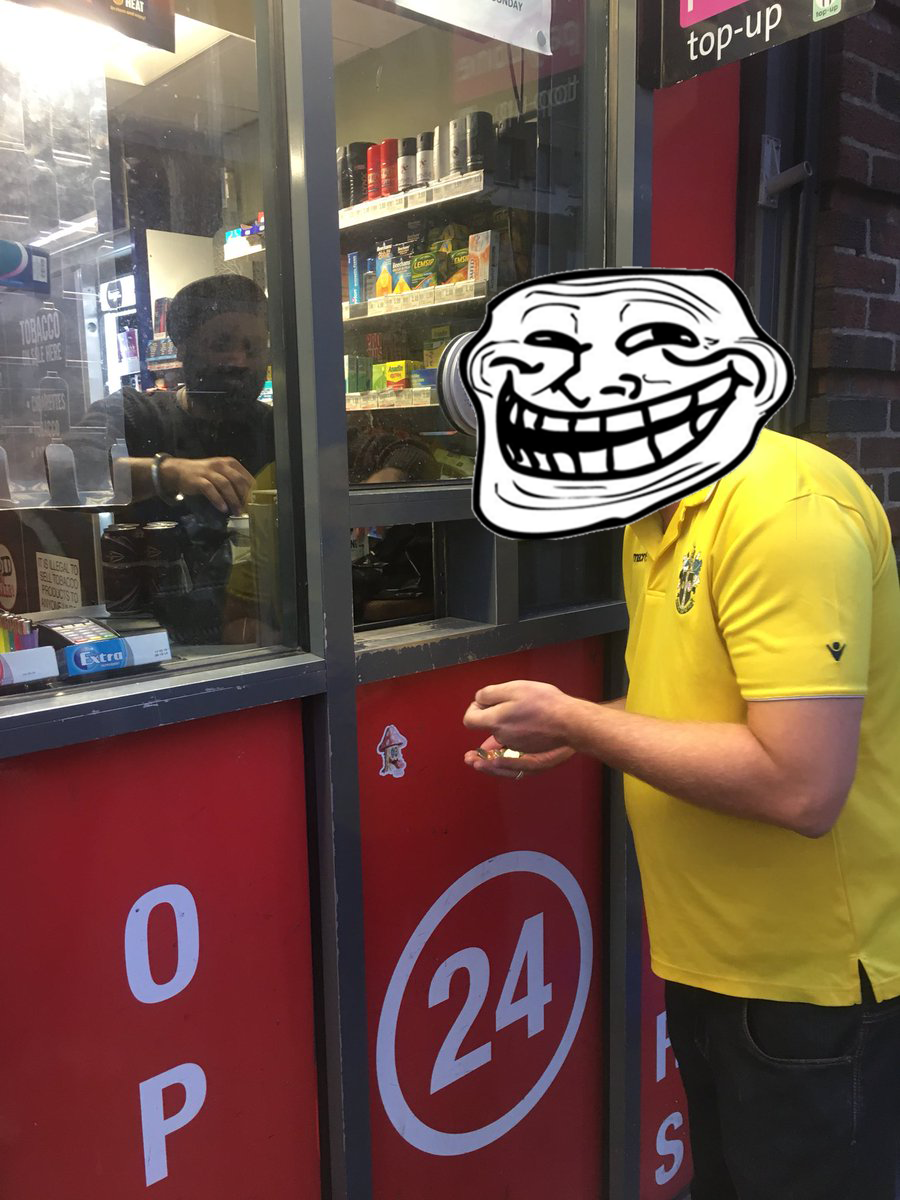 Picture amended for privacy reasons…
So it's back into the bar to let the traffic subside, and Ubers booked into what passes for Solihull town centre. We've not been here before. Turns out there's a reason. There's not much. The Catholic church gathering over the road was about the 2nd most popular thing going on that we saw. Still, there is a Wetherspoons, so that's Dukey happy at last. Few rounds in here and plans are hatched for the return home. The 2054 is agreed, but the problem now is where to get supplies for the journey. A local has told us that the Spar that we thought was closed is actually open but you have to order everything through a hatch after 8pm – are crime levels really that bad here?! – so Mr X is dispatched for the booze run, and after a Google Maps search we've found a chippy pretty much across the road from us. That'll do, pig, that'll do. So 4 Days and I load up with sausage and chips, Taz and Dukey pile in on the fried chicken that looks like it's been sat there a while. Still, it's chicken and it's warm.
The train arrives and it's mercifully pretty much empty. Seems the QPR fans we saw this morning got out of West Bromwich sharpish after (or more likely, during) their 7-1 mauling at the Hawthorns and understandably so. Supplies are doled out, with Mr X complaining bitterly about only getting two pieces of chicken. Of course, this is returned to him later in spades when he can only finish the first piece before giving up and falling asleep for the rest of the journey.
Back in London shortly before 11, we make a swift stroll to Baker Street and head to Victoria. Some of us go our separate ways, with Taz, Magnum and I heading to East Croydon and the rest heading back to Sutton.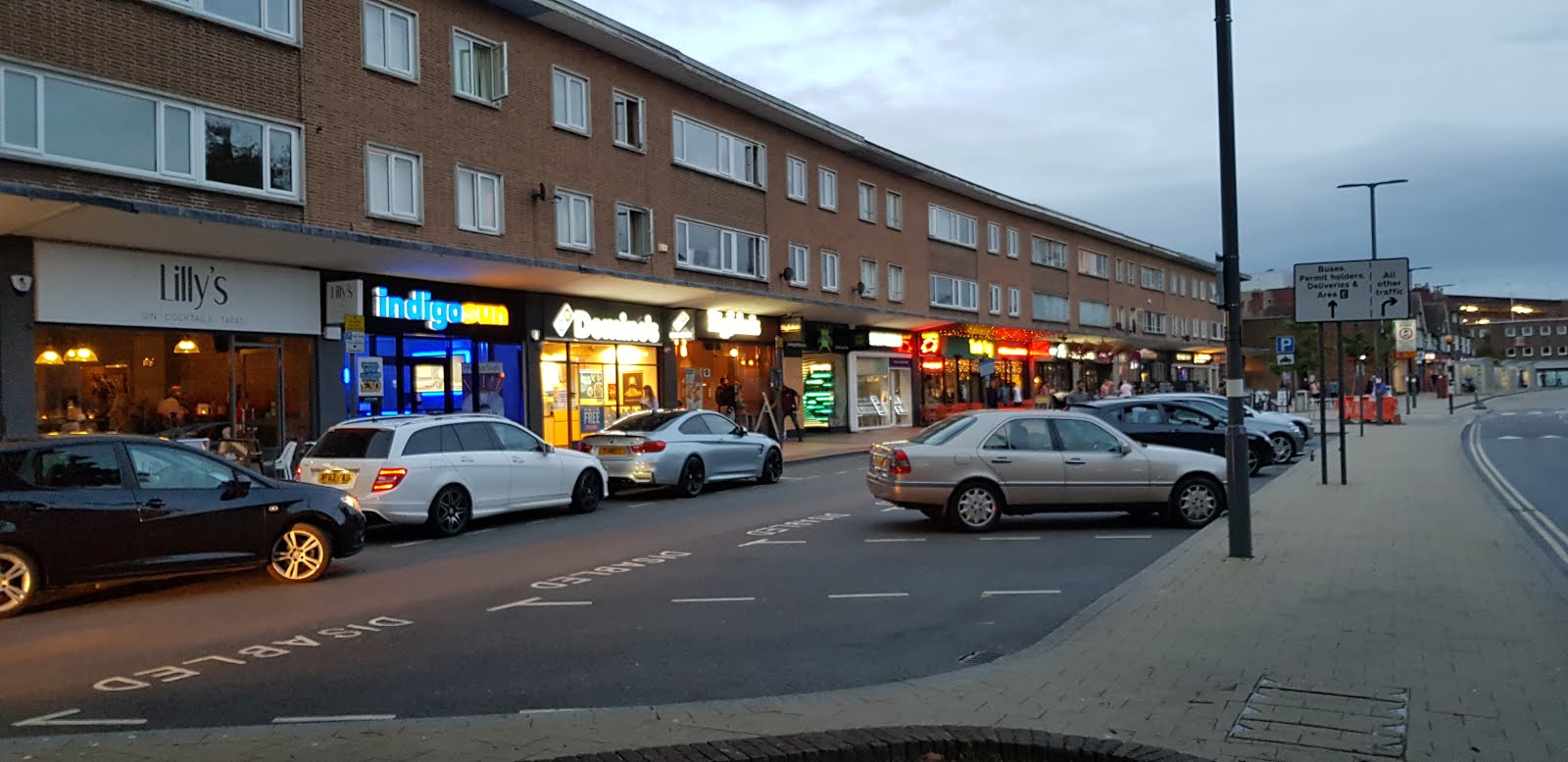 The Strip. Solihull.
Fylde at home up next, who have been scoring for fun already this season, should be a belter. So of course I'll be watching Southampton labour to a 1-1 draw against Leicester instead. Whose stupid idea was that?
Steve
Corrections Corner
In the last blog, it was alleged that Mr X confused Falklands veteran Simon Weston with recently-departed midfielder Simon Walton. Mr X wishes to clarify that it was in fact former Welsh international Rhys Weston he confused for the former soldier and not Walts. We are not happy to provide this clarification as it makes it seem as if we – or, rather, the editor – doesn't fucking listen properly.