Popularity. It can be a fleeting experience. Or so I'm told. Being ginger and a non-league football fan, I of course wouldn't have a fucking clue about such things but I am at least well advised by people who are experienced in such matters. It's also a feeling our beloved U's have come to know somewhat over the last couple of years.
One example of course being the respect and adoration of our peers we earned for making today's oppo Ebbsfleet look right bellends a couple of seasons back when we overhauled that 21pt lead to deny them the Conference South title. It seems if you make fools of moneyed clubs thinking they can stroll to rewards with little effort, then people can & will take a shine to you, even if only temporarily.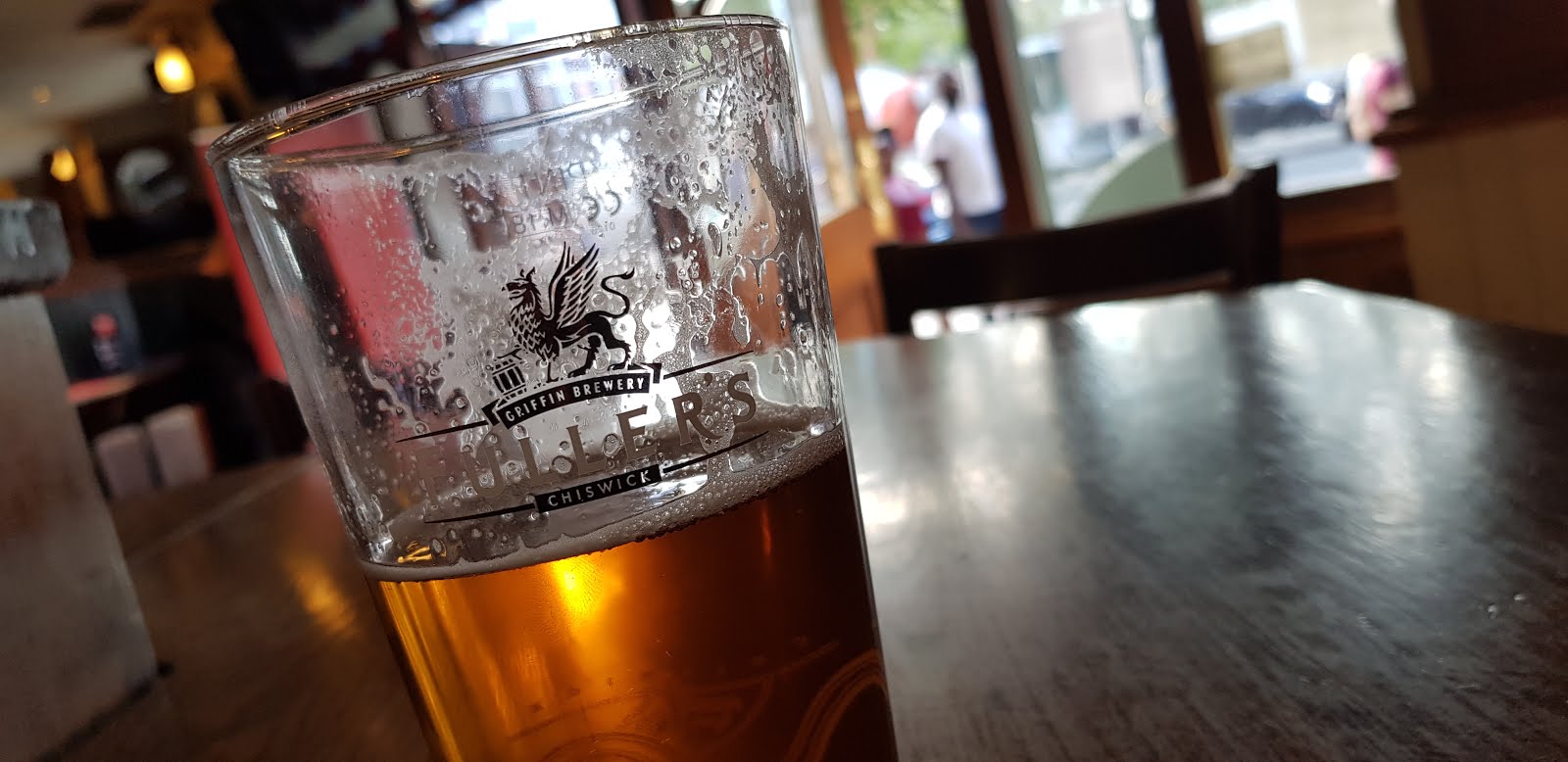 A lonely pint
Another such episode was Saturday's victory over National League new boys Salford. Having vomited up a couple of big fees for players and lobbing out wages the equivalent of our weekly budget for just 2 players alongside proclamations that they weren't intending to stick around for very long at this level, they rather surprisingly found themselves on the wrong side of that popularity thing. So naturally, our win despite having 10 men for half an hour was greeted somewhat favourably in the upper echelons of the Non-League game. It gave us a nice warm fuzzy feeling and we intend to enjoy it until it is naturally dissipated by the rest of the league taking offence to us not being pushovers ourselves and remembering we have a rubber based cancer carpet of a pitch that they don't like playing on.
Thankfully this trip to the town formerly known as Gravesend has been placed on a Tuesday night, meaning we're not having to suffer its dullness on a Saturday and will no doubt get to go somewhere marginally more interesting. Still, at least we've got a game tonight. Spare a thought for the people of Chester whose football club suffered a catastrophe of such magnitude that they've postponed their midweek clash with Kiddy and rumours abound that Bob Geldof is on his way North to kick off the relief effort. I personally couldn't see what the fuss was about, as all it looked like to me on social media was that their fucking roof leaked and a few ceiling tiles had fallen down. But then again, I will admit I'm not there on the ground experiencing the full horror of the situation, so who am I to judge?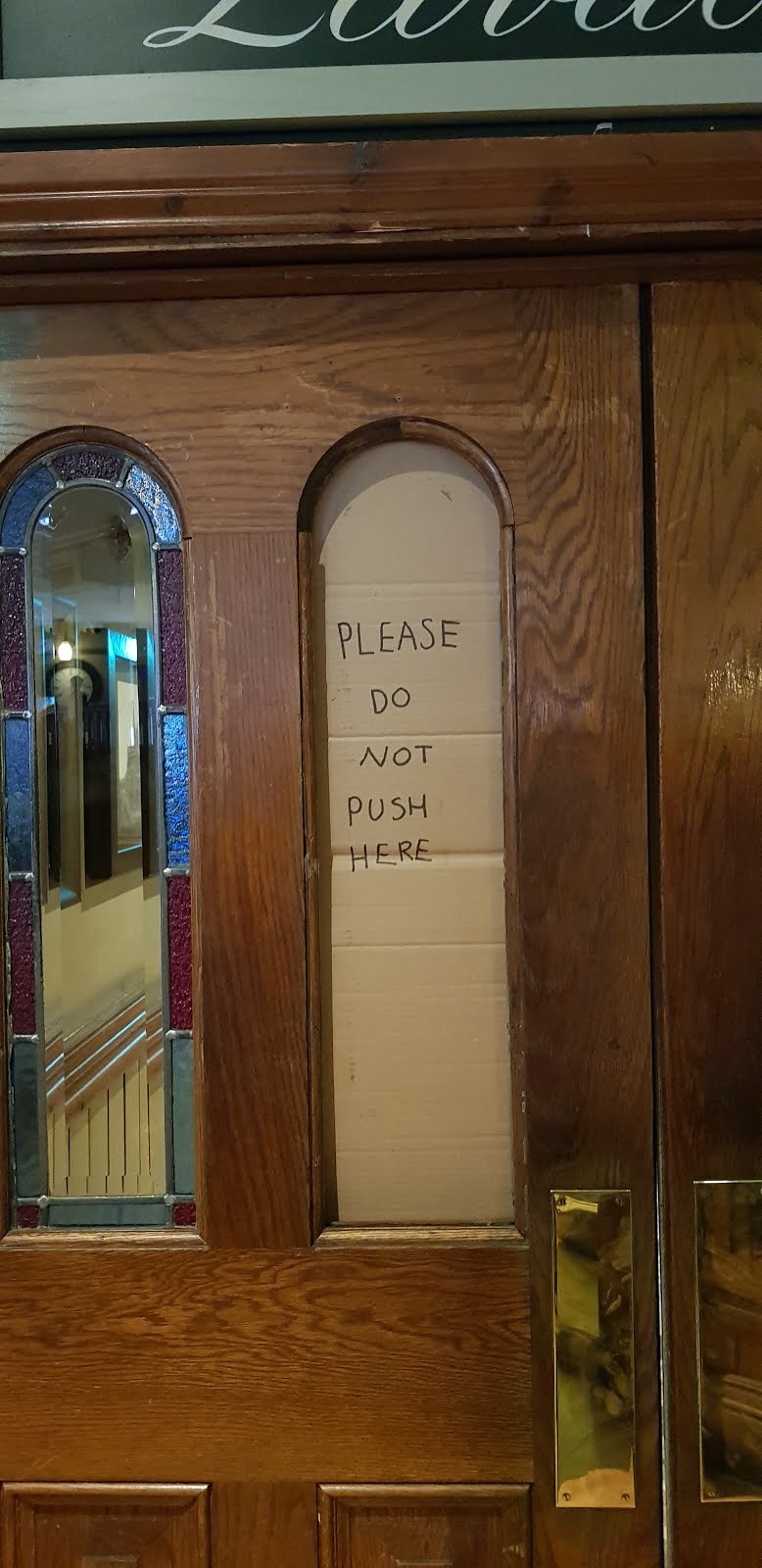 Informative
Ebbs away is a piece of piss for me midweek. Two stops on the tube and I'm at St Pancs ready for the super duper fast train into this boring bit of Kent. Despite this, I still toss out of work half hour early to ensure I get to the Euston Flyer for a couple of liveners before catching the last possible service at just after 7pm. This approach is endorsed by Steve and 4Days and having dodged some funny looking geezer giving away swigs of Mahou lager by the entrance, I find them in the pub already enjoying a pint around 6pm. Well, when I say 'find' I actually mean 'walked in, bought a pint, sat on my own, wondered where everyone else was for about 15-20 mins before messaging them and finding they were sat down the back'. Potato, poh-ta-toh. And given that my kindle has just run out of battery, I'm left with little choice but to socialise. We enjoy a couple of pints and a chat with Mr Moynehan, another proud citizen of the Republic before we eventually decide to head for the station. But not before the geezer offering free warm lager changes tack in his strategy and starts wandering round the boozer offering his wares off a tray instead. If the mountain won't come to Mohammed and all that I suppose. Most people seem to give him the same sort of short shrift as they had to the homeless lad who'd wandered in a few minutes before trying to bum some change. 4 Days and I chuckle at his hardship (Mr Mahou that is, not the homeless lad. We're not total wankers) given that we'd shared a joke in York about the rep selling that exact brand up there must be driving round in a pretty nice motor given the almost blanket availability of it in the watering holes we visited.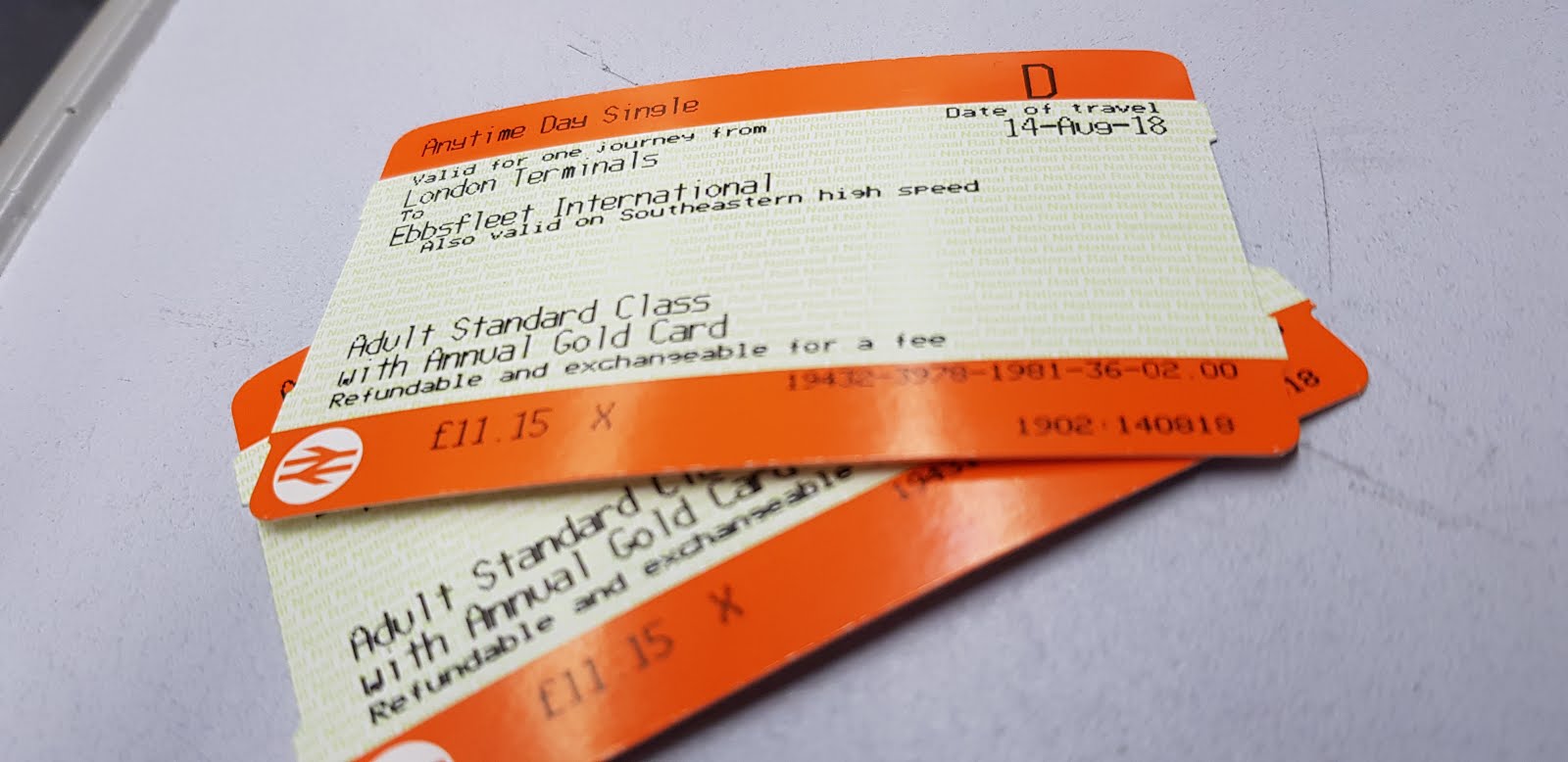 Hashtag awaydays
Tickets secured as well as a sarnie for the trip from M&S we make the train with a couple to spare and are soon speeding out through bits of Essex and into Kent. It seems our late departure is a popular plan as there's a few other smatterings of the old Amber dotted around the carriages including Bob, who like us knows what a waste of time this gaff is when it comes to a decent pint. With 20 mins to kick off we stroll to the ground, but for a moment our hopes of making kick off hang in the balance as we approach the ground, spotting the fact they've only bothered to open 2 turnstiles and the queue is snaking halfway along the back of the main stand. Fuck that. Instead we gamble on the 'away' turnstiles down the far end being open despite the game being unsegregated and head down there instead. Our confident strut must be pretty persuasive stuff as we discover we've dragged about half the lengthy queue along in our wake when we get there!
Inside, we find the rest of the travelling hordes awaiting kick off. Totts, Mr X & Dukey, Greek, a couple of the COCs, some DILFs and a decent helping of the Dogging Club. Also here is Magnum PI, who I thought was out on some cloak and dagger undercover stakeout tonight, but I guess he's already bagged his man so he could make it along tonight. The boy makes the Mounties look half arsed. I'm mainly pleased to see him however as he's my lift home tonight. What?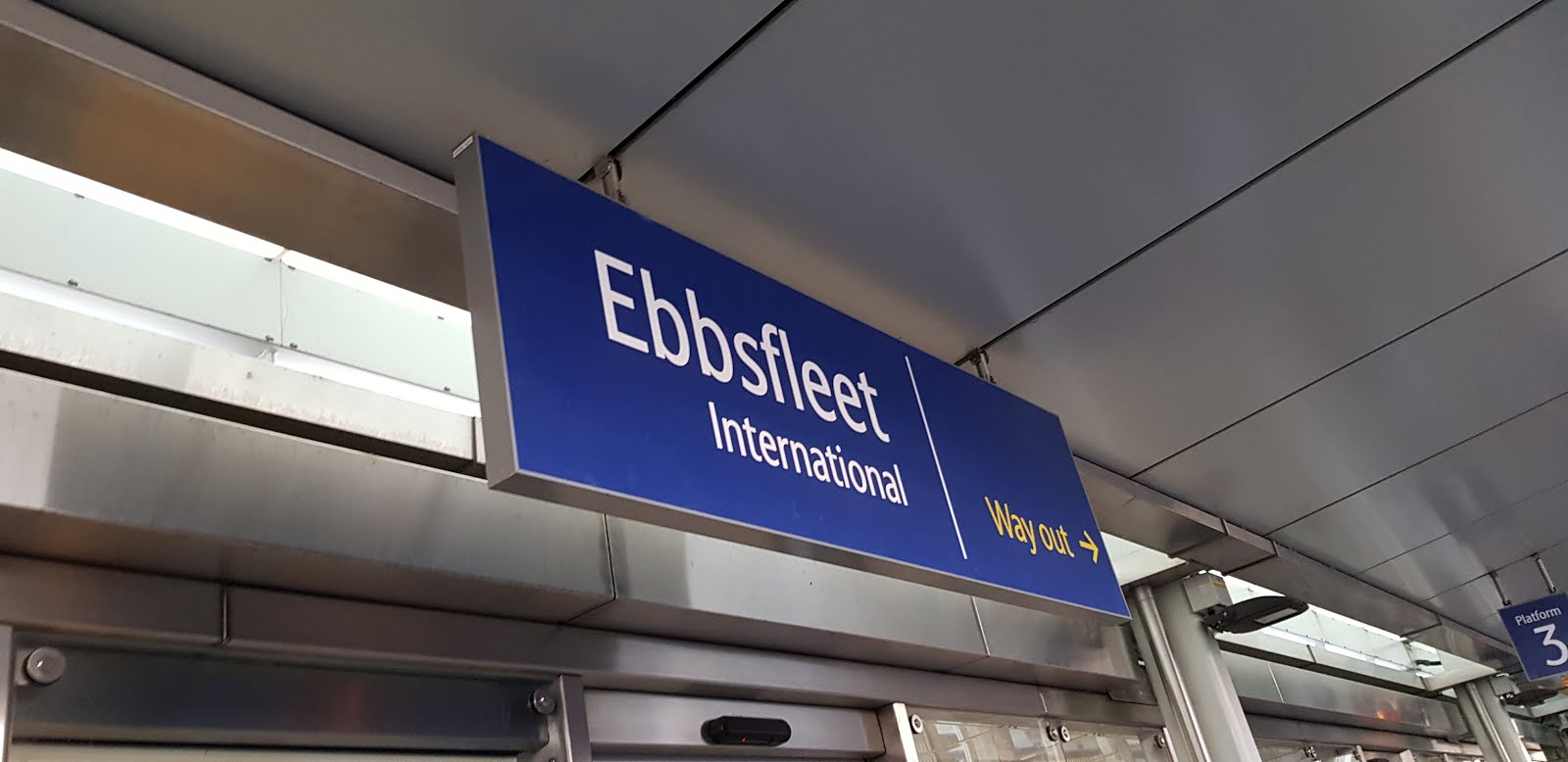 It's not the destination, it's the journey
Butler, Bennett, Clough, Collins, Davis, Lafayette, Cadogan, Eastmond, Wishart, Taylor, Drinan SUBS: Beckwith, Bolarinwa, Ayunga, Brown, Wright
The game starts at a bit of lick. We have a corner after barely a minute and when the hosts don't clear Kenny hooks a shot from the 18 yard line just wide of the mark. Any hopes that this is a statement of intent however are somewhat dispelled within a couple of minutes when their lively lad out wide is causing Dale problems and sticks in two decent crosses. The first to the back stick beats JB's dive but not Cloughie on the line, the second is nodded just over the bar. This kind of leads to a pattern for the first 20 or so. They do the attacking and we largely watch through our fingers waiting for the inevitable.
Fortunately, it seems it's our night and we see off the initial spurt of pressure. Our first response comes from a quick break that sends Aaron away deep into their half. His touch takes him a little wide, but he still forces Ashmore to beat the shot away at his near post. From here, we slowly find our feet and get into the contest a lot more. Aaron has a header saved after a corner again isn't convincingly cleared and then a little from nowhere, we take the lead after about half an hour. A ball up the line is nodded on by Eastmond, it bounces behind him and as a defender tries to nod back to his keeper, he leaves it well short allowing Easty to nip it and loft it over Ashmore. He gets clattered for his trouble but the ball dribbles into the net with defenders not able to get back in time to clear.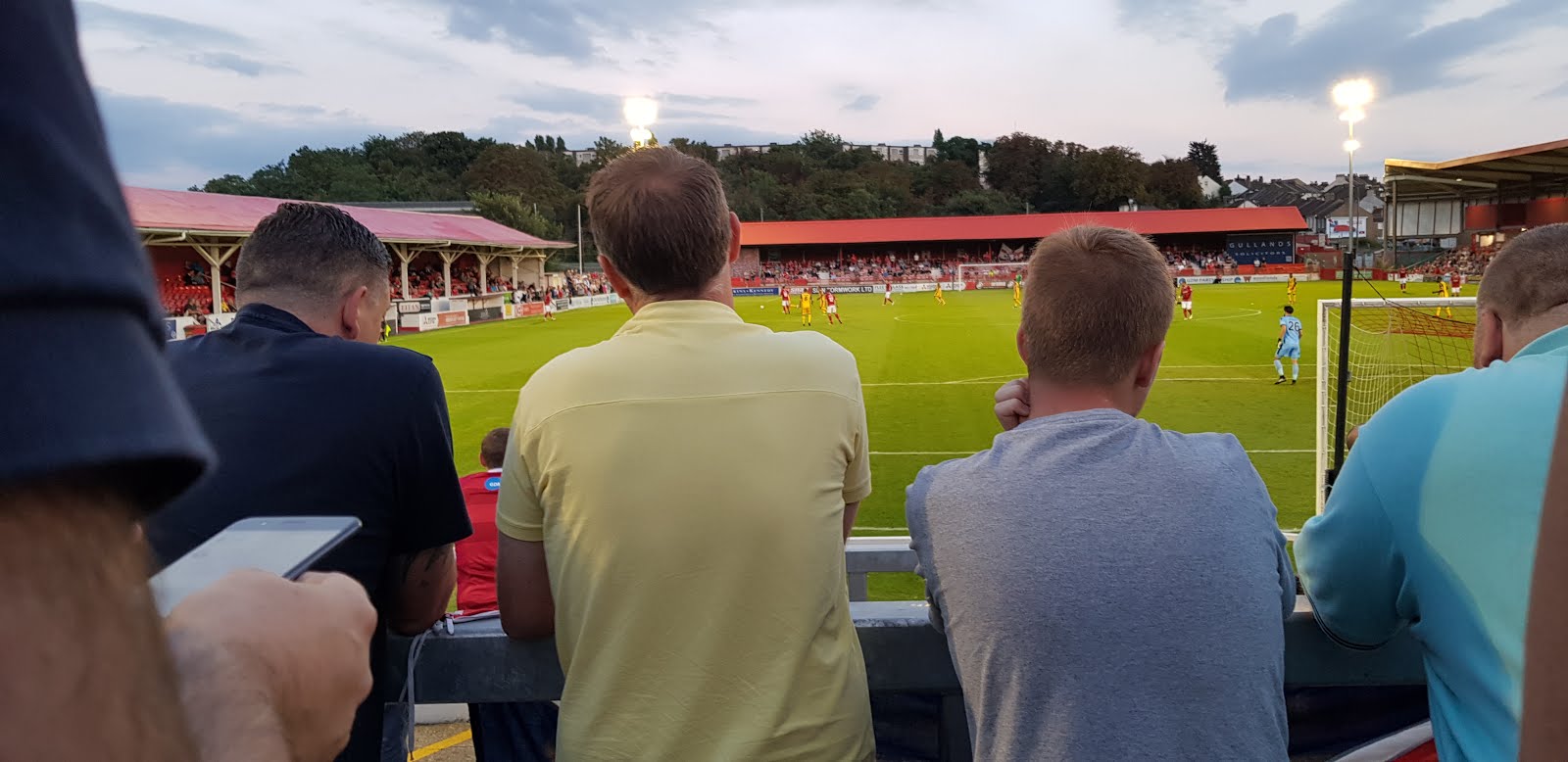 Watching
The rest of the half is 50/50. They get forwards quite well, but seem to lack that killer edge in the final third. Having Kedwell wobbling about like some lad they've pulled off the terraces and stuck in a shirt (As one U's fan commented "Fuck me. And I thought I looked fat in my replica top!") isn't helping their cause. Nor is the usually annoyingly competent Michael Cheek mainly falling over anywhere near the ball. Still, just as we head towards the break, we almost mess it up. A corner tempts Butler into a punch and it doesn't go far. The ball is returned quickly and at pace and the retreating U's stopper has to dive to his right to push the shot round the post when it emerges from the crowd of players in front of him.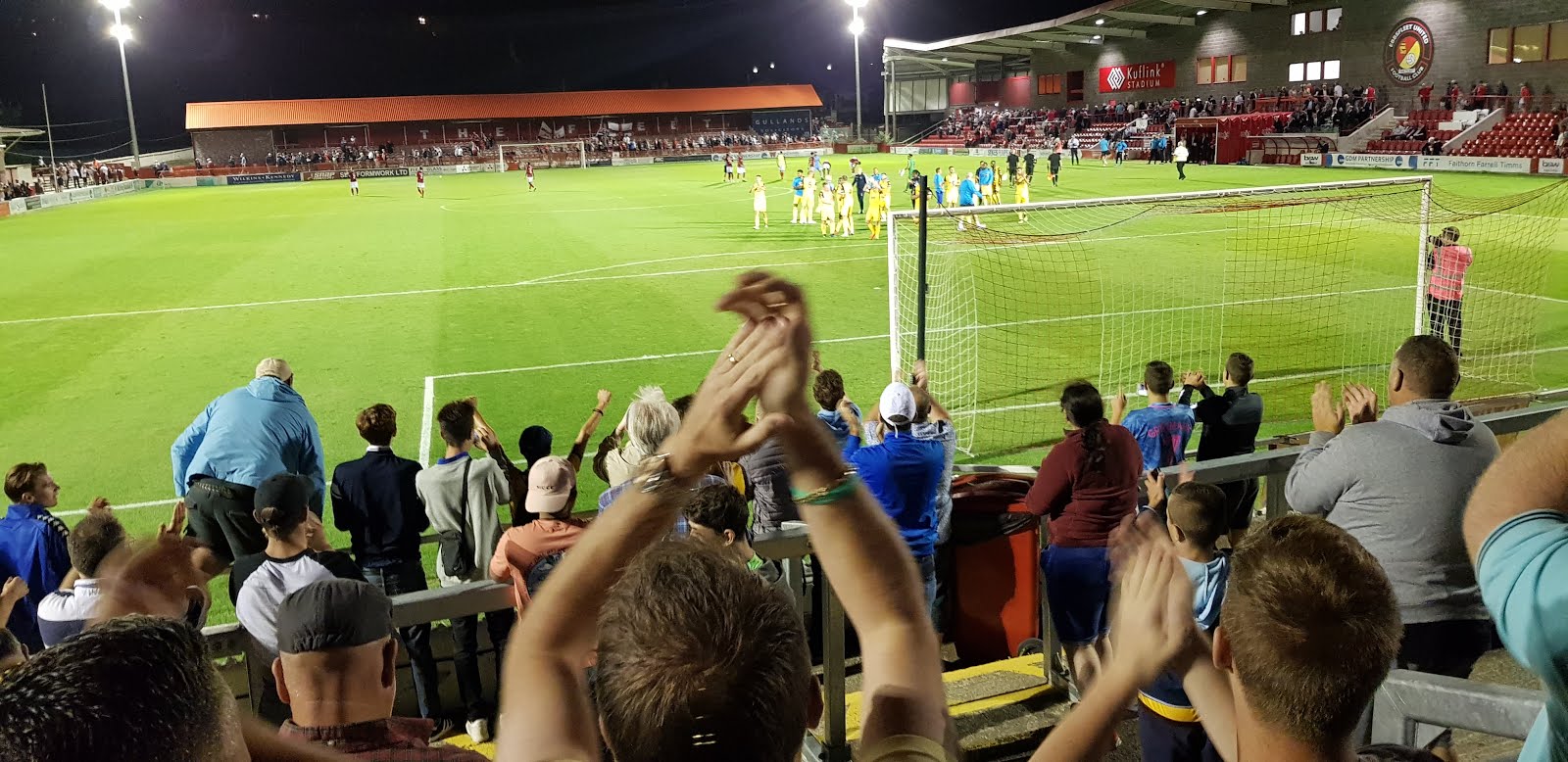 Congratulating
At the break, the Yoof faction reveal that they'd given up from watching at the far end before the turnaround as they simply couldn't handle the level of bantz directed their way. Well, when I say 'bantz', I mean one old bloke telling them to "Stop fucking swearing". To be honest I can't blame 'em, when you're faced with razor sharp repartee like that you're probably better off just admitting it's not your day and retiring quietly. I also nick one of Chalmers chips when he makes the mistake of standing next to me. Not a big deal normally, but on this occasion, I manage to pick out a right monster chip that is about a foot long and is making up roughly 1/3 of the volume of his portion Oops. Sorry mate! We also get a visit from a couple of familiar faces in Jeff, a home fan and Hazel, a 'friend of Non-League' who used to hang around at Thurrock before their untimely demise this summer. Jeff's not happy, it seems he'd sent me a message on Arsebook, asking where I was this evening, but I'd not replied. Mainly as I hadn't received it!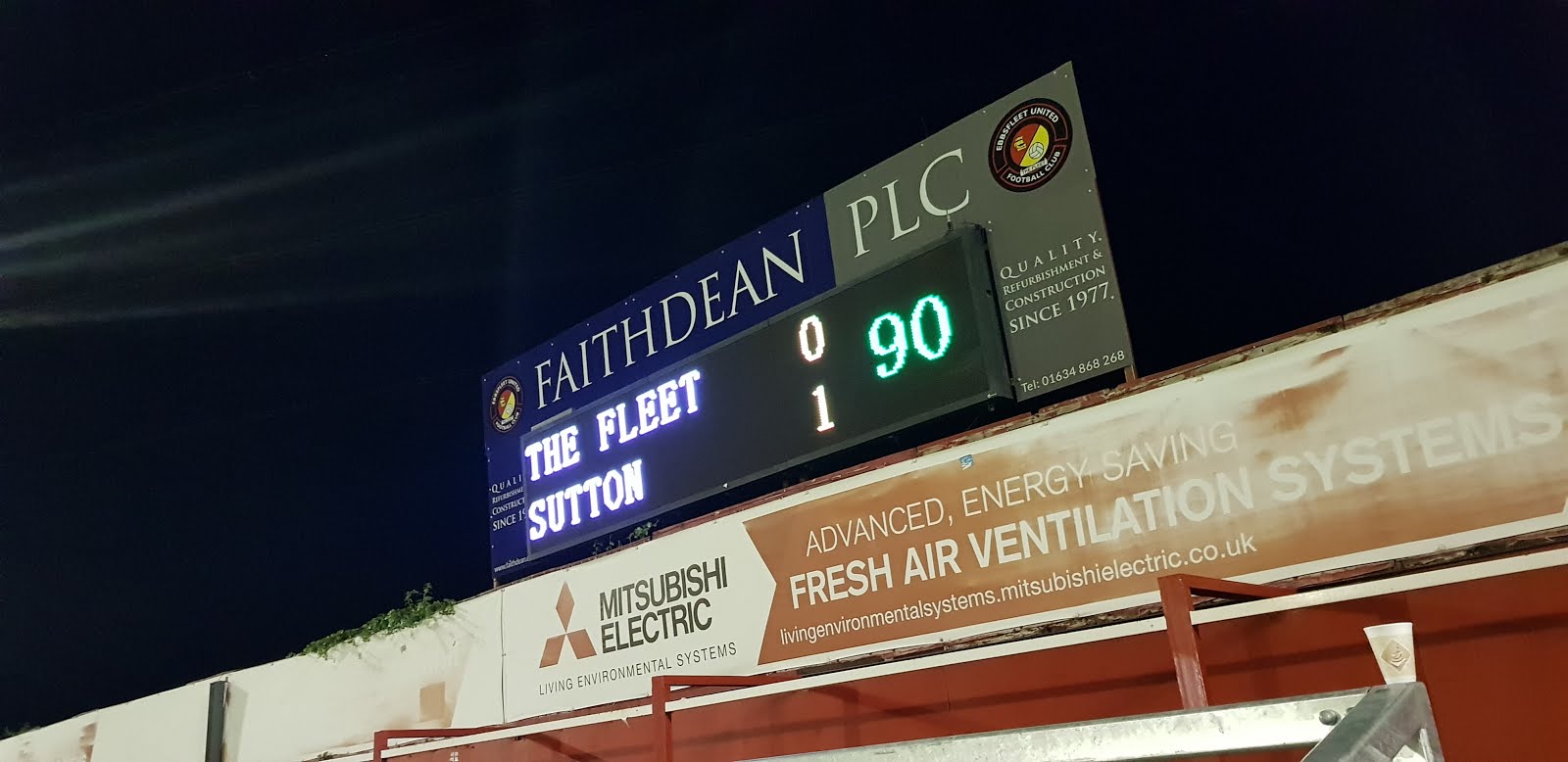 Winning
The second half is another close run thing, but much like our win here at the arse end of last season, the hosts don't really create a huge amount despite having a fair bit of the ball. If anything, we look far more dangerous on the break. Drinan has another good chance, sent clear by a quick throw in he drags his shot across the face of goal. Wishart, who's looked a little lethargic this evening rattles the bar with a 25 yard free kick that has Ashmore waving it on it's way. Then the recently introduced Bolawinra guides a header a gnats chuff over after a great trademark surging run from Wish down the stand side. Elsewhere, Mr X confuses Falklands veteran Simon Weston with ex-midfielder Simon Walton, which I'm sure is something that happens to Walts all the time to be honest and the Yoot bemuse everyone with an odd chant about the EU. Out on the pitch, Mr Kedwell somehow manages to avoid getting hoicked and is rewarded with the full 90 again, which tends to suggest it's either condition of his contract or he's got some fucking properly dodgy pictures of the powers that be at Stonebridge Road. It's weird really, as every time we face them he's got yet more tanned and judging by his waistline he's most likely to worry the owner of the local all-you-can-eat 'World Buffet' than many National League defences these days.
The U's work rate starts to tell late on as we begin to sag deeper with every passing minute and the last 10 or so are spent once more peering out into the floodlit evening through our fingers. Thankfully though, we stick to the task, dig in and see out a couple of hairy moments. Then right at the death of added time, a free-kick in is wasted as a header loops harmlessly wide and after JB has pumped the ball skywards one last time, the ref calls it quits as a little game of head tennis breaks out in midfield. Job done! And after having waited something like 72 years for our first win here (don't quote us on that, we didn't research it), we've now managed two inside 5 league games spread over 4 months. Sweet!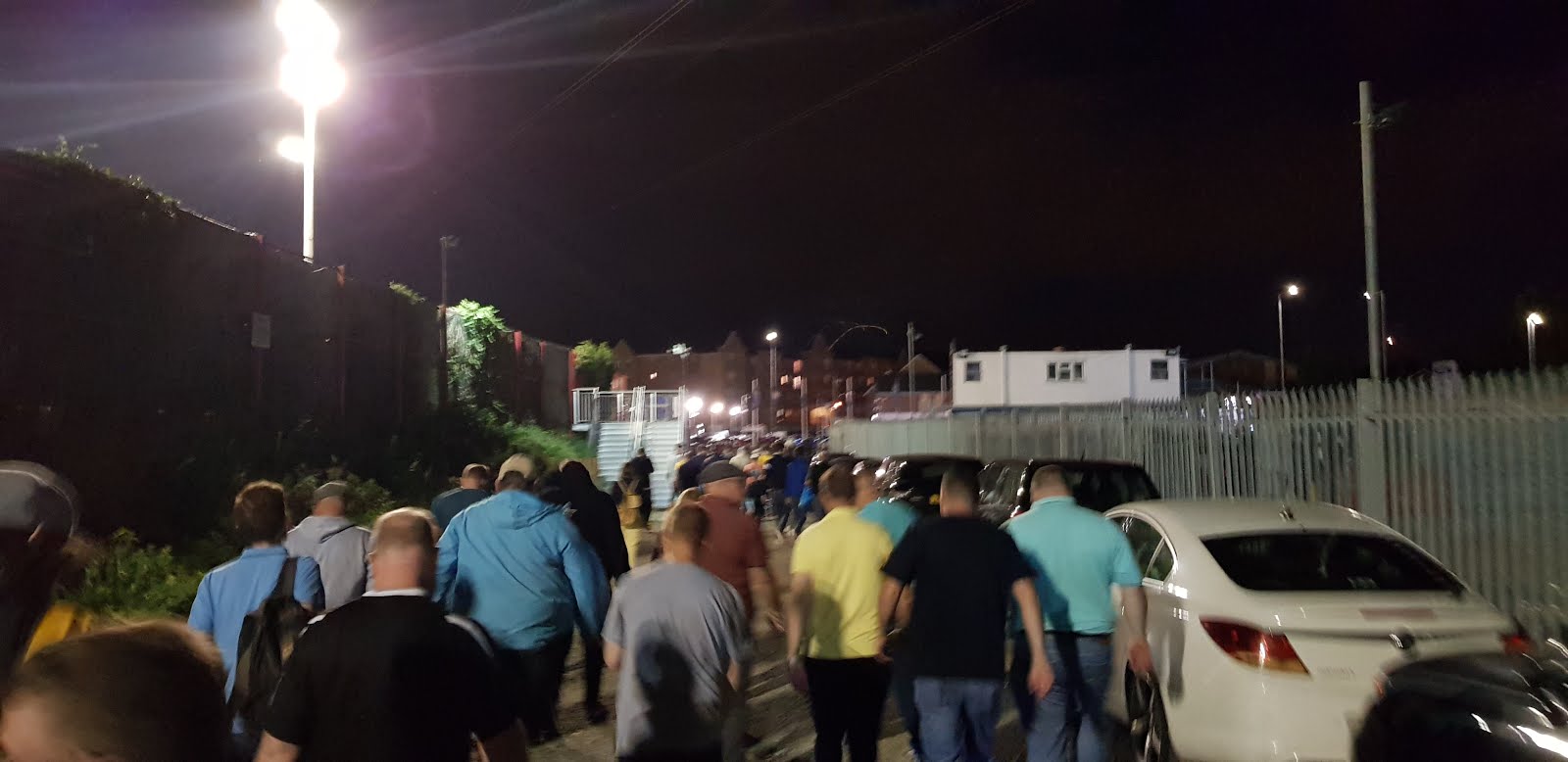 Leaving
Having rightly lauded the chaps for another fine battling win, we head back to the delights of Car Park C at Ebbsfleet International to try & locate Magnum's Ferrari Ford Focus. And for once, I beat Steve to the punch on calling shotgun. What a night it's been! Having trundled out onto the main drag, we're soon heading home and attention turns to the results in that evening's Irn Bru Cup, mainly as we'll be coming into this ridiculous pot at the next stage. The general consensus seems to be we'd all like to play Queens Park at their compact and bijou sounding little gaff in Glasgow. Hampden Park it's called apparently. Sounds quaint, we're in! Then my phone makes a noise. Oh, it's Jeff's message coming though. Yeah, cheers Facebook, you bellends.
Eventually, I'm dumped outside Gandermonium HQ and head indoors for a pre-slumber crumpet and whilst I munch, I'm left contemplating the main fact from tonight's win.
Only 42 more points to go!
Taz