"In this world one thing counts….In the bank, large amounts."
I'm a big fan of the old musicals me. Not the current half-arsed bollocks which is basically just a threadbare plot to stitch together an artists back catalogue so they can have another run round the houses milking the royalties. Nope, I'm talking about the stuff I grew up with as a kid blasting out from mum's old valve radiogram and the one that remains the tops for me is 'Oliver!'
Ron Moody's Fagin lecturing his gang of street urchins on the value of a shilling may not have been written by Lionel Bart as a metaphor for modern football but nearly sixty years on you can dust it off, open a non-league football blog with it and stand back and admire its prescience.
A snip at 60k a year….
And so to today's visitors Salford City and their galaxy of minted and connected backers. Does it matter? Maybe not, pumping some cash into a struggling local side and developing its community work and academy is undoubtedly a good thing, no argument with that, but it's the incessant virtue signalling and media obsession that turns the Neville Neville, Giggsy Wiggsy, Butt and Scholes enterprise into a bit of a fucking circus that sticks in the throat.
The arse-licking and infamous Sky documentary was a kind of a Love Island PR puff exercise where a group of ex ballers and their mate from Singapore fall in love with a lass from the other side of the tracks and spunk their money trying to doll her up to their expectations while shafting the mates who've helped her through the tough times along the way. Will it last or is just a fling? Only time will tell kids but I predict tear-stained mascara before bed time.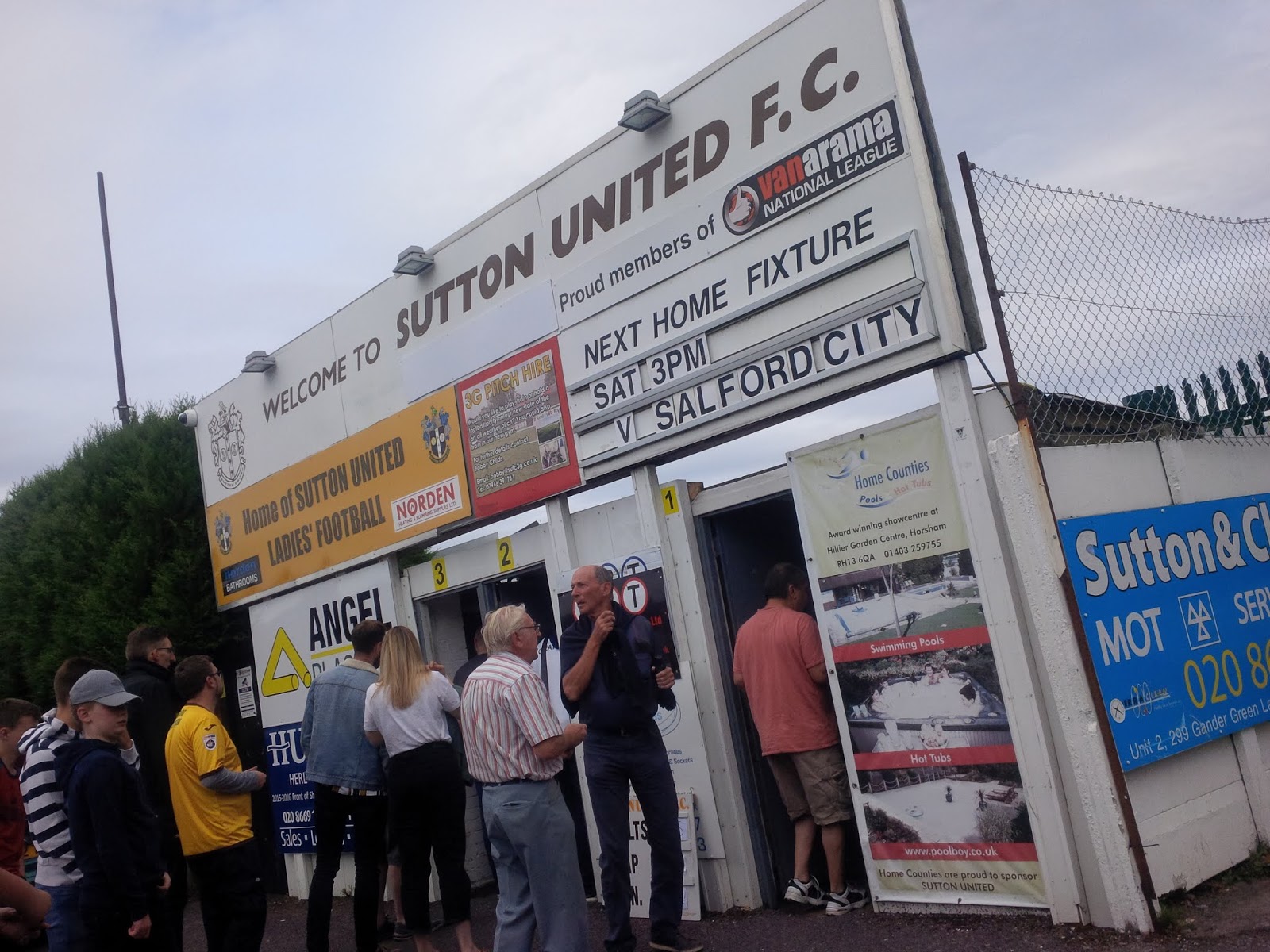 Anticipation builds
And then there's Adam Rooney. Leaving a team who finished second in the Scottish Prem for what has been basically presented as a life of charitable and missionary work on the mean streets of Salford – while a fat fee changes hands and he pumps up his salary to around four grand a week in the FIFTH TIER OF THE ENGLISH GAME!. You would need to have a heart of stone not to have enjoyed the row on Twitter over Rooney's signing between Gary Nev and Accrington Chairman Andy Holt and I admire Gaz's willingness to wade in and defend his position. Fair play son, but let's be honest, if there was FFP at this level you wouldn't be able to sling it around like Princess Margaret at a beach bar in Mustique with John Bindon.
The general vibe that Salford are the chosen ones when it comes to the limited media coverage of the non-league game isn't helped by the fact that the clowns who run the official National League social media platforms are so far up their arses they've had to write their names on the soles of their flip flops. The tweet this week that an away defeat for this newly promoted club at Gateshead two games in was "already the biggest upset of the season" was frankly fucking embarrassing.
Anyway, all of this old flannel has added some spice to the pot as we revved up for the start of the season with Salford having any illusions that the National League would bend the knee to their omnificence shattered in their first two games while we had picked up four tidy points. Quick word about the trip to Harrogate, magnificent, great community club and a great town and they can be rightly proud that they have hauled their way into this division on hard work and merit. If you get a chance to pay them a visit, do it. The pie and peas is exceptional. Some of the best grub this side of Worcester Park.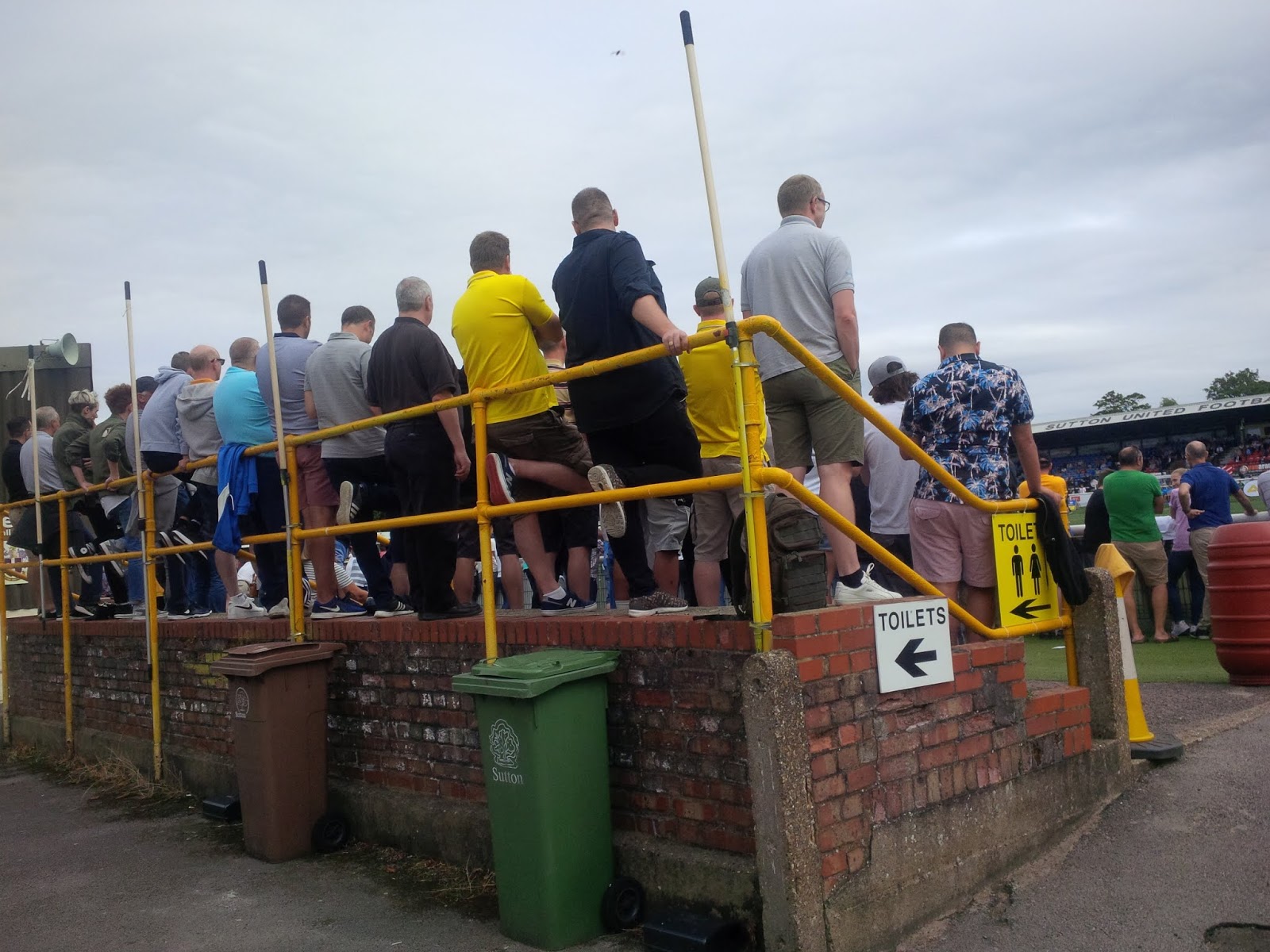 Standing room only.
I'd run a bit of market research mid-week to see exactly where the Gandermonium readership are at when it comes to content and was mildly surprised, well, not surprised at all actually, to find that Giggsy Wiggsy and his Salacious Sex Scandals topped the poll easily. The DBDC were all hoping Giggsy Wiggsy would put in an appearance for the match as it's not often we are in a position to take the moral high ground when it comes to the old slithery business but the Welsh Wizard is one of the few who can leave the crew looking like a monastic order.
So, match day arrives in West Sutton and I've got that feeling coursing through my veins that only the first Saturday home game of a new season can spark up. A quick bob up, a bit of the cricket and the clock has soon swung round to midday and it's time to get me gear on, sort out the match day essentials and head up GGL for some action.
With the Plough still boarded up I opt to stop off at the Gander for a sharp livener and there's a a few faces around but it's quiet and most of the lunchtime punters are focussed in on the Spurs Newcastle game on the giant screen. A couple of the B Team are lurking about but there's no sign of any Salford let alone their celebrity owners despite the offer from the PROWS of a full cultural exchange visit. Their loss.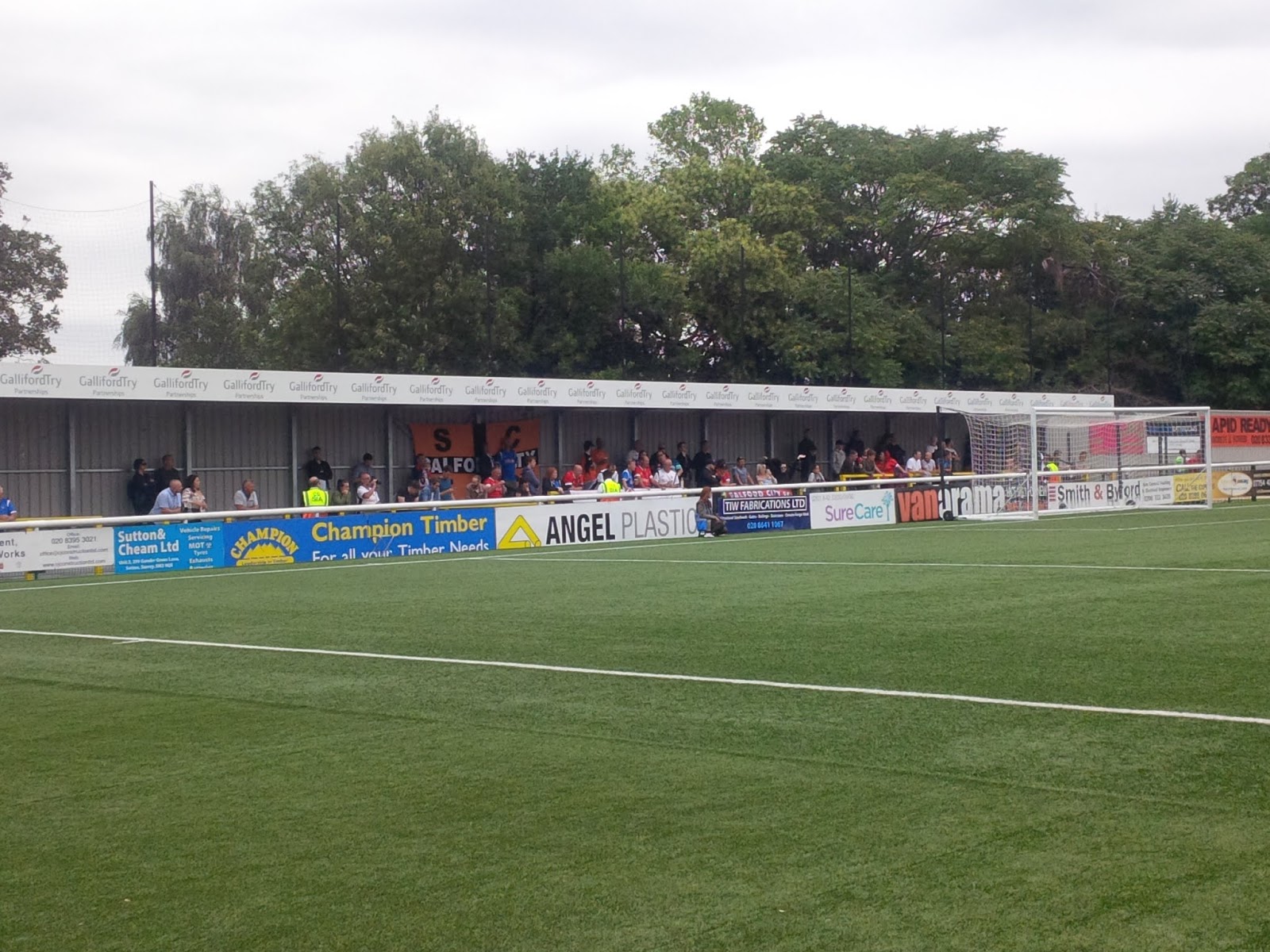 Travelling hordes
Swinging through the gates of the club, and looking forward to a couple of cold Amstels, I'm waylayed by the Fear Family en route who are soaking up some rays in the car park. We have a natter about the plight of our former HQ the Plough and the prospects of it reopening as a bar come cultural centre for the myriad of creatives and hipsters on this manor. Doesn't sound promising if I'm being honest, especially at 60 grand a year rent, but it's still all to play for. I bet that lump of lard who owns Newcastle is eyeing the drum up but he'd do well to note that if there's one sort of strippers we don't want round these parts it's asset strippers. You've been warned pal.
I have a quick scout around and Taz, Mr X and a few others are installed in the lounge and I even get handed an official team sheet before it's been broadcast. Knowledge is power and I take it outside to give the lads on the Tarmac the inside gen. the only change is Doug into the starting line up for Tombo. The Six Million Dollar Man is confirmed as up front for Salford. Who cares? This is West Sutton mate and we don't give a fuck for all that Billy Big Bollocks baloney.
Soon enough Dirty Barry rocks up for a quick couple of scoops pre match in the bar to celebrate the latest research showing that drinking stops you going senile. I'm the living proof. I'm nearly sixty and I've been on the piss since 1977 and I'm as sharp as the crease in a pair of Sta Prest with an IQ the size of a fucking cricket score. If the medical profession want to do some advanced work on this important subject buy me a case of decent Rioja and stick me in front of University Challenge and watch me wipe the floor with those lazy student mugs.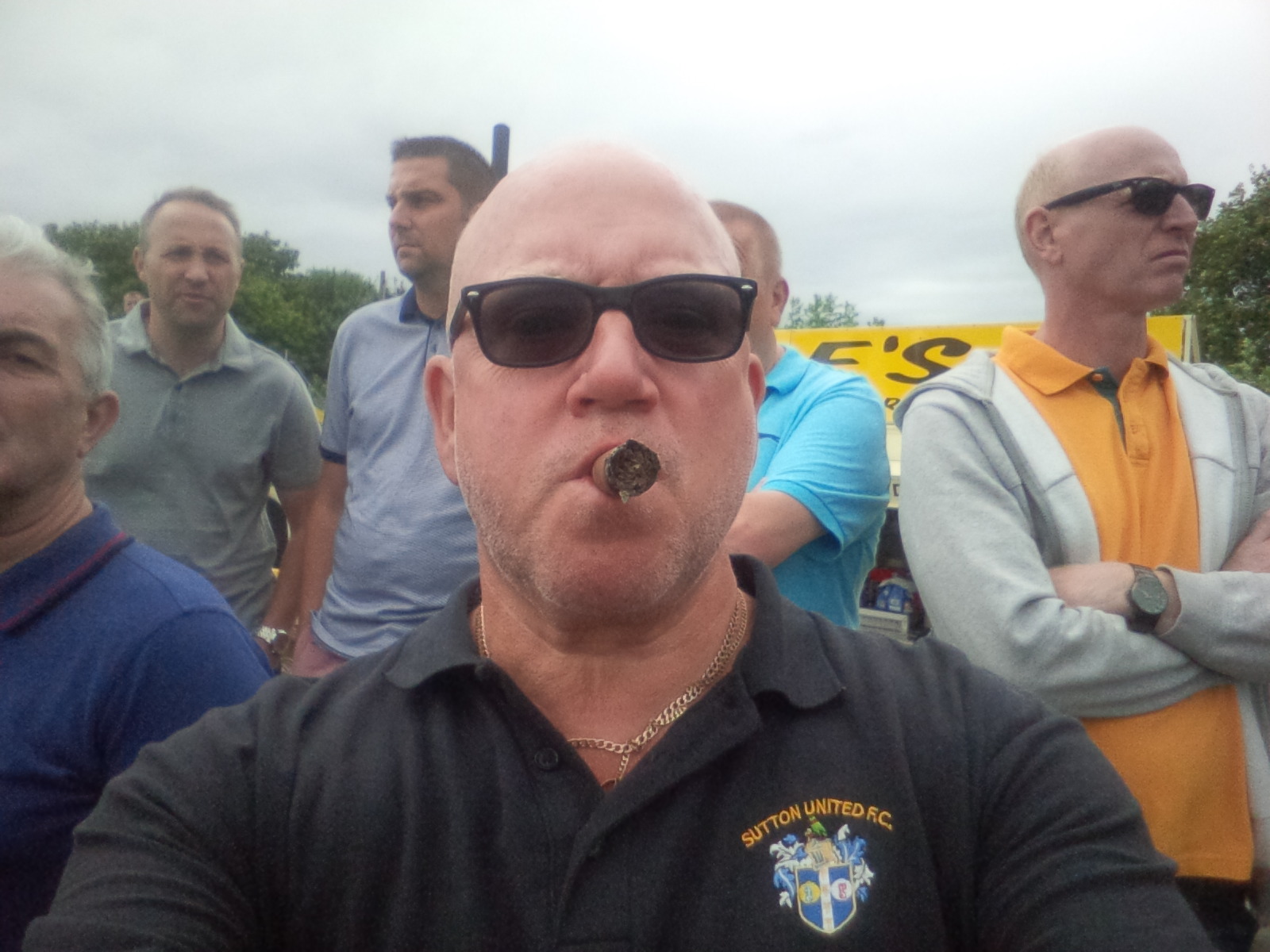 Half time lah-de
While we are on DB some Gandermonium readers would have been alarmed to hear that he took a "funny turn" on the train up to Harrogate last week. Apparently "going into a tunnel backwards" sends him all queezy and after trying to cool himself down with a cold can of 1664 pressed to his forehead – straight out of the Brownies First Aid badge that one – he disappeared off to the shitter for an inordinate length of time. I thought he might be dead. Would have been a blow but at least I would have got a double seat to myself for the trip home. Anyway, he dumped his guts somewhere between Donny and Wakefield and was looking fit and well and we hook up with Tom The Beard to assess the ninety minutes that lay ahead.
But times marching on towards three o'clock and we amble round to the turnstiles to clock in and after exchanging pleasantries with Moley, Torchy, Frakey and a cast of thousands whose names all happen to end in Y we take up position on the Shoebox. The DILF's ranks are still a bit depleted but the Bacon's are back from their holidays and with segregation in place the famous terrace is well loaded for this one.
Butler, Bennett, Thomas, Clough, Collins, Davis, Lafayette, Cadogan, Eastmond, Wright, Wishart. SUBS: Beckwith, Bolwinra, Beautyman, Taylor, Drinan.
Early exchanges are tentative, Salford haven't brought many but the fifty or sixty behind the goal are noisy and clearly excited to be visiting such a famous old club dripping in history and class. It's exactly the sort of game they would have been dreaming of over the past few years. We start off a bit too route one for me and although Ross is working his nuts off I would prefer us to be getting Wish and Doug into the game. Salford look comfortable with the old long ball which is no surprise.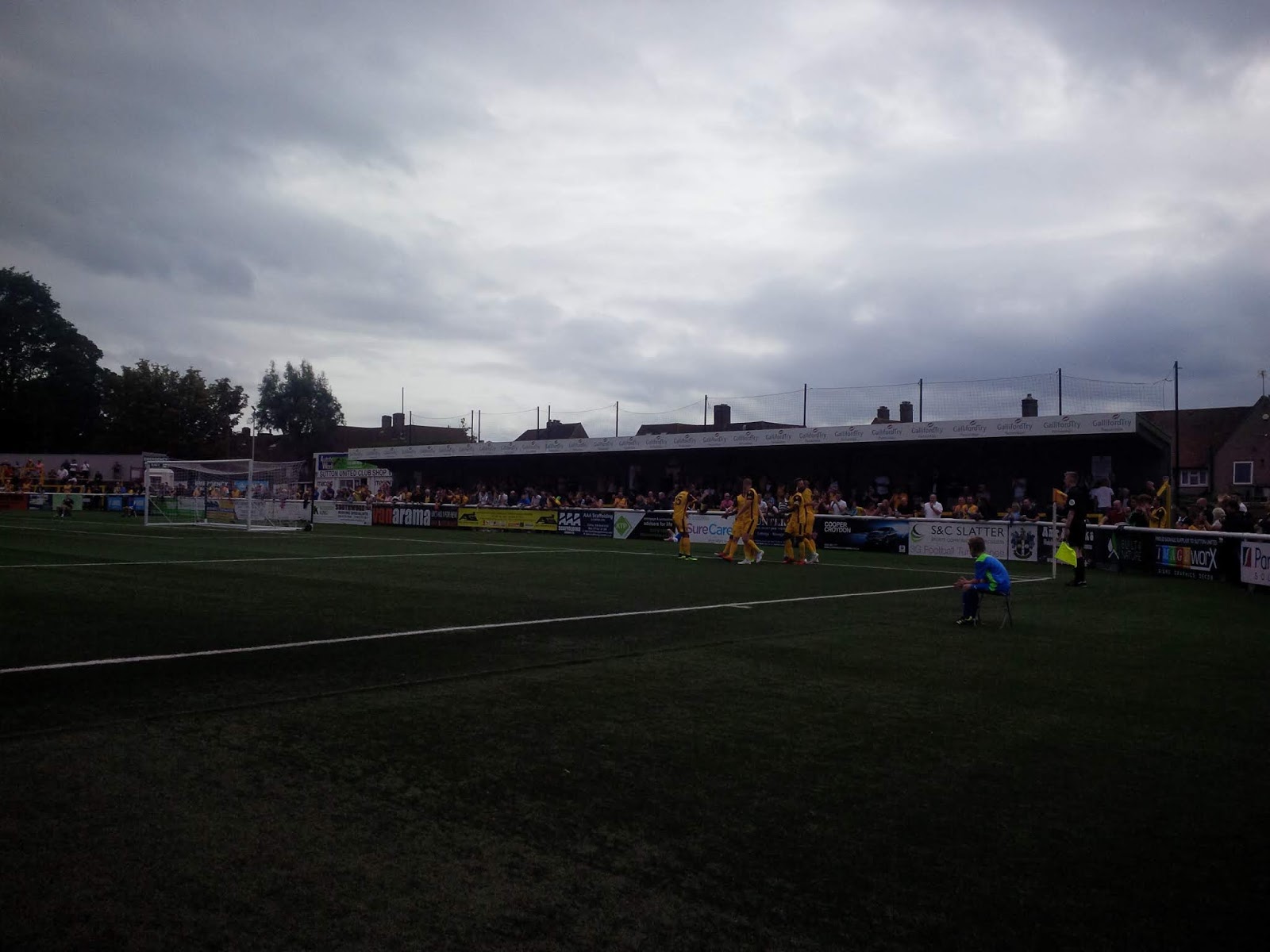 Winner winner…
The opening goal falls to the visitors as we are caught napping a bit from a corner and their fella nuts a free header into the corner of the net. It's a wake up call and we shake ourselves down and start to get going after Salford had the better of the first twenty minutes or so. Our equaliser is superb. With us now finally keeping the ball on the deck more some lovely play opens up a sight of goal for Easty and he bends it round the keeper cool as you like. We are on top rest of the half and go into the break in good shape as we check on scores from around the non league game and I fire up the old lucky laah de.
Second 45 starts pretty much as we left off. Someone with better eye sight than me spots Gary Nev hanging out over by the Binatone Scoreboard and he's in good position to see what might have been a major turning point in the game, the Aswad red card. I can't see exactly what happened but Greek, with his notorious X Ray Specs, is convinced it's a wrong un but our lad don't turn around as he heads down the tunnel. Stamping apparently. It's a game changer, but not in the way you might expect. Skip is bandaged up like he's been hit with a sledgehammer and with Josh coming on and Wish dropping back we are in to one of those classic backs to the wall scenarios we all know and love.
But here's the thing. The pressure is actually on Salford to make this stick and with Rooney looking blunter than a bag of wet mince against the mighty Charlie Clough they are huffing and puffing while Joshy is working his way into the game and it's his fine run that leads to the winner, taking on the City defence, carving them apart and setting up Ross for a well deserved goal. The Shoebox goes full on radio rental but we expect a nervous finale. Never happens, Aaron Drinan comes on and shows what an asset he is, bullying the lumpy Salford back line as they start hacking us about and arguing amongst themselves like kids in the playground. And we are loving it. If anyone's gonna score again it's us and although the oppo get a few corners we see out time easy enough and record an epic ten man victory against one of the most over hyped sides we've seen down here in a while.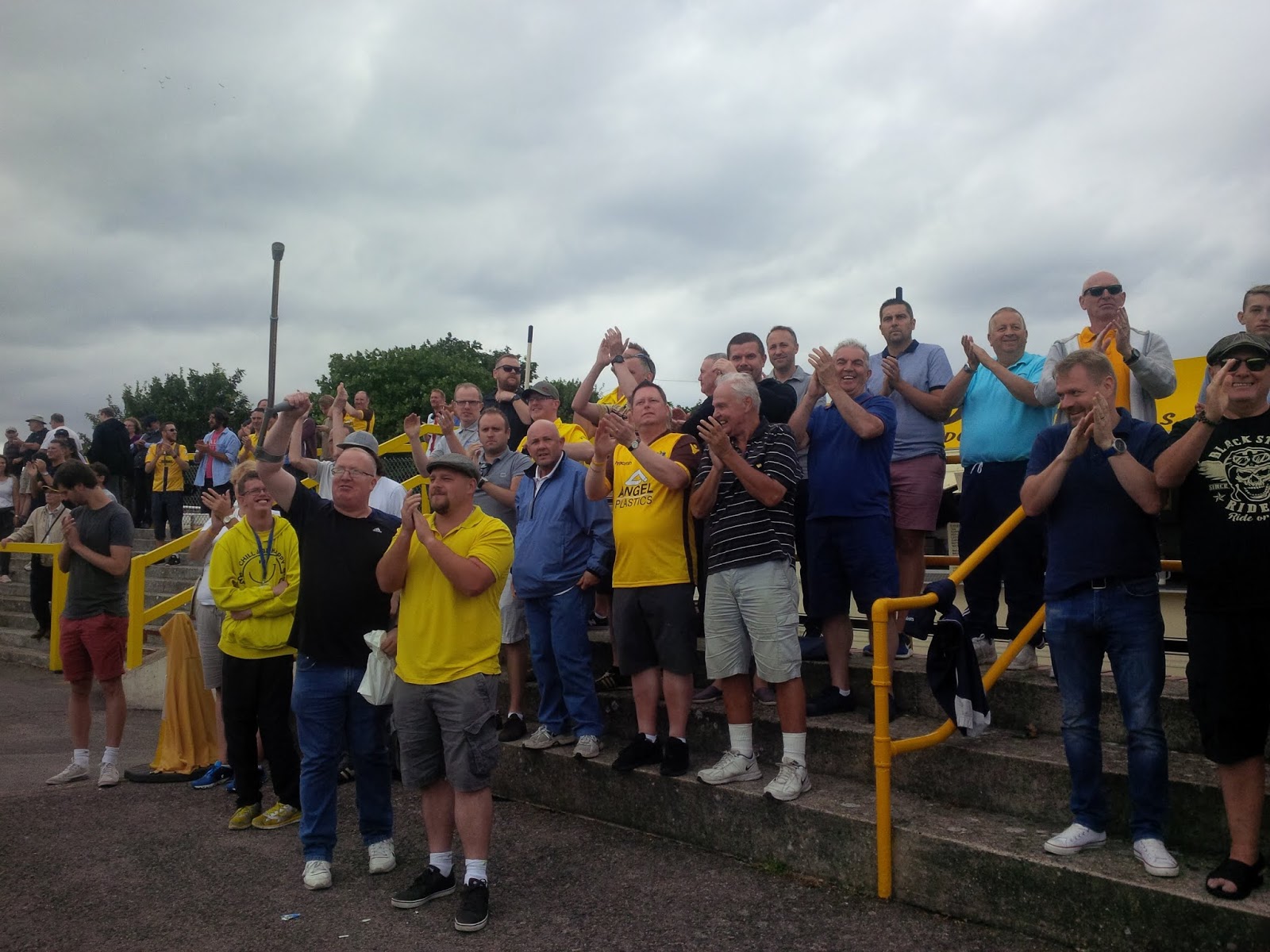 Jubilation
I wander back round the bar with Lee and the Outlaw who leaves us to it. I see G Neville on the way through but I have to tell him I don't do selfies with wannabes. I know he's disappointed but he needs to learn this shit if he's going to get anywhere in life and anyway I need a pint. The bar is buzzing with all the old faces from the COC's and The Cocktail Crew although there's one tense moment when Bobby Bollocks fronts up the Duke for calling out his mob as cretins in the Harrogate blog. I step in before it gets heavy and smooth it all over, well, until Cheezee decides to get involved but I soon put him back in his box as well.
Always on duty I warn Dr Bell it's not a great idea to throw your crutches in the air after a goal when you are on the Tom and Dick and there are TV cameras present. Fucking idiot. And soon we hear the call of a the broken kids accordion and AB is screaming his tits off and we are into the legendary Strikers Are Key draw for another season as celeb ball puller, the BBC's very own Jeremy Vine, is forced to stand on a chair in the middle of the bar to goading chants of "who the fucking hell are you?" Even better news, Chairman Bruce selects the correct key and dumps the wedge behind the jump, just when you thought the day couldn't get any better!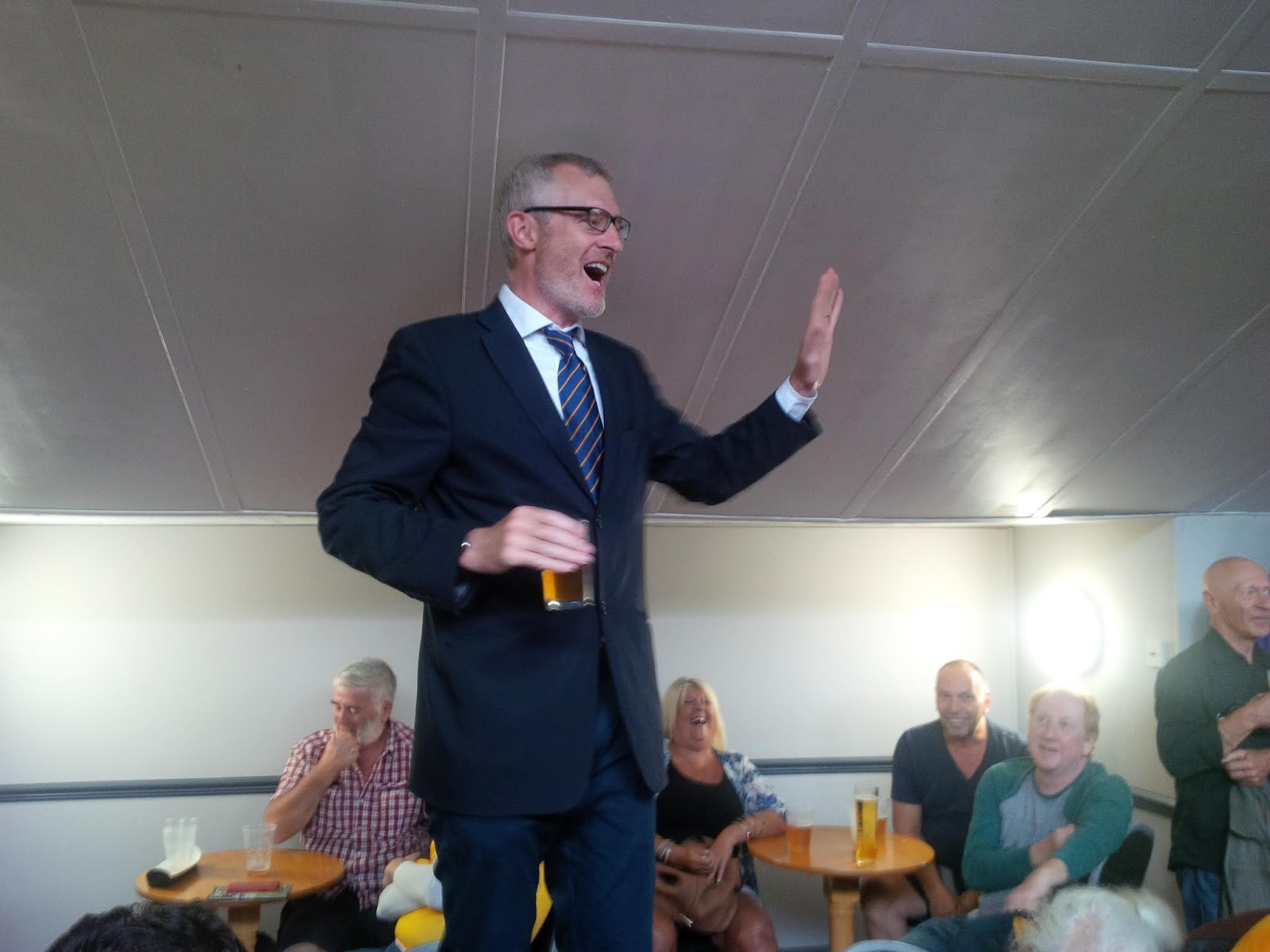 "Alright mate, you're not on the fucking Radio now…."
Great stuff, I'm done after a couple of hours though and slide away down GGL for home happy as Larry and looking forwards to Tuesday night in Gravesend. Which I don't believe anyone's ever said before in the history of mankind.
See you there kids!
Totts