Previously in Gandermonium and Sutton United terms, we all safely made it back from Yorkshire and no one got on the wrong train heading home, yes Dukey I am talking about you. An event which I hope has been fully covered in his blog. If not, just ask anyone of us for the story and how we made a carriage laugh at the Duke's misfortune.
Also on the subject of last week, an ex work colleague of mine, Mr Ramsey, has a cousin who is a Harrogate supporter. Mr Ramsey always likes to try & wind me up about Sutton United and he says his cousin informed him we were lucky. Ok I can agree to some aspect of that given we had to earn our point with a last minute penalty, but Harrogate are a good side and a few will have difficulties against them this season. A nice place and ground too.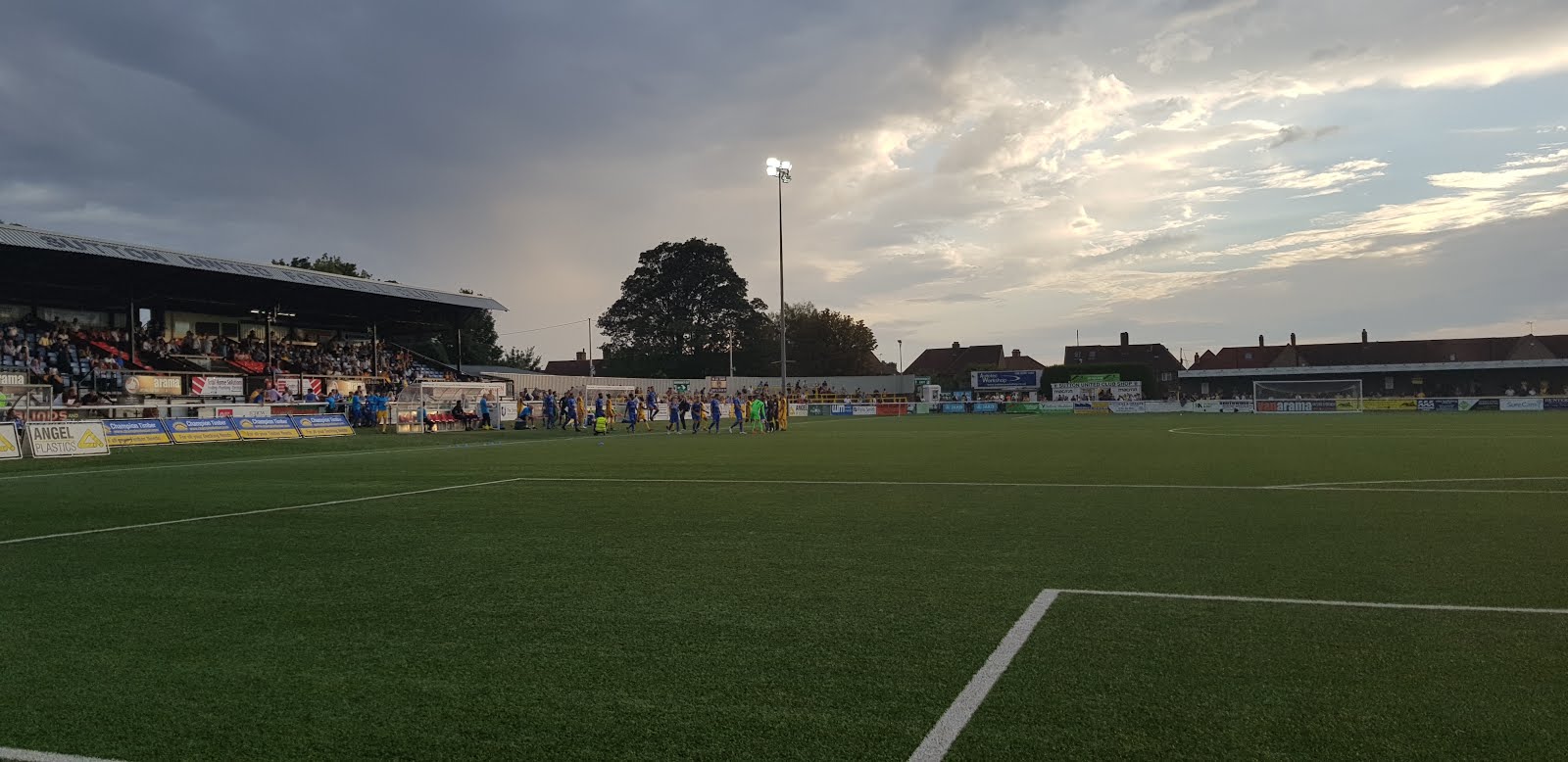 Big bad
Whilst looking at matters of a previous nature I would like to extend a personal tribute to Barry Chuckle, one half of the famous Chuckle Brothers. If you are someone in your mid-20s to late 30s then you will more than likely have grown up with this pair – to me, to you! So lets move on to the matter in hand, this lot (Eastleigh)! For some bizarre reason I agreed to sign up to do the blog against this lot and to bring an additional touch of continental flavour I add a dose of French. My title reads "I despise that odious toad Rock and Eastleigh". Yes readers, not only does yours truly have a Grade B at A level English but I also have a GCSE Grade C in French too! We at Gandermonium are a multi-lingual bunch, don't look so surprised! But I am sure every man, woman, child and dog (sly reference to the DBDCthere) knows by now how much I despise Eastleigh and to top off the occasion, who do I see in charge for tonight's game – none other than everyone's favourite referee David Rock.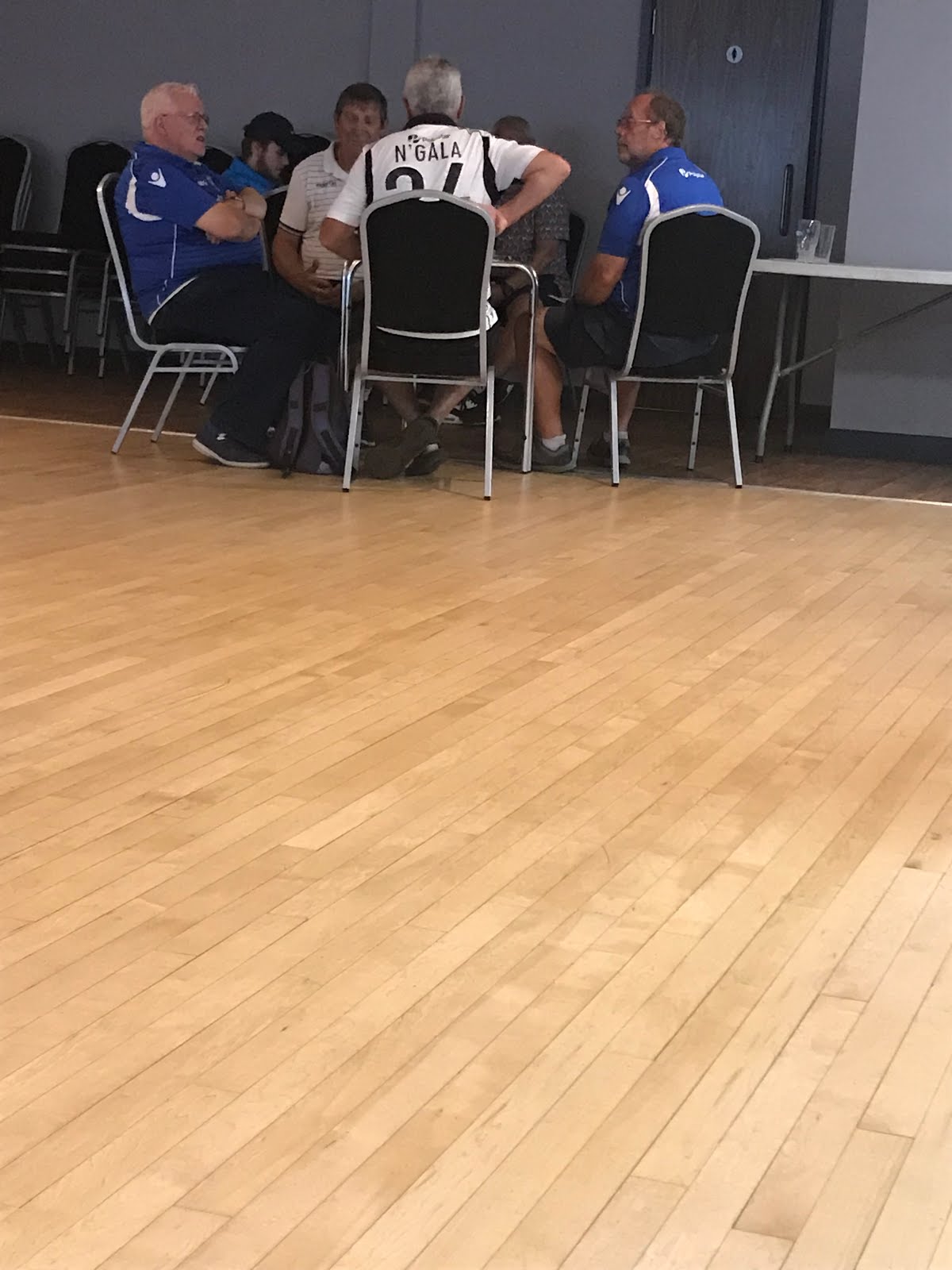 Boo! Hiss!
After a hard day's graft working at home, I decide to call upon an Uber to take myself to the ground. Upon arrival to the bar, I notice Mr X, Dave Burgers, Millwall Terry and various others. However, there appears to be only three members of staff working behind the bar and the bar in the Times Square lounge is closed. Half Time Steve and his son Ryan arrive shortly and we decide to decamp into the air conditioned Times Square lounge as the players bar is still far too hot. To my horror what do I discover wandering around our bar – Eastleigh fans – what the hell!!! Now the thing is when we go to their ground we are not allowed anywhere near their bar and are made to feel like second rate citizens being told where to go and not go. The mere fact they are but let alone being in our bar really does annoy me and then I discover the game is not segregated – honestly!!!
Spotting Beckwith, Mark we discuss another odious toad known as Thibaut Courtois – and we both agree it would be good if he was made to train with the kids to deny him his 'dream' move to Real Madrid. I go through the astounding sight of Eastleigh fans in our bar with him and decide to head out to the ground.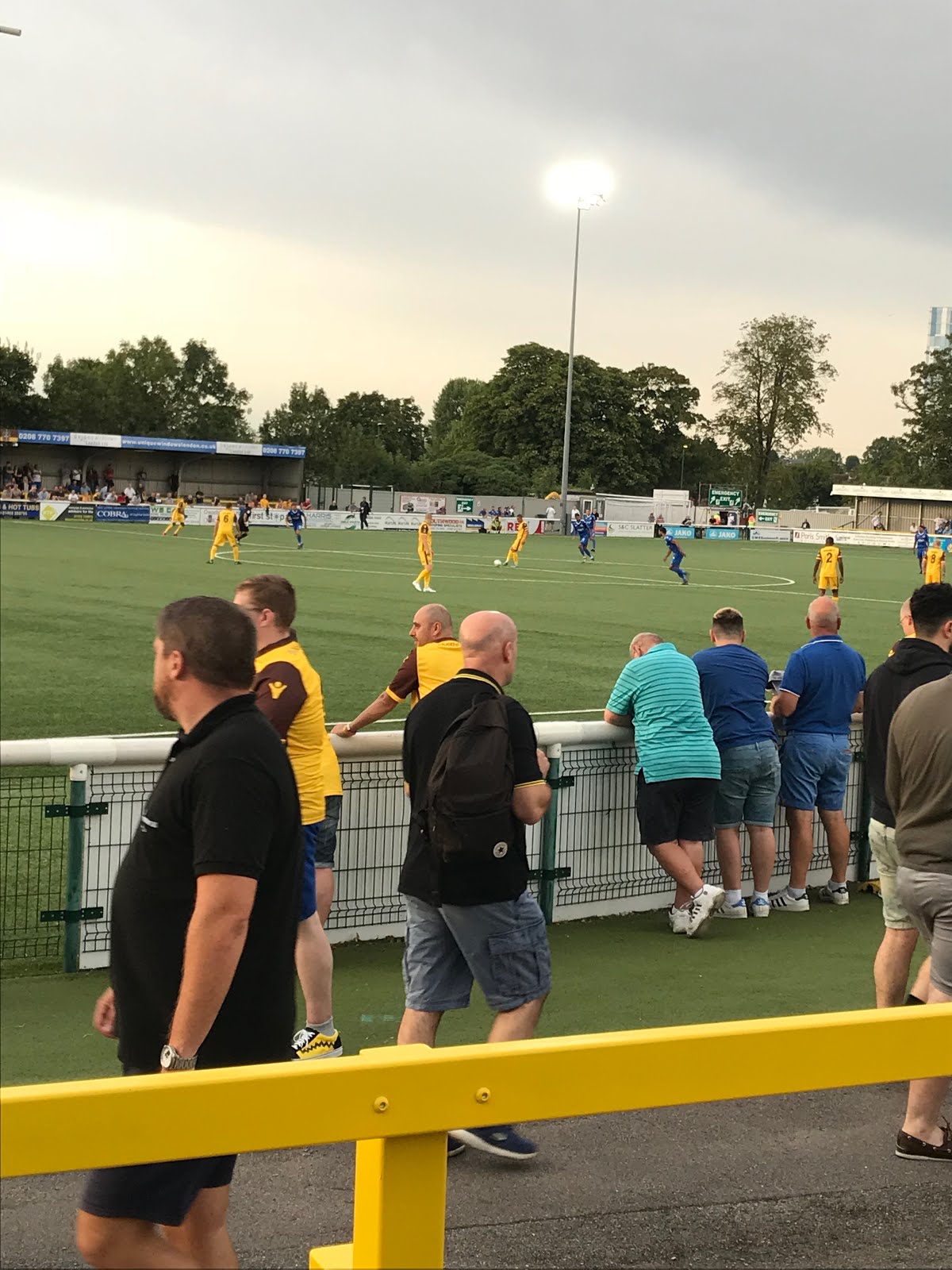 Action
The team is set as follows:-Butler [GK], 2. Bennett, 3. Aswad T, 5. Clough, 6. The JC [skipper], 8. Davis, 15. Eastmond, 21. Wishart, 7. Tombo, 20. Tommy Wright, 9. Lafayette
It is actually a nice summer's evening but the forecast is for heavy rain for later, more about that later. As I approach to stand at the Collingwood Rec end I note their fans have not moved – blimey this lot really are special. I stand next to Belly and I inform him of the Dukey train moment from Saturday which he did not know about. Belly though, down to the one crutch, was sprung into action when a shot from Tommy Wright was just high above the bar and the ball thus bounced towards Belly's direction who palms it back onto the pitch to their keeper Stack of previous Arsenal and Barnet history. After a dull start, once we actually started playing a bit of football, it was obvious they would struggle. So much that Tombo ran into the box to be brought down and a penalty awarded by Rock (OMG, he actually gave us a penalty). The JC, akin to Saturday at Harrogate, calmly slotted the ball into the back of the net, 1-0! In fact the same scoreline is now that of between Half Time Steve and I to see how many goals we miss when heading to the bar before half time – to be honest to the chap, tonight might be a good idea due to the lack of staff mentioned above. However, upon 38/39 minutes I make my way there and HTS has kindly done the works and got the beers in. Our goal did not stop them (Eastleigh fans) from starting on people yet again – Millwall Terry sadly getting the brunt of them – they really are pain in the arse.
As we drink, one of their lot (Eastleigh) comes storming through the Times Square Lounge and has a moan about our bar and I quote "what a sh!t club" so I mouth back "so is yours" – if he had come back in I would have said "well you shouldn't be in here anyway". The cheek of such vileness! The second half arrives and what is this – something we have forgotten about, yes readers rain and I am not just talking a light shower I mean this is a proper downpour. I actually am enjoying this, so much that I do not mind getting soaked standing on The Shoebox; but more importantly it's another 45 minutes of enduring that lot in our ground.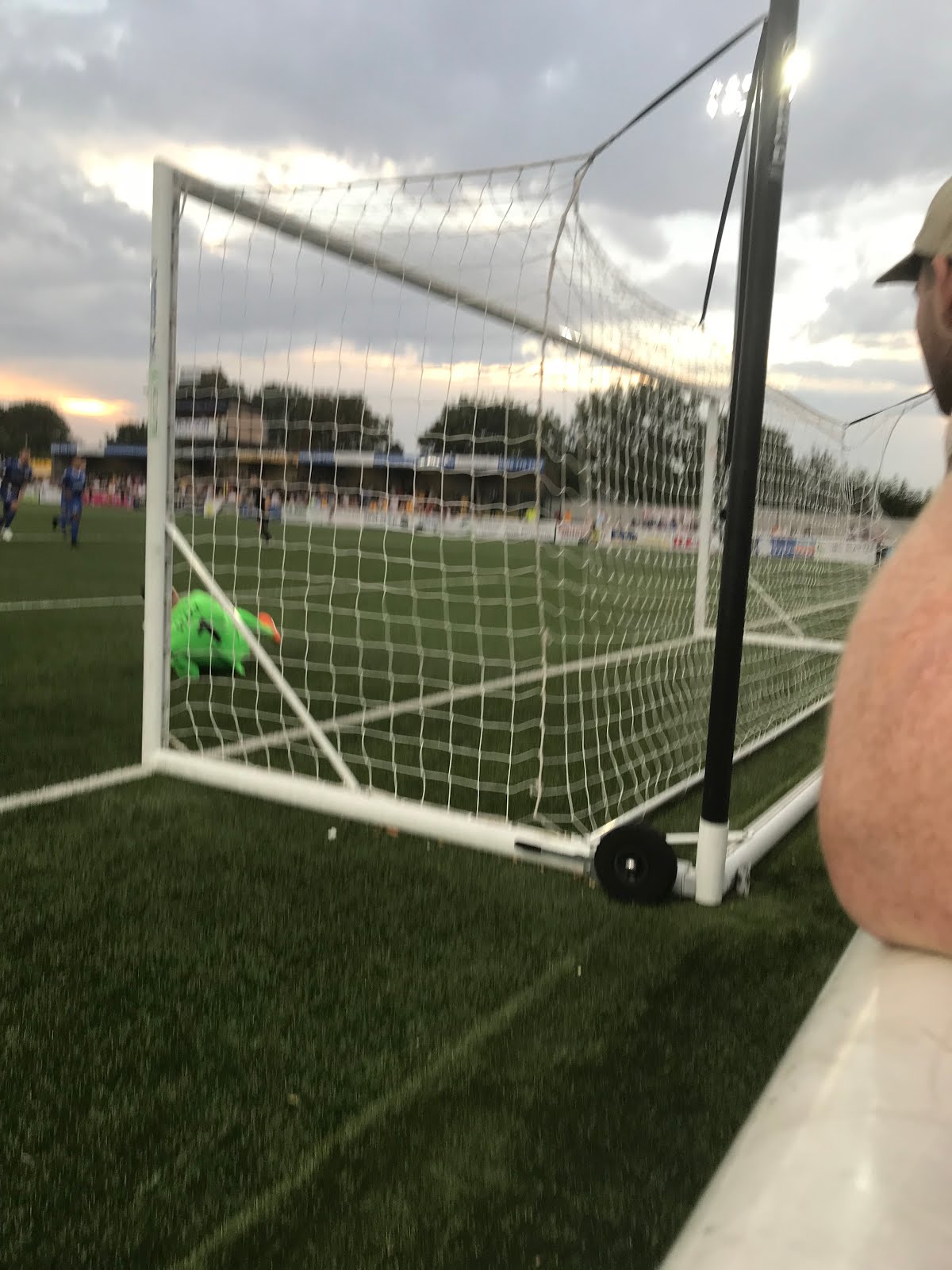 Skip tucks away the peno
Infact without going in to too much detail there was a lack of second half action, and they barely created a chance. Even in injury time Stack came forward but was unable to connect. It was a good defensive display from the boys at the back, although we are yet to score a goal from open play and for the benefit of Strikers Are Key (SAK) a centre forward. Still, plenty of games to go to get that sorted. Now remember before how I mentioned they (Eastleigh) did not move, well they stay stood in the same place for the second half – they really are a special bunch. I take a nice cheeky shot of their allocation with somebody's fingers (ok I admit they are mine) directed at them. As the final whistle approaches I slowly make my way over to where they are and let out a loud cheer in their direction. Thankfully it's the end of that lot at our place for another season – well hopefully we do not draw them in the FA Trophy or FA Cup!
An attendance of 1725 was there to witness what was really a dull game overall. For statisticians' purposes, the substitutions were Drinan on for Tommy Wright on 75 minutes, Cadogan on for Tombo on 78 minutes and Josh Taylor on for Davis on 87 minutes. There were no bookings for us surprisingly!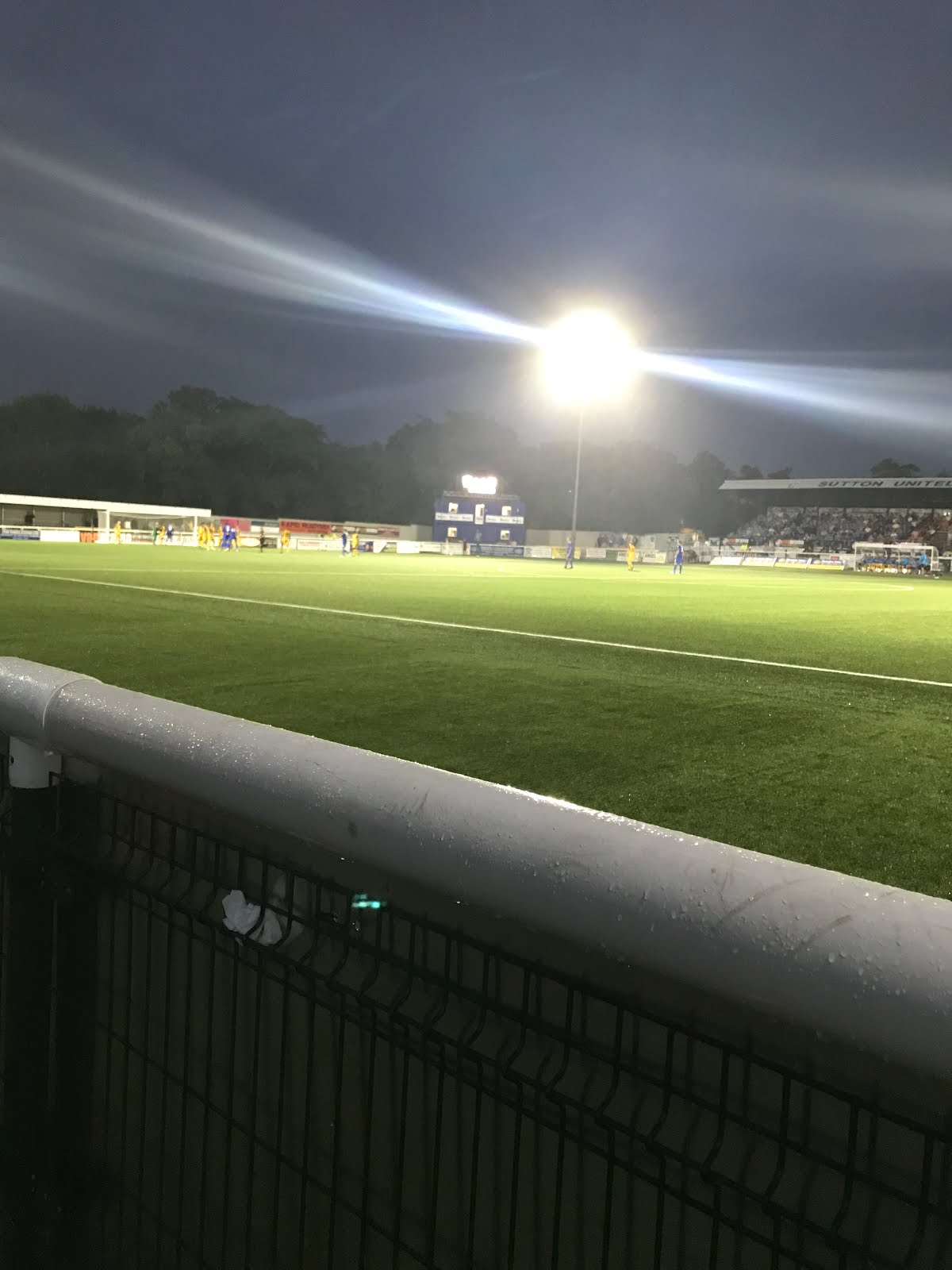 Under lights
To walk into the bar, we all look to dry off as The Shoebox lot of us are literally soaked to the bone, and it's a quiet assessment of the evening's events, it is a school night after all! To be honest, not only was I grateful for the rain (having scoliosis in a heatwave does not help) and its nice knowing THEY will be disappearing. I only stay around for around 45 minutes after and walk out into GGL to hail an Uber. However, Kiddo spots me and kindly offers to give me a lift home – thank you kind sir.
Thoughts now turn to Saturday against Salford City and their money driven "fairy tale" honestly it is just banal media love-ins why they get so much exposure. However, what I will say to end on a positive note is that I am sure we would be grateful that four points out of six is a good return for the first couple of games after a (in my eyes) slightly poor pre-season.
Wise men say……
Robbo