Maidstone, are they the fabled Kentish men or Men of Kent? Does it matter? What am I on about? Have I been drinking? Well yes in fact, but that's not the point, although we could've done with at least one on Saturday. With myself being born in a former part of the county, a la South-East London, my Aunt always reminds me that I am actually a Kentish Man. Well I think she said I was Kentish, can't think what else she could've meant.
So are we now into the 'business' end of the season finally? With less than ten games to go, there is still plenty of ups and downs that will no doubt befall the boys in Amber & Chocolate. Well at least we don't have the distractions of any cup football to worry ourselves about. We made sure of that a while back now. But of course there are still the issues over our pitch to resolve with now apparently no FL vote happening this summer.
Speaking of which, might as well get my two bits in like others have. Personally, I think I would like the club to take the moral high ground and refuse to rip our pitch up if we were to win the league. That ain't never going to happen, but it would be nice to say that we want to remain firmly rooted within the community and give all the various incarnations the continual use our facilities. Yeah yeah, I know, it's not like The Duke to get all 'inclusive' but it would also be a cheaper season of travelling for us!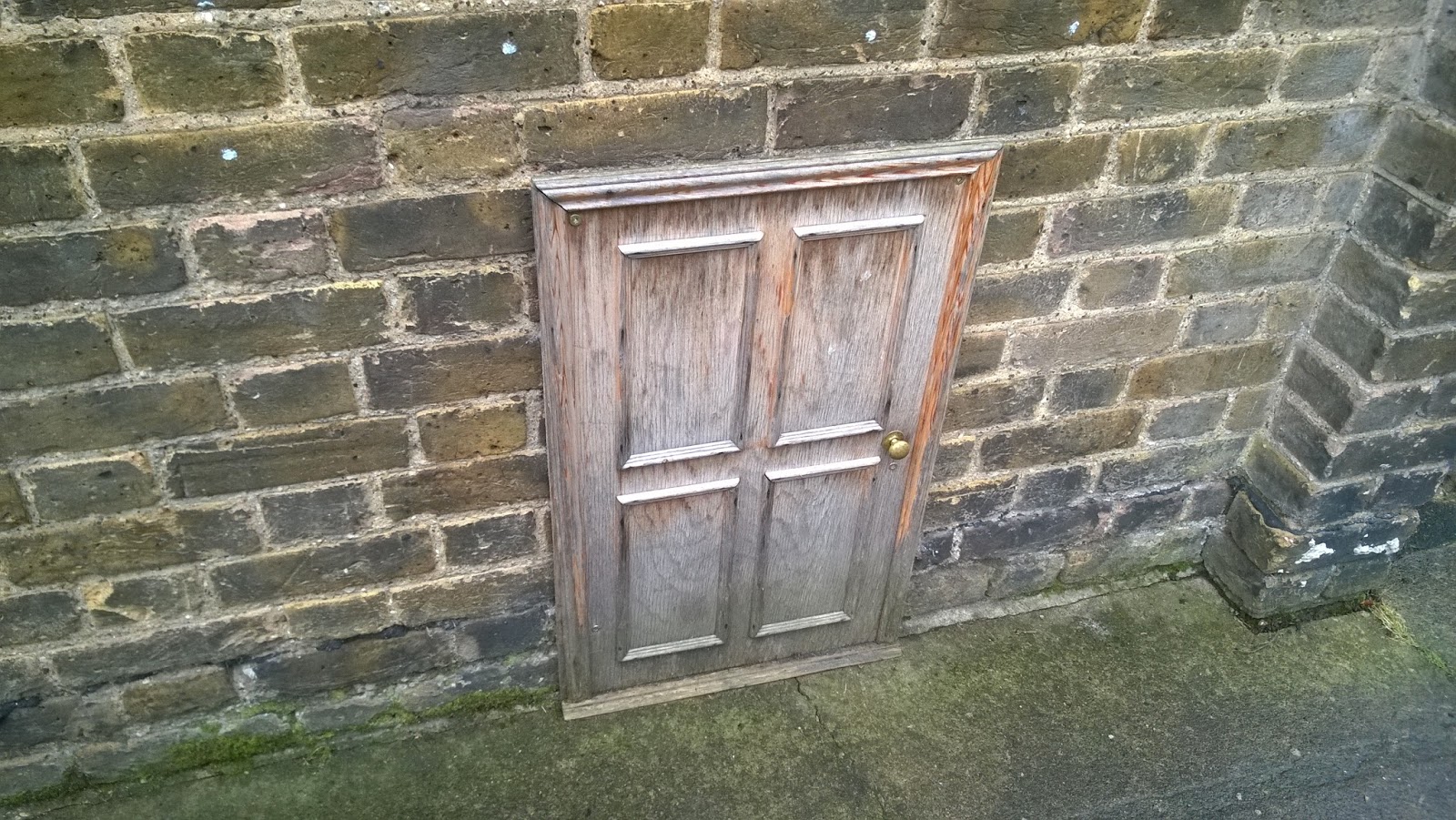 Hello? Burgers? Are you in there?
Then again, if we need to turf all the teams out for a spot of Football League action down Gander Green Lane, then we can't let something little like morals come between that. It might end up like a spitting contest between Frank Rijkaard & Jamie Carragher, but I'm sure it'll all pan out in a way that'll upset someone, somewhere. Right, enough politics, onto the usual bollocks…
Once again, British Rail have decided that Sutton and the surrounding area can do without any trains over the weekend, so it's another bus ride to Morden to get the Underground. Arranging with The Firm Leader, because it's his 40th (or something close enough) birthday, we decide to get the quarter to nine bus as this will give us plenty of time for the arranged 0952hrs Maidstone s-express off Victoria..
Meeting up with the hung over Dr Bell & 4 Days we are soon on the Northern Line before it's a quick change over at Stockwell and not long after we're pulling right into Victoria. We still managed to go up the wrong bleedin' stairs and end up on the District & Circle platform, but eventually we made it. And it's not just us that made that particular fuck up either.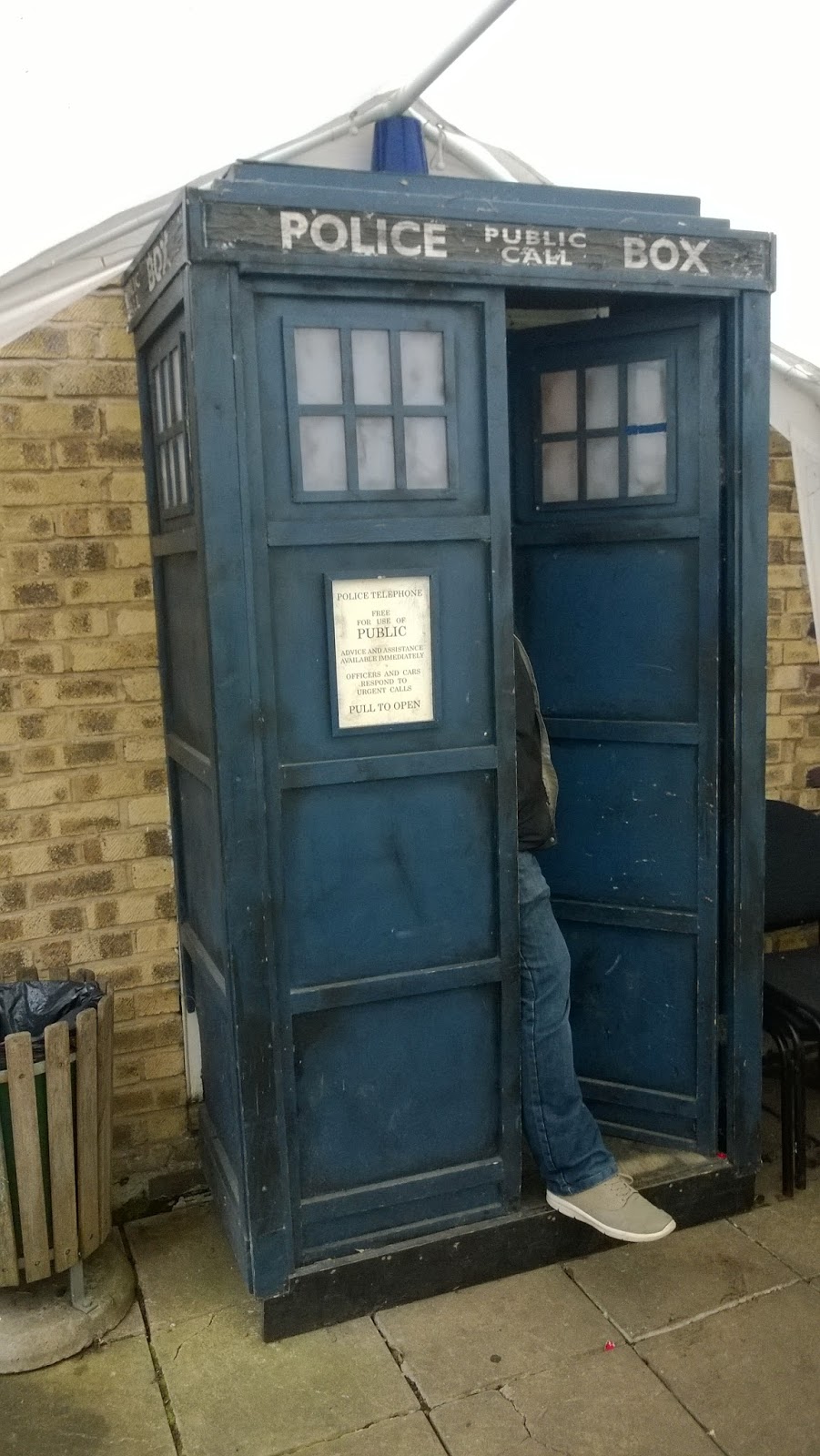 Blue is Police, Red is toilet. Got it…
Spotting Magnum P.I. in the queue for tickets, Mr X isn't far behind him. Indy & Sean Connery's Stuntman are also lurking about and eventually we are joined by Taz. Just over £15 for the train trip and when the platform number was finally announced, we all shuffled over to the SouthEastern side and to some empty seats.
Not on time, but we finally left Victoria for the wilds of Kent. And fuck me it took it's time. I reckon it's bloody quicker to get the high speed to Dover than the chugger we had the misfortune to be on. Usual 'bantz' as always with Gandermonium as everyone had a good laugh at my expense. All I'm going to say is that bloody Google Classroom can fuck right off! But I did win some well earned money off Mr X over a little River Medway bet.
Just after eleven and we finally arrive in town. First stop? 'Spoons, naturally! "The Society Rooms" it is as we have a quick pint to decide on a plan of action. Here we are joined by the CoC's who we left in Victoria 'Spoons over an hour ago, but yet had managed to make up time by getting a latter train. We also got talking to one of the Maidstone old boys and his sixties stories and saw the unique sight of a fella wearing a Maidstone top and yet sporting an 'ICF' and even weirder, 'Tonbridge Angels' tattoos.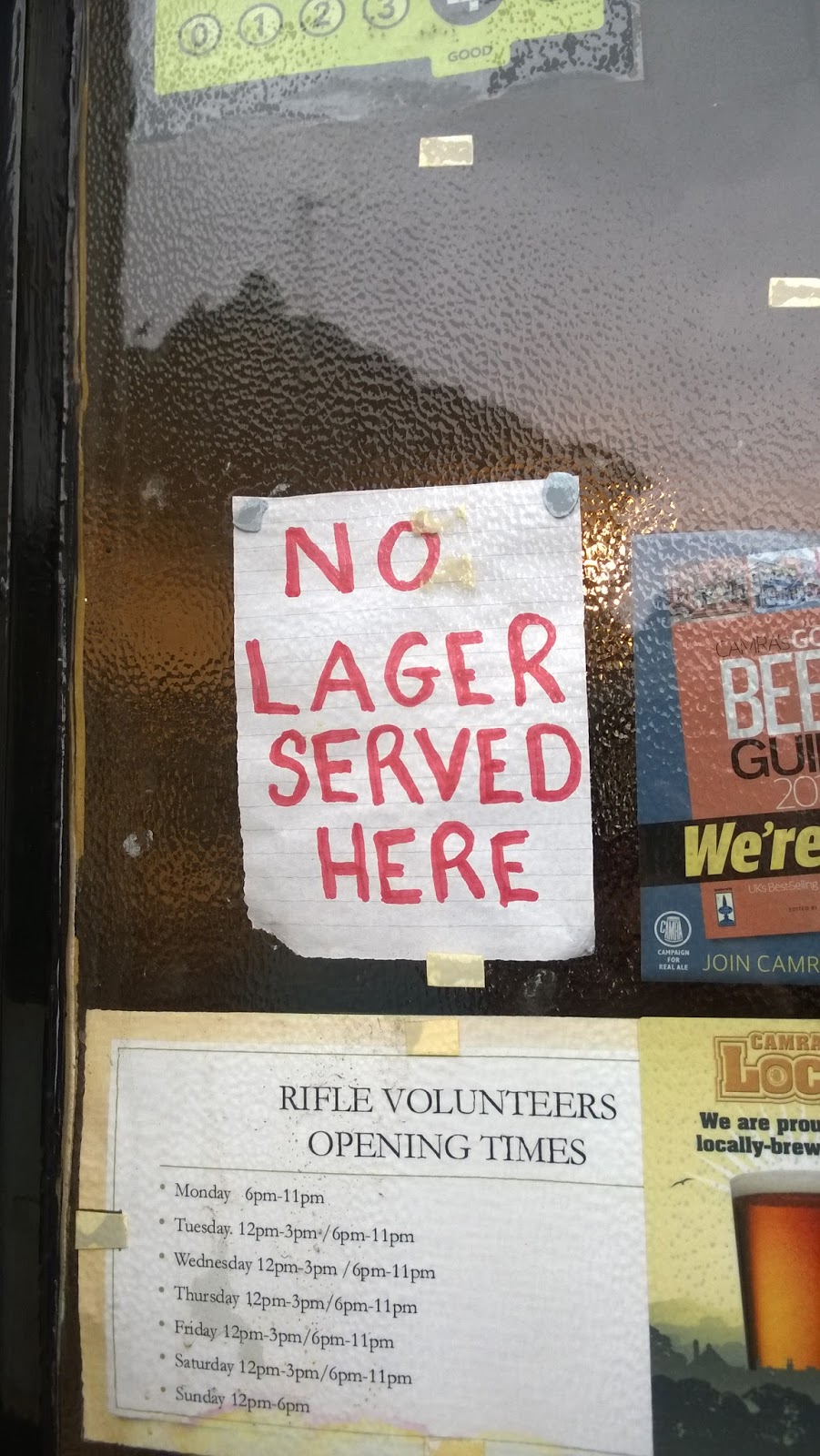 Never a good sign, for some…
Next on our list is the "Duke of Marlborough". Where at one point, me, Taz & Dr Bell are in conversation, a man enters the pub and makes a move towards us where he calmly proceeds to ask "Wanna buy a Yankee candle?". A freckin' Yankee candle? Three bottles of Prosecco in Torqauy was bad enough, but a Yankee candle? What ever happened to the days when you were just offered drugs? Or fags? That reminds me, The Plough is back open isn't it…
Onto "The Style & Winch". Another crackin' boozer, if only it hadn't replaced the traditional half frosted glass windows at the front with new ones. Then again, out back you have the world's smallest Door, A Tardis and a rabbit cage of some sort. Sorry Juan (you remember him?) couldn't find your "Dick of the Day" trophy anywhere though fella.We also had a quiz machine that paid out in the old pound coins. so that's where they all go then.
The "Rifle Volunteers" is next. The owners might have changed (No single can of Dry Blackthorns, twenty minutes to pull five pints of Hürlimann's or even period correct knitted seat cushions), but Arkwright's till is still there as well as the 1970s gas fire. Thy don't serve lager though which might be a stumbling block in the future. With time approaching kick off we head to "The Dragoon" nearer to the ground for a quick pint and some stale bacon fries with cheese. Off to the ground we go and another fuckin' place that doesn't let you smoke or vape. Another reason I would like us to stay non-league right there. Well at least we didn't seem to have the Chelsea bouncer this time round.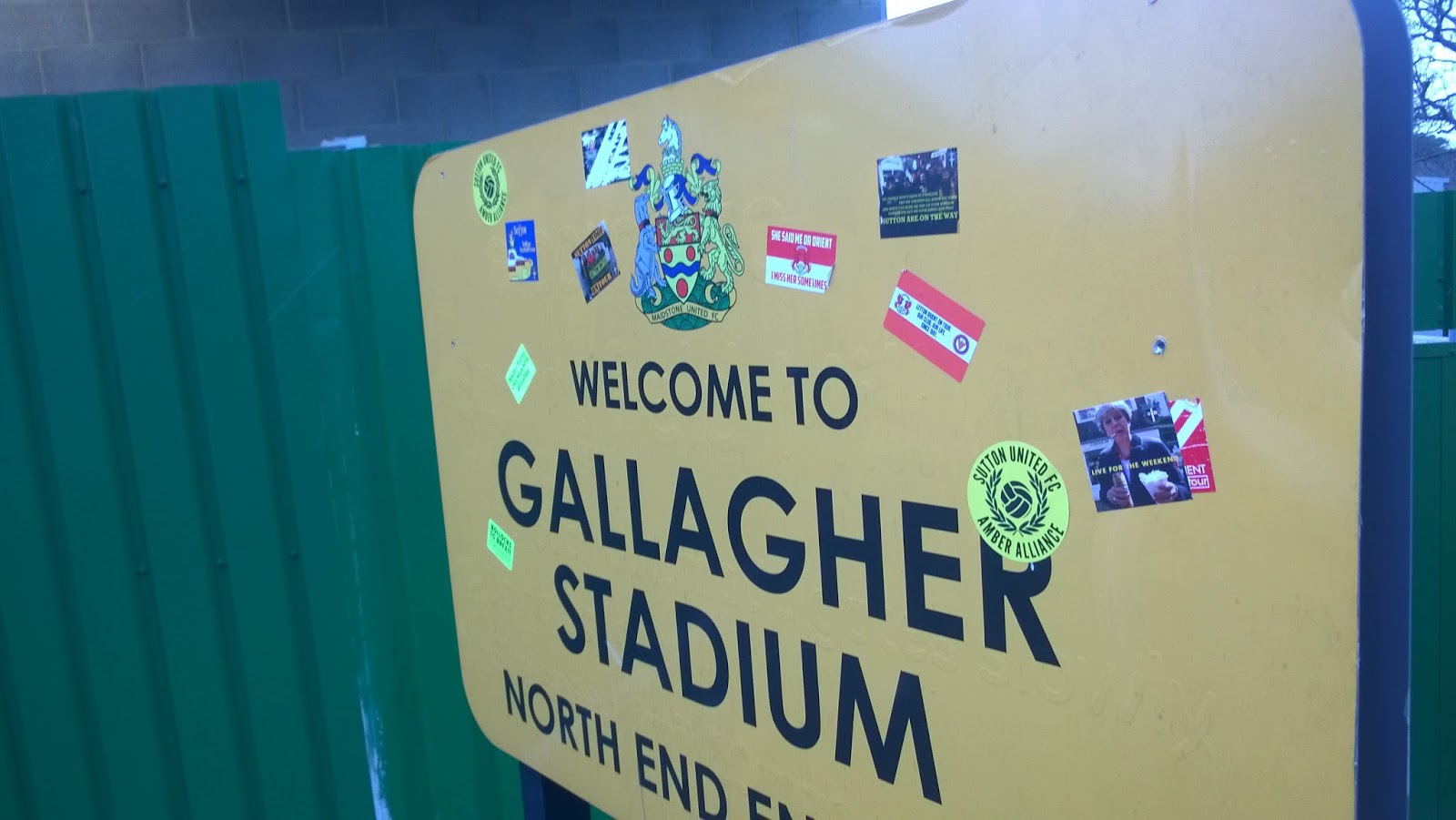 Vandalism! Better call the BTP…
Butler,A Thomas, John, Collins, Davis, Eastmond, T Thomas, Wright, Walton, Beautyman, Harrison. Bench Warmers: Beckwith, Cadogan, Dundas, Taylor, Stearn.

With a Sutton starting line up that didn't contain any wingers, the U's still managed to have the first half chance. Here we had Harrison receive the ball in the box. Unfortunately the Maidstone defender was too quick to close him down and his shot was blocked. This was sadly going to be Sutton's best opportunity of the half as Maidstone put on the pressure.
Although, it was Sutton that gave them the lift up by losing the ball straight from our own throw in on the half way line. Before we knew it the ball was coming down the lefty hand side before it was crossed into the box to "Give the Gangsta fingers to the away supporters" Loza headed the ball into the back of the net. Fantastic! Luckily for Sutton the ref blew his whistle for something in the build-up. Fuck know what though. Lucky escape for the boys on that occasion.
In fact, the first half was such a spectacle that the home fans resorted to throwing chips onto the pitch for the birds to eat. Well it was either that or a couple of Maidstone little Oiks who were rolling back the years with their attempts at winding up the travelling faithful. The days of the 'isms' might be disappearing but only at Maidstone do we get glasses-ism. Yes Ladies and Gentleman, for some strange reason, to a small minority, the wearing of glasses is still considered strange & funny! Yeah it really was that terrible a game.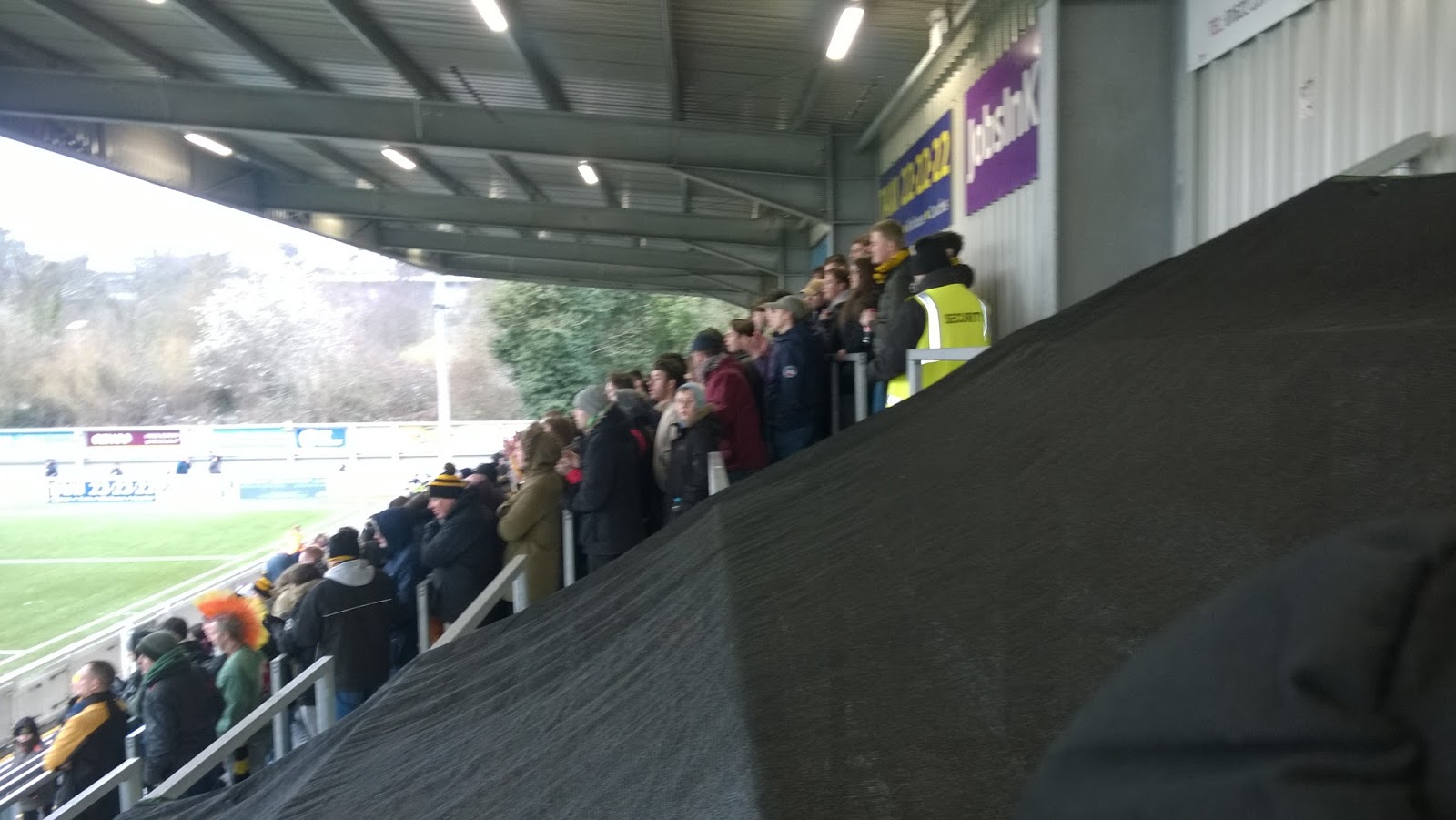 Can't see, need my glasses…
*****STOP THE BLOG!!!*****
I don't believe it. With only five more away games to go, and Gandermonium have finally found what they were tasked with at the start of the season. No not our credibility or even our maturity, but actually a ground that has at least the same price for a beer (in the away end at least). I thought that Aldershot were going to be the closest with £3.50 but as you can see we have a winner. Well there are still four more grounds to check in on…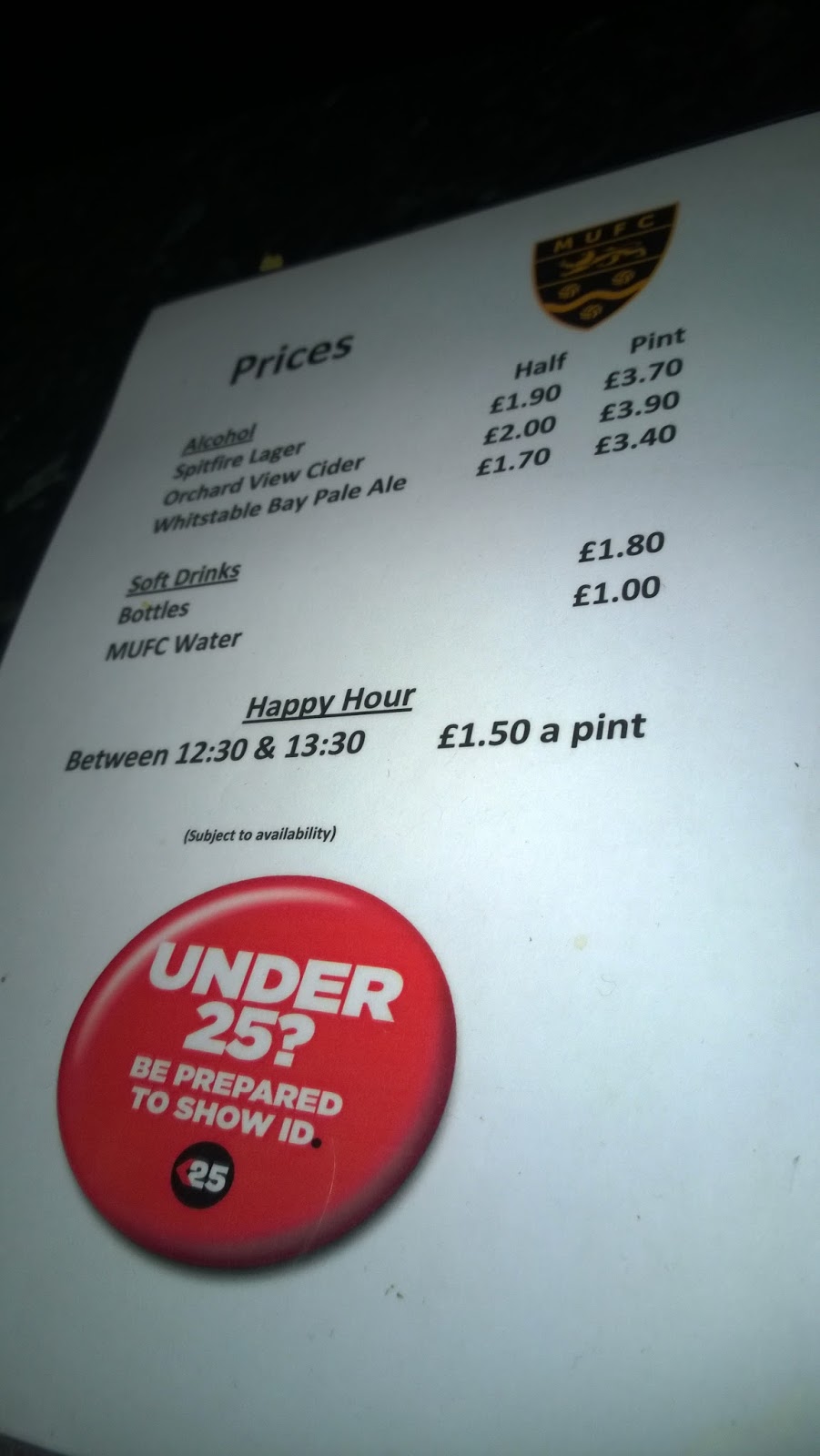 I was a lot happier between half twelve and half one…
A quick beer at half time and finding out that Macclesfield were losing at Dover, it's back out for what was appearing to be a nailed on nil-nil. With the hour mark fast approaching, Sutton finally make changes to their shape. First we had Cadogan come on for Walton who was already walking a thin line with the ref and later on Stearn replaced the very lacklustre Beautyman. Even with this change in shape, Sutton failed to utilise the width available.
With a quarter of an hour to go Maidstone finally got what they deserved. We'd already had a warning not long before that, being caught out on the counter after a Sutton attack. This time round it was not a simple one on one but with a bit of luck the ball fell to their fella after Collins had bust a gut to get back. He slotted the ball home to send the wrong end home supporters mental.
Soon after, The Legend that is Dundas came on for what I think is his 493rd appearance for the U's. Still though Sutton huffed and puffed but failed to create anything. John had the best chance right at the death but he blasted the ball over the bar. Guess he must've been still suffering from the old "snow in your eye" injury.Even Worgan in the Maidstone goal didn't have to feign injury to get a player sent off (some of us won't forget that) this time round and had a quiet match. The final whistle couldn't come fast enough on what was possibly our worst performance since at least Merstham. And I don't mean the one a couple of weeks back.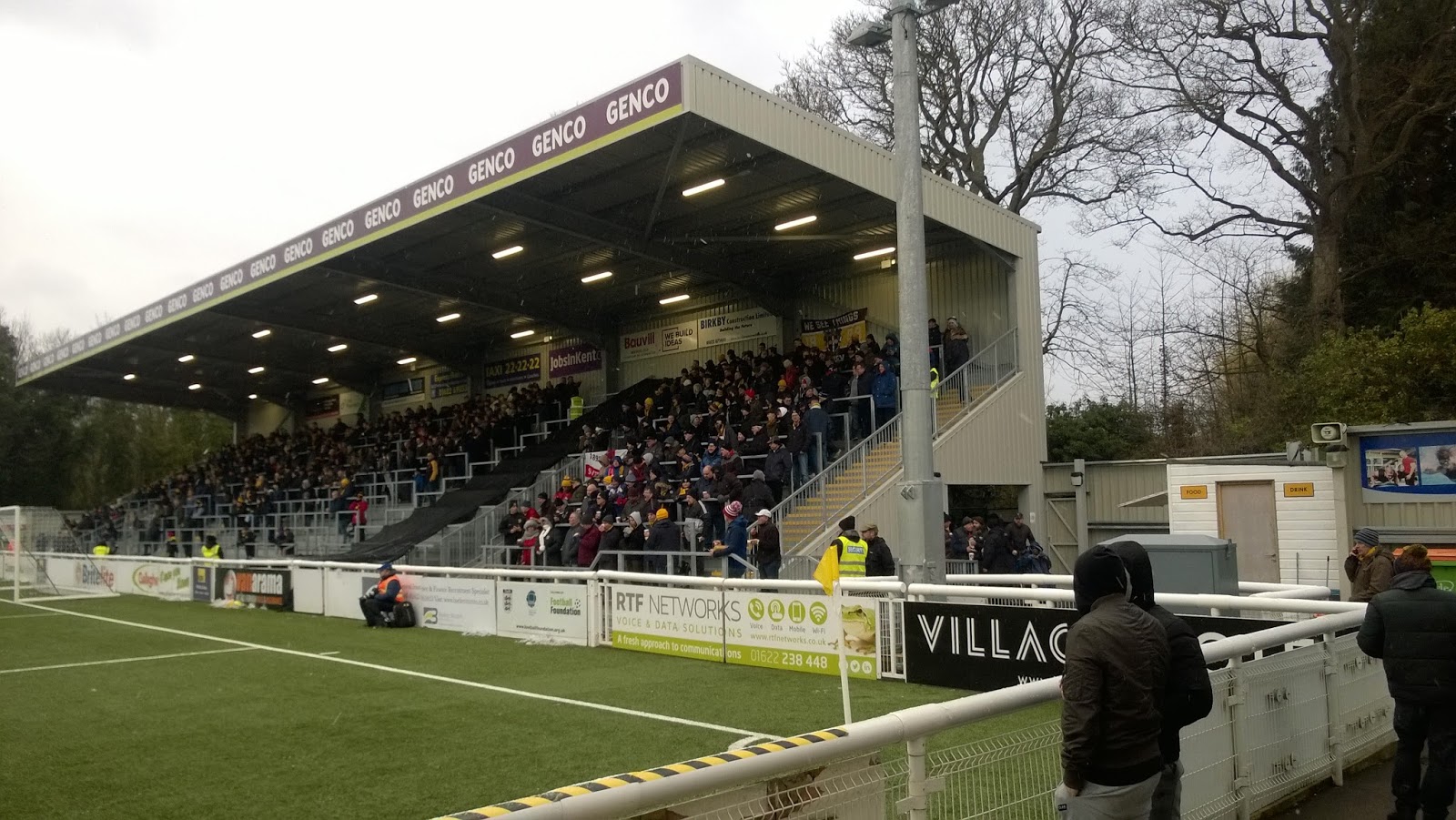 The so called '211', minus all those in the bar, in the seats, in the toilets…
After the match we head off for a quick beer back in "The Dragoon". I spent a lifetime trying to get served, due to a certain someone blocking my way to the bar. You know who you were you little bugger. Going through the results we see that not only have all the top sides failed to gain any point the egg chasers of England have also thrown their hat into the "spineless defeat" category. Fair play to Maidstone, I wonder how much their going to need those six points they've taken off us now? Then again, how much will that hurt us?
We soon came up with a plan to attack the 1810hrs train back to London. With Mr X on the booze run, it was down to yours truly to sort out the stodge. With a few different options I bag for the finger lickin' good stuff. Completely forgetting that I had a £5 off coupon, I plum for a bargain bucket and head off towards the station. With most of the platform filled with different sets of Sutton supporters, we waited as the train eventually arrived if not on time.
The CoC's had already made a bee-line for the first class seats, but we had all the booze & food so were content to slum it and find some normal seats and chow on down. The ride back to town went a lot faster than anyone realised, so much so that there was still plenty of beer to be had when we rolled into Victoria. Next stop was Balham, after Taz bailed (with the whip still on his hip) at Clapham as he had a suspected power emergency back at his flat.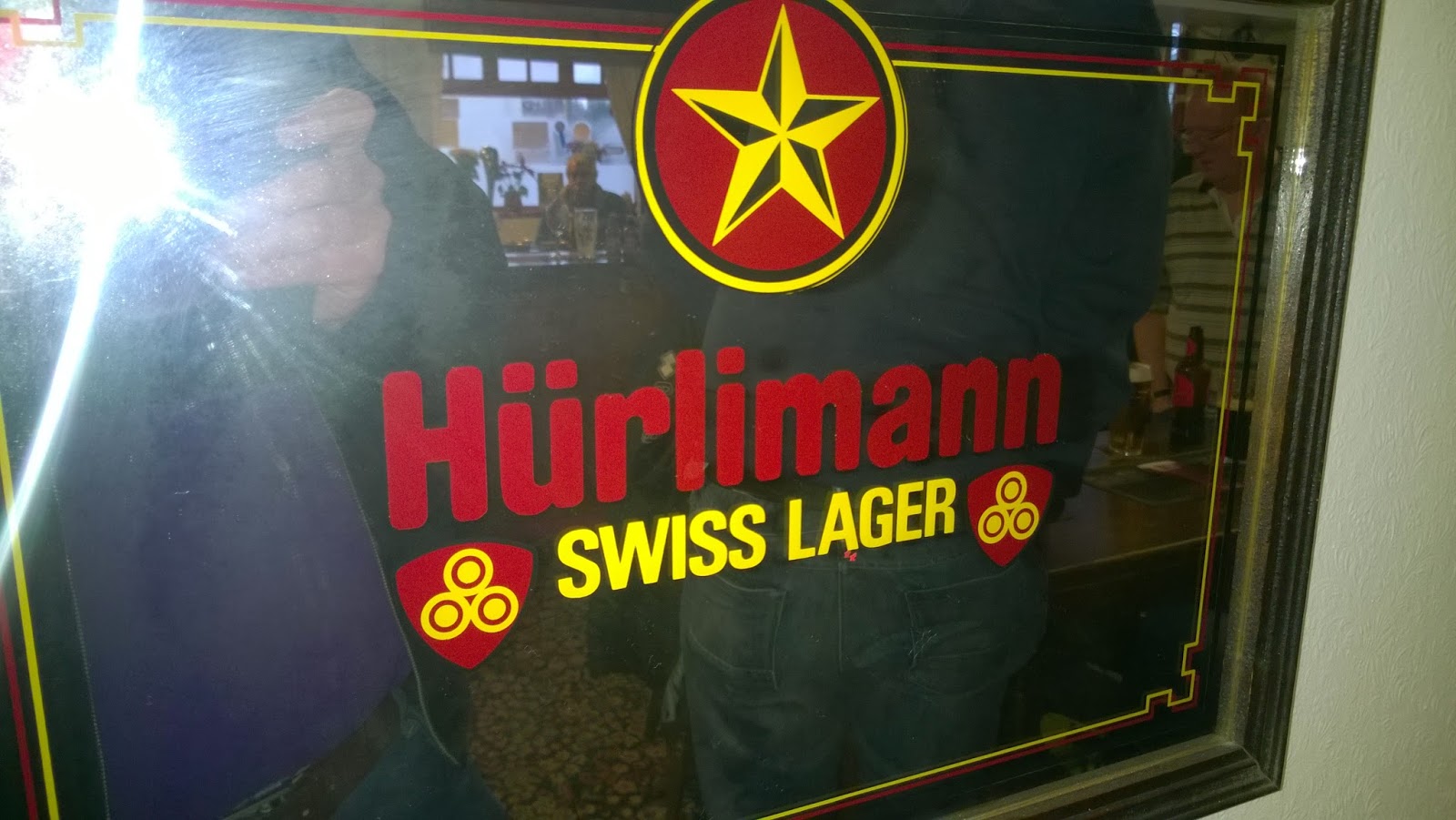 No Hürlimann's were consumed in the making of this blog…
Back at the club and we have another one of those race nights. Not the biggest turn out in history but enough people to make it interesting. So much so, that not only did I win the stupendous amount of £7 (thanks to "Monthly Period" or something like that), but The Firm Leader & Crockett both won crackin' prizes in the raffle. Dr Bell was the first disappear (might've had a power cut), and come the end of the night it was time to call it quits.
With The Firm Leader already making tracks (no doubt another power cut), it was time to do the 'Dog Shit Alley' shuffle back to the bottom of Sutton where I got as close to my bus as Montgomery (the place with a castle but no GUM Clinic, talk about wrong protection) is to England. So I have to wait another twenty minutes in the freezing cold. Still, I made it home. Eventually…
So we move onto Saturday and Chester down Gander Green Lane. Play like we did last Saturday and there will be some questions needing answering. But no doubt we'll bounce back and grab the much needed three points. You've got Macclesfield at Maidstone on Wednesday to keep an eye on, but no game for them Saturday. So come five o'clock it could be a whole new story for someone else to tell. Enjoy.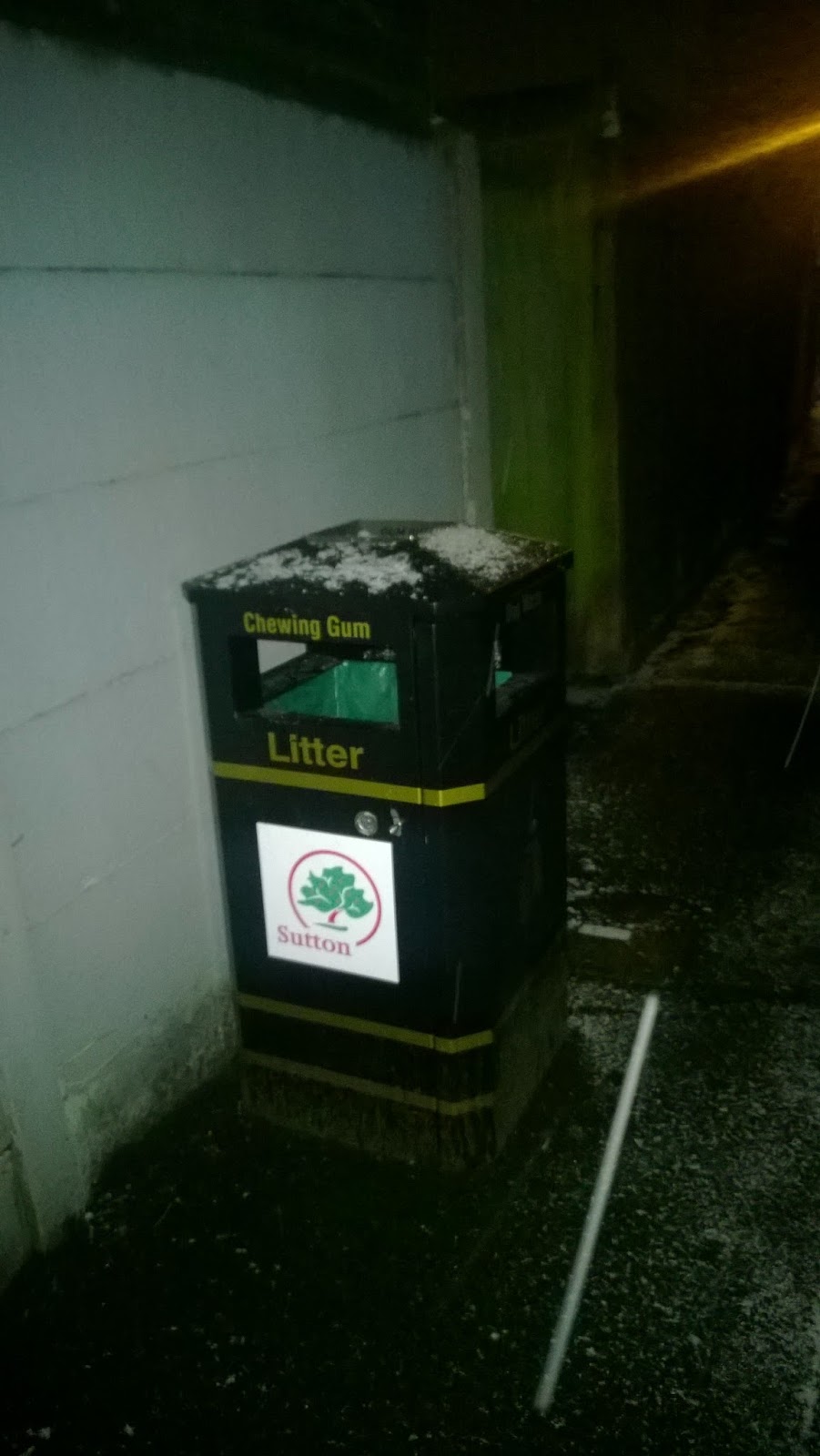 Holy shit! Dog Shit Alley has a bin…
Duke
Att. 2,065