"It's a funny ol' game!" as Jimmy Greaves used to say, most commonly on his popular Saturday afternoon sports show 'Saint and Greavsie' with Ian St John back in the late 80'searly 90's. Well, we reckon that if the popular combo were still broadcasting today, he'd probably be updating it for the 21st century audience and suffixing it with something along the lines of "….but that National League shit's just bare whackledackle Saint!". Well, either that or just mumble something along the lines of "Fucks sake, I should have retired years ago".
So, last week. Wow that was bad. In fact so lifeless was the performance at Maidstone that we were half expecting a startling expose in the NLP the following morning about how we were plotting to chuck the league in some sort of scam where we'd wagered all the Arsenal money with a South East Asian betting syndicate, which involved Bruce delivering a briefcase full of 50's to some shady backstreet club in Macau. However, given that Macc also spunked their load down at Dover that same afternoon, it seems that it's probably more just a simple case of front runners having a little stumble after a long hard season. Yeah, we know. Boring eh?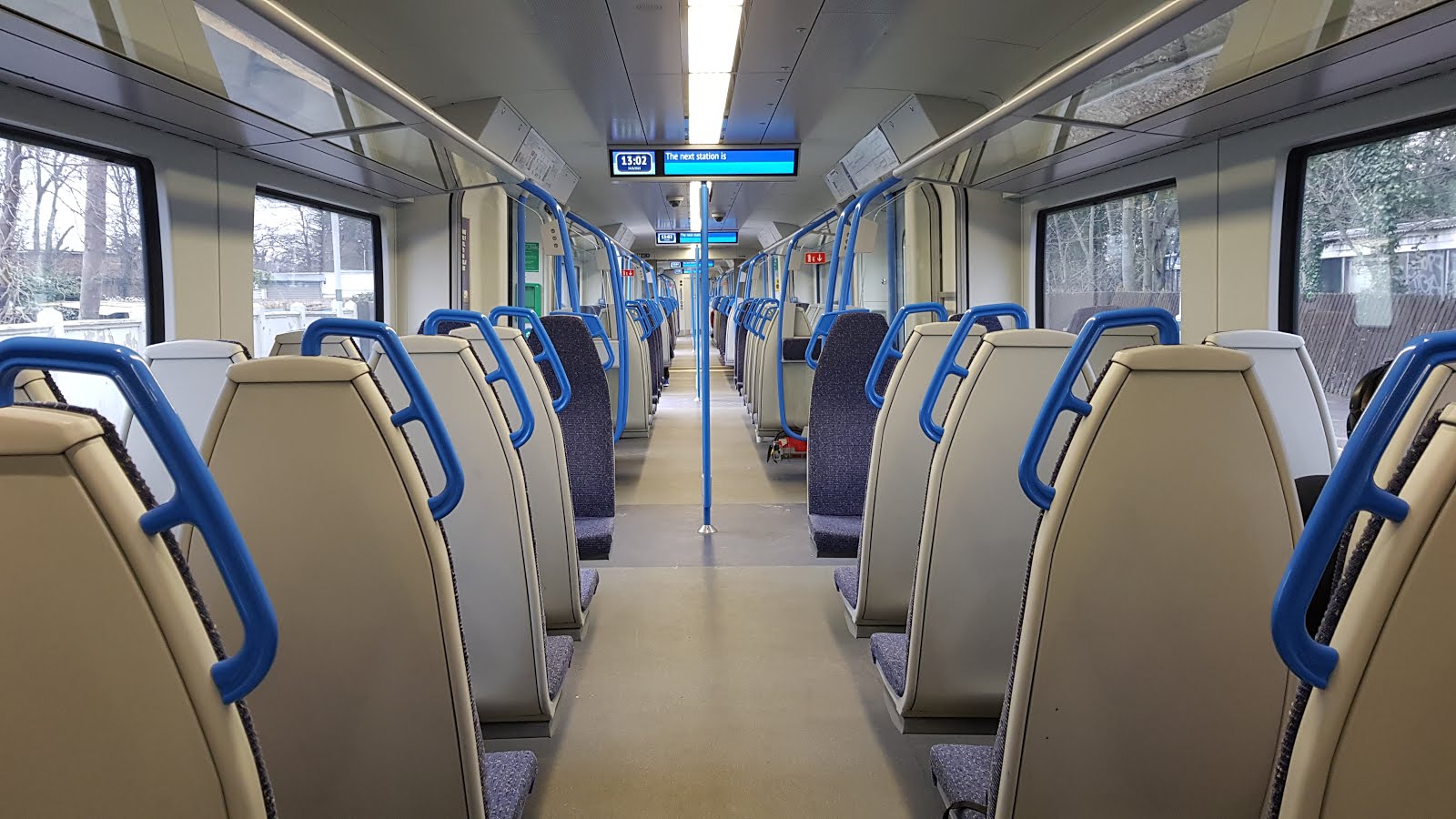 Emptier than an Aussie cricketer's pockets….oh wait.
Then during the week, this slightly more realistic hypothesis was most likely confirmed as the leaders largely blew their game in hand by drawing 2-2 at the same gaff, with a Sutton player managing to do more than his 11 colleagues had failed to a couple of days before and notching a late goal that earned his side a point. So our thanks go to Mr Lafayette for his intervention and setting up this week's encounter nicely. There are even rumours of him being awarded the prestigious 'Totts Order of the PRoWS' for his selfless actions in assisting the Motherland. This will however mostly hinge on our glorious leader deciding to spunk the 'civic awards' budget on another box of Cohibas or not. He does love a quality lah de dah does the big man, so only time will tell I guess. Either way, we here at Gandermonium certainly appreciate the effort Ross.
So to today's clash. Well, nearly. Firstly, I must regale you of our latest media appearance. Ok, so it was only on Mike's SUFC podcast this week, but from little acorns and all that. For some reason, he'd tapped me up to come on and say a few words. I'm not sure why, although as he's already had Dukey appear in an earlier episode, it was probably to try provide some balance and show that the Gandermonium staff aren't exclusively potty mouthed, monosyllabic County Cup obsessed weirdos. So it was at least marginally successful I guess. Either way, if you fancy having a listen then click HERE. Don't worry, there's music and also a chat with U's stopped Jamie Butler on there, so it's not all me me me. Well it is, but y'know, I promised Mike I'd give the thing a proper plug so…
Right, to the task at hand. Chester. Since we were up there back in mid-August doing a bit of the last minutey winner stuff and witnessing some truly shocking National League officiating, we've largely maintained the paths we were on at the time in that they've not been out of the bottom 4 since and we've not left the top 5. Although they've also sacked a manager and effectively gone skint since then too. I think it's fair to say they've had better campaigns out in taxi-less wastes of the Welsh borders. So naturally, with Macc not playing today (their oppo Gateshead are in the Trophy semis) and our visitors being a bit on the poo side, this should be a resounding romp to three points and the summit of the table once more! No, you fuck off.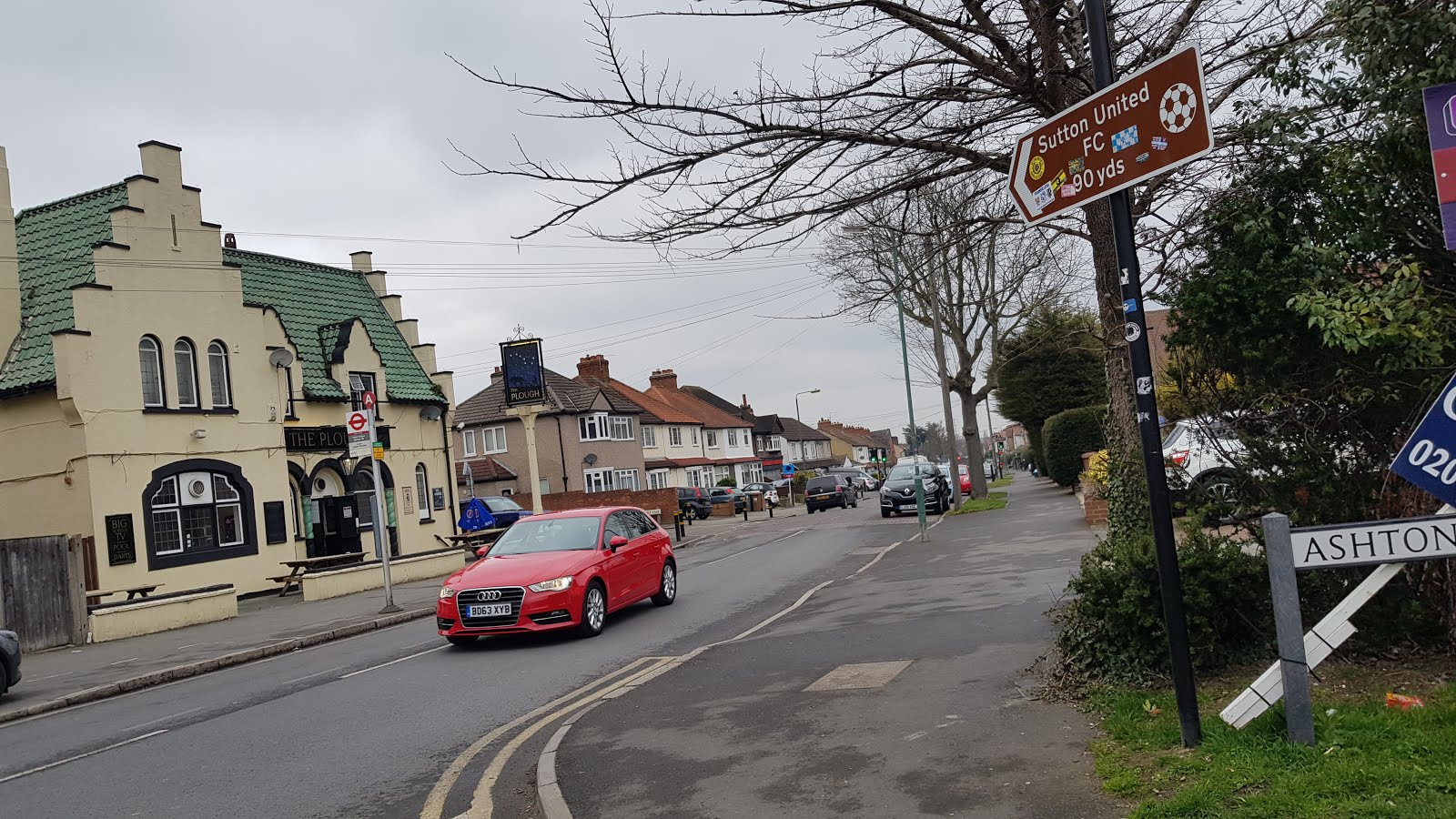 This way to paradise.
Now, if you're a regular reader you're probably thinking about now something like "This is where ol' Taz does the usual "I got the 407 into Sutton schtick" yawn yawn, change the record fella". Well, that shows both how much you've been paying attention and also how much you know Mr (or Miss) Smartypants. 'Cos this week, I'm coming at you from left field baby! With the usual post-awakening on a Saturday morning stuff done, I forego my usual method of transport West and instead take a stroll down towards the dangerous and mean streets of Carshalton. Now normally, I wouldn't take such crazy risks with my personal safety unless I had an important clandestine meeting with the local resistance arranged, but today I have some Gandermonium tat that requires posting and as I can't be arsed to Google where the post office has moved to now in Sutton, Carshalton it is. So, collar up, dark glasses on and colours hidden, I dive headlong into the underworld.
Fortunately, the denizens of the Occupied Territories are too busy rooting through bins for tasty morsels of food to eat or doing their laundry in the Ponds to notice me blending in both anonymously and somewhat handsomely. So I hit the local post office having swerved the Jehova's Witnesses trying to tempt in the lost and weak willed with their colourful range of phamphlets and magazines and get the merchandise on its way to our loyal customers. I then slip away in a most ghostly like fashion and head through the Grove to catch a rattler round the loop to the beautiful and vastly more first world People's Republic. Clearly, Thameslink are expecting another blast of unseasonally cold weather, as when the train arrives it's so hot I'm soon sweating like an Australian Cricket captain in a press conference.
Alighting back into the thankfully fresh spring air at West Sutton, I'm soon wandering up the driveway and into the bar. Here awaits Mr X. And er, that's about it! Reason being, we're a bit light on the ground today. 4Days is in China, no doubt spreading the word of the subjigation of the Welsh people, Steve is in New Zealand watching England pretend to play cricket and Greek is tossing it off in the sun down in Portugal. And what with Dukey's bar prices pre-match boycott holding firm, it means I and the man of mystery can enjoy a couple of cheap mutual rounds in peace and quiet, with the rather shit Tranmere v Eastleigh game on the box providing some small distraction. Eventually though, the place fills out nicely and we're joined by the likes of Chairman Totts and Lil' Chris, the latter having been ditched by his big bro so he can fuck off on that aforementioned jolly to the other People's Republic. And to think he looks after him on all those away games, there's gratitude for you. Totts also regales us with a tale involving suggestive references to fig leaves and the time his mother was frightened by a donkey. Fucked if I know what it's all about, but I nod and smile politely nonetheless. The old boy's clearly losing his marbles.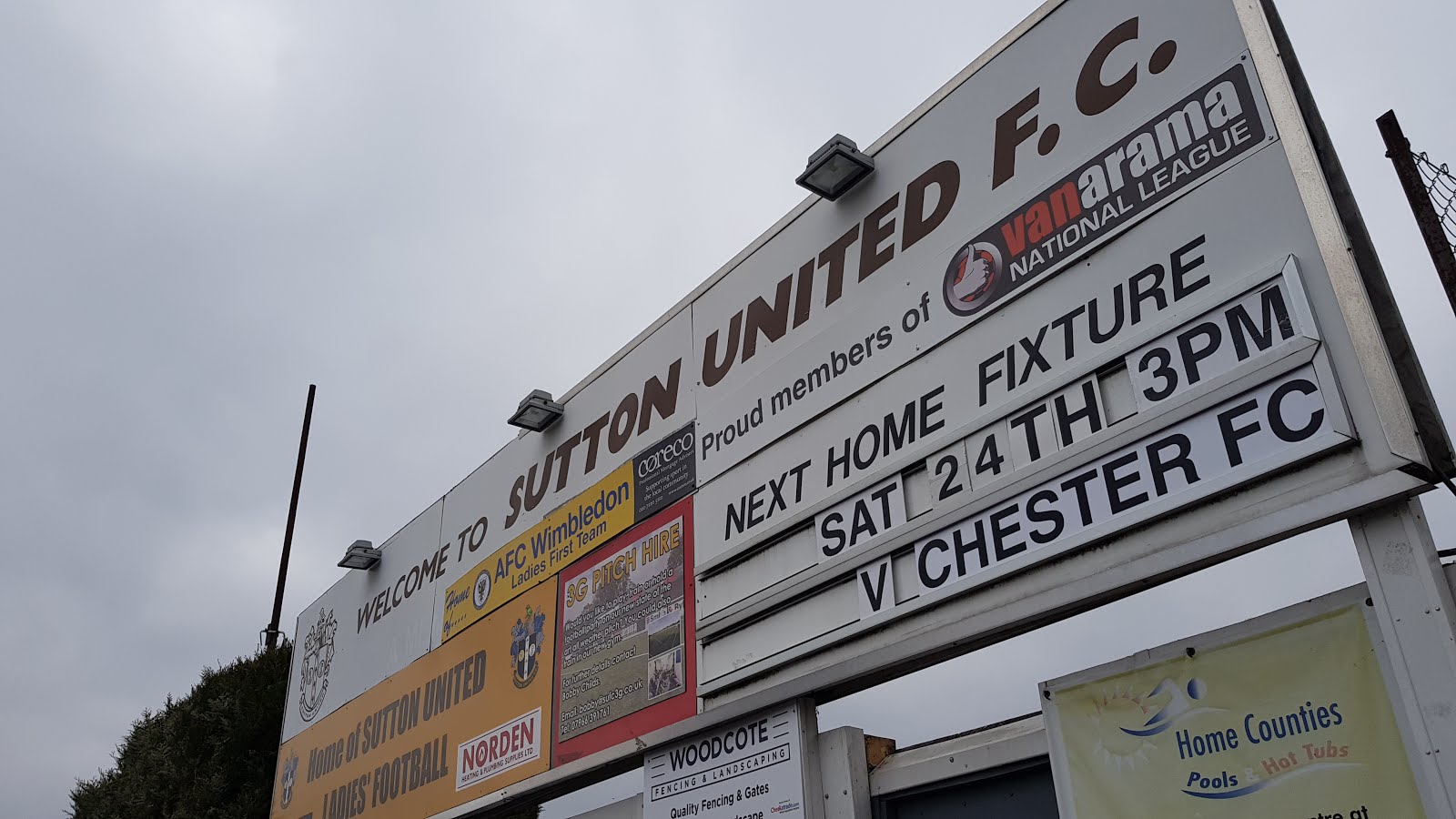 Game day
Butler, Beckwith, John, Collins, Davis, Eastmond, Thomas T, Wright, Bolarinwa, Beautyman, Harrison SUBS: Thomas A, Cadogan, Dundas, Walton, Stearn
So, to the least popular part of this stuff. The game. Chester it must be said do not flatter to deceive in the slightest, they've been in the bottom four pretty much all season for a very good reason. And that's because they're about as good as 'The Phantom Menace'. Passes go astray, they seem to lack the ability to trap the ball and on at least 3 occasions in the first 10 mins, they run the ball out of play under little or no pressure at all. Sadly though, we don't really get hold of things and get them properly done and dusted early doors. Everything's a bit huff and puff and whilst it seems like a lifetime (thanks to the non-functional scroreboard), we are at least in front inside 15 minutes. "Get it in the box!" screams Dos at Tommy Wright out wide on the stand side. He does, it finds Harry Beautyman and his hit on the turn takes a slight deflection on it's way in via the far stick. Notably, having gone 1 down early, the visitors have a little "Right, let's not get absolutely fucking bummed here eh lads?" type huddle before the restart. Sadly this doesn't really herald a deluge and H is soon making way for Ross Stearn having copped a boot to the fizzog and having his nose busted.
Tommy forces a close range save with the legs from the keeper and Byron has a header ruled out for offside (and not for breathing on the keeper as you'd have assumed) before with injury time at the end of the first 45 well underway, we finally add a second. We have a couple of corners and then one is swung to the back post, nodded back into the danger area and after a bit of a scramble it hits Byron in the chest and bobbles into a corner of the net. It's the sort of goal you'd expect a side as much in the shit as they are to concede. With the half soon up and the Chester players looking already like they'd quite like to sneak off onto the bus and head for home now, we're hoping for a bit of a boost to the old GD after the break.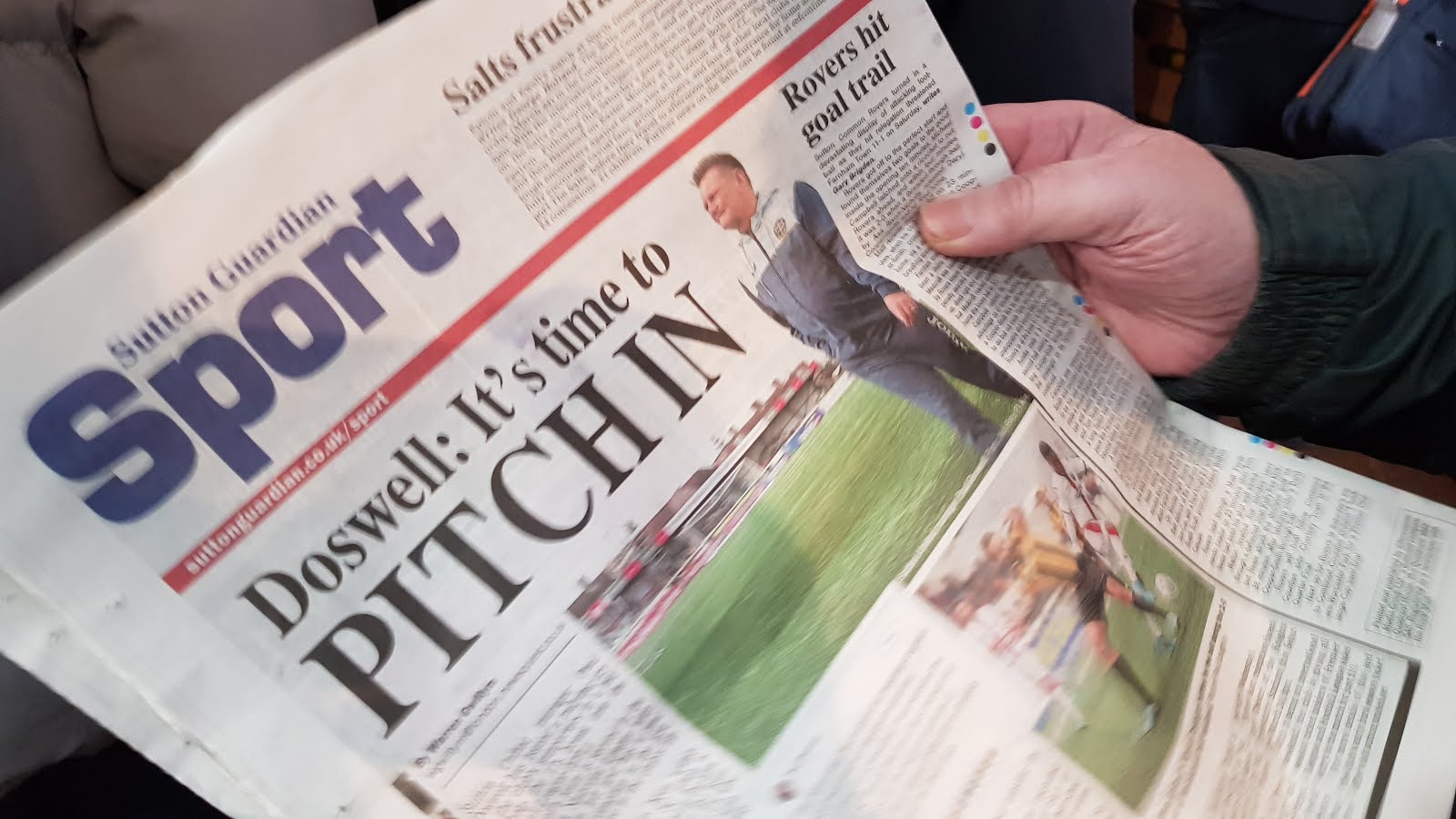 Christ, they still print the Guardian??
Yeah, about that. The second 45 is pretty disjointed too. Chester make a change at the break and add another defender, clearly aiming to avoid that bumming they had the little meeting about earlier. We're still largely on top with them simply looking to stay in the game and offering nowt in attack. Kenny drives just over from range and then Stearny, by far our livliest player, cuts in from the flank and forces a save a the near post. Then from nowhere, we go and make a game of a game that wasn't really a game before. Shortly after subbing the skipper for Aswad, Becks givesa away a silly foul 30 or so yards out and the ball is stuck into the box. There's a nod on and a striker nips between JB and Louis to hook in the visitors first effort on goal. This gives them a lift and they start to look a bit more competent. However, nerves are settled with about 10 to go when Stearn collects about 20 yards out on the far corner of the box and curls a belter in off the far upright to make it 3-1. Thank god for that! Time to celebrate being top again methinks, oh wait, we've done it again. Made a game of it.
Couple of mins left, a ball through into the box and Louis goes shoulder to shoulder with the striker. Who of course is sent sprawling for a somewhat soft peno. JB guesses right, but the Chester no.9 (about their only really half decent player from what we could tell) takes an annoyingly competent spotto and rams it right into the corner. The prick. Of course, the remaining couple of normal and then the 3 mins of added are the usual 'for fucks sake Sutton just see this out' as we defend deeper and deeper. Naturally, there's one more heart in the mouth moment late on as Butler has to be out smartly to smother the ball at the 9's feet, but eventually we see it out and the final whistle is greeted more with relief that jubilation. Fuck this, I need a pint after that!
Back in the bar, heart rates return to normal and over a much needed pint, people start checking life insurance policies to make sure they're covered for stress induced aneurysms at sporting events. Then as the boat race plays out on the telly, we also are throughly entertained to hear that Billy Tamplin's Circus up at Billericay has put on another astounding show as not only have they lost again (4-1 at Hendon) but Tamplin was seen to fuck off a good 20 before the end and there's also rumours of him having had a physical bust up with some of his squad pre-match that saw a couple of players give it bollocks and storm out. It's a quite amazing state of affairs and if true, it seems the whole thing is going to blow up in a manner so spectacular, than even we could have imagined. And we're pretty imaginative. Elsewhere Red Oxide has his balls felt by Becks which then inspires him to pick the right key to open AB's safe full of loot. This nets him 500 bar and being the wonderful gent he is, he slips your author 30 notes to get the 'the gang' a drink. Which given half of them aren't here today is a right result! Meanwhile, a certain ginger midfielder takes to mocking Dr Bell about a rather embarrassing pool table based whitewashing he handed out very recently in this very room. Heard of 'bad losers'? Well, it seems Nicky Bailey is what could be termed a 'bad winner'. And it's rather amusing.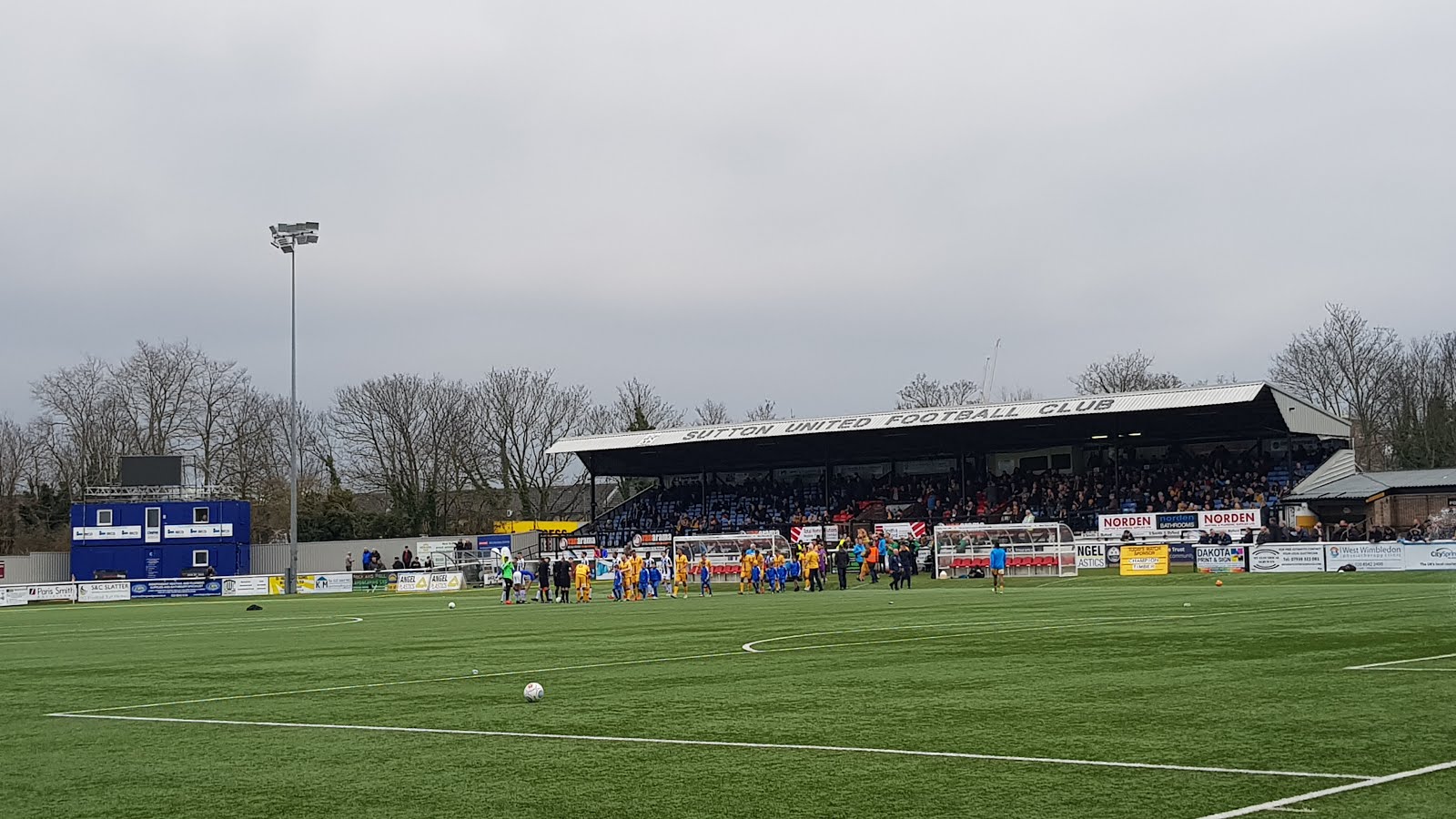 Emerging
With time moving on I'm mindful that I'm due back at HQ for kitchen duties this evening, so I decide not to risk the train and instead rustle up an Uber home. Then having downed the remainder of my pint, head for the conveniences to relieve one's self prior to departure. Here, I'm able to partake in one of the wonders of Non-League which is catching up with our esteemed chairman Mr Elliott on the latest goings on regarding our position whilst taking a piss. You don't get that in the Premier League I can tell you! He's fairly sanguine about it all, even despite the fact we'd be looking at a bill of around 600 bags of sand should we join the glitterati of Carlisle, Yeovil and Morecambe in the football league. Then before I can ask him if he's been to Macau recently on 'business', our conversation is interrupted by Millsy heading into the gents with a dog on a lead and then disappearing into one of the traps with it. Which is not at all odd.
Having said my goodbyes in the bar and with my phone vibrating to indicate Samiullah is outside in his Prius, it's time to go. And soon I'm being deposited outside HQ by the latest poor bastard from North London who's had the pleasure of getting stuck ferrying wankers like me around in the wilds South of the river for a couple of quid a time. Still, he seemed a nice chap. Five stars.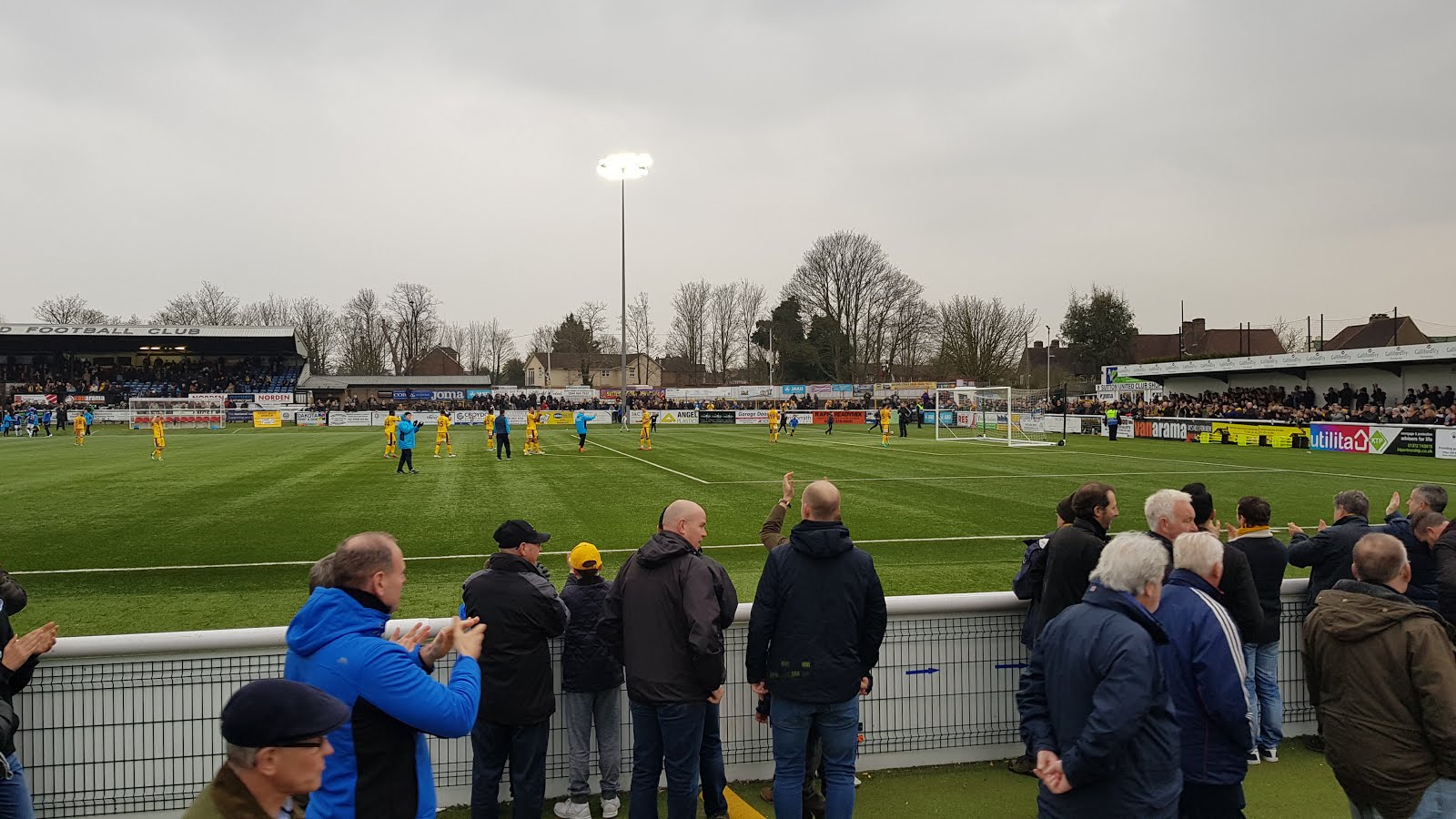 And…..breathe.
Right, chicken or sausages for dinner?
Taz