Back in November 2012, we brought Gandermonium back from the dead. Dukey and Juan (remember him?) had pestered me sufficiently that I went and gave them a new toy to play with. Of course, having gone to all that effort, the planned first game back 'in action' was called off about an hour after we'd arrived and hit the pub for the mandatory pre-match refreshments. The venue? Maidenhead. Must be something about the place.
There'd of course been shit weather all week, but even so it was still a slight surprise to hear the night before that the hosts were going to hold a pitch inspection at 8:30 on the Friday morning. Which is a bit early considering we're not exactly travelling to the back of beyond for this one. Maybe it's as Murdo from GMOSC said, they didn't want a load of us rampaging around town waiting for a later inspection? Kinda makes sense given they'd decided to segregate the match as well. A decision that looked more like responding to our league position than our actual fan base.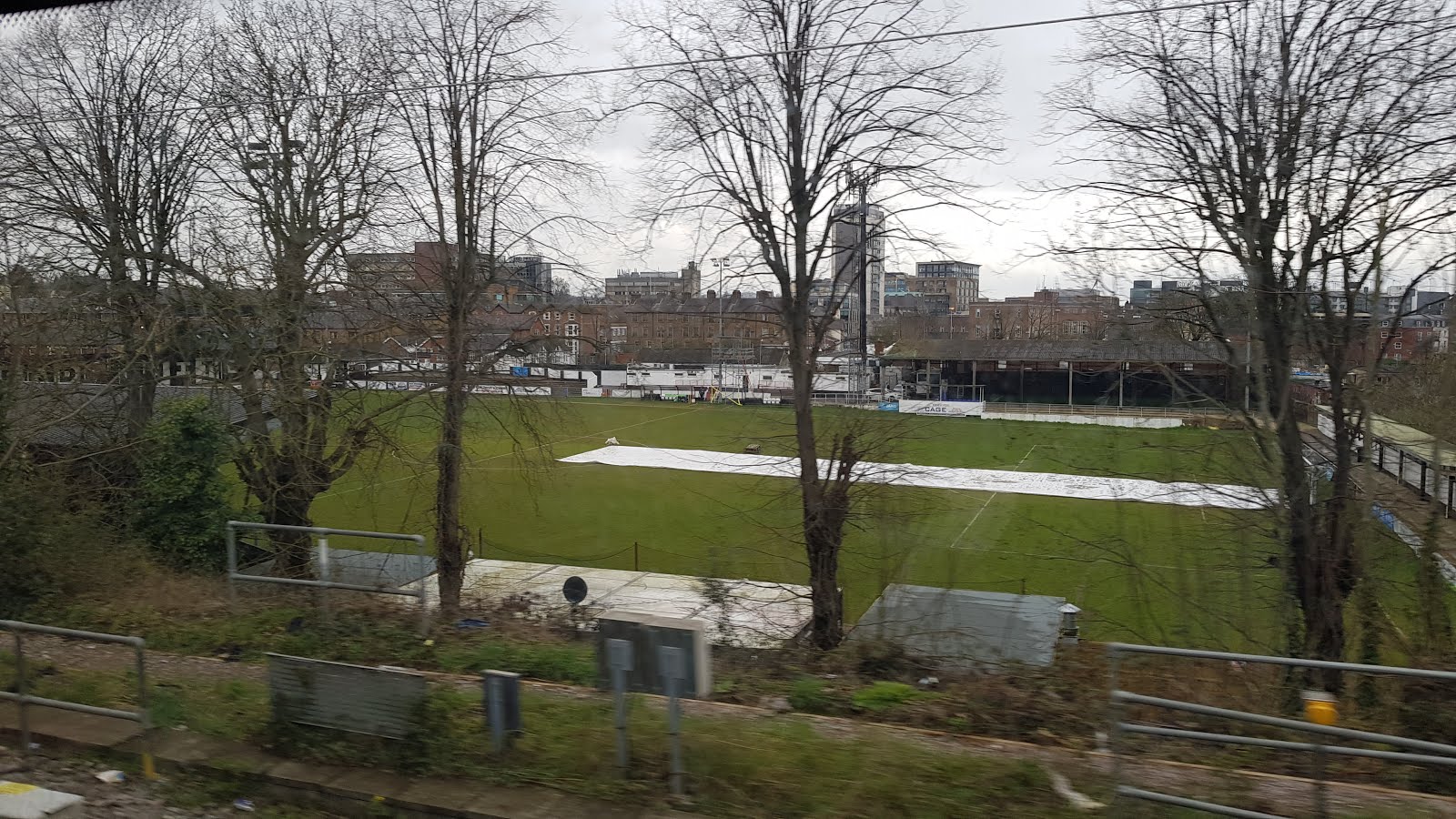 Pitch looks fine to us!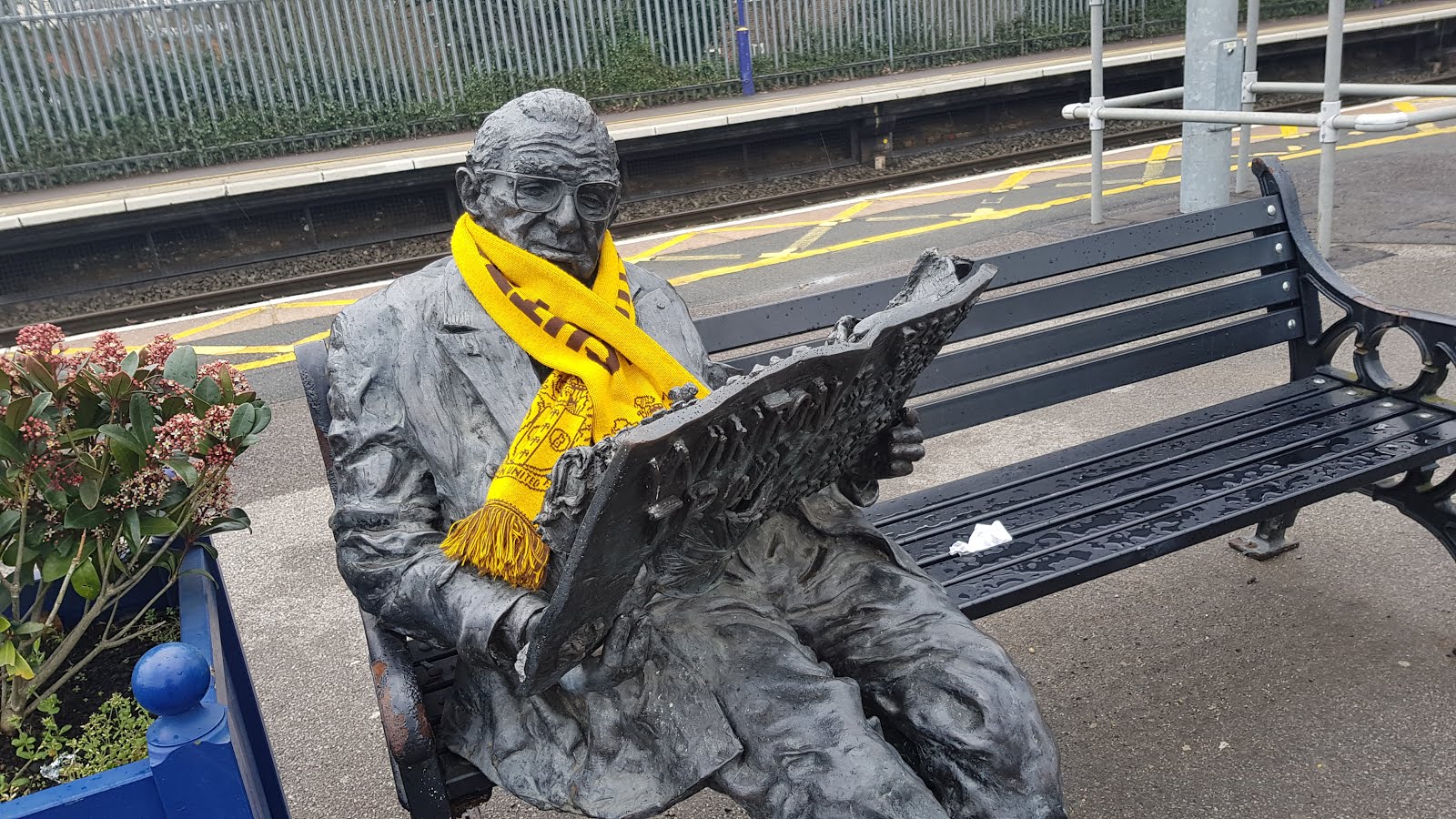 Wrap up warm fella…
Even so, I was still leaving home at the same time I assumed some bloke was poking around on a pitch in Berkshire, so the early call wouldn't have saved everyone from something of a wasted trip! I'd arranged to meet Burgers on the bus to Croydon and having agreed 'bus due in 10 minutes' I trotted out to get the 407. Embarrassingly, it caught me in the middle of daydream and trundled past me whilst I was still a little way short of the stop. Luckily the driver was in no rush and waited, although my relief upon boarding was short lived. Where's Burgers? I know he's not the biggest lad in the world, but even he'd have trouble evading notice on a single decker bus for more than a couple of moments.
Invoking Gandermonium rule #1, I send a text along the lines of "Missed it then?" and settle in for the trip. A minute or two later, my bottom is being vibrated by a call from the currently missing Burgers. "Where are you?" he demands. "I'm on the 407 mate, where are you?" I retort. "I've just got off the 407 in Carshalton and you weren't on it!". Mindful that Carshalton was in the opposite direction to which I was intending to travel, my response of "What the fuck are you doing in Carshalton??" was I feel a fair one. It turns out that Burgers has got his wires crossed and thought we were going to be heading up via Morden (as there's no local trains again this weekend) on the tube. Quite how he drew this conclusion given East Croydon is 15 mins away and reaching Morden from ours takes a good 40 mins I've no idea. Either way, due to this communication breakdown, we're now set on separate paths towards Paddington and the 10.15 train to Theresa May's gaff.
The trip's smooth and I find myself on the concourse with some 30 minutes to spare. My smug feeling is soon gone however when I spot Indy & Sean appearing out of the underground and Belly and Dukey approaching. It seems Mr X is in the queue for tickets too. Again, there's no 4 Days who's currently en route back from chickety China and Steve is of course still in Hobbitland witnessing the cricket team not cricketing very well. With tickets sorted, all we're waiting for is Burgers who's apparently on the District Line. He shows with a few minutes to spare and we board the service to Maidenhead with the news the 8.30 inspection was a goer, but if there's loads more rain, we might be in trouble. As we trundle westwards, Dukey regales us with the truly remarkable story of his 'Dining in the Dark' experience for his Aunties birthday during the week. "It was fuckin' pitch black! I couldn't see a fuckin' thing!". Well quite.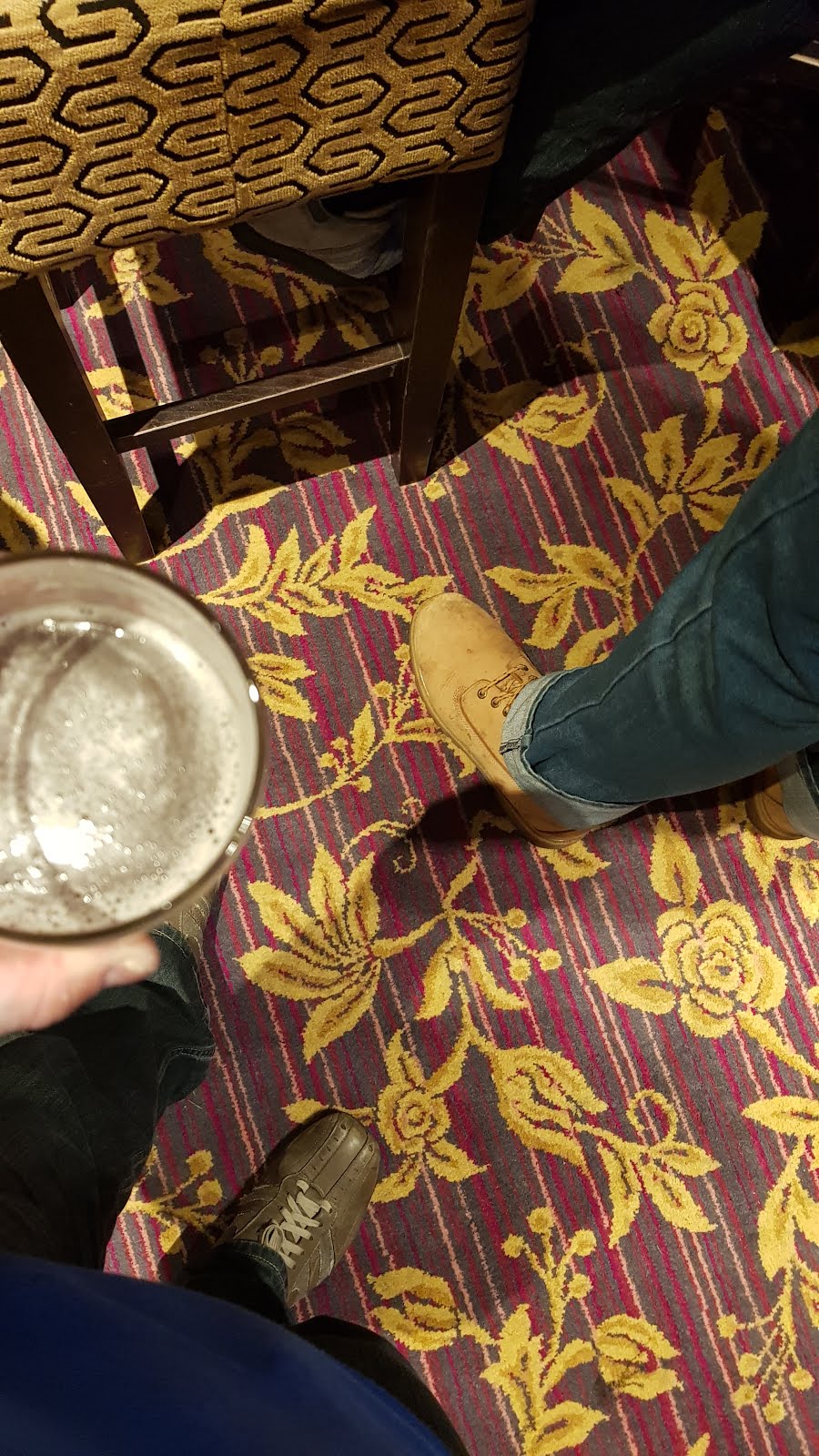 #spoonslife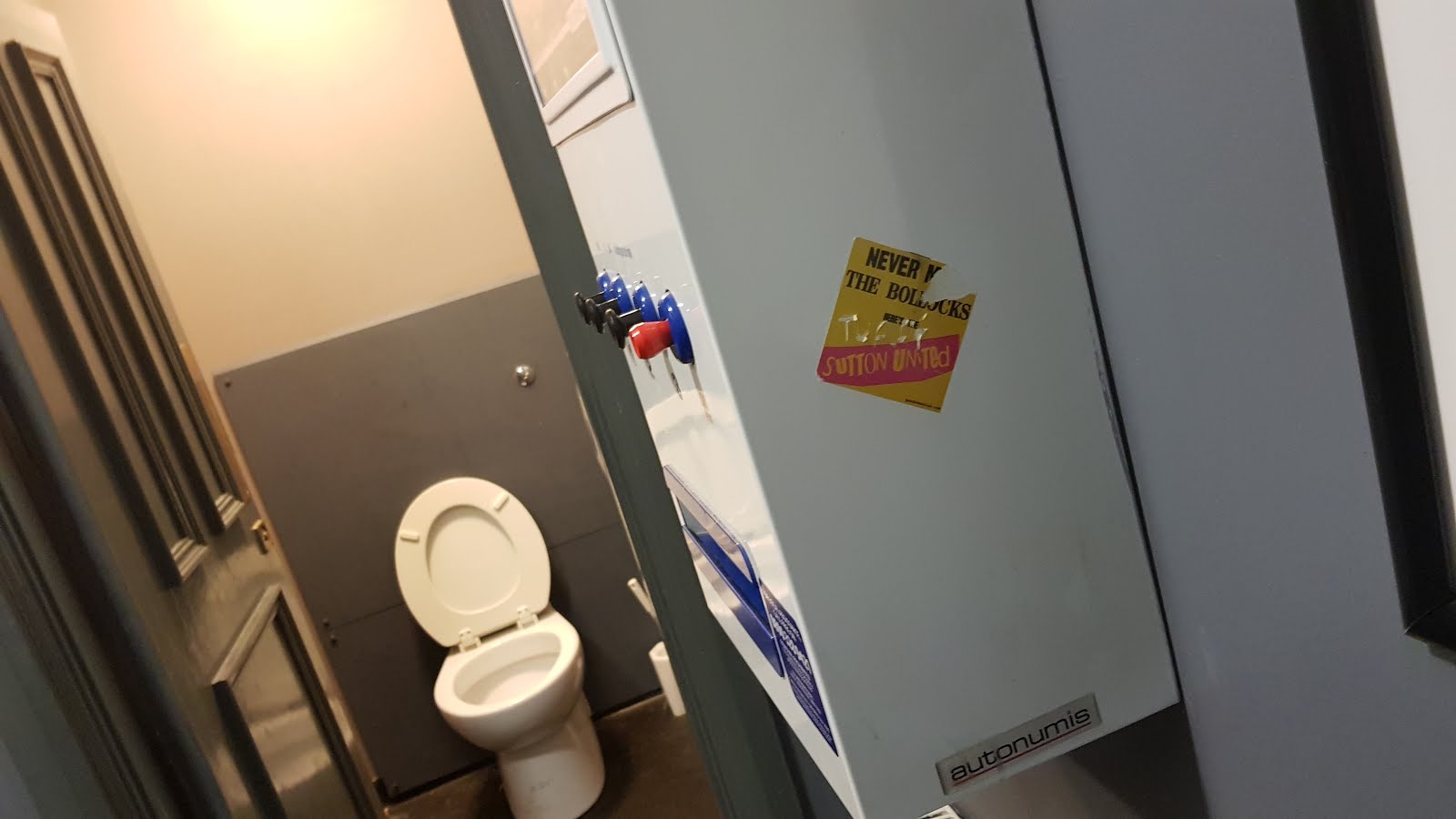 We might have been in here before…
Of course, as we alight at our destination the rain starts to fall. Undeterred, we wander past lots of closed public houses to the traditional starting point of the Bear. Here we get stuck into the 40 quid whip left over from last weekend along with the tenner from Red Oxide's 'donation' to the cause from his SAK bonanza. And being the cheerful souls that we are, we pass the time discussing dementia, Late Life Care and what a Gandermonium populated care home would be like. Before long, the Notorious Youth Faction are in the building and thanking us for leaving them a trail of freshly applied stickers to follow to find the pub. Us? Vandalise things? How very dare you! We also notice that the hoolie-jackets-with-the-goggles-in-the-hood that Johnnie was wearing away to Dover have spread and there are more on show today. Dukey can't work out this particular style. "It's fashion mate" I and Mr X reassure him. "What, looking like a fuckin' gimp?" growl's West Sutton's GQ correspondent. Of course, this then leads us to a conversation about Pulp Fiction which had been on the telly during the week and my confession that it was the very first time Mrs Taz had ever seen it. Meanwhile Burgers shitty day continues when he wanders into the WomensDisabled toilets instead of the Gents. Of course, we're about as sympathetic to this error as you'd expect.
Totts and the COC's are also soon with us, but we sup up to head back down the road for a quick one in the Maiden's Head. Here we chat to some locals about life in the National League before we next move onto the Corner House nearer the ground. By now, the beer is flowing and so is the chatter. I discover that the Beckett crew have booked a place in Blackpool for Fylde next weekend that is setting them back EIGHT quid a night each. And that includes breakfast! Personally, I'm not convinced such a place would be too highly rated on Trip Advisor and I'm even less convinced after Clive shows me a picture of their dorm room. It looks like the sort of thing the police found behind a secret door at Michael Jackson's gaff when he got done for noncing. Good luck hanging onto those internal organs lads!
With time passing on, we make a move for the ground and for the first time ever, enter via Bell Street to get to our designated end. When we're in, we're not overly impressed with the available facilities. We've been given a tiny little bit of cover right at the end of the big terrace, which is already rammed and the rest of our section is open to the elements. Even more annoying is the big chunk of dead space under the roof currently separating our support from the home lot. I bet the PM, Toby Anstis or Timmy Mallett don't have to put up with this! Then just as we're steeling ourselves to be spending the afternoon getting a bit wet, common sense prevails and the stewards unlock the gates to let the grateful away support in under the unused cover.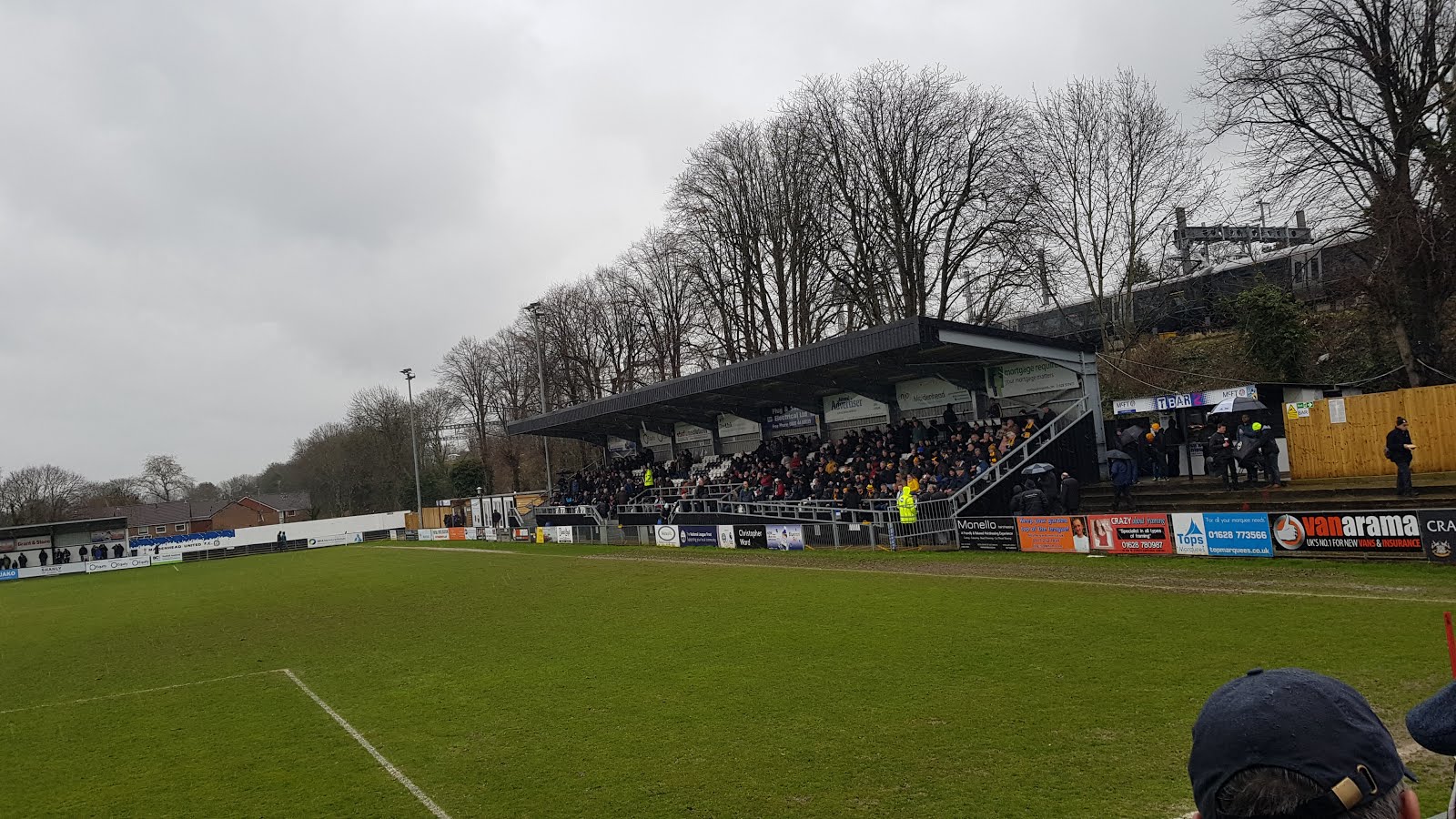 "Is that Toby Anstis I can see??"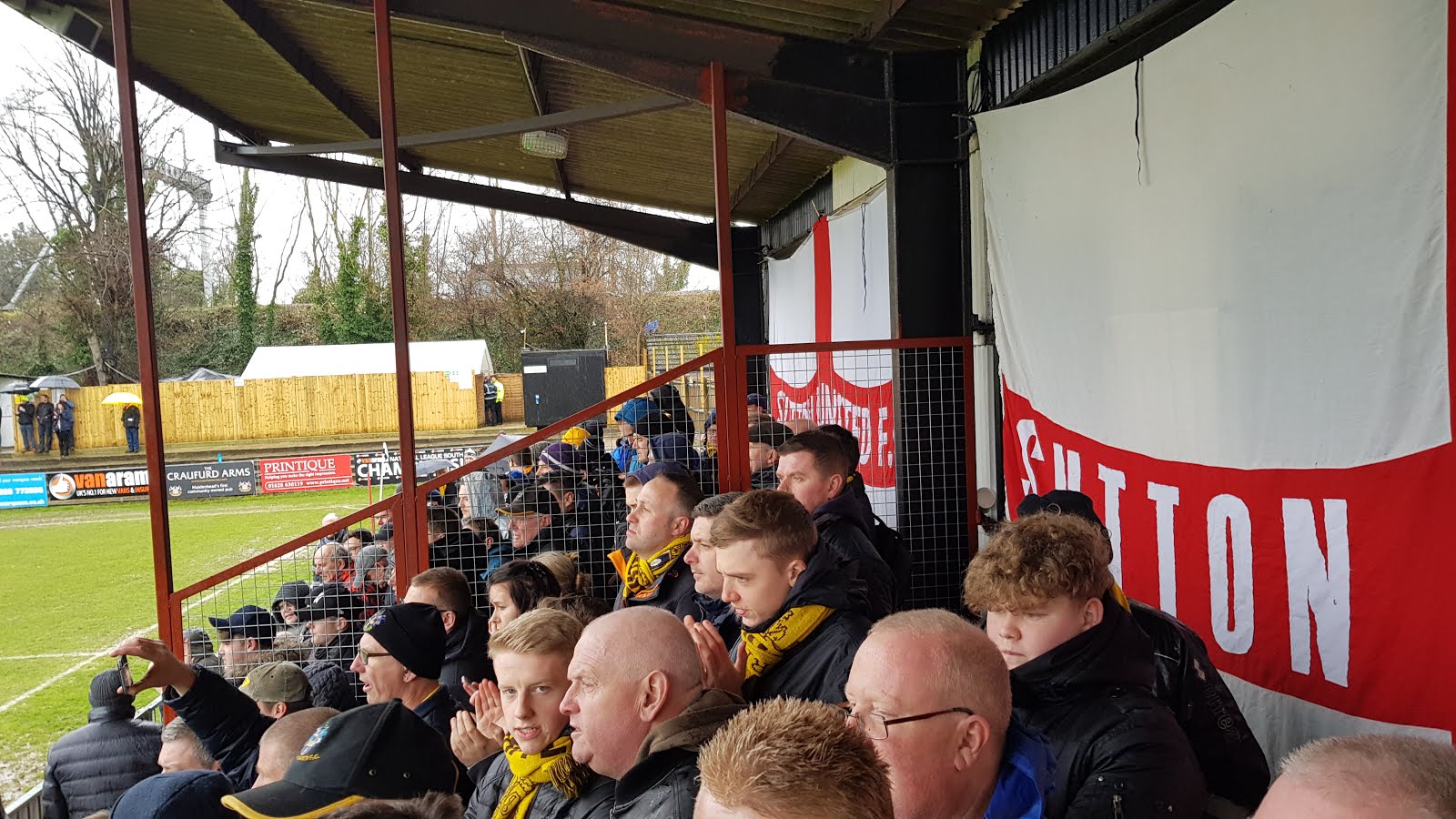 In the dry at last!
Butler, Beckwith, John, Collins, Davis, Dundas, Eastmond, Thomas T, Walton, Bolarinwa, Harrison SUBS: Thomas A, Cadogan, Wright, Taylor, Stearn
It's pretty apparent early on that the pitch is a bit touch and go playability wise. It's pretty wet and a couple of areas are a bit more sodden than others. But to be fair, both sides just knuckle down and just get on with it with stupid challenges absent. With several minutes gone, it's first blood to the hosts. A throw in isn't cleared and the ball back in just hits Terrell on the leg, diverting it perfectly out for an oncoming forward who makes no mistake from about 8 yards. The glee from the home 'Yoot' support to our left doesn't last long though as less than 5 minutes later, we're level. Louis plays it long to the edge of the box, Byron knocks down and Kenny gets in to block a clearance by a defender. The ball spins up to Eastmond who hooks it into the far corner on the volley. 1-1! A couple of minutes later, a ball in isn't cleared and breaks to Terrell in the box. He sees his low shot ping back off the foot of the far post. It's end to end now but despite this, we're starting to perhaps look the more likely as Thomas nods wide from a corner and JC whips a free-kick just inches wide of the near post. Of course, we then go and fall behind.
A ball forwards is unconvincingly dealt with by Beckwith and the ball is seized on by a Maidenhead lad who with a bit of time and space picks his spot in the top far corner with a peach of a strike. Half an hour gone and we're certainly getting our money's worth here. But it's not done yet! Thomas heads wide again from a corner when well placed and then following a weak punch from the keeper, he recovers well to get back and just tip Walton's chip over the bar. The respite is brief though, from the resulting corner he stays glued to his line and the ball drops dead in the box for Walton to thrash a low drive through the crowd and into the back of the net. Up the other end, we're all thoroughly enjoying being packed into our little pen and getting to go bouncy bouncy a lot. Then with the break a couple of minutes away, we take the lead for the first time. A ball into the channel sends Byron down the line, he gets to the bye line and pulls the ball back to the edge of the box where Louis John hits it full bore on the run. Being right behind it, we get to see it swerve viciously in the air and crash into the top corner, it's an absolute fucking belter. Of course, mass bundlage ensues in the away section in celebration. 3-2!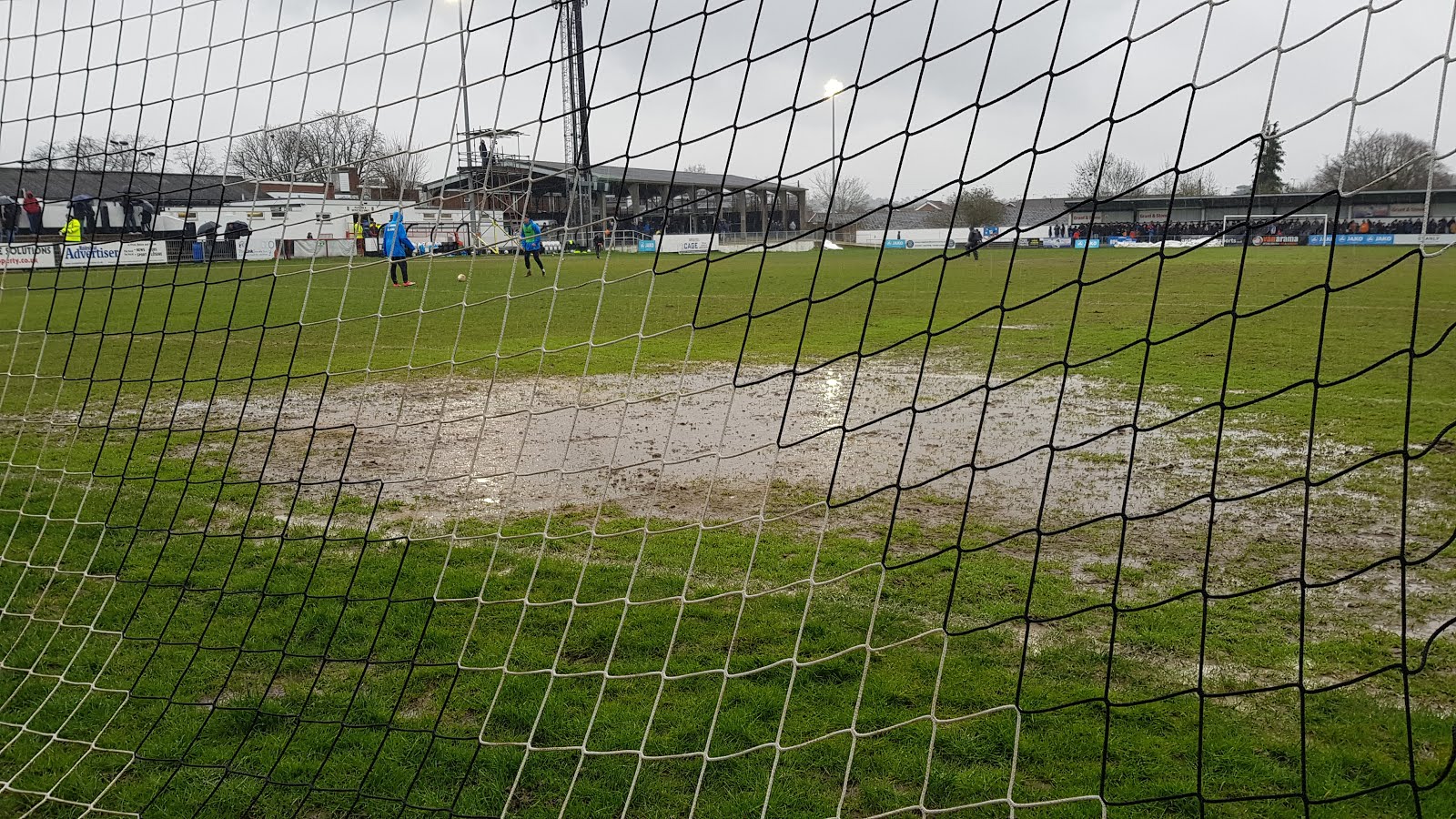 It's only a bit of water you tarts!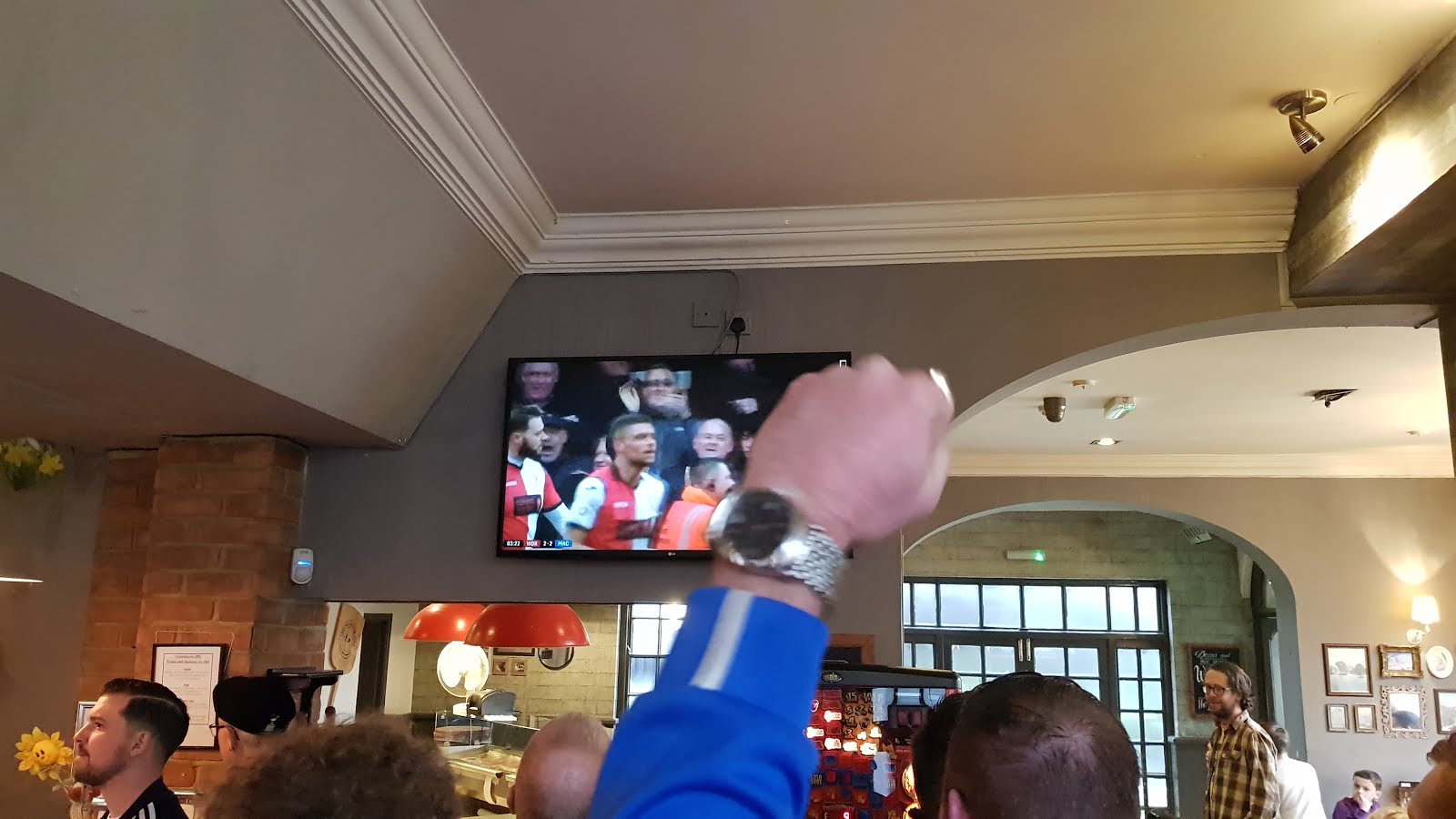 Woking briefly being not shit.
The half ends soon after and we're left to bask in probably the most entertaining 45 minutes we've seen in ages. Elsewhere, Woking are even holding leaders Macclesfield 1-1. During the break, three lads are out forking on halfway. Which means it must be pretty bad over there as the penalty area in front of us isn't exactly looking too friendly. Then the ref and his mob appear and chuck a couple of balls into puddles and before we know it, the game's off. Fucks sake! The frustration isn't helped it must be said by the hosts PA. All we get is an announcement about the abandonment and then one about their supporters coach for their next away game. That's it, mic drop, clock off. Nothing about "Retain your tickets", no "Sorry, shit happens but we'll sort something out". Fuck all. Nada. Which as an away fan is bollocks really. In the end all we get are some (admittedly rather apologetic) stewards sent down to ask us to move to the exits. Cheers lads. Although one does at least raise a chuckle by suggesting we take a selfie "to prove you were here". We're of course now properly looking forward to the turnstile geezer asking to see our social media accounts when we come back for the rearranged game.
Before we depart though, Jamie Butler and Louis appear from the changing rooms and come over to greet the away support which is a nice touch. Then it's off back to the Bell pub at the end of the road for a pint and after asking if they have BT Sport, we settle in to watch the second half of Woking v Macc on the box. Which is a bit weird if I'm honest. The table toppers are now 2-1 up, but with less than 10 to go Woking nab an equaliser. 2-2! Could this be a big moment in the season? Well, yeah. Sort of. But not quite how we'd have liked if I'm honest as the hosts fail to cling on and concede a frankly comical winner in the dying seconds of added time. If you've not seen it, check it out HERE. Naturally upset by this course of events, I feel perfectly justified in sending an exceptionally abusive text to a couple of Woking fans I know.
With beers and nibbles secured from Saino's next door for the train back into London, we head for home. Here we're treated to the sight of 3 grown men all disappearing into the khazi at the same time, which they occupy pretty much all the way back into town. Having got back to Paddington we're at a bit of a loose end. Do we head straight to Sutton for a couple or do we try somewhere else? We hop on the district line and initially intend heading back to Wimbledon for a couple and take it from there, however along the way Mr X suggests we instead get off at Putney Bridge as there's a couple of good pubs around apparently. Suits us! So we jump off and follow our guide to these mystical watering holes, which as it turns out he has no fucking idea where they actually are. And so instead of heading over Putney Bridge itself, he takes us over the Fulham Railway bridge and into some suburban streets. Eventually though we locate the main drag and stumble into the Coat & Badge for a pint. Next is some place whose name escapes me, but was definitely a Youngs place. Here we engage in conversation with a Greenock Morton fan who invites us to some karaoke at another bar further up the road. We politely decline as we can't fucking stand karaoke and instead head for the Spoons we know to be opposite Putney station. Except it's not a Spoons any more. It's a Vodka Revs. Not that Mr X notices at all until he's actually inside and realises the decor and the loud music playing is not very Spoons like at all. "This isn't a Spoons!" he declares. He's always been a sharp one that boy.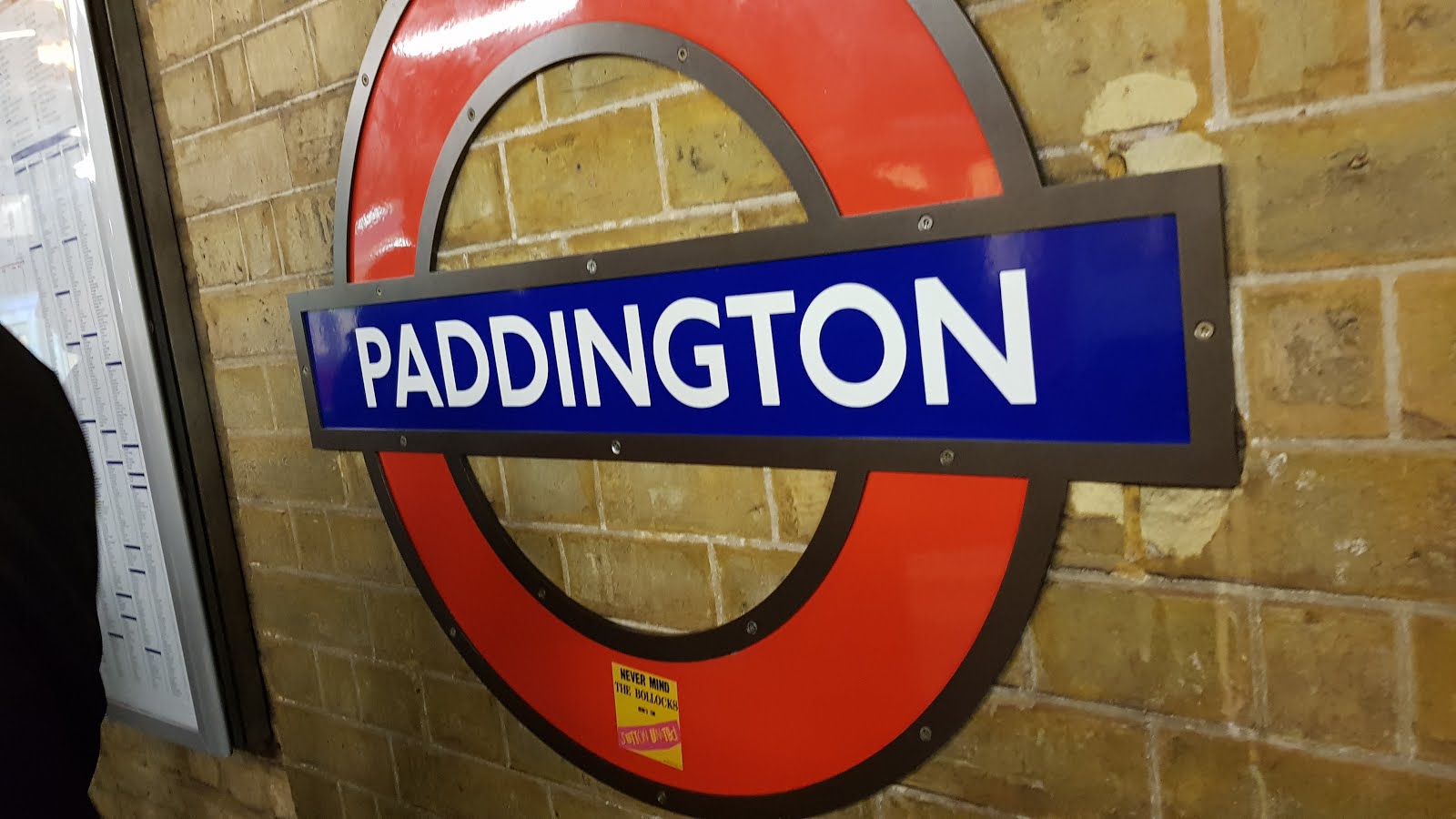 The boys are back in town.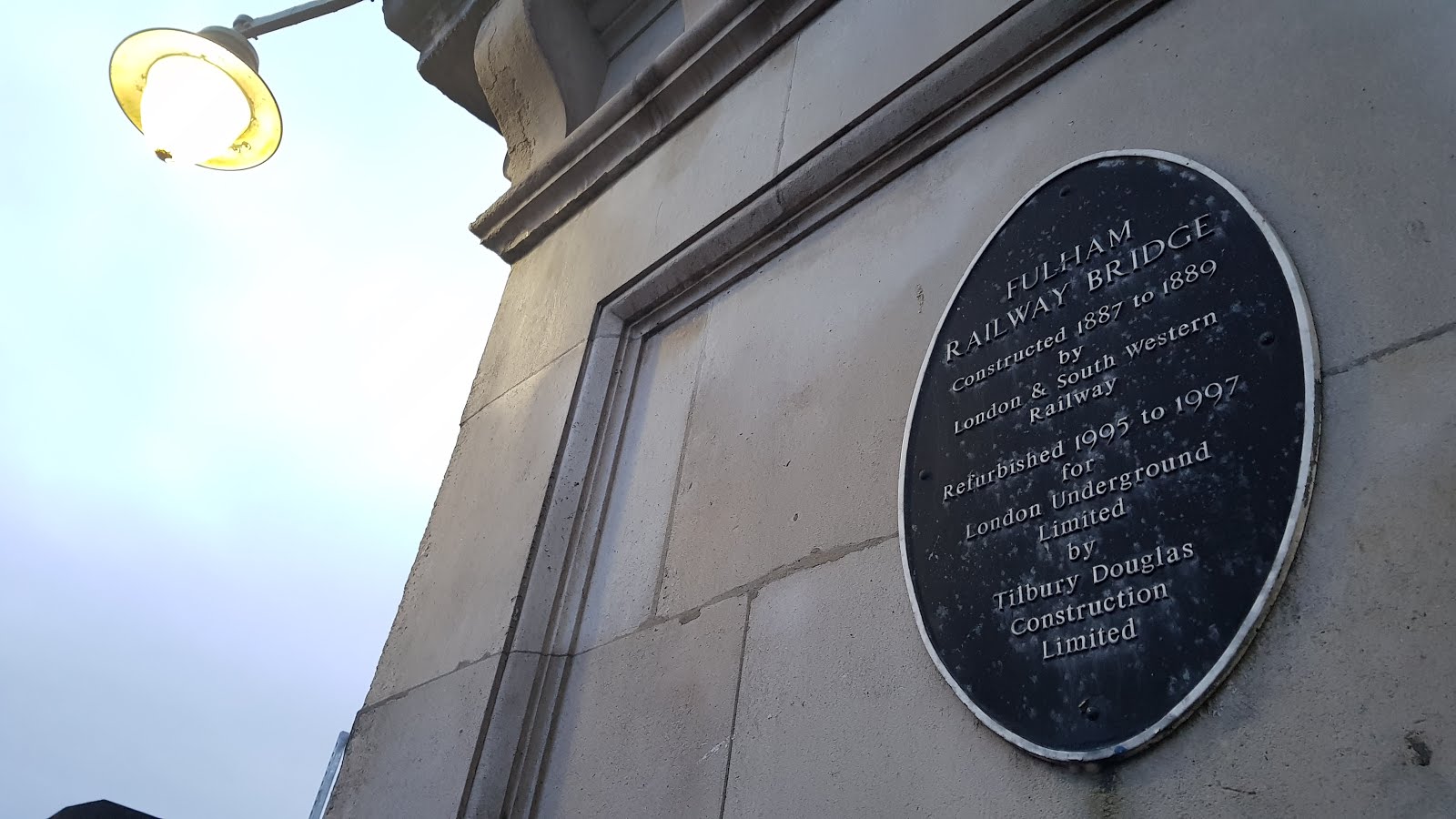 Not Putney Bridge. Merely a bridge in Putney…
We neck a couple more here and then discover that trains from Putney back towards home would take some time indeed. So we rustle up an Uber and set off for more familiar territory. Dukey departs after one too many fizzy ciders and with Mr X, Belly & I not fancying the band in O'Niells we instead camp out at the bar in the Bank until closing time discussing just on earth what SUFC need to do to be ready for football league football should the unthinkable happen. In the end, we come to the conclusion that it's 'probably quite a bit'. So that's that sorted then. No no. Our pleasure.
Right, I wonder if can make this last bus home?
Taz