Anyone else been doing one of those fantasy football things this year? I don't normally bother myself as they tend to be the sort of thing your average OPTA stats obsessed, heat map, pub bore PL armchair type does. But a few of the lads in my office were partaking and ever keen to appear to be social outside of a licensed premises type environment, I too picked a side and left it to fail miserably. To my surprise however, it's done quite well, even topping the league a few times but never lasting more than a week at the summit in true Sutton United style.
Well, this week, boredom finally overtook me and aiming to break the back of my opponents, I played my 'wildcard' in what would no doubt be a title winning managerial masterstroke. So, having first worked out just what playing a 'wildcard' actually entailed, I then spent more time shuffling my squad around than I did originally selecting it back in July, so that just for one week only, I could assemble an array of attacking talent that would give the likes of PSG or Real Madrid a semi and about a half a billion quid sized hole in their petty cash tin. As of today though, the results of my changes have been somewhat limited to say the least.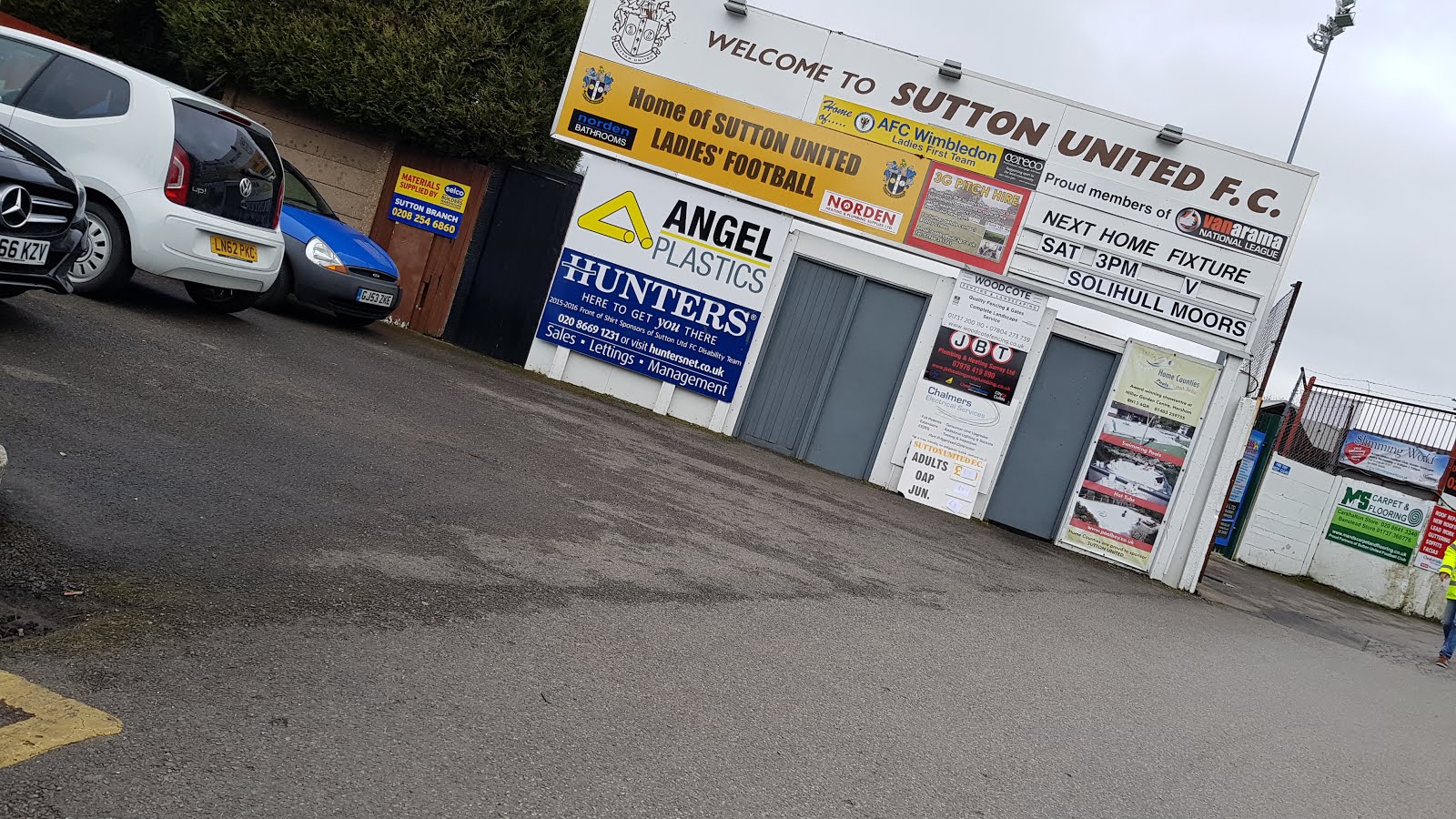 Spot Chalmers sign! Oh, that's right, you can't….
The previously amazing and utterly unplayable Mo Salah sank without trace at Old Trafford (marked out of the game by Ashley bastard Young no less), England's great hope Harry Kane hobbled off after 5 mins against Bournemouth and news has reached me this afternoon that I'm more likely to play at Stoke tonight for Man City as Aguero and Stirling are. Oh and some prick from Swansea whose name escapes me that I had in there because I ran out of funds at the end went and got himself sent off too, costing me even more points. Cunts, the lot of them. Fucking stupid game anyway. I'll be sticking to rubbish non-league stuff from now on, mark my words. Speaking of which…
With the following day scheduled to be the traditional celebration known as 'Mothering Sunday', I of course like 90% of the male population lucky enough to have a mother or mother figure to show appreciation towards, I of course traditionally leave my card and gift buying to the last minute. So hopping off the bus in the usual place by the Police station, I bypass Greggs and forgoe the normal walk straight to GGL and instead head for the one stop shop for all things Mummys Day related. Clintons. With a suitably sarky comedy card and a gift card purchased for mater, I head back up the High Street and make a call along the way. Chalmers had mentioned earlier he'd be in town shopping with his other half and might be persuaded to have a pre-pre-match pint.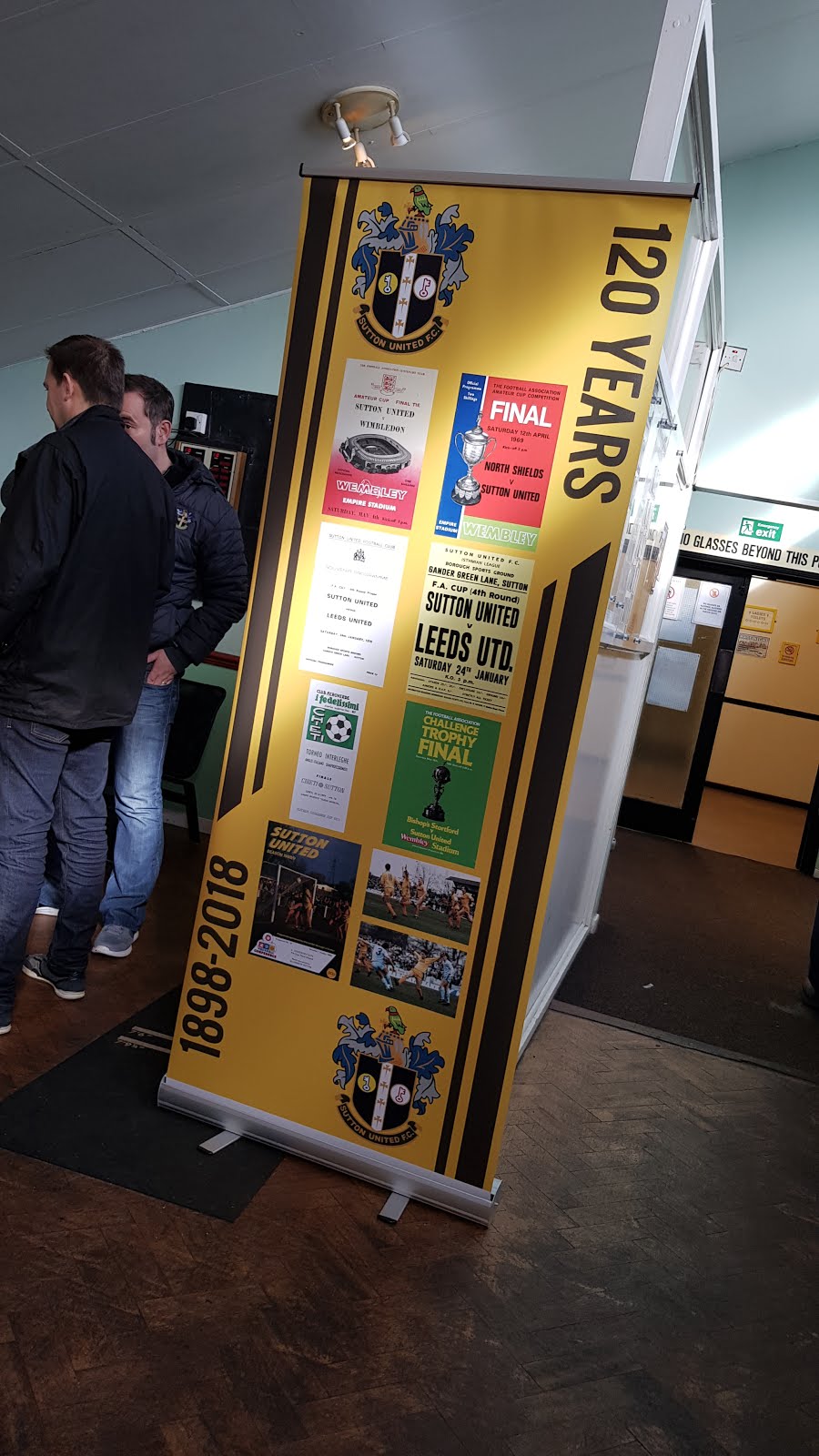 Happy birthday to us!
Naturally, he takes about much persuading as Donald Trump does to send a tweet and a couple of minutes after I've strolled into O'Niells where Manyoo v Liverpool is about to kick off on the gogglebox and begun propping up the bar, PC and his missus Hayley appear. We catch up over a drink and then the missus does the off and with the Scousers (including Mo "Fucking up Taz's dream team" Salah) 2-0 down to Mourihno's boys, we head to GGL for the purposes of further ensuring the security of the PRoWS economy and that another bar is firmly supported. What? Almost literally pillars of the community us!
As we head up the driveway, PC lets out a stream of bad words. It seems the self employed sparky in him is not overly impressed to find the sign indicating how much it is to get into GGL on a match day has once more been deployed in a position that obscures his own bit of advertising, somewhat negating it's prime placement and negating the maximised footfall it has been placed to take advantage of. "Stop crying and just move it you bell" I helpfully suggest. So he does. Right, now you've sorted your marketing issues, can we go and get a pint now please? In the bar, only Mr X is in situ so far and while he and PC catch up, I avail myself of the Darmstadt v Ingolstadt game on the TV. I love a bit of Bundesliga 2 me. Oh shut your face. Whilst watching I get to see the hosts awarded a fucking disgraceful second half peno. Clearly the German 2nd Tier officiating is of a standard akin to our own National League.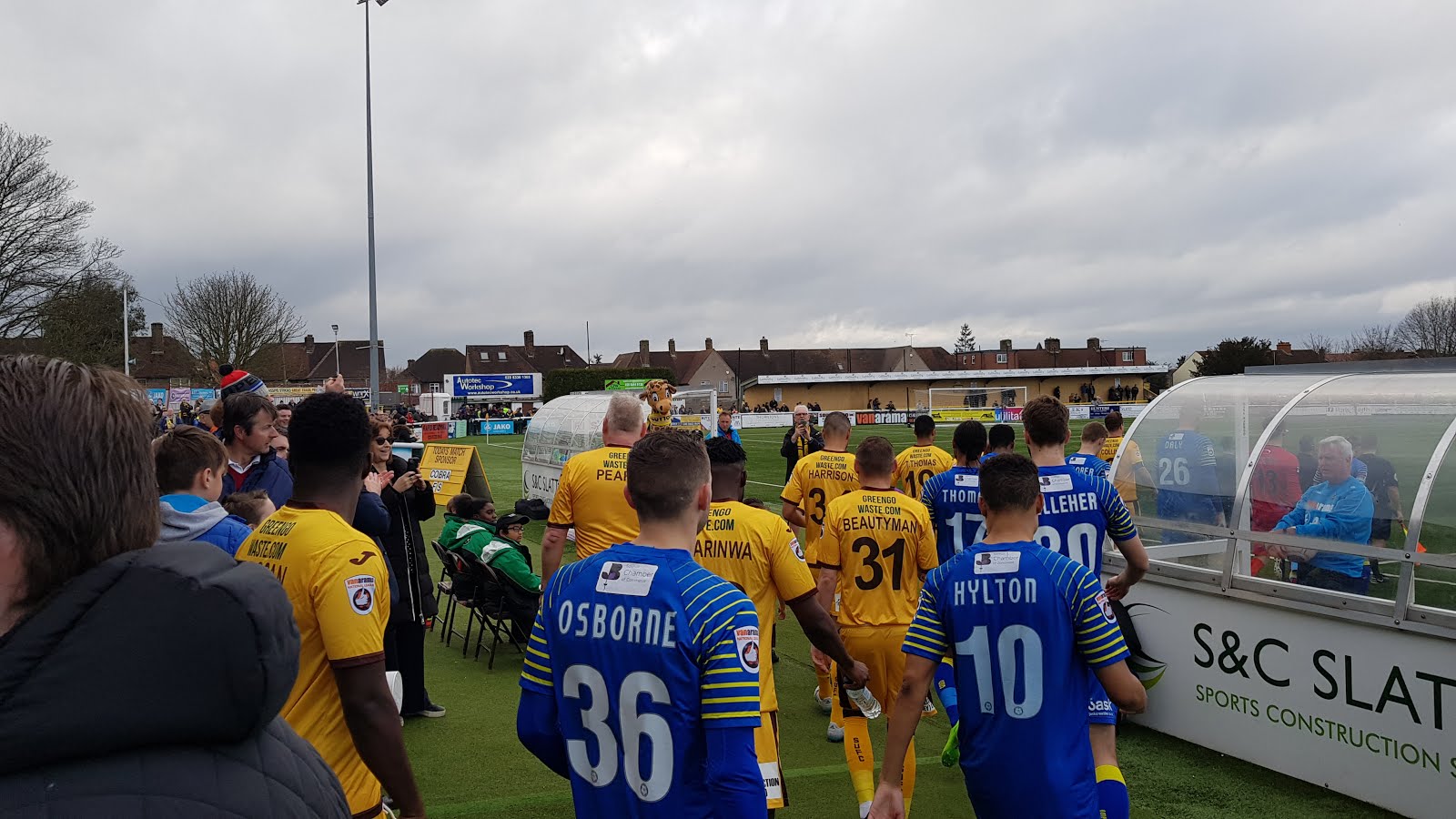 Emerging
Slowly more faces appear to join the throng and returning from the jukebox having stuck some tunes on I find the lads talking to a familiar face from our past, Mr Lennie Dennis. Now if you've been around these parts a while, you may be aware that the former Sutton & Jamaica forward (and star of ITV's Dinner Date) is a little bit of a hero of mine. Despite this, I manage not to fanboy out. I've got him as a friend on Facebook anyway. Still, it's good to see him back at GGL and it seems he's one of the new inductees into the SUFC Hall of Fame before the match as part of our 120th anniversary celebrations. About bloody time I say. 142 goals in 261 apps, they don't make strikers like that any more. The other main news of the day is today's match day mascot. Normally, this is the premise of small children however today, it's slightly different. The CoC's have clubbed together to royally stitch up one of the lads, Malcolm, for his birthday. So perfect and underhand is their subtefuge that the poor bastard doesn't realise his fate until he's given his kit in the bar and told to check the programme! Cruel, harsh and really bloody funny, I think you'll agree.
Butler, Thomas A, Collins, Davis, Cadogan, Eastmond, Thomas T, Wright, Bolarinwa, Beautyman, Harrison SUBS: Dundas, Walton, Taylor, Downer, Brown
With this in mind, I make sure I'm supped up and into the ground before the teams emerge for the magic moment. Although I'm too late to see the Hall of Fame presentations sadly, with Chairman Bruce being inducted alongside Lenny and Herbert Pratt, a famous name from the 30's & 40's. Pitchside I find the cackling members of the CoC's, clearly pleased with their day's work. I'm sure my congratulations on some marvellous shithousing doesn't help matters!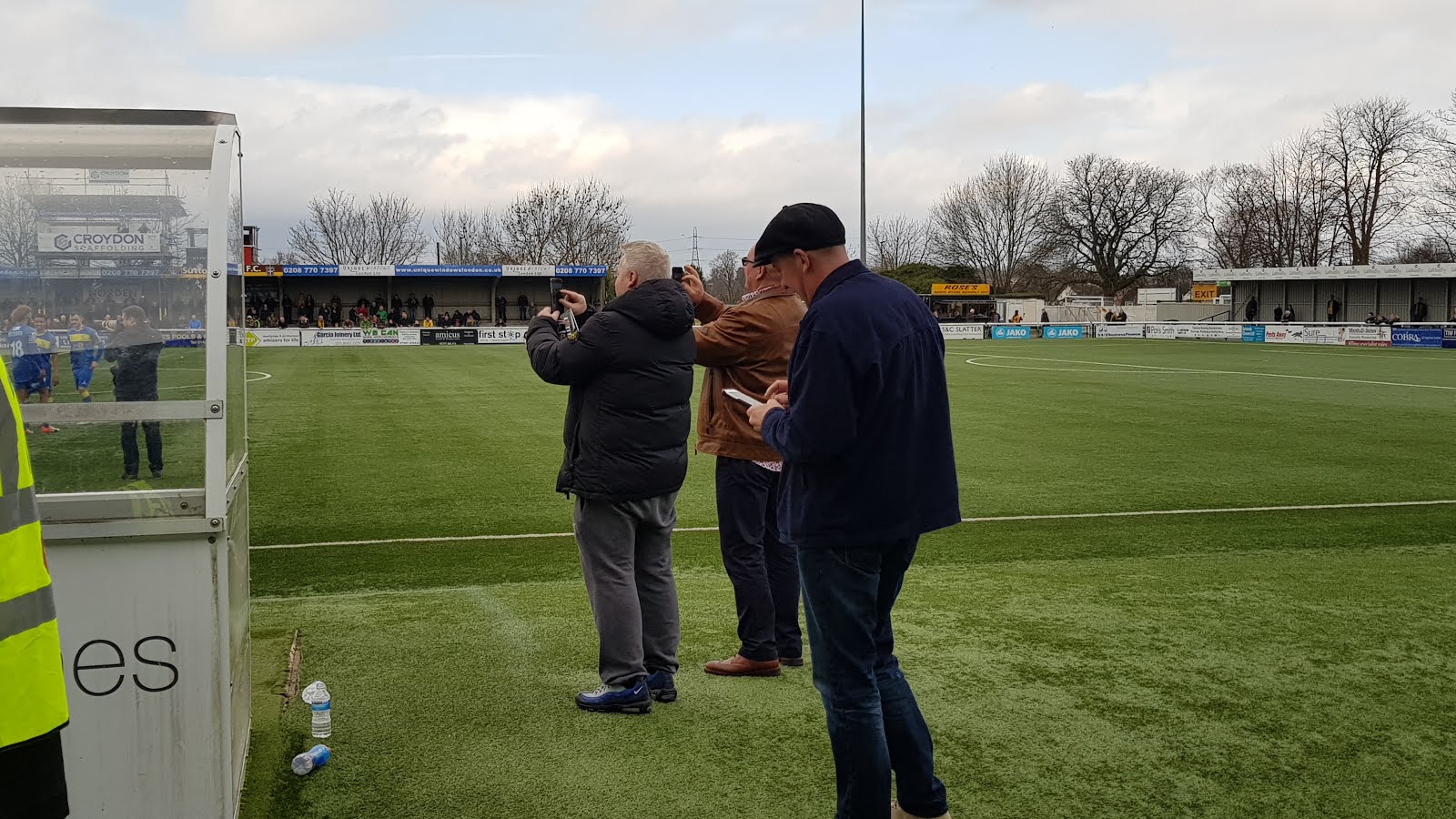 Culprits. Stitch up merchants. Bastards.
Today's oppo have been down in the bottom 4 all season and when we won there 2-0 back in November they looked well gone already. However in recent weeks, with a new manager in place they've recruited a number of experienced bodies and coming into the game are solidly amongst the form teams in the division. This ain't going to be easy by any stretch. This is proven from early doors as the Solihull lads are in both our faces and the refs from the off. Every little challenge is exaggerated and anything solid we put in gets them howling at the ref for sanction. Their no.4 and no.8 in particular are making themselves popular, especially the latter who covers as much ground running to the ref to remonstrate after fouls than he does actually patrolling in midfield.
The ref doesn't help matters by being very weak. In fact one ridiculous decision sees Harry and their full back both stretching for a ball. Harry is there fractionally first and gets a clump for his trouble. The result? Lots of screaming and a free-kick to Solihull. Yeah, cheers mate. The first couple of sighters go to the visitors, one from a long throw with a shot in close that Butler gathers second go and a low shot from range to the near post, but again Jamie is equal to it. Our own first chance comes from Aswad trying his luck with a Free-kick from out wide that the keeper has to tip over. Not much else happens until around the half hour mark when we suddenly break the deadlock. We have 2-3 corners on the bounce and the last of these is played short by Harry to the corner of the box, Kenny lifts it into the box and Tombo puts a frankly absurd overhead kick back over the stranded keeper and into the far corner. It's an absolute fucking beaut and no mistake.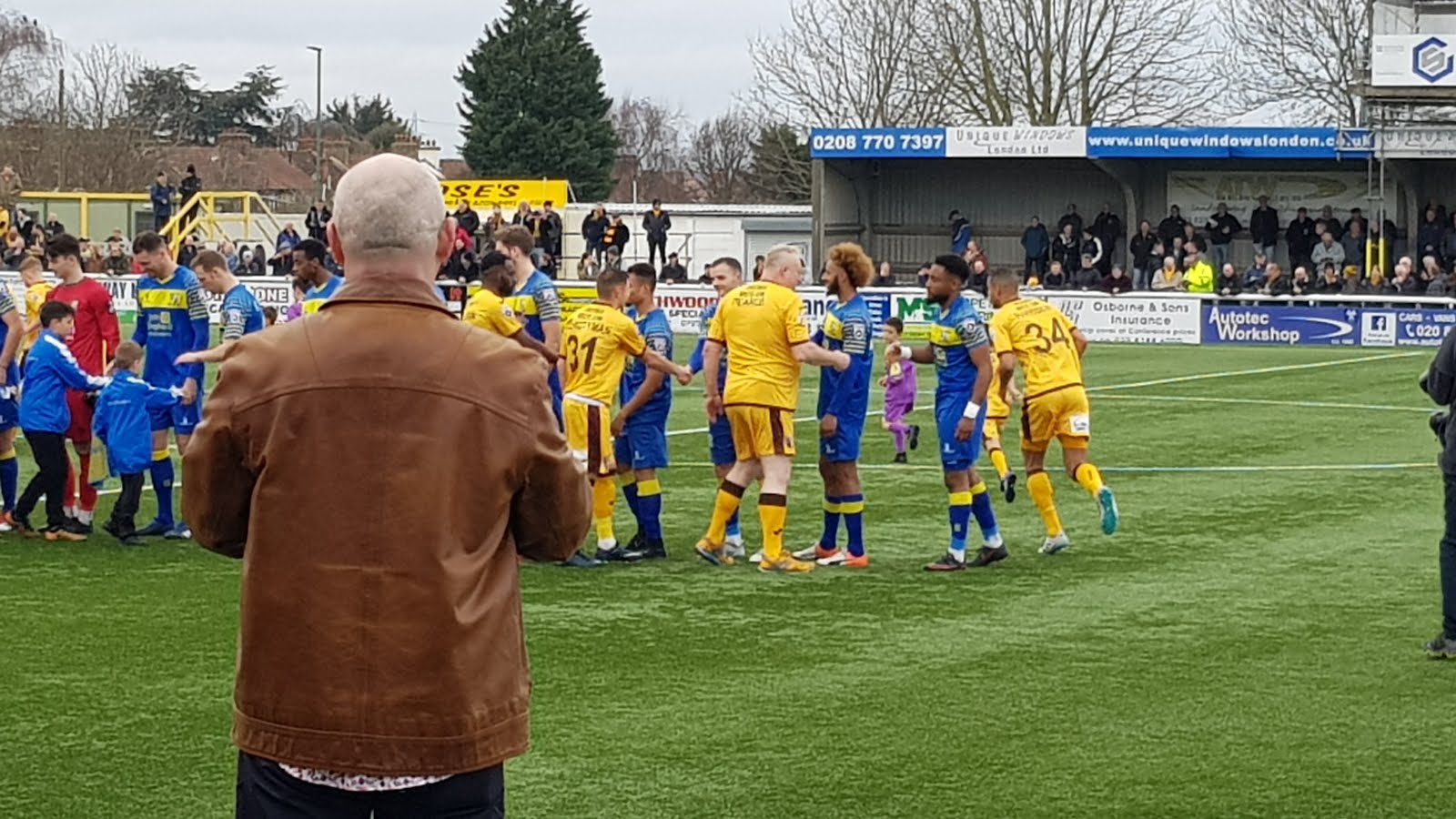 "Fuck me, Jamie Collins has had a rough week! Oh wait…."
The goal opens things up a bit. With their game plan shot, Solihull need to react and we start to find the odd gap. Eastmond on a rare foray forwards from his makeshift full back spot has the keeper pushing a fierce effort from about 20 yards unconvincingly over the bar.
Pleased to be ahead at the break, I mooch round to my usual spot on the Shoebox to catch up on some halftimes. The main news is with us winning and Macc drawing at home to Barrow, we're back on top. The big story however is Aldershot at Fylde, where they're taking a right old pumping. 5-1 down at the break, they were 4-1 down in 20 minutes!
The second 45 is largely the same as the first, lots of graft from both sides but not loads in the way of chances. Walton tests their keeps from range twice, one forcing a good save, the other more routine. We think the game is safe with 15 to go though when with the ball bouncing all over the shop in our box, the ref stops play and awards us a free-kick before showing their no.9 a second yellow and then a red. Touch! Typically though, we sit off the visitors and they finish stronger. Their best opportunity of nicking something late on when a sub does Downer for pace wide and his low centre causes problems that we eventually hack away from very close to the goal line. Thankfully though we hang on for a good 3 points and can head to the bar with smiles on our boats.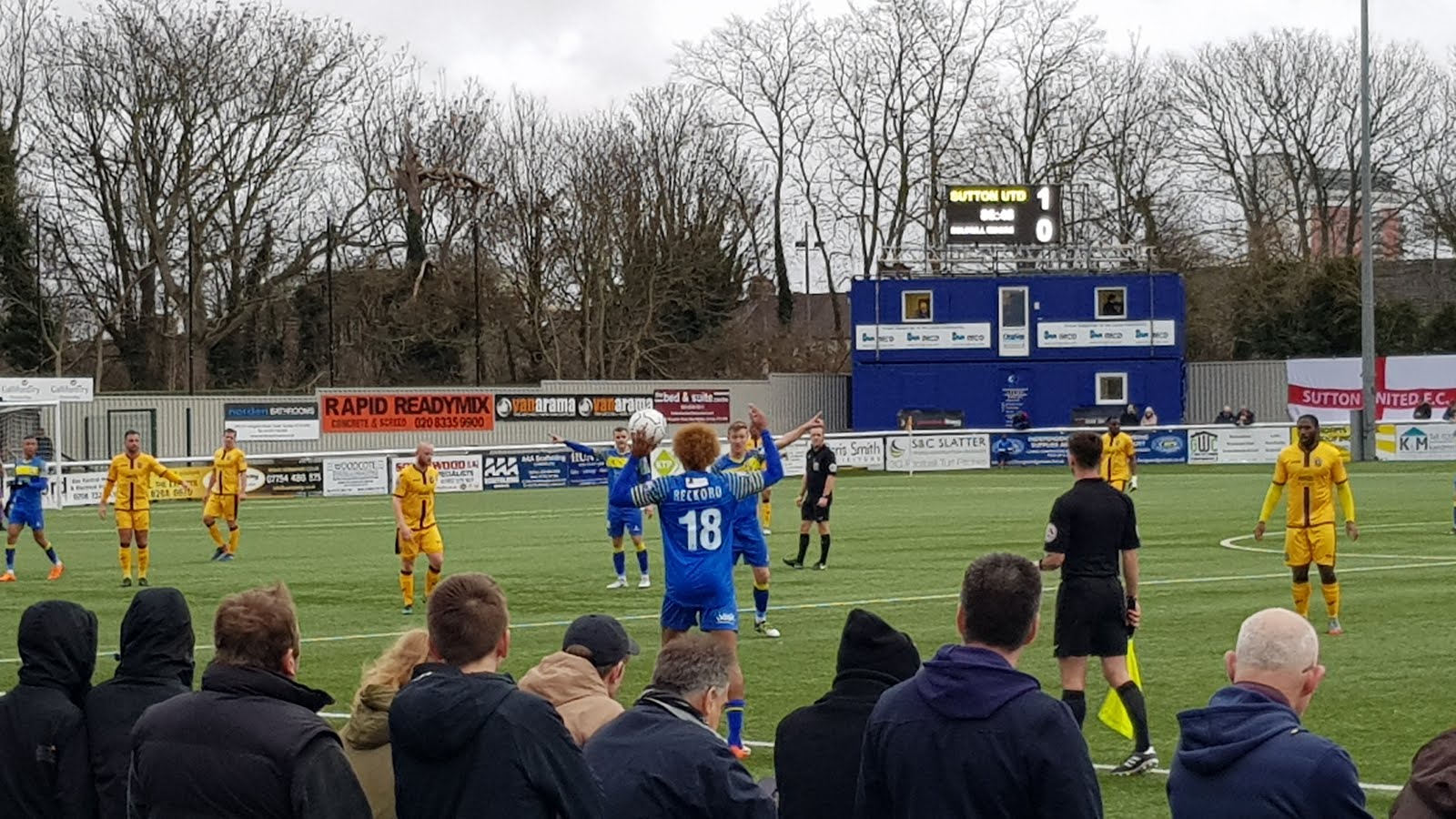 Stock "there was actually a game" photo…
Back in said bar, we find that Aldershot's day got even worse and they've ended up getting properly bummed 7-1 at Fylde. Macc have come from behind to win 3-1 so we're back to second. Oddly, Maidenhead have also got whacked for 7, repeating the Aldershot scoreline up at Gateshead, a result that will no doubt cheer the GMOSC boys right up for their night out on the Toon. As with every home game, AB appears to do his usual shouting at everyone in the guise of pulling the Strikers draw. First one out is club money man Oaksey, who proceeds to land himself about 1300 quid. Fucking typical, money going to money as always! Still, at least he sticks a nice few quid behind the bar which we of course are only too happy to help him drink.
The rest of the time is spent taking the piss out of Malcom from the CoC's for his mascots appearance earlier. Still, at least he's now changed out of his kit, so the task at least isn't going to scar me mentally or leave me with nightmares. I also make use of my connections with Mr Dennis as Joe, another long standing fan and Lenbert fanboy, is too shy to go and say hello and get a himself pic with the big man. Of course, I steam straight in and get business taken care of. Although Lennie's assertion Joe should "Get out more" when he tells him he's waited 25 years for the moment is probably a fair shout.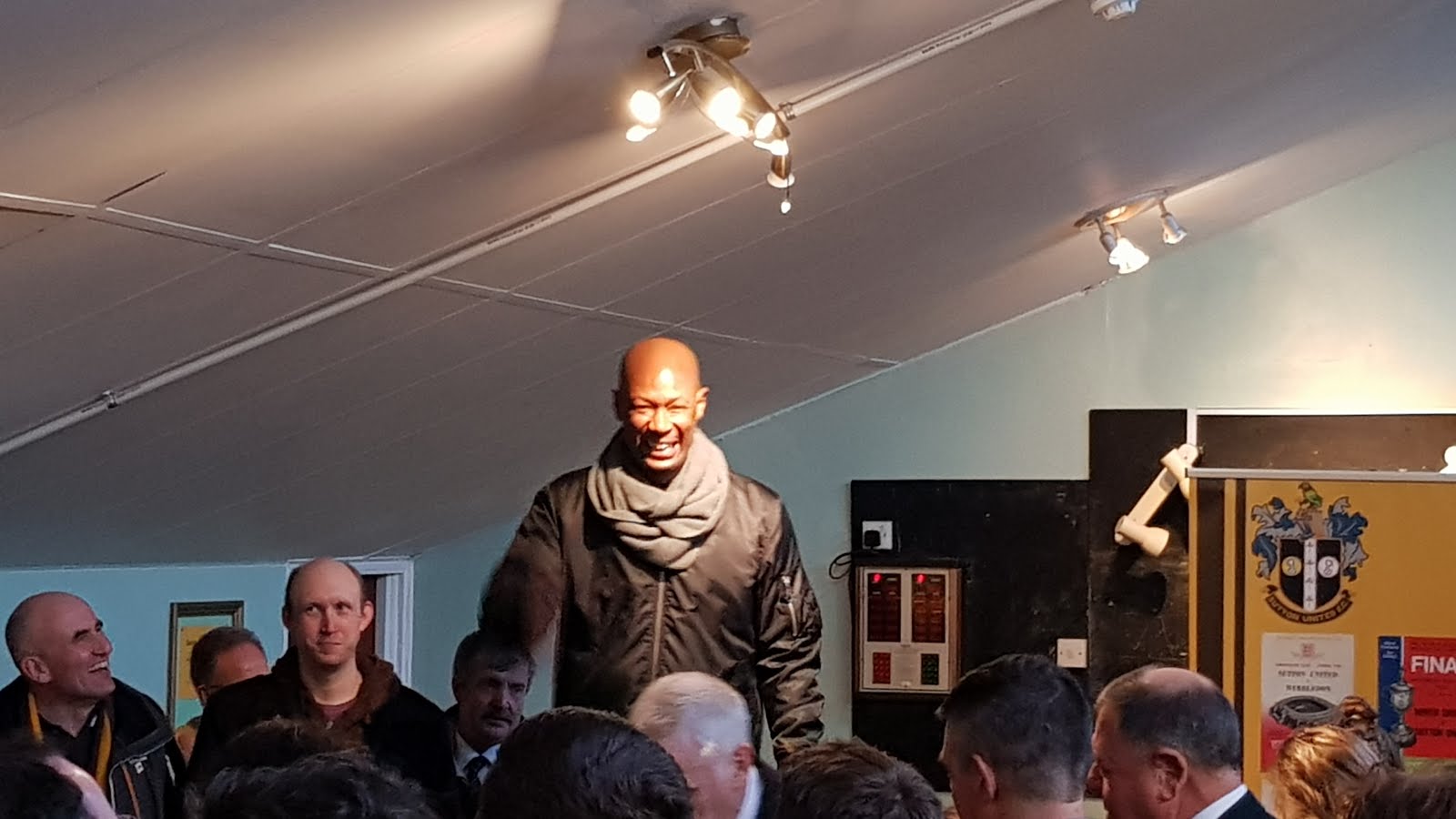 Swoon!
With time pressing on, it's time to abandon the doofuses to their evening of alcohol consumption and to head back to HQ for dinner with Mrs Taz and an evening on the sofa watching shit films. So I say my goodbyes and partake in the rarely running weekend Thameslink service to ditch me back in the Badlands for the stroll back to Gandermonium's top secret volcano lair. Then as I wander homeward through the steady rainfall, I ponder the big question I'm sure everyone is beginning to ask.
"So are we in a fucking title race or what?"
Well?
Taz