Greetings to you, our loyal Gandermonium readers for this latest blog against Surrey rivals Woking. Let us firstly track back to the previous week though and a cancelled trip to Halifax. It seems that white stuff of the cold variety struck a lot of the UK and caused the postponement of many football matches across the country although the "Lords" of the Premier League remain unaffected.
This of course meant our fixture at Halifax was one of the casualties, but at least they had the grace to cancel the game in good notice with it falling foul of the weather on Thursday. Still, this at least lead to Sutton Common Rovers managing to pick up some of our fans attending their fixture at home to Hayes, must have been a nice sight for them players. Although, it seems some of our fellow Gandermonium 'characters' still went all the way up to Halifax for the purposes of sampling the local culture, of course this means pubs!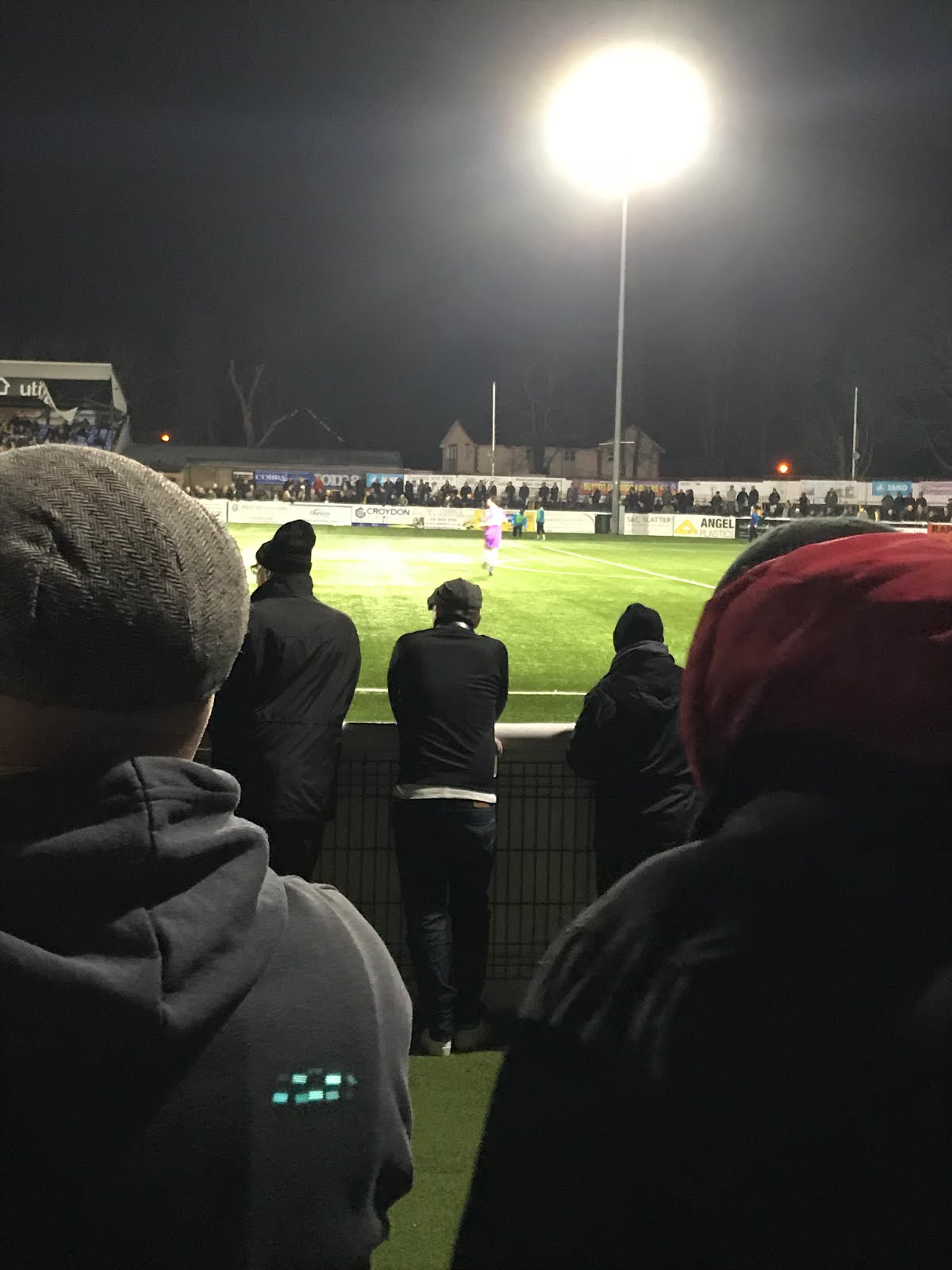 Crowded
Moving now to this Woking fixture and after working from home on the day I decide to get myself an Uber down to GGL. It seems my Uber driver is an Arsenal fan and did not take too kindly to my feeling sorry for Arsene Wenger, although he did comment on enjoying watching Sutton United vs Arsenal last year. Which brings me to upon entering the bar and finding in attendance is the one and only Mr Wayne Shaw. Speaking of the one and only, did anyone see last weekend's episode of Pointless Celebrities which had a special performance from the one and only Mr Chesney Hawkes?
Also in attendance tonight are our friends from across the pond, The Gooners of the USA podcast boys. This stakeholder engagement was of course bought of course by that same cup game. I had a good chat with one of this group and he states how he is looking forward to seeing our pitch. I also talk about Wenger's plight and again my sincereness on how he is being treated. This leads to conversations on the players Arsenal let go including a one Olivier Giroud, but I add Chelsea are unfairly treating him too by not playing him!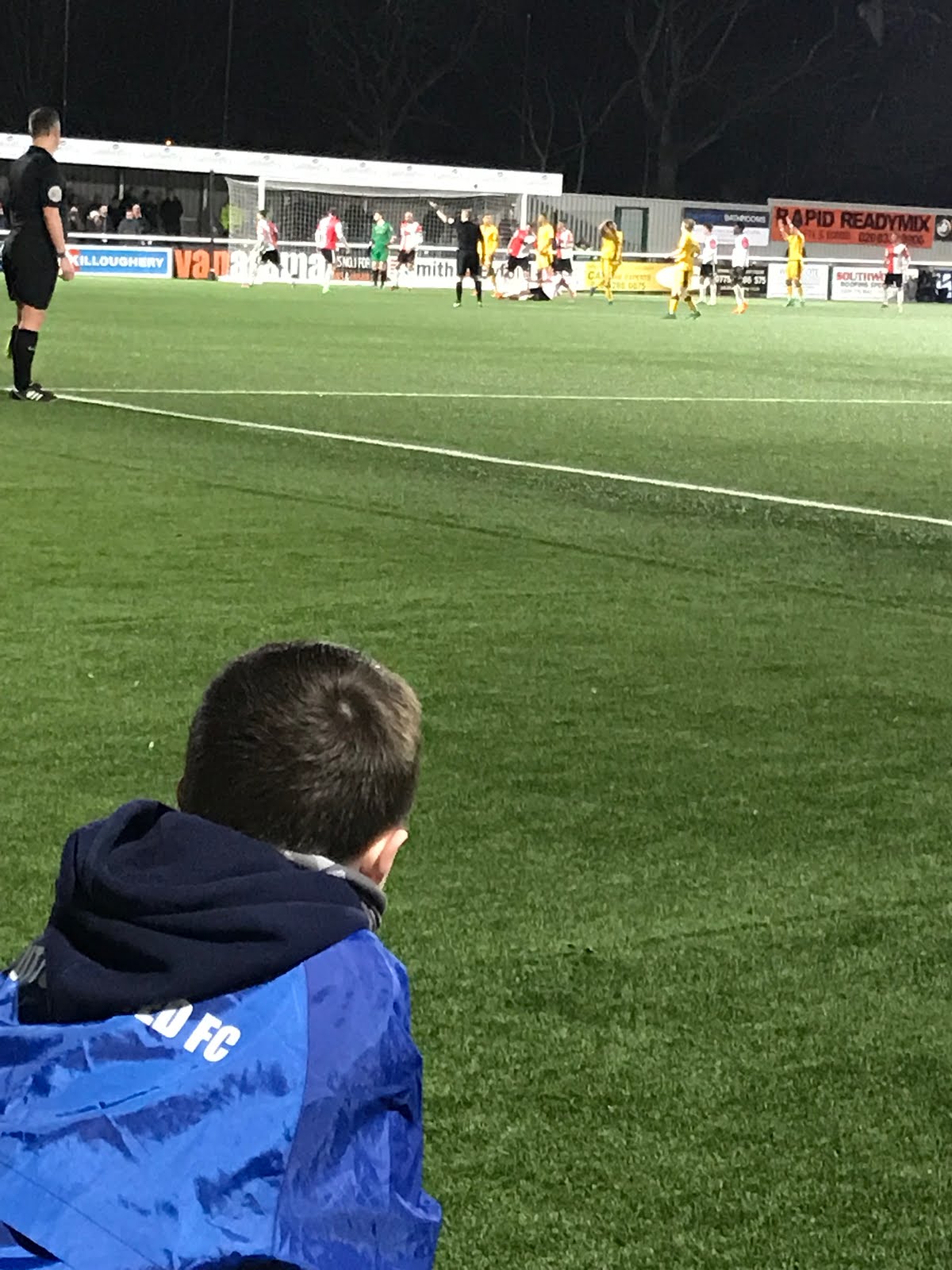 Observing
The line-up brings me disappointment as I do not see Rossi's name on the team sheet nor even on the bench but hey I support the team not just one player (even though I am Rossi's kit sponsor). It seems my man has a knock this week, so I hope it's not too serious. Also who is the referee, oh yes the ever so graceful David Rock or as I prefer to call him 'Rock the Cock'. A fan I am not.
26. Butler, 5. John, 19. Terrell Thomas, 6. JC [skipper], 3. Aswad Thomas, 15. Eastie, 8. Davis, 31. Harry B, 30. Tombo, 20. Tommy Wright Wright Wright, 34. Harrison
What on earth do I get to write about for the first 30 minutes? Well my learned friends absolutely nothing to be honest! The only highlight I can offer is people questioning why Jamie Butler (the goalkeeper) is taking free kicks on and in one case, just over the halfway line. Has he turned into Paraguay's Jose Luis Chilavert, their famous goalkeeper for them in the 1998 World Cup I wonder?
Thirty minutes into the game and this is usually where I would normally start to head to the bar with Half Time Steve, but he has already made a start and gone to the bar with Harry (his dog, not Beautyman). Although it has to be said Rock the Cock so far, well in my opinion, has been ok. He awards us a corner in the 33rd minute which leads to our opening goal. A deep hit kick is fumbled by Woking's keeper and it falls to Byron Harrison, who pokes the ball into the net. Yes a goal that I have not missed! I know now it is safe to head to the bar and unsurprisingly there is Half Time Steve sat with Harry.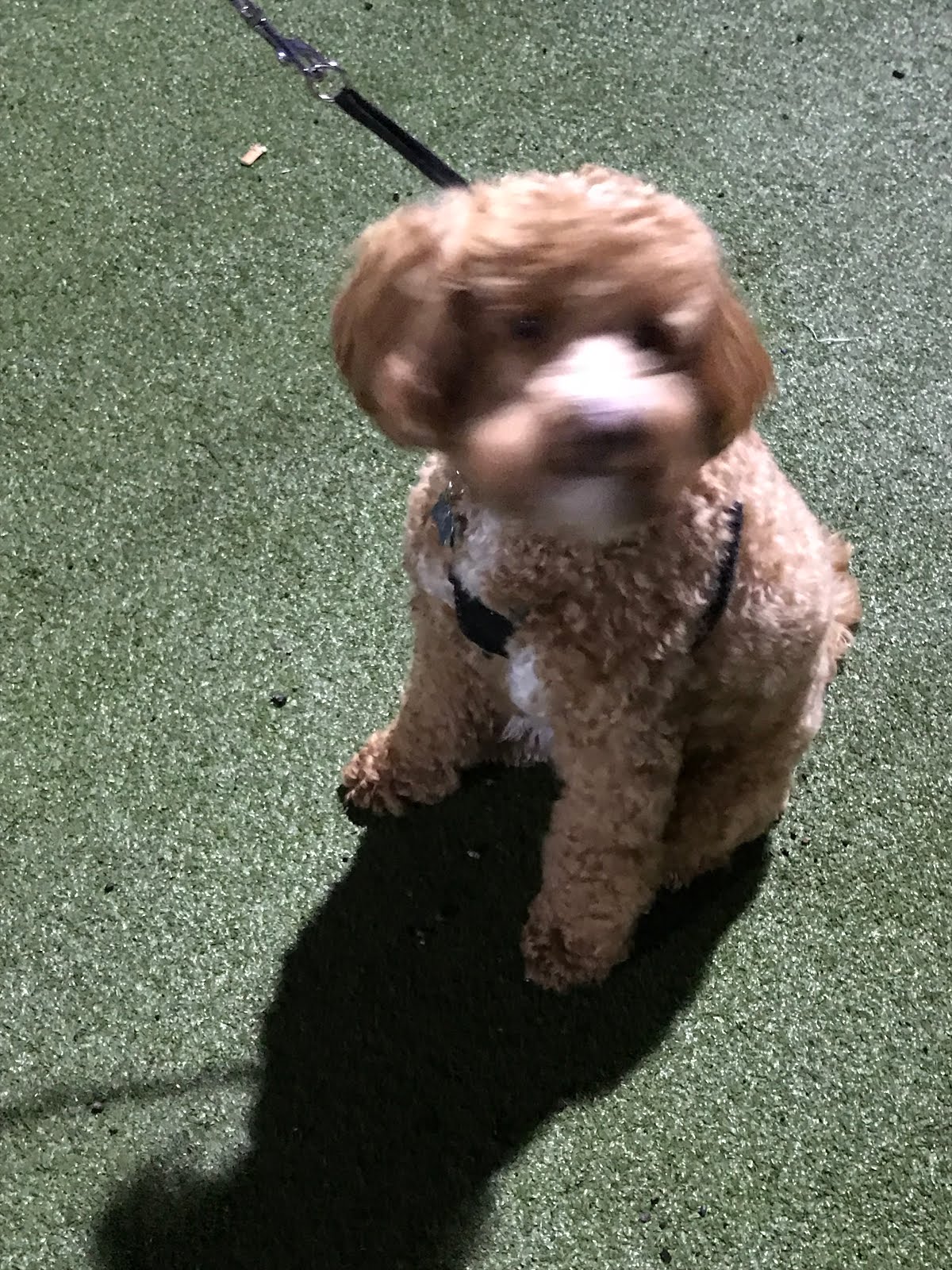 Harry (not Beautyman)
Upon heading out for the second half, a substitution has been made with Kieron Cadogan replacing Tommy Wright at the break. As I head past the dugouts Woking's manager is having a row with someone on the Sutton bench (I cannot say who) and the stand is in turn berating him by shouting "sit down".
This led to a sprite start to the second half where within the first 10 minute our U's further extended their lead. Passes between Cadogan and Harry led to a low cross being met by Tombo who guides it home. I know I am much renowned for writing too much about the football (but what cultural things can I write about on home games I tell thee?) but the game peters out like a damp squib – the one thing of note is the constant berating from the Shoebox and from yours truly to the Woking number 5 in his wonderful green boots! A crowd of 2019 witness another three points for Sutton and with Macclesfield's game at Maidstone being cancelled, unsually due to some home players not being able to make it past a serious accident on the M25, we remain in second now just two points behind. Woking, I know it's a Tuesday night but seriously, a local game and you only bring 133 = pitiful!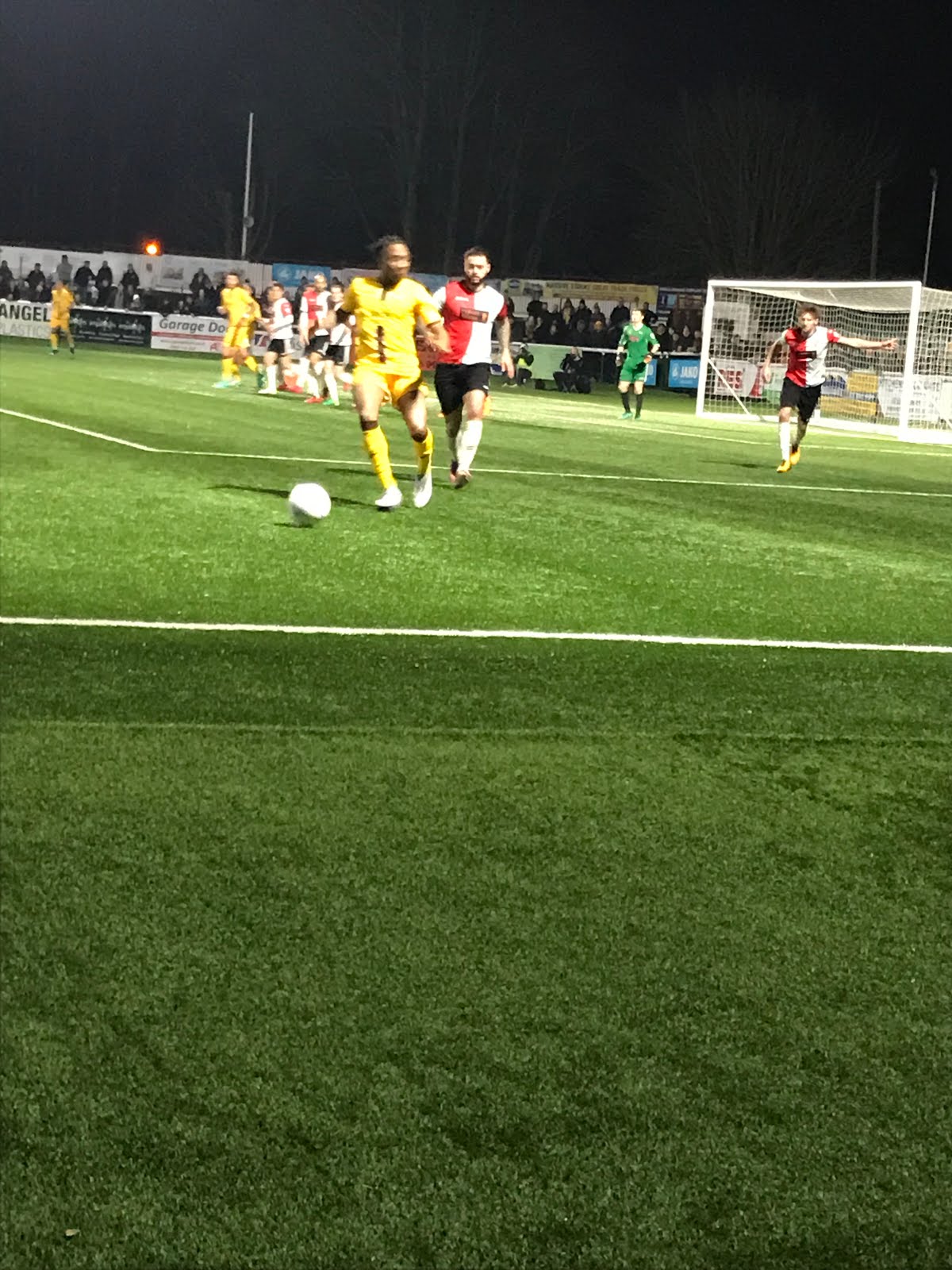 On the move
For the statisticians out there, the other subs were: – Walton for Beautyman on 76 minutes and Dundo on for Tombo on 82 minutes, amazingly with Rock the Cock showing no yellow cards. Which is odd considering the number of free-kicks Woking had awarded against them over the 90 minutes.
So, to the bar, and our American friends have taken their place at the table football, that's right guys football not soccer! I have a good chat with Mike who if you watch WWE ,sometimes attends their events and can be seen holding up either a jokey "Wenger Out" banner or a large Arsenal badge. Hey he has got more nearer to Alexa Bliss than me – sigh! I also mention that I'd won via an Ebay auction for an action figure of Dusty Rhodes. A special purchase as this was the only figure I never got as a kid as you could not find it for love nor money back in the day. And let me tell you readers it weren't cheap. If only there was no work the next day then perhaps we could have had a more in depth chat but I know the drinks were flowing for them – guys enjoy the rest of your trip here, it was nice to see you all again and hope you return again very soon!
Taz and I are the last to leave and decide to hire Ubers for our journeys home and it's a race to see whose driver appears first – Taz questions his driver whilst looking at his phone screen as to where they were going to pick him up; whereas mine takes a nice straight forward run up the third part of GGL.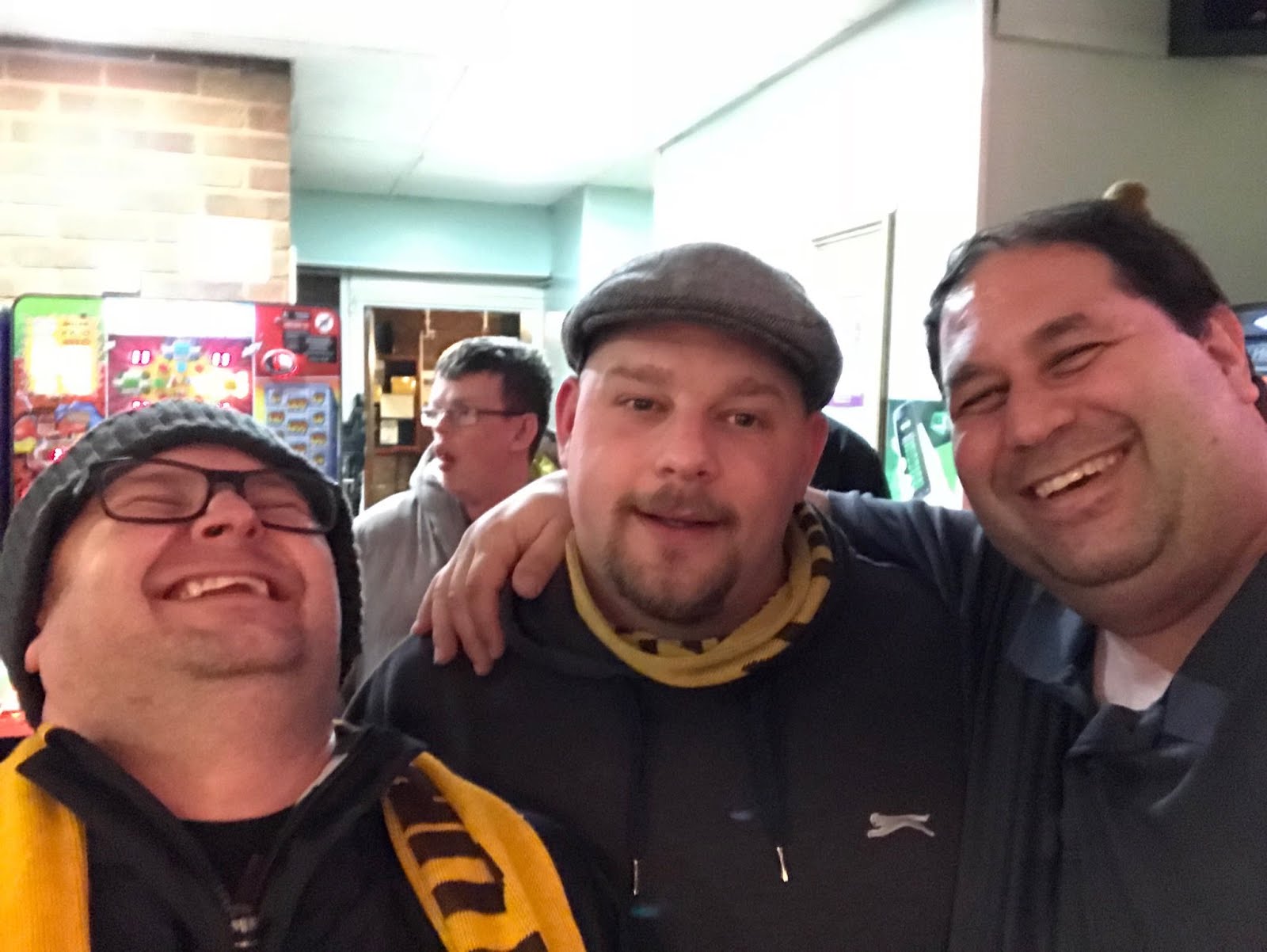 Should be in the Louvre this one…
So my learned friends, thoughts now turn to Saturday's fixture against Solihull Moors and hopefully a further three points in the race to promotion. Let me tell you all now, if you did not know already, that the season ticket details and prices for the 2018/2019 season come out Friday morning, so keep your eyes open and form an orderly queue!
Before I go, I also said I would also mention a hello to Dave and his son James. See, told you guys I would give you a mention in my blog!
See you all Saturday, and wise men say….
Robbo