OK people, standard fare for this blog. Sutton are once again in standard Surrey Senior cup action. At home against lower league opposition, in a competition that has us outright favourites considering we're to the top placed team in the whole of the county. The only problem? As has become a custom for this we were going to put out a under strength team. Now what could possibly go wrong right?
Can you actually believe that it's been nearly fifteen years since we last lifted the Surrey Senior Cup? A mere decade and a half ago when some of us were a bit younger and witnessed Mark Watson's 100th goal (and Dean Hamlin being stretchered off) in a 2-1 win against K's. I also think that this might've been the last trophy we won under the late great John Rains?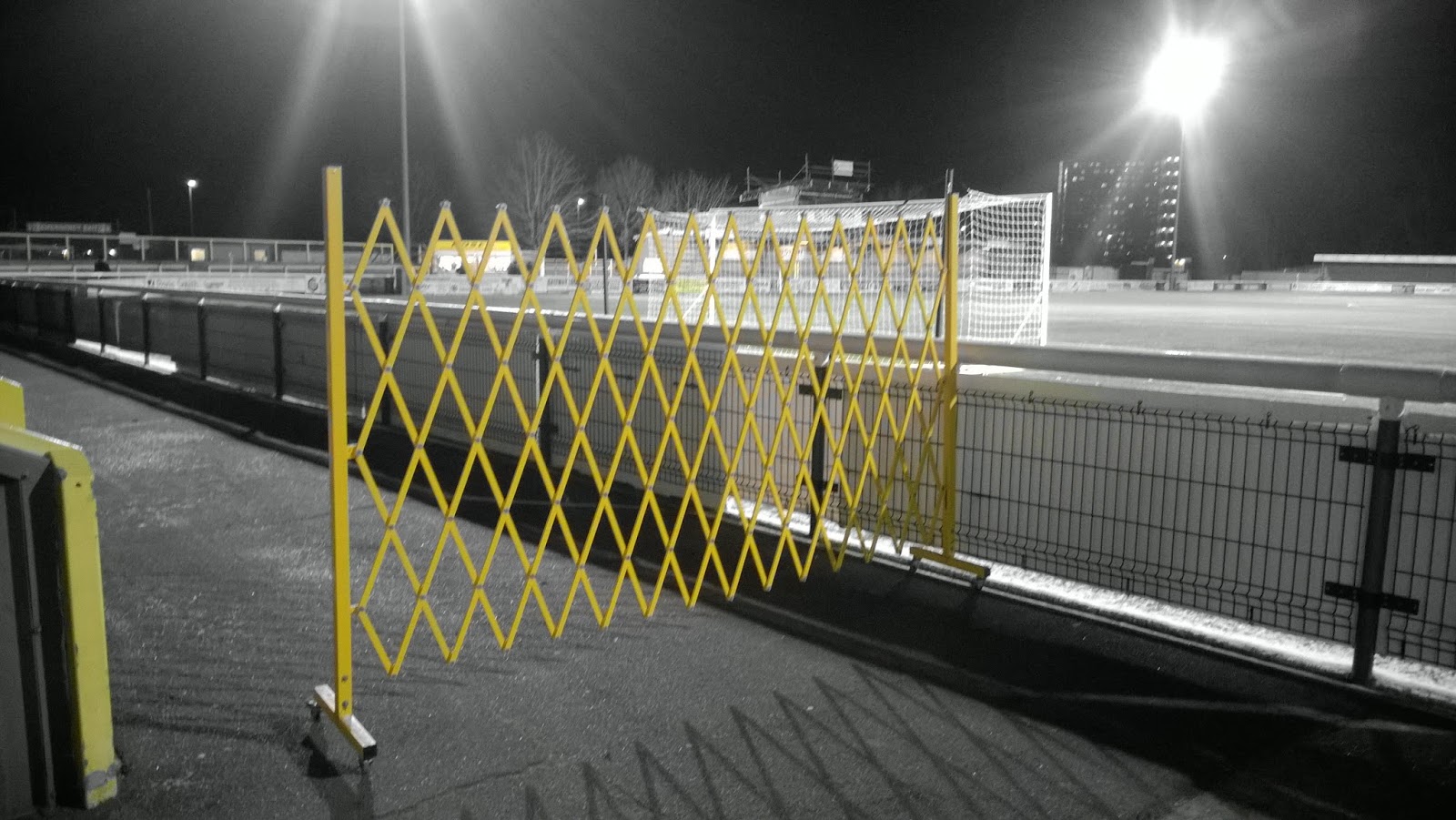 NO ENTRY! Unless you need to go to Rose's…
Here's a quick bonus question for anyone who can remember the match. Who played in that final for Sutton, and is still currently in the first team squad? Anyone? Google it on Yahoo if you must, but I'll give you a clue anyway, it's not the legend that is Dundas. I'll give you the answer at the end of the blog. If I remember to that is…
So onto The Moatsiders from Merstham. And as some of you may be aware, we did play them a couple of years back that resulted in a very disappointing 2-1 defeat. A low point really considering the team we put out that night. It was also the final nail in the coffin for some of our hardy followers of our county cup exploits. It was also the last time someone other than me covered this competition for this here blog. Shock!
With Taz a guaranteed no show (It was fucking cold – Ed), it was down to either me or The Firm Leader to drive. And one reason why the Firm Leader is the top dog is that he knows how to get me to drive when it's for a spot of county cup action. So we agreed a pick up time and all I had to do was make sure that there was enough juice in 'Diana' for the short trip to the Republic.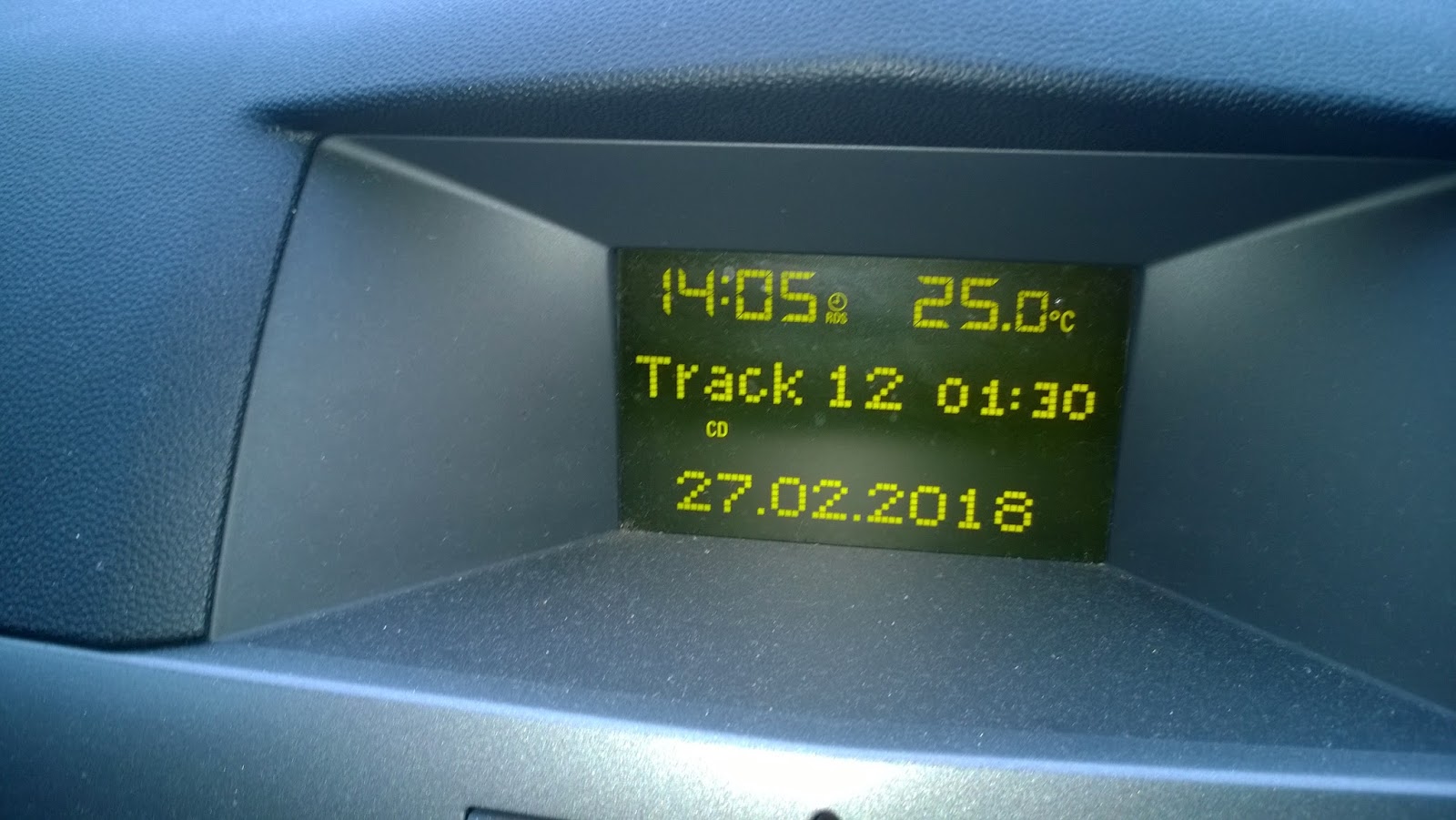 Either the temp doesn't work or it's not as cold out as we think…
Anyone catch the weather recently? Blimey, spot of snow and the whole country goes to pot. Can't say that I like all this naming of weather bollocks these days either. "The Beast from the East"? Sounds like another one of Dr Bell's ex-fiances to me. Despite warnings of a 'Day After Tomorrow' type disaster, down in the Badlands of Carshalton we only had a light dusting, but the wind chill factor made it freckin' numbing at times. Worries that our game might be off, unlike Halifax on Saturday, of course are not needed. We have the Fred Gee!
Arriving at The Firm Leader's yuppie residence, I tell him I'm waiting outside. Having a quick butchers on that Twatter thingy, I realise that the club have announced that because of the sprinkling of snow, the terracing at the ground is too dangerous for supporters to stand on and that everyone must sit in the main stand. WTF? In the main stand? You serious? I haven't done that, since a match in the early 90s against Marlow. Thanks to the Avenue Primary School for the couple of free tickets for that one.
Asking The Firm Leader what he knew about this news (fuck all it seems) we head off to the ground. With no executive Gandermonium parking space available tonight, we managed to finnd a spot even closer and headed towards Gander Green Lane. Only a £8 entrance fee to get in tonight, but I did make the mistake of buying a folded piece of A4 that was masquerading as a match day programme.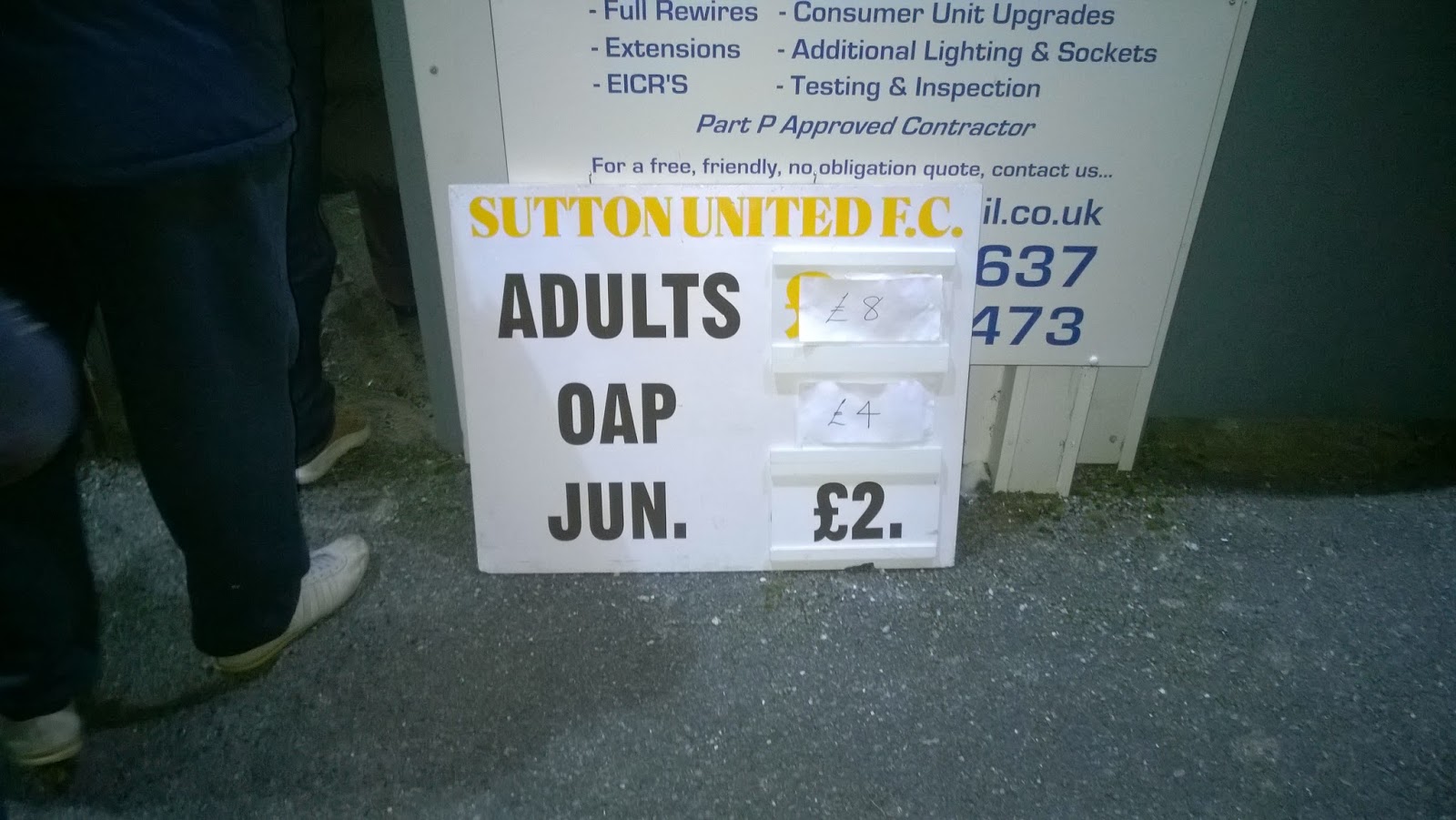 £8? That's a steal Chief!
Asking the "Hero of Eastbourne" Vaggy, as he took my money, about what this "no standing on the terraces" was all about, he said had no idea either. Then I asked Mr Hasler about it, he also had no idea. Ah ha! Great communication going on here methinks. So whilst The Firm Leader was buying himself a shirt from the club shop, I come across The Chairman of the Board Dave "Give Me Just a Little More Time" Farebrother. Who was carrying a fold-able barrier to put up just before the Securicor Stand.
Problem with this was that, over to the far side, Rose's was still open and serving people food and drink. Until kick off mind you. And with only Mr Farebrother appearing to try and get people into the Main Stand, you just had another funny example of why we're really non-league. Anyone thought of getting the stewards to help out? Can't say that I have a problem with it but just the lack of communication between different people coupled with the fact that there was no one at the gate telling people what was occurring. And you could've walked in at the Rec End and head over to Rose's before plonking yourself on that side of the ground without a clue.
Of course, in the main stand, you had some sitting down and other standing up, and yet you still had people standing behind the sides of the dugouts. What a palaver at times it can be. News of the team line up had six of the first team starting, but with none on the bench. So it looked like it was all about getting a few in front to get it won before their eventual removal.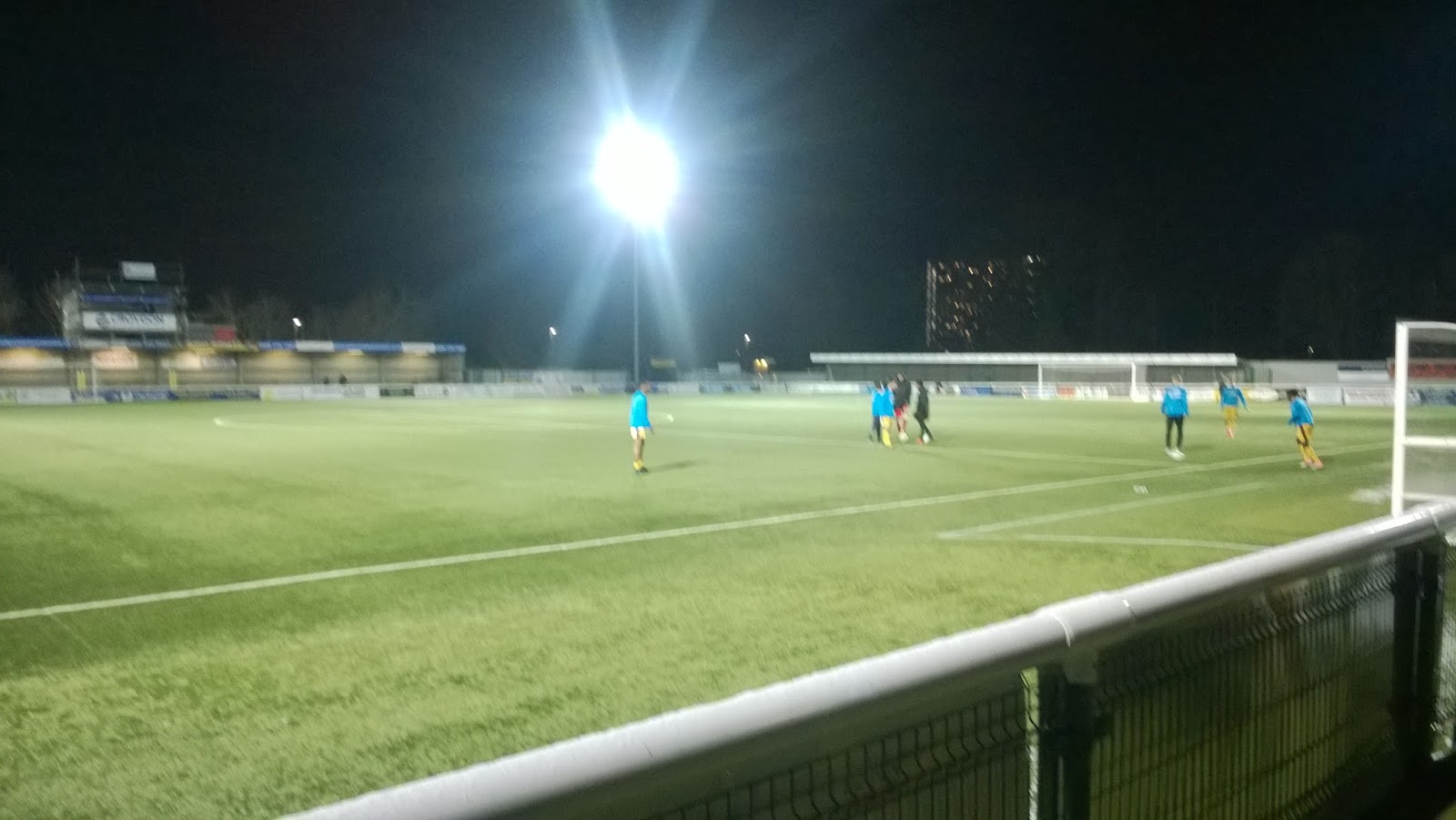 No ice…
Annakie, Green, Coombes, Ompreon, Dundas, Wright, Taylor, Morris, Downer, Beautyman, Lema. Bench Warmers: Mata, Yeboah, McGee, Agwuegbo, Chapman.
Unlike the last round where we had a core of first team players through the centre of the team, Tonight's line-up was structured differently. This time we only had one Senior at the back and we put Dundas (490th appearance) in the middle with Beautyman. Even the ref didn't bother making an appearance and left it for some other fucker to take over.
With a pitch that was quite hard, it wasn't going to be a game for the purists. Well, those that think football was invented in 1992 at least. But when you're playing against Ryman league opposition it doesn't need to be pretty football. Hit it up to the forwards to hold the ball up or just give it to the wingers to run with it.
A quarter of an hour in and I think I saw our keeper Annakie make his first save of the season by expertly getting down to his immediate left to stop Merstham with one of their several chances. At the other end Coombes could've been awarded a penalty after he tried to cut the ball behind him only to be swiped off his feet.
The simplest of goals were gifted to Sutton jut before the half hour. Taylor manged to lose possession (after a cheeky back heel pass from Coombes) down on the right hand side only for it to be handed straight back to him as the Merstham captain completely ballsed it up. He then ran into the box and with the simplest of cross balls put it on a plate for Wright to tap home. 1-0! You might think that could've been the end of Merstham but they ended the half the strongest with several attempts that they really should've put away. Funniest was the cross from Addai, once again, that found the player on the edge of the six yard box who then managed to knock it out for a throw-in. Finish fella!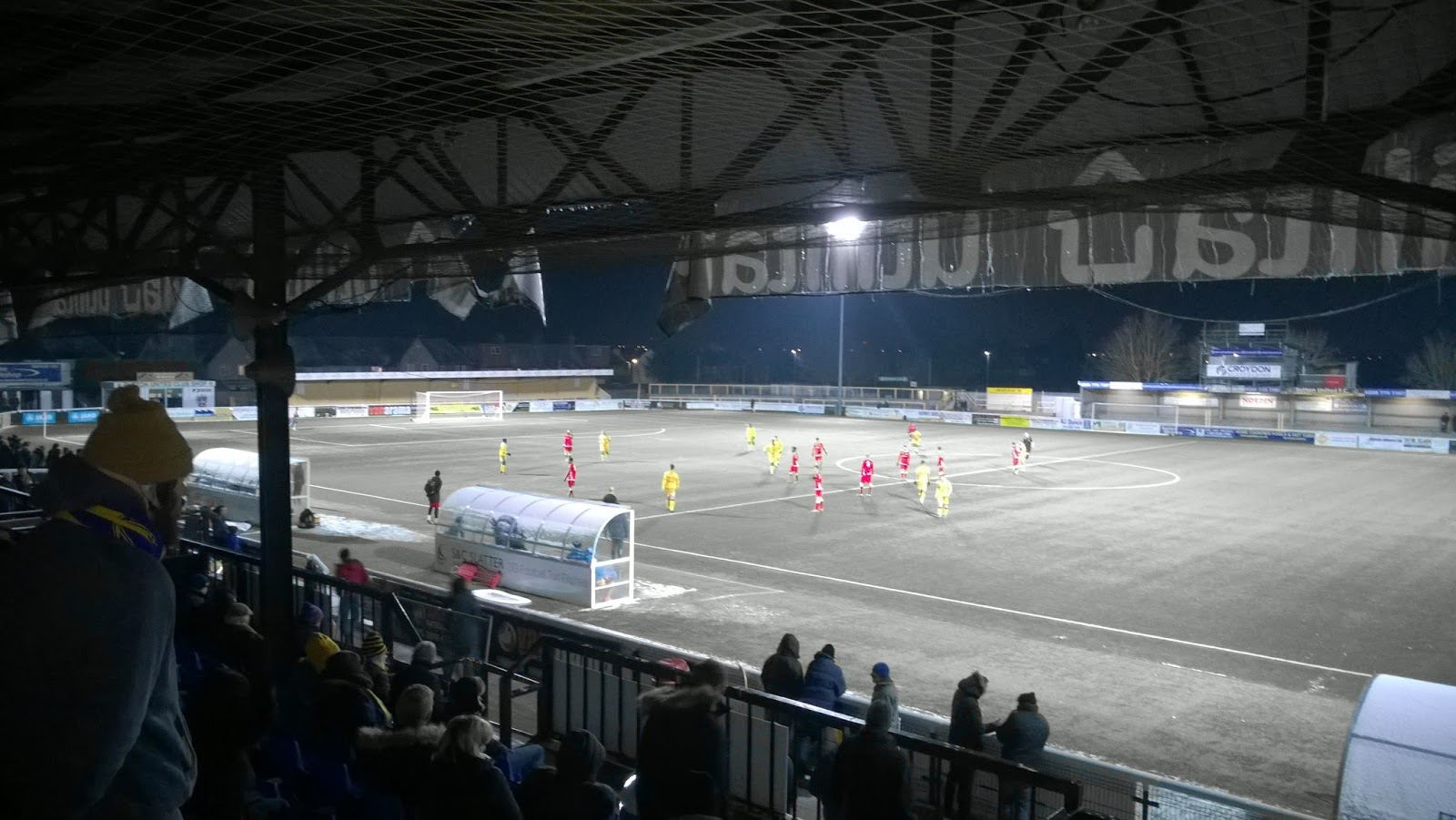 Strange view of the match…
Second half and whatever was said at half time didn't work as Merstham continued on from where they'd left off. Addai had the poor Ompreon in his pocket and continued to just knock and run past him pretty much every time. It wasn't all Merstham though, Sutton had a couple of chances they should've put away. Wright had a header go just wide, Morris had a chance go begging and Coombes..well, Coombes-ed as always.
With the subs came a change of pace. Both teams made a double. For Sutton it was to see the changing of Taylor & Morris for Judah Lee Chapman (Wearing Stearn's 32) & Japhet Juan Mata ( Hudson-Odoi's number 7). For me personally, I probably would've taken Coombes & Ompreon off to try and shake things up but then again, I'm only at Championship Manager 97/98 on MS-DOS level so what do I know?
The goal that was bound to come, eventually arrived. Of course Addai was involved and the ball arrived at the feet at a Merstham player inside the box. He saw his shot smash of the post and fall kindly for the recently arrived sub Tayshan something or other. Ten minutes later Merstham was given the golden ball by none other than Downer who ballsed it up himself by falling over in the box and given Tayshan something or other the easy job of slipping it past Annakie to make it 2-1.
Later on Downer was clearly caught as he tried to clear the ball and received a yellow after moments later getting his own back or as we say "Doing a Downer". Now behind for the first time this season in the competition, I think even I knew it was going to end in tears. When Beautyman was replaced with Tony Emmanuel Yeboah (number 11 Cadogan), everyone knew it was over and begun to move to the exits. What they missed was Merstham go to the corners and Sutton once in a while give away the needless soft free kicks we've become accustomed to.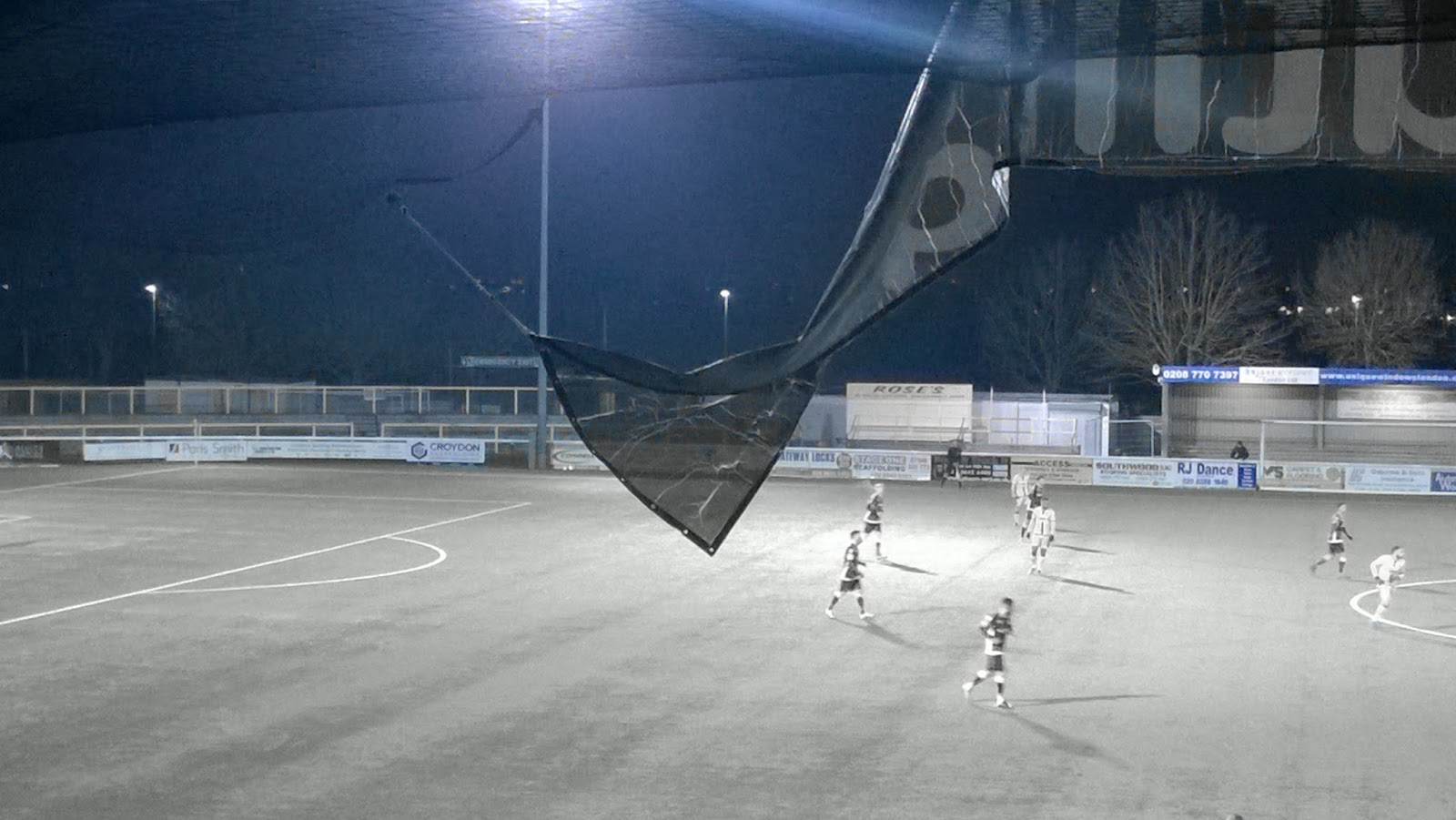 Football advertising at it's best…
So, it's disappointment for me once again as we crash out of the SSC. To be honest, for once in my short life, the better team won it hands down. They just wanted it more, had the hunger & Addai completely obliterated Ompreon. There might be some positives to come out of it but I can't see many. Morris was probably the best of the Youth Development players but there is a clear gap between where they are and where the first team can be at times. Now if only we still had the Reserves…
After the match and it's club duty time as me & 4 Days to lift the nets. Bloody freezin' that bar was as well. Walking across the pitch from one end to the other you could see the small crumbles of ice that have formed over large portions of the pitch. A quick butchers over at the far side to see what the condition was like resulted in there being no ice on our beloved Shoebox. Into the bar for a cheeky half, I was driving after all, and everyone tries to console me over our performance. Like fuck they did! It also turned out that we've been dumped out of the SSC twice in ten years at the quarter final stage and both times have been against bloody Merstham! Cheers lads!
Well that's enough moaning from me for one blog. And so we move on to Halifax away on Saturday. And with the weather being what it is, there is a bit lot of doubt that it'll even go ahead. That won't stop some of the Gandermonium boys mind you. After all, we've already laid out over a bulls eye for train tickets! And who would miss a Duke birthday? Most probably…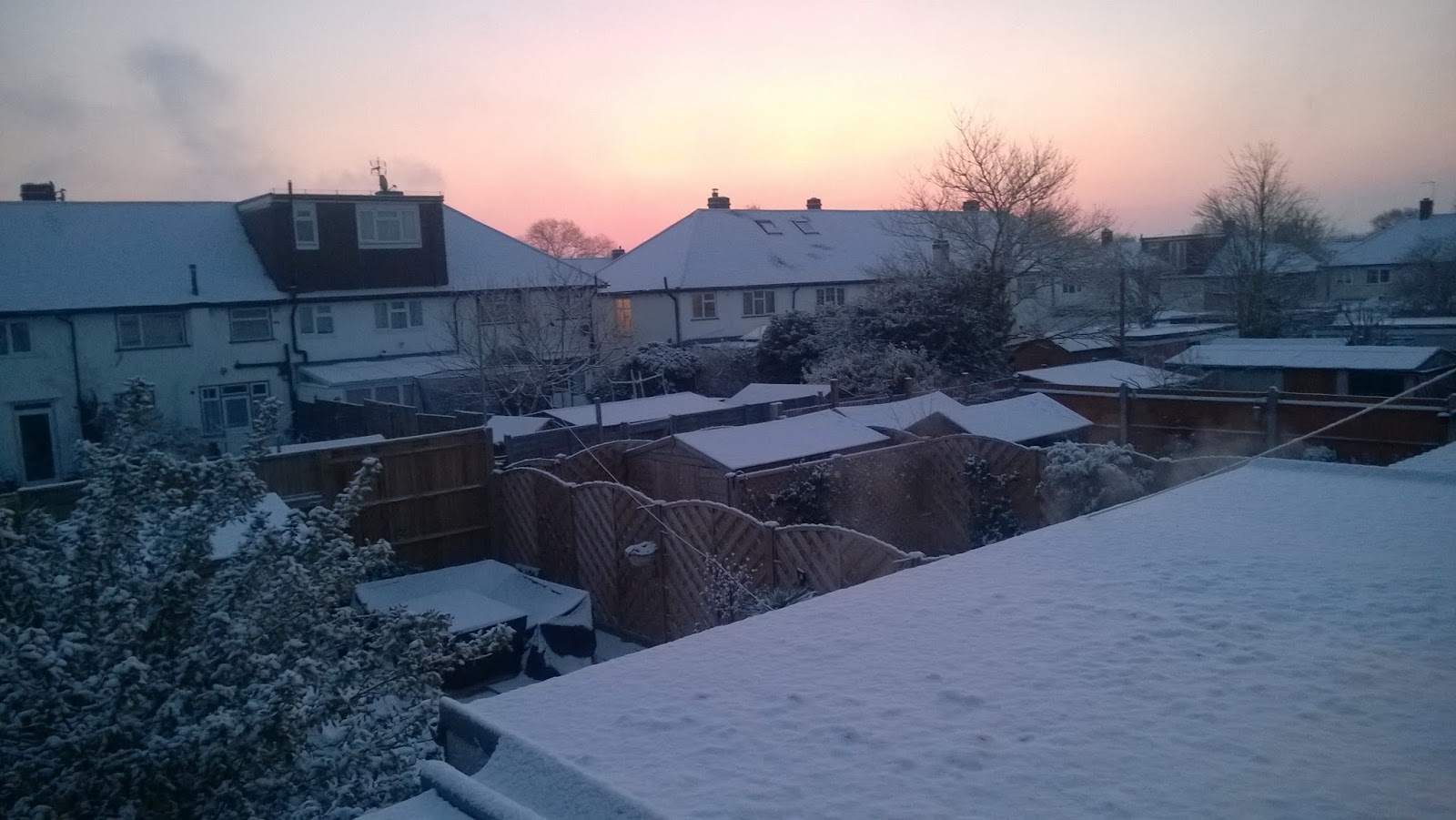 Where's Aled Jones when you need him…
Oh, and to the burning question that I asked you lot at the start? Of course you knew it was Nicky Bailey. I never doubted you, well except Mr X. Enjoy!
Duke
Att. 202