Even in this day and age, it's still a widely held belief that 'JC' saves all who will receive his gift of salvation and those who fully trust in his sacrifice alone as the payment for sin. Which is all well and good if you're into all that theological babble, but seeing as it's not really my cup of Darjeeling, I'll instead settle for an unswerving belief in his ability to stick away a last minute peno on a cold Tuesday night in Torquay thank you very much. Horses for courses innit.
To be honest, I actually missed the magic moment live. Unable to get down to the countryside on Tuesday, I was listening online and turned off the commentary at 90 mins in something of a childish huff that we we'd seemingly failed to see off a load of dross that even Dagenham had stuck three on without reply 72 hours previously. Thankfully my phone almost leaping off my desk at home due to the avalanche of notifications received on various messaging and social media platforms when the skipper converted that spot kick meant that I was more than aware that Dukey and the gang would be emerging from the dark recesses of Devon with all 3 points. The win took us from 6th to 2nd in the blink of an eye and 5pts behind Macc at the top, at which point I then stupidly broke an age old habit of never looking more than a game or two ahead in the fixtures and having seen the sort of teams that'll be providing our oppo for the next several games, well let's just say that it's the hope that kills you.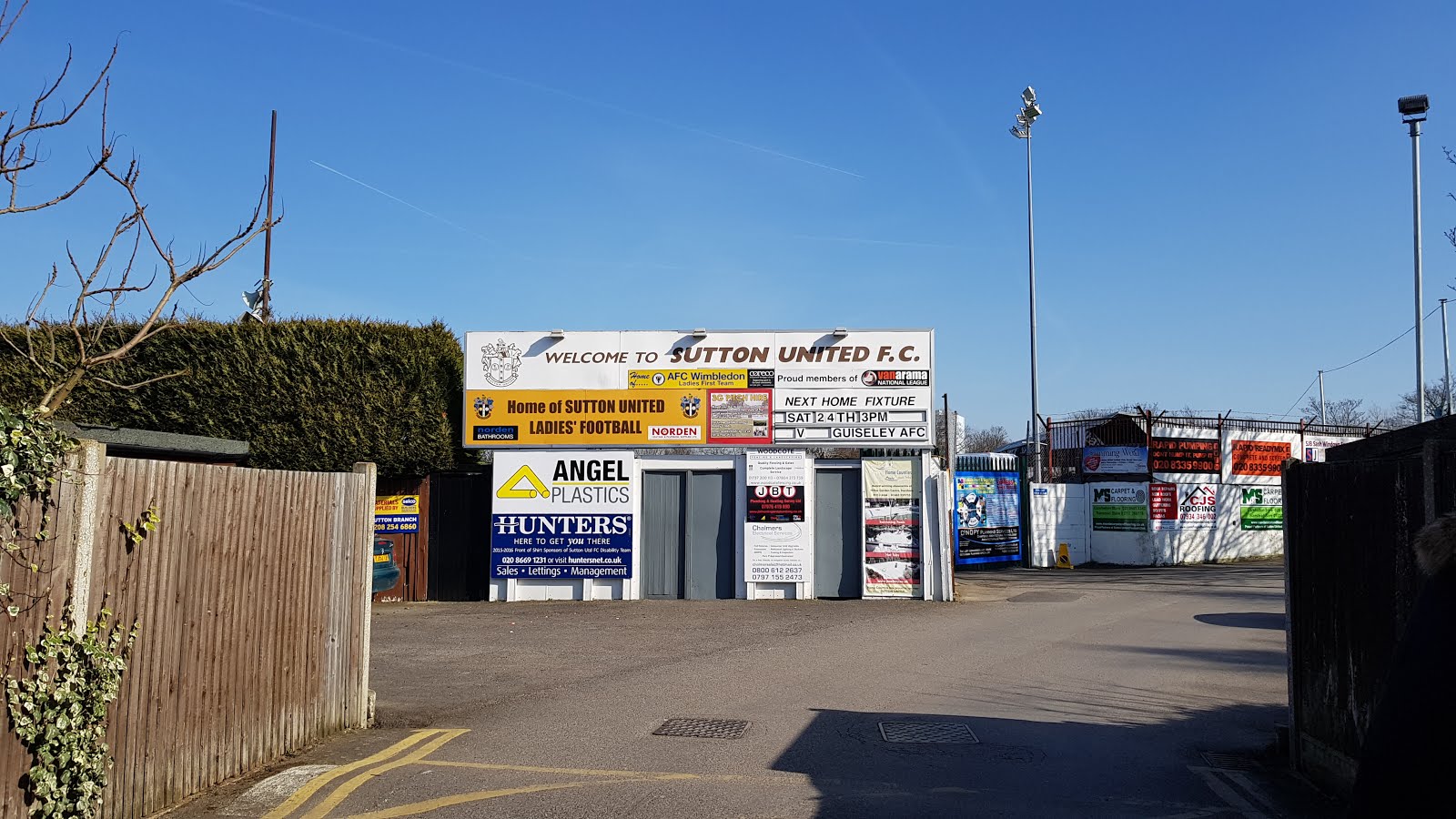 Lovely day for it!
That little run aginst the league's lesser lights starts with a home game against bottom side Guiseley who'd recently gone full time and even more recently had binned their manager Mr Cox. The same one that was on the NLP site this week claiming he'd definitely have kept them up. This despite them being rooted to the foot of the table and 11 points from safety. And the only reason that wasn't 14 points from safety was because they'd managed their first win in ages during the week under their caretaker manager. So yeah, chinny reckon.
As per usual for a Saturday home game, I'm enjoying waking up at 10am and not having to have been on the platform at Euston 2 hours ago. Munching on some toast, I get a whatsapp from Steve. He's enquiring about what bus I'm intending to catch into town. It seems that once again there's engineering works on the loop through Sutton, meaning he's having to slum it on the bus with the likes of me. Lucky man. A while later, I'm notified he's on his way and I head out for the bus. It's only when I get another "See you in 10 minutes" message do I realise that I've left HQ too early and he's on the one after I'm now waiting for. Fucks sake.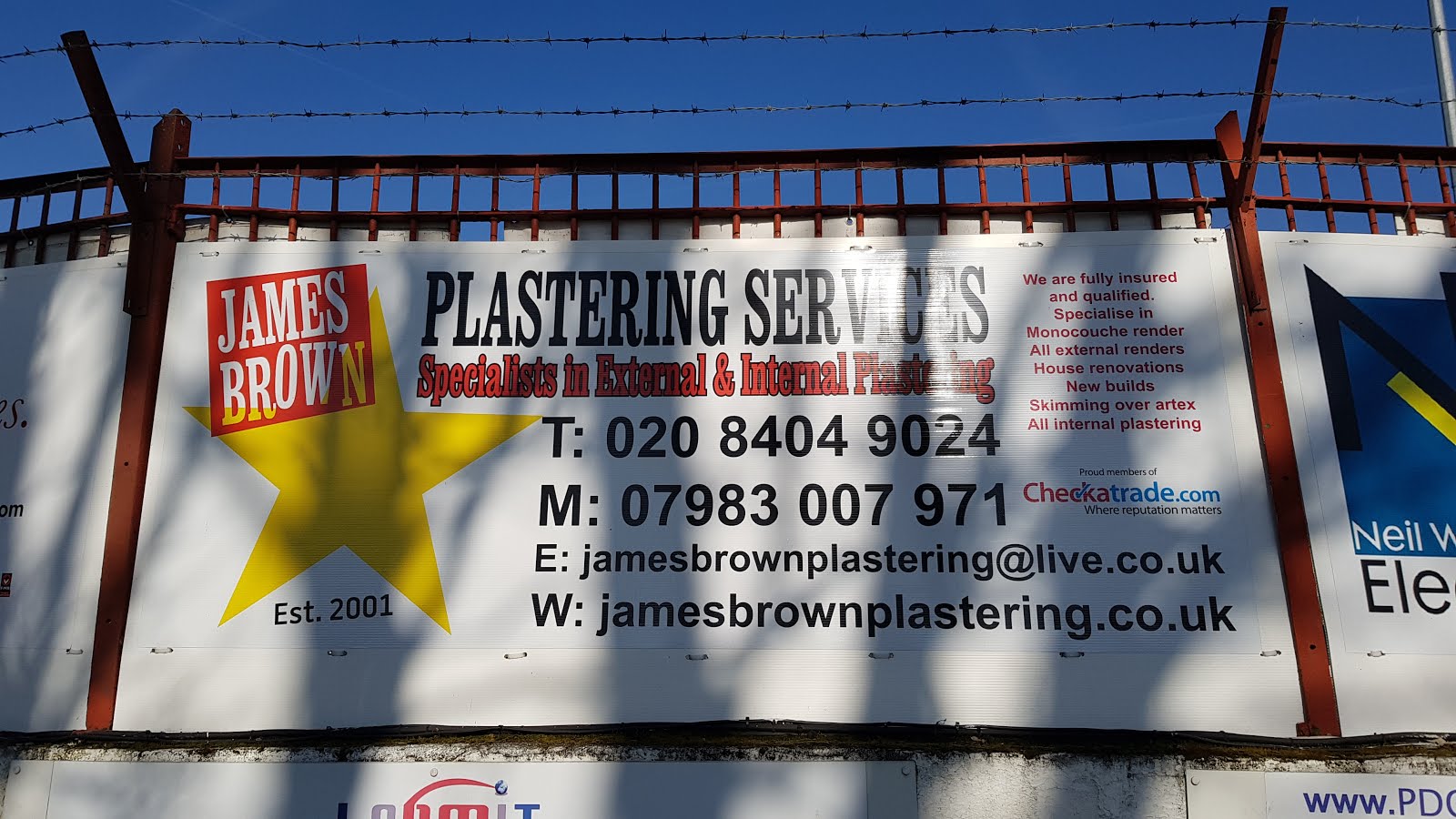 Stay on the scene, like a plastering machine!
In Sutton, the mission is simple. Obtain cash, some nosh from Greggs and head for the bar. First swerving the mobility cart on the High Street, monies are sorted then it's time for food. As we cross the road, I spot something incredibly rare which disgusts me to my very soul. Two Bobbins fans walking in the opposite direction. Clearly they're the ones Dippy has yet to ban. And yes, that's right, I did say two! Taking liberties on our fucking manor with all their shopping antics the cheeky bastards. I make a mental note to have a quiet word with Totts later to ensure PRoWS security levels are stepped up to counter any possible incursion from such undesirables. The walk to GGL is nice in the early afternoon sun, but there's a definite bite to the wind. No doubt things will be getting a little chilly later on! On the way to the ground, we pass the Plough which having suddenly closed it's doors a couple of weeks back has now seemingly risen like a Phoenix from the ashes and is back in operation after getting some new management. And already the old place looks just that bit better, with a couple of new signs in place and the exterior having been given just a general spruce up, all of which will no doubt delight our dear leader.
We walk through a somewhat deserted car park and find a bored Ryan from the Notorious Yoof Element on traffic duty, but with no traffic to direct. Unlucky mate, we'll be in the bar if you need us. The bar is as quiet as the car park outside and it's nice to be able to get a beer straight away for a change. Mr X is soon on scene and then not long after, Greek appears, somewhat earlier than normal. Taking advantage of the serene surroundings, we get a couple down us quickly whilst keeping half an eye on the ladies Curling efforts out in Korea for the Winter Olympics. Amusingly, it seems everyone is now an expert in this discipline and before the final end a small crowd has gathered to watch and discuss amongst themselves exactly what the best way is to defeat the Japanese team.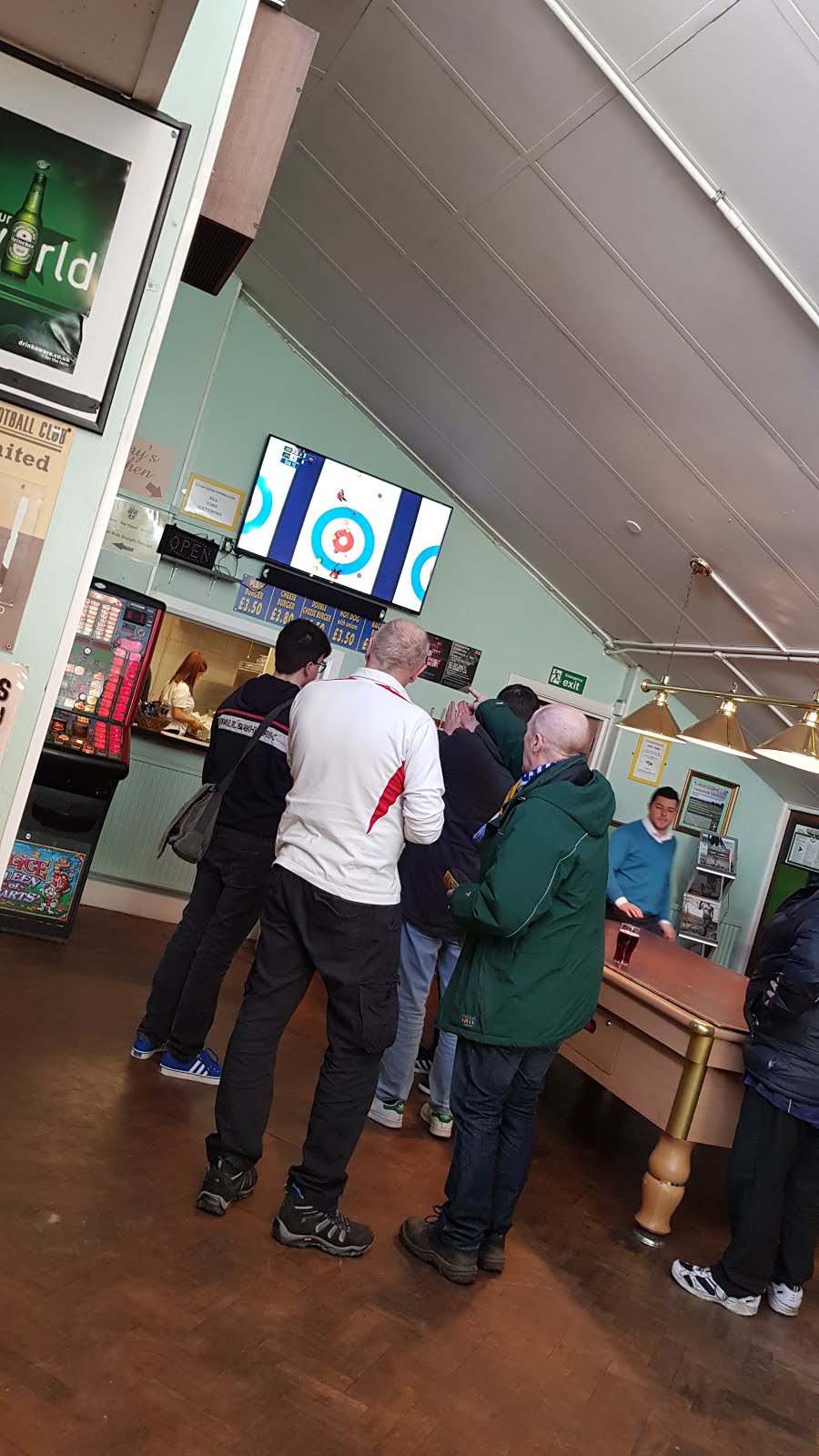 Curling experts…
As the bar fills out more, I notice a set of lads walking in all wearing matching training tops. And being a bit of a football geek, I crane my neck to catch a look at the badge on them. It's a red rose design of some kind, now what's the team name on it? Eh, hang on, it says 'Sutton United'. What's going on here then?? I don't have to wait long to find out as immediately behind them is Keepo beckoning me over. "Taz Taz! I've got some friends for you to meet!". Hmmm. This'll be interesting…
It seems that the lads are all down from Leicester visiting the brother of one of the lads now living in Balham. "Find us a game!" they'd asked and he'd randomly selected us. "Sutton United? Oh yeah, the lot from the FA Cup!" they thought. "Tell you what, let's get some merch online and we can bowl in there looking the bollocks!". Nice idea, but Sadly for them, the gear they bought was not from the Sutton United of FA Cup fame, oh no. It was from the slightly less famous Sutton United based in Sutton Coldfield and which plays in the Midland Combination. Naturally, this amuses the shit out of everyone and once everyone's stopped laughing, we agree it's the thought that counts and set about making them feel as welcome as possible. Before long though, kick off is upon us and we all wrap up to head outside into the cold.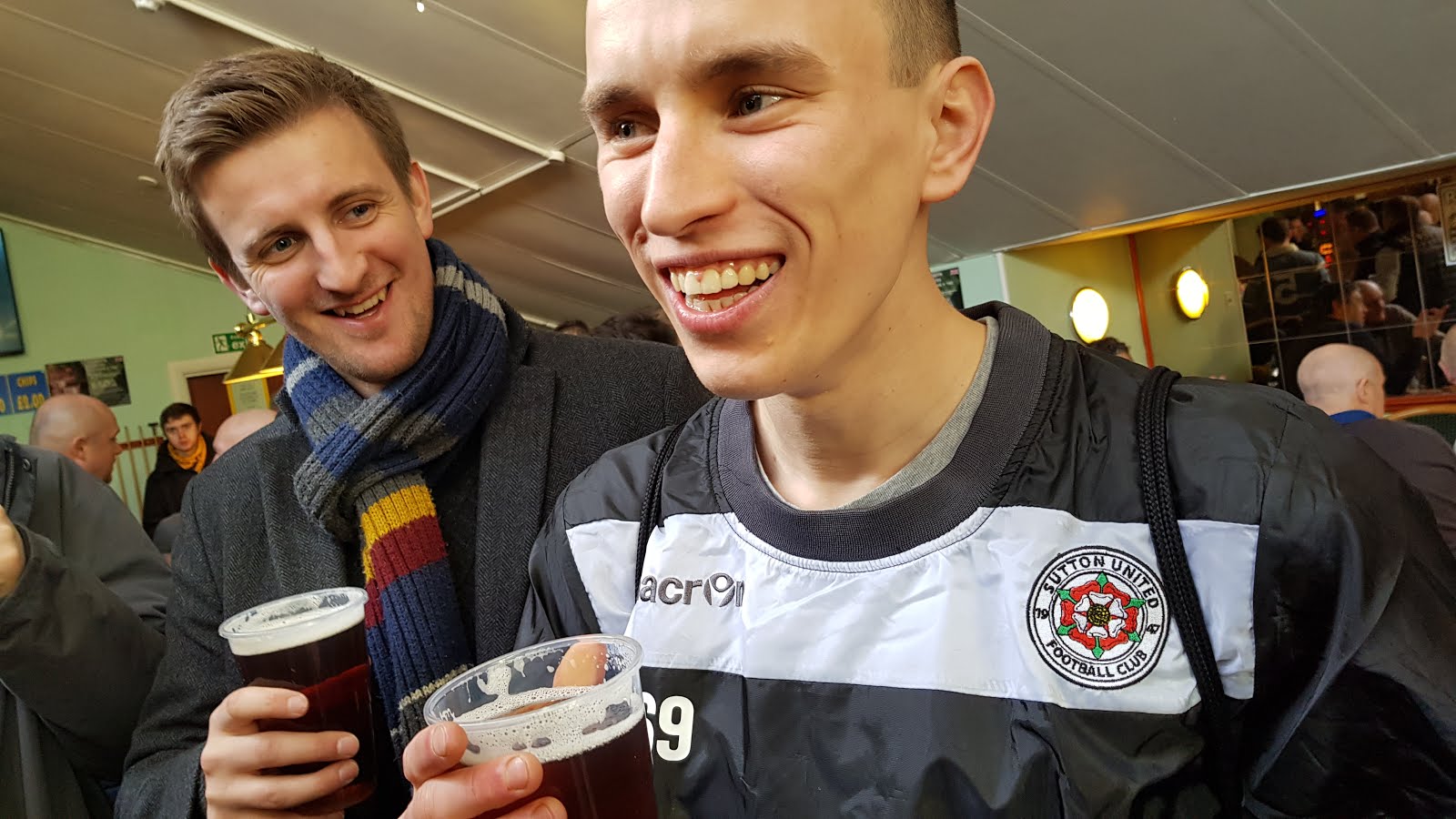 "Er….are you gonna tell 'em or shall I?"
Butler, Thomas A., John, Collins, Davis, Cadogan, Eastmond, Thomas T., Walton, Bolarinwa, Harrison. Subs: Coombes, Wright, Downer, Beautyman, Stearn
The opening exchanges are fairly cagey but then out of the blue a ball over the top sends new boy Harrison in on goal. But as he goes to pull the trigger, he's denied by a great last ditch tackle from a defender. After this, we largely struggle to make a real impact and Cadogan stinging the hands of the keeper with a rising drive right down the middle is the only other effort of note. A small interlude is had when BT Pete makes a comment about their defender hoicking the ball "Into Row Z" of the stand. "It's not that big mate, we've probably only got a Row M or N at best". Then with half time looming, Butler makes a superb save from a dipping shot that looks in all the way and soon afterwards we make the breakthrough as a long throw from the stand side is missed by everyone and bounces awkwardly for the keeper at the foot of his near post. It's all he can do to get there and shovel it away, right into the path of Terrell who rams the ball home from a couple of yards out! The goalscorer is all the more surprising given that not a couple of minutes before, Mr X was confidently declaring that Mr T. Thomas of Wigan would never score for us. Like fuckin' Nostradamus that one.
Having been pretty competitive up to this point, the goal takes the wind out of the bottom team's sails and they end the half lucky to only be the single goal behind as another long throw causes havoc at the near post again and this time the keeper shovels it up onto the bar. The ball drops perfectly to Louis John who thumps in a volley that looks a certain goal until it hits Harrison standing about a yard out and drops into the arms of a very relieved keeper.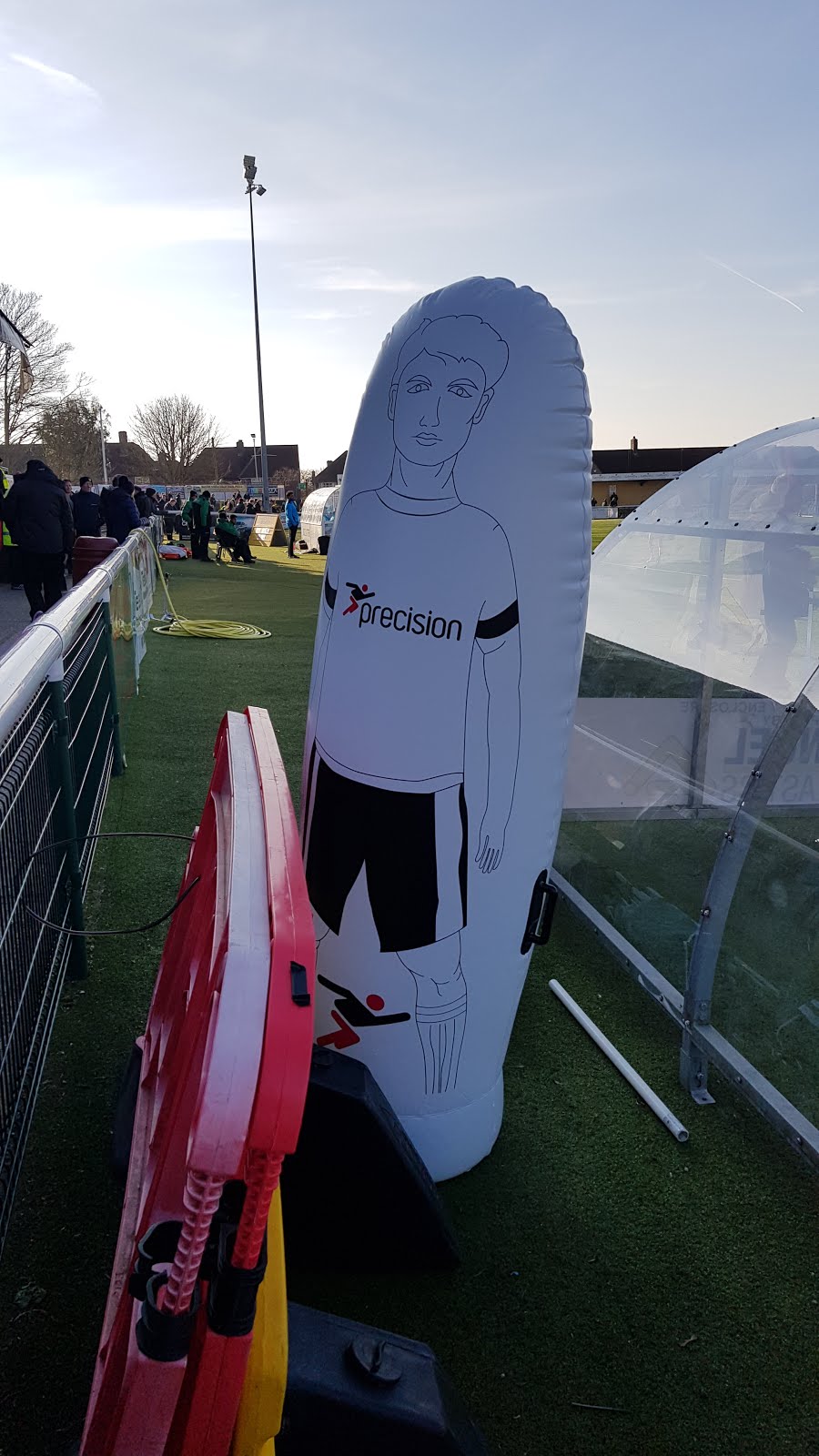 Creepy
Whilst the usual faces head for the warmth of the bar and a half time snifter, I as usual head for the Shoebox to catch up on all things punk rock and dogging with the miscreants and ne'r do well's that inhabit those parts. Having filled in Totts on our friends from Leicester and their moody merch from the wrong Sutton, I very nearly give him a night off from his gig in North London that evening when I stumble and almost tread on his guitars. Ooops. I quickly change the subject to the re-opened Plough and this soon distracts him from the near harm I'd caused to his musical tools and no doubt the near harm that he'd probably been considering for me.
Any concern that one goal might not be enough when 5 minutes after the break, Kenny bursts forwards and into the box. At this point, his legs cease working and the chance is seemingly gone. That is until the keeper manages to spill the ball somehow under not much pressure at all and it arrives at the feet of Harrison who rolls it into the net to complete a wonderfully non-league sequence of play. Several minutes later and the contest is ended as Tombo wriggles his way to the bye line, then along it before pulling it back for Craig Eastmond to fire in number three from close range. With the game all but won, we make changes and with 15 left, we make it 4-0. A corner is played short but wasted when the secondary ball in is blocked. "Stop fucking about and get it in the box Harry" I mumble "The keeper's shit!". Fortunately it seems my words carry on the cold afternoon air to the midfielder and his next attempt is whipped in to the far post, which it then pings back off of and then back into the net off the back of the flailing keeper's head.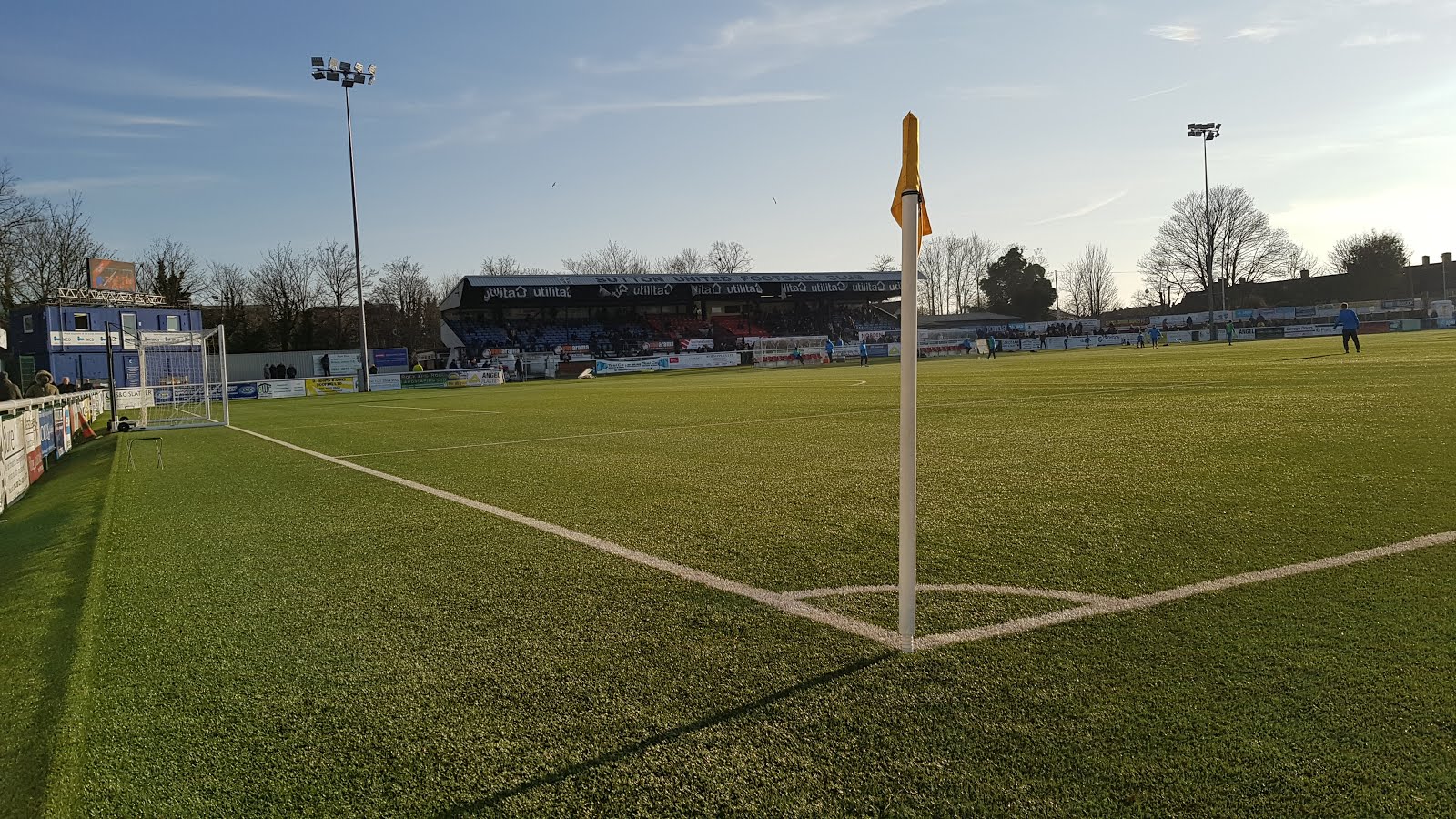 Corner flag
Most of us on the Shoebox can't decide whether to celebrate as normal or laugh our arses off. I try both and nearly crack a rib in the process, so let that be a lesson to all of you.
We really should see them off good and proper after this and boost the old goal difference, apart from a couple of efforts being blocked and the keeper flapping a Tommy Wright effort onto the post, the game largely meanders somewhat unsurprisingly to a dull finish. The only real excitement provided by the Guiseley forward who misses two very presentable chances when through on goal near the end. The final whistle is greeted warmly by all assembled, not at least because Macc are still drawing at home to Maidenhead. We'll be 3 behind at this point! Also news is reaching us of Mr Tamplin's expensively assembled plaything having got dumped out of the Trophy after a heavy 5-2 pumping from Wealdstone. Even Ricky Wellard's scored! Sadly, the fun can't last and before we've got halfway back to the bar, phones are buzzing with the notification of Macc having pinched an injury time winner. It's at this point I also send a tweet to the GMOSC boys. "Twats" is all it says and indeed needs to say.
Back in the bar, the beer flows to celebrate a decent 3 points and the U's still being well in the title mixer ridiculously late in the season. Can't be bad! We also find that our friends Forres have seen off Deveronvale 5-3 AET in the cup. Of course, AB does his balls in a bag shouty routine from up on a chair and I catch up with the Wrong Sutton lads who are watching the rugby out in the Times Square lounge. It seems they've had a good day and whilst they've had the piss taken out of them a fair bit, they've been treated royally and found themselves bought many beers for being such good sports. Asa final reward, I pass round the bag of badges I have and let 'em all pick out a Shoebox memento of their day at the Lane.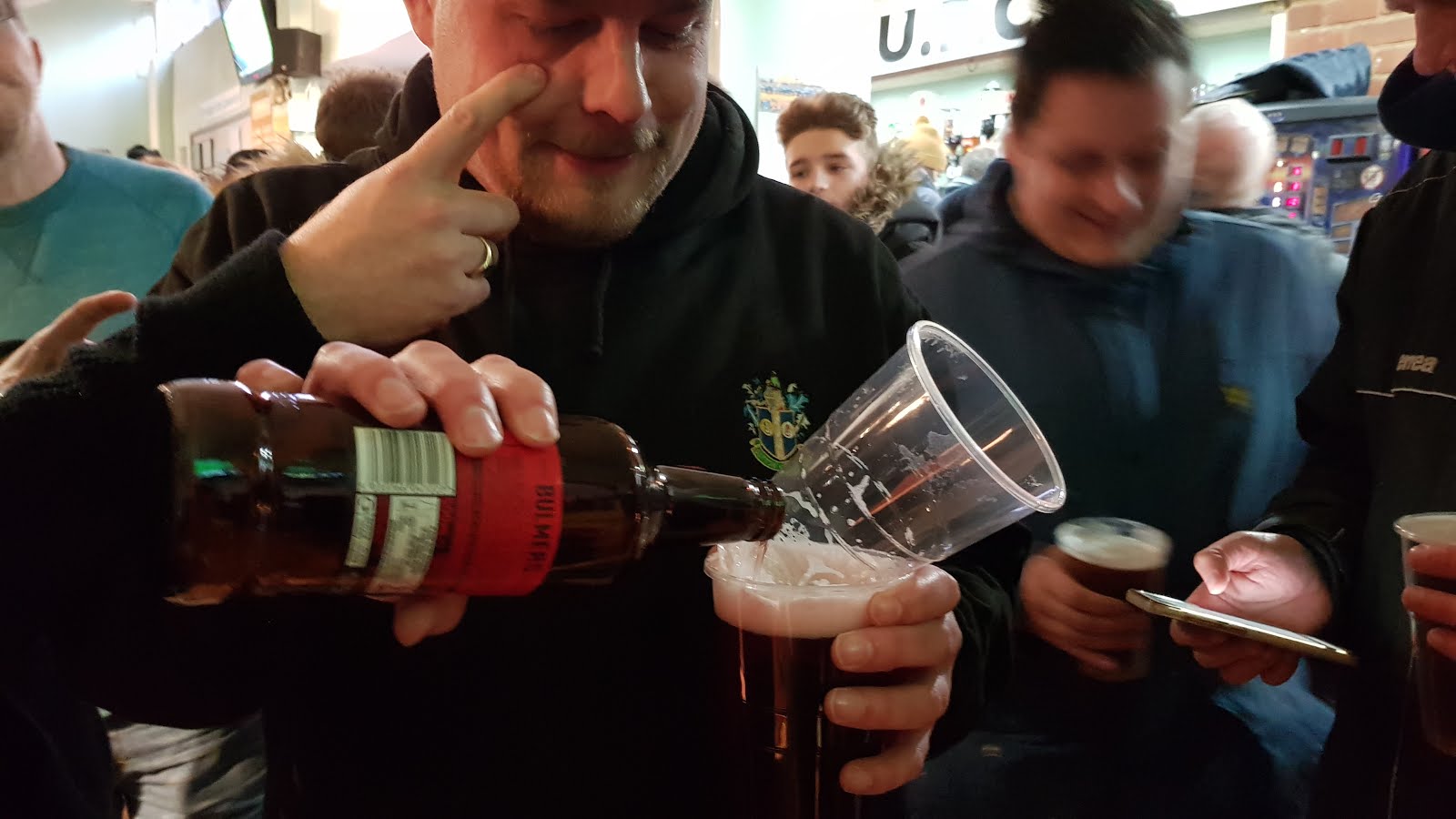 Buoyancy
There's some catching up to do with some faces I've not seen for a while, but soon I realise I'm running a little behind schedule and it's time to say my goodbyes and head home for dinner with Mrs Taz. However, before I do, there's one crucial task I must undertake and that is to secure a pack of tortillas from a supermarket as we're planning on having fajitas. And whilst like me you're probably not the biggest expert on Mexican cuisine, you probably know that these are an integral component of the dish. So failure is not an option, pissed or not! So I stumble off into the cold and with no trains of course, I have to head down Dogshit Alley with the way lit by my mobile phone. Emerging from this minefield of canine eggs unscathed, I then pop into the new Saino's where the gas holders used to be at the bottom of the high street and locate my supplies with the help of a nice man employed therein.
Mission accomplished, I'm round the corner just in time for the bus home, fully tortilla'd up and off to HQ where a belly full of scoff awaits with her ladyship.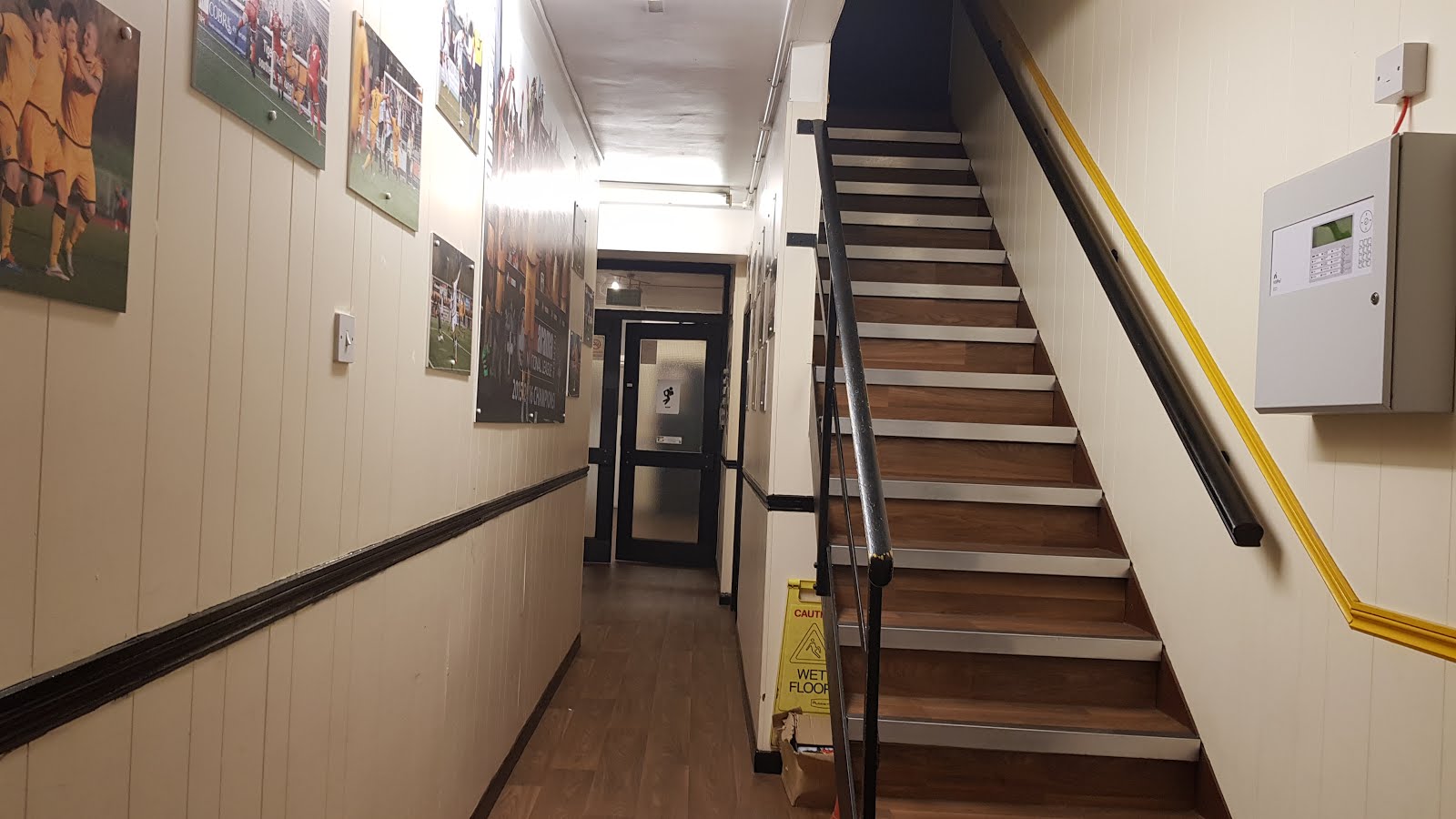 Stairs
See you in Halifax. Or not, depending on the hour at which our paths cross.
Taz