So once again Sutton are back on the road for yet another long distance midweek adventure. Content with a point after a 600+ mile round trip up to Cumbria, it's now only a mere 400 mile round trip to the wilds of Devon to take on one of bottom four at Plainmoor. And just to think, there was a time when people used to moan about going to Hastings midweek. Oh how the times have changed…
And let's not forget that we owe Torquay one. That midweek defeat back in November was a face-slapping that we could've done without. Hopefully it won't matter come the end of the season, but it wouldn't be the first (or last) time we will reflect on one or two results once the dust settles come May. But that's like every other team I s'pose.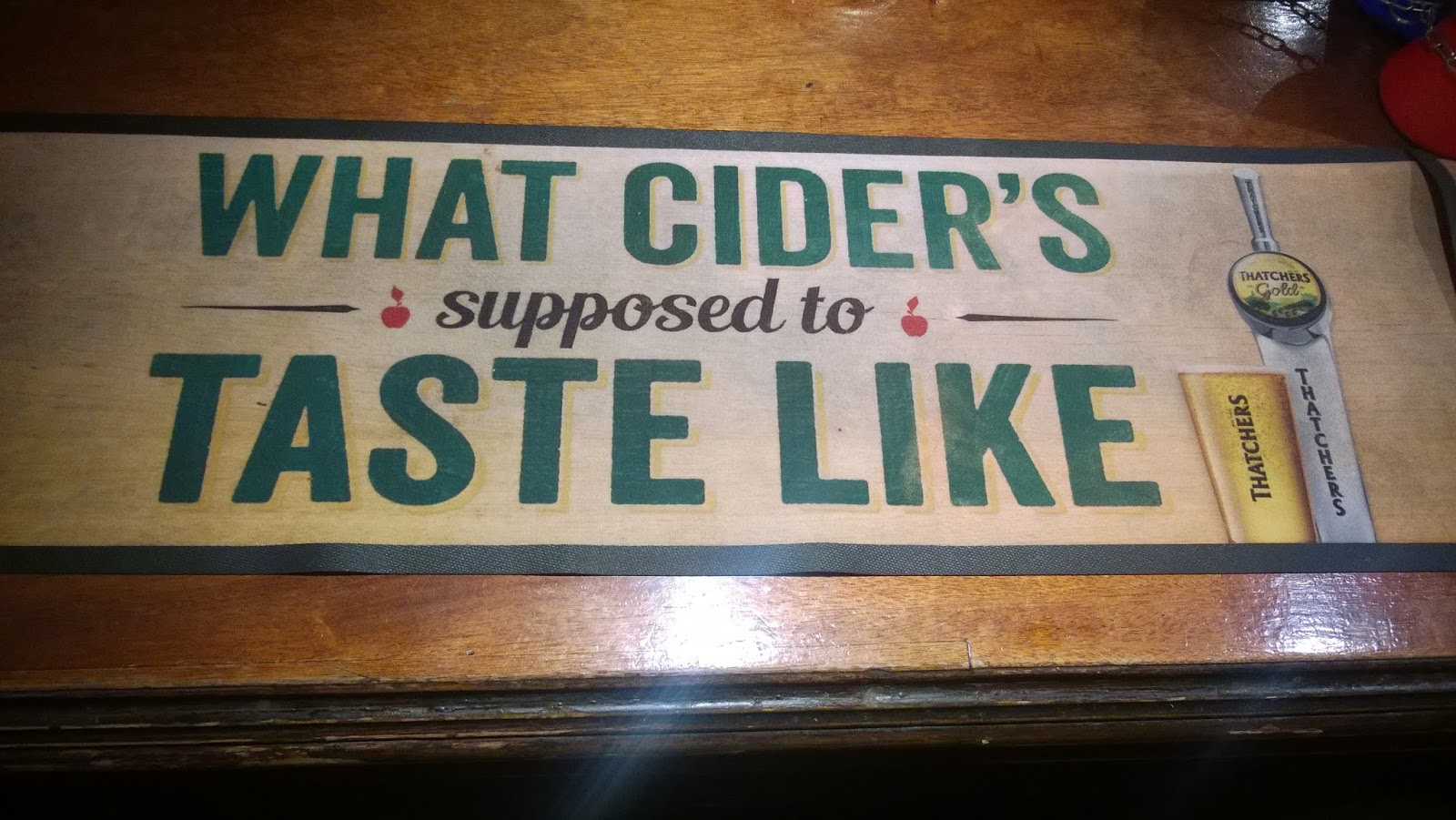 Thatcher's, proper cider…
By the way, did any of you catch that ding-dong affair between Vitoria and Bahia over the weekend? Bloody hell, only the nine red cards in it! Most came after a penalty that was scored and led into a mass coming together of the handbag variety. It's the final red card that baffled me the most, unless the fella was intentionally trying to get sent off. From not retreating from a free kick being taken, to just walking up and kicking the ball away almost Zaire '74 style. What a plonker!
So on to Torquay and once again Mr X offered his driving services for the trip. With 4 Days & Magnum P.I. both also catching a ride, it was Magnum P.I. that kindly offered to pick me up en-route to our agreed meeting point at the club car park. With an agreed collection time of just after lunch, all I could do was spend my time watching YouTube videos and other media of an adult nature to pass the time.
Needless to say that midway through the morning I get a text from Magnum asking me if I could pick him up instead as he 'apparently' had a flat tyre. Well being the good Christian fellow that I am, I down my glass of Scotch I make immediate preparations to leave and jump in "Diana" and am whisked off towards the smells of Beddington.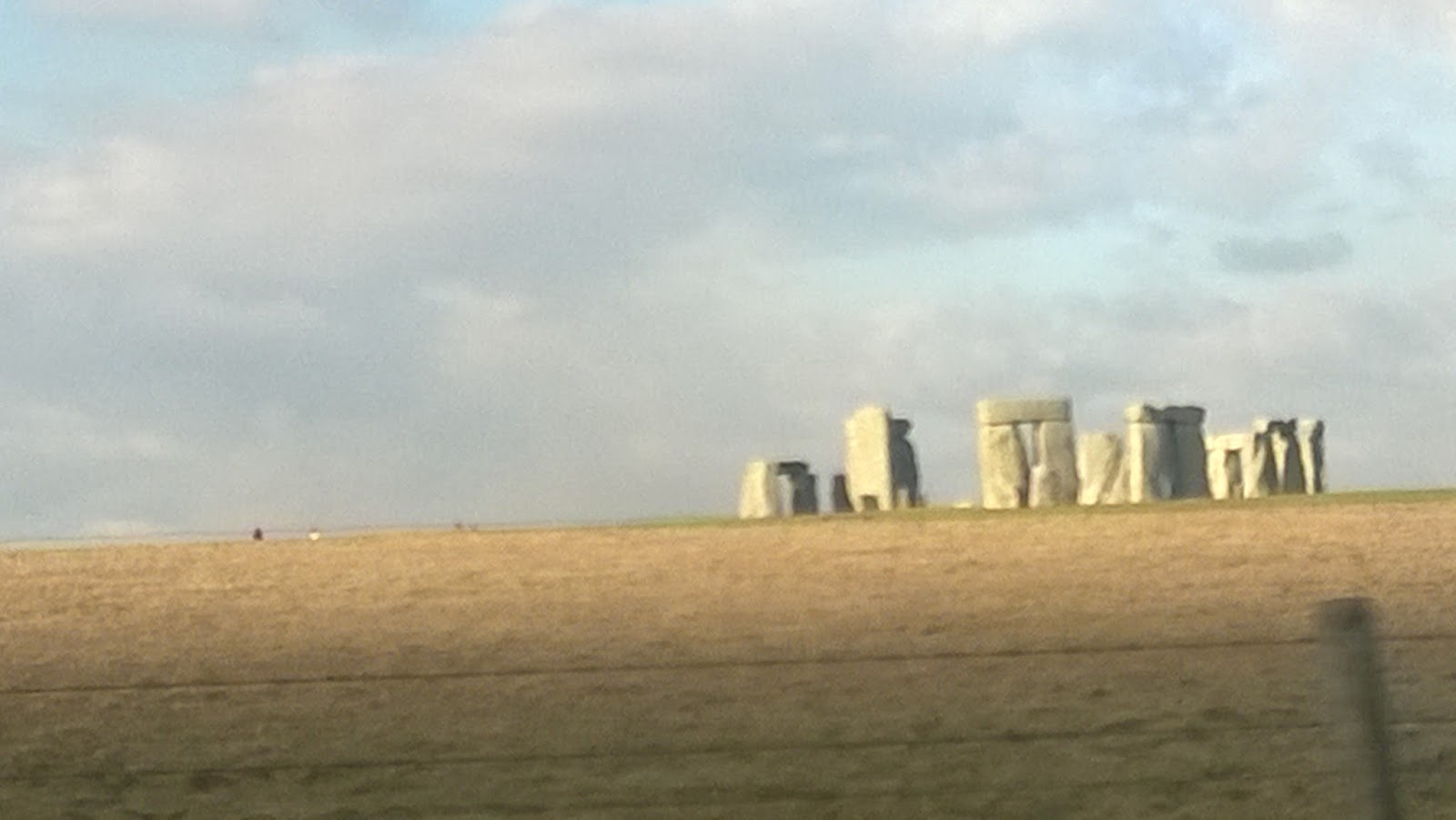 Some rocks off the A303
Picking up Magnum we head towards the club, not before a phone call from Mr X inquiring to our whereabouts, hold your horses chief! Meeting in the car park like a proper bunch of Dirty Barry-a-likes we hunker down for the traipse to Devon. A rather simple trip to the A3 then A31 onto the M3 and finally the A303 near enough all the rest of the way there.
But no one cares about that. The hot topics are clearly what we listened to on the wireless and what cobblers we discussed! What do mean you don't care? Well bollocks, you're getting it anyway. Obviously Absolute 90s was naturally the audio of choice. Well when we got a signal that is. And thankfully there was only one bloody advert for fuckin' Worcester Bosch to suffer, thanks to the man upstairs who has clearly been listening to me of late.
With Magnum along for the ride, this meant we got some boring eventful little quizzes as well to pass the time. First it was questions about motorways. Oh yes motorways. Still, it's always helpful in situations like this when the quiz master actually knows the answer! This wasn't one of those situations sadly. Not content with that success, we moved onto Underground stations beginning with G or had Green in the name. And finally we found ourselves on to State Capitals of the good ol' US of freckin' A. See, it's all booze, porn and glory for us boys.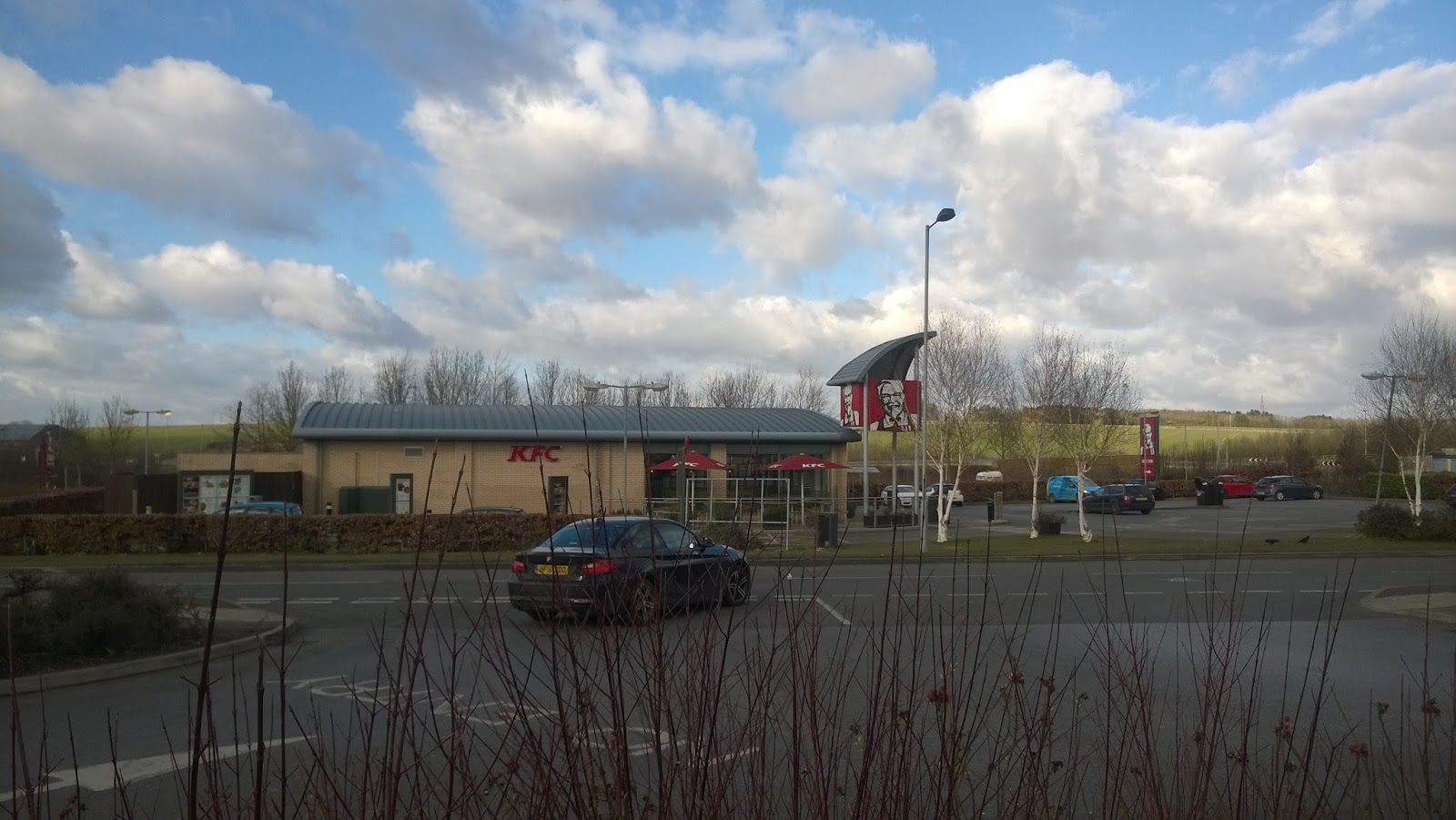 Shock! An open Kentucy Fried Chicken!
Leaving at around a quarter to two we made it to Torquay for just before six o'clock. There was a quick quarter of an hour stop at Amesbury Services and some traffic to get through heading into Torquay. At one point we went onto a newly built bit of road road that flipped out the Tom-Tom into thinking we were driving 'off-road'. Not bad going for a sat nav in a car made only last fuckin' year. And we won't mention the fact that the built-in wi-fi has already had all its data allocation used up by someone either.
With a bit of time to kill, there was only one thing that we could call upon. Pub! So off to the "Fortune of War" we went for a couple of pints pre-match. Not a bad little boozer, if the services had been existent. With their being hardly any patrons inside it still took me over ten minutes to get served by a girl that was sitting at the bar just reading the local paper.
At one point me & Mr X went out to feed the habit when we were approached by a fella trying to sponge a snout. In the end I gave him one to him in a vain attempt to get him to shut up as he begun to waffle on about how he'd being hit by a truck in Cambodia and started to ring off all the injuries that had suffered. Thinking back I probably should've just asked him how long the M6 was, that would've shut him up for sure.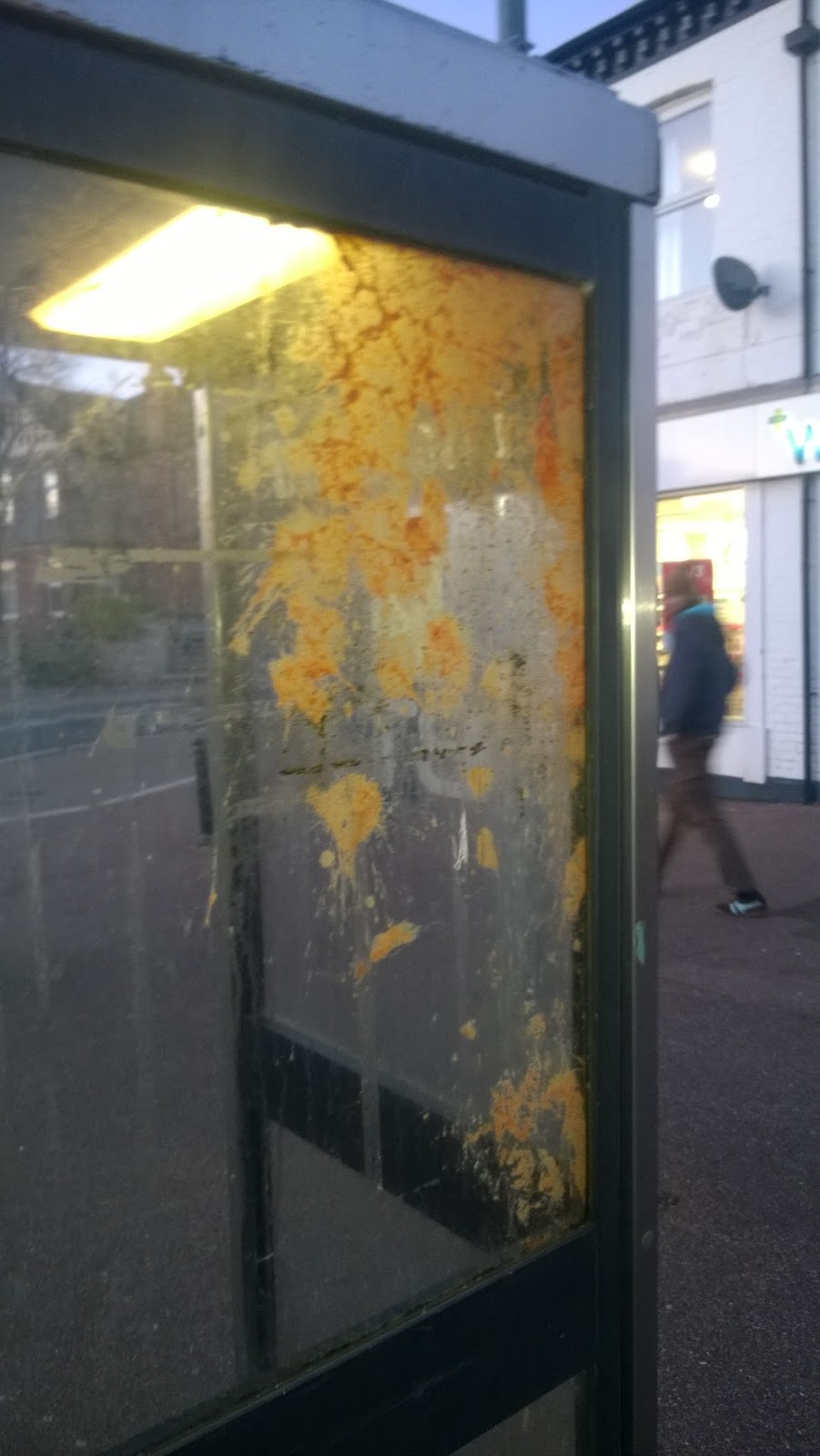 Standard Torquay photo…
Inside the pub, and it was the usual random events aplenty. One couple sitting next to us had the bird get into a rather heated debate on her phone, that eventually caused her to throw it across the pub in a disagreeable manner. We were also offered some local 'merchandise' by a shifty looking fella. "Wanna buy a bottle of Prosecco?" he whispered. What? "Three bottles for a tenner?". Er, no thanks mate, you're alright. Not sure what I found more offensive, the fact he wasn't selling anything good or that he thought we looked like Prosecco drinkers….
With the team slightly delayed by the previously mentioned traffic outside town, we got to have a leisurely butchers at the line-up. Downer & Wright had been relegated to the bench to be replaced with Aswad & Davis. Surprisingly for some of us, Dundas hadn't even made the bench and the dream of him making 500 club appearances before the end of the season might soon be over. He can only miss one more match or we will be seeing him in the bounty of the county Surrey Senior Cup. Well, I'm hopeful!
Onto the ground and some things have changed. First we were searched before going in. Ok, fair enough. £15 entrance fee and not at the first ground we weren't given any match ticket in return for our folding. Still that's ok I guess. Walking into our segregated area we found a group of the travelling support surrounding two women. Intrigued, I went and had a gander at what was going on.
"What's occurring here John?" I asked one unsuspecting supporter, "No snack wagon, they're taking orders and bringing it over from the home end". WTF? Even at Barrow last Tuesday they had a wagon open for the ten thirteen of us, but here for over Seventy away fans they couldn't be arsed? Well that can't be right, surely? To add insult to injury on top of this 'warm welcome', as I was taking a few snaps for this here blog, one of the stewards comes over and asked me not to take photos with the flash on. No photos? Well that'll do for now.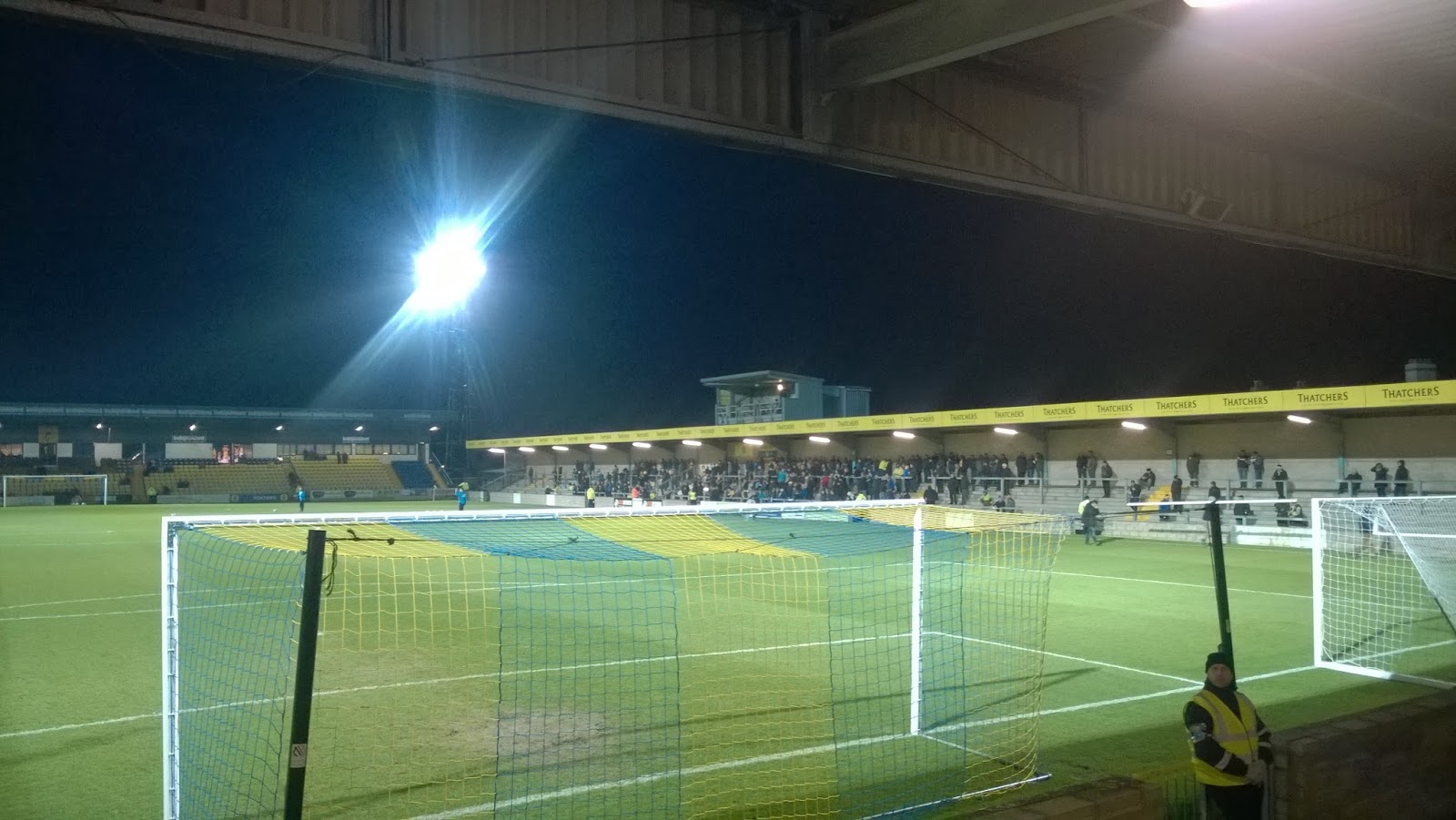 Last photo before I was asked to stop…
Butler, A Thomas, John, Collins, Davis, Cadogan, Eastmond, T Thomas, Walton, Bolarinwa, Harrison. Bench Warmers: Hudson-Odoi, Coombes, Wright, Downer, Stearn.


For once it didn't take Sutton long to get themselves on the score sheet. A cross towards to the box is dealt with by the Torquay defence only for it to ricochet off Harrison and back into the box. Now for some reason only known to them, the whole Torquay team just to stop in motion and Harrison had the simplest of shots to make to knock it past the keeper. 1-0! Sutton could've made it two soon after when Bolarinwa saw his free header tipped over the bar.
And this is where the real shit started. Down by the right hand corner flag, the ball went out for an obvious Sutton throw-in only for it to be given to the home side. To add insult to injury the resulting throw eventually went out for a goal kick for it only to then be given as a corner by the officials. The ball is whipped in and a few players go for the ball. The ball is cleared out of the box but Eastmond clumps the post and falls in front of the advertising. The ball is whipped back in with two Torquay players and Butler left to go for the ball . One player impedes the keeper whilst the other heads it in.
So where do we start? Should've been a Sutton throw-in? Should've been a Sutton goal kick? should've been offside(?) or should've been a foul on the keeper? Take your pick! Collins is booked for disagreeing with the poor decisions before us and even Our Lord Dos is none too happy with it and makes his opinions clearly heard. At this point, policemen are seen walking in front of us and a few stewards are trying to deal with an incident in the stand. Reminds me, I'll have to ask Magnum about that as he was sat up there.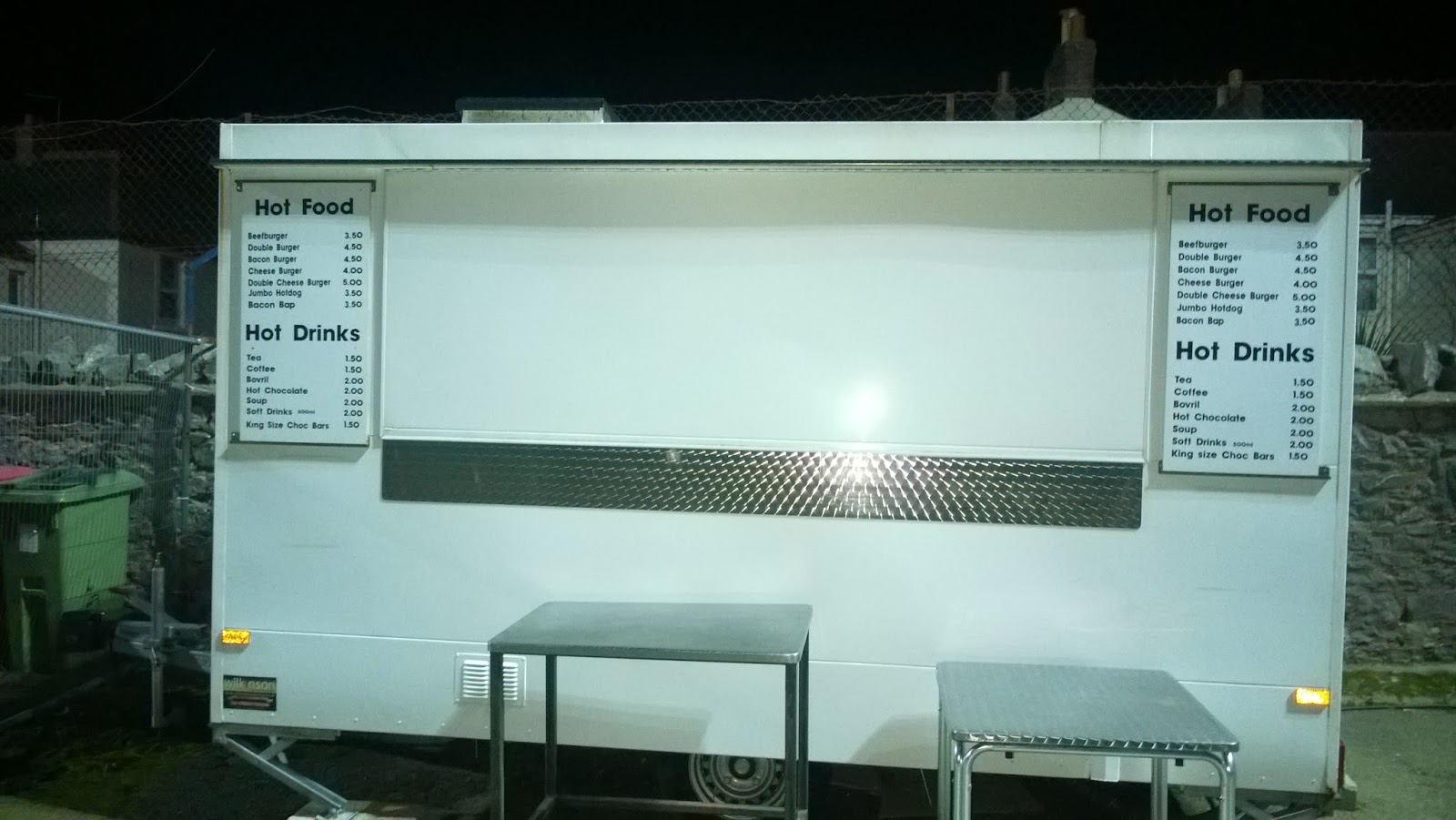 It's like Dynamo Berlin II all over again!
So now it's all level and Sutton are struggling to keep their cool for the next few minutes. Torquay take advantage of this and Butler does well to keep a bobbling shot out of the net with a dive to his left. And then again it happens. This time, Thomas tussles the Torquay forward near the corner flag and the ball goes out for another clear goal kick. But once again the officials don't agree with reality and common fuckin' sense and give another moody corner. Thomas goes into the book for his troubles as well. The ball is dealt with the first time round but it goes out back to the corner taker. Of course, he whips it back in and Collins only half clears, it's again only half cleared before the ball is snapped into the back of the net from an unmarked player in the box.
Two goals to the one down and it's not looking good for the boys, With half time fast approaching, the ball is thrown into the Torquay box. Collins flicks it on but it's met by a Torquay head who tries to clear it. Somehow it only goes as far as Walton on the six yard line and he heads a looper back into the far corner of the goal away from everyone. 2-2!!


From our end it seemed to take a lifetime to go in, but then again don't all goals like that do when you're so far away? 4 Days calls it 'Depth Perception' I call it "bleedin' far away"! Like every goal kick their keeper took outside the six yard box. In we go at half time and the some of us sneak round the back for a quick smoke. Here we find Johnnie who seems to have smacked his knuckle against the barrier during the second Torquay goal. Hurt that much that he missed the equaliser as he went looking for help.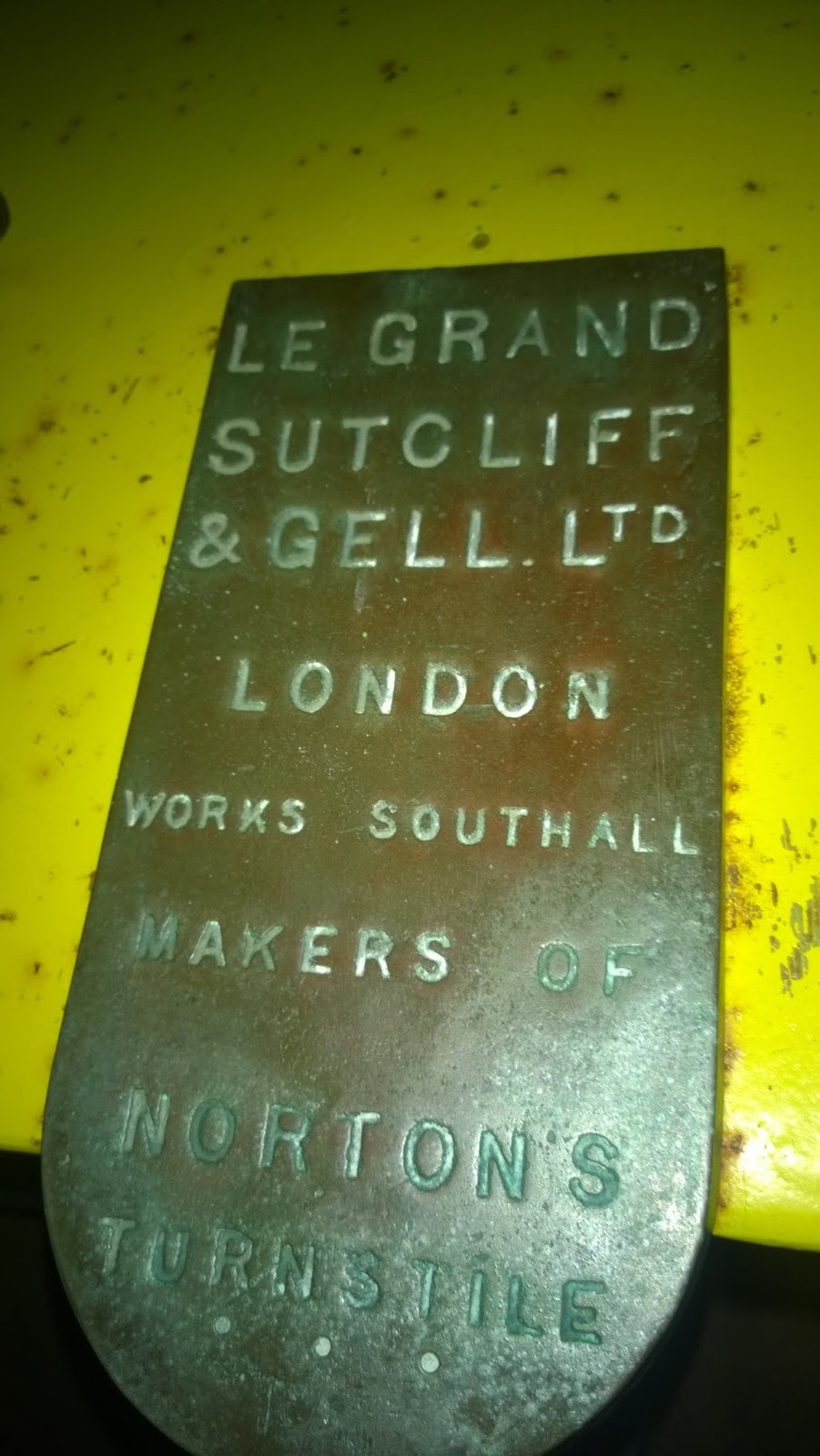 Totter porn.
Second half and as always in this game it doesn't go anywhere like what we witnessed in the first half. Sutton huff and Torquay puff for most of it. I doubt you'll have seen it but a comical moment came when Torquay once again tried to catch Sutton on the break. Their fella went steaming down the wing with the ball under his feet only to then completely fall arse over tit for no apparent reason. I hope they caught it on camera, because they could send it into Saint and Greavsie.
With twenty minutes to go, Our Lord Dos tries to shake thing up a bit with Wright & Stearn replacing Eastmond & Bolarinwa. Even with this, not much really happens except Davis started to look very tired and makes a few mistakes. Even John on the right is looked very laboured at times. Coombes is the final roll of the dice as he comes on for Cadogan and we end up with three strikers on the pitch. The clock had nearly struck the end of normal time when Torquay had a golden moment to win it. The ball is floated in and the player shakes off Stearn a bit too easily. With only Butler in the way of a much needed three points, the lad fails to emulate Rodney Jack and lifts the ball over the goal and into the stand behind from about 6 yards out. Blimey, when your luck isn't in, it isn't in!
With a draw looking likely, there were just seconds left when John chased the ball down near the byeline. Instead of just trying to pump it into the box he uses his last bit of energy cut in past the left back. Getting past him, he takes it into the box only to be tiredly bundled over by the same player. For the love in me, I will never understand why players do that. Just let him cross it in, you can't reach the ball, the player has done you. It can only be a foul! Ref has no choice but to give a penalty and Collins steps up to the plate. Cool as a cucumber, he takes his time and slots the ball home sending the keeper the wrong way. 3-2! Cue mass celebrating by the away support and Torquay only manage a single pass from kick off before the ref blows his whistle.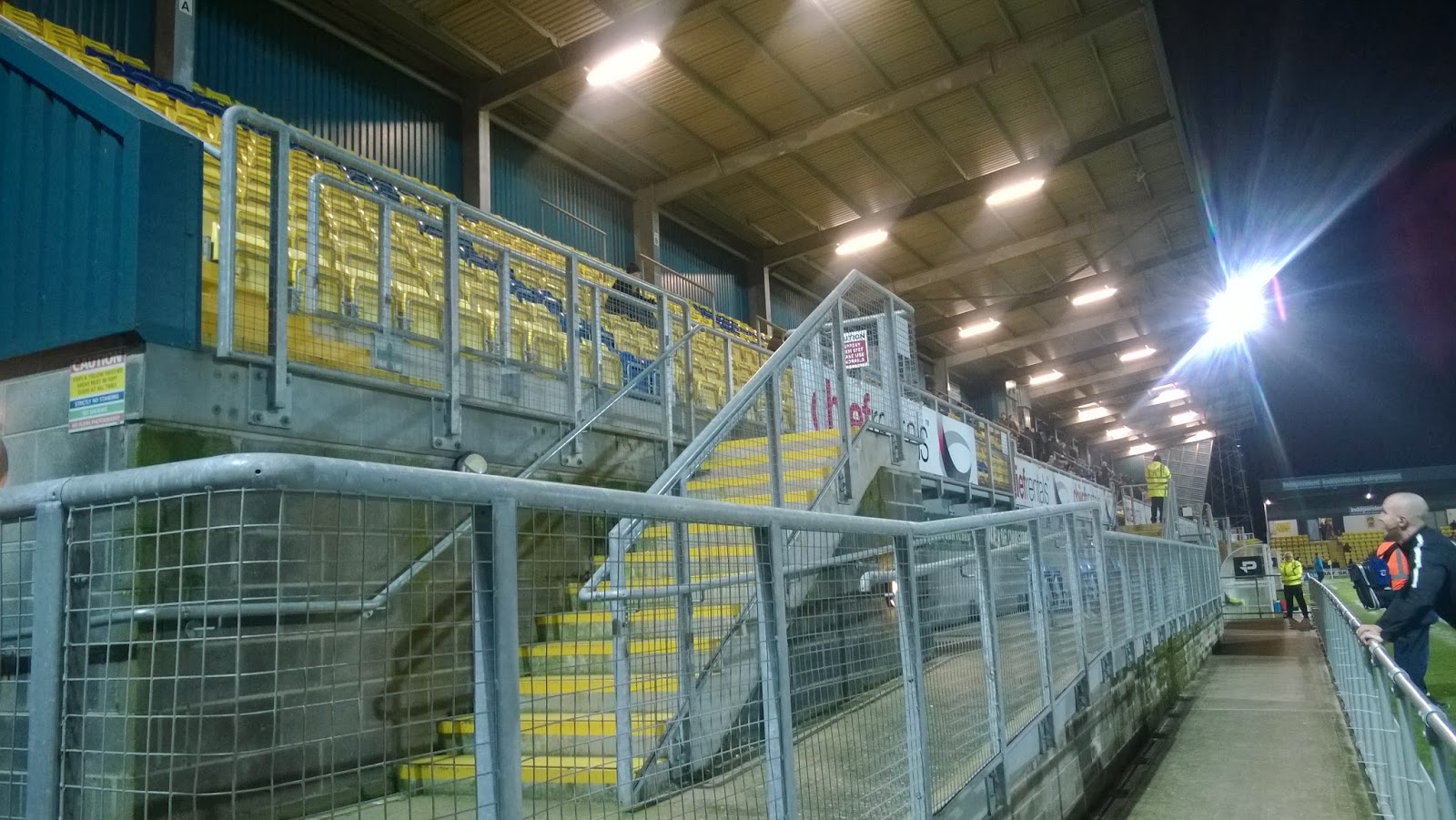 Hordes of Sutton fans sitting down…
After the game we head back towards the car and find out from Magnum what had happened up in the stand after the Torquay equaliser. According to him, one of only FIVE Sutton supporters who were in the stand, was asked to sit down or face eviction. He then kindly referred his accusers to the several groups of home supporters that were standing at the same time further along the very same stand.
Back in 'Unity' and we're soon heading home and catching up on the results. With Macclesfield thumping Tranmere they now have gone five points clear of our lot in 2nd, which is weird considering that a minute before the final whistle we were down in sixth place! In other news, Harrogate "We've got a 3G pitch too!" Town go top of the Conference North, nudging out Salford. The more the merrier I say.
A quick stop off for some juice and finally some grub and we're back at the club before the supporters coach. Although a rather strange moment was had on the A303 just as we're approaching the M3. We spot some blues n' twos in the distance, slowing down to have a gander we find a lorry blocking one of our lanes. Broken down obviously. That is until you realise that it's facing the wrong way! And with no damage to the central barrier, we can only assume he must've come down the wrong bleedin' slip road and can't turn round!
From the Club it was my turn to take the boys on the final leg of the journey. First 4 Days, then Magnum are dropped off before I touched down back at base around 2am. So, we now move onto Guiseley on Saturday where we'll be hopefully looking for another three points from a bottom 4 struggler. After that, it's another little midweek adventure for yours truly in a certain competition I rather like. Now I wonder what that could be? Enjoy!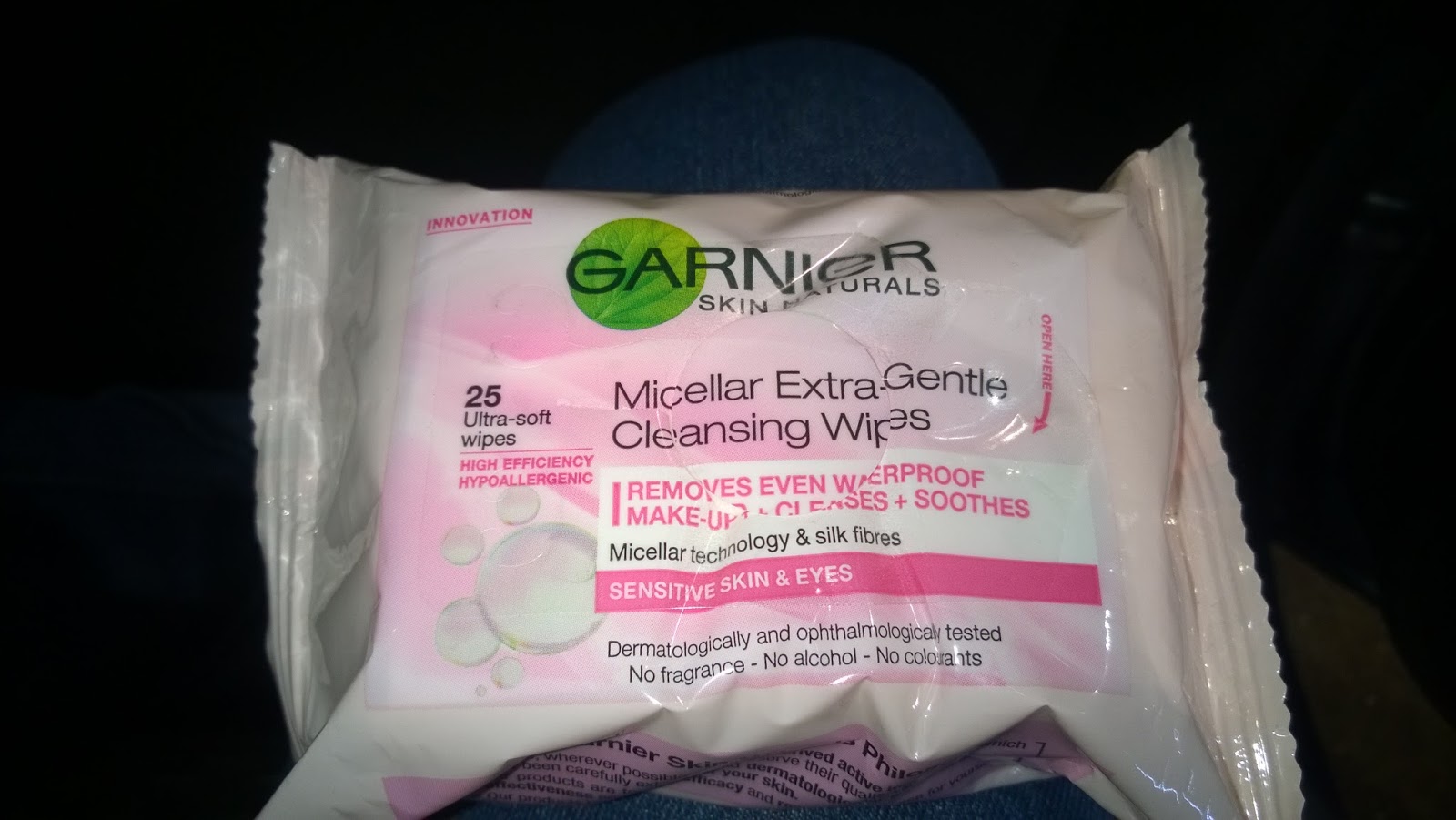 Now why does Mr X have these? Answers on a postcard…
Duke
Att. 1302