Another giant of the non-league game like ourselves who find their on-field activities overshadowed by the indiscretions of one of their former staffers. Just before Christmas I was in a bar on the Costa sipping a cold Mahou when I got talking to a local expat, as you do, and inevitably the subject matter turned to football. Enquiring as to who I support, I told him Sutton United;
"Aah, I know them. That big fella eating the pie, brilliant, whatever happened to him?"
Never mind the historic cup runs, the climb through the leagues to the point where we are knocking on the door of the English Football League and the building of a genuine community club that is the pride of West Sutton – it was that fucking pie incident that had lodged in this jokers mind. Course I put him straight through gritted teeth but I would well and truly do without it if you know what I mean.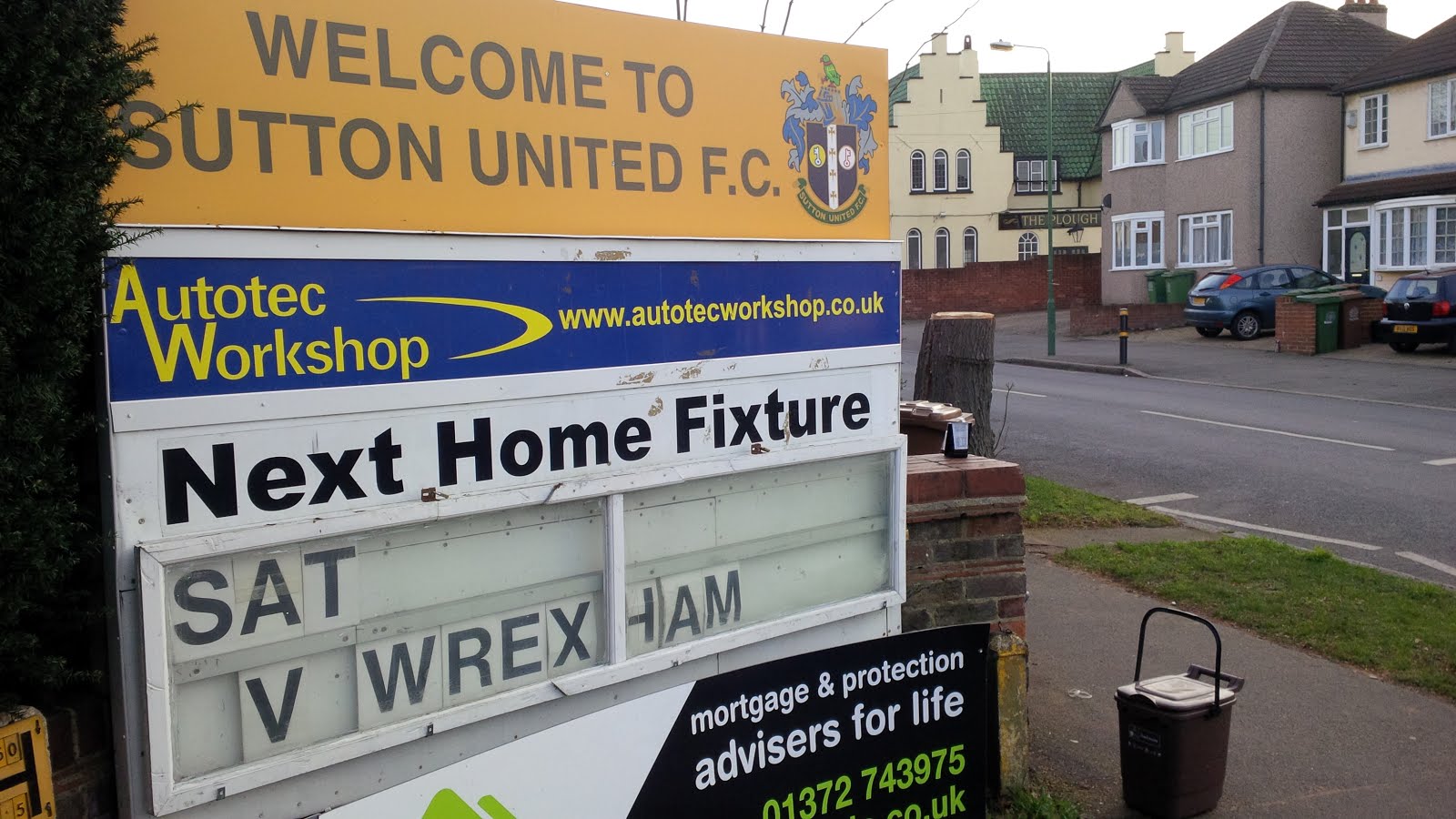 Welcome Wrex Ham!
But imagine if the club you love was famed for something far more serious and salacious? A story that managed to combine a bit of St Trinians with Police Five and Sergeant Ernie Bilko? I am referring of course to the palming off of snide tenners by a former full Welsh international onto your youth team players. A story line so fanciful that even Danny Dyer would have fucked it off.
Perhaps it is just me, but as soon as I hear the name Wrexham I think of Mickey Thomas and his carrier bag full of Hattie Jacques. Whichever way you cut it though, it's a fuck sight sexier than a poxy, bleeding pie and the Sun Bets bollocks. I know Wrexham would far rather be remembered for their past exploits in the FA Cup, the Cup Winners Cup and their narrow defeat in the final of something called the Debenhams Cup (nope, me neither) in 1977, but I love a fat, juicy titbit and a lot of you are of the same persuasion I would be prepared to wager.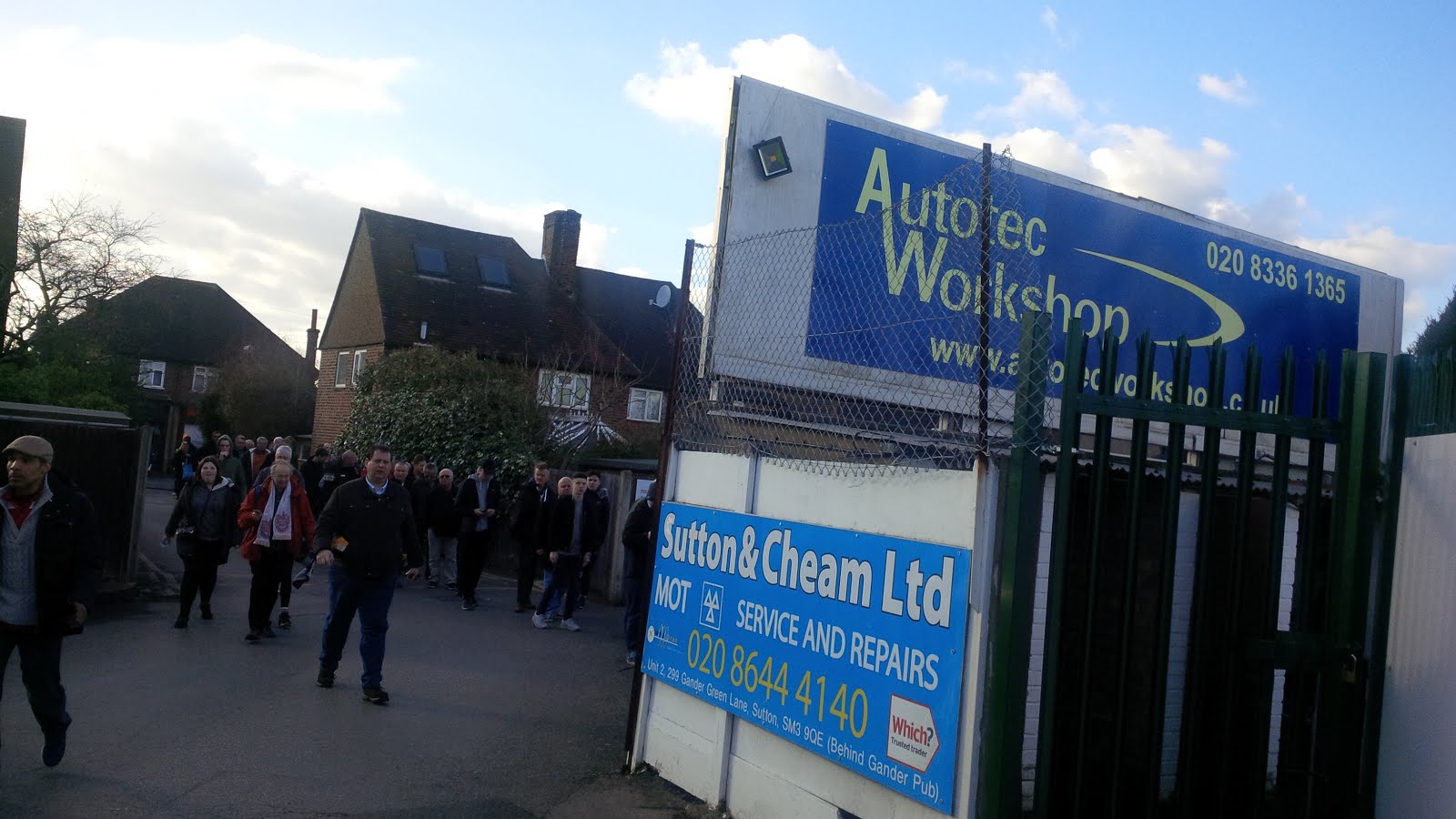 The masses await
Anyway, enough of this old meandering round the houses, let's address the matter in hand. It's a while since I slipped into the hot seat here at Gandermonium HQ, Hendon at home as it goes, and a lot of water has passed down Pyle Brooke in those few short weeks with the old Fred Gee debate raging, the Barrow on-off saga, the trip to the wilds of Brackley and riding shotgun with Dirty Barry in the Passion Wagon down to Dover in the pissing rain. Weather so foul that even Trip Advisors top-rated dogging sites that surround Maidstone had been put out of action.
The Peoples Republic had been abuzz all week in the run up to this one – even taking the edge off the sad and mysterious going ons that had left the Fun Palace that is The Plough locked up and in darkness as a stark reminder that there are still dark and covert forces out there who will stop at nothing in their efforts to dim the beacon of hope that we shine out across the world from the PRoWS.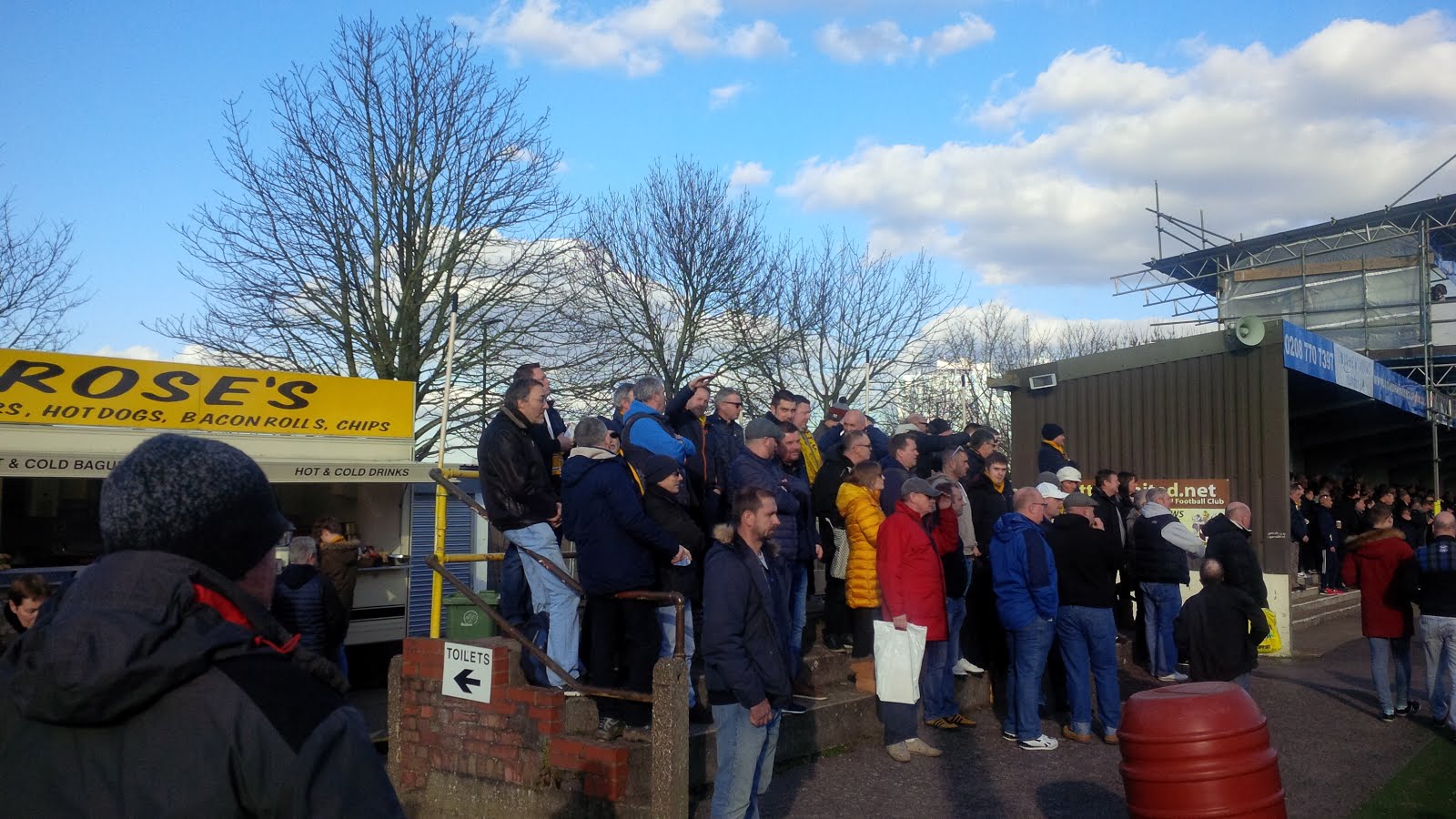 All ticket on the Shoebox again…
I've got people to entertain with my banjo in Herne Hill in the evening so once I've had a quick bob up and a splash of Old Spice it's time to pack the instruments and a clean shirt and head off up the Lane. Even at two o'clock it's clear this one is going to be busy and there are Welsh people wandering around the manor looking for a boozer. I do a bit for international relations and advise them to head back through the rec and check out the Sidney Arms – only joking. The Gander is rammed as it picks up the fall out from the closure of the Plough.
Heading through the gates I bump into Ipswich Lee who tells me that Father Outlaw Neal is stuck indoors "keeping an eye on the builders". I thought I knew all the old euphemisms but that's a new one on me. I opt to play it safe and don't enquire further. Dumping the guitars with Ali behind the jump we get a couple of pints in and have a mooch about. A surprise visitor is Chicken Balti – he of the Chronicles fame – who has wisely opted to swerve the perpetual misery of following Tooting for the afternoon and to take in a game of football instead. We talk with Taz about music which gives me another chance to moan on about the Boom Boom punk policy and the fact that West Sutton is the only part of the UK where the blanket ban on the Sex Pistols from the 77 Anarchy tour remains in force. I'm not joking.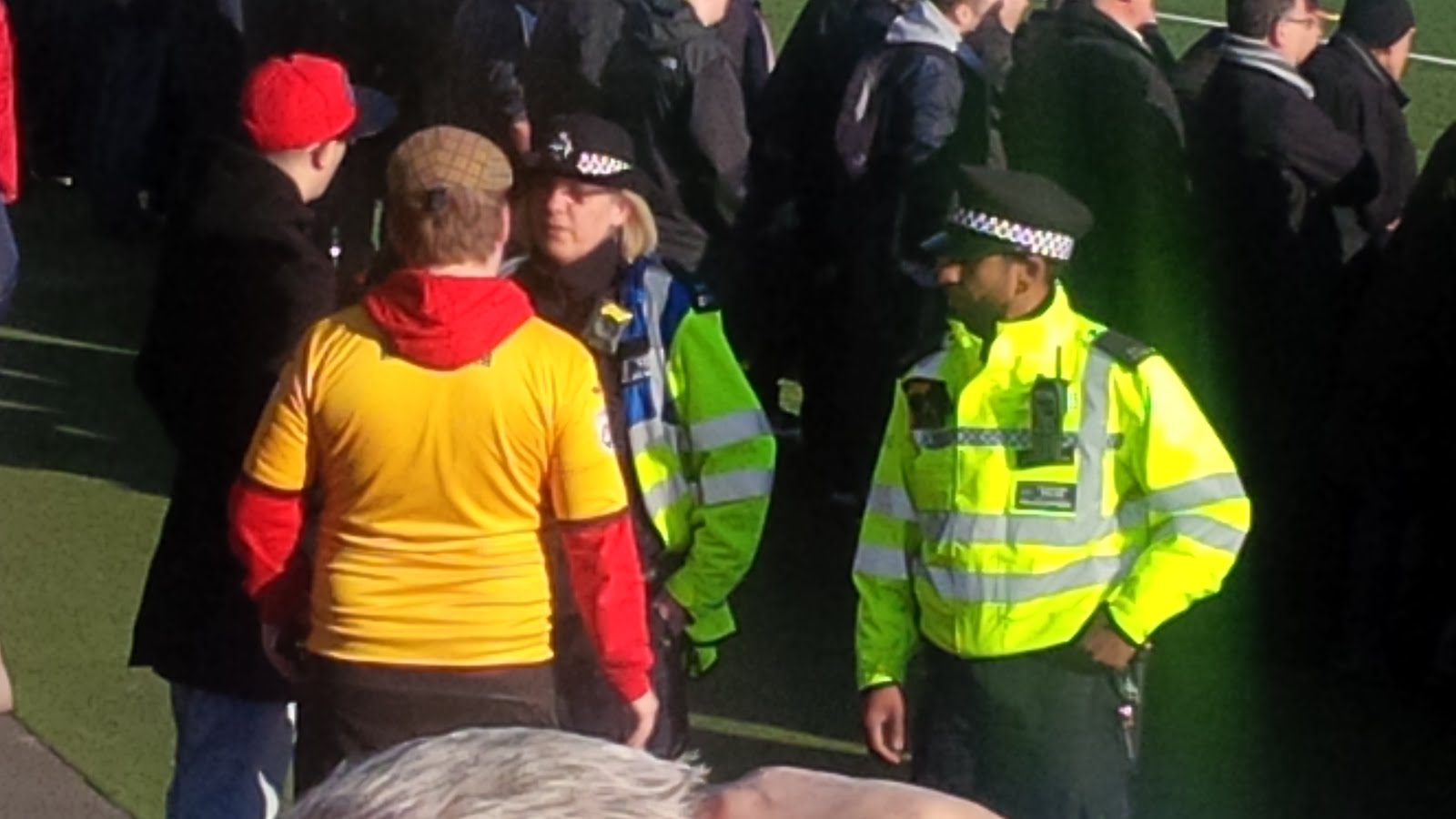 Collection of hats
We sup up our beer and head through the special entrance for season ticket holders as the queue for paying punters snakes down to GGL. It's a cracking day, the place is buzzing and the Shoebox is chocka but Bacon has reserved my customary spot just in front of DB who is benefitting from the additional support of the rear rail. He's got the right hump because his company have taken the Passion Waggon off him and given him a truck covered in branding which is absolutely fucking useless for the odd casual and anonymous sexual encounter. Good to see Gaz back in position after a few weeks on the road and even Juan has taken a break from his top secret military training to put in an appearance. Must be a big one.


Butler, John, Collins, Cadogan, Eastmond, T. Thomas, Wright, Walton, Downer, Bolarinwa, Harrison SUBS: A. Thomas, Hudson-Odoi, Davis, Coombes, Dundas
With H out after the Dover red the main change today is the arrival of Byron up front, I know he used to turn out for the Occupied Territories but we've all made mistakes in our youth and I'm looking forward to seeing the lad bagging some goals for us but he's got his work cut out today against Wrexham's well drilled defensive unit. The opening exchanges are tentative and after some hard miles out on the road in recent weeks we wonder whether our lads might be feeling that a bit. We are competing well enough but you won't get much change out of the Wrexham central defence with high balls lobbed into the box.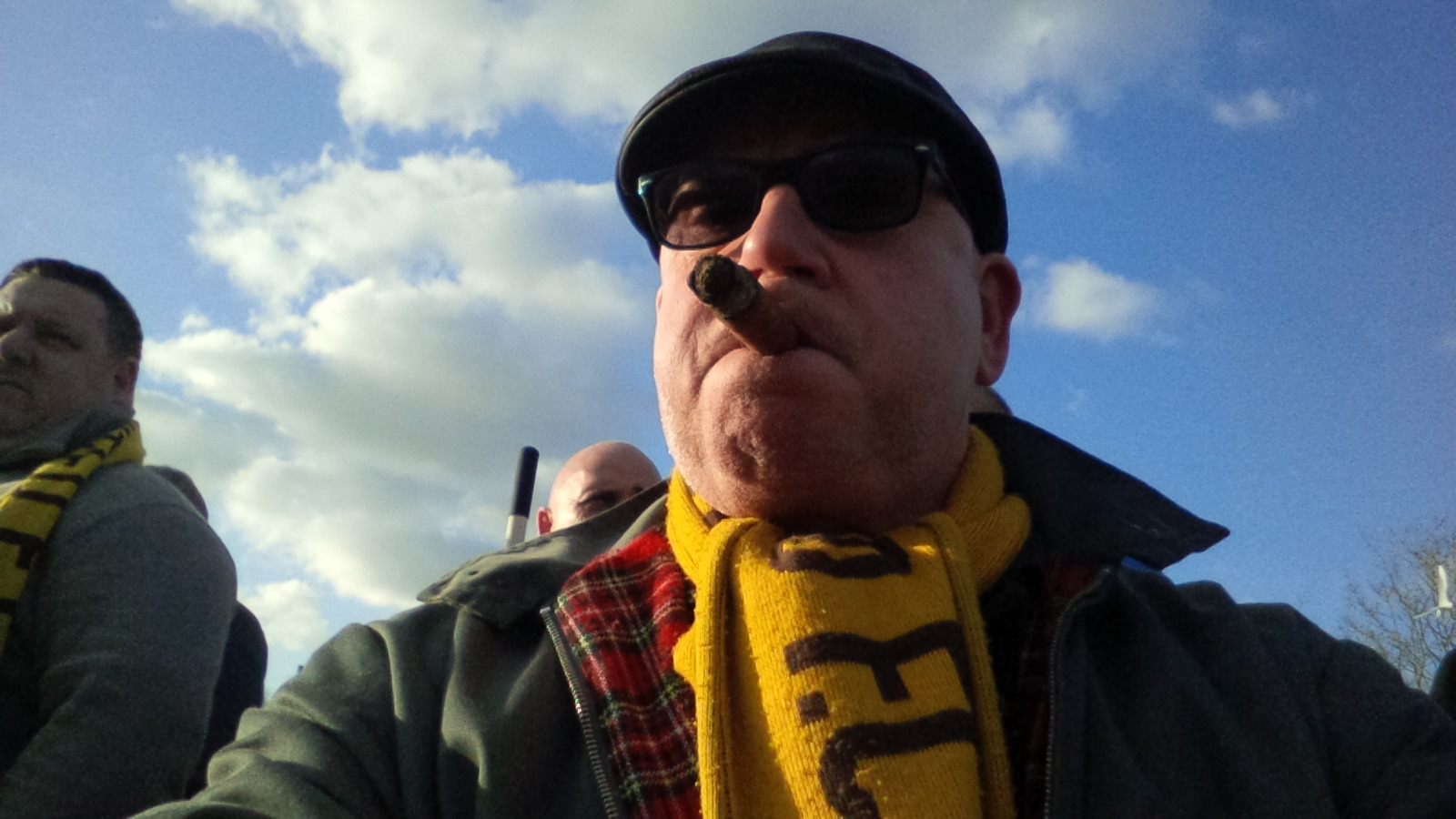 Castro's favourite
Time to spark up the lah dee and with this being a massive game it requires something special and courtesy of Bob Da Bollocks we have a Cohiba Esplendido on board, Castro's cigar of choice. It's a whopper but it's only after it's been burning for a while that I realise I've been flicking ash onto Southampton Steve's expensive designer parka that he'd foolishly hung out to dry on the Shoebox centre rail after having a pint tipped over it by some buffoon in the bar. Sorry mate. Best get that dry cleaned.
Then Wrexham score. Our defence is caught a bit flat footed and their top boy breaks clear and finishes sweetly one on one with JB. On balance going in at the break one down is a reasonable reflection of the first half but we know we are a resilient side and we start the second forty five with added intensity and it's only a matter of minutes in before we are back on level terms. Their keeper drops a bollock palming a ball onto the bar that he should have dealt with and big Simon Walton is on hand to knock the rebound over the line. Lovely old job.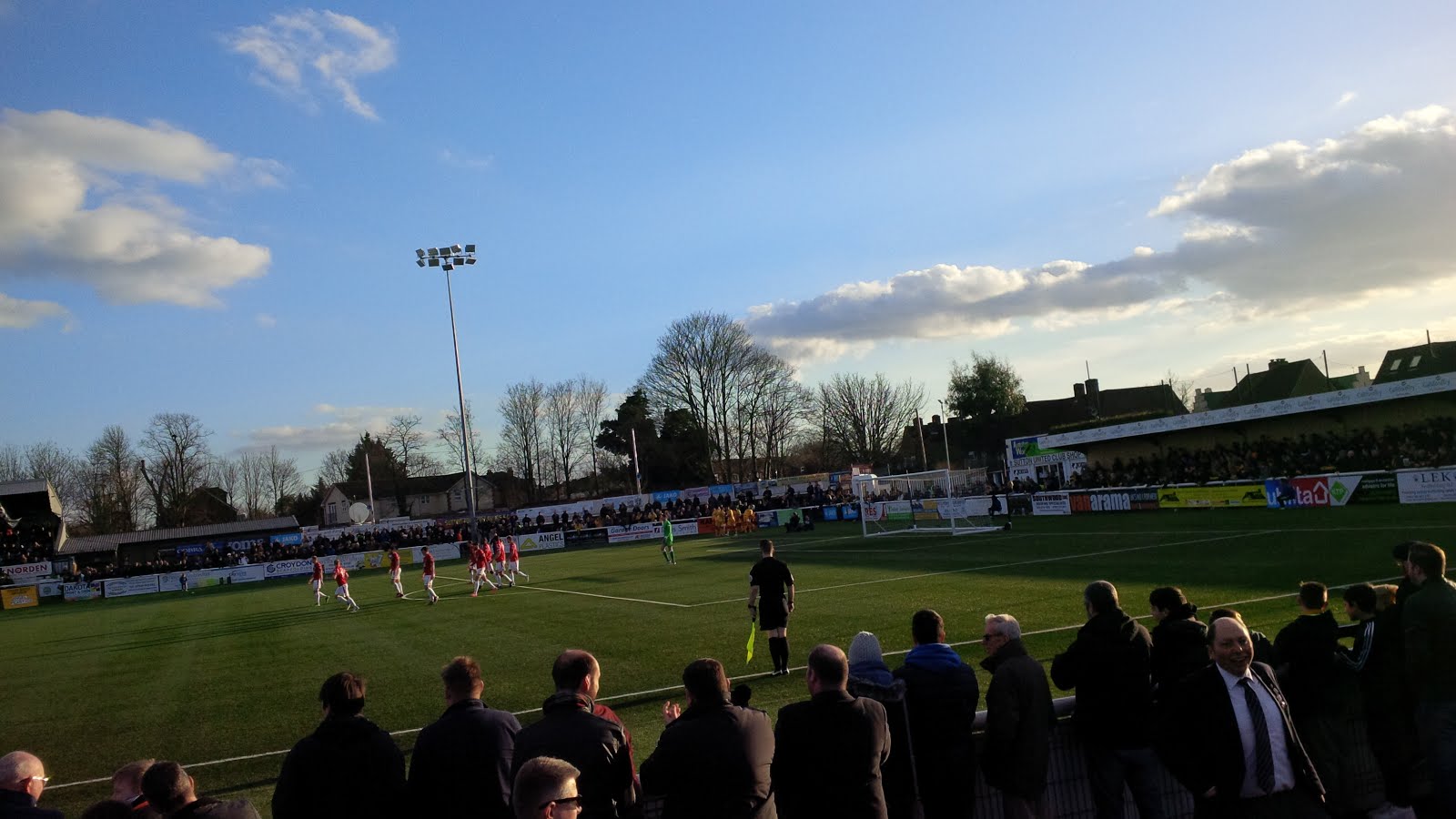 Celebrations!
Now the game opens right up and it's great entertainment for the bumper crowd on what feels like the first day of spring. Simon Downer is having a top game marshalling the defence and Tommy Wright has pushed up and forced himself right into the match. Despite all that travelling in recent weeks we finish the stronger against the full time pros of Wrexham and nicking a winner wouldn't have flattered us but right at the death we are thanking Jamie Butler for a brilliant double save that denied the oppo what would have been an underserved three points. It winds up one all and as I wander back round with Ces and Tom The Beard we agree it's probably a fair result all round.
Back in the bar it's packed out and I'm pleased to hear the fans of the plucky Welsh non leaguers celebrating the nicking of a point at the home of the famous Sutton United. That, my old Chinchillas, is a measure of just how far this football club has come in a few short years. Can't remember all the Wrexham tunes but there's one celebrating bestiality and something very rude about Chester. AB has really got his work cut out doing the old Strikers Are Key draw and it's a hoot seeing big Malcolm P hauled up on a chair to pull his balls out. Brilliant.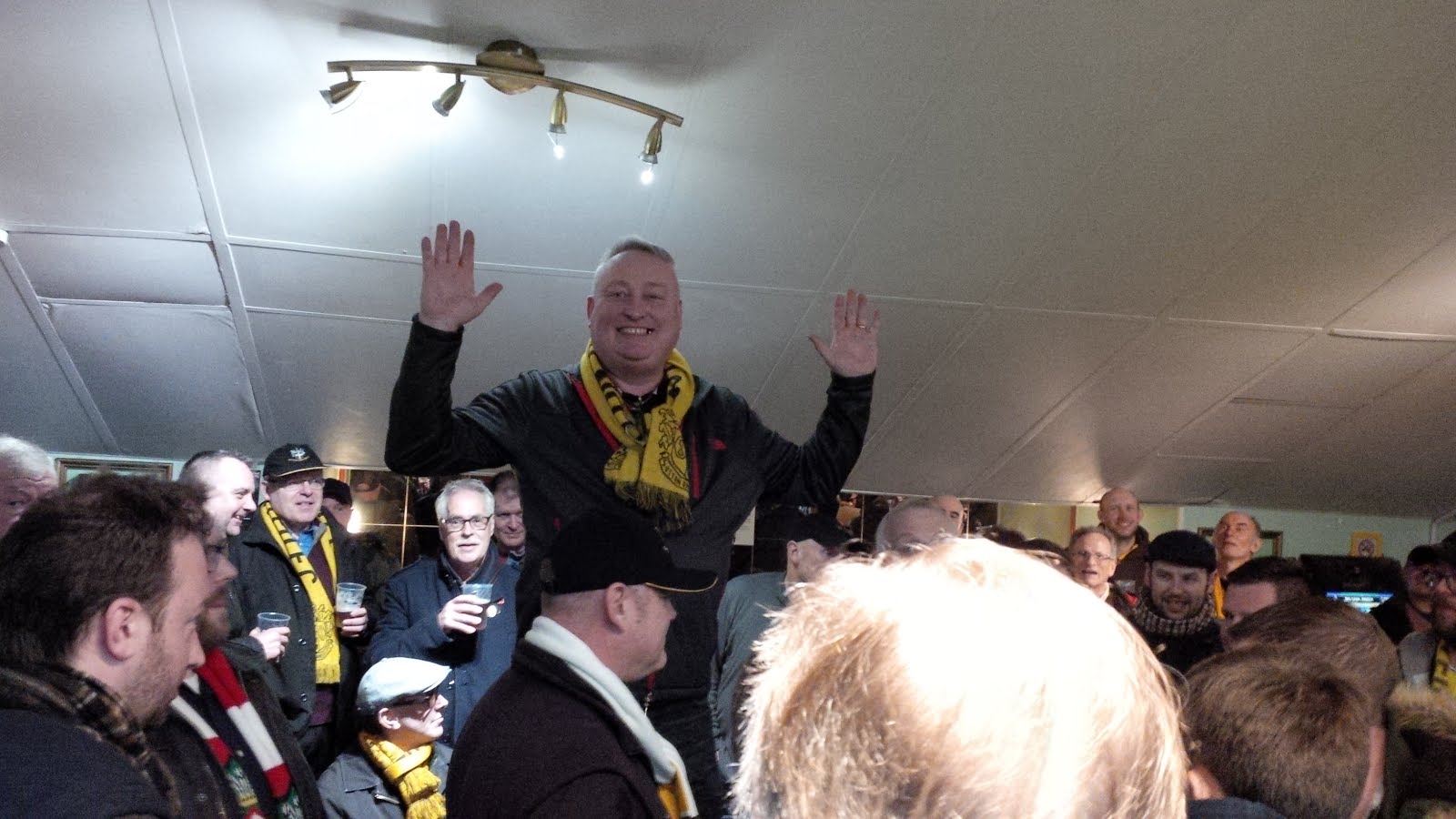 Get yer balls out Malcolm!
I grab the guitars and head off to West Sutton International with a can of Stripe on board for the short run up to Herne Hill. A cracking night unfolds and I'm chuffed to see Dukey and Mr X rock up to join me in the chorus of Shoebox Terrace and Mitcham For A Thief. I have far too many Chelsea Blondes and am even civil to some Dulwich fans including a couple of women who seem to know an awful lot about me. Price of fame I suppose. By some miracle I make the last train back and arrive dishevelled but basically intact at the official residence for some marmite on toast and a glass of port.
Off to Spain for a few days now to do a bit of Civil War research but back in time for Saturday. See you on the Shoebox.
Totts