There's hardcore, there's really hardcore and there's bleedin' bloody stupid. And what category would you call the members of Gandermonium? Because it's a cold Tuesday night in February and some of us have made the small 315 mile trip North to watch a rearranged football match of the fifth division variety. And that's before we do the same 315 miles back home again.
Now as a child (mentally of course) of Sutton United and a sucker for a good ol' raconteur, I've listened to a few small (and tall) tales about the old country in my time. There were things like watching a Sutton team grace the hallowed turf at Wembley, seeing Sutton play overseas, more than a few Surrey Senior Cup victories or even some strippers at a stag do down the club to rival anything from the Charlton Conservative Club.
I suppose you could possibly argue, technically, that I've done some of these things myself. Well, I'm sure I've seen Sutton play against Hendon whilst they were slumming it at Wembley FC and our trip to Jersey was technically an 'overseas' adventure. Plus I've seen at least three glorious Surrey Senior Cup campaigns.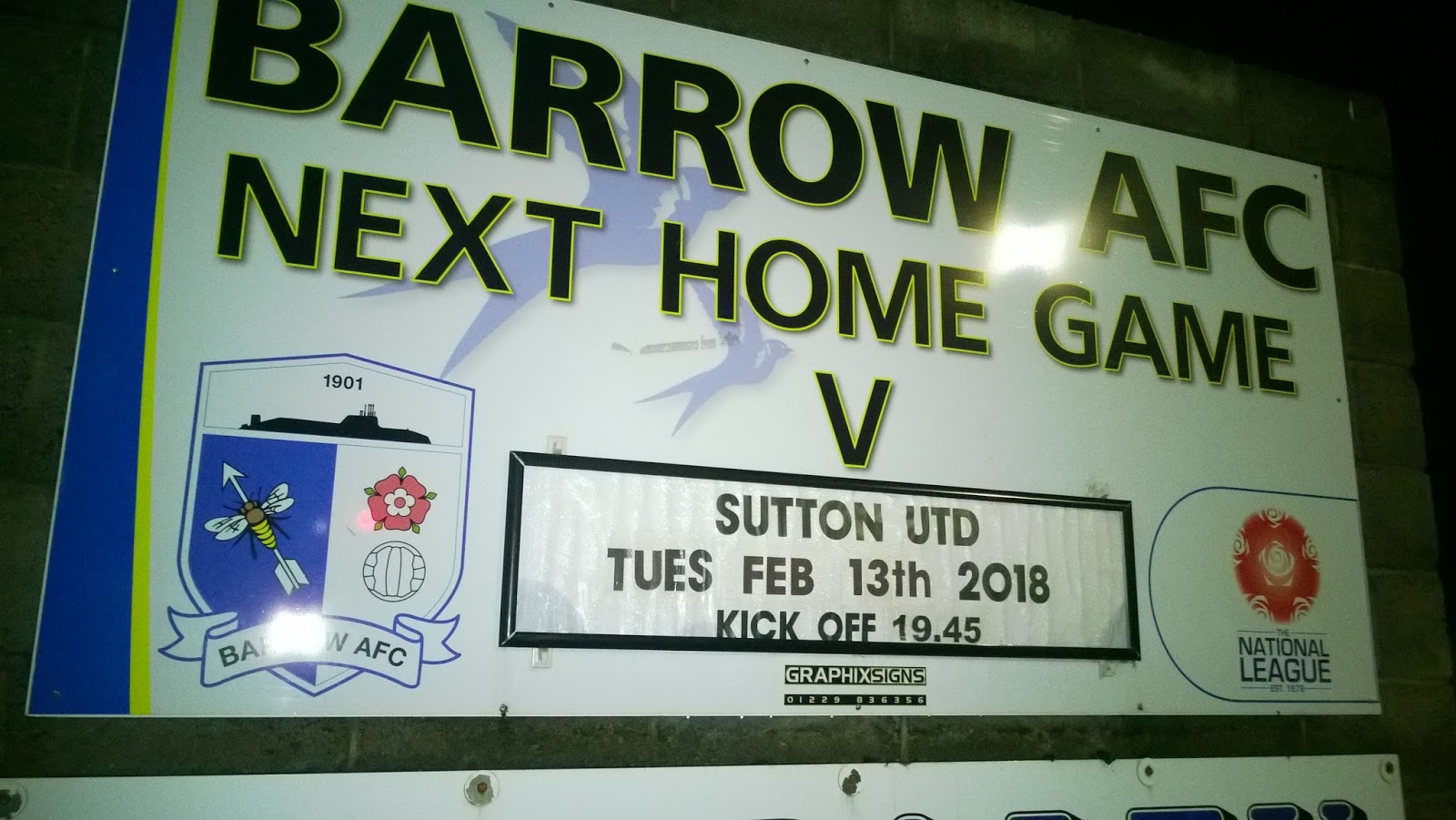 Few weeks late that…
But another story we always get is from our very own Dr Bell, who likes to waffle on about the time he done Linda Lusardi "Barra' midweek away" during our famous Bob Lord Trophy run in '91. The other one that I could've done myself, was the trip to Woodford in a FA Cup 2nd Round replay in 2007. A game so remote that we got the term The Woodford 15 from the number of travelling support there was there that particular evening.
So after the last attempt at seeing a game in Barrow, that ended up with us watching even lower league football in Lancaster instead, we thought that the rearranged game would probably be 13th March. It seems both clubs agreed as well. But as it was 45 days after the original fixture and thus three days over the "42 Day" window the league demands for rearrangements, we were forced to play it in February and push back the Surrey Senior Cup match against Merstham till the end of the month. Sacrilege! Oh for the days when the SSC took priority.
Things were not looking good for our prospects as Barrow's home tie against Hartlepool on Saturday had once again fallen foul to the weather. And with the forecast not the best around, I can tell you that a few of us were thinking that it was going to be another waste of time booking the time off. Although, a nine o'clock pitch inspection on the day did raise expectations. You only have to look back to the last time to see another nine o'clock pitch inspection that was so successful.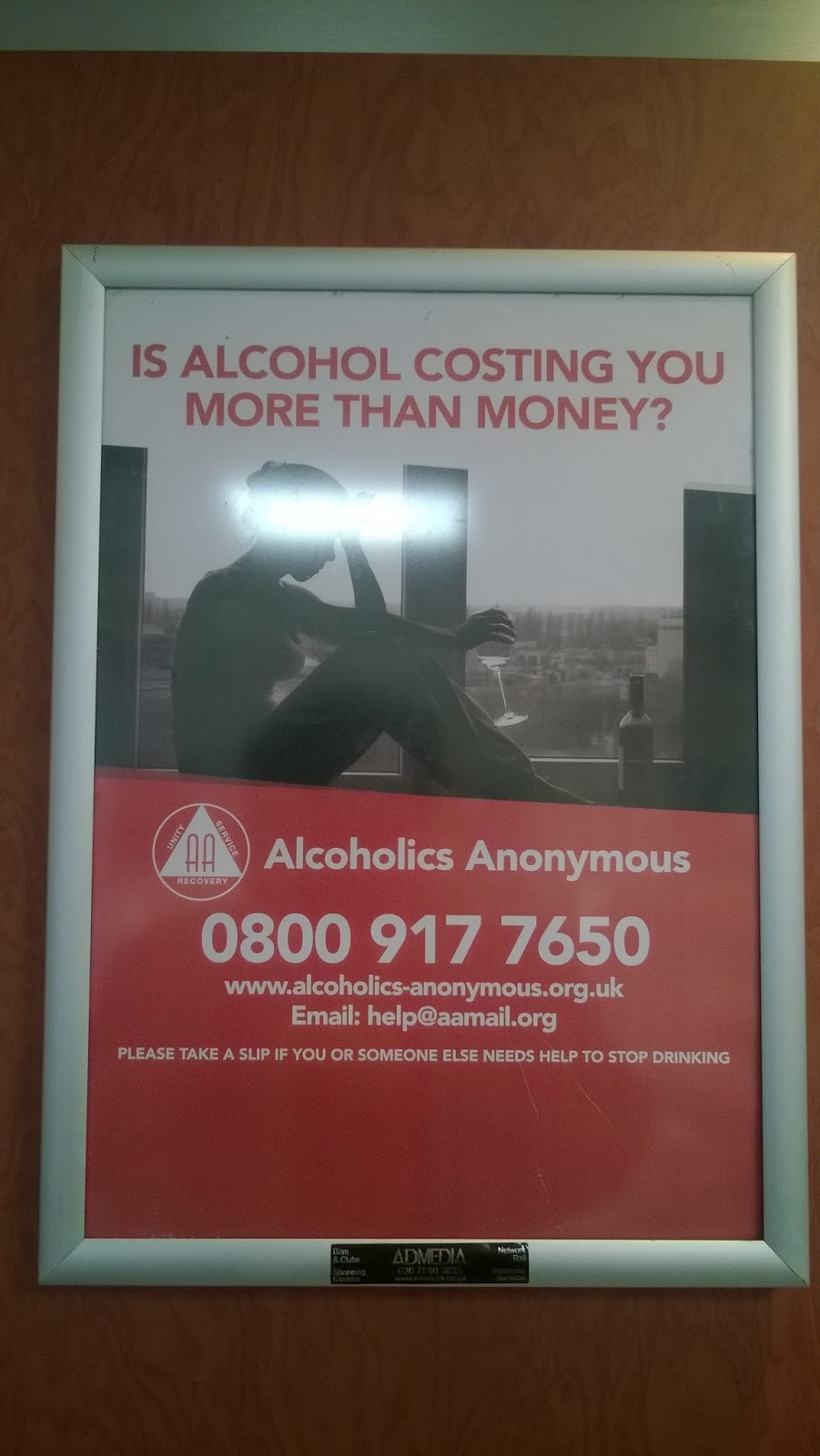 Try being a Sutton supporter then..
Plans had been arranged between me & Mr X for a swift eleven o'clock pick up. Right on time he arrives in the newly christened "Unity Mitford". What? Well my motor has been dubbed the "Diana Mitford", and considering we're Brothers-in-arms-and-same-cars, it seemed fitting. So Mr X arrived in "Unity" And I couldn't help notice that his Tom-Tom was boasting a distance of 311 miles to Holker Street. Jesus we're stupid!
4 Days was also going to needing a lift as the train prices for the trip were astronomical. £109 on the day I believe. So we swing round past Dirty Barry's favourite spot, the sex Dungeon at 226 Carshalton Road, and find Jesus/Hobo waiting patently in the rain. Yeah, at this point it was bucketing it down in the borough. Right, let's get this shit on the road! Northwards Jeeves!
The usual route towards the A3 is taken and I even catch a quick glimpse of my crew hard at work on the slip road. Half eleven though? You're slacking without me lads! Straight down and we're on the M25 in no time. Even around Heathrow is surprisingly quieter than normal. Then it's onto the M40 and we make the usual stop off at Warwick services.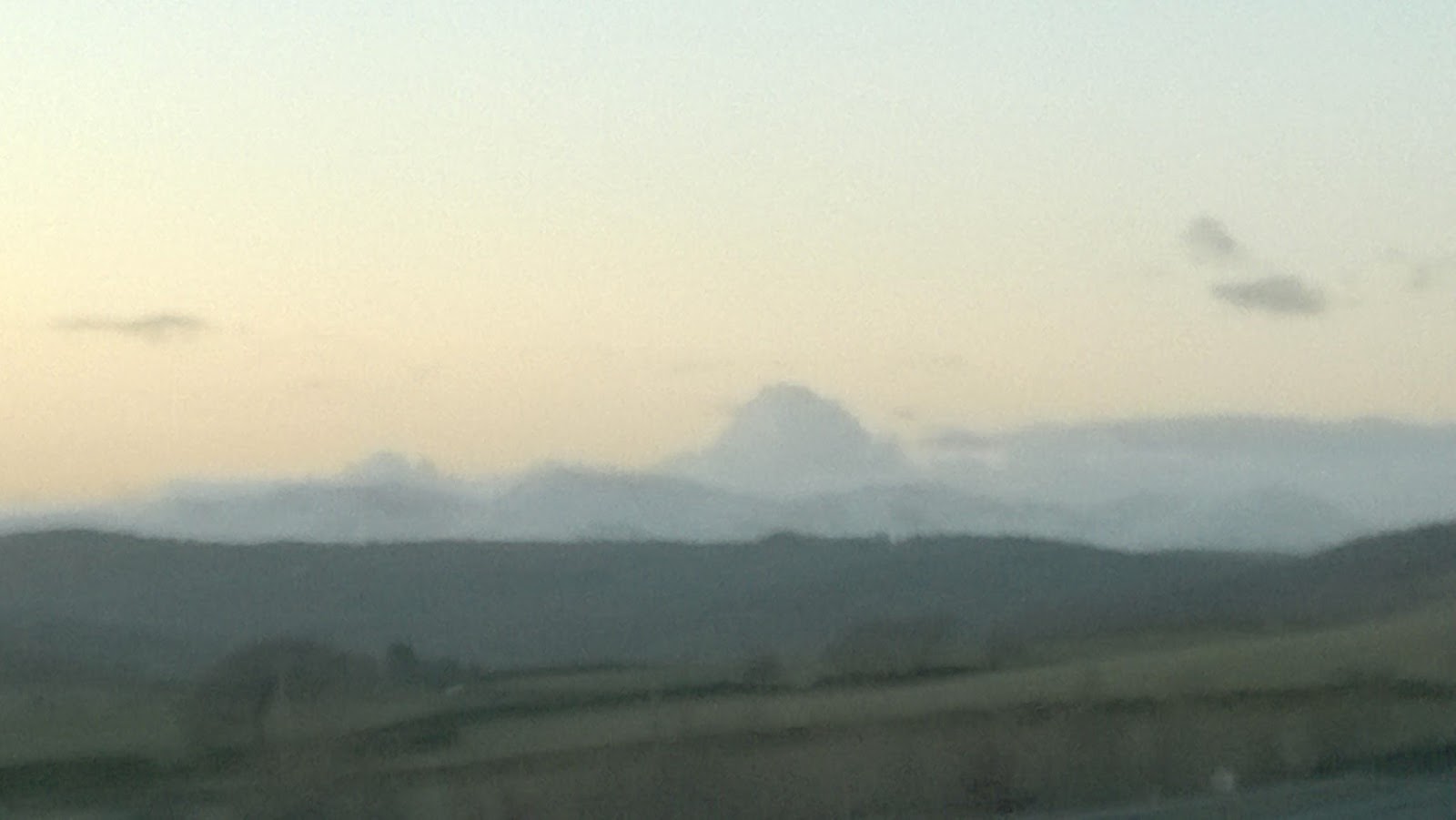 Snow-capped mountains? On the way to a Sutton match?
One again, we forget that my membership to the AA (both of them) gets me 20% off on particular service stations and Warwick Services isn't one of them. We never learn. However, with Virgin Absolute 90s now gone national and no more happy hardcore to suffer, we at least had a bevvy of hits that we constantly forgot to remember to note down for our next assault on a juke box to enjoy along the way.
To pass the time, we even resorted to a few geography questions. Well Mr X does not only claim to have a Geography Degree but one ranker better than a Desmond! Still, I don't want to hear anymore questions about Palau or it's capital City Ngerulmud. It's still German New Guinea in my atlas so I'm sticking to that.
Despite Mr X missing the turn off for the M6 Toll, we finally come across a rare sight, a spot of sunshine in the distance. Maybe the weather was finally turning in our favour? Even the traffic on the M6 was nothing like what we experienced the last time we made the trip, and we even squeezed in a quick stop at Forton Services for a slash and a cuppa.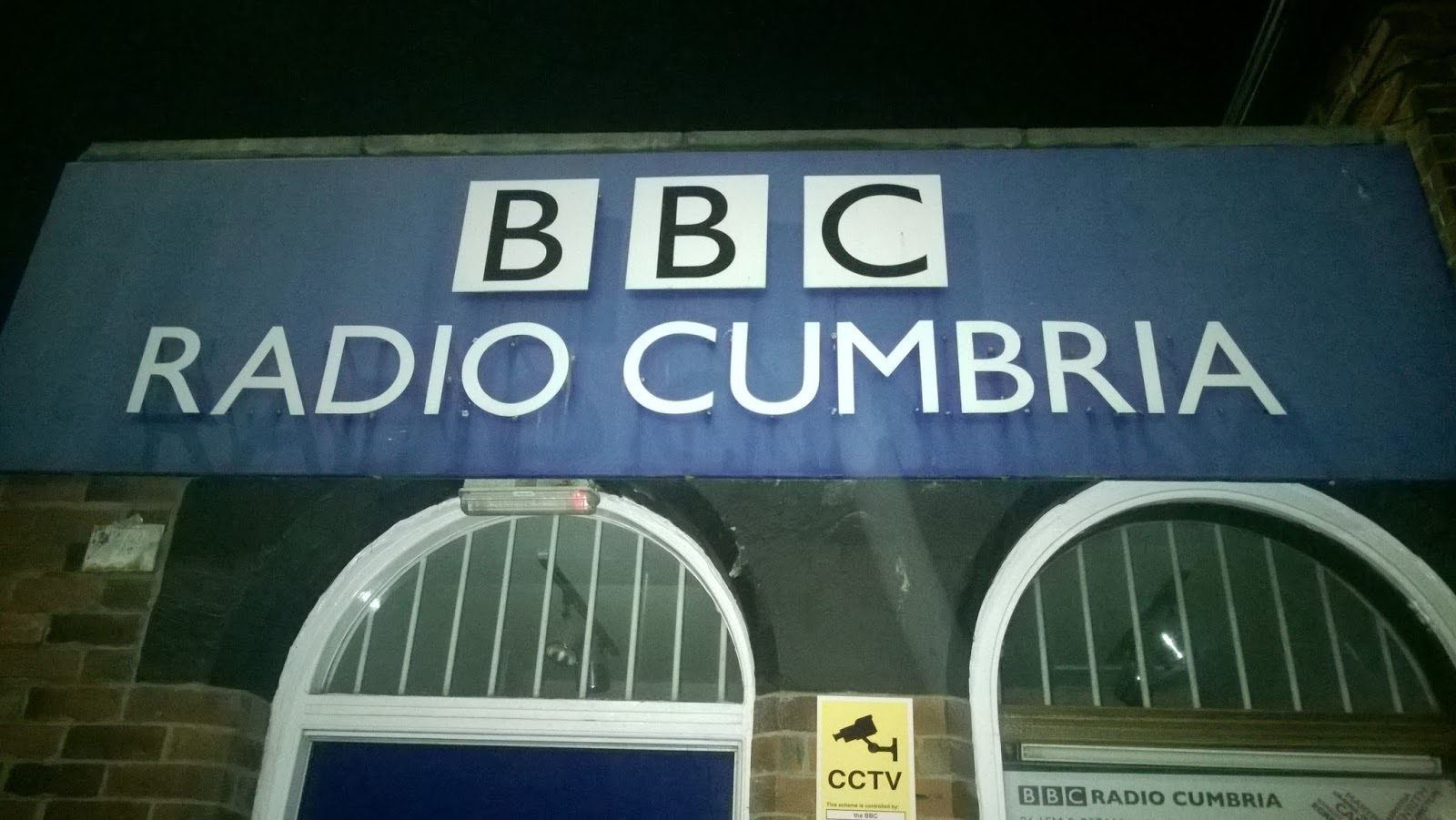 Ha ha. "Cum"…
Having made good time, we eventually arrive in Barrow just after six, not bad considering how long it took us last season. Mr X headed to fill up "Unity", so with nothing else to do, we of course headed for the 'Spoons. Surprisingly inside we find a few other Sutton supporters. Well, Stewart & Dan Howe, along with Johnnie from the Notorious Yoof Element who was doing some homework for a test he has on Thursday! Finally joined by Mr X we grab a spot of dinner (extra side order of Black Pudding for me) and sink the only alcoholic drinks of the whole day.
Back in the car and we head up the road past 'Dundas Street' and find a parking spot near the ground. Despite the away turnstile actually being closed we eventually find an entrance and hand over the £15 entrance fee. So not only were home fans using this turnstile but the awaited masses of the travelling faithful as well. In fact by the time Sallycat arrived there were only ten of us behind the goal. The announcement at the ground gave it as thirteen and we couldn't work out if Frakey was classed as a supporter or not. Fair play to the lot of us though. We're fuckin' heroes.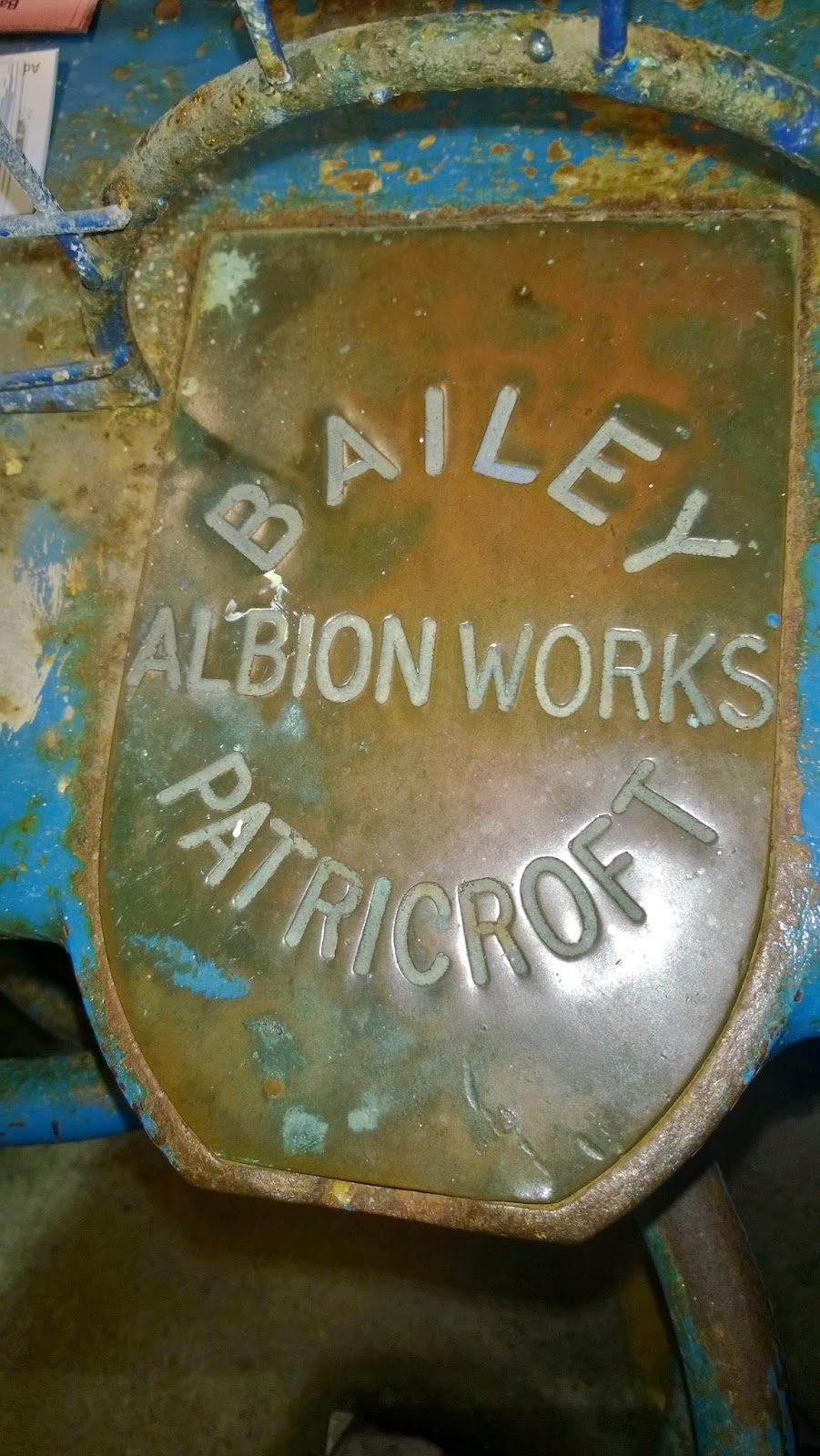 Porn, Totter-style…
Butler, John, Collins, Davis, Cadogan, Dundas, Bailey, T. Thomas, Wright, Walton, Bolarinwa. Bench Warmers: A. Thomas, Huidson-Odoi, Coombes, Evans, Downer.


Without the missing Beautyman & Eastmond, Sutton missed the busybody in the middle of the park. Things went South when Barrow took an early lead. A long throw (why've we never had that?) into the box is only headed clear to the edge and ex-U Gomis belts the ball goal-bound. With Bailey blocking the view of Butler, it flicked off his arse and sailed into the back of the net. At Least Gomis didn't celebrate too much.
Just after the quarter of an hour mark. Bailey is at the wrong end of a blocked clearance. Don't think it was a foul but minutes later he is hobbling off an injured man. A problem did arise when his replacement Downer was still running up and down the line and for a minute or two Sutton were forced to play with ten men as Butler had thrown the ball out of play.
Sutton probably should've had a penalty at the other end when a handball wasn't given. From our view it looked like a clear shout, but we're the other side of the ground so we might be wrong. I'd like to see what the management felt on that one. From what I gather apparently it was because he was too close to the ball, despite his arm stretched up above his head and blocking a header. Doubt it'll even be on the highlights either…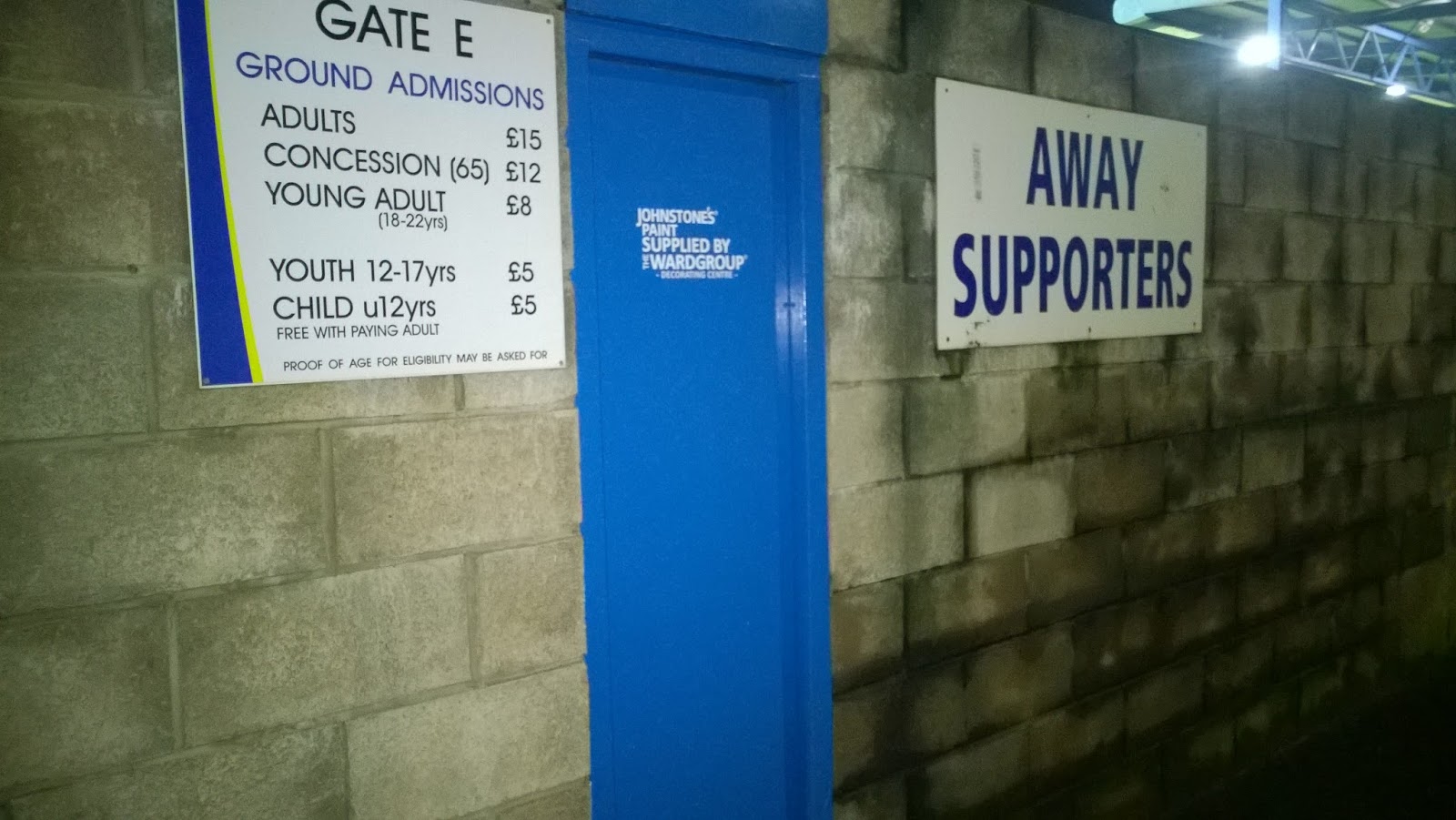 No entry. Shut. Denied. Verboten.
Second half and Sutton slowly try to work themselves into the game with the threat of a second Barrow goal killing the tie off. The only question that I would lay on Our Lord Dos would be the decision of changing Dundas with Coombes after only five minutes of the half. I thought that he was the only one that could withstand the man mountain that is Diarra.
I ask this because straight after this sub, the ball is played to Wright who had the unfortunate problem of being marked by Mr Diarra. He clearly beat him to a header and suddenly Barrow are chasing down a ball that had been played towards the corner flag. Butler tries to get to it first but seems to catch the player without touching the ball on the touchline.
Of course the home crowd go crazy like a celeriac over a Streak & Kidney Pudding. Clearly it's a yellow card foul as the player was going nowhere near goal. I always think of the goalie on the bench at moments like that, does he think that this could be his opportunity or doesn't he? If you want a similar example, before this incident the Barrow number 9, White I think, callously took down Cadogan as he charged down the line. Where as Butler had gone for the ball, White made no attempt for it and just took him down. Doubt that'll be on the highlights either…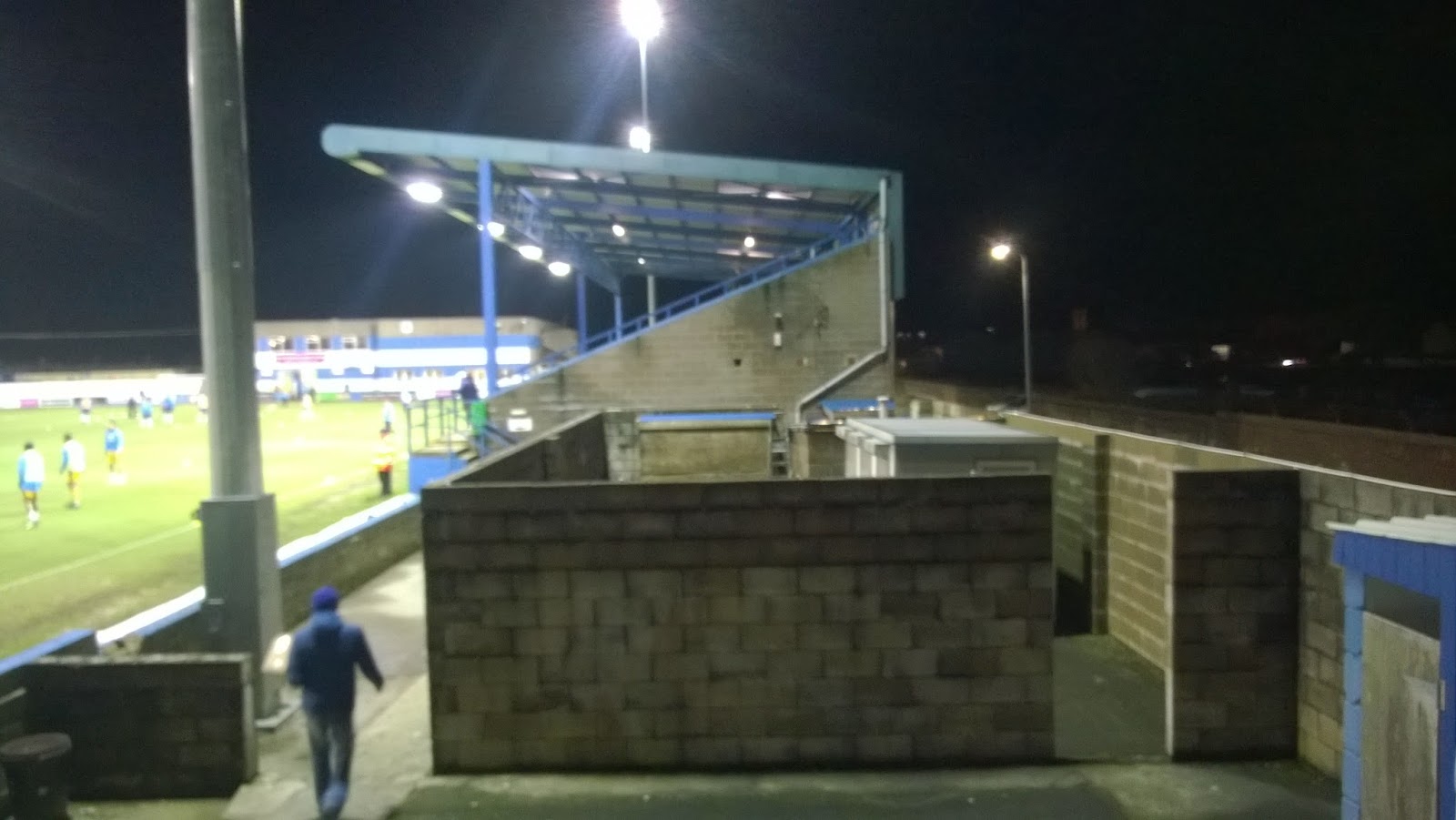 Standard toilet shot…
On the hour mark Sutton make their final substitution with Hudson-Odoi making his return by replacing Davis. Barrow had their best chance of the game after this when a screamer from just outside the box came ricocheting off the bar and back into play. Although, the assist would go to Sutton for only clearing it that far.
With twenty minutes to go and the U's get their chance. Thomas plays the provider as he slips a through ball to Cadogan. He runs at the defence and with options both left and right, he negates to shoot and tees up Wright with a clean pass into the box, Wright calmly slots it past the keeper into the back of the net. 1-1! Suddenly there is a surge of away support who crash into the barrier (minus Mr X who just stood with his hands in the air), The Barrow 10 (maybe 13?) have got the goal they wanted!
After this and both teams had chances to win the game. Barrow's best fell to Diarra who hit a low ball cross into the box too wide. For Sutton it was near enough the last kick of the game When Gomis gave away a foul twenty five yards out. The resulting free kick from Coombes won't be remembered in hurry.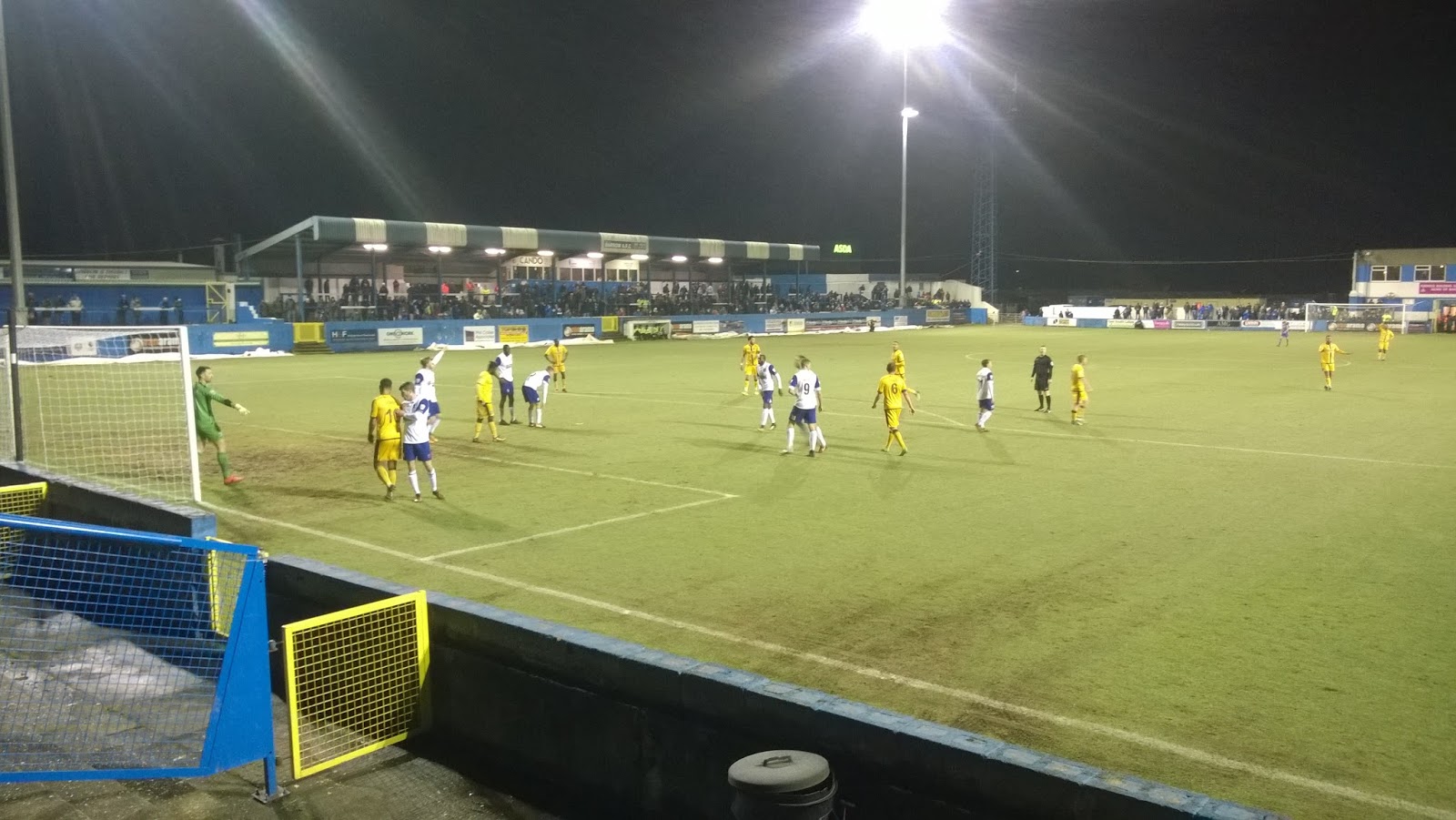 Action…
After the match, the 'Barrow 10' (or was it 13?) clap their heroes for their efforts. A special mention must go to Downer who then lead most of the team over to us to thank us for our efforts. Hey, they weren't in any sort of rush, they were all staying in Carlisle overnight! Unfortunately one of the Barrow 10 (or 13) missed this and no it wasn't 4 Days in the toilet either…


Now it was finally time to leave. Making sure that we'd all been to the little boy's room, there was a slight panic as Mr X had mislaid his tea flask mug thing. Lucky for him, it had been swept up by 4 Days, but not before we'd gone back into the ground and quizzed the few stewards that remained did we discover this. Walking back to the car we came to the conclusion that at least we hadn't got beat and a point was better than nothing this far from home.
Jumping back into "Unity", the time on the old Tom-Tom was ten to ten. Home Jeeves! Out of Barrow like a bat out of hell, we are soon enveloped by the sheer darkness of life outside of the Big Smoke. You can see stars and everything in these parts. Checking what other football results were like on phones, we were soon making tracks home.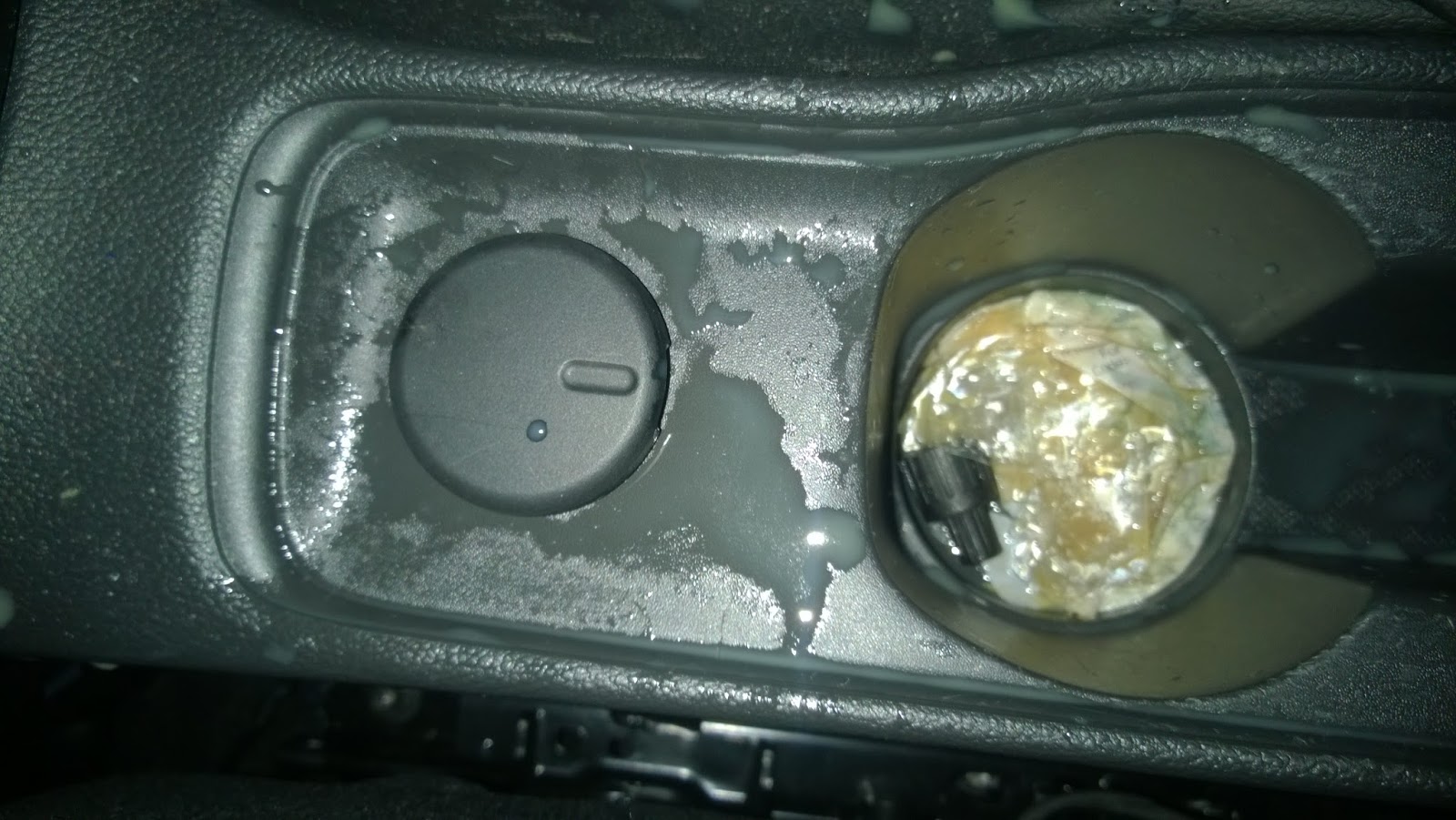 Spillage!
First we had a quick stop off at Keele Services as Mr X needed to use the "facilities". Grabbing a cup of Rosie we were soon back on the move and not long after Mr X decides to add some excitement by trying to grab his tea from the cup holder and taking off the lid in the process. Apparently he's used to this happening. Another stop at Beaconsfield (near the football club no less) and a closed M40 1A junction before we're on the M25 and finally near home.
Eventually we all do make it back to civilisation. And if I hear another bleedin' advert for Worcester Bosch it'll be too fuckin' soon! Absolute 90s might be a 'no repeat' station but they could also make that apply to the fuckin' adverts as well. Dread to think how may times we heard this one, but then again how many people have really listened to the station almost constantly for sixteen hours?
So that's it for another tale of non-league idiocy. Once again we have another big clash this Saturday when we entertain Wrexham down the Lane. And after that it's another trip, this time to the South West when we take on struggling Torquay. So in a little over six weeks, we would've been to the four corners of England. Not bad for a pub team from London!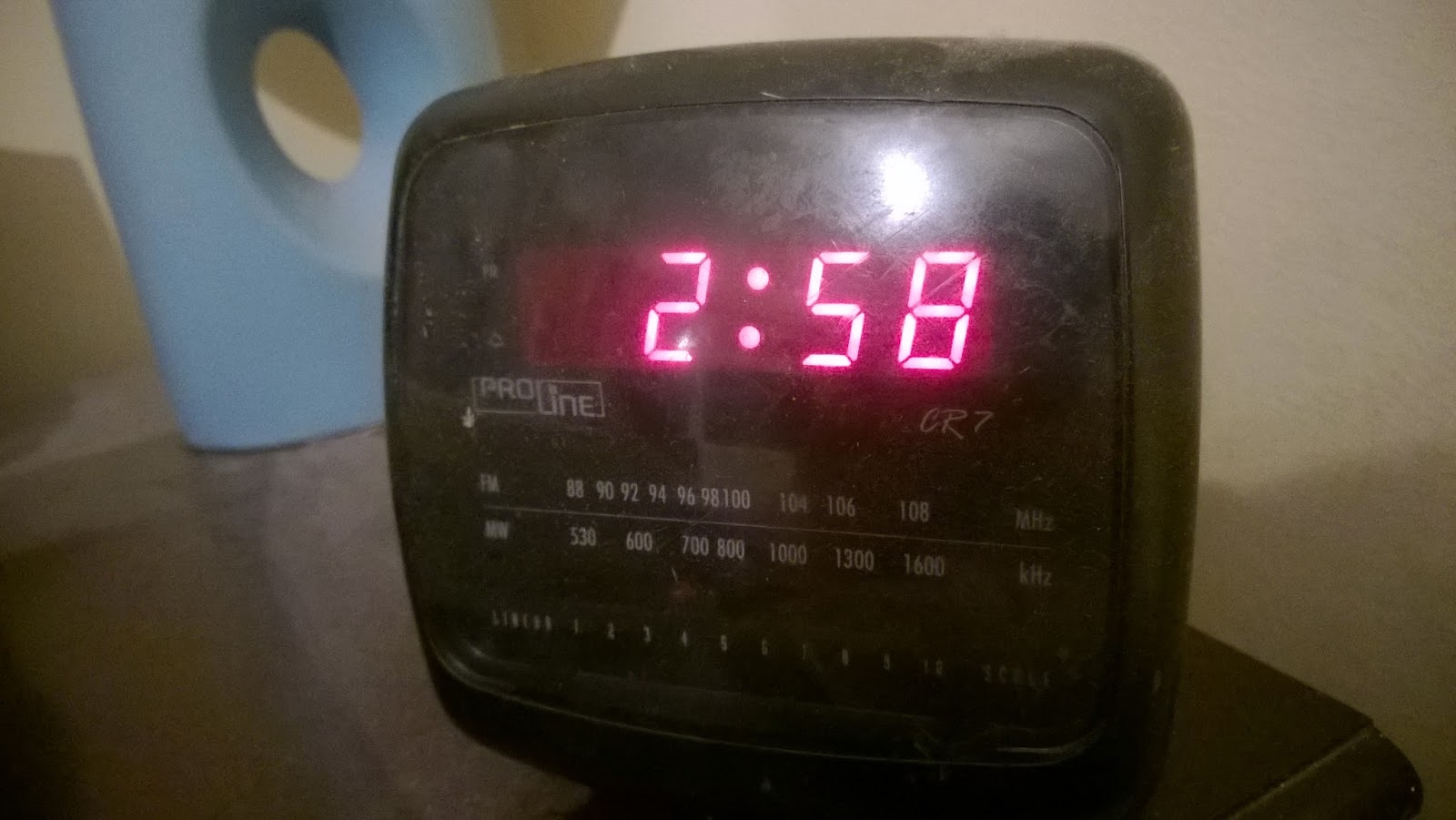 Late night was it?
But we can't finish just yet people. Before we go, here's a special mention to the Sutton supporters that'd made the trip and stood behind the goal:
Mr X,
The Duke,
4 Days,
Sallycat,
Stewart Howe,
Dan Howe,
Johnnie,
Exilednorthwestu,
Frakey (who technically was there as Match Secretary),
Some fella who was studying at Manchester and wasn't even from Sutton, but his Grandparents were. His first game down the Lane was against Bishop's Stortford. Weird and/or pointless nickname to follow…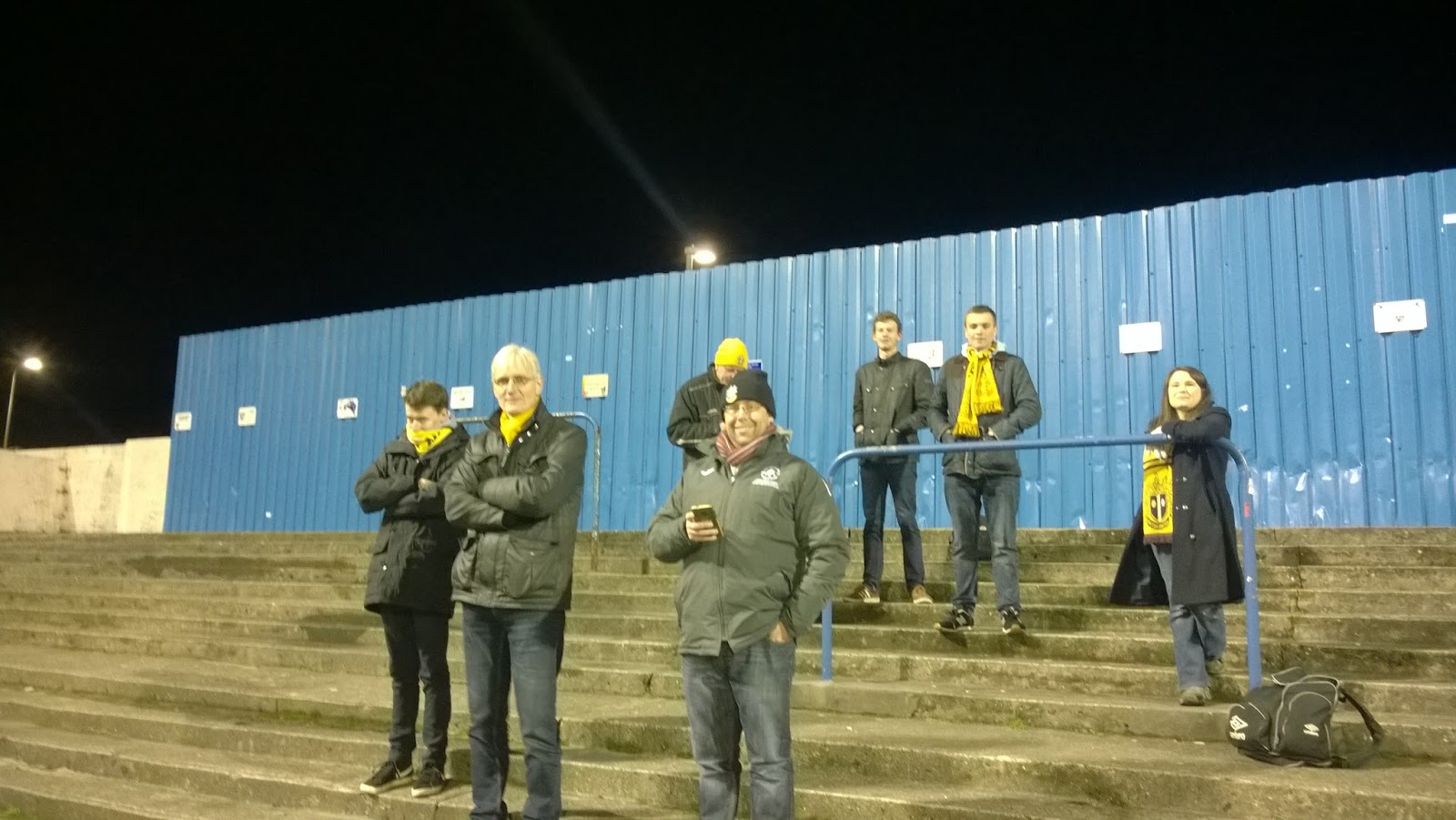 The Barrow 10! Minus Frakey & 4 Days…
Right, that's that. You can go now.
Duke
Att. 643