Having slipped out of the Trophy in a muddy field in the arse end of Northamptonshire last weekend, we've mostly spent this week mumbling about 'Concentrating on the league' and consoling ourselves that a day out at Wembley is hugely overrated anyway as it's a shit soulless bowl and we'd hate being surrounded by loads of day trippers. Well, that's what we're telling ourselves anway…
Still, today we're back in action with a nice day out to the quaint outlying district of Calais known as Douvres, where we'll be able to stock up on piles of cheap snouts, plonk, smelly cheese and chocolates, before picking up a piss easy 3 points and then mocking the les locals about Brexit before escaping back to Blighty with our spoils. Lovely stuff.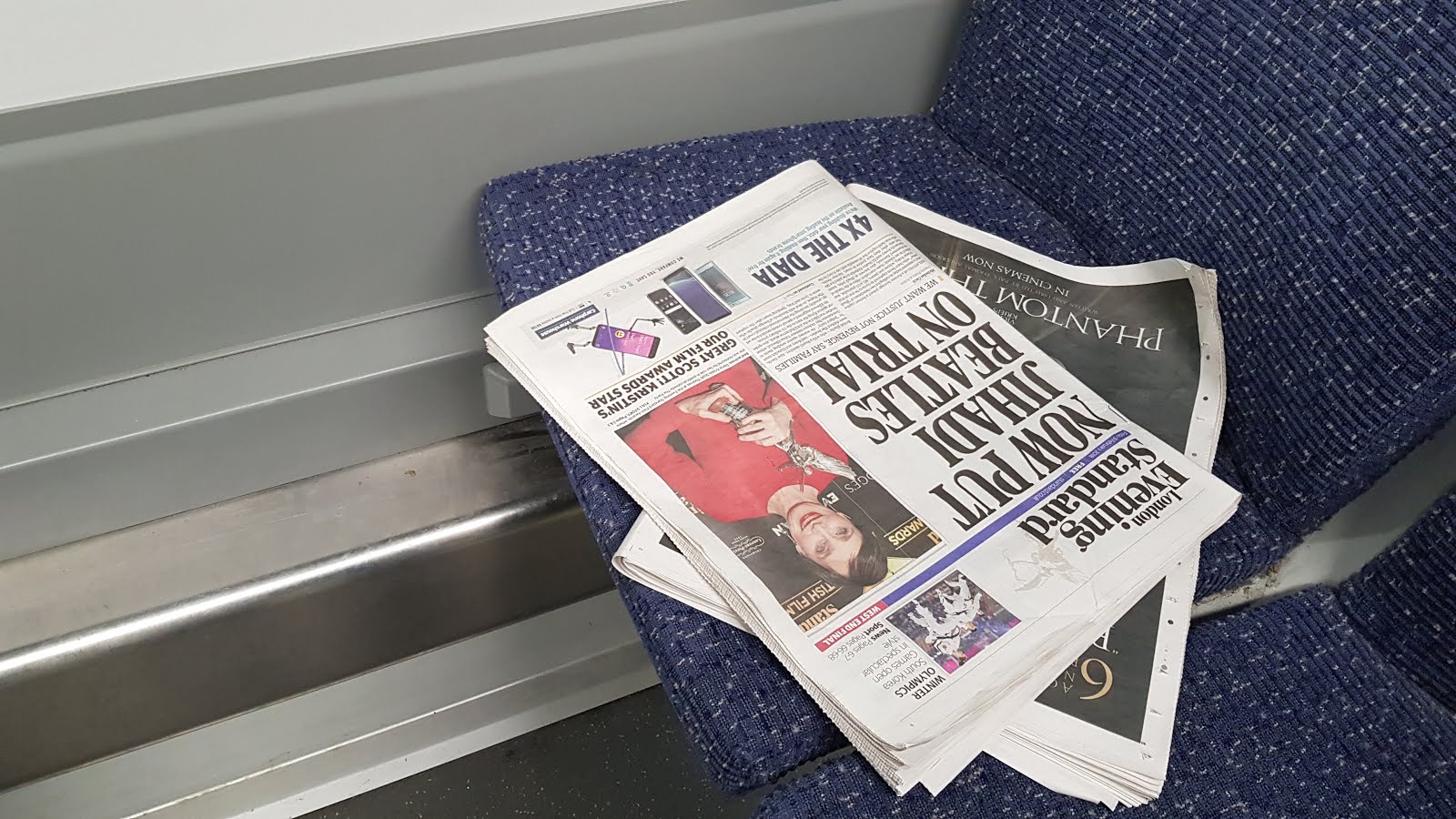 Christ, what's Ringo been up to?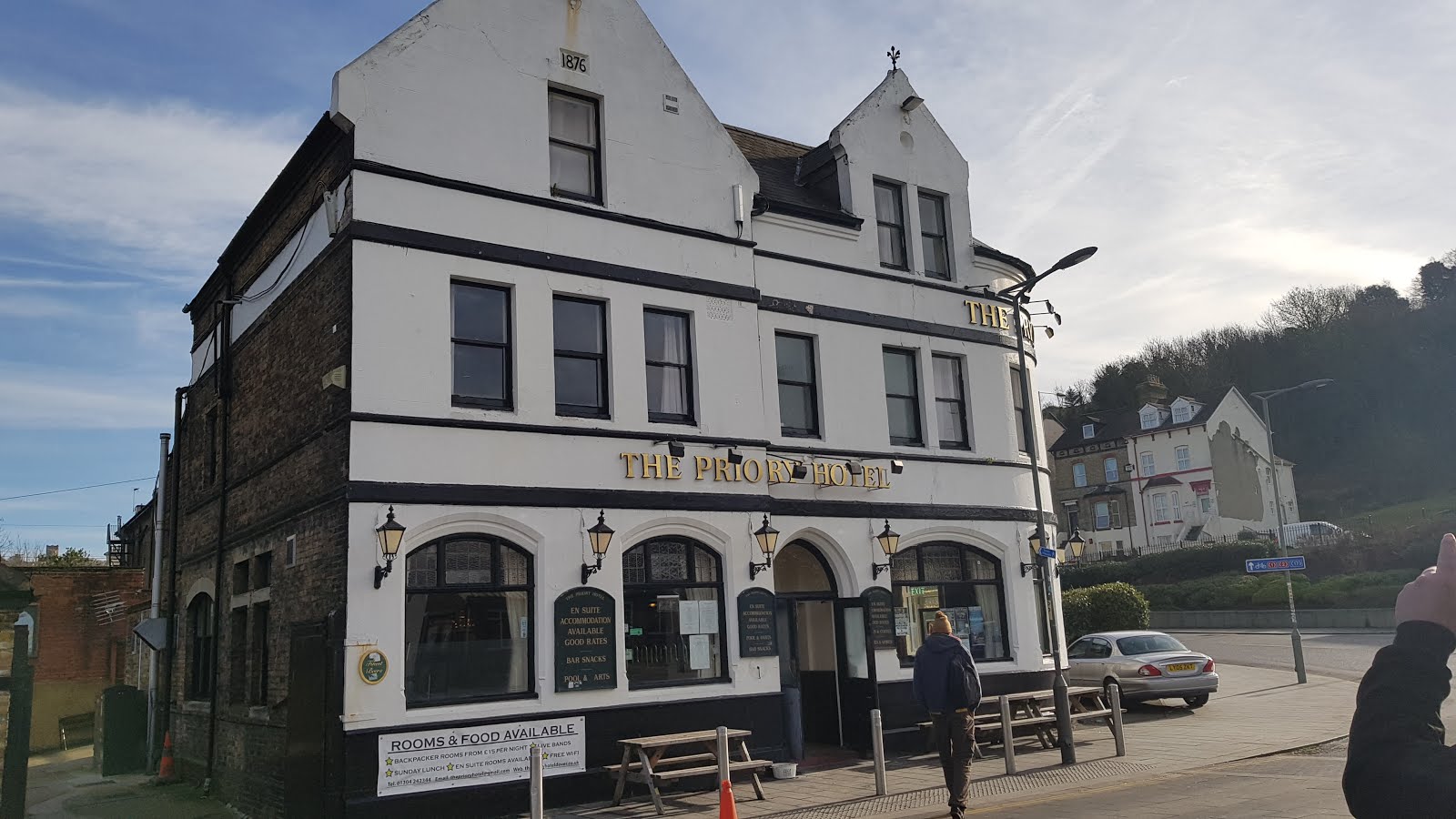 Big marks on trip advisor…
I find Steve on the platform at East Croydon and we're then treated to something akin to a miracle when the Thameslink train we're aiming for turns up early. Yes, I did write 'Thameslink' and 'early' in the same sentence, no I'm not drunk and no I do not need to see a doctor. Stunned at this once in a lifetime occurrence (I've genuinely seen Halley's fucking comet as many times as an early Thameslink), we board and Steve hands me a spare McDonalds hash brown he has about his person. He doesn't just carry them around to reward random people with you understand, he'd just had a McMuffin and had it going spare. Either way, I'm not going to say no.
The train up is quiet and our choice of route is vindicated as Mr X pops up on the Top secret, invite only VIP Whatsapp thingy to reveal the Victoria line is shafted. Which will no doubt cheer up the Sutton posse no end, especially as the trains out of that part of the world are banjaxed again this weekend. At the other end, we find 4 Days and Dukey milling about at the top of the escalators at St Pancs. Not far behind is the Rerek collective and Mr X. Tickets sorted, we head up for the train. Which is currently being delayed due to no driver. "I'll have a bash, how hard can it be?" offers 4 Days to the guard, a kind gesture which he politely declines. In the end we eventually get away 20 mins late, which doesn't bother us greatly as we're no experts at 'delay repay' claim ups, the latest being a 50% refund from Northern Trains for Guiseley away.
We're soon joined by Johnnie and Ryan from the notorious youth faction and their bag of cans. Johnnie is sporting one of those expensive hoolie jackets with the glasses in the hood. Some 300 sheets worth apparently. It even has a little window on the sleeve for a watch. Which would be great, if he actually had a fucking watch. Disappointingly, given that we're on the express line that means the train is quite quick and as we trundle into Dover we're just the 5 minutes behind schedule. So much for having a claim up, the bastards.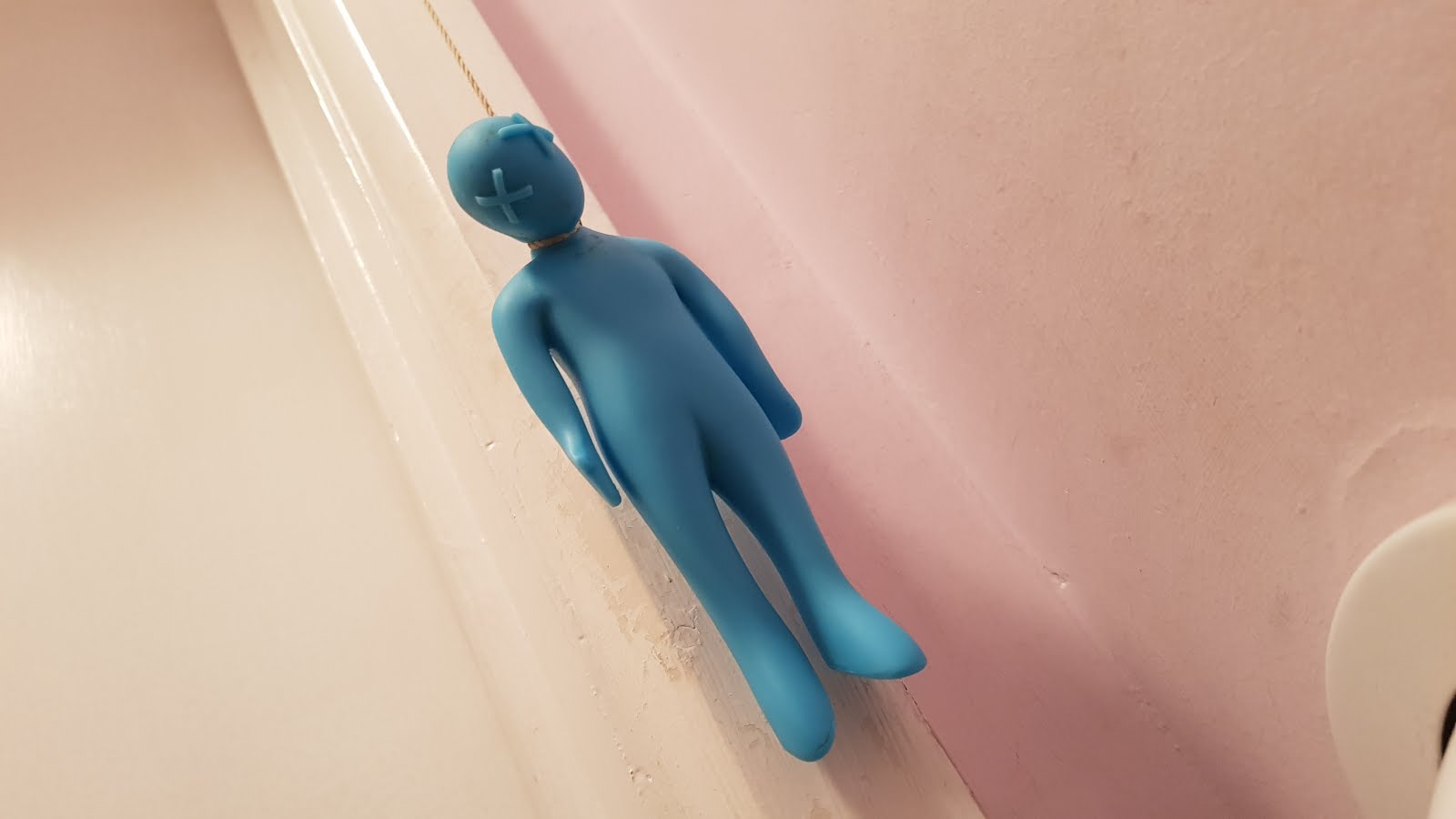 Well, that's not at all morbid.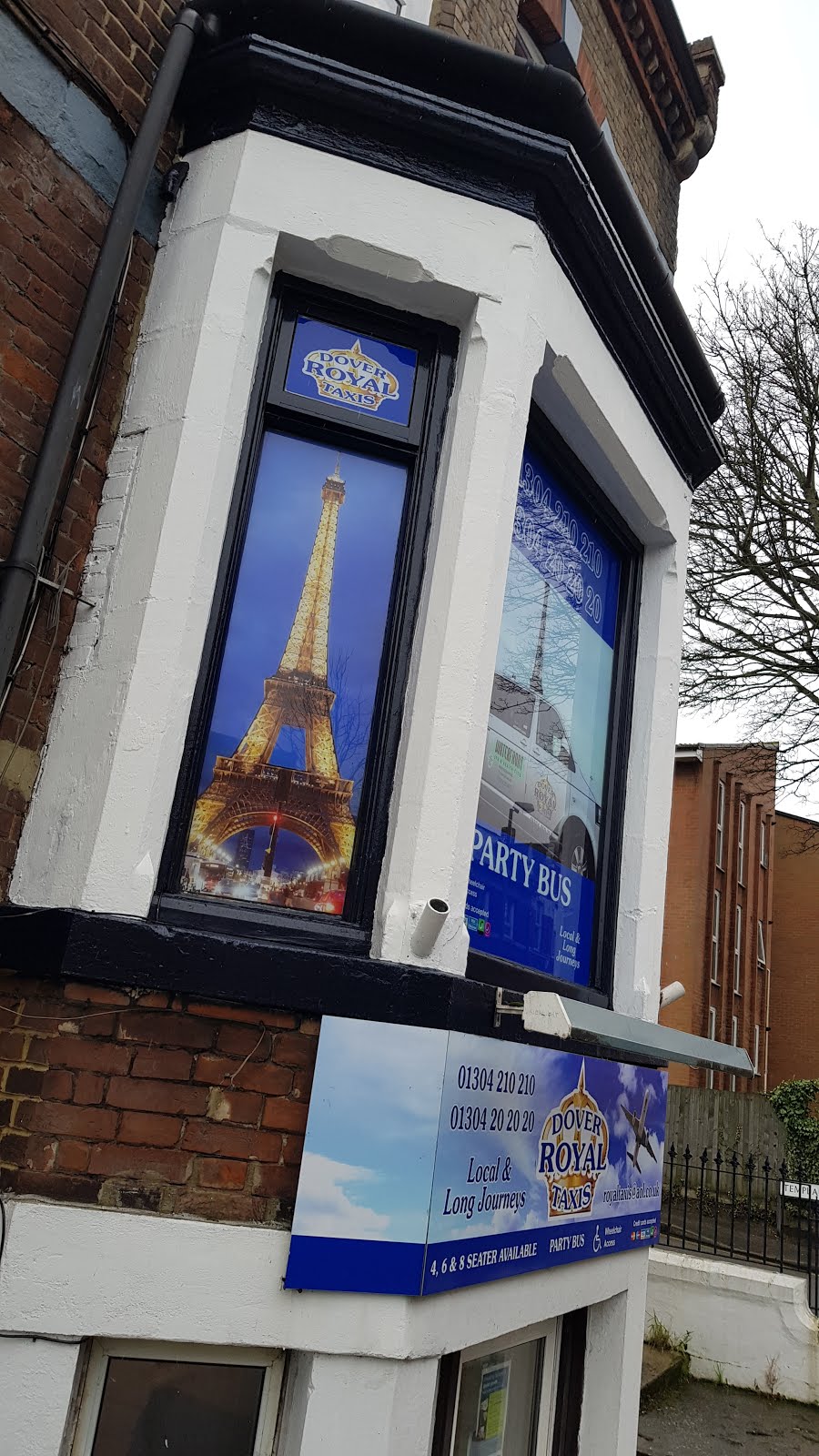 Well, we are in France….
Having alighted, it's straight over the road to the Priory Hotel for a pint. As pubs go, it's marginally above the Plough with regards to trip advisor scores and it does better Guinness, but we allow it its faults as it's just become something of a tradition to neck a livener in here while we get sorted on the plan of action. As we chuck one down, I get a message from one of the locals, Jared. It seems he's going to be delayed meeting us until 12 as he's got to take his good lady to get her nails done. Which is perfectly legitimate activity for a Saturday morning I think you'll agree.
After here we head more into town and it seems our choices are twofold. First we have the Prince Albert, which we know from previous trips and the Lanes, a new Micropub. Now normally, I'd be up for the latter as it's a new place and will do decent beer. However, a quick Googlage reveals it has a paucity of lager for the lesser cultured amongst us and given the last time that happened Mr X ended up with a glass of white wine, we opt for the Albert. Don't get me wrong, torturing the man of mystery has its good points, but fuck me he doesn't half moan. On entering the Albert, we're soon wishing we'd gone to the Lanes to watch Mr X knock back a nice pinot. The place has nosedived somewhat, mainly the hygiene of the glasses on offer with the rim of mine looking like it's been used as a pastry cutter and then licked clean by a particularly lazy cat.
At this point, another of the locals catches up with us by message "We're in the Lanes for one and I've just seen fucking Jared in the Nail Bar!!". Wish we were and old news mate. In that order.
Not wanting to catch anything from the glassware we sup up double quick and hit the road once more, strolling up to the Thirsty Scarecrow, another little micropub that's sprung up in town since our last proper visit. Amusingly here, the only lager on offer is Bud in bottles, which perturbs Mr X somewhat. "I can't stand Bud" he mutters as he peruses the menu. A particularly puzzling comment this as if there's one fact almost everyone knows about the secretive one, it's that he has a penchant for buying far too fucking much of the stuff to drink on the way home from away games! Even more bewildering though is his choice of a pint of dry cider. Has he had a bloody bang on the head this week or summat??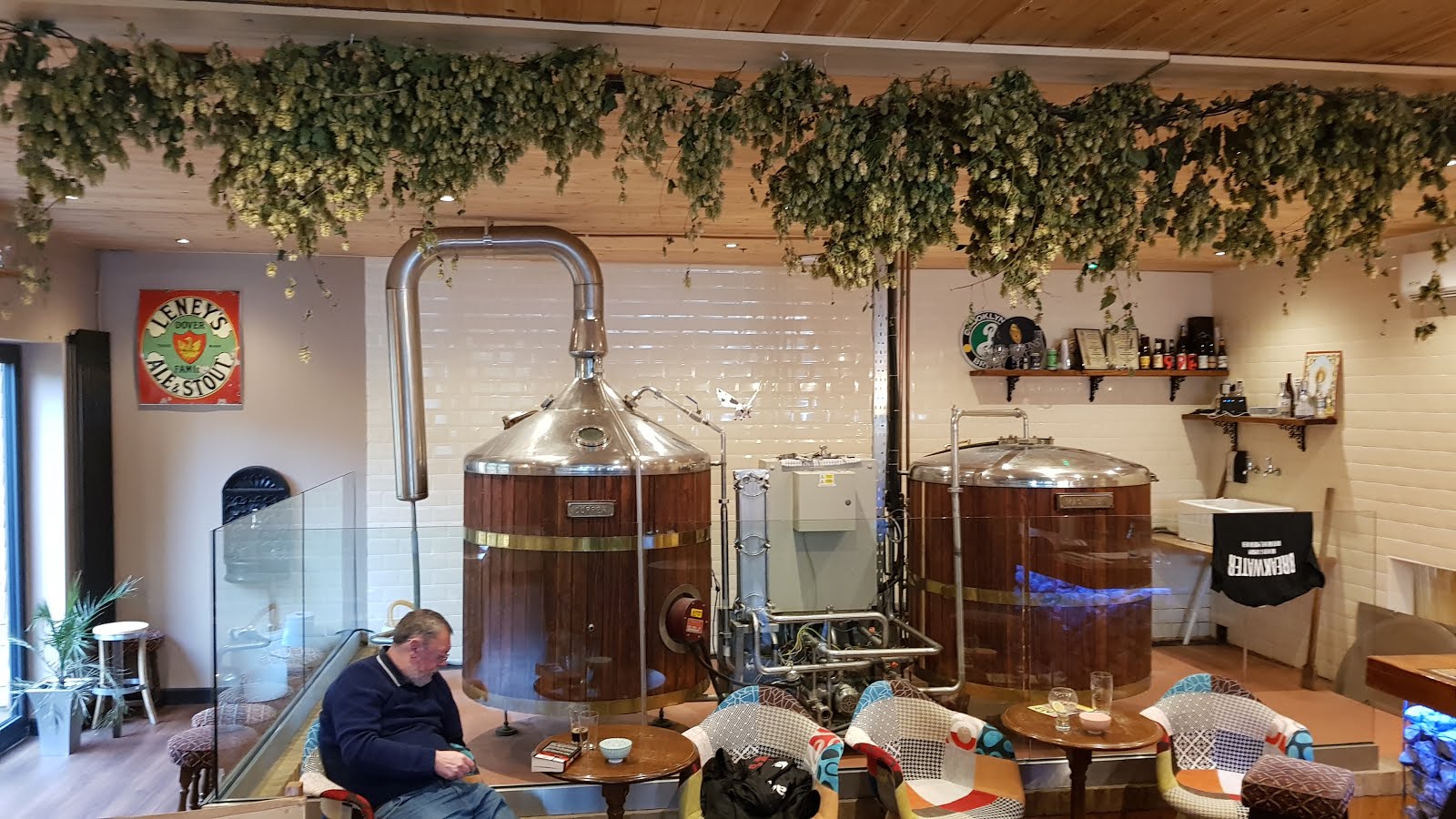 Brewing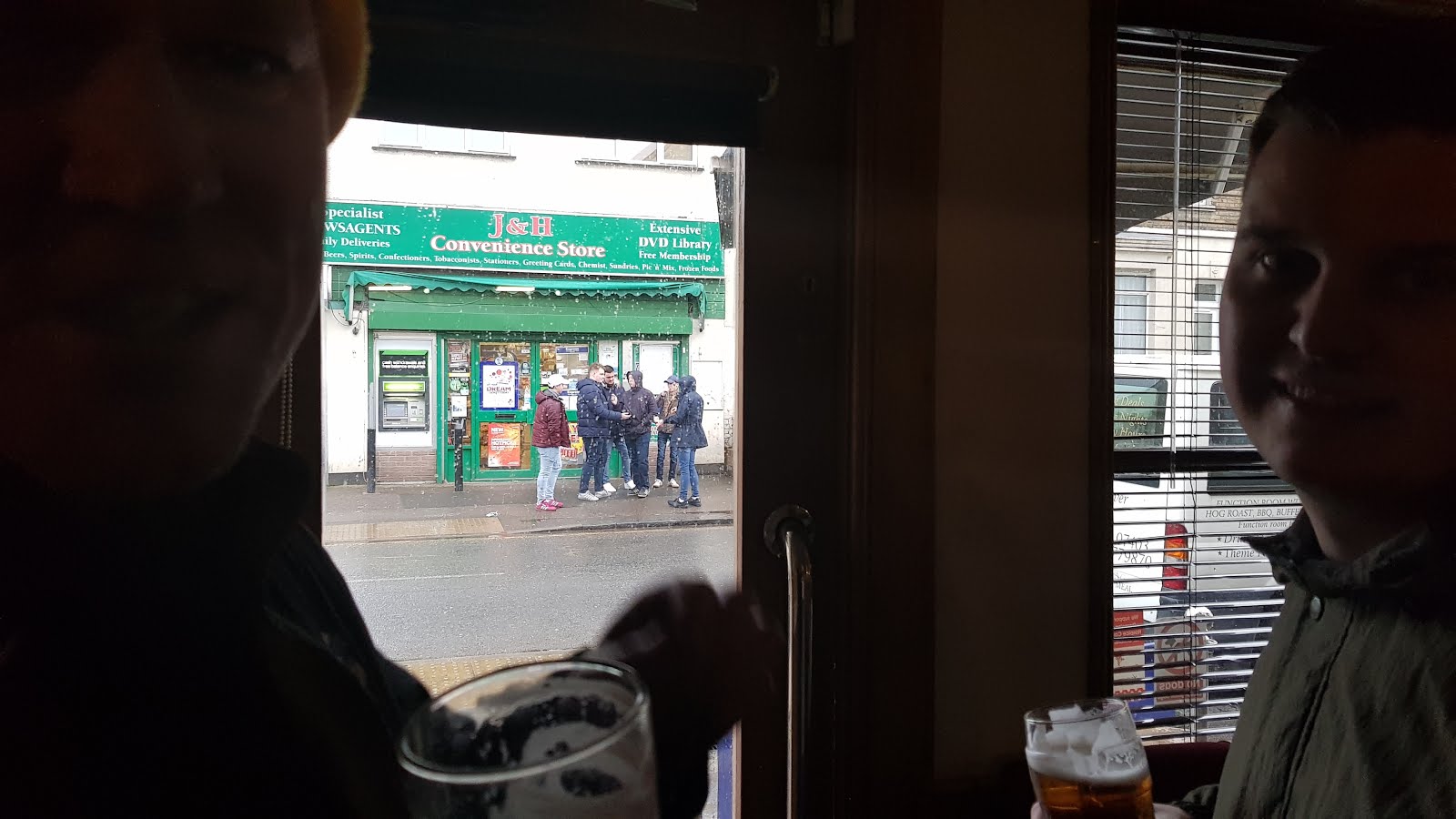 Gathering of Yoof
Here we also find Sid, one of the locals and soon after we're joined by Phil and the rest of the bunch, including Jared with what look suspiciously like beautifully manicured nails. "Got bored of waiting for the missus did we mate?" We have a quick catch up, including with Alex who's a Leeds 2CW so I take great delight in reminding him of their cup debacle at ours last season. Then we're off next door to the Eagle as they've got the North London Derby on and beers at 1.99 a pint. I've not seen Dukey move so fast since he went to the bar in the Spoons up in Hartlepool!
A trip to another new local craft place follows and it's here things get REALLY odd. For some reason, the discussion takes a turn that makes one of the assembled group think now wouldd be a good time to admit to some specialist practices with his good lady. And not only that, but the fact that whilst engaging in said practices, she farted in his mouth. Even our resident wrong'un Dukey is speechless at this. We have time for one quick one in the Old Endeavour after this and witness the DoverSutton yoof joining forces to obtain some cans from the offy over the road. A sight that makes all us older heads glow with pride to see them playing so nicely.
Butler, John, Collins, Davis, Cadogan, Bailey, T. Thomas, Wright, Walton, Bolarinwa, Beautyman SUBS: A. Thomas, Hudson-Odoi, Coombes, Dundas, Downer
After a walk through the back roads, we're into Crabble just in time for kick off. However, shooting to the far end and all being hank marvin, we miss the first minute or two queueing for sustenance. Whilst we do, Beauts finds himself through on goal but can only shoot against the legs of the keeper. This leads to an open early few minutes with both sides trading chances, but we then get a hold on things and create chances. Walton & Tommy have shots deflected, the first wide the second saved by the keeper. Walton then has a shot from the edge saved before a ball down the flank finds Wright, he crosses to the far side and Cadogan arrives, kills the ball and slips it past Walker in off the far post. 1-0!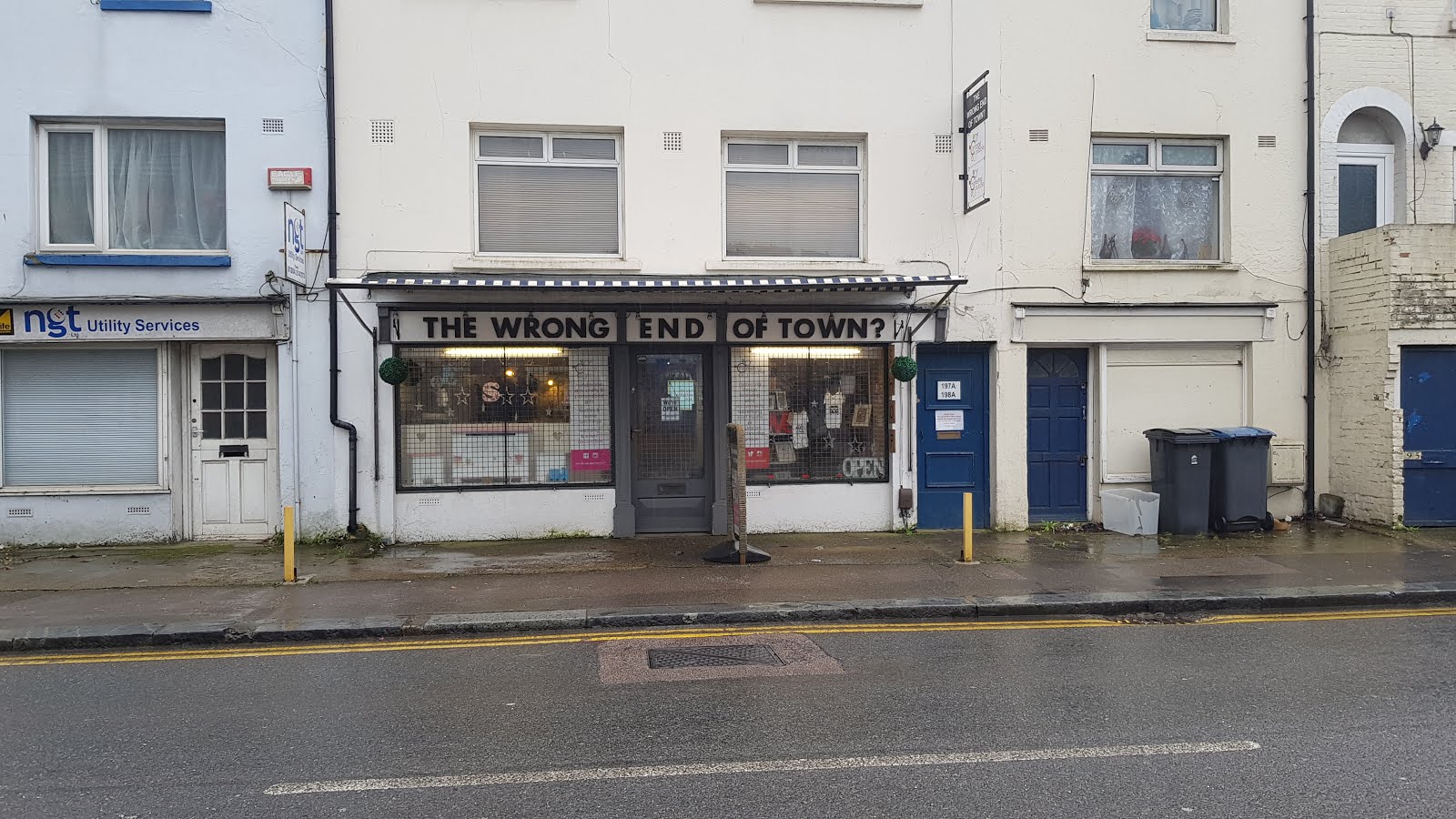 Yeah, we get that impression…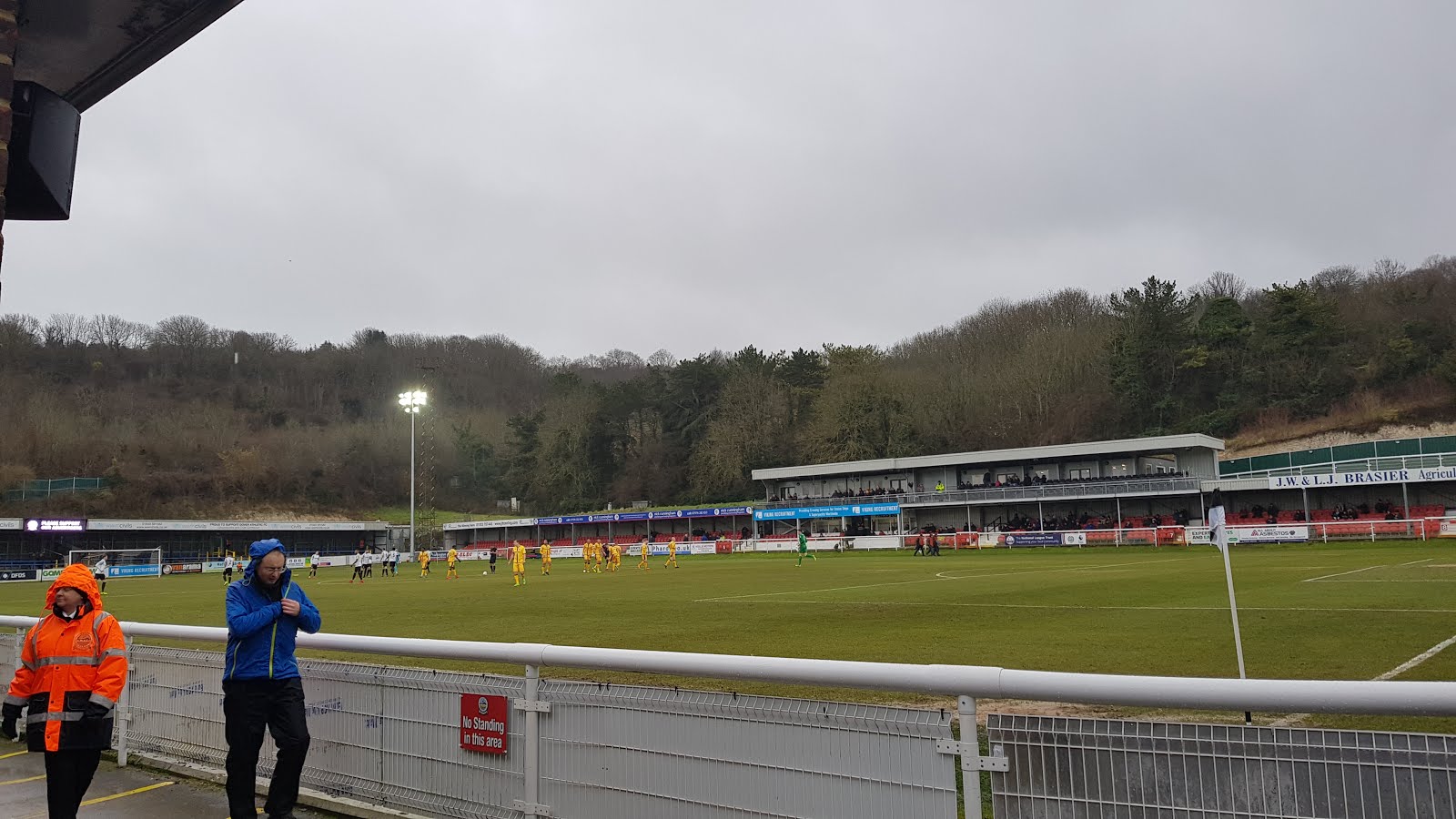 Turned out nice again
Dover's reply is almost immediate, with a free kick in from deep producing a looping header that Butler pushes away. We have a better one soon after with Terrell's flicked header producing a top drawer save from the keeper and before the break, Tommy plucks one of the air and shoots just wide on the turn. With the game being unsegregated, we wander round to the other end and I'm already feeling the effects of the dog burger from earlier as it's repeating on me more than Top Gear on Dave. The second half really should see us finish the contest. First Louis can't quite direct a close range header on target, then an attempted clearance hits Tommy in the box and ricochets across goal to Bolawinra. A tap in and 2-0 looks certain, but for the intervention of the Dover no.2 who makes a super last ditch block right on the line. The twat.
Terrell then brings the best save of the day out of Walker, powering a header on target from a corner that the keeper gets down to superbly to save one handed on the line. Still, it seems it's only a matter of time before the second goal comes and….oh, Harry's gone in a bit sharp on their fella there. Ah. Red card. Fucks sake! With the clock showing 25 to go and with us now down to 10 men, hopes of seeing off the game with some comfort are gone. Instead, we dig in and what follows is a superb defensive rearguard action. Dover put numerous balls in from wide and from corners, but either the back four sticks a nut on it or what gets through, Jamie Butler saves, including two very good late stops, one of which is made with his face.
In the end, the closest the hosts come to levelling is right at the end of 5 added minutes when an aimless looking hoick forward drifts onto the top of the crossbar. The lads efforts are rewarded though with the final whistle and three good points. Such is the excitement that yours truly loses his footing on the edge of a step and ends up flat on my back celebrating the win. Hey, 3 points is 3 points!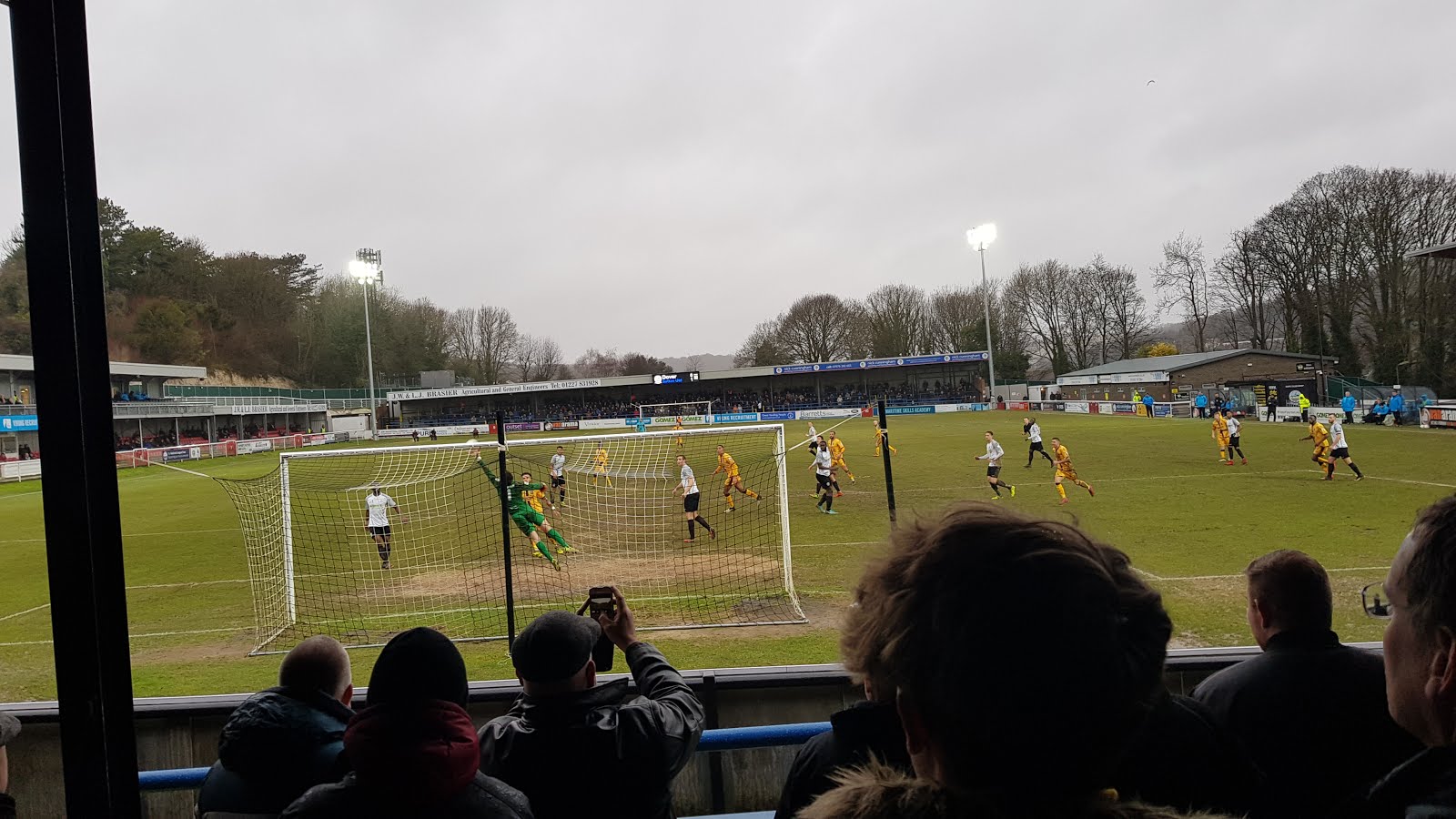 Stop saving things you bastard!
3 points in the bag!
Dusted off and with the boys cheered down the tunnel, we trudge back down the hill in the rain and head into the Cricketers for a pint. Mainly as it's got the Rugby on so it'll keep 4 Days from moaning further about the subjigation of the Welsh people by keeping him from viewing his odd egg chasing. Also, it's pissing down, so no one fancies getting soaked heading to another boozer. We knock in a couple here before heading back to the Endeavour to take advantage of their free jukebox. Sean Connery and Indy have meanwhile stopped for one at the clubhouse. They should meet us in the next spot, but instead can't manage to walk past the Cricketers without popping in for a pint.
Pints go down, we take the piss out of our French hosts and then we start making plans for our escape. We decide to hit the chippy, raid the offy over the road that the Yoof had frequented earlier that afternoon and cab it back to the station. Steve and I take foraging duties whit Dukey & Mr X, still carrying on an odd discussion relating to the practice of 'felching' started earlier, head for booze. With supplies obtained, we say our goodbyes and leaving a somewhat pissed up Jared in the pub, Phil takes the opportunity to make his own escape. "If I give you a quid for the cab, drop us near the station will you!".
Concerned for his comrade inside, we're not sure. "Ah his missus is on her way to get him. Her nails have dried!". Ok, solid argument, we're sold. All aboard! Back on the train, we set about devouring our scoff, well most of us do. It seems the chippy have elected to forget all about Dukey's chips to go with his curry sauce, however he finds sympathy short as he's already whinging about not having any gravy. Some people are just so ungrateful! Back in London, everyone elects to head back to Croydon and disperse from there and on the trundle back south of the river, talk turns to recalling the 'St Albans Incident' and also the fact that Forest Green have announced another 2 plus million quid in losses. Which given they're currently at the arse end of League Two means they're about 12 million deep to have moved about 3 league places. Dunno about you, but that's not what we'd exactly call 'value for money'.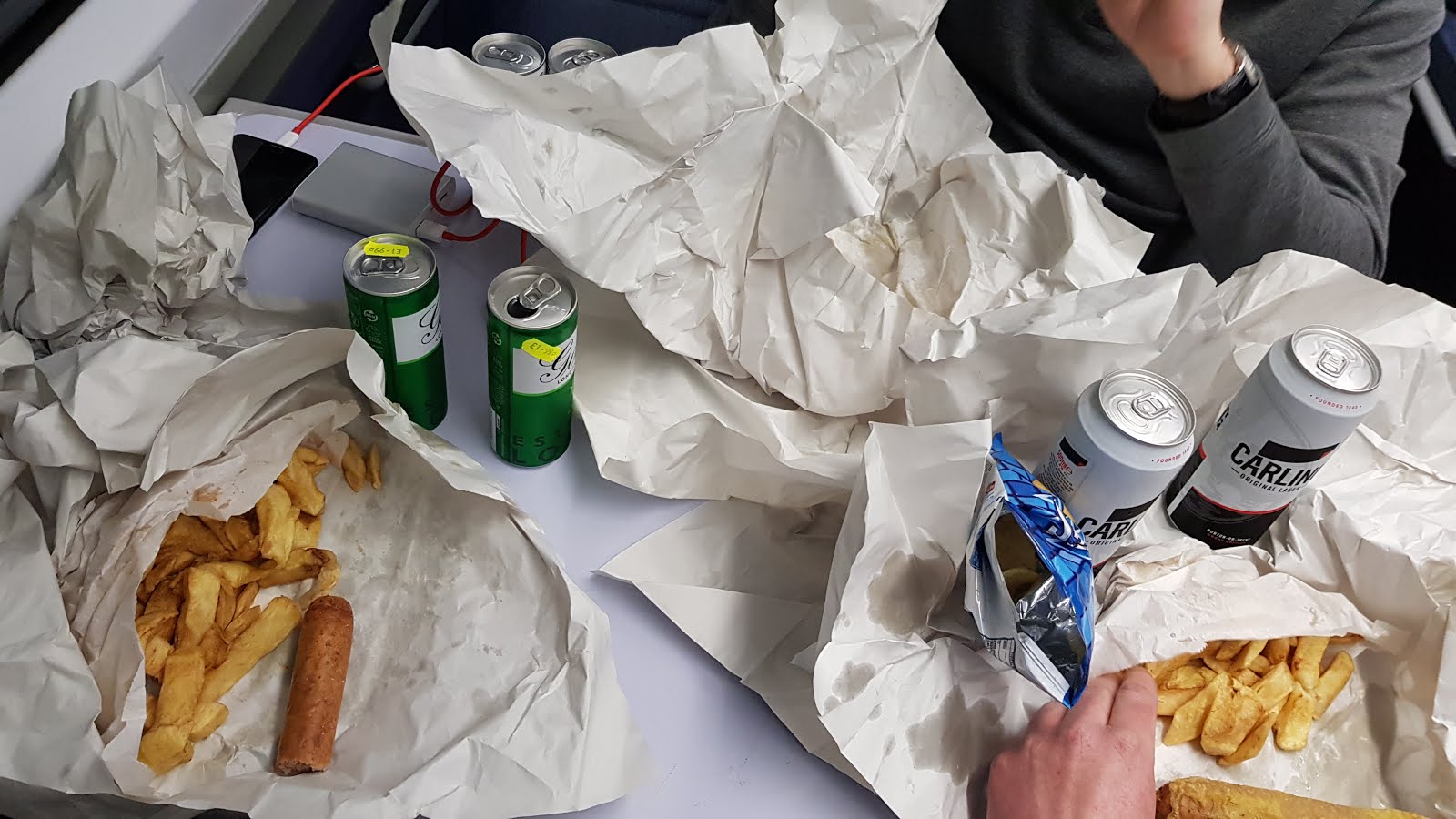 Fine dining all the way…
Hitting the bright lights of Croydon, everyone disperses in their separate directions and I hop on the 410 back to HQ. As I alight outside, a bloke appears from seemingly nowhere and asks if I "Know where Egham is". "Used to work there. Fucking miles away" is the only answer I can give. "Are you a copper?" he then asks. "Yeah, we're all stinking of booze and using buses these days fella"
Fucking bellend.
Taz