Hello my little turtle doves. How nice to see you all again. And what a eventful 4 weeks it's been since I last was before you for the Gateshead blog. Since then, we've progressed in the FA Trophy and the Surrey Cup (much to you-know-who's delight) and had another big win on the telly box. However, the main thing that's happened is that large chunk of the division seems to have managed it's finances about as well as I have after Xmas.
First up, Hartlepool announced they were fucked. As in they needed 200k to pay January's wages and, well, they were a bit short by ooooh about 200 grand type fucked. Then Chester piped up that they too were suffering from liquidity issues and were having problems locating a pot in which to relieve themselves. And whilst rumours of last week's match postponers Barrow having issues of a similar nature swirling around, news broke this week that league leaders Macclesfield had rather absent mindedly forgotten to pay their players for January. Hey, come on, we've all done it. Budgeted to pay 20 or so full time footballers a set amount every month, then had it completely slip your mind. It was probably all the paperwork for the 3 FL players they brought in on loan before the end of the transfer window last week that distracted them.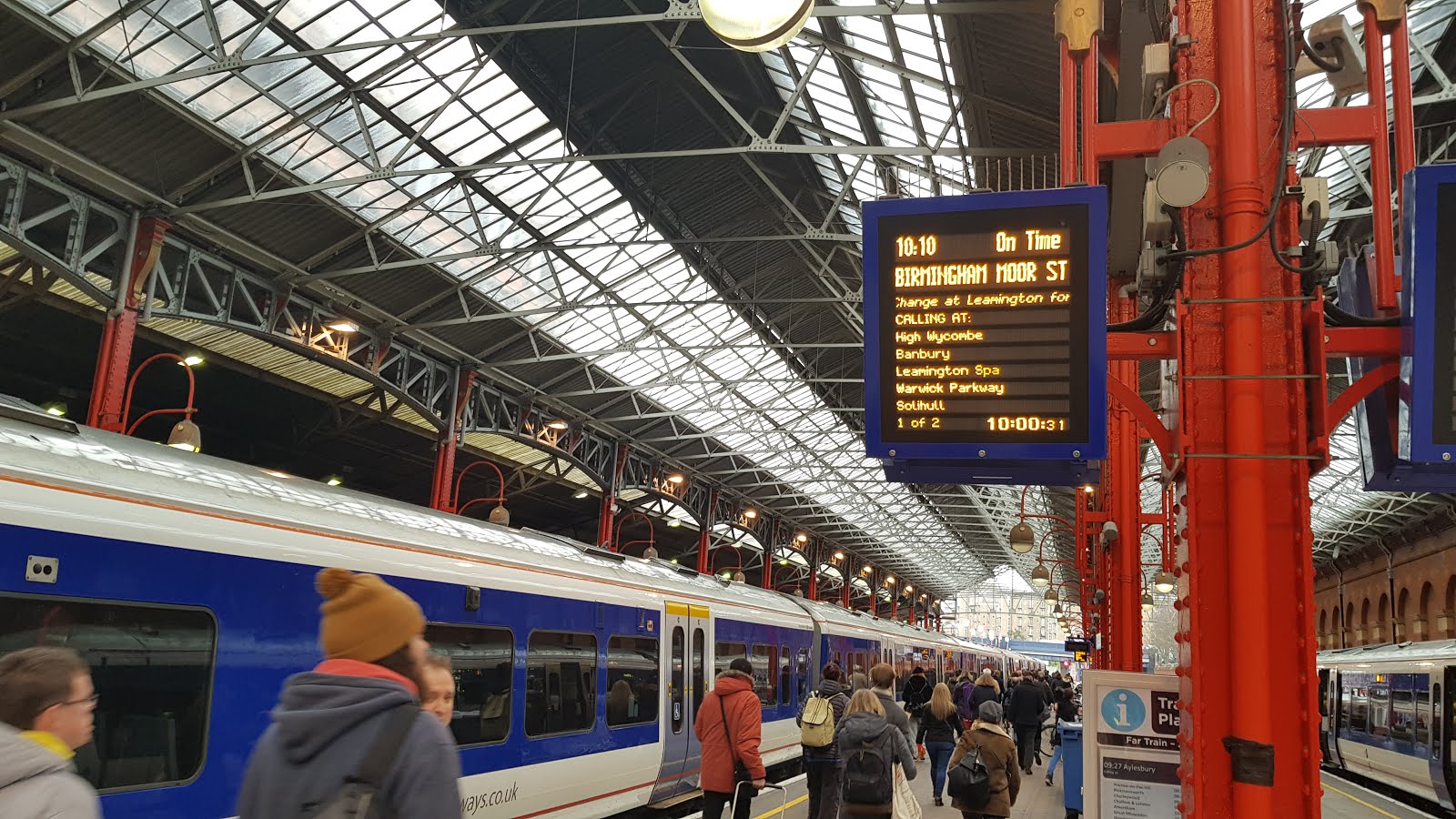 On the road, er, train again….
We're here!
Still, this at least helps explain somewhat the thorough Weinsteining they got at Fylde a couple of weeks back and the 2 home draws with relegation fodder Torquay and Solihull.
It's not all doom and gloom however. On Friday we also learned that the jewel in the PRoWS sporting crown, Gander Green Lane, had been selected to host 6 matches in this summer's CONFIA Football World Cup which is being held in London (We'd suggest going HERE to find out more). Naturally, your favourite blog type site related to Sutton United FC played our own little part in helping organise this as we were the ones who gave the nice people at CONIFA Bobby's mobile number. You're very welcome! Needless to say, we here at Gandermonium HQ are all very excited that this is coming to our back yard and rest assured we'll be covering as much of the event as we can. We've even applied for press accreditation! What?
And once you've all quite finished with your childish sniggering, we can proceed to the main event.
The win over Hendon in the previous round proceeded to set up an interesting last 16 Trophy tie away to Conf North outfit Brackley Town. They've been going well this season and have themselves well in the play-off mix and are also unbeaten at home so far. This won't be easy. Still, such considerations aren't important on the day of the draw, just the fact it's a new ground and opposition to face and that isn't frigging East Thurrock. First off though, we had to negotiate Barrow away.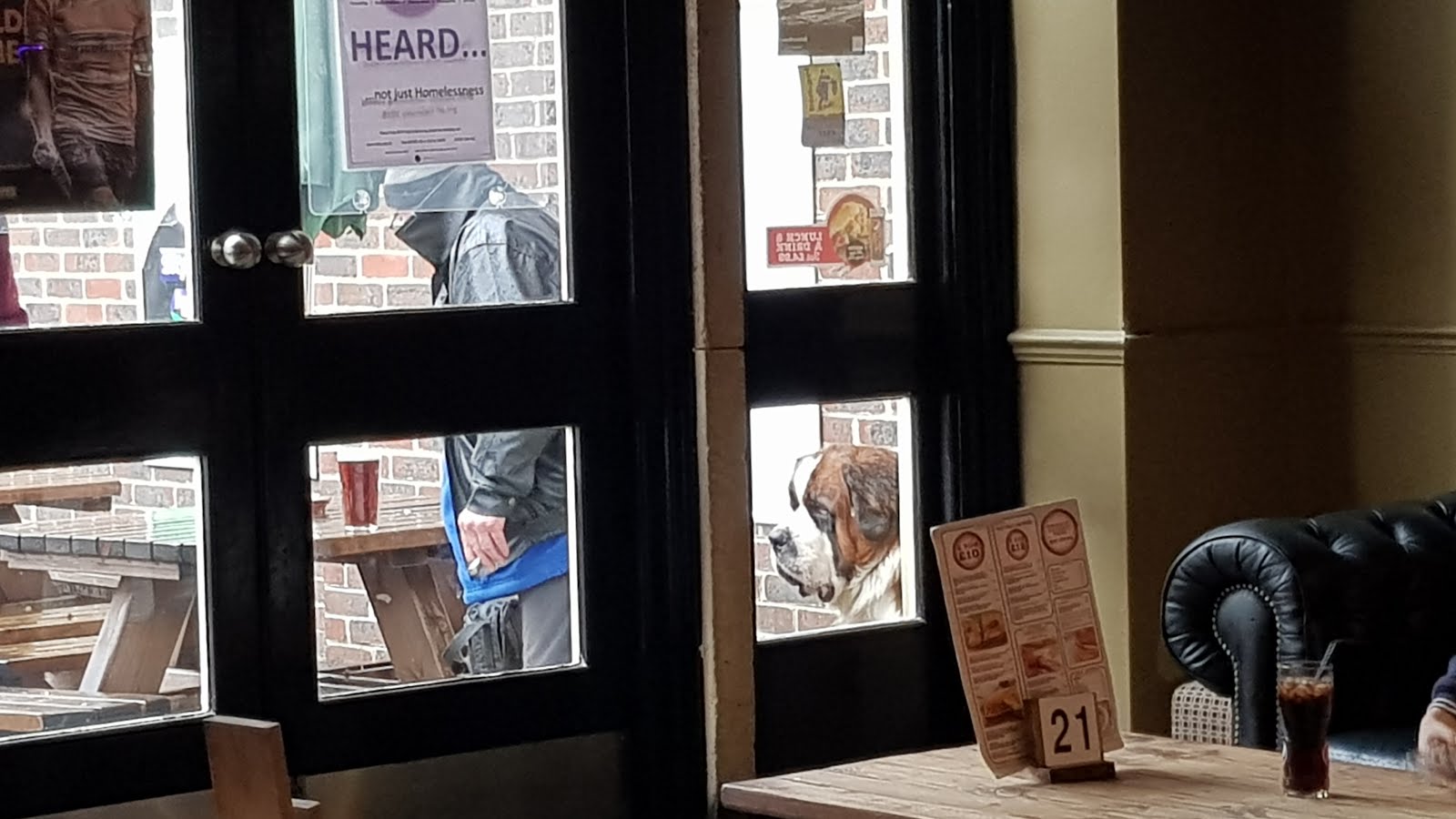 Beast of Banbury
"Bit fuckin' flat innit?"
Well, when I say 'we' I mean most of the usual idiots except me. Sadly having had a long month since my last payday, ones finances were a little on the depleted side. And whilst I wasn't exactly Hartlepooled or Chestered, I most definitely a touch Macclesfielded. This meant that I had to skip the trip and most definitely did not feel at all smug around 11am Saturday morning, propped up in bed with toast and a cuppa just supplied by Mrs Taz when I read on twitter the unfolding postponement debacle which left most of the gang about £200 out of pocket for a weekend on the lash for no reason whatsoever and you lot having to read about Lancaster versus Halesowen, which I'm sure you were all thoroughly entertained by. Naturally, when we all set out this week to head to the wilds of Northamptonshire, the last thing we wanted was a repeat of that old bollocks.
It makes a nice change with not having to rise before I normally would to go to work and head for Euston this week and it's a couple of minutes after nine as I amble onto the platform to find Steve waiting with a McDonalds breakfast. What a nice man! We're straight on a train and headed for London without any fuss. The only incident of note is Dukey missing the Sutton assembly's train to Victoria thanks to a delayed bus, still he's plenty of time to catch up and make our meet at Marylebone. So much so that Steve and I emerge to find him waiting on the concourse with 4Days, Lil' Chris, Sean Connery and Indy. Mr X is outside smoking apparently. With the group all but assembled, we purchase tickets and prepare to head for the 10:10 train only to hear the dreaded news. There's to be a pitch inspection at Brackley. Oh for fucks sake, not again!
Now committed with train tickets, we decide to head for Banbury anyway and have a pint whilst we await the outcome. A short while into the trip, we find out a local ref is due to check things over at 11:00, so there's nothing for it but to wait and see. A quick check reveals that amusingly, Banbury are at home today to Gosport and Dukey is keen for me to get lumbered with this should our game go down the khazi. Steve meanwhile decides he can make Saints game at WBA. What? Not keen on some more shit, pointless Non-League are we mate?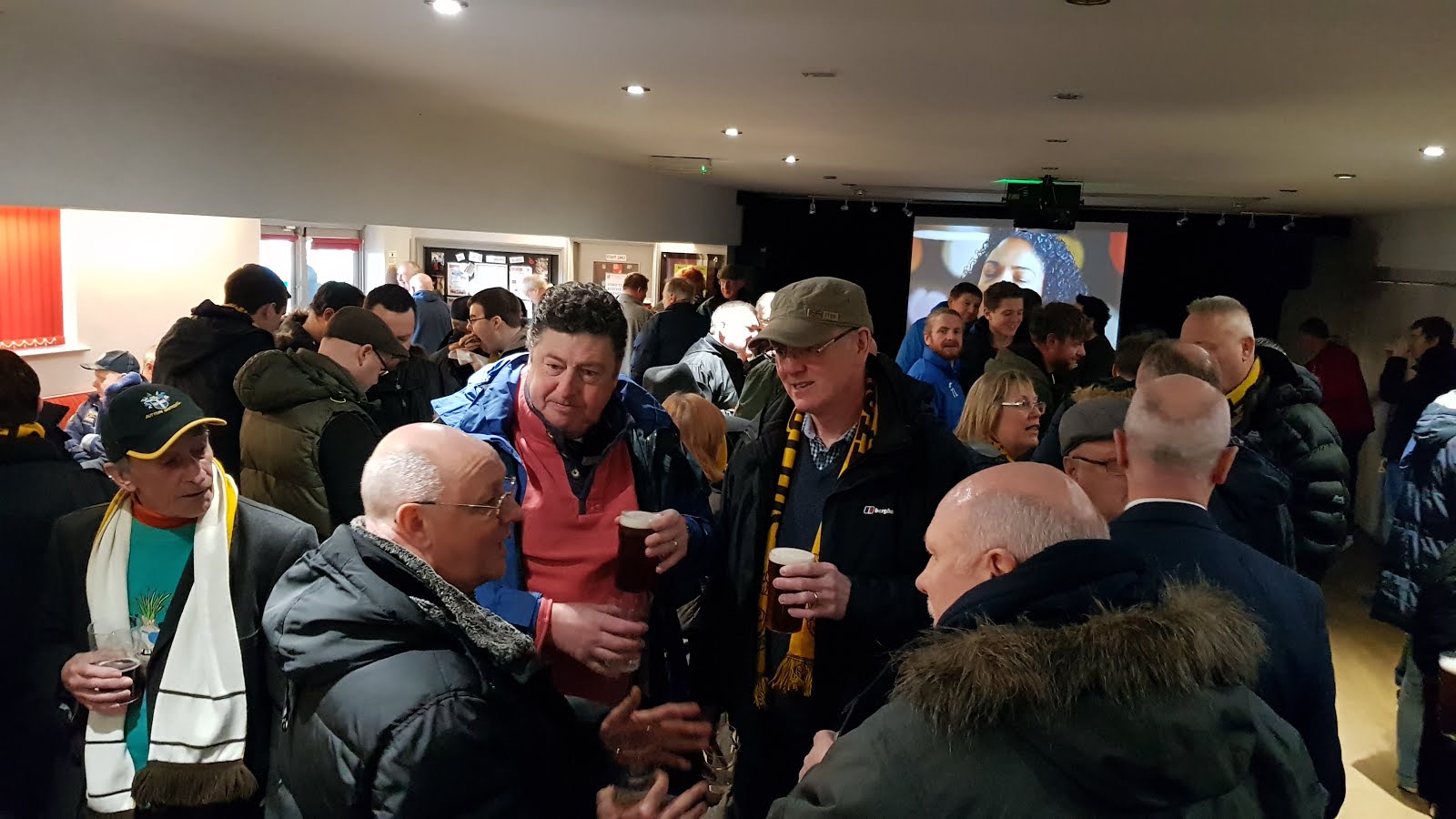 Punters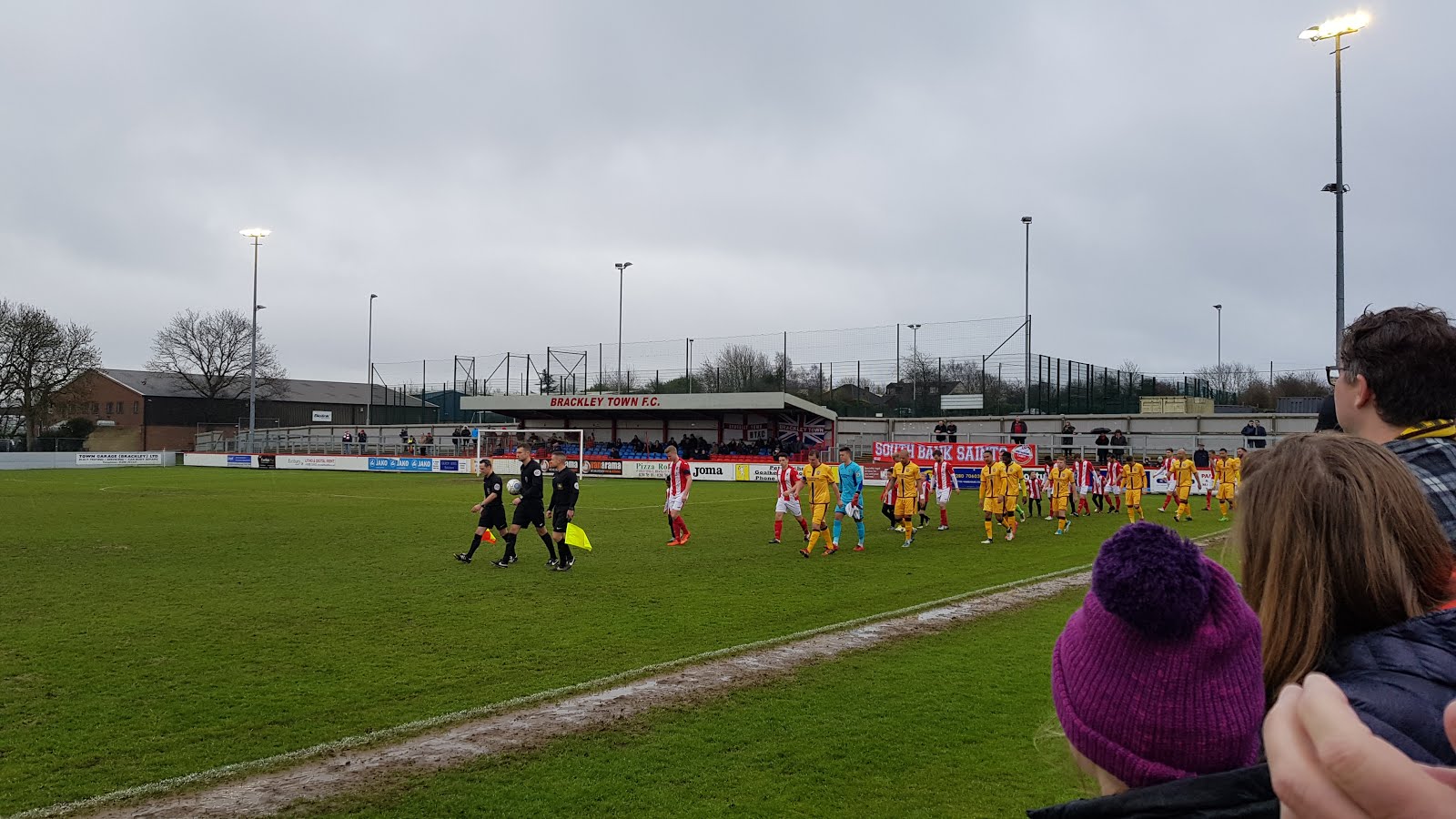 Lining up
We alight at Banbury and set off towards the high street to find a boozer. We hit a place called 'Wild Lime' and line up a pint to await the result of the inspection. Here we're amused and terrified in equal measure by the appearance of the Beast of Banbury outside the pub, as some bloke is out and about with his fucking huge St Bernards dog. We assume he has it with him to ride home after one too many. Either that or to rescue fellow drinkers lost in snow drifts, which they clearly must get loads of here in early Feb. Thankfully we're returned to the real world as we hear the local ref has passed the pitch as just about playable, but the match ref who's due in soon will take one more look around half 12. Right, time to get on the beers!
Next stop across the Market Square is the aptly named Banbury Cross, which is what we'd have been if the fucking game was off. We settle in for some pints and we're soon joined by the father of the Republic, Totts. This leads to more talk about the CONIFA games and the idea that we should perhaps produce a nice helpful 'tourist' guide for any visitors wishing to head round the West Sutton loop from Wimbledon. Within 10 minutes, we've secured a predictably snappy web domain and will be working to getting that online ASAP. So stay tuned pop pickers! The COC's are also soon with us and it's once more down to Mr X to arrange the airlift to get us all to the ground. Some calls later and we've sorted enough transportation to move us the 10 miles to Brackley, which is another of those towns that got properly bent over by the lovely Dr Beeching back in the 60's and thus is no longer connected to the outside world via the modern miracle known as 'the Locomotive'.
Further amusement is provided by Mr X revealing he has half of WH Smiths stationery section in his jacket and his receipt of an unwanted "Have you had an accident that wasn't your fault?" phone call. Of course, having had a few pints by this point, he strings them along for a few minutes by confirming he has indeed had a terrible accident instead of just hanging up after telling them to fuck off. We also discuss with Dr Bell how many fiance's he's had. He reckons only two, we feel it was much more. So much so, Dukey turns to calling him 'Del Boy'. Soon though, transport is here and we head out to find we've been gifted 2 minibuses for the trip instead of 4 cars. And after clogging up part of Banbury High Street for several minutes whilst loading everyone, we're off to Brackley.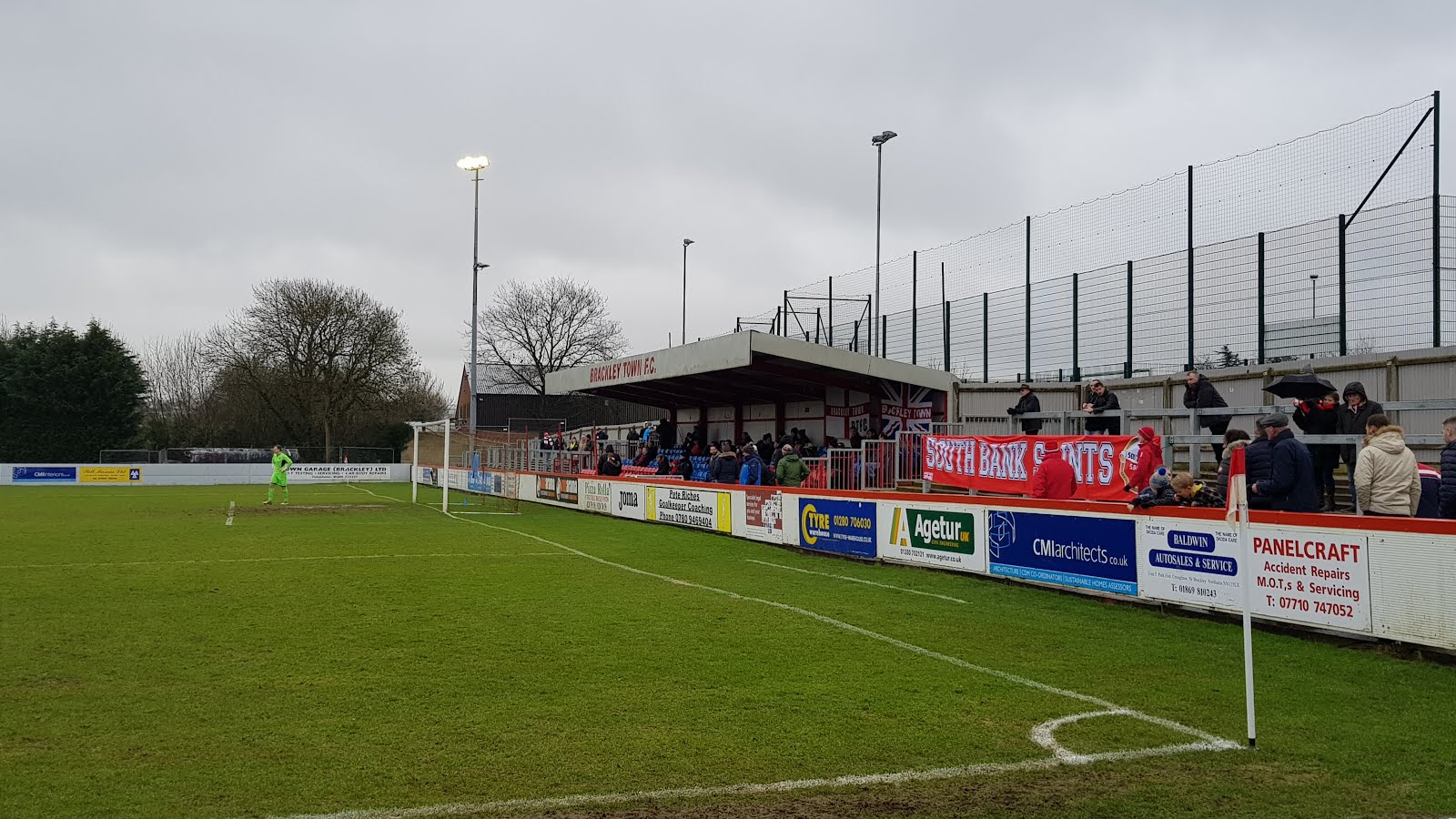 End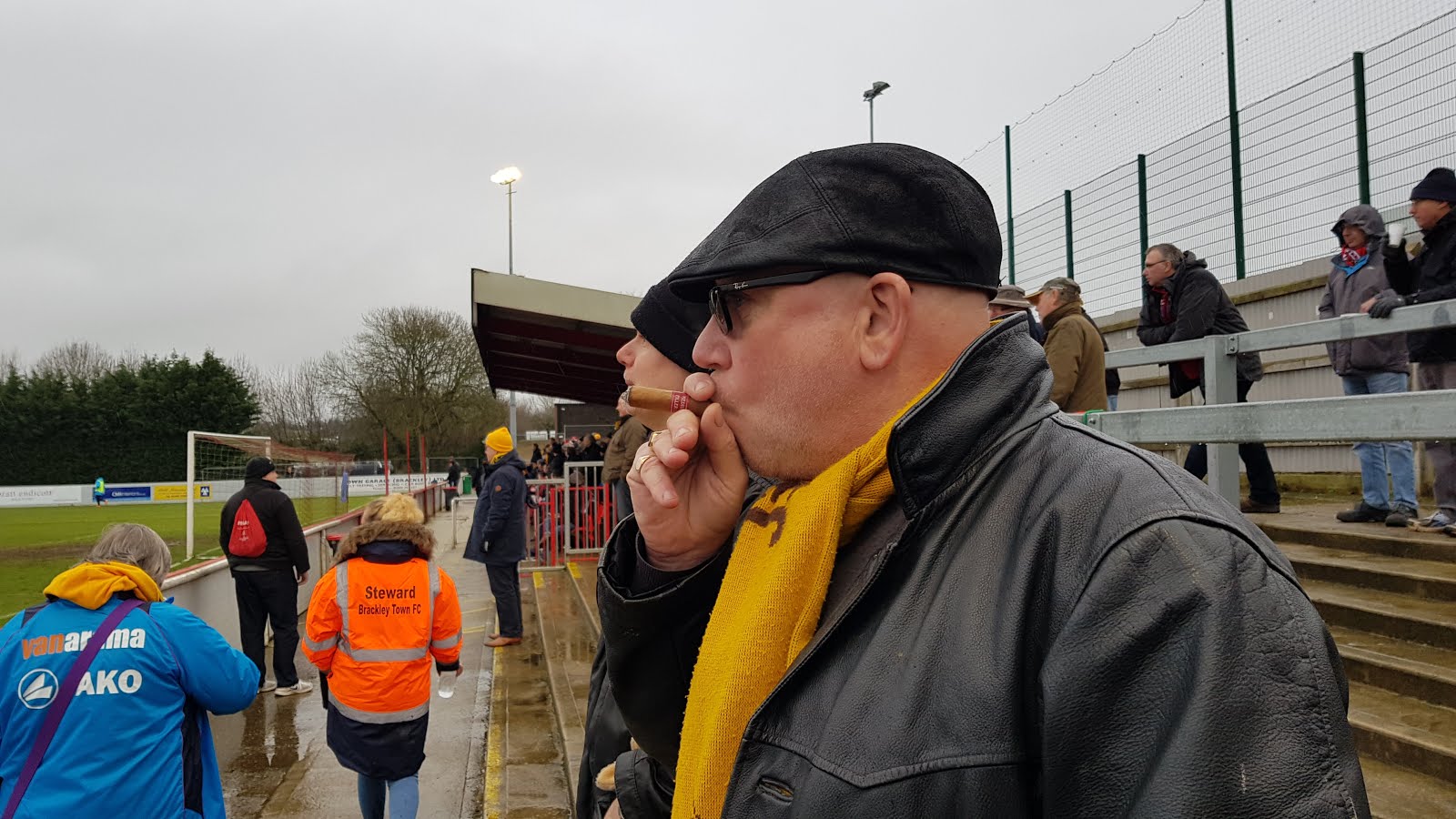 Cup tie? Lah-de-dah on the go…
After a quick u-turn on along the way thanks to the A422 being closed (someone crashed into a gas main or something apparently? How do you even manage that??) we eventually tip out at the ground having been mildly entertained by the cabbie's banter along the way. We head in via the turnstiles and at first view, the pitch looks a bit shite. It's mostly green admittedly, but even at first glance you can tell it's what readers of the Racing Post might call 'soft to heavy going'. Still, that can wait, let's get in the bar for a quick livener before kick off. Here we find plenty of travelling U's helping pack the place out and discuss the wonders of modern technology that allow us to settle debts between ourselves at the touch of a button. "Sod all that" mumbles Dr Bell "I deal in cash only!".
Dukey's ready for him though. "Yeah yeah Del Boy, we get it. Cash, no VAT and 38 fuckin' ex-fiance's"
Evans, John, Collins, Walton, Downer, Thomas, Beautyman, Eastmond, Lafayette, Dundas, Wright, SUBS: Beckwith, Davis, Coombes, Bailey, Bolarinwa
The boys end up shooting down the hill towards the small seated stand behind the goal, which I assume is the 'South Bank' by the home fans banners up at that end. And from the off, things go reasonably well considering the pitch is a bit of a pudding as feared with the U's left looking particularly dodgy. Still, we get to work and Tommy Wright pings a shot off the legs of the keeper and Louis John can't hook an acrobatic volley inside the near post after JC has swung a ball back in following a half cleared corner. However, after the first 20, the hosts find their feet and their water wings and start to look a bit more dangerous. Still, it's their first real set piece that does the damage after about half an hour, Owen can't get through a crowd to claim a corner and the ball plops invitingly inside the box for a Brackley lad to force home.
From here, we start to toil a bit more and Walton goes in the book for a silly lunge that on a better surface might have seen him making use of his shower gel a lot earlier than expected. Tommy has a peno appeal turned down when he's sandwiched in the box with neither defender getting anything on the ball and with the half winding down, I decide I'm probably not going to miss much if I take a little wander to relieve oneself. Having done the necessary, I emerge in time to see Walton catch a Brackley player just around the edge of the box. The ref has a good old think and gives the foul. "Fuck off ref, that's soft!" I mutter as I head back to my spot behind the goal and it's only once I've got past the corner flag that I realise he's given a penalty. Of course, matey tucks it away and we're really fighting an uphill battle now.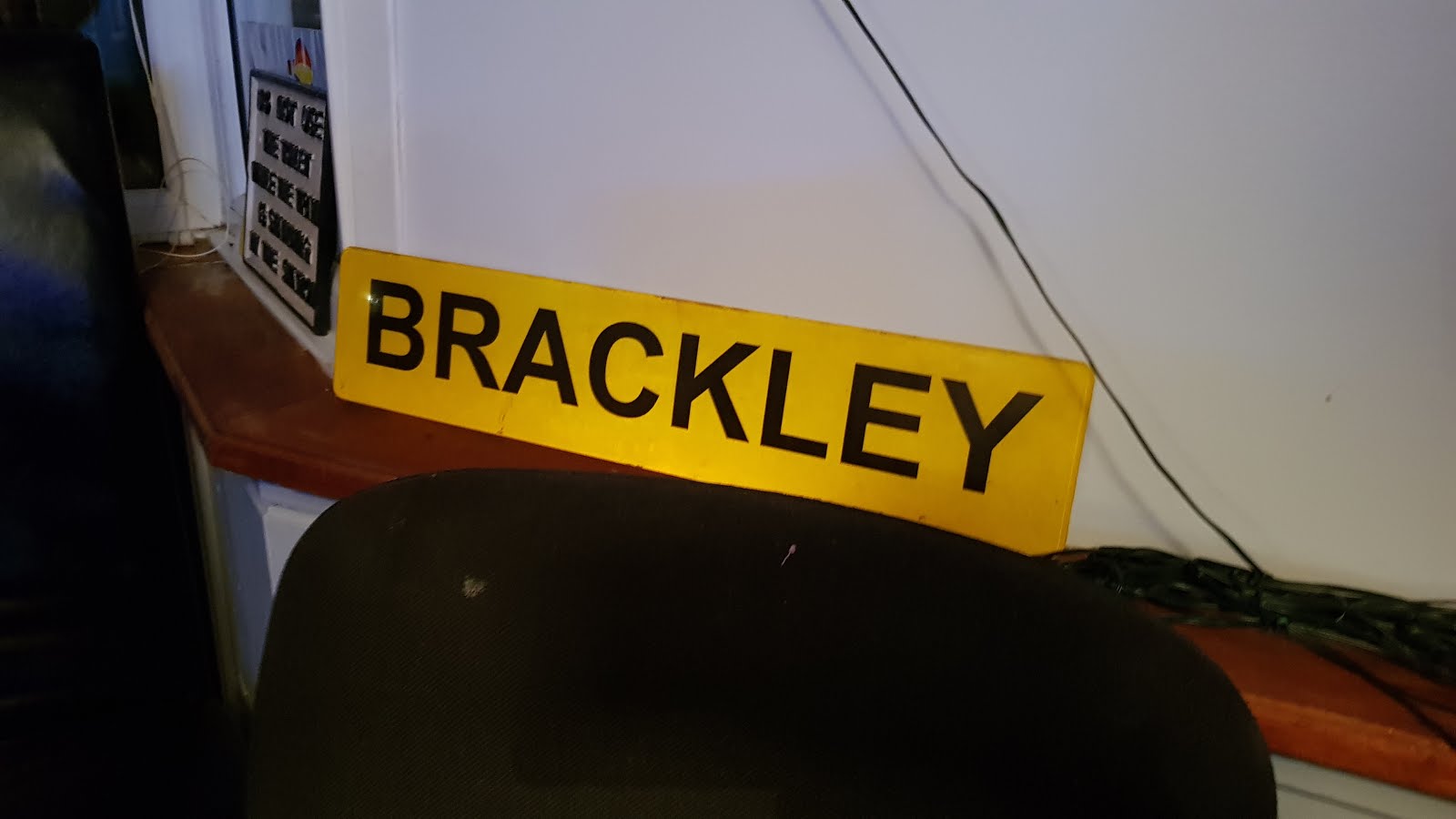 Location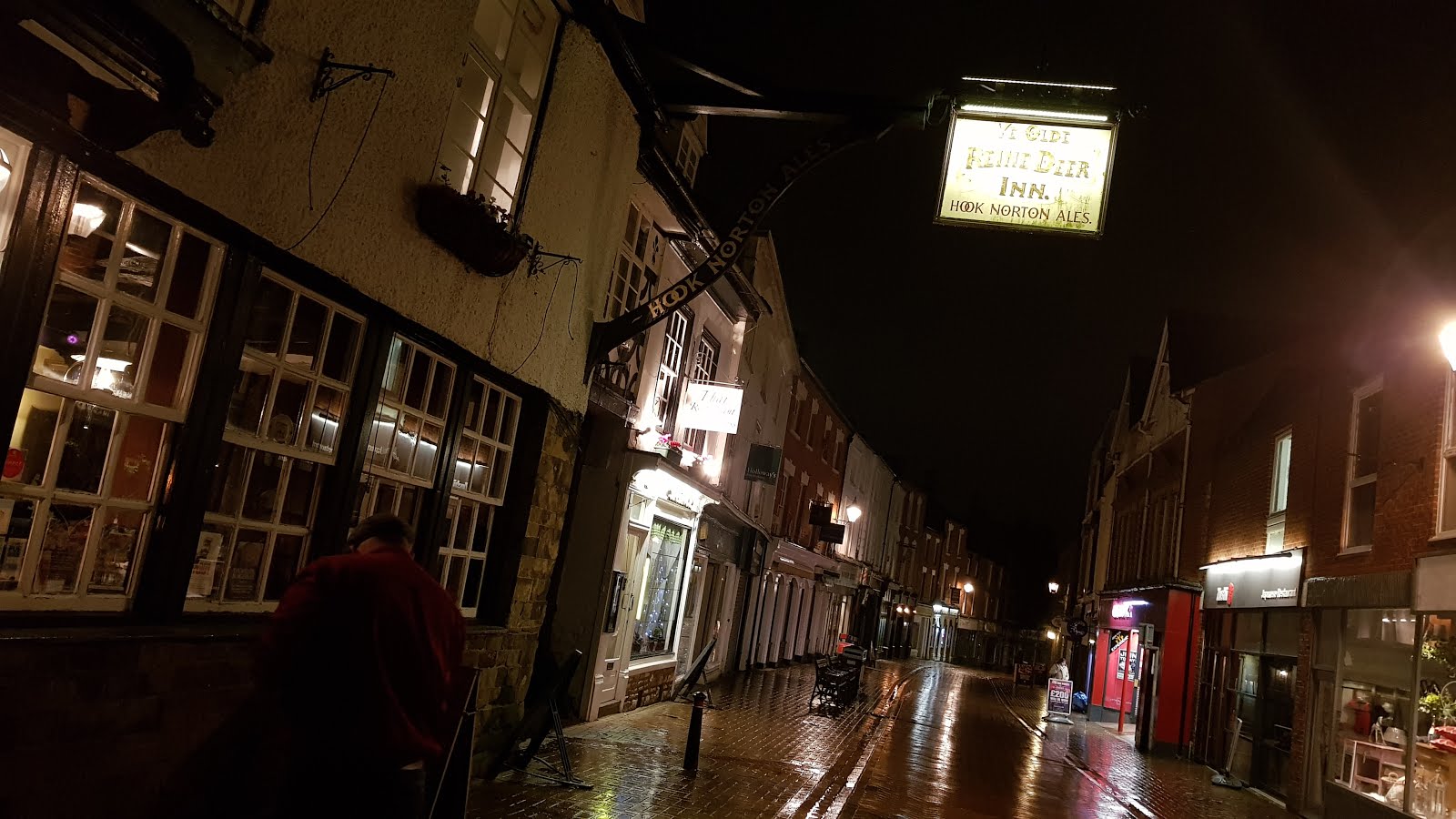 Pub!
At the break, I wander up the open side of the ground and find myself experiencing some of the conditions the players are on the pitch every time I step off the concrete path to pass a slow walker, squelching into the grassy area alongside. With the flag up, I keep myself occupied by adding to the number of stickers on the covering we now occupy. You're welcome Brackley. As the team emerges from the break, we note that Walton has unsurprisingly been withdrawn for Kenny Davis. We start off keen to get back into the match and pressure the hosts, but you get the feeling we've gone a bit too all in and disaster is only just around the corner. And so it proves when Tommy fails to hold onto the ball with his back to goal and one quick ball forward sends their bloke clear to slot under Owen into the corner. 3-0 and game over one suspects.
By this point, Tombo is thrown on for the ineffective Lafayette to try & at least inject some life into our rather lame hoofball game. Which is of course providing nothing but heading practise for the home defenders. Tombo does help though, his first run bringing a rare free-kick in the oppo half and then forcing a pretty decent save from their keeper after Tommy's slipped him in behind. This is probably our best chance of getting into the match and from here, things drift somewhat. Coombes nods wide from a Tombo cross when he probably should hit the target and with the board about to go up for added time, we finally get a direct ball right and Tommy darts in behind to round the keeper and register a consolation.
Despite there being 5 added minutes, we never look like getting a second, let alone rescuing the tie and in the end exit the comp at the 3rd round for about the 5th year running which is mildly disappointing given a lot of the big boys have tossed it off again and it's looking like another decent chance of reaching the final. Ho hum.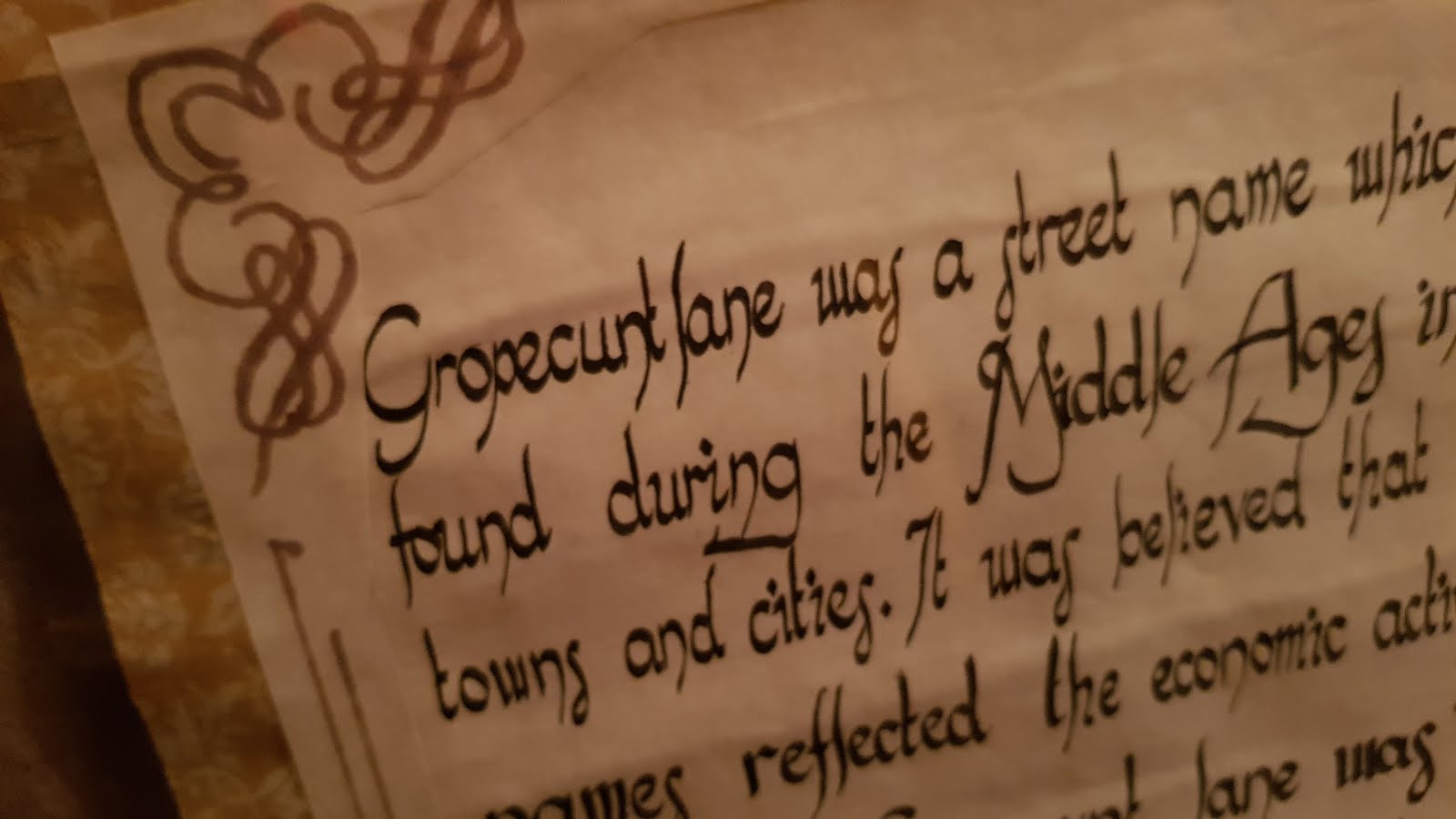 That's rude!!
Worst. Pint. EVAR.
We trudge out of the ground and go in search of a pub, finding the rather ironically named 'Locomotive' just over the main road. It's a cosy little one room place with assorted stuff on the walls and a nice coal fire smouldering away in the corner. Here we enjoy a couple of beverages with the COC's, whilst Natalie watches the Arsenal Everton game on her phone and Greek offers helpful pointers. Here Mr X finds the acoustics of the gents bog to his liking, asserting that the height of the pan provided would probably give a 'satisfying plop' in the event of needing a game of Angry Birds. No, I've no idea either. Some of our lot baffle even me sometimes. But having rustled up a couple more cabs, we're soon back on the road and heading for Banbury and some beers, engaging in our favourite past time of making the cabbie crack up as we sit abusing each other on the journey.
Back in Banbury, we head for the Reindeer Inn after a small wrong turn and have a pint. Then next door to the Auctioneers before heading down to the JT Davies, which we'd spotted on our earlier spell looking for the Reindeer. Here I'm served what I can only describe as the worst pint I've ever seen in my life. I say seen as it was so fucking terrible looking, I daren't even put it near my face let alone try any of it! Staggeringly, 4Days choice of pint is immaculate so they can obviously keep a beer right. Sucks to be me. Soon though, we're making escape plans and with a KFC located very close by, we split into the time honoured foraging teams. Myself, Dukey and Steve head for food, 4Days and Mr X make for the liquid refreshments. In KFC, Dukey and I obtain our usual bucket and depart double smart leaving a miffed Steve to wait for his much smaller order. Sorry mate, you know the rules!
The train back to London is the usual blur of fast food, booze and talking shite and before we know it, we're back in Victoria telling each other to fuck off saying our heartfelt goodbyes. As usual, the Southampton one and I head for East Croydon and on arrival I note I've got something of a wait for my bus. 13 minutes to be exact. Unlucky for some! Steve decides to join me rather than bob on the tram, but mainly as he's completely misheard me and thought I'd said 3 minutes. Ooops.
"You dick!" is all he offers several minutes later when the error is discovered and toddles off to get a tram after all.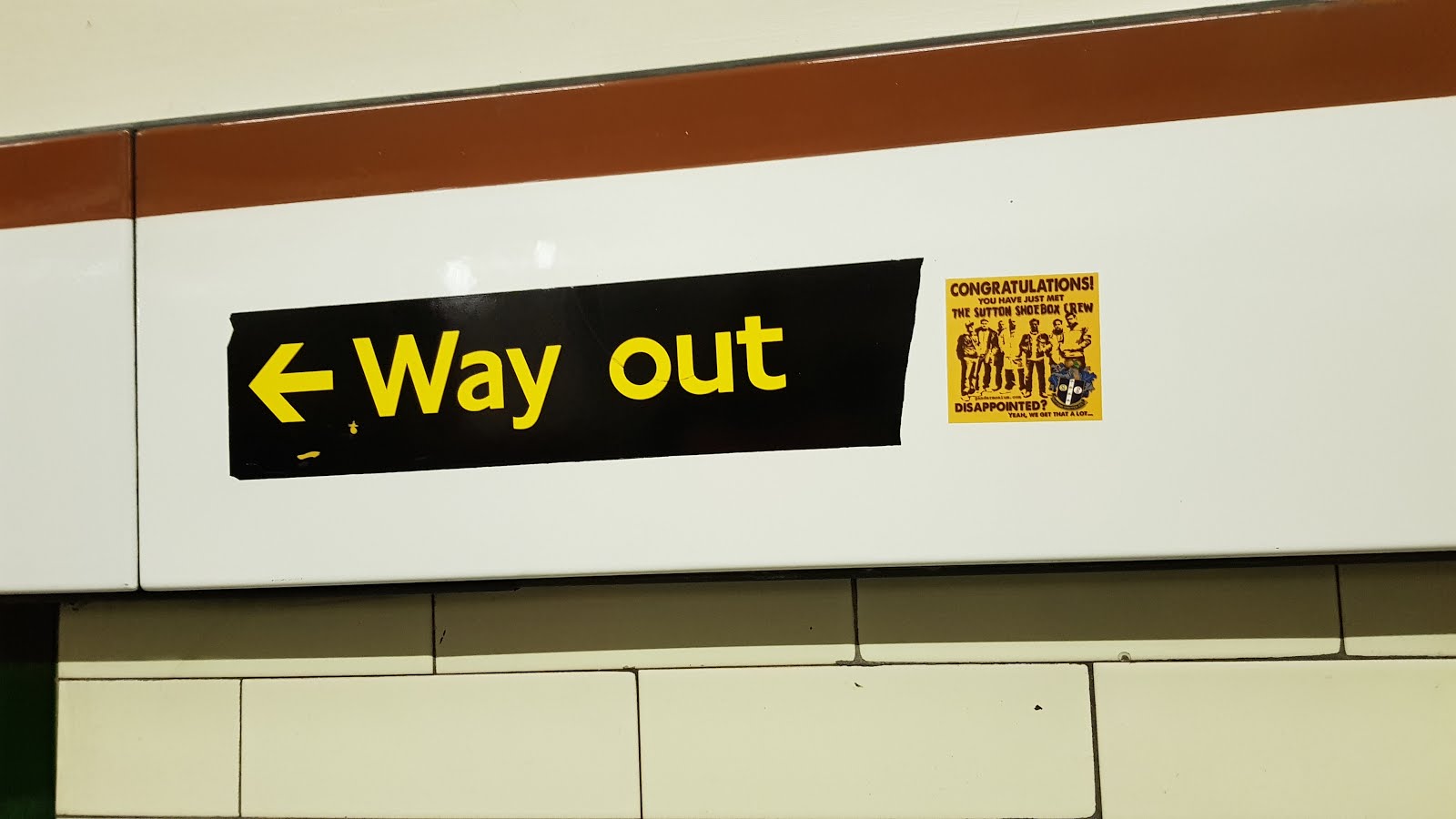 Rather apt…
Have a lovely evening sir. Missing you already!
Taz