Well it finally had to happen one day I suppose. In fact, you have to go all the way back to the first ever blog of the second incarnation of Gandermonium to understand what I'm waffling on about. Maidenhead away 23rd November 2012, a day that will live in infamy (as some bloke said once) if we ever get our way in the world. Which we probably won't.
So Barra' away then. Another early start as we're due on the 0730hrs straight outta Euston. Early night Friday night then? Chance would be a fine thing. Mr X was at another embarrassing Youth team effort at Chertsey, Magnum PI was out and about till the early hours of the morning in the flesh pots of Croydon and yours truly? Well, I was only down the bleedin' club!
Na, not to watch the Youth/Academy/Development team, but surprisingly for my Skin n' Blister's 30th Birthday celebrations. Who would have birthday party there? Me? Fuck off, don't have that many friends! Or that much money. But with a closing time of midnight, I might've ended up having the 1, 2, 5 or 10 pints of £4.30 Bulmer's.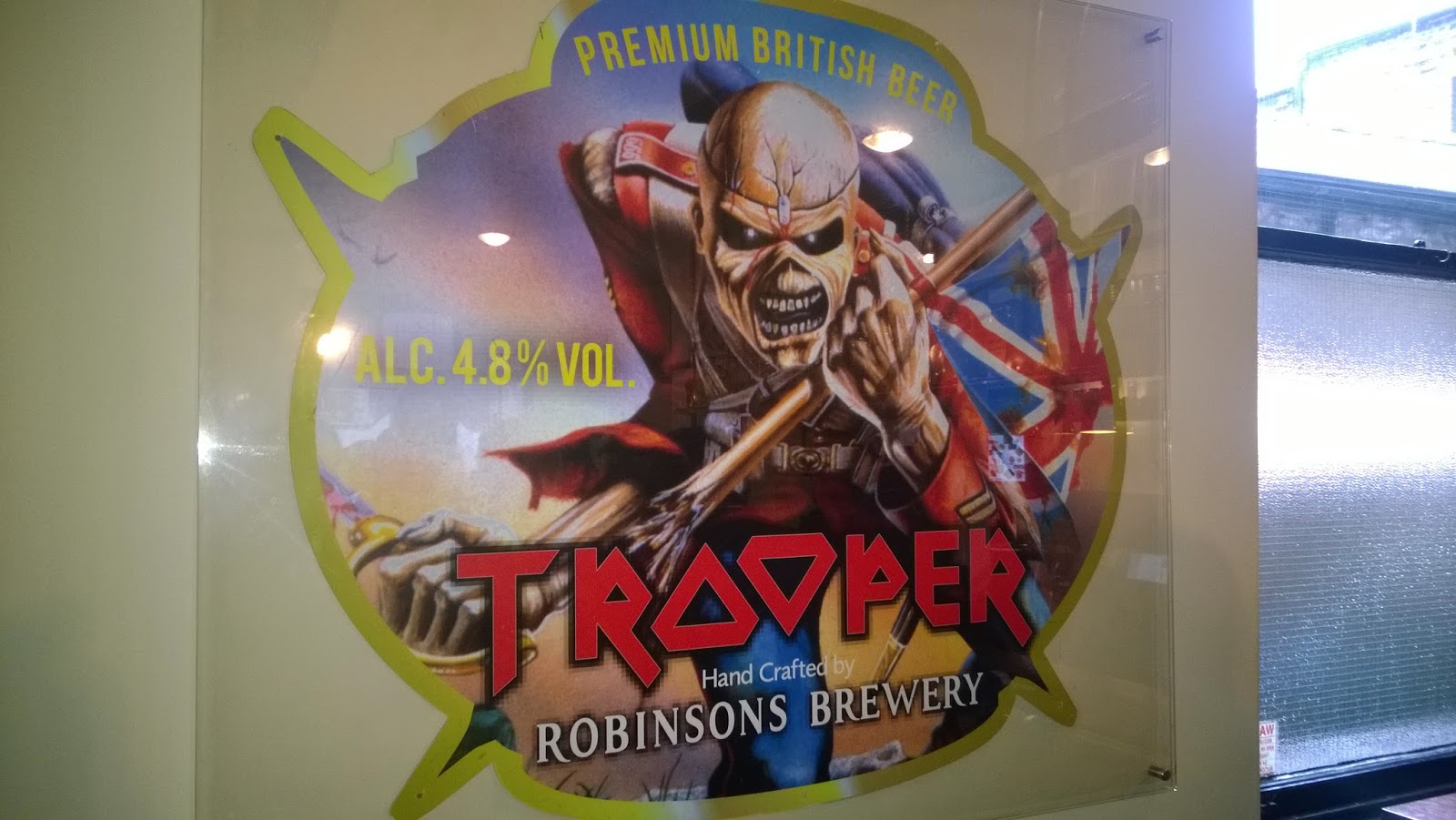 We're all troopers today…
Still, the Alarm goes off at five in the bleedin' morning and I shuffle off to the shower. Not before the worst start to a morning as I first try to clear out my bladder, which is full of the red sugary substance that Bulmers swears is Cider. Mid-stream I cough up half a lung and try to spit in the large hole before me only to somehow miss and manage to get half of it down me. And then whilst trying to clear it off, nearly lose all control of the situation. See what a a fine specimen The Duke is ladies!
Leaving my house, within minutes I'm on the 80 bus and heading to the Underground at Morden. Here I catch up with 4 Days. Apparently we totally missed Mr X as he is on another train that despite being all ready to leave, then has to wait as we depart before him. Alighting at Stockwell, it's onto the Victoria line and as we arrive at Euston, the clock just creeps over the seven o'clock mark.
Well things are changing at Euston. Not only has "The Bree Louise" announced that this is the last weekend of business thanks to something called "HS2" (didn't know Bird flu was still that big of a deal to be honest). It appears that "All Bar One" has already disappeared. Don't know where Indy & Sean Connery's Stuntman are going to go for their early morning drink now! With plenty of panhandlers in the vicinity, we head back into the station and await the arrival of others.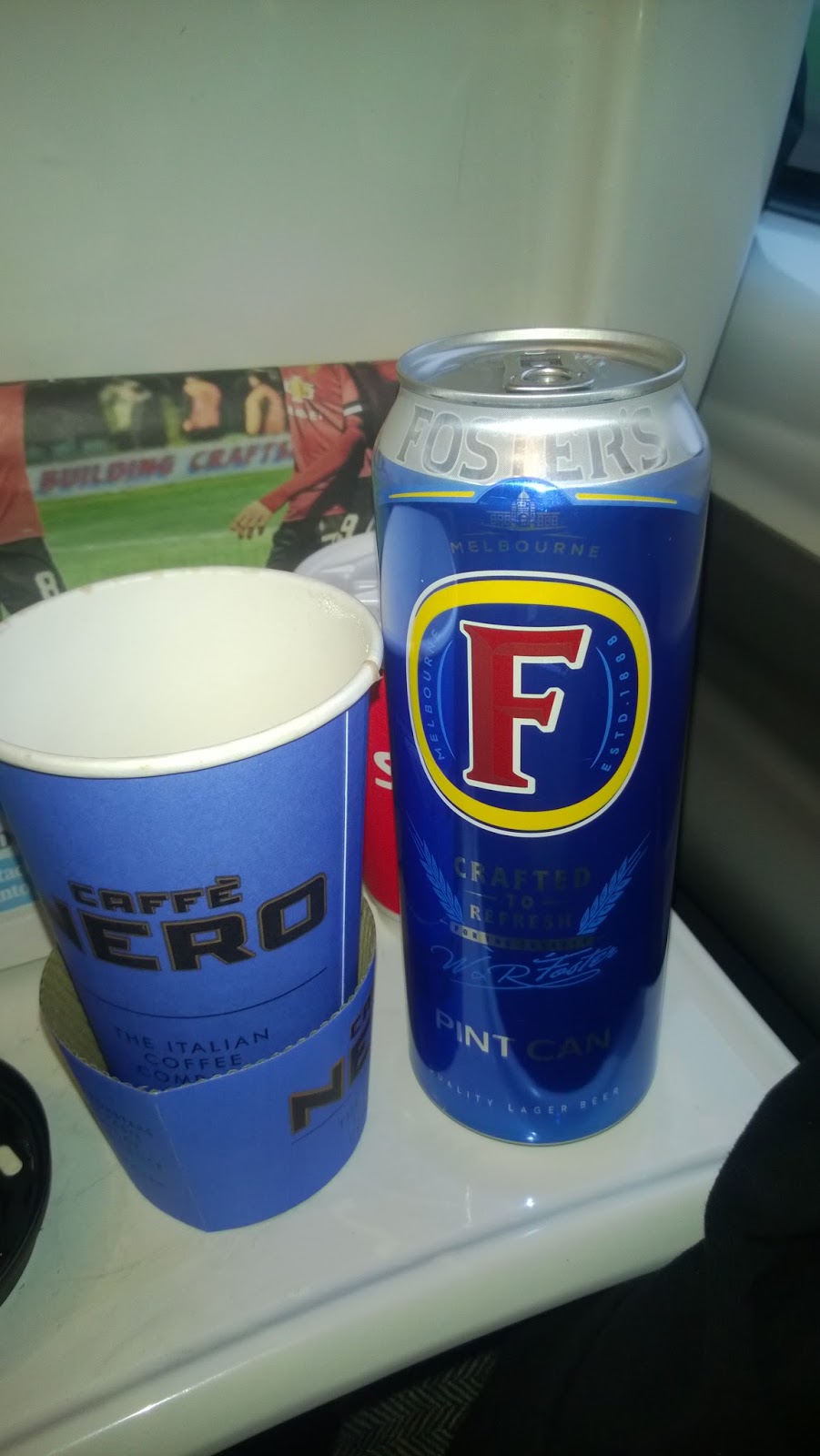 Beer o'clock already?
There were six of us making this journey toady: Me, Mr X, 4 Days, Dr Bell, Southampton Steve & Magnum PI. And surprisingly no one missed the train either. The train platform has been announced and we head into the queues that only happen on Virgin trains have as they have to manually check all the tickets. Once again, Mr "I swear I booked us a table" X had diligently been our Gandermonium Travel Organiser.
On the train, we find our seats and settle down for the journey. Most of us are within shouting distance, except 4 Days who is way further down the carriage. This does though create another one of those Gandermonium moments. Receiving a message that the team have bumped into the Press Officer of our "Brothers of Colour" from North of the Border, namely Forres Mechanics, a conversation naturally starts off on the current status of the Highland League.
A women behind me offers me her sport section and then apologises to me (yes it does happen!) for being stereo-typically sexist! (That makes a fucking change! – Ed) I of course accept her offer and apology. You would never catch me making such statements! Later on during the journey she enquires about our Highland League conversation. Turns out that she was a Deveronvale supporter. Funny old world this can be sometimes. Still, at least she doesn't live in bloody Sutton, like everyone else does. Or has.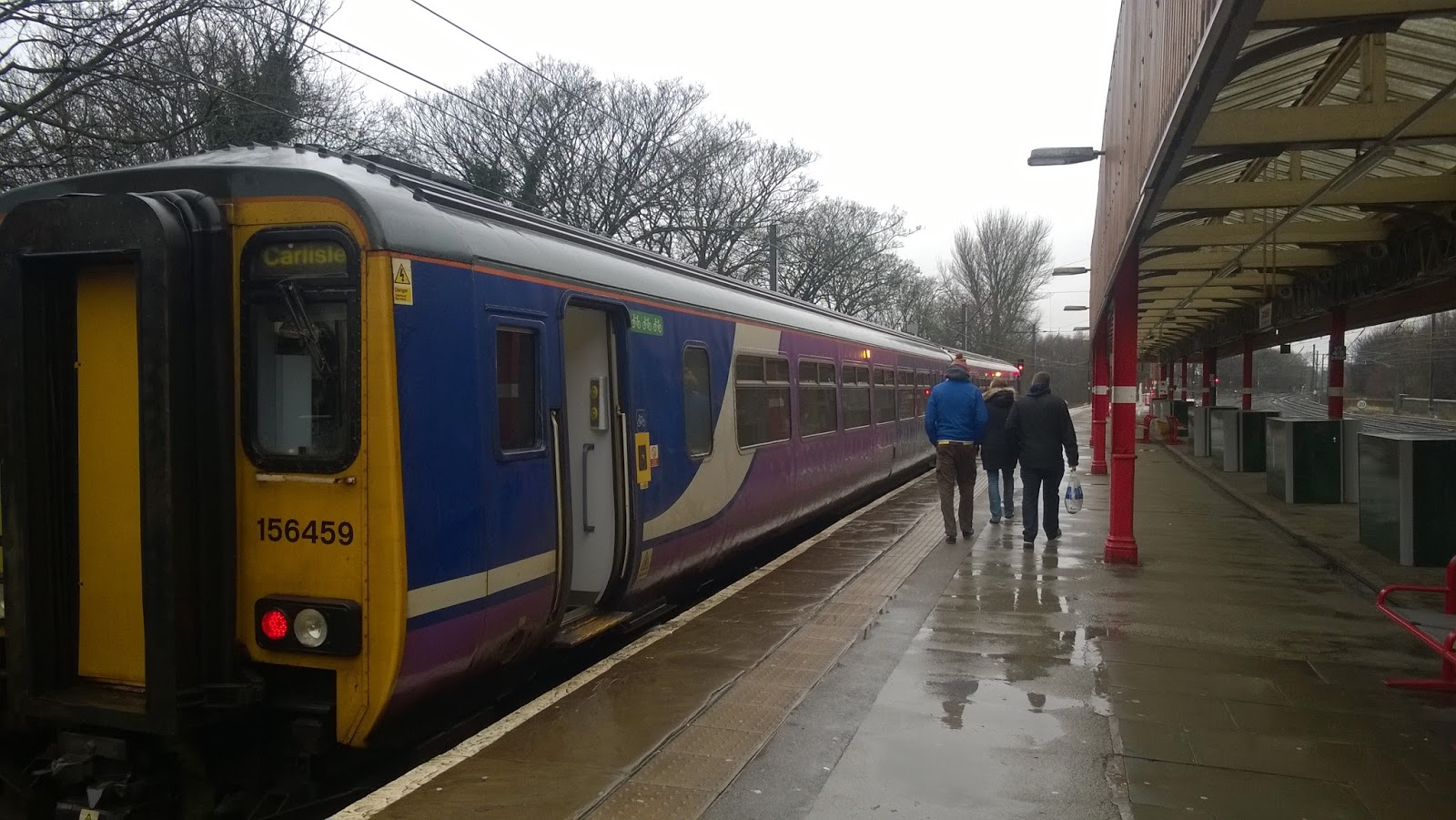 Chugger…
With us due to be in Lancaster, our base of operations, just before eleven. It's a surprise when Dr Bell produces a couple of cans of Foster's. Jesus man, don't think we'll drink enough booze today do ya? Obviously it's rude not to accept and begrudgingly I attempt to drink the pint can. Then again, it was only Foster's, so it's not like it really counts. As we arrive in Lancaster, it begins to rain, not proper stuff, but that misty shit that gets you wet without realising it. We also spot next to the station the local ground. Lancaster's 'Giant Axe'. Pitch looked fine from here, so this can only be good news.
Around the Bay, we'd already seen some photos of the pitch at nine o'clock bathed in sunshine. Although we did already know that some of the heavy stuff might be due between ten and midday. Still, no announcements of any pitch inspections and plenty of time before kick off and a strong wind in the vicinity we felt confident. We bump into Indy & Sean Connery's Stuntman on the platform and tell them we'll meet them in Barrow as we need to drop off the bags and won't make the next train North.
Our beds for the night were only a five minute (fifteen for Magnum PI) walk from the station. Southampton Steve's find of rooms for £30 for the night was a God send when you consider that already I've laid out £80 for travelling at this point. But having to needlessly walk all the way around to the tradesmans entrance we discover that maybe there is a reason for these cheap prices…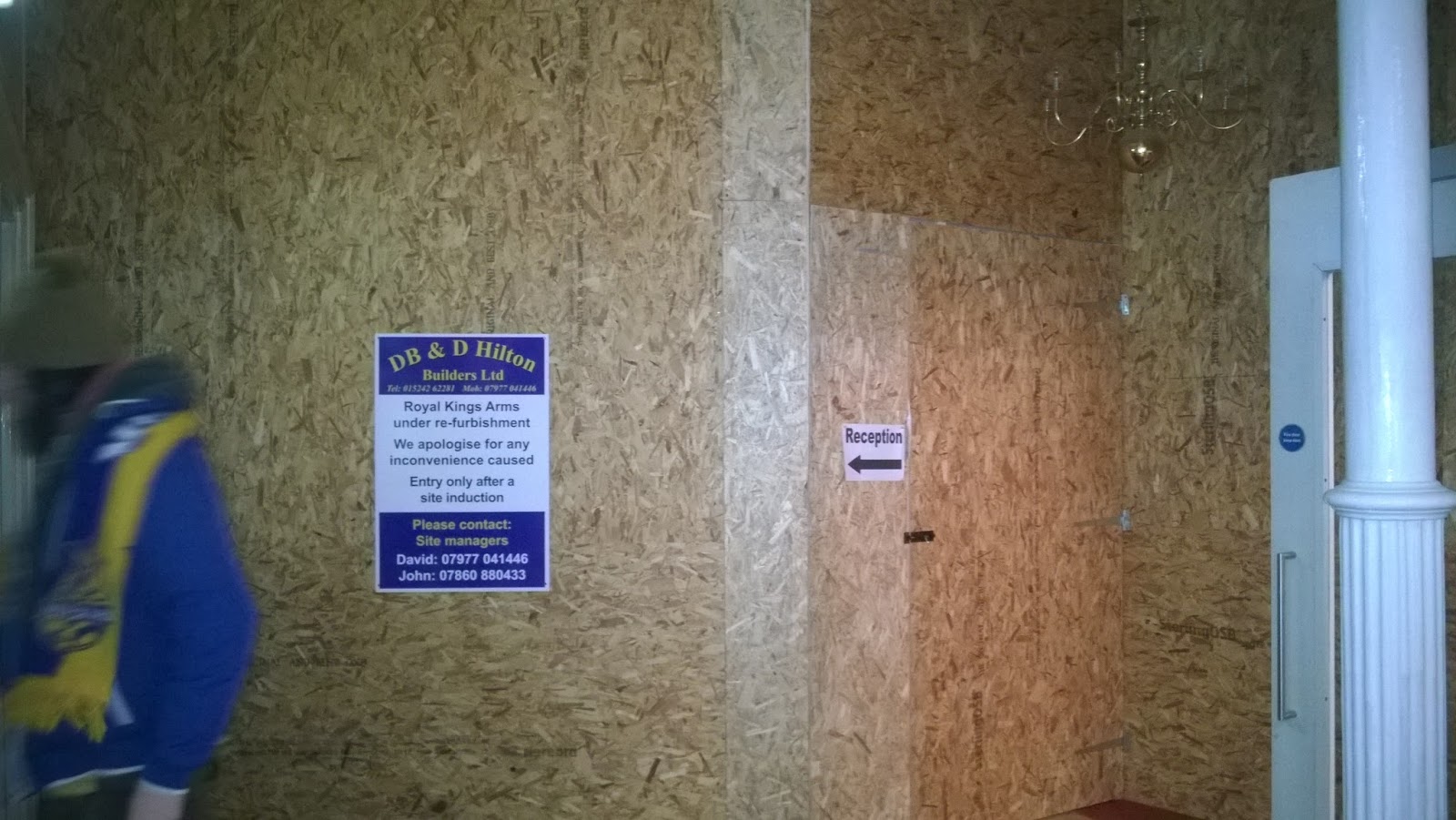 Five star accommodation…
Oh yeah, they're having a major renovation. About six Trevor Francis' worth apparently. Our rooms are not ready, but after some strong arm tactics we "convince" the man behind the jump to look after our bags until one is ready to store them in. I think it was the fact that there were no valuables in them that persuaded him. But I did have to warn him that there was some Brut in my bag, so to be careful. Right, with all that sorted, what now? Pub? Pub!
Across the street was "The Robert Gillow". Found out later, only at two o'clock the following morning I might add, that this was the most expensive pub in Lancaster. With five in the whip, we mange two pints before heading back to the station for the last leg. Sending Magnum PI off ahead, he graciously buys the tickets. a £12.30 return affair. The 1122hrs is a little chugger, but we settle down with a couple of cans kindly acquired by Mr X. Thinking about it, that was pint number four already, before bloody midday as well!
Just as we've pulled out, Mr X gets a call. It seems there was to be an emergency pitch inspection at 11:15. Still waiting for the results, we inform other Sutton fans we know that'd also made the journey. Then another another phone call is received, MATCH OFF. Bollocks! If only we'd been told a quarter of an hour before we would've at least saved £12 for this train to fuckin' nowhere. The necessart people are informed and we're now faced with the question: What the fuck do we do now?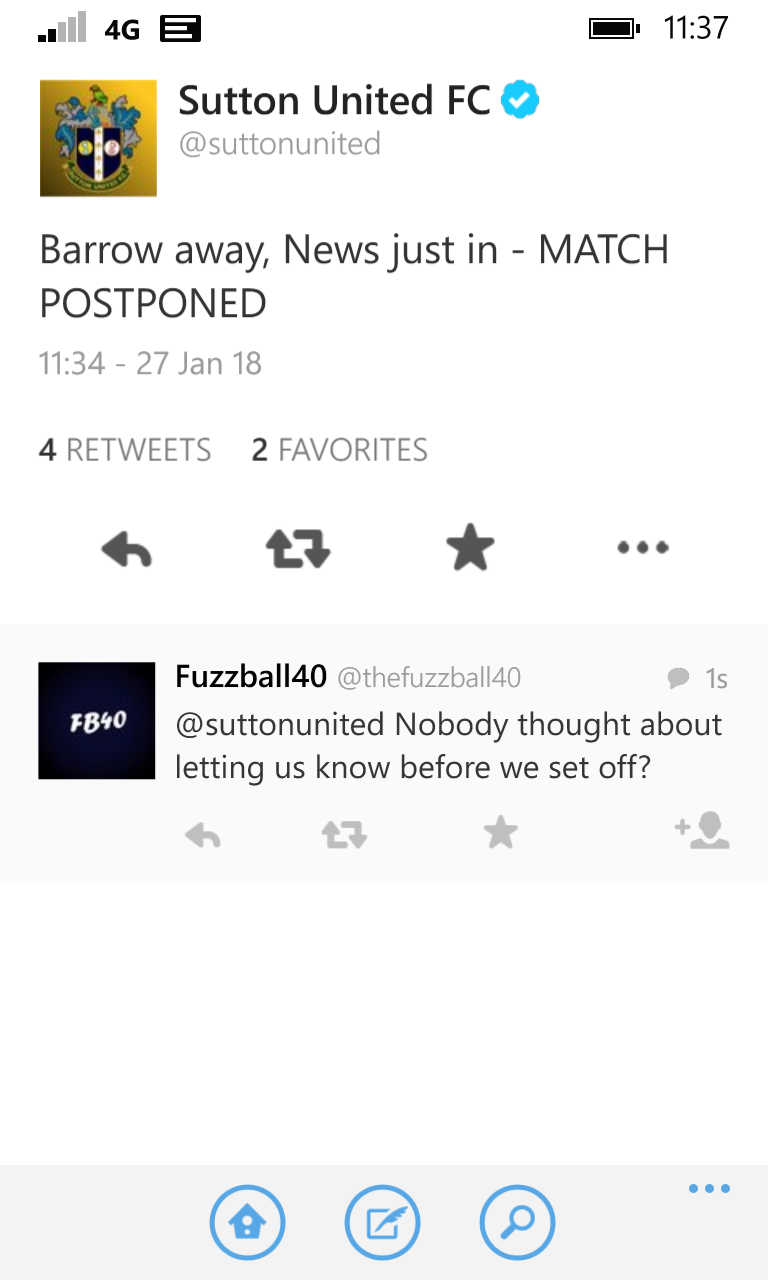 Bugger…
Well to be honest we had plenty of choices, turned out that only two games weer called off in the top five divisions today, us & Blackpool, but the easiest option was of course Lancaster as they were due to play Halesowen at home. That'll do. Instead of going all the way to Barrow, we decided to jump off at the next possible station and get back where we came from ASAP.
Arnside was the name of the place and it appeared to be in the middle of nowhere. Apart from a Jizz Jazz Cafe and a Mobility Scooter shop there was nothing around apart from a massive lake of "outstanding natural beauty", bit like half as dozen fellas taking a leak I reckon. Turned out later, again at two o'clock in the morning (alot was found out at this time as you'll discover), that Arnside had two pubs and one of them was run by a massive Nigel that had plenty of memorabilia all over the walls. Opportunity missed there.
Back towards Lancaster and we're joined by some of the Coc's who had also been on our train. Next pub on the list is "Merchants 1688" where we also bump into Bob & Cath (still don't know who Cyanide Fred is) who were spending several days up in this neck of the woods for some reason. Fuck knows why as the weather has clearly been fucking shit. Quick pint down and most of the discussion is all about the postponement.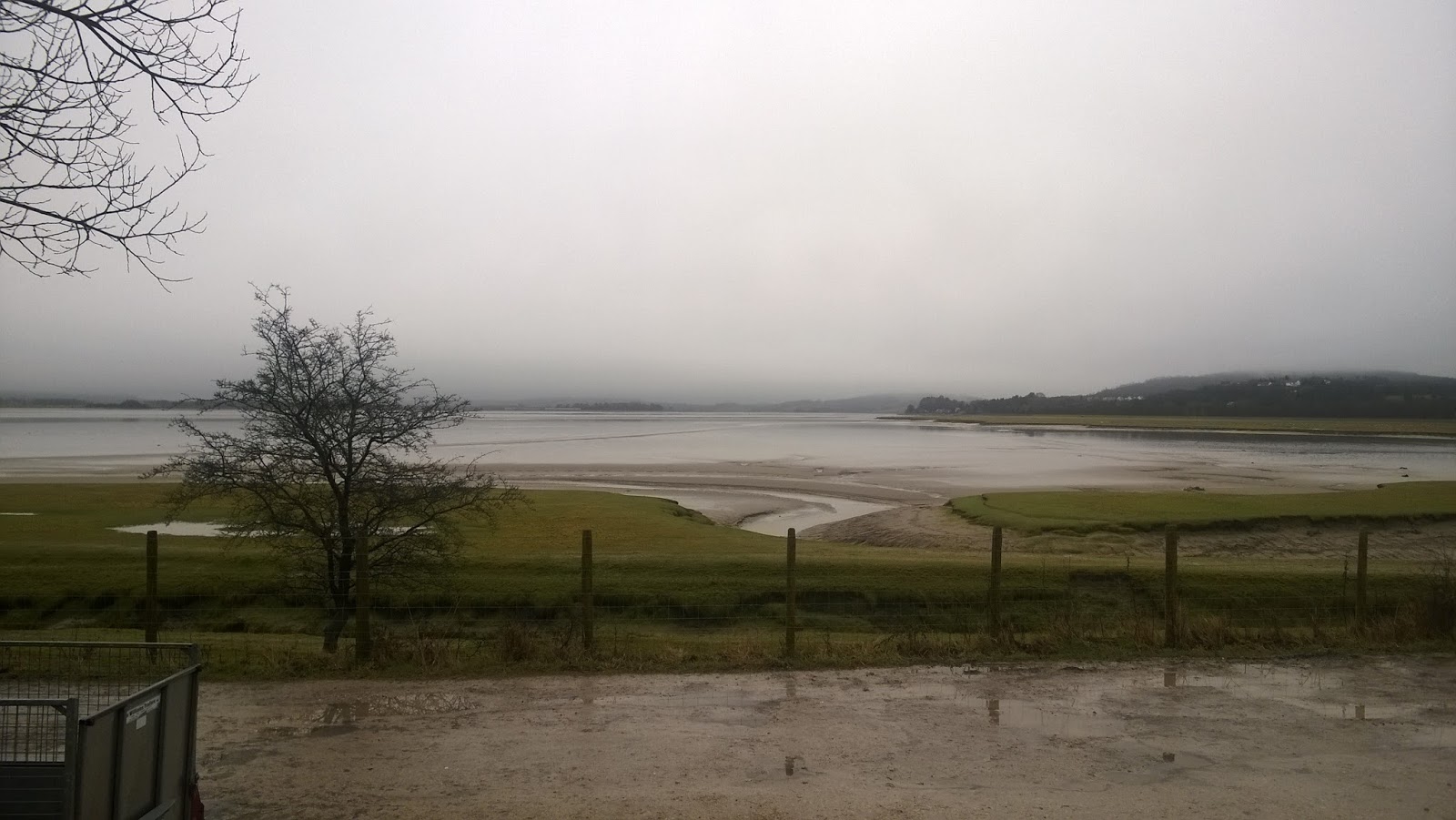 "Area of outstanding natural beauty…"
Basically why call it off at quarter past eleven when it'd stopped raining and wasn't due to rain again? They might as well as just waited to two o'clock considering all the Sutton fans that were travelling to the match were already on their way. Tell them it's in danger, but give them the option to decide to carry on or turn around. We also were already discussing how we were going to do the rearranged match. Yeah yeah I know we're fuckin' idiots! It's never if we're going to the match but how we're going to get there.
Moving on we find a pub called simply "The Pub". pretty original when you think of it, especially considering the entertainment. We even had an old style juke box that thankfully didn't have any Chesney bleedin' Hawkes on it. Justice! Some of the boys decided to play a bit of Killer on the pool table and even invited some of the locals in on the worst case of hustling I've ever witnessed. Well I didn't exactly witness it, but it was poor. Who lost four lives in four shots again….
The time was now to walk towards the ground, so we're back past the hotel and over the train tracks past a very optimistic sign for overflow car parking. £8 to get in before we realise that we could've got in for only £4, as Magnum PI liked to emphasise for a large part of the day, thanks to some season ticket discounts. I was supporting grass roots football is all I'll say. Well the FA doesn't…
If The Duke ever had a band…
Where the match bollocks should be…
The ground of Lancaster is not bad really for the Northern Premier League, and gets extra points for being named 'The Giant Axe'. We have a small stand on the far side, a covered terrace at the far end and a larger open terrace at the other end. With a capacity of around 3,500, there is plenty of places to get something to eat, two (yes two) bars in the ground, but a lack of enough toilets.
Surprisingly for us, there is the option to drink whilst watching the match. A bad thing for us really as usually the 90 minutes of football gives us a bit of breathing space. With most of the Sutton supporters in the ground (and there's a few) taking their places with the home support, me and few others decided to cheer on the away team. Mainly because Halesowen play in Yellow and we're fucking awkward bastards.
Don't worry, there isn't going to be a match report for this one. As I can't remember what happened! I even missed the first goal of the game as I turned round to talk to Bob and a a random ground hopper and look back to see those behind the goal cheer. Oh great. Over 250 miles of travelling and spending a small fortune and I miss the bloody goal. Bloggers revenge again. Just call me Robbo!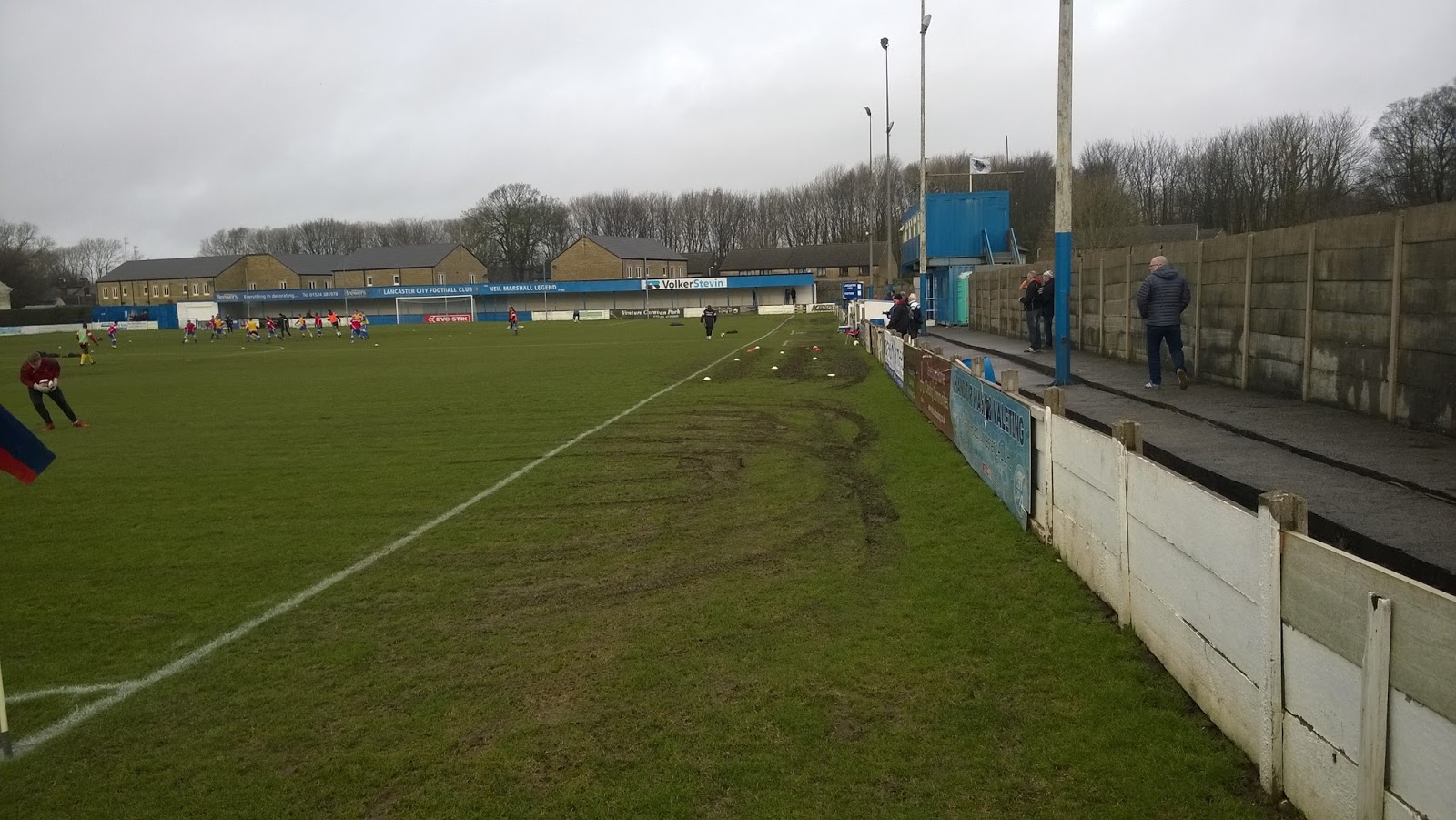 Proper football that, apparently…
Old habits die hard for us as we go to the other bar for a half time drink, along the way we sample a Bacon Cheeseburger (without the bacon) and bump into an old boy with a Peterhead beanie on. And as with a lot of the other trips, we find he has a connection with Sutton. He apparently last visited The Lane for a Surrey Senior Cup match in the late sixties against the Scum. He even went to Sutton Manor which had Mr X wracking his brains to remember if any of his teachers might've have been around at the time.
Second half and me & Mr X take a spot underneath the covered end and continue to encourage the travelling team. At one point a Halesowen supporter, possibly one of two, comes up and congratulates us for our support. You're very welcome squire. I did witness the second goal mind you. A clear shot to the top middle of the goal that was flapped at by the keeper which meant it ended up being 2-0 to Lancaster and judging by the league places it was a run of the mill result for the Dolly Blues.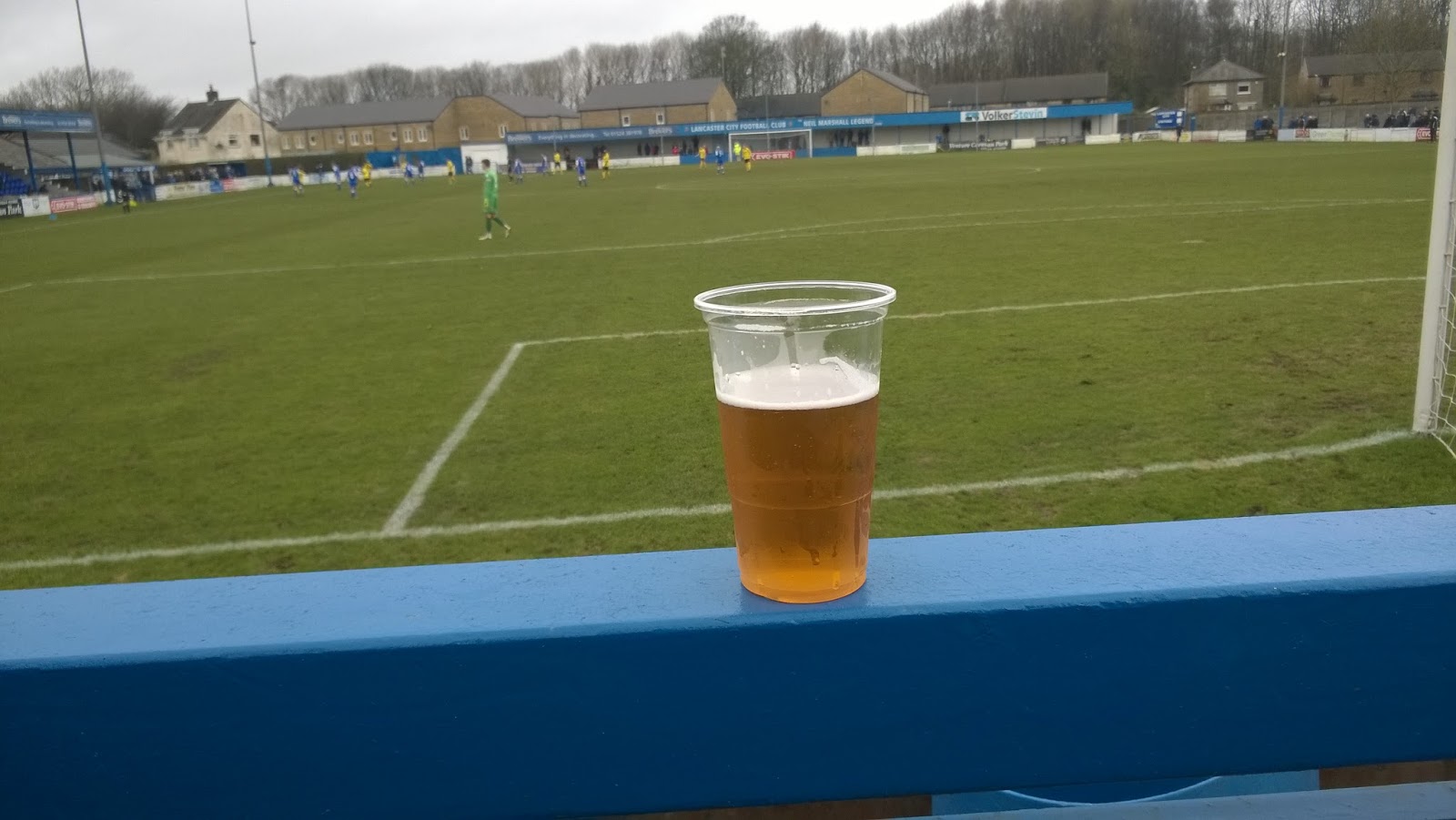 Very dangerous that…could spill it.
And back again…
After the match we head back into "Dolly's Bar" for a light refreshment and watch the other scores roll on in. Of course in Sutton-style, one of the Yoot is fast asleep in a chair, only to randomly wake up and yak on the floor. Classy! What was worrying was the look of it, we couldn't work out what it was as the bright pink colour could not be identified. Luckily, one of his bred'ren cleared up the mess, whilst he wandered outside, totally oblivious to what had just happened.
Couple of pints later and we're kicked out as the bar is shut and the barman wants to go home we decide its time to head back to the hotel to change and begin the nights festivities. With my usual bunk partner Mr X we check out our room and find out that the place is like a sauna as the radiator is on full blast and despite our best attempts we can't shut it off. It also appears that when Mr X dropped off the remaining cans from our train journey he never locked the door and we had an open door policy as everyone came in to collect their bags whilst we weren't here.
Getting ready and there is a cheer from some girls outside as I'm half naked in the window. Don't believe what Mr X tells you, they were definitely cheering for me. Just as we are leaving the room (locking it for the first time) we bump into a couple of Mansfield supporters who are across the hall from us. And would you believe it that one of them is a former Southampton season ticket holder from Beastleigh? You can't make it up sometimes. Well you can and I frequently do, but even I'm not that sad. After their win at Morecambe today and the fact that one of them had a tenner on a 2-1 win, they are in a jubilant mood and join us in the next pub, the "Ye Olde John O'Gaunt". At one point me & Mr X are outside feeding our habit when a Mansfield fan comes outside on the blower, just as we're discussing said location of the place.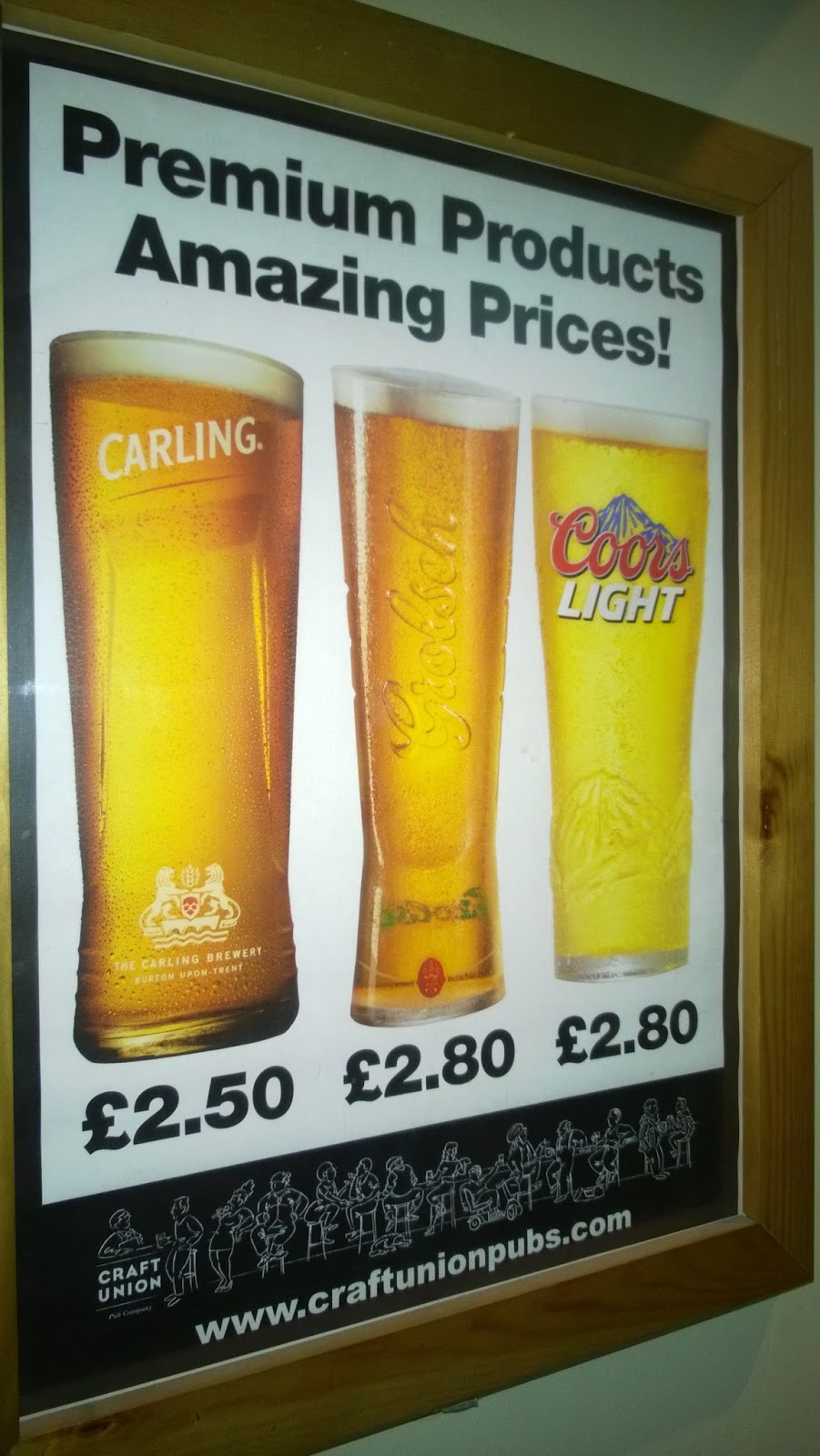 Beer's cheaper "opp North"…
"Oi Mansfield" barks out Mr X, "Where the fuck is this?" "Hold on a minute, I've got some London twats trying to talk to me" was his reply "That's South London Twats if you don't mind" is the response. Now in full party party mood we tick off a few more boozers, first the "Brown Cow" where for a spit second it seemed the world was going right tits up as somebody's wife starts to chat up 4 Days, yeah that's right 4 Days. No, me neither.
Not wanting to depress ourselves so soon, we walk over the road to "Penny Bank" and find a seat for Magnum PI to see the end of the Liverpool vs West Brom game. VAR? I'll let someone else deal with that fuckin' mess another day. This place was a bit more lively, including more Mansfield fans, so we settle for several more glasses of the good stuff.
At this point, I decided that I would need to disappear for half hour or so. My excuse of trying to find a prostitute is dismissed by everyone, "You wouldn't pay for one Duke" and I eventually admit that I want to take a butchers at the local 'Spoons. The first is "The Sir Richard Owen", I jump in for a cheeky drink but this isn't the one I was actually looking for, but the more aptly named "The Green Ayre". Any guesses why?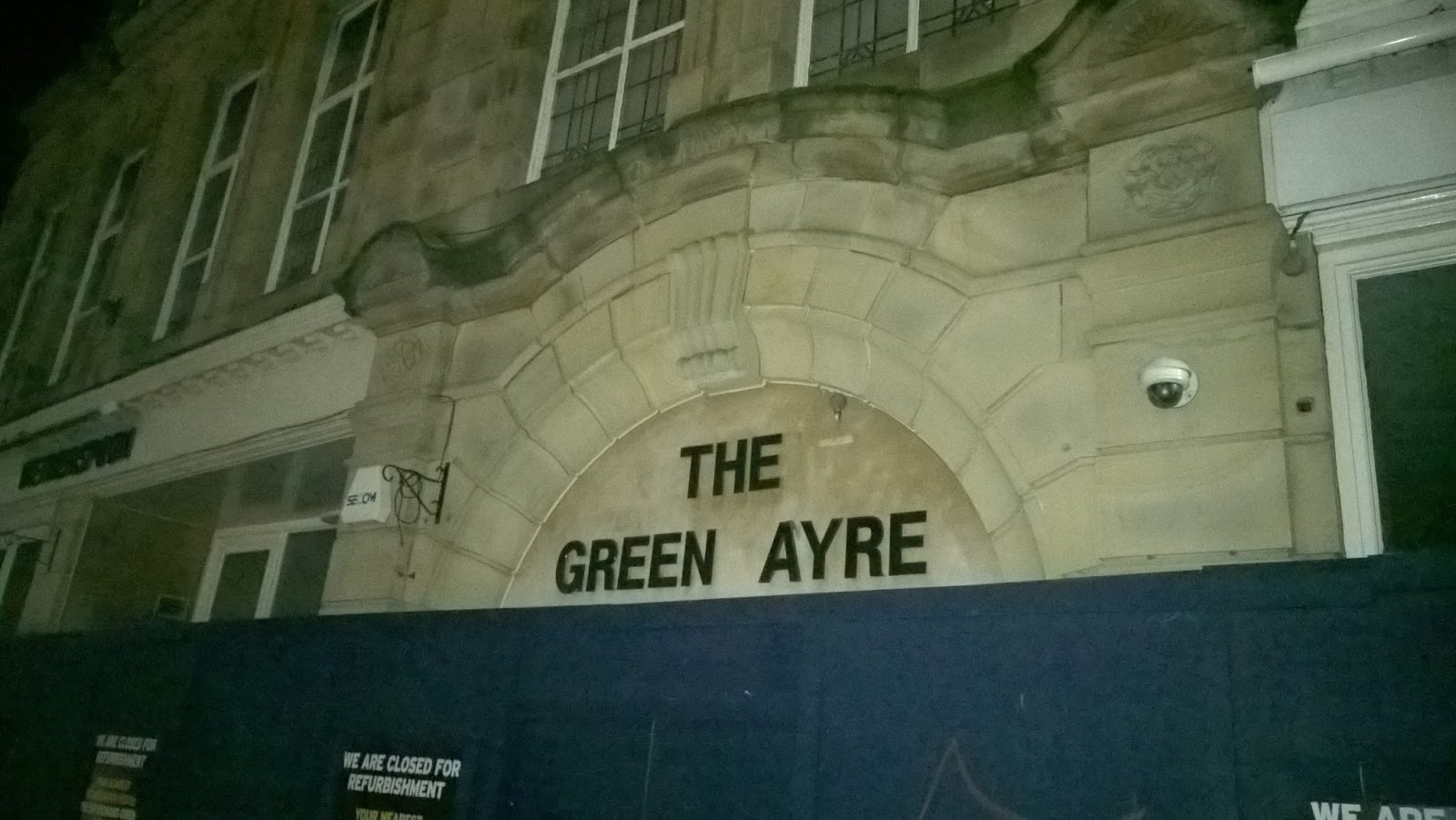 Barrow away, the gift that keeps on givng…
After finally finding the fuckin' place I come upon it all boarded up, bollocks! Closed for fuckin' refurbishments. Defeated, I head back and find the boys unsurprisingly still in the same spot. Despite some protests we move on to pastures new."The Tap House" is one of those beardy-weirdy places that have all the funny drinks on sale and it's very quiet in comparison to the last place.
After this pint, Southampton Steve and Magnum PI decide to call it a night and head off for some sustenance. "No place with less than a four star hygiene rating" was their mantra for the walk home. Yeah, good luck with that, dirty and greasy is what we want for the rest of us. And we don't mind what the kebabs are like either.
With the four of us left we once again seek out something a bit more livelier but without the need to do any queuin. "The Study Rooms" fills the gap and we have several more pints before Mr X rightly decides to call it a night just before he walks off his famous cliff. 4 Days isn't far behind him and only two drinks later, Me & Dr Bell finally agree that no more drink is needed by other of us.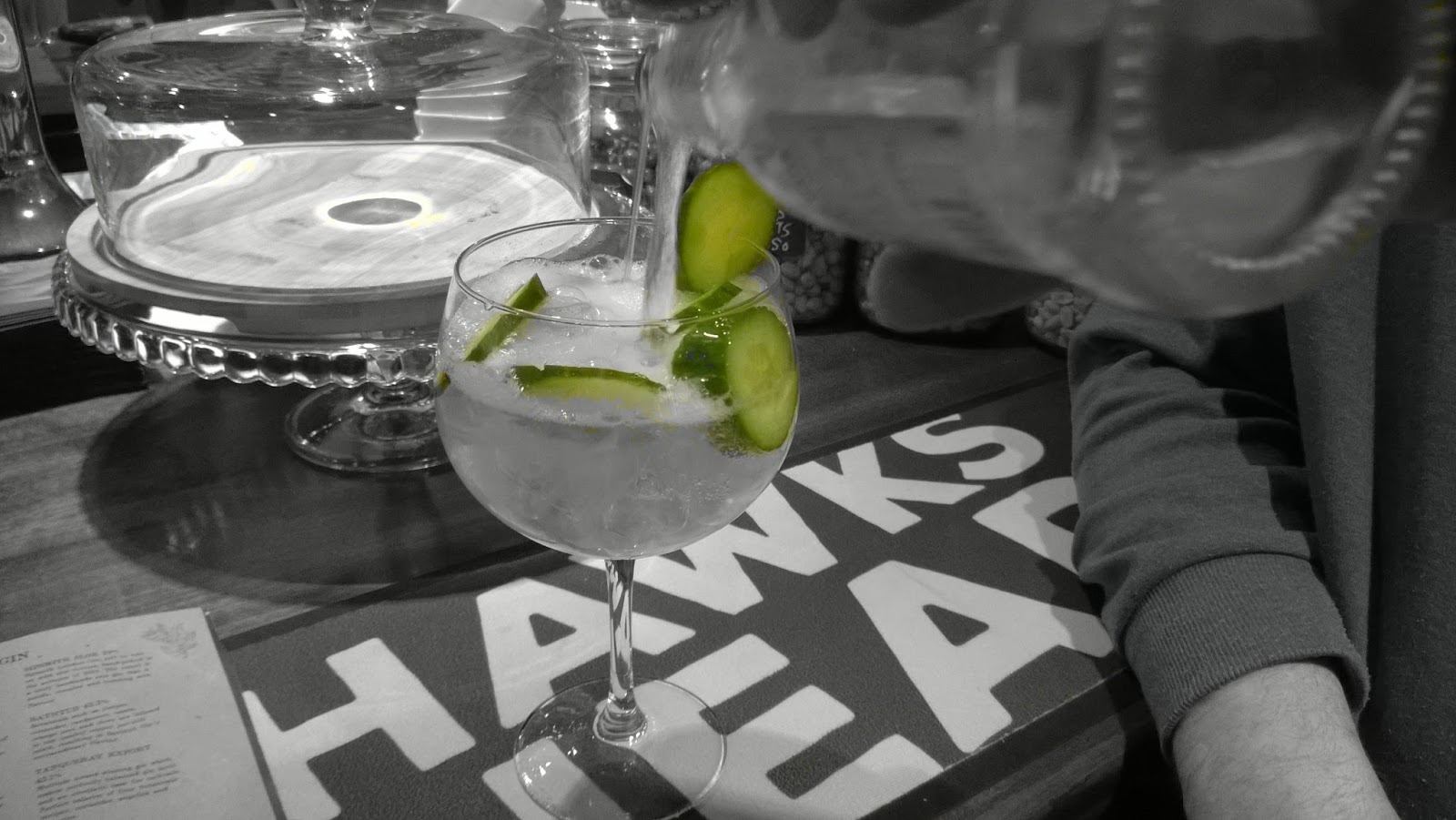 Funny looking G&T…
Walking back to the hotel we fail to find any eating establishments and instead have to seek help from the night porter who sends us off in the other direction with some simple directions but we still fail to locate anything. Dr Bell was so hungry at this point that he convinces himself that an Italian Ice Cream Parlour is a kebab shop, despite it being shut and having several large paintings of Ice Creams and not Kebabs in the window.
Eventually we do find a kebab place and manage to order up some grub just before every man and his dog enter the place. I'll have to say that once again I was slightly disappointed with my selection as once more the chilli sauce, nothing like the Sellafield stuff we had in Newcastle, was poor as it came out of a bottle and not what you get from"dahn Sahff". Next time I'll just plump for a "caught a Panda" instead I think.
Back at the hotel, and not wanting to be a kebab troll in front of poor Magnum PI, we are allowed to eat it in reception with the night porter. Here we find out that he was a Morecambe fan and garnered plenty of information about the local area. One astonishing fact was that there were 74 pubs in Lancaster and that there was something called "The Ale Trail". This meant that over the space of a whole weekend, if you managed to do all the pubs, based on the one pint in every one, shorts and bottles don't count, you could win yourself a grand. Your funeral if you ask me, a quick sum in my head established you'd have to do 25 pubs a day. Even we're not that bad! But knowing us, we'd end up having more than one pint in the place anyway….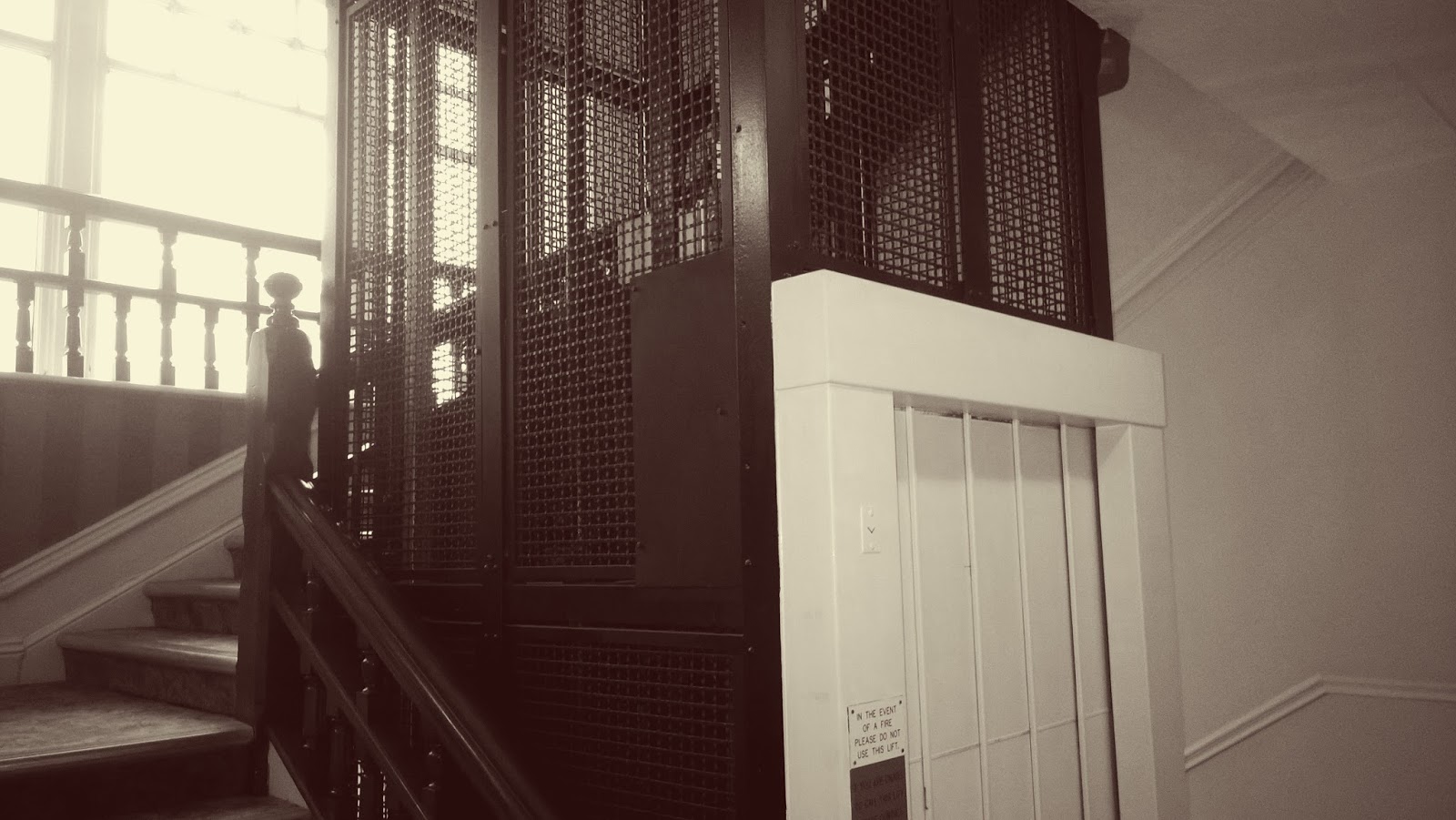 The Hotel Elevator…
With Mr X having his alarm set at that unusual time of 0802hrs, I was obviously awoken to the sound of sirens going past at just after seven. Oh great, so that's the mere eight hours sleep this whole bloody weekend then. Trying to get back to bed is a waste of time as the banging of someone doing some DIY (not a euphemism) commences somewhere nearby.
Mr X's alarm does finally goes off, and we're soon getting ready to head down for a spot of breakfast. We also manage to catch a bit of Match of the Day and see Sutton old boy Biamou's goal for Coventry at MK Dons. The travelling faithful seemed very impressed with it by the looks of their wild celebrations.
Down in the dining room we find Dr Bell & Magnum PI just about to order. Sitting with them we soon discover that apparently me & Dr Bell had made it to our rooms at "twenty-three minutes past two" according to Magnum PI. Very specific from the man, but he knows the mark all too well as this was the time he was woken up by Dr Bell trying to enter the room. And he then preceded to snore himself to oblivion. "Well it didn't wake me up" was all he could say in his own defence.
Room with a view…
Southampton Steve soon joins us as we tuck into some well needed grub and Steve's very impressive attempt at making something as simple as toast. Checking out, we head up to the station to grab the 1021hrs to Preston. Changing overt to our Virgin Express, the carriage is surprisingly very quiet and empty.
We arrive back at Euston and obey the golden rule of Gandermonium and ditch the hobbling Magnum PI. Sorry fella we've a Thameslink to catch! Surprisingly the walk to St Pancras is longer than anyone expected. That and we stop to reminisce over a couple of pub memories. Ah "The Rocket", not fondly remembered as the start of the two night bus journey home. "The Euston Flyer", the meet up point before our Friday excursion to Cambridge for Bury away. We came to the conclusion that basically we're all fuckin' idiots for doing what we do.
We manage to just about catch our train with thirty seconds to spare. As Southampton Steve is heading to Croydon he manages to say his goodbyes as the doors close. Finally on the last leg of our near pointless journey, mine & Mr X's minds still carry on about our options for the re-arranged match. I still reckon it might be 13th March, well I hope so, I'm off that week! And I think we've finally agreed on a overnight trip to Halifax as well. Hint, Hint…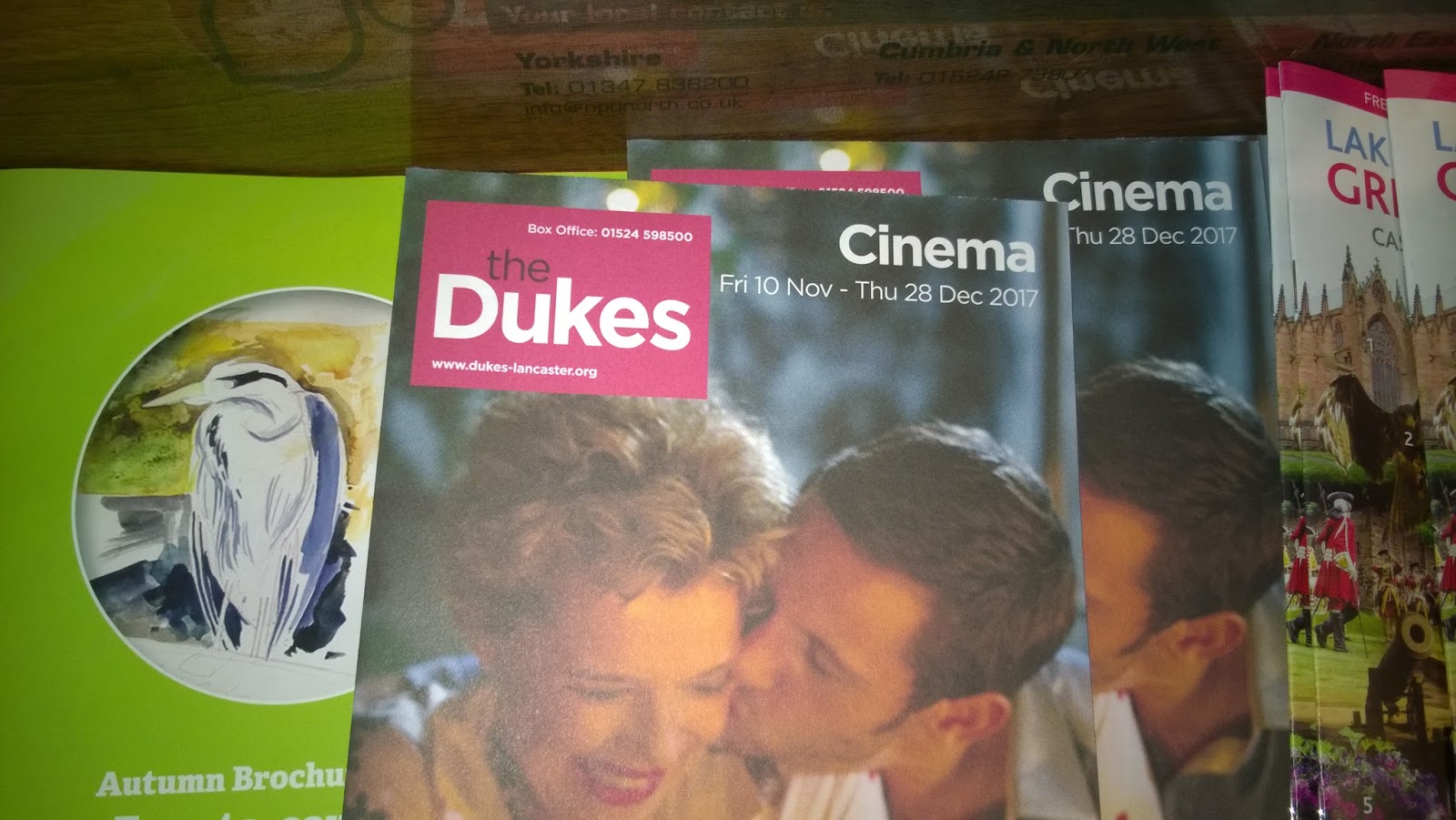 I'm getting everywhere these days…
You would think that this might be the end of the story but you'd be wrong. For the last leg we got to witness several Dr Bell 'senior moments'. Pulling into Herne Hill and seeing several large signs for it, Dr Bell still managed to convince himself that we were in Tulse Hill. I'd send that doctorate back fella! And then, just as we arrived into Hackbridge, he started to put his coat on. A simple job for a simple man, but he managed to make a right pigs ear of it by somehow getting his hand caught in the inside pocket and then flailed around like a banshee as he couldn't work out why he couldn't get it on. Not long now Dr Bell, a spot in the Gandermonium Convalescence Home awaits.
Shock! horror! disbelief! We now move onto another away game this Saturday. A new team, and a new ground, so there might be a few that'll make the trip this time. After that, it's another bloody away day excursion as we travel to France Kent. Home of "The Three Cups" and the shittest karaoke performance this side of Tamagotchi. We all love it really…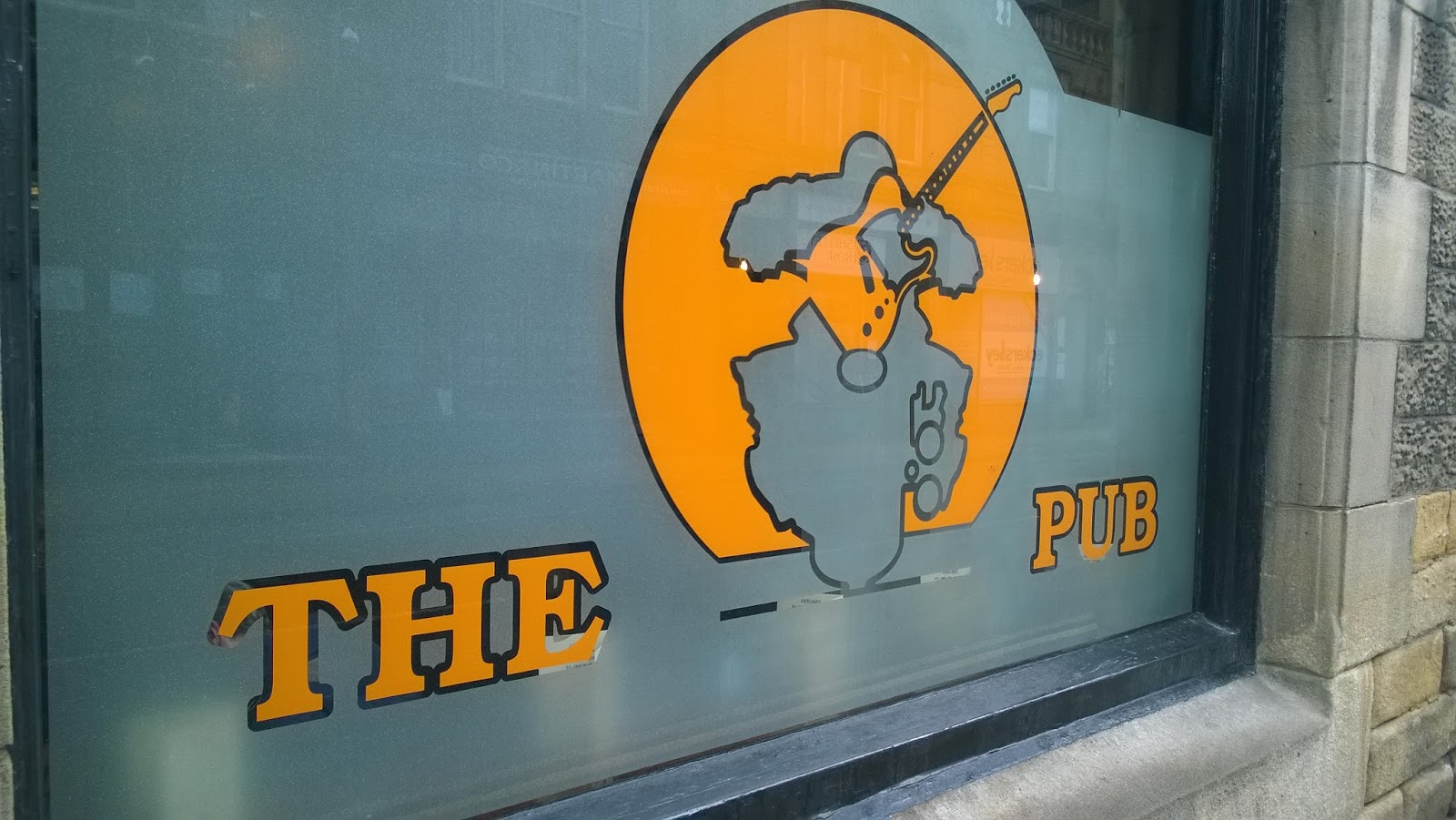 Now that's a pub name right there…
Duke
Att. 259