Bienvenue, Willkommen, Aloha, Mauya, Vitaj and Croeso! Yes, welcome my friends to this brand spanking new year. One which, if many popular news outlets are to be believed is being widely called 'Two thousand and Eighteen'. It's a touch unimaginative if you ask us, but as absolutely no one is and as it seems to be catching on with most people, it's probably too late to go changing it now and go confusing everybody. I guess we'll have to let it slide. Just this once.
Still, sod the New Year for now. We'll get to that old, er, new rubbish a bit later, I want to talk about where we've just come from. And by that I don't mean the khazi for a much needed New Year's Day clear out. No, I mean last year. You know, 2017? Sunday? Yesterday? Oh never mind…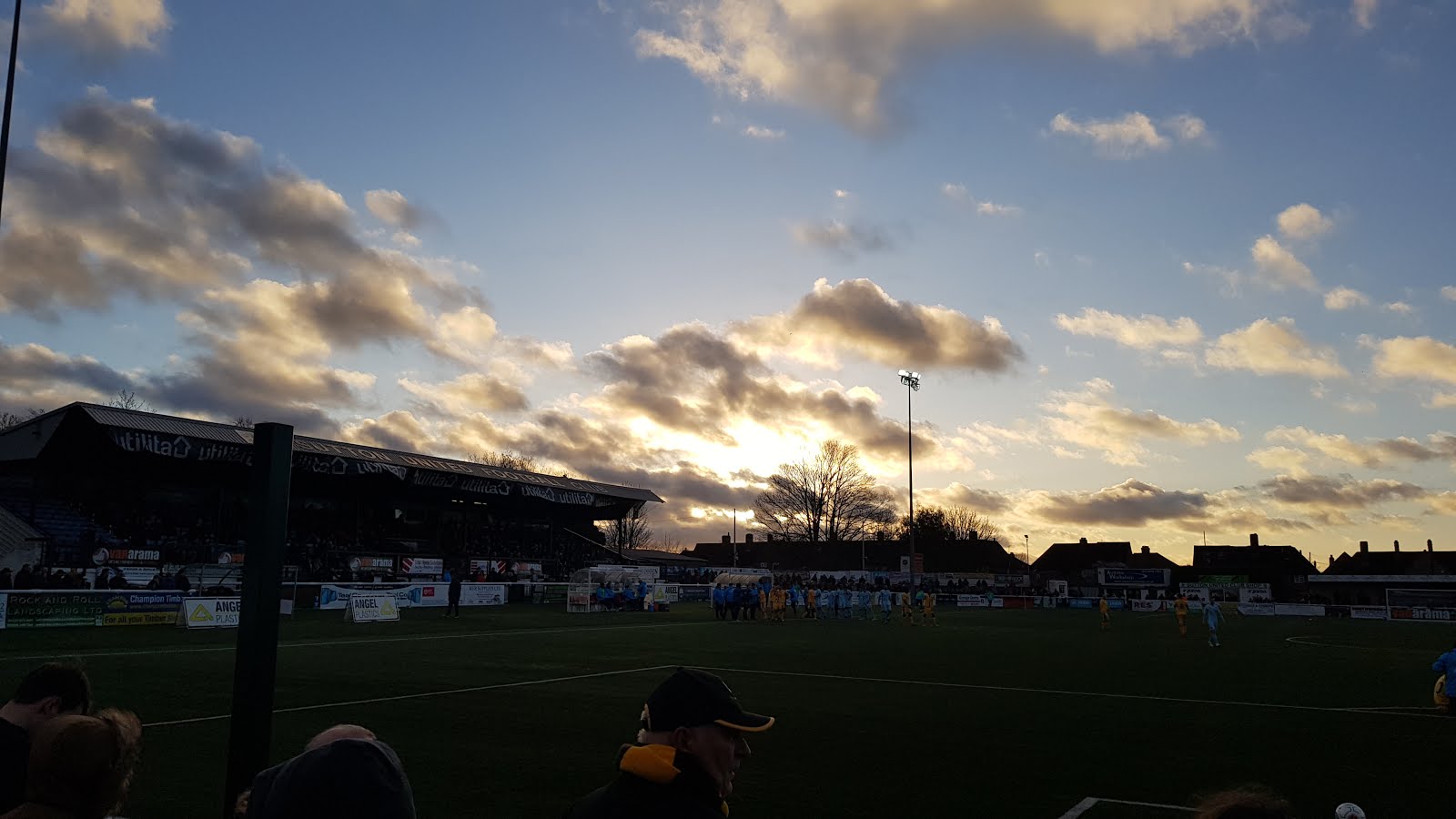 First sunset of a new year…
It's fair to say Two thousand and seventeen AD was a rather memorable year for anyone who follows Sutton United Football Club. A period of time that for many years to come will no doubt have grandchildren all over the Republic excitedly asking for GrandadGrandma to once more tell them the tales of the mighty Sutton beating Leeds under-12's and that shit blog with their fucking silly FA Cup song. "What was it called again Grandad? Sing it to us will you, oh go on. Pleeeeease!"
The cup run of last season is of course well documented and not just on these pages. A couple of newspapers mentioned it too! But joking aside, it's a period in the history of this club that will long be remembered. However, I'm sure I'm not alone when I say that I expected that to be 'it' as far as 2017 went in the "Well, this is all a bit fucking silly" stakes. We were wrong of course. As the team kicked off the following campaign strongly despite having almost as many players out injured as we could field for games and topping the table on not one, but six separate occasions since, we then saw out the year with a top of the table clash away to Macclesfield. Madness.
Still, it's the first half of that now past year I think that most of us will look back upon most fondly. The AFC Wimbledon, Leeds and of course Arsenal games were all once in a lifetime events. Leeds I'll always remember for the performance, we were fucking immense that day. Ok, so they stuck out some stiffs, but they were still top end of the Championship stiffs and they never laid a glove on us. The fact they got away with just the 1-0 flattered them immensely. Arsenal? Again, what a performance. The fact Arsene Wenger used words like 'astonishing' and 'immense' to describe the lads efforts afterwards says it all. Sure, that game had it's downsides what with the ticketing fuck up, the SunBets nonsense (an event that forced even us to be serious adults for a brief moment) and of course the fucking ridiculous 'piegate' horseshit. But bollocks to it, I'm sticking to the positives here. Mainly as there were a million times more of those than there were negatives.

Panoramaramarama!
The true highlight for me though was that Wimbledon replay. What a night that was. Those insane last 15 minutes on that fucking cabbage patch of a pitch and then all piling back to GGL to party into the wee hours of the morning. Even after Cheltenham, Leeds and winning the Conference South, I don't think there's ever been a night like it at the old place. The room was just filled with pure joy and elation. You know what, I've never been someone who's into illegal substances, even in my younger days it just never appealed and I've always been a boozer instead. But by god if I could take those few seconds after Roarie's bullet hit the top corner and turn it into a substance I could smoke in a pipe or snort, I'd never leave the house other than to give handjobs down dark alleys to get the money for my next fix. What? Why are you looking at me like that for?? Are you a Glenn Tamplin or summat?
So, 2017. You weren't half bad. We quite liked you. Right, I suppose we should probably deal with the 2018 stuff now…
Butler, A. Thomas, Collins, Davis, Coombes, Dundas, Eastmond, Bailey, T. Thomas, Wright, Taylor SUBS: Lafayette, Cadogan, Spence, Walton, Bolarinwa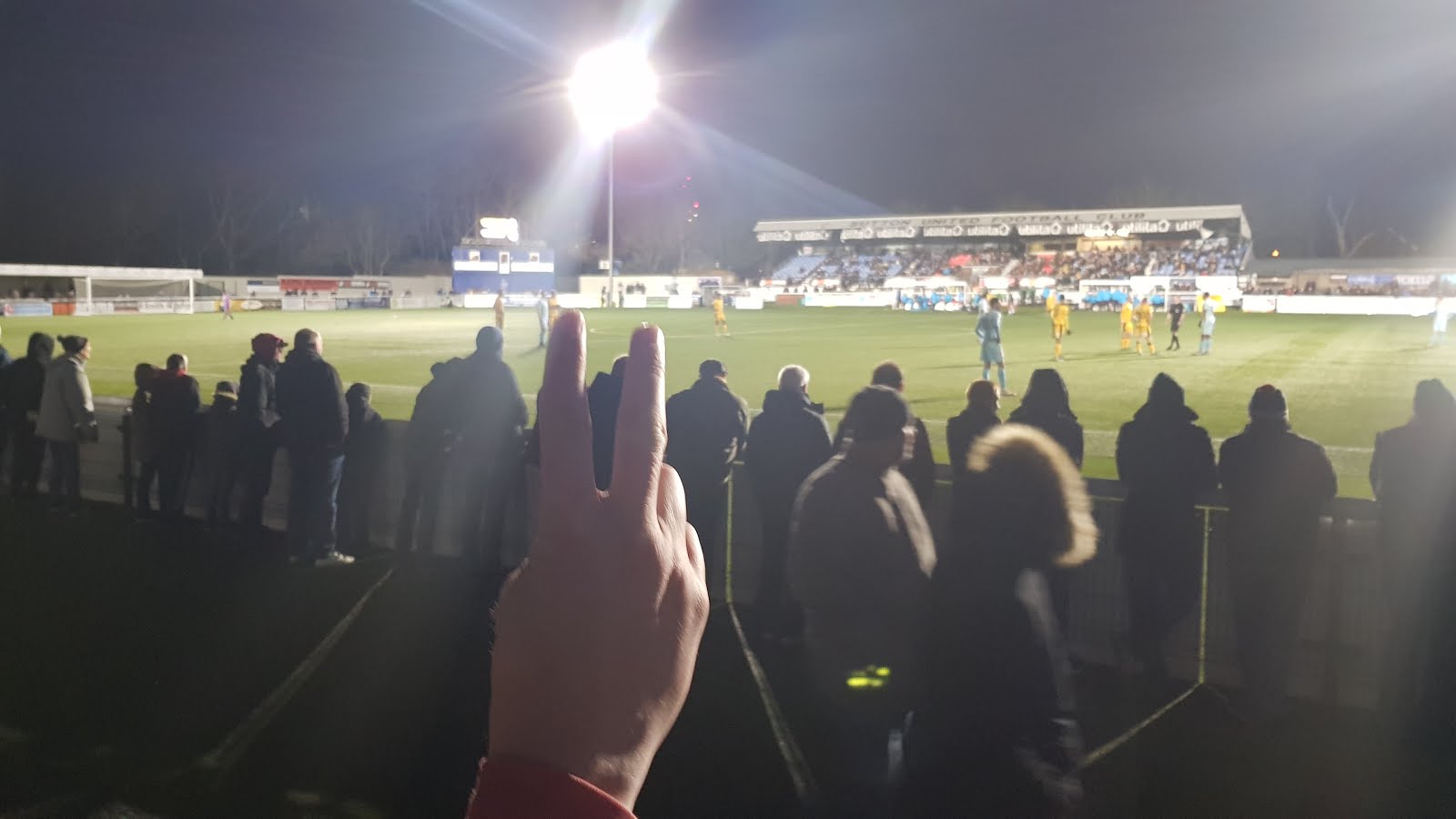 That's just childish…
With it being a home game, my routine was much the same as always, albeit there was a smelly man on the bus eating what I think was fried chicken and the only way I found I could manage not to yack up my own late breakfast was by concentrating on deciding what smelt worse, him or his lunch. Such was the weight of evidence for both sides of that little internal argument however, that when I alighted in Sutton the jury was still firmly out.
Having turned over Wood on Boxing day and had an awayer in Macc just 48hrs previously, today was not expected to be a classic what with there being a few tired legs in the squad. Oh and then some. To say the highlight of the first half was the PA announcing that one of the mascots favourite footballers were Tommy Wright and Zlatan Ibrahimovic is really no exaggeration. The only way this could have really been bettered was if the mascot had actually been the Swedish international himself. That or someone had perhaps created a meaningful goalscoring chance.
With little to cheer the 2007 crowd (as in the number of people in attendance, not that they were all visiting from the year the iPhone first appeared) in the first 45 minutes, the second half was only mildly more entertaining (at least for us), mostly for the fact Mr X emerged from the bar shortly after the restart and whilst taking his spot on the Shoebox enquired if anything interesting had happened, before promptly falling arse over tit. "Yeah, that!" was the answer I doubt he was looking for from those there present. Also, Jamie Collins stepped up to pop in another penalty to give us the lead after Adam Coombes had been felled in the box. Thereafter nothing much else occurred except some substitutions, the usual clueless ref booking Tommy Wright for a foul committed by Craig Eastmond and Boreham Wood nicking an equaliser right on the 90 following a lamely defended corner. It was a goal their performance didn't really warrant if I'm honest, but gave this less than memorable contest at least the scoreline it probably deserved. It's a result that simply confirms my decision to add today's visitors to my 'Eastleigh List' which I recently started and is now growing with each passing week as I remember all the fucking dreadful away days over the last god knows how many years.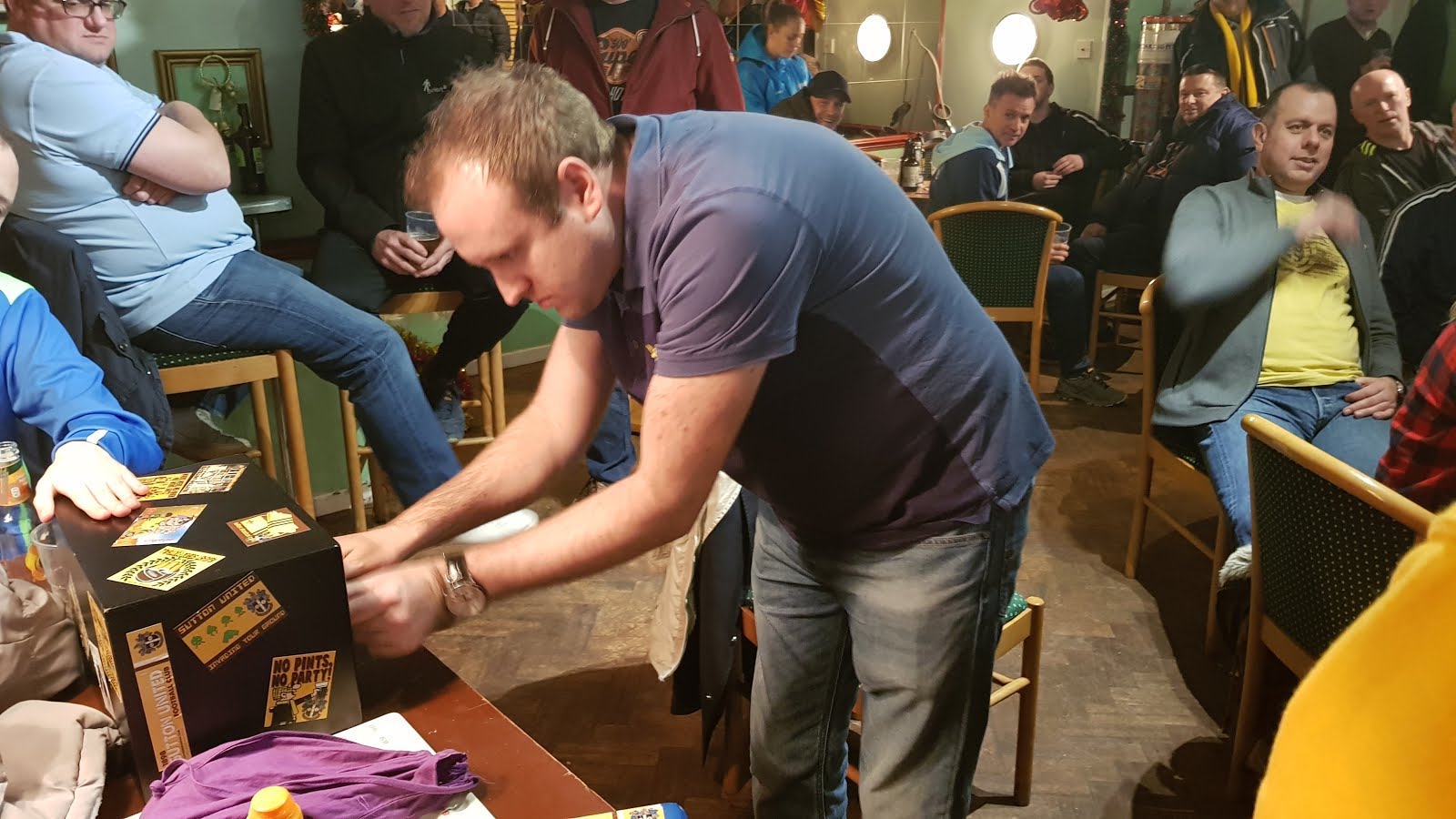 A soon to be lucky bastard…
Shortly after this upon the final whistle, we retired to the bar to warm up, partake in a pint or two and to witness Steve bagging himself and his syndicate partner 850 large from the Strikers Are Key safe. At which point we wished him a Happy New Year and frogmarched him to the bar so we may partake of another pint or two, talk about what a wonderfully fun year we'd just left was and what we were going to do in Gateshead in the event of the inevitable postponement up there this coming weekend.
Righto, enough of that. I'm off for another watch of that Deacon goal at Wimbledon so I can wallow in nostalgia. 2018 seems a bit shit so far.
Taz