New Years resolutions. We're not sure why people bother to be honest. They always seem to choose something that is either quite vague (Be more adventurous!) or that's almost certainly going to lead to disappointment and or failure (Eat healthier!). We here at Gandermonium rarely, if ever bother for these reasons alone and that's before you consider it's a 12 month commitment. Sod that. We've got other more important things to worry about.
However, having now completely laid out our dislike & disdain for them as a poxy fad, we're going to admit that for 2018, we've decided to give it a whirl. Hypocritical? Us? Oh shut your face. It's got to be something simple though, something we have an actual chance of achieving and relatively quickly so that we can spend the rest of the year basking in our success. So, what did we go for I hear you ask?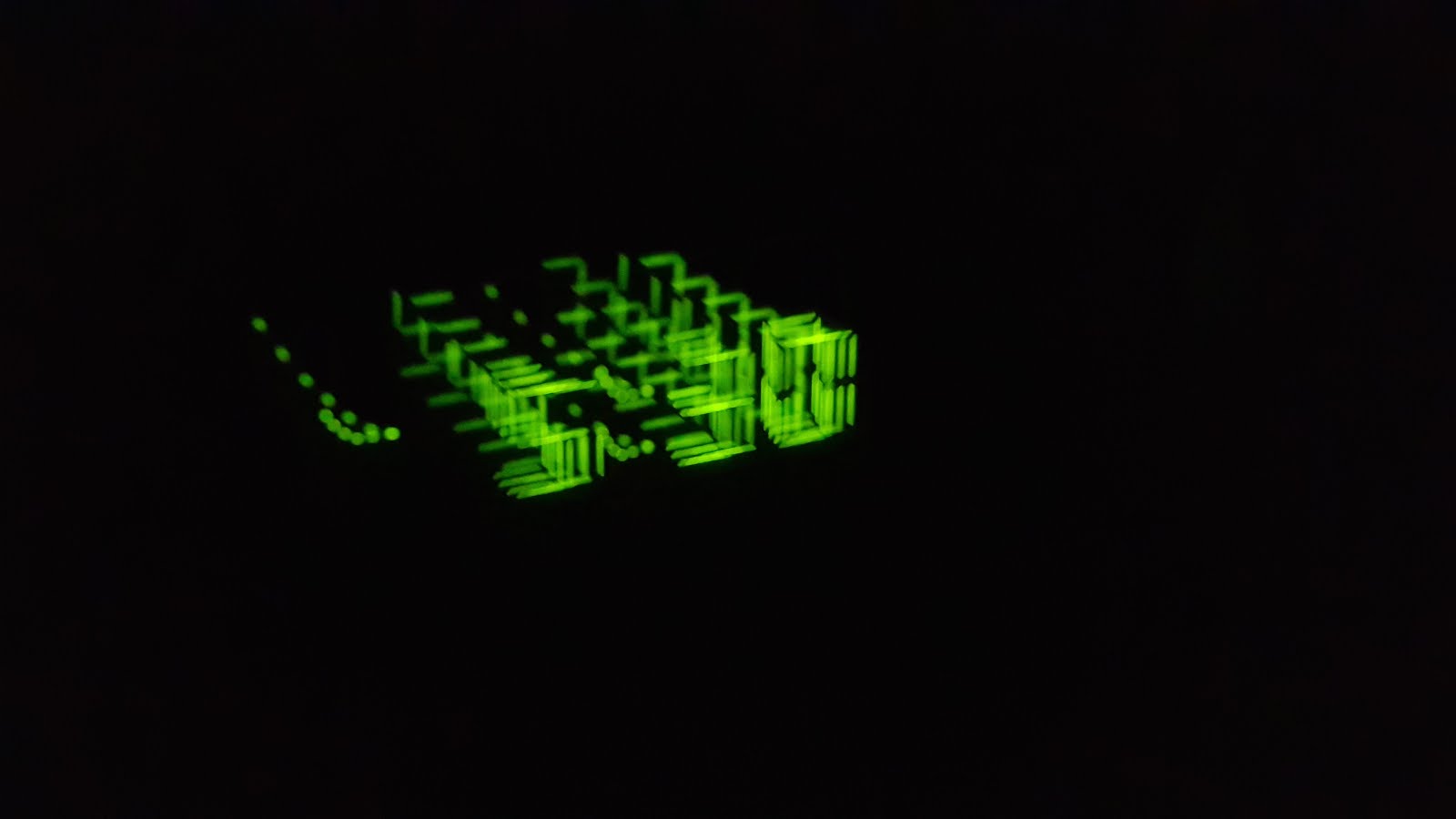 Look, it was early. No, you fuck off.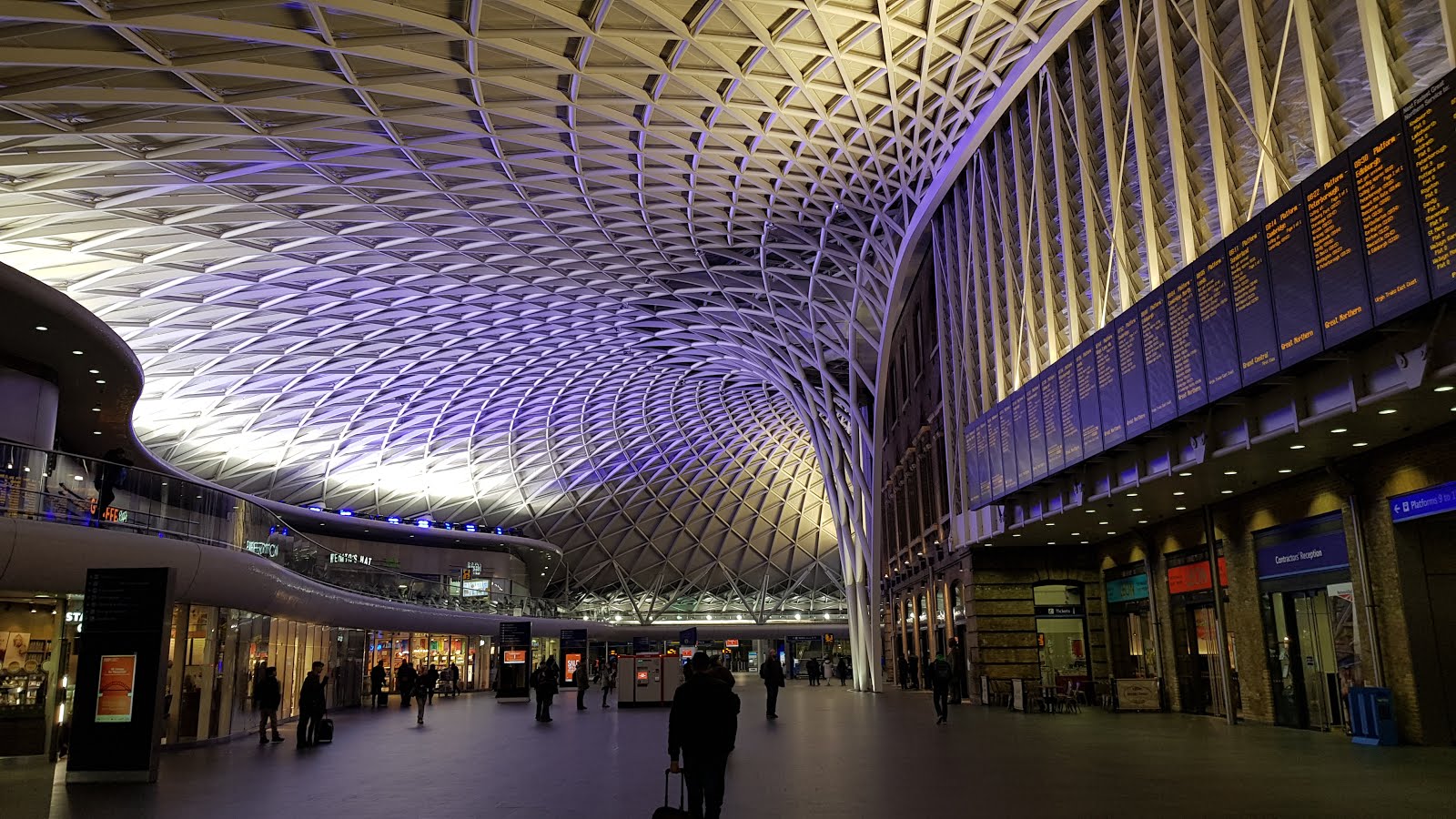 It's not all pubs and falling over drunk you know!
Don't lose Sean Connery in fucking Newcastle. Again. Because even we can't be THAT shit right? RIGHT?
If you've followed us for a while, you might remember that when we were last in the parish of Jimmy Nail and Gazza, we sort of went and temporarily misplaced a member of the travelling party and spent all night trawling the streets searching for him rather than getting on the smash on the Bigg Market like what one is supposed to up here. And we'd lost as well, so it was not a good weekend all round. So, this time out we're determined there won't be a repeat. Mainly as when we get off the train at Newcastle, we're all going to point and shout "What the hell is THAT?" and get on our toes when said parties are distracted.
Our logic being if we never really had them to begin with, how can we possibly lose them?? A flawless plan, I think you'll agree. What?
For some reason, the travel sec for this one decided that a train leaving Kings Cross at half 7 in the AM is a good idea. Not many agreed, but as we'd all forked over 60 sheets for the ticket by then, we didn't really have much say in the matter. So, it was once again a Saturday morning where I'm awoken by my alarm clock considerably earlier than if I were having to get up to go to work. Naturally, Mrs Taz is almost as delighted by this as I am. Her not having to then go to Newcastle to watch Non-League football though is no doubt making her feel like the real winner here. "Jesus wept, you must really love your football stuff" she mumbles. "Only marginally less than I love you, my reason for living" I reply as I tumble out of my pit, still half asleep. What she adds to the conversation after this point is muffled as she's now pulled the duvet back over her head, but I'm sure it was something just as sincere and warm hearted. Either that or she called me a twat.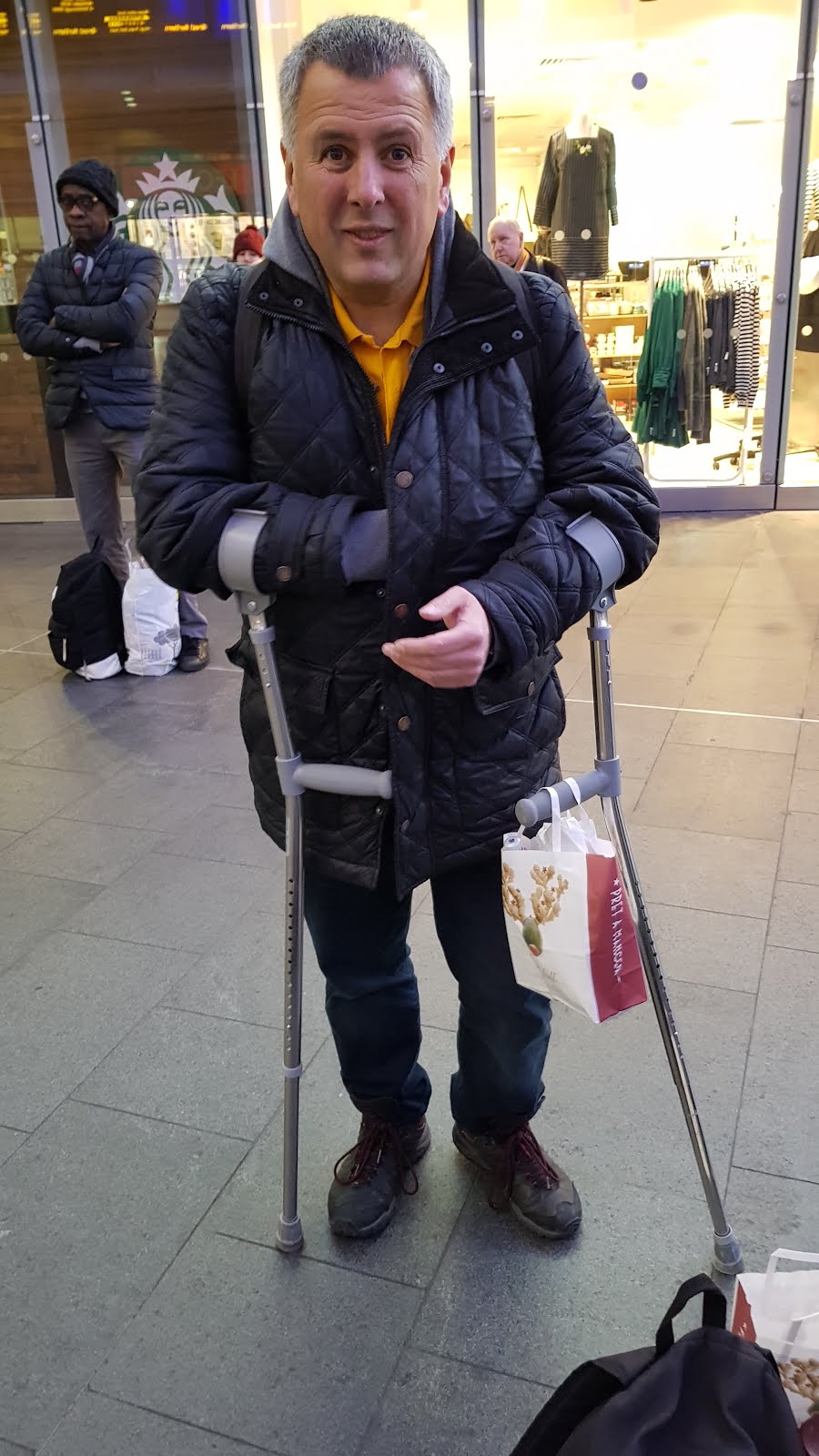 That's not what they're for JR.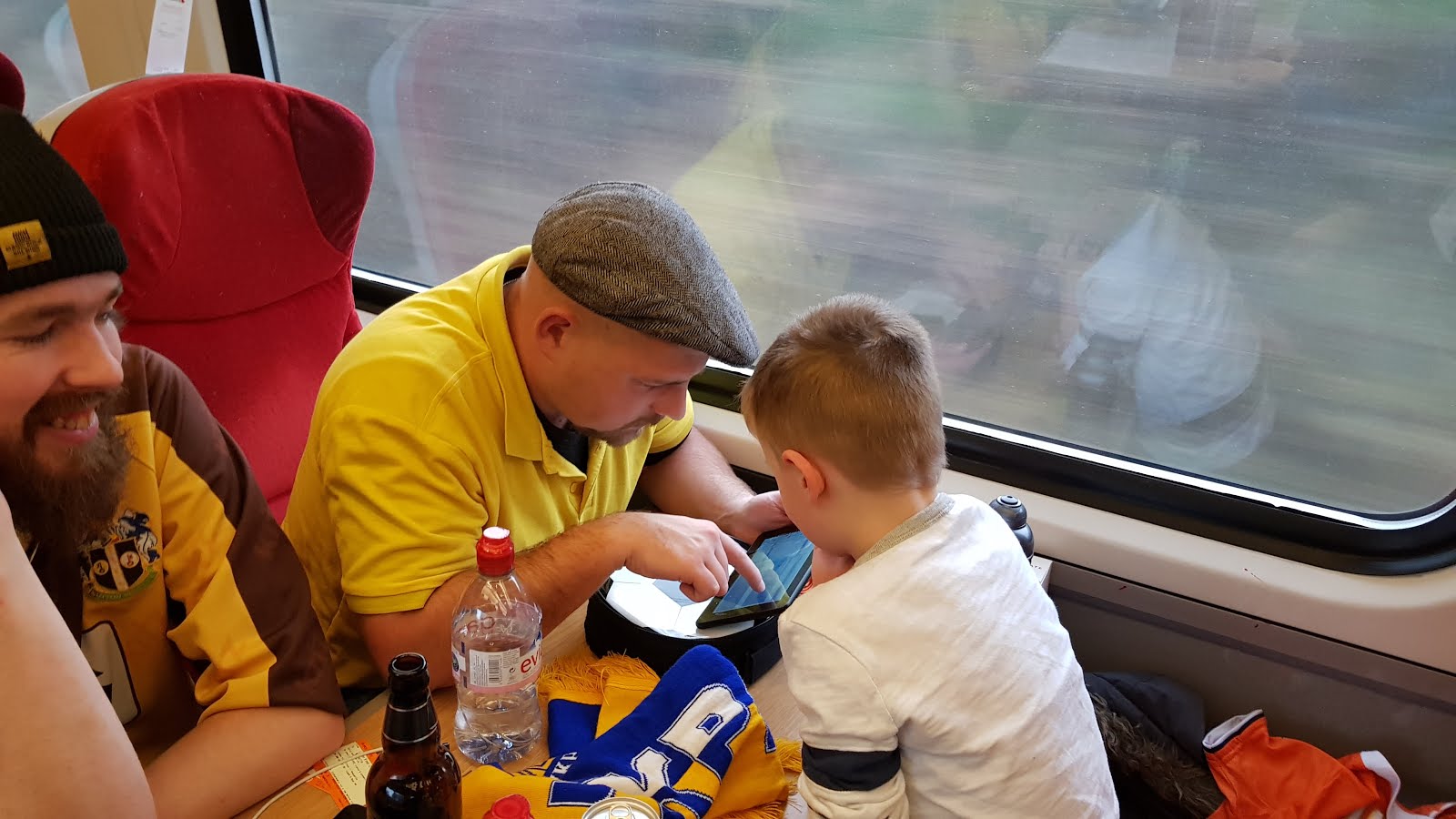 Big stupid child instructs young Luton fan in all things Minecraft
A quick run through the usual morning personal hygiene tasks and I'm skipping down to the bus stop full of life and the joys of the New Year. This sense of wonder only increases when the fucking bus actually turns up when it's supposed to and I'm soon winging my way to East Croydon to catch a train into London, smug in the knowledge that I'm not having to slum it on the Northern Line like the rest of the mob as there's no trains out of Sutton this weekend. Despite the lack of Victoria trains at Croydon, my path to Kings Cross is completed with a well timed diversion to London Bridge and before I know it, I'm emerging from the underground and spot Indy & Sean. I warmly greet the old man and whilst doing so, slip a GPS tracker into his coat pocket. Hey, we're not saying lightning won't strike twice, but having a Plan B is always a wise move I find.
Fortunately this week, no one oversleeps or other such nonsense and we're all present and correct well before the departure time. Shocking stuff. JR is even displaying some non-standard usage of his NHS issue crutches. Eventually settled on the choo choo, we start what turns out to be a fucking really long train journey north. As you'd expect at 7:30 in the morning, the carriages are sparsely populated. However we've noticed that a lot of the reservation tags on the seats start at Peterborough, where a proportion of the 7,500 Luton fans heading to Newcastle for their FA Cup 3rd Round tie join us. The trip is long, but uneventful. It's also fucking hot, as the thermostat for our carriage seems to be set to "Stew in your own juices". Elsewhere, Dukey passes the time by assisting a young Luton fan on his first away day with his dad in his mission to complete a video game called 'Minecraft'. Nope, fucked if we know. Sadly, his mission is cut short when the lad's tablet runs out of battery some half hour from our destination.
Having been greeted at Newcastle station by 2 rozzers with sub-machine guns (christ, are Luton that naughty?) we've soon located our digs and set off on the short walk to check in. Bags dumped, we head back to the pub opposite the station to meet up with Bob & Cathy. Sadly, the place is rammed what with half of Luton being in town today, so we shift on to a Spoons round the corner that pleases the flat capped one massively. A quick beer here and with Nat and Steve having joined us, the place getting busier and the landlady displaying the level of humour where she feels it necessary to summon the old bill to quell a shocking outbreak of balloon throwing, we move on. Next is the Head of Steam. Which looks shut. It's not, it's just that the odd automatic doors to the place don't pick up the rakishly thin figure of 4Days when he approaches. Dr Bell on the other hand has more success registering and we're in. A couple of beers here and as this too starts to fill out with half of Bedfordshire, we edge further to the river. Heading to a place called the Split Chimp. Naturally, this triggers all sorts of jokes relating to simian injuries, these do peter out in the pub itself though when Dukey is mesmerised by a rather more up to date world map on the wall than his 'Ladybird Atlas for Young Imperialists' (1937 edition) at home.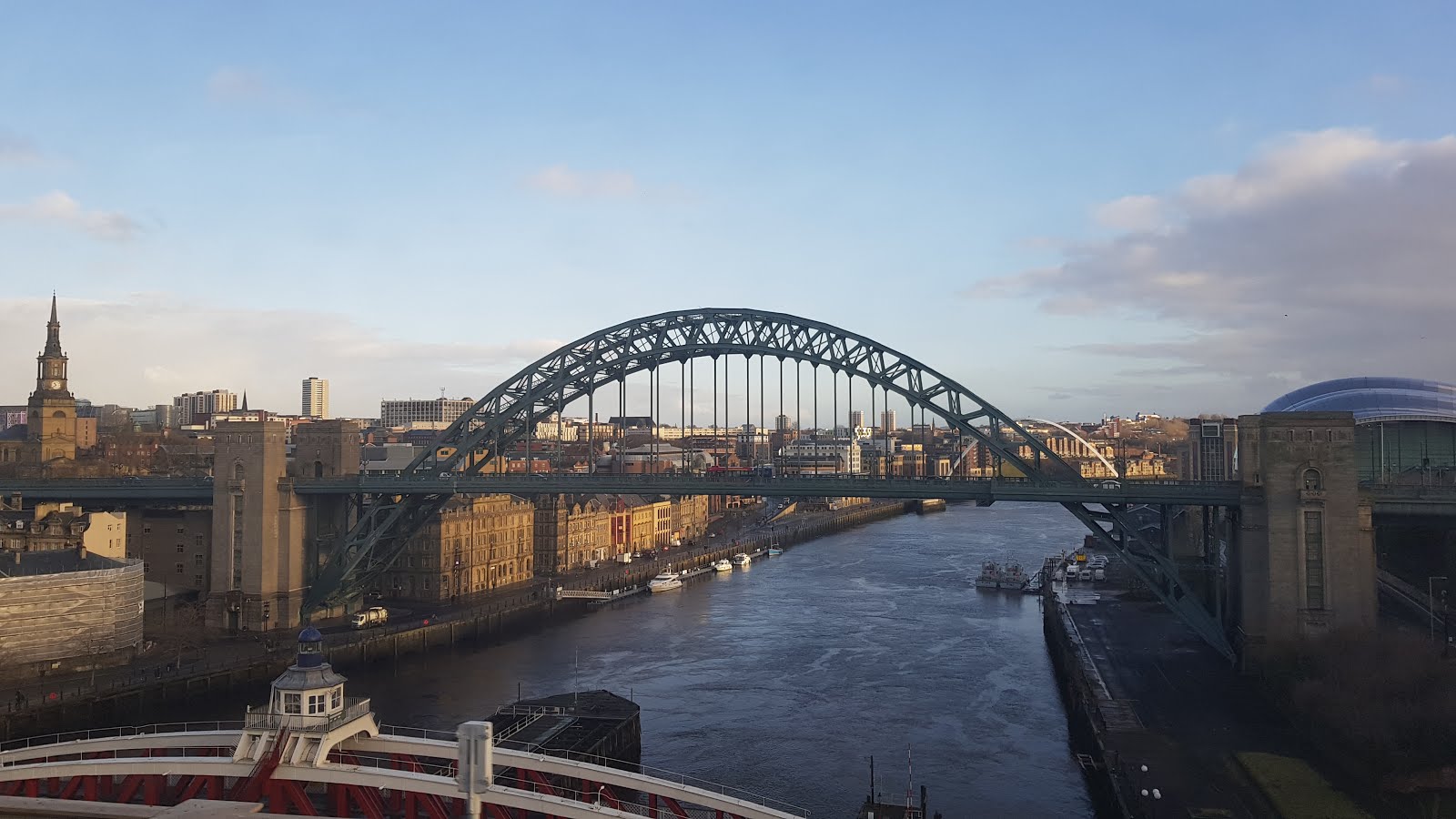 Hello Newcastle.
The stock Geordie Saturday night pose…
Our final stop is a favourite from pre-match last season. The Bridge Tavern which is so named as it's right under the Tyne Bridge itself, in a little area of town that looks more New York than Northumberland. This has the benefit of being in the opposite direction to St James' and is thus not packed with Luton hordes and with a cab rank outside to take us the short hop over the river to Gateshead. So we enjoy a couple more here before giving 4Days the task of rustling up transport. For some reason, he rings out for these rather than use the rank outside, so of course the usual happens when we go to transport the Gandermonium ensemble to a match from the last pre-match pub. Some of us are left behind. This time it's Mr X and my good self who are left to argue it out over the one remaining place in the one remaining sherbet. We decide to magnanimous about it all and instead hop into the first one on the nearby rank and set off. This it seems is a decent option as our cabbie knows the back roads and takes us straight over the Tyne on the smaller bridge and cuts around the back of the ground whilst the others go over the main route and get binned at the main entrance leaving them with something of a walk. Winners!
15 quid later and we're into the away end, which is different to last year in that we're at the far end of the main stand but still not in the whole section across the ground like pretty much everyone else gets. Very odd. Still, my disappointment is soon tempered by the find minced beef pie that's disappearing into my boat and filling a hole in my belly.


Evans, Thomas A, John, Collins, Davis, Coombes, Dundas, Eastmond, Thomas T, Bolarinwa, Beautyman SUBS: Lafayette, Wright, Walton, Taylor, Downer
There's a coupld of changes today, with Butler having picked up a bit of knee knack against Wood Dos has swooped to bring in Terrell's team mate from Wigan Owen Evans to cover for a month. Also returning and to slightly more fanfare than the Welsh u-21 international, was midfielder Harry Beautyman who rejoined from L2 Stevenage during the week. Good to see you back Beauts!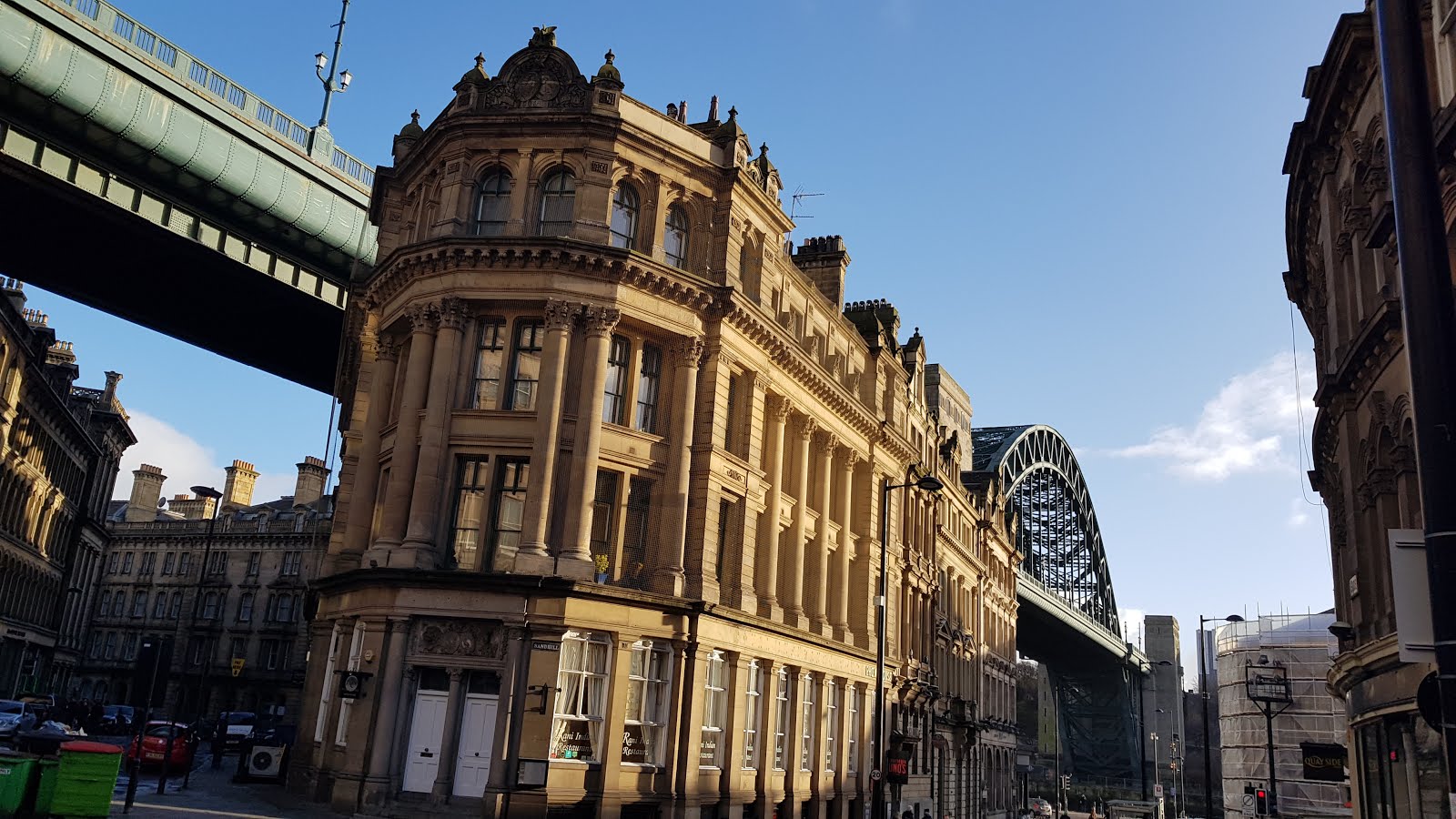 Yeractualcultureinnit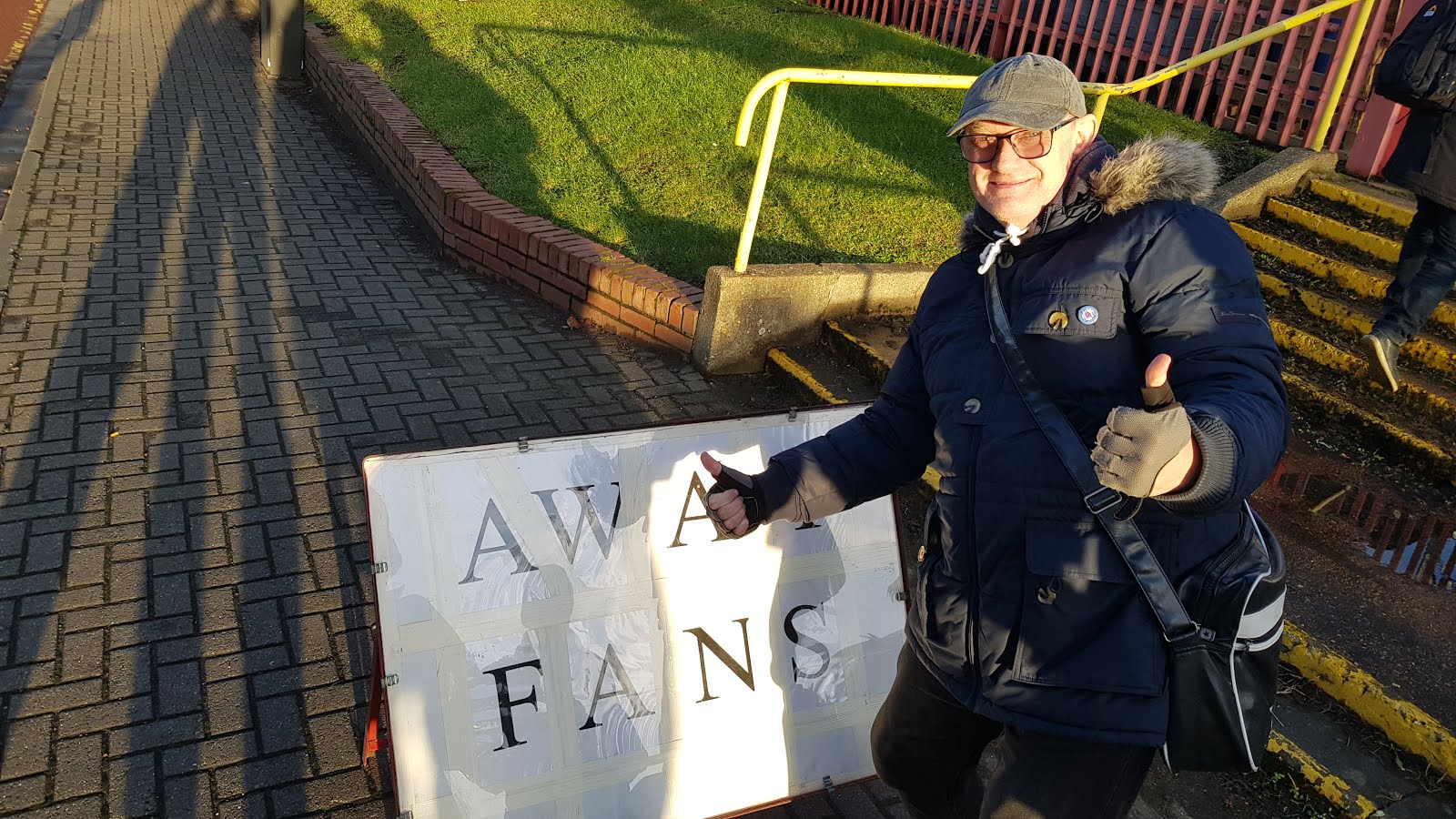 Kebab Belly Bob is pleased to be here…
As it's January and we're oop north, the weather isn't amazing. And when you combine this with the vast, wide open spaces of Gateshead's International Athletics stadium we're sat in, you'd be forgiven for not expecting a classic. So we're not. And it isn't. What follows is a rather poor 45 minutes of something or other. There's certainly not a lot of football played. We do the basics right and stand up to some pressure from the home side, but we really don't create anything of note. Although Harry looks by far our liveliest player, so that's nice to see. The hosts might have the better of things, but they don't really create much either. Owen has a shot that hits him in the chest and he has to gather second time around and a low shot across goal that just misses Dundo at the back stick. At the break, we all descend back downstairs for another pie and to have a look at some results.
Fed and watered, we're all stood at the foot of the stairs that lead back out into the seats, looking at the rain swirling around in the glare of the floodlight pylon opposite. Naturally, everyone hesitates and makes it all a bit 'No no, after YOU'. The hesitation is broken when the little one of Rory, a Sutton exile up here in the frozen wastes, simply goes bowling up to retake his spot. Oh the innocence of youth! Although he does linger for a moment at the top as if he's having second thoughts, so he's clearly not entirely mad. A good sign that for his dad, who like us has stayed firmly in the relative warm of the stand!
The second 45 is mildly better than the first. The quality doesn't improve, but our contribution to events certainly does. We're a bit more at it this half and we're far more in the contest than previously. Both Coombes and Easty have cracks from range, the first brings a reasonable save from the keeper and the latter is just nicked wide for a corner on it's way through. We really come to life after the hour mark though when first Taylor, then Wright and finally Lafayette are introduced and we start to look far better. Then slightly from nowhere, with 15 to go, we're in front! Harry and Louis combine on the right and the defender swings in a ball that tempts the keeper off his line for a catch. Sadly for him, Tommy's read it perfectly and arrives just in front of him to nod into the empty net. About 5 mins later, it's game over as some good build up on the left ends with a ball infield from Eastmond to Tommy lurking in the D. He takes a touch and fires back across the keeper into the bottom corner leaving the keeper rather satisfyingly rooted to the spot.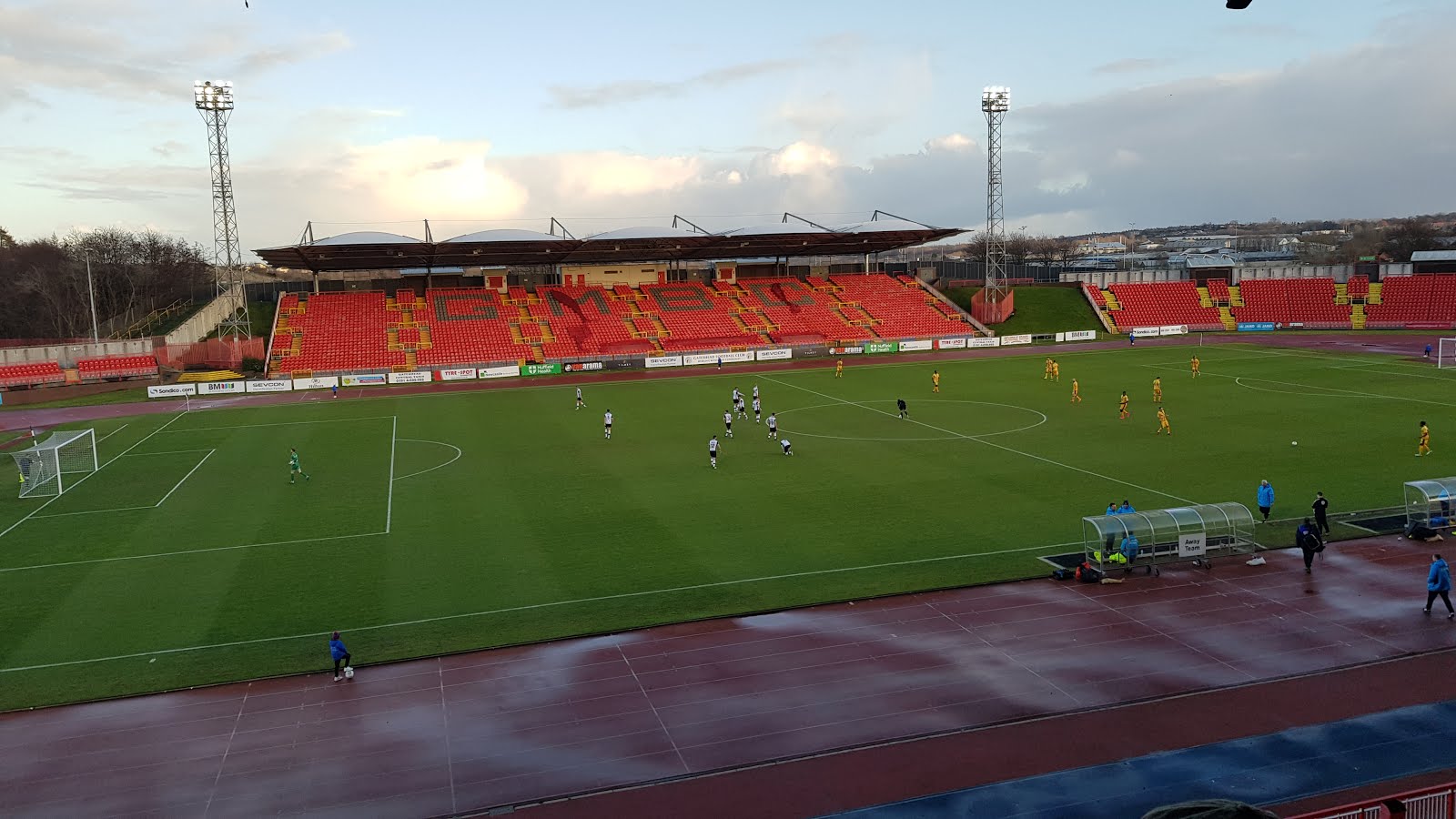 Anyone got any bionoculars?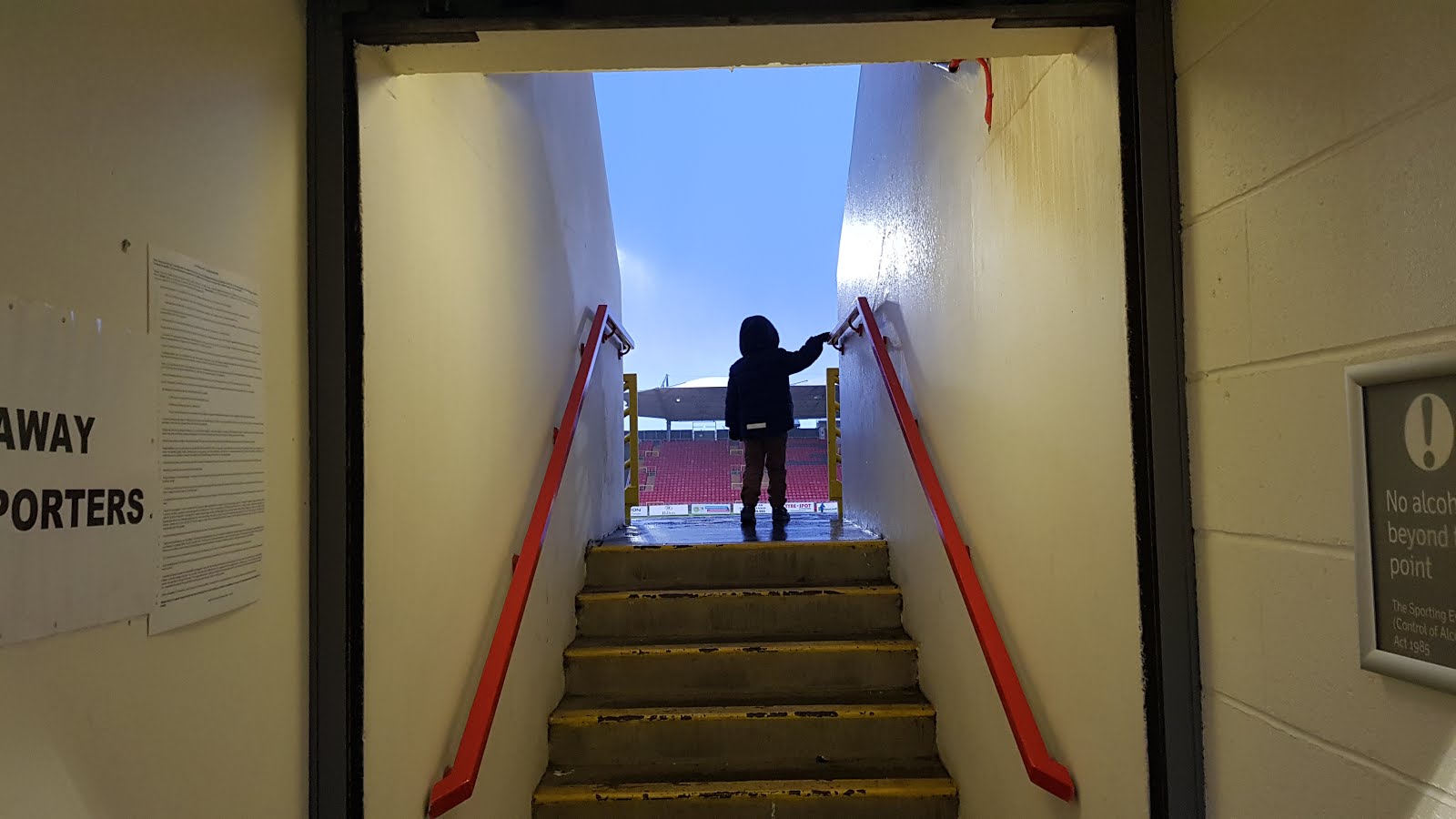 Rather you than us kid!
The last few are seen out without any real fuss as the hosts can't muster a response and we're left to celebrate another good solid away win. Saw out the pressure, upped it in the last 15 with some subs and saw it off. A job well done methinks! The lads give us a quick clap on their way off, but going by the speed at which Able and Clive collected kit etc and zoomed off down the tunnel, we're guessing the boys are on the 6pm train home! So, with the points in the bag and being hoofed out of the ground which is essentially in the arse end of nowhere and no immediate means of escape, we're left with the simple choice of standing around like last season waiting for transport or heading to a nearby pub that'll at least be warm and serving beer whilst we await rescue in the form of Hackney Carriages. Actually, there's a thought. Do they have Hackney Carriages up here? Maybe they're Hebburn Carriages. Or….
This is the best move and we soon find ourselves in the toasty Schooner right by the Tyne with a pint in hand and admiring their 'Vinyl wall' which is essentially a eclectic collection of mint condition LP's of various genres and artistes. Including one punk collection that Totts would no likle have found to his liking. Two pints here whilst we catch up with scores and cabs ordered, the required amount to transport us all this time and we're soon heading back to the bright lights on the other side of the river for a quick spray of eau de Lynx and back out to hit the town. This is also the nerviest part of the evening so far, as this transitional phase was were we mislaid Sean Connery last time out.
Our fears however are misplaced and we all hit the Dog & Parrot on the corner a short stroll from the digs with no casualties. A couple in here whilst we admire the raft of music art on the ceiling and also admire the movement of said ceiling as someone or something large bounces around upstairs. From here, we decide to go local and head for the famous 'Bigg Market' for some further refreshment. Starting in the Blackie Boy, tucked down a tiny alley, we find the place suits us perfectly. It serves beer and has a free jukebox. Here JR and I take responsibility for completely packing out the playlist so a certain person can't stick on a certain fucking blonde haired one hit wonder from the 90's. The collection of stuff on here is quite eclectic and also includes Des Lynam reciting the poem 'If' by Rudyard Kipling. Odd. Sadly, there's no sign of the Republic's number one folk artiste Comrade X though. Bloody northern heathens. No taste clearly. The place also seems to be showing Newcastle United goals videos from the early 21st century on a loop.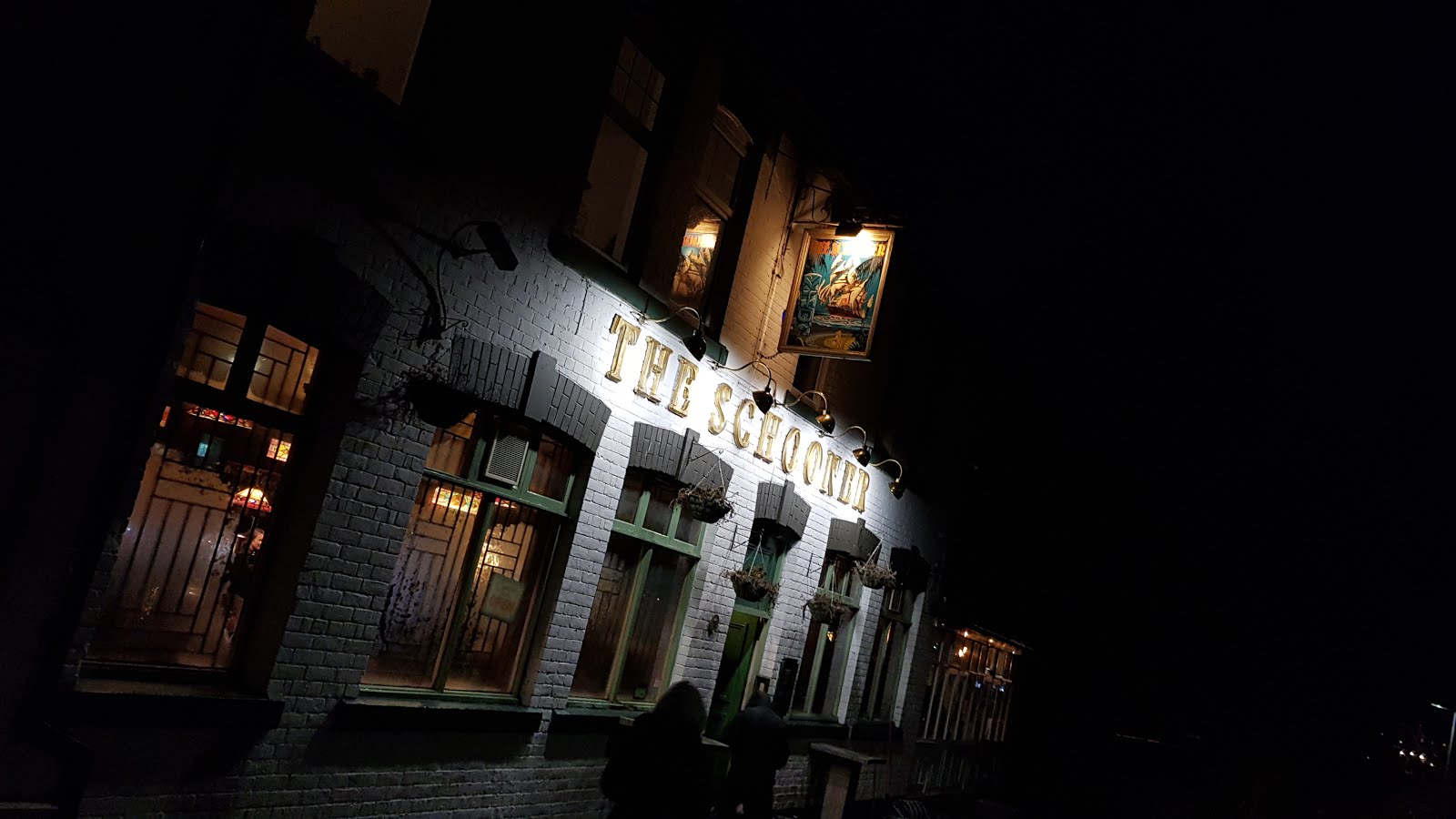 Post match pints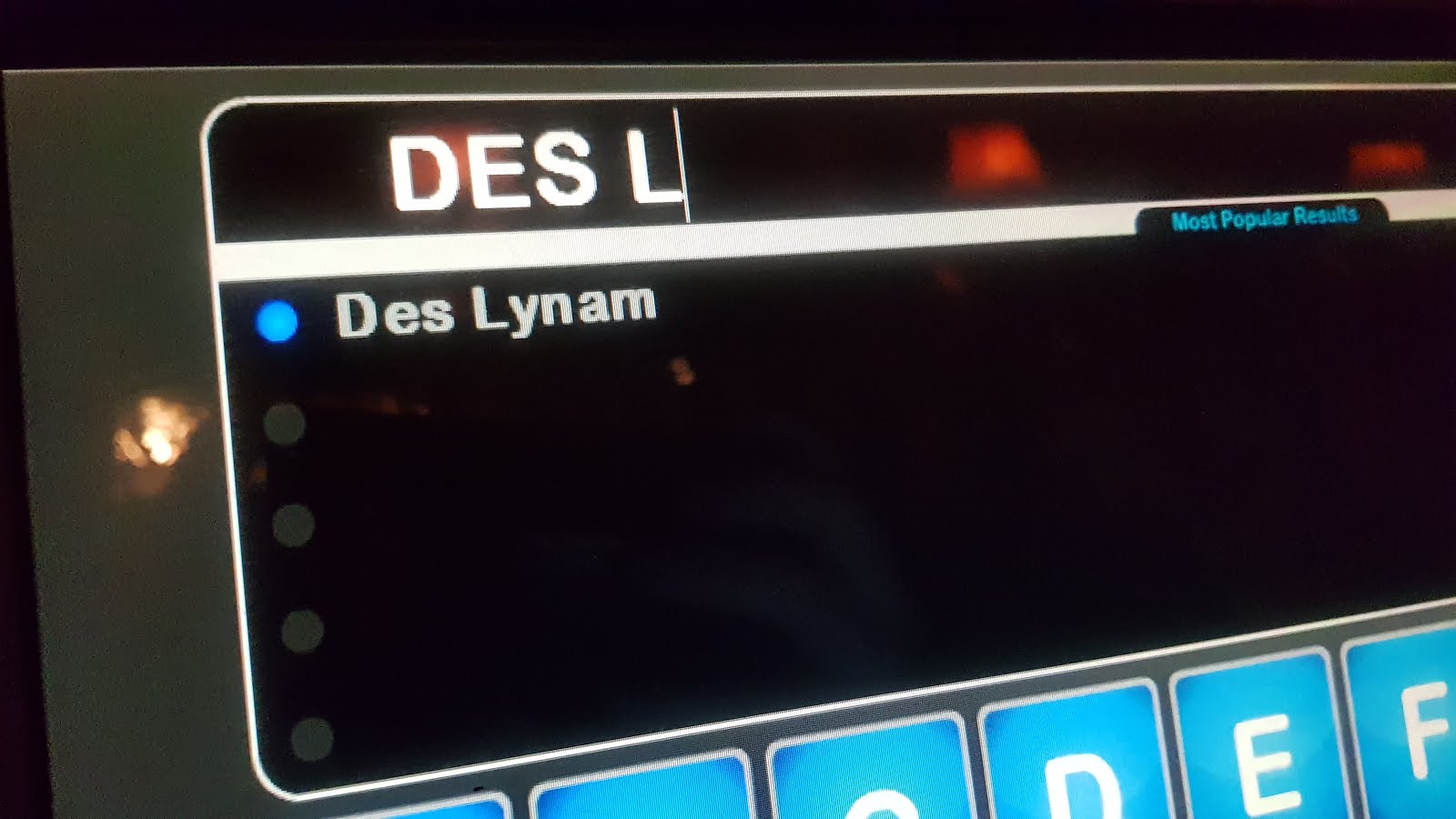 Anything's better than fucking Chesney Hawkes!
Our next port of call turns out to be our last. We wander into CJ's and finding the free entry, relatively easy service and cheesy music to our liking, we make ourselves at home and set about shaking our booties to celebrate the three points. I know, not an image that you'd want ones imagination conjuring up. Sorry about that. We entertain ourselves with various record requests and setting the DJ straight when he puts up an image on the screens dotted around the place welcoming Luton Town fans in. So I pop over to remind him there were some other southerners in town today who'd actually won. He then announces "Apparently THE Sutton United fan is in tonight as well", which causes me to remark his hat is shit in retaliation. Still, everyone else seems happy to have got the shout out.
Time moves on and with alcohol levels topping out along with the fact we're now past our 21st waking hour, we finally decide to call it a night. Some stagger off straight to bed, whilst myself, Pete, Dukey, Dr Bell and Mr X go in search of food. Luckily there's about 8 kebab shops all in a row right by our digs, so we pile in. All but Dukey choose the first one and all but Dukey are satisfied with their choice. My purchase of a lovely mixed goes down a treat, although I'm not quite so sure about the blindingly radioactive chili sauce that coats what Mr X and the good Doctor have ordered. At this point, I'm pleased that I've been roomed with Steve for the evening and not either of the two Sellafield sauce boys. Fuck being in a confined space when that lot reappears tomorrow morning! Stuffed with crap food, it's time to retire and I'm out cold quicker than you can say 'Fog on the Tyne'.
I'm up a little later than the previous morning come Sunday, but still before most of the rest of the herberts. With there being a fair few Luton in our gaff overnight, I want to make sure my share of the bacon from the breakfast buffet meets the required levels so I head down to put in a claim for the prod people of the Republic. Thankfully it's a plan that pays off and I pile the bits of pig onto my plate, which with four slices of toast and washed down with a cup of Rosie sorts me right out. Just as some of the others appear for their own morning fill, I'm disappearing off upstairs for another hours kip before the off. Planning!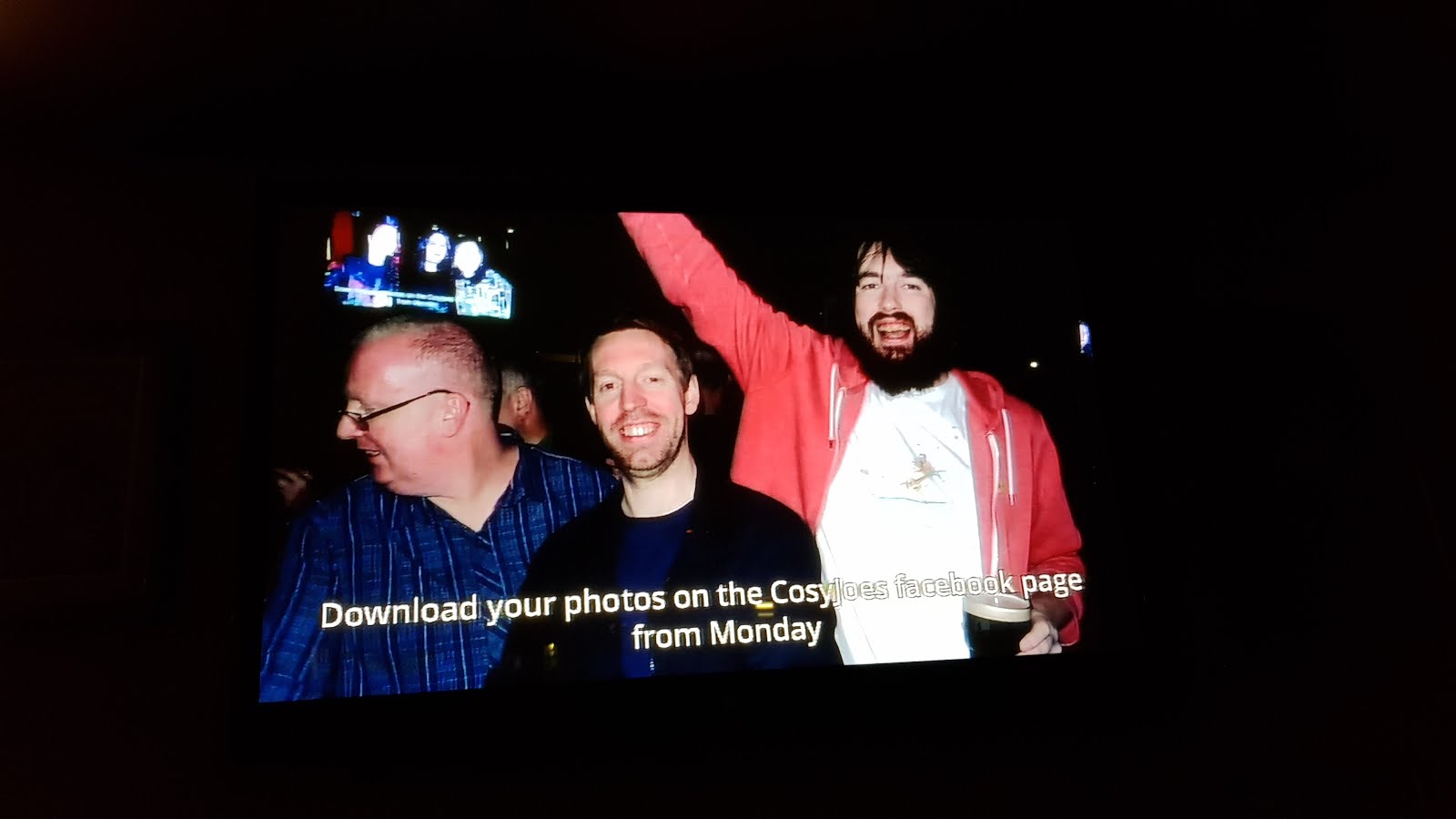 Look at the state of those whoppers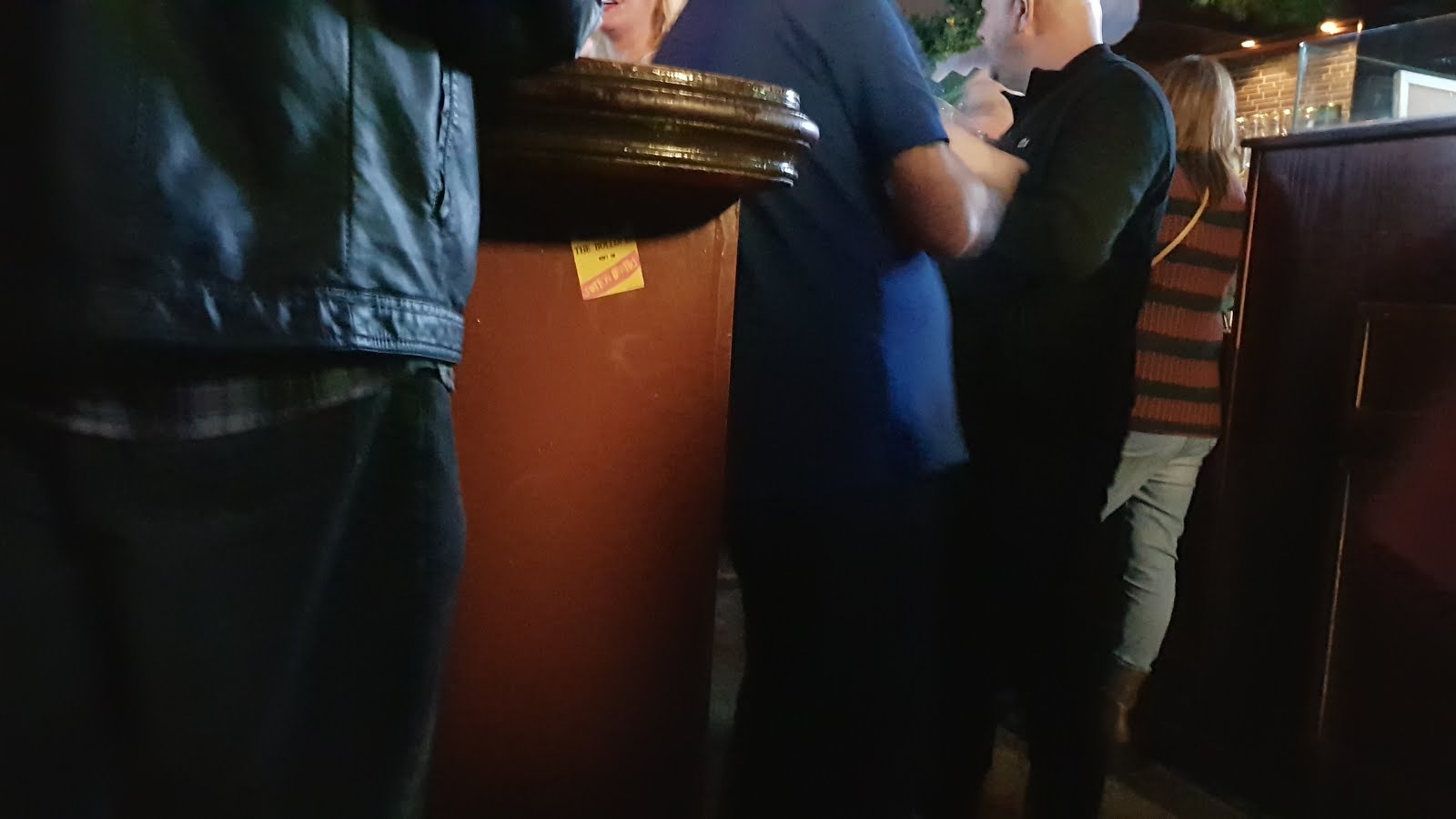 That's what you get for mentioning Luton & not us….
The train home is as dull as the train up, but fortunately the journey doesn't seem to drag as much and we're stumbling into the cold London air on time back at Kings X. Here, the party goes its separate ways as there's still no trains to Sutton so the majority are once more forced onto the Northern Line. Meanwhile JR and I take the Victoria line and a fast train to East Croydon. Then bang on 4pm, I fall over the threshold back at HQ and within the hour I'm snoozing on the sofa content with a New Years Resolution well done.
Never in fuckin' doubt.
Taz