So we move on to the final match of 2017. It's been an eventful year I suppose you could say. Who would've thought that a trip 'Oop North' to the wilds of near Manchester at this time of year would end being a top of the table clash? I suppose one way to treat it would be to use the words of Our Lord Dos: "If you'd offered me that before, I would tear your arm off."
For the record, I do hate all this calendar year in football bollocks. Only the other day we were force fed that crap about Harry Kane breaking the league record for goals in a calendar year. Well whoopee-fuckin'-do! Let's be clear about one thing, there is only one real 'league-goals-in-a' record and that is Dixie Dean's 60 (Sixty) in just league matches over a single season. But I'll stop myself before I get carried away on this. And besides, I'll probably need some filler for the upcoming Surrey Senior Cup match! So instead, have a photo of my Christmas present…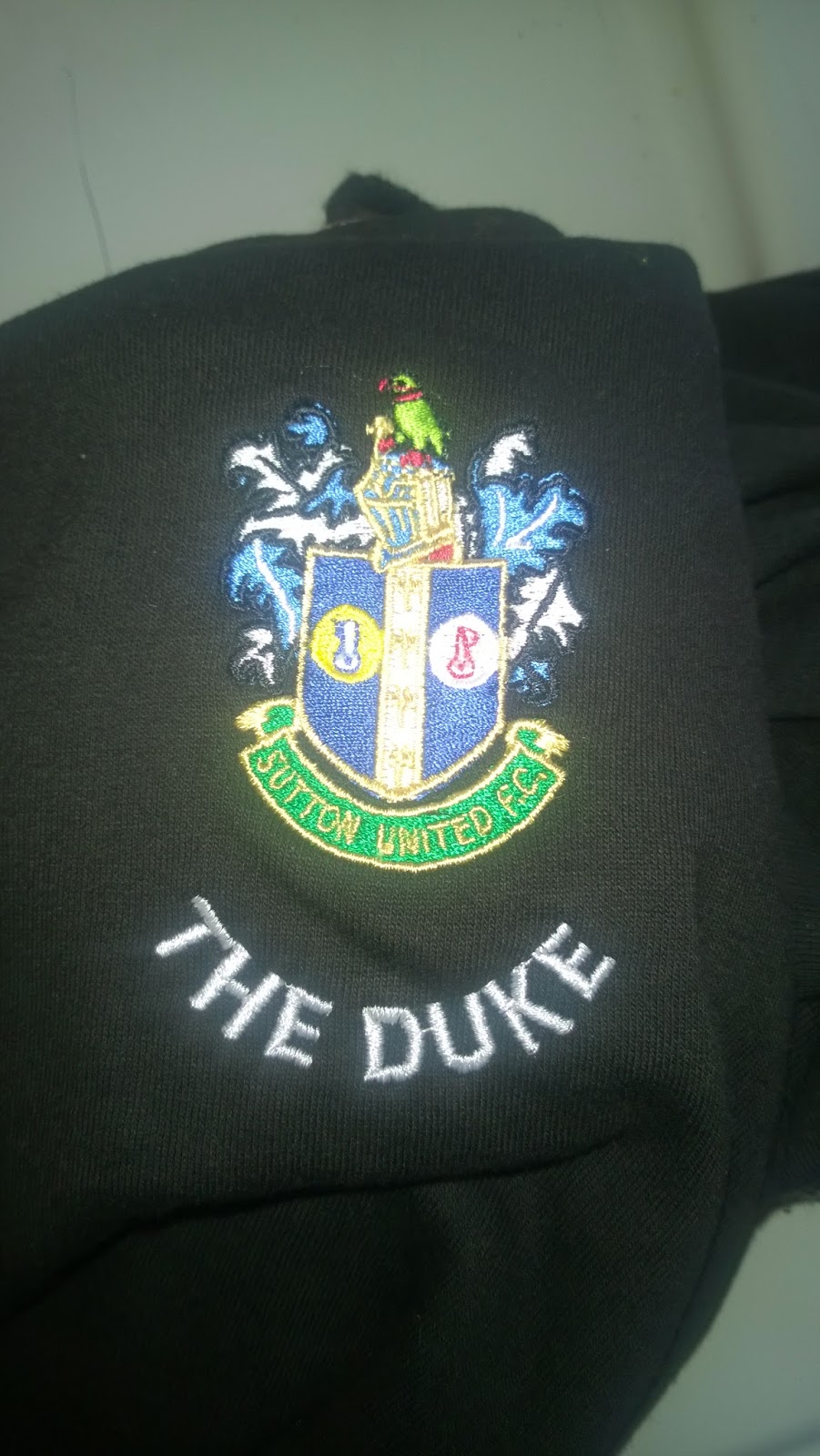 Available in all good club shops…
Our train was due to leave Euston at five to nine, So I decided on getting the half seven from the Badlands of Carshalton. Arriving at Victoria, it's a quick Tube up to our destination. Not finding anyone around on arrival I head off to get a cuppa. Eventually I spot Indy & Sean Connery's Stuntman having an early drink in All-Bar-One. The Stuntman was looking a little bit under the weather it had to be said. Apparently it turns out that he'd just found out that his girlfriend Eva Braun was cheating on him. Sad news.
Eventually Mr X makes an appearance and quickly informs me that Alan had blown out this morning. Shame he hadn't done so the night before because then we could've at least sold his ticket to the likes of Dr Bell or Rax who'd been interested in going. Taz, Southampton Steve, Bob & his better 'alf, Pete the Perv and even Magnum P.I. all arrived in good time to complete the travelling party.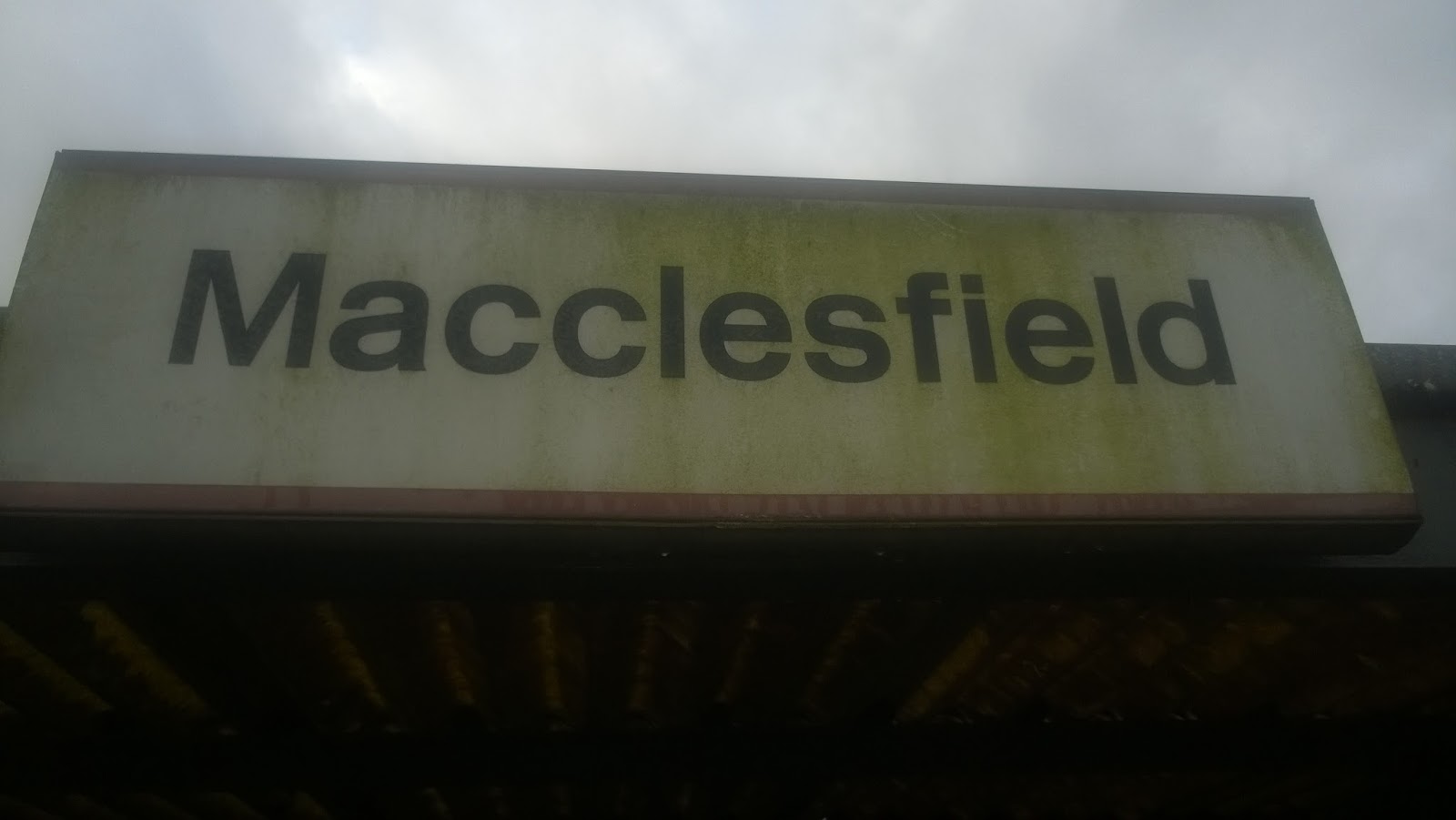 Spring cleaning is just round the corner…
But yes, one again Ladies & Gentleman, there was one that felt that the departure time was not late enough for them. Take a bow 4 Days, for it was he that managed to oversleep and was currently in grave danger of not making it. But as many of you are aware there is the famous golden rule of Gandermonium to consider:
"Never leave a man behind, unless mutually inconvenient to the rest of the group"
So of course, we left him behind. But not before he asked if we could leave his tickets at the information desk as he was going to try and jump on another service. On the train and the whole "booking all the tickets together whilst drunk" routine was in force as we found we were dotted all over the carriage. Never mind as this meant that we could enjoy the only sober part of the journey and not bother anyone else. Much.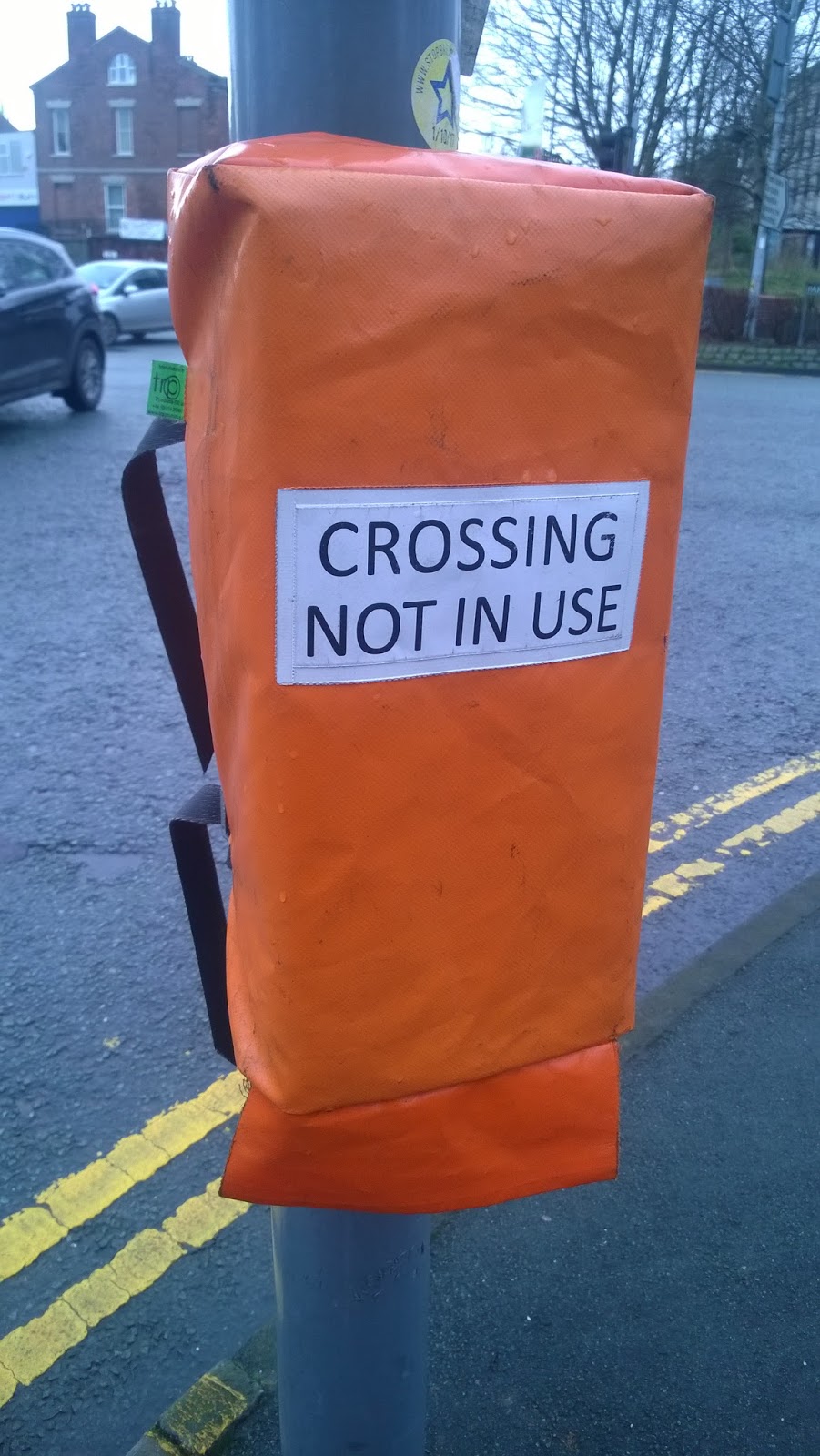 Sorry, can't read too well…
A quick stop at Stoke and with it nearing ten to eleven we arrive at Macclesfield. Obviously Gandermonium disembark without an issue. Shame it can't be said for "The Yoof" as one of their rabble manages to leave their bag on the train! We also receive the disappointing good news that 4 Days has not only managed to wing himself on a slightly later train and is only half hour behind us, but he's also bagged it for fuckin' free! Some buggers get all the luck! If that was anyone else, it would've been a "Yeah, fuck off John, that'll be £80".
Going on the recommendation from Bob (or a look on Google) we head to the "George & Dragon" was worth a go as it apparently opens at half ten. Except it isn't open at half past ten, so we go back to the original plan of 'Spoons. And as you know I'm the only one who everyone loves 'Spoons. Five drinks for £13, you can't complain with that. What you can complain about is when you 'discover' a large tear in your recently purchased very expensive Hugo Boss jacket. Not mine obviously, I'd never fork over the sort of readies one of those things costs.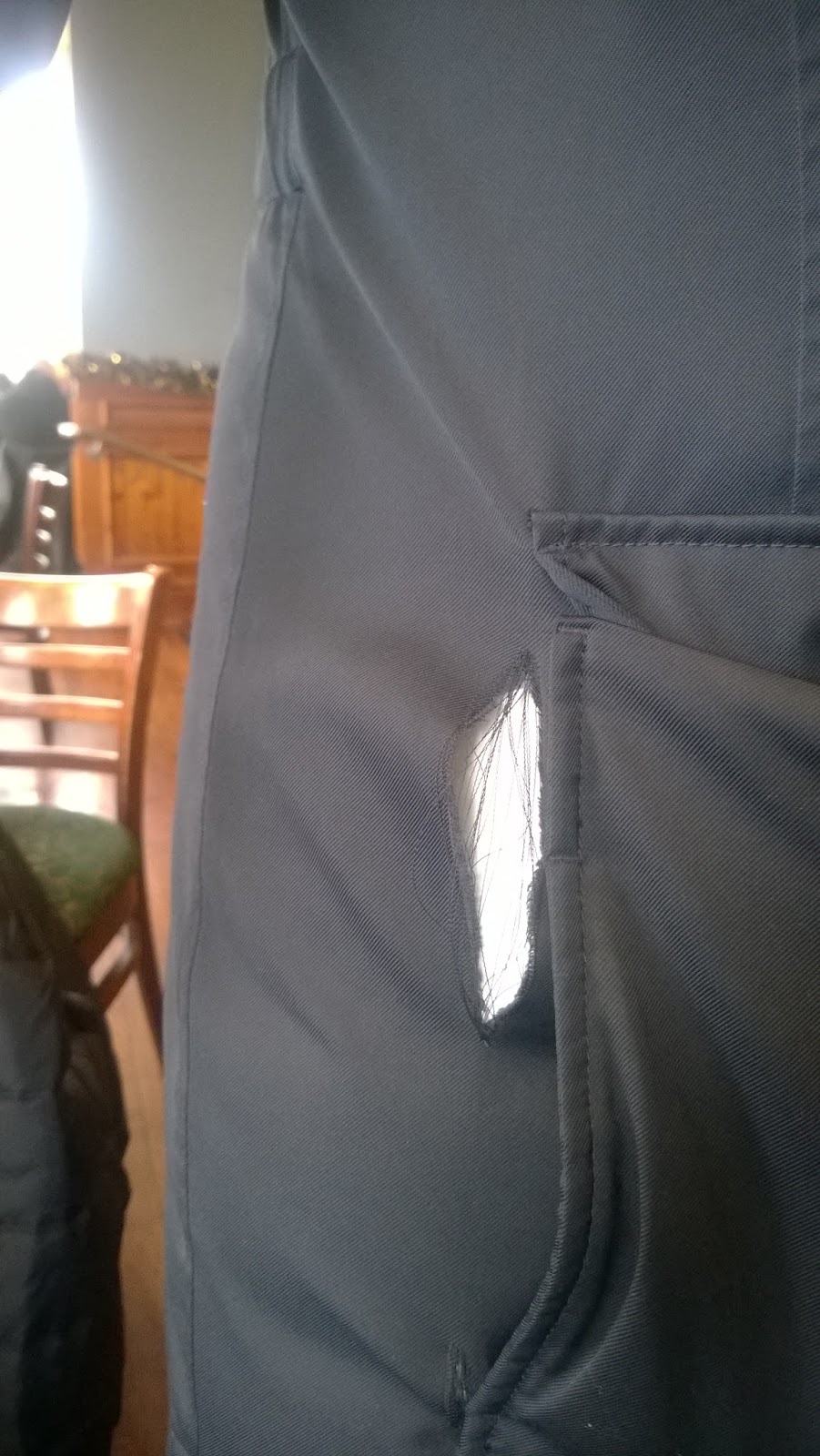 Someone's had too many mince pies…
After a couple of pints, me & Mr X manage to work out that our personal tobacco supplies are running low. Not for the day but for the start of the year. Well there was only one way to sort it out. I give you two words: Jersey or Belgium. That's right, we happen upon the idea of a mad dash across the channel to stock up before the end of the year. Why the end of the year I don't know, but it had to be done by then for some reason. Except the end of the year is the following day, so time is of the essence. As we're now busy boozing, we decide to sort it out on the train back. Next on the pub list is the "Red Willow Bar" across the road so that the 'real ale' drinkers can have their fix. We also manage a lively debate on what direction the ground is in. Moving on to "The Macc" for a quick pint before kick off, it's then onto the ground.
Indy & Sean Connery's Stuntman decided to get a sherbet, but old crutches comes with us. Turns out that the traffic is so bad that we actually arrive at the ground before them. Speaking of which, thought it was a bit cheeky offering advanced tickets of £17 when they're meant to be £19 and yet you paid £15 on the day? Price of having to buy your tickets at some booth before going to the turnstiles possibly? Very odd. Anyway, we get in and manage a beer & a pie before the match starts.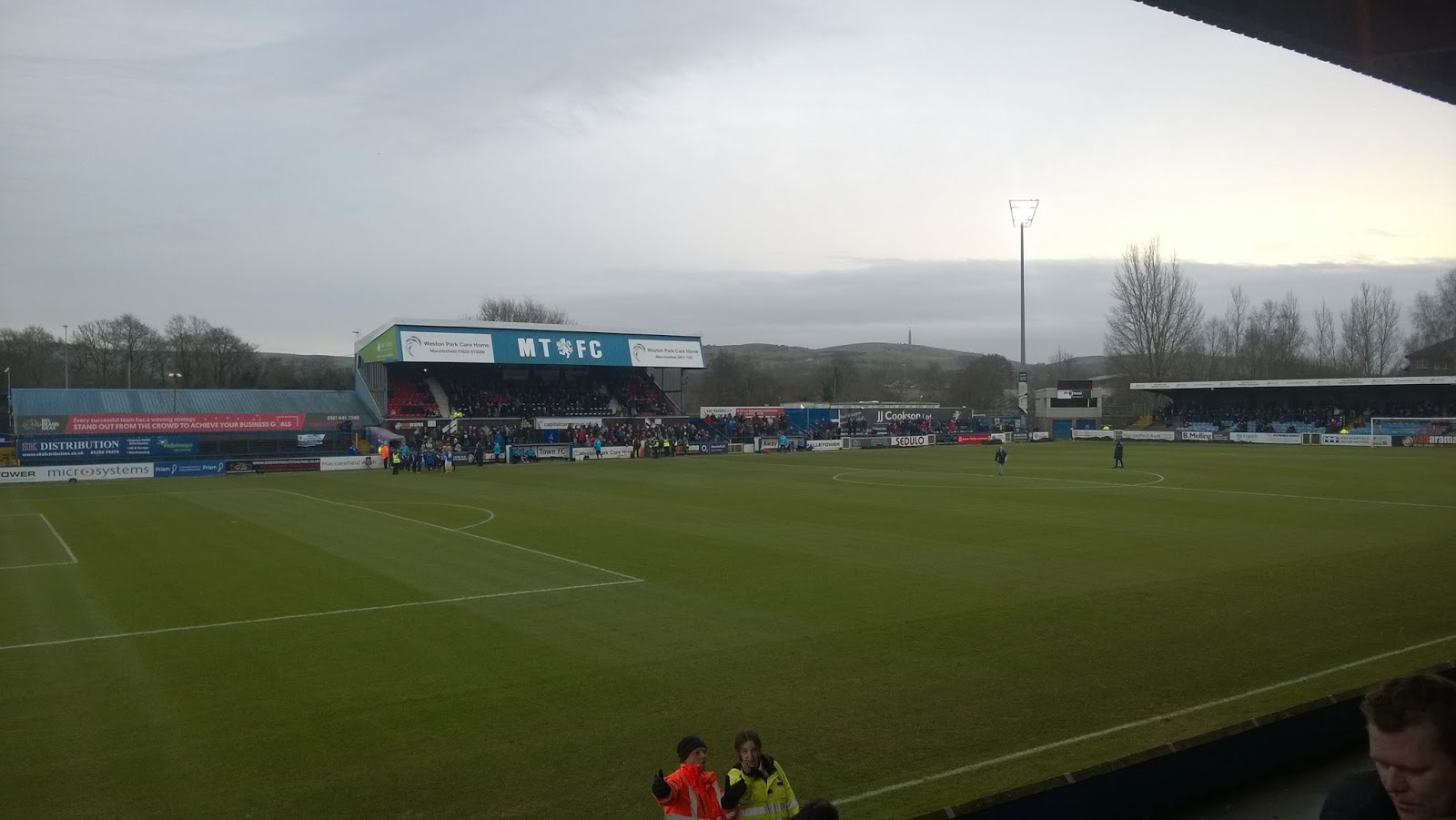 The view for the first half…and the second.
Butler, Bailey, Walton, A Thomas, T Thomas, Collins, Bolarinwa, Davis, Lafayette, Eastmond, Cadogan. Bench Warmers: Coombes, Dundas, Spence, Taylor, Wright.


For a match that was supposed to be between the top two teams currently in the non-league pyramid, you would've been forgiven for thinking it was a rather placid affair. And not for the first time this season our game plan was thrown right out of the window early doors. If we were given a soft penalty last time out on Boxing Day, our luck was only going to last a matter of days as we were on the receiving end of a shocking referees decision.
Taking the ball just inside the box, the Macclesfield player then tries to cut back past Davis only to then throw himself dramatically to the floor. Despite the minimal contact, it was a proper Swan Lake job. Shame really, but that's modern football for you. Ref blows for a penalty and it's calmly slotted home. Walton then takes a booking for clearly pushing over the goalscorer after the fact.
Like previous matches, we don't really know what to do when our game plan has to alter so early and continue to try an contain Macclesfield. Except this time Macclesfield don't need any containing as they continue with their own plans. Eastmond pops up with a half chance in the middle of the park that surprises everyone as it sails over the keeper and crashes off the bar from a good 35 yards out.
I didn't realise until a little bit later that we seem to have a bit of history with the man in black as well. He was the Scouser ref we were surprisingly given for the trip to Tranmere last season that missed several infringements for what turned out to be the winner. So remember the name Joe Johnson. And also remember that he's shit.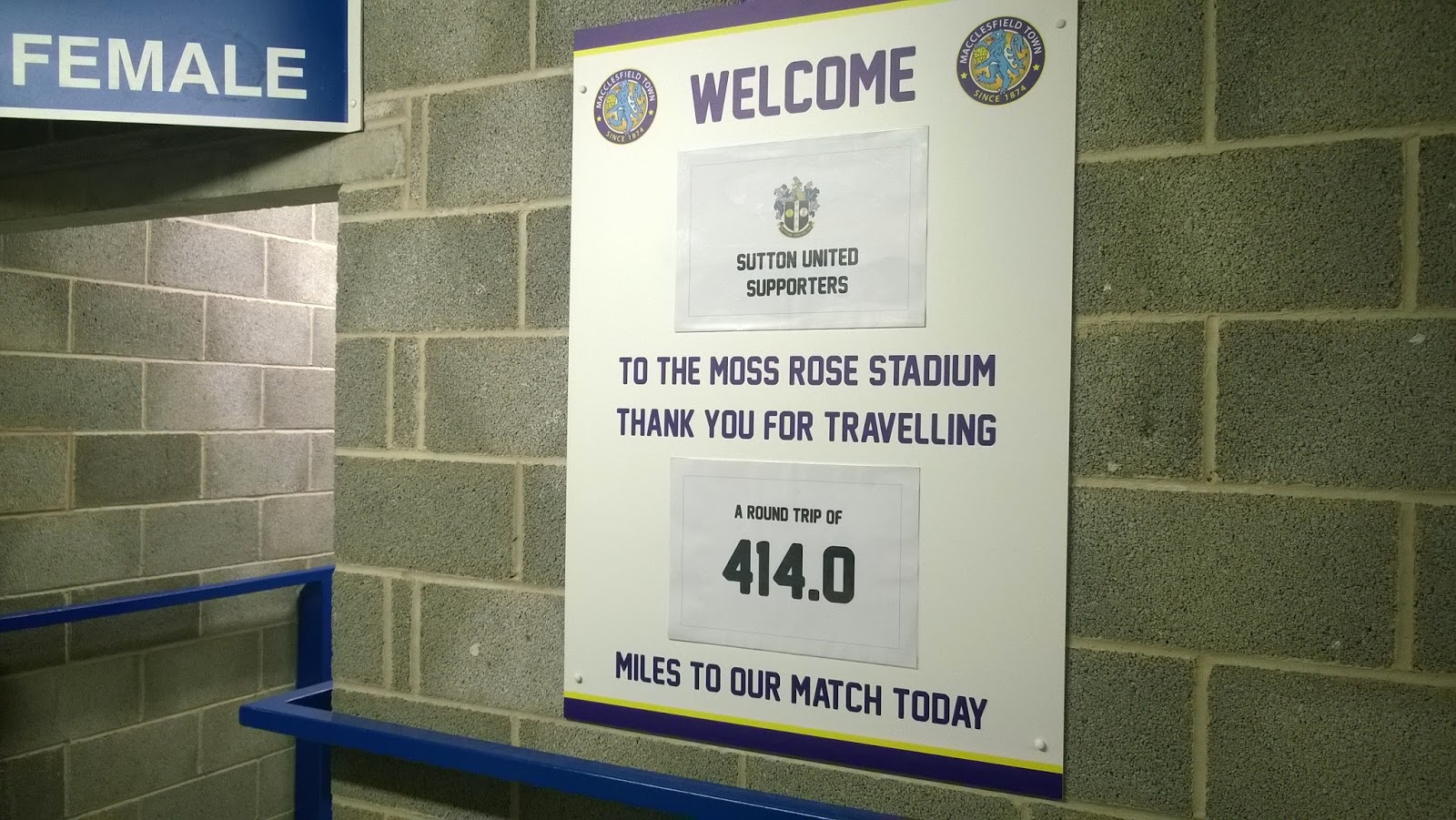 Think it'll be more next week Chief…
Second half and it's pretty much more of the same as both teams fail to create any real chances. I don't seem to recall either keeper ever making a proper goal stopping save. First talking point will be the sending off of the Macclesfield keeper midway through the half. Chasing down a long through ball over the defence sees Lafayette steaming towards the goal. At the last moment the keeper decides to come out of this box, but is always second place.
Lafayette knocks the ball past him and is then sent crashing to the floor as the keeper makes a late lunge for the ball. Despite having defenders near him the ref pulls out the red card. BOOM! Obviously he isn't sent off for the old "Disallowing A Clear Goal Scoring Opportunity" but instead I guess it might be "Serious Foul Play" but we'll have to see.
Making our subs, we fail to really change the game and instead start the old "struggle against a team with only ten men" routine that we seem to becoming experts at. Lafayette probably had the best chance but his glancing header was straight at the keeper. Sometimes, something does seem to be missing from this Sutton team.
Deep into injury time, Sutton get a corner. It's so poor that it misses everyone in the box and is cleared by Macclesfield as far as the halfway line. With everyone bar Butler in the box it looks like the home team might be able to break down the left. Butler manages to then dish out a tackle that even I was proud of. It's hard, but fair and he obviously wins the ball. But the home team are not happy and there are some 'issues' behind the dugout that will no doubt come to light in the next few days. There isn't much time after that and Macclesfield come away the victors and are now six points clear at the top of the table.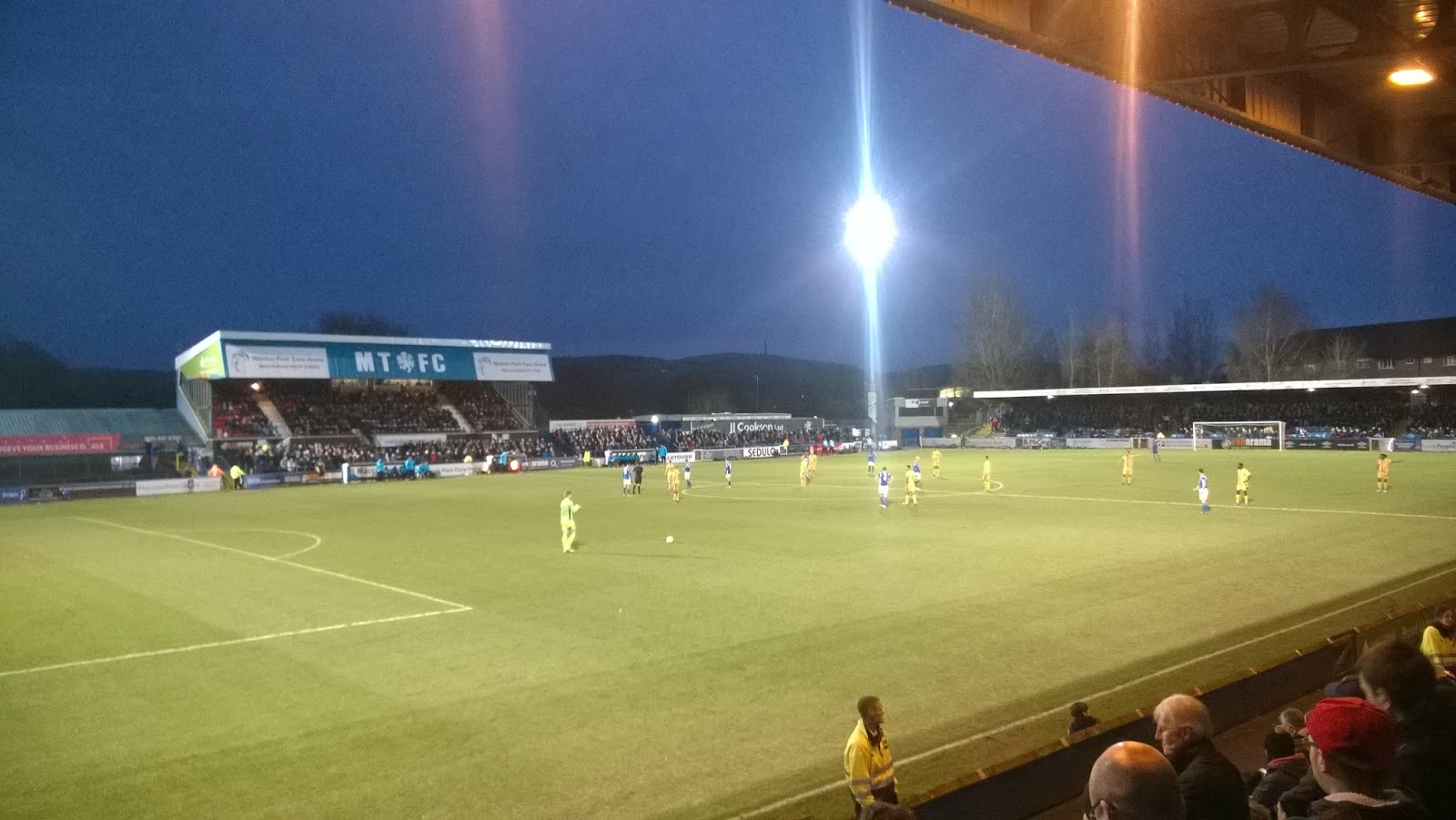 The view for the second half…
After the match and there was still time for a member of the home staff to make his opinions know to some of the travelling faithful. Unfortunately I wasn't close enough to hear what he said (I later found out what), but lets just say that many people weren't happy! So we've now had a few various 'talking points' recently, Macclesfield, Boreham Wood, Tranmere & Maidstone to name a few. Hmm, Interesting.
Walking back to town and who do we spot by the bus stop? None other than Southampton Steve who was still waiting for his sherbet to Old Trafford so he could make the Southampton game there this evening. I reckon he wasn't going to be making kick off at that rate. Next pub was "The Railway Inn", where we have one quick pint before moving off. My pint is quicker than some as I dump most of it over Indy & Sean at the bar. Another quick pint at "The Goose" and we make our train with beer and some disappointing chips. For me & Mr X at least. Taz found him & Magnum P.I. some proper northern chips from a better chippy. The bastards even had scraps!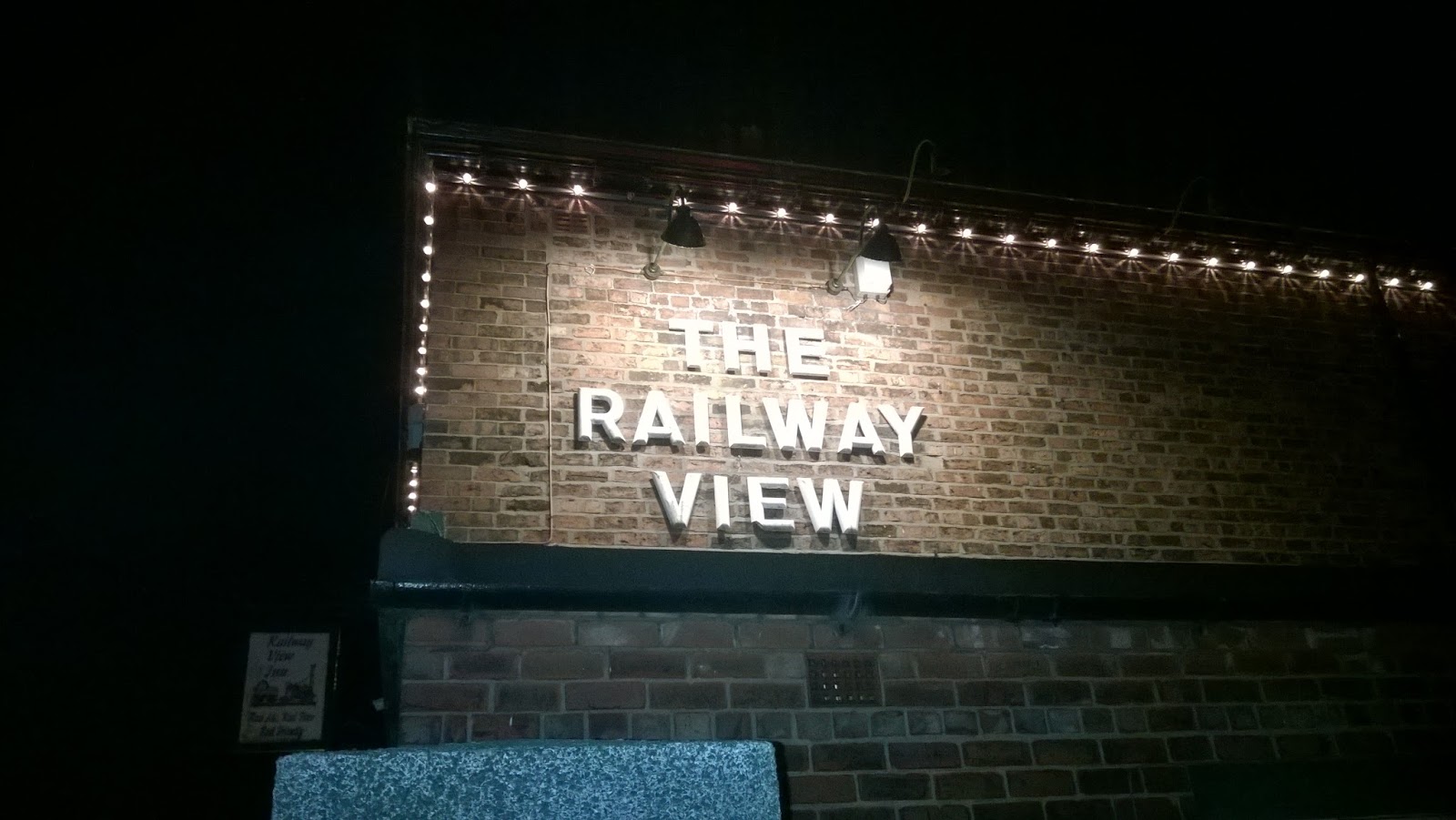 Too dark for a view…
Arriving back in town at around nine o'clock*, you would think that after such a long day, we would call it a night, especially considering that a member of our party was making a dash across the Channel first thing in the morning for important business, but you would be wrong. The "Euston Tap" was the choice, I personally would've gone for the "Cider Tap" across the way but that has now shut apparently and is just another branch of the same boozer.
And what great topic of debate did we discuss for the next two hours? Vintage 70's French Porn? The best away days? Why Chesney Hawkes never followed up his infamous 'one and only' hit? Oh no, that would be a fuckin' field day. Instead we spent two whole hours discussing none other then Tax! Yeah Tax. At least it was tax evasion avoidance. I suppose this is what happens when you take the Gandermonium accountant out for a drink.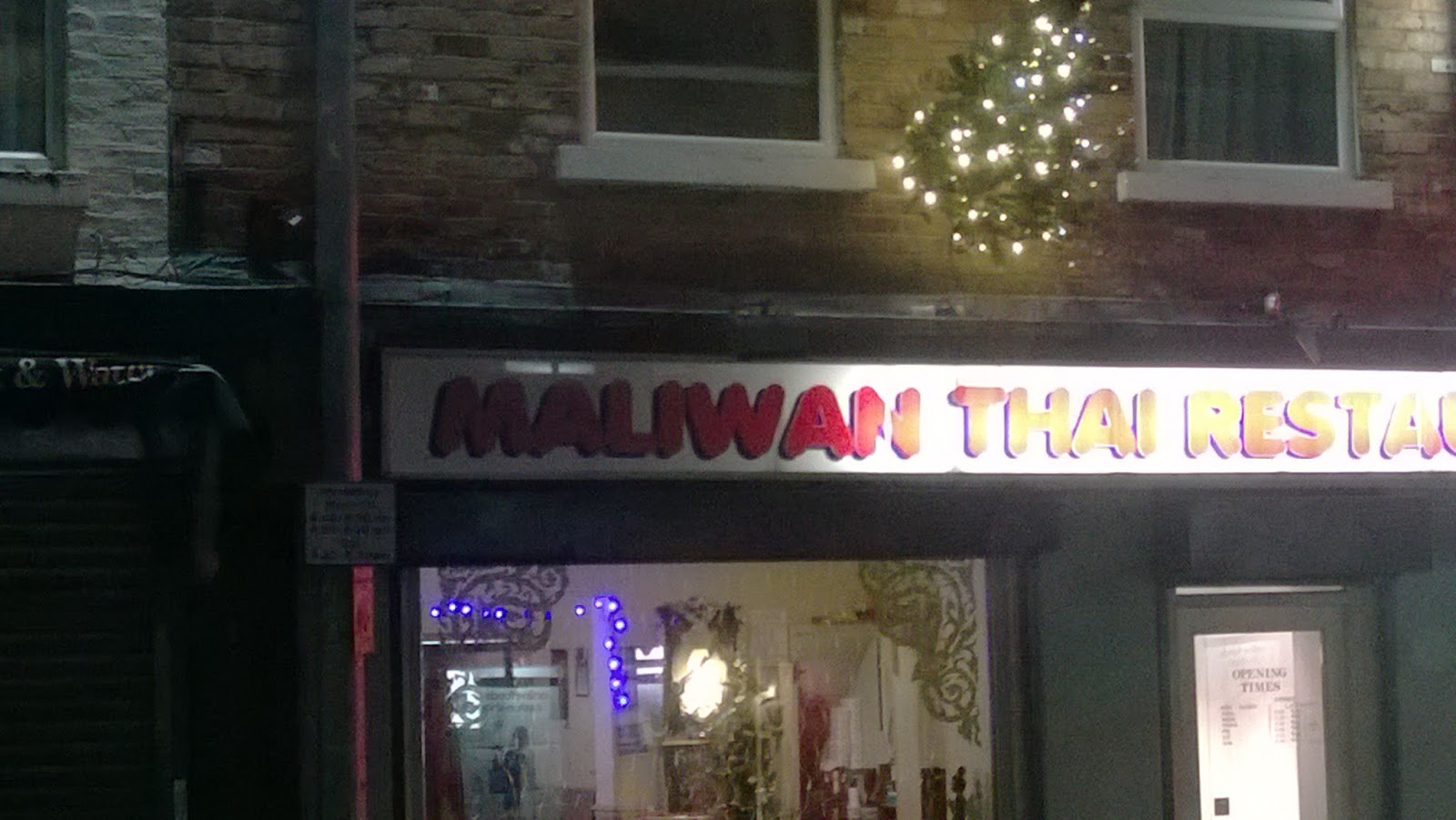 Is that 'Fusion' cooking?
Working out that the last train home from Victoria was half eleven we eventually make a move, leaving Magnum P.I. behind with some 'company' and head back onto the Underground towards Victoria. With Mr X needing to "drop an anchor" there was time for some food for a few of the boys. Your just have to ask Taz what he thought of his Chicken & Bacon Royale. (It was fucking shit – Ed)
There was also a brief appearance from Southampton Steve at Victoria who had just made it back to the big smoke from a crackin' nil-nil draw at Old Trafford. On the train home we then have to spend the whole journey behind a woman that wanted to have the worlds loudest telephone conversation. I still can't quite work out how Emily's news of her pregnancy made her so sick. Then again, who the fuck is Emily? Maybe Dirt Barry knows her? I'll have to ask…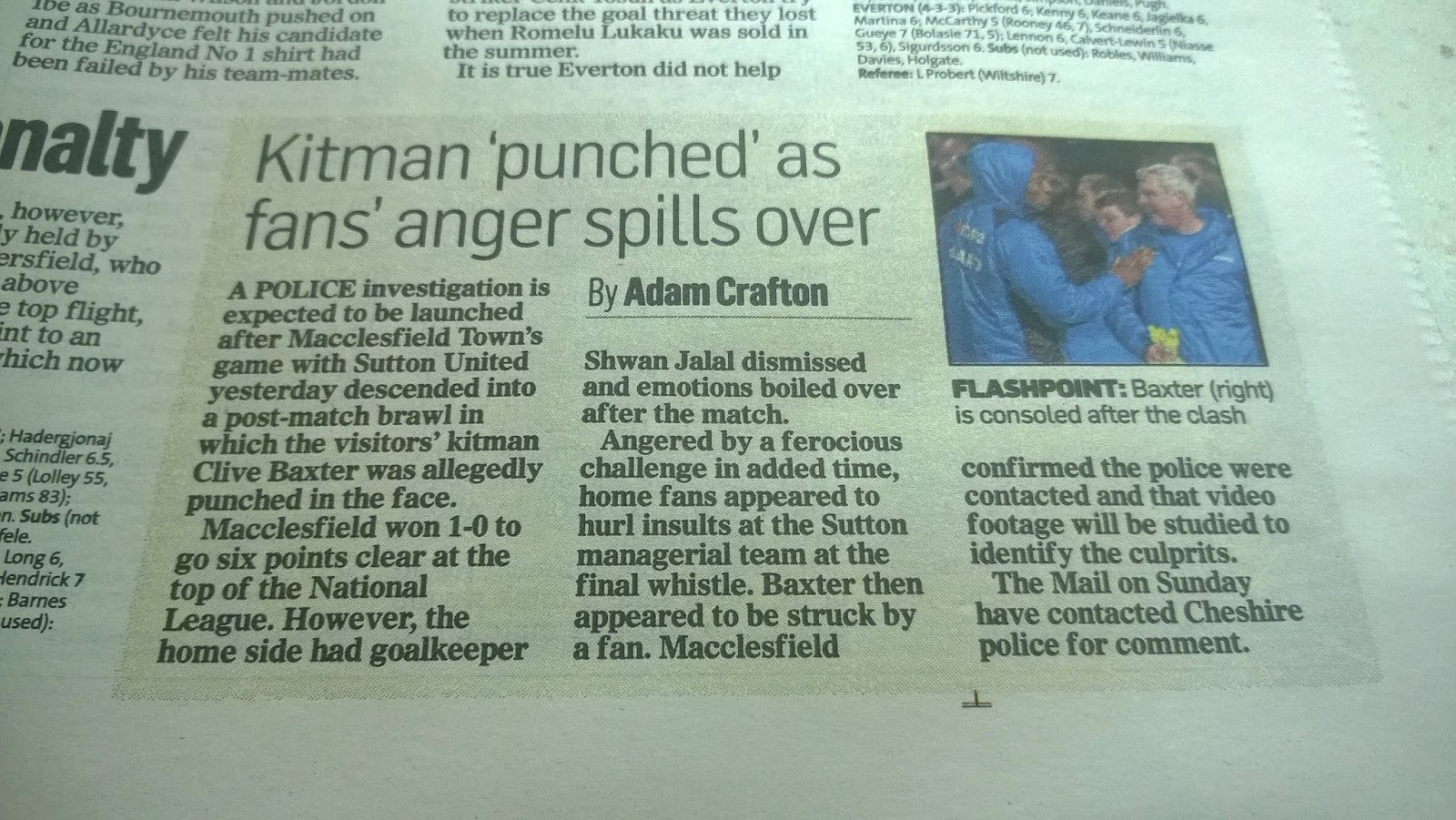 Well that's one way to put it…
We arrive back at Carshalton and me & Taz say our goodbyes to the rest as we jump off. There is still time for us to still try and work out exactly what has happened this past month and we actually come up with a brilliant idea. Except now I can't remember what that actual idea is so I guess we'll see more of the same.
We now move onto New Years Day and the return of Boredom Wood, who will no doubt be out for revenge after their Boxing Day embarrassment. But lets all hope that we can put the disappointments of December behind us and look forwards to a better month. Oh great, a trip to Newcastle on Saturday to follow. So lets leave you with the latest football results…
Duke
Att. 2,246
*And yes, I forgot to mention that on the train back Mr X spent five minutes eating his Sausage & Chips and nearly two hours trying to cuddle up to me as he slept. And yet he still manged to book himself a ferry in the morning to take him to Belgium. Couldn't organise Barrow or Halifax but a last minute dash to Belgium, child's play…