"Sutton for good mutton, Cheam for juicy beef….
"Croydon for a pretty girl and Mitcham for a thief."
I love a bit of local history me and this playground rhyme is thought to date back to the 1800's when our beloved Gander Green Lane was just that, a farm track populated mainly by geese and livestock. A bit like Eastleigh's fucking pitch is now but don't get me started on that shit show or I will have reeled off two thousand words of pure bile before I even mention tonight's opponents.
But the main reason I've opened up with this little ditty is because it shows just how little really changes in this world. Croydon for a sort and bit of no-questions-asked-how's-yer-father, Mitcham for a right dodgy bastard and Sutton and Cheam for absolute quality in the old meat department. In fact, the tune puts to shame the dreary, generic, "everywherewego" terrace chants of today with its wit, good hunour and local knowledge, so much so that in the highly unlikely event we ever meet Tooting and Mitcham in a competitive fixture again we will belt it out from the Shoebox with absolute gusto. Guaranteed.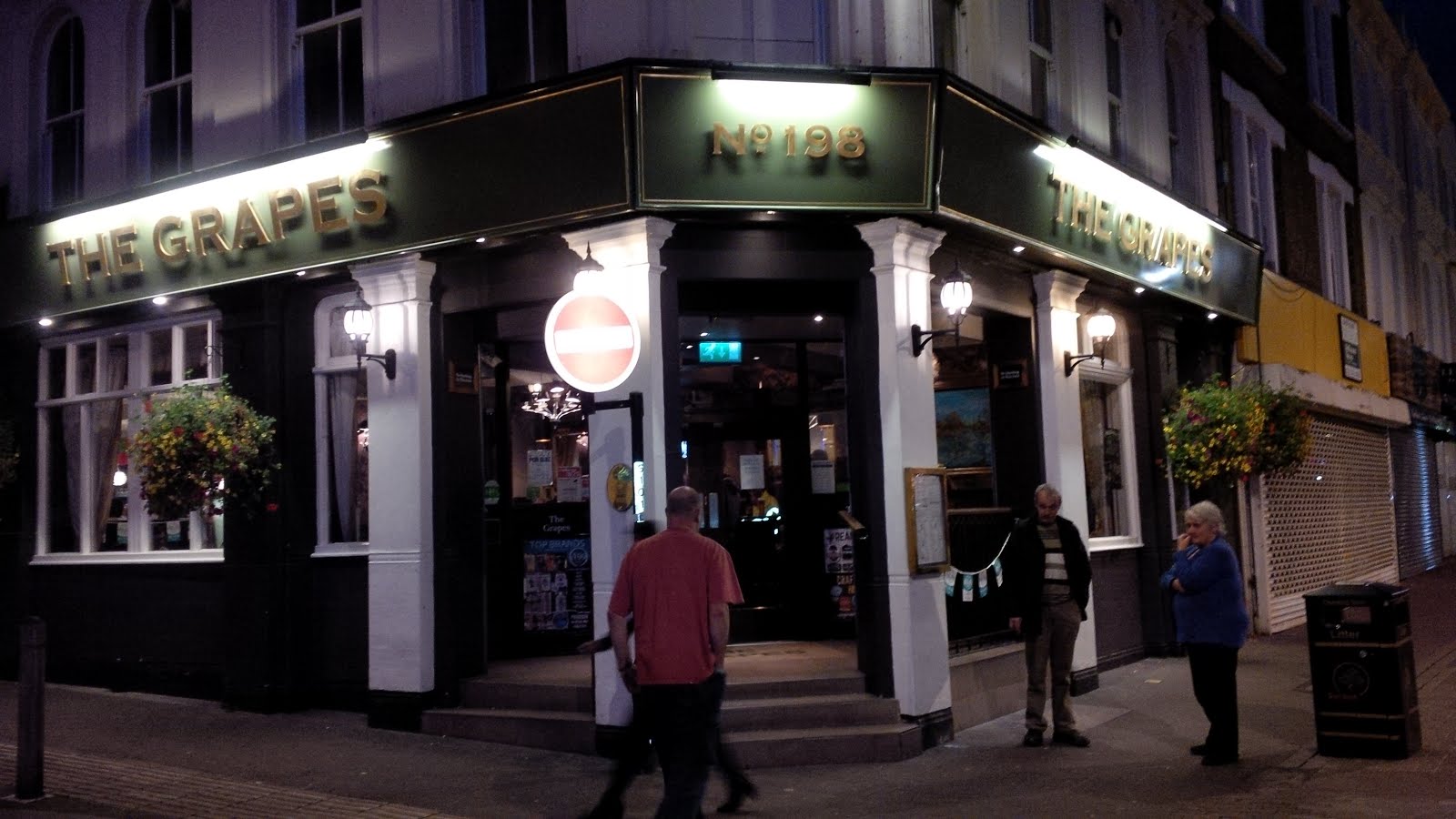 Nice carpets
Where was I? Aah yes, Dover. In recent years our respective fortunes have matched each other to a large extent although it would be fair to say that, come the crunch, the lads from Crabble have properly fucked us over. But, like an old flame when the slow dances droned out at the death in Clouseaus, there is always Dover to rub yourself up against, even though it may leave you feeling cheap and desperate their very presence at least gives you the reassurance that familiarity breeds. That and a healthy dose of absolute contempt. And possibly something worse that would require a trip to the clinic.
Now then, many pundits assumed that when Dover lost a fair chunk of their top players in the close season, including a car load who pelted up the M20 to West Sutton, that it would signal a decline in their fortunes but far from it and as we headed into this game vying for top spot we find the Kent coasters installed at the summit and fair play to them. But in this league, the footballing equivalent of the Wacky Races, you know that the form book counts for nowt and that anyone can beat anyone else on their day which makes our sporting life very interesting nowadays to say the least.
In advance of this game we received what could only be described as an application for political asylum from a bunch of Palace fans. Now we are a welcoming bunch as you know but the idea of an influx of refugees from Thornton Heath Ponds to West Sutton could place a severe strain on our infrastructure and these things need to thought through very carefully and even though my old man brought me up with the strong principle of not mocking the afflicted I think even he would have struggled to hold that line when it comes to the ludicrous Holmesdale Fanatics and their "South London is Ours" horseshit. All of this old hoo hah led to an emergency meeting of the PRoWS Central Committee and, surprisingly, the liberals won the day and we will be developing a programme of footballing rehabilitation and re-education for the goalless and the pointless. Don't take this move as a sign of weakness, on all other fronts the hardliners remain firmly in control.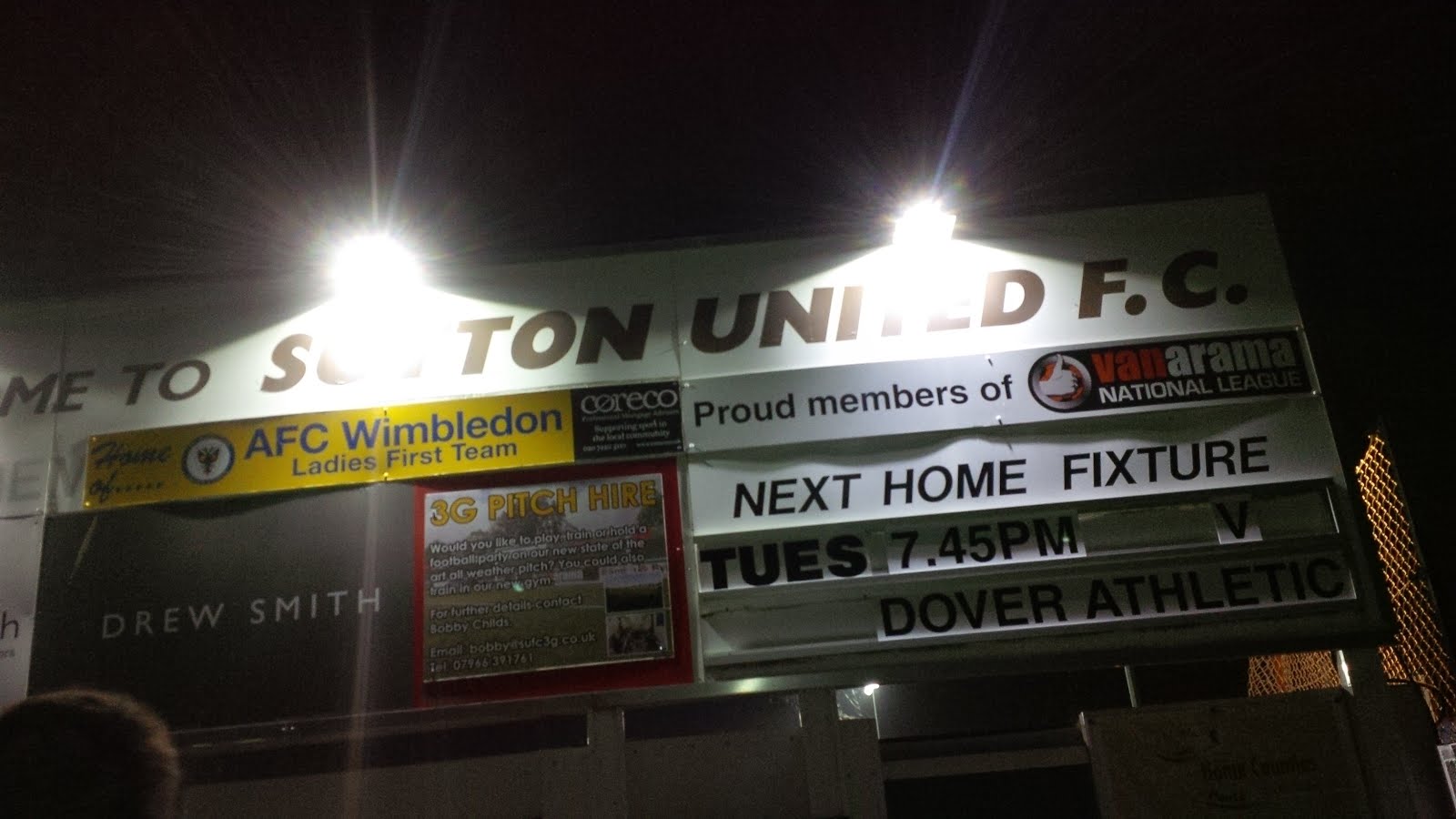 Up in lights!
Hopping the Thameslink south out of St Pancras after a mad couple of days on PROWS political and diplomatic business I decide to take a decent run up to kick off for this Tuesday nighter and arrange to meet fanzine writer, blogger and programme contributor extraordinaire Tim Mitre-Ball in the Spoons in Sutton. He's a craft ale aficionado but he knows he's kicking at a locked door with me as most craft ales in my experience taste like an out of date can of Fosters that has been opened and left on a radiator for a week. So we hook up in the Moon and I have something branded as pale ale which tastes nothing like the old Ind Coope light ale of my youth but I've done a couple of quid on it and I ain't going to let it go to waste.
The last time I was in the Grapes in Sutton was before the Spoons Empire mounted a land grab and it used to be full of geezers in the classic casual afternoon weekday drinking combo of traccy bottoms, slip on shoes and brown leather jacket off the market. Tim is keen to tick it off his list do we stroll down and once he's taken pictures of the carpet, yeah, I know, I thought a turnstile obsession was borderline nuts but this lad is a Spoons fanatic, we play safe with a couple of decent scoops of Guinness.
Now, when we have important visitors to the PRoWS I like to show them the high life on the Manor and I persuade Tim to join me for a swifty pre kick off in the Plough. "What's the beer like in there?" he enquiries. "Well, I like it." Due to the on-going economic blockade by the dark voices trying to bring down the People's Republic there is no draft beer so we have a couple of cans of the old black stuff in pint glasses and I catch up with Pete the guvnor and some old faces from back in the day and we are ready to head across the Lane. Clearly it's going to be a big crowd and you just can't beat that buzz of a night game as the chill of autumn starts to set it.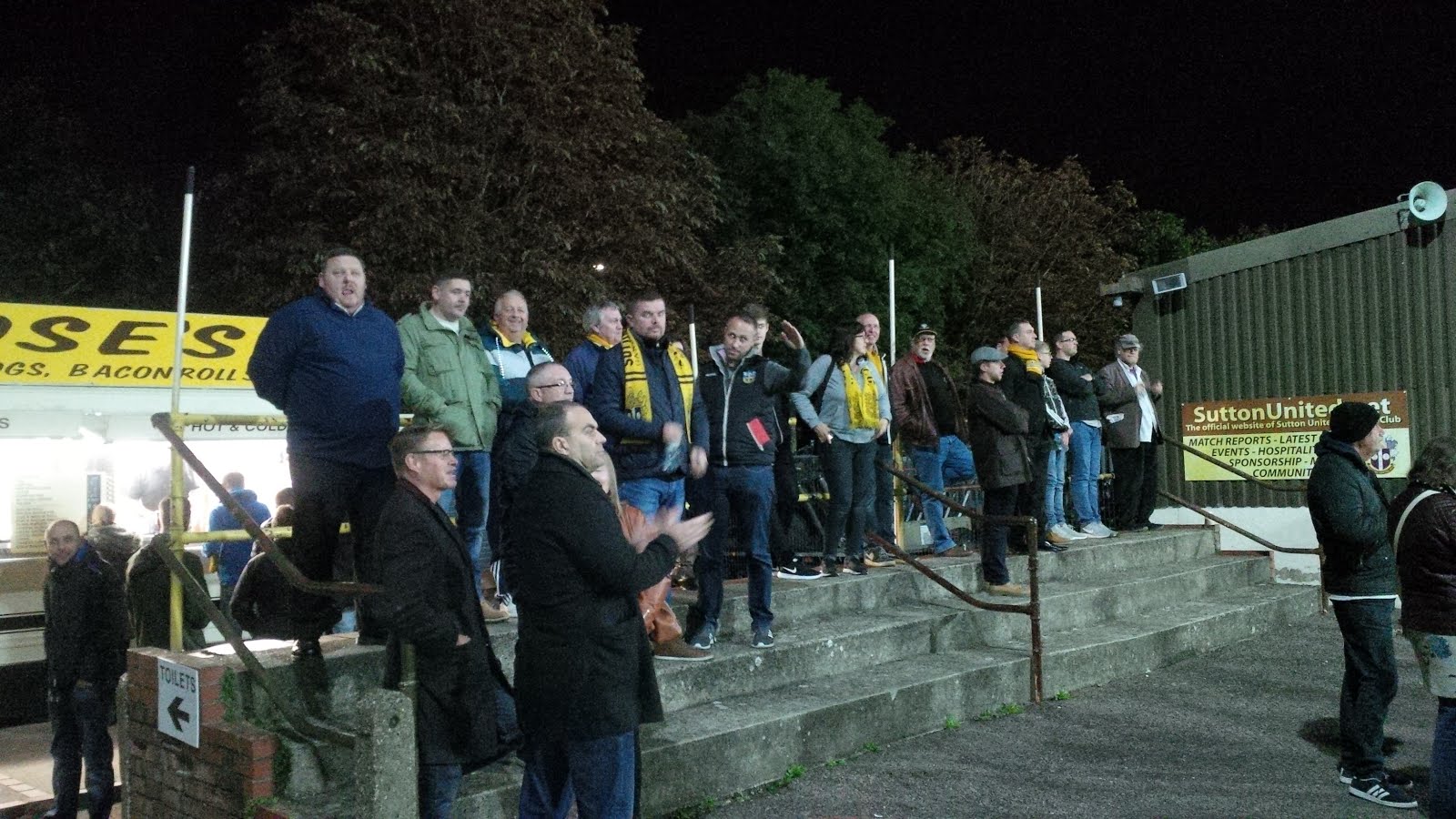 Reprobates
Dirty Barry is well and truly back where he belongs on the top step of the Shoebox after his "educational tour" of the Canary Islands and has made the long trek in from the bush, or "Leatherhead" as the indigenous population like to call it, and with a full packet of Bacon's and a liberal sprinkling of Cheam Park DILF's we are ready to rumble. Gaz has apparently managed to buy his way out of a night time shopping expedition with his missus, no doubt at huge personal cost, and is ready to bark out his usual helpful selection of tactical instructions to players, officials, ball boys, Golden Goal ticket sellers, tea ladies and anyone else who drifts within earshot. Turns up it's Ces's birthday and from his boyish good looks you would never guess how old the fella really is. The secret? Moisturise morning, noon and night and don't abuse your body.
Butler, Thomas A, John, Collins, Lafayette, Cadogan, Eastmond, Spence, Walton, Taylor, Jeffrey Subs: Dundas, Bailey, Wright, Emmanuel, Thomas K
So, we are off. We've made a few changes from the fantastic blast up at Wrexham and as you would expect things are fairly tentative early on as both teams size each other up but gradually Dover start to take a firm grip on the game. Ross is ploughing a pretty lonely furrow for us up top, with poor service and when we do manage to get the ball out wide we are randomly whacking in over hit crosses, it ain't pretty and with Dover a well-drilled, beefy outfit we are getting a bit bullied in the middle of the park as well which is unusual for us. A portent of what's to come is flagged up when we get lucky and block Dover off on the line, more by luck than judgement, and just a few minutes later they take a deserved lead when some poor marking and a decent finish sees them troubling the lights on the old scoreboard. Something's not right with us this half and we are relieved when the whistle blows and Dos is given a chance to get them in, kick a few arses and look at reorganising.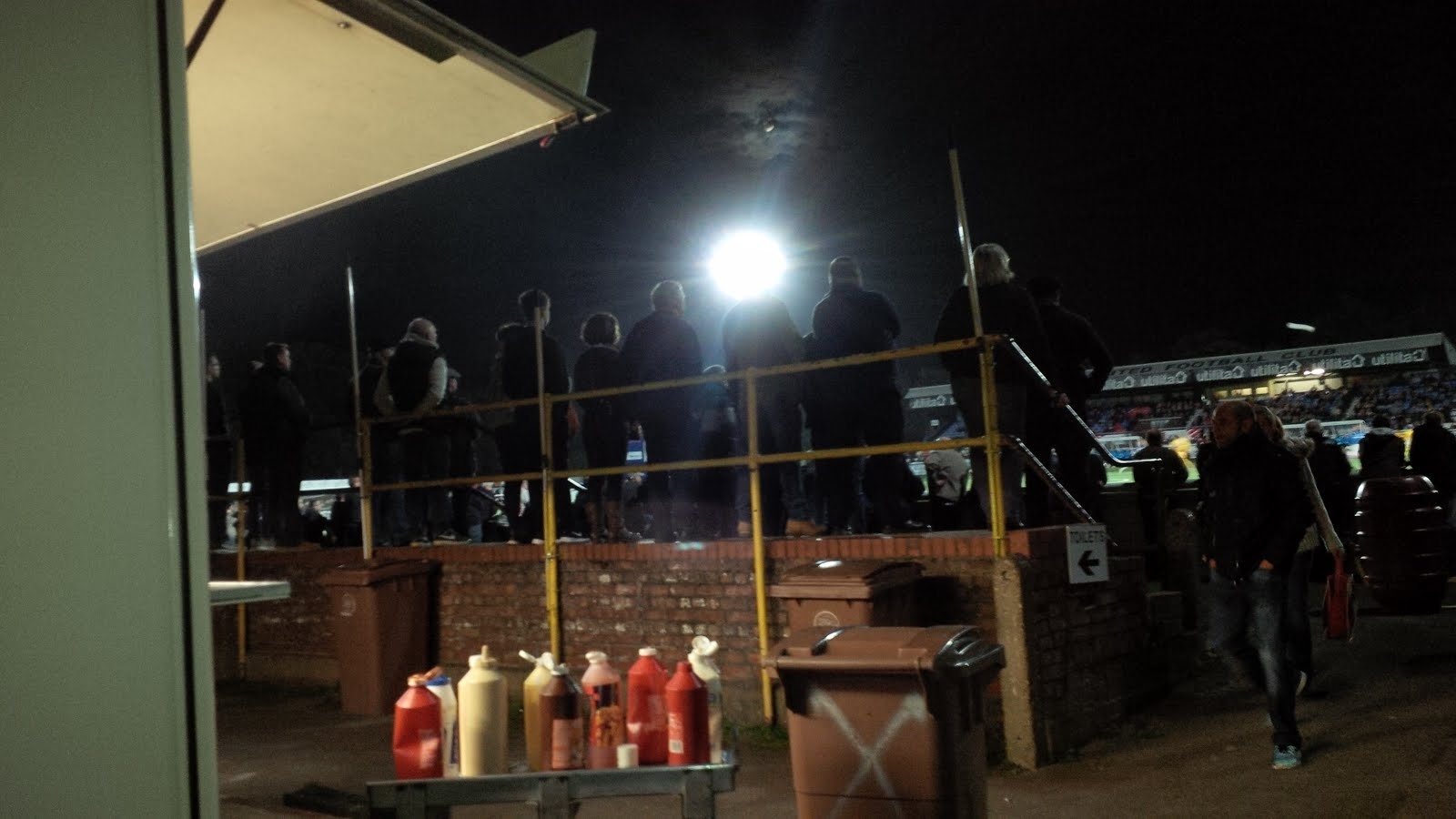 Moody. Atmospheric.
The rest of the Gandermoium mob join us back on the Shoebox and after some severe coating off after the Barrow game I am pleased to see that Taz and Mr X have opted not to dress like identical twins tonight in their matching twinsets of Joma Velour Leisure Suits. It's a much needed sartorial breakthrough for these lads and both me and Southampton Steve warn them there must be no repeat of this frankly shocking behaviour either now or in the future. I'm just not confident that line will hold but time will tell.
We come out after the break unchanged and although we have upped the tempo it's not enough and it's clear that the battle plan needs an overhaul. Dundo and Nicky Bailey are brought on to add grit and to give us something more to aim at up front. Game changer? Not arf my mates as we start to push the Dover back and assert some control and you can feel a collective surge through the loins of this bumper Tuesday night crowd. But we still can't grab that goal back so there's one final roll of the dice and Tommy Wright is thrown into the fray. Just a few minutes later the ball drops to him out on the left and he strikes the sweetest half volley into the top corner of the Dover net. Absolute belter, and a goal that will already be challenging Ross's Exocet at Wrexham for goal of the season – so far.
Now the place is rocking and so are Dover as we really up the pace and are rewarded when some fine approach work leaves Cadogan with some space to strike a fine second goal past their leaden keeper. Cue wild scenes on the Shoebox and beyond as the place goes mad. Brilliant tactical changes and extraordinary resilience from this group of Sutton players has turned the game around against the table toppers. But there's still plenty of time left in this one and Dover under Kinnear are no mugs and are prepared to hit back. It's pulsating end to end stuff now and if you were a neutral you'd be well chuffed with the fifteen quid you've thrown across the turnstile for this one.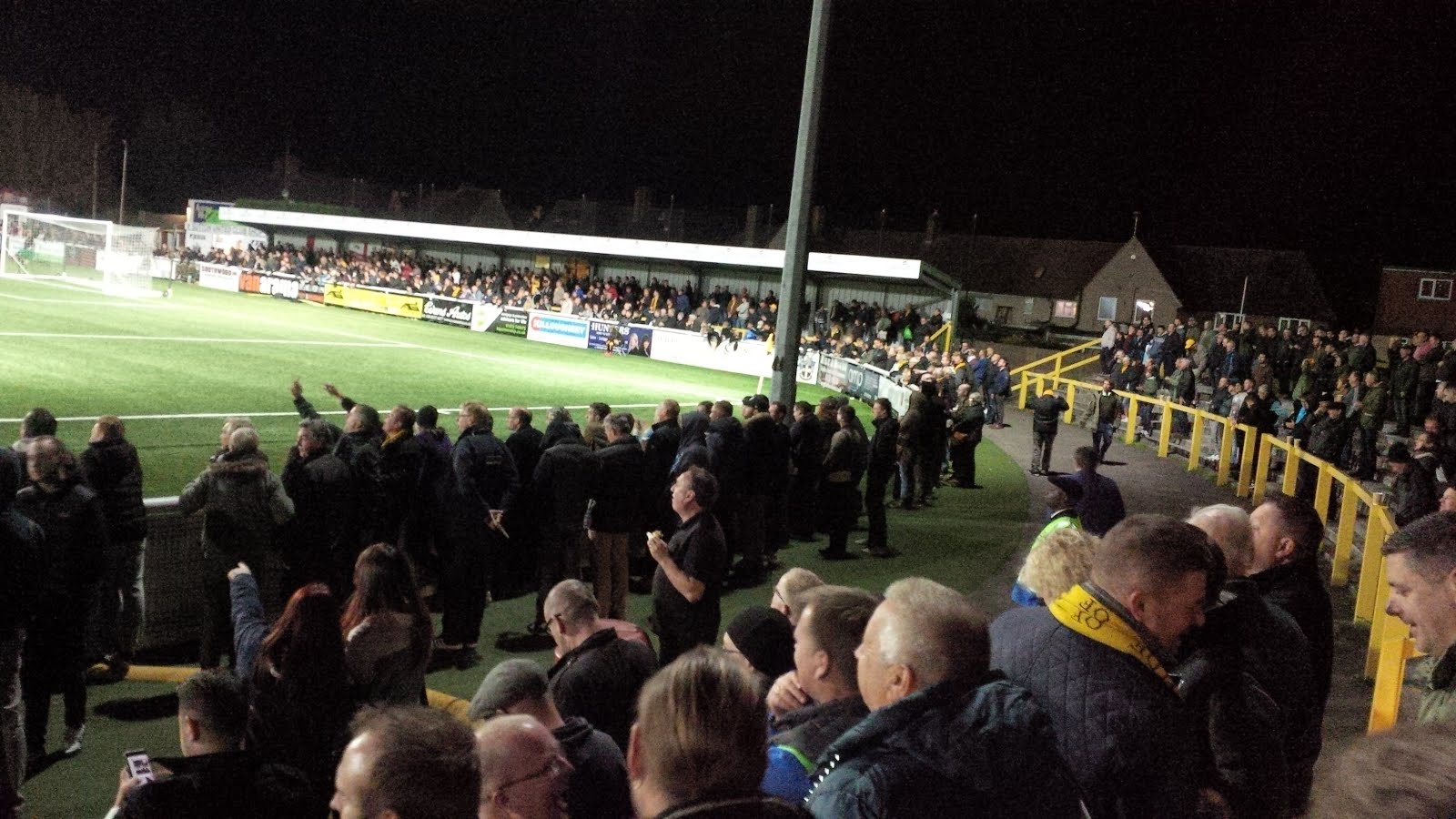 Busy again!
The clock ticks down to ninety minutes and the fourth official finds five minutes of extra time from somewhere. We are holding out OK, albeit pushed back into our own half and what we could really do with is breaking out and hitting them on the counter. Four minutes into extras the ball is played out to Tommy and he's off only to be blatantly hauled back by the Dover defender, it's a nailed on foul and a card and would have finished the game off. Ref, who along with the Lino the rec side, has had a mare, waves play on. Dover push foward, win a set piece, lob it in, knock it down and on 95 minutes nick an equaliser. Fucking gutted. What is it with these National League officials prancing around with their Madonna microphones like it's some sort of X Factor for wannabe Premier League controversialists? I watch some County League football and I swear to god the reffing is better than it is at this level. No question.
Perspective. That was a hell of a game in front of a great crowd between two part time teams who are making a mockery of the pro outfits in this division. We can be rightly proud of the way Sutton showed guts and nouse when it looked up the hour that we weren't at the races. I drift back down the Lane thinking again about just how far we've come since Dover were taking abolute fucking liberties on our manor just twelve months ago.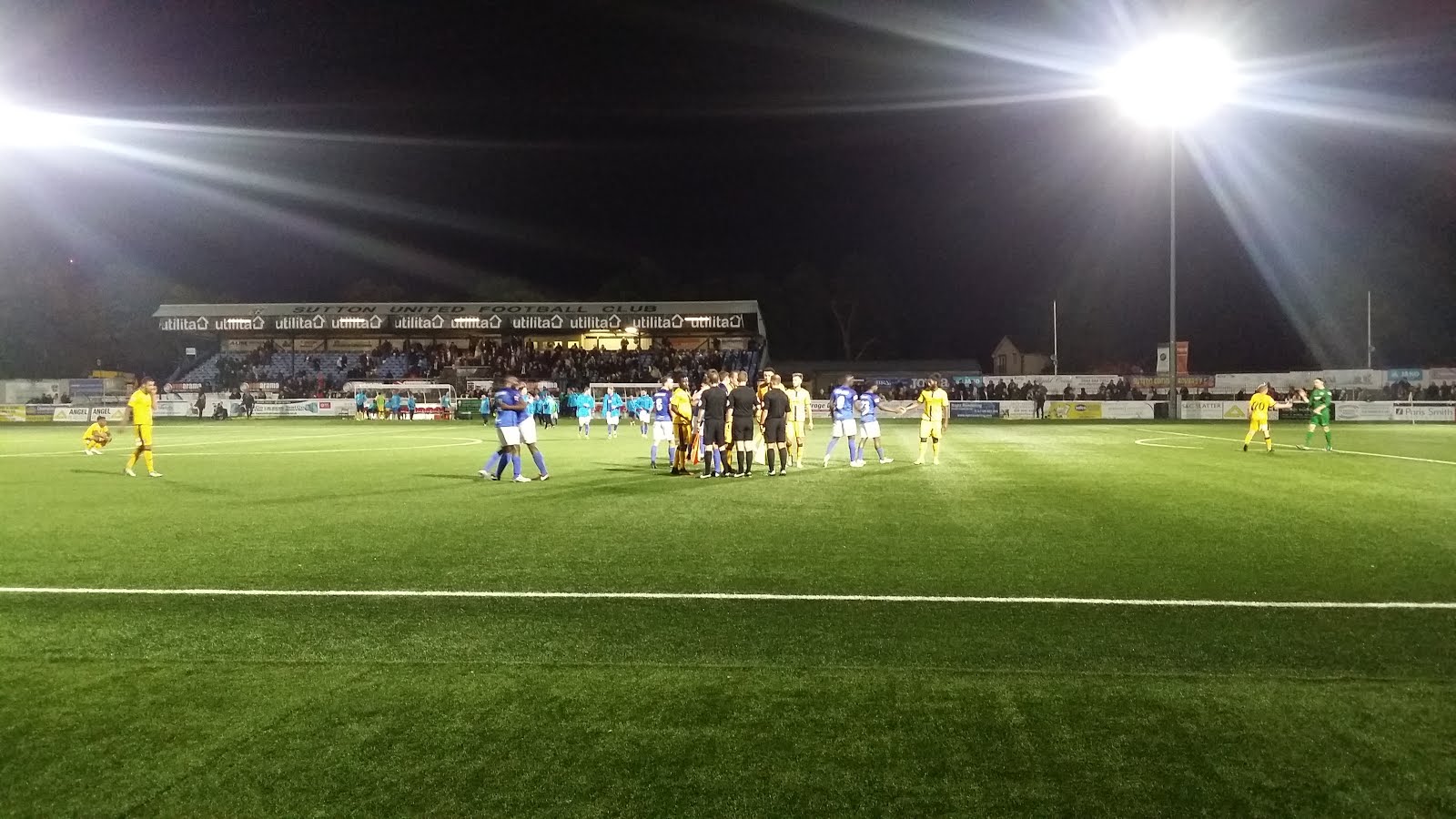 Spot the shit referee.
On we go me old chinchillas. See you on the Shoebox Saturday
Totts