Being top of the league has been a bit of a fool's errand recently with teams failing to remain at the summit for longer than the following game. Compare that to two years ago and you had just three teams at the top all season. Sutton were no exception as every time we had risen to the pinnacle of the non-league pyramid, we'd go down to a dis-heartening defeat the very next game. So, was our little trip to the Wales another defeat in the making? Well read on obviously, if you can read that is. If not, just look at the pictures…
So it was an early start for a lot of us. For me it was a stupidly early rise, as my Sister's bleedin' cat had decided it wanted an early breakfast. Half bleedin' four in the fuckin' AM to be precise. Still, with a train departure time of just after seven from the Badlands of Carshalton, it gave me plenty of time to fart arse about. So much so that I was like a BBC News report, lazily filled with Twatter responses, that I nearly missed the bugger.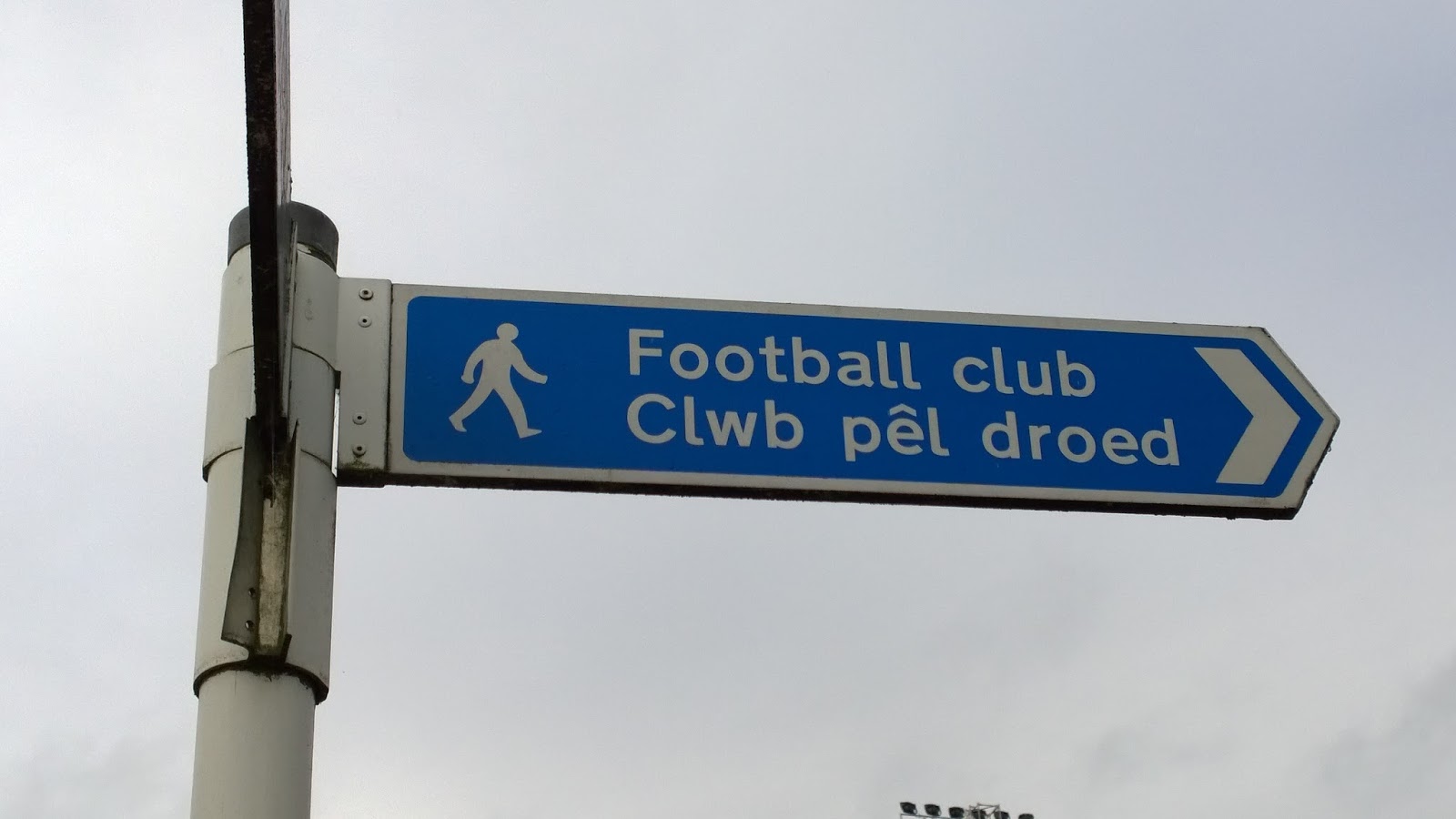 What's the bit at the bottom mean?
A quick cash withdrawal was required on-route and after a butchers at the live departures, I thought that I was looking alright for the 0702hrs as it was on time. But arriving at the station a mere five minutes later, the board displayed that it was running ten minutes late. Thank you very much British Rail and your "up-to-date" rail app. With all of us due on the 0811hrs out of Euston, my free window now looked a little tighter then I'd planned.
"Ointment. Cat food. Lipstick. Corsets…"
Settling down to a piddle of the journey, I arrived at Victoria and headed onto the boob tube, where I bumped into Taz on the platform who'd made the journey from Croydon. His own trip was not without incident as the bus he caught was delayed as there was a driver change half way through. An unavoidable occurrence if it wasn't for the small fact that the 410 he caught had only started running a service that morning a mere 90 minutes beforehand.
With us two being the last to arrive, we were presented with the miracle that everyone had once again actually made it! Even Alan had turned up on time. Not bad considering that there were a dozen of us using the services of Gandermonium Travel today. Well its better than using Monarch I s'pose (too soon?). A quick walk over to the furthest platform and the unusual fact that not only was the train displaying the actual coach numbers, but ours was also only a couple of carriages from the back so we didn't have to walk half the way to Wales to get it. And what's more, there was no one in our reserved seats for a change! Well fuck a duck!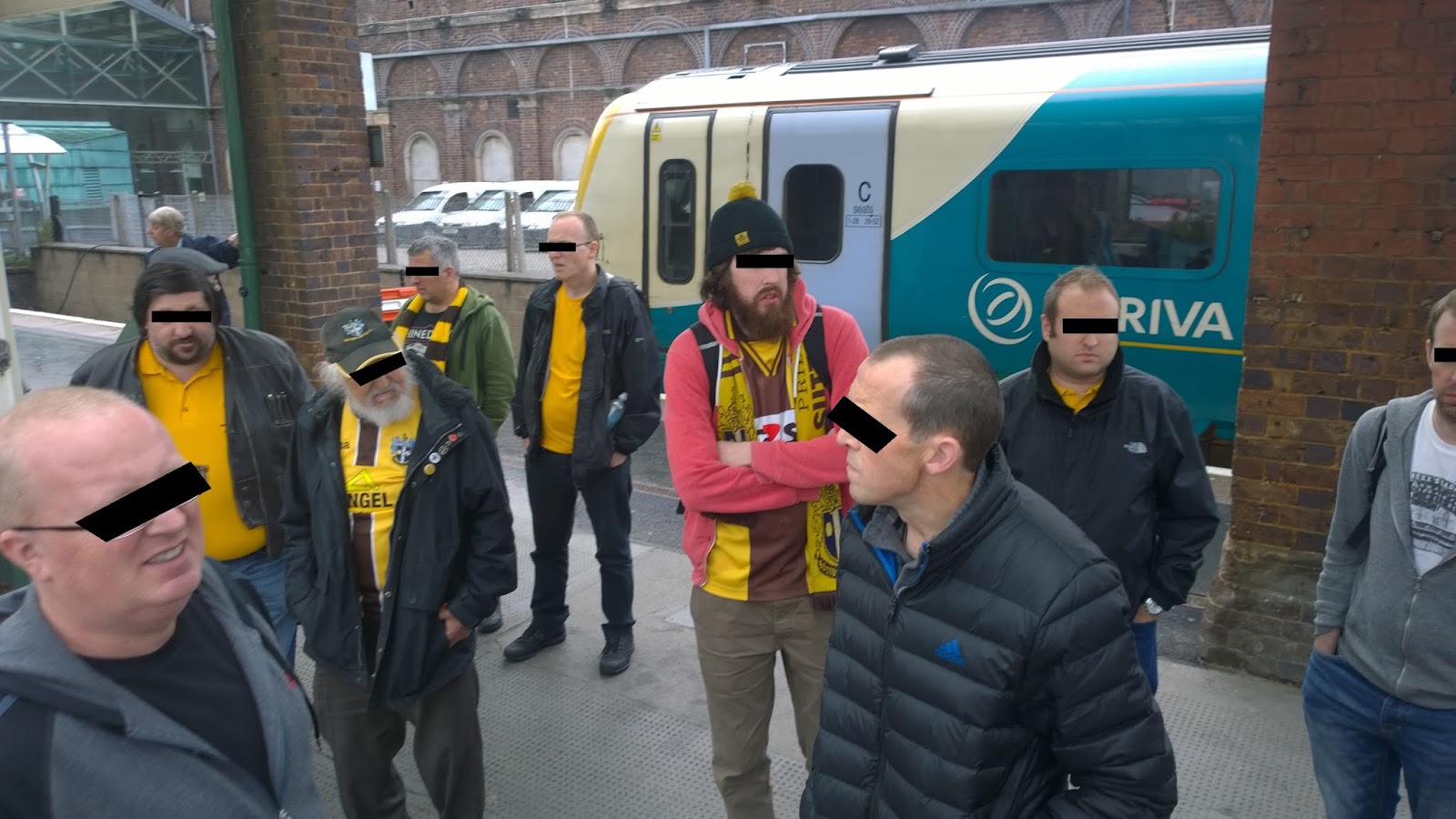 Some right dodgy geezers
As you can imagine, it was a quiet two hour affair up to Chester. Plenty of time to mess about with my new (used) phone (A Nokia Lumia 1020, if you must know. The one with the stupidly enhanced camera) that is only three years old. Here we change onto a shuttle over to Wrexham. Being only a couple of carriages, we engage in the time honoured Gandermonium tradition of standing around near a toilet. It only takes around quarter of an hour to get to Wrexham from here, so by just after half past ten we've arrived and negotiated a bloke at the exit who seemed unsure of how doors worked. So, with only four and a half hours till kick off. What were we to do? Pub? Oh go on then…
With only one real option this early, it's 'Spoons all the way baby. "The Elihu Yale" was its name. Considering that this was our biggest turn out for a Gandermonium away trip this season, this meant that there was nine of us in on the whip. Luckily for us, as this was Wrexham away, the prices were dead cheap. For round one of the day it cost less than £22. I dread to think what that would cost back home, even in a 'Spoons. The Firm Leader was also eventually in attendance as he was spending a whole dirty weekend somewhere nearby. Probably mining or something.
By the time we'd reached our third pint it was now gone twelve and time to move on. This was not before the arrival of a fellow Sutton supporter known "Red Oxide" and his boy. Turns out that they had left for Wrexham before even we had and after taking the train via the Birmingham option, had arrived an hour and a half after us! They really should've been aware that there was no Northern Line. I mean, getting a rail replacement bus all the way up town is pretty stupid hardcore.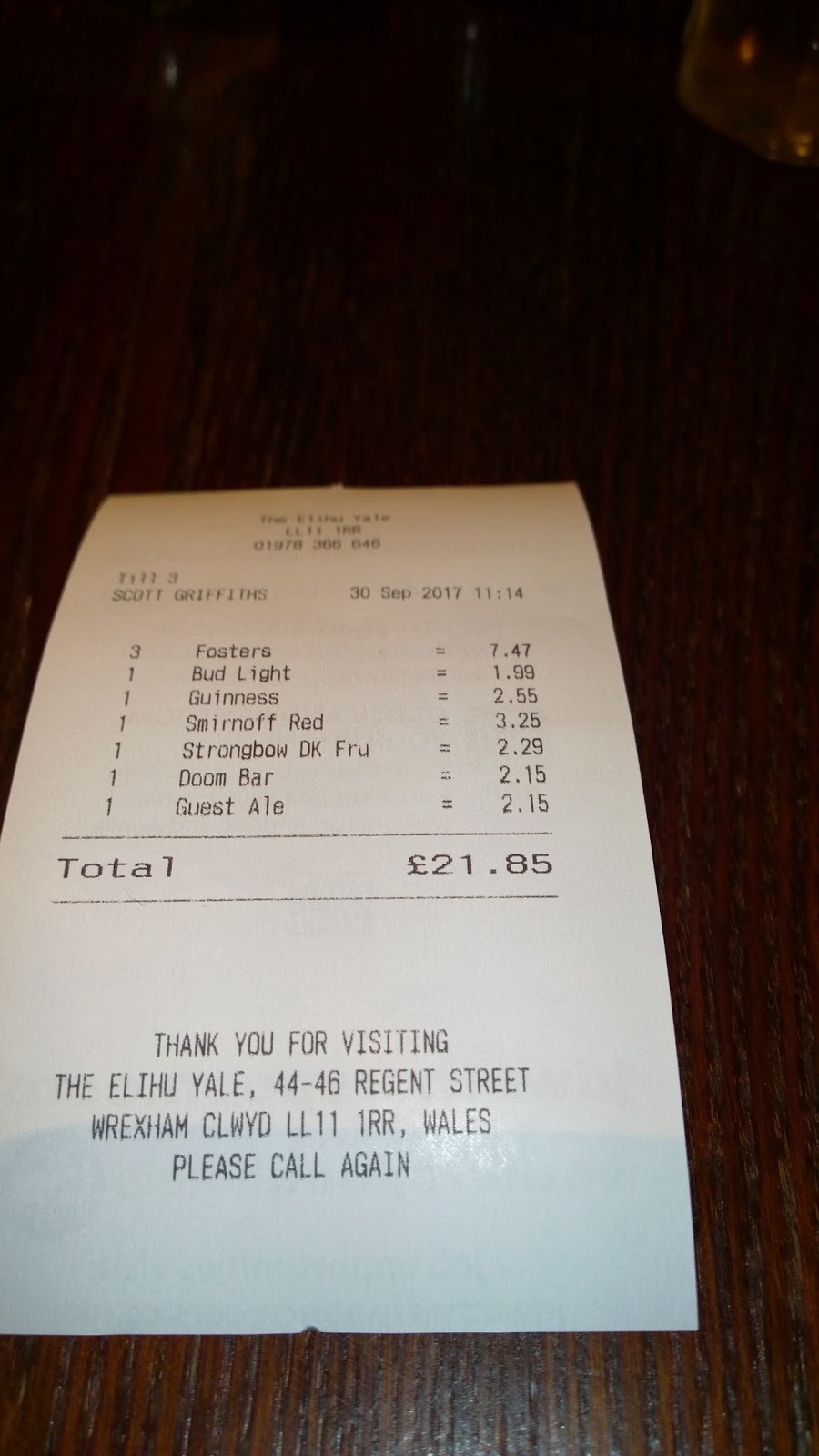 Cheeeeeap!
The next pub was "The Horse & Jockey" where like last year we bump into some friendly locals and even one of the stewards that were going to be covering us. Although he did say that he wasn't going to be near us as he was "doing the away supporters". What did he think? That we were a bowls team or something? Although to be fair, we do have form on that front…
"Demis Roussos. Döner kebabs…"
Soon it was time for the pub that we've all been waiting for, not because of its decor, or ambiance but because last year, a pint of lager in this gaff would only set you back £1.85! Arriving at "The Cross Foxes" (but not after Taz has been interrogated on the way by passing local po po. Yes we've come on the train, yes we know where the pubs are!) we send Dr Bell to the bar as we see that Spurs were giving Huddersfield a going over on the box. Having given Dr Bell a score for his errand, he soon returns with the drinks and change!
Yes ladies & Gentleman. £18 for nine drinks. What a corker. Well it would've been if Dr Bell had actually brought nine drinks . Turns out that not only did he forget Alan but the bloody silly old sod forgot about me as well! Sadly it turns out now that Foster's in the pub is now at the £2 mark, so this might mean that Wrexham away loses it mantle as the cheapest beer in the league. We also bump into Robbo who's made the journey down by car. And I can tell you ladies & Gentleman that he's ok now, so there is no need to send any flowers, hold any vigils or even ask as to his well being. I know your all wanted to hear that and I'm happy to set your minds at ease.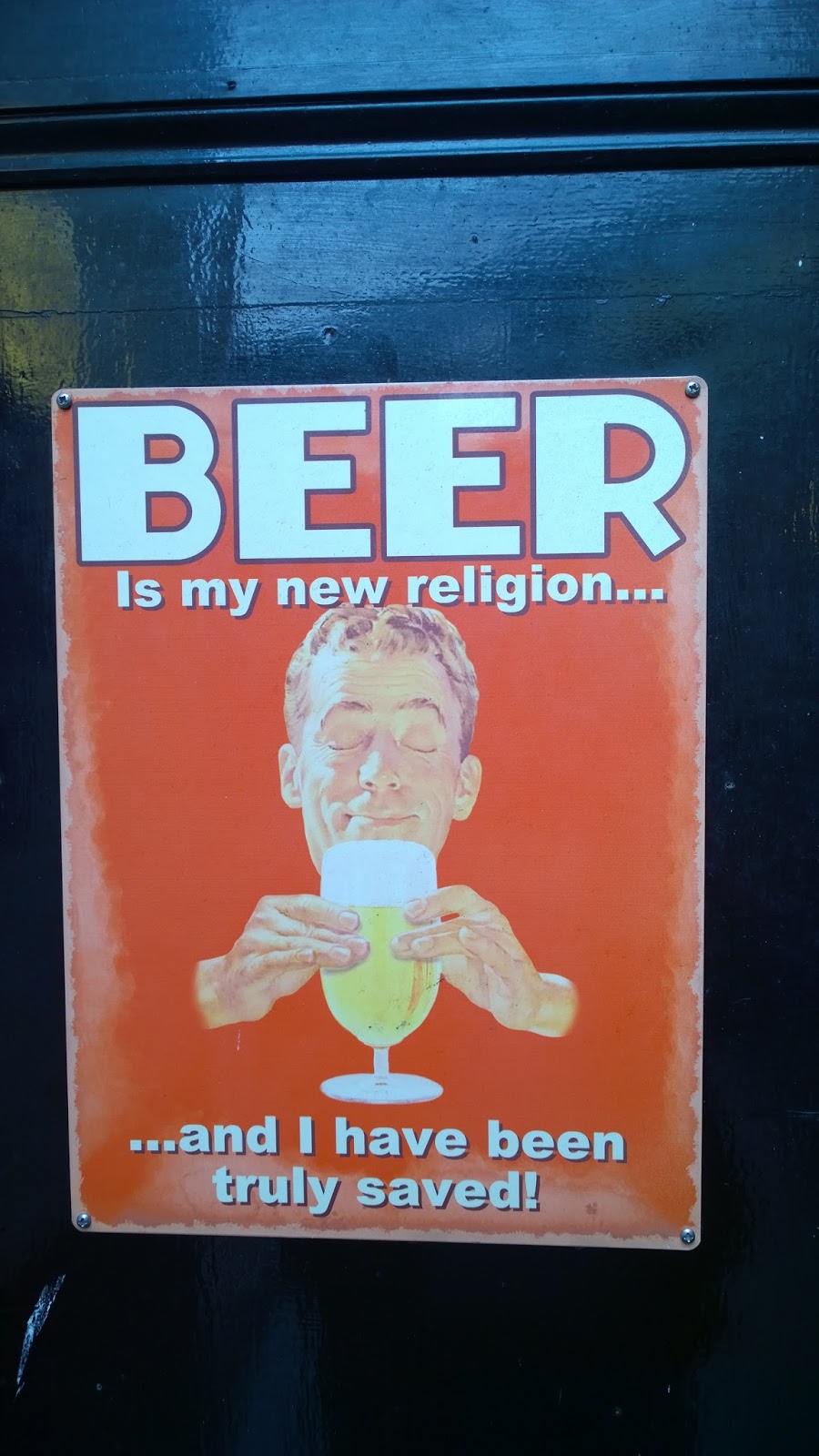 New? Old Testament more like…
With time fast approaching kick off. We start to make tracka back towards the ground before heading into "The Turf" just outside the ground to have a cheeky pint as Taz want's to meet up with some Wrexham fans he's done a bit of bloggin' for. Did he not mention it? That's weird he kept that little ditty quiet. Unlike him.
Walking round to the far end, it's a score to get in (that's £20 for you non-cockney's) and we find ourselves once again in a ground that really belongs in the league above, not entertaining some pub team from South London. With Eastmond suspended (thank you 'Card Watch'), Davis missing through injury as it turns out and Dundo on the bench we appear to be setting up with one up top but with close support behind.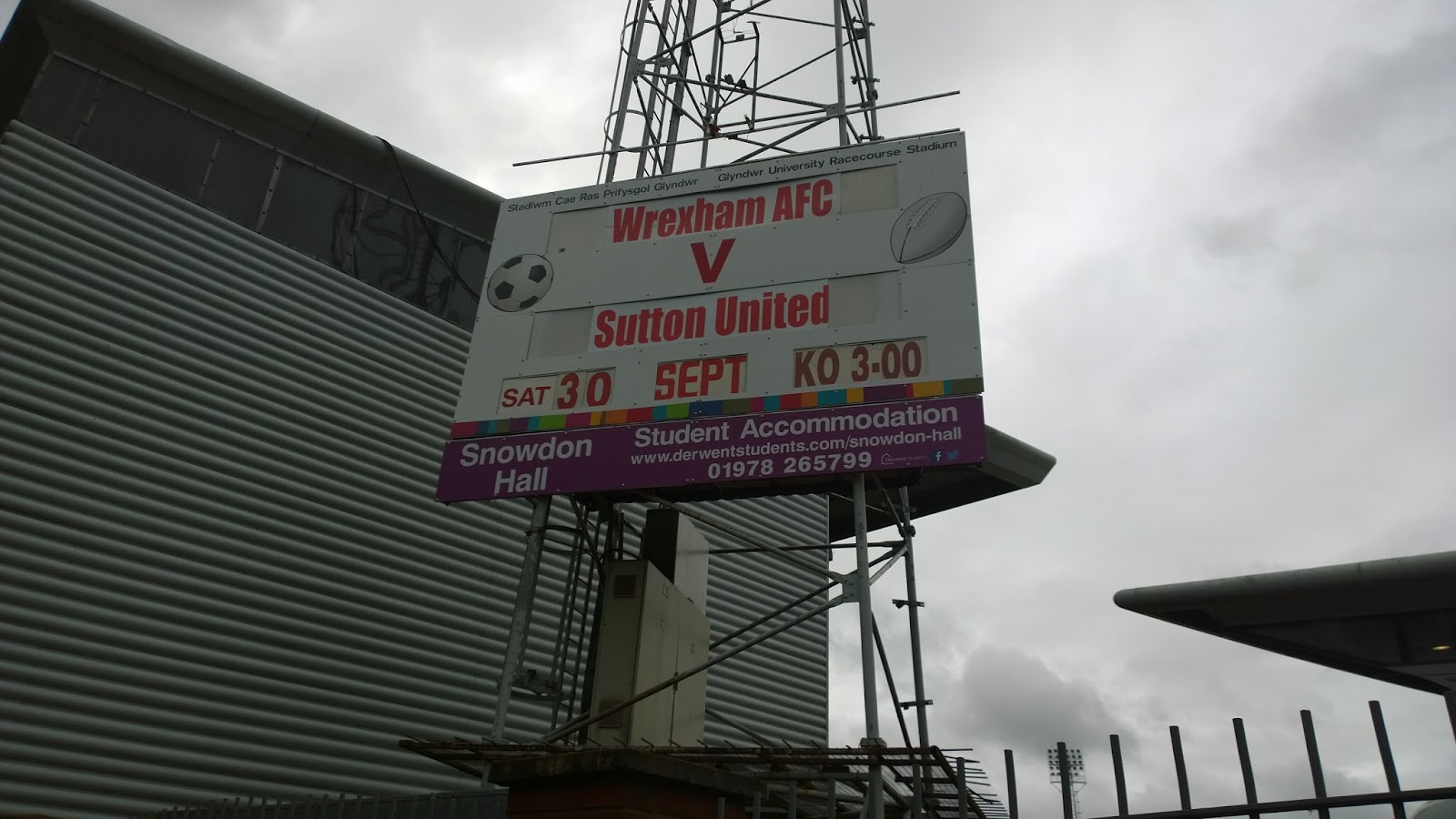 Not so much up in lights as on a big board….
Butler, Thomas A, John, Collins, Lafayette, Bailey, Wright, Emmanuel, Taylor, Downer. Bench Warmers: Cadogan, Dundas, Spence, Jeffrey, Thomas K.
It was a rather tense opening quarter of an hour as both teams didn't really test each other. Sutton had plenty of the ball but because of some 'resolute' defending by the Wrexham back line, I don't recall their keeper having to make a save. As some of you may be aware, Wrexham's guv'ner had made some interesting comments during the week. Turns out that he meant them only for the oppo and not his own side as they engaged in as much time based shithousing as everyone else does.
All of a sudden, Moses I think, was easily dispossessed just inside the Wrexham half. The ball is then lofted down the left-hand side (don't know where Aswad was) and Collins is caught out by the bounce. John starts to ball watch as the play heads into the box. Seeing this, Downer comes across to cover John's man.
The cross is poor and should've been cleared by Louis but he swings and fails to make proper contact and it instead runs behind him to an unmarked Wrexham player on the six yard line. All he has to do is slot the ball under Butler and Wrexham have the lead. I did chuckle when the chorus of "1-0 to the sheep shaggers" was heard coming from the home faithful. For a lot of the rest of the first half it was all about Wrexham. Attacking down both flanks it was only for some bad passing that the homeboys didn't create a clear chance to double their lead. That and Butler didn't have to make a proper save.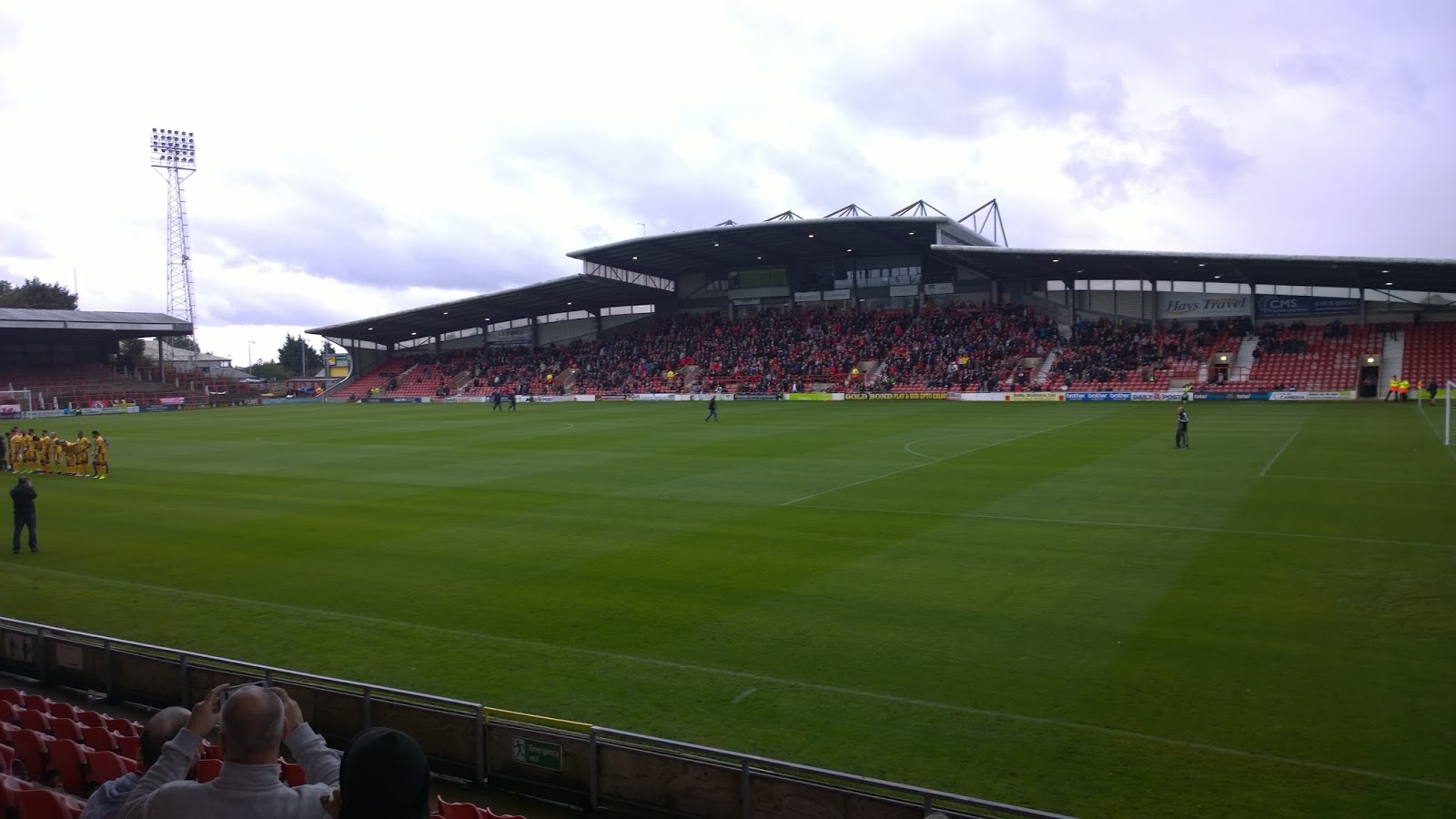 My garden shed….
At half time it's time to head round to the back of the bike sheds for a cheeky smoke and a plastic bottle of a fine English lager. Carlsberg. Looking at some of the other scores we knew that barring a big turn around we'd already lost top spot. But we were still in the game and you never know with this season, it's shit enough for anything to happen.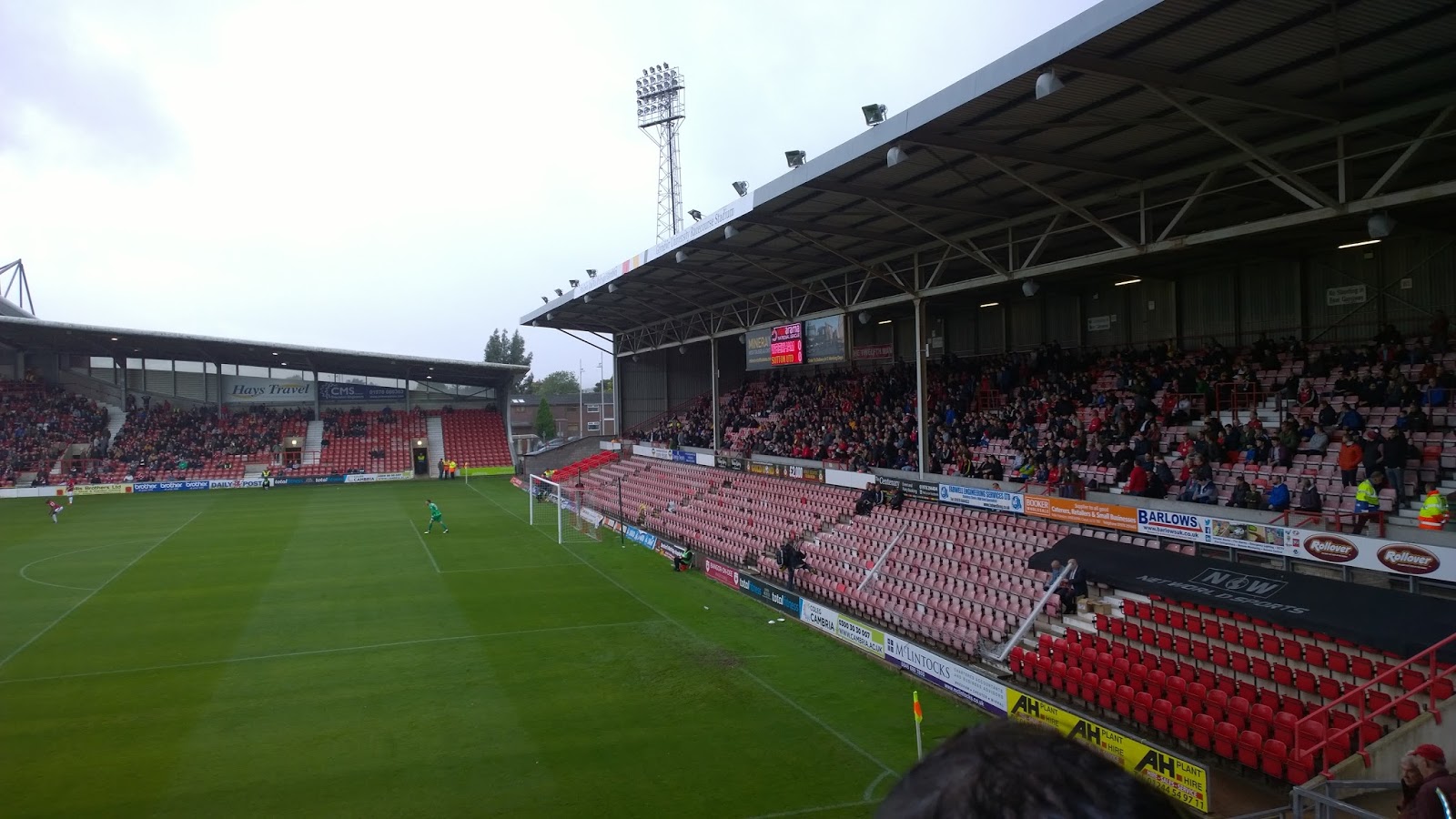 There's some dick with a drum in there…
Second half and with no changes from both sides, Sutton started brightly but failed to turn possession in to shots on target. Taylor had the best effort but it was straight at the keeper, although he made a bit of a show of punching it away. The man in black showed his inconsistency once again by booking Aswad for a high foot and then doing nothing when the roles were reversed moments later. It does piss people off when this happens, then again it's what makes football that great tribal encounter.
With the subs, Cadogan, Jeffery & Thomas on for Downer, Emmanuel & Wright it changed the game for us a bit. For me personally I would've brought Dundas on instead of Thomas but then again I just want him to reach 500 appearances for us and thought those two big fellas up top might've worked better. Wrexham also make their own subs and one that stuck out was Massanka who had several chances to kill the game but managed to miss them all. Some worse than others.
Then just as the PA announced that there was to be four minutes of injury time, it happened. Wrexham were trying to clear a cross out of the box that came into contact with the chest of Lafayette. Rising up in the air and with no opposition around him, it fell lovely onto his right shin foot. The ball then sails past the keeper, in true Yeboah fashion, hitting the under side of the bar before bouncing down and back up into the roof of the net. 1-1! And, as the youth of today say, there were "Scenes" from the travelling faithful.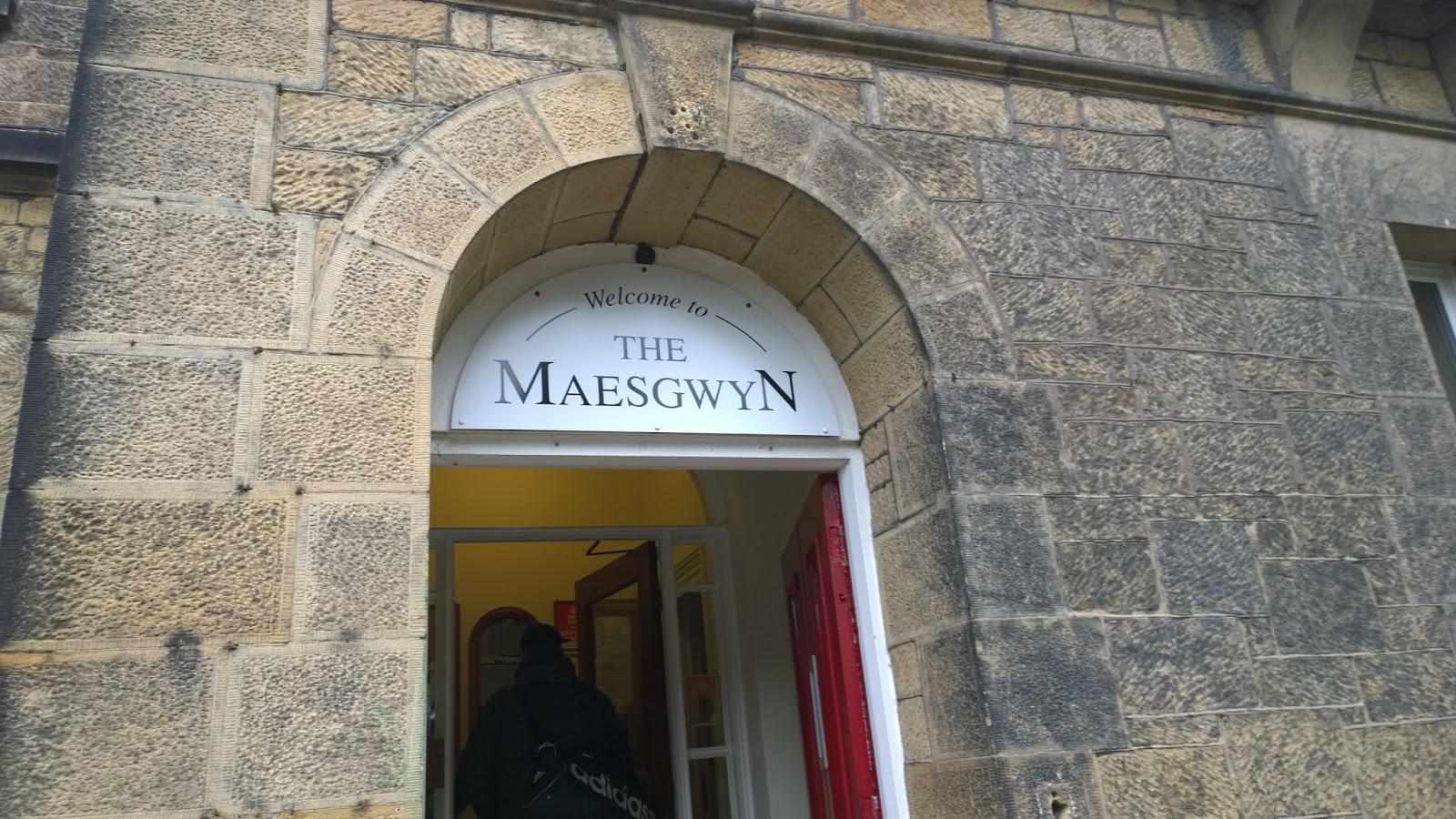 Dunno. 'Front door' at best guess??
We bag our point and after the match we head to a new boozer on a recommendation from the local blog boys Taz spoke to earlier. "The Maesgwyn" (whatever the fuck that means) was more like a large social club with several bars. A bit like that place we went to on a certain someone's Stag Do a few years back that had several levels and different bars that you could get lost by just going to spend a penny. Still, it did beer so no one really cared.
"The Rubbery Lumps in Japanese Lunches…"
The time was soon marching on however, so we had to decide on a plan of action. With a choice of either the six o'clock or seven o'clock, we eventually plumbed for the six o'clock. Not fancying a rush, Indy & Sean Connery's stuntman were going to head for the seven and meet us in Chester. Saying goodbye to The Firm Leader who was off out in the bright lights of Wrexham again, we even had to loudly hurry up The Rapacious Dr Bell to make sure he didn't miss another train. Sometimes that fella is about as useful as a Persian gin salesman.
A quick jolt through to Chester and we head to the Kash Bar, which is now called "The Deva Tap" and back to English prices. Which means at least 2 quid a pint more than we'd been paying. A decision for a shit load of pizzas is also arranged with nearly everyone deciding on what they want. A couple of pints down and we then head to get the next leg of our journey to Crewe but not before stocking up on essentials on the way. And by that I mean beer obviously.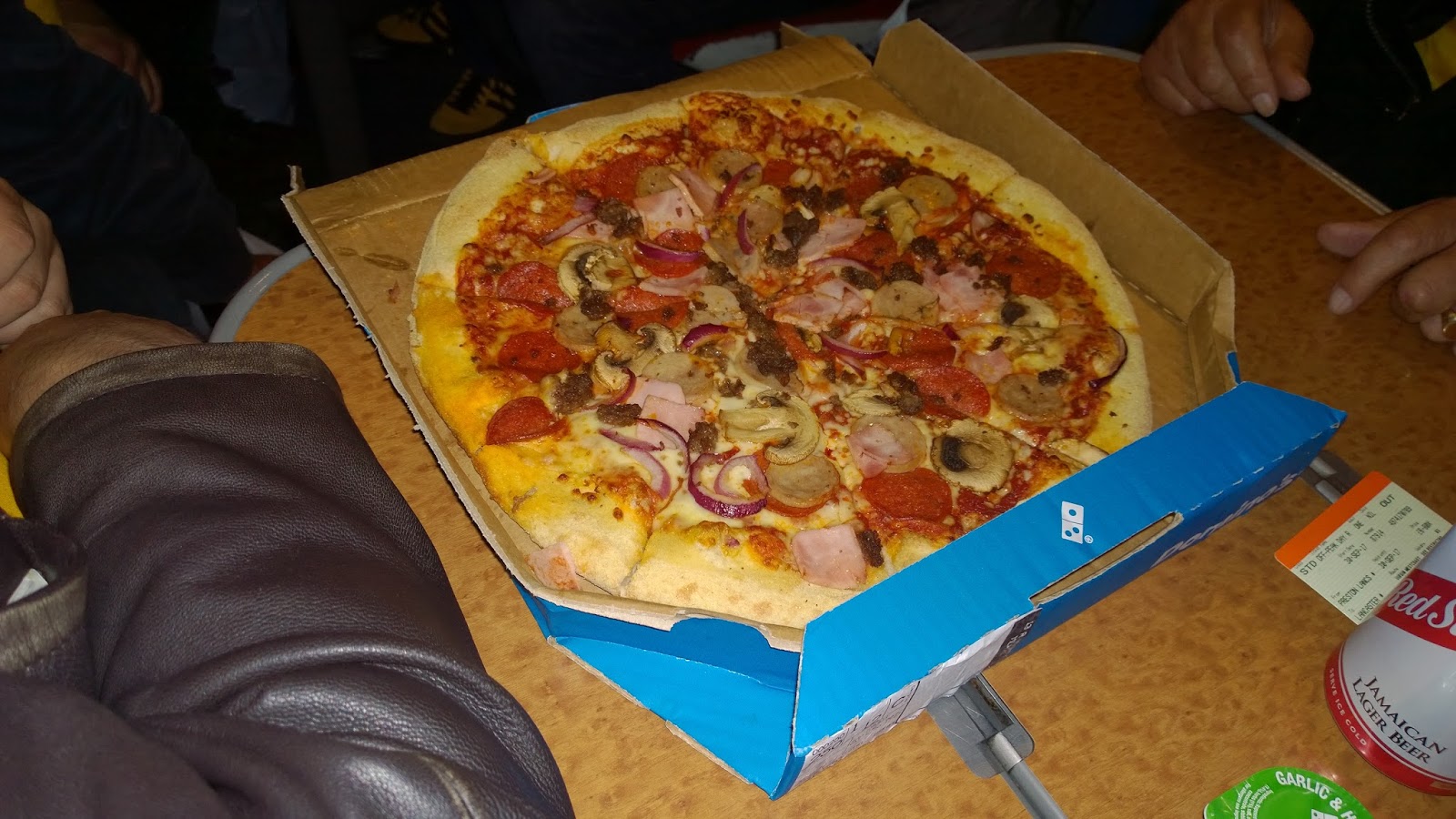 "May I recommend a nice Gordon Bennett 64 to accompany?"
At Crewe, Taz & Mr X disappear into the night to saddle us up with some stodge. Twelve large pizzas to be precise. Looking back at some of my blog notes (yes, for once I did make one or two! Well, just one actually), I appeared to have noted down "Who the fuck is Chris Ramsey?" for some reason. Any ideas? Because I haven't a fuckin' Scooby what that's all about. The train is slighlty delayed but finally arrives and we only have to hoof a couple of people out of our reserved seats.
The train journey back to town is what you've all coming to expect from us. Very loud, very immature & a conversation with a random Bolton supporter in his finest whistle having spent the day at Chester races. He also proved very useful, as he got Southampton Steve some cups for his little bottle of Vodka. And trust me when I say we spent ages discussing a now defunct supermarket (Normid!) that once occupied a corner of the old Burden Park. That and why Irish Pete had gotten a bag of ice from somewhere. No really. We had ice.
Arriving back in Euston just before eleven, we waved off our new smartly dressed mate from Bolton and people started to do their own thing. My own personal aim being to head towards Victoria to hopefully catch one of the last trains back to the Badlands. Fortunately we made it back with a bit of time to spare. Saying goodbye to those of the mob that were aiming towards Croydon, I headed outside for a quick smoke to see that the sign for Pacha had finally been removed.
What do we think of Lafayette's goal then lads?
With only the six of us left, we jump on the 2326hrs train back South of the river. Drinking my last can of Red Stripe from Chester, before swapping half a can for a full can of Fosters with Irish Pete, which I think that made it number sixteen for day in all. And to think that I hadn't even done a ton! Well, if you don't include the bull's eye spent on travel that is.
"Lard, The Seats in Minicabs…"
Deciding that was enough, I give late orders in O'Neill's a big swerve and I jump out with Taz at Carshalton. Not bad really, only the seventeen hours since I left the bloody place. It's not long before I'm back home and trying to pass out. Not before long, my Sister's bleedin' cat decides that he wants to play the ye olde "scratch my face until I give him some attention" trick. Penance I think I'll call that.
So we move on to a midweek match against Dover. Another "top of the table clash". Blimey, it's getting like the old Ryman days round here! We've also got a small matter of a FA Cup draw to worry about but I'll let our dear leader, Chairman Totts give that a going over. And if your wondering about what the random quotes were all about, then worry no more (I haven't been committed. Yet!) and click on the video below to gain a small yet insignificant idea. Until next time, Enjoy!
Duke
Att. 4815