Never let it be said that we here at Gandermonium are not a sympathetic, caring bunch. Despite Robbo being in the chair for this one, he's come down somewhat poorly this week (I'm reliably informed it's not alcohol related either, so that's our reputation as non-league pissheads further down the kharzi) so we've rallied round, swung into action and called in a late sub. Me. Mainly 'cos no one else would bloody do it, the bastards. So yeah. Taz to the rescue! Or something. And get well soon Mr Robinson, we hope to see you back in the bar at GGL forthwith. Mainly because you owe me a fucking pint for this…
So, after last week's somewhat disappointing reverse at Kingfield, two things happened. Firstly, we of course lost top spot again and Secondly, I have now added Woking as the second entry on what I call my 'Eastleigh List'. This is, as you might guess, a list of places I'd rather get ebola than visit ever again for the purposes of non-league football, mainly as they meet the criteria of being a shit drink up and somewhere we absolutely never ever get a result, regardless of how we play. You're clever people, I'll leave you to work out who the inaugural entry was on there. I also have a feeling Boreham Wood might be making an appearance on it around Xmas time as well. Only time will tell though.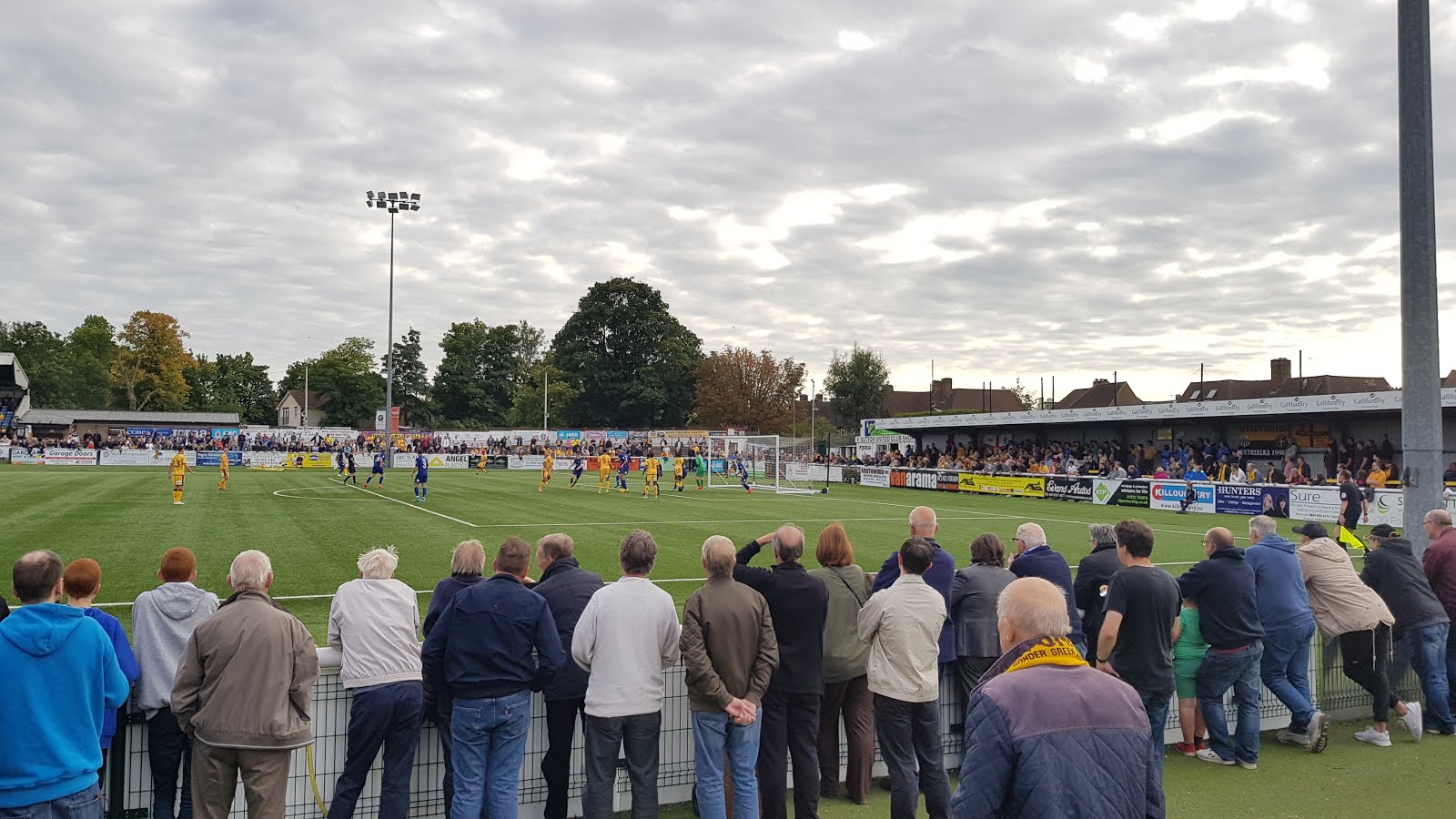 I wasn't supposed to be doing this, so….
This week's clash was one we were a touch unsure of. With Barrow having had a surprisingly cack start that had resulted in their parting ways with the manager, they'd this week taken the decision to somewhat underwhelmingly give the job full time to Cox's caretaker, who'd done an even worse job than he had and taken the team into the bottom 6. Despite this, our slightly patchy home record and new manager bounce had us nervy. Add into the mix the return of a former favourite in Bedsente Gomis, you could almost smell a shite 1-0 home defeat in the late September air. Well, it's either that or I've forgotten to take our food waste bucket down to the bins again….
As with most Saturday home games, I enjoy a lie in thanks to not having to catch an 8am train out of Euston to fuck knows where as is usually the case with aways. Then having got sufficiently under the feet of Mrs Taz and been told to do one before she loses her rag and goes full Mugabe on me, I head for the bus and dump myself off at the police station for the walk into the Republic. Annoyingly, the Greggs at the top of the high street has none of my usual ham & cheese baguettes in stock, so keen not to provoke the football gods any more than a new manager and a former player could by breaking my normal pre-match routine (the last time I did this and settled for sausage rolls? Maidstone at home), I head to the bottom branch and find one there instead. Still, it makes a nice change to walk down the high street dodging all the chuggers, admiring the huge new 'Pound World' store and the somewhat odd seaside-esque paint job on the buildings by the Grapes (what do they think this is? Fucking Brighton?) before cutting through to the lush & verdant Collingwood Rec via West Sutton's finest example of 60's brutalist architecture, clad in 21st century pastel coloured shite, Balaam House.
Despite having gone the long way round and then stopping in the car park to talk to Johnnie, the leader of the fearsome Sutton Youth Faction, I still find myself amongst the first into the bar. Only Wellie is parked up from the usual boats you'd find around here at this time. Still, he buys me a pint so can't complain.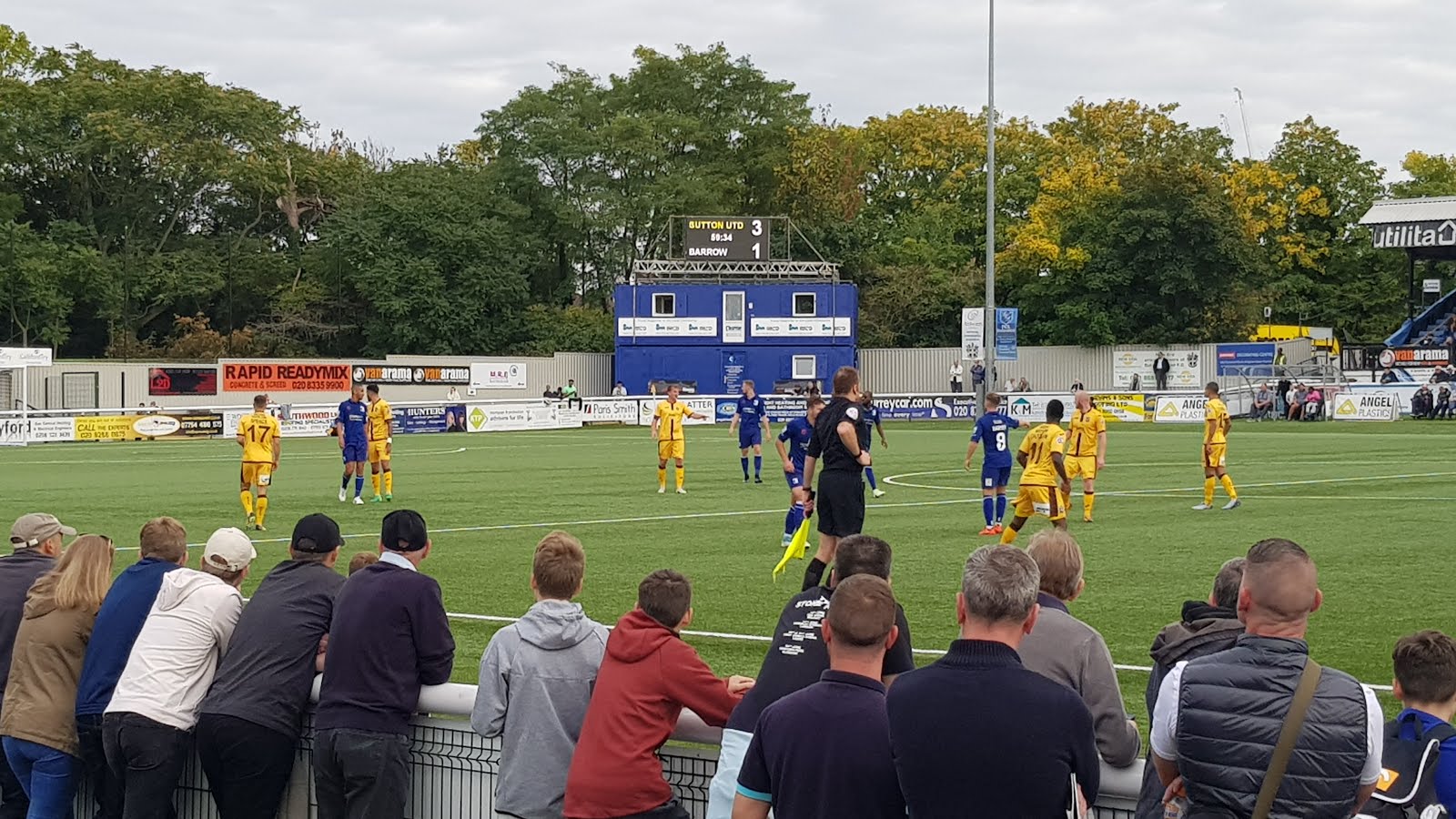 Scoring complete.
Sadly for Wellie, his good deed is punished as just as he's about to hand over a note for two pints, Mr X arrives on scene and invites himself in on the round. Cheeky bastard. However, his appearance is timely and actally required for once as he's wearing one of the natty new Joma training tops that have started appearing lately. A garment I have my eye on for a purchase in the immediate future. As in as soon as the club shop opens immediate type future. So having inspected the merchandise and necked a portion of my pint, I head off to do some old school man shopping.
Now, this isn't like the sort of new 'metrosexual' man type shopping you'll see nowadays, which is basically exactly the same as womens shopping but carried out by the sort of males you would find populating absurdly popular televisual shit like 'The Only Way is Essex'. No idea what they want to buy, try on half the shop, get something expensive that looks like they robbed it off a homeless person and then go home to admire themselves in a mirror whilst applying fake tan and too much gel in their hair. Being old, this is not a scenario I wish to employ, oh no. I employ the same man shopping doctrine as my father and his father before him, where you basically treat it like the SAS entering the Iranian embassy albeit with a lot less explosives and small arms.
This boils down to the following steps. Know what you need, in which size and where to get it. Go to said place of purchase, find said thing you need, check size is correct, pay, fuck off.
This is both far more efficient and leaves lots of time for other man type stuff like boozing and talking shite. Moisturise? Get fucked. Unless it's made from hops at a brewery, comes in pints and is applied orally. I'll leave all that fake tanned nonsense to the likes of Juan thank you very much. So, I hit the club shop like a ginger tat buying whirlwind, obtain a top, a polo and a rain jacket and am gone in a flash with the pile of her majesty's dinero on the counter the only evidence of my passing through. Mission accomplished, VDT wastage minimal, return to bar.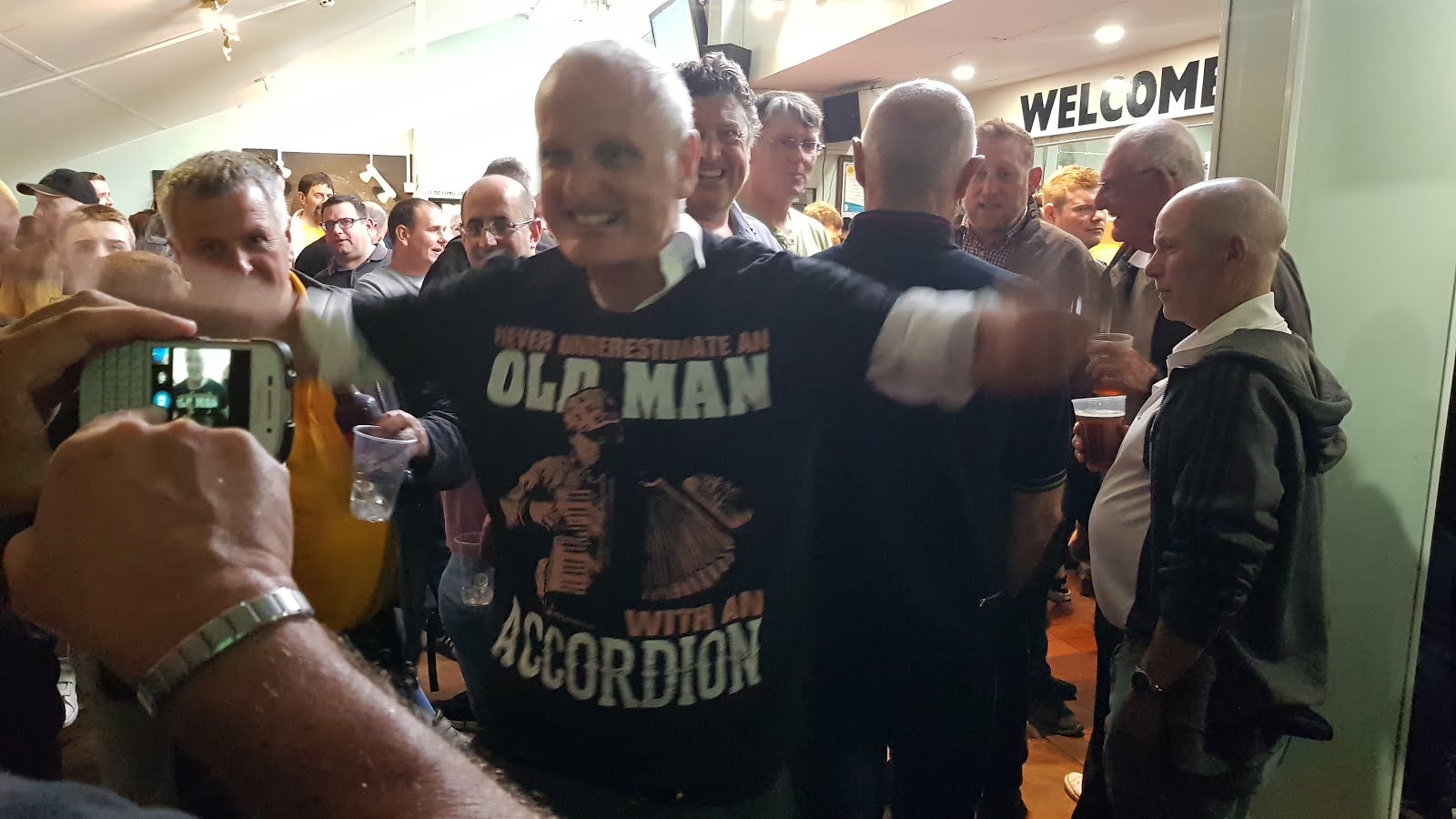 A slogan on a t-shirt is rarely wrong.
Here I decide to make use of my new training top instantly and place it upon my person, which instantly pisses off Mr X. You may rmember the point I raised about the coat situation in the Dagenham blog? Yeah, well that. "Fucks sake, you have basically the same wardrobe as me" he mutters as he rifles through the rest of my purchases in the Sutton United carrier bag. That's maybe dear boy, but with one crucial difference. I make this shit look goooood.
A few more faces appear, but one is missing. It seems that Dukey is carrying on his one man protest at the GGL bar prices, however it seems things may have gone awry for him today as Burgers and co report they'd left him and Greek in O'Niells watching the Spudz game. So that'll be the Irish pub that's just as expensive than here then? Oh dear. The spoons obsessed one will not be amused.
Despite having to travel for fucking days to get here from the edges of Mordor, there's a good few Barrow in enjoying a pre-match pint. Amongst them is Dave, a nice chap I know from the old Confefrence forum. And he's come dressed like some lad you'll see in Gatwick 'Spoons necking a pint of Stella before his 7am flight to Magaluf. "Fuck me mate, I know we're a lot further South than you, but Summer ended weeks ago!" I exclaim whilst checking out his somewhat overly summery outfit. "Nowt different to what I wear back home normally. Just put a sweater on around February and I'm sorted". Fucking Northerners. Odd bunch.
Still, he and the rest of the lads are as unsure about the game as we are, stating they're as likely to lose 5-0 as scab a heroic 1-0 rearguard action win. Which is good. I think. Maybe not.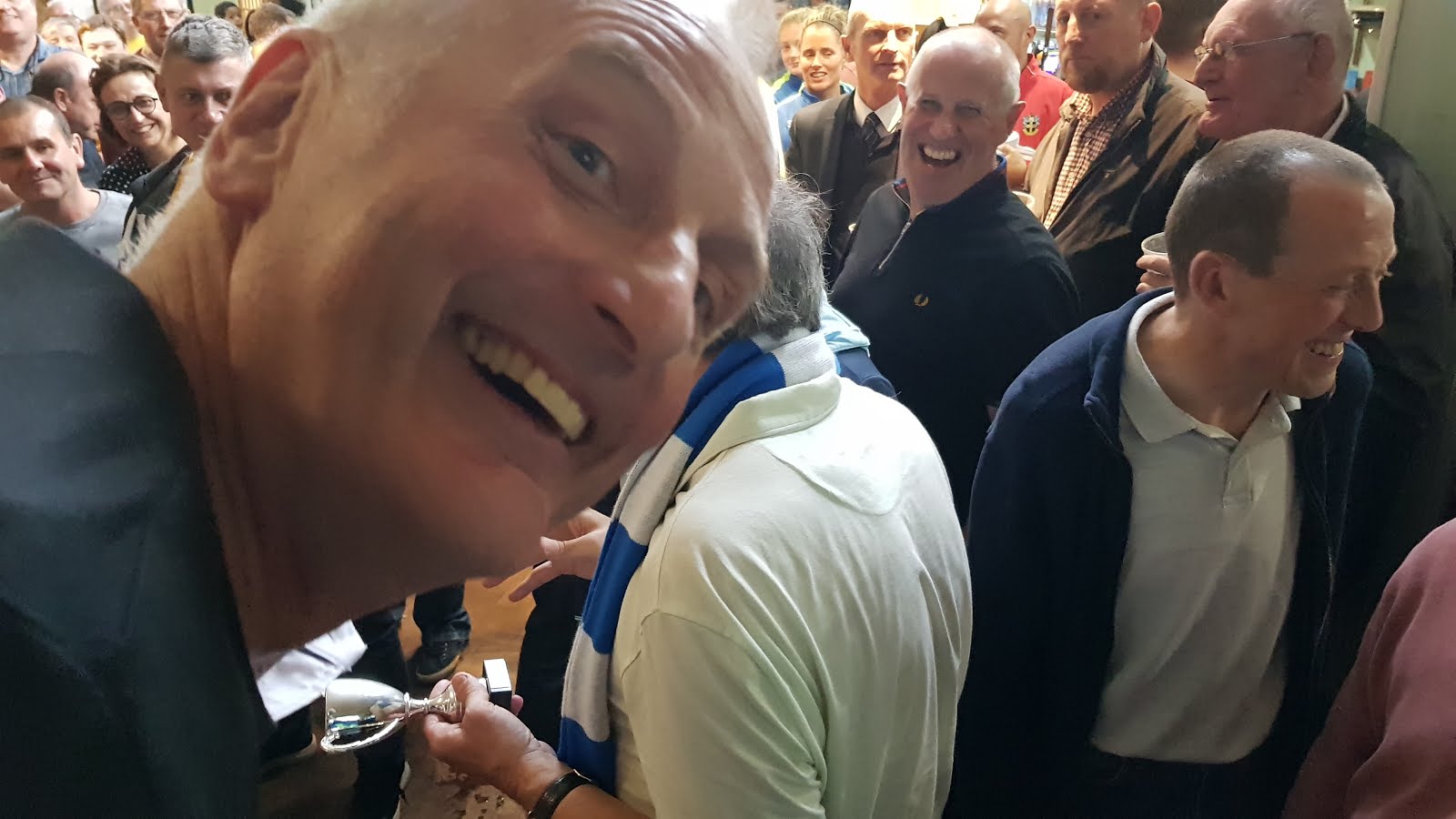 "Is this what one calls a photo bomb? Marvellous!"
Butler, Thomas A, John, Collins, Davis, Lafayette, Cadogan, Eastmond, Spence, Emmanuel, Taylor SUBS: Dundas, Wright, Walton, Jeffrey, Thomas K
We head out for the action and as per usual, it's off to the low cover of the Rec end as the lads are shooting that way first half. Before the start, Dundo is awarded a small trinket to mark his 100th goal against Dagenham 10 days ago. Sadly he'll have to wait to add to that today as he's starting on the bench with Lafayette returning up top. To be honest, the furst 45 is largely a dull affair. We're pretty much in control the whole time but without really tearing the visitors a new one. Moses does have an early chance when he spins on the ball smartly in the box and fires off a first time shot from 8 yards, but despite it beating the keeper at his near post, it rattles back off the woodwork and across the 6 yard box.
After this, not a massive amount happens really. The visitors work hard without doing much offensively and barring a couple of sighters from Moses and Eastmond, that's about it. Then on 25 minutes, we get a free kick out on the touchline in front of the stand. Aswad steps up to take it and delivers a ball into the box. Both JC and then Louis go for it, miss and it bounces beyond the keeper into the far corner. Some celebrate the opening goal, but more cynical sorts amongst us who were at Chester to witness the utter fuckery by the officials from a similar situation shoot a glance to our left and the linesman. Fortunately the flag stays down and it's 1-0. "Yeah, I checked that twat first as well" comments Mr X having noticed my own look towards that touchline.
Not much else happens and half time looms. Then just as we're thinking of heading into the bar for a livener, we go an do what we do best. Give away a goal from nowhere. A long throw from the Rec side is nodded on and drops to Cadougan just inside the 18 yard line, he chests down rather than lash it clear first time and that's a mistake. The touch allows a Barrow lad to nip in and Keiron ends up lumping the player rather than the man. Even from the other end it's about as nailed on a penalty as a penalty can be. Of course, former Bobbin Byron Harrison steps up and levels from the spot. The bastard.
So we head in for a beer at the break all square.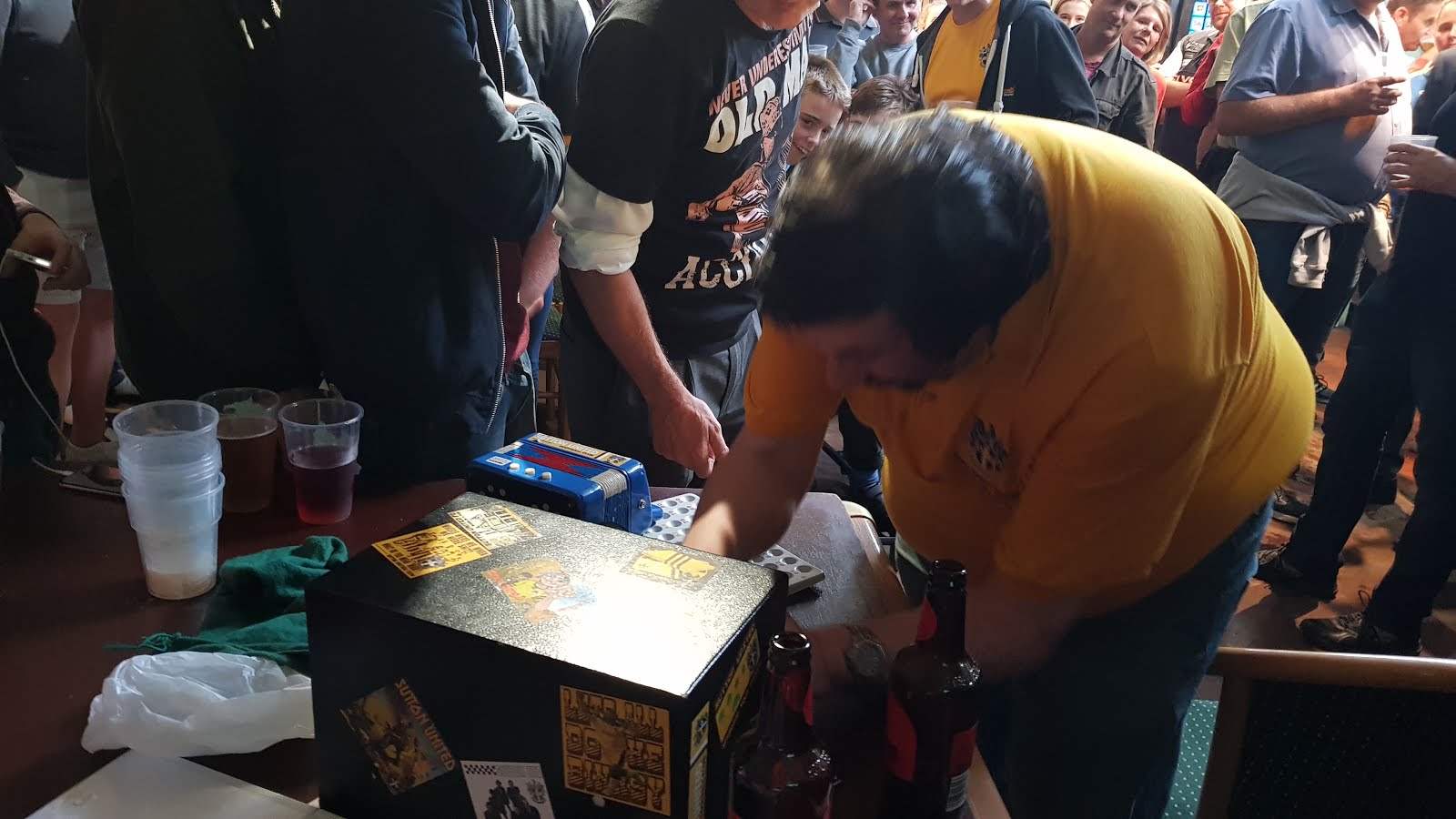 Hurry up, you're due at the bar!
Here I'm reminded why I rarely pop down the tunnel for a half time snifter. I take too bloody long and miss the restart. Having got a pint I'm guzzling well before I get chatting further to Dave and a couple of other lads and before I know it, we're well underway again outside. As I finally head for the GGL turnstiles, I'm informed by one of the Barrow lads finishing his own pint whilst taking advantage of a plug socket to charge his phone that we're back in front. Are we? Oh.
It seems that there was a bit of pinball in the Barrow box and Josh Taylor reacted first to prod away a loose ball. It appears like I gas like my old dear as this has taken place a whole 4 minutes into the second half. Even perennial goal misser Robbo has seen it! Ho hum, at least we're winning! Before I've even got round to the Shoebox, it's 3-1. A ball forwards finds Eastmond in the clear, but he gets the ball tangled in his feeet and it seems the chance is gone. But he catches a break and finds himself having drawn the keeper and defenders all to him and he squares it across the 6 yard box to give Moses a tap in. From here, we really should go on and put the visitors to the sword, but we again meet a keeper in fine form and Mr Dixon makes several decent stops including one super full length effort to claw an angled Eastmond drive over the bar.
Of course, having missed a couple to put the game properly to bed, we set up a nervy last 25 when a ball in from a free kick is nodded on in the box, hits Harrison and leaves him with a simple tap in with Butler stranded. 3-2. However the expected onslaught never comes as Barrow seem to be unable to go up that gear required and we largely see things out without too much hassle to the final whistle. The only downer being a rather soft yellow for Eastmond that takes him to 5 and rules him out of next Saturday's hike to Wrexham.
As the clock runs down news reaches us that today's leaders Aldershot have tossed a 2-0 lead at home to Orient and are now level. And yeah, you know where I'm going with this don't you? Yes dear reader, when the final whistle blows, we are once more atop the National League table. For the forth time. With a week still to go in September. There's little in the way of celebration from the mob at full time, mainly as it's starting to look like this league is probably just a bit shit. So we head back to the bar, get some bevvies in, feed the jukebox with nuggets and relax until AB once more shatters the peace with his accordian. Still, it works out alright as Dundo picks out "Rerek's" ball meaning Indy has a shot at several hundred quid. And having rattled the key around in the lock for a few moments, he opens the safe and promptly heads for the bar.
Good lad, priorites straight.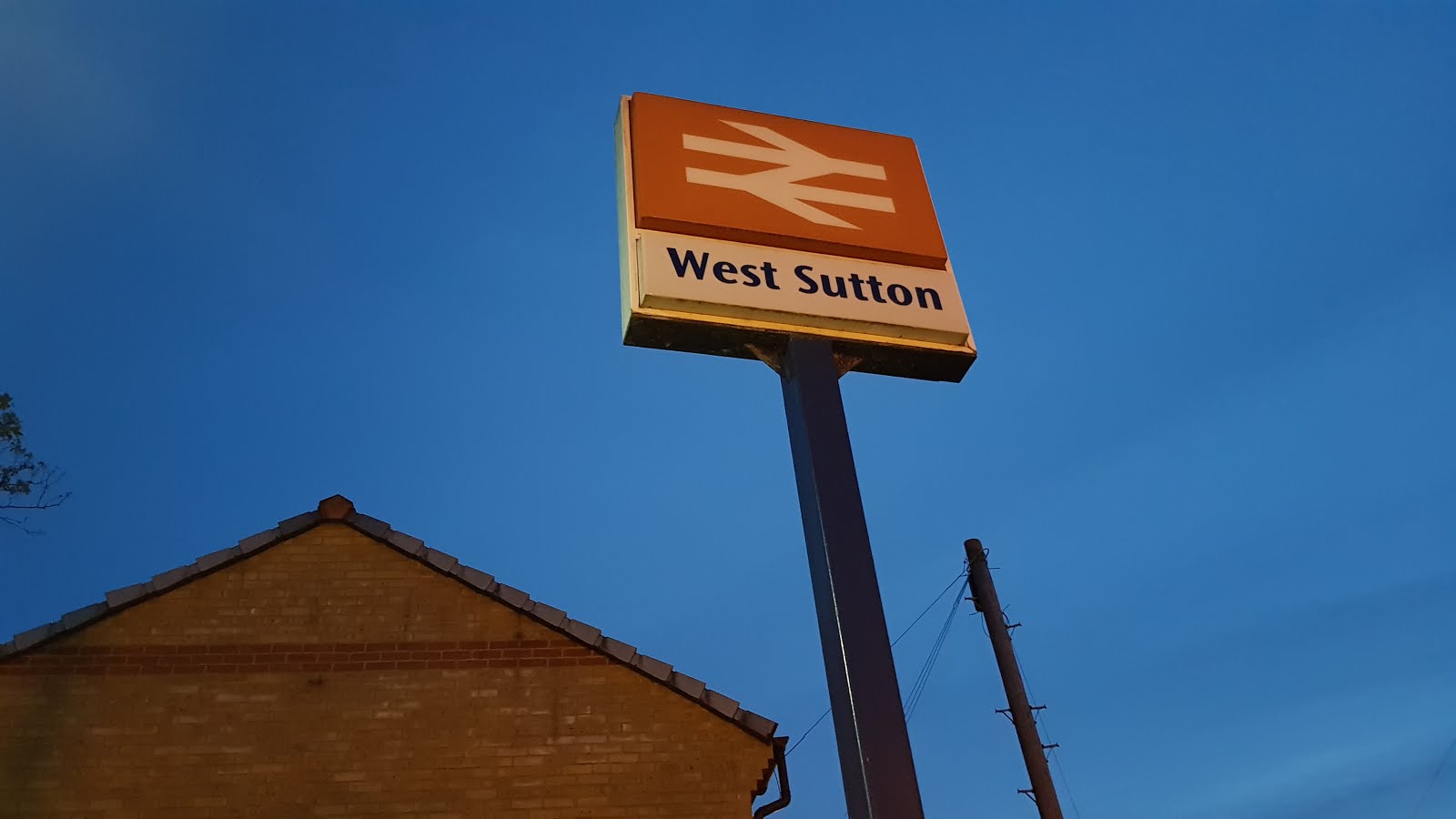 "This is West Sutton, Gander Green Lane…."
Not long after this, I make my excuses and dart round the corner to the station for a train back towards HQ. With Wrexham away next weekend and the month casting a somewhat long and menacing shadow over one's bank account, I'm keen to reserve as many pennies as possible for that really fucking cheap pub in the Welsh town centre. Plus it means I can cook dinner for Mrs Taz and bank some brownie points for when I inevitably fall through the door stinking drunk at gone midnight on Saturday thanks to that really fucking cheap pub in Wrexham.
I know, don't say it. I'm a catch.
Taz