Thank you Mr Duke for your kind handover and there was me fretting about what nonsense you would write by way of introduction. Your words though squire are very kind! Thankfully there is no need for an international break in Non-League football, and may I add international football really is the pits, well all except for Panini sticker books. They're alright.
The last game at home to Maidenhead was quite painful, and to be honest we deserved the defeat. We just never quite got going. Today though we need a win to stop the rot – it's amazing how the turnaround has gone between our home form and away form this season. Two wins at GGL, but three on the road already!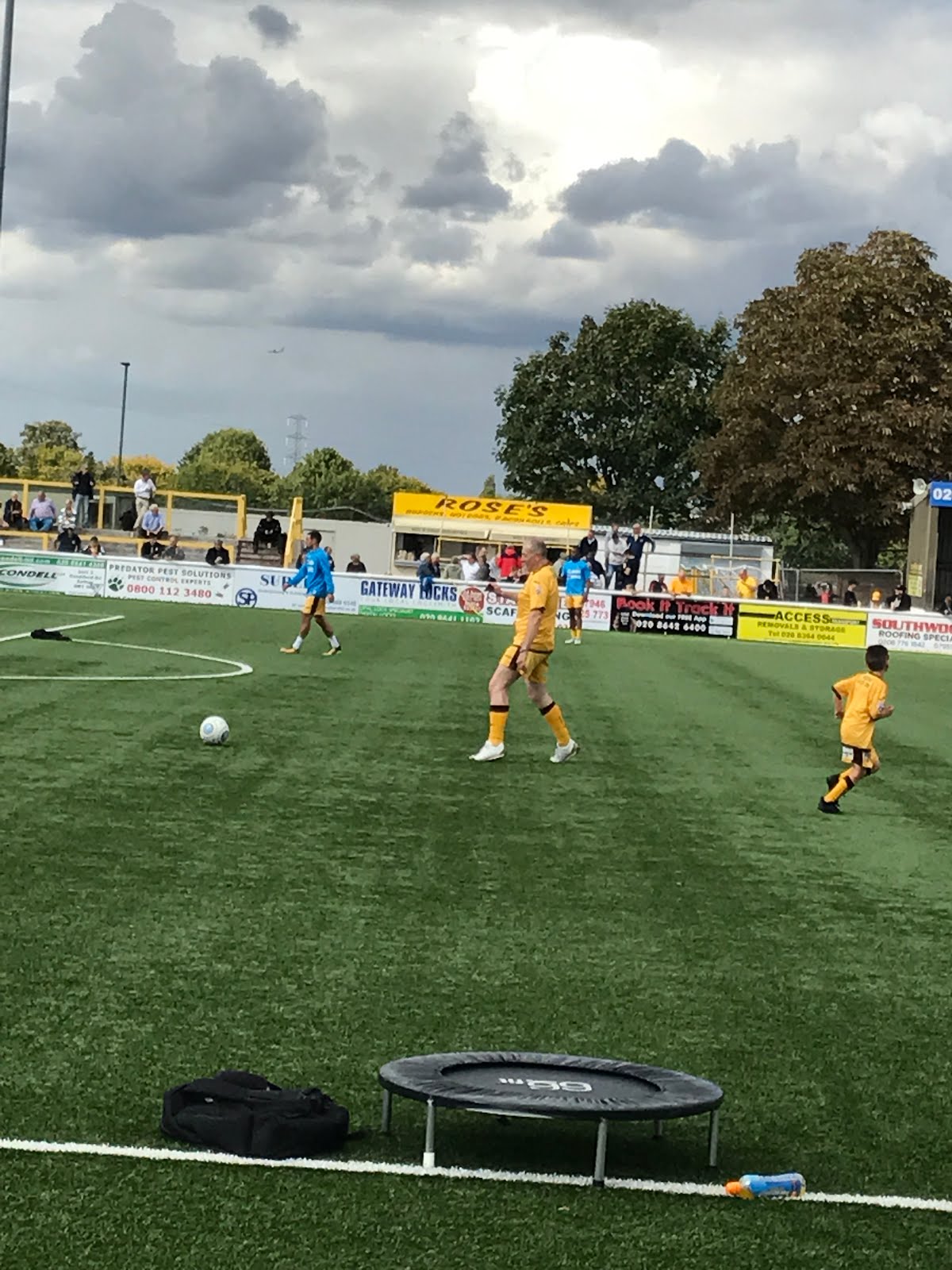 Aren't you a little old for that?
In the week yours truly received a telephone call from Chelsea Football Club to notify me that I had won a signed shirt by the whole first team. his is because I subscribe to the match day programmes from my time as a regular down at the Bridge, to which I must admit I haven't read a single one cover to cover since 2006. Perhaps now I should take them a bit more seriously? Needless to say, I'll now add this to my signed Sutton United shirt on my wall. However, there is also a downside to the week in that I was diagnosed with a stomach infection and I was to be on antibiotics, so no alcohol for me this weekend.
Oh, before I forget, I would also like to pass on a congratulations to Leanne on the birth of her niece on the morning of the Gateshead game.
I feel for any Gateshead fan who may have travelled down – it's a fair old journey as we well know, although if you leave early like our very own Taz you can of course make it North East well before midday. My own journey consisted of being a bit lazy, getting two buses right to GGL, the latter being the 413 which I was joined on by 'Rerek'. Upon arriving to the bar it was fair to say all was quiet on the western front – the usual faces were there and talk was of the ever increasing score in Manchester City's demolition of Liverpool taking place on SKY. Also talk was of JC's latest injury ruling him out of today's match and on cue, in walks said captain sporting a massive shiner. He refused to say who was responsible for this accidental clash in training though.
Half-time Steve's son Ryan shows us the team and it's a makeshift back line, team line up as follows:- 26. Butler, 16. Bailey (skipper), 5. John, 22. Walton, 3. Thomas, 15. Eastmond, 8. Davis, 14. Dundo, 23. Taylor, 11. Cadogan and new loanee signing 30 Kwame Thomas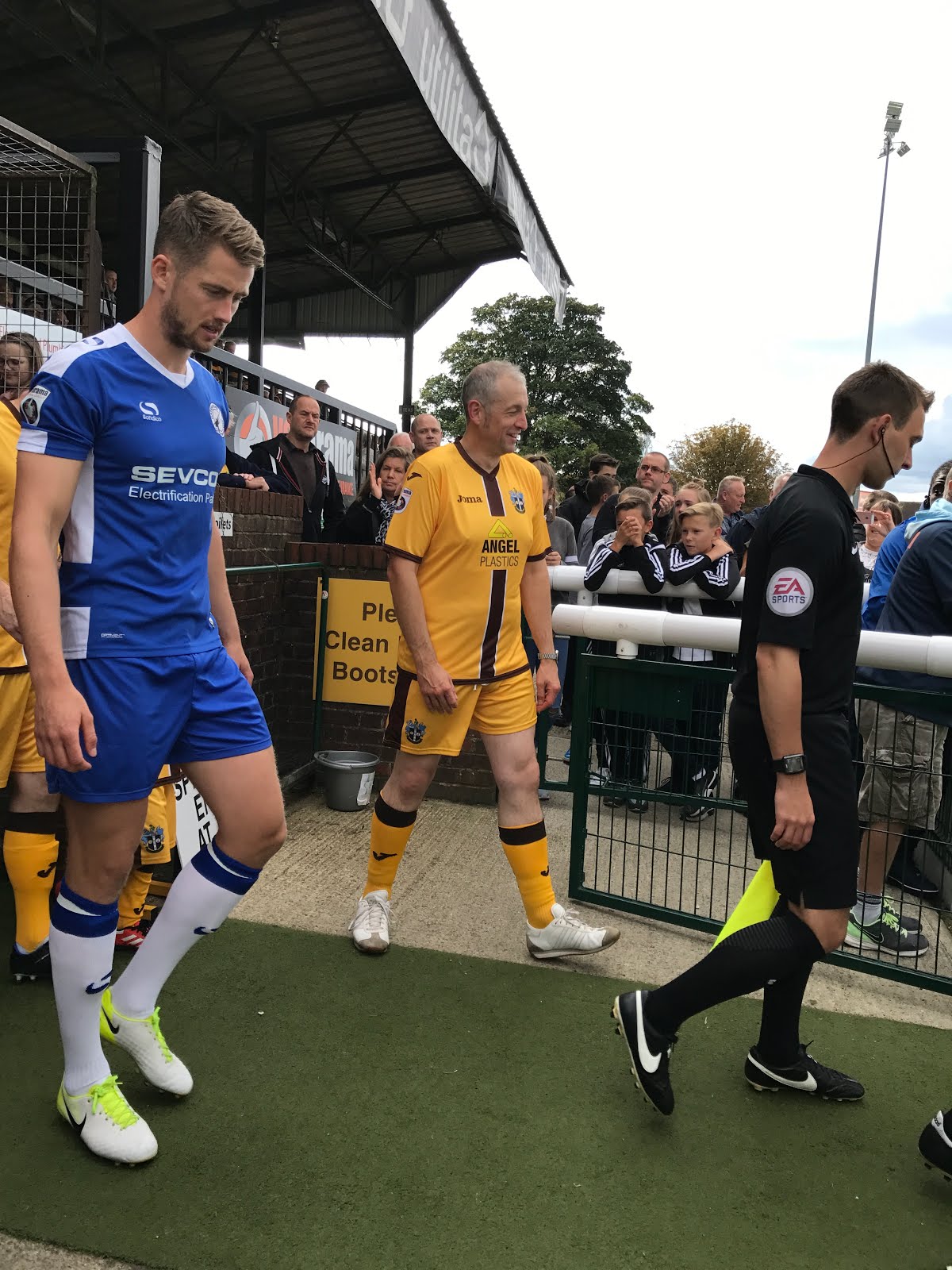 No, that is the mascot…
Upon stepping out to the ground I spot Chip without the Beckwith entourage, but I do spot Deano going through his paces & having a little train out on the carpet. Hopefully, he along with JC, will be back in the squad soon. The next thing I see though is what appears to be the oldest mascot I have seen. He must be past 40 at least. Still, he seems to be getting a few cheers from the stand.
As I stand by the tunnel & await the walk out of the teams and said gentleman is indeed the mascot for today. He walks out and has a little kick about whilst Nicky Bailey participates in the regular coin toss in the absence of JC. This sees a change of ends and catches a few of us by surprise, so its walk round to the Shoebox rather than standing at the Rec end. Whilst en route Paul stops me and asks "did you cause any disagreements in Liverpool" to which I remember my activities during the night out by the Mersey….but that's all been more than covered in a previous blog!
In what was a very slow lethargic start to the game, Gateshead appeared to start the better with a lot of mis-place passing by Sutton. One of these mis-placed passes led to a resulting penalty for Gateshead thanks to an un-needed tug back by Louis John. The spot kick results in a goal in the 15th minute and it was beginning to feel like déjà vu from last week.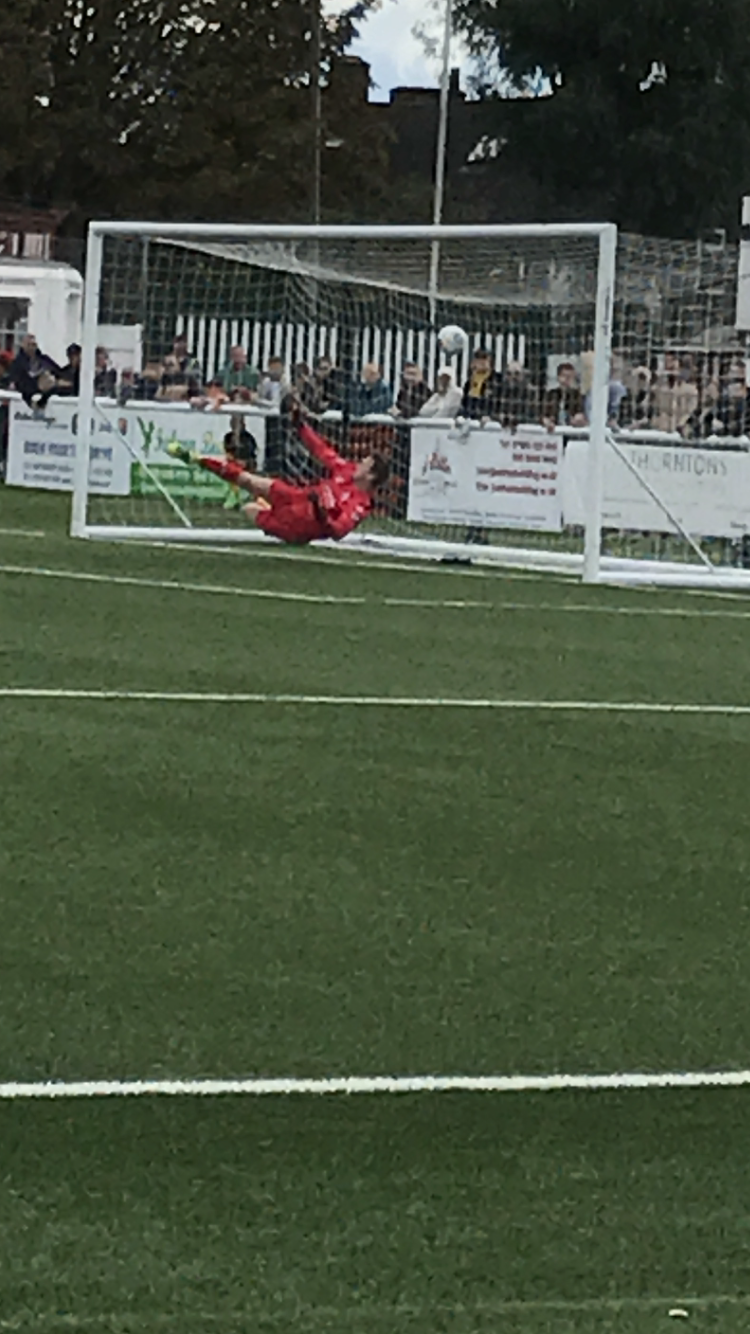 Net bulge
Louis appeared to try and make amends by hitting the bar with a nice flicked header from a Josh Taylor cross and the resulting rebound by Dundo was unfortunately not strong enough to level the scores. It was a foul on Dundo though in the 28th minute that led to another penalty, for Sutton this time and up stepped Simon Walton. Although the keeper got a touch it was not strong enough to keep the ball out. Credit must go to Natalie here for helping me screen shot a zoomed image of the ball hitting the net.
Now from minute 30 it was hard to determine what happened next as I was in two minds in whether to follow half time Steve to the bar. I mean if the linesman can fall asleep during the first half then surely it will not harm me missing the last few moments of the half. To which I did, question is will I miss my second goal of the season – a constant check on Flash Scores and BT Score on the TV proves I did not miss a thing thankfully.
As we are sitting there in the bar at half time it starts to pour down with rain and I mean like proper monsoon rainfall. As Nat and I head to the door to head outside we spot the conditions and we, along with others, are then told the referee has delayed the second half by 10 minutes due to the weather and a bit of lightning overhead. Surely at some time we will have to brave it, but even Mr X is apprehensive about stepping back outside even though he had just run back in to get another pint!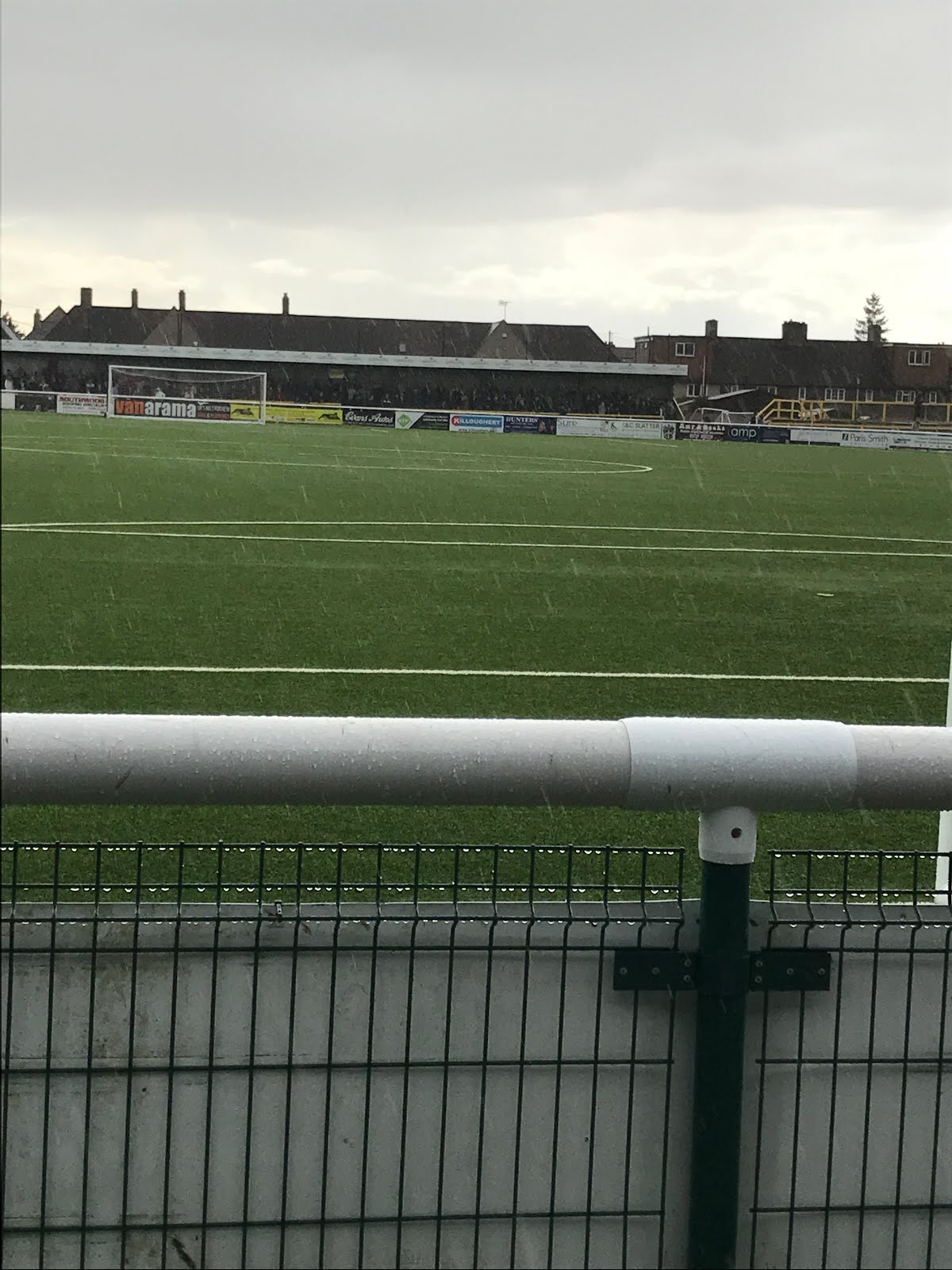 Biblical
To avoid missing out on a good spot under a roof, we decide it's time to make a run for it and avoid the puddles as best as we can. This is where Nat says to me "I wish I had put on better footwear" as she was wearing her brand new shoes from her shopping spree in Chester. Before the game restarts itself I manage to get a good image of the falling rain.
From the opening whistle of the second half there was only one team in the game and Sutton fully deserved the win but the goal just would not come. Tommy Wright came on in the 68th minute for Dundo and it was his persistent attitude that worried the Gateshead defence the most – the best chance falling where he did everything right – the run, the body position and it was just the final finish which spoilt what would have been a great goal. Louis John also had a great chance from six yards out where he had a free header just wide of the goal at the near post, just one problem though he was flagged offside. One of a few dodgy looking calls this half . Then probably the best chance of all came from a great set up bit of play and a shot by Craig Eastmond was tipped over the bar from right into the top corner and was looking more likely that the winning goal would not come.
The influential Nicky Bailey would had to be substituted in the 74th minute due to injury in what appeared a nasty eye injury from a flailing arm that the ref completely ignored. This led to six minutes of stoppage time being played and even this amount of time would not lead to a winner. Still, a point is better than nothing and at least the rot of losing consecutive home games ceases to exist. The top of the table is looking close with few points separating the top six.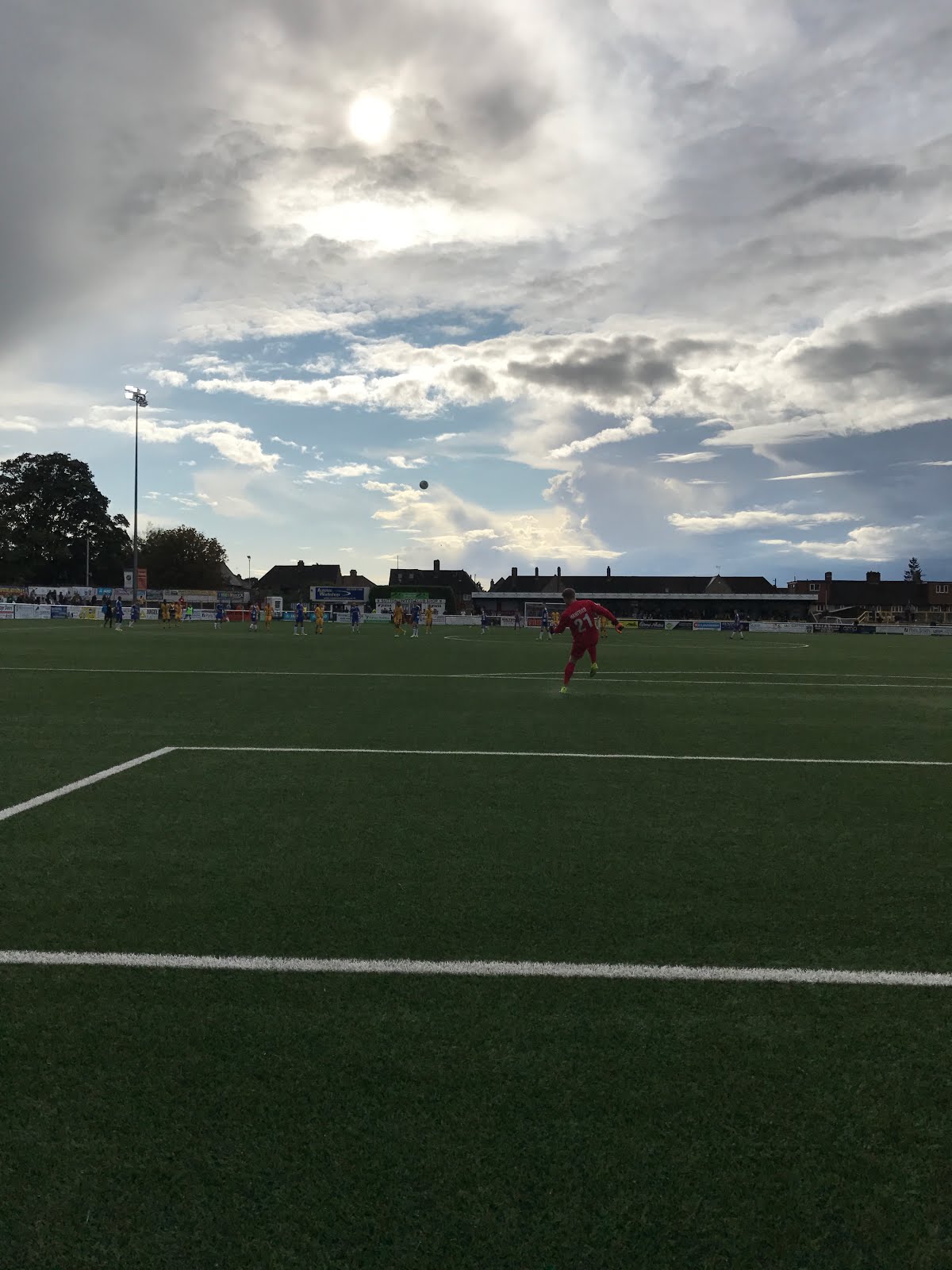 Hoooof!
As I walk out towards the bar I can hear from the corner of my ear Taz having a go at the referee and the linesmen, I would hazard that some non-league officials know our Taz very well. For the statisticians the third substitution was AJ on for Cadogan on the 78th minute, and a yellow card for Simon Walton, with an attendance of 1805.
It's to the bar we go and for the second week in a row it's very quiet, that is until AB announces the five minute warning and subsequently it was time for the strikers are key draw. Now lets recap to earlier in the blog when I mentioned about the mascot – it appears he is a future groom and this is his stag weekend all the way from Bradford in Yorkshire and of course AB has him on the chair to do the draw. Still, he and his mates seem to be having a fine time of it all and apparently they'll be joining us on the terraces at Guiseley in a couple of months. Sadly, unlike JR last week, the winning syndicate does not succeed in obtaining the contents of the safe, so there's no free beers for the chaps. After these festivities, the bar clears out even more and I fear to tread putting songs on the jukebox – which I get away with, whilst supervised by Taz and Let Loose soon blares out across the bar; now after me "Craaaaaaaaaaaazy, crazy for you, and there's nothing that I won't do" – tune with a capital T.
Thoughts now turn to Tuesday night and an away match against Dagenham and Redbridge, for which I hand you over to Gandermonium's most softly spoken member, Taz. PS don't forget to speak to him about Gandermonium merchandise – you know it makes sense. Good fashion is so hard to find these days.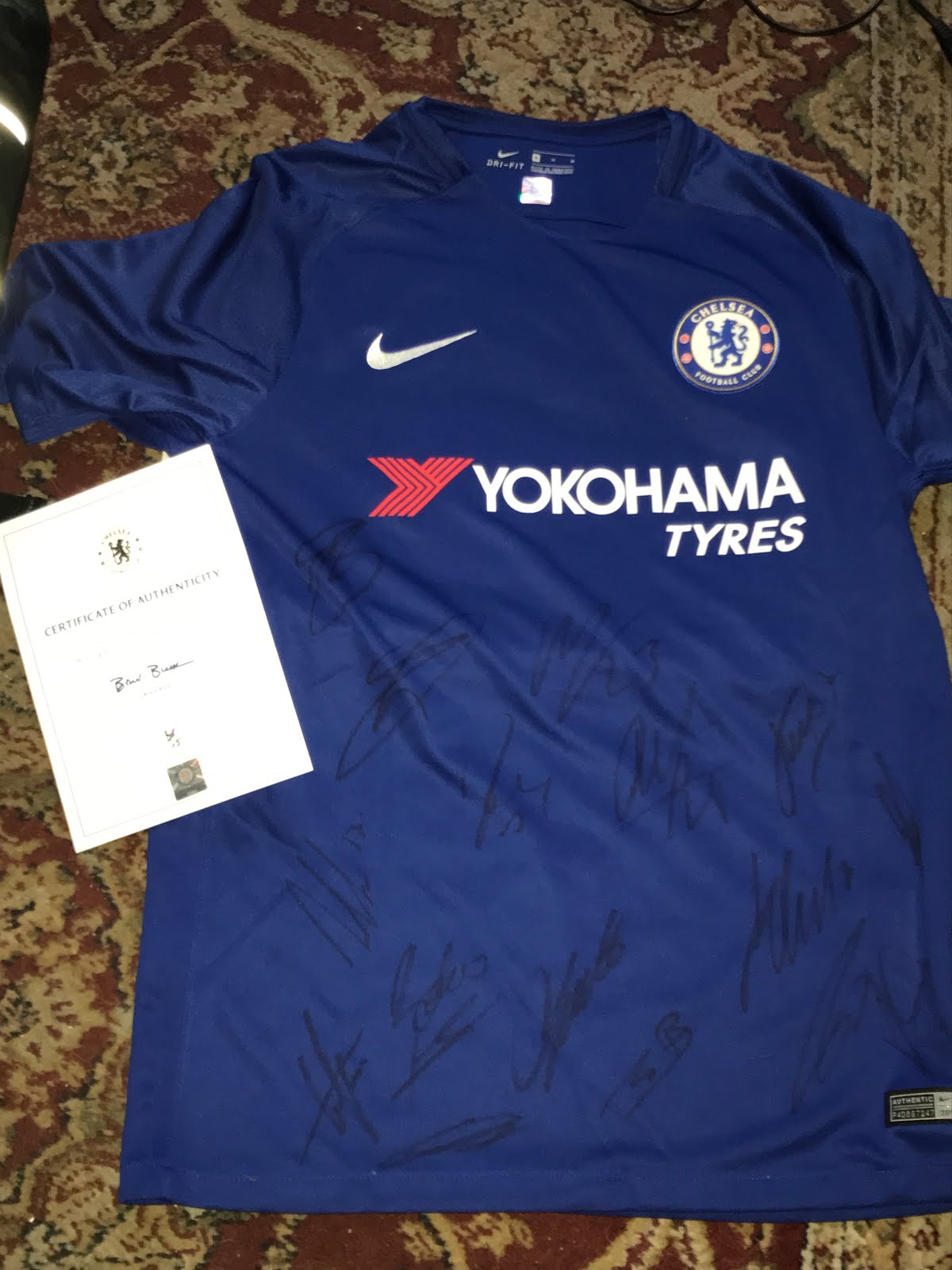 Not good fashion…
Wise men say…..
Robbo