So what is up with this season then? Have the footballing Gods decided to completely reverse our form from last season? Let us not forget, we only won two games away from home all of last year and we've already eclipsed that by the end of August. But it does seem that at home we're struggling to break down sides that are set up in a certain way.
If you think that last Friday was bad enough for your truly with the two bands of rain that got me soaked through as I went about my business, then think again. This Friday was another exceptional example of "WTF", as the youth of today might say. Arriving home from a thankfully uneventful day at work, I find my heavily pregnant Sister's cat messing around in my room. Now he has never jumped on my bed before, but this time he did and started sniffing around.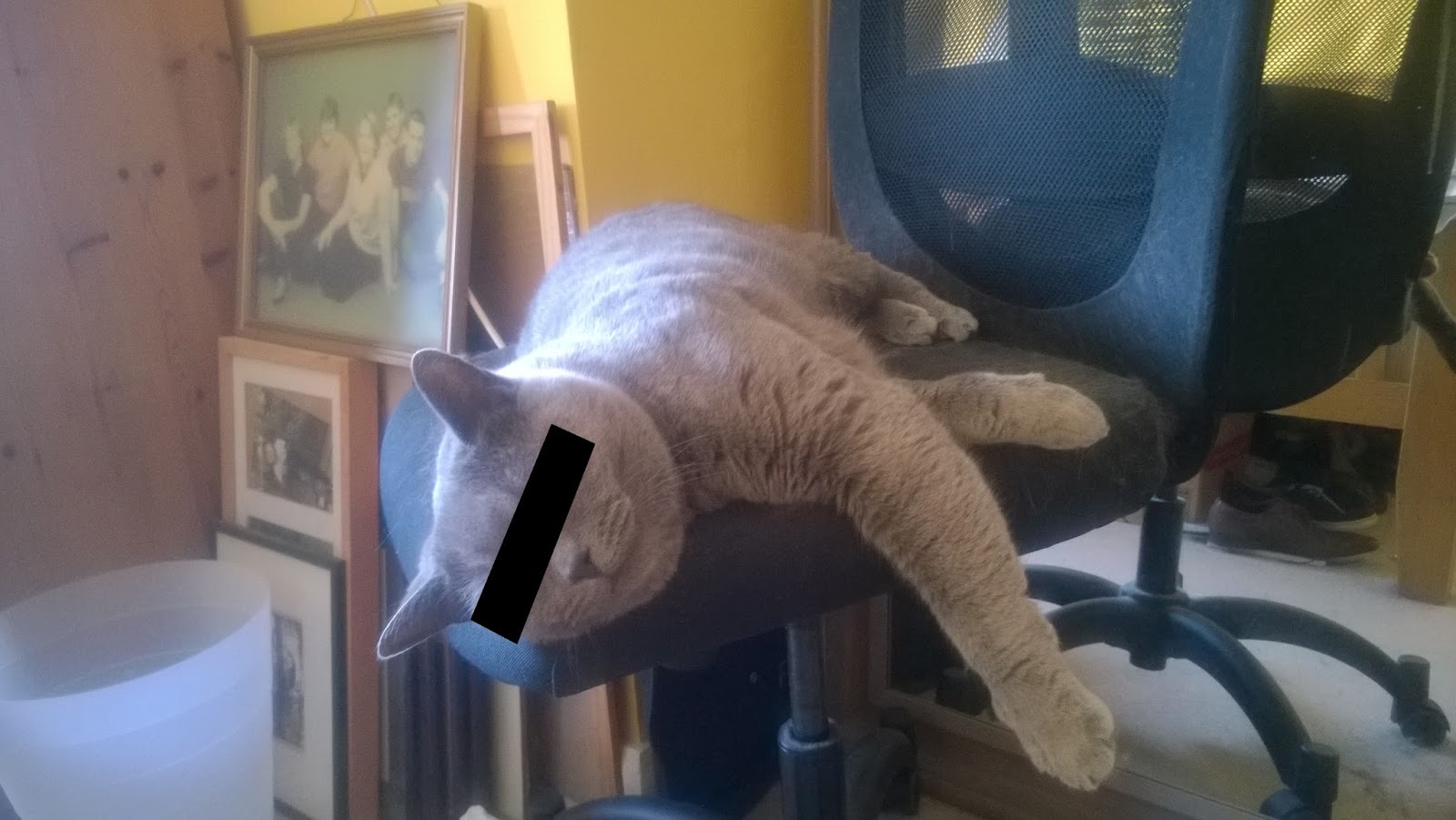 Shitting furry thing.
Wondering what he was doing I soon discovered that there was some sort of brown liquid discharge on the bed sheet. Yeap, the bloody cat had shit/sick on my bloody pit! Not only that but somehow it had gone through the sheet onto the duvet itself. Well that was my Friday evening buggered, as I then spent most of the rest of the day trying to clean this stuff off. The duvet is actually still hanging up in the garden both drying and getting a good airing as I write.
Returning upstairs after the first wash was put on, I began to once more smell the unique odour that is cat shit. And Jesus does it stink, certainly worse than anything Taz or Mr X can produce on a Saturday evening. Thinking that the moggy may have had another go, I began to hunt for the source. Failing to find anything, but despite the smell in the room still strong, I gave up thinking it was just hanging about from earlier. Just then, I clock the bastard trying to jump up onto one of my several DVD cases. It was there that I discovered the brown nemesis.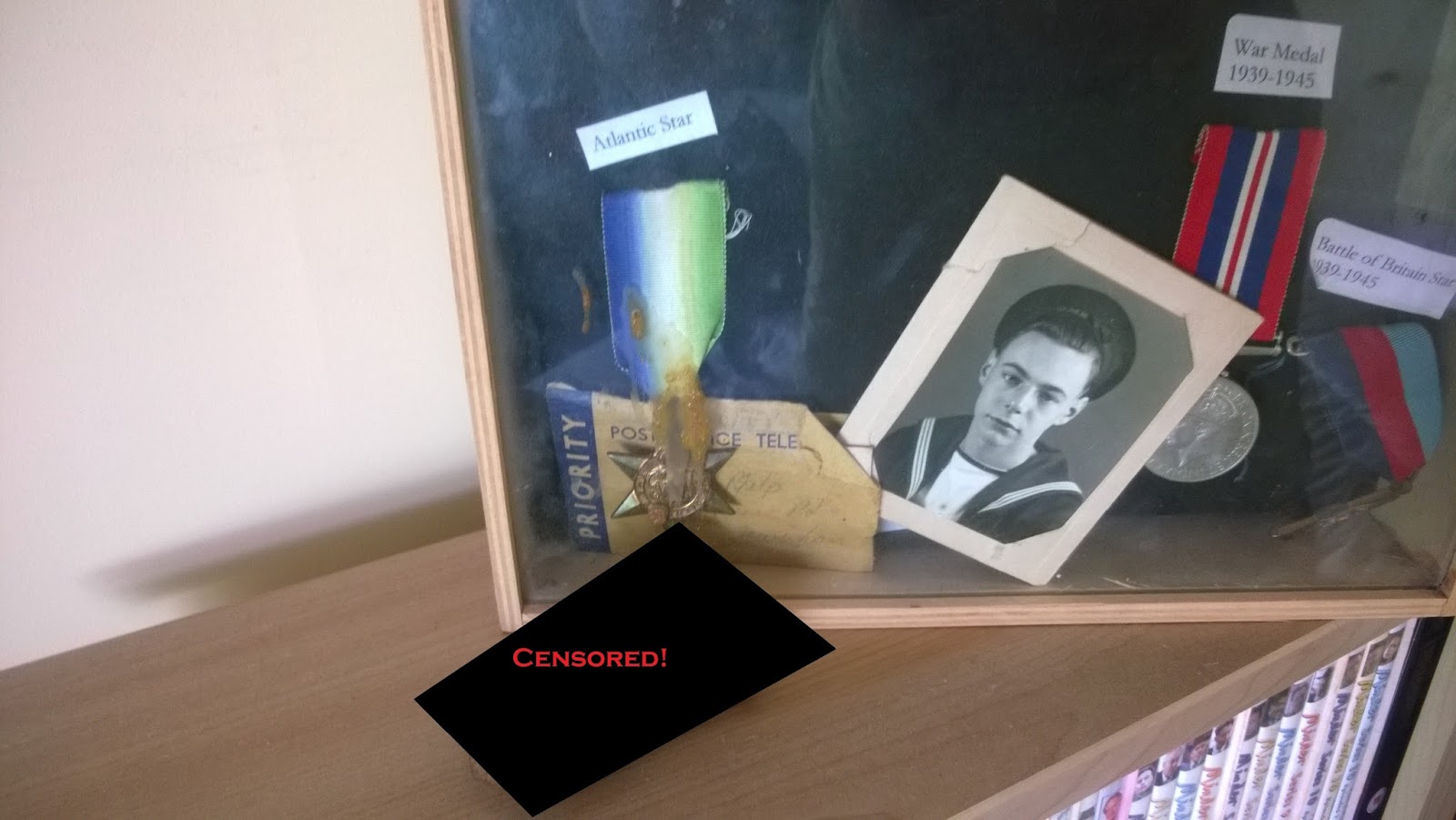 Use your imagination!
And not only had he laid a log, but he had defecated right next to my poor Great Uncle's war medals. Guess the little bastard is some sort of a pacifist or something. A quick text to my Skin & Blister to 'inform' her of what her fucking pet had decided to do was probably not with the best of timings. Well, it was her first wedding anniversary that day. Oh well, I guess shit happens, literally in some cases.
So on to the visit of 19 times Berks & Bucks Senior Cup champions Chesham Maidenhead. And what a spot of luck that Dave "the bloke that always scores against Sutton" Tarpey has been snapped up right at the death of deadline by that football league behemoth that is Barnet. Wait, Barnet? Well whatever floats your boat I suppose. Can see now why Lenny of Go Mad or Stop Caring is missing the game due to a boycott family do.
On to Saturday, jumping on the half twelve I was greeted by Wellie who thanks to shit trains was being forced to make a detour from his usual route to the Lane. As I was still watching the pennies it was another trip to the 'Spoons for me. Joining me this week was BT Pete, Wardy & and Dr "Day-Glo" Bell, who was sporting possibly the loudest orange shirt outside of Amsterdam. In fact, so bright is this bit of clobber that it would have even the most avid Oranje supporter thinking his last herbal fag was a particularly good one.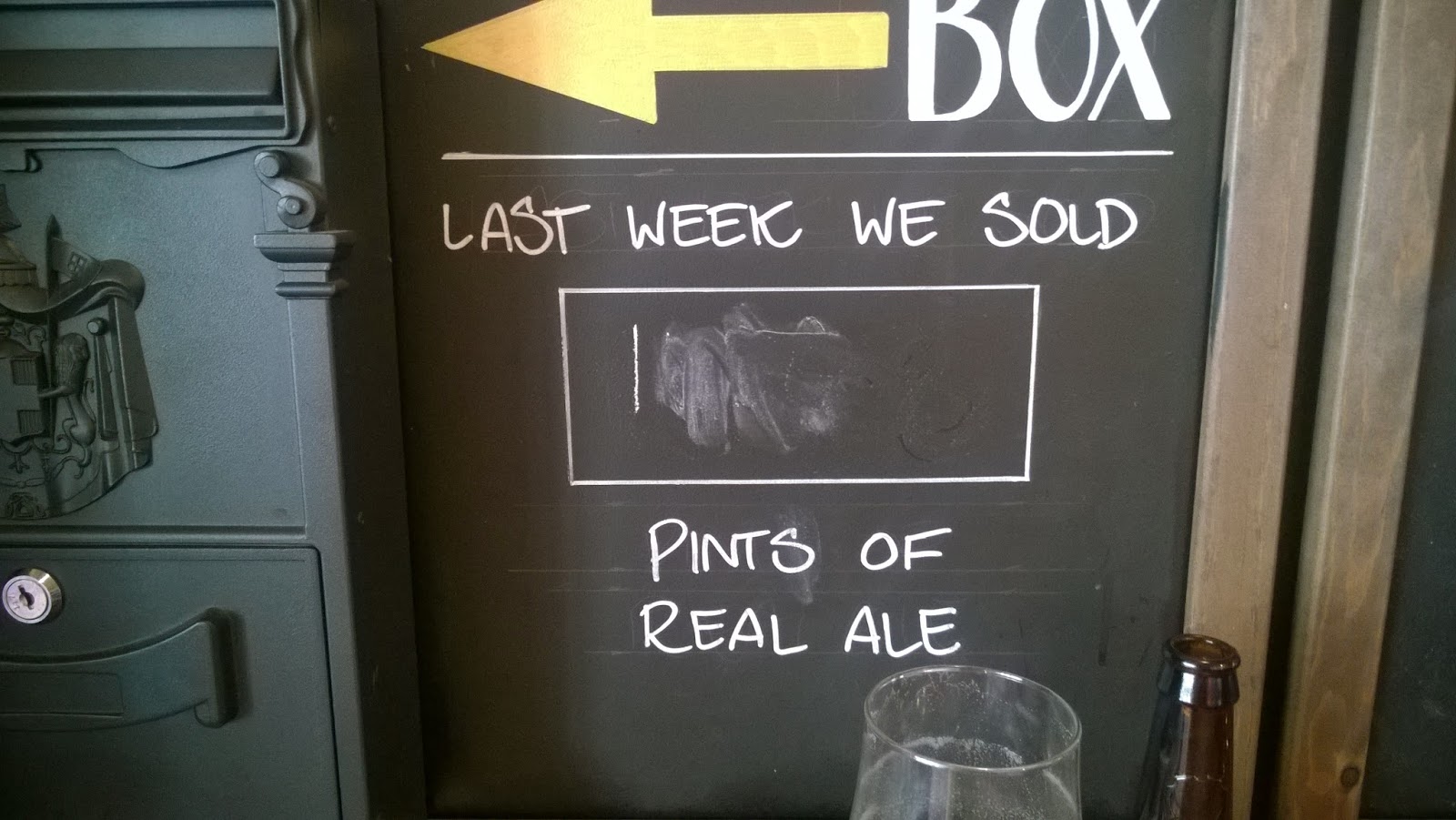 So that's the end of another fad then?
With the price of booze being what it is in these gaffs, we of course again stayed longer than we expected and didn't have time to head into the bar for one at the club before heading into the ground. However, we didn't miss out on the chatter, and caught the discussion about the announcement of the Manager & Player of the Month Awards for August by the Vauxhall Conference National League.
The managers award was given to John Still over at Illford Leytonstone Walthamstow Avenue Dagenham & Redbridge. There might be a argument for it as they were undefeated in the month but you would think that as it's the first month of the season, it should really go to the manager of the team top of the league. That had won a game and 2 points more. But I guess that was asking a bit much.
The other bigger issue was with the player of the month. Turns out that they picked the Solihull Moors keeper Nathan Vaughan. As most of you know, he's the fella that scored with his drop kick against Torquay (which is probably the reason why he got it). So they give it to a fella that has only played three games this month for a team near the bottom of the table? Fuckin' weird that one!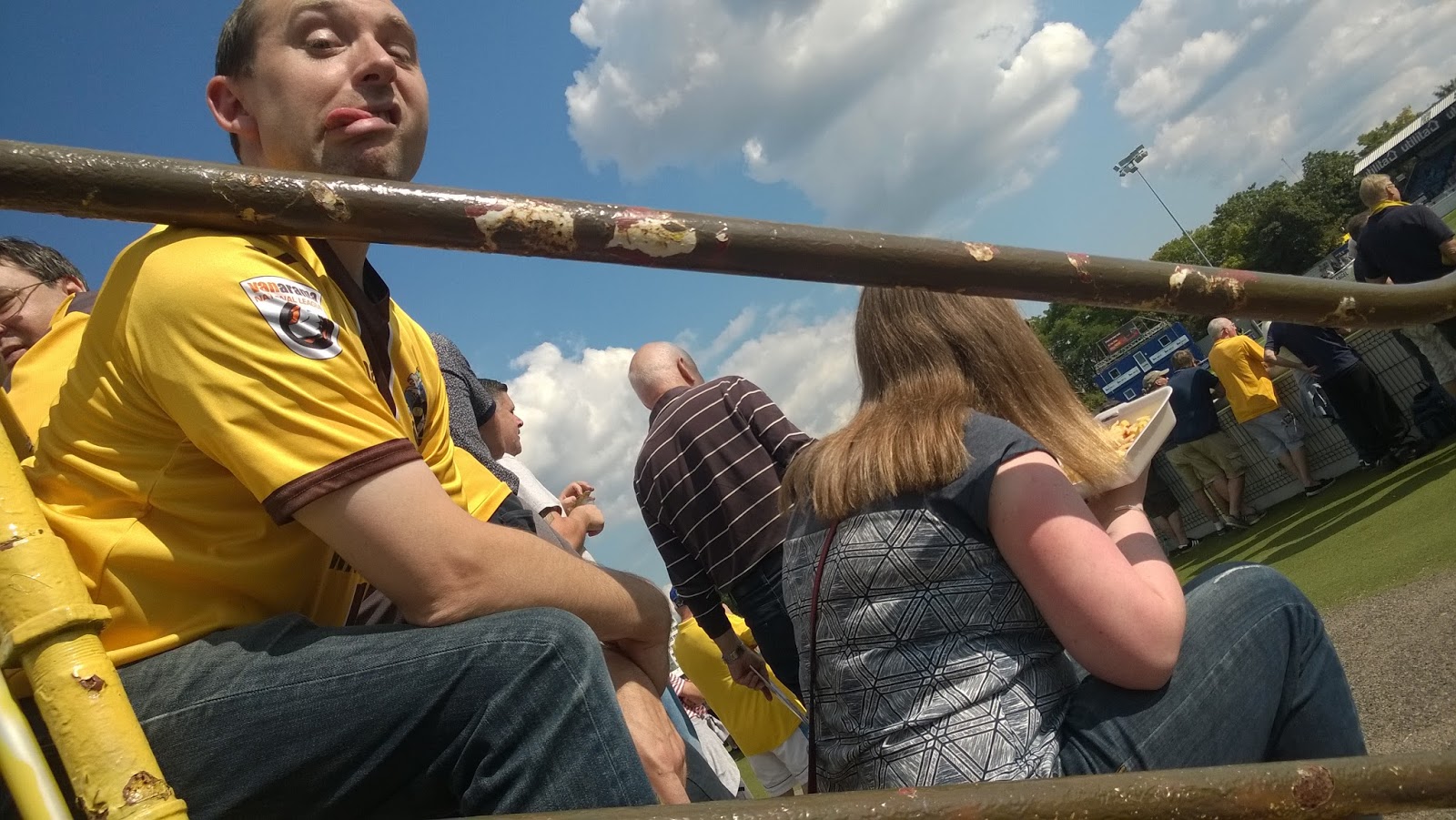 If the wind changes, you'll stay like that you know….
Butler, Thomas, John, Collins, Dundas, Eastmond, Bailey, Wright, Emmanuel, Walton, Taylor. Bench Warmers: Davis, Cadogan, Spence, Jeffrey, Brown.
Ah yes the match. Taking our spots at The Rec End, we saw a very even opening spell. Like all Devo teams, Maidenhead were very organised with two banks of players sitting in. Maidenhead even had the first real chance when once again we gave a midfielder far too much time and space just outside the box. Fortunately Butler got his mitts on it.
Dundas & Wright seemed to link up well with Dundo being able to win the flick-ons for a charging Wright. Which is a bit weird considering that I doubt that would've been the choice of front line at the start of the season. One of the best chances for Sutton was just this combo that had Wright fire a shot on the run just wide of the post.
Maidenhead had the final chance of the half. A cross from left was met at the far post as Bailey failed to track his man. Luckily for Sutton the Maidenhead fella failed to connect with the ball properly and it hit him more than the other way round and ricocheted across the goal and out for a goal kick.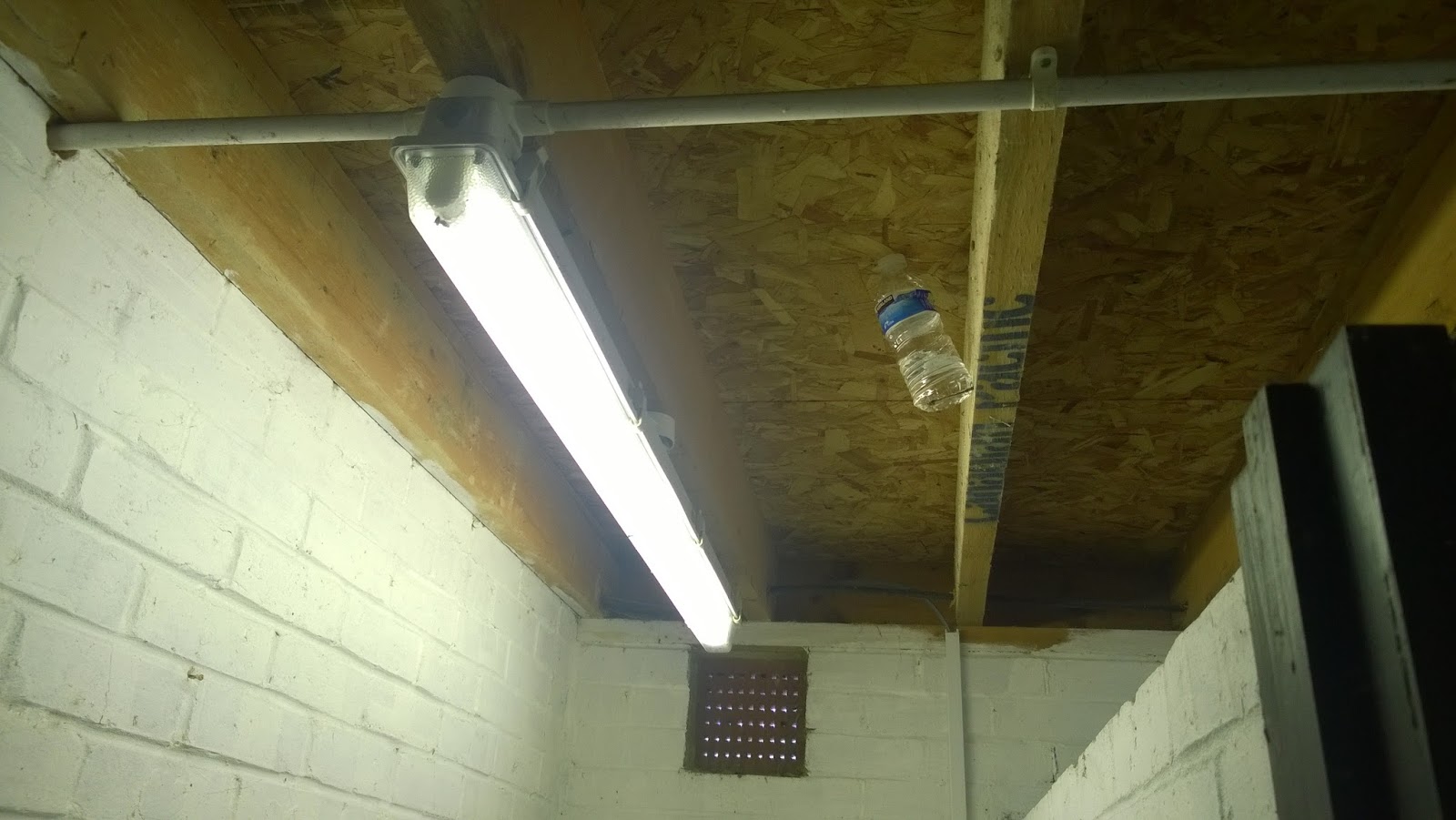 Your guess is as good as ours to be honest….
Dr Bell was in charge of this weeks half time round (and it was bloody cheaper than mine last time out, fuckin' typical!). And after seeing that we were just clinging onto top spot we moved back into the ground and took up our residence on the Shoebox. Of course there was Chairman Totts, Sutton's number one punk rocker, with a sprinkling of Baccara & Dschinghis Khan to boot.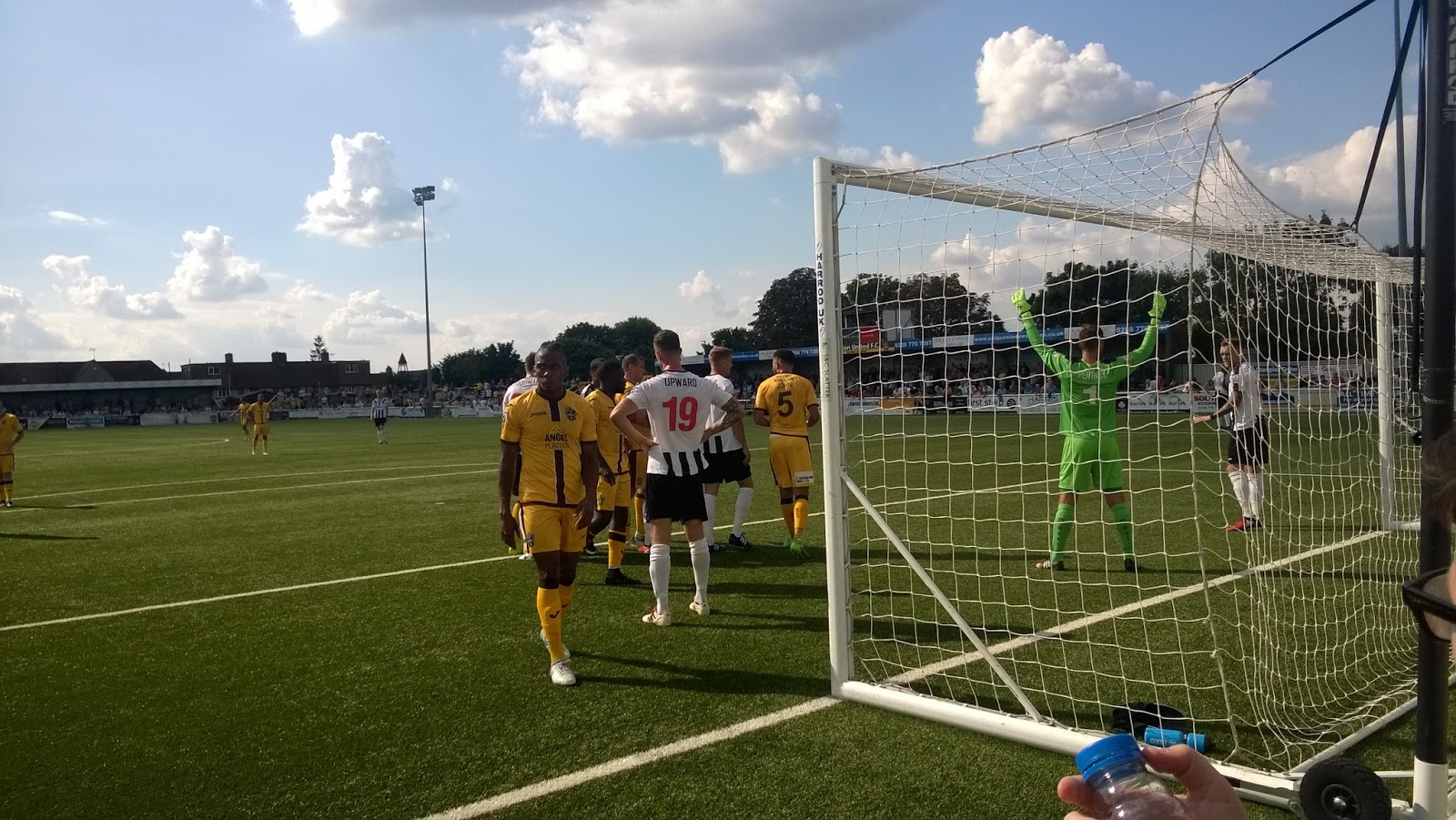 Action. Sort of.
Another quiet start had Davis & AJ MkIII come on for Walton & Emmanuel as we tried to shake things up. Still Sutton failed to create anything and at this point it looked liked a nailed on 0-0 dead rubber. That all changed when Eastmond gave away a free kick near the home dugout. The ball is whipped in and a free man bundles it into the goal from close range. From our vantage point we couldn't see if it was either Dundas or Thomas who was supposed to be marking him. After that Wright was replaced with Cadogan as Dos went to chase the game.
Dundas had Sutton's best chance of the day as he chased down a through ball. For some reason the defender thought that the keeper was coming to collect it. And by the time he'd made up his mind to do just that, he met the man-mountain that is Dundas coming the other way. Of course he came off worse and then pretended that he was injured but not before seeing what the outcome of his fuck up was. Luckily for him that there were a couple of players backtracking and one of them managed to block Dundo's shot just before the line. Thought it was a bit unlucky on the big man not getting his 100th goal just yet though.
With time fast running out and Sutton not looking light putting up a fight, Maidenhead got the killer blow. Jeffery MkIII loses the ball near the Maidenhead area. The ball is cleared and clips the head of the ref which sets up the right winger to charge the ball down and take it into the box and knock it past Butler. Maidenhead then mange to pick up two of the cheapest yellow cards you're likely to see for time wasting. Surprising considering they were two up and were trying to see out eight minutes of injury time. Still, it was game over anyway.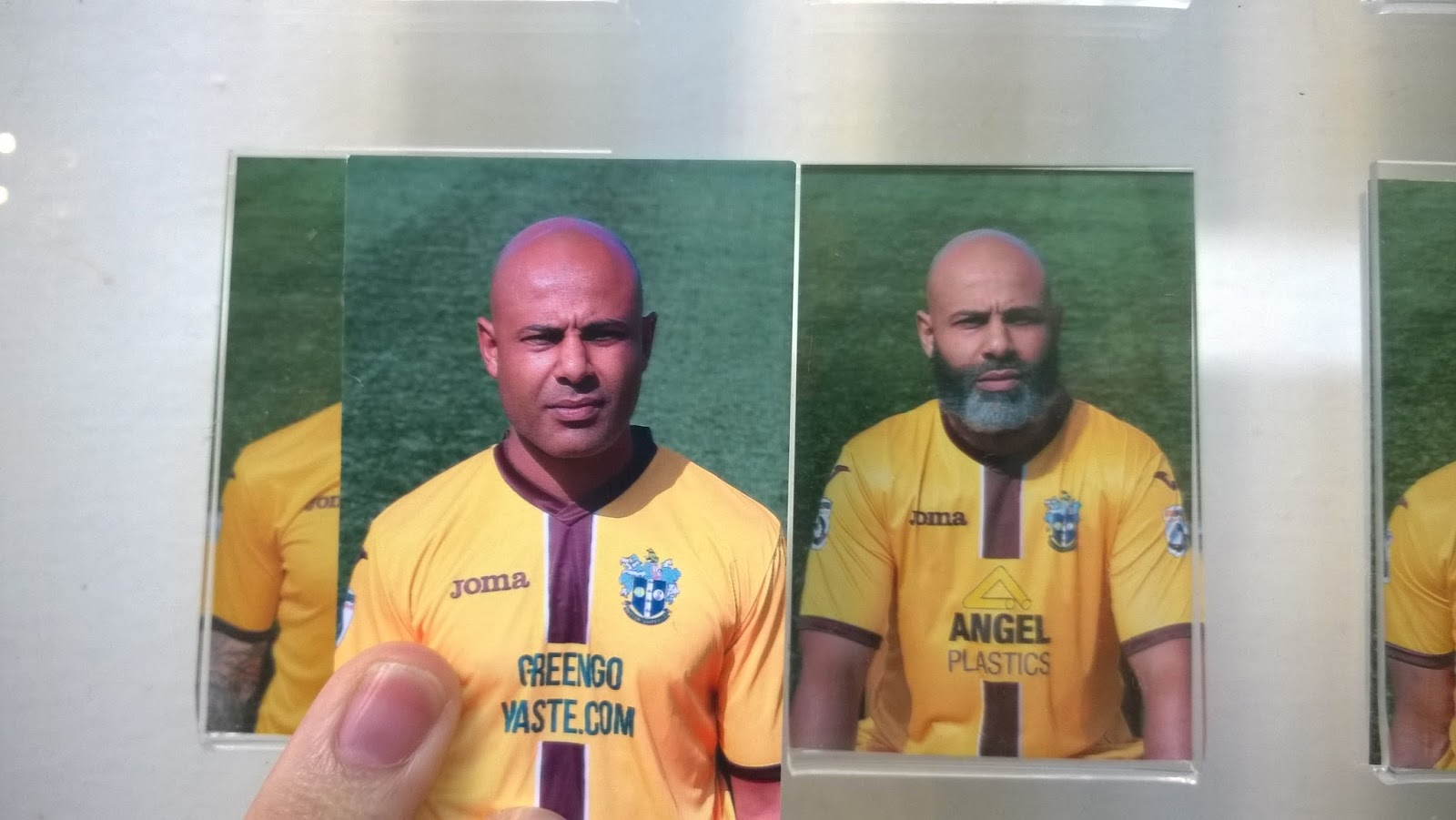 Before and after.
After the match, it was club duties times (without my deputy, who is tossing it off in Cardiff today) before heading into the bar for a jar and a look at the other results. Most of the talk was on our current home form that is currently proving about as successful as Eddie Murphy's singing career, (my girl wants to party all the time, party all the time, party all the time…).
During the course of the evening, I mange to get a hold of some last seasons player photos from the display opposite the Hall of Fame. No Dundas though, as Gang Bang Gay Fuck Burgers managed to grab that one! Judging by the photo above you can see that some players have changed somewhat since last summer. There was a reason for the beard when we enquired, other than to emulate his hero The Duke, but I forget what it was now.
Also mingling with some of the other fans, we have the usual confusing shit going on: Scouse Joe arrived out of breath and wearing what looked like a full Everton kit. "The Cocs" were debating weather to gatecrash a tennis club and 66 year old 'Papa Beckett' was out and about in a rather fetching home shirt that had summat missing from it. By this time Taz called it quits and said his goodbyes, but not before handing over to me some well over due loaned DVDs. No, not those kind.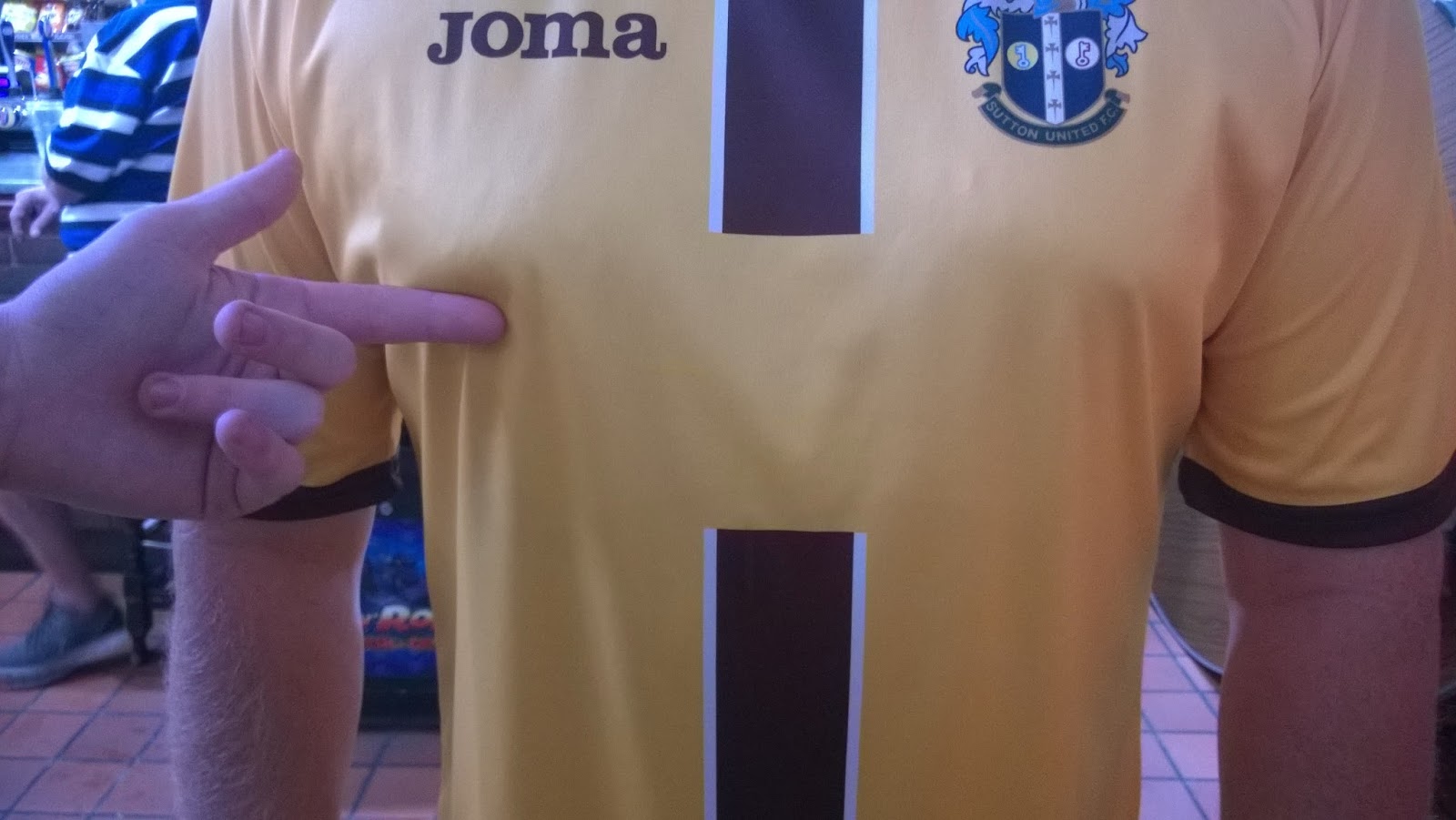 There's something not quite right….
So, it was someone's birthday (can't remember who's), we'd lost at home & no-one objects. So there is only one option once we leave the club. The Crown it is! Taking a walk down "Dogshit Alley" we were soon approaching the pub. And it's changed a bit since we were last there. For starters the saloon bar was actually open. The clientele might've been the same but there was some bird serenading us. Bit tasty to if I don't say so myself. It also turned out at this point that I'd left my bloody DVDs down the club! What a fuckin' wally! Like I said earlier, at least it wasn't any of THOSE particular type of films.
Next on the list of random drinks was a stop off at The Red Lion Winning Post. That definitely hasn't changed since the last time we were in there. Plenty of ink on display in here. We did also bump into Dr Bell's former boss from back in the day. Man that fella knows a fair few people about town. Overwhelmed by the class of establishment visited, Mr X decided to call it a night at this point.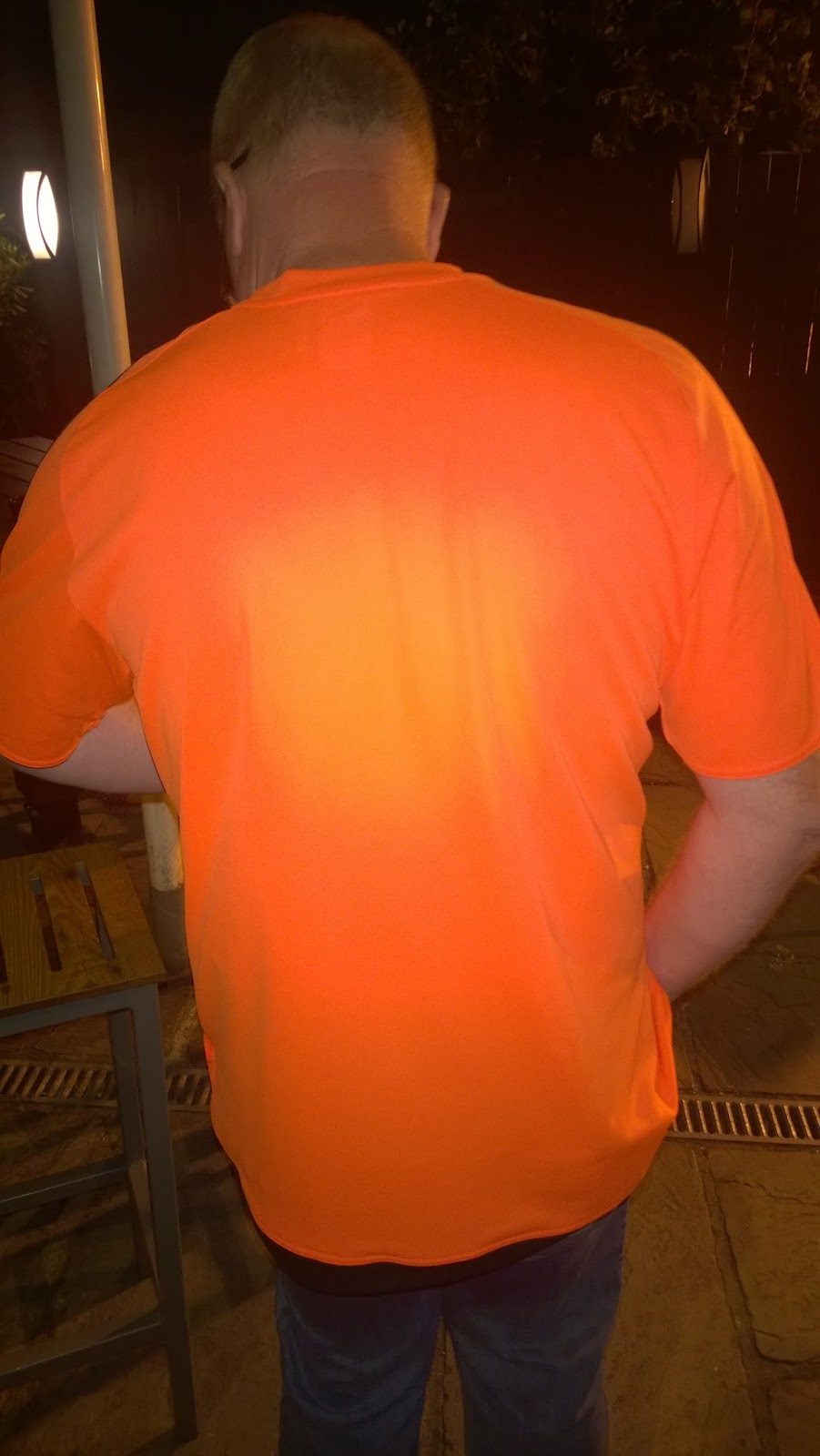 Fucking state of that.
With only Me & Dr Bell left, we of course head into 'Spoons for more drink (bumping into his ex-fiance along the way). A quick beer and Dr Bell heads to the bar but is refused service. Apparently he's too pissed. So of course I try to get served instead and I'm also refused service. Why? Because Dr Bell is too pissed. Er, ok, fair enough, can I just get myself a drink then? Nope, because Dr Bell is too pissed. Go figure! Understandably Dr Bell decided to call it a night at this point and stumbled off down the road.
The final port of call was O'Neill's where I had to wait for a rare appearance from The Firm Leader who had spent the day being a middle class ponce. Foodie market or something he said, fuck knows. A couple of beers drunk and it was finally time to call it a day. Walking round to the usual sherbet rank a cab was already waiting for us to take us back to the Badlands and then home.
So we roll on for another week, Gateshead at home next. I'm not too sure another home game is really the best for us at the moment, but we'll see what happens. The non-cussing Robbo is on point for that so take this as your official warning! Time for some A-Level English grade long words and the like. Still at least he (or you) won't have to worry about anything shit related I guess.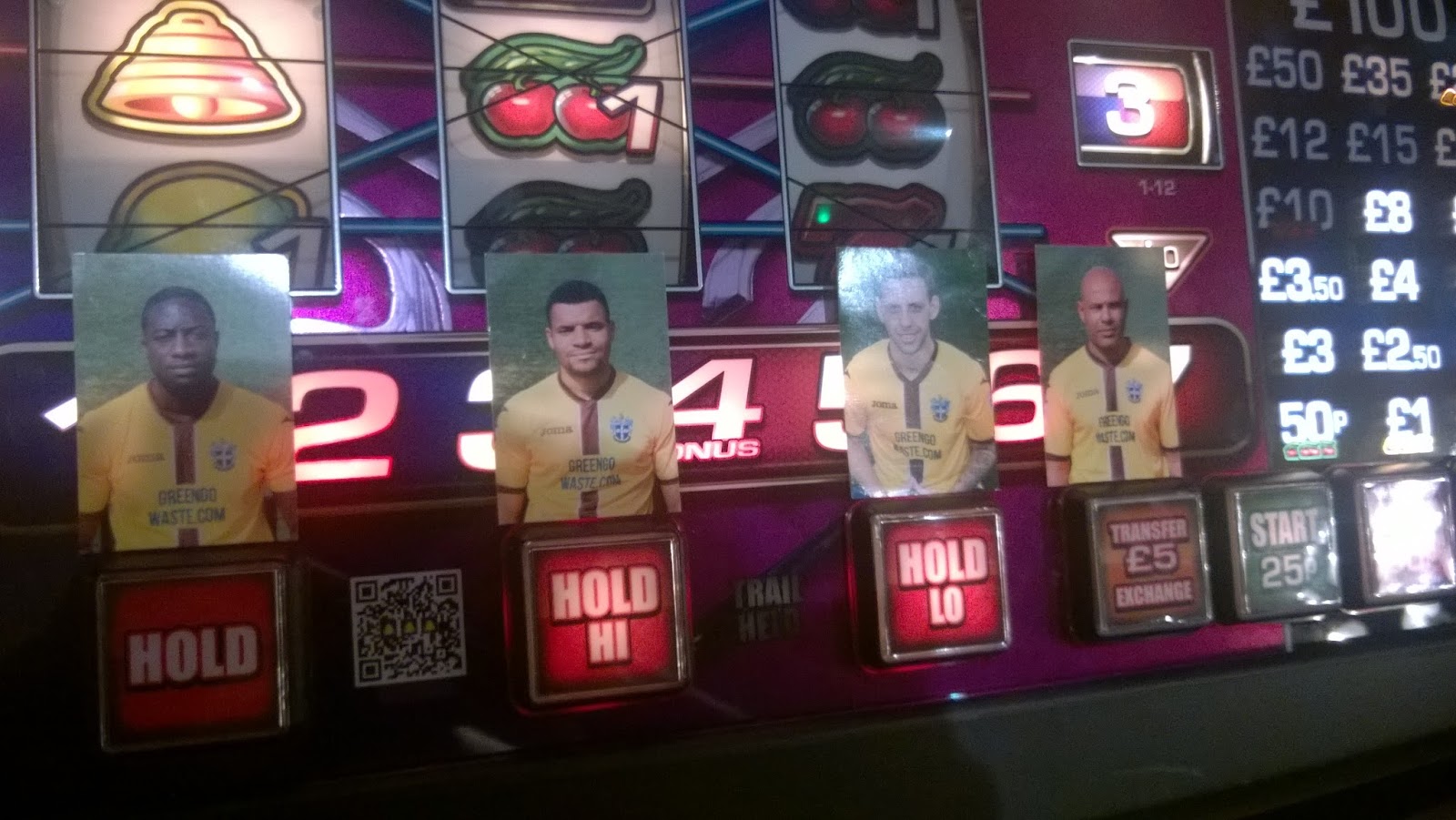 Jackpot?
Duke
Att. 2158